About a week ago, I wrote about how Qatar Airways would be taking delivery of nine Boeing 737 MAX 8s, which will be used to increase short haul capacity in the near future. The first of these planes is now enroute to Qatar, and this is the first time that Qatar Airways has ever taken delivery of a new Boeing narrow body jet.
Qatar Airways' narrow body aircraft challenges
Qatar Airways' narrow body fleet currently consists of 29 Airbus A320s, which are an average of just over 10 years old. At this point Qatar Airways has 75 narrow body jets on order, though the issue is that they won't be delivered for a few more years:
As you can tell, Qatar Airways has a massive narrow body order, given that the airline currently only has 29 narrow body jets.
The issue is that it'll be at least a couple more years (and that's optimistic) before any of those planes are delivered. Fortunately the airline has a short term plan to acquire more narrow bodies.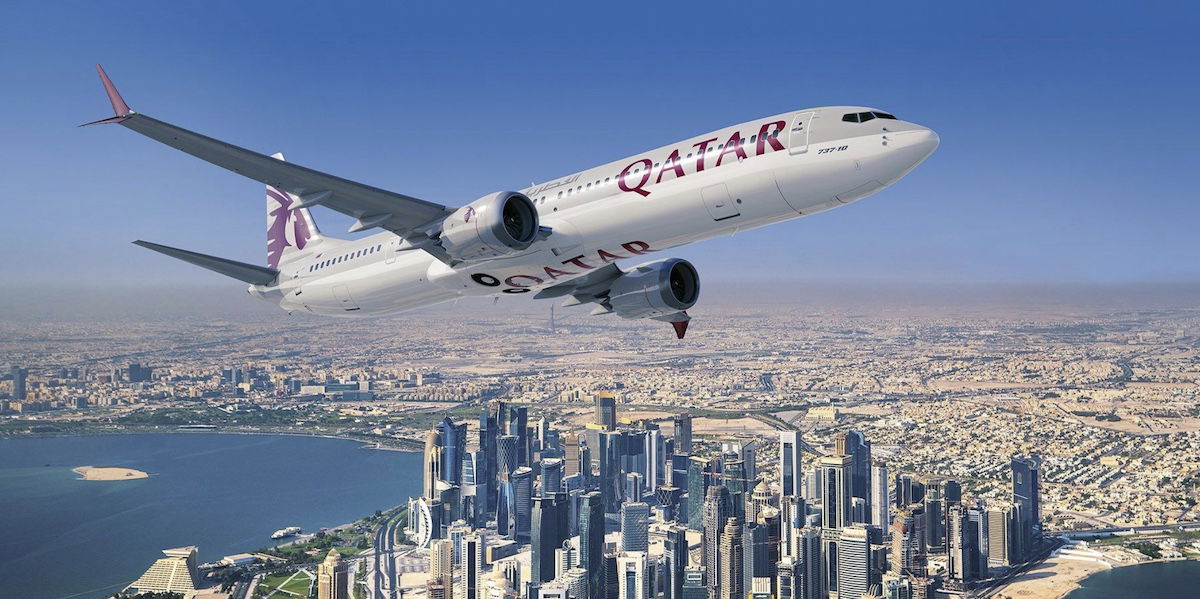 Qatar Airways acquiring nine Boeing 737 MAX 8s
Qatar Airways is in the process of taking delivery of nine Boeing 737 MAX 8s. The Doha-based oneworld airline should be getting all these planes in the coming months, and the first of the jets is currently enroute to Doha.
The first aircraft has the registration code A7-BSC, and it's flying from Paine Field (PAE) to Keflavik (KEF) to Doha (DOH), using flight number QR3180.
Where are these planes coming from? Well, Russia's S7 Airlines (a former oneworld member) had ordered these jets. However, due to sanctions in place between the United States and Russia, Boeing is no longer allowed to deliver planes to Russian airlines.
With no signs of the situation in Russia improving, a new airline has been found for these jets, as Qatar Airways is opportunistically picking them up. These planes are all being leased by Qatar Airways, as Air Lease Corporation owns eight of them, and AerCap owns one of them.
Some of these planes had been painted in the full S7 Airlines livery, so it's funny to see how that livery transitioned over time.
Qatar Airways intends to use these planes to add capacity and help drive future growth, especially in short haul markets.
It hasn't yet been announced what the cabins on these planes look like. We know that Qatar Airways has been developing a new Qsuites-style business class product for its narrow body jets.
However, I'd be willing to bet that Qatar Airways will just inherit the cabins that S7 Airlines had on these planes, as that's what will get these planes into service the fastest. I think it's much more likely that any new product will debut in 2025 and beyond, when the airline takes delivery of the planes that it ordered directly.
S7 Airlines' 737 MAX 8s have pretty standard interiors, with 176 seats, including eight business class seats and 168 economy class seats. The business class cabin is similar to what you'll find in domestic first class within the United States, while economy has personal device holders, but no personal televisions.
Bottom line
Qatar Airways is in the process of taking delivery of its first of nine Boeing 737 MAX 8s, with all planes expected to join the fleet in the coming months. These planes were initially intended for S7 Airlines, but due to sanctions, the airline can no longer fly these, and they're looking for a new home.
It's good that Qatar Airways has a strategy for short term growth of narrow body jets, though I wouldn't expect any cutting edge cabins on these planes. What's much more exciting is the 737 MAX 10s and A321neos that will be delivered in the coming years.
What do you make of Qatar Airways acquiring 737 MAX 8s?