---
Update: The First Class Lounge Abu Dhabi consistently ranks among the best airport lounges in the world, and you can see this post for a detailed, updated review.
One of the great things about Etihad is that they offer complimentary chauffeur service on arrival or departure to all first and business class passengers. This isn't just within the city limits of Abu Dhabi, but rather anywhere within the UAE. It's a way both Emirates and Etihad try to stay competitive, since both airlines are trying to market to both passengers in Abu Dhabi and Dubai.
Naturally we took full advantage of this by making our last stop of the trip the stay at Qasr Al Sarab, which is about two hours from Abu Dhabi Airport. After we issued our Etihad ticket I called them up to schedule the chauffeur service. Our flight was at 10:30AM, and after giving the agent the address we'd like to be picked up from, he suggested an 8AM pick-up. The funny thing about Qasr Al Sarab is that it's address is technically in Abu Dhabi, so I think the agent assumed it wasn't that far. I instead suggested a 6AM pick-up, which the agent agreed with, though he warned me we would be arriving early for our flight. Not so much!
I was thrilled to find that the driver arrived at our hotel early, unlike during my last trip when I used the service, when the driver was 40 minutes late. The stakes were much higher here, and was I was worried the driver would look at the address and assume it's in Abu Dhabi, and only leave 30 minutes before the scheduled pick-up time.
Anyway, we began the two hour drive to the airport, where we arrived at around 8AM. The car was an older generation Audi with 100,000+ miles on it, though it was in good condition. The driver asked to make one stop on the way, for a tea and tinkle break. Fair enough, since I can only imagine at what time he woke up.
We were dropped off at the first and business class side of the terminal, where we were promptly helped by a bellman.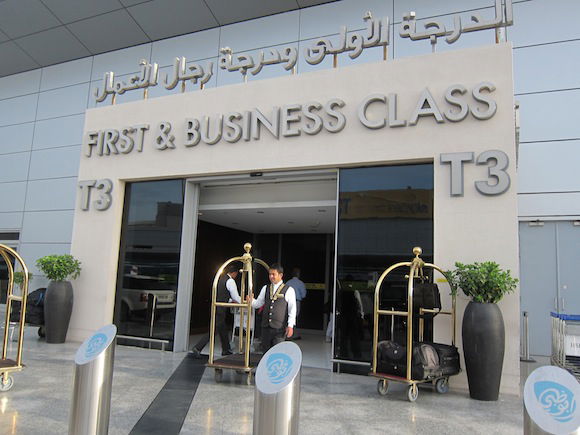 Terminal exterior
He asked whether we were flying first or business class, and directed us towards the first class check-in section, which is on the far left of the terminal. The first class check-in facility is "sit down," though unfortunately there was a wait of about 10 minutes, so we were invited to take a seat on the couch till they were ready for us.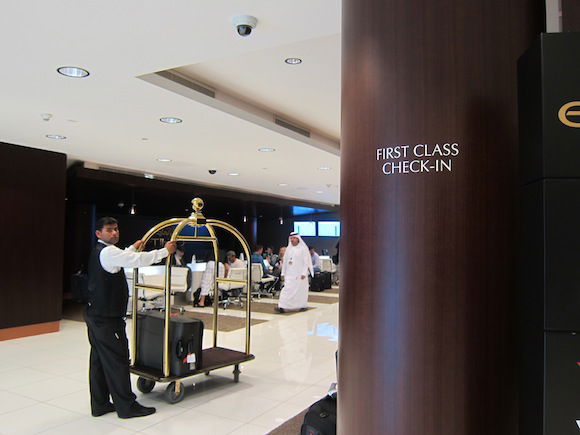 First class check-in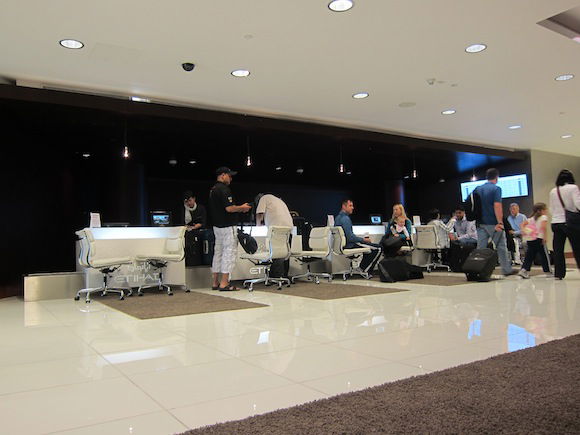 First class check-in
Once we were actually helped the process took only a couple of minutes, and we were directed towards the priority immigration and security queue. As is the norm in the UAE, the immigration guy couldn't be bothered to get off his cell phone, and at the security queue the agents didn't even glance at the x-ray machine screen.
Etihad's lounge is located just as you enter the airside, on the second level.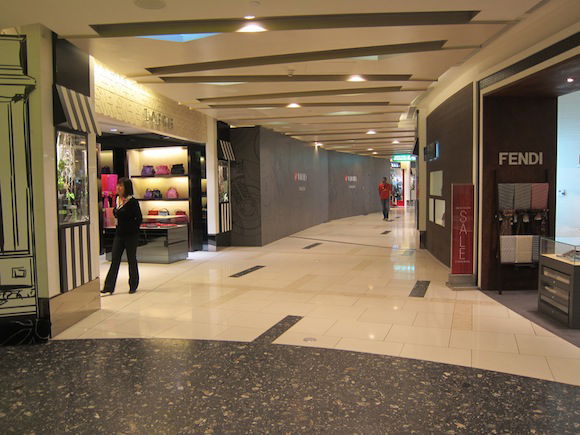 Terminal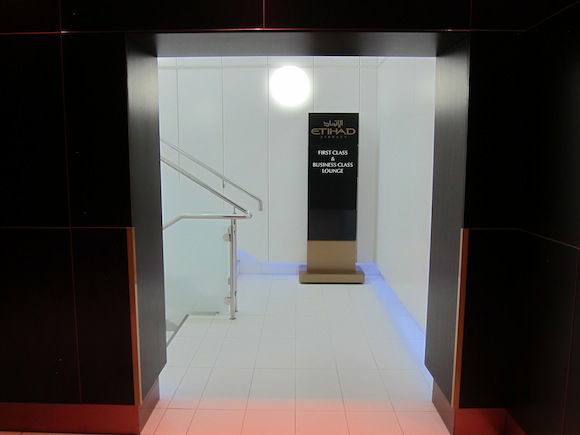 Lounge entrance
Once at the lounge entrance we were escorted by the agent to the entrance to the first class portion of the lounge, where another agent verified our boarding passes.
I reviewed the first class lounge last year, and not a whole lot has changed. The lounge is fairly small and quite crowded during peak times.
There's a larger seating area by the window, a TV room, a bar, and a dining area.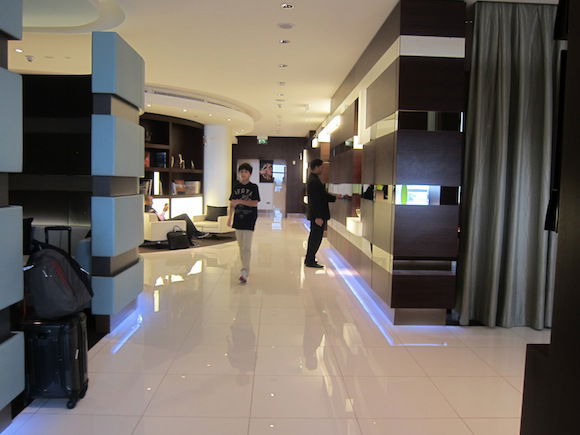 First class lounge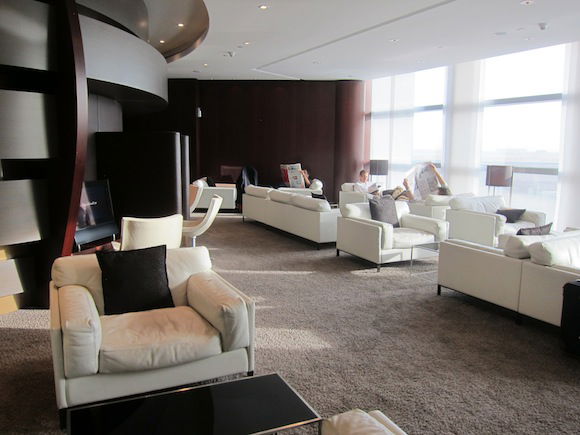 First class lounge seating area by window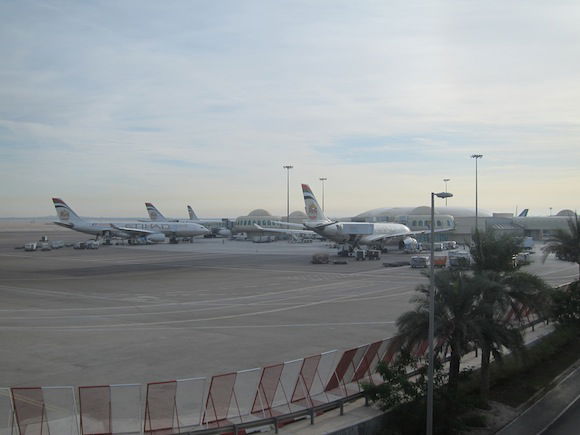 Tarmac view from lounge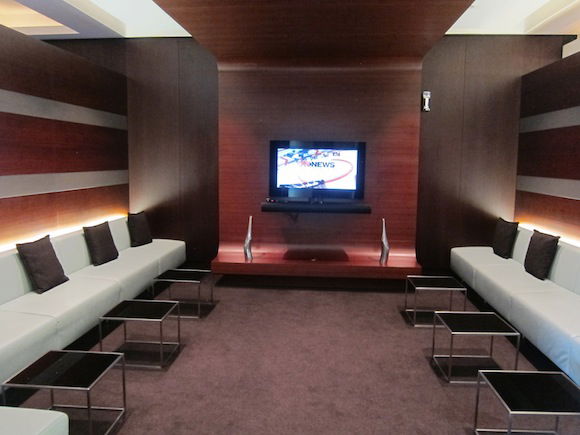 First class lounge TV room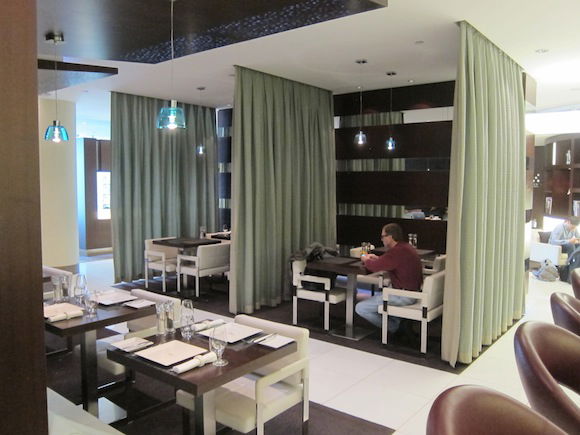 First class lounge dining area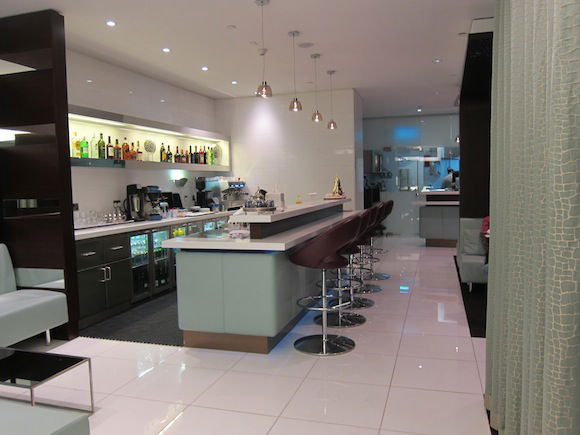 First class lounge bar
Our first stop once in the lounge was the Six Senses Spa to try and schedule one of the complimentary 15 minute treatments. While I had no problem scheduling a treatment last time, this time they were already completely booked. Booo!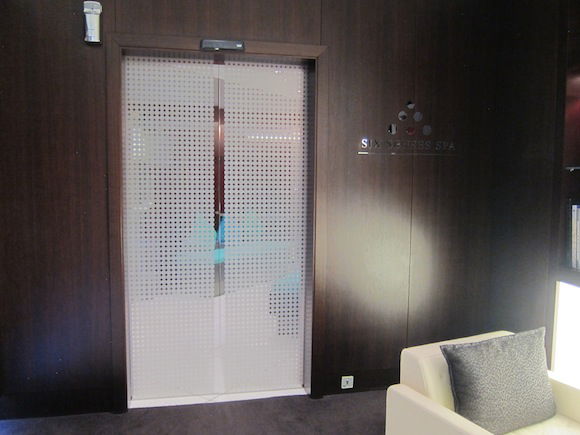 Six Senses Spa
With that strike against us we decided to go have breakfast, since we hadn't eaten at the hotel. The breakfast menu read as follows: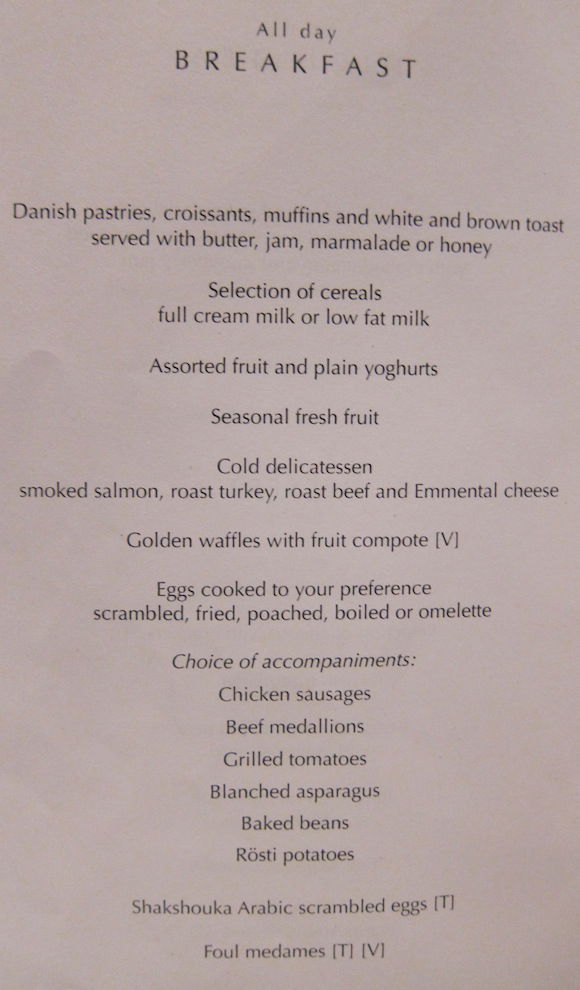 To drink I ordered a glass of freshly squeezed orange juice and an iced coffee.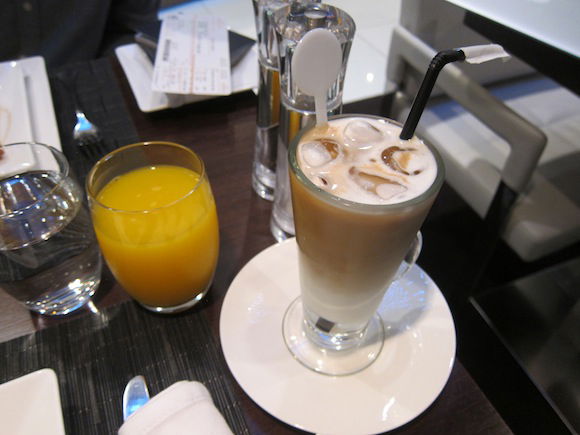 Orange juice and iced coffee
To eat I ordered scrambled eggs and some wheat toast.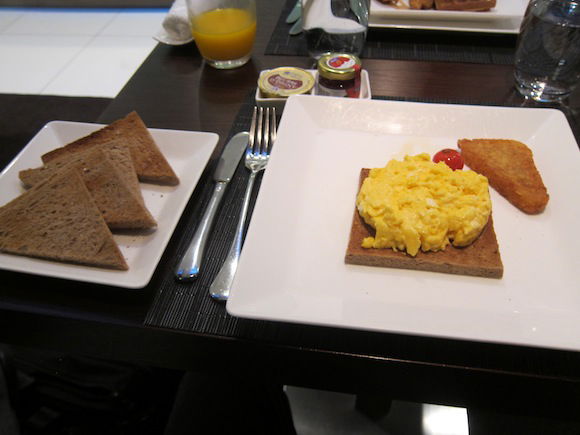 Scrambled eggs
After breakfast we headed over to the seating area, where I connected to the Wi-Fi, which was excruciatingly slow.
At around 10AM we decided to head to the gate, and on the way out of the lounge I saw this room: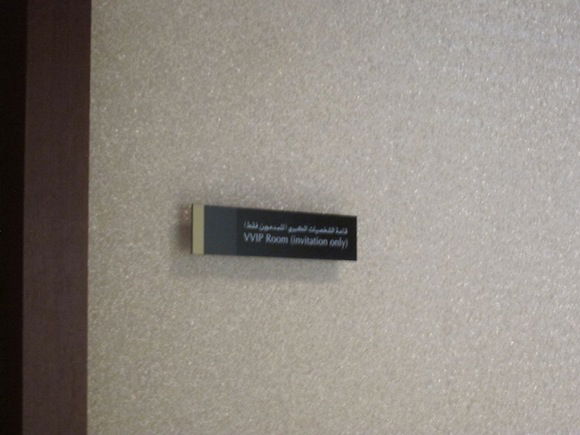 Wonder if a Priority Pass card qualifies as an invitation?
As is the case at many foreign airports, you literally have to walk through duty free shops to get to your gate, though at least they were nice!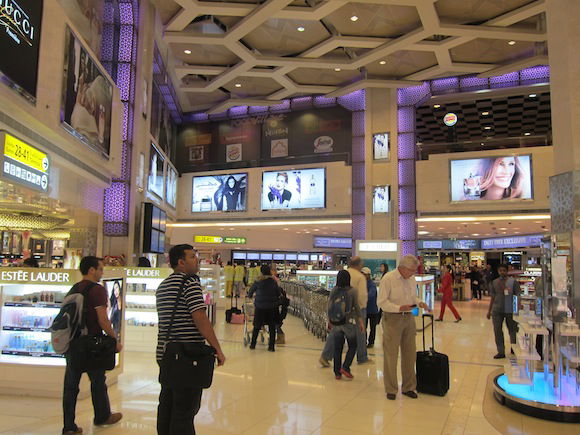 Airside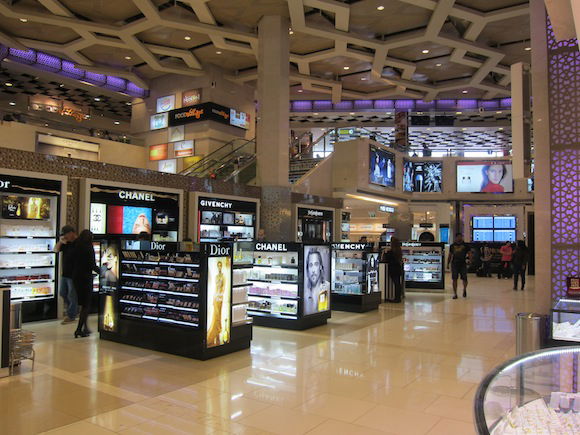 Airside
There were lots of flights departing around the time of our flight, and given that we were leaving from the furthest gate we passed just about every departure gate, from Sydney, to Manila, to Chicago, to Toronto.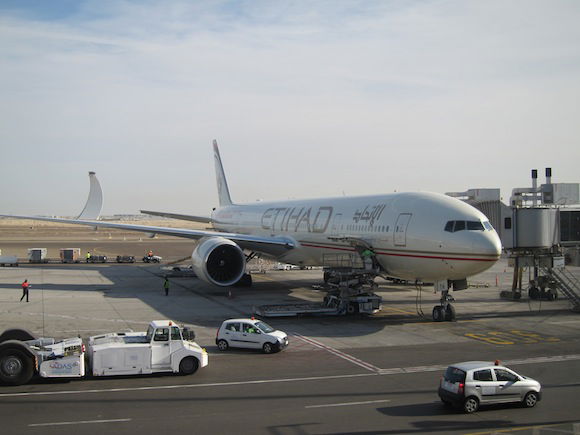 Etihad 777 and control tower
We were departing from gate 35, exactly the same gate I left from last year on this flight. There was another security check at the gate, though fortunately there was a priority queue and most passengers were already in the gate area.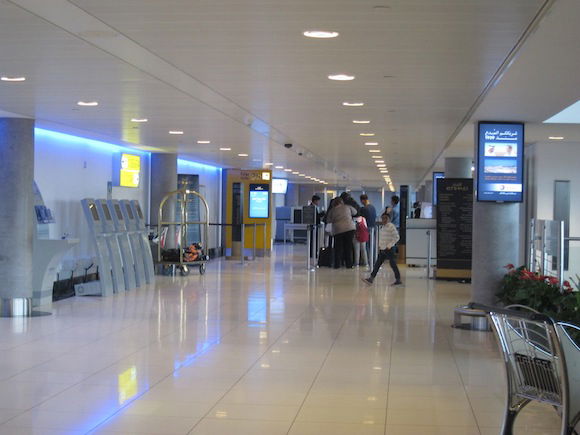 Security check at departure gate
Within about five minutes of getting to the gate boarding was announced, starting with first and business class.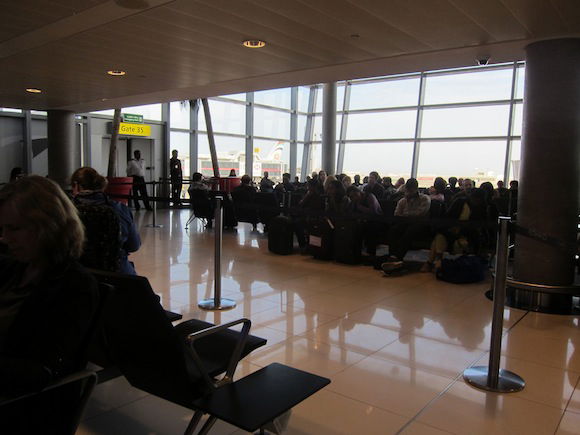 Departure gate
I love that the jet bridges at Abu Dhabi are glass, since nothing beats getting a close-up view of the plane you're about to fly on boarding.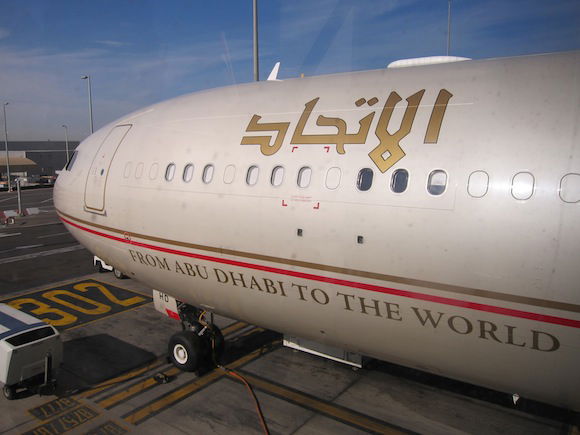 Our plane to New York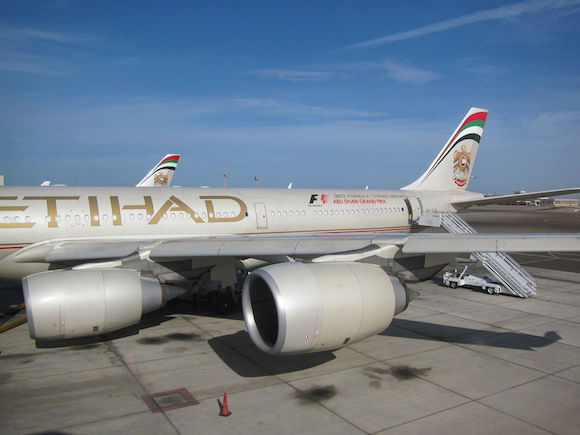 Our plane to New York
And while this was a route I had flown just a year prior, I was extremely curious to see how my experience would compare.