---
After a rather colorful cab ride (the cab driver was telling me about all the things the "bloody Chinese" and "bloody Malaysians" are doing to screw up Singapore) I made it to terminal 3 at Changi Airport at around 4:30PM. My flight was only at around midnight, though I had a lot of work to catch up on so figured I'd get to the airport a bit early to get some work done.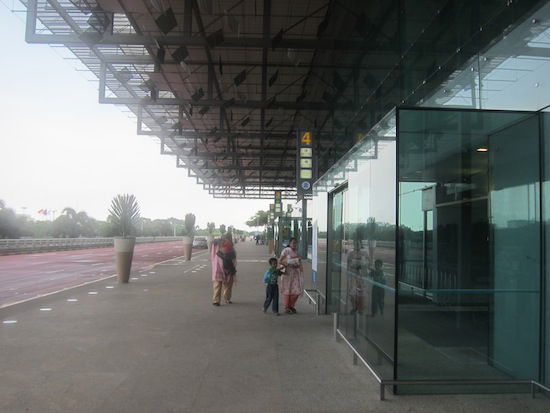 Terminal exterior
Terminal 3 has to be the most beautiful terminals anywhere, both in terms of design and spaciousness. I realize it's not everyone's cup of tea, though I marvel in amazement every time I'm in it.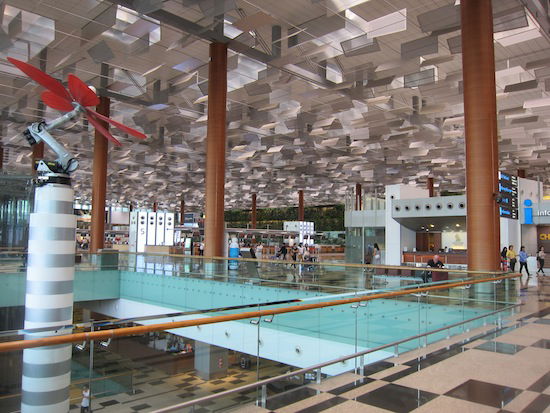 Terminal 3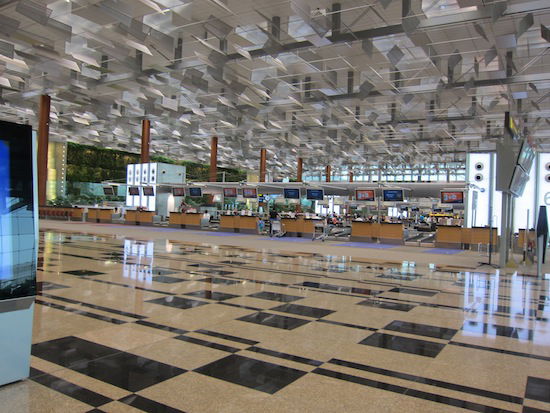 Terminal 3
I proceeded to the first class check-in counter where there was no queue, and without exchanging any words the agent printed out my boarding pass to Tokyo Narita. Usually Singapore Airlines is pretty strict about cabin baggage sizes, so I was a bit surprised when the agent didn't even asked if I wanted to check a bag, let alone request that my carry-ons be weighed. I high tailed it out of there before he had the chance to change his mind.
At Changi Airport security is at each individual gate which is a system I really do like for a couple of reasons. First, it means you can still take liquids (like bottled water) to the lounge. Second, and more importantly, it means you end up wasting less time. When you head to your gate it's not like the plane is going to leave without you if you're in the security queue for that flight.
There is however an immigration check, which took about 10 minutes to clear this time around.
Once in the terminal the SilverKris lounges are located to the right and up a level.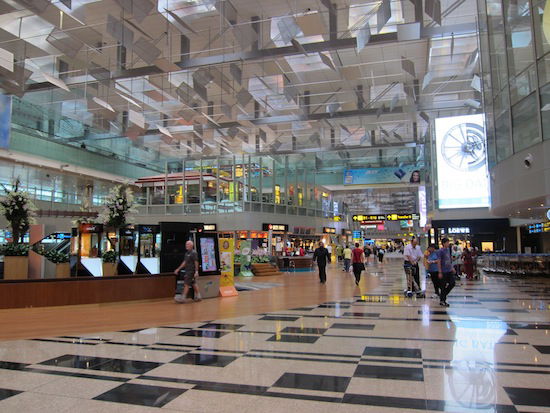 Terminal 3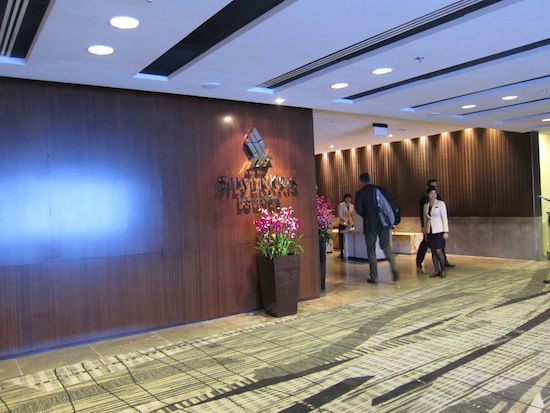 SilverKris Lounge entrance
There's a joint entrance for the business class lounge, first class lounge, and The Private Room. Upon presenting my boarding pass the agent said "allow me to escort you to the first class lounge." Once in the first class lounge, the first class agent said "allow me to escort you to The Private Room." Definitely not the most efficient system ever, though you basically go through three lounge "checks" before you end up in The Private Room. Now that's what I call security. 😉
Singapore opened The Private Room several years back, originally allowing in only full fare first class passenger. In 2009 they relaxed the entry requirements, and they started allowing in all Singapore Airlines first class passengers.
So who uses the first class lounge? Star Alliance first class passengers and Singapore's top tier elite members, who get first class lounge access. So Singapore has basically done the same thing that British Airways did in London, where the Concorde Room is for British Airways first class passengers, while the first class lounge is for top tier elites and partner first class passengers.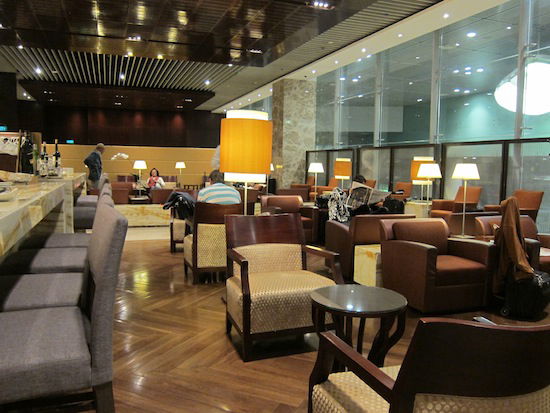 First Class lounge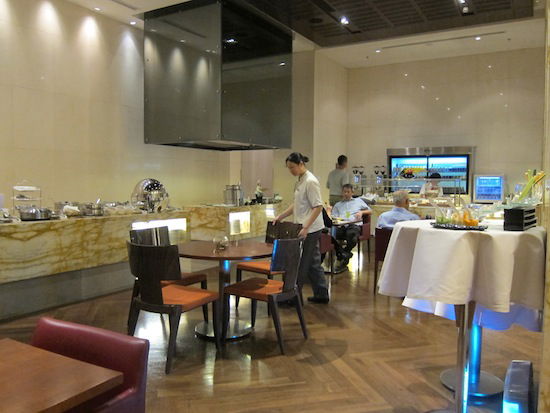 First Class lounge
Anyway, The Private Room is a very elegant space, with plenty of partitioned off seating. There's also a very nice restaurant, as well as two "private rooms." I settled into one of them for a bit of extra privacy, and managed to get some work done.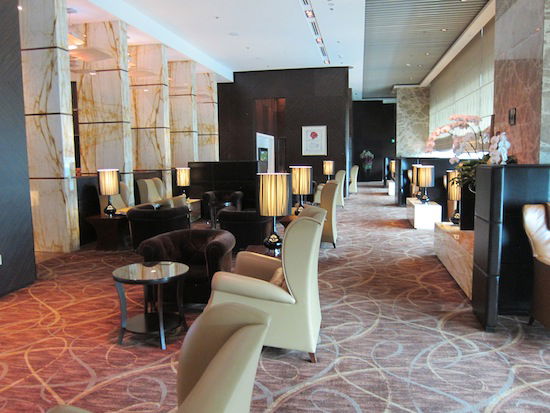 The Private Room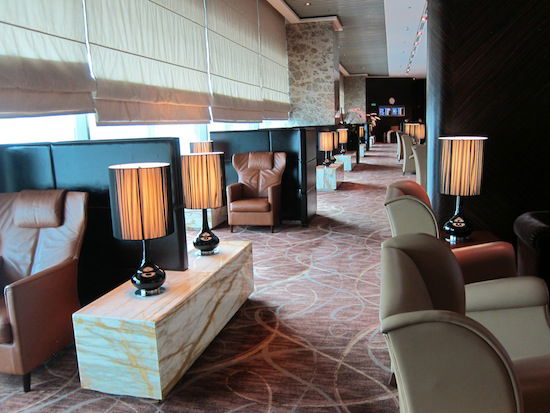 The Private Room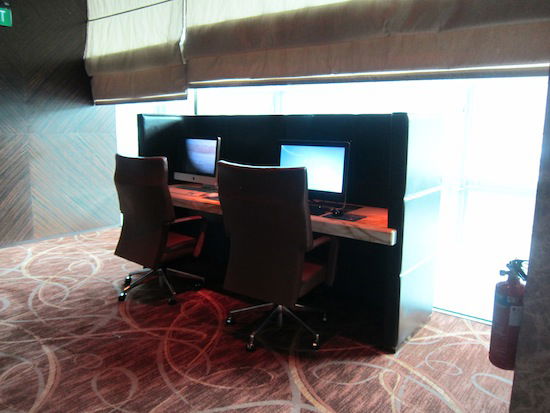 PCs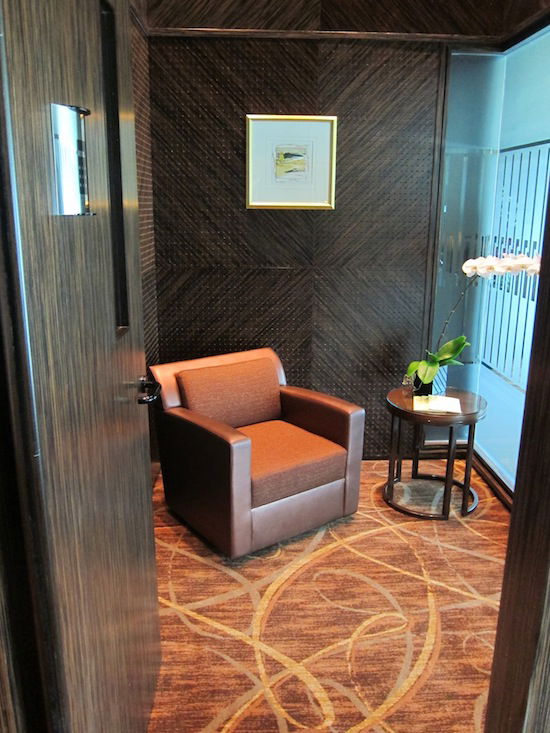 Private room in The Private Room
The service in The Private Room really was the highlight, as the waiters were not only attentive but also polished in their delivery. Even just sitting in a private room it's amazing the degree to which they made sure my Diet Coke was never empty.
At around 6PM one of the first class agents knocked on my door and said "Mr. Lucky, I'm so sorry to inform you that…" At this point I'm thinking "oh crap, is my flight canceled?" I only had a three hour layover and my Japan Airlines flight was on a different ticket, so that wouldn't have been good. But the rest of the sentence was instead "your flight is delayed by 20 minutes. I'm very sorry."
You've gotta love the fact that six hours before the flight they already update you about a 20 minute delay with great regret. It's funny, because while I usually love Singapore Airlines in the air, I find their ground staff to be somewhat lackluster, and that certainly wasn't the case in The Private Room.
Another surprising aspect of the experience was how empty The Private Room was. For the roughly seven hours I was there, I was the only passenger in the lounge for at least half of it, and the rest of the time there were a few people at most. With literally dozens of flights departing during that time period with first class products, you have to wonder whether their load factor up front is really that bad, or if people just don't leave time to visit the lounge.
At around 6:30PM I decided to have dinner, knowing full well that my flight from Singapore to Tokyo would only feature a breakfast service. I headed over to the dining room, where a waiter quickly offered me a glass of champagne.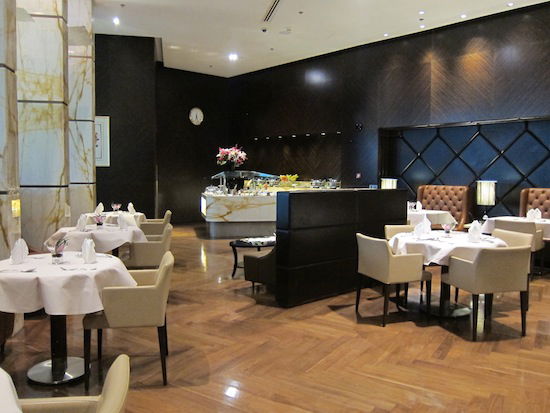 Dining room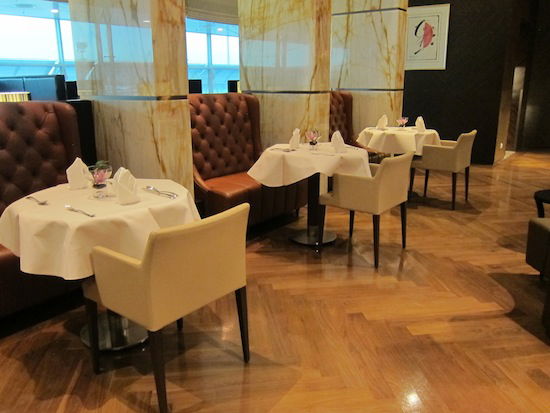 Dining room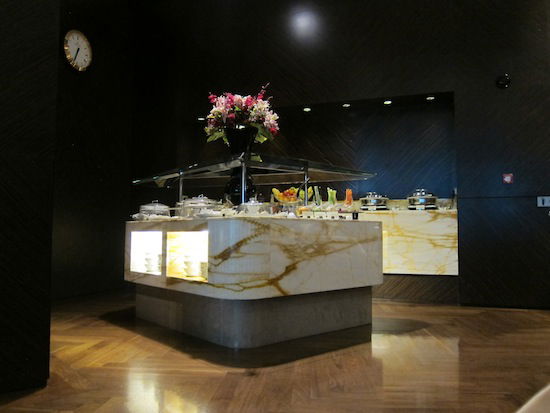 Buffet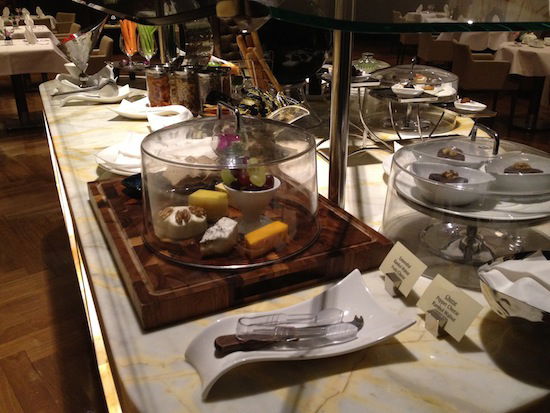 Buffet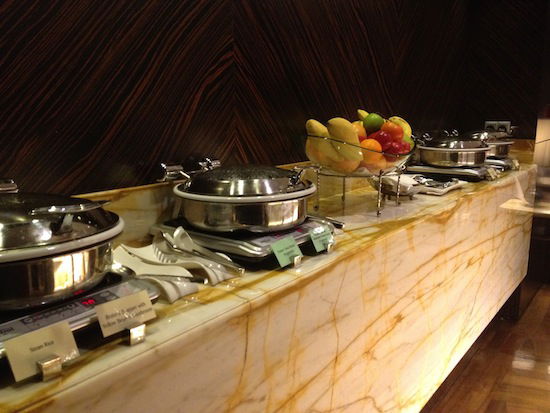 Buffet
In addition to the buffet, the dinner menu read as follows: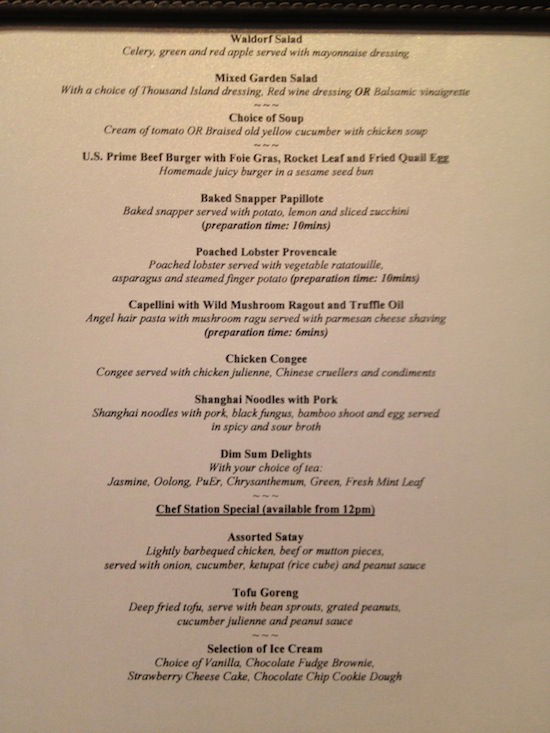 I ordered a mixed garden salad, burger, and per the suggestion of the waiter, a slice of homemade cheesecake.
The salad was simple though fresh tasting, and the dressing was especially good.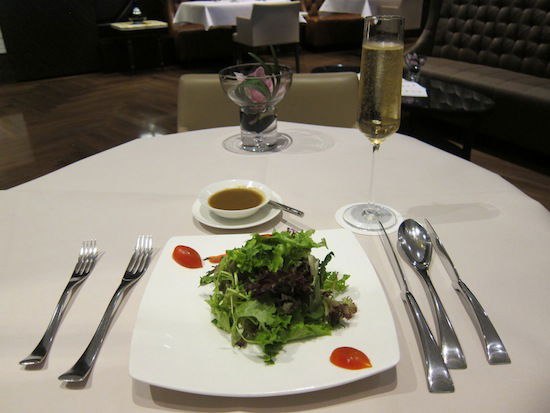 Mixed garden salad
I ordered the foie gras burger without the foie gras, which was decent. Nothing exceptional, though certainly better than the burger I had in the Swiss lounge in Zurich a month ago.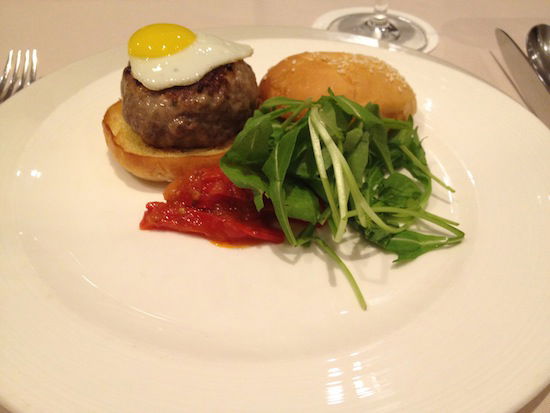 Burger with fried quail egg
The cheesecake was great, and I ordered some tea along with it.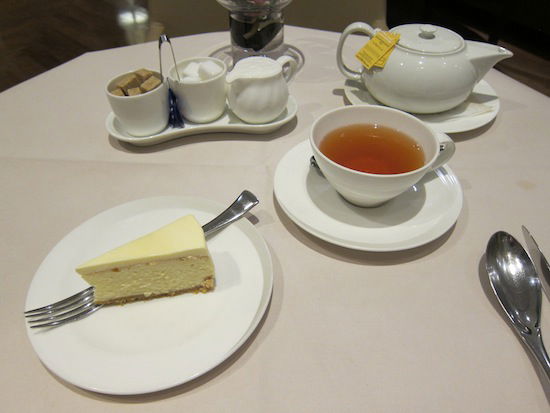 Cheesecake
The service was attentive and the food quality was good. I'd say the dining experience is a notch below Lufthansa's first class lounge dining experience, though other than that among the better ones out there.
I continued to work for the rest of the evening, and at around 11:15PM headed towards gate B4, my departure gate to Tokyo Narita.