Qsuites, which is Qatar Airways' exceptional business class product (and I'd argue the best business class product in the world), debuted in June 2017.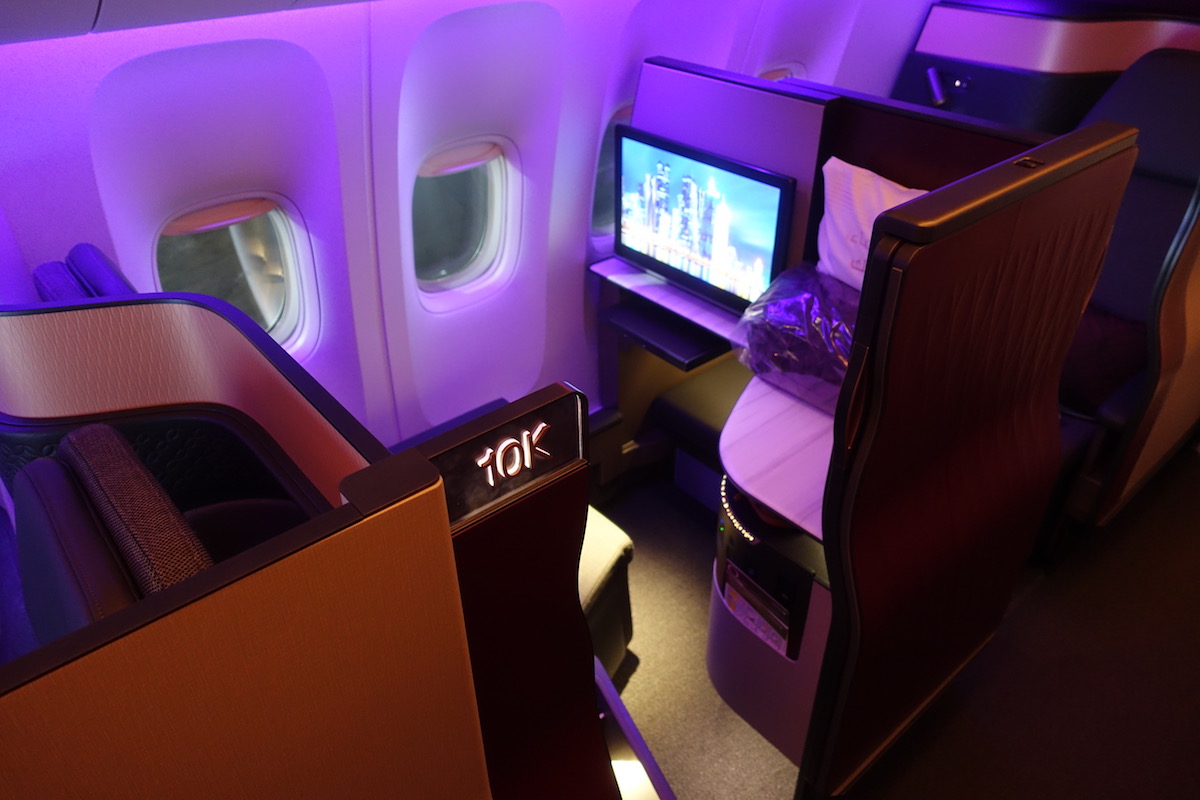 Qatar Airways Qsuites
In addition to newly delivered planes featuring the new product, the airline has also been working on retrofitting the new seats on existing planes. Qsuites is available on select Boeing 777-300ERs, select Boeing 777-200LRs, select Airbus A350-900s, and all Airbus A350-1000s.
Arguably the planes most in need of Qsuites are the Boeing 777-200LRs, which are Qatar's longest range planes. Qatar Airways only has nine of these planes in their fleet, and they operate some of Qatar's longest routes. For example, Qatar's flights to Auckland, Doha, Houston, Los Angeles, and Sao Paulo (with connecting service to Buenos Aires) are typically operated by 777-200LRs.
At this point seven of the nine 777-200LRs have been reconfigured with Qsuites. So at this point Qatar Airways typically offers Qsuites on their flights to Doha, Houston, Los Angeles, Sao Paulo, and Buenos Aires.
Interestingly the last 777-200LR route to get Qsuites is Doha to Auckland, which is also Qatar's longest flight. This flight clocks in at just over 9,000 miles, and it's the second longest flight in the world (until late last year it was the longest flight in the world).
Qatar Airways has now finally updated their seatmaps to reflect when this route will get Qsuites.
Qatar Airways will begin offering Qsuites on their Doha to Auckland flight every other day as of May 15, 2019, and daily as of May 31, 2019.
The route operates with the following schedule:
QR920 Doha to Auckland departing 2:35AM arriving 4:05AM
QR921 Auckland to Doha departing 2:25PM arriving 11:15PM
As you can see, operating this route requires two planes, given that an entire rotation takes about 45 hours. So it seems like for a two week period they'll only have one of the planes reconfigured (which is why the Qsuites service is every other day), and then if everything goes as planned, the second one will feature Qsuites as of the end of May.
I'm thrilled to see that in a couple of months all Qatar 777-200LRs will feature Qsuites! Of course I'd note that all of this remains subject to change.
Anyone flying Qatar Airways to/from Auckland soon, and positively impacted by this?
(Tip of the hat to Hamada)