Qatar Airways' Qsuites debuted between Doha and London Heathrow as of June 2017. The airline has been working on retrofitting existing planes with Qsuites, and also has taken delivery of new planes featuring the product.
So far Qsuites are available on select Boeing 777-300ERs, select Airbus A350-900s, and all Airbus A350-1000s. While this new product is exciting, as James has noted, Qatar's rollout of planes with the new seats has been disappointingly slow.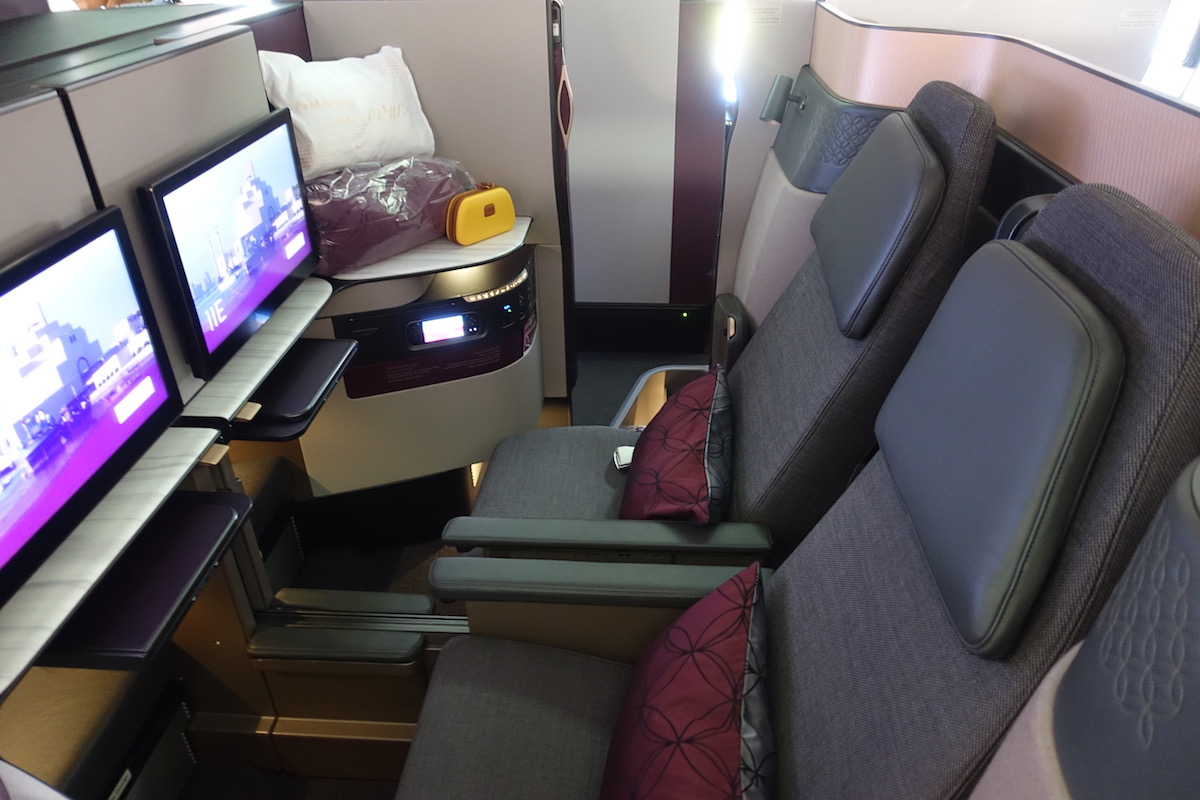 In my opinion the one plane most in need of the new Qsuites is the Boeing 777-200LR. Qatar Airways has nine of these aircraft in their fleet, and they operate the longest routes, including to Auckland, Houston, Los Angeles, and Sao Paulo (connecting to Buenos Aires).
This spring Qatar Airways reconfigured their first 777-200LR with Qsuites, which they began flying every other day between Doha and Houston as of June.
The big question has been when the next 777-200LR would get Qsuites. I've been tracking the tail numbers of Qatar's 777-200LRs, and haven't noticed any planes being taken out of service to be reconfigured.
Qatar Airways has now revealed the next 777-200LR route to get Qsuites… and unfortunately it's not Auckland or Los Angeles.
Qatar Airways will begin offering Qsuites to Sao Paulo and Buenos Aires as of December 1, 2018. That flight operates with the following schedule:
QR773 Doha to Sao Paulo departing 7:20AM arriving 6:20PM
QR773 Sao Paulo to Buenos Aires departing 7:30PM arriving 9:20PM
QR774 Buenos Aires to Sao Paulo departing 10:40PM arriving 2:10AM (+1 day)
QR774 Sao Paulo to Doha departing 3:40AM arriving 11:55PM
The route will feature Qsuites every other day, which suggests to me that they're using a single aircraft for the rotation.
Qatar Airways says that with this development, they're now offering Qsuites to five continents (the only two continents without Qsuites being Africa and of course Antarctica).
Qatar's 777-200LR is maintaining the same 42 business class seats they currently have.
The bad news is that as Qatar Airways reconfigures these 777-200LRs, they're going from nine to 10 seats per row in economy. Qatar Airways started the process of densifying their 777s in 2015, though at the time they said they'd only reconfigure the -300 series aircraft, and not the -200 series aircraft. Obviously they've changed their mind since then.
Interestingly Qatar Airways continues to show the 777-200LR with Qsuites flying to Houston beyond December 1, and it's even doing so daily rather than every other day. So it seems to me like the airline will have at least three reconfigured 777-200LRs by December.
Given that, I'm surprised that they're choosing to maintain Qsuites on the Houston route, rather than adding it to the Auckland or Los Angeles route.
Unfortunately I'm not seeing much award availability on the new Qsuites route. There is however plenty of award availability in business class between Sao Paulo and Buenos Aires, and you can book that for either 15,000 British Airways Avios or 20,000 American AAdvantage miles.
Bottom line
It's great to see Qatar Airways expand Qsuites to more 777-200LR aircraft, as these are most in need of the improved interiors. This is exciting for those taking the long flight between Doha and Sao Paulo, and it also presents the opportunity to try Qsuites on the short fifth freedom flight between Sao Paulo and Buenos Aires.
Unfortunately I also suspect this means that it will be a while before Auckland or Los Angeles get a 777-200LR with Qsuites.