As I mentioned in the previous post, Federal Air is one of the airlines that specializes in offering flights to safari camps in South Africa. We were staying at Singita Boulders in Sabi Sands Reserve, and then Singita Lebombo in Kruger National Park, and Singita uses Federal Air as their preferred airline.
So we took the following three flights on Federal Air:
Johannesburg to Sabi Sands Reserve
Sabi Sands Reserve to Kruger National Park
Kruger National Park to Johannesburg
First I'll talk about the booking process, then the Federal Air baggage allowance, and lastly will share my experience on the three flights we took with them.
Booking Federal Air
We booked our Federal Air flights directly through Singita. Essentially they sent us the schedule for the flights, we told them which ones we wanted, and they billed us directly. As Singita describes it, they have the following value-add benefits for Federal Air flights:
Unlimited number of seats bookable for Singita guests flying between OR Tambo Johannesburg and the lodges (up until 72 hours prior to flight)
Where possible, Federal Air will arrange earliest drop off at Singita lodges and latest pick up from Singita lodges to maximize time spent on safari
Here's the schedule for flights from Johannesburg to the Singita lodges: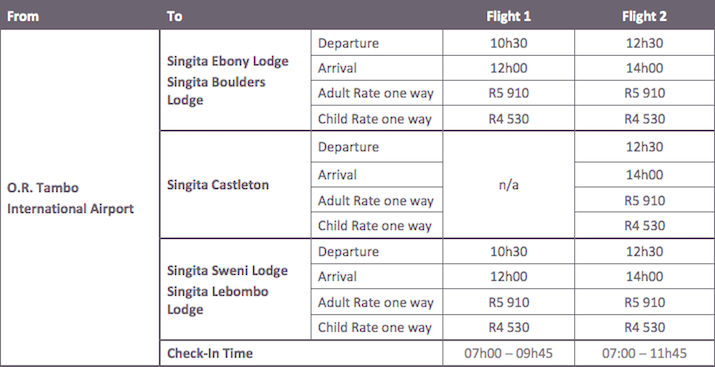 Then here's the schedule for flights from the lodges back to Johannesburg:


As you can see, the rates aren't cheap:
Our flights from Johannesburg to Singita Boulders and from Singita Lebombo back to Johannesburg each cost ~307USD per person (so a total of ~615USD per person for both flights)
Our flights between the two lodges were covered by Singita, because they have a package where if you book two lodges they'll pick up the cost of your flights between them
A few other things to note:
Most people combine a safari with a trip to Cape Town, though Federal Air doesn't fly there; you'll have to fly to Johannesburg and then book a separate flight to Cape Town
Federal Air also flies to Kruger Mpumalanga International Airport, though this is different than the Kruger airport that is used for Singita Lebombo (which is a dirt airstrip, and is much closer to the lodge)
While Federal Air publishes schedules, they do change these quite often; they note that these are subject to change, as they operate different routings every day based on which lodges they're picking people up at
If you're connecting to Federal Air same day you can let them know at least 72 hours in advance and they'll provide a meet and greet service where they'll pick you up at your gate and drive you to the Federal Air facility in Johannesburg
Singita provided the following recommended minimum connection time, but it could make sense to leave more time given their varying schedules:

Federal Air Baggage Allowance
Federal Air passengers are limited to one checked bag and one carry-on item:
The maximum weight for checked baggage is 20kg (44lbs) and for carry-on baggage is 5kg (11lbs)
Federal Air "suggests" luggage sizes of 40cm x 30cm x 60cm (16″ x 12″ x 24″), packed in soft luggage/duffle bags with no rigid sides
I'd note that while our bags were weighed in Johannesburg, they weren't weighed at any other departure points (given that they weren't "real" airports).
Federal Air Beechcraft 1900D Review
From Johannesburg to Singita Boulders we took the flight that was scheduled to depart at 10:30AM and arrive at 12PM. This flight was operated by a Beechcraft 1900D with the registration code ZS-STE. This is a 26 year old plane that used to fly for Midwest Express in the US. These little planes sure do get around!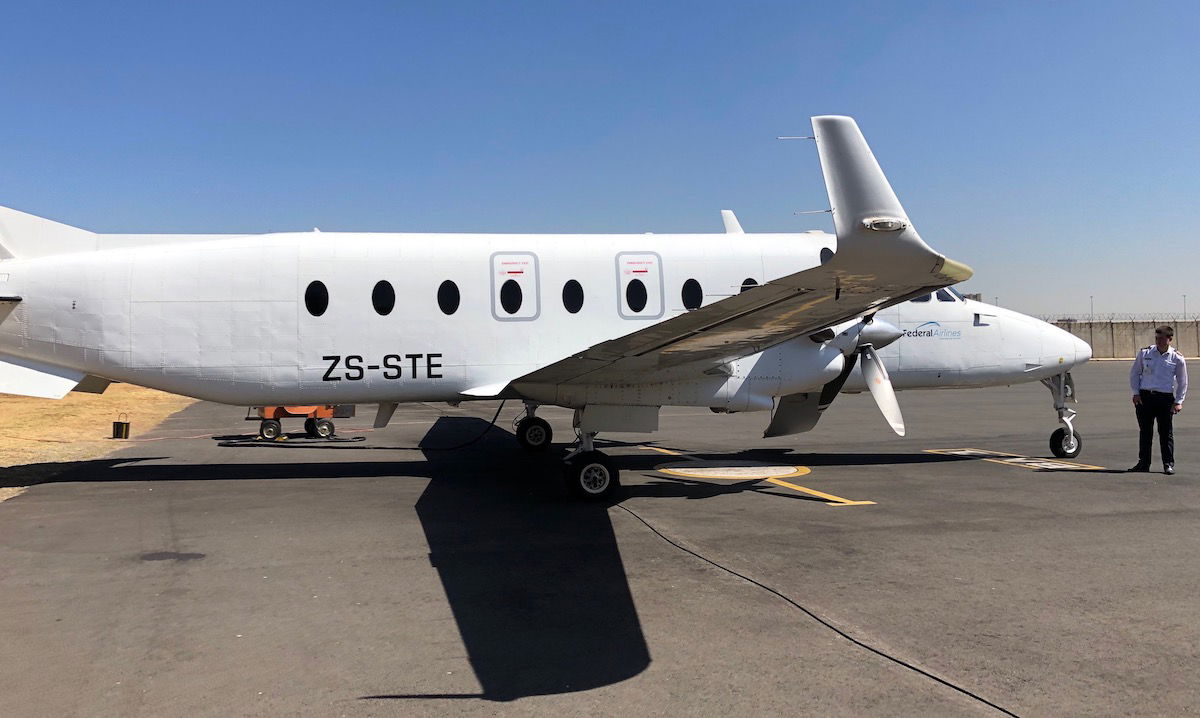 Federal Air Beechcraft 1900
Boarding started at 10:45AM, and at the door we were greeted by first officer Nick.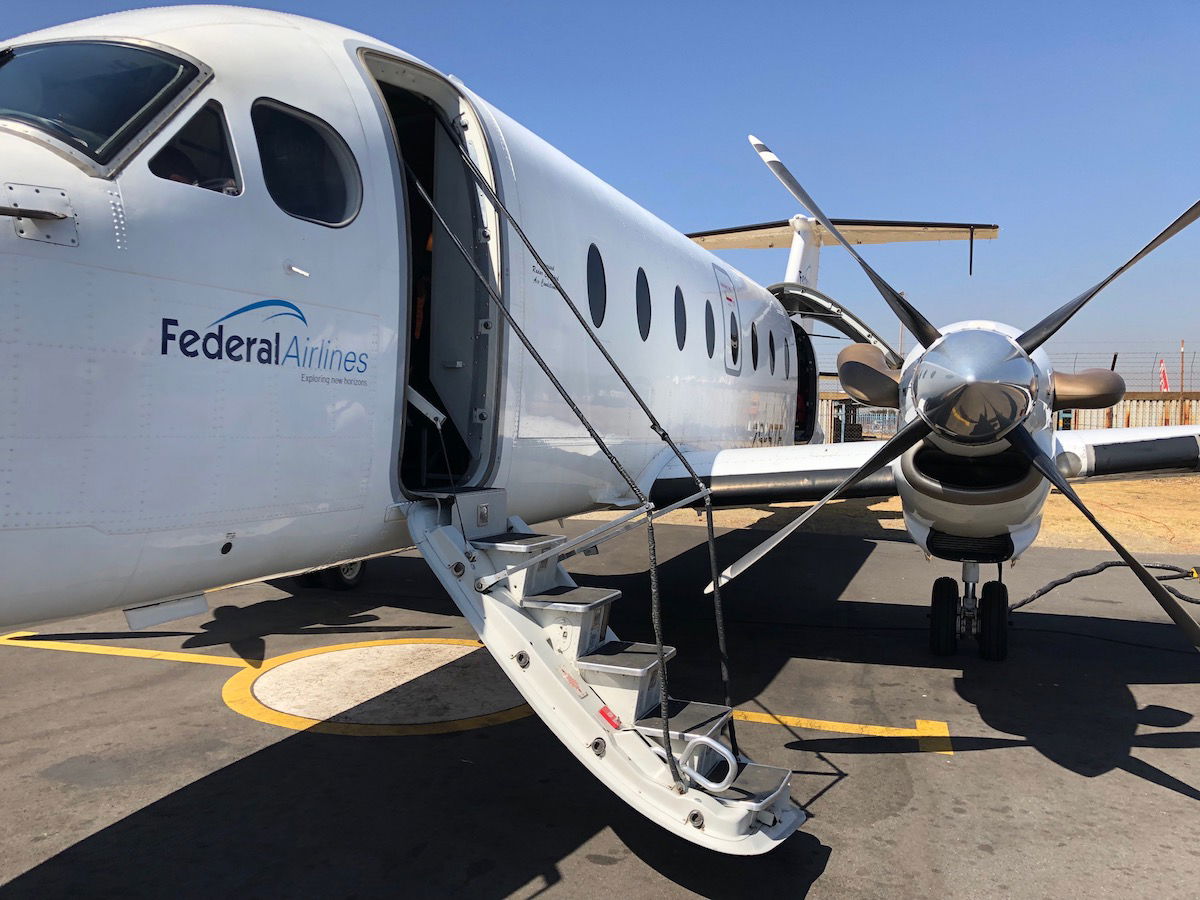 Federal Air Beechcraft 1900
Fed Air has open seating, and the Beechcraft 1900D has a total of 19 seats. This includes eight rows of seats in a 1-1 configuration, and then the last row has three seats. The plane sure does have an awkward feeling, given how high the ceilings are despite the narrow cabin.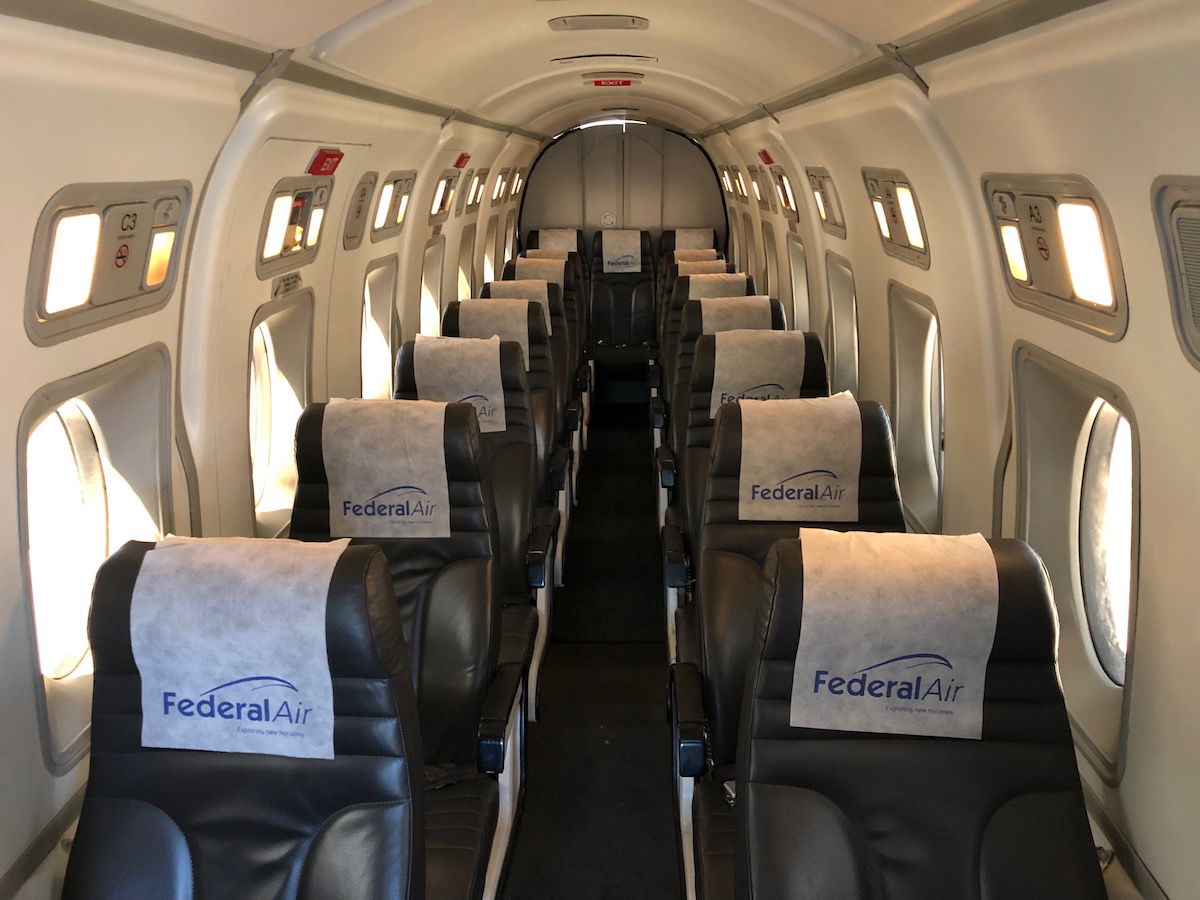 Federal Air Beechcraft 1900 cabin
We selected seats near the wings. There were a total of 12 passengers on this flight — the first stop was Singita Boulders, and then they continued to another lodge.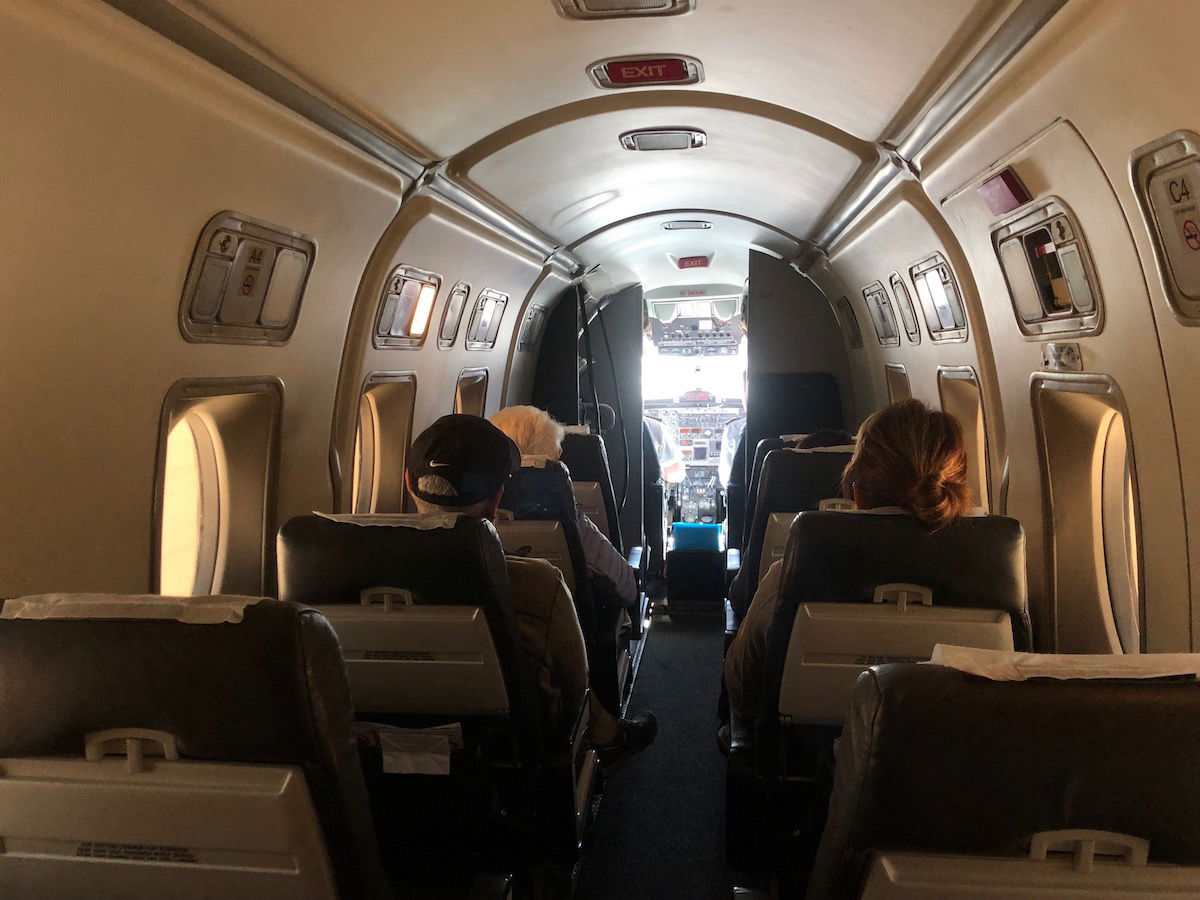 Federal Air Beechcraft 1900 cabin
By 10:50AM boarding was complete, at which point the first officer did a quick safety briefing, and informed us of our cruising altitude of 23,000 feet and our flight time of one hour to Boulders, and then another 10 minutes from there for the remaining passengers.
We started taxiing at 11AM, and took off 10 minutes after that.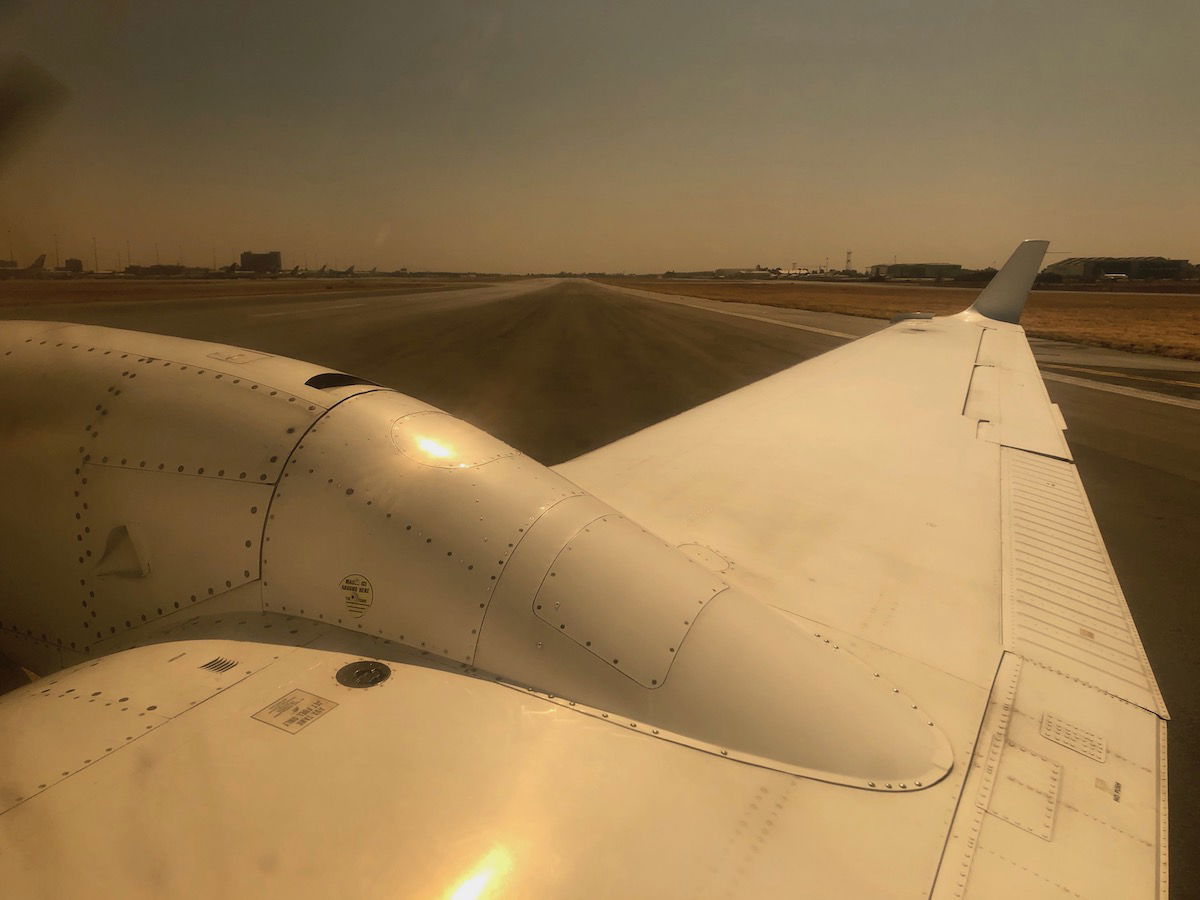 Federal Airlines Beechcraft 1900 wing view
There were views of Johannesburg on the way out, but other than that there wasn't much scenery, given that the bush looks much more interesting from ground level than from above.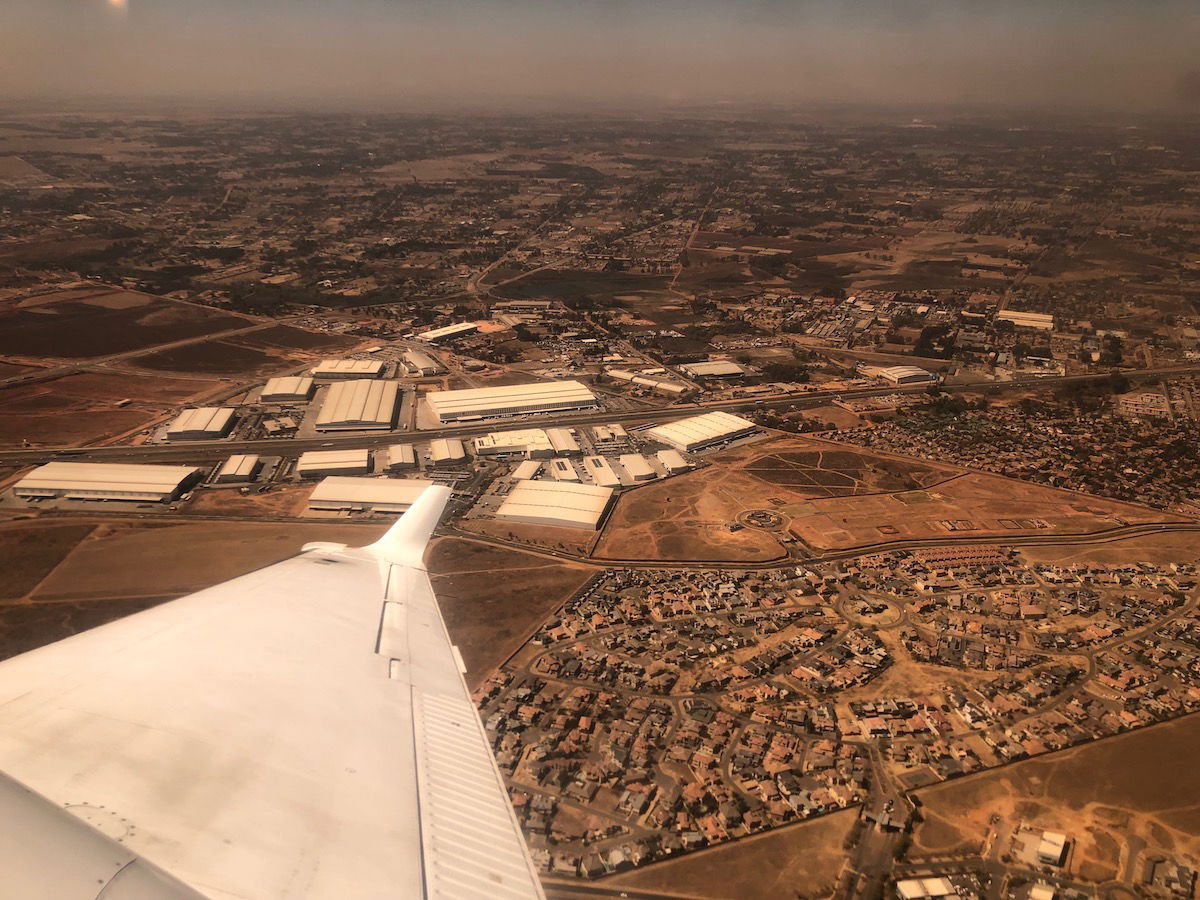 View after takeoff from Johannesburg
There were some snacks and drinks at the front of the cabin that passengers could help themselves to, though the 1900D doesn't have any bathrooms or flight attendants.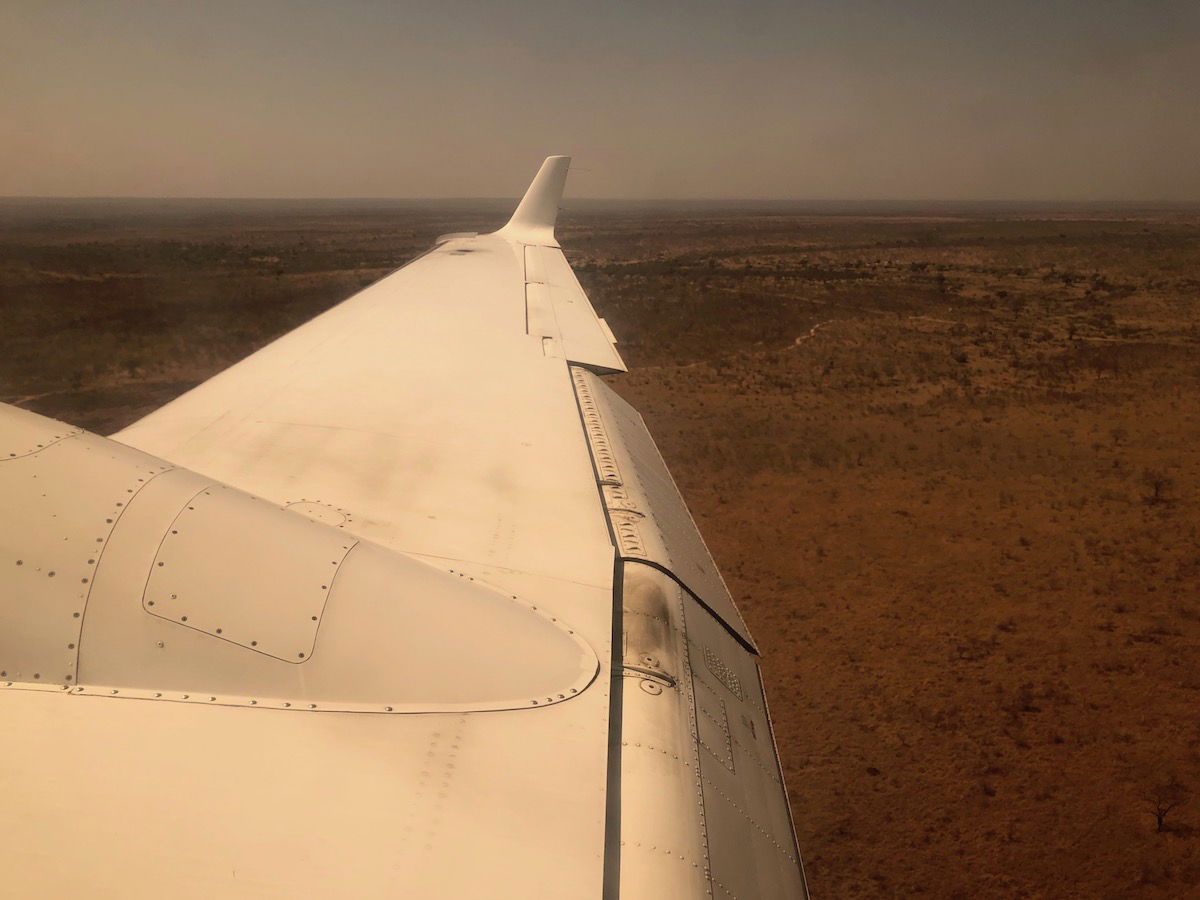 View approaching Sabi Sands
We ended up touching down at Singita Boulders at 12PM on runway 1.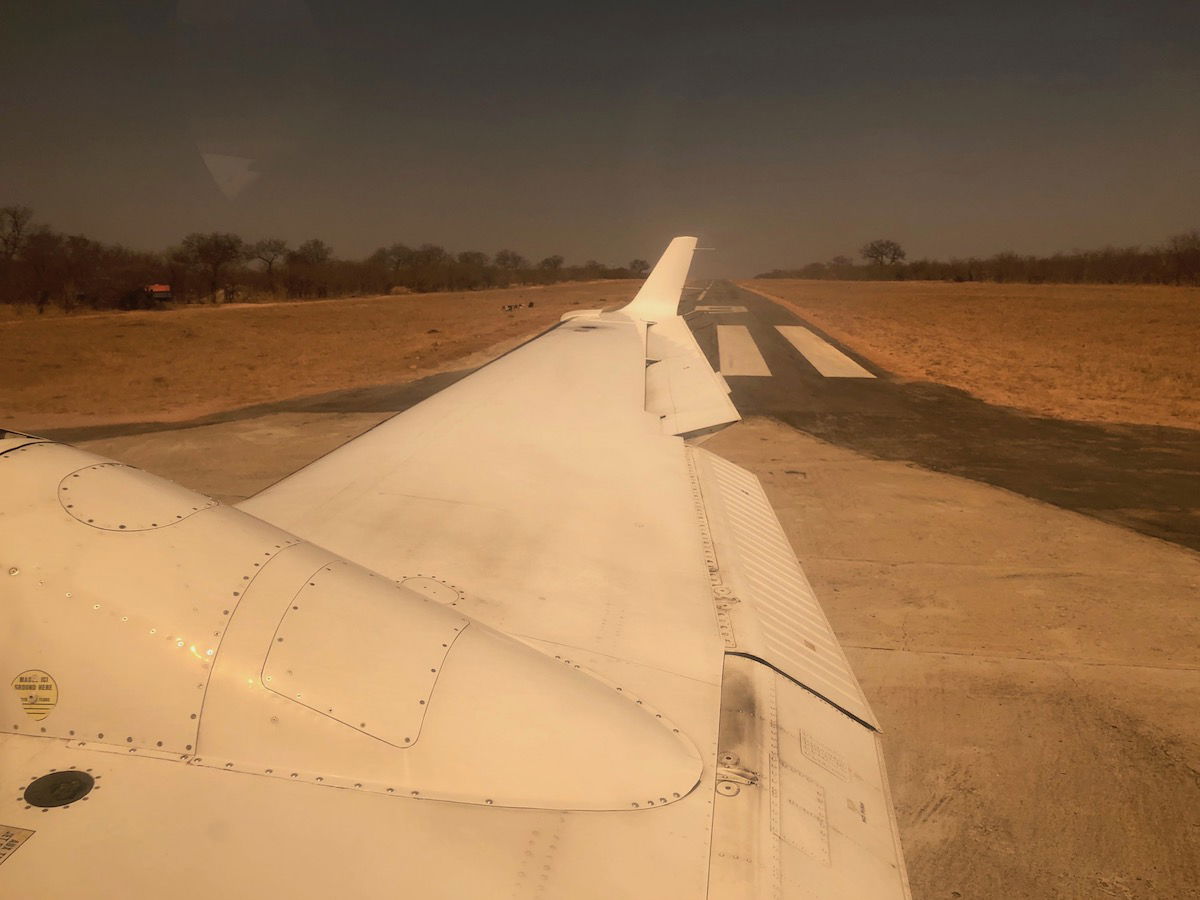 Arriving in Sabi Sands
We were the only ones getting off here, so they left the right engine running while they opened the door to let us out and took our bags out as well.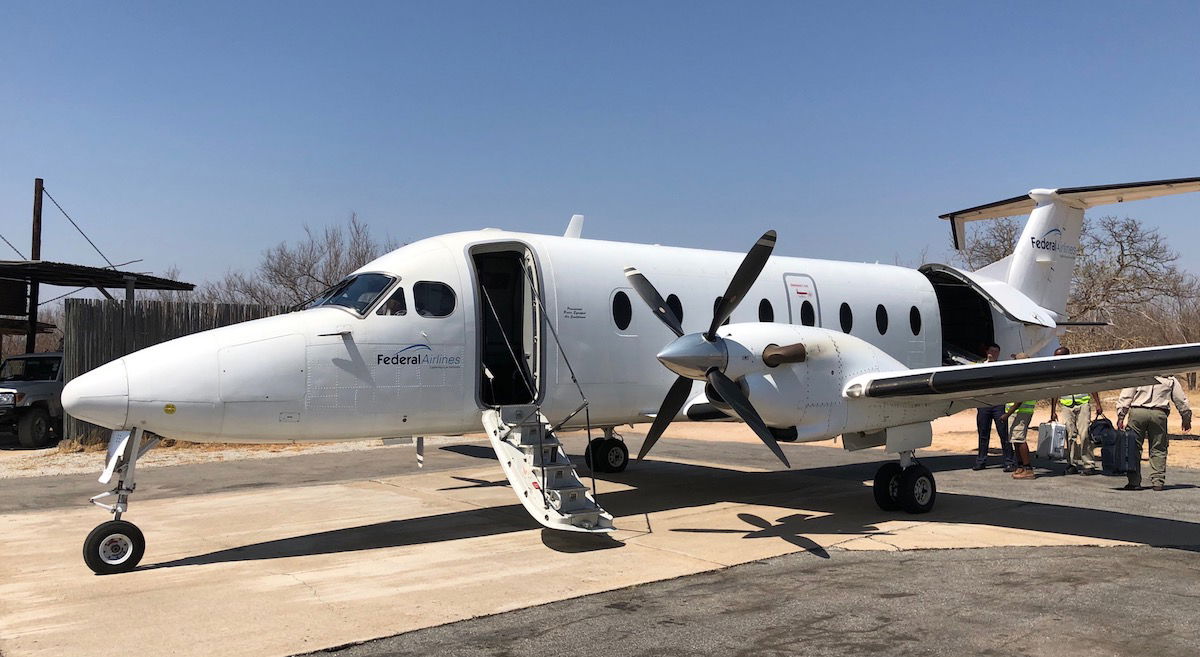 Fed Air Beechcraft 1900 upon arrival
Here we were picked up by a Singita jeep plane side. Not your average airport transfer, eh?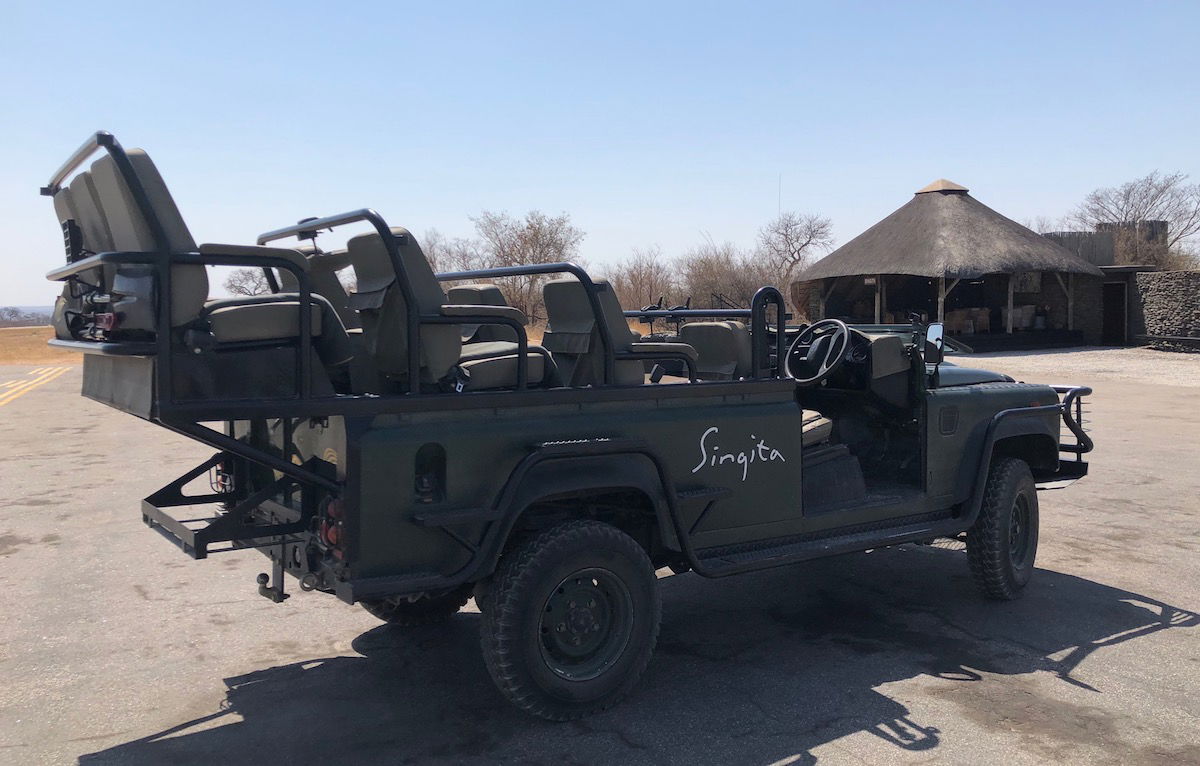 Not your average airport pick-up!
Coleman and Themba, our guide and spotter for the next three days, introduced themselves and whisked us off to the hotel, which was about a 15 minute drive away.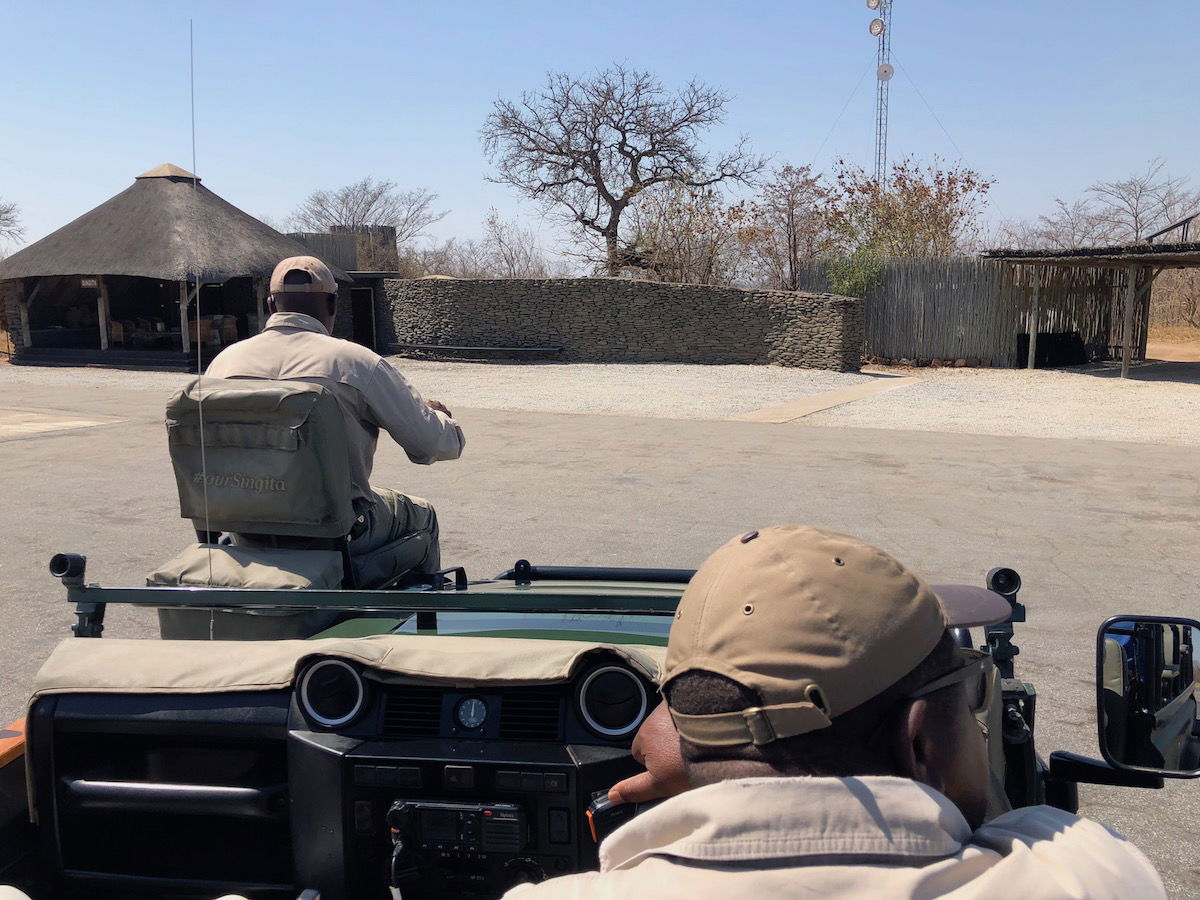 Here we go!
Federal Air Cessna Grand Caravan Review
After three days at Singita Boulders we headed to Singita Lebombo. These lodges are only about 90km in apart, though you can't drive even nearly that directly. So the fastest drive is nearly four hours, which is why most guests fly between the two lodges.
We were only informed of our departure time the day before our flight. We left Boulders Lodge at around 10AM, and were told our flight would be at 10:20AM. The drive took about 15 minutes. Singita has a charming waiting area at the airport, though the plane was already waiting for us.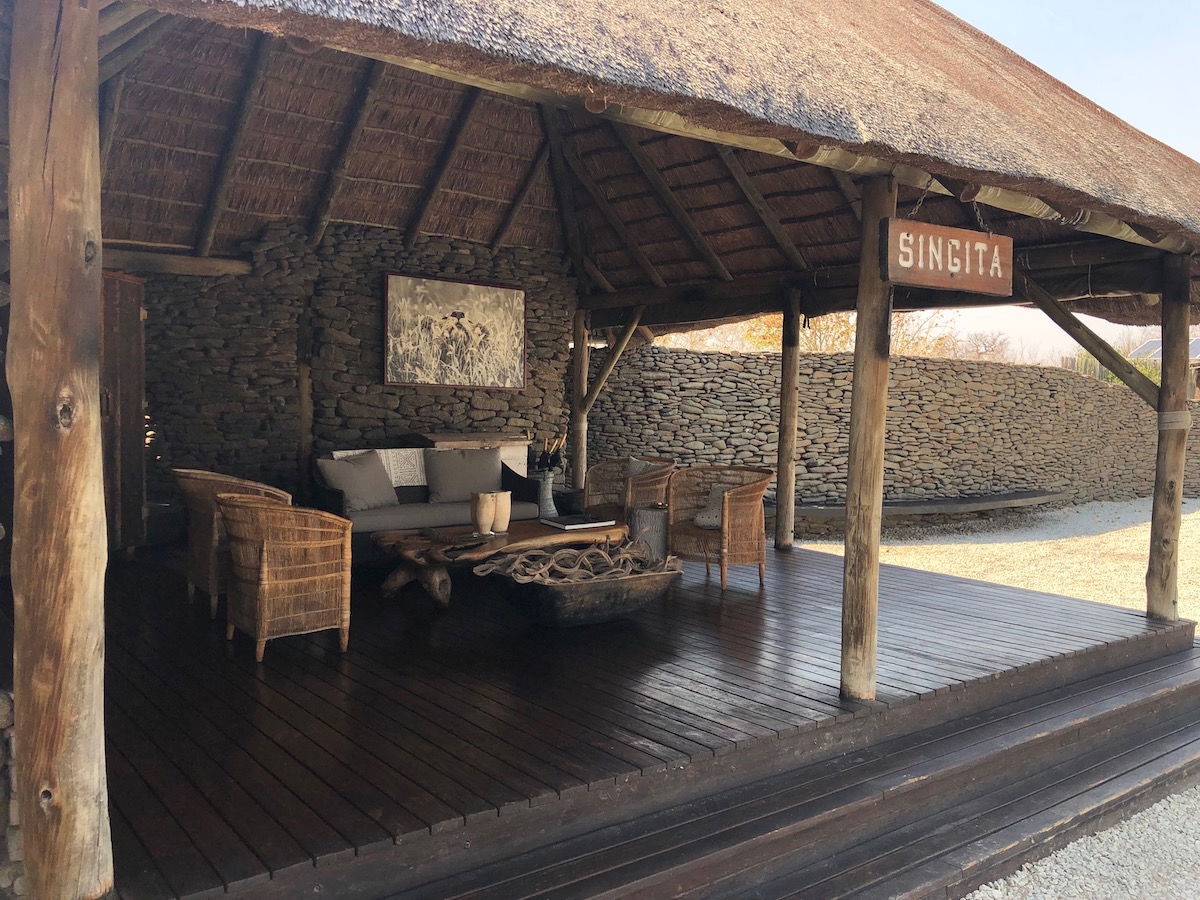 Singita Boulders departures lounge
This time we were flying a Cessna Grand Caravan. As we approached the plane first officer Dan welcomed us onboard and also introduced us to captain Ruby.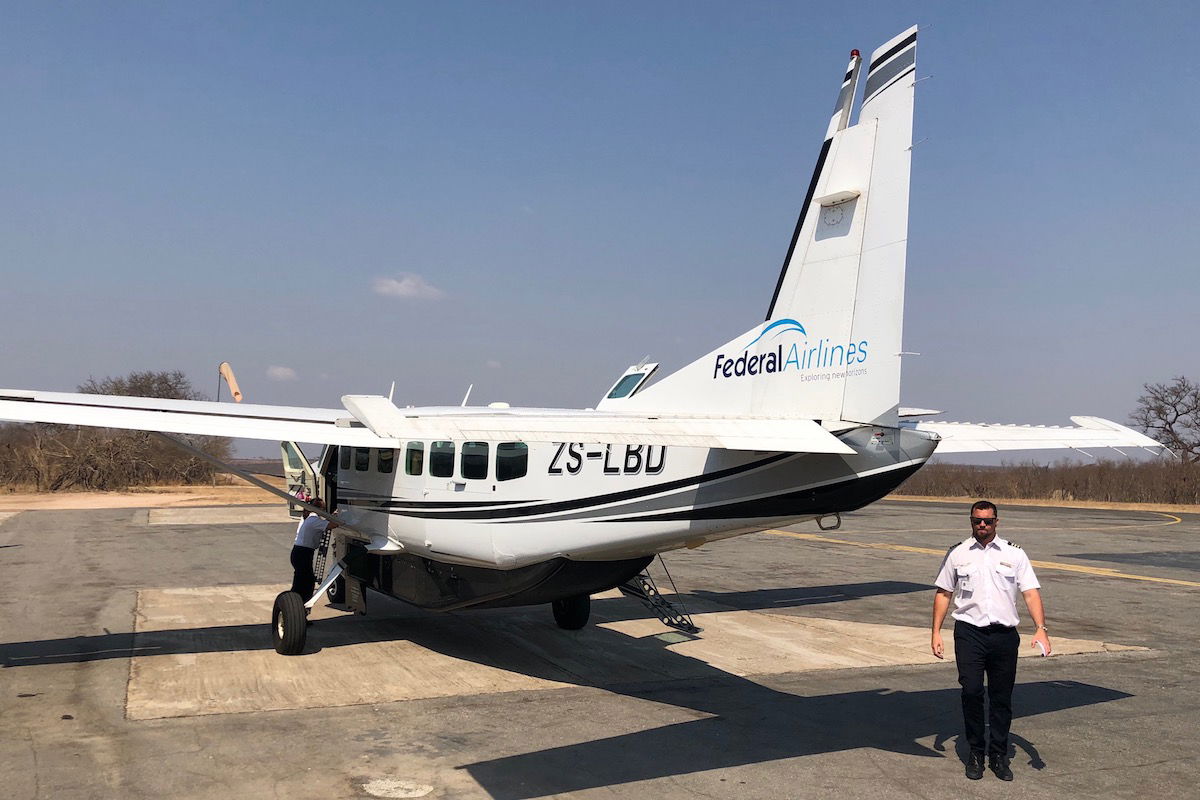 Fed Air Cessna Grand Caravan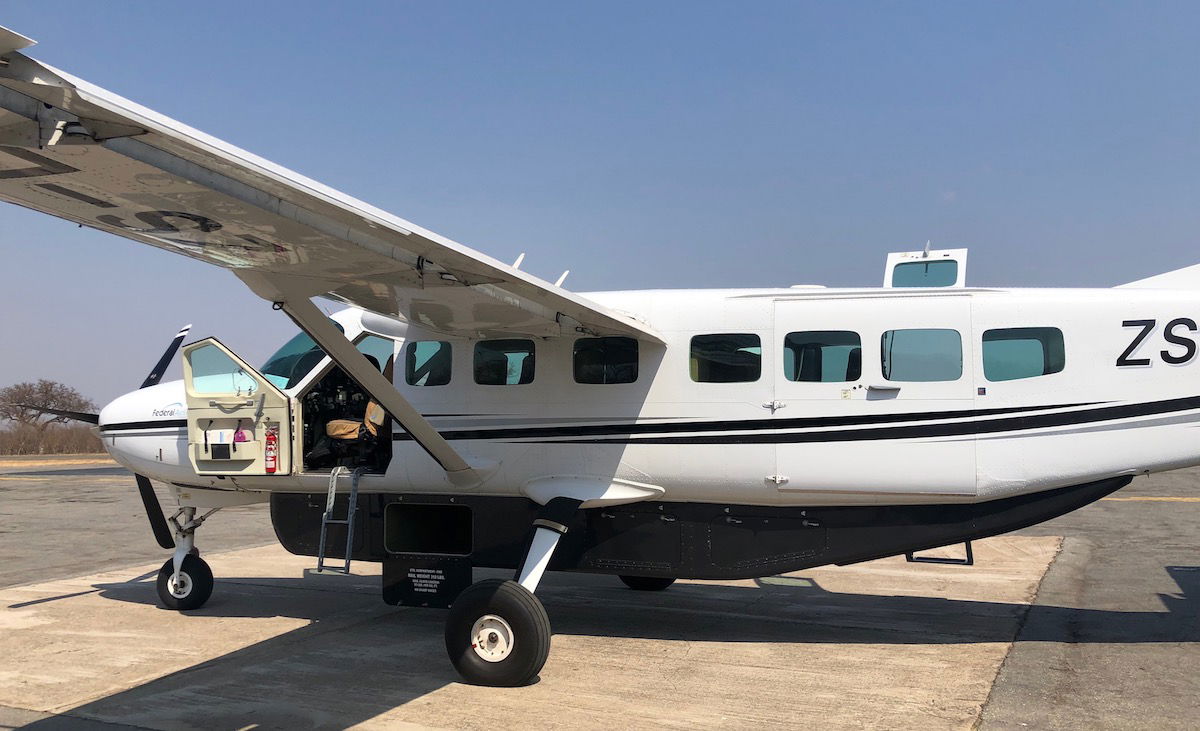 Fed Air Cessna Grand Caravan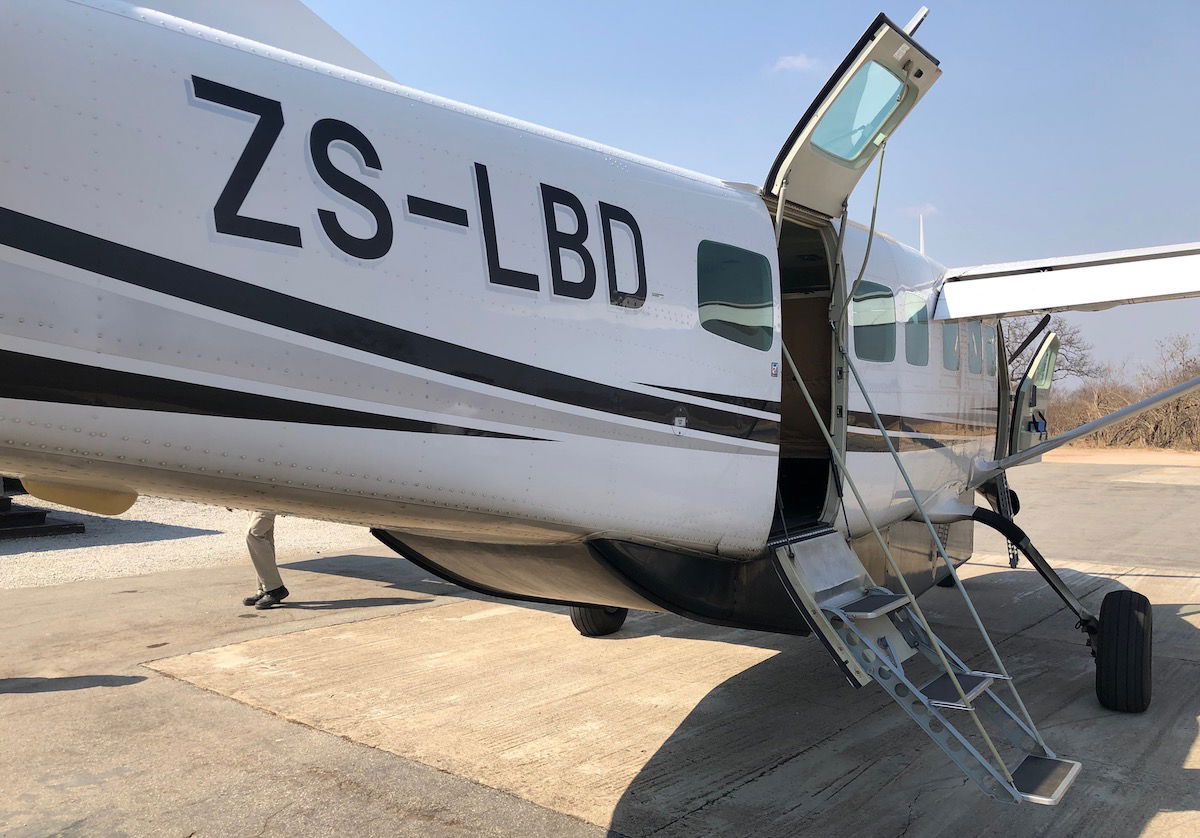 Fed Air Cessna Grand Caravan
The Grand Caravan has a total of 12 seats — there are four rows in a 1-2 configuration, and passengers board through the rear.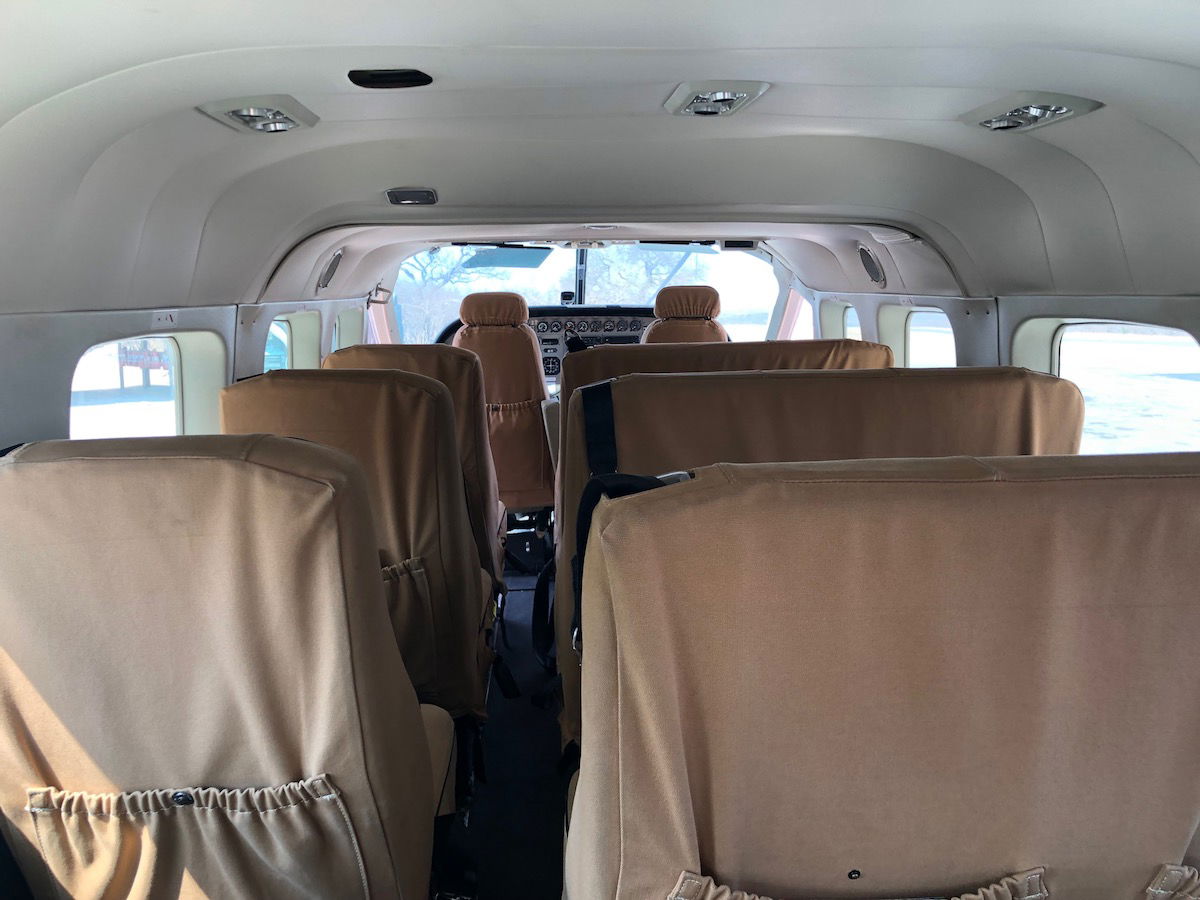 Fed Air Cessna Grand Caravan cabin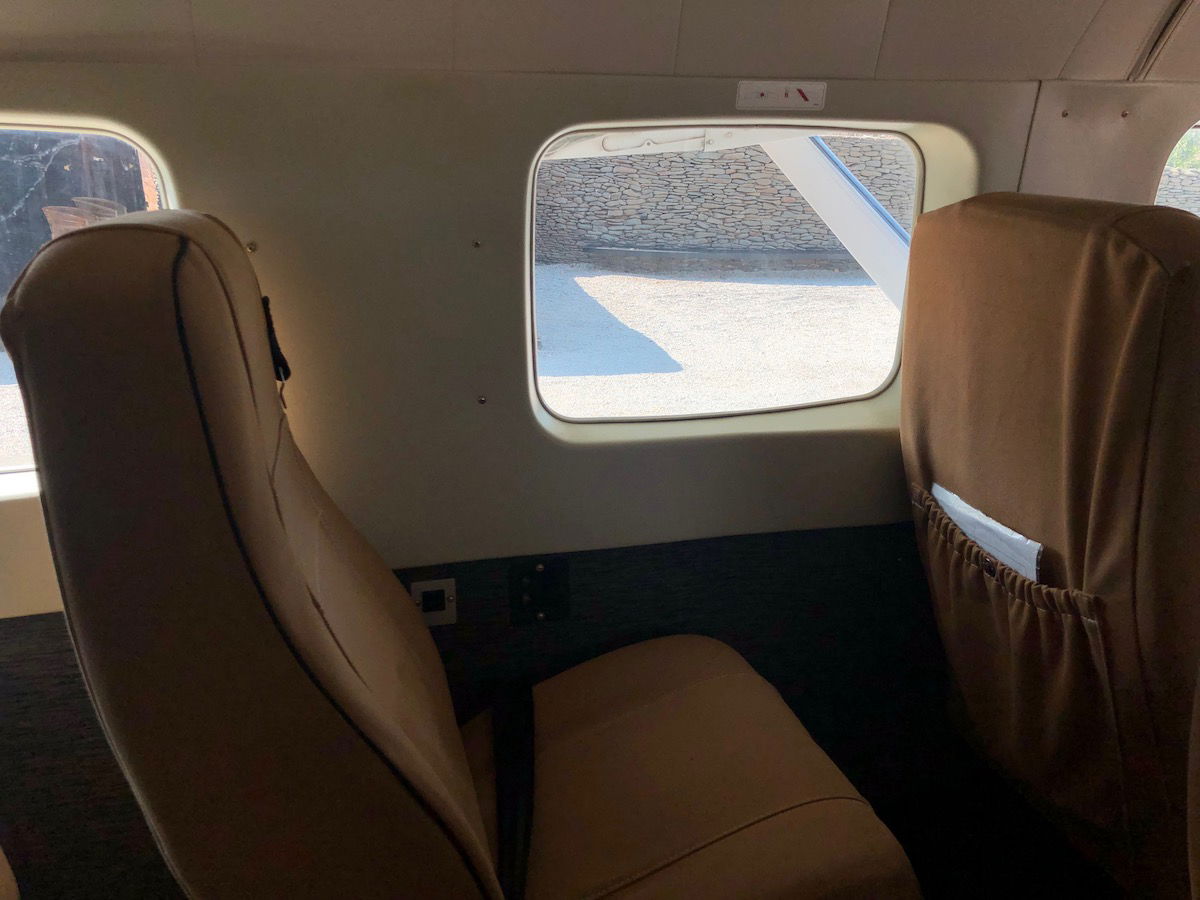 Fed Air Cessna Grand Caravan cabin
The cabin was super comfy and the plane felt new. We were told that we were the only passengers on the flight so we could spread out however we wanted. We were provided with a quick safety briefing, and informed of our flight time of 20 minutes and cruising altitude of 3,500 feet.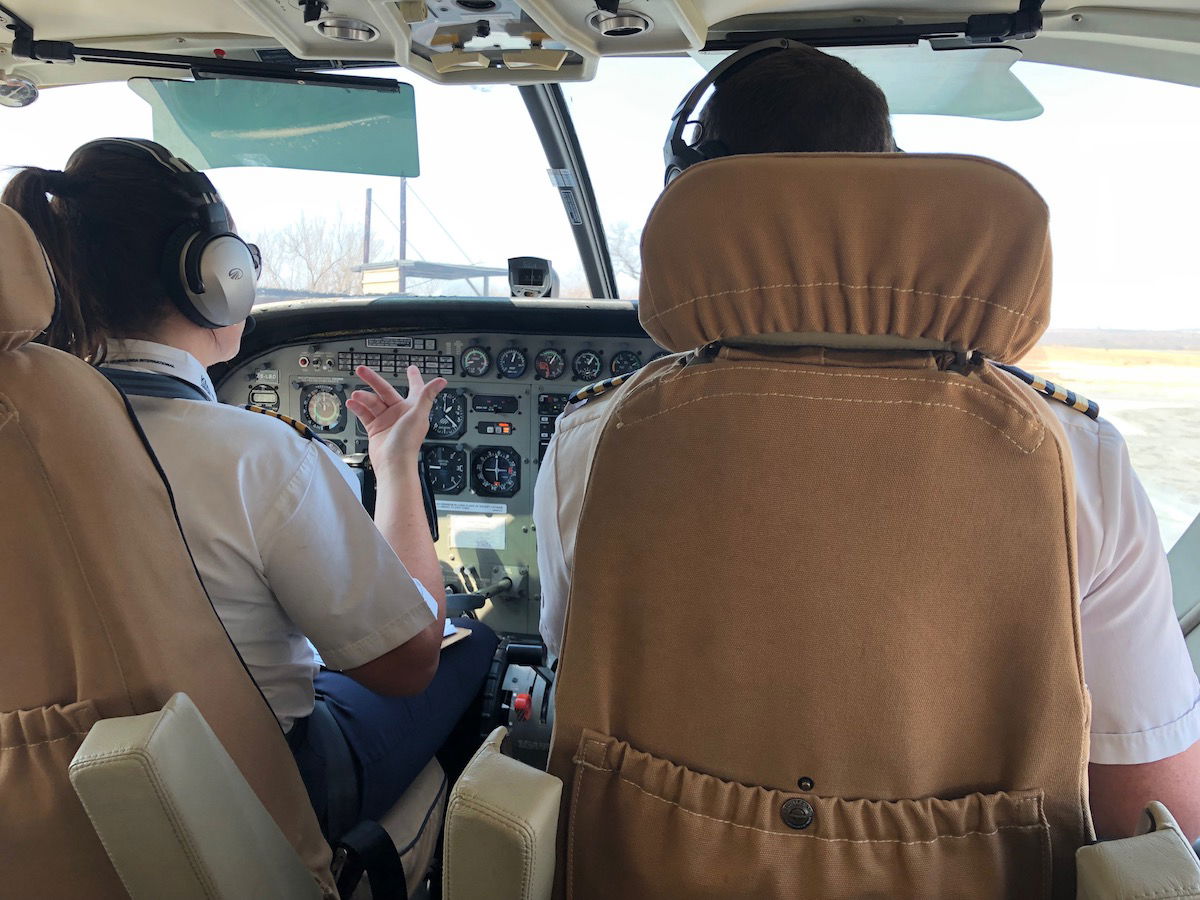 Fed Air Cessna Grand Caravan cabin
We took off from runway 19 at 10:40AM.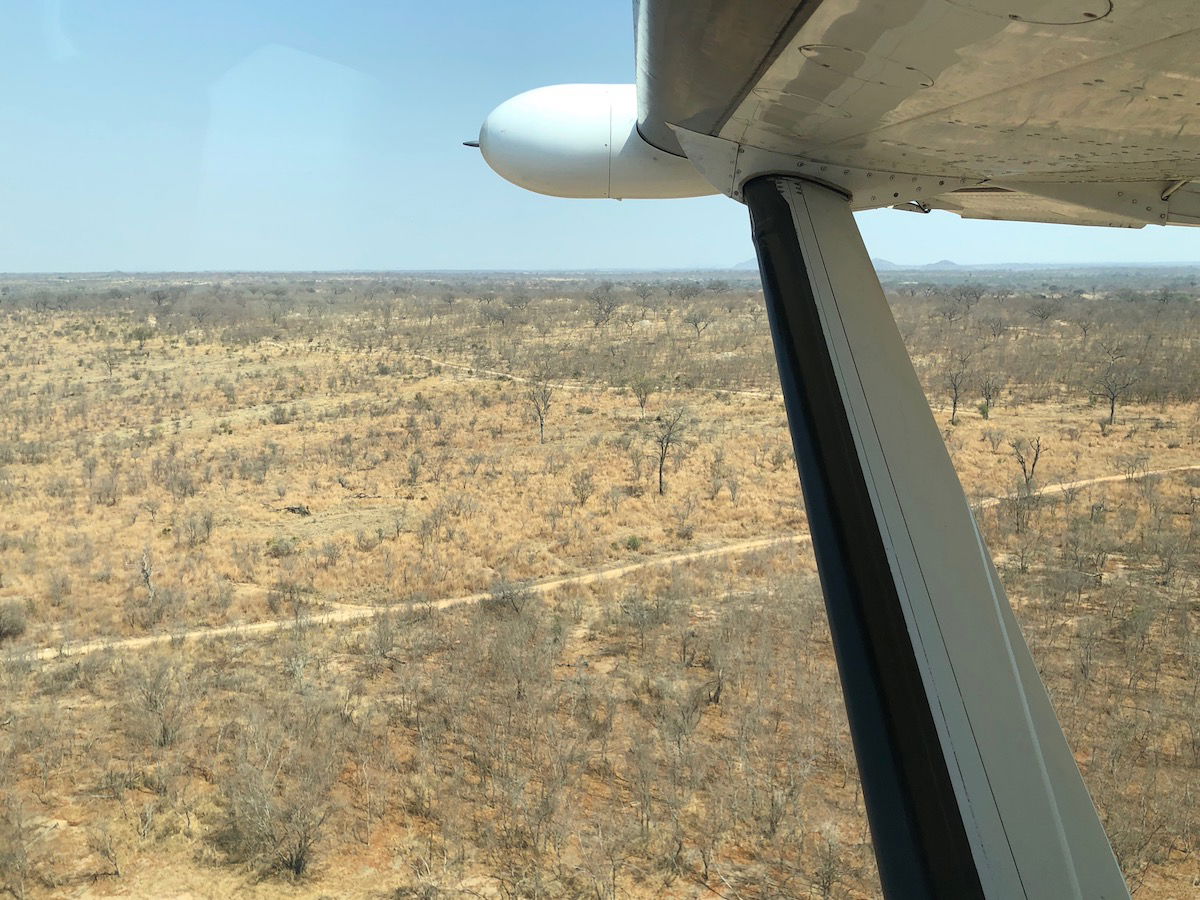 Views enroute to Kruger
It was cool to have such a direct view of the cockpit.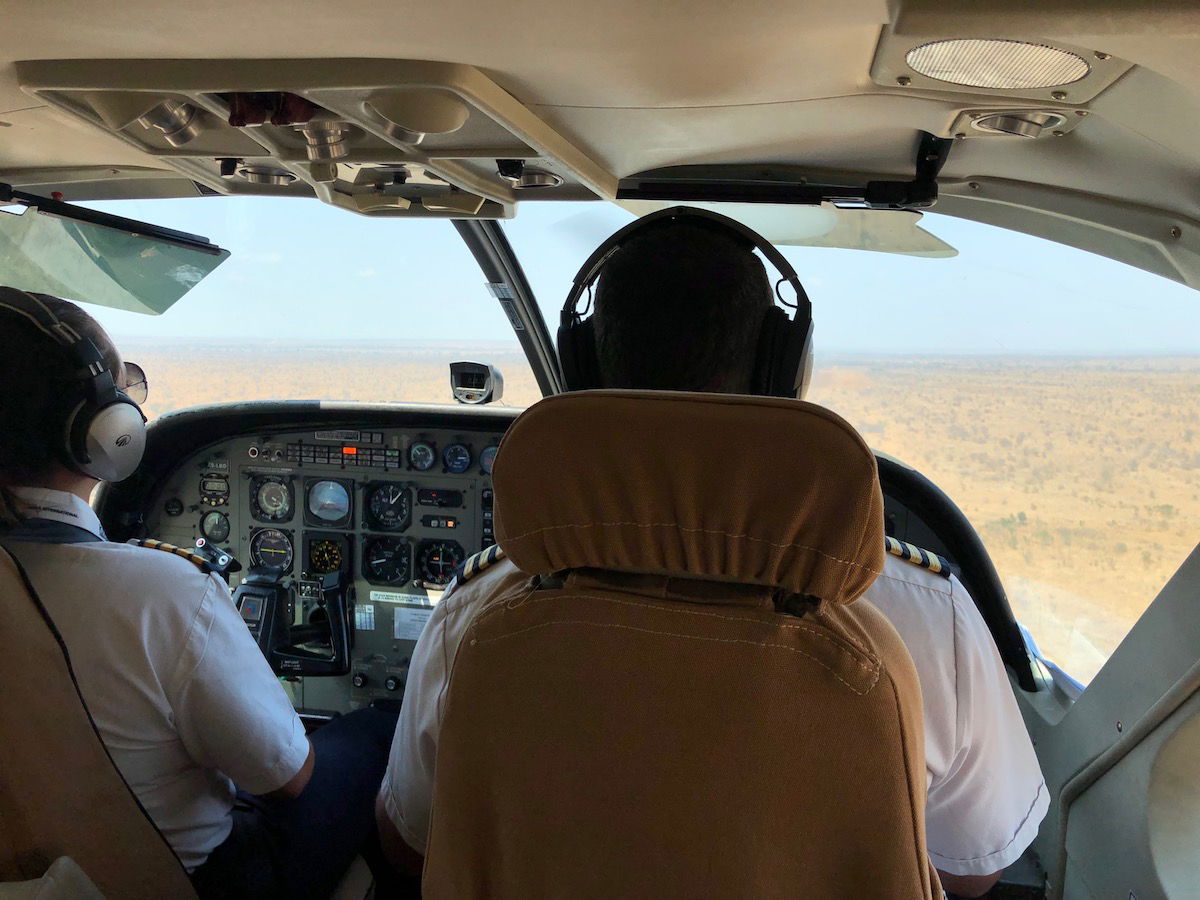 Views approaching Singita Lebombo
The flight was smooth, and sure enough we touched down at 11AM, as expected. This airport only had a dirt strip, so it was a rougher taxi after landing.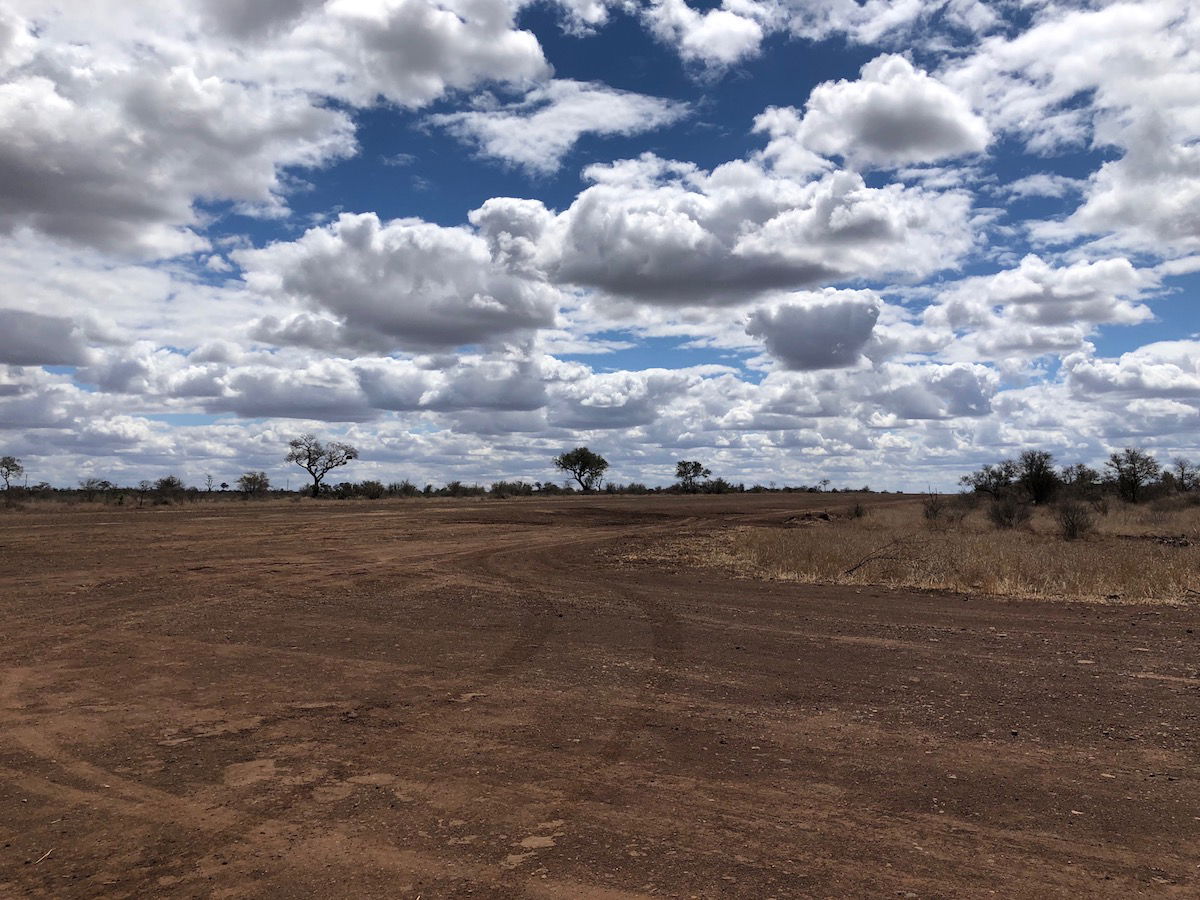 Singita Lebombo airport
There we were greeted by Singita representatives. Singita set up a little lounge of sorts, with bathrooms and refreshments.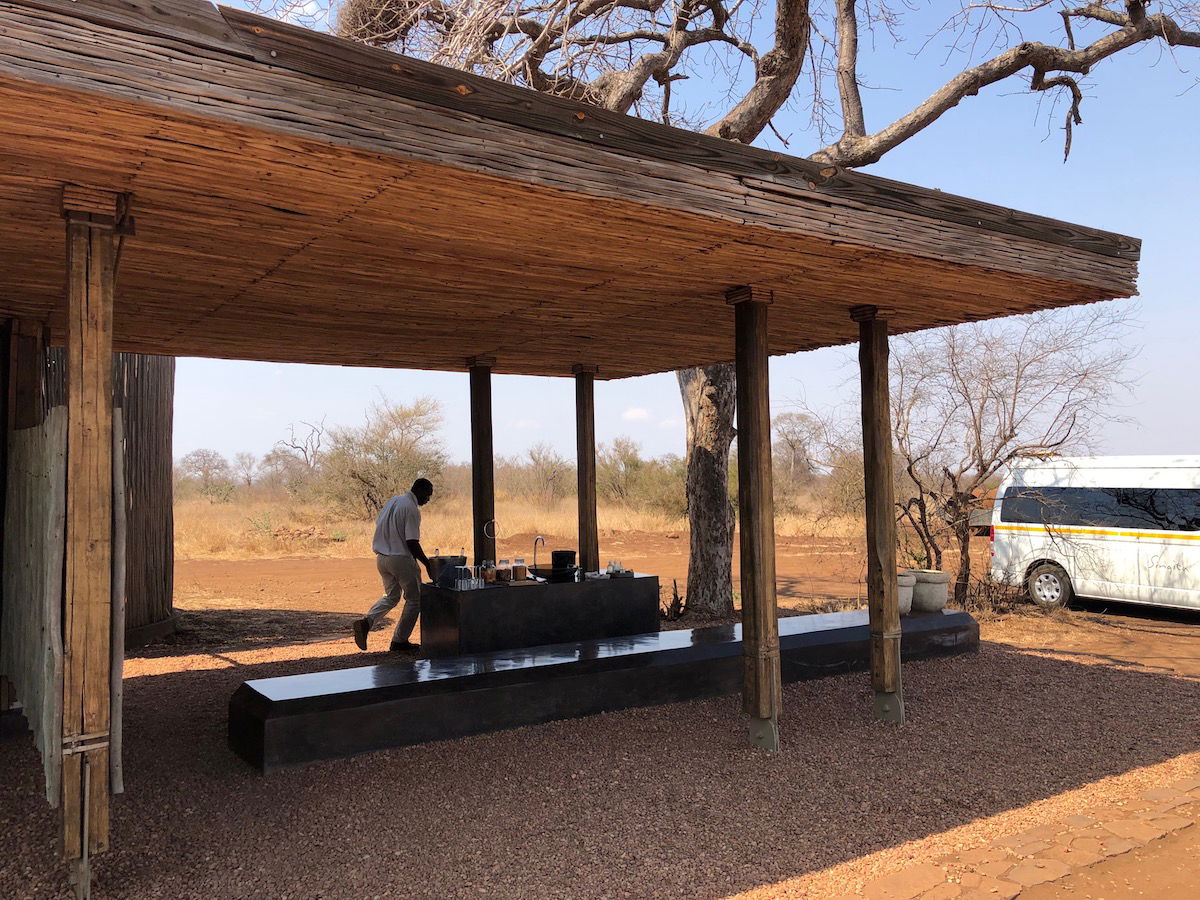 Singita Lebombo airport lounge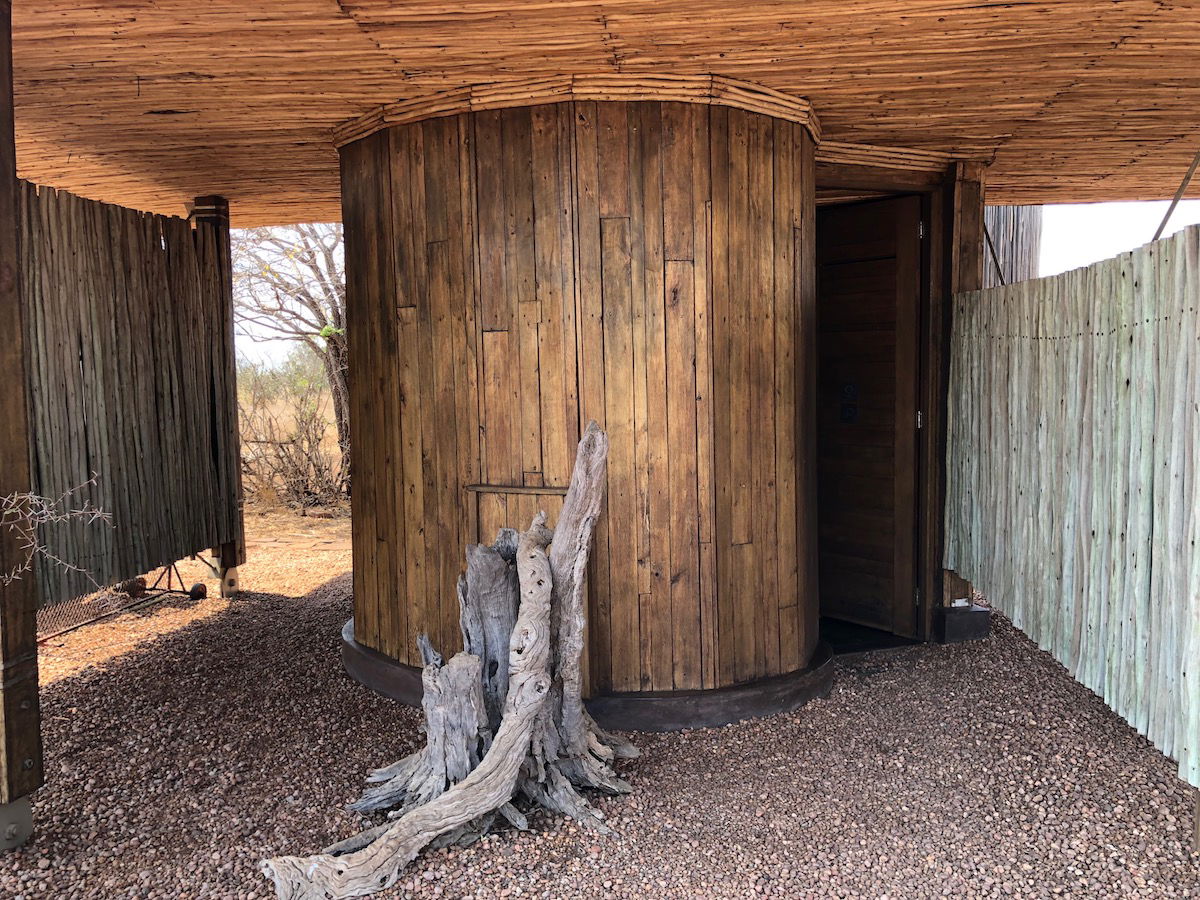 Singita Lebombo airport lounge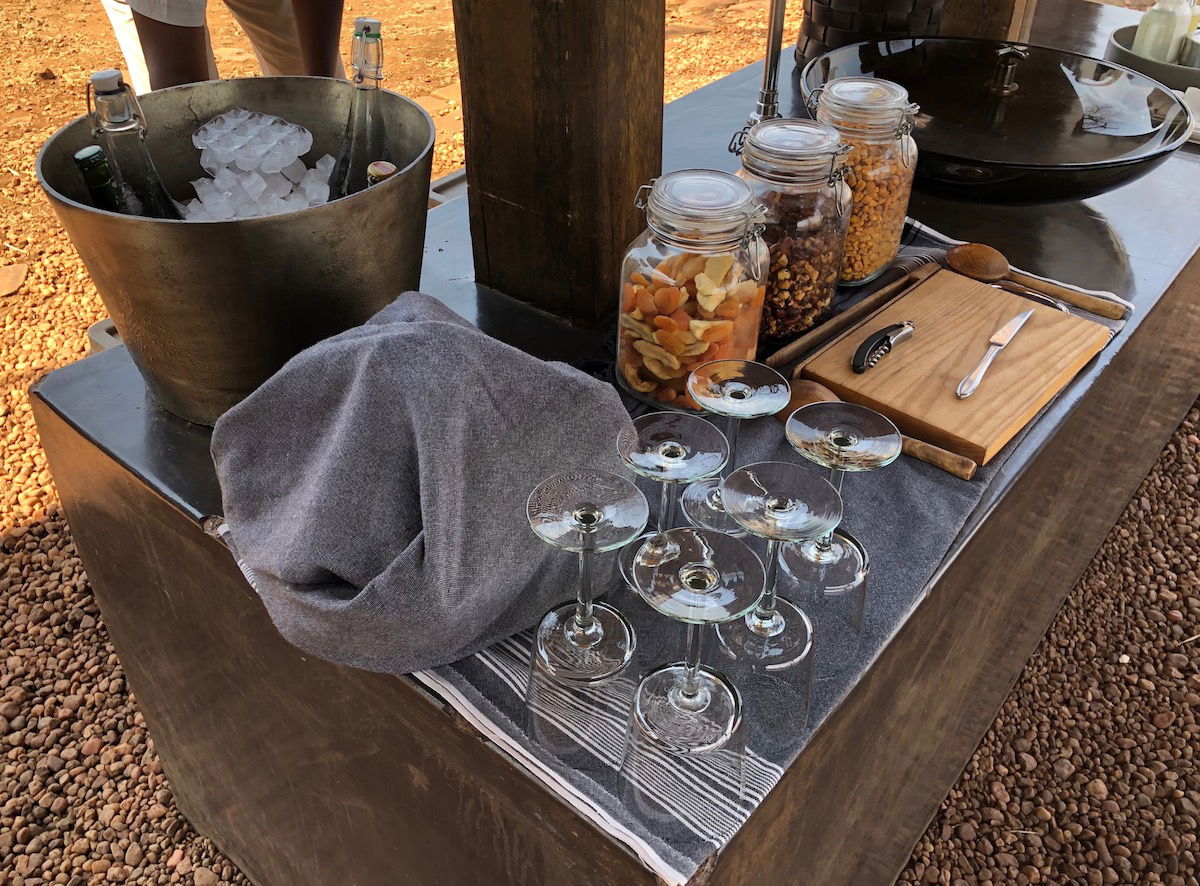 Singita Lebombo airport lounge
The drive to Singita Lebombo took about 40 minutes from the air strip.
Federal Air Pilatus PC-12 Review
After three days at Singita Lebombo it was time to fly back to Johannesburg. We were told that our flight would depart at 12PM, so we left the hotel at around 11AM. Once there we hung out in the same departures area pictured above.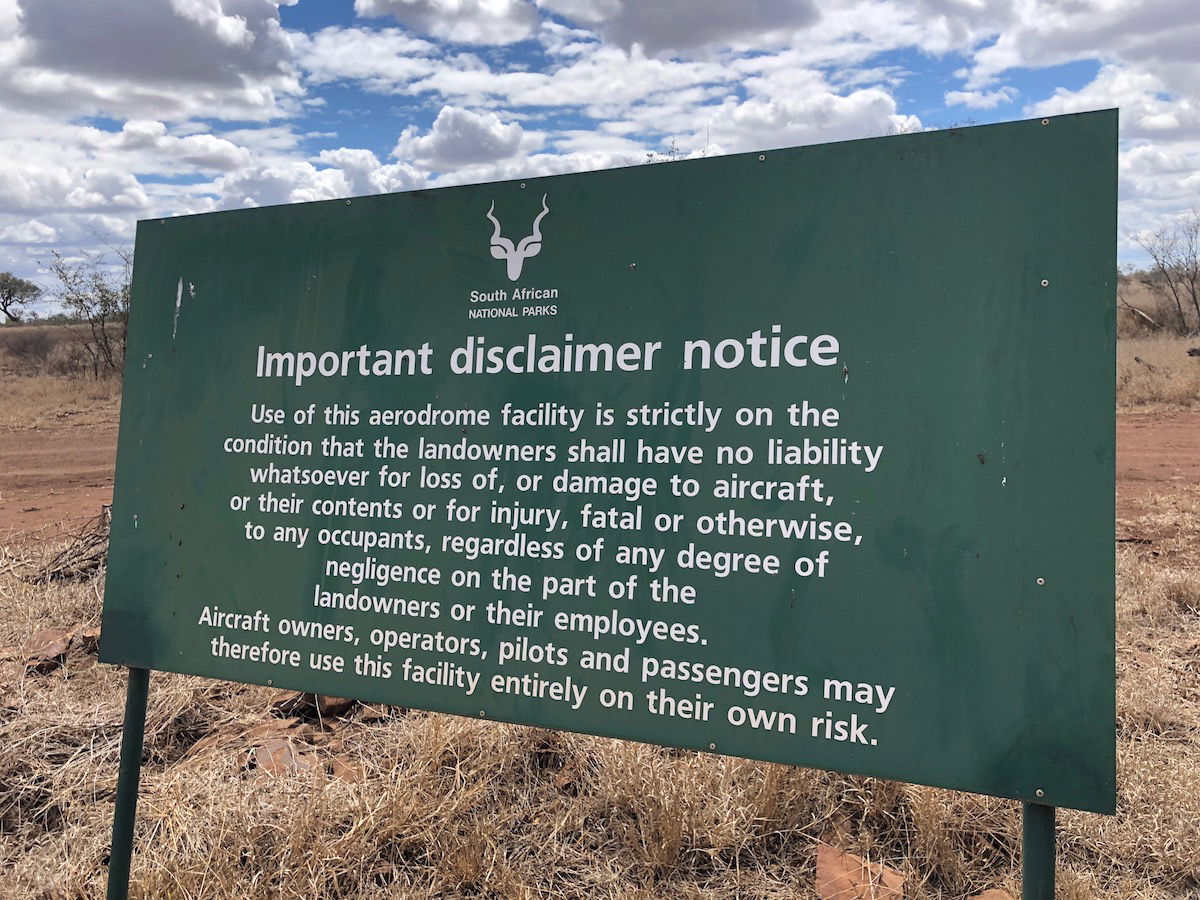 Singita Lebombo airport
The inbound plane ended up being delayed a bit, and at 12:10PM a Pilatus PC-12 appeared. I'd note that for all three flights we weren't told in advance what planes we'd get. I did know it wouldn't be the Beechcraft 1900D for this flight, since they avoid using those on dirt strips.
The Pilatus PC-12 is significantly faster than the Cessna Grand Caravan (the cruising speed is ~315mph rather than ~215mph, based on a quick Google search), so I was happy we had this for the flight back.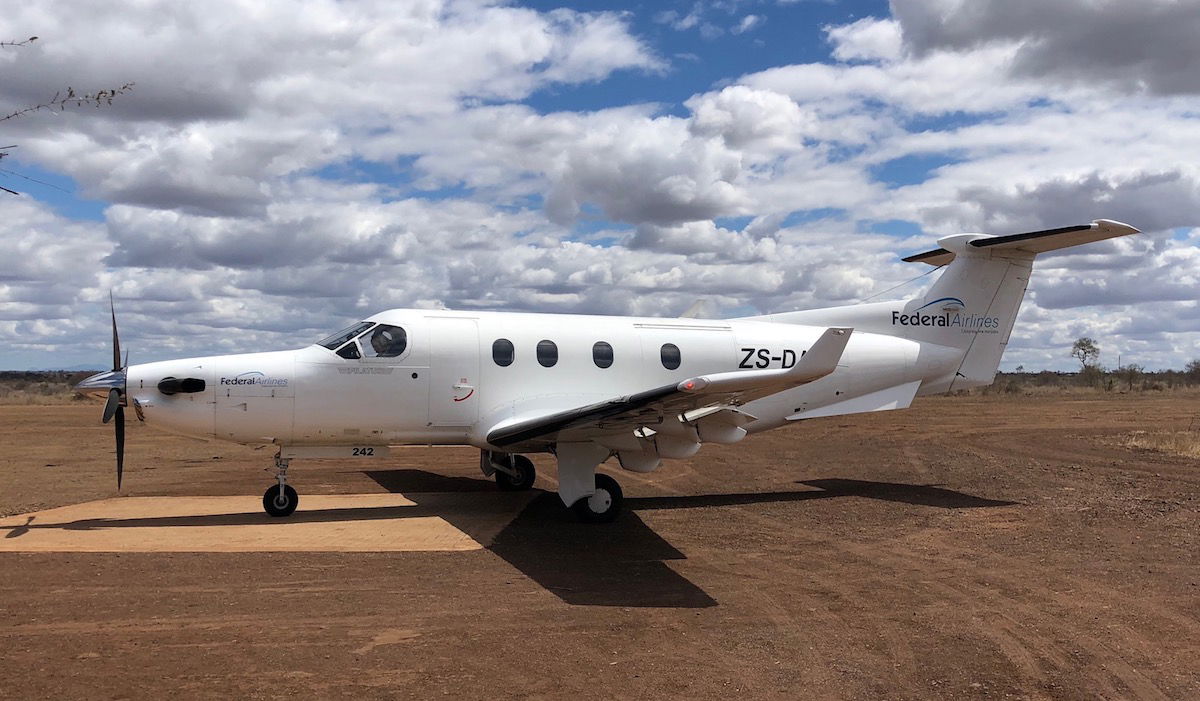 Fed Air Pilatus PC-12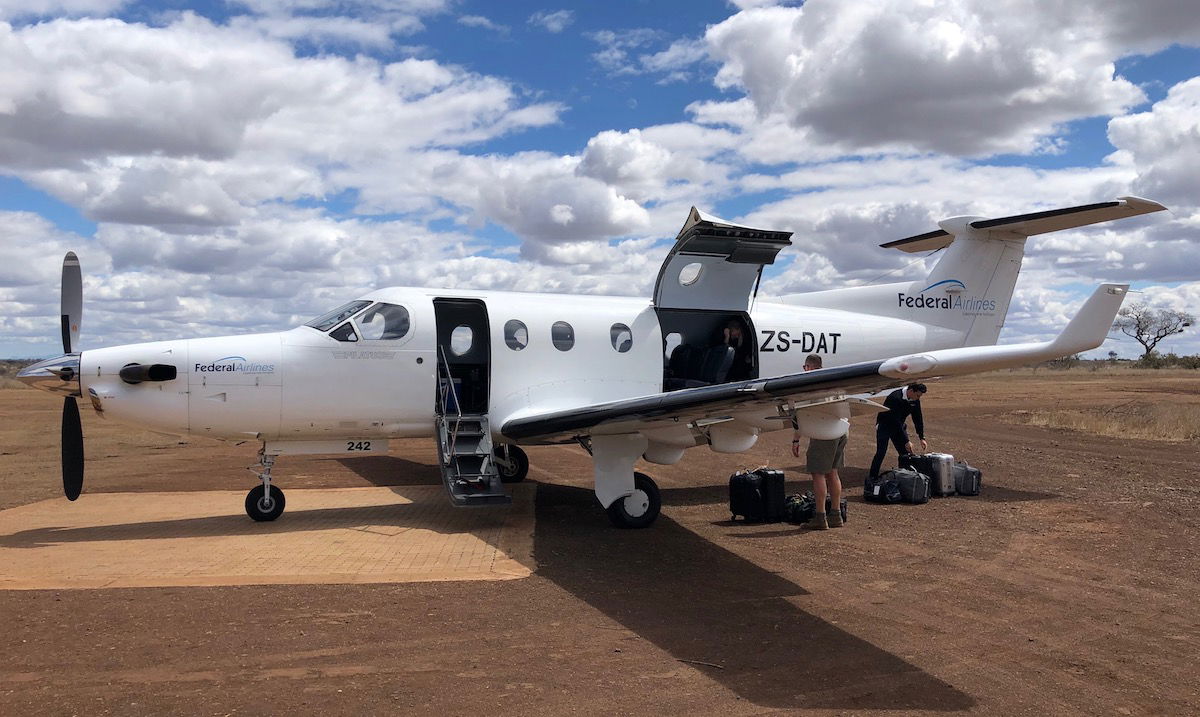 Fed Air Pilatus PC-12
I don't think I've ever been on one of these planes before, so I was excited. The plane had a total of nine seats — there were three rows in a 1-1 configuration, and then the last row had three seats.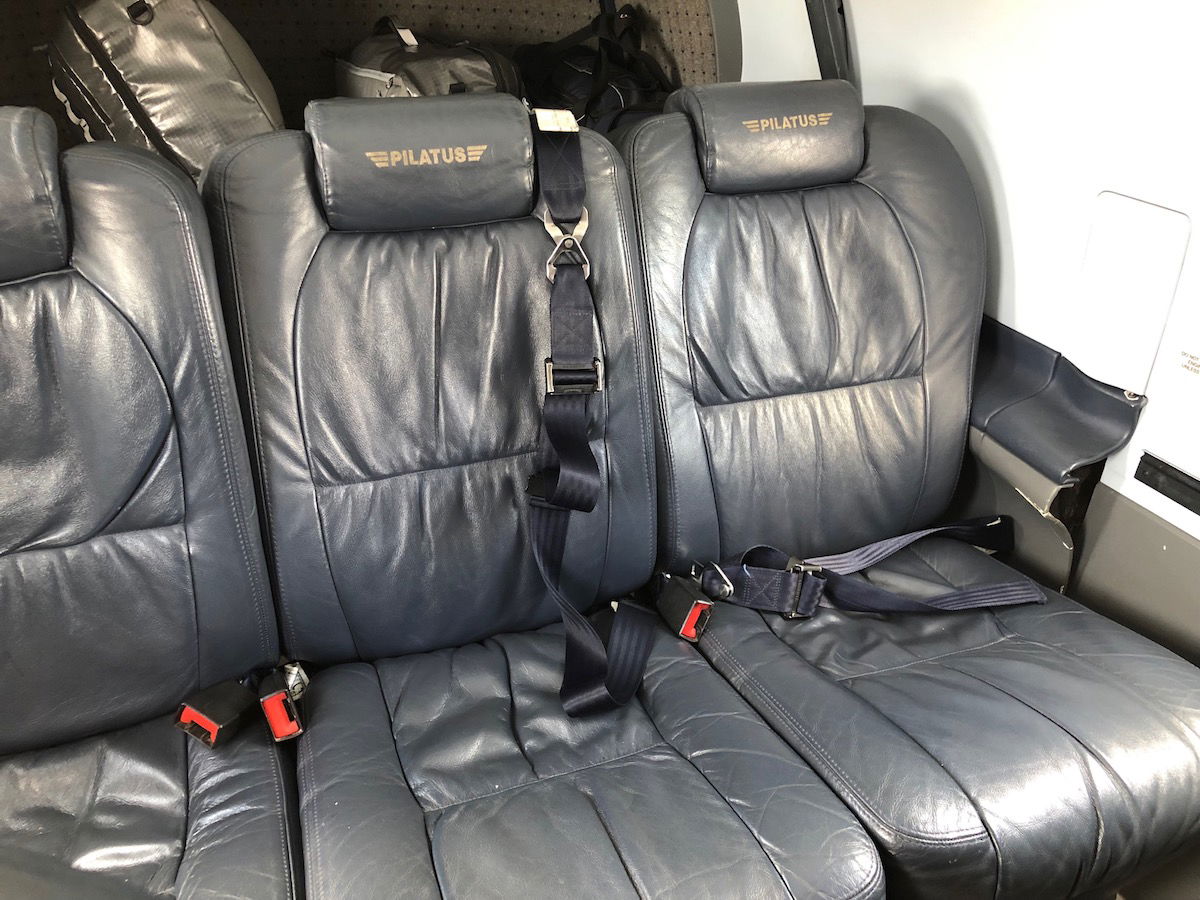 Fed Air Pilatus PC-12 cabin
Even though this was the smallest plane of the trip (capacity-wise) it had more of a "big plane" feel than the Cessna.
There were already four people on the plane when we got on, so Ford and I ended up sitting in the first row, while my dad sat two rows back. That meant I sat right next to the snack basket — hah.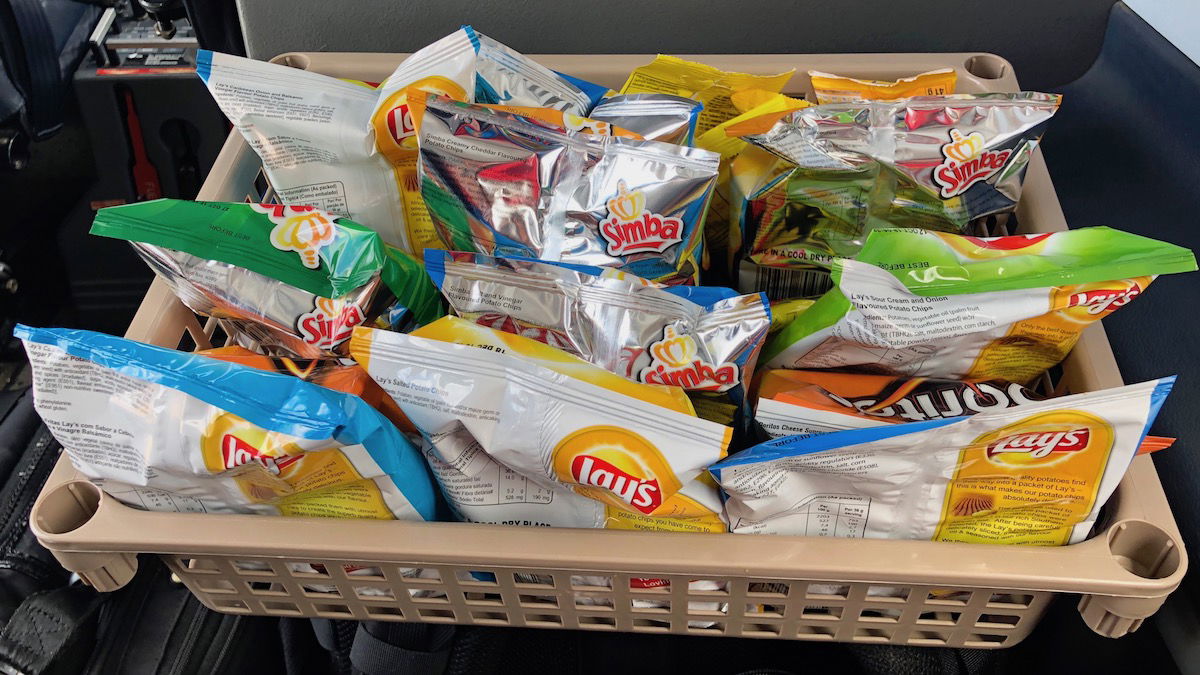 Fed Air snacks
From the first row I still had a cockpit view, though it was a bit obstructed.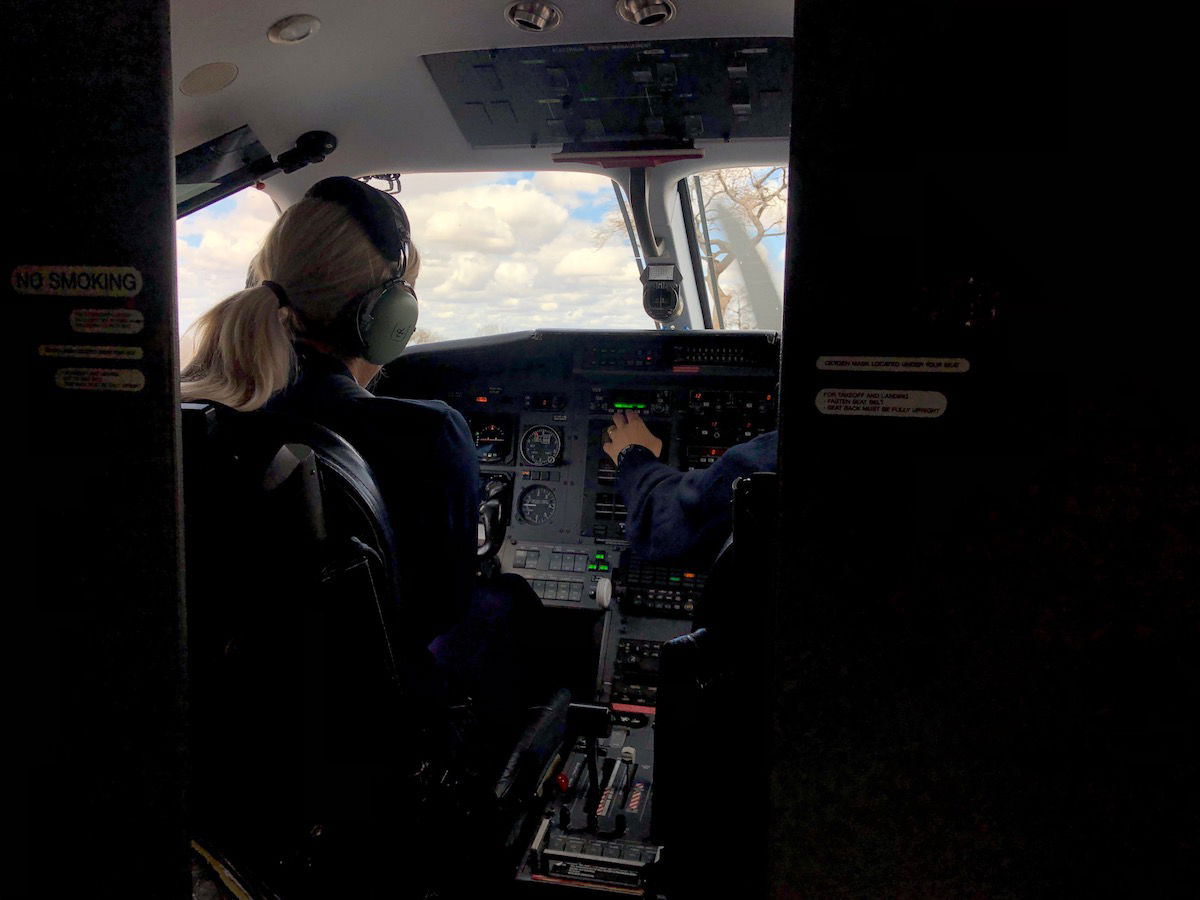 Fed Air Pilatus PC-12 cockpit view
At 12:20PM we were given a quick safety briefing, and were told our flight time would be one hour, and that we'd cruise at 20,000 feet.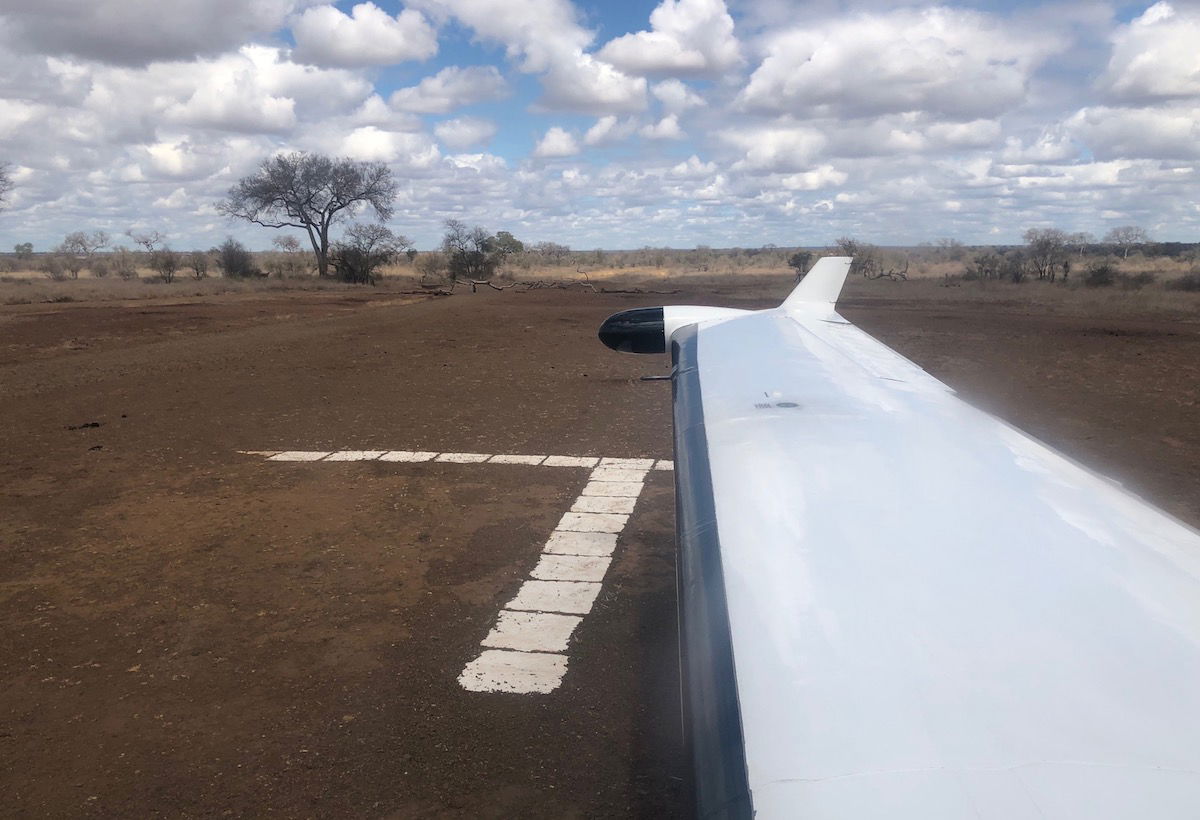 Fed Air Pilatus PC-12 wing view
Within a few minutes we took off. There was some turbulence on the climb out as we passed through some thick clouds. Ford hates small planes, so he was squeezing my hand from across the aisle.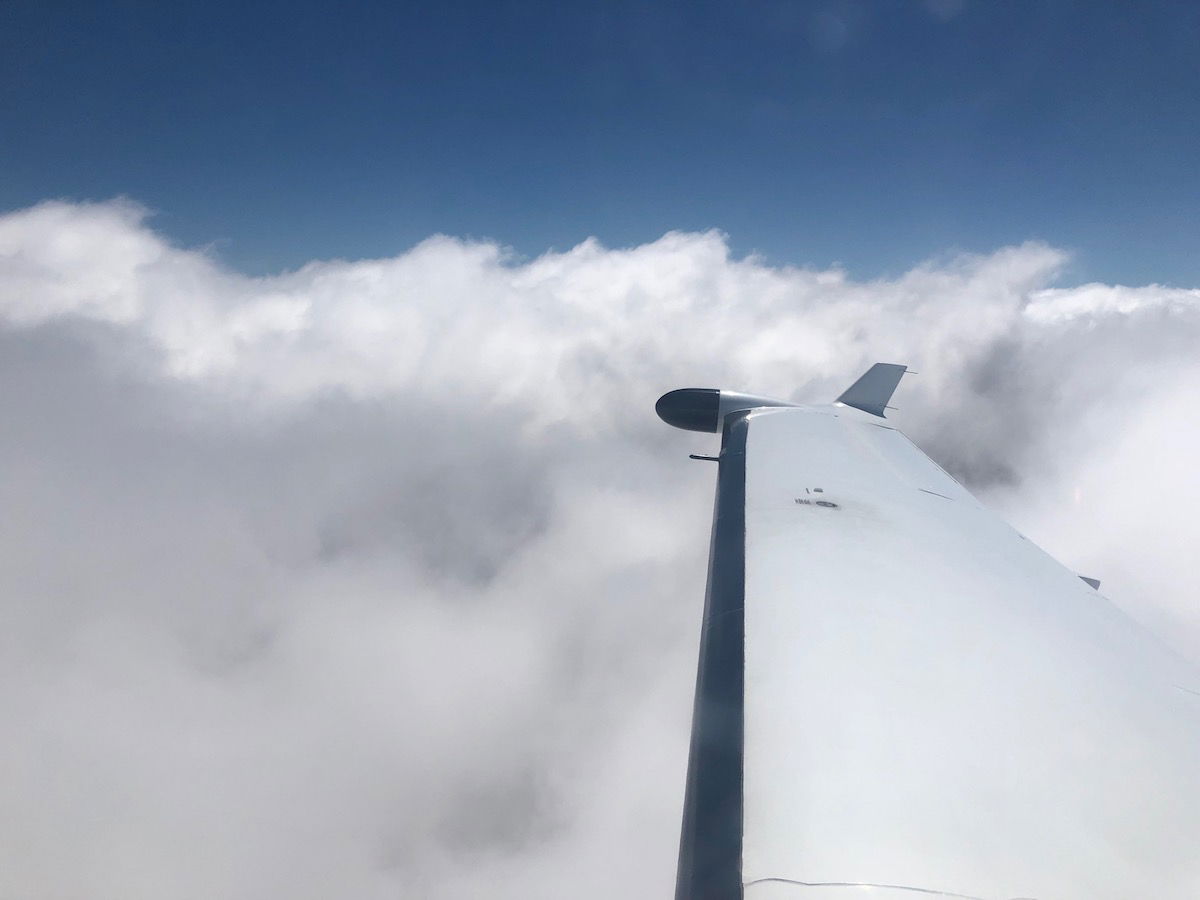 Bumpy flight departing Singita Lebombo
The PC-12 really feels like a bigger plane in terms of the cabin — there are air vents, and they even have fancy window shades.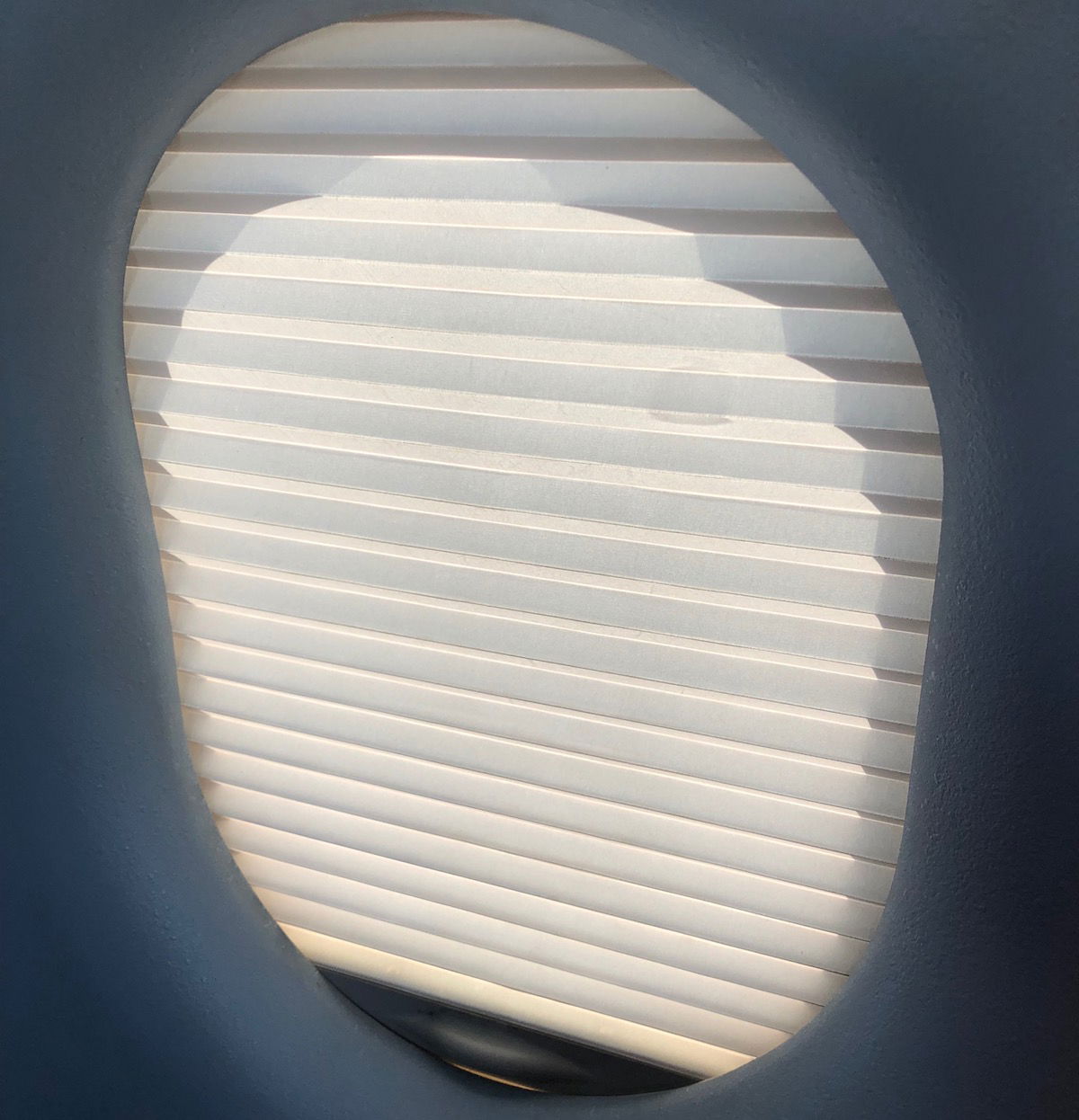 Fed Air Pilatus PC-12 window shades
At 1:15PM the captain turned around and told us we were starting our descent and would land in 15 minutes.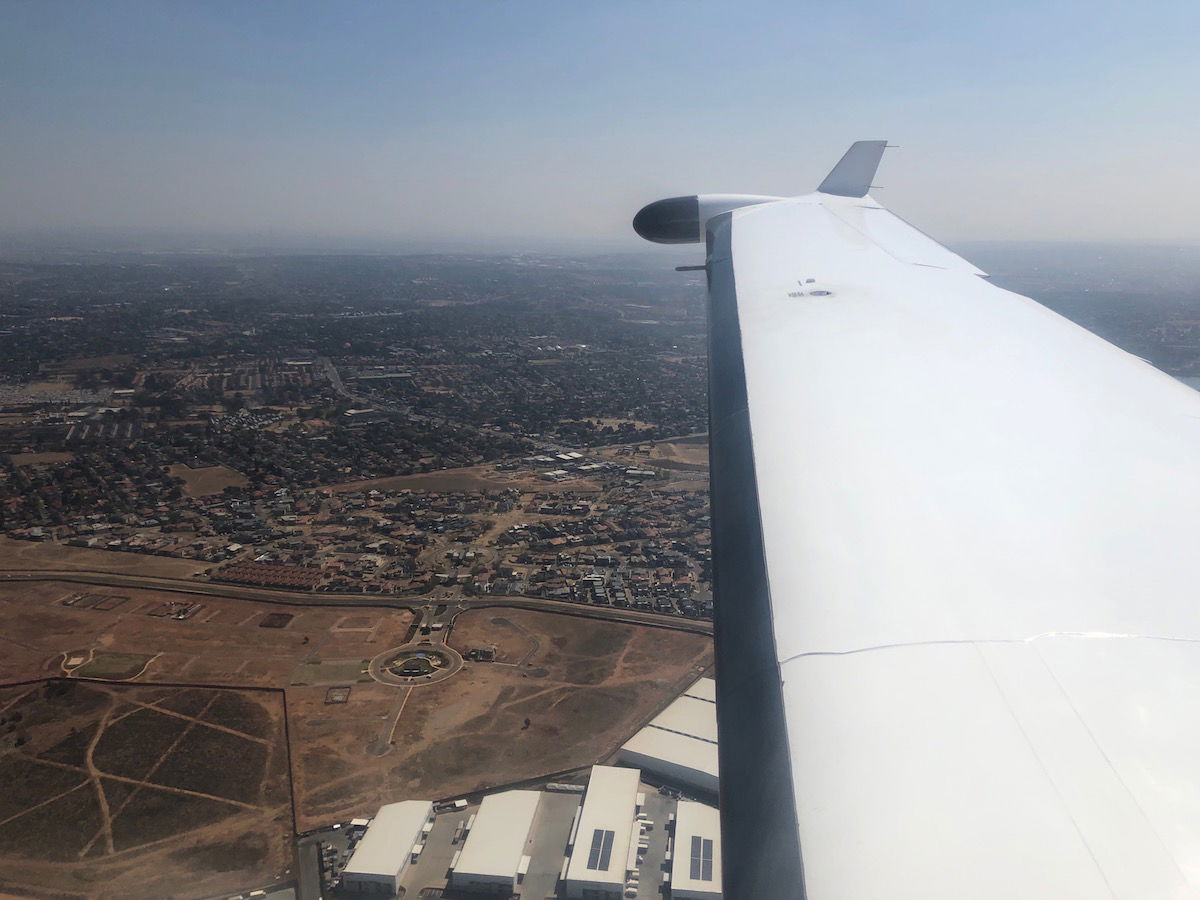 View enroute to Johannesburg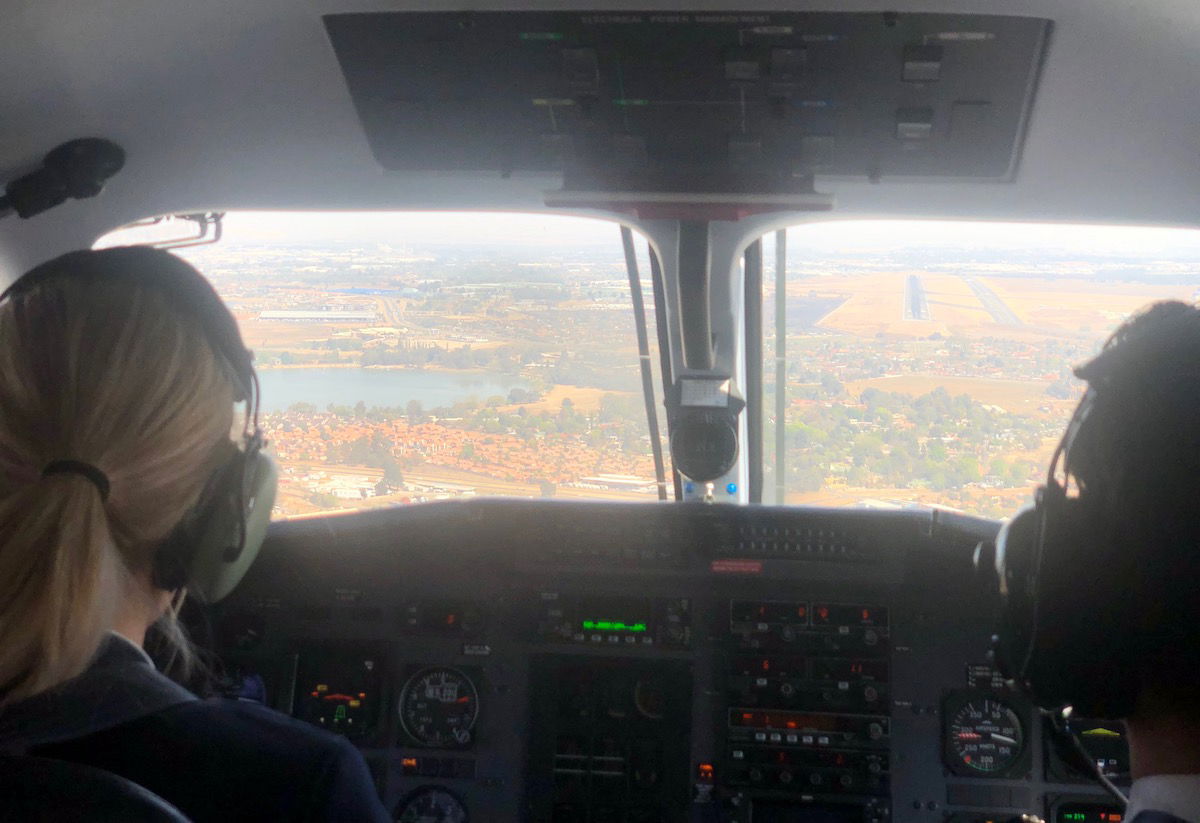 View approaching Johannesburg
We ended up landing at 1:25PM. It's sort of weird to land such a small plane on such a big runway.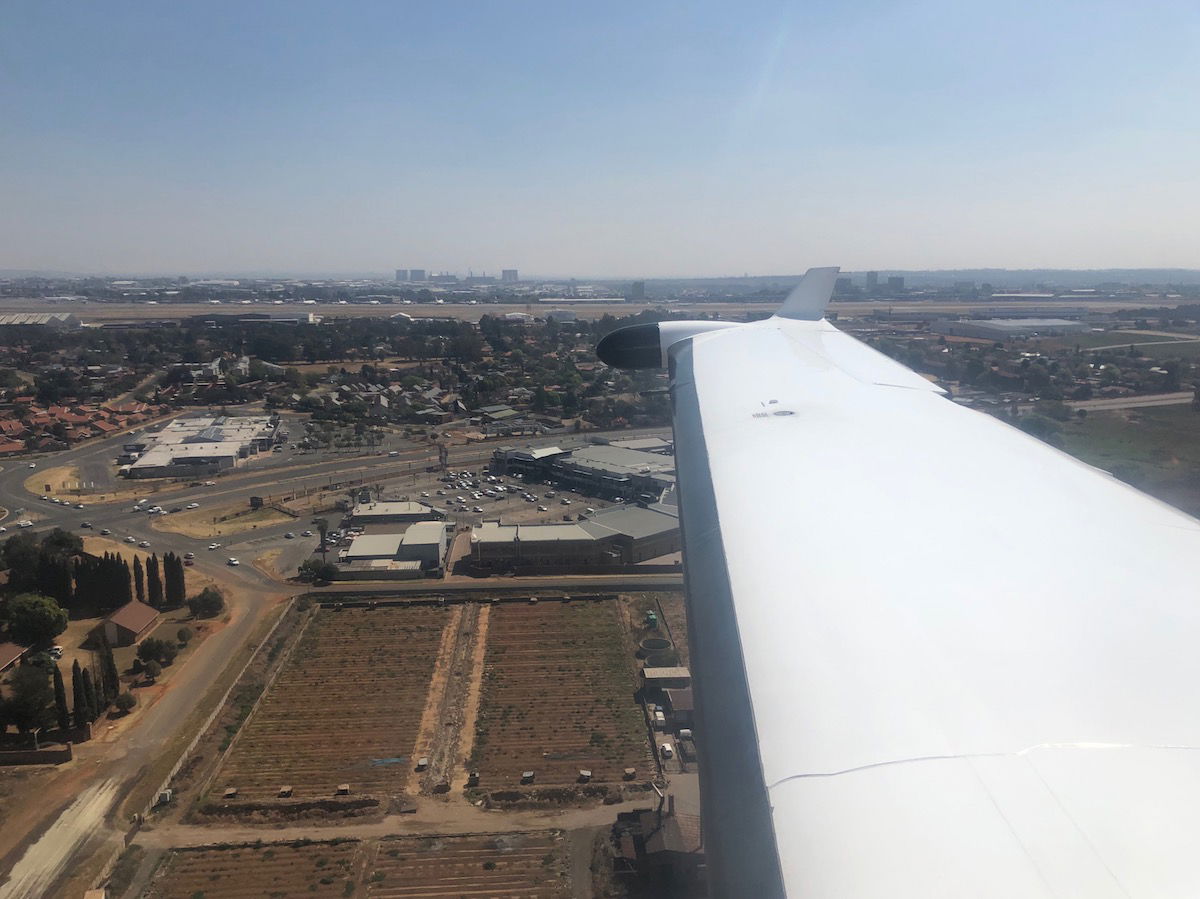 View approaching Johannesburg
From there we had a five minute taxi to our arrival stand.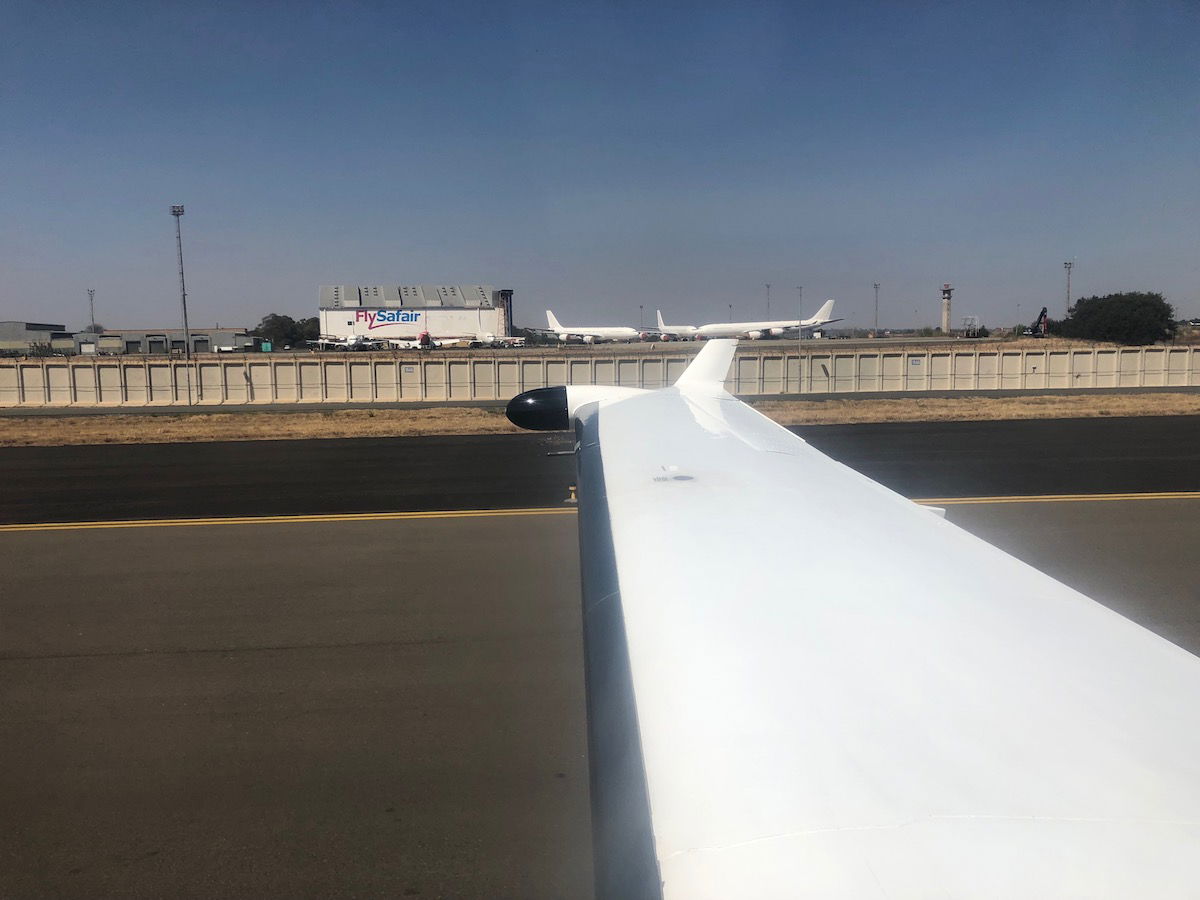 Taxiing Johannesburg Airport
We parked in the same Federal Air area we had departed from six days prior. We were told to wait inside while our bags were fetched.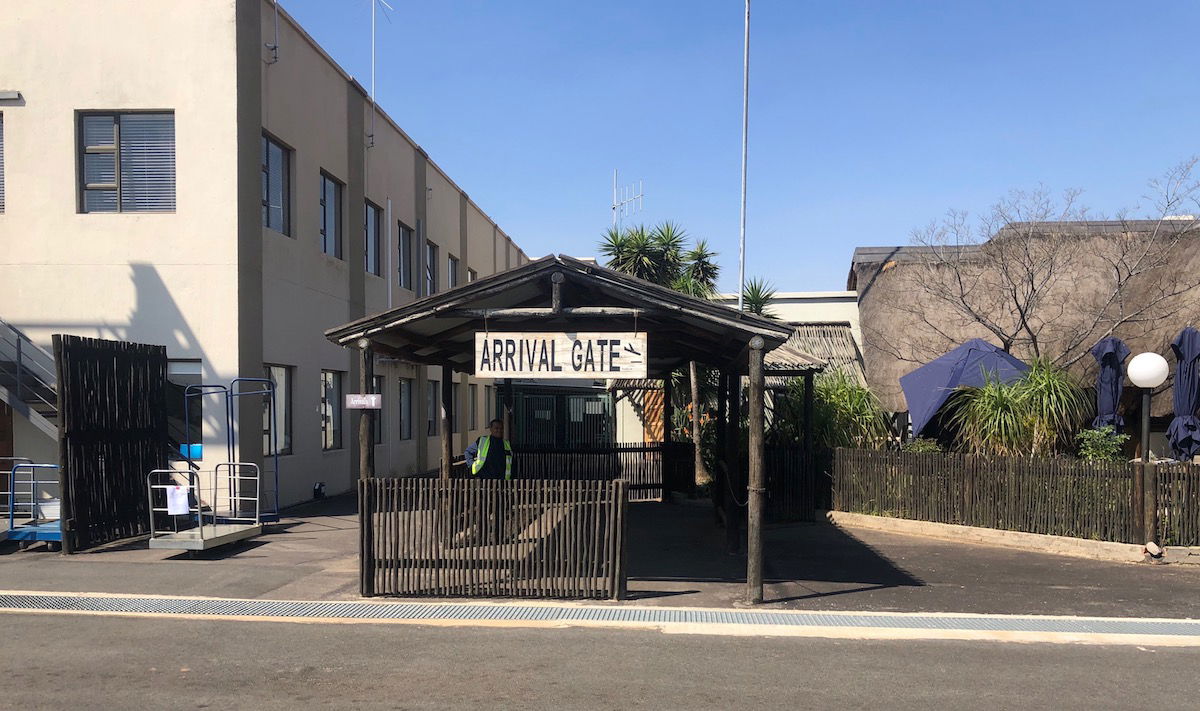 Arrival area Johannesburg Airport
Our bags were retrieved within minutes, and then we were all driven to the airport's main terminal for our flight (we were heading to Cape Town on British Airways Comair).
Federal Air Bottom Line
I have nothing but good things to say about our Fed Air experience. These flights to remote destinations are rarely glamorous, though Fed Air made it as pleasant as possible, with the help of Singita.
Between the nice lounge in Johannesburg, the friendly and professional pilots, the punctuality of their flights, and the variety of planes I got to experience (yes, I'm an aviation geek), I'd recommend Fed Air in a heartbeat.