---
After flying from Miami to Toronto on American Airlines, we spent one night in Toronto. We just stayed at the Sheraton Gateway Toronto Airport, which I've reviewed before, so won't be writing about again this time.
We met my dad in Toronto, and then the following morning flew from Toronto to New York. Why? Because I had booked us Air France first class fares (like I said, this trip is really special), and originating in Toronto meant that the tickets were several thousand dollars cheaper than originating in New York. I'll talk more about the details of what we booked in the installment about our Air France flight.
Since this was all a surprise trip for my dad, suffice to say that he was mighty confused when he found out we were flying to New York. He figured we would be taking a long haul segment from Toronto, rather than returning to the US. I'll have more on my dad's take on all of this in a future installment.
Anyway, our flight from Toronto to New York was departing just before 10AM, so we ended up leaving the hotel at around 7:45AM. It was just a short walk to check-in.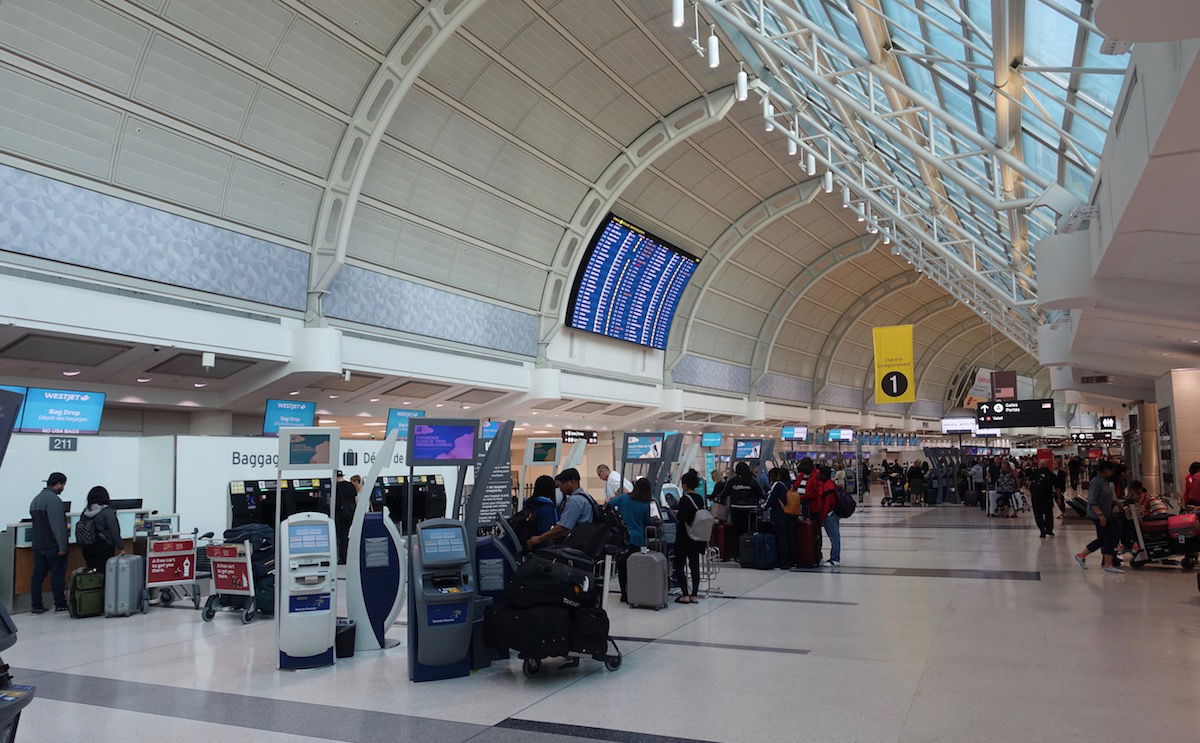 Toronto Pearson Airport Terminal 3
Since this whole thing was a surprise trip for my dad, I had him stand back a bit during check-in, and explained to the agent that this was a surprise trip for him. So she gave me all his boarding passes. Then I handed him his boarding pass to New York, and not any connecting boarding passes beyond that.
Toronto has a US Pre-Clearance facility. Ford and I both have Global Entry, and were through immigration within about 15 minutes (note that when departing Canada you need to have your Global Entry card as well, or else they won't let you use that line). My dad doesn't have Global Entry, and it took him over an hour to get through security and immigration.
Ford and I waited in the American Admirals Club for our flight, which is my preferred lounge in this part of the terminal, given that it's usually quiet. While we weren't flying American, we accessed this on account of my Admirals Club membership, which comes with the Citi Executive AAdvantage Card. We used the time in the lounge to get some work done before the flight, so that we could spend more time with my dad later in the day when things got really fun.
Our boarding passes indicated boarding would start at 9:03AM, a full 55 minutes before departure. That seemed crazy for a regional jet, so I suspect that's just the standard boarding time they post for any international flight.
We headed to gate A6E around that time. Boarding started at 9:20AM, starting with first class.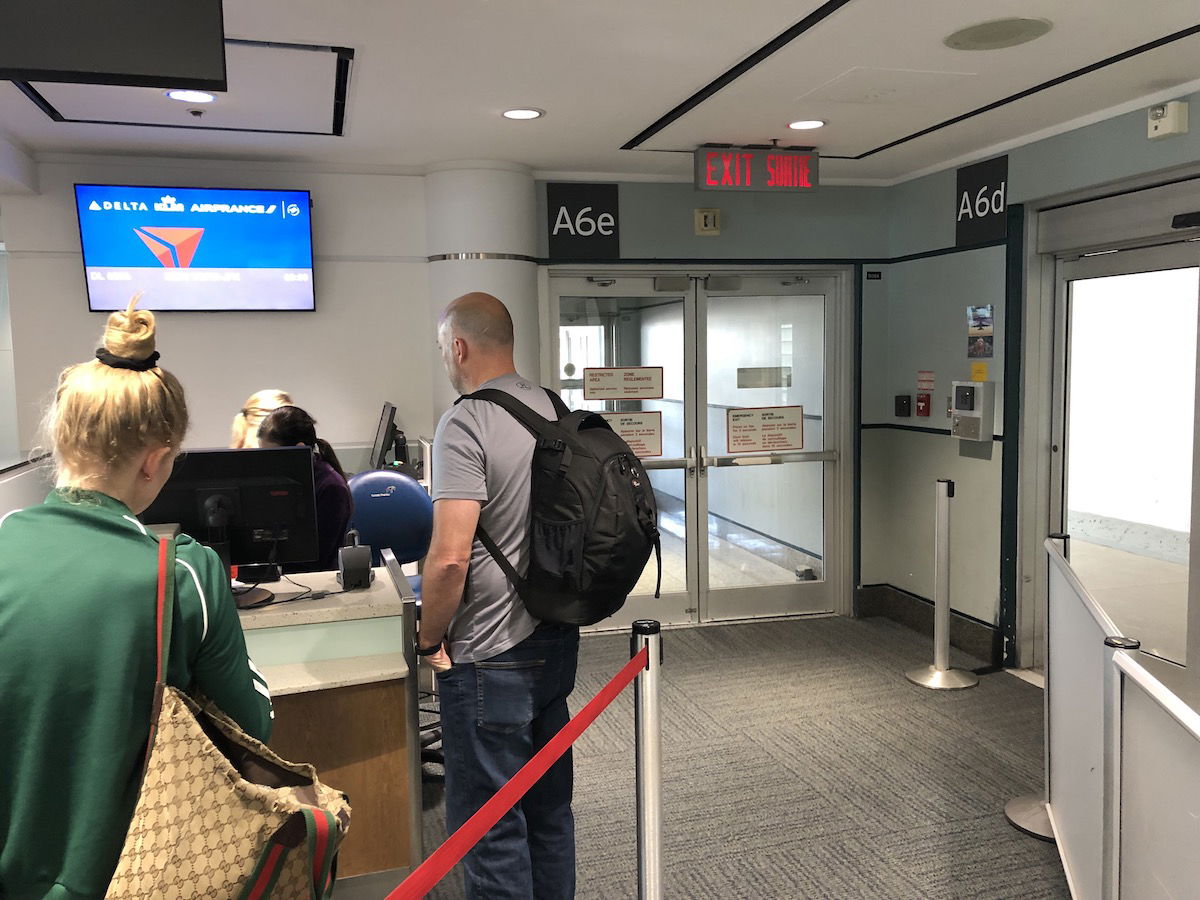 Delta departure gate Toronto
Delta 5322
Toronto (YYZ) – New York (JFK)
Wednesday, August 28
Depart: 9:58AM
Arrive: 11:43AM
Duration: 1hr45min
Aircraft: CRJ-900
Seat: 3D (First Class)
Our CRJ-900 was parked out on the apron, so it was a short walk to get there.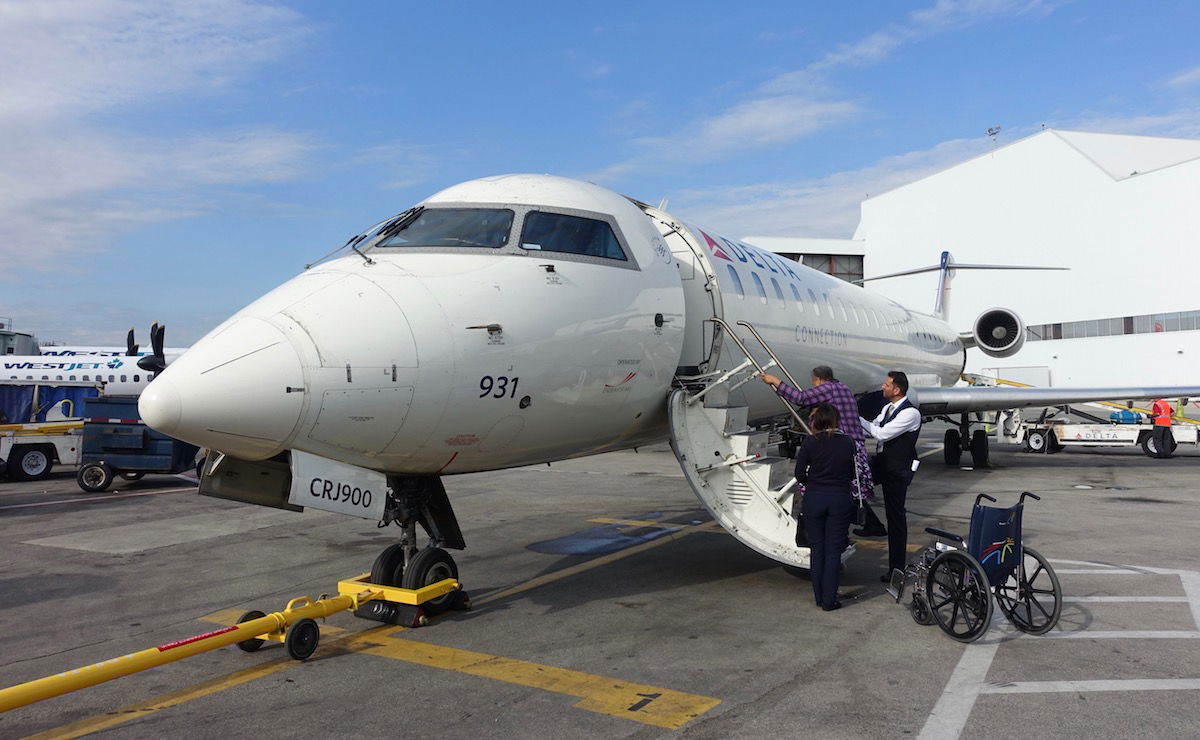 Delta CRJ-900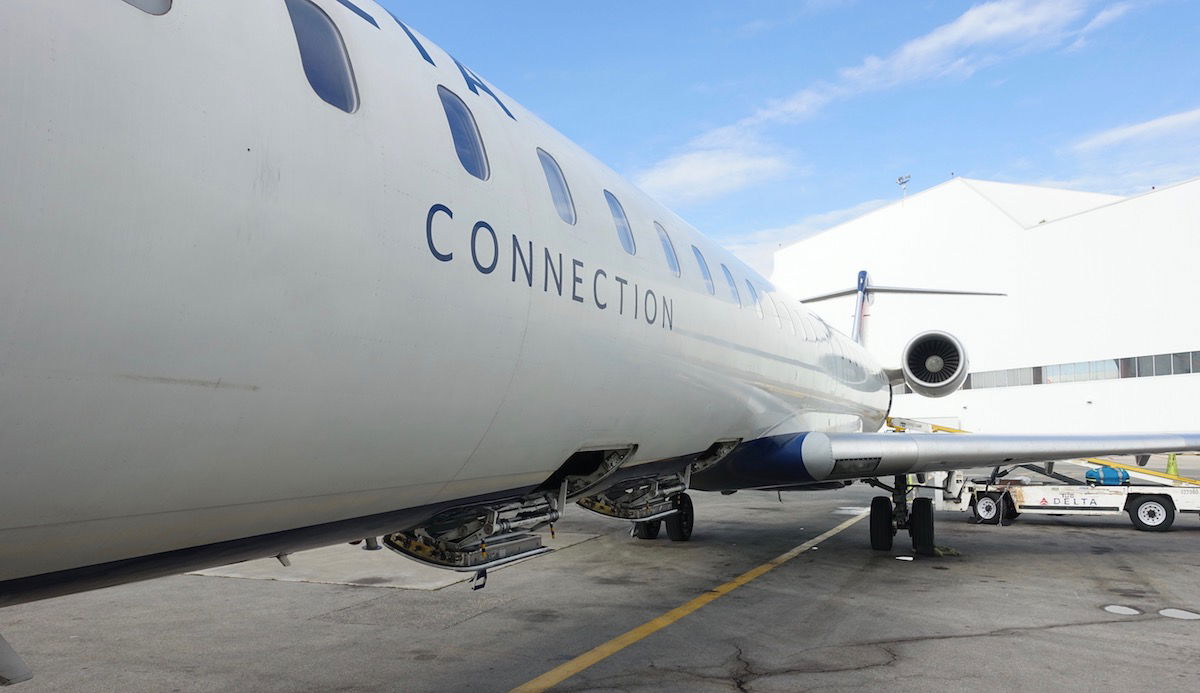 Delta CRJ-900
While I far prefer the Embraer 170/175 to the CRJ-700/900, these planes are still pretty nice for short hops. They have a great ratio of first class seats to economy. There were a total of 12 first class seats, spread across four rows in a 1-2 configuration.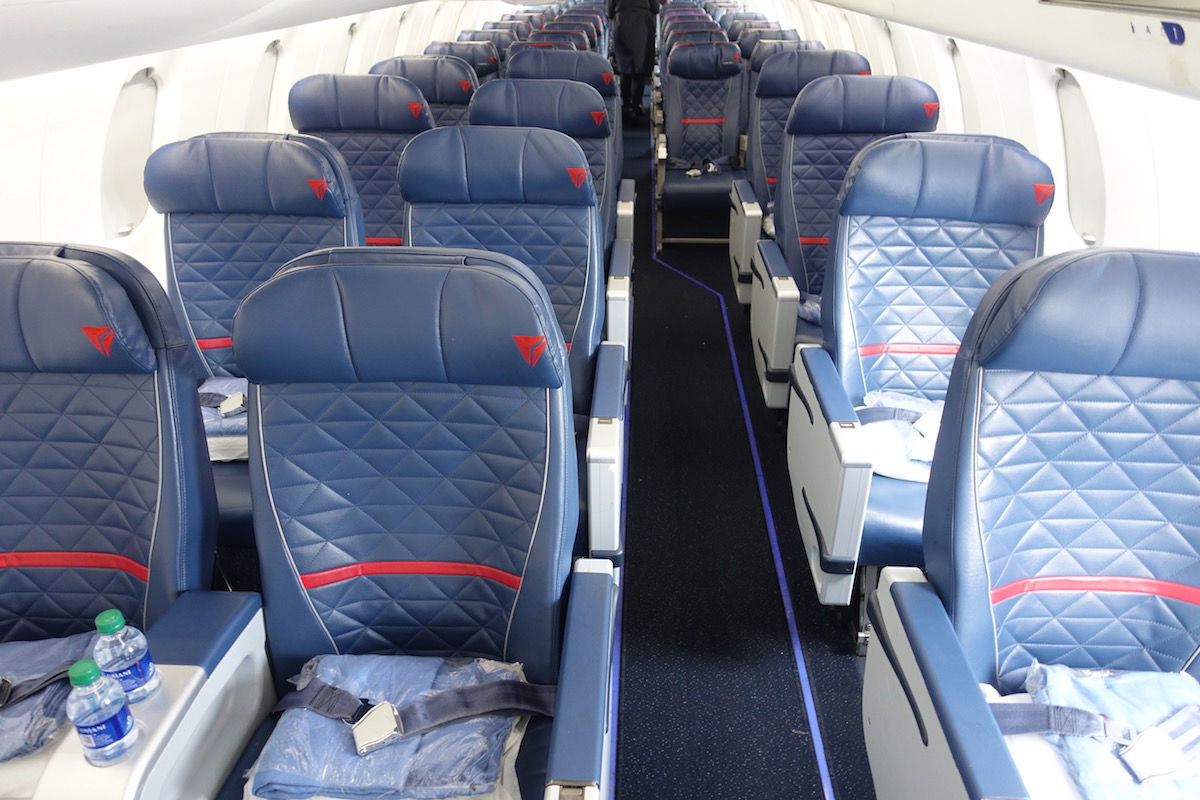 Delta CRJ-900 first class cabin
If you're traveling with someone then grabbing a pair of seats on the right side is ideal.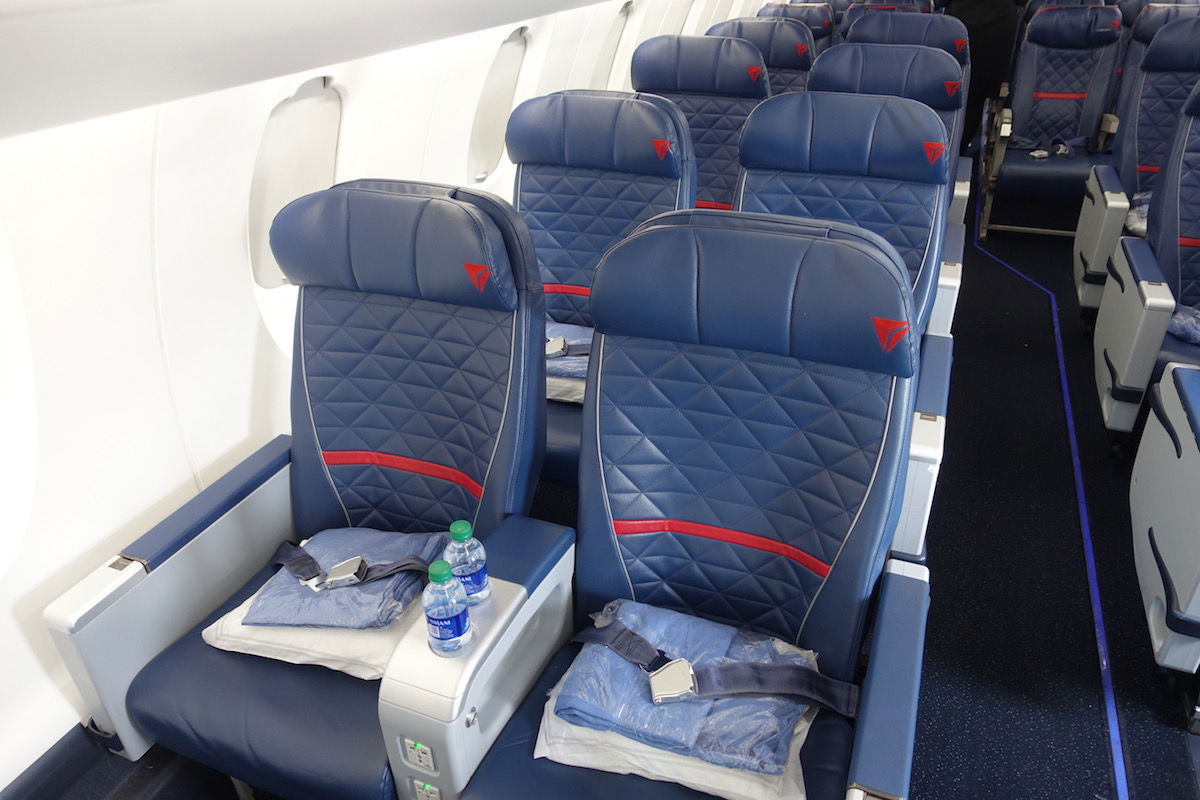 Delta first class seats CRJ-900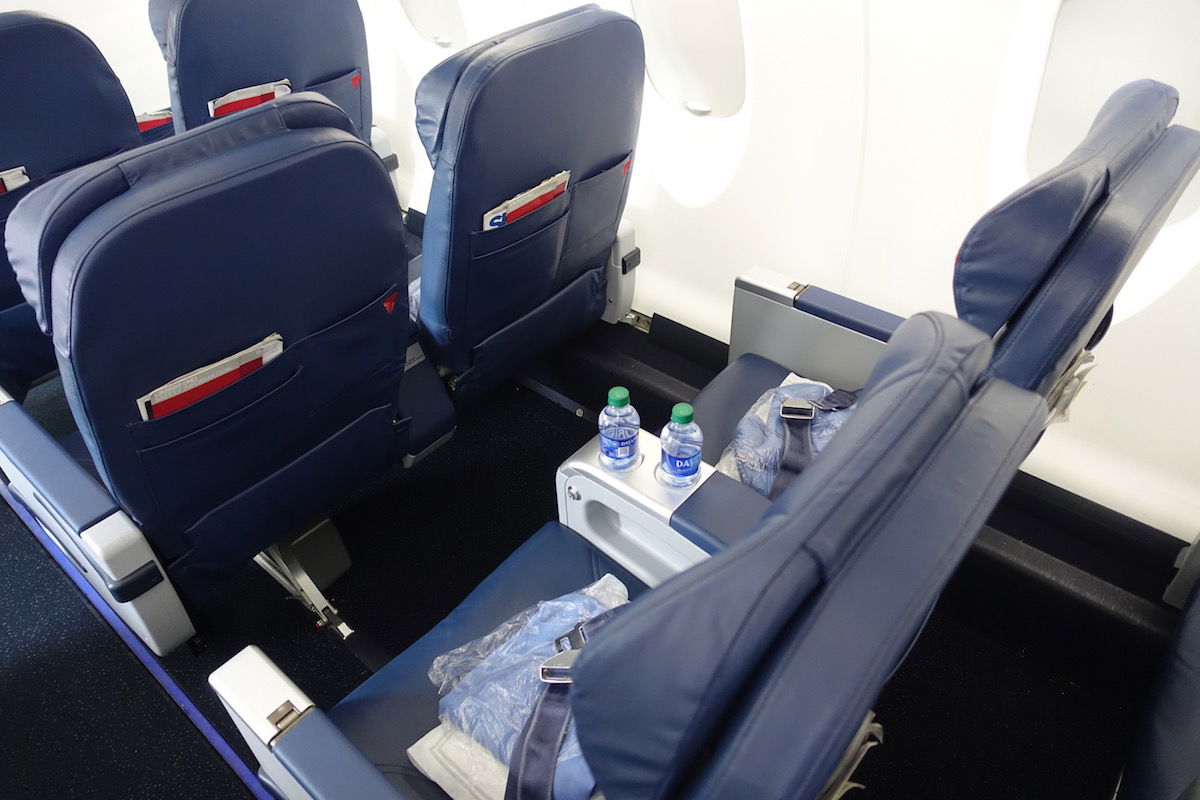 Delta CRJ-900 first class seats
Meanwhile if you're traveling alone, it sure is nice to be able to get a solo seat.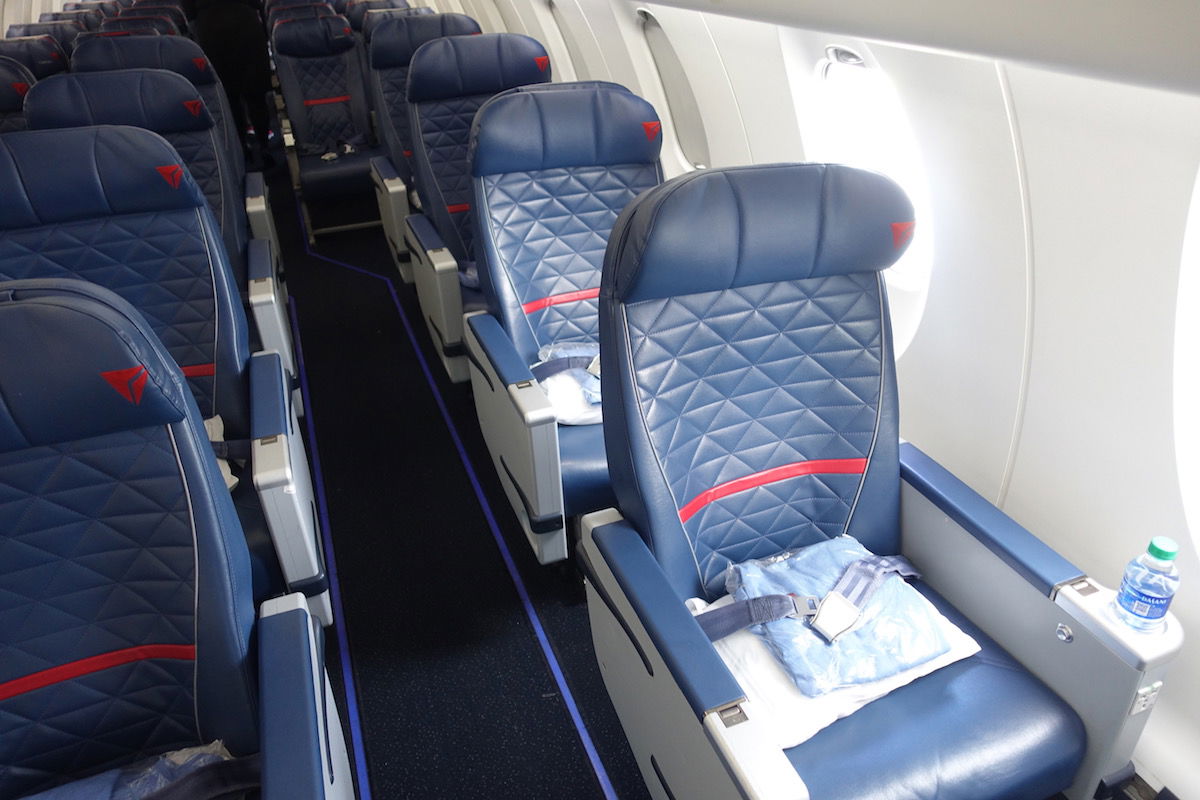 Delta first class seats CRJ-900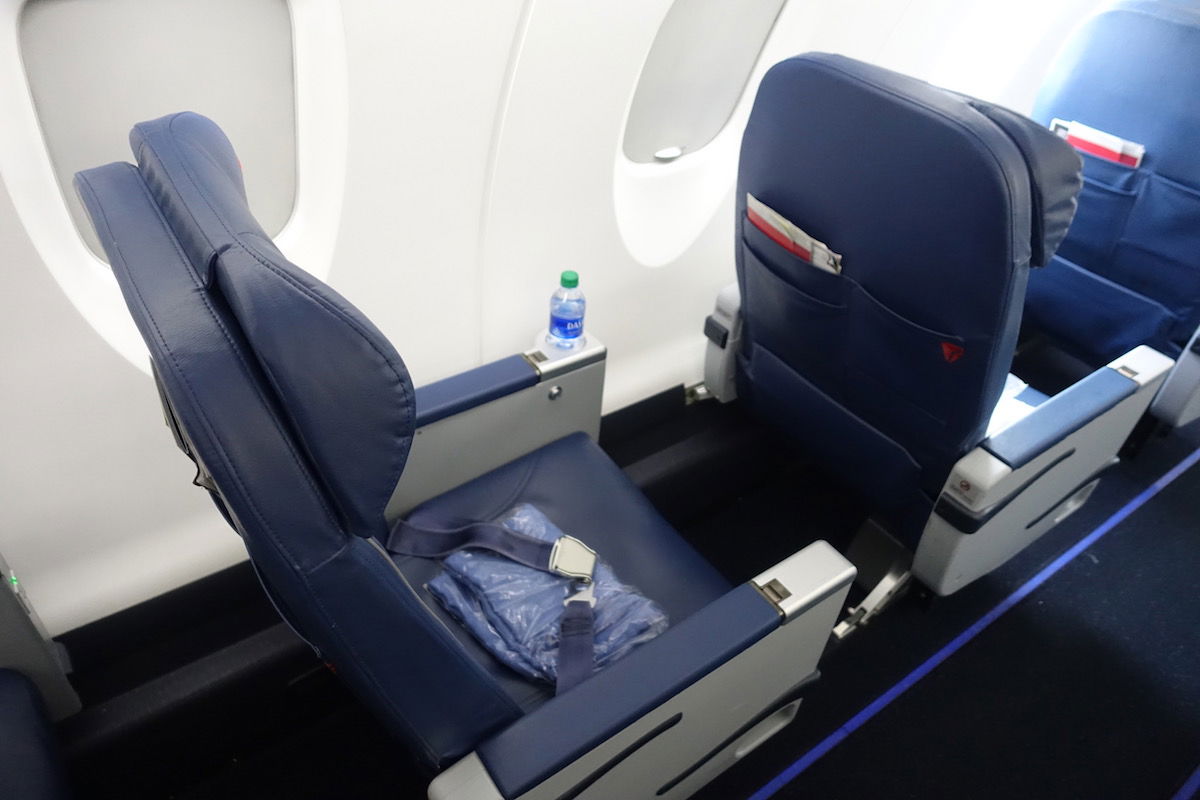 Delta CRJ-900 first class seats
Delta has Comfort+ on these planes, so even in economy it's not too uncomfortable.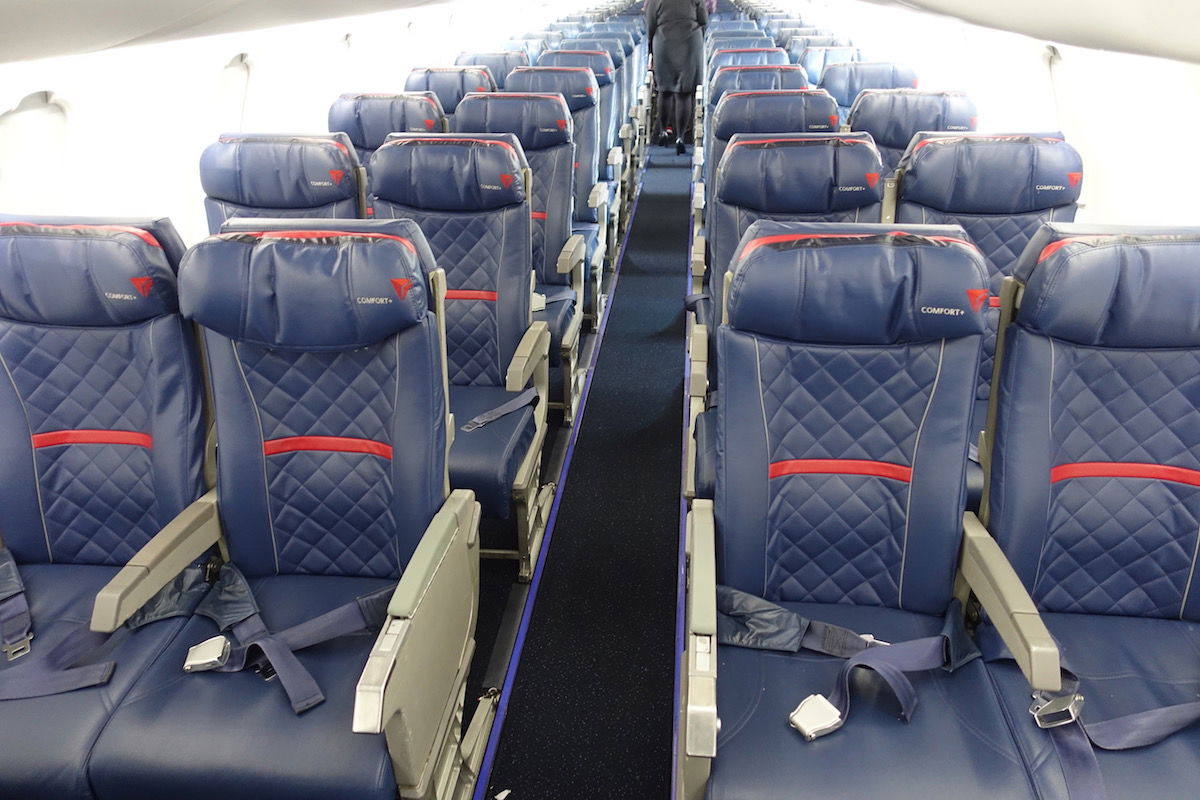 Delta CRJ-900 cabin
There's no bulkhead between first class and economy, so the aisle seat on the left side in economy has almost unlimited legroom (though also expect to get hit by everyone's luggage as they walk back to their seats).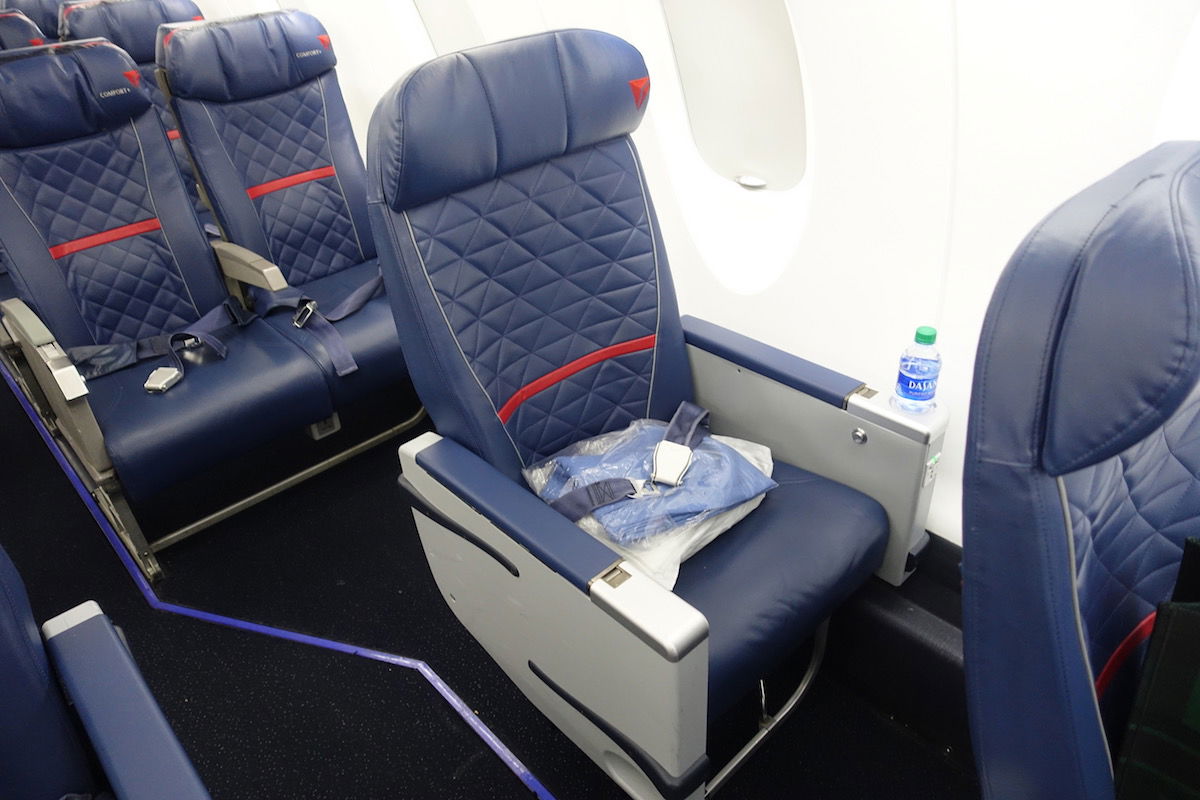 Delta first class seats
I assigned us the three seats in row three — we put Ford in the single seat on the left, while my dad and I sat to the right.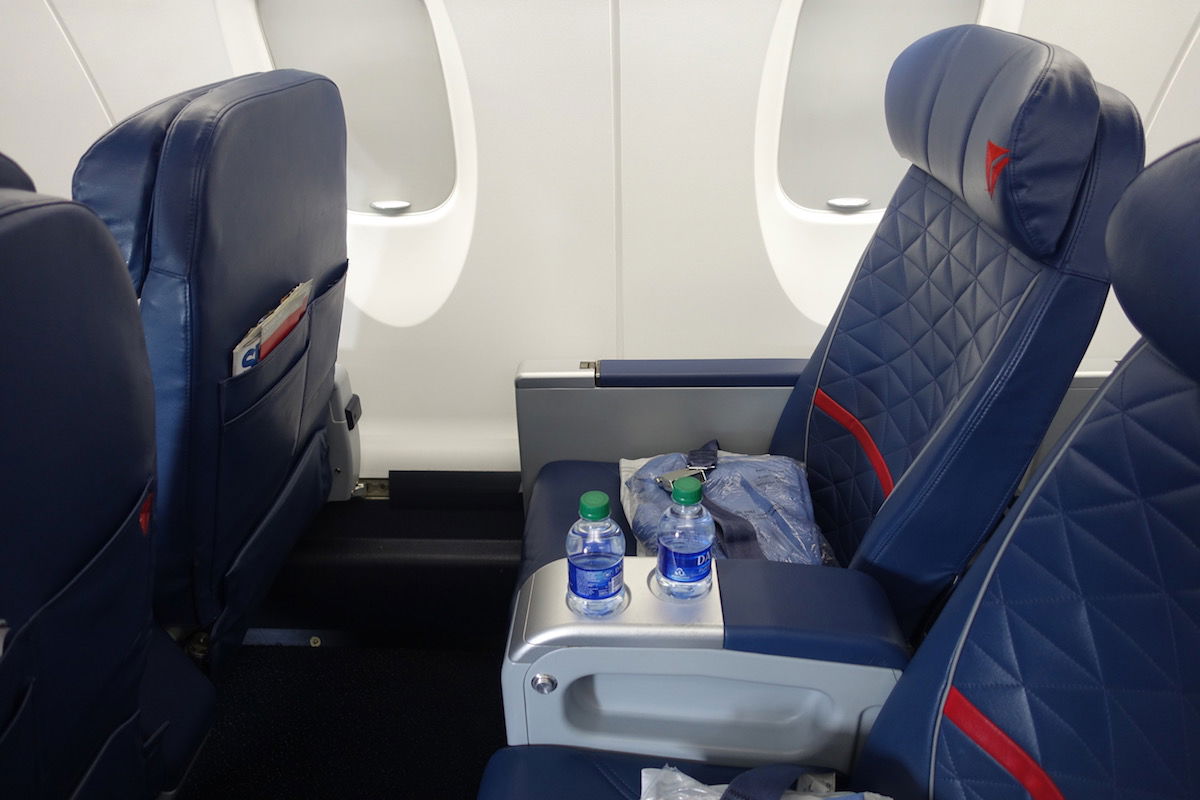 Delta first class seats
By the way, maybe my memory is just off, but I was expecting I would have to gate check my bag. Instead all of our carry-ons actually fit into the overhead bins on the right side. Are CRJ-900s just getting bigger overhead bins, or is my memory off?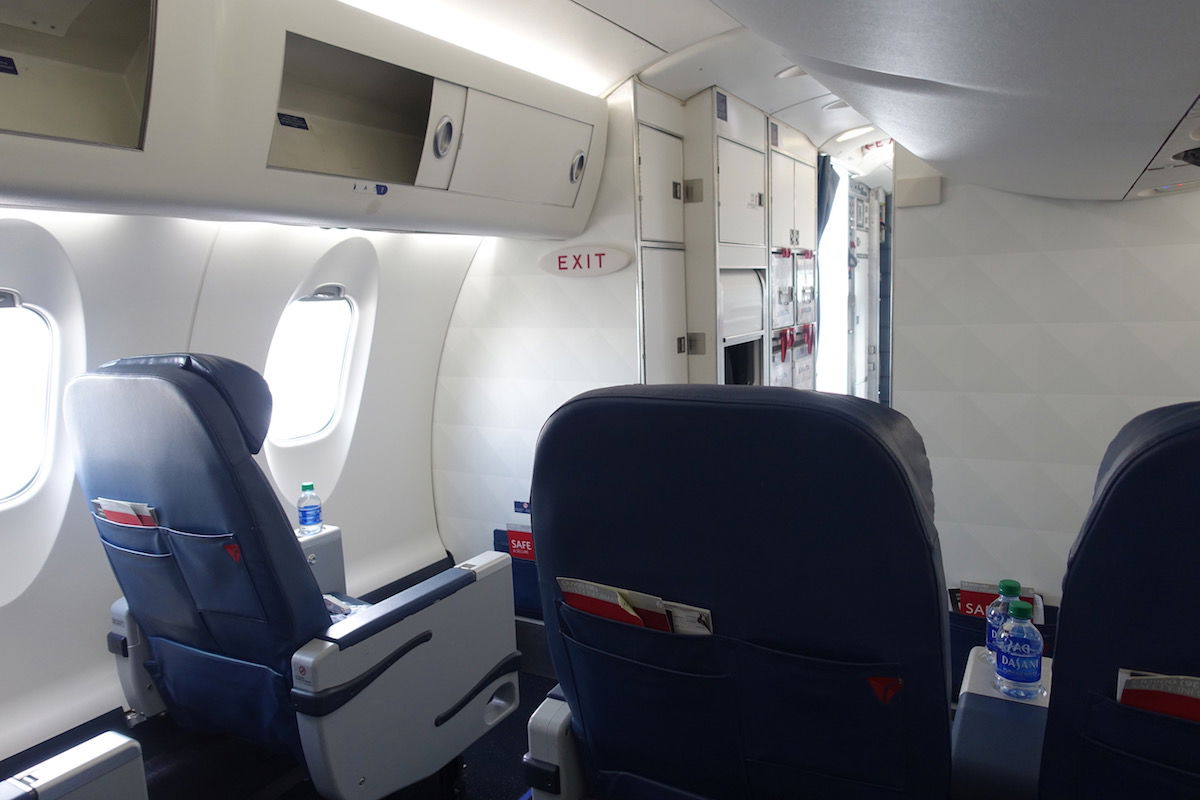 Delta first class cabin
Anyway, legroom in seat 3D was quite good, and much like on Delta's mainline planes, there were four separate pouches in the seatback.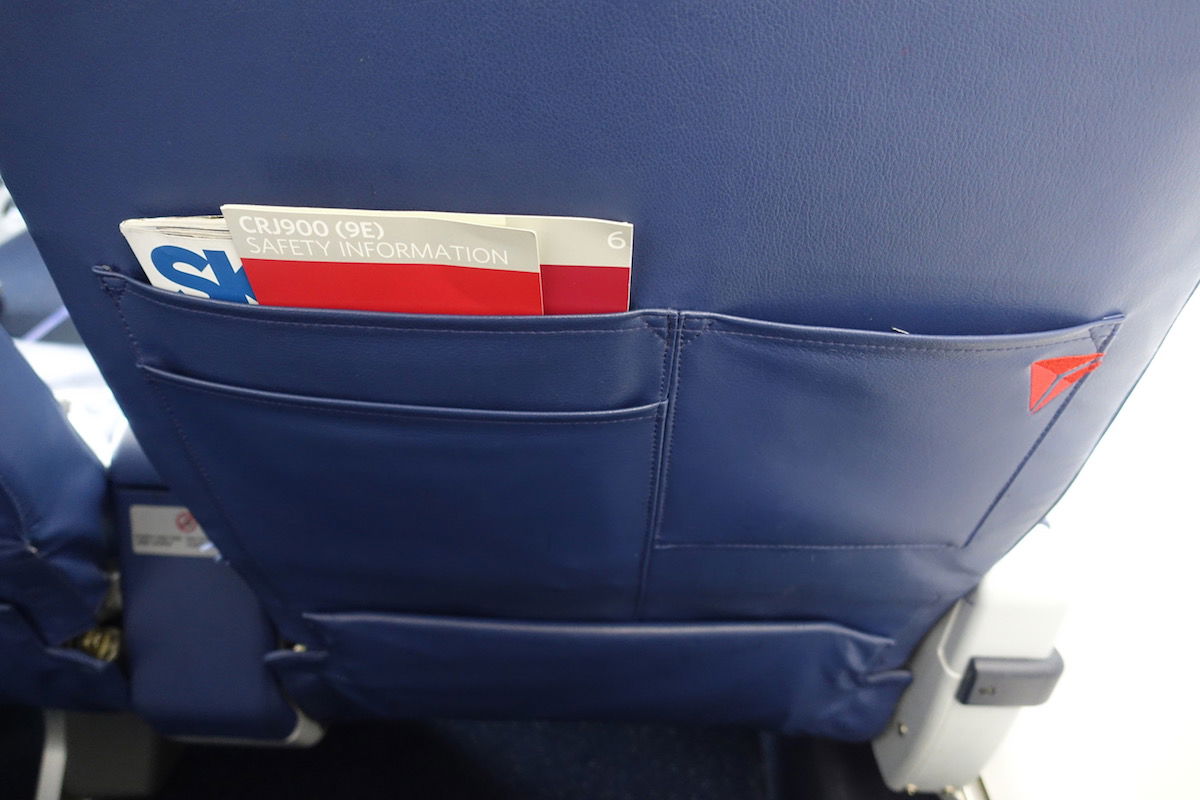 Delta first class legroom
The tray table extended from the right armrest, and could be folded over in half.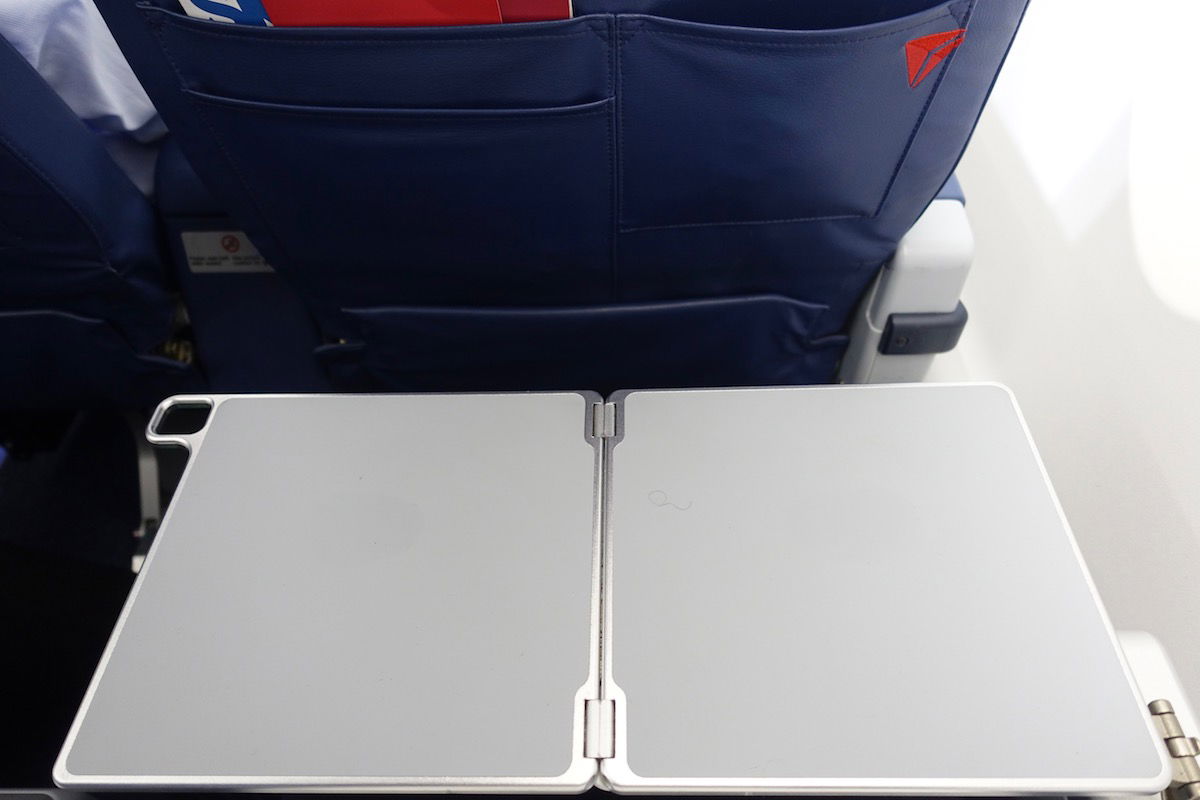 Delta first class tray table
I love that Delta's CRJ-900s have power ports. While American also has comfortable first class on most of their larger regional jets, few of them have power ports, so that's appreciated.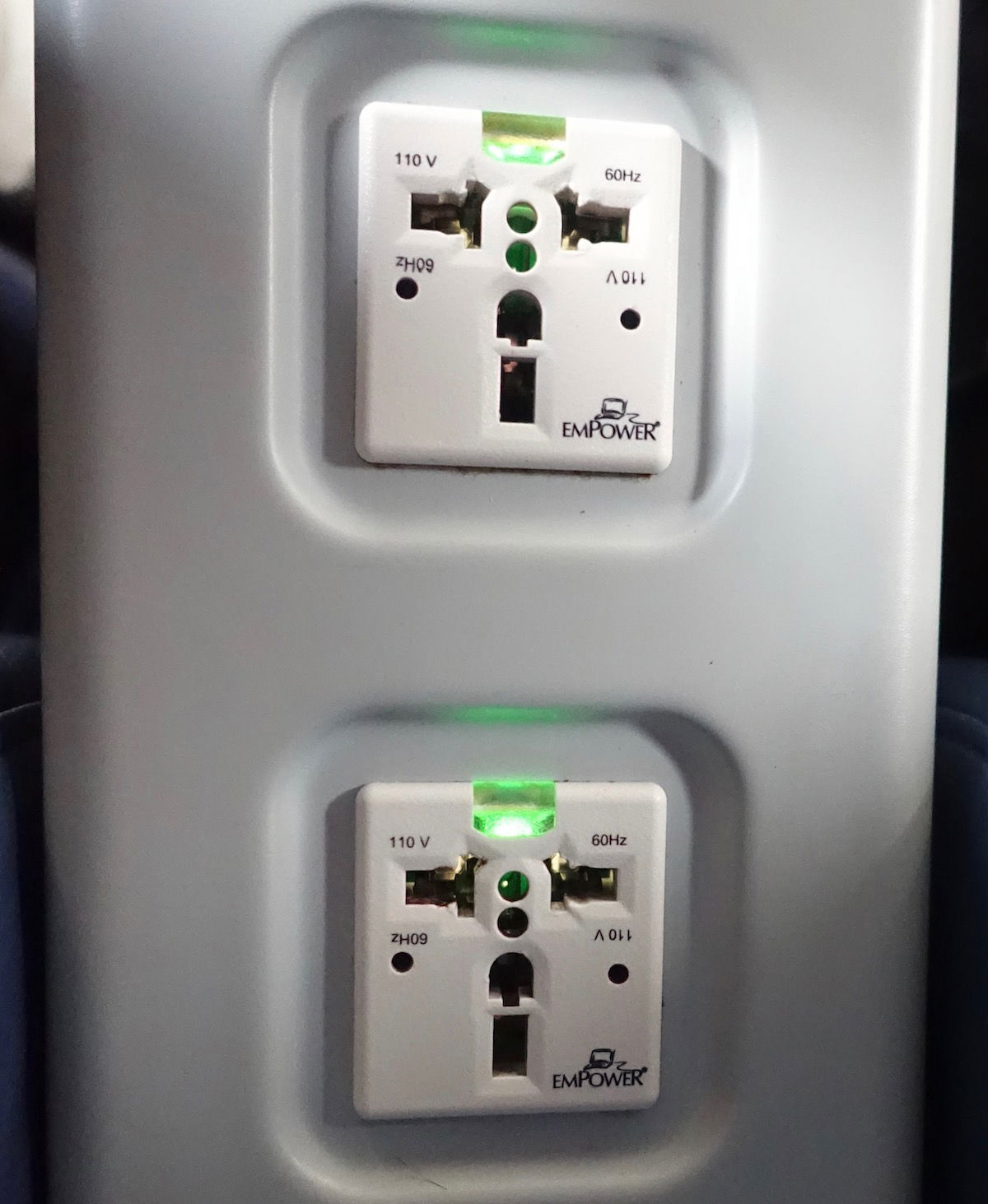 Delta first class power outlets
Delta's regional jet service is largely similar to their mainline service. There was bottled water at every seat, along with a pillow and blanket.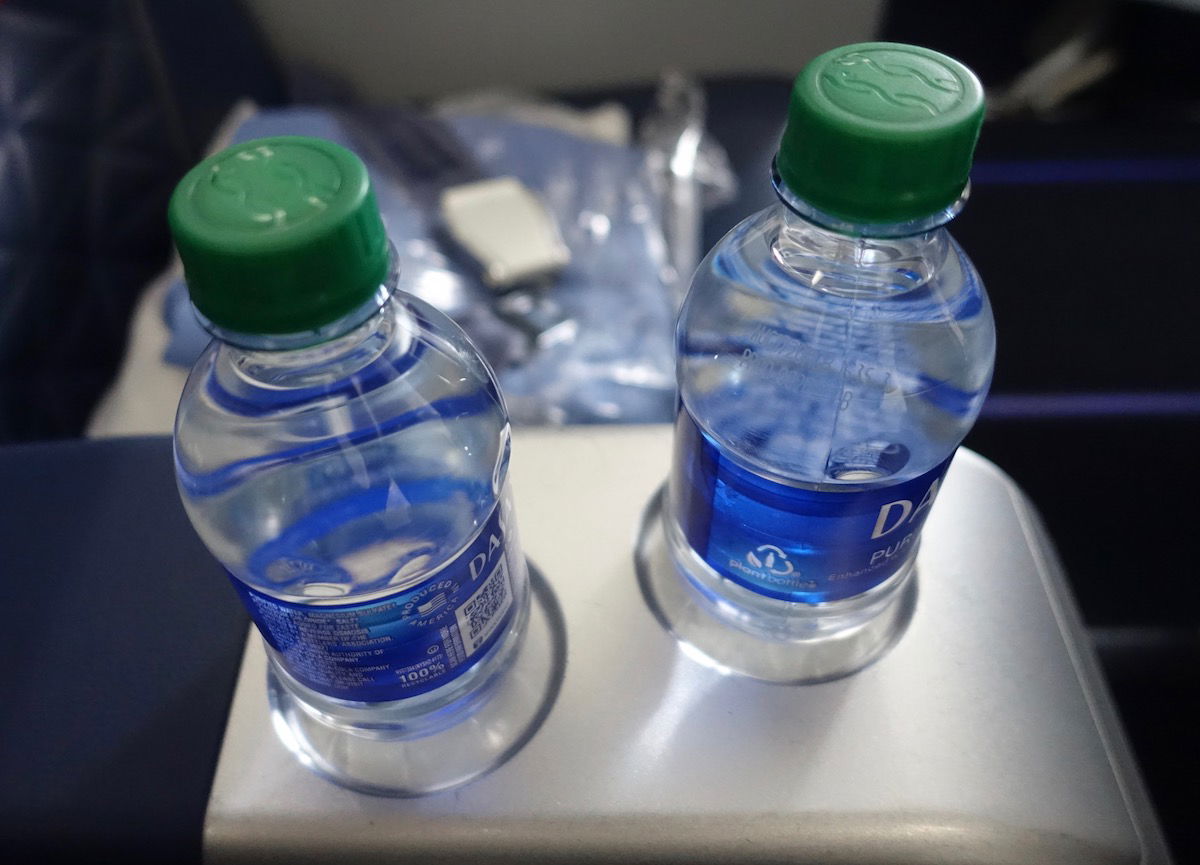 Delta first class bottled water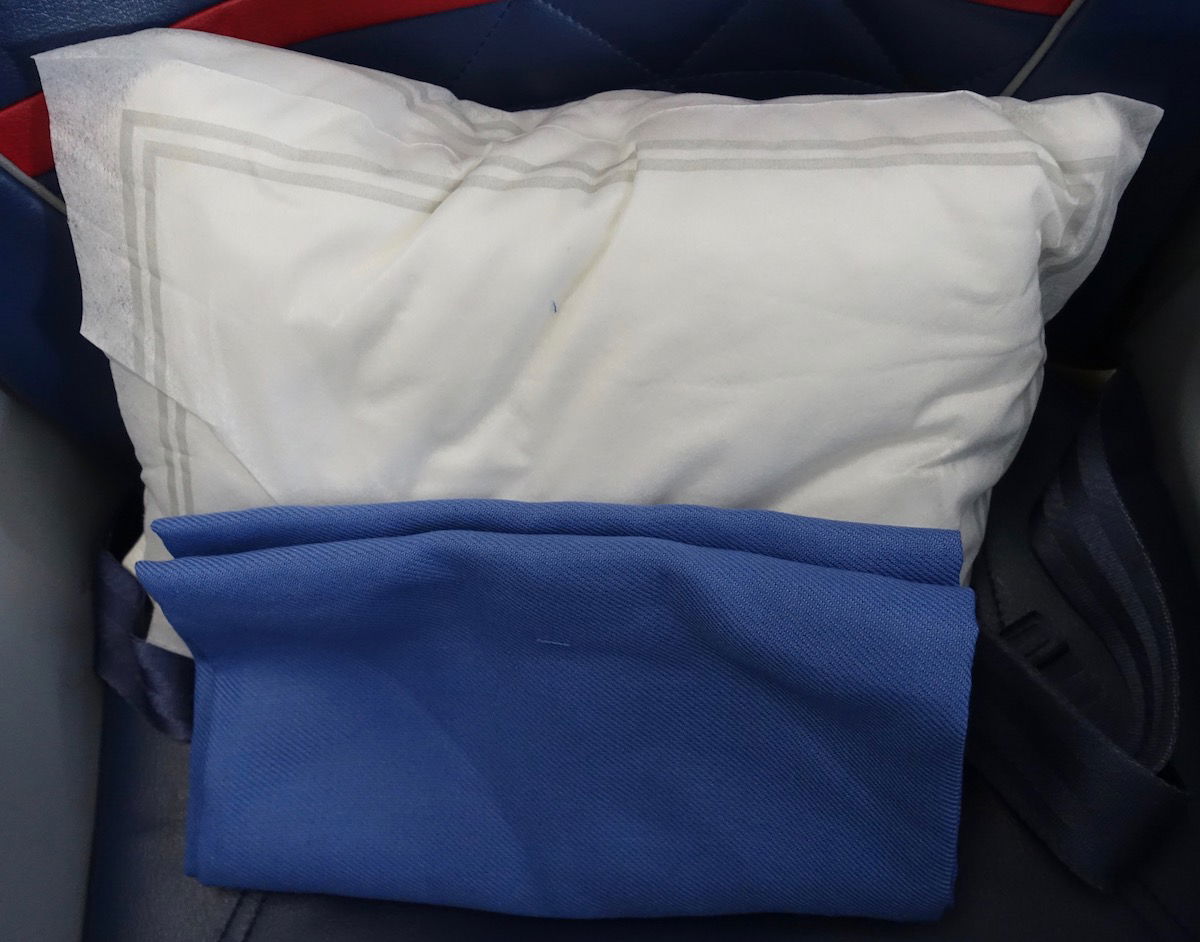 Delta first class pillow & blanket
Usually there's not much you can say about service on a short regional jet flight, but the first class flight attendant, Holly, was incredible. She memorized everyone's name in the cabin, and addressed people by name with every interaction.
Like, it's nice enough when they try to address you by name while looking at a sheet, but memorizing names is on a whole different level.
She offered us pre-departure drinks of choice — I had a coffee.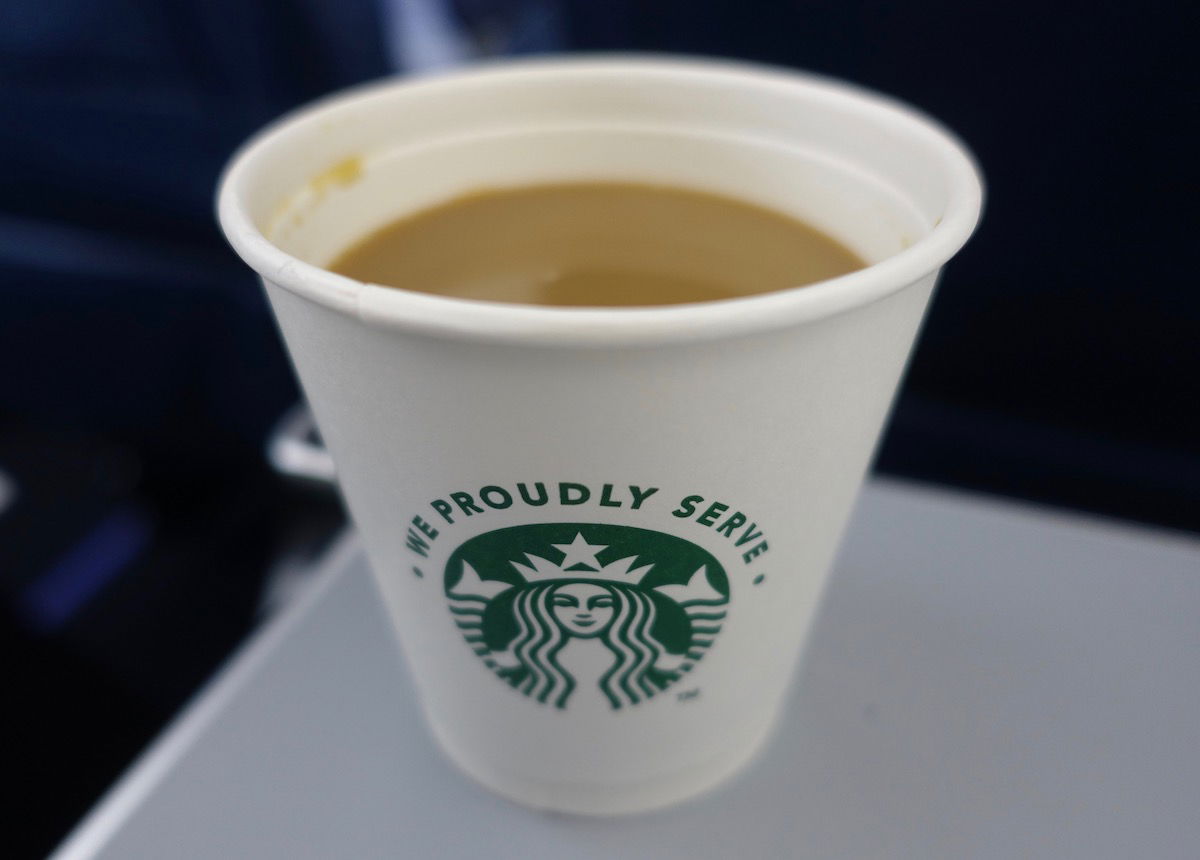 Delta first class pre-departure drink
At 9:50AM the door closed, at which point Holly made her welcome onboard announcement, informing us of our flight time of one hour. I know most of the announcements they read are scripted, but I really do like Delta's announcements more than those of just about any other US airline.
"We look forward to having the opportunity to provide you exceptional service on our flight to New York." And provide us exceptional service on our one hour flight she did…
A minute later the crew performed the safety demonstration. The flight was more or less full — there were a handful of empty seats in economy.
We started our pushback at around 9:55AM, and five minutes later started our taxi. While our taxi as such was quick, there was quite a queue for takeoff. We ended up taking off at around 10:20AM on runway 24R.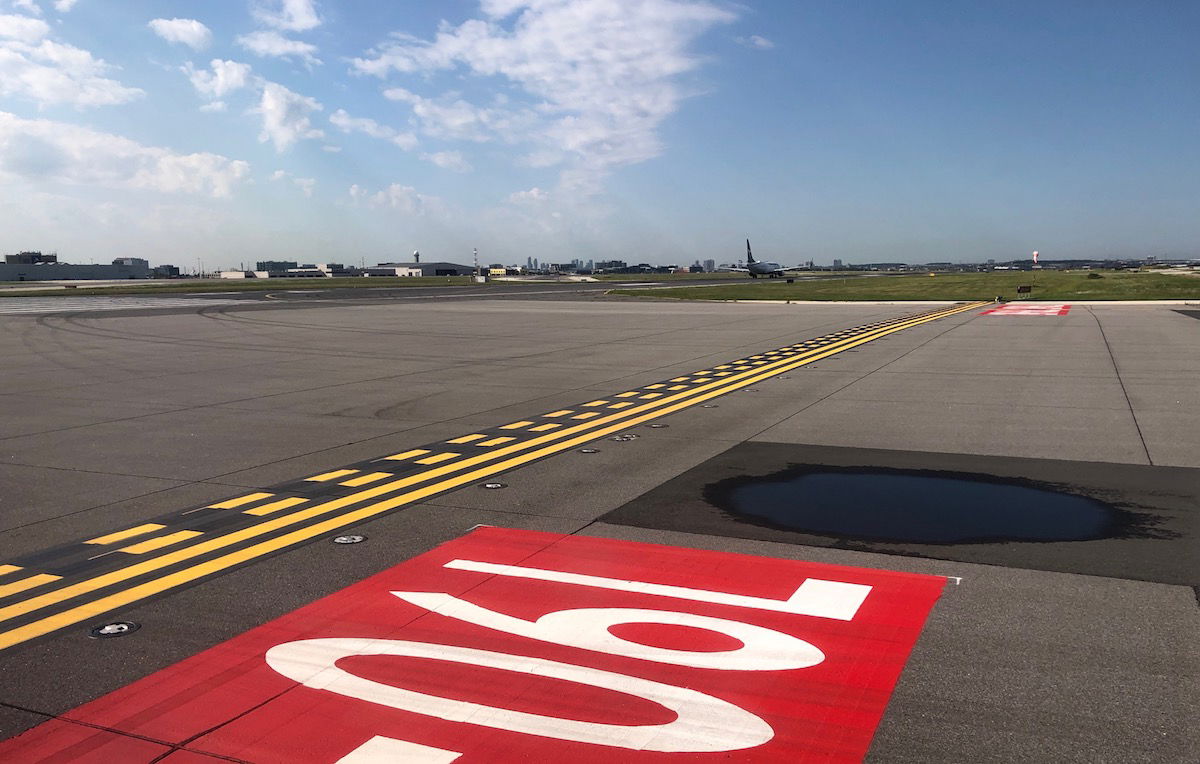 Taking off from Toronto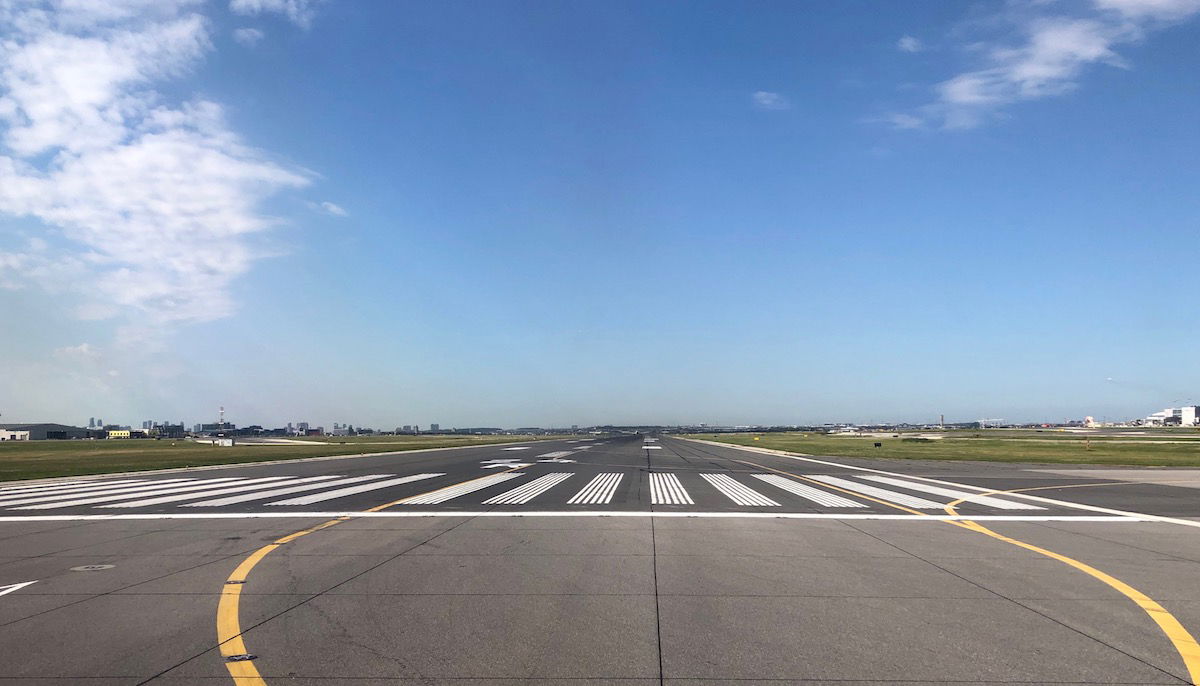 Taking off from Toronto
It was much nicer outside than the prior day, and there were great views on the climb out.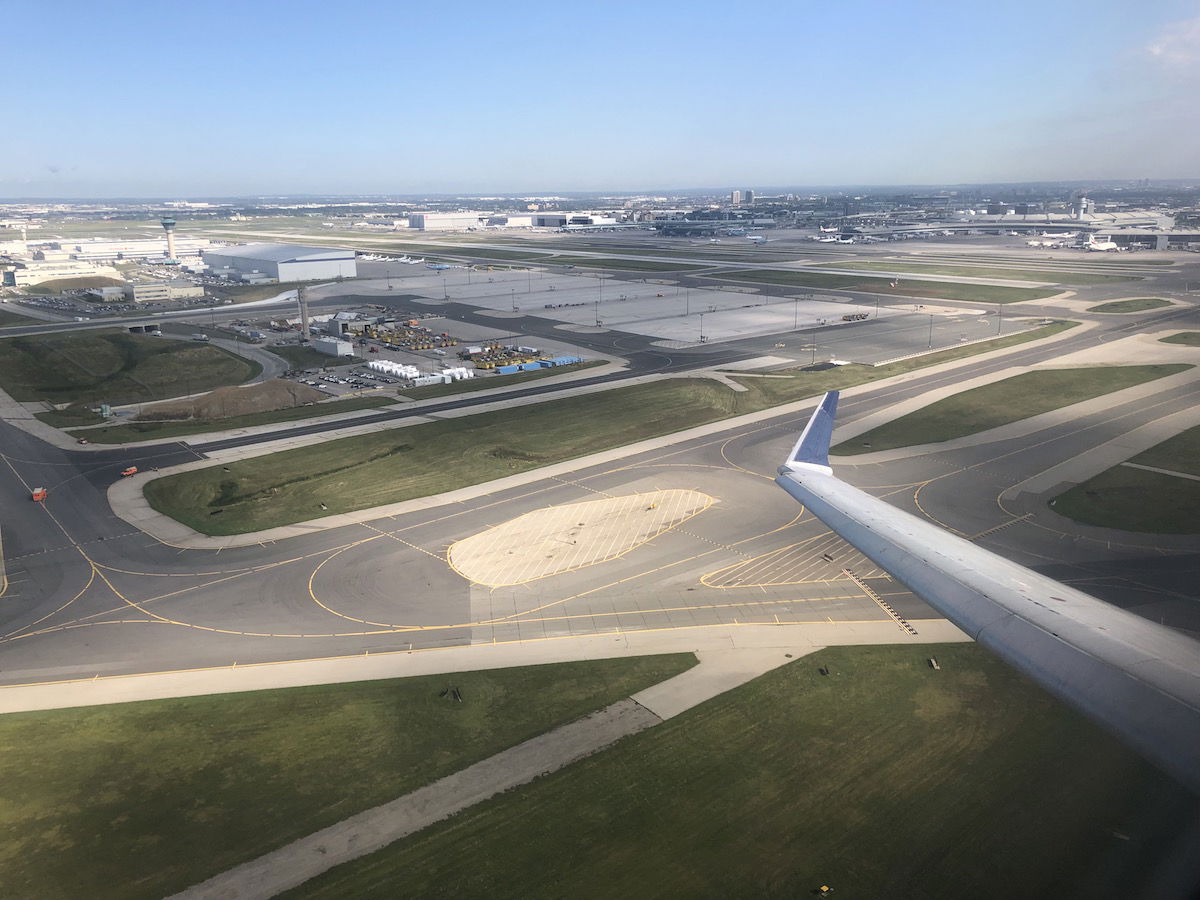 View after takeoff from Toronto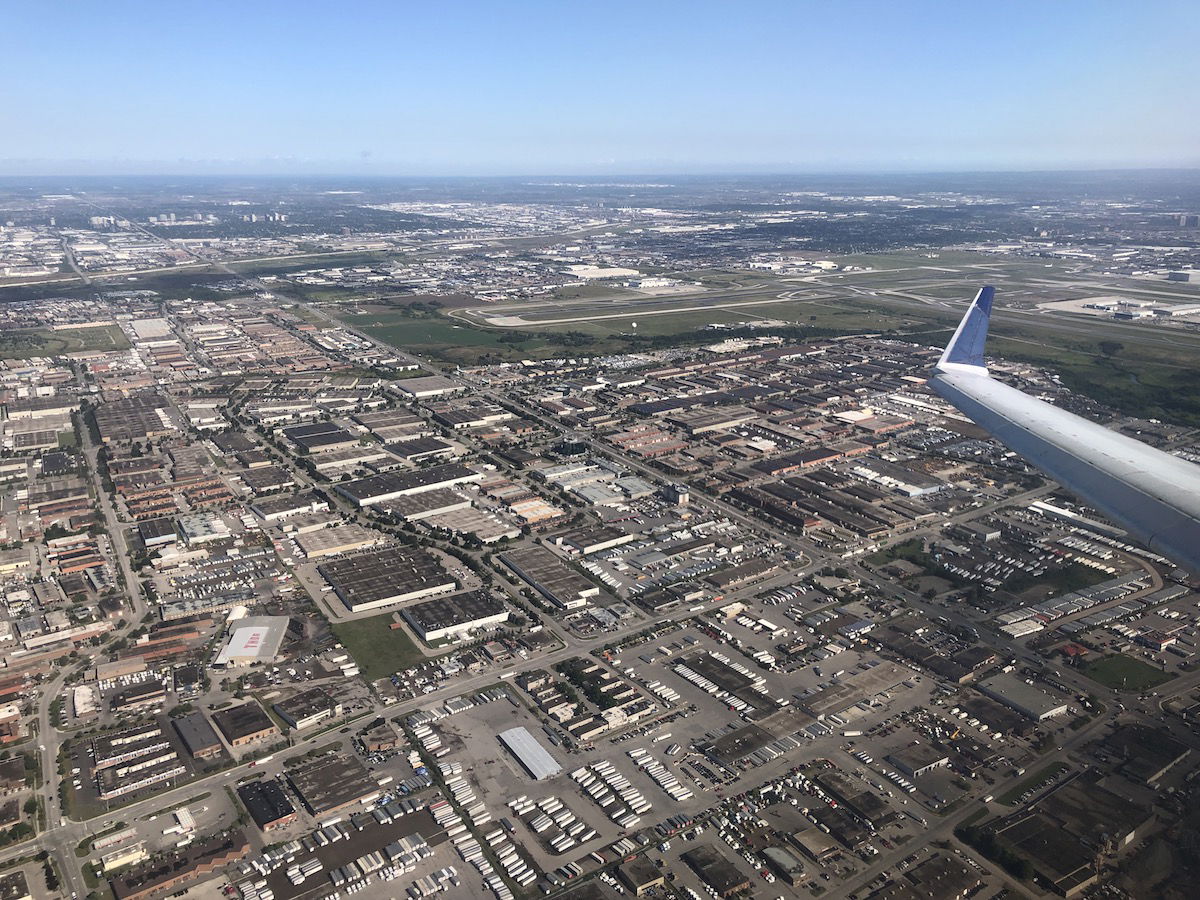 View after takeoff from Toronto
As we passed through 10,000 feet I powered up my computer and connected to the Gogo Wi-Fi. The CRJ-900 has Gogo's slower Wi-Fi, but for a short regional jet flight it's still sufficient. There are also some streaming entertainment options.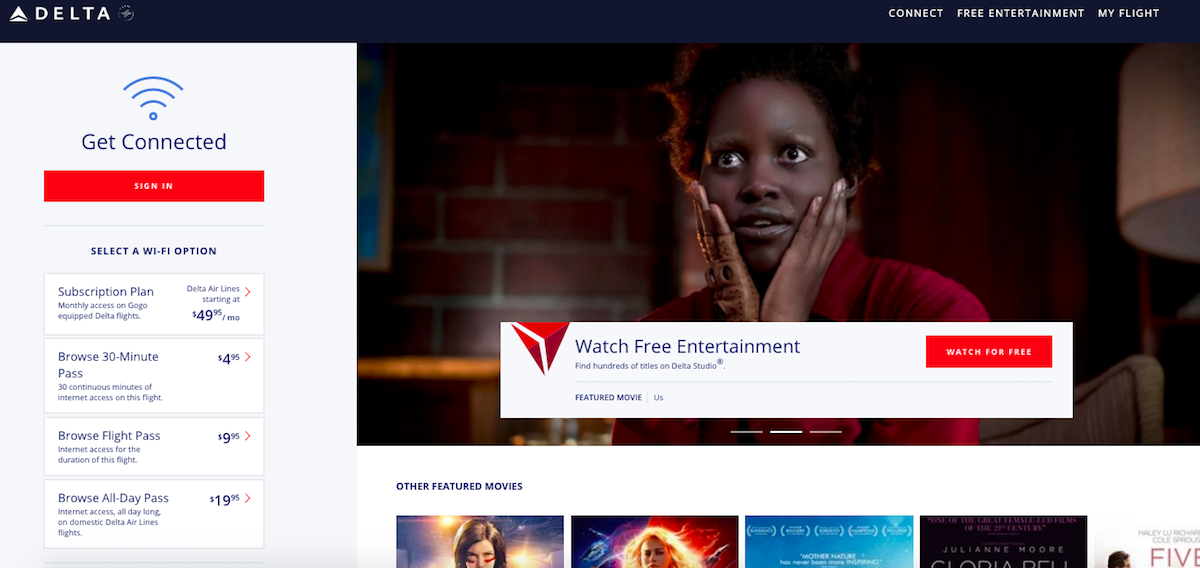 Delta Wi-Fi pricing
About 10 minutes after takeoff Holly came through the cabin to serve everyone drinks. I just had a glass of water, while my dad had a black coffee. Again, she addressed everyone by name.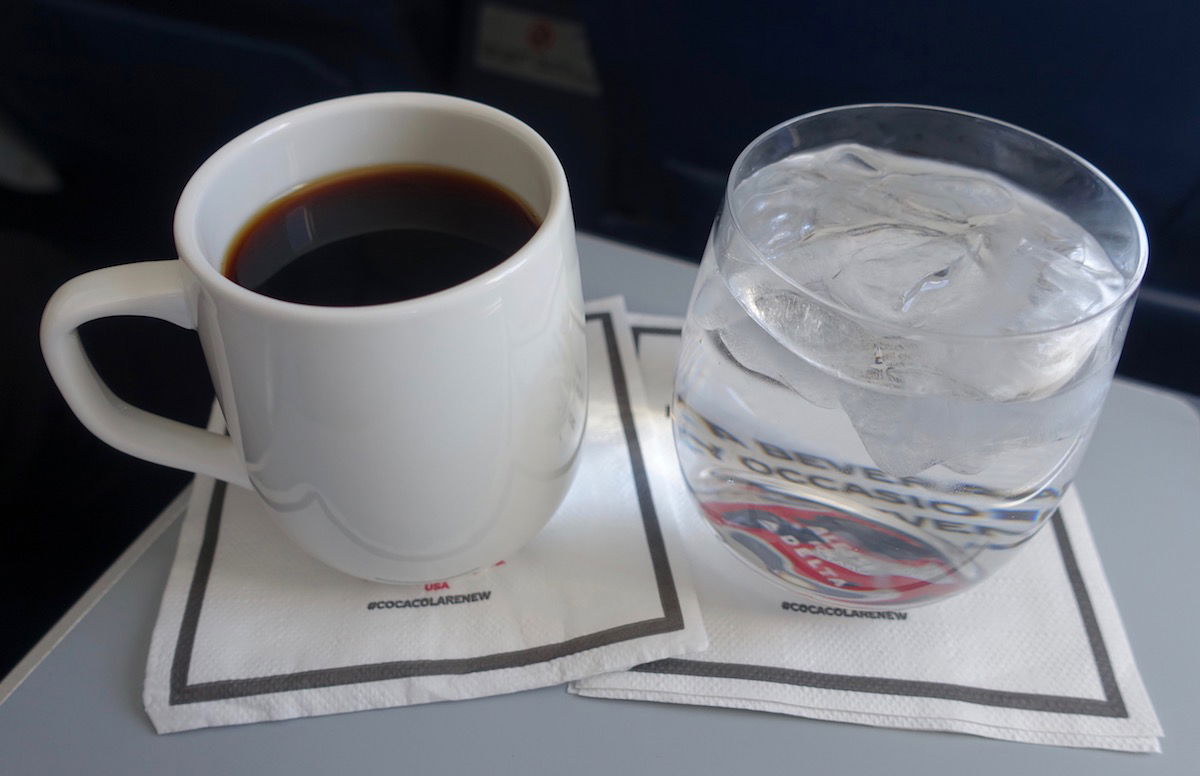 Delta first class drinks
She then came around with a snack basket, which had a variety of options available.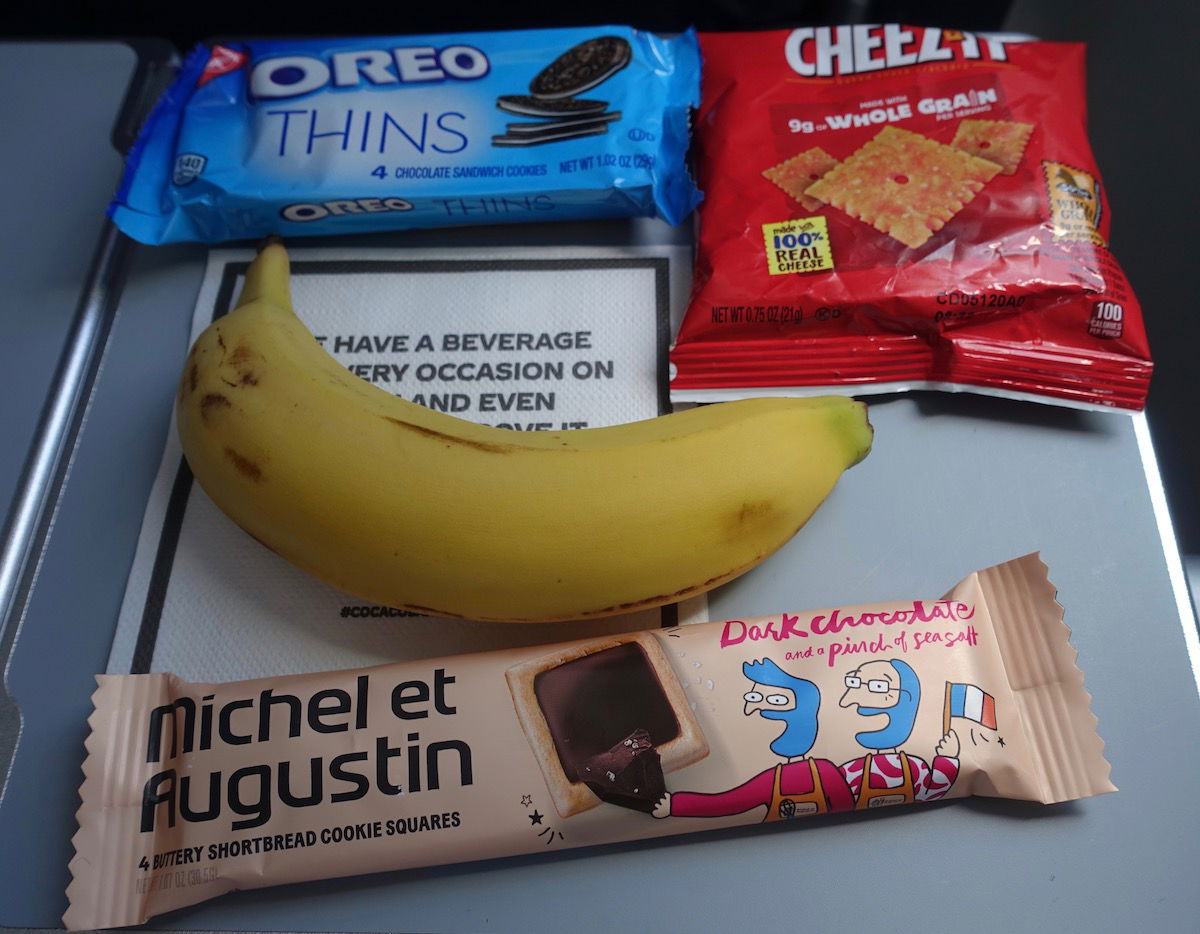 Delta first class snacks
About halfway through the flight I visited the lavatory. There was a lavatory at the front of the cabin, though it was really tight.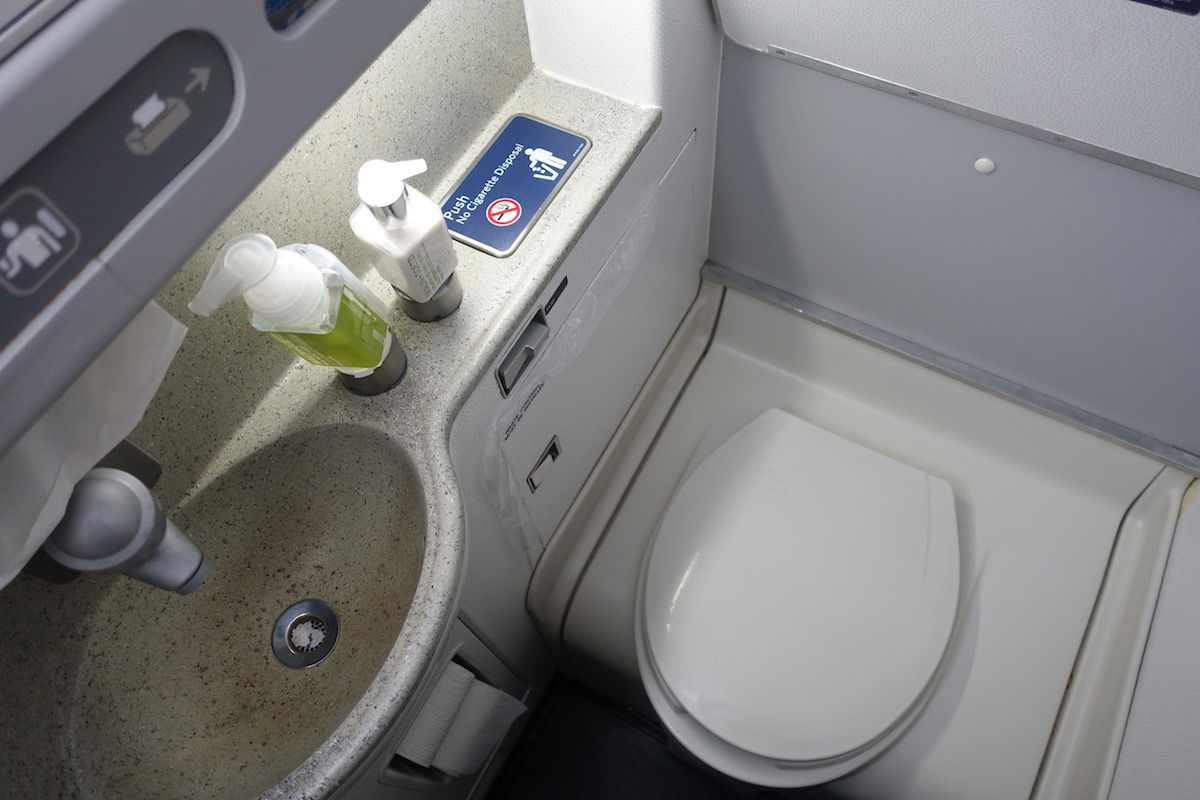 Delta first class lavatory CRJ-900
At 11AM the captain announced that we'd be landing in about 25 minutes. Shortly thereafter the seatbelt sign was turned on. The weather wasn't exactly great in New York, and sure enough we touched down at 11:25AM.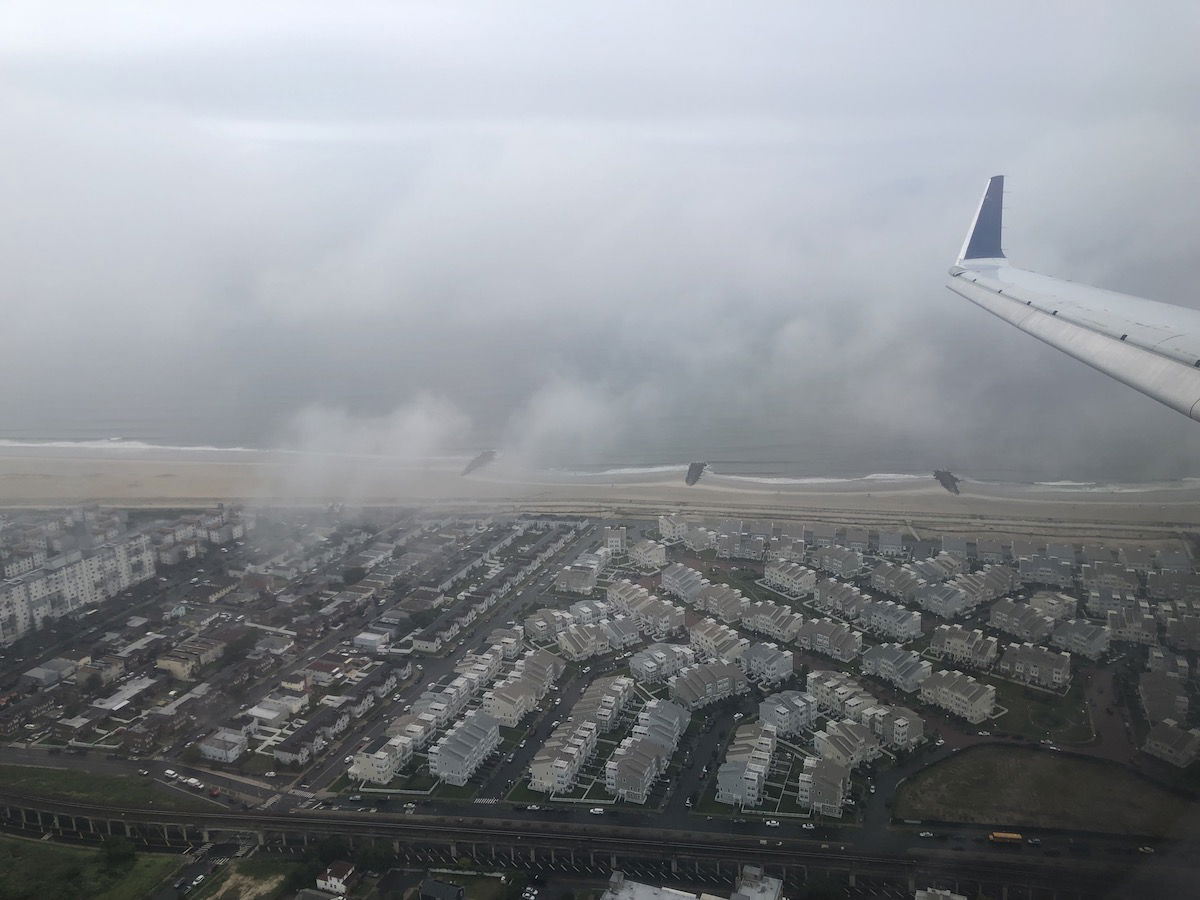 View approaching JFK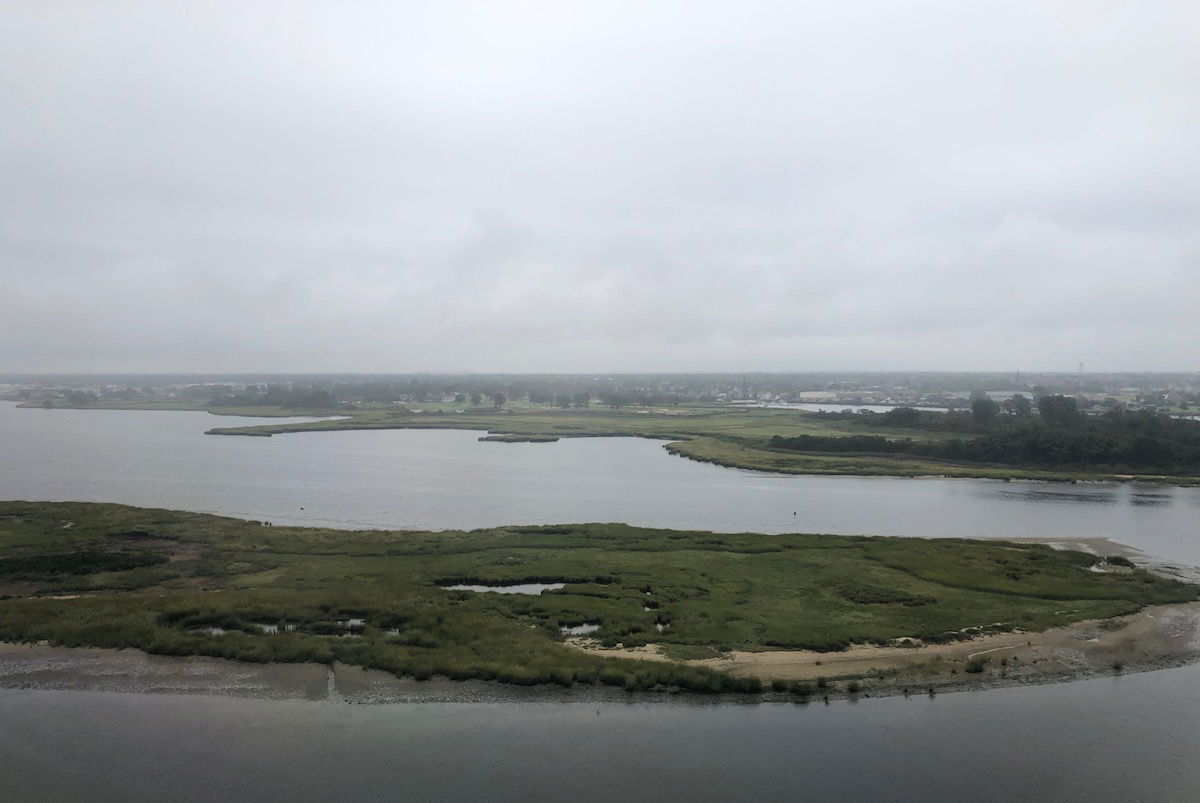 View approaching JFK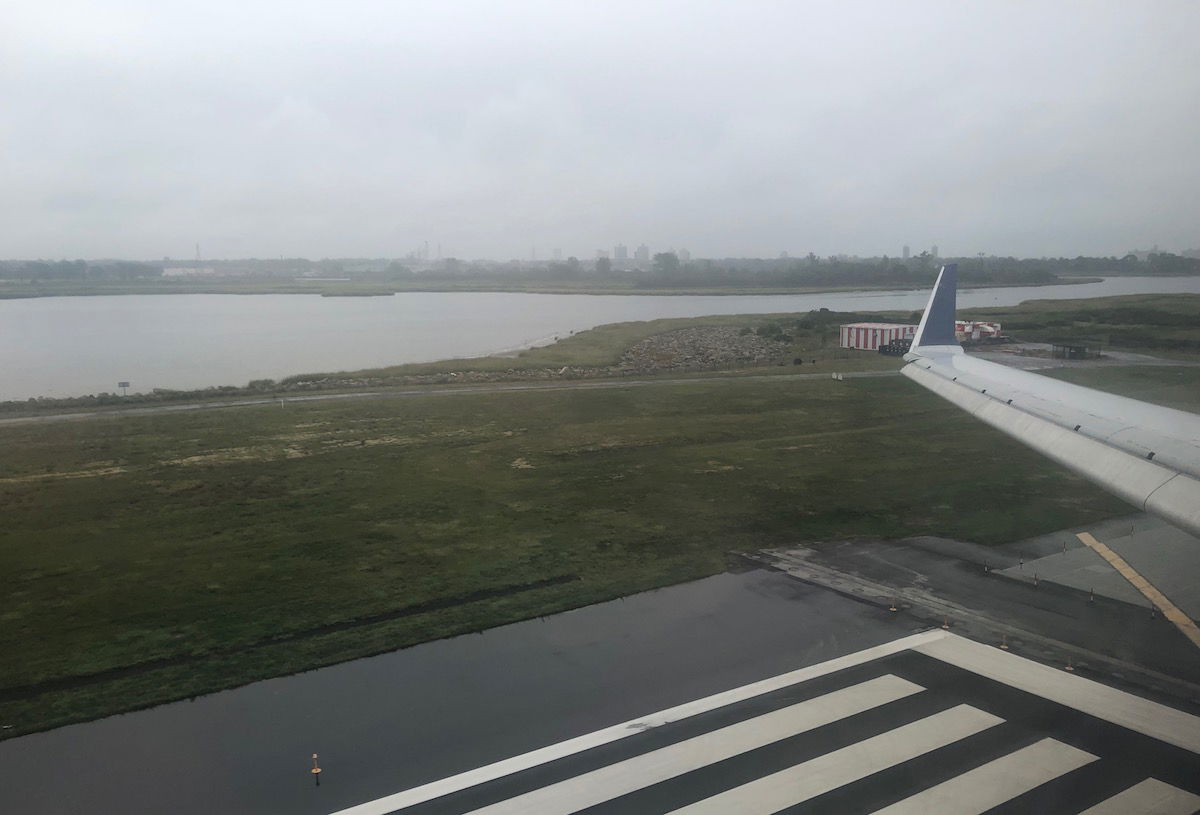 View approaching JFK
From there we had a five minute taxi to our arrival gate at Terminal 4, which was B47.
As we deplaned, Holly thanked each passenger, by name, for flying with Delta.
Delta CRJ-900 first class bottom line
In general first class on regional jets is fairly comfortable nowadays, as I quite like the 1-2 configuration. I find there's usually not too much variation in terms of the hard product, though Delta is ahead of the curve with installing power ports on these planes. I also like that they have bottled water, along with pillows and blankets, at every seat.
What really stood out about this flight was our exceptional flight attendant, who provided the best service I've ever had on a regional jet.