---
After a once in a lifetime trip, it was time for the long journey home. We managed to all travel back on the same flight using miles, with what I consider to be one of the best award chart sweet spots out there.
Redeeming Miles For Qatar Airways Business Class
Qatar Airways has my favorite business class product in the world, and there was award availability all the way from Cape Town to the US on our preferred date.
While there were several US gateways available, I decided to book us via Dallas. That's because:
The Doha to Dallas route is operated by the A350-1000, which would guarantee us Qsuites, and it would also be my first flight on the -1000 version of the A350
There was business class award availability from Dallas to Miami (for Ford and me), and from Dallas to Tampa (for my dad)
In the end I booked the following for us, at a cost of just 75,000 AAdvantage miles plus $59.43 per person:
9/11 QR1370 Cape Town to Doha departing 12:40PM arriving 11:55PM [Business]
9/12 QR729 Doha to Dallas departing 7:50AM arriving 3:50PM [Business]
9/12 AA2206 Dallas to Miami departing 6:15PM arriving 10:00PM [Business]
The flight from Cape Town to Doha was operated by an A350-900 with Qatar's "old" reverse herringbone business class, but the Doha to Dallas flight had Qsuites. Ford and I even managed to book a 777 from Dallas back to Miami.
This is such an incredible use of American miles, and was even bookable directly on aa.com. That's tough to beat.
You can easily replicate a trip like this using miles earned through credit cards.
See this post for details on the best credit cards for earning American miles.
Qatar Airways Business Class A350-900 Review
We arrived at Cape Town Airport at around 10:30AM for our 12:40PM flight to Doha. The check-in hall was busy, though we quickly found Qatar Airways check-in at the very left of the terminal.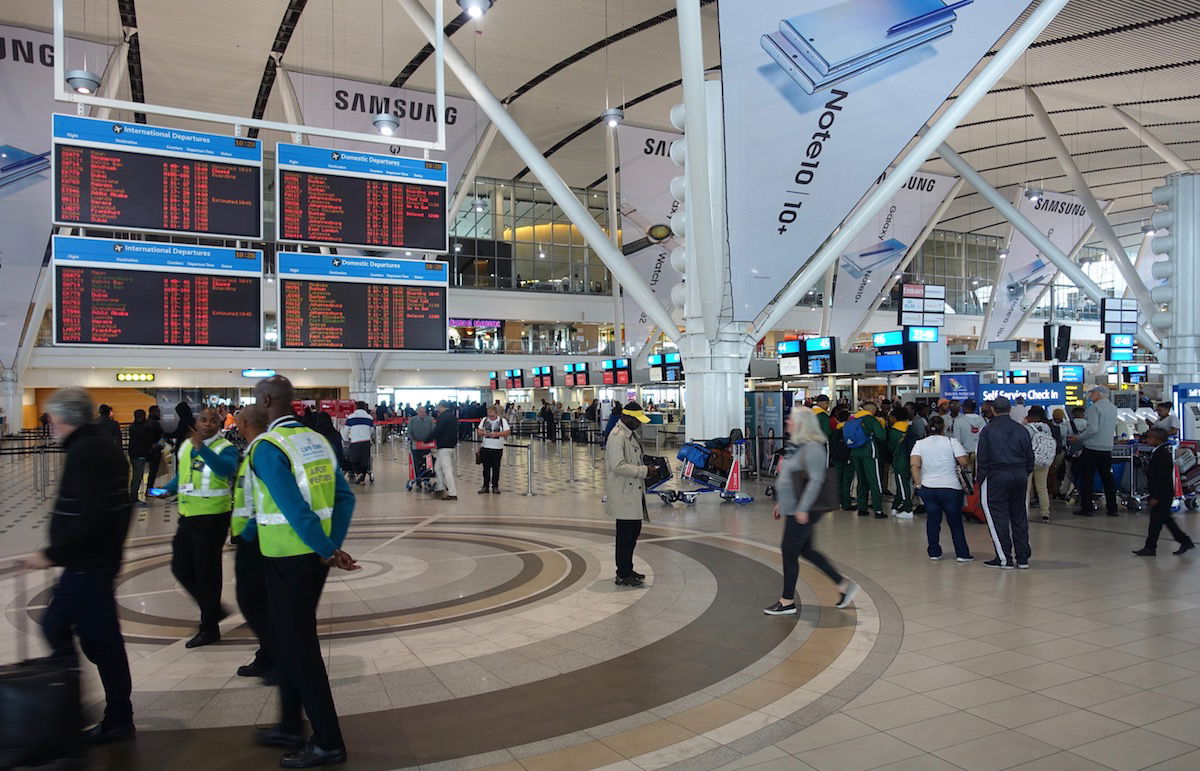 Cape Town Airport check-in
There was no queue at the business class counter, so while we were helped right away. The check-in process still took a while, though. For whatever reason they seemed to have issues with my dad's ticket, so the check-in agent stepped away for around 15 minutes before presenting us with our boarding passes.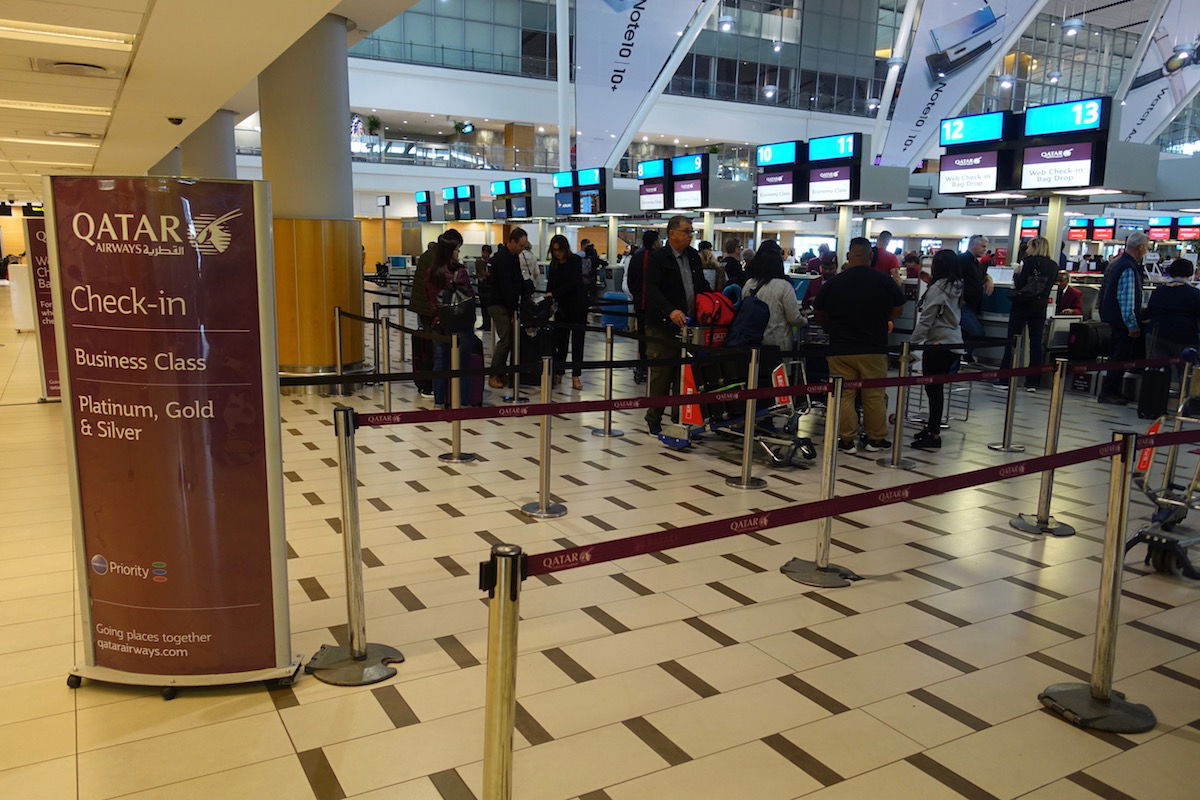 Qatar Airways check-in Cape Town
From there we headed through security and then immigration, all of which was pretty quick. We then found ourselves in the international departures area.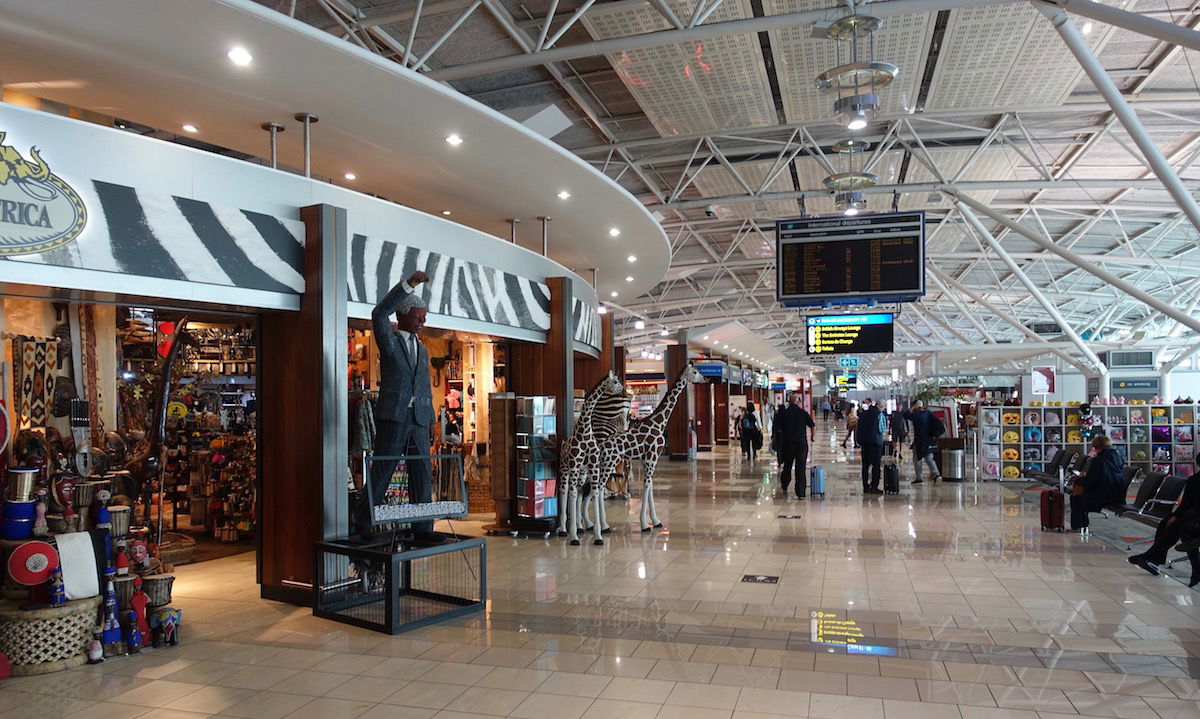 Cape Town Airport international terminal
Qatar Airways uses the Bidvest Premier Lounge at Cape Town Airport. I intended to review it, though the lounge was so full that there really wasn't any way for me to take pictures without being completely obnoxious.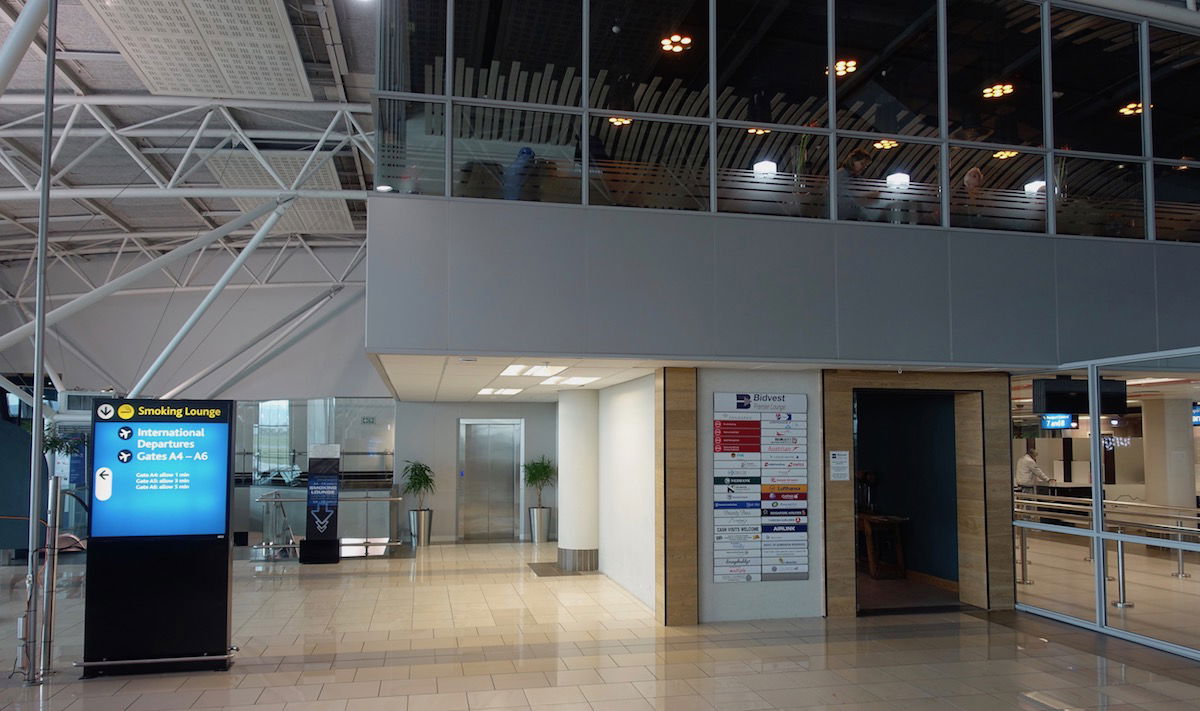 Cape Town Airport international terminal lounge
The lounge was ultimately fine, but just really crowded. We only spent about 15 minutes there, because we couldn't even get seats together. From there it was just a short walk to gate A5, where our flight to Doha was departing from.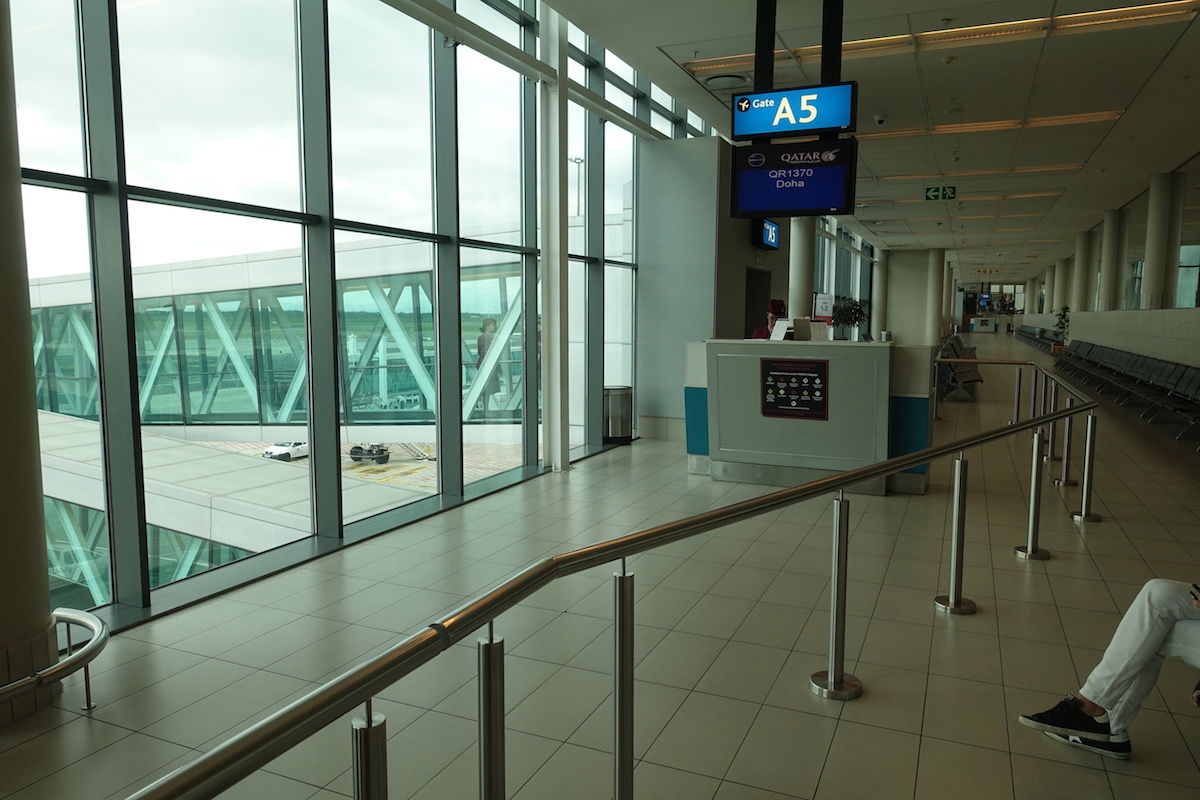 Qatar Airways departure gate Cape Town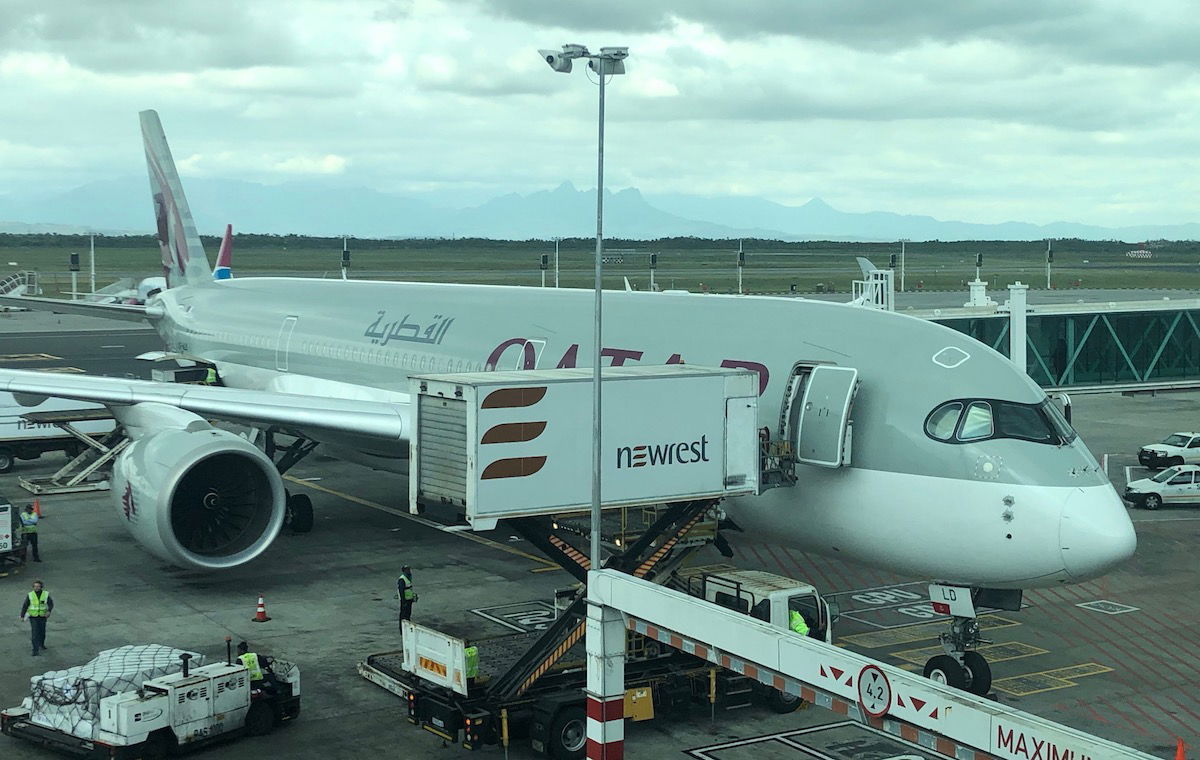 Qatar Airways A350 Cape Town
There was some great plane spotting from the gate area.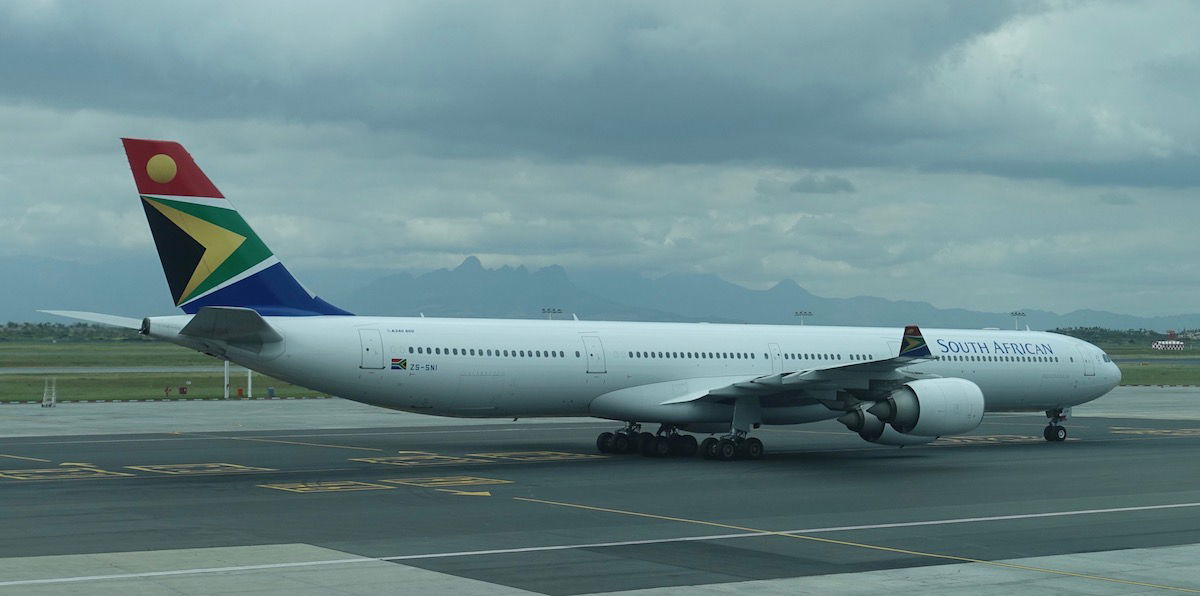 South African Airways A340-600
The inbound flight was slightly delayed. While our boarding pass indicated that boarding was supposed to start at 11:55AM, in reality boarding started at 12:15PM, with business class passengers being invited to board first.
Qatar Airways 1370
Cape Town (CPT) – Doha (DOH)
Wednesday, September 11
Depart: 12:40PM
Arrive: 11:55PM
Duration: 10hr15min
Aircraft: Airbus A350-900
Seat: 9E (Business Class)
Ah, Qatar Airways! You've gotta love when an airline has reverse herringbone seats, and those are their "old" business class seats. Qatar Airways' A350-900 has a total of 36 business class seats, spread across nine rows in a 1-2-1 configuration. There are six rows of seats between doors one and two, so there are a total of 24 seats there.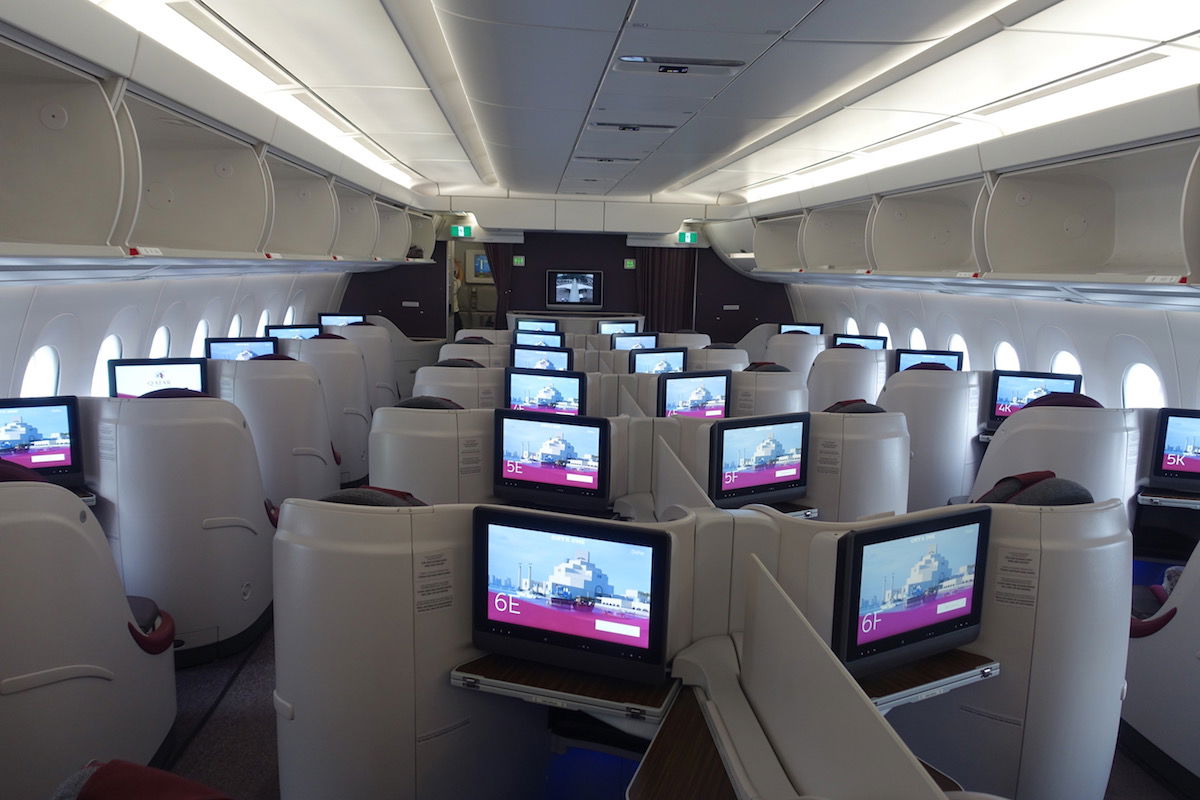 Qatar Airways A350-900 business class
Then there's a rear business class cabin with another three rows, for an additional 12 seats. I had selected seats 9A, 9E, and 9F for us — those are the seats in the last row on the left and in the middle.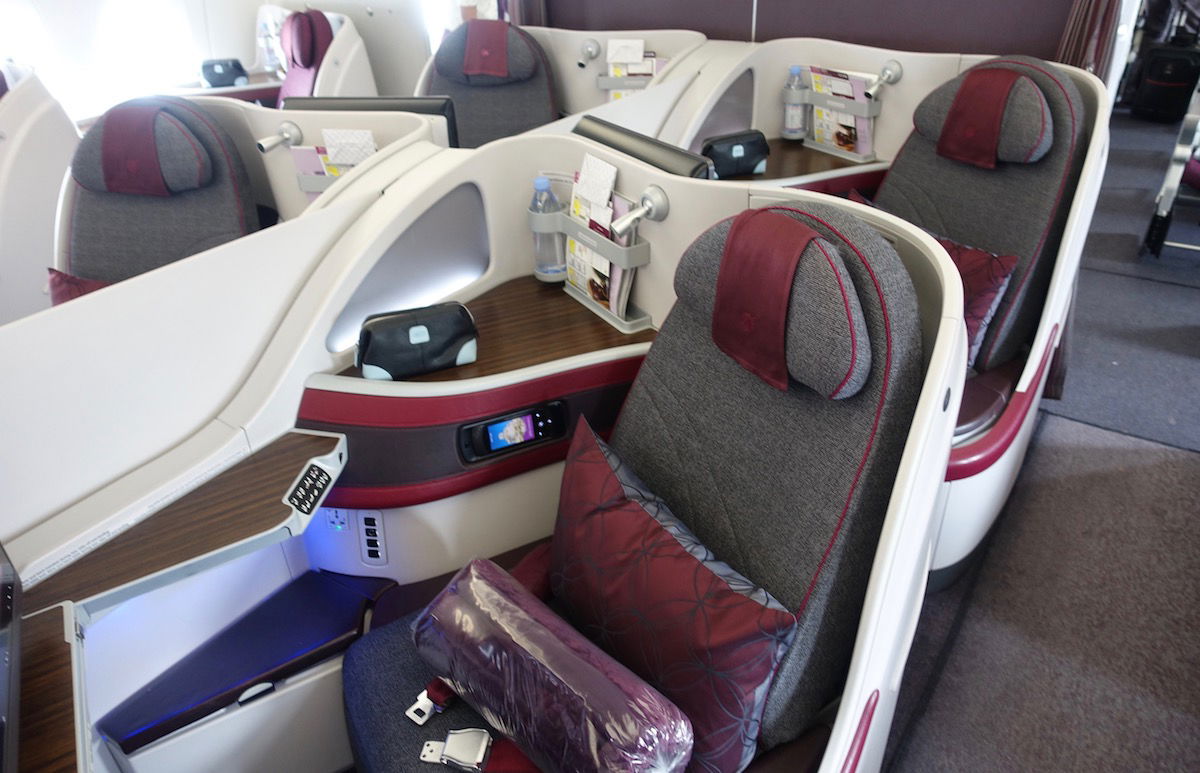 Qatar Airways A350 business class seats
The cabin on the A350-900 feels incredibly spacious, given that the open area by the second set of doors doesn't have any bulkheads. Instead the space feels open, and there's even a small walk-up bar of sorts right there.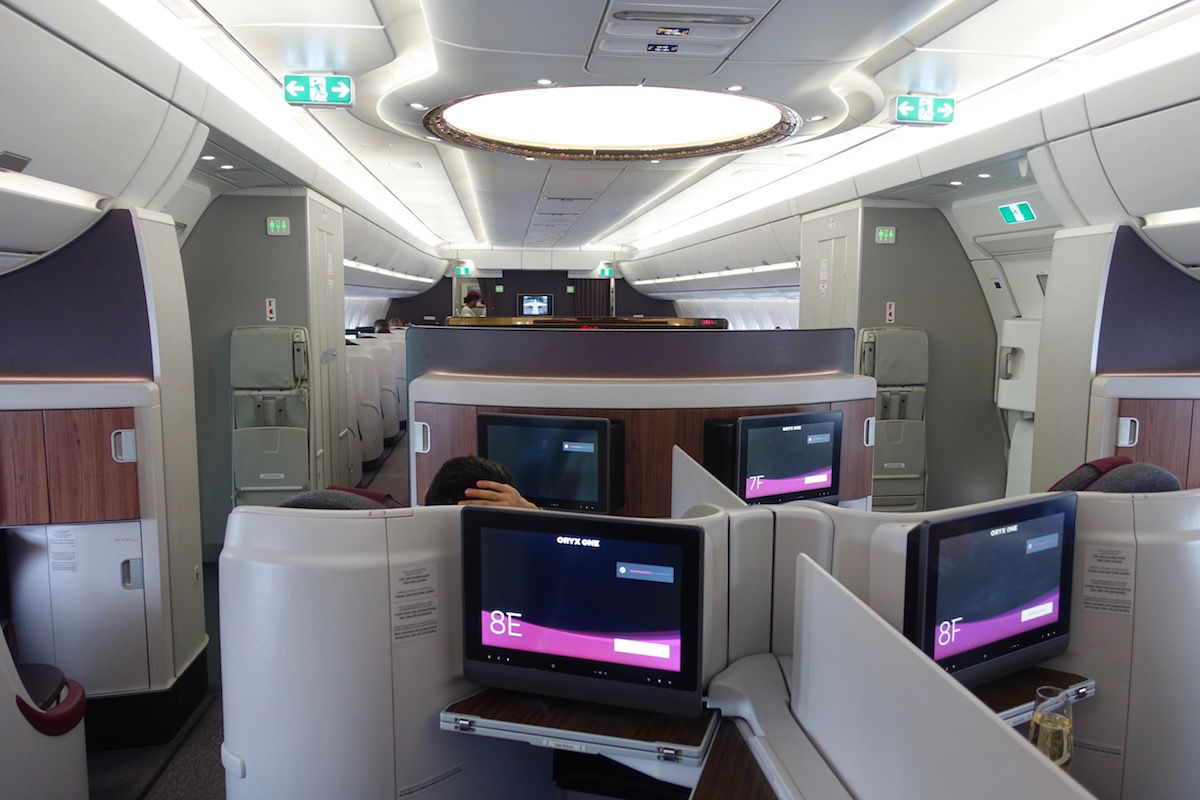 Qatar Airways business class cabin A350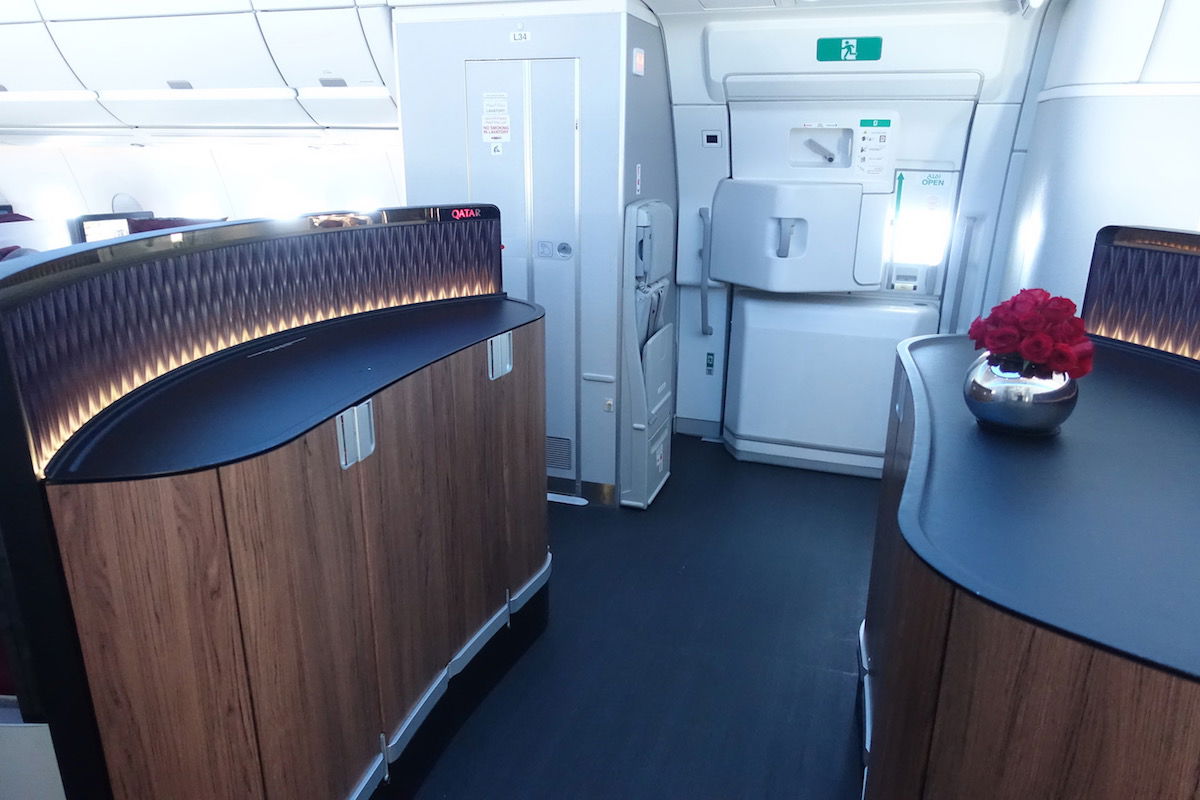 Qatar Airways business class bar A350
Ford was in 9A, which is the window seat that I would have probably chosen if traveling alone.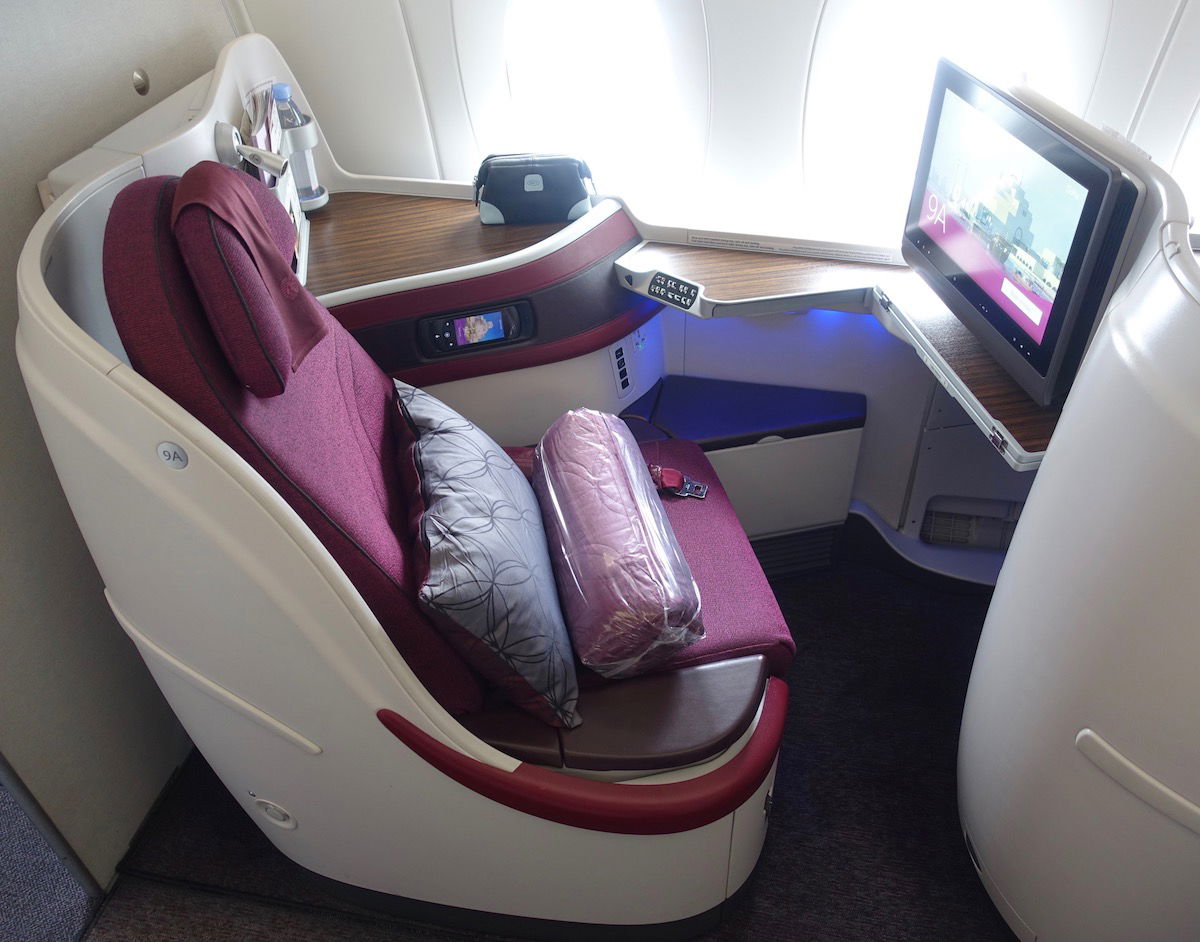 Qatar Airways A350 business class seats
Then I was in 9E, the center seat on the left, while my dad was across from me, in 9F. There's a partition between the center seats that can be raised, but since we were traveling together I lowered that.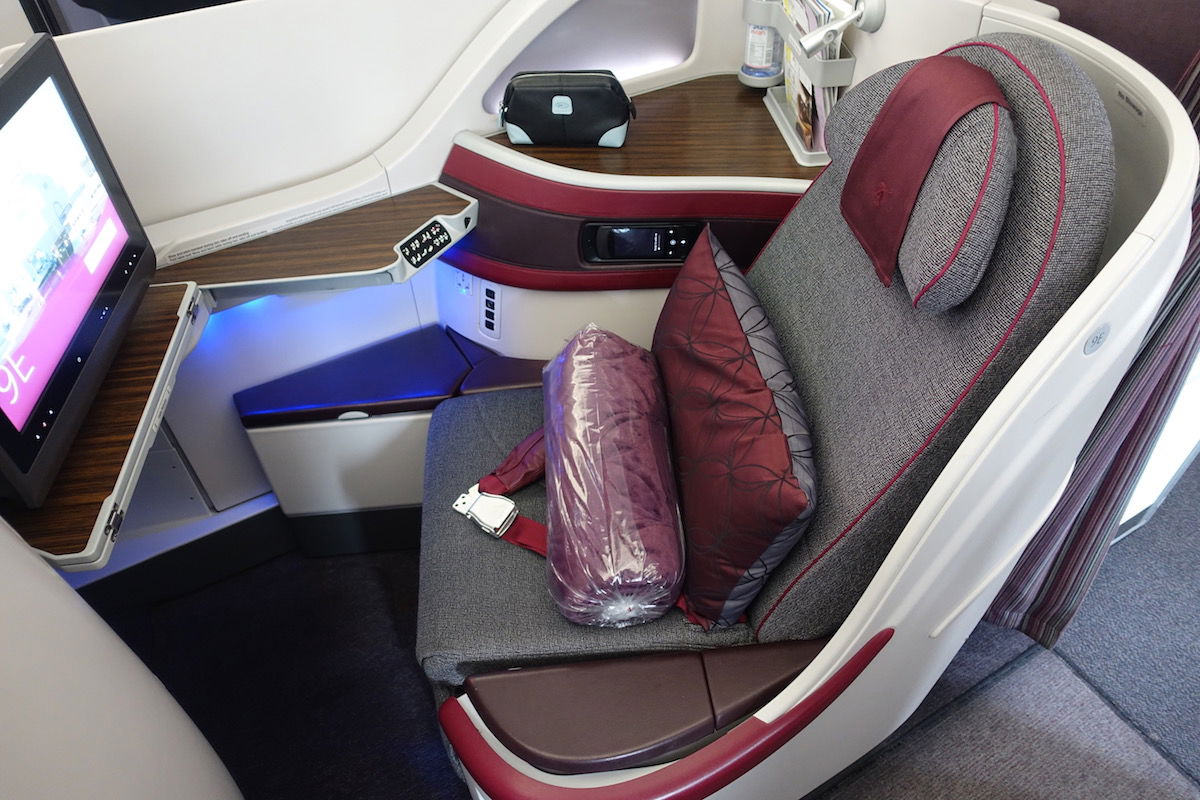 Qatar Airways business class seats A350
Qatar Airways has a modified version of the B/E Aerospace Super Diamond seats in business class. I don't like the modifications they've made compared to the "standard" seats, since they don't have the same storage you'd usually find.
In front of the seat was the personal television, as well as the tray table, which could be folded over in half.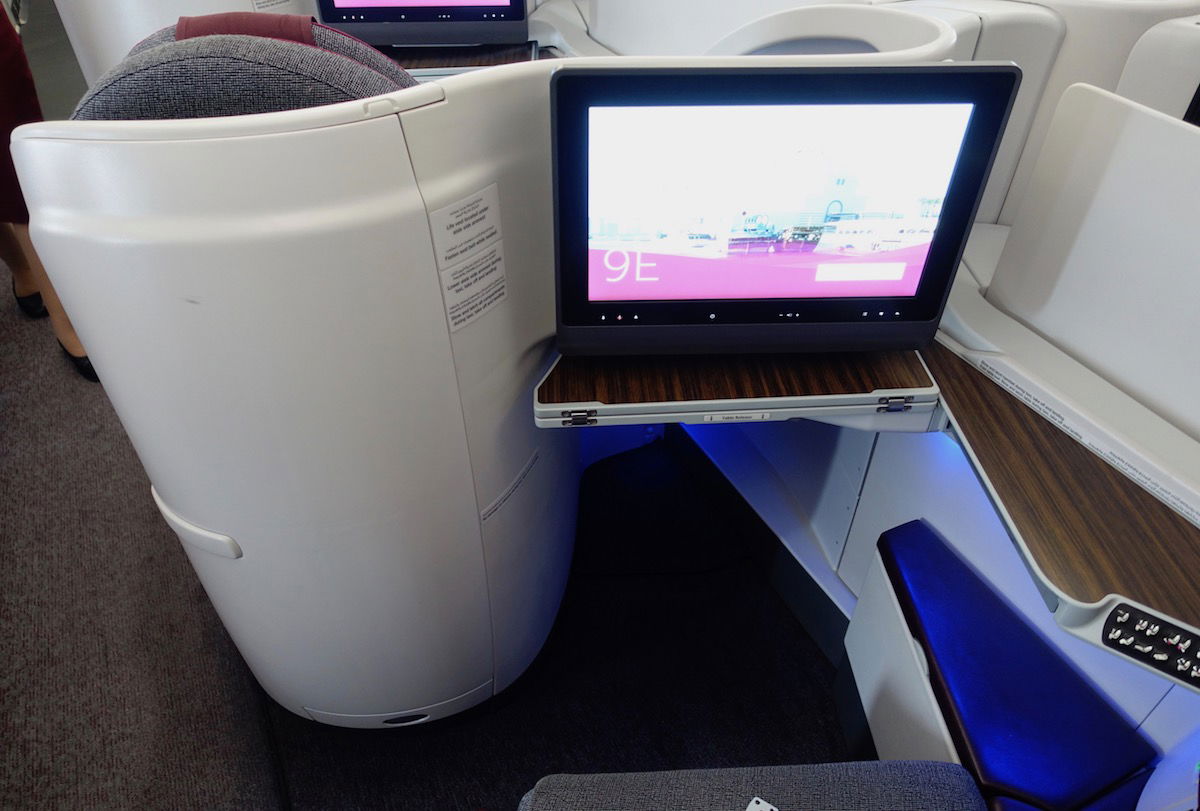 Qatar Airways business class seats A350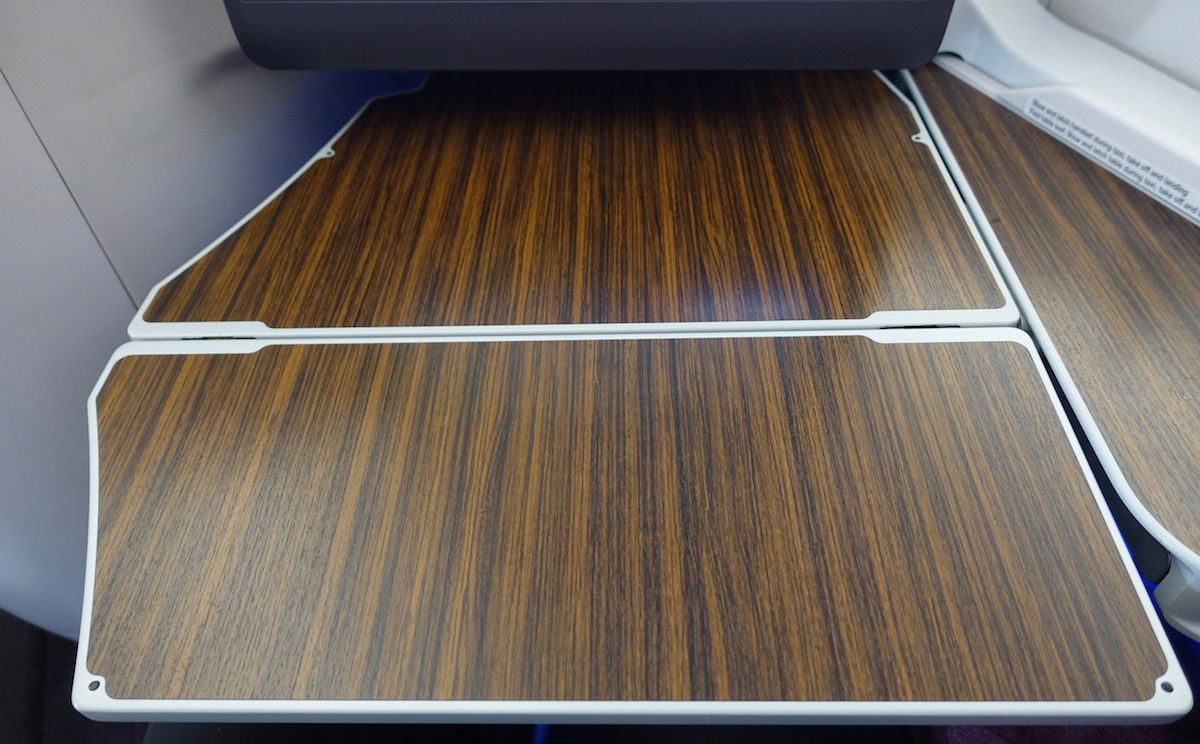 Qatar Airways business class seat tray table
To the side of the seat was a small counter with a literature pocket, water bottle holder, and reading light.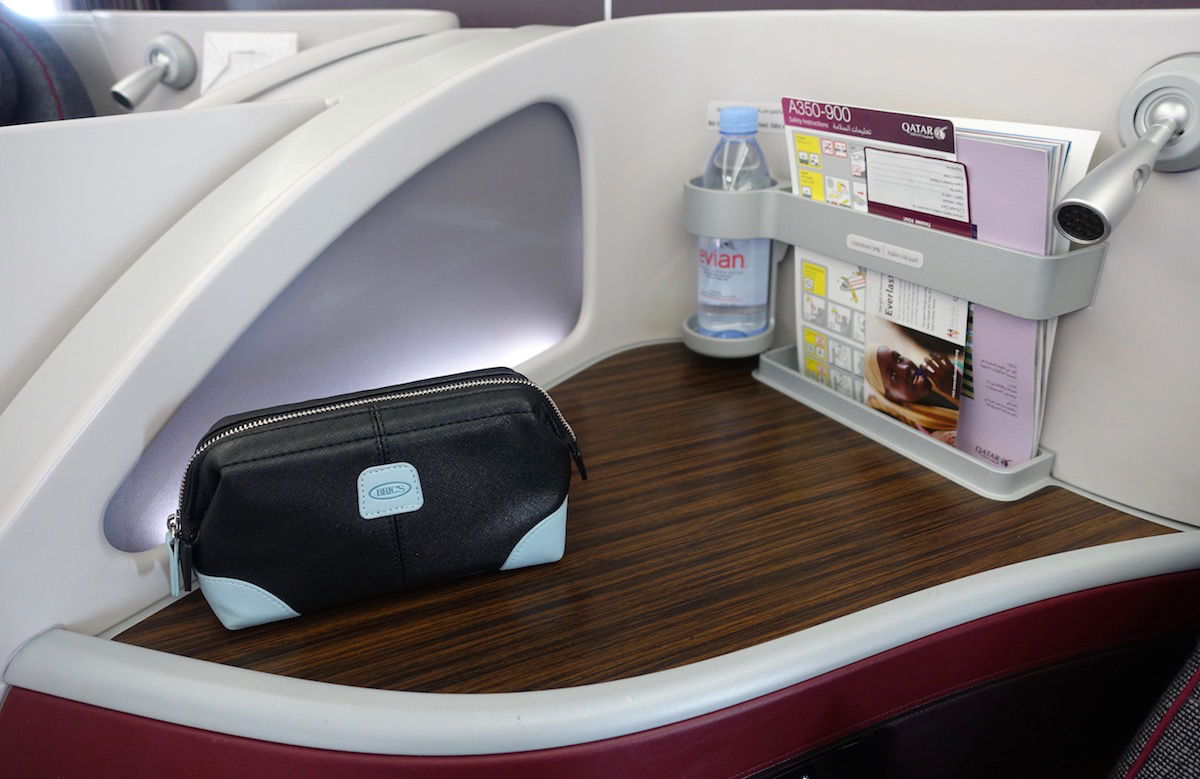 Qatar Airways business class seat storage A350
The entertainment controller was immediately below the counter.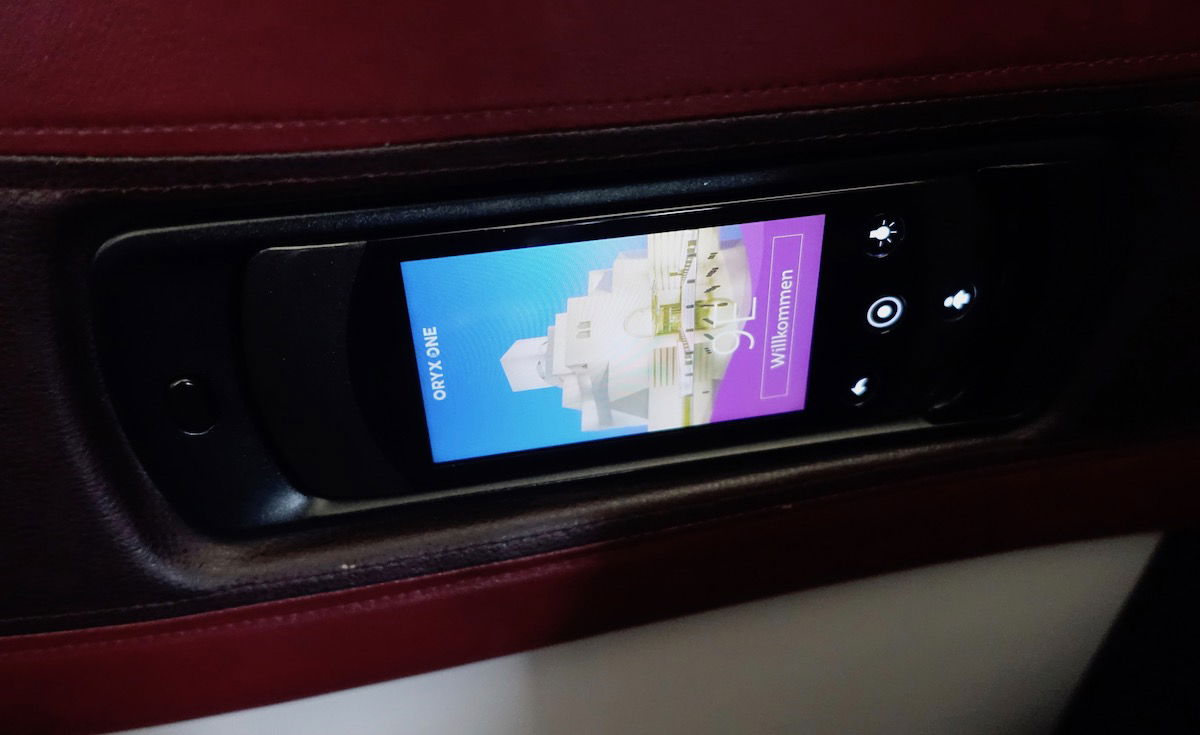 Qatar Airways business class entertainment controls A350
Then the easy to use seat controls were to the side of that.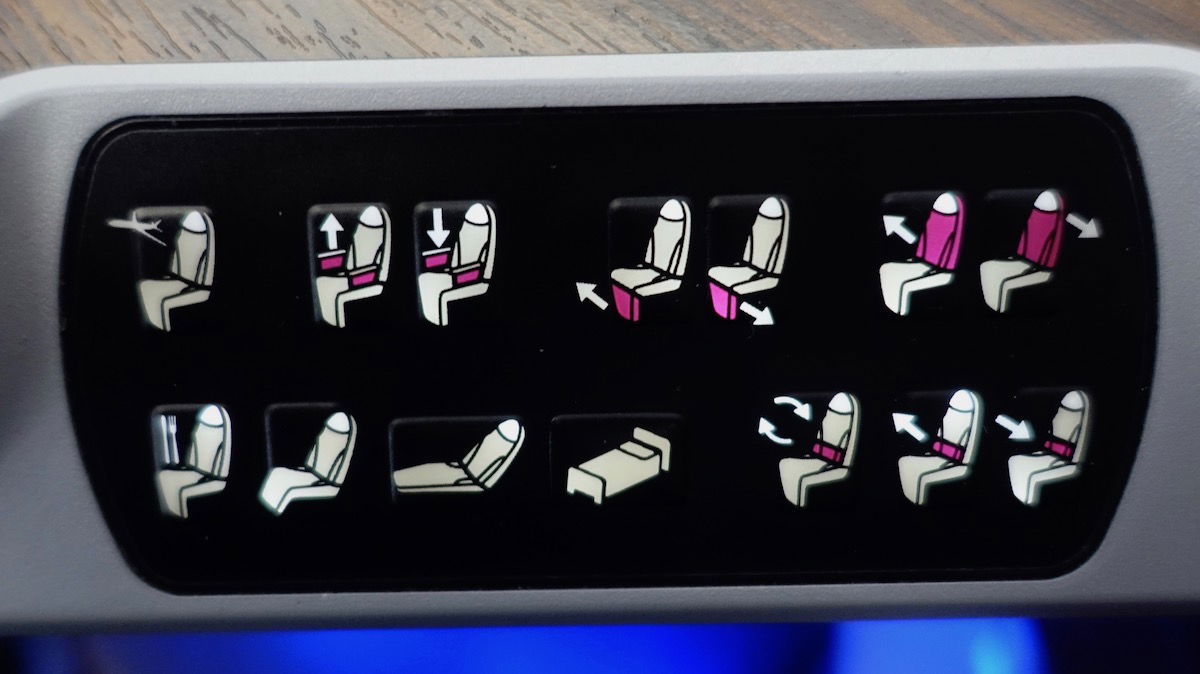 Qatar Airways business class seat controls A350
The outlets (including 110v and USB) were located in this area as well.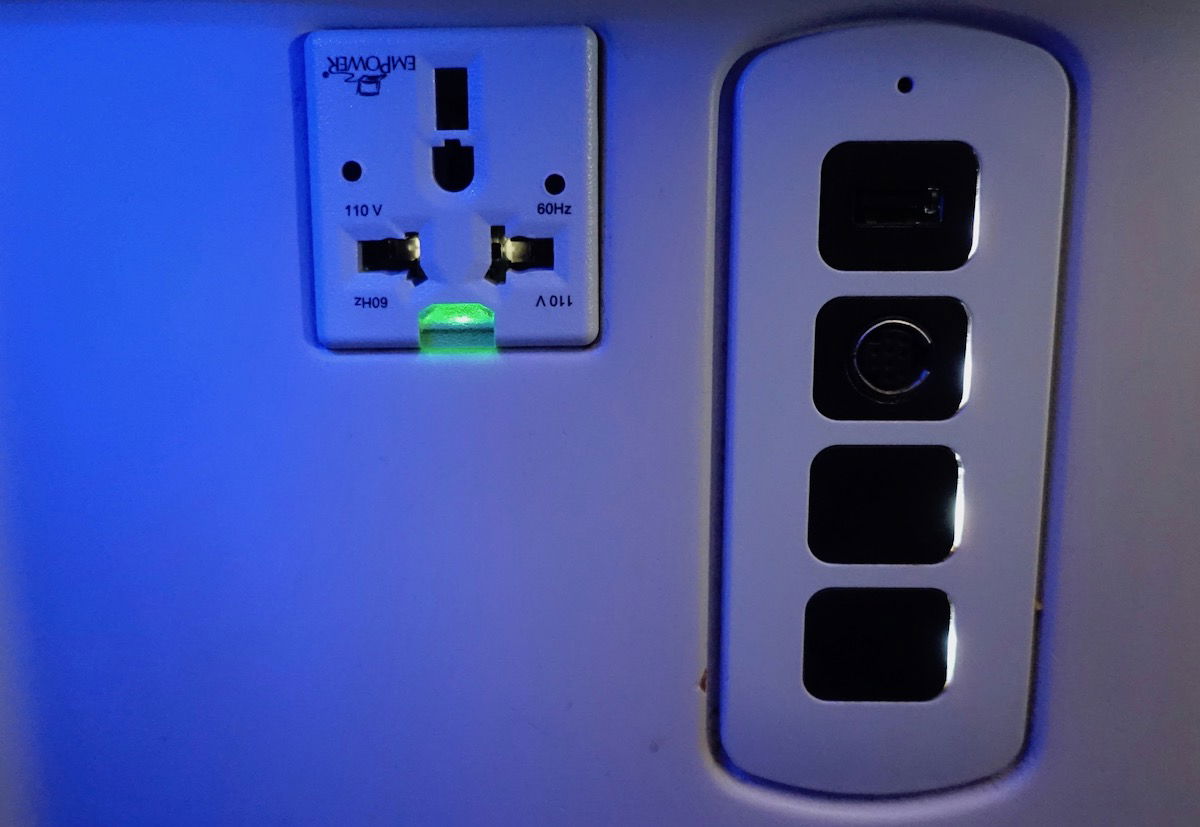 Qatar Airways business class power outlet A350
To the left side of the seat was a small compartment that could hold a bottle of water and a headphone case, or something similar.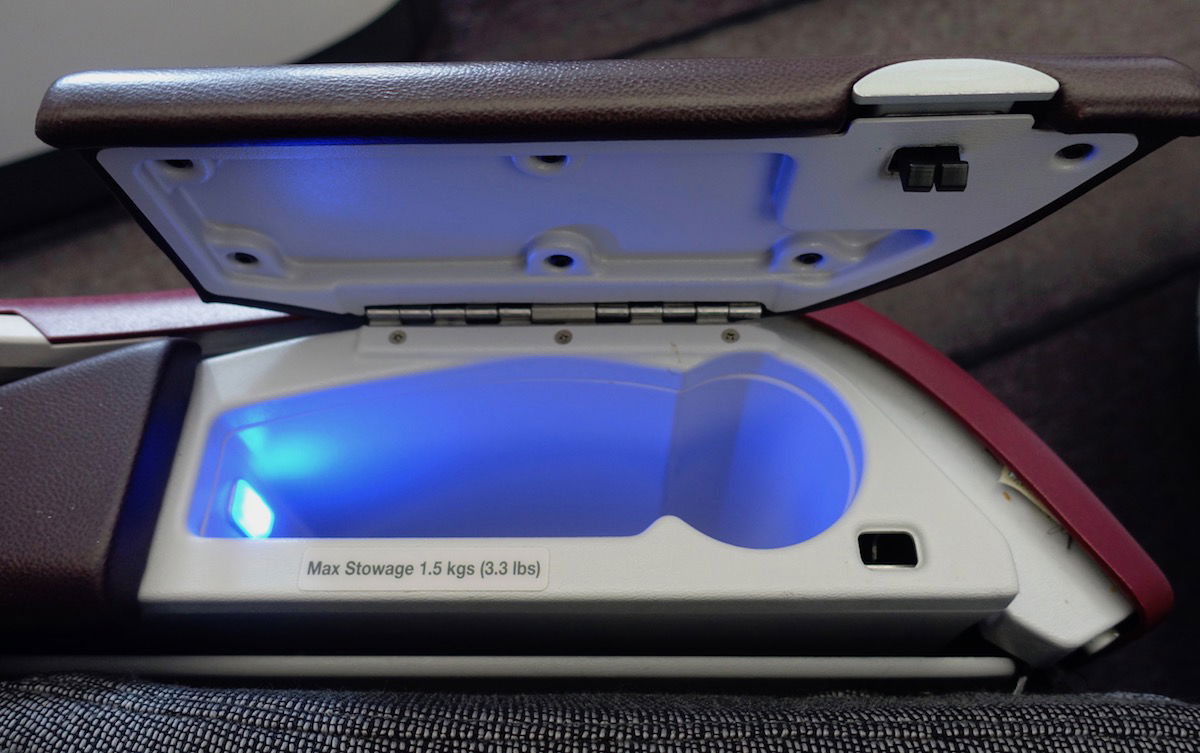 Qatar Airways business class seat storage
The major downside of reverse herringbone seats is that they have fairly small footwells, and I do find that Qatar's modified reverse herringbone seats have among the smaller footwells.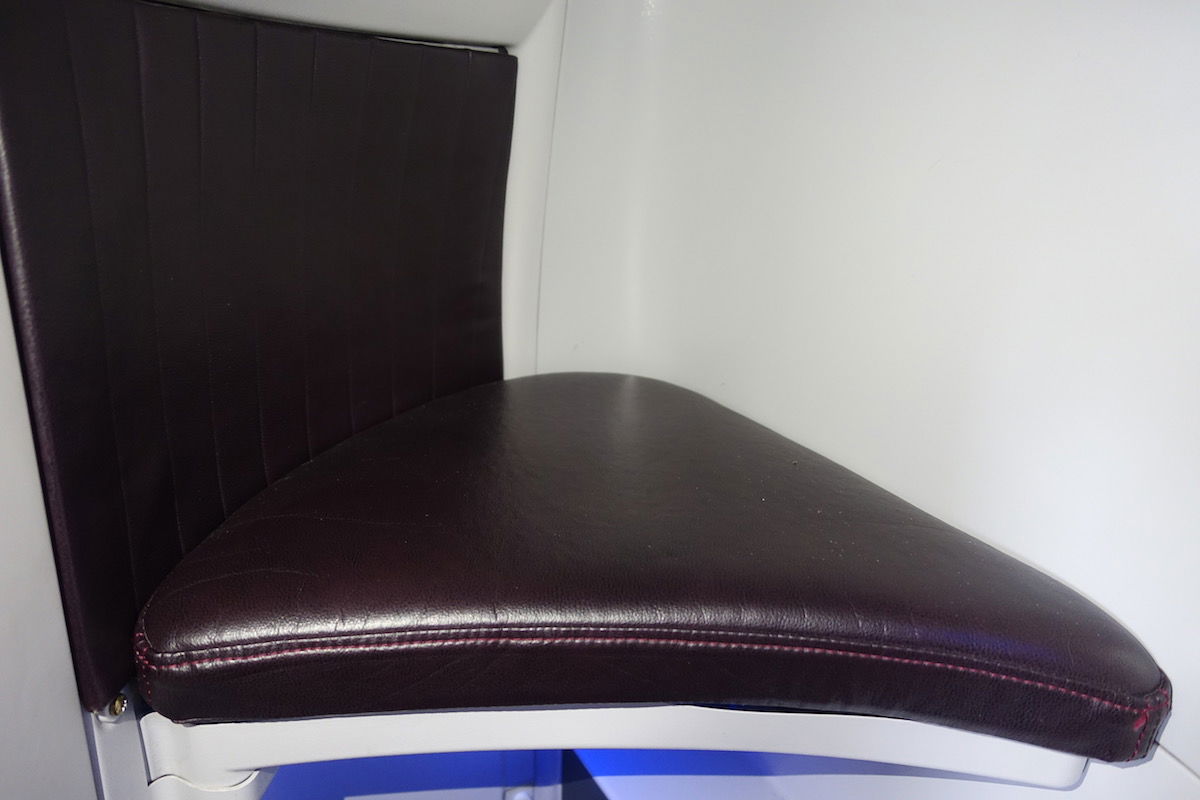 Qatar Airways business class seat footwell
While the window seats on Qatar's A350s have air nozzles the middle seats don't, given how high up the ceiling is. The A350 cabin feels so spacious because there are no overhead bins in the center section, but that's both a blessing and a curse.
Waiting at our seats upon boarding were excellent pillows and blankets — I really love Qatar Airways' bedding.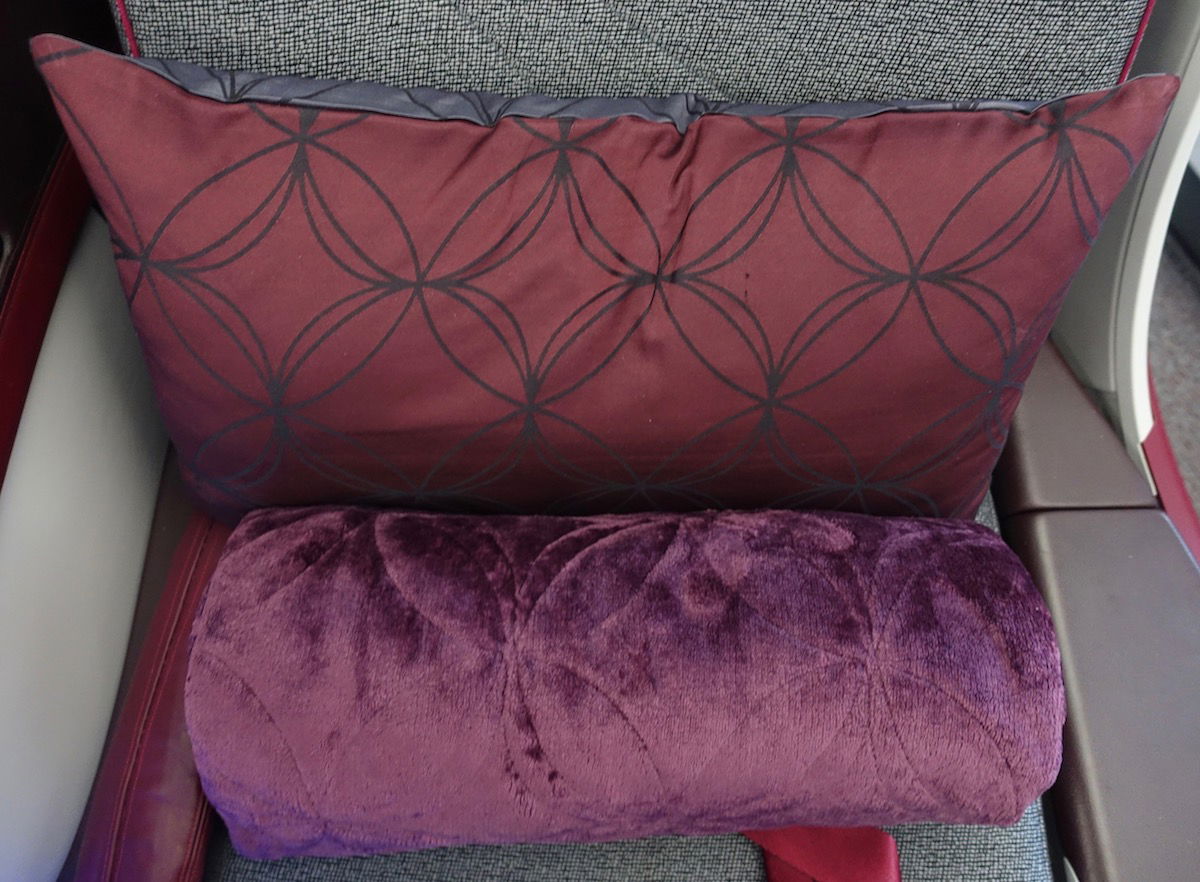 Qatar Airways business class pillow & blanket
There were also a pair of headphones, which weren't exactly great.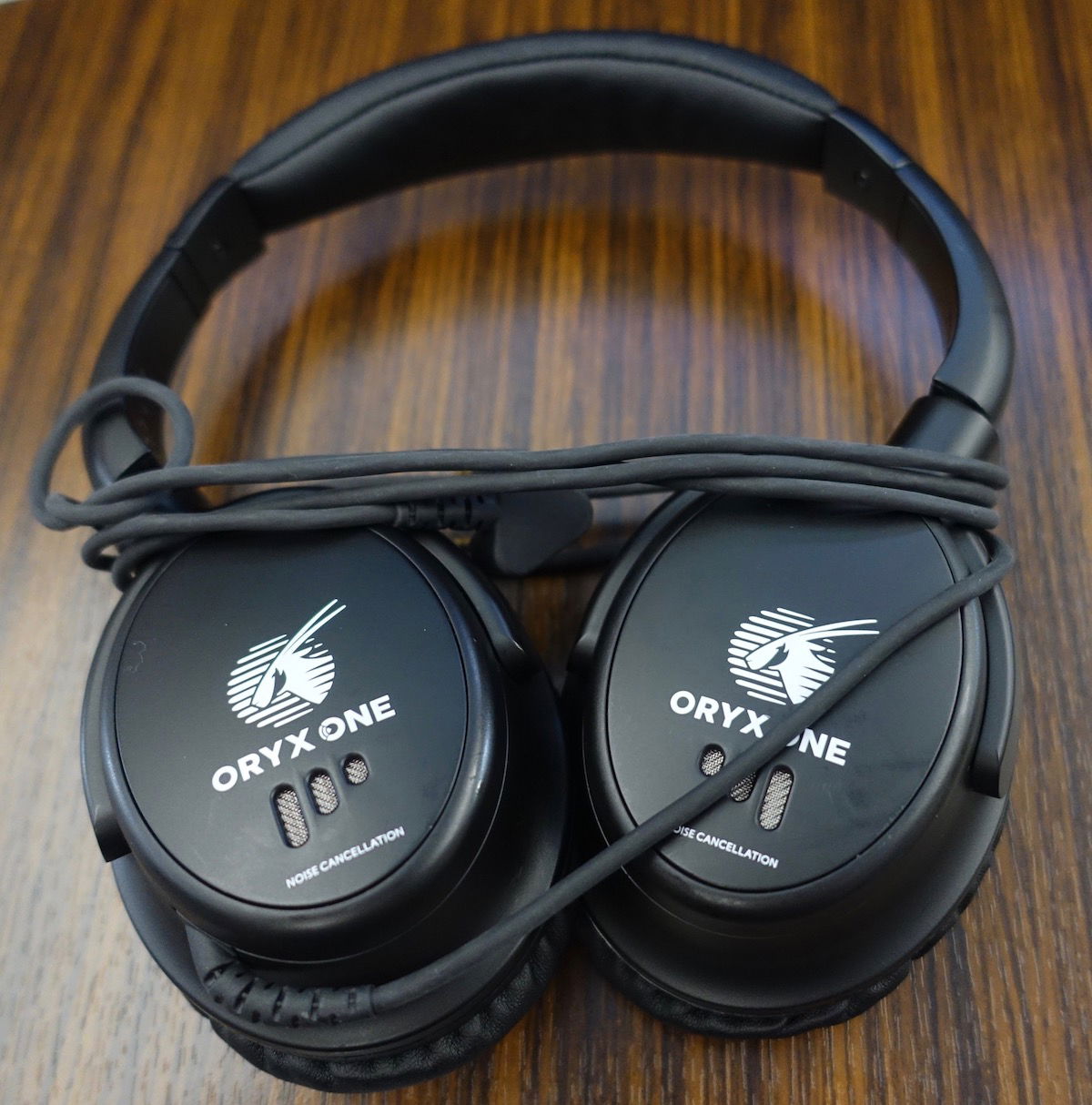 Qatar Airways business class headphones
There was also an amenity kit from Bric's, containing skincare products from Castello Monte Vibiano Vecchio. Overall it's a pretty well stocked amenity kit, in my opinion.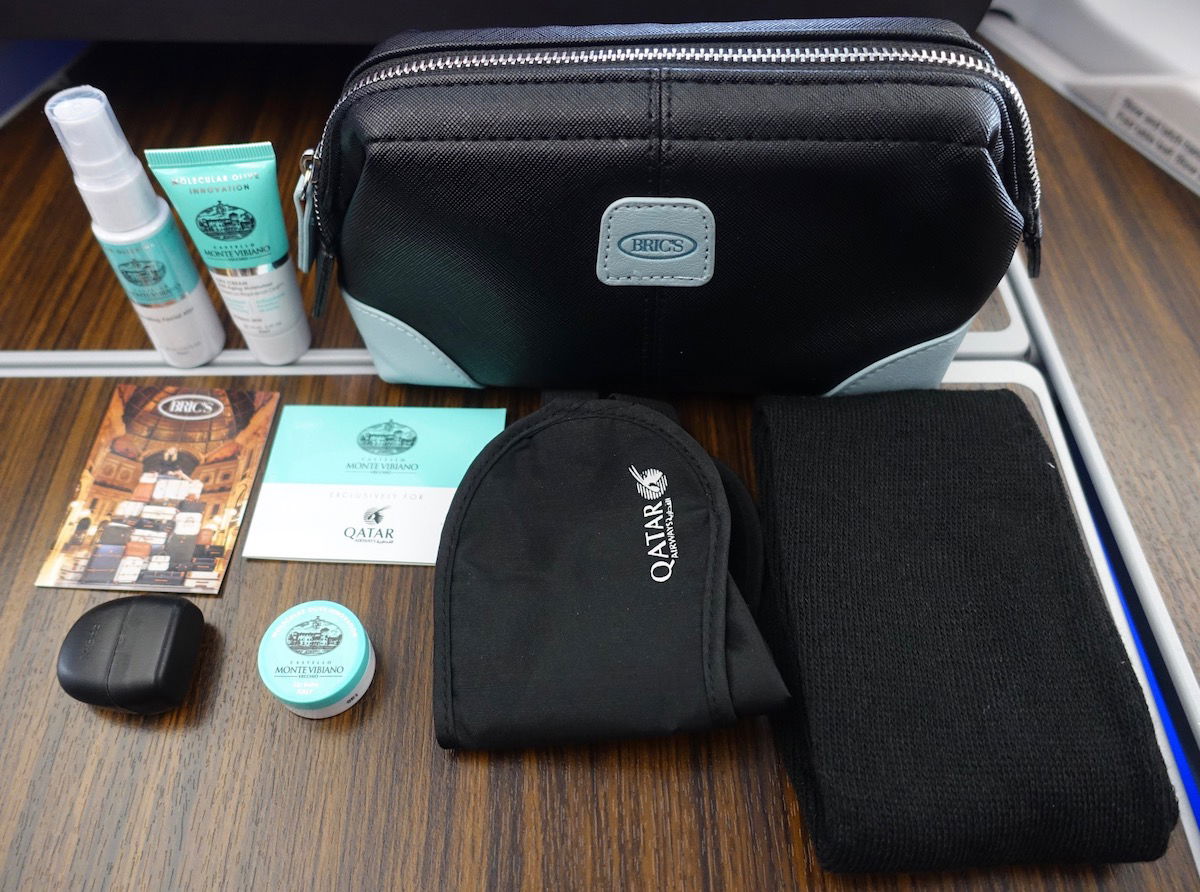 Qatar Airways business class amenity kit
Qatar Airways has incredibly personalized service in business class, and within a moment of settling in I was greeted by Hadeer, the lovely Egyptian flight attendant who would be taking care of me. She first asked if I was familiar with the seat (I was, so she didn't have to explain all the features). She then asked if she could get me something to drink, and also asked if I preferred a hot or cold towel.
I decided to order a glass of champagne and a lime mint juice (what can I say, I was thirsty?), along with a warm towel. That was brought to me within a couple of minutes.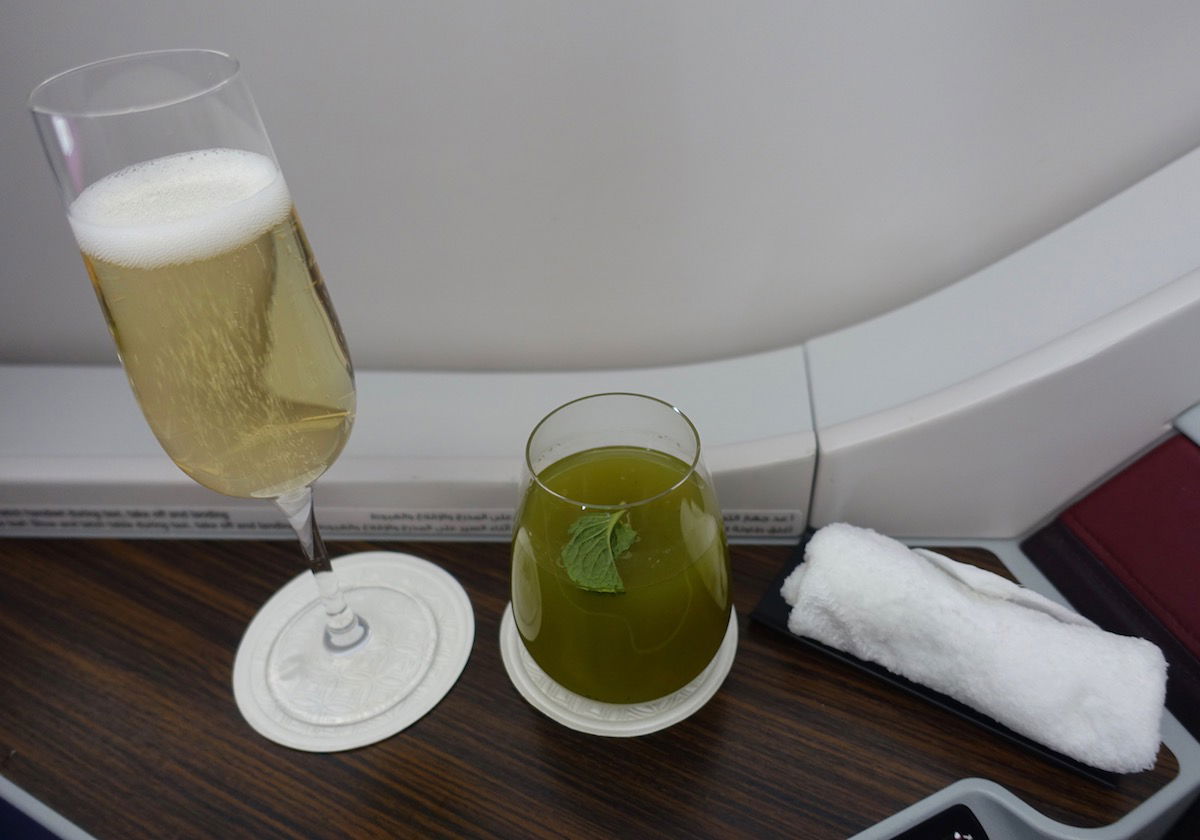 Qatar Airways business class pre-departure drinks
I was also presented with the menu and wine list for the flight. Hadeer reminded me that they have a full dine on demand menu, so I could have what I wanted when I wanted. She also told me she would be back shortly to take my meal order.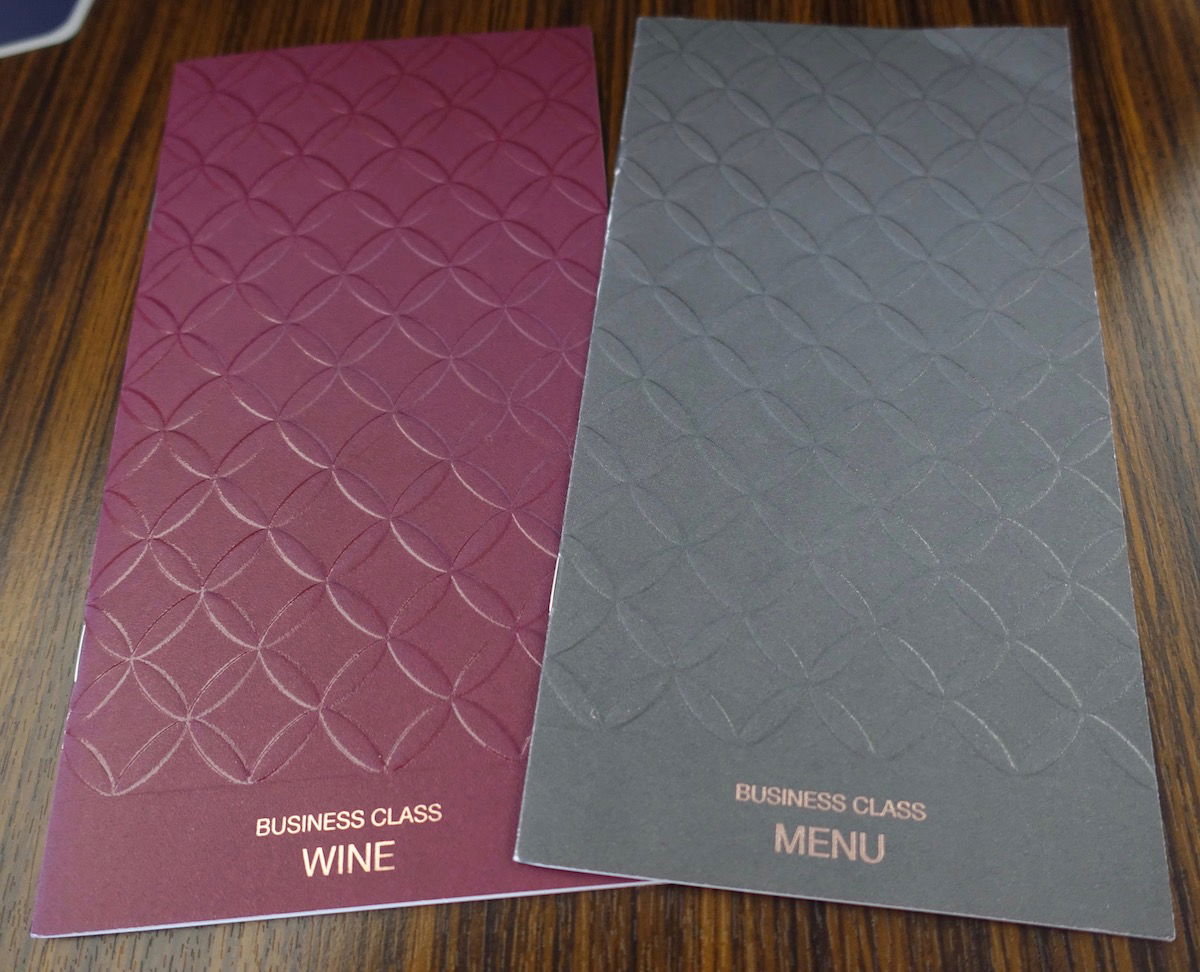 Qatar Airways business class menu & wine list
At 12:35PM the Mexican captain made his welcome aboard announcement, and informed us that we should be ready for departure within about 10 minutes. He said our flight time would be 9hr45min, and our cruising altitude would be 41,000 feet.
Business class on this flight was nearly full — it's weird, because a few days before departure the seatmap was almost completely empty and it was showing "9s" across the board, but by the time the door closed, there were only three empty seats in business class.
The door closed at 12:40PM, and five minutes after that we began our taxi. I was impressed that I was offered another drink even after the door closed.
Our taxi was quick, and by 12:55PM we were cleared for takeoff. The Qatar Airways A350 has a high definition tail camera, so I watched that for takeoff, which was super cool.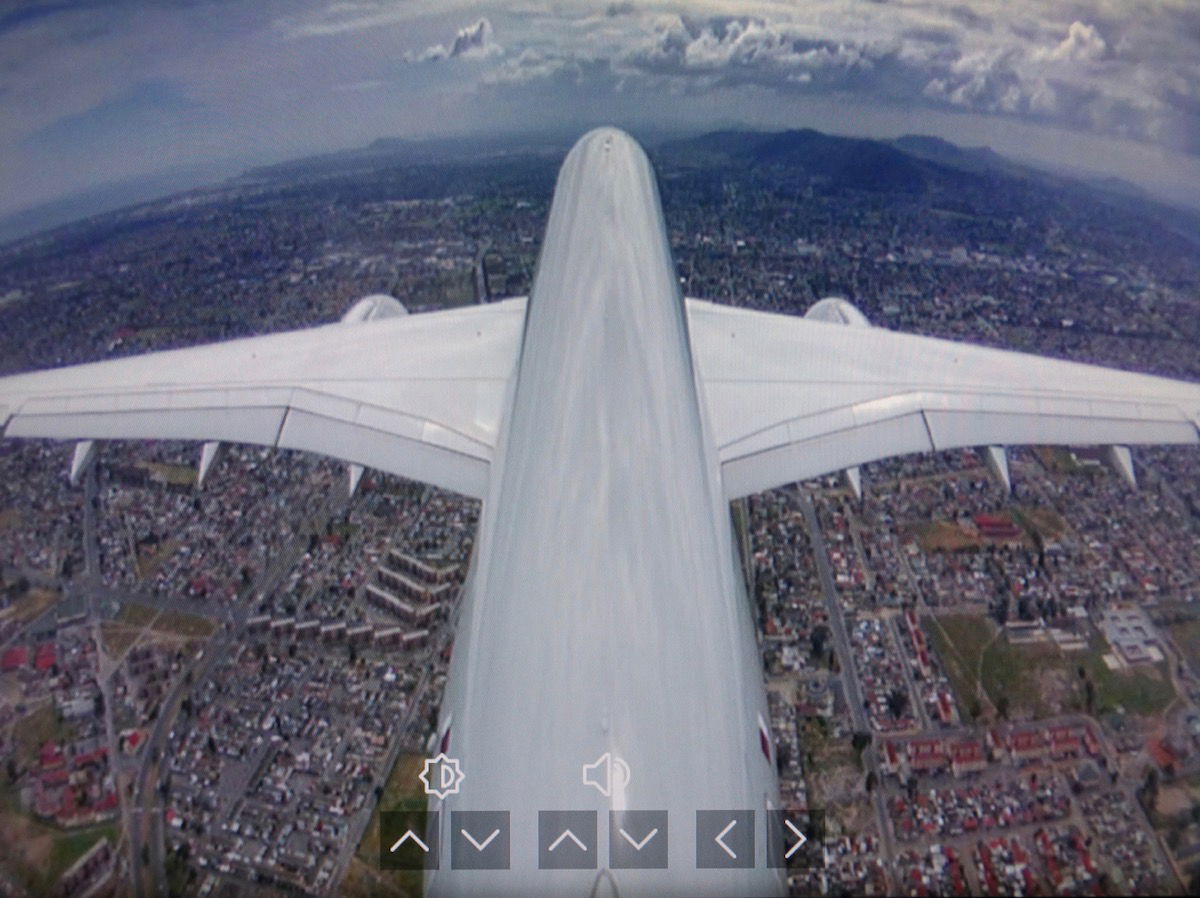 Qatar Airways A350 tail camera
As we climbed out I took a lot at the Oryx One entertainment selection. Qatar Airways has an exceptional entertainment selection with seemingly endless movies and TV shows, and a very responsive system.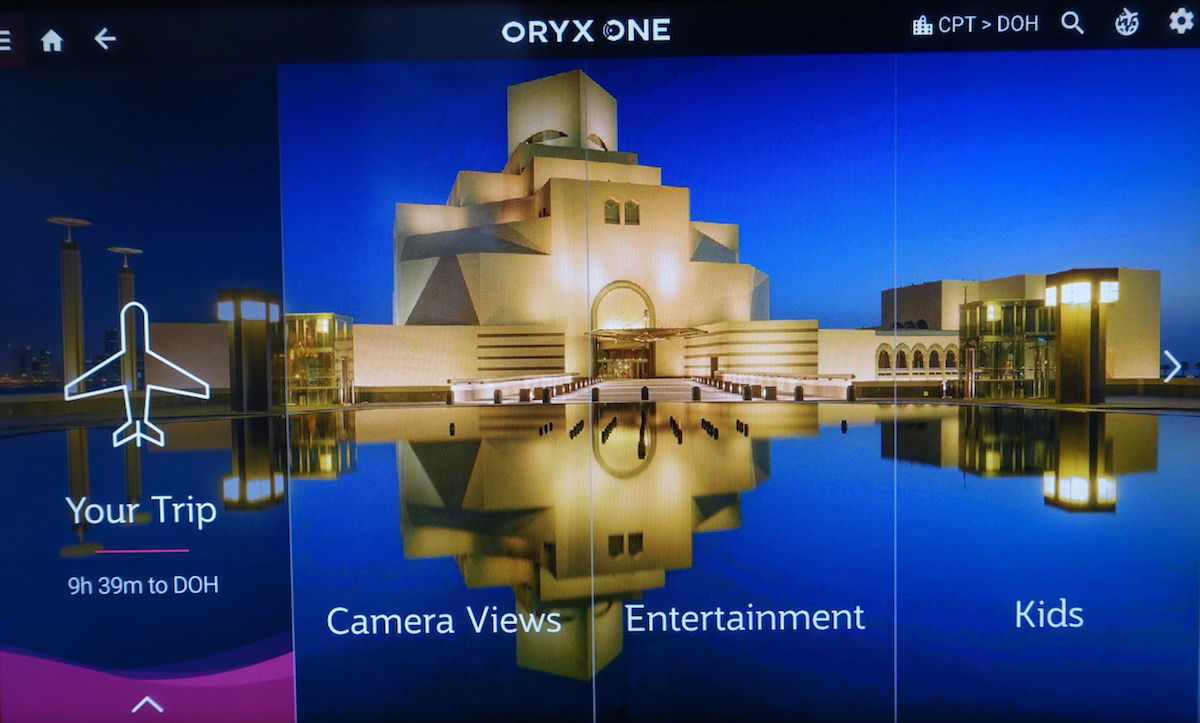 Qatar Airways entertainment system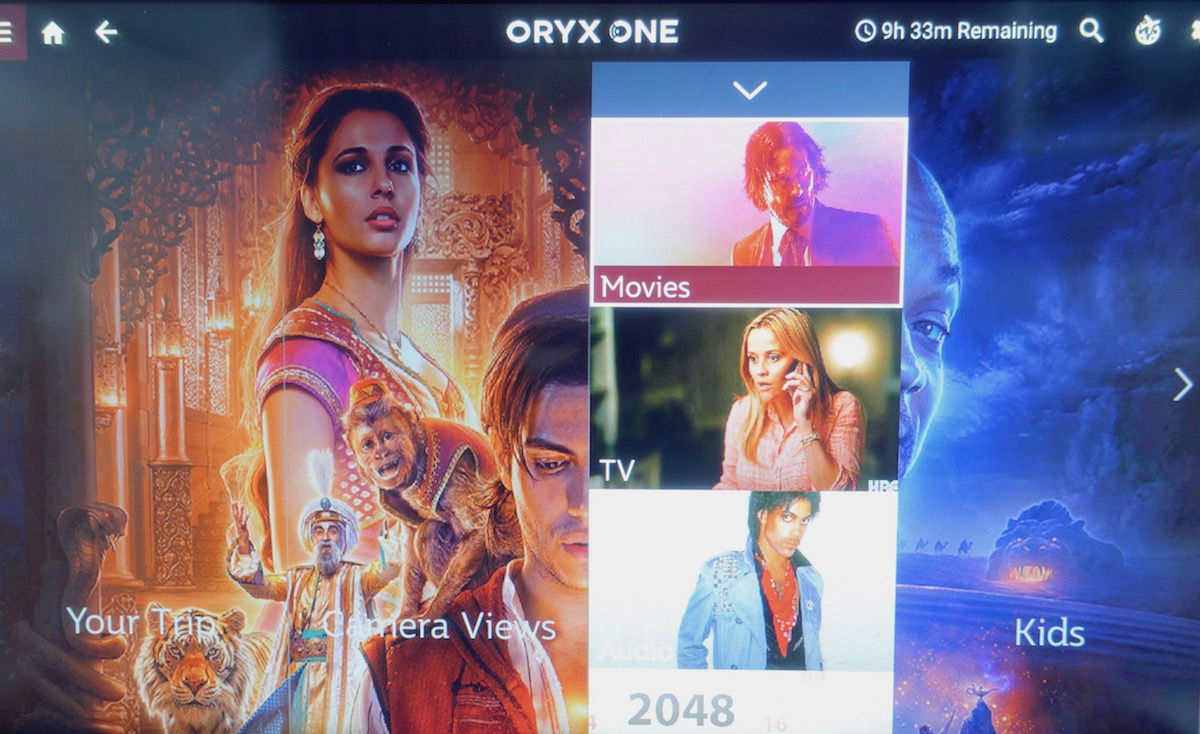 Qatar Airways entertainment system

Qatar Airways entertainment system
I also had a look at the moving map for our flight.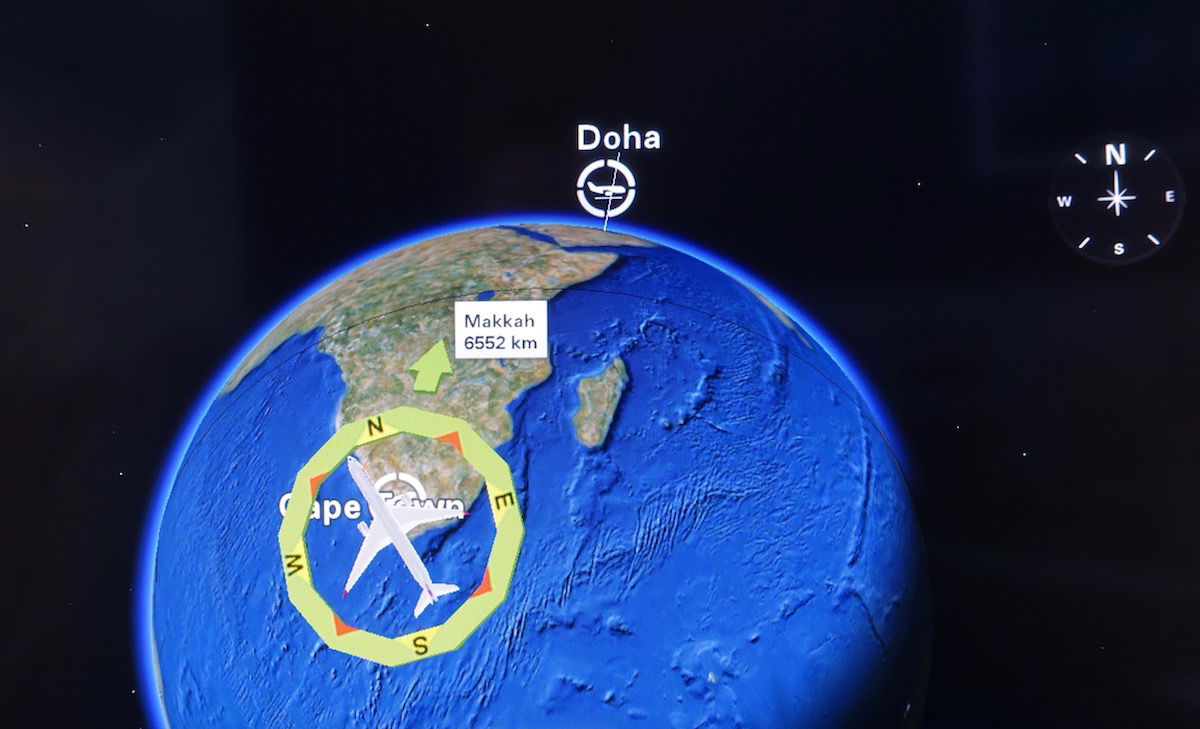 Qatar Airways entertainment system
I was hoping to get a lot of work done on this flight, so I also connected to the inflight Wi-Fi. Unfortunately most of Qatar Airways' A350-900s feature OnAir Wi-Fi, which is excruciatingly slow (Qatar Airways' "super Wi-Fi" on some 777s and A350-1000s is excellent, by the way).
For their OnAir system, Qatar Airways charges based on data usage:
You can buy a 30MB pass for $5
You can buy a 100MB pass for $10
You can buy a 200MB pass for $20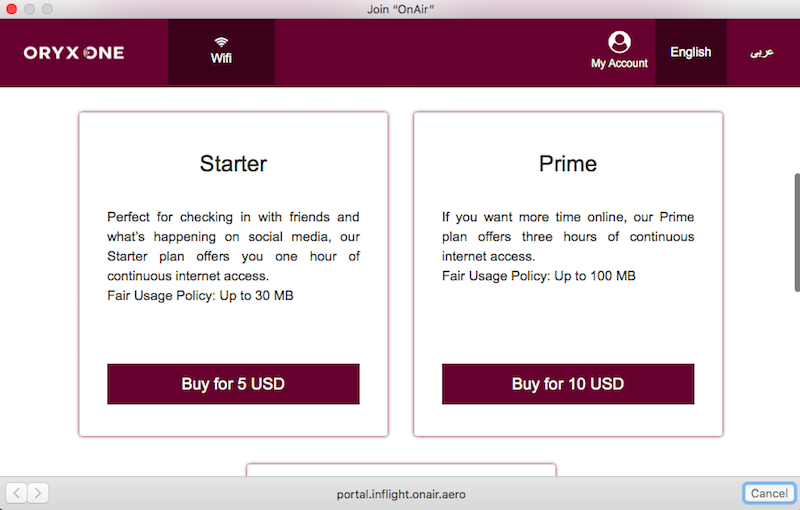 Qatar Airways A350 Wi-Fi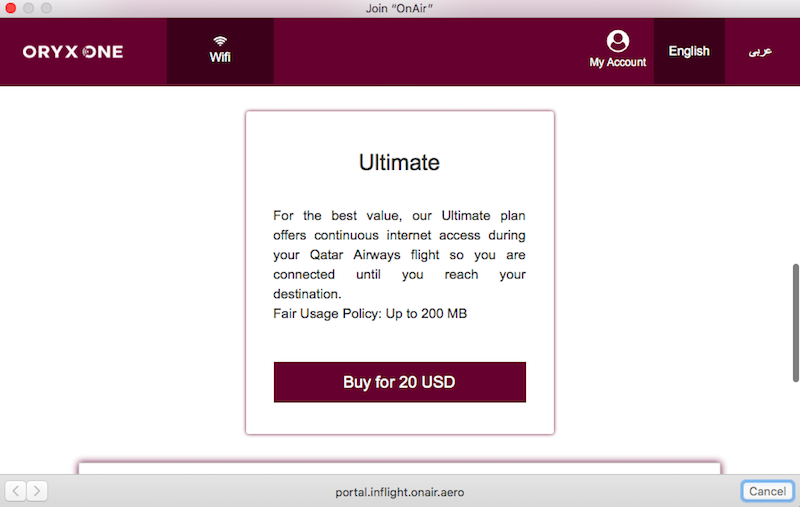 Qatar Airways A350 Wi-Fi
I ended up buying a pass for 200MB, and that allowed me to stay productive for much of the flight (in fairness, given how slow the Wi-Fi was, I spent almost the entire flight editing pictures from the trip).
About five minutes after takeoff the flight attendant appeared at my seat to ask if I wanted to order anything to eat or drink. I decided to order a drink and lunch.
The menu read as follows: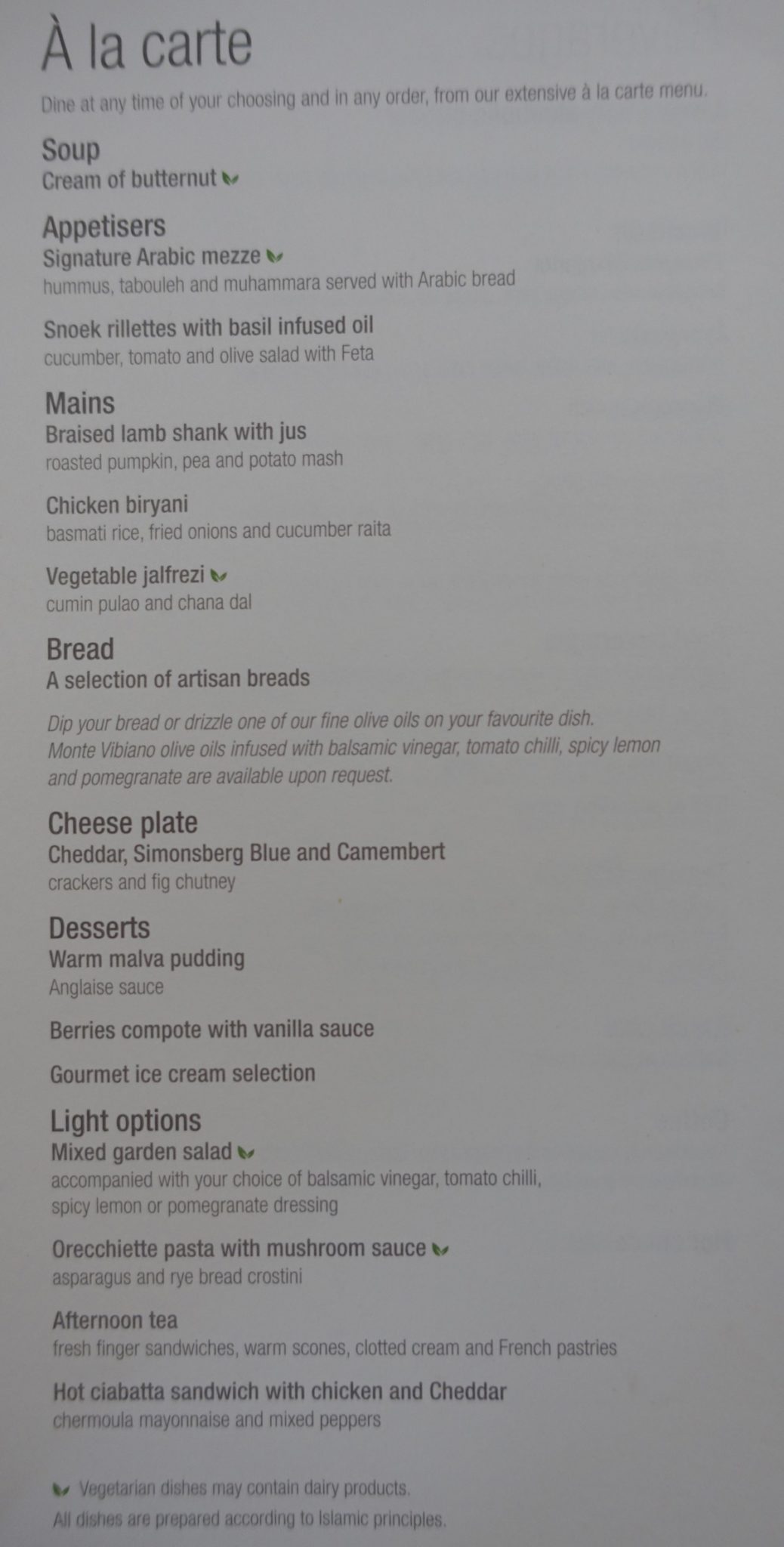 The drink list read as follows: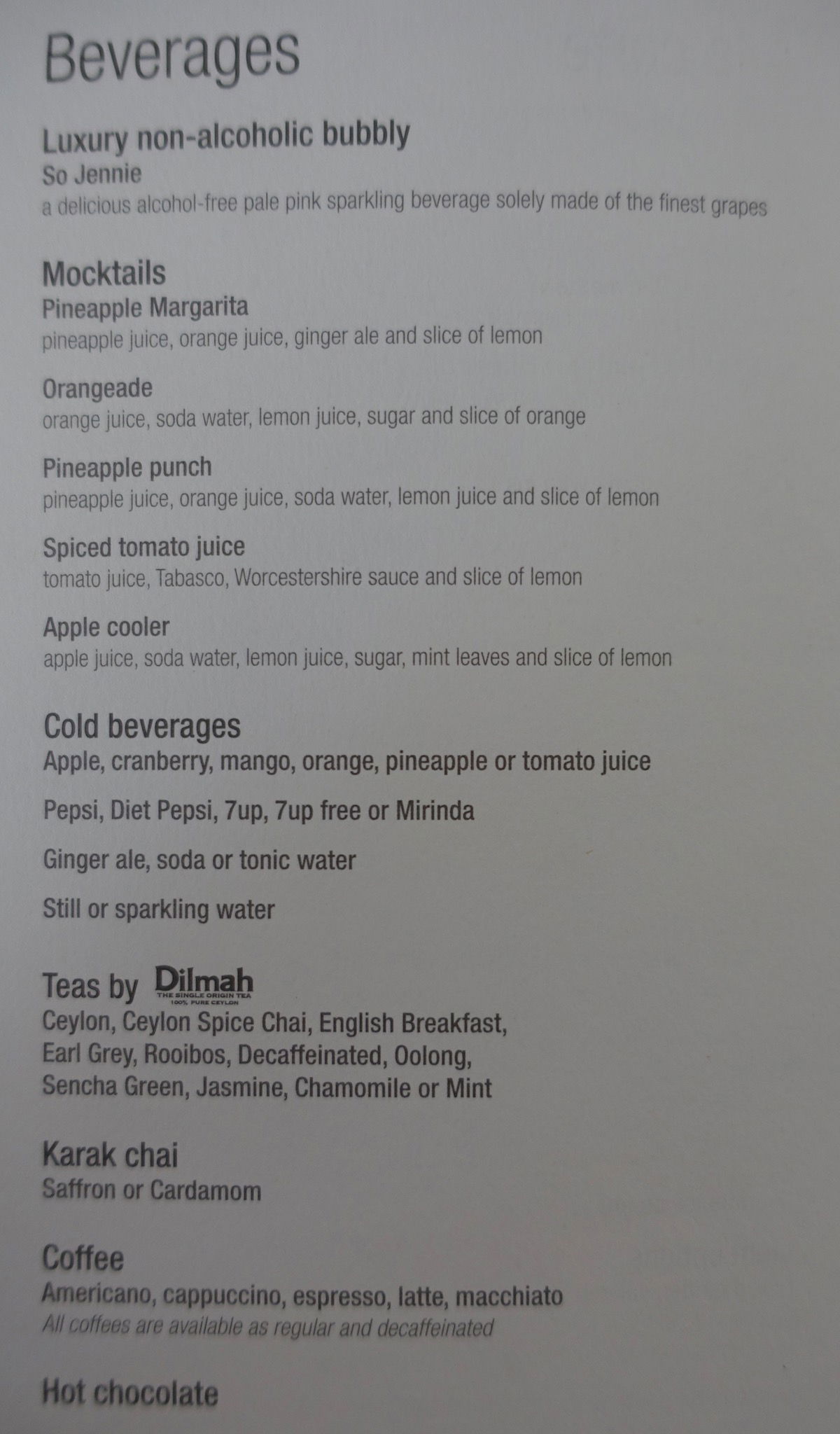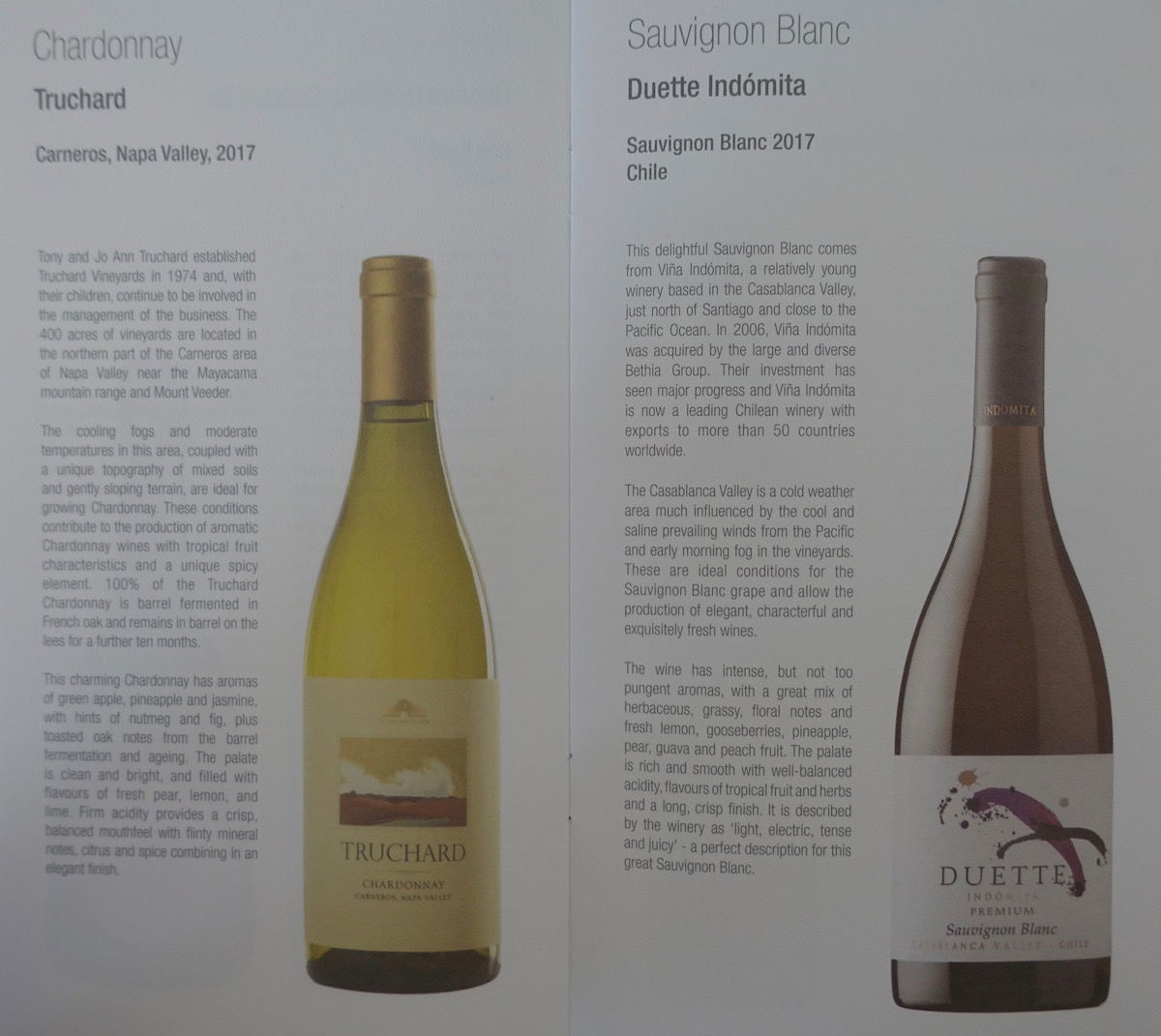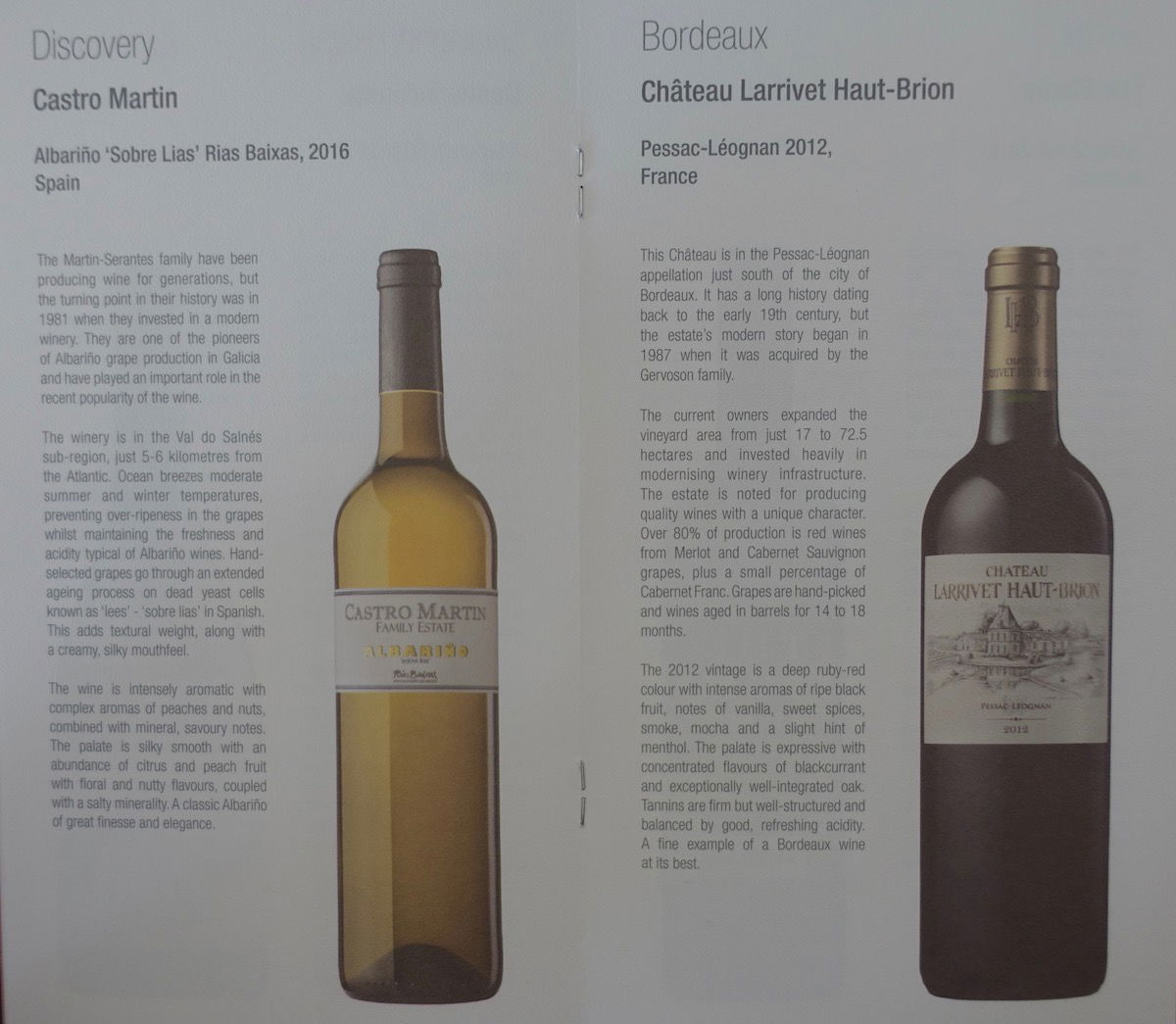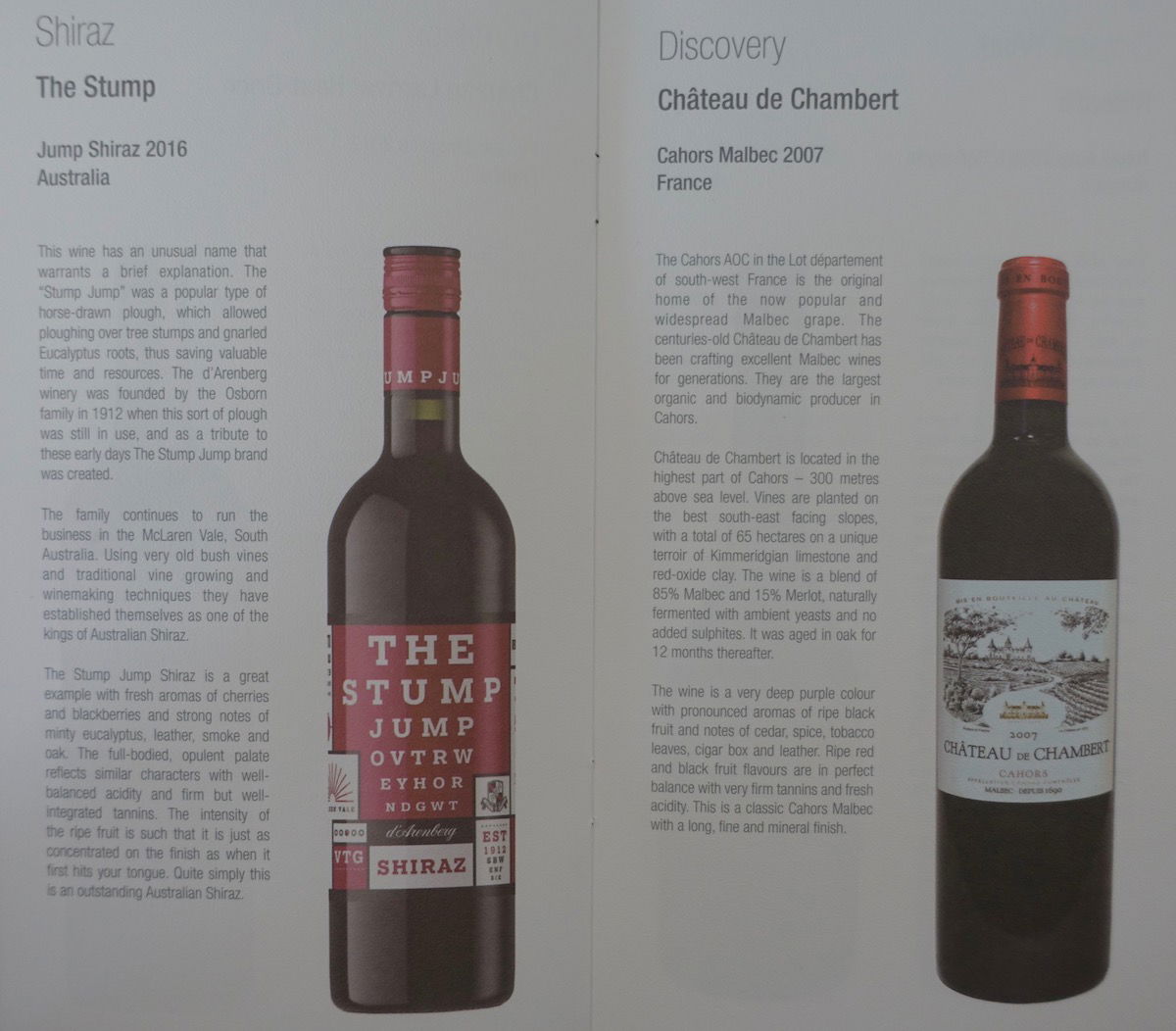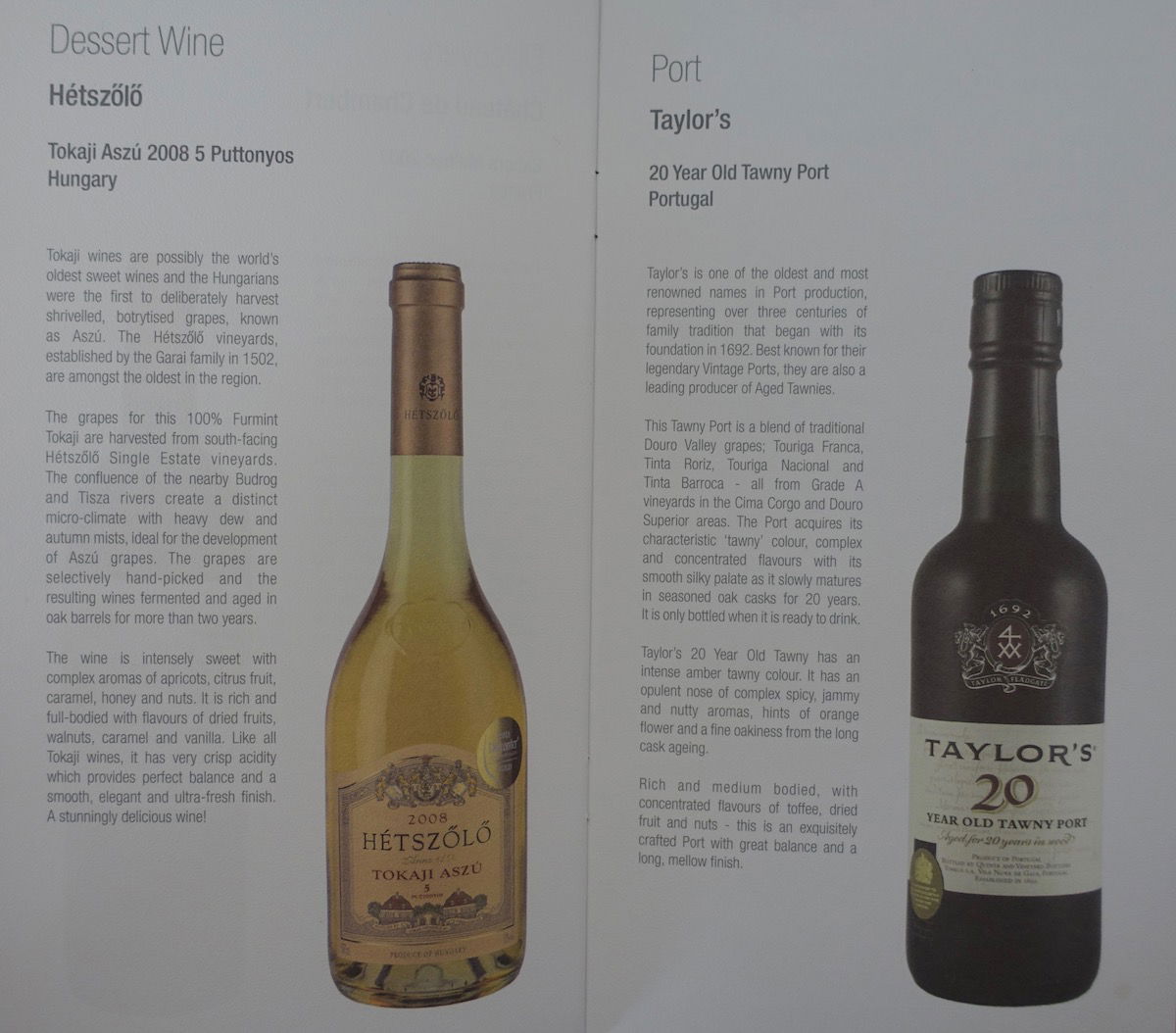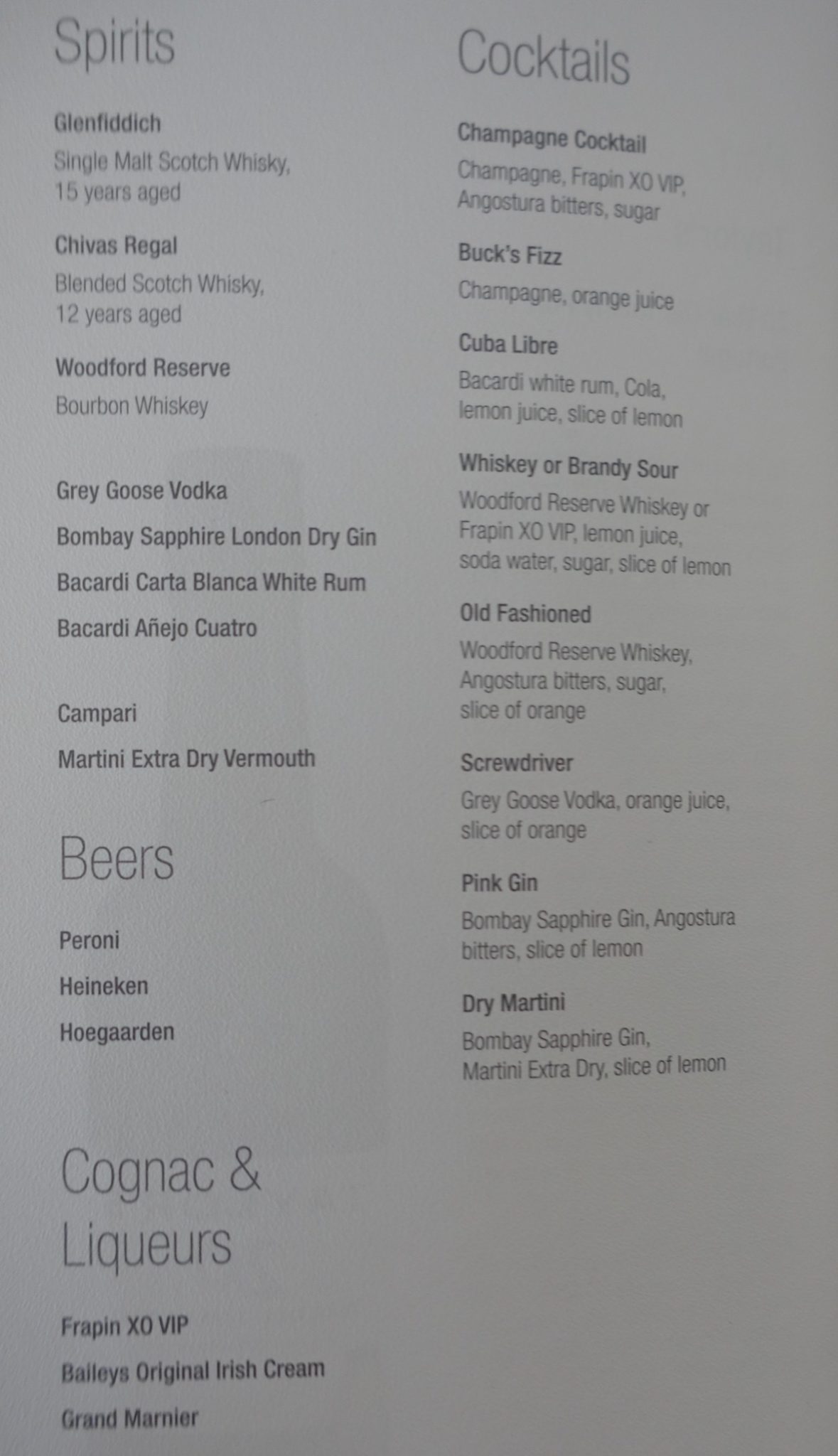 About 10 minutes after takeoff the Filipino cabin manager, Claudine, came by everyone's seat to say hello and welcome them onboard.
I ended up being served my first drink, along with some mixed nuts, about 30 minutes after takeoff. At the moment Qatar Airways is serving Pommery Brut Royal as their business class champagne, which is pretty good. However, between that and their current rose choice, it sure seems like they've been cost cutting a bit with their business class selection.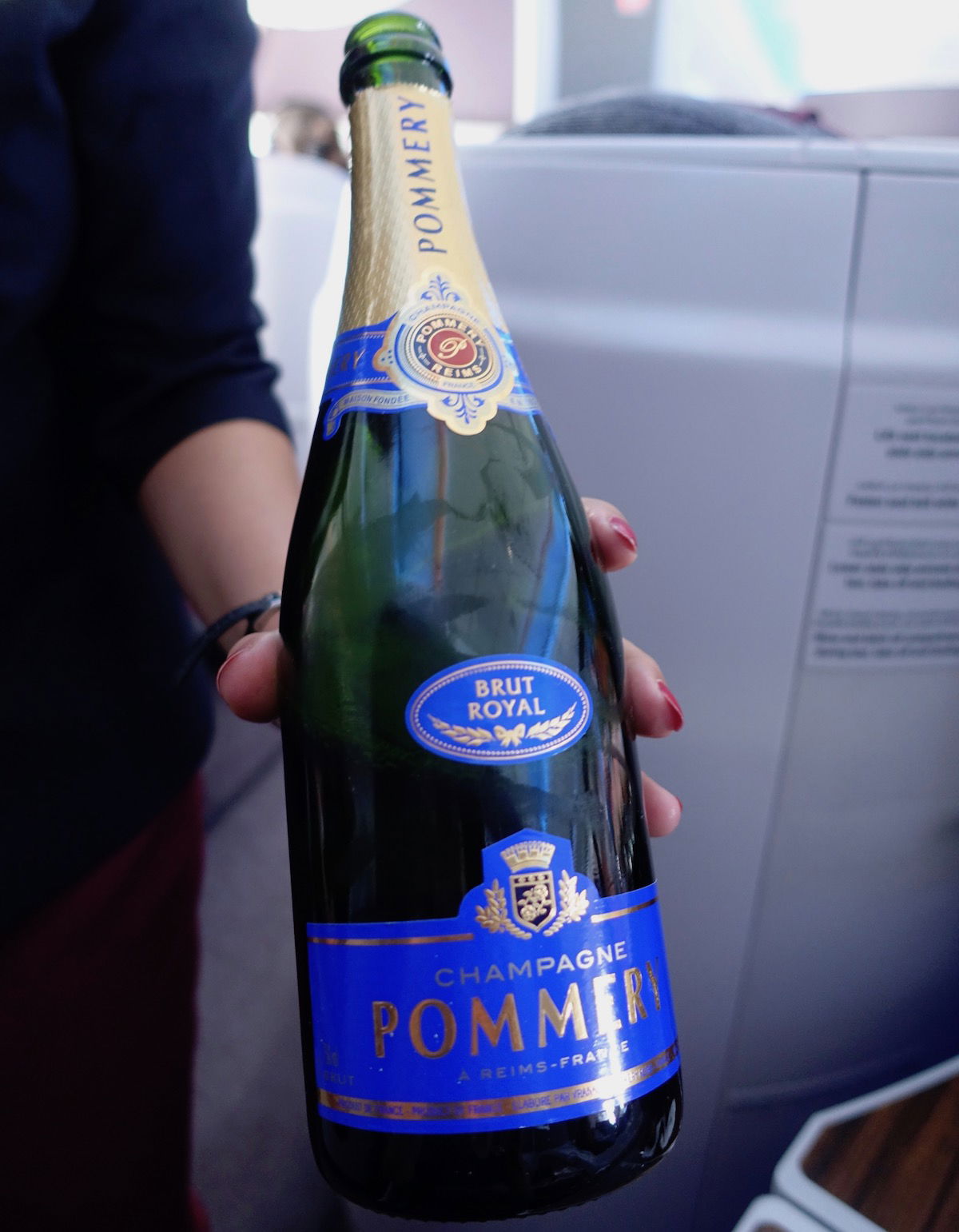 Qatar Airways business class champagne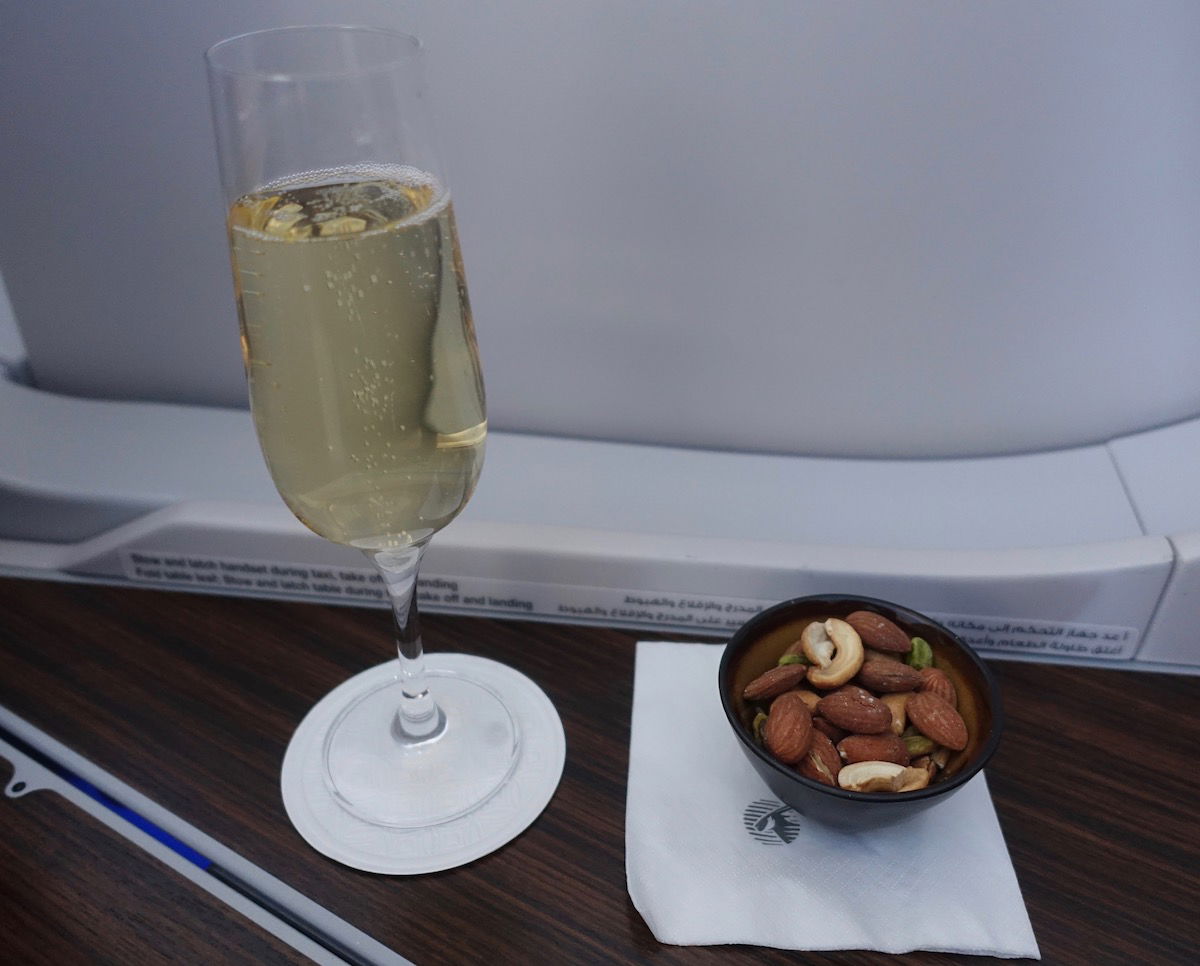 Qatar Airways business class champagne & mixed nuts
The table was set about an hour after takeoff. Qatar Airways does a great job with their table setup, between the breadbasket, candle, proper salt and pepper grinders, and more. There was also a sundried tomato and mozzarella amuse bouche.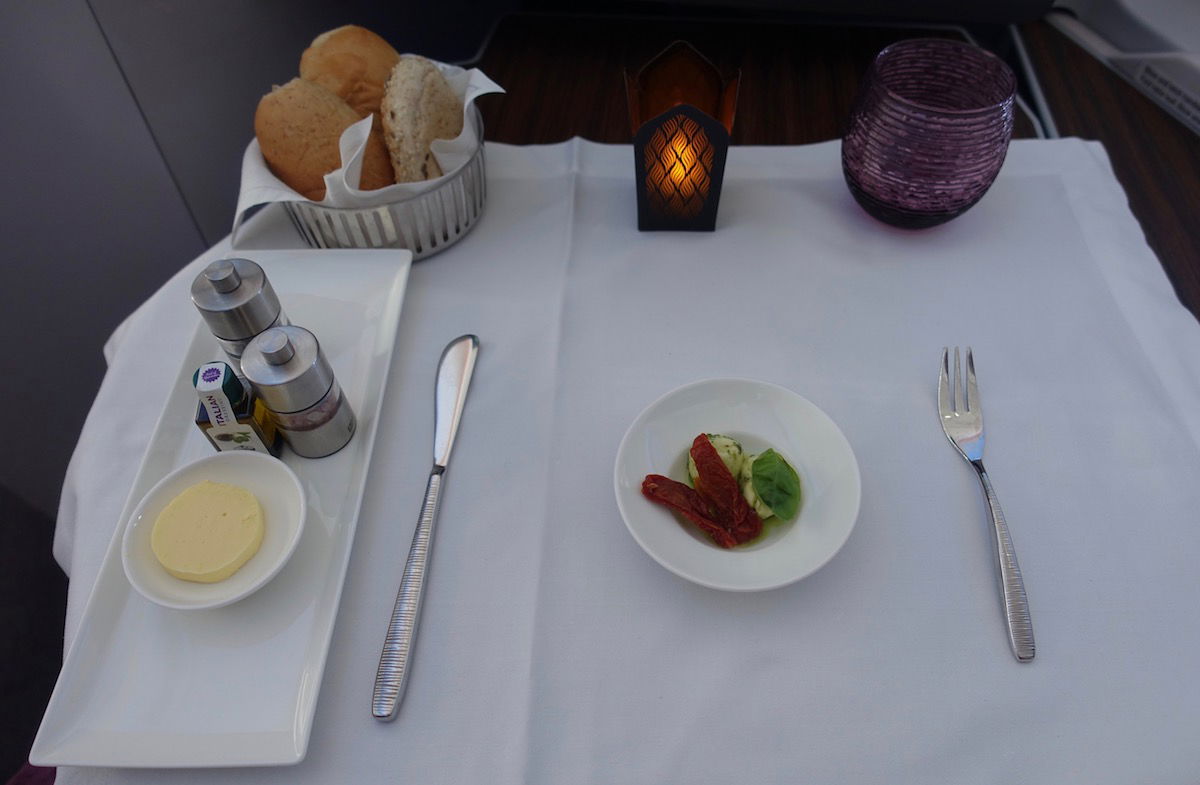 Qatar Airways business class lunch — amuse bouche
For the starter we all ordered the Arabic mezze, which you can't go wrong with. It consisted of hummus, tabouleh, and muhammara, with Arabic bread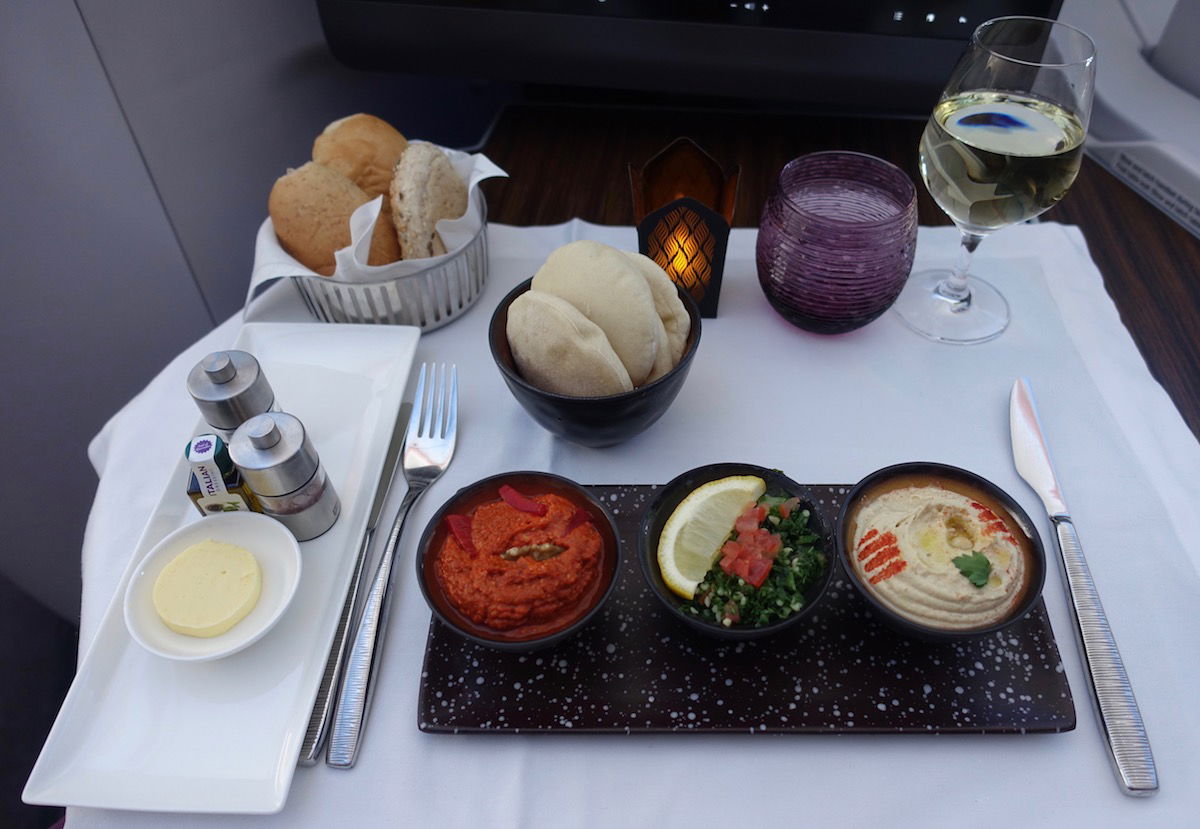 Qatar Airways business class lunch — appetizer
We all had that as our starter, though we had three different main courses.
I almost always go with whatever the Indian vegetarian option is on Qatar Airways, since in general that kind of food reheats well, so it's a good option on a plane. I had the vegetable jalfrezi with cumin pulao and chana dal, which was excellent.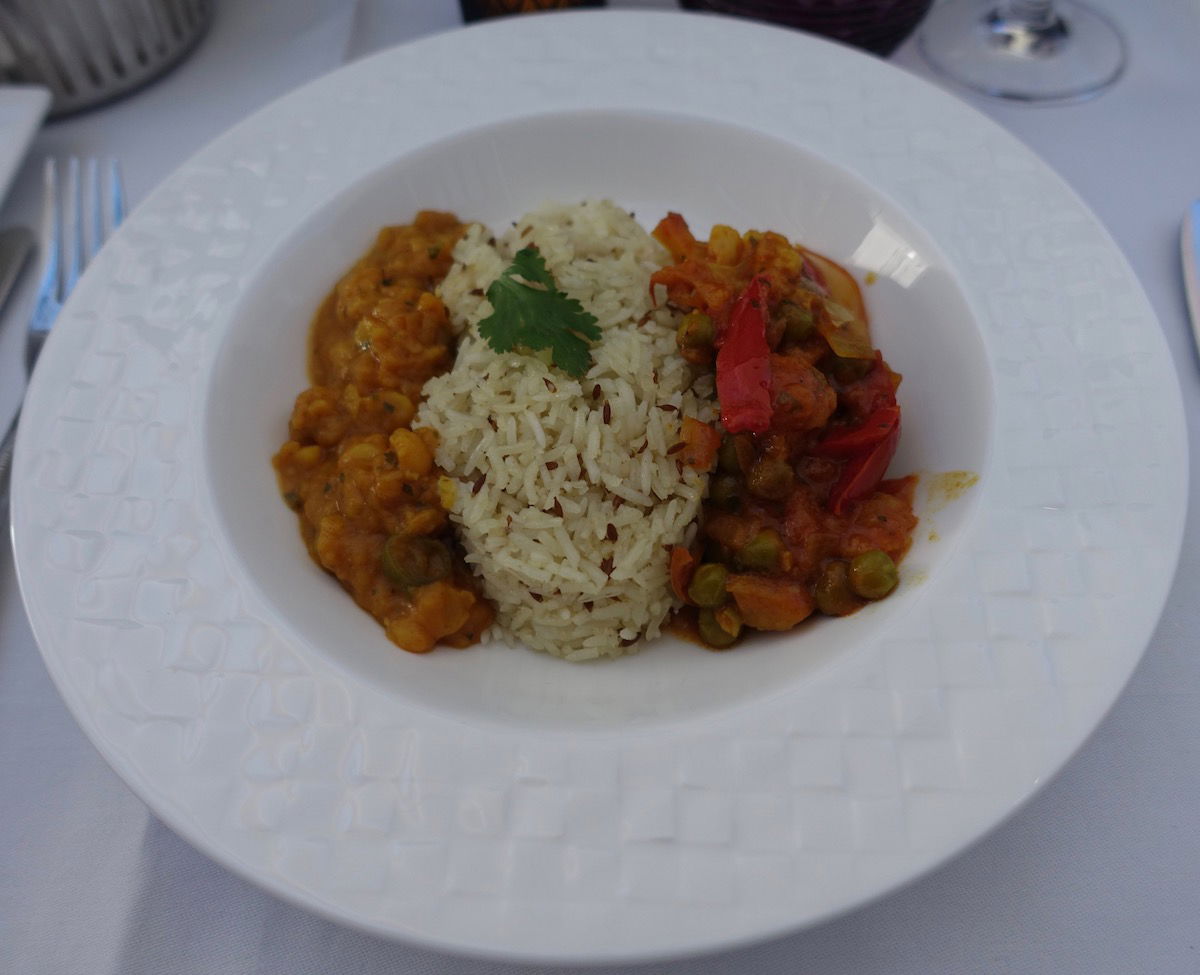 Qatar Airways business class lunch — main course
Ford had the chicken biryani with basmati rice, fried onions, and cucumber raita.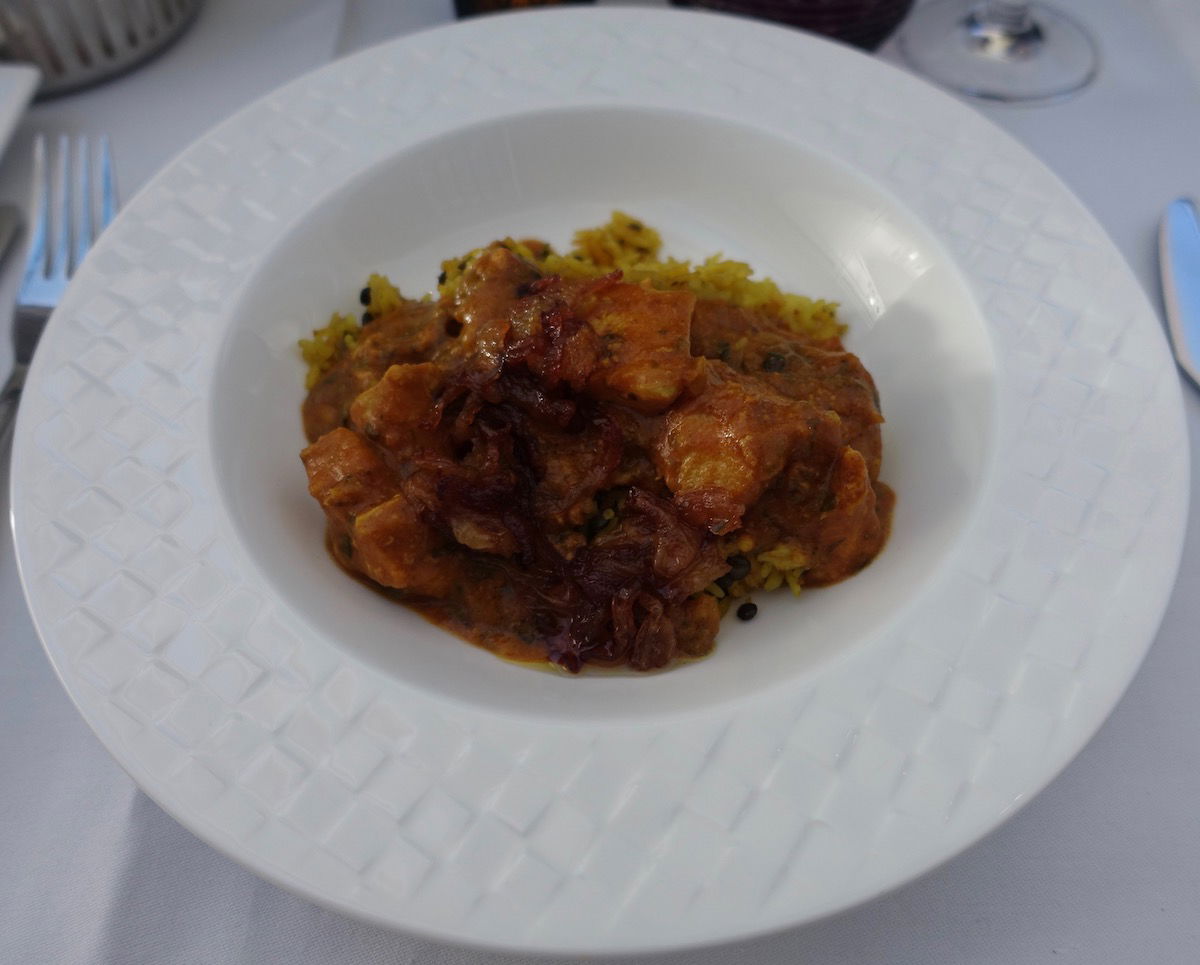 Qatar Airways business class lunch — main course
My dad also really enjoyed the braised lamb shank with jus, with roasted pumpkins, pea, and potato mash.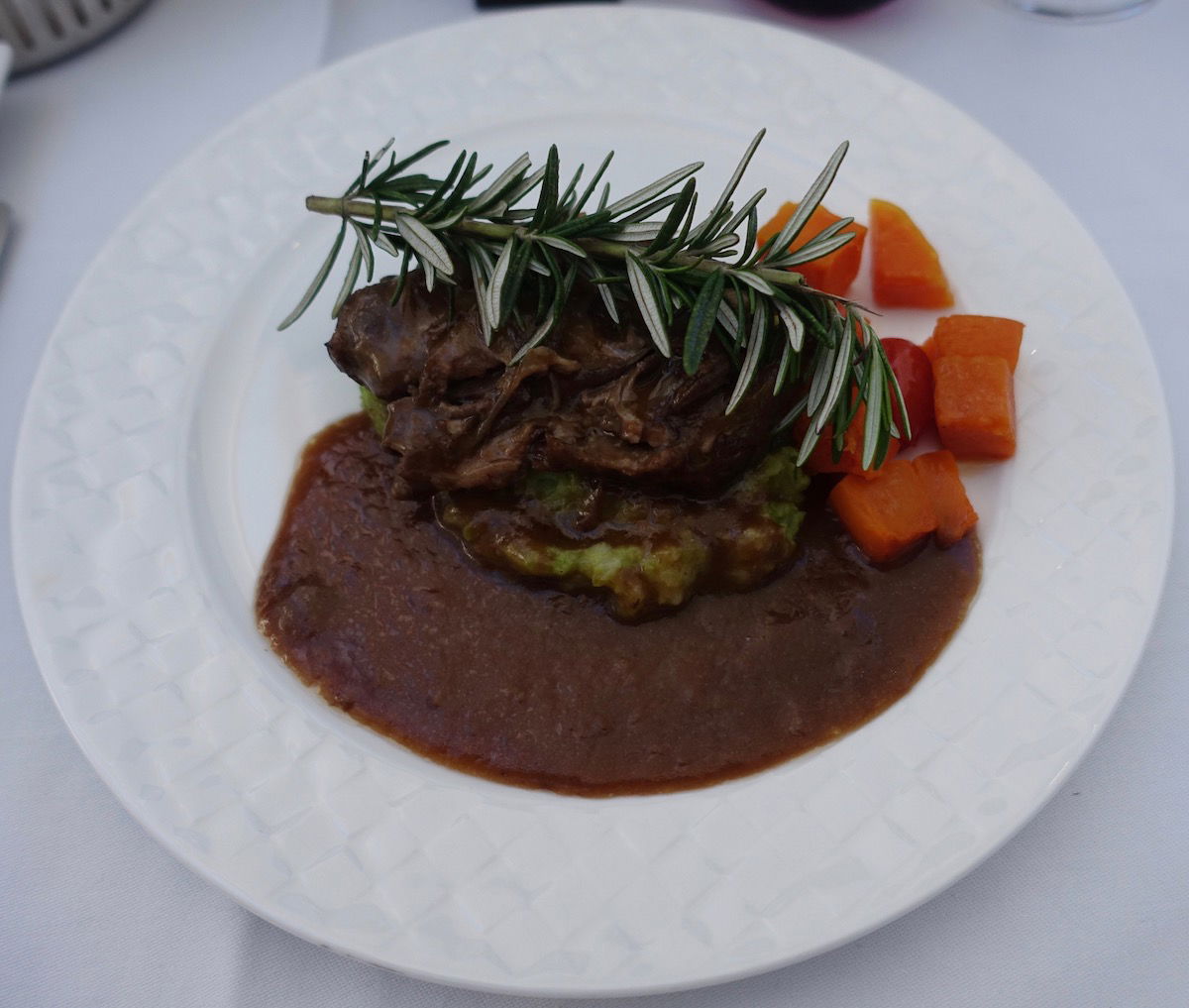 Qatar Airways business class lunch — main course
For dessert I had the warm malva pudding with anglaise sauce, which was delicious.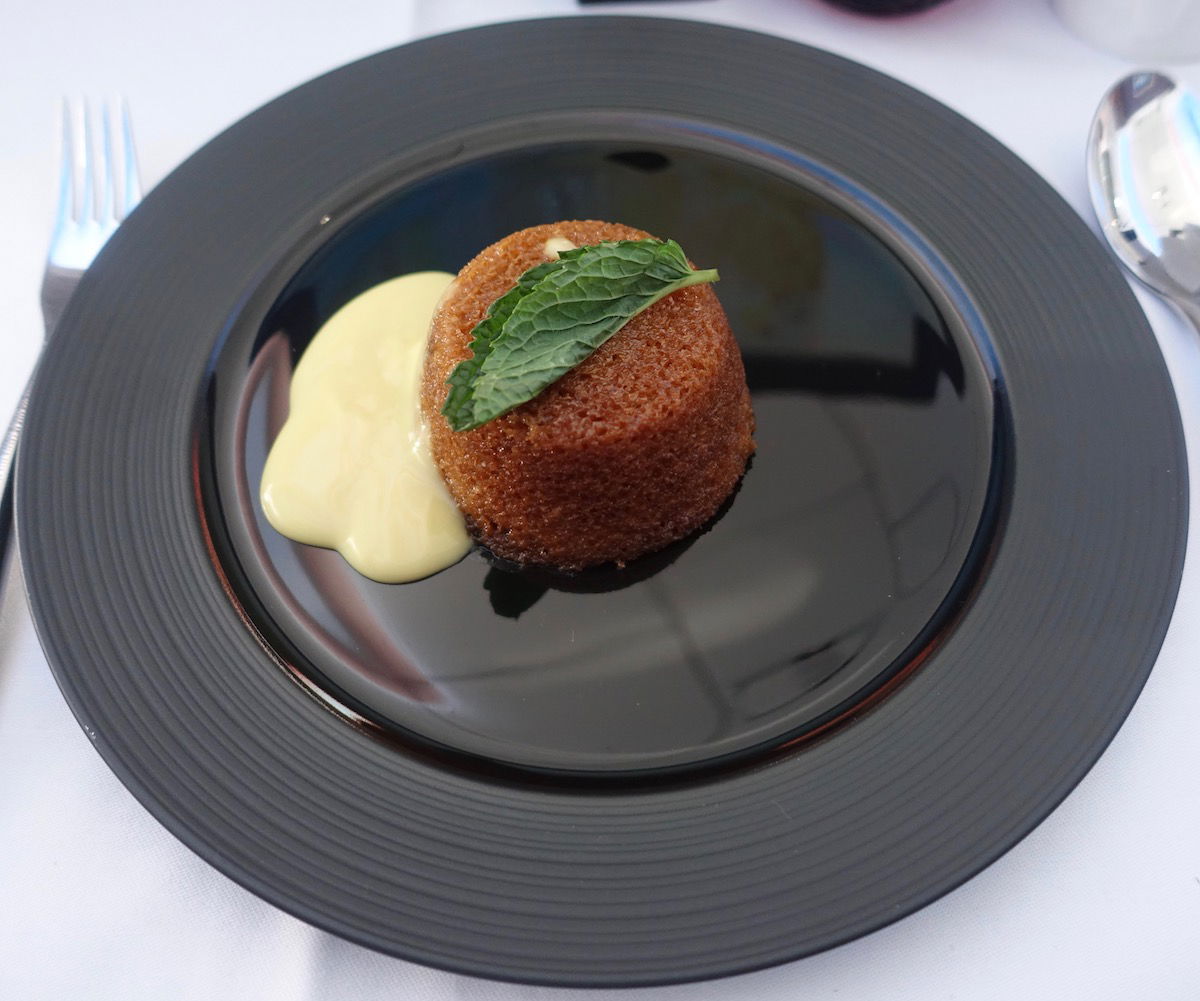 Qatar Airways business class lunch — dessert
My dad had a cheese plate.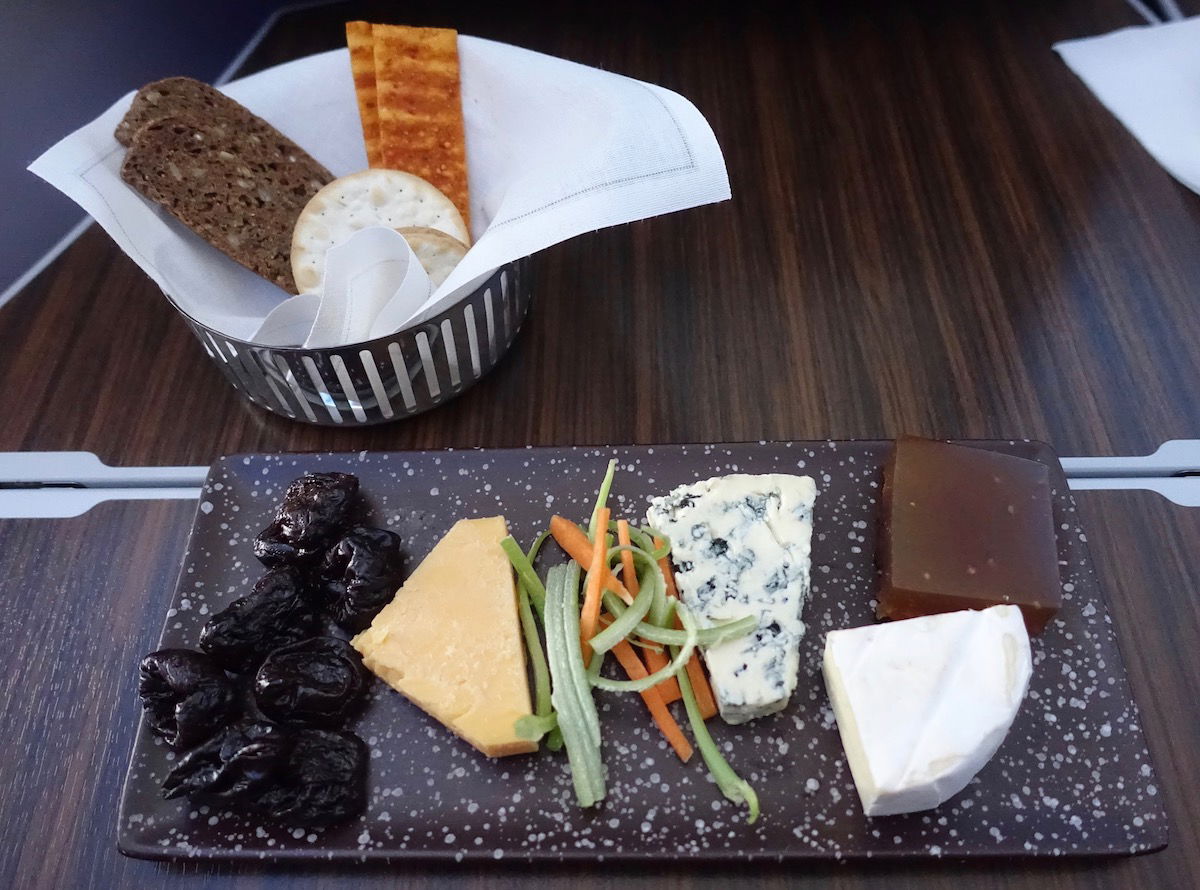 Qatar Airways business class lunch — cheese plate
To finish off the meal I had a cappuccino, and was also offered a box of Godiva chocolates and a warm towel to go along with it.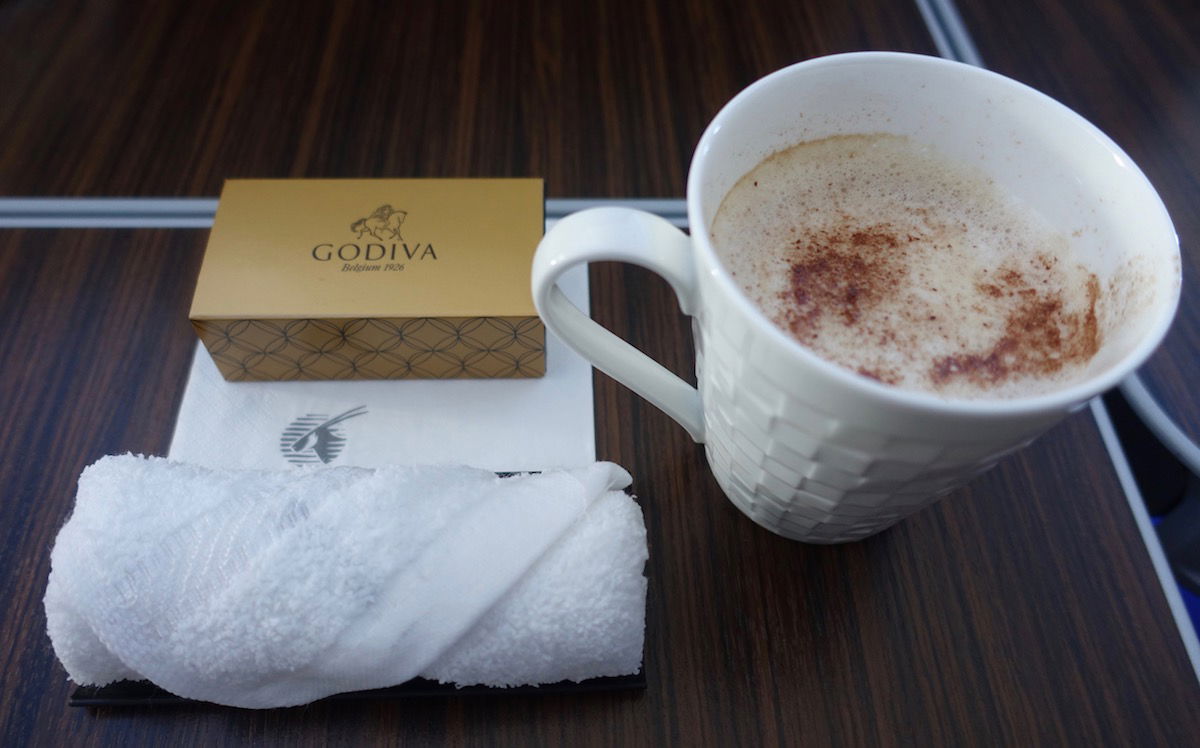 Qatar Airways business class lunch — cappuccino & chocolate
All things considered I thought it was an excellent meal. Qatar Airways really is a step up when it comes to their business class service. By the time the meal was done we were about two hours into the flight.
At this point I decided to get up and check out the snack station between cabins. The A350 cabin sure is pretty!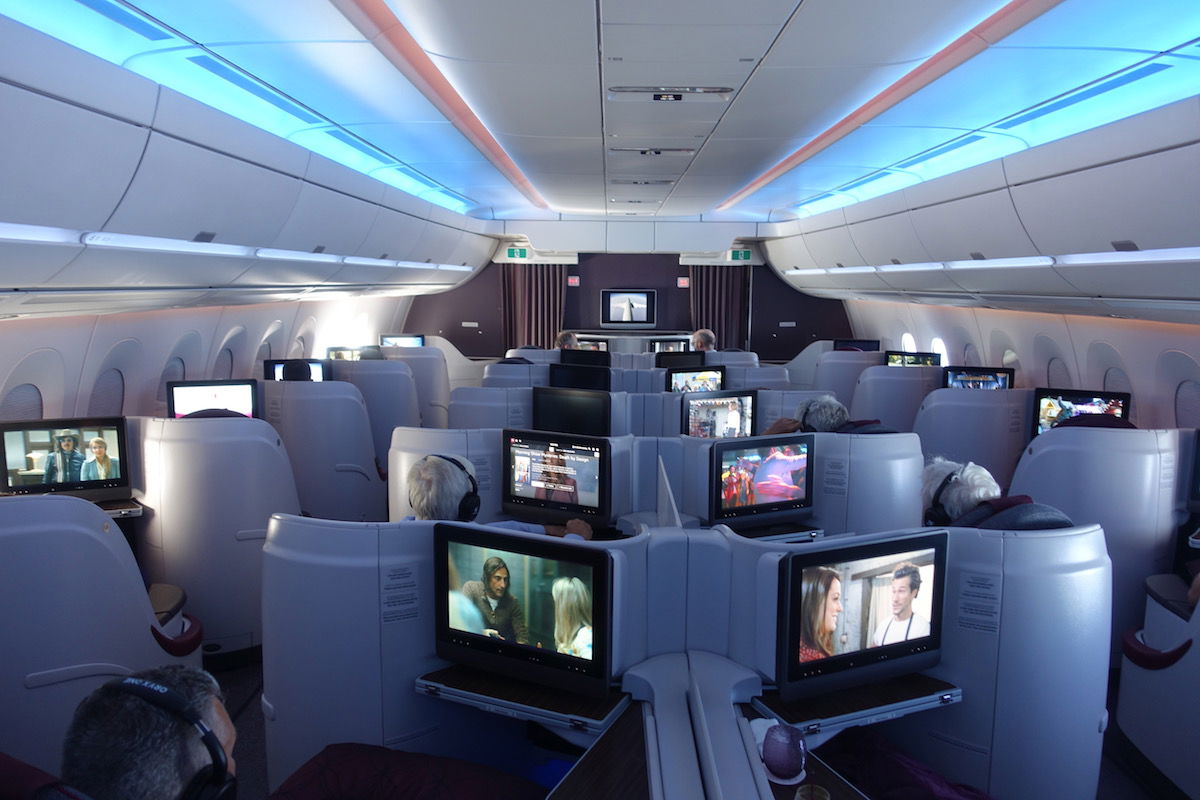 Qatar Airways A350 business class cabin
At the bar they had some whole fruit, packaged snacks, and champagne set up. It's not exactly anything to get excited about, though it is nice to be able to stretch your legs.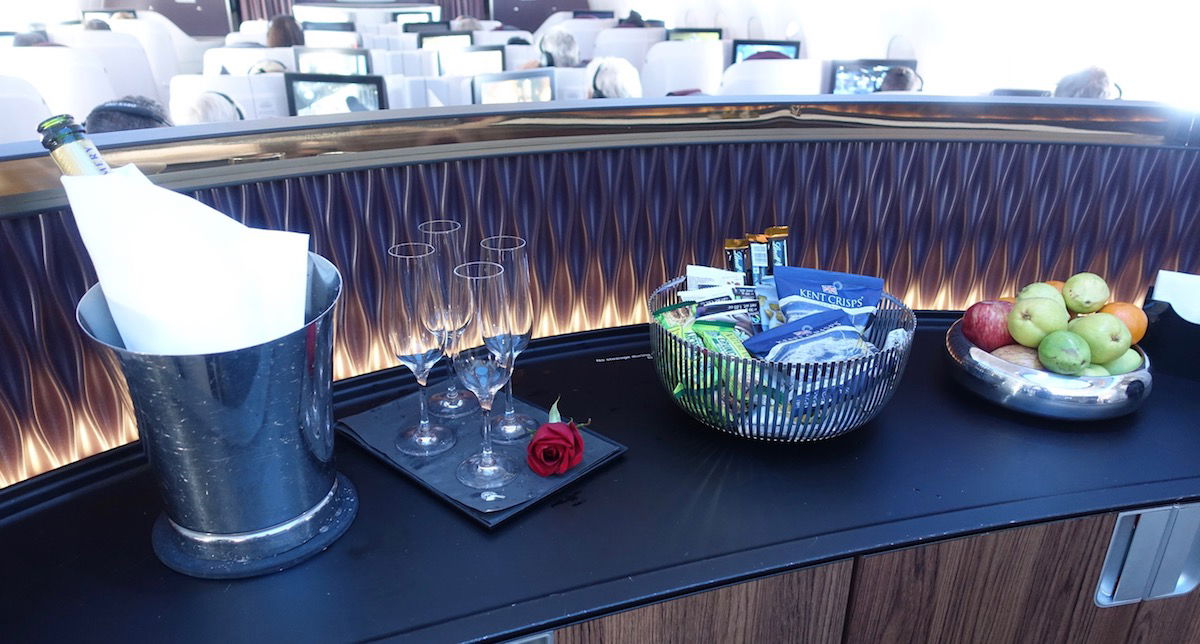 Qatar Airways business class bar A350
In addition to the lavatories at the front of the cabin, there were also two lavatories between the two cabins, which were always kept meticulously clean.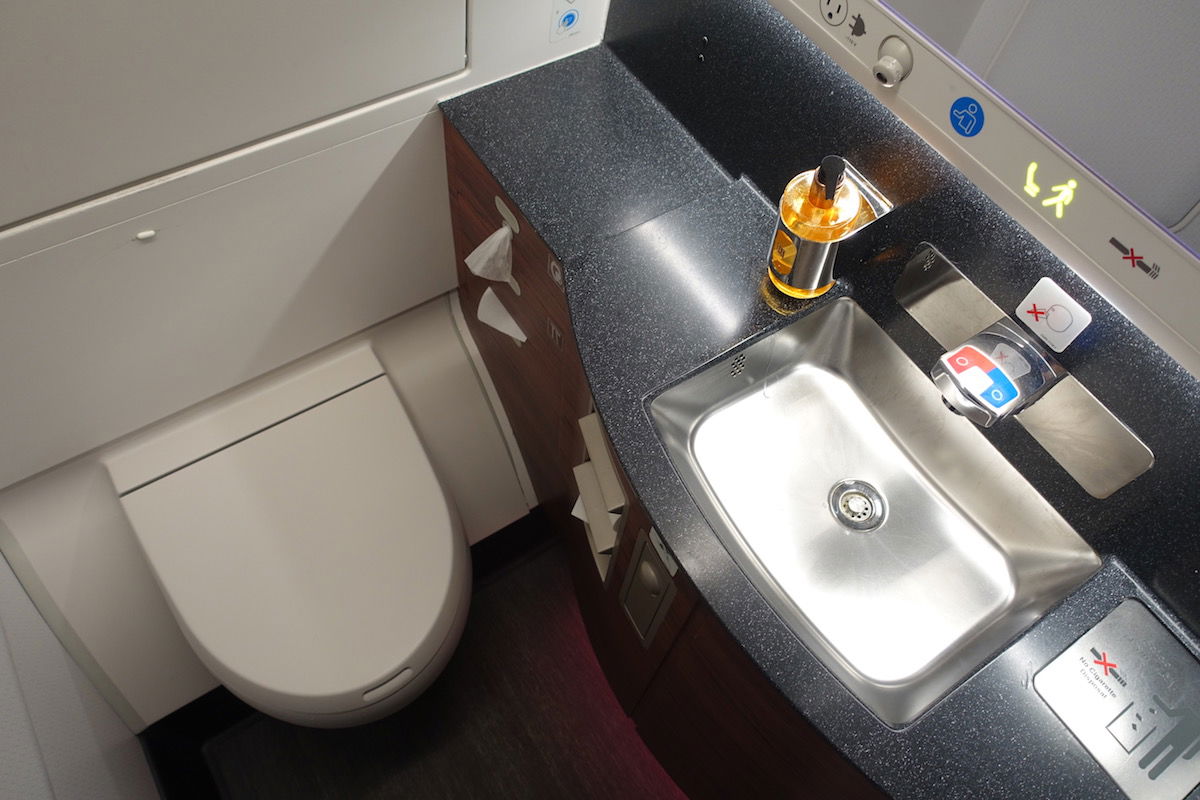 Qatar Airways A350 lavatory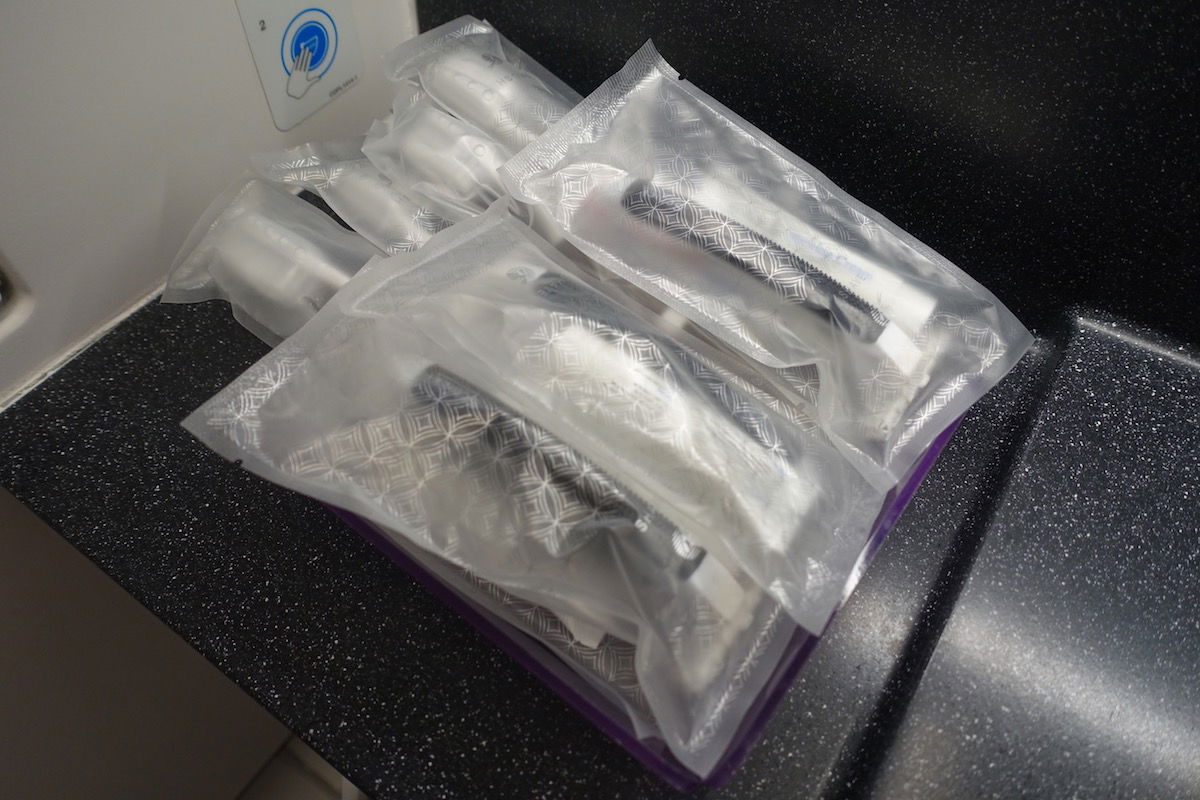 Qatar Airways A350 lavatory amenities
I spent virtually the entire flight working, and I don't think I put my laptop away even for a minute while seated. It was a good opportunity to edit all the pictures from this trip.
Ford reclined his seat and napped, while my dad napped sitting up, natch.
About halfway into the flight I ordered the karak chai, which you can have either with saffron or cardamom (both are excellent, in my opinion). Mmmm… Qatar Airways' hot beverage game sure is on point.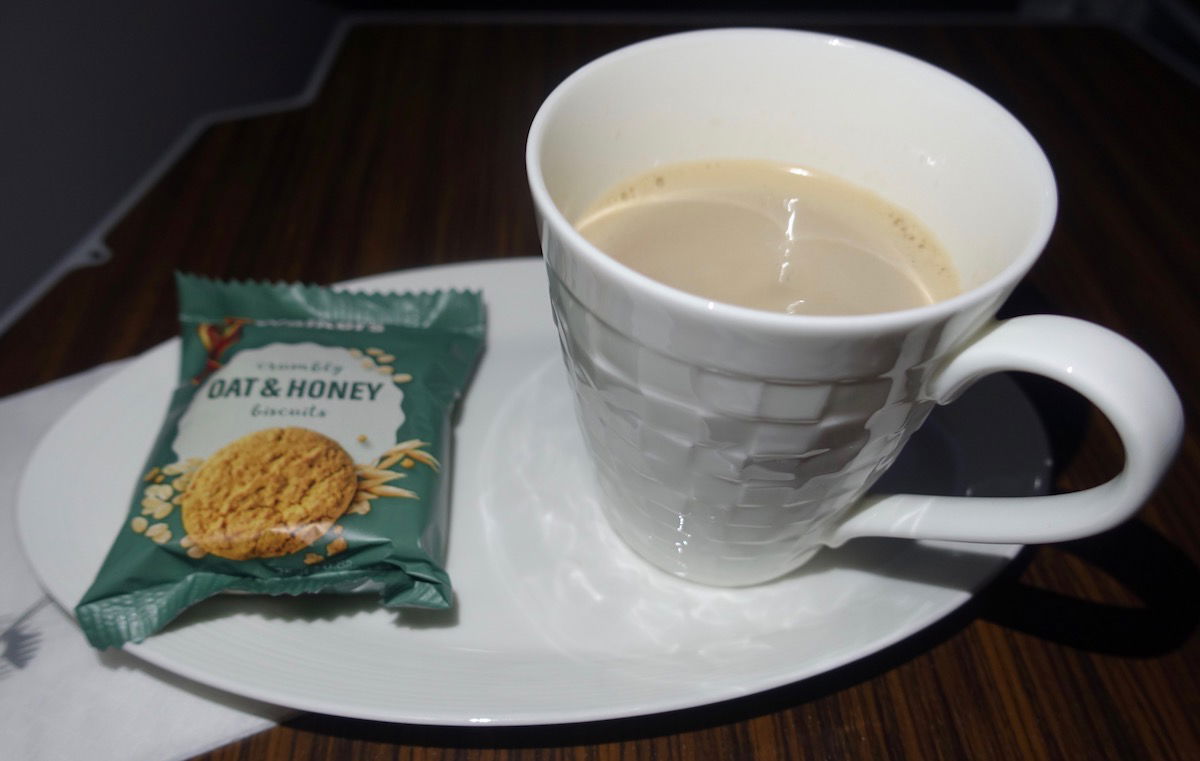 Qatar Airways business class chai & cookies
As the sun began to set the mood lighting in the cabin got super cool.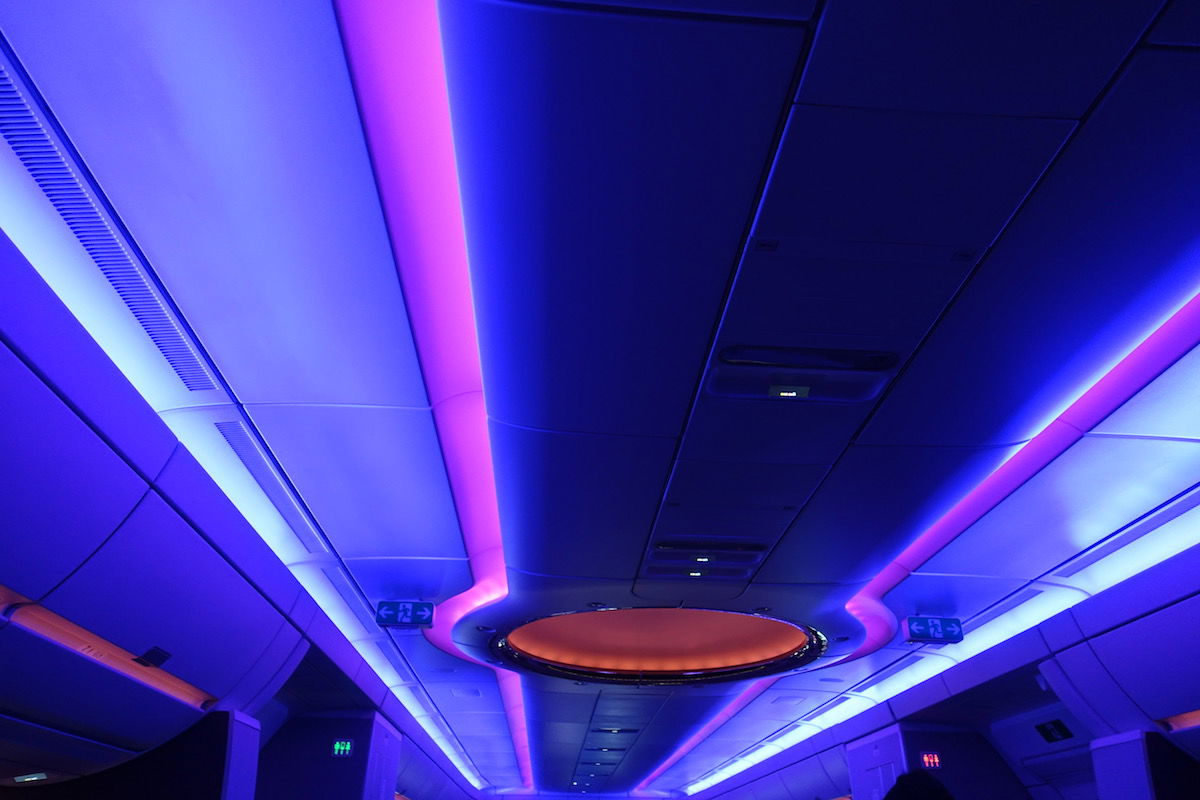 Qatar Airways mood lighting
About 2.5 hours before landing we decided to order a pre-landing snack. Ford tried to order the soup, though they were out of it. So he ordered the mezze, but they were out of that as well. Then he ordered the chicken biryani, but they were out of that as well. What is this, Etihad?!
I'll chalk this up to being an anomaly, because this is something I almost never have an issue with on Qatar.
For the pre-landing snack I decided to have afternoon tea, which came with finger sandwiches, pastries, scones, clotted cream, and jam.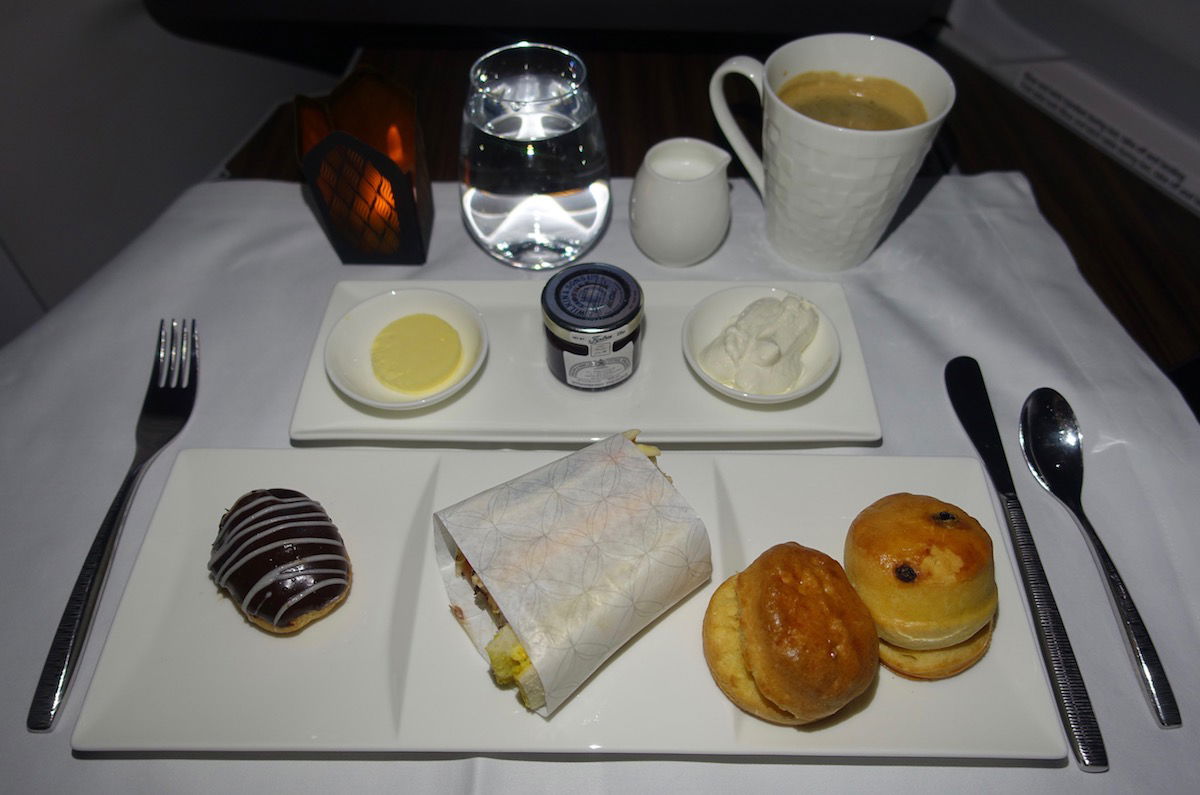 Qatar Airways business class afternoon tea
Ford decided to just have a salad.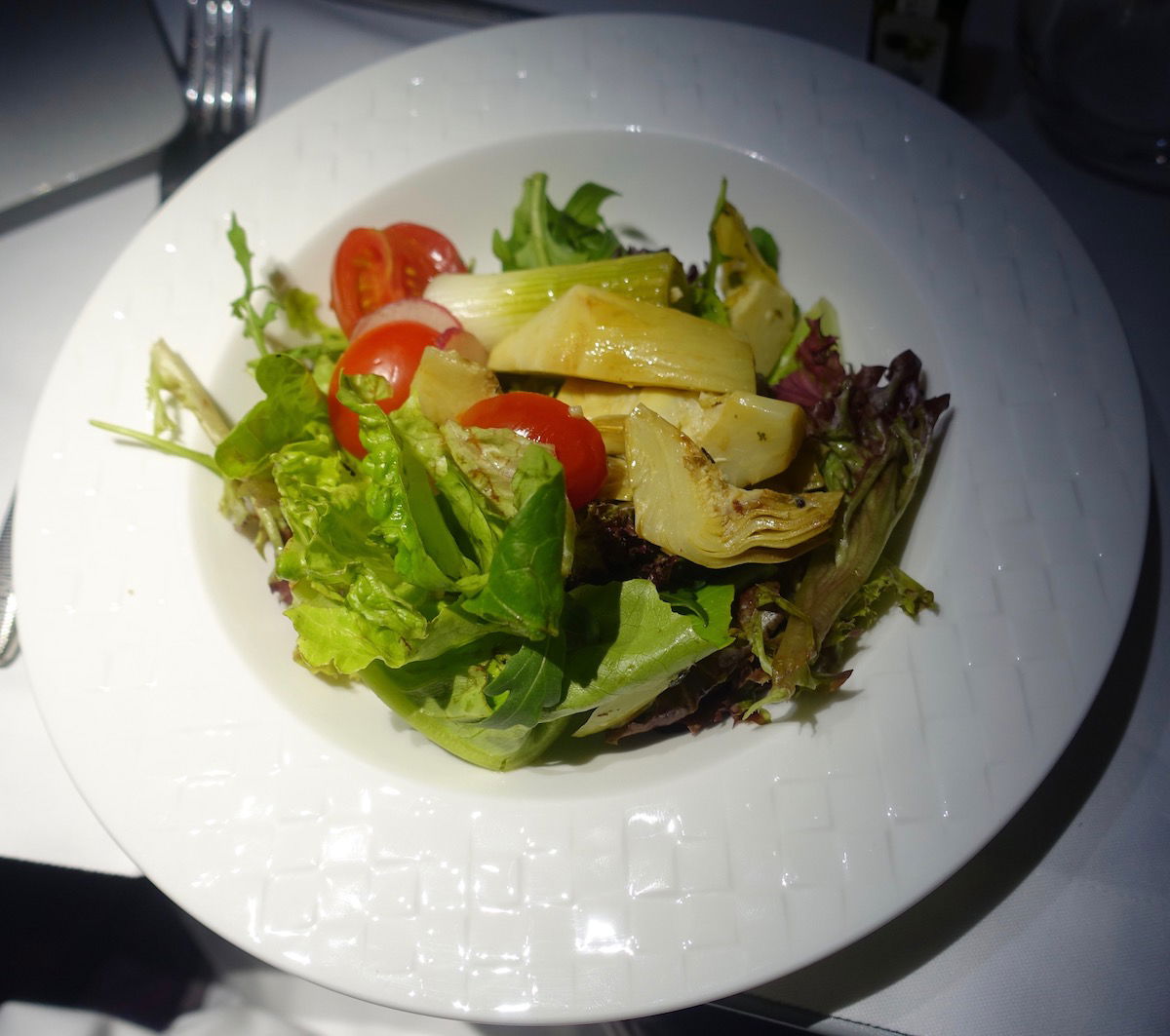 Qatar Airways business class snack
My dad had the hot ciabatta sandwich with chicken and cheddar. He said it was gross, which matches my experience with Qatar Airways' sandwiches, unfortunately.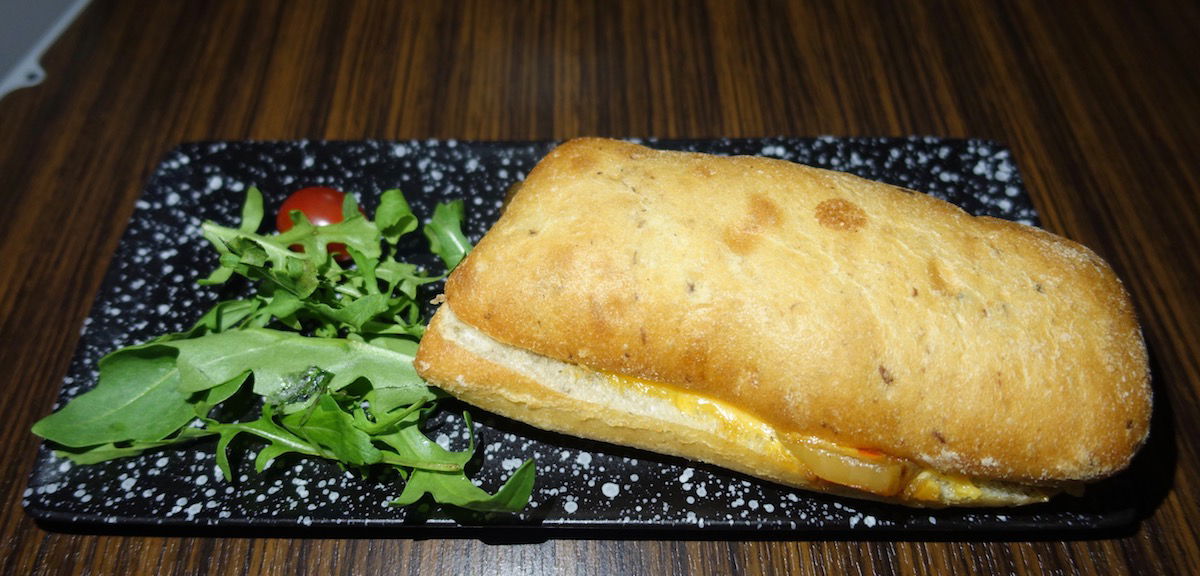 Qatar Airways business class snack
At this point we were flying just along the southern coast of Oman (past the border with Yemen). Even though this was only about 590 miles from Doha, we had another 2hr15min left inflight.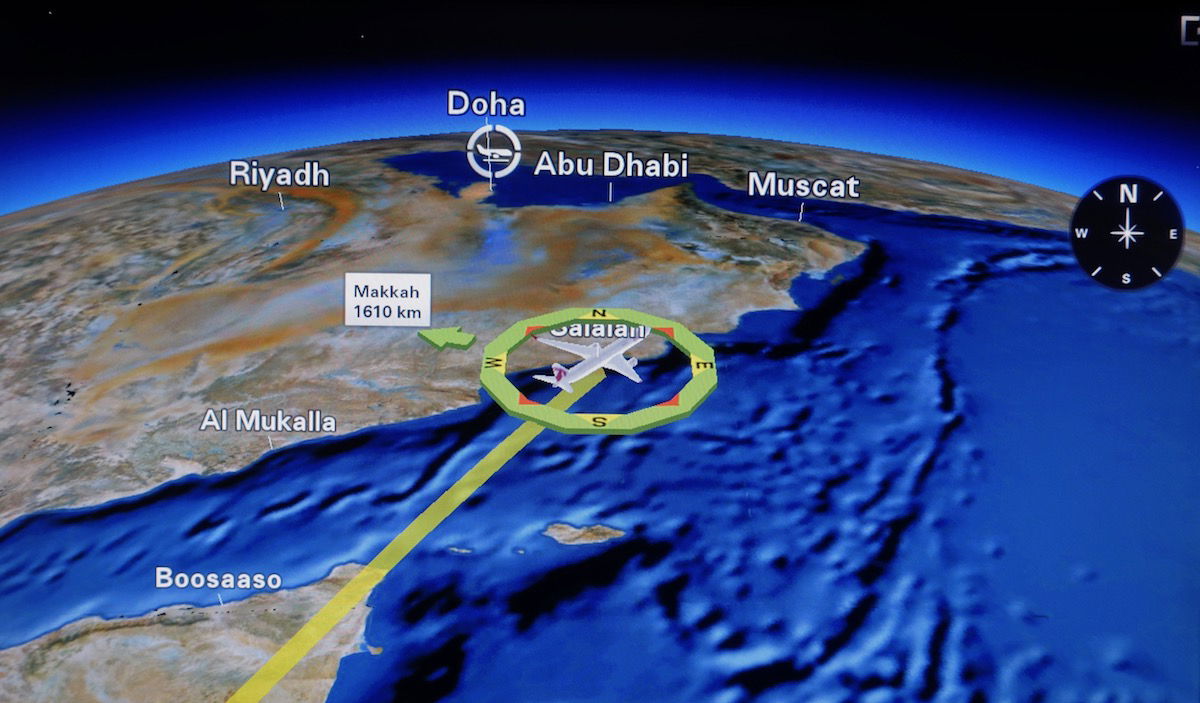 Airshow approaching Doha
That's because of the detour we had to make because of the blockade.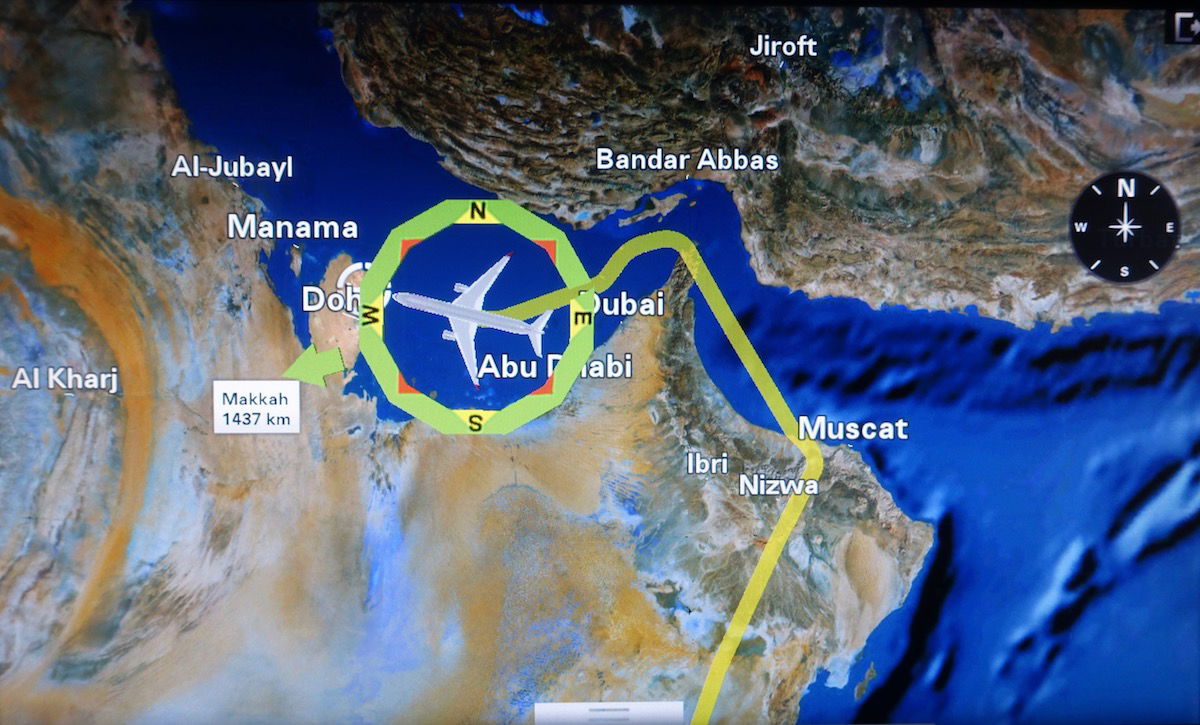 Airshow approaching Doha
At around 11:20PM Doha time the captain announced we had started our descent and would be landing in about 30 minutes. During the descent, both the flight attendant taking care of us and the cabin manager came by to thank us for flying with Qatar Airways.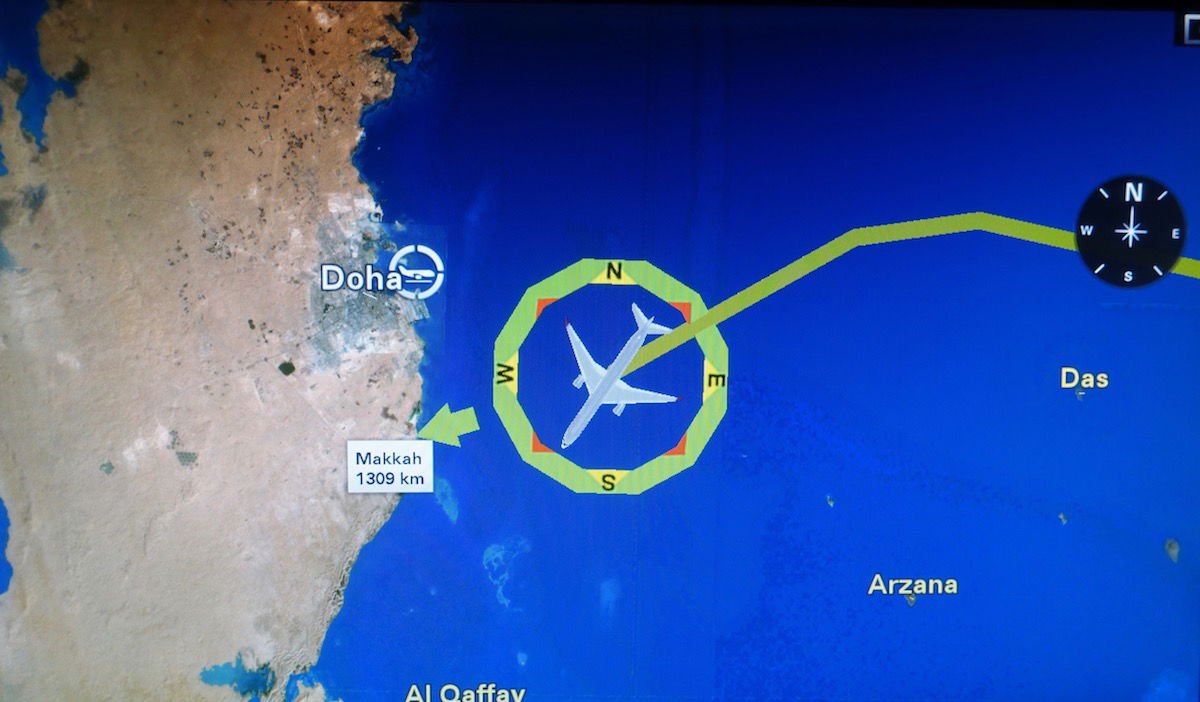 Airshow approaching Doha
Sure enough, we had a smooth touchdown in Doha at 11:50PM. From there we had a short five minute taxi to our arrival gate.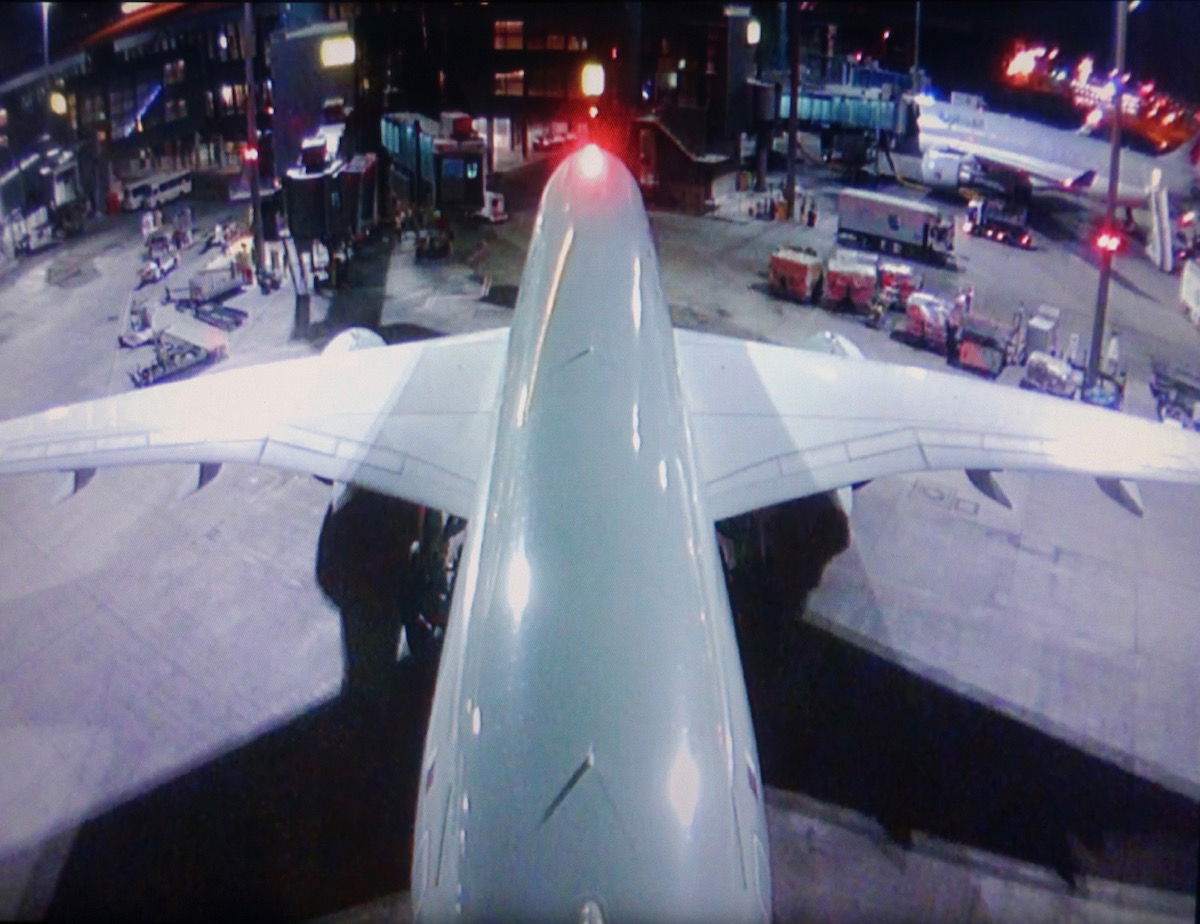 Qatar Airways A350 upon arrival in Doha
We had a brief overnight layover there before our connecting flight in the morning to Dallas.
Qatar Airways Business Class A350-900 Bottom Line
Even Qatar Airways' non-Qsuites business class is excellent. I will say that I don't love these particular reverse herringbone seats as much as some others, but all around this is still a very good product.
The amenities, food, drinks, and service, are all really good.
There are some minor things that could be better — the OnAir Wi-Fi is really slow (though Qatar is installing faster Wi-Fi on new planes), they ran out of several food options on this flight, and I do wish they had air nozzles (but that's not really possible in the center section of the A350).
So this was a pretty good flight all around, though our connecting flight to Dallas was very different.
If you've flown Qatar's A350-900 business class, what was your experience like?