---
After an unforgettable six days on safari, it was time to visit Cape Town for a few days. We had to fly Federal Air from Kruger National Park to Johannesburg (which I've already reviewed). From there we flew Comair from Johannesburg to Cape Town.
What Is Comair?
Comair is a British Airways franchise based in South Africa. The airline operates a fleet of 20 737s around Africa. Johannesburg is their hub, though they operate flights within South Africa, as well as to nearby countries, including Mauritius, Namibia, Zambia, and Zimbabwe.
Comair also has a low cost carrier, as they own Kulula, which operates a fleet of 10 737s out of Johannesburg.
Booking British Airways Comair
Last time I visited South Africa I flew South African Airways between Johannesburg and Cape Town (on both the A319 and A340), so this time around I wanted to mix it up and fly with Comair. Best of all, you can even earn and redeem oneworld miles for travel on them.
Award availability on Comair is excellent, and a one-way business class ticket cost 12,750 Avios plus $103.56 in taxes, fees, and carrier imposed surcharges.
As a point of comparison:
A ticket on the same flight in economy would have cost 6,500 Avios plus $62.88 in taxes, fees, and carrier imposed surcharges
Comair's paid business class fares are quite reasonable, and for our flight a ticket would have cost ~$280 one-way
So we booked the following flight:
BA6425 Johannesburg to Cape Town departing 3:00PM arriving 5:10PM
See this post for the best ways to redeem British Airways Avios, and see this post for the best credit cards earning British Airways Avios.
Comair 737 Business Class Review
Our connection in Johannesburg ended up being tighter than initially planned, as our Federal Air flight was a bit behind schedule, and we didn't initially realize they departed from a private terminal on exactly the opposite side of the airport.
So we arrived in the terminal just before 2PM for our 3PM flight. On the plus side, we had already checked in online, and there was a dedicated business class security line, which we were through in no time.
British Airways Comair business class passengers have access to the SLOW Lounge at Johannesburg Airport. This is located immediately to the right after you pass through security.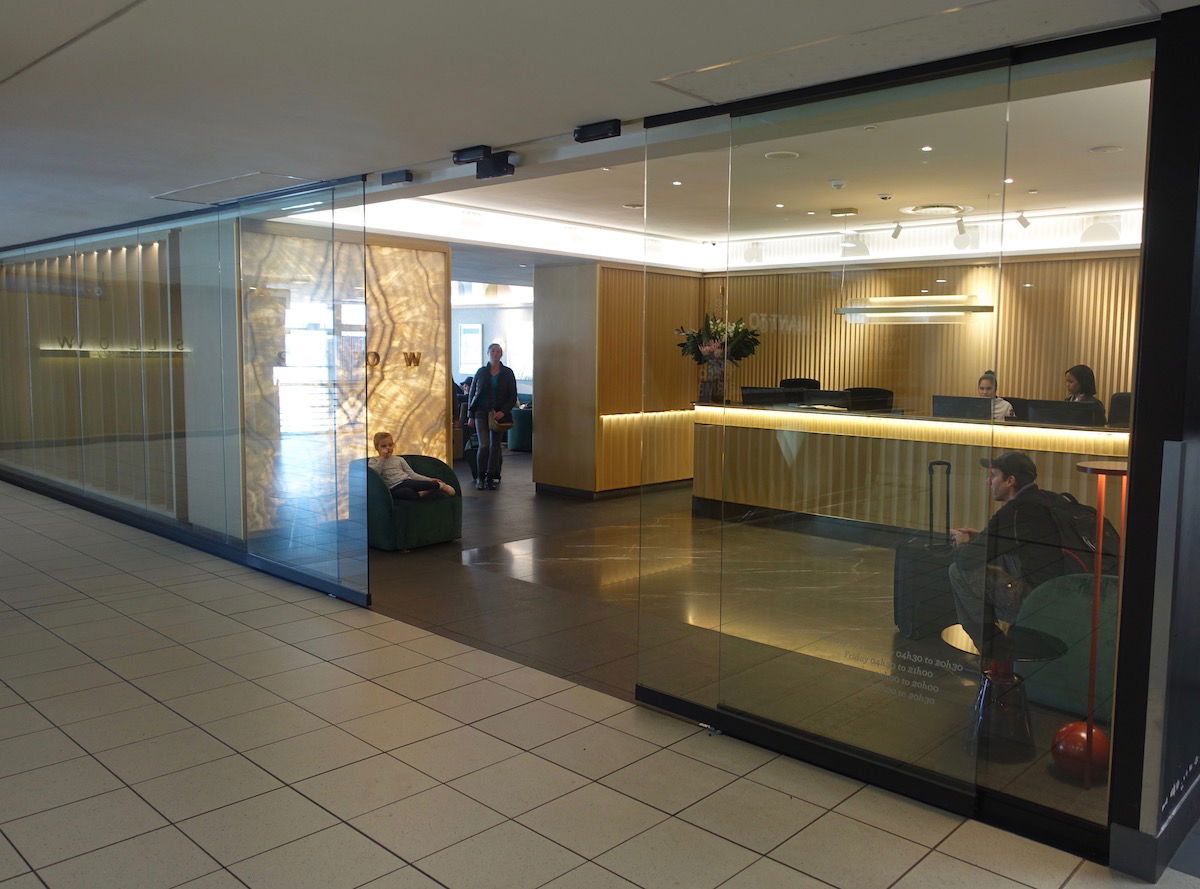 British Airways Comair Lounge Johannesburg
Due to our limited time in the lounge and how busy it was, I didn't have time to review it. It's a solid lounge with a good food and drink selection, though it was pretty crowded.
Our flight was scheduled to board from gate D6 at 2:30PM, which was about a five minute walk from the lounge.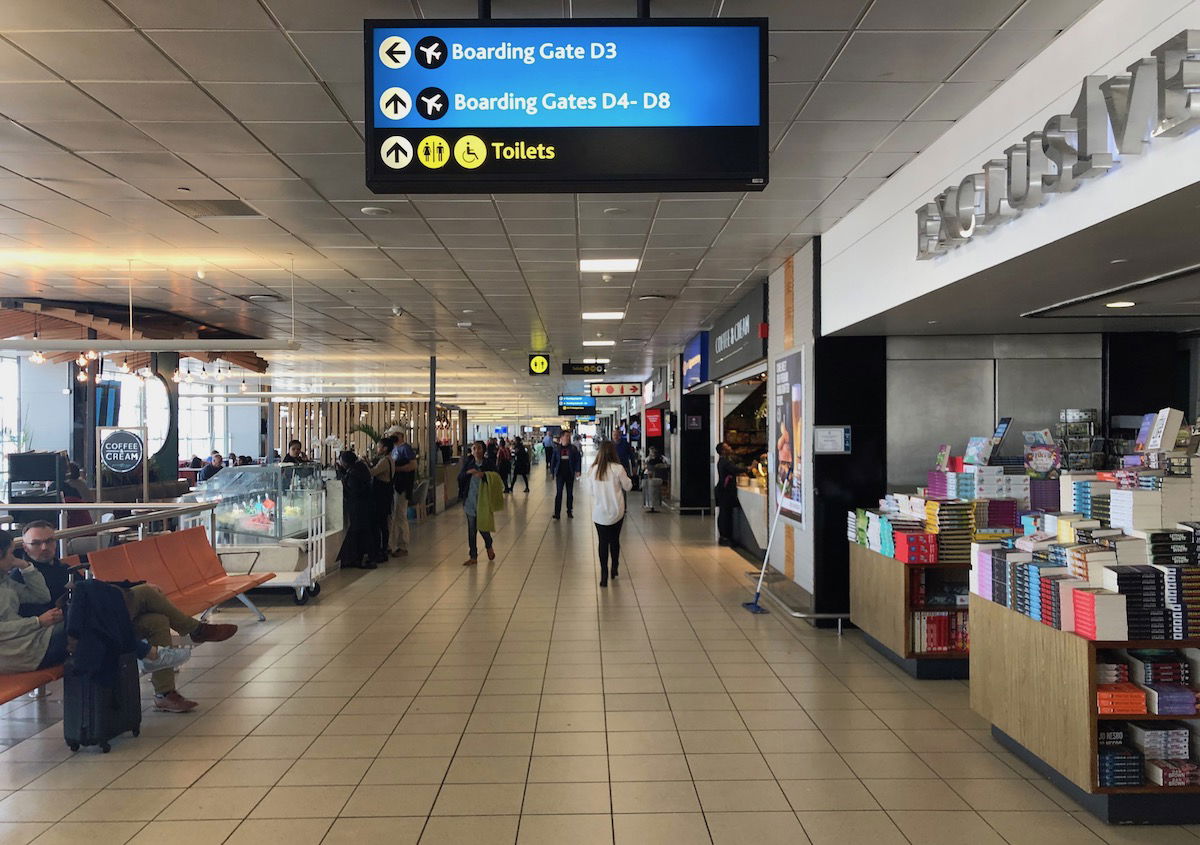 Johannesburg Airport terminal
This portion of the airport has an interesting layout, as they have seating throughout the terminal near gates, but then right by the gate is a partitioned off area meant intentionally for boarding. So it stays empty until people start lining up to board.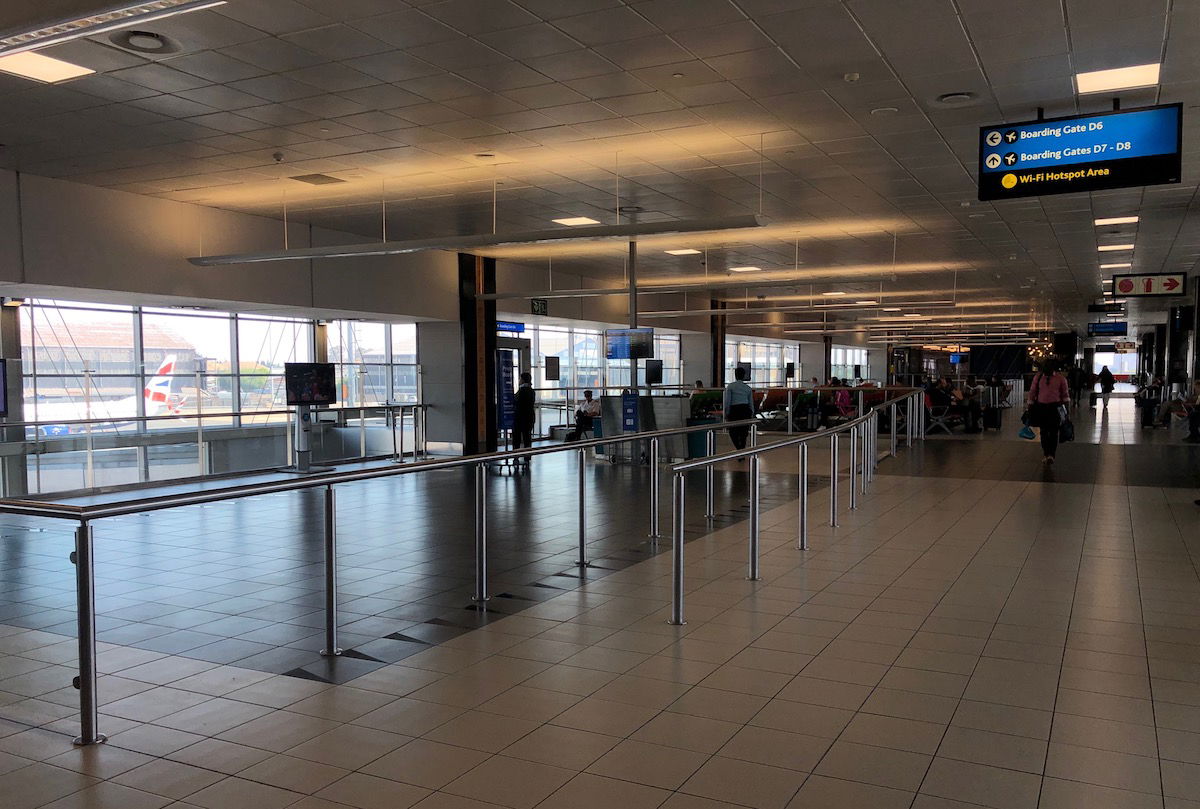 British Airways Comair departure gate
Premium passengers could line up to the left, while other passengers could line up to the right. They invite Executive Club elite members to board with business class, but not other oneworld elite members. Comair isn't a full oneworld member, but is a oneworld affiliate, similar to Cathay Dragon. For example, I had my American AAdvantage number on the reservation, and it still reflected my Emerald status.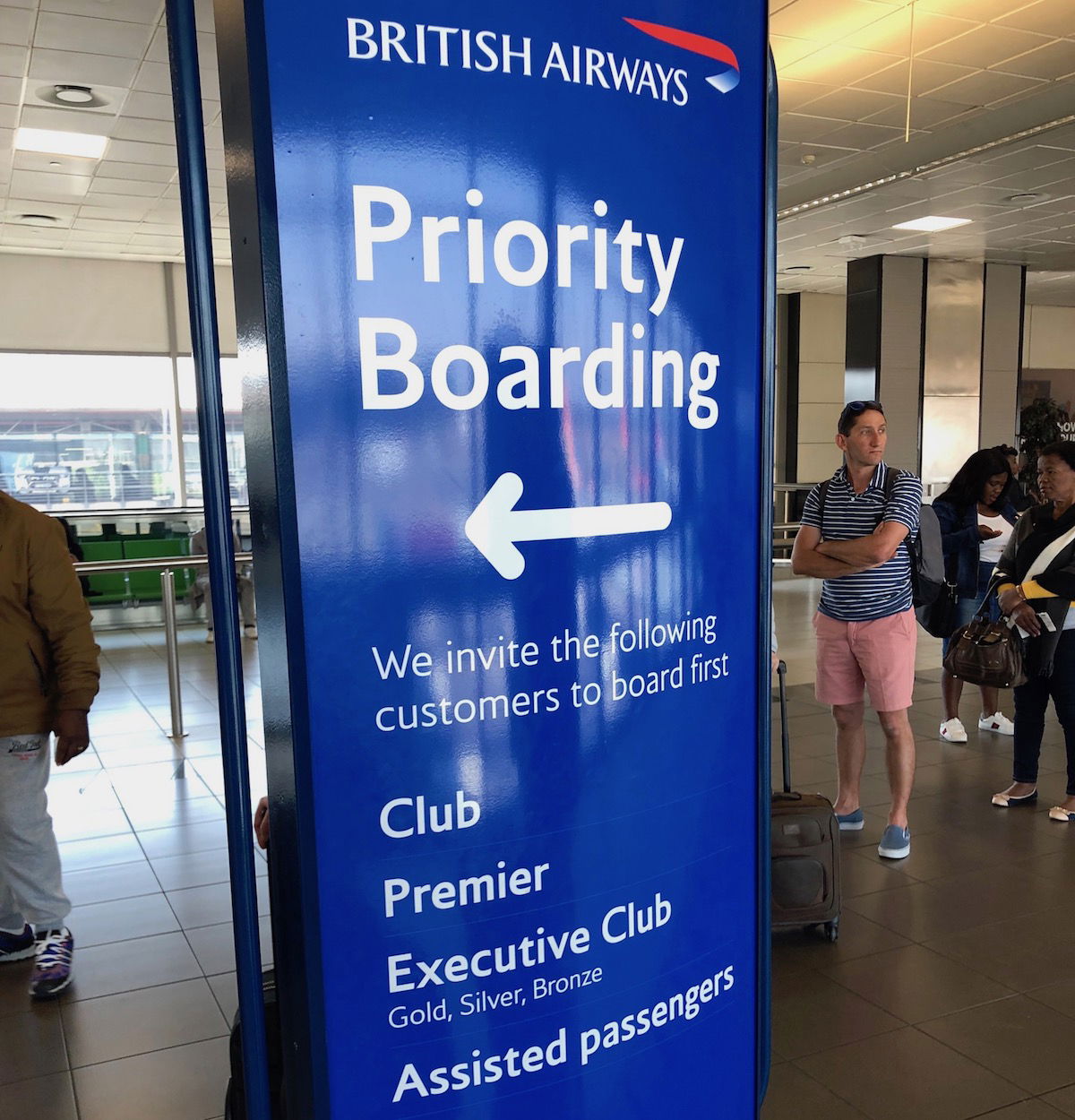 British Airways Comair signage
There is something so weird about seeing Comair planes, since they're in the full British Airways livery, but they're 737s. Since British Airways doesn't otherwise have 737s (they used to have 737s based out of Gatwick, but not the -800 version), it feels kind of off. But I do have to say, I think the 737 with winglets looks great in British Airways' livery.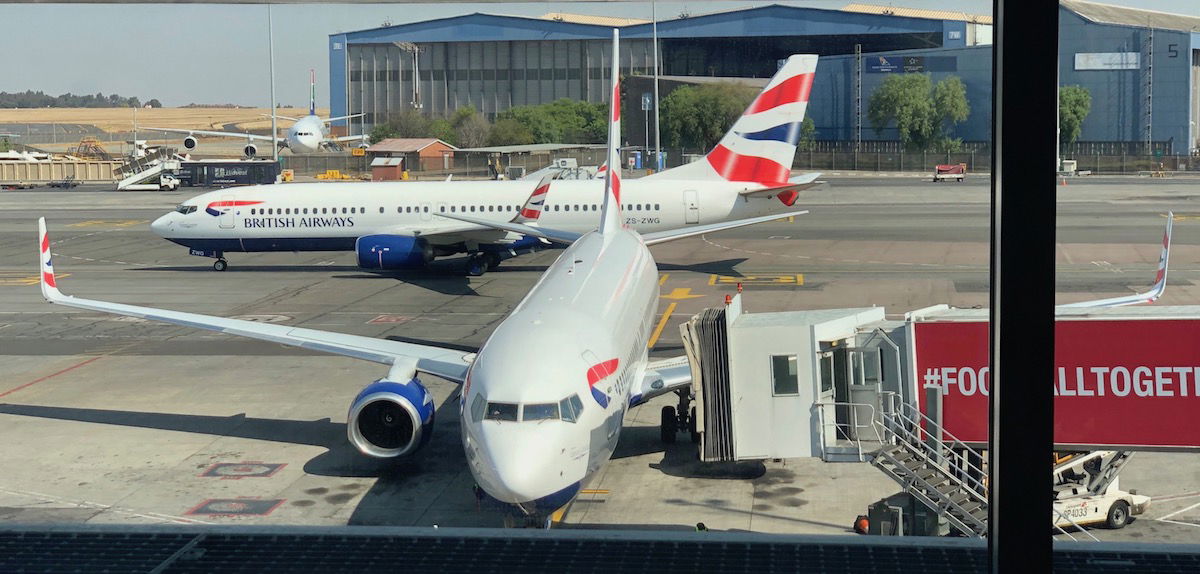 Two British Airways Comair planes in Johannesburg
Our plane ended up only arriving at around 2:20PM, so boarding was delayed. They ended up starting boarding at 2:35PM, though in reality it seems the cleaners weren't yet done, because we then had to wait on the jet bridge for 10 minutes before we could board.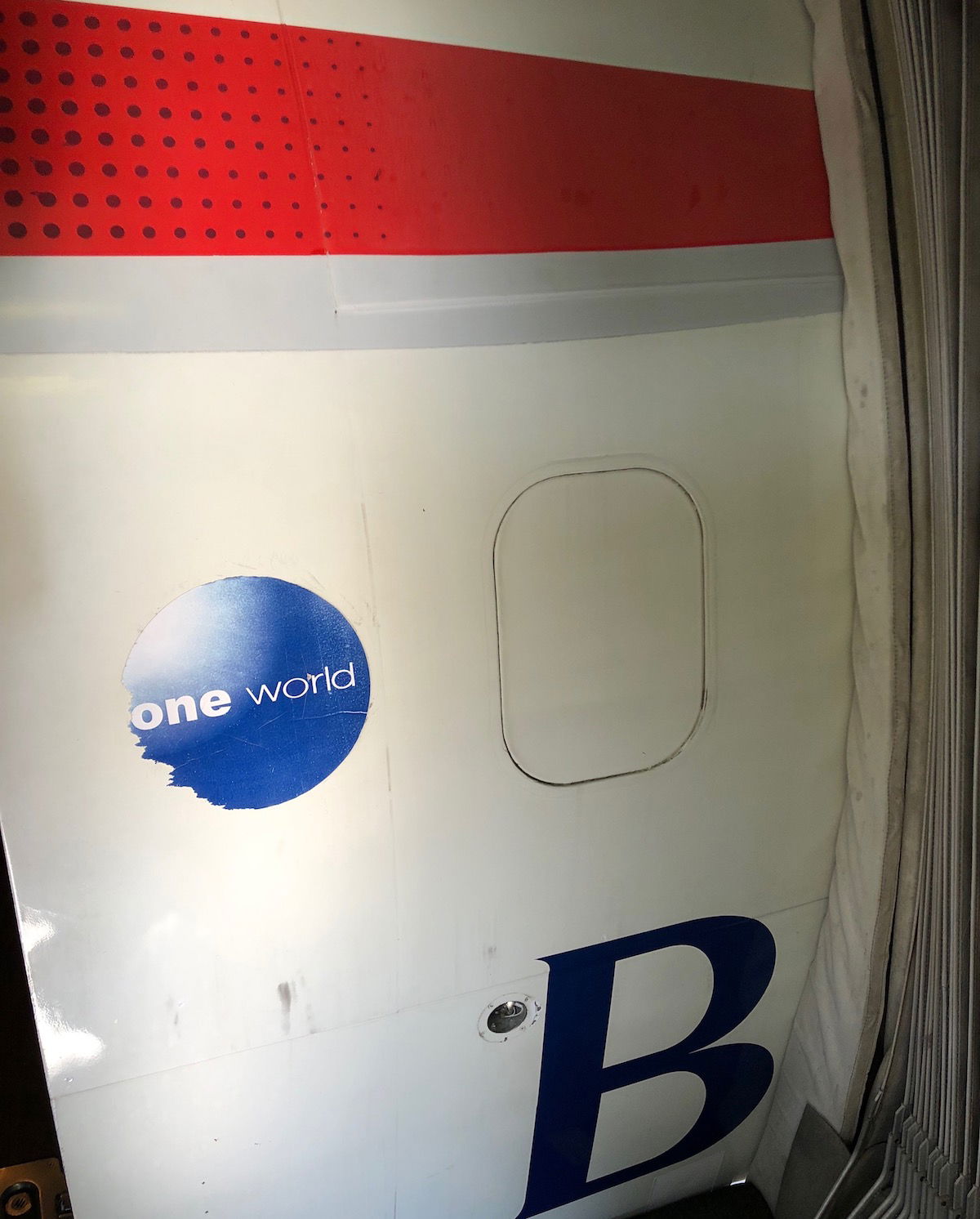 British Airways Comair 737 exterior
British Airways Comair 6425
Johannesburg (JNB) – Cape Town (CPT)
Sunday, September 8
Depart: 3:00PM
Arrive: 5:10PM
Duration: 2hr10min
Aircraft: Boeing 737-800
Seat: 5C (Business Class)
At the door we were greeted by the crew, who were decked out in full British Airways uniforms. The announcements even sounded like the typical British Airways ones — "a very warm welcome onboard this British Airways flight to Cape Town."
While minor, I noticed that the pilots weren't wearing ties, and even had their top few buttons "open." I never thought I cared about how pilots are dressed, but I couldn't help but feel like it's a bit of a sloppy look, probably because we're so used to seeing pilots dressed a certain way.
It's interesting to see the different types of business class seats offered around the world. In Europe airlines just generally offer economy seats with blocked middles, while in the Middle East and Southeast Asia it's common to see flat beds even on the shortest flights.
South Africa is somewhere in the middle, as both Comair and South African Airways have similar products. Comair's business class seats are better than what you'll find within Europe, but not quite as good as business class within the US.
The business class cabin consisted of a total of 24 seats. Seats were in a 2-3 configuration, though in the first row the configuration was just 2-2.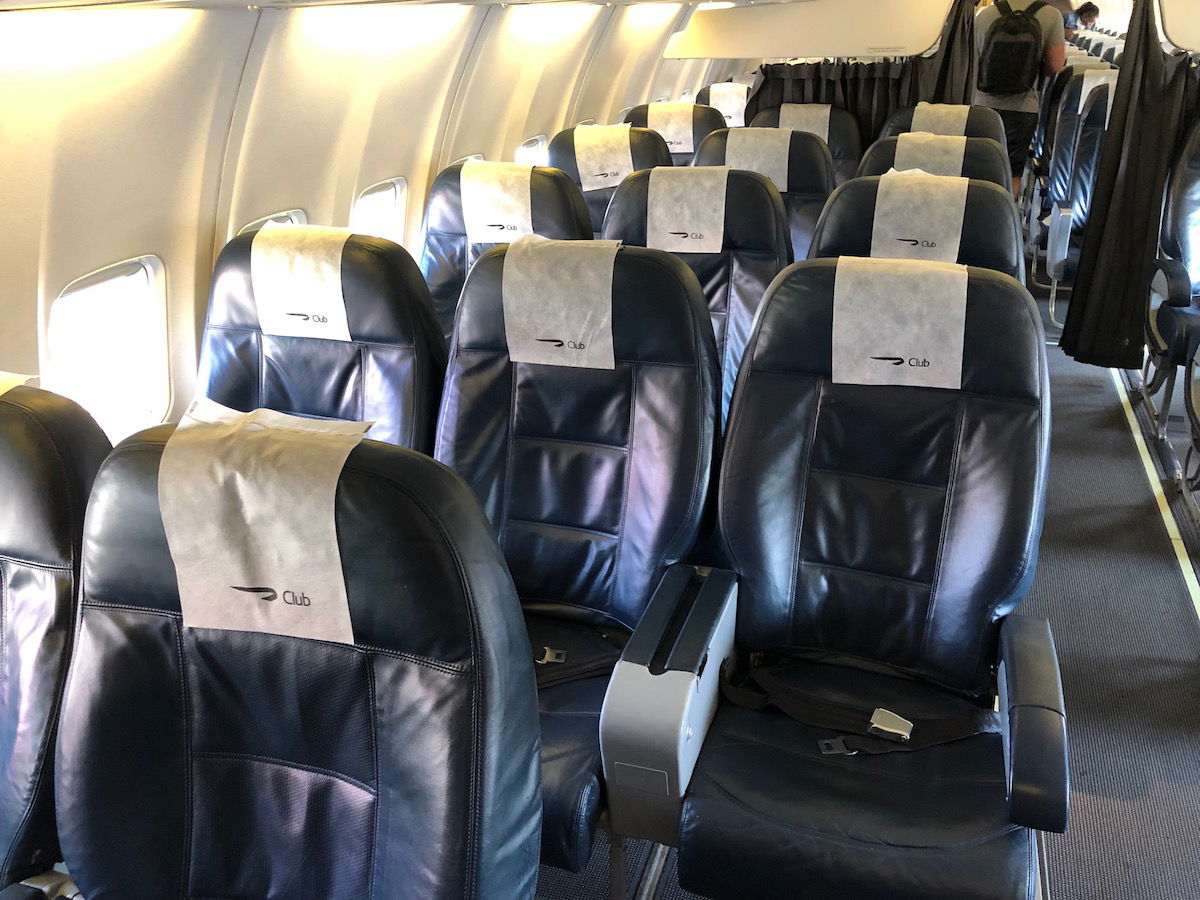 British Airways Comair business class cabin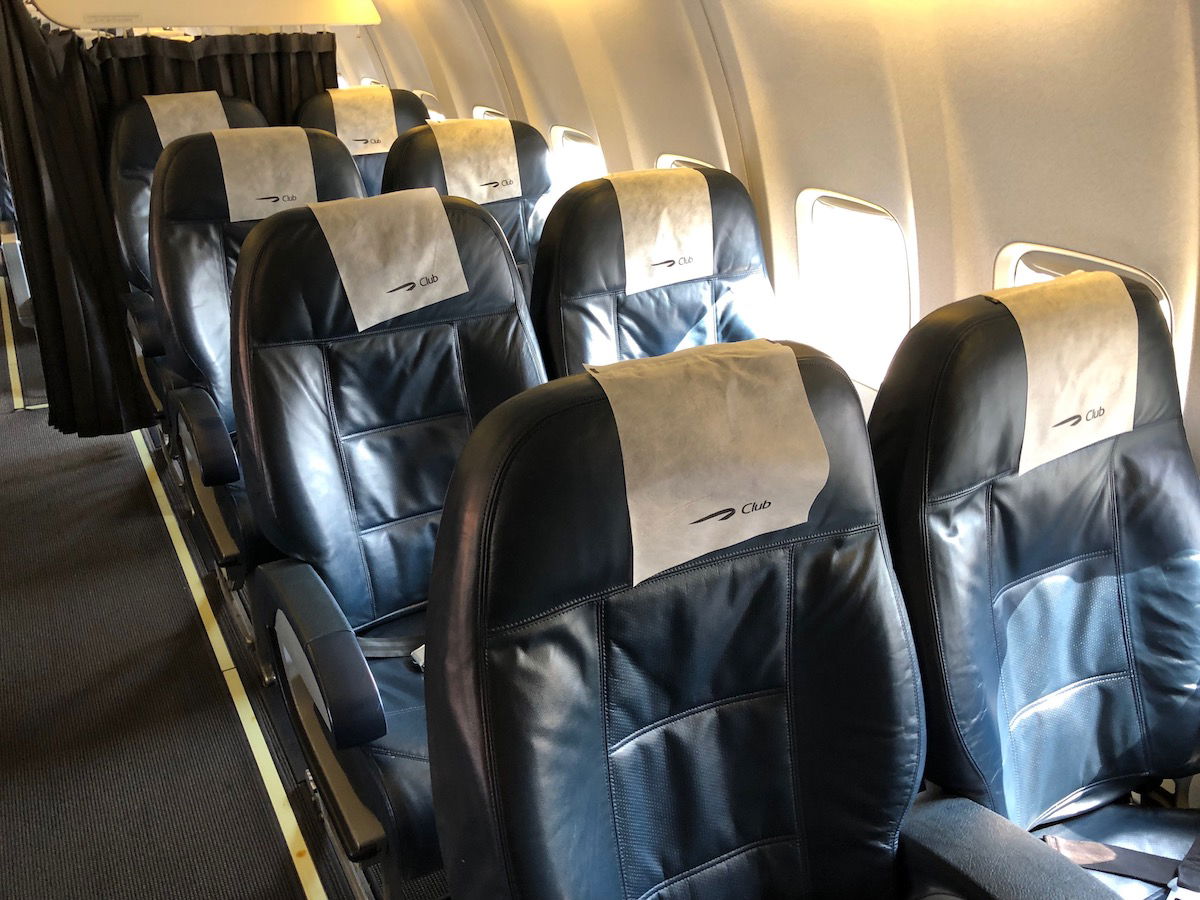 British Airways Comair business class cabin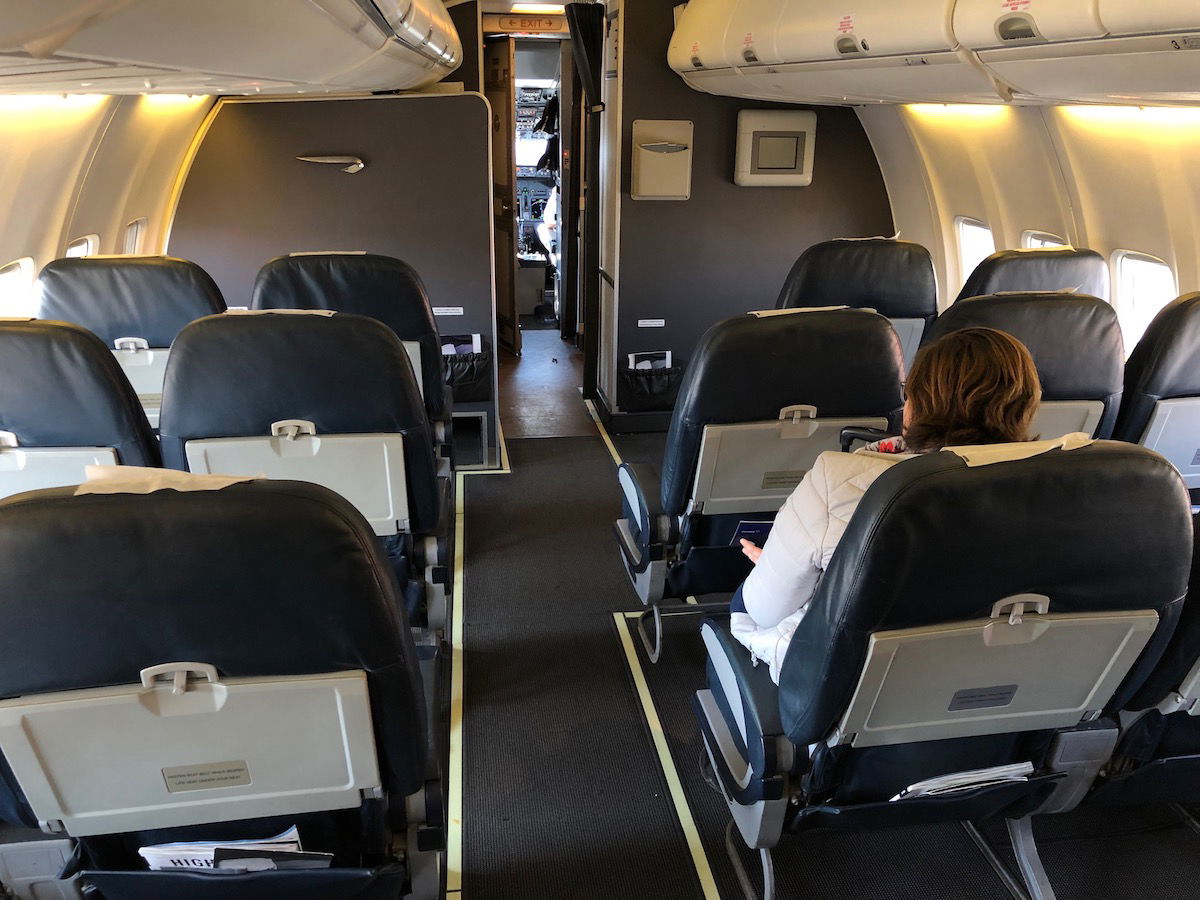 British Airways Comair 737 business class cabin
These seats were pretty comfortable, especially when you consider they don't operate terribly long flights. I'd say seat pitch was somewhere around 36″ or so, and the seat width was good.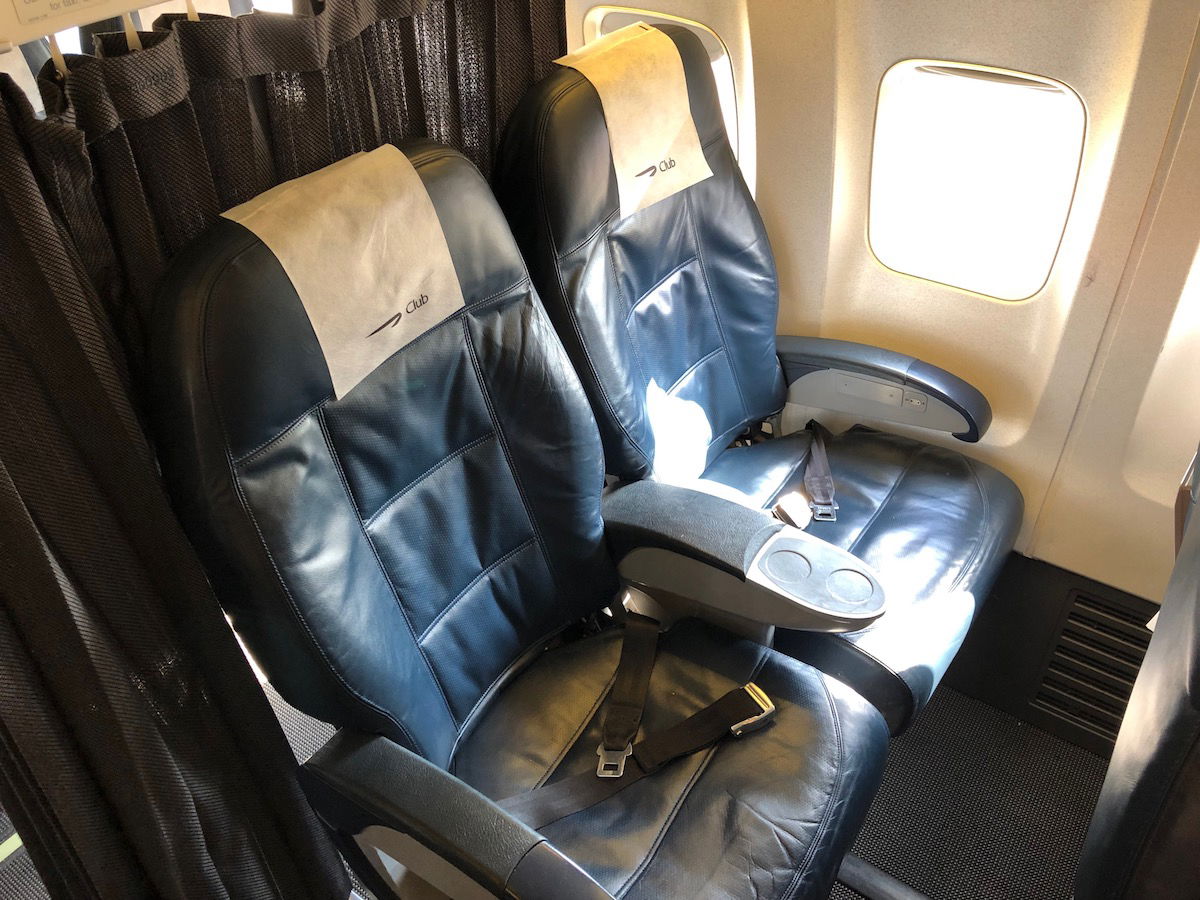 British Airways Comair business class seats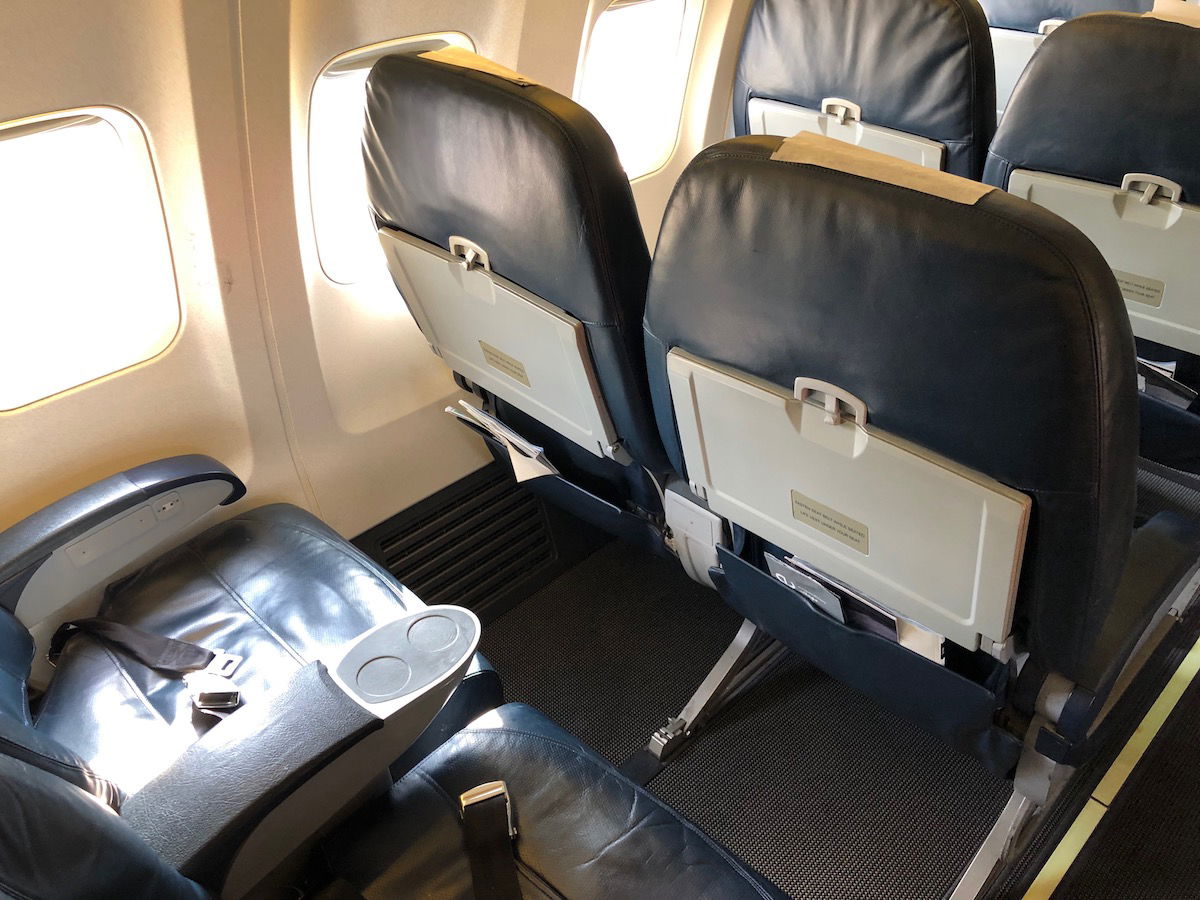 British Airways Comair business class seats 737
Of course the middle seats aren't ideal if you're in a situation where the cabin is full, since no one likes a middle seat in a premium cabin.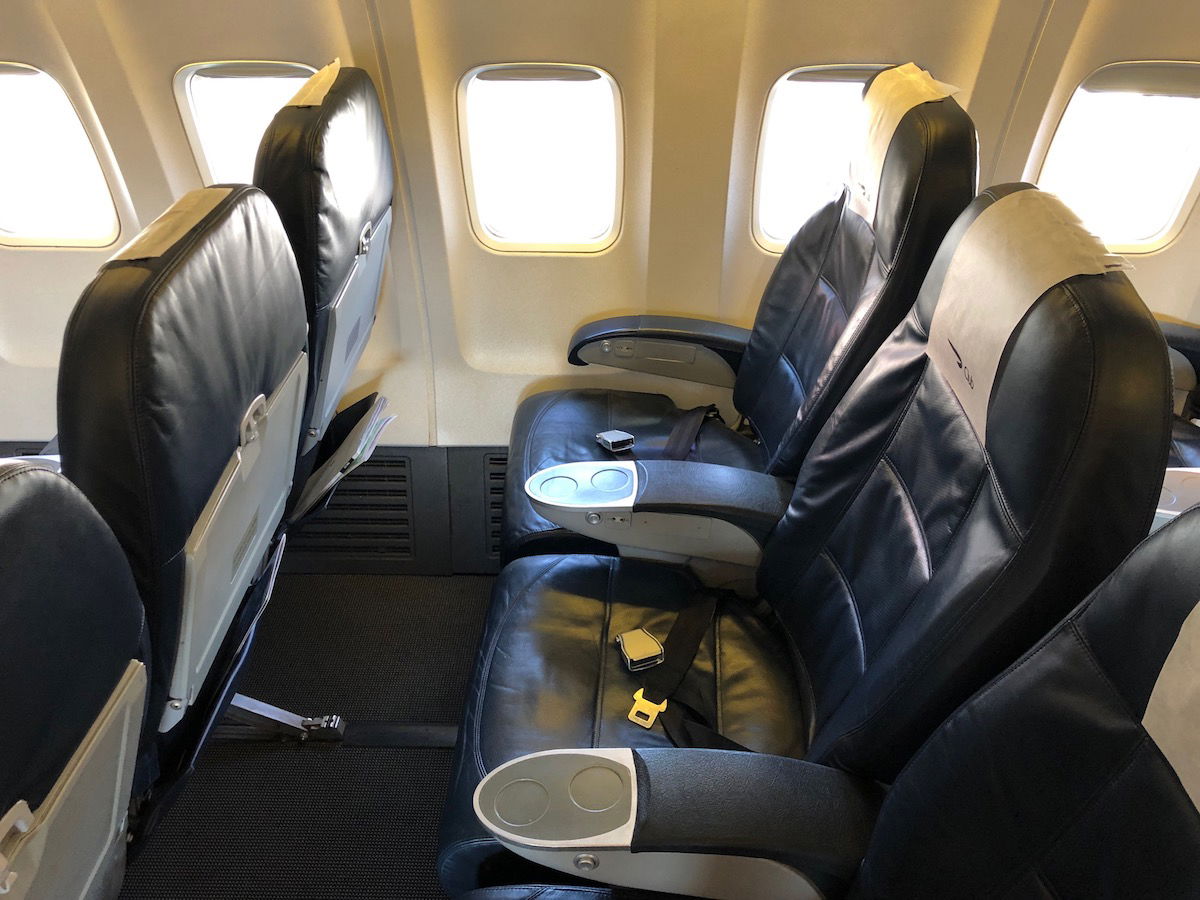 British Airways Comair business class seats 737
Economy looked pretty standard, with seats in a 3-3 configuration.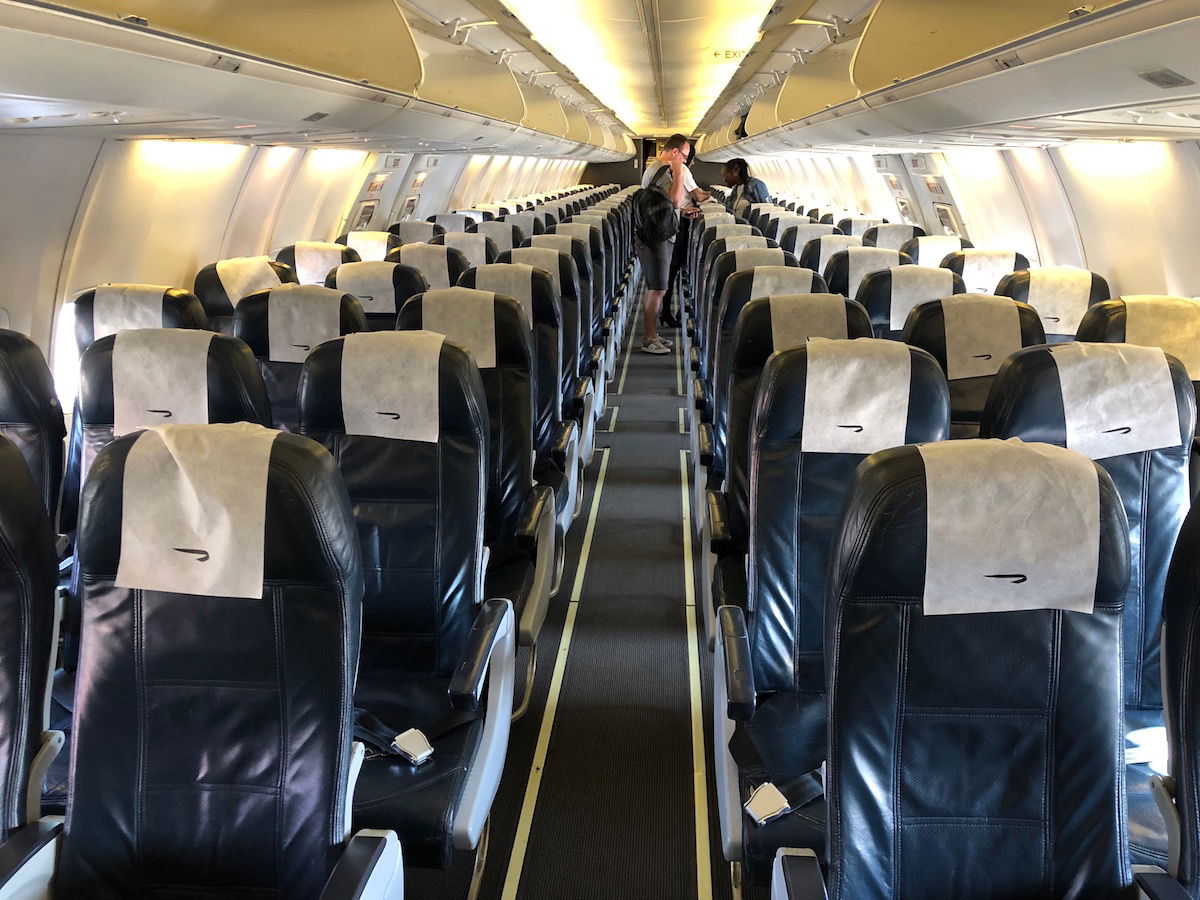 British Airways Comair economy cabin 737
We ended up selecting seats in row five — Ford and I sat on the left, and my dad sat right across the aisle from us. Business class ended up being almost entirely empty. An hour before departure we were the only people showing on the seatmap, though shortly before boarding started two more seats showed as occupied. So in the end five of the 24 seats were taken.
Tray tables folded out from the seats in front, which is rare to see in a premium cabin.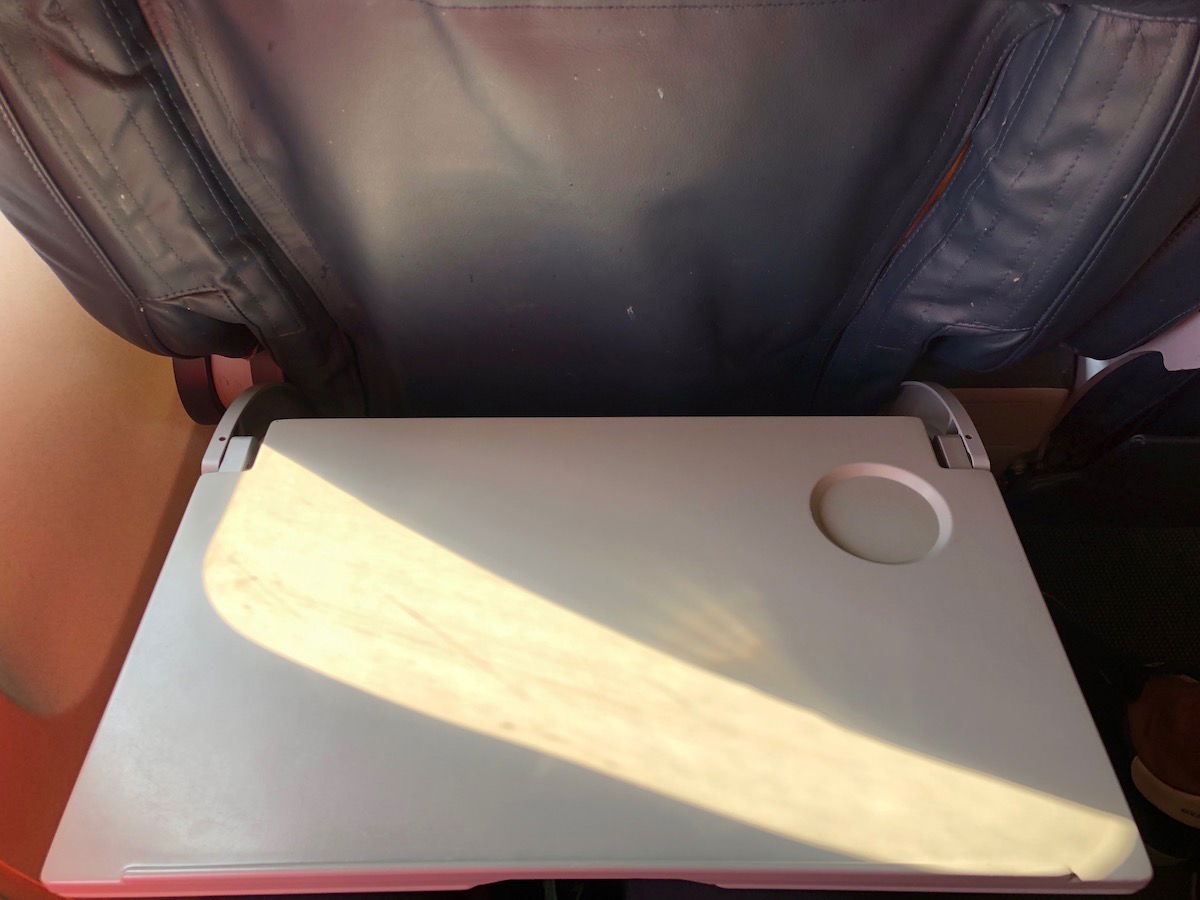 British Airways Comair business class tray table
The plane wasn't in particularly good condition. For example, someone scribbled on the wall right by our seats. For what it's worth, we were flying ZS-ZWR, a 737 that was built in 1999, but that started flying with Comair in 2014.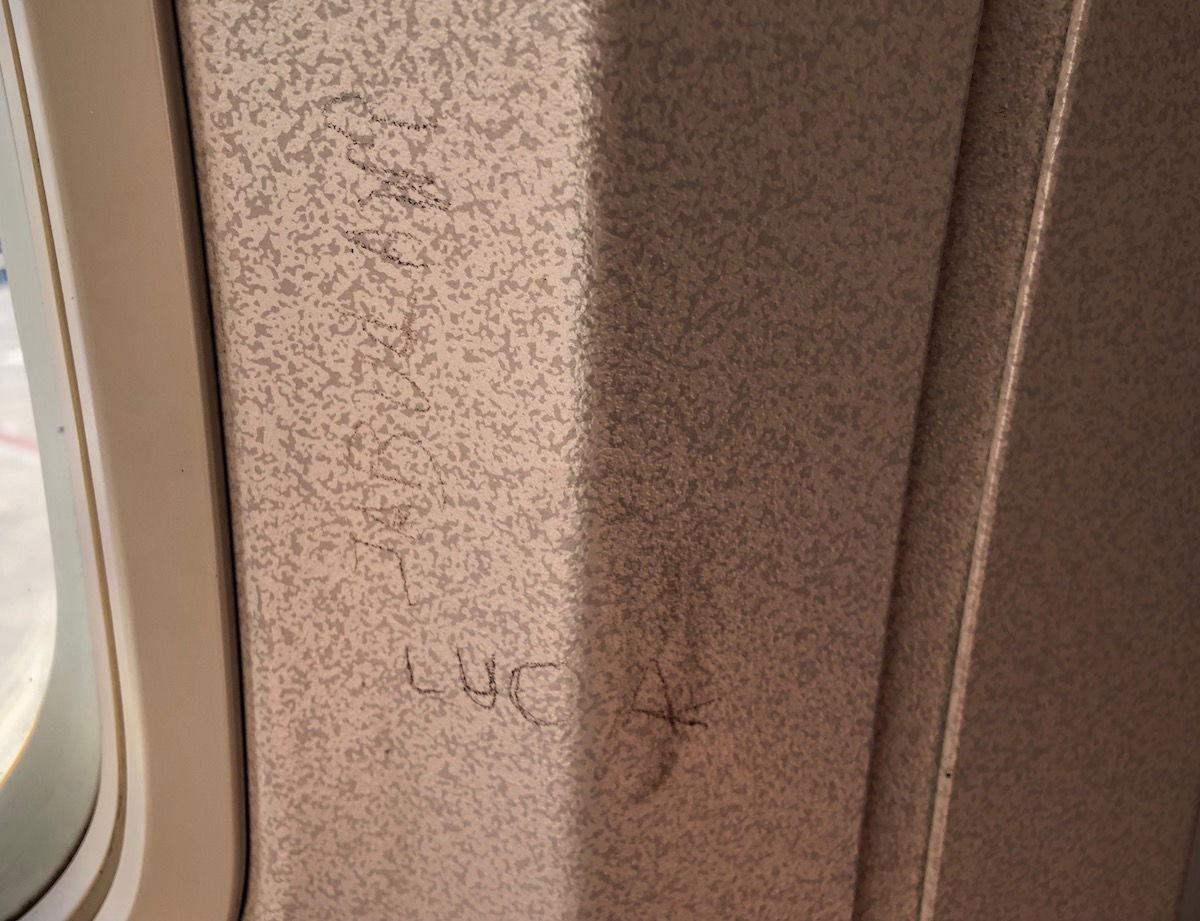 British Airways Comair business class wall
I also found it interesting that the safety card was a generic Boeing one with just a small mention of the flight being operated by Comair — I'm not sure I've seen that before.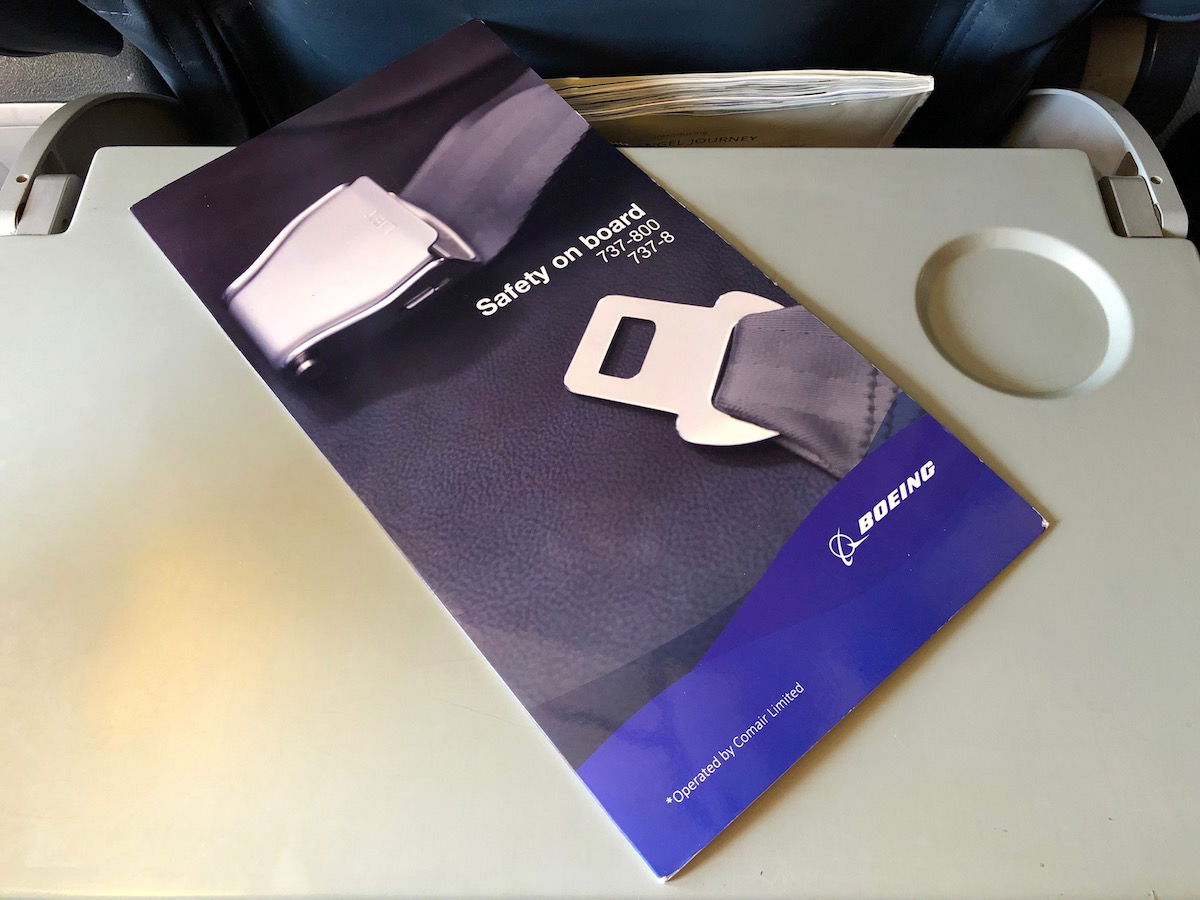 British Airways Comair safety card
Boarding was efficient once it started, and at around 3PM the captain added his welcome onboard, and informed us of our flight time of 1hr50min. At that time the main cabin door closed as well.
The crew then came through business class with pre-departure drinks, with the choice of cranberry juice, sparkling wine, or water. These drinks were even served in proper glassware.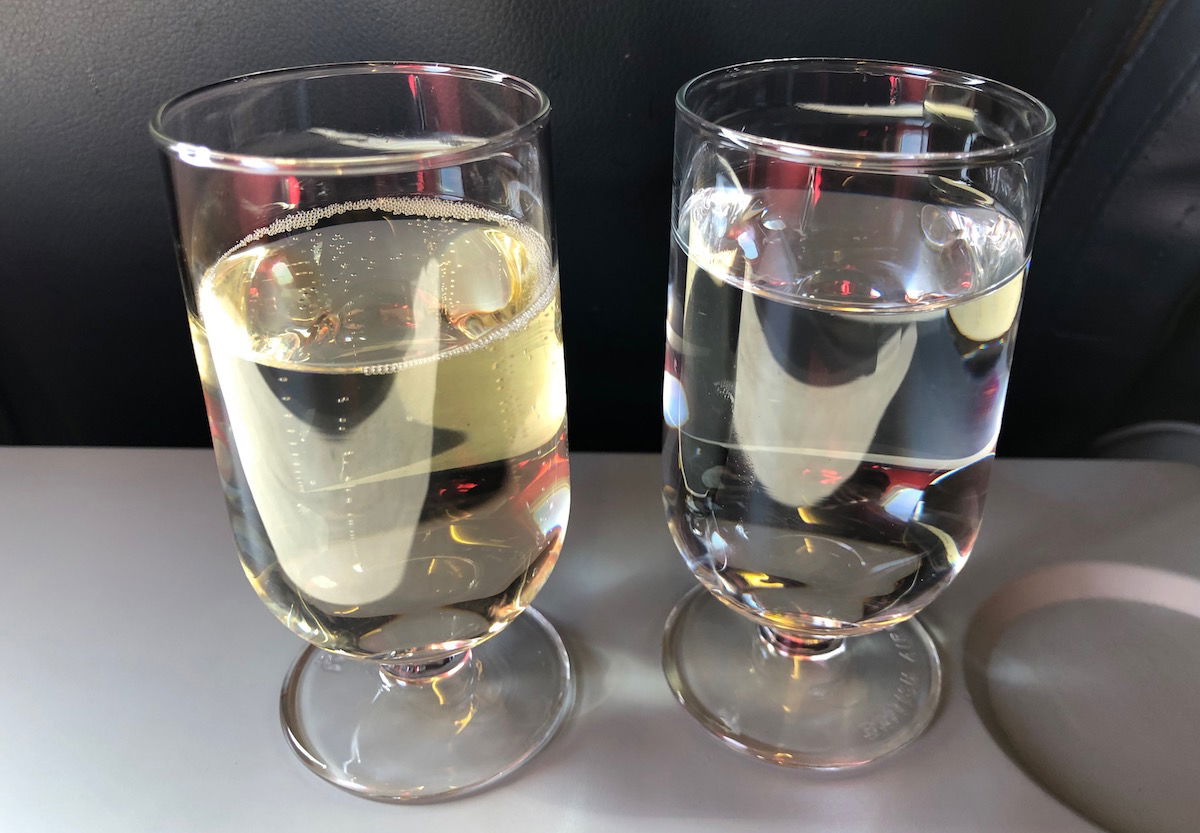 British Airways Comair business class pre-departure drinks
At 3:05PM we began our pushback, at which point the crew also performed a manual safety demonstration.
There was some interesting traffic on our taxi out…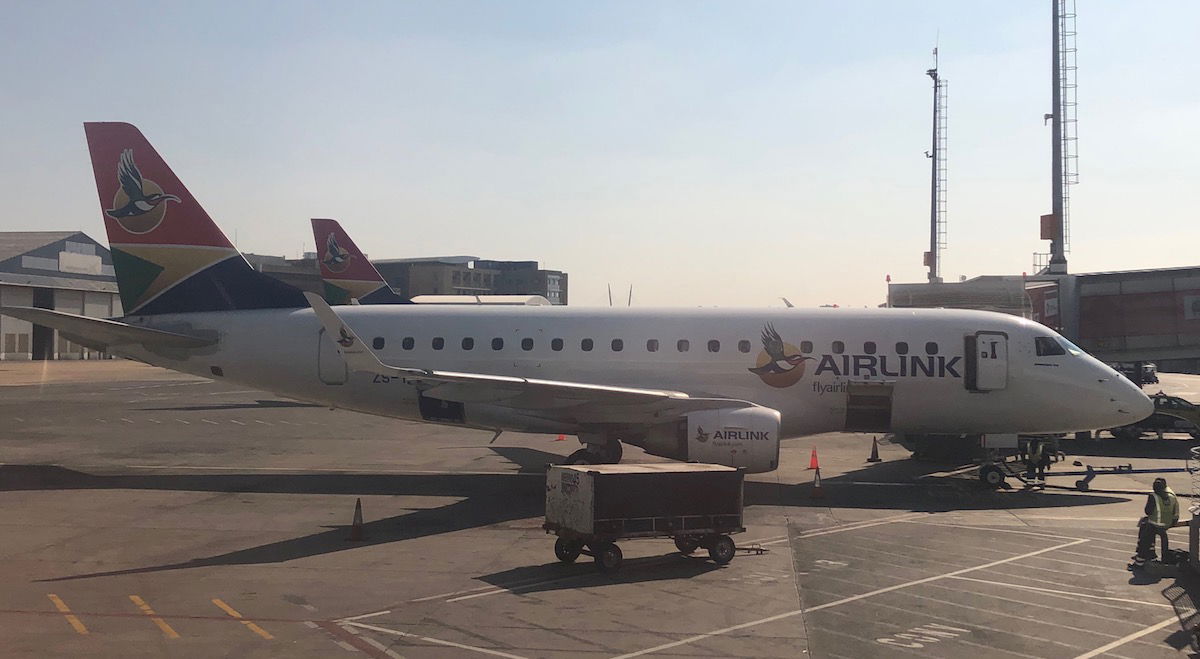 Airlink Embraer jet Johannesburg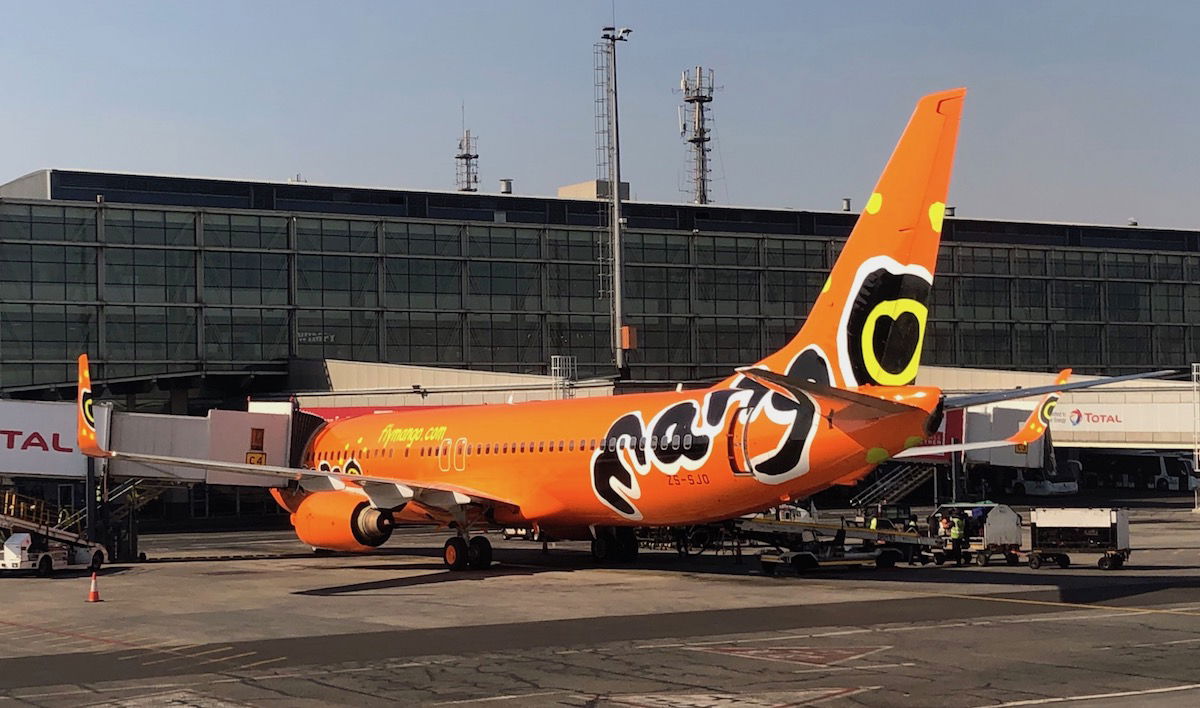 Mango 737 Johannesburg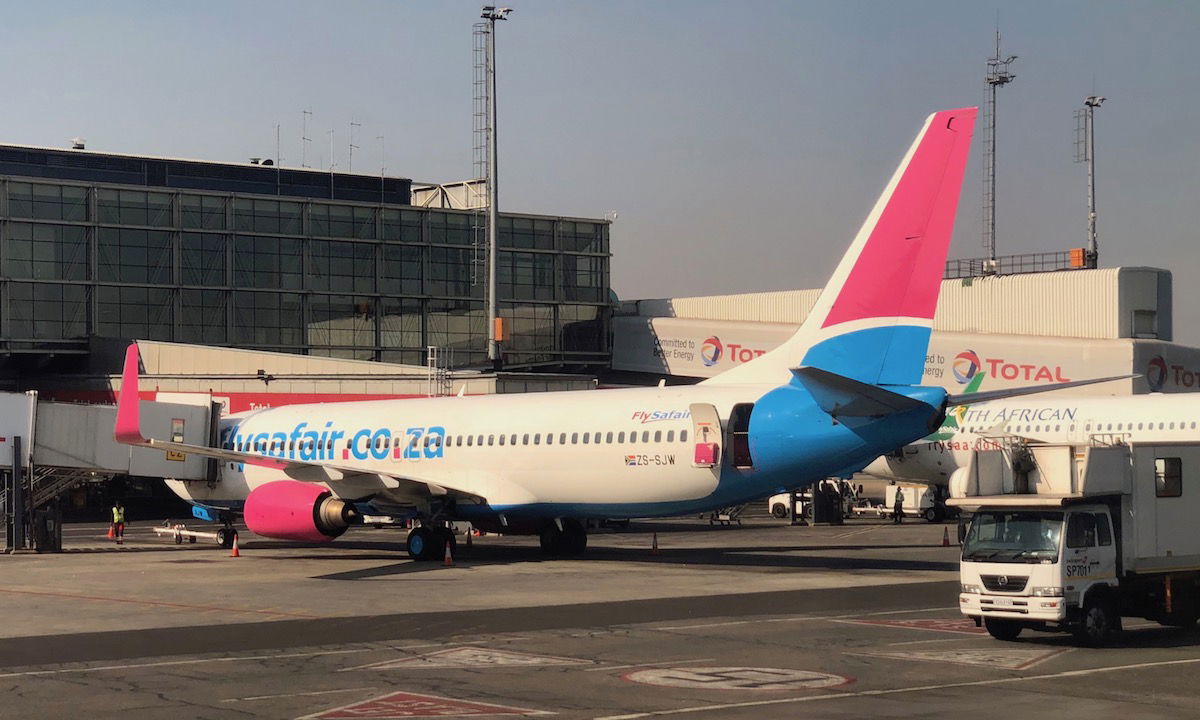 FlySafair 737 Johannesburg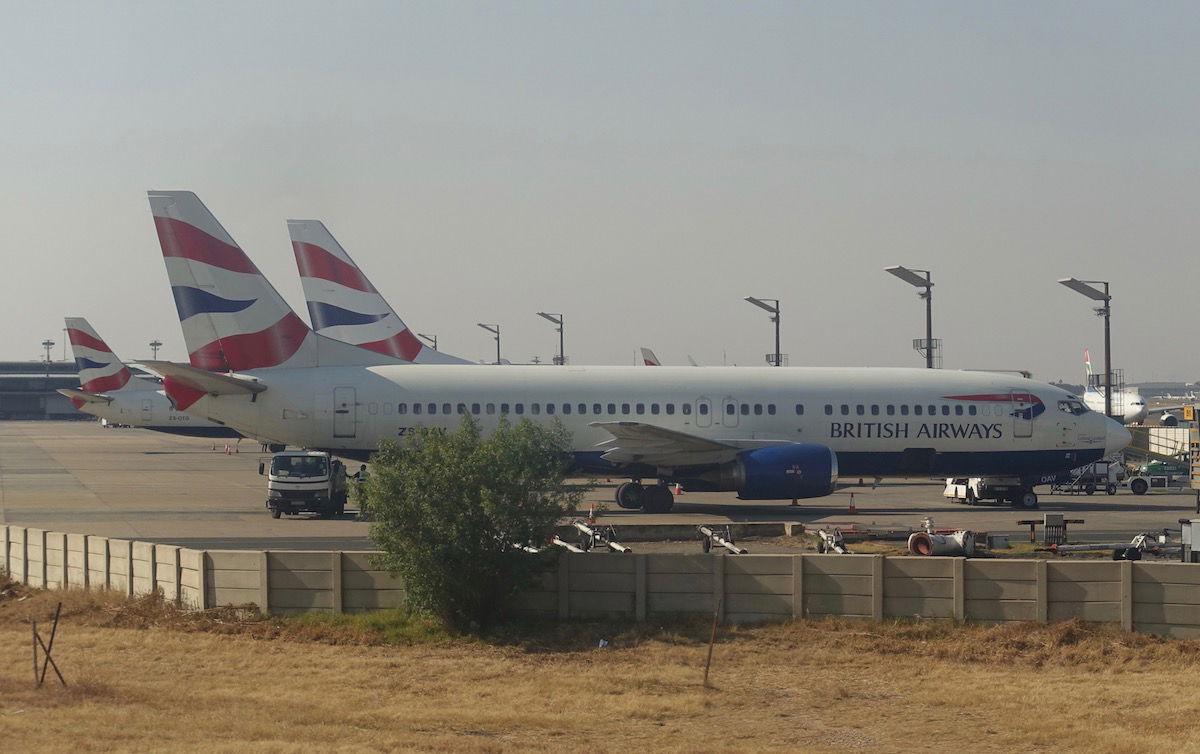 British Airways Comair 737 Johannesburg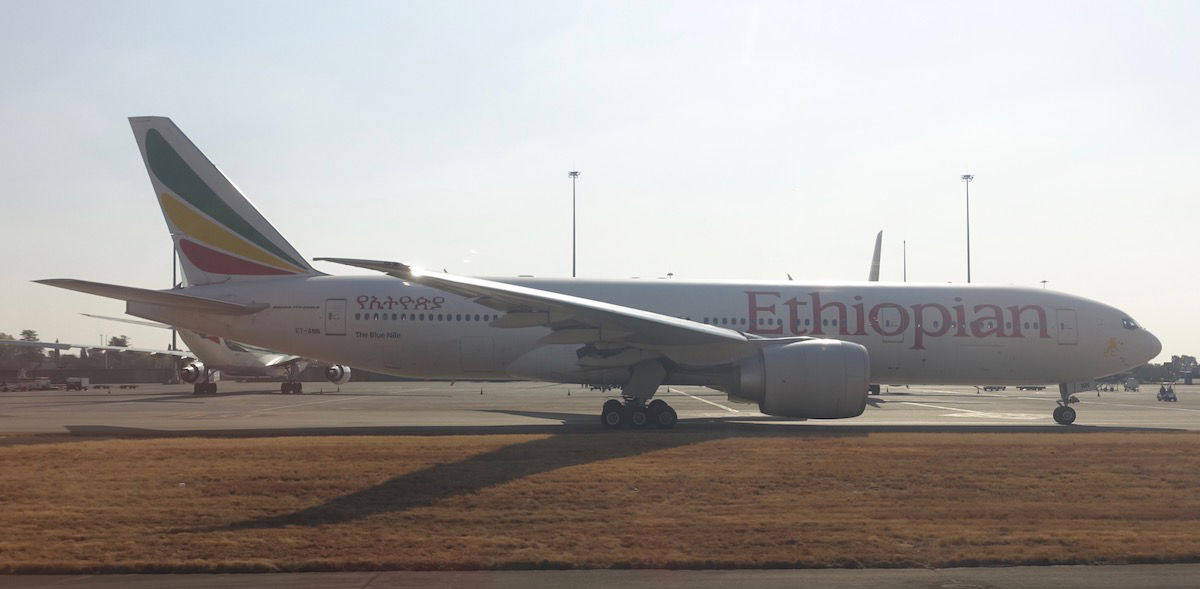 Ethiopian 777 Johannesburg
We had a very short taxi, and by 3:10PM we were cleared for takeoff on runway 21R.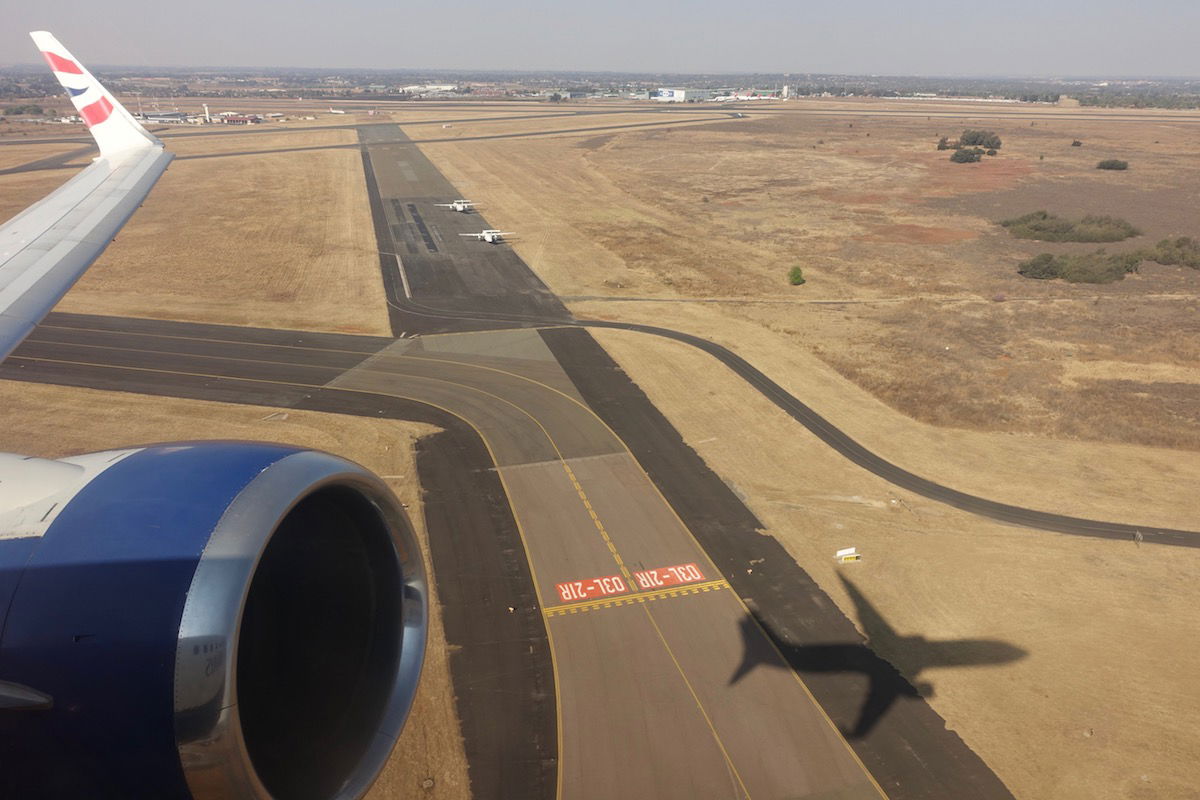 View after takeoff from Johannesburg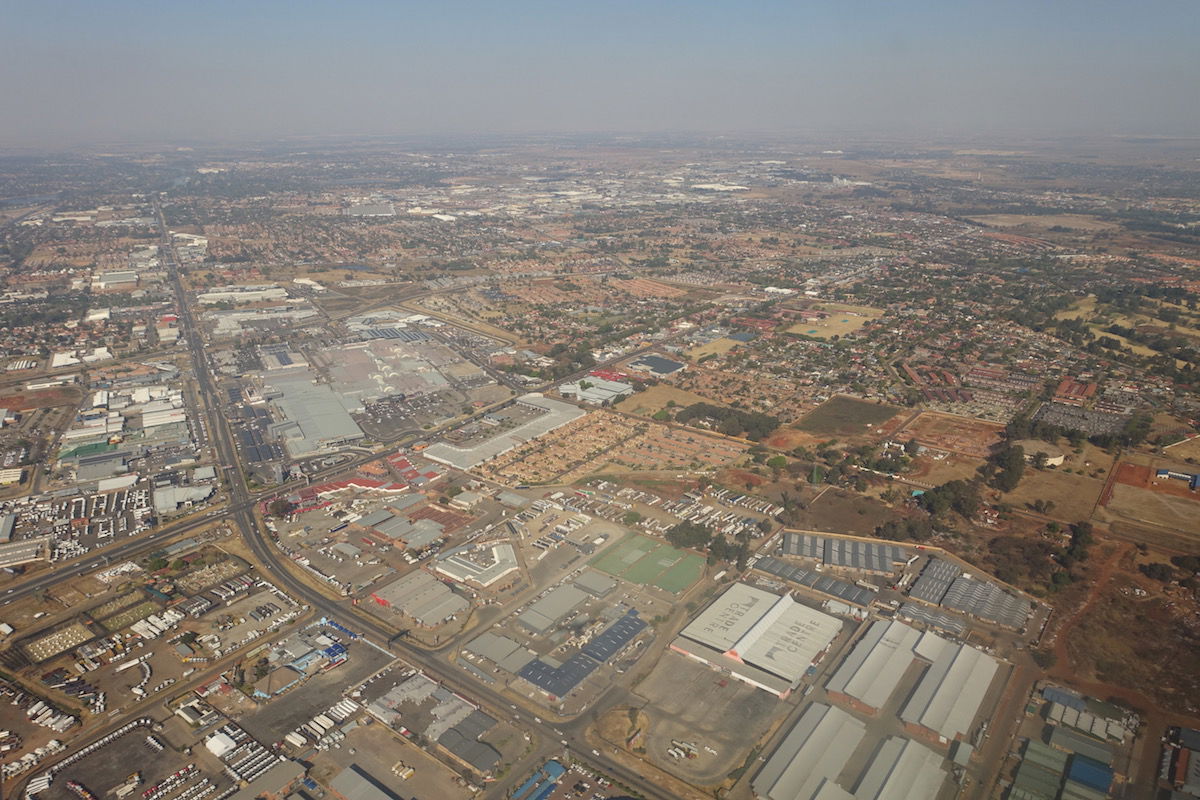 View after takeoff from Johannesburg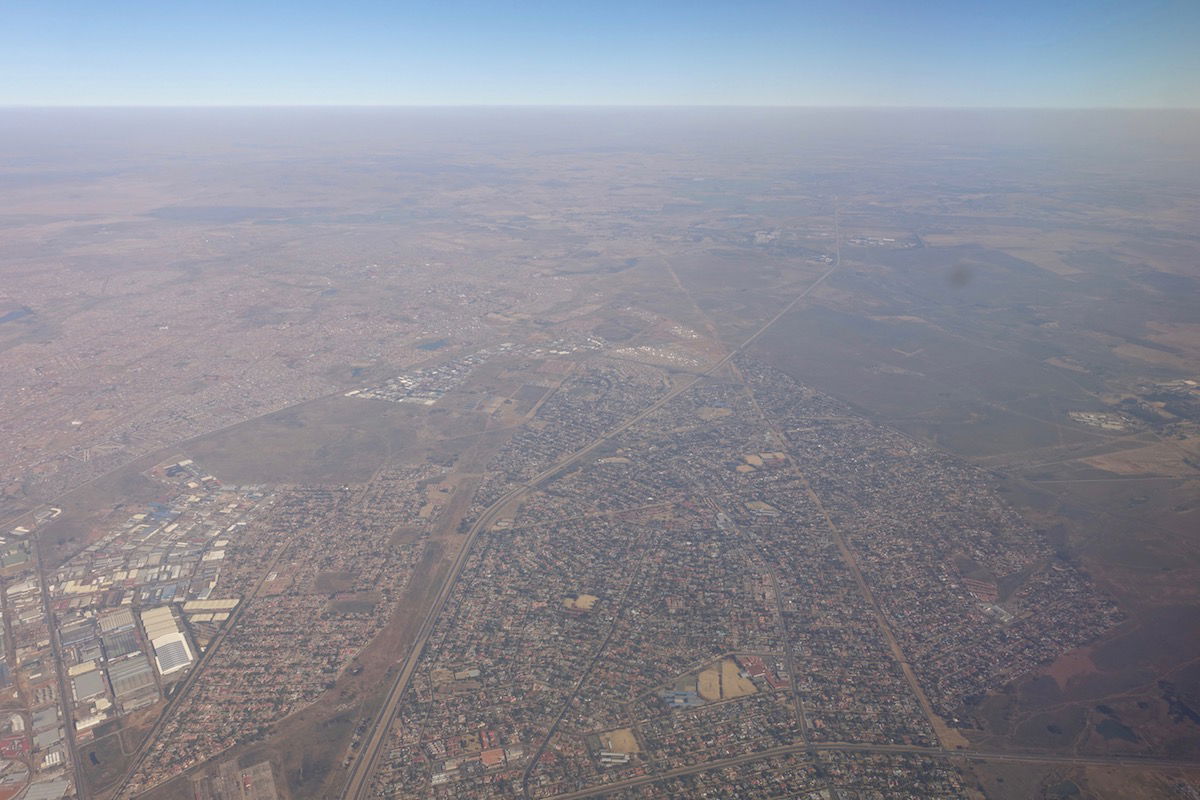 View enroute to Cape Town
The seatbelt sign was turned off about five minutes after takeoff, at which point the curtain was closed between cabins.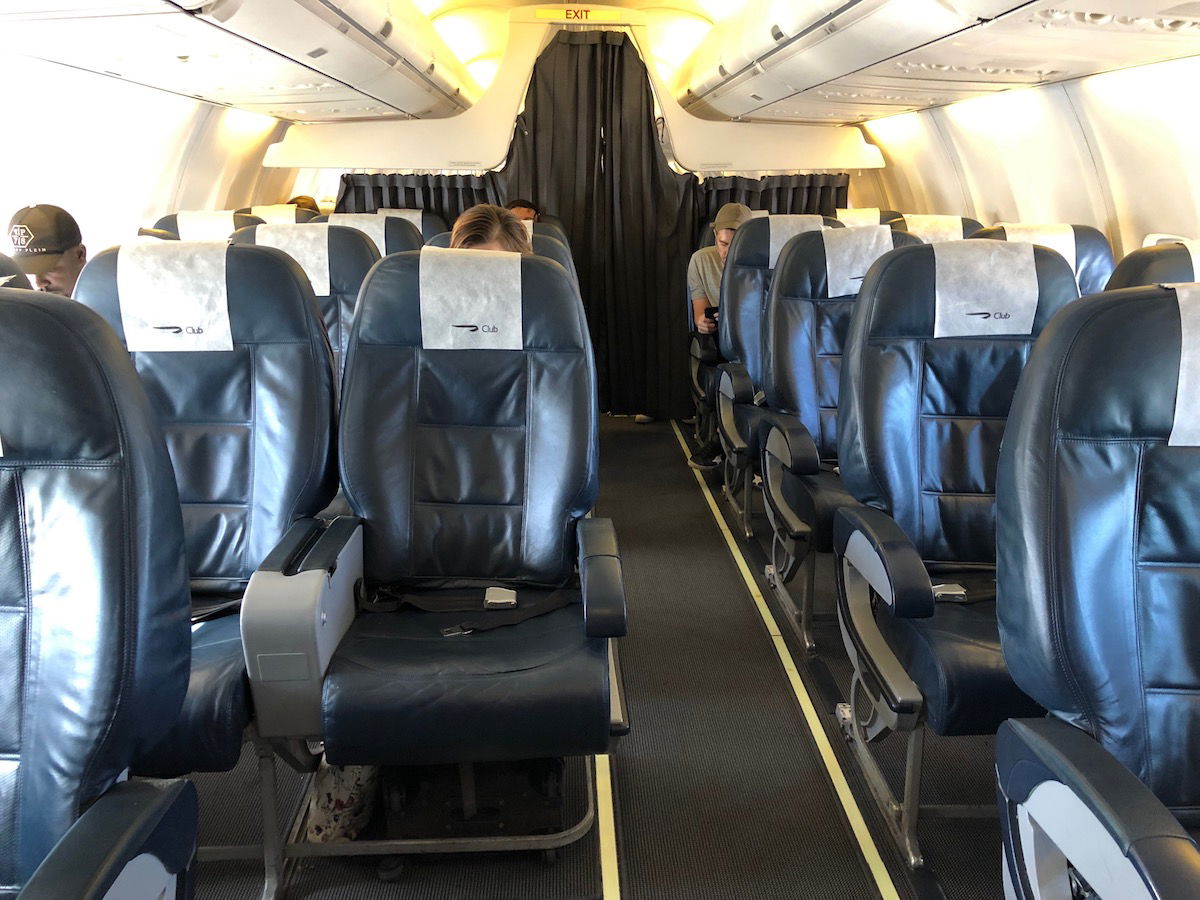 Comair 737 business class cabin
About 20 minutes after takeoff the inflight service began. There were five flight attendants onboard, and one of those was working business class (I'd guess they usually have two, but with such a light load that was unnecessary).
The flight attendant was incredibly indifferent. She wasn't rude, but there was zero charm to the service. First she presented us with warm towels, and also at that time she took drink orders. That simply consisted of her looking at us and saying "drinks?"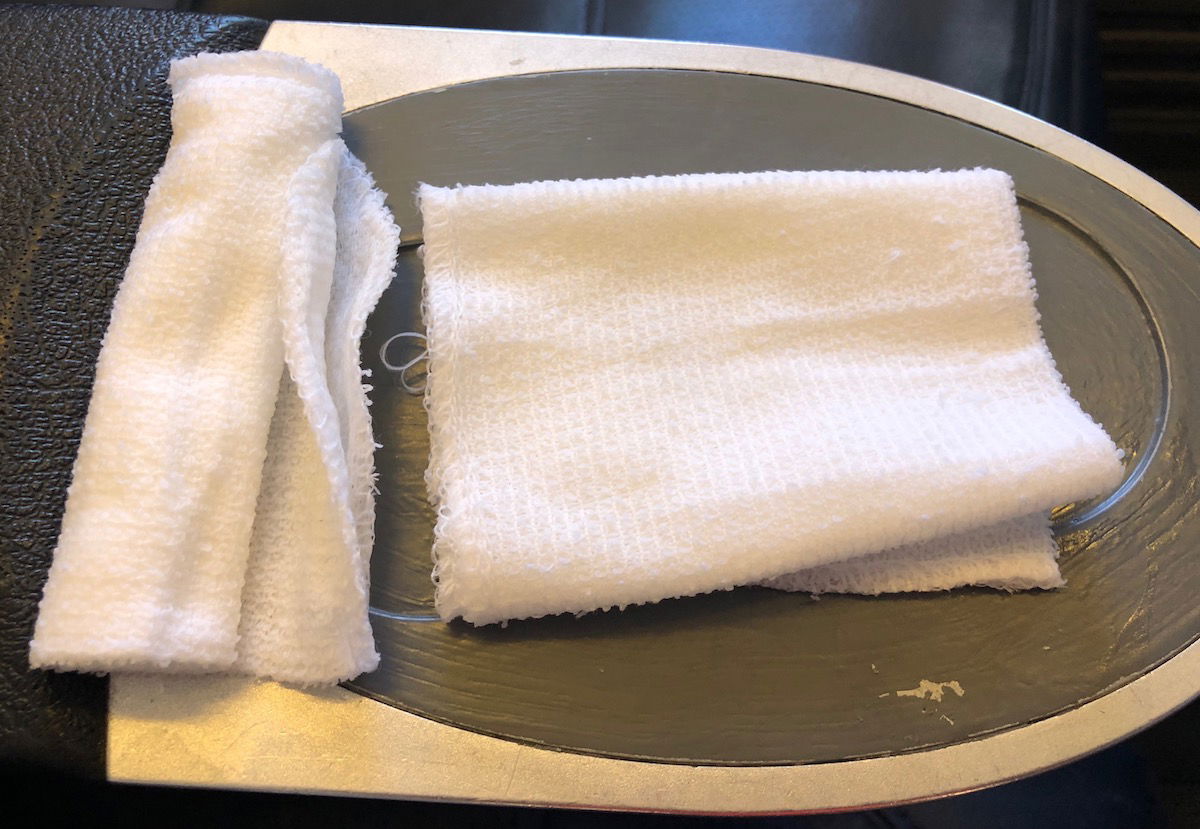 British Airways Comair business class warm towel
About 10 minutes later the first course was brought out. This included a side salad with cherry tomatoes and feta cheese, packaged nuts, cheese and crackers, and some dessert. There was also a bottle of water on the tray.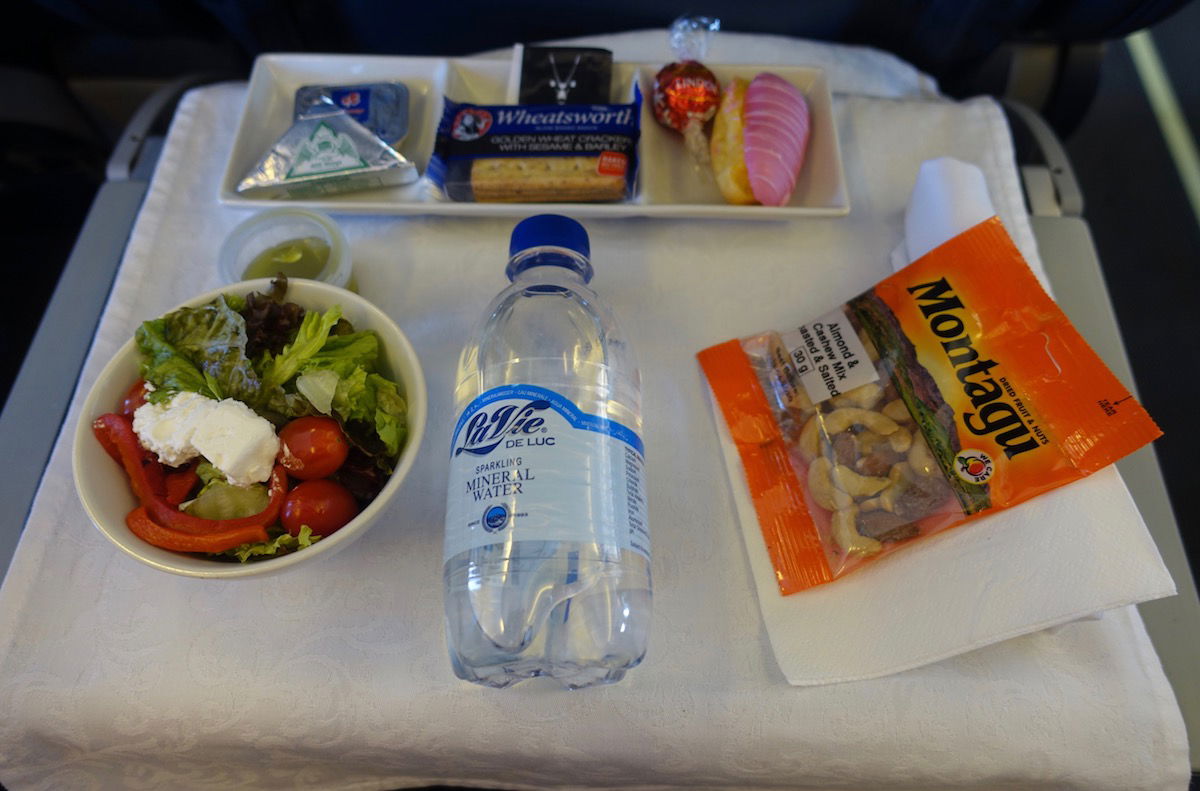 British Airways Comair business class meal
We were then offered bread rolls.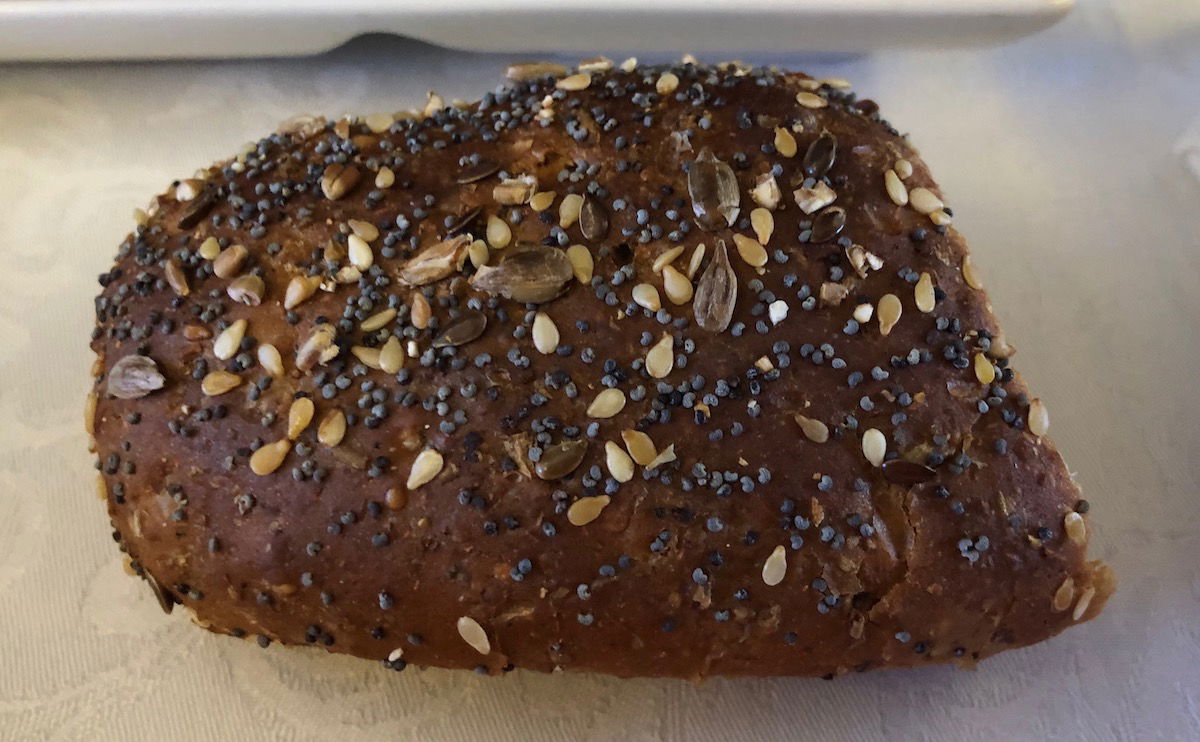 British Airways Comair business class meal
Before being served the main course our salad bowls were collected. That consisted of her coming up to us, holding out the tray, and saying "salad bowls."
There were three options for the main course — vegetarian curry with barley, feta butternut quiche, or a beef fillet.
Ford and I both had the quiche, which was quite good.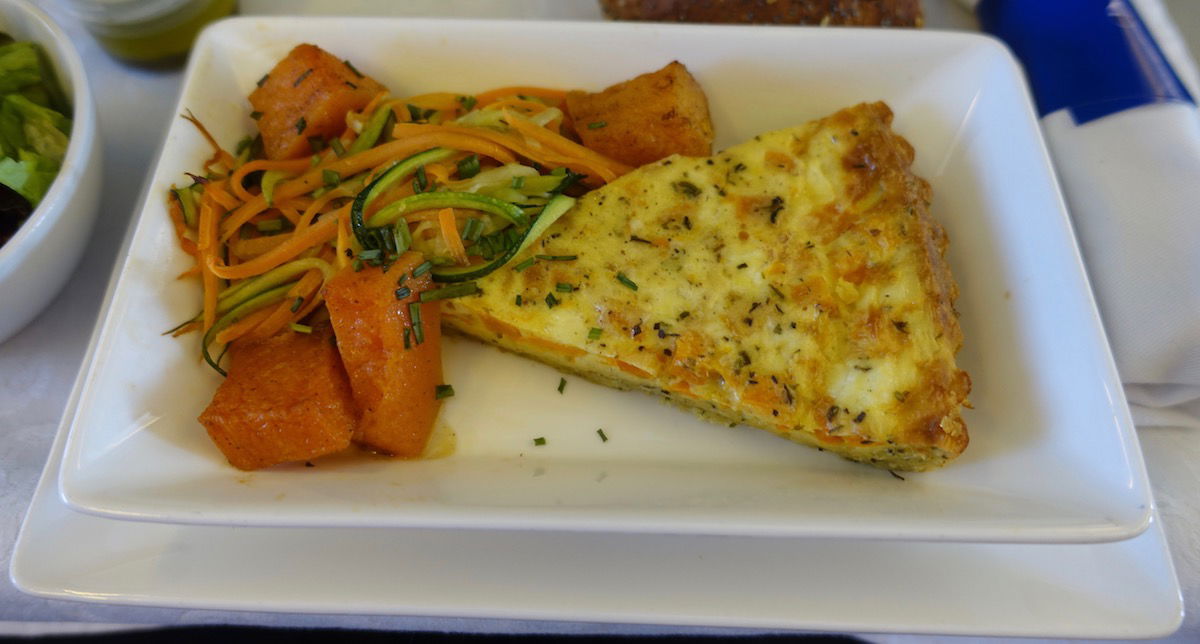 British Airways Comair business class meal
My dad had the vegetarian curry, which he enjoyed as well.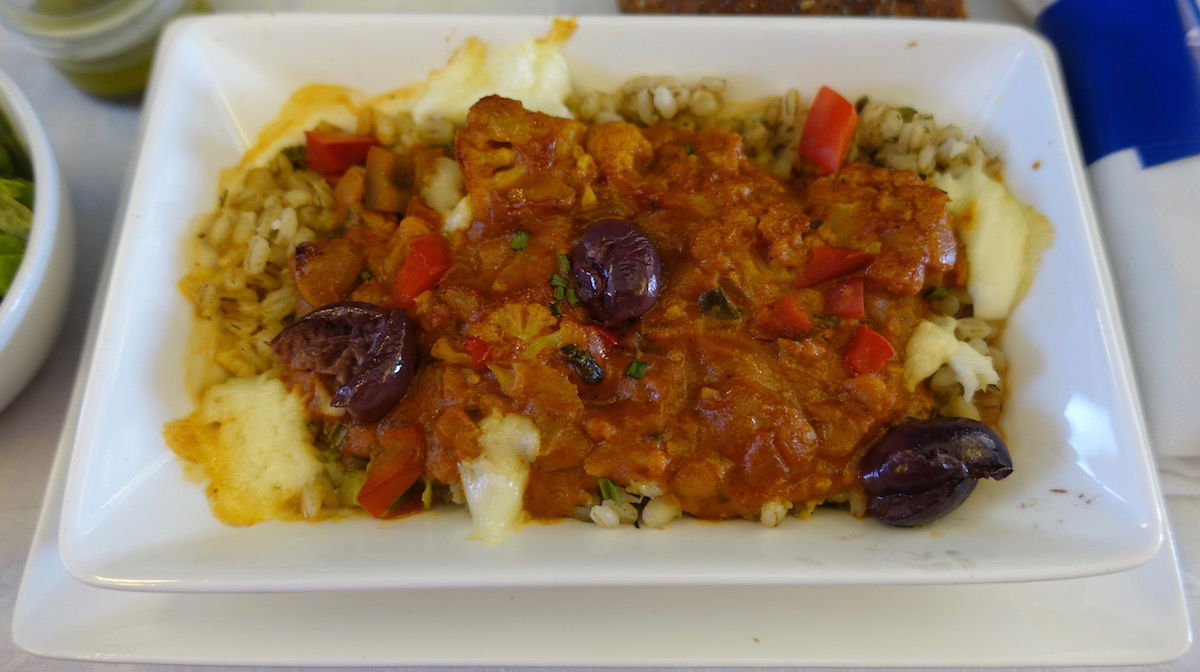 British Airways Comair business class meal
While there were no proactive offers for coffee or tea, I ordered a cup of coffee, which was pretty clearly powdered. I was also served a cookie with it.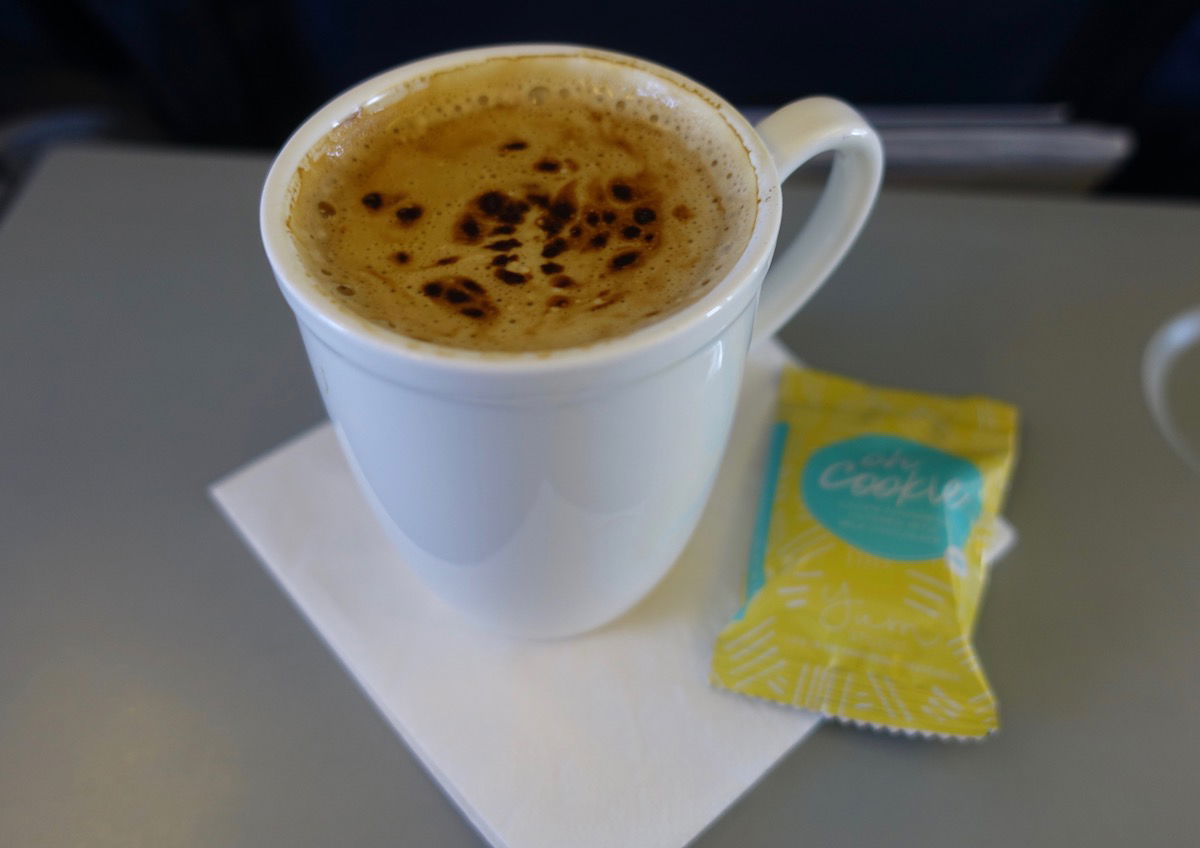 British Airways Comair business class coffee
After the meal I checked out the lavatory, which was basic.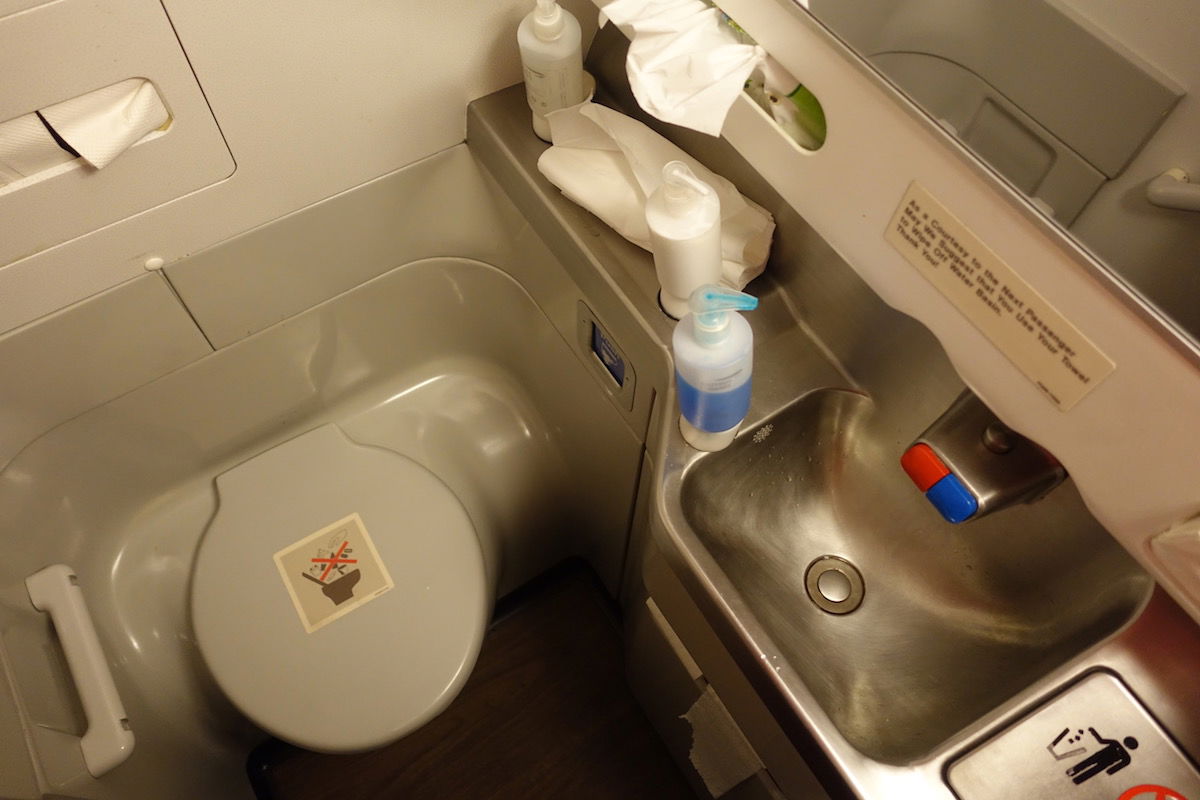 British Airways Comair business class lavatory
There was no Wi-Fi onboard, which is fair enough. What I found more annoying was that there were no power ports either. I spent a bit of time on my laptop working, and spent the rest of the flight talking to my dad and Ford.
At around 4:35PM the captain announced that we were starting our descent and should be landing "soon." 10 minutes after that the seatbelt sign was turned back on.
The descent was magical, partly thanks to how beautiful the area around Cape Town is, and partly thanks to us approaching right around sunset, which makes for the best views.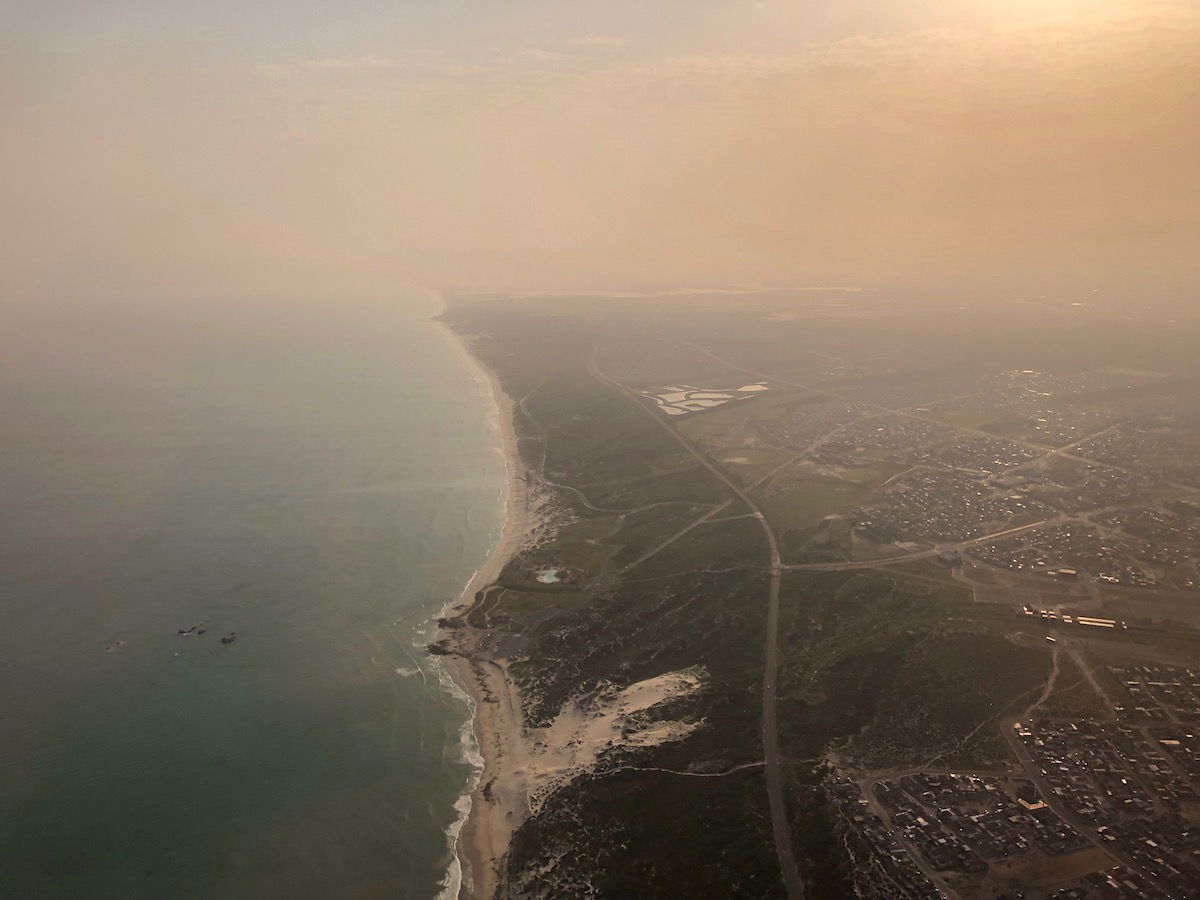 View approaching Cape Town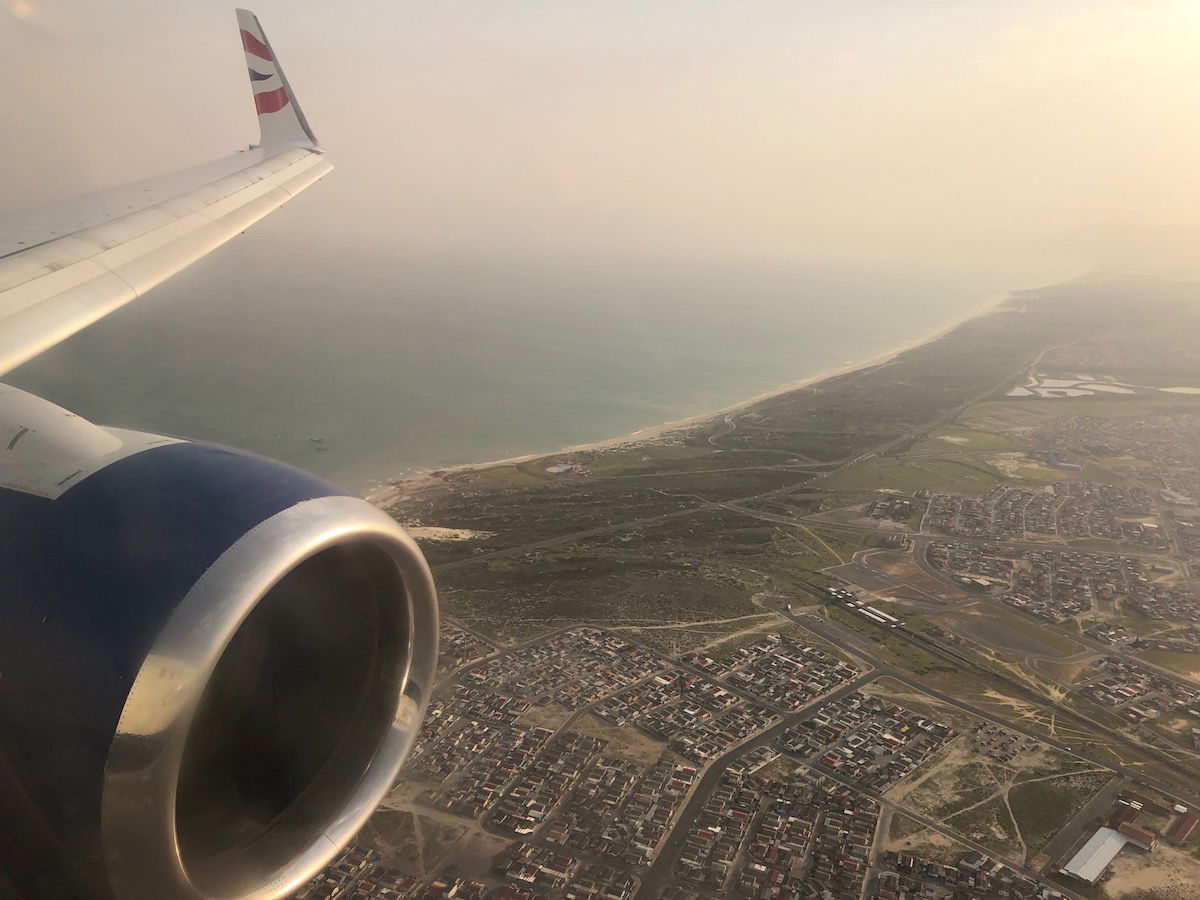 View approaching Cape Town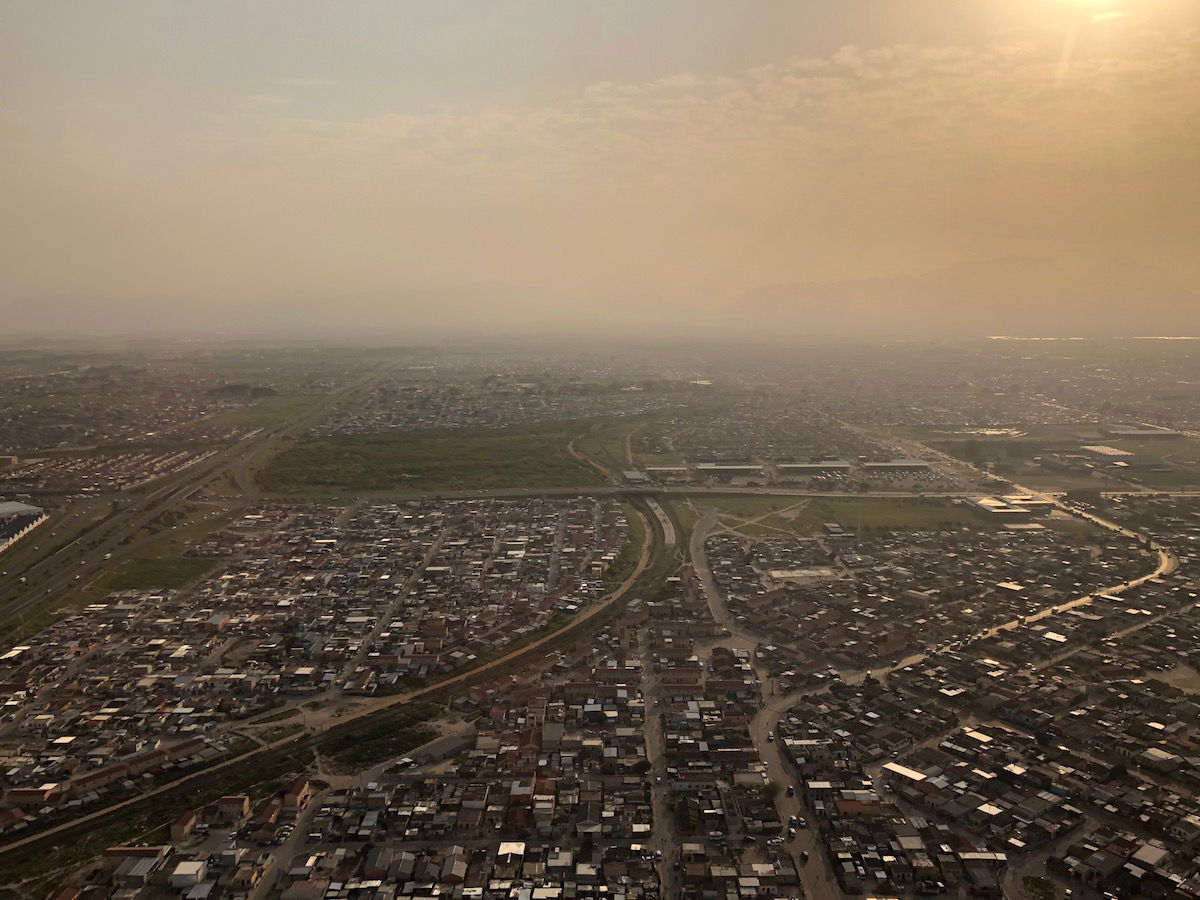 View approaching Cape Town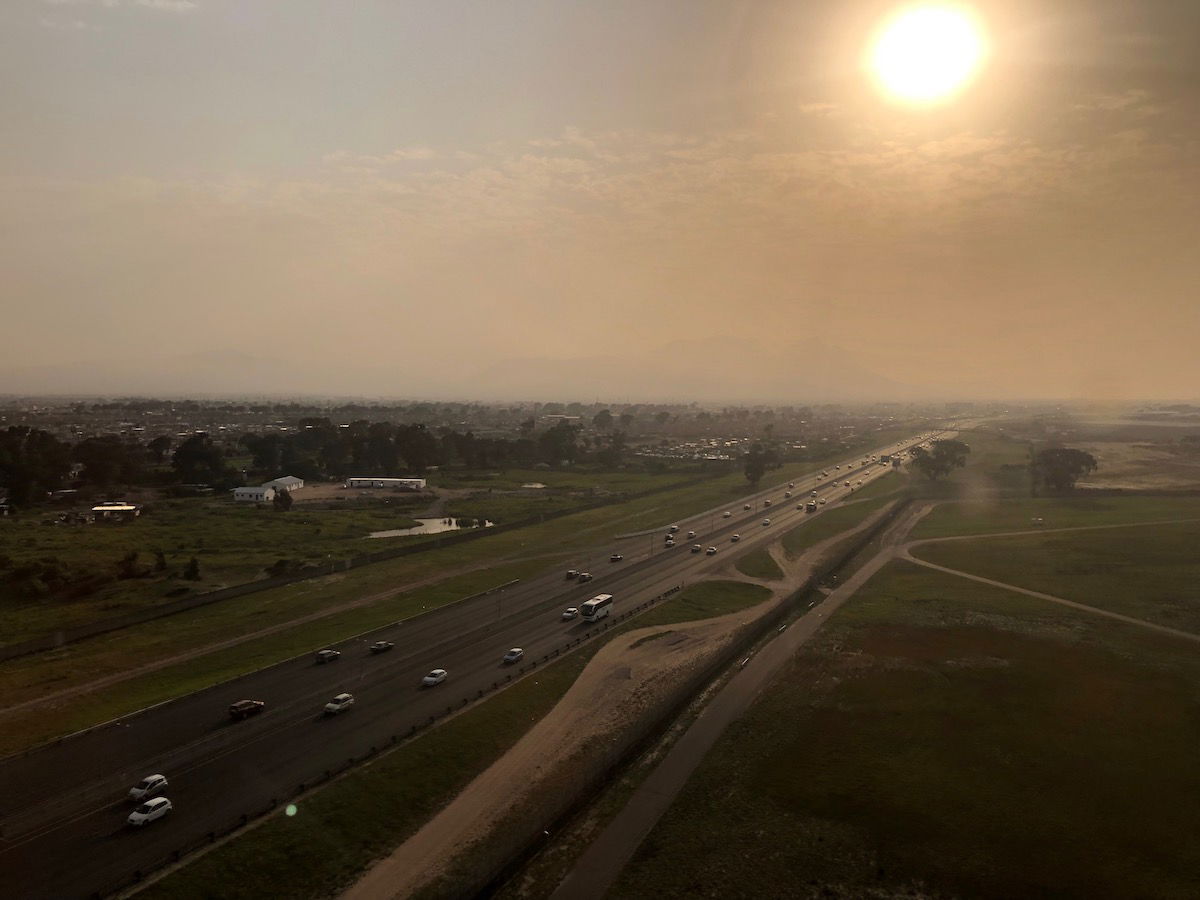 View approaching Cape Town
We ended up touching down in Cape Town right at 5PM. Hi, big bro!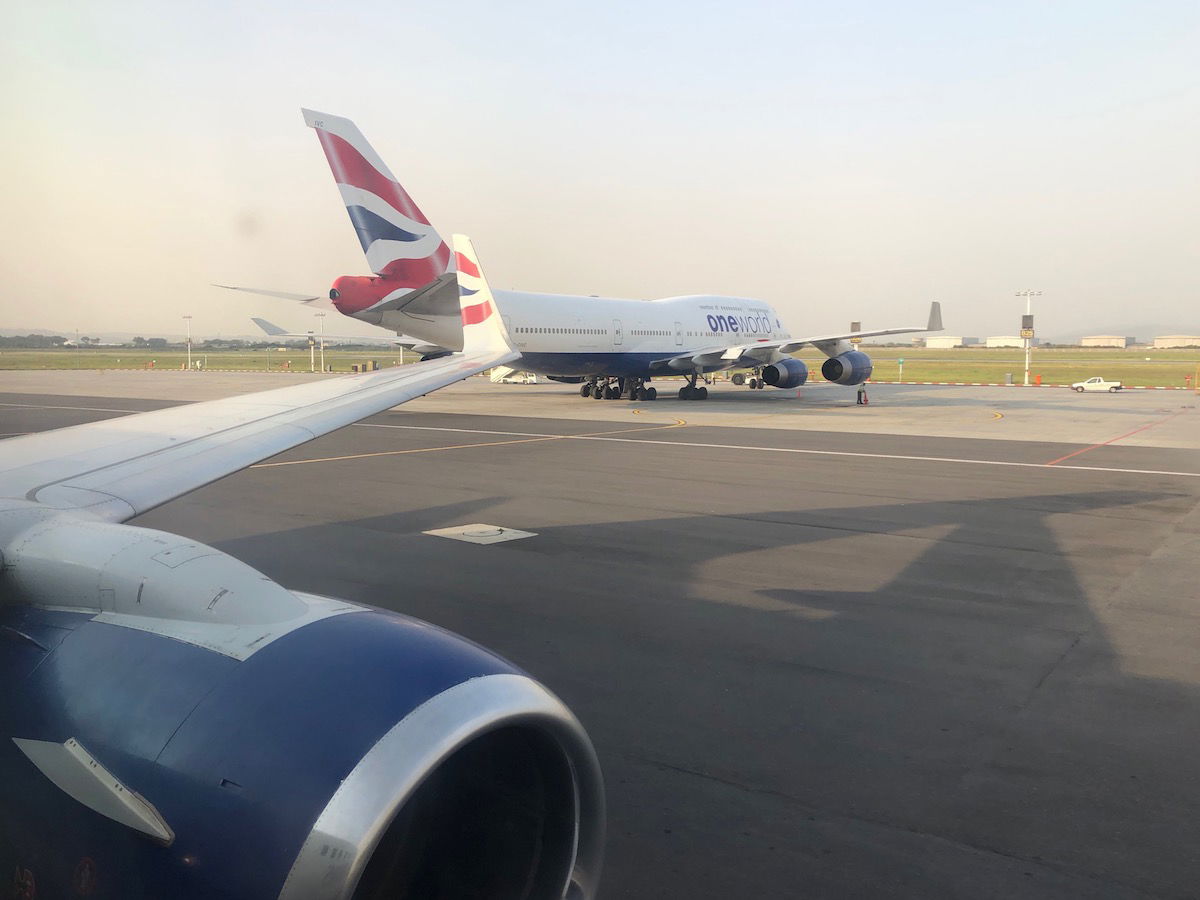 Taxiing Cape Town Airport
We ended up parking right next to another Comair 737 by 5:05PM.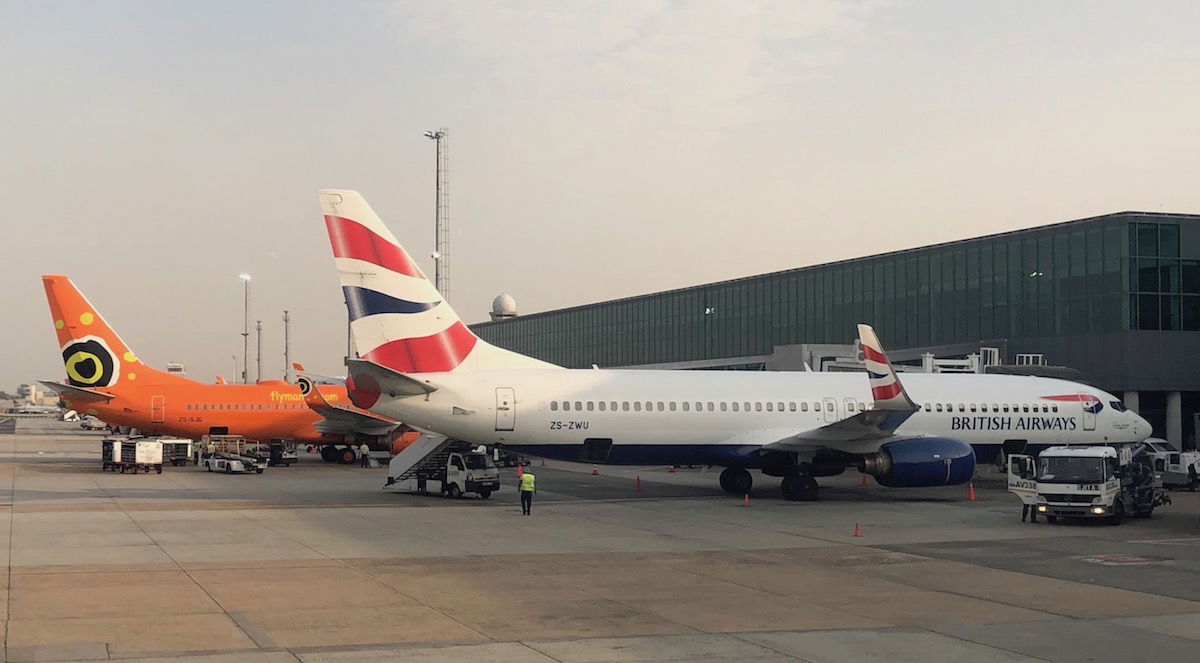 Arrival gate Cape Town Airport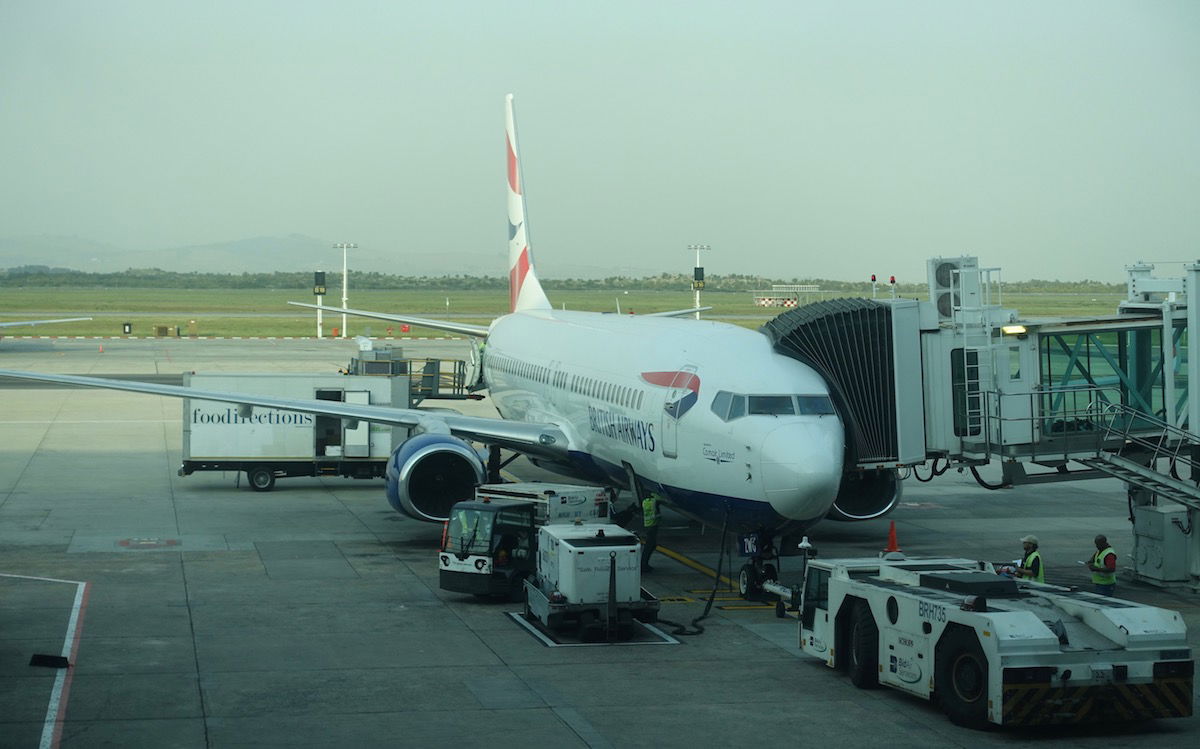 British Airways Comair 737 upon arrival
From there it was just a short walk to the arrivals hall, and we were off to our outstanding hotel for the next three days.
Comair Business Class Bottom Line
I was intrigued by British Airways' South African franchise, largely because there's something weird about seeing a 737 in British Airways' livery.
In the end flying with Comair was exactly what I was expected — the 2-3 configuration was similar to what South African Airways has on their narrow body planes, and the food was relatively good.
Service was a bit of a letdown. I don't think you'll often get Singapore Airlines levels of service on Comair, but I do think we just got a bad apple in terms of the degree to which the flight attendant was indifferent.
If you've flown British Airways Comair, what was your experience like?