---
Since you guys seemed to enjoy my recent review of Delta's 737 first class, I've decided to review more domestic (or in this case transborder) flights. To kick off our awesome trip, Ford and I flew to Toronto, which is where we were meeting my dad (he flew to Toronto on Air Canada Rouge from Tampa).
Booking our American flight
The schedule that worked best for us was an American Airlines flight departing in the morning from Miami to Toronto. The flight was operated by an A319, which has just eight first class seats. Because of the small cabin, upgrades on this plane are notoriously difficult.
We booked about a week out and there were only two first class seats for sale. We ended up paying about $400 per person to buy those seats outright. That was about $150 more per person than we would have paid for economy, so that seemed worthwhile since the upgrades seemed unlikely.
American A319 first class review
Miami is my home airport, and it was a pleasantly quiet day. Usually the TSA PreCheck line even has a long queue, but in this case we were through in a matter of minutes. While Miami Airport has several Priority Pass restaurants and an Amex Centurion Lounge, usually I just go to the Admirals Club.
Why? Because there are two convenient locations, and they're surprisingly quiet, especially in the mornings. If we were hungry we would have gone to a Priority Pass restaurant, while I find the Centurion Lounge is often crowded. I get access to the Admirals Club on account of my Citi AAdvantage Executive Card.
We spent about 30 minutes in the lounge before heading to our departure gate.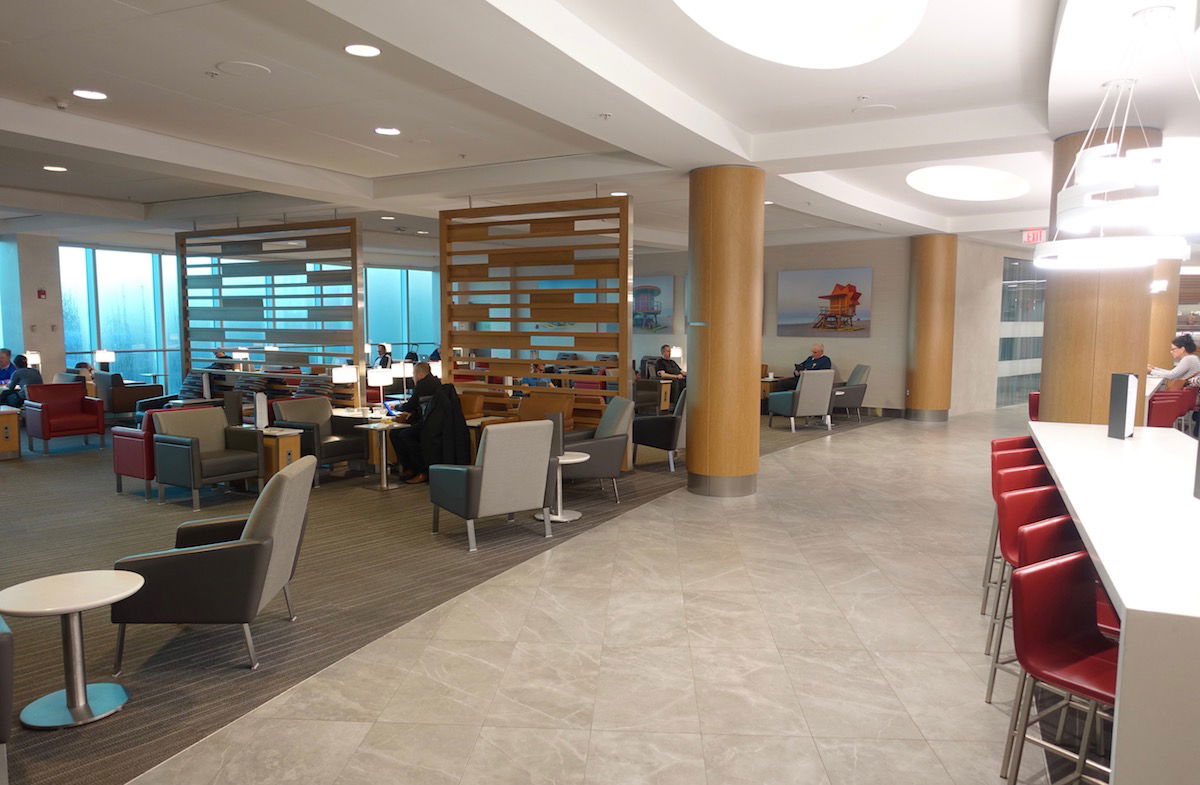 American Admirals Club Miami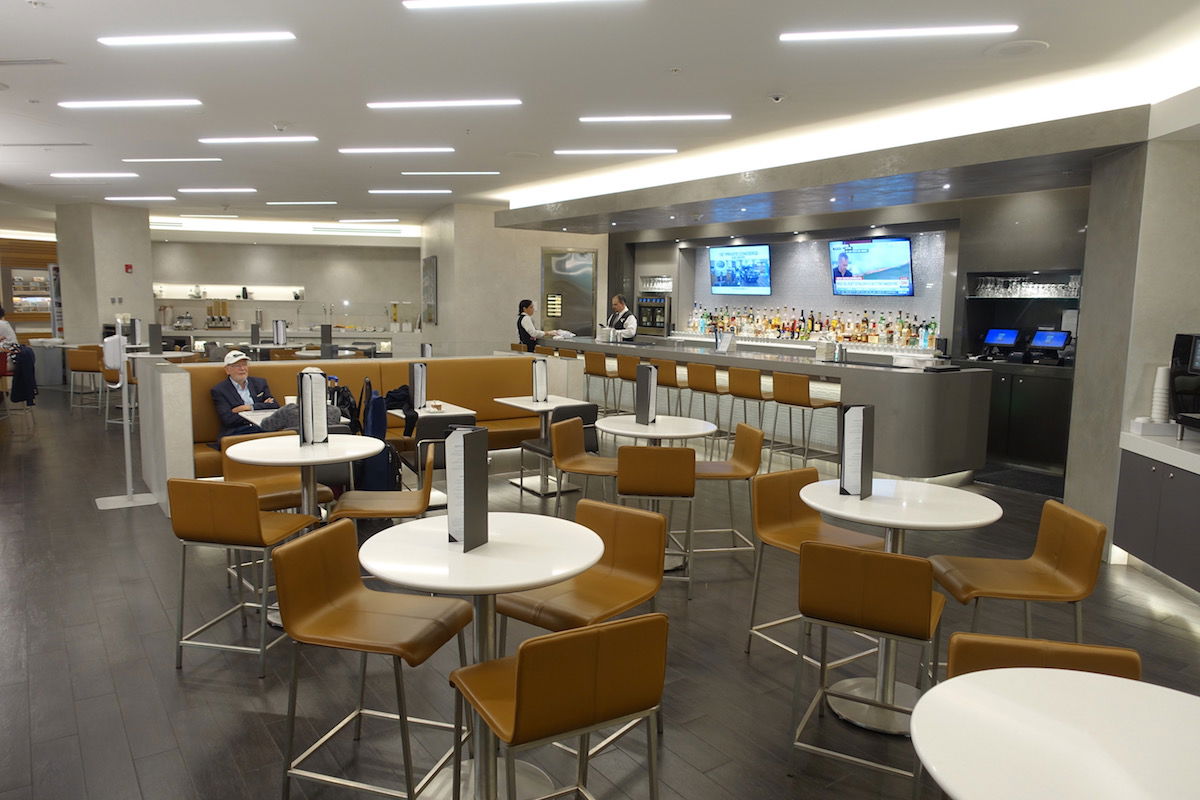 American Admirals Club Miami
Our flight was departing from gate D41, just a five minute walk from the D30 Admirals Club.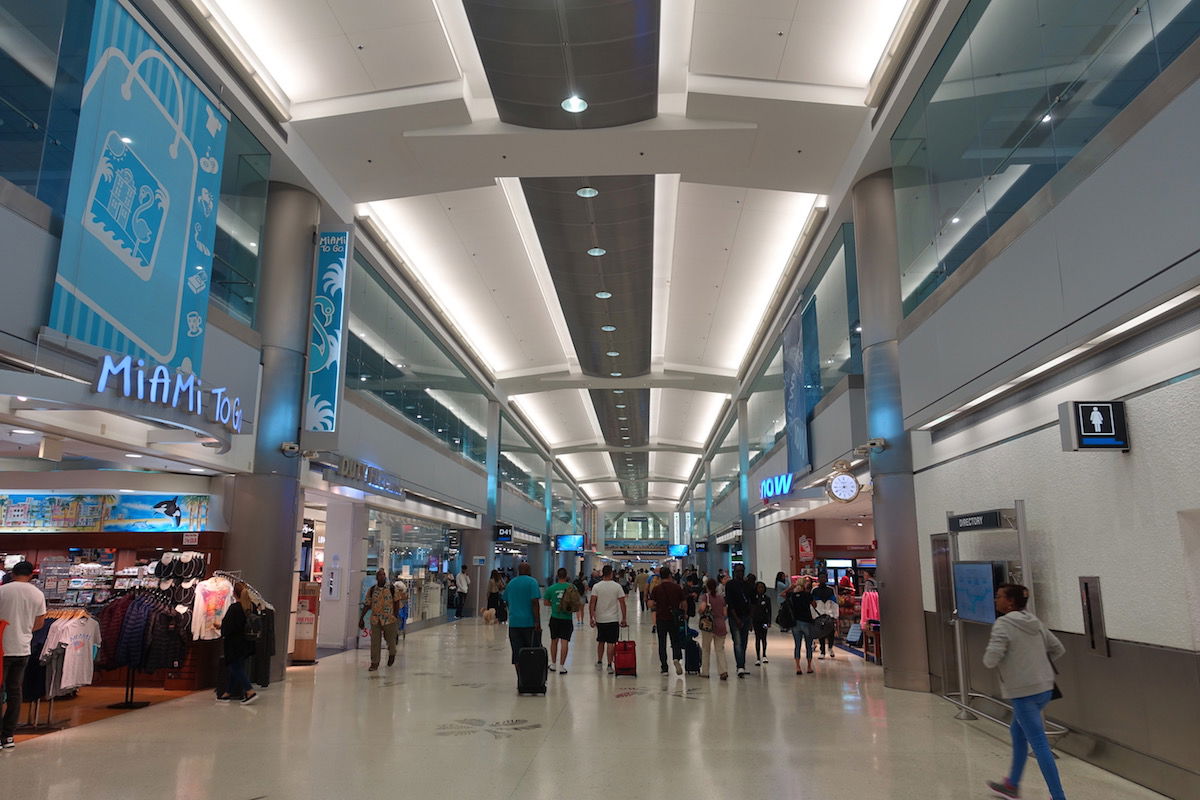 Miami Airport terminal
Boarding was scheduled for 8:08AM, and sure enough boarding started a couple of minutes after that. Concierge Key members were invited to board first, followed by first class.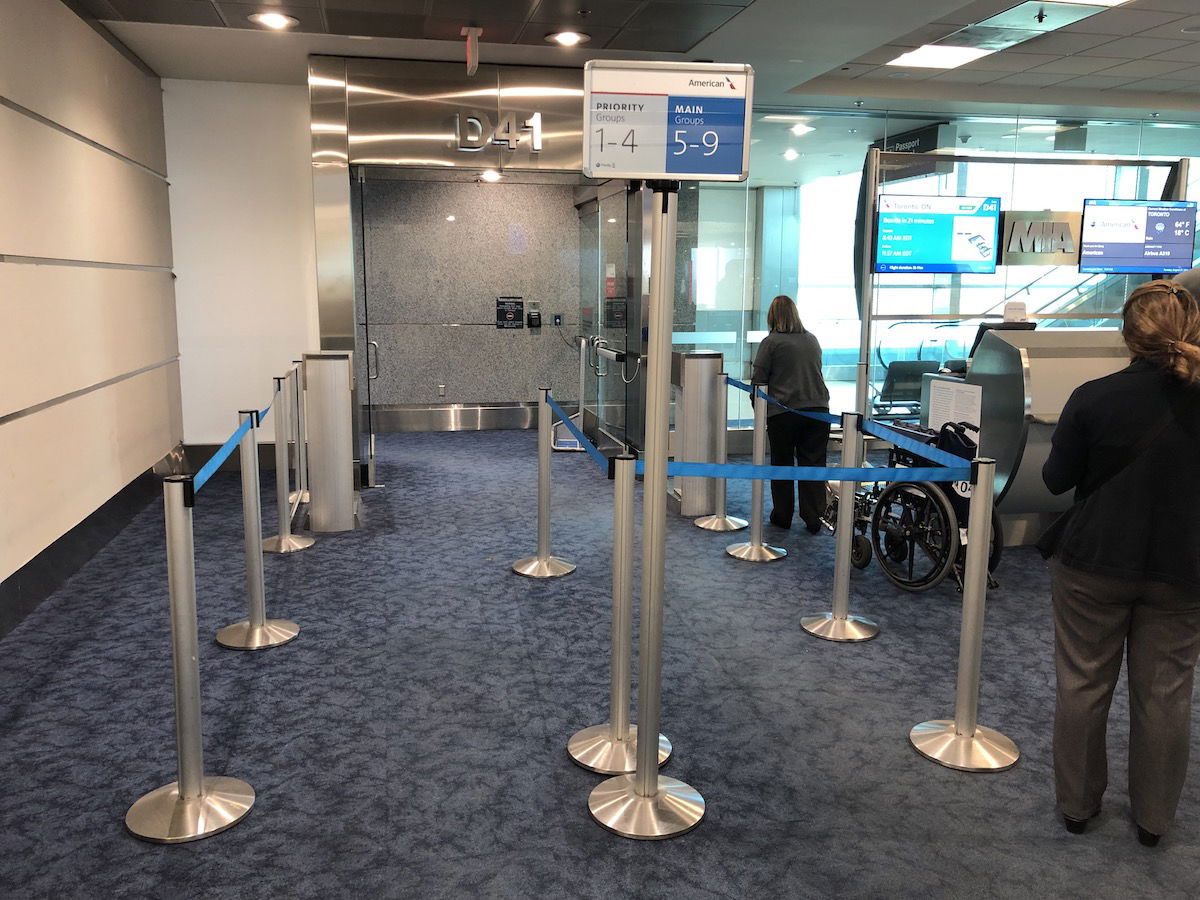 American Airlines departure gate
American 2676
Miami (MIA) – Toronto (YYZ)
Tuesday, August 27
Depart: 8:43AM
Arrive: 11:57AM
Duration: 3hr14min
Aircraft: Airbus A319
Seat: 1A (First Class)
It's always nice boarding an American Airlines flight and seeing the sticker right by the door reminding you that you're flying on a five star airline. In fairness, on this particular day American was actually performing like a five star airline (give or take).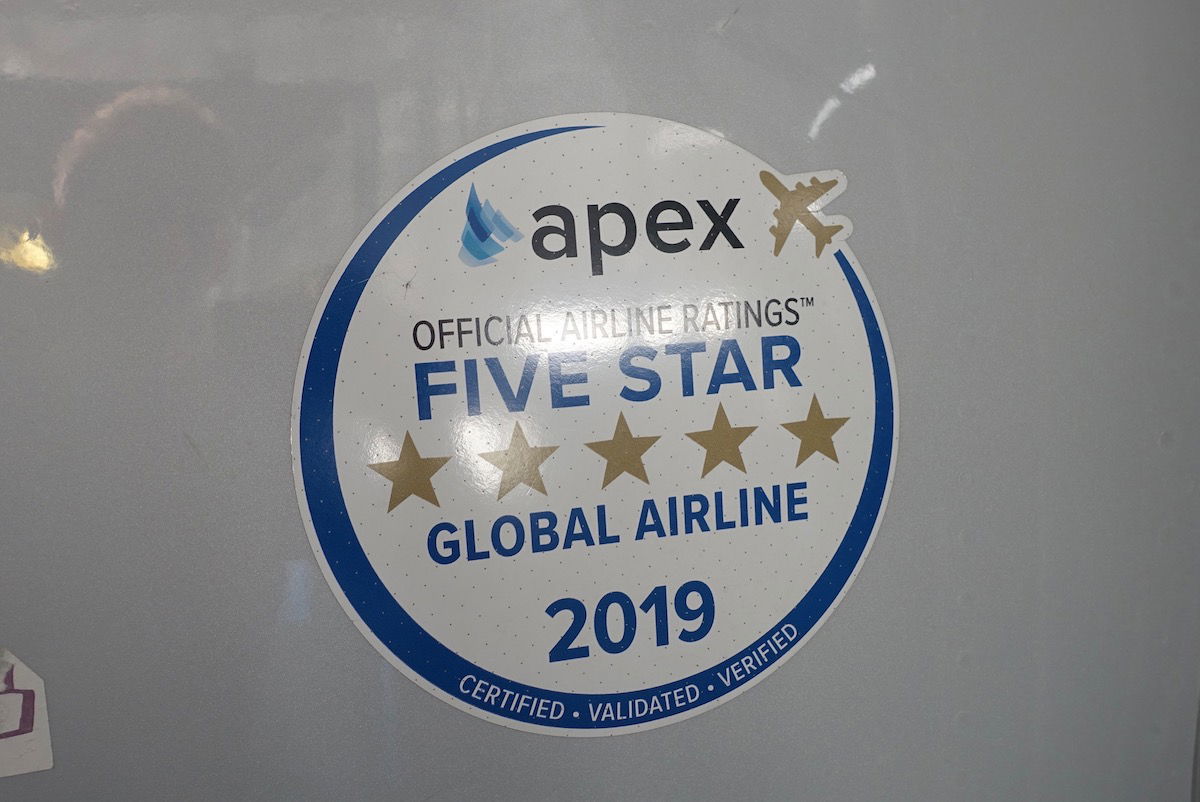 American Airlines five star airline
At the door I was greeted by the friendly lead flight attendant. American's A319 first class cabin sure is intimate. That's bad news if you're trying to get an upgrade, though it's good news if you're seated in the cabin, since service is more attentive and it also feels pretty private.
I lucked out here because I was on one of American's "nice" A319s. This was an ex-American A319, which came installed with personal televisions and comfortable seats. Meanwhile the ex-US Airways A319s aren't nearly as comfortable. Eventually they'll make all A319s less nice.
There were two rows of seats in a 2-2 configuration.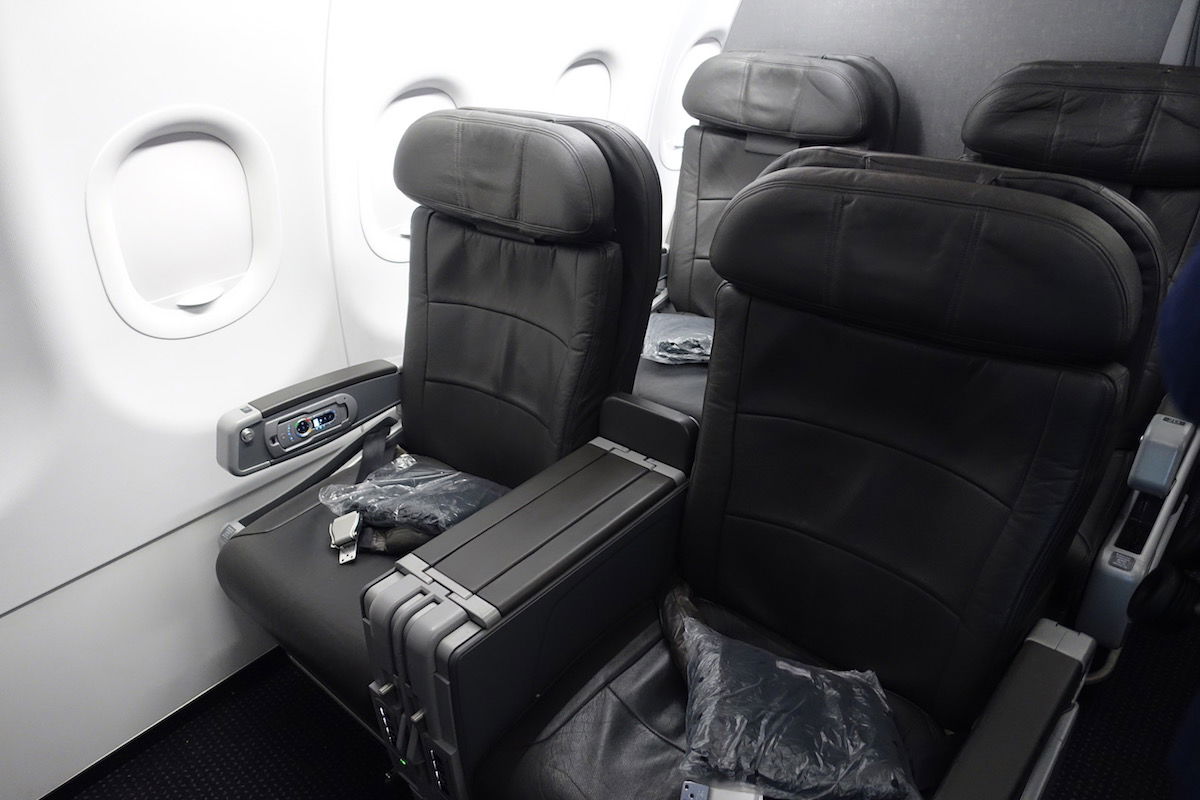 American Airlines A319 first class cabin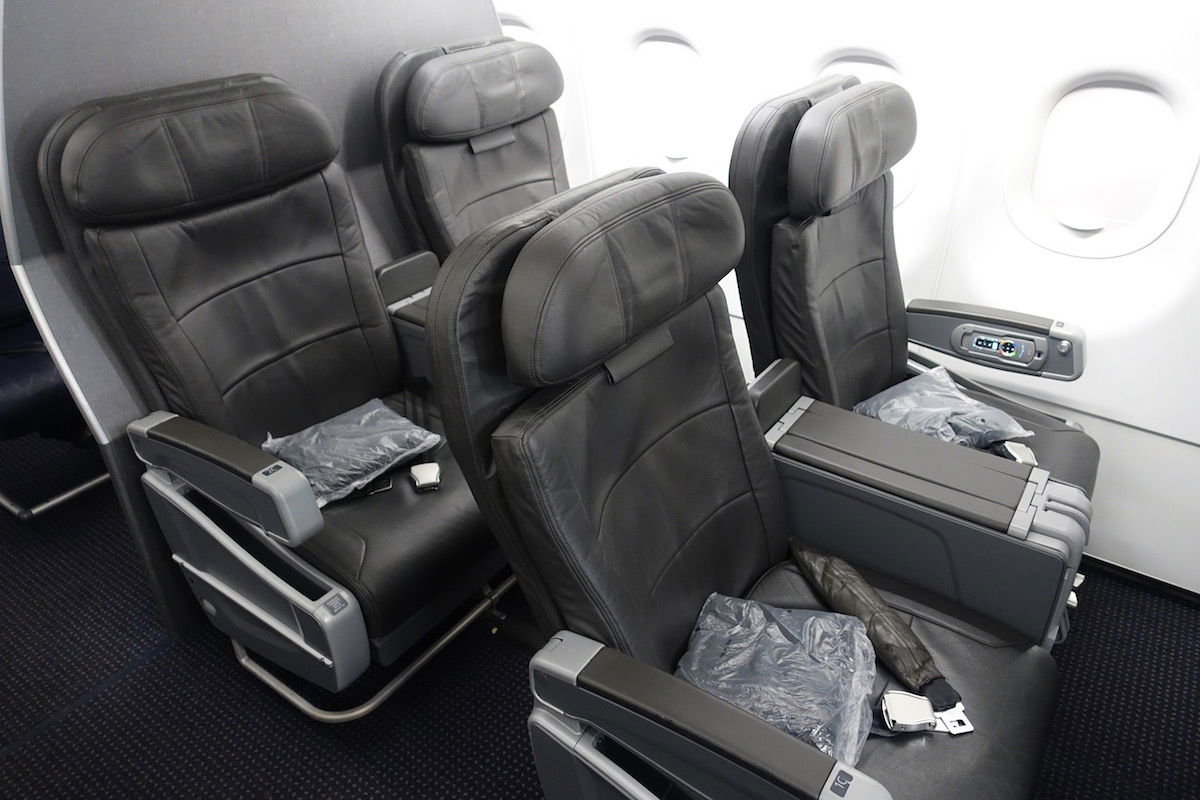 American Airlines first class cabin A319
Ford and I were in seats 1A & 1C.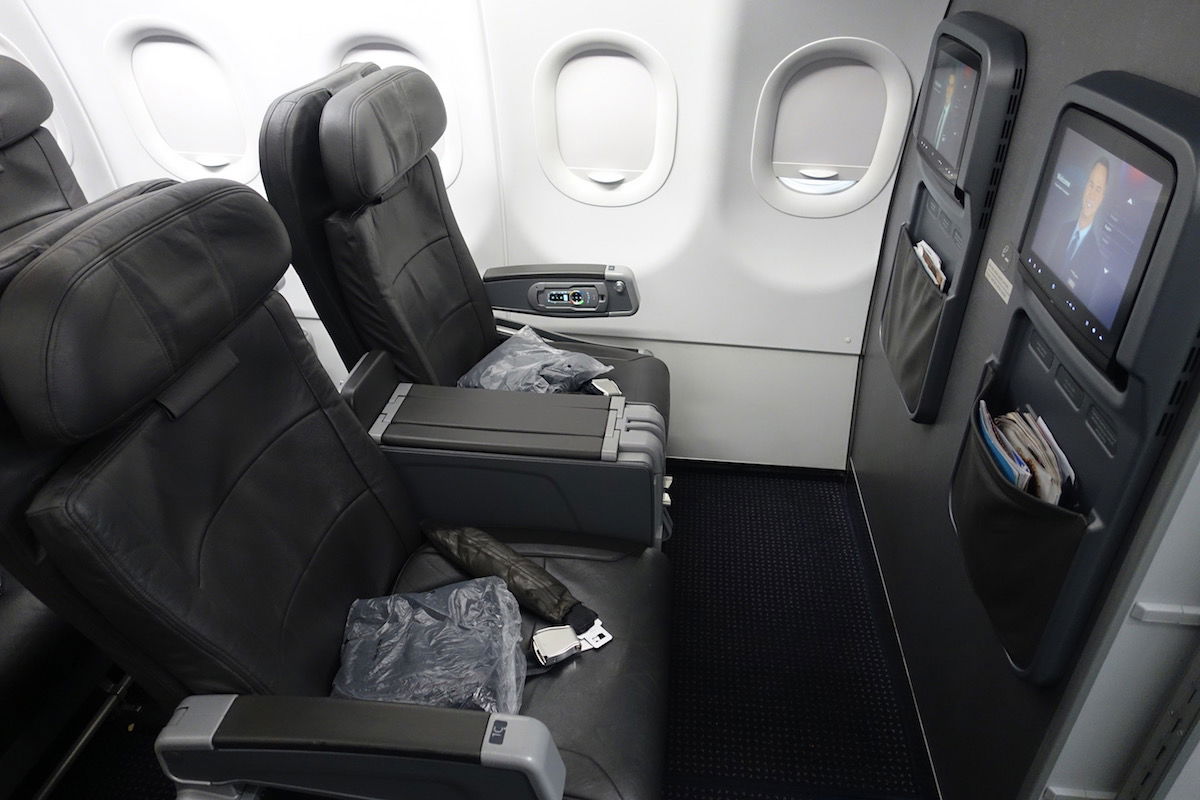 American Airlines first class seats A319
The padding and design of these seats was excellent, much more so than the new style seats that American is installing.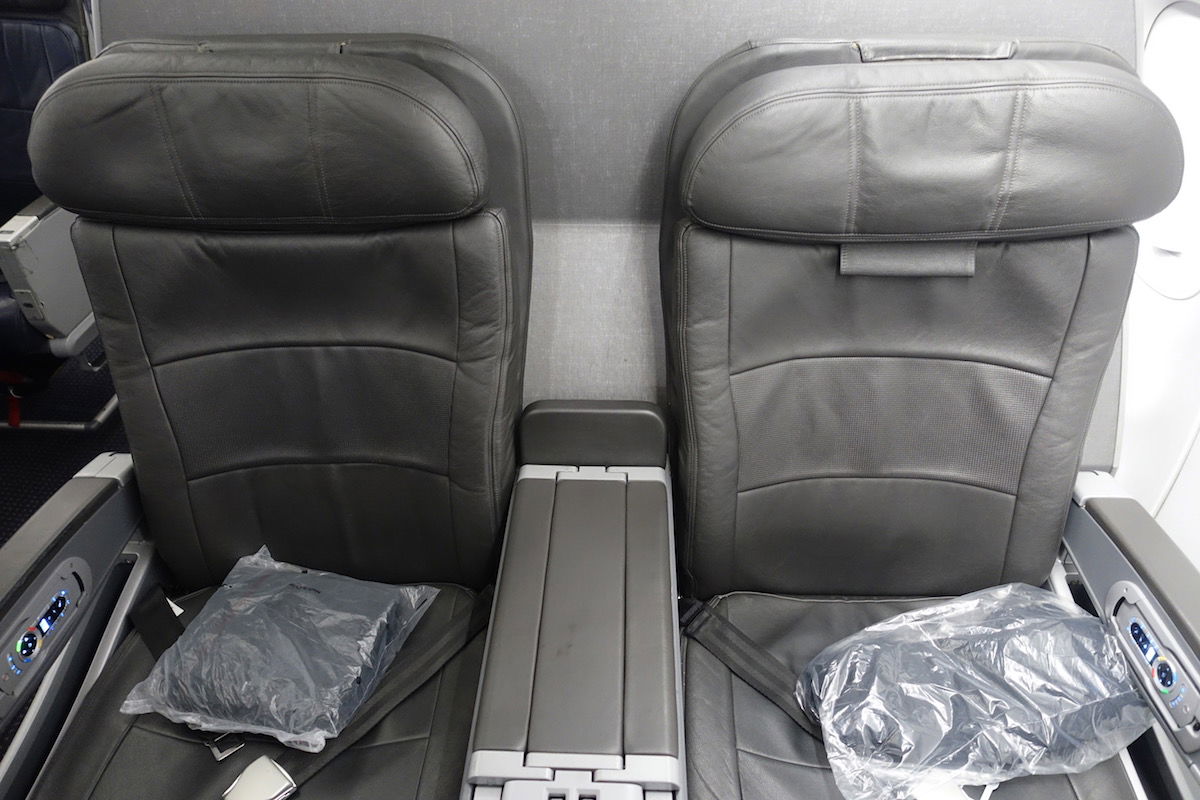 American Airlines first class seats A319
Personal televisions were on the bulkhead. In addition to them being touchscreen, there was also an entertainment controller on the far armrest that you could use to select your entertainment.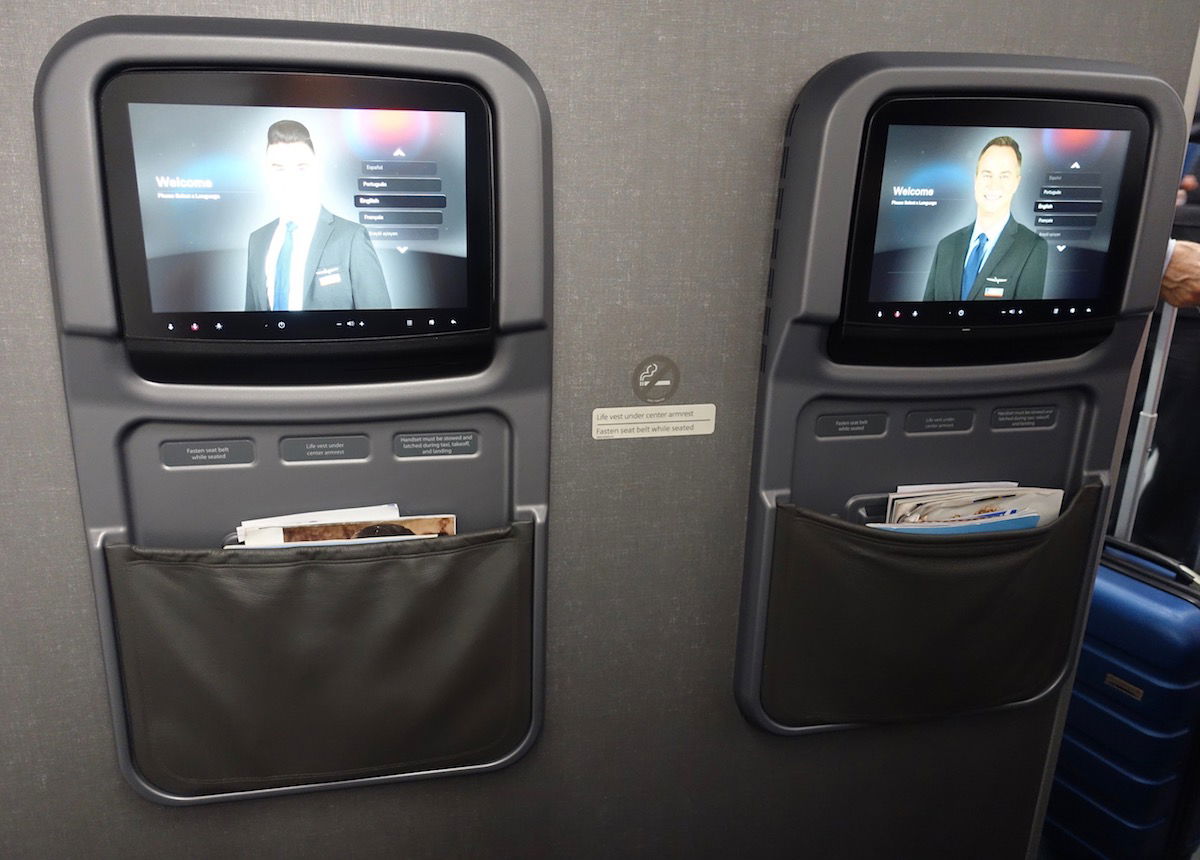 American Airlines first class personal televisions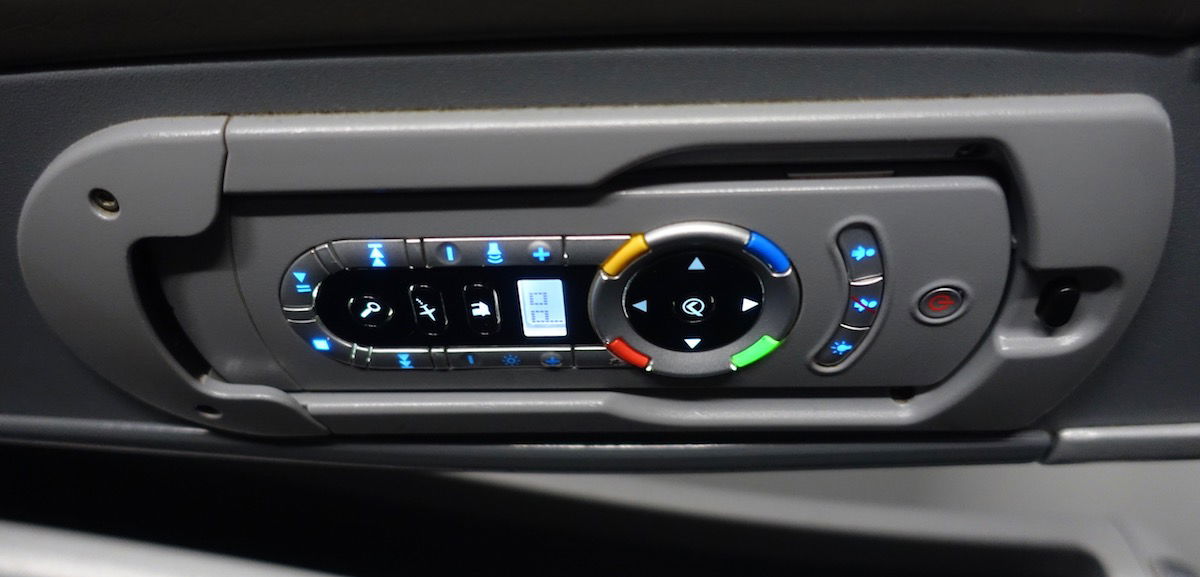 American Airlines first class entertainment controller
The tray table folded out from the center armrest, and could be flipped over in half.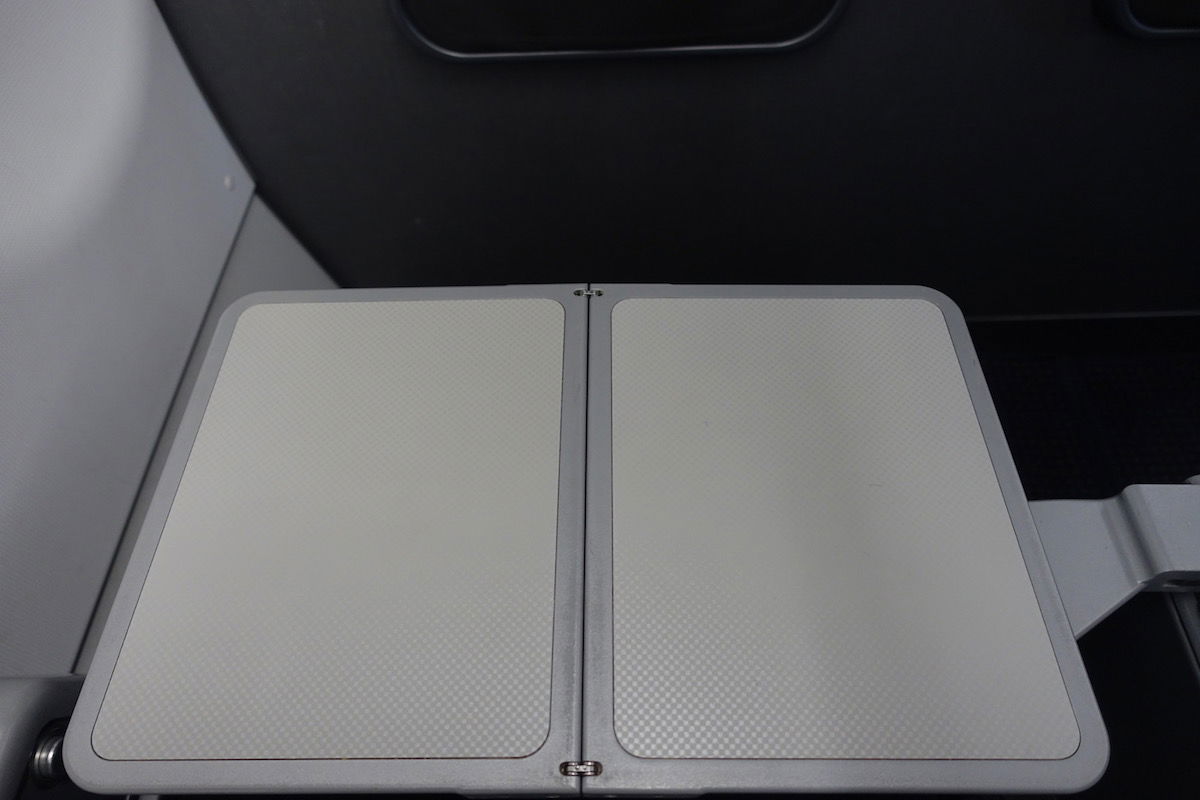 American Airlines first class tray table
I also like that these seats have little drink trays that can be raised from the center armrest, which are great if you want somewhere to put a drink without using your full tray table.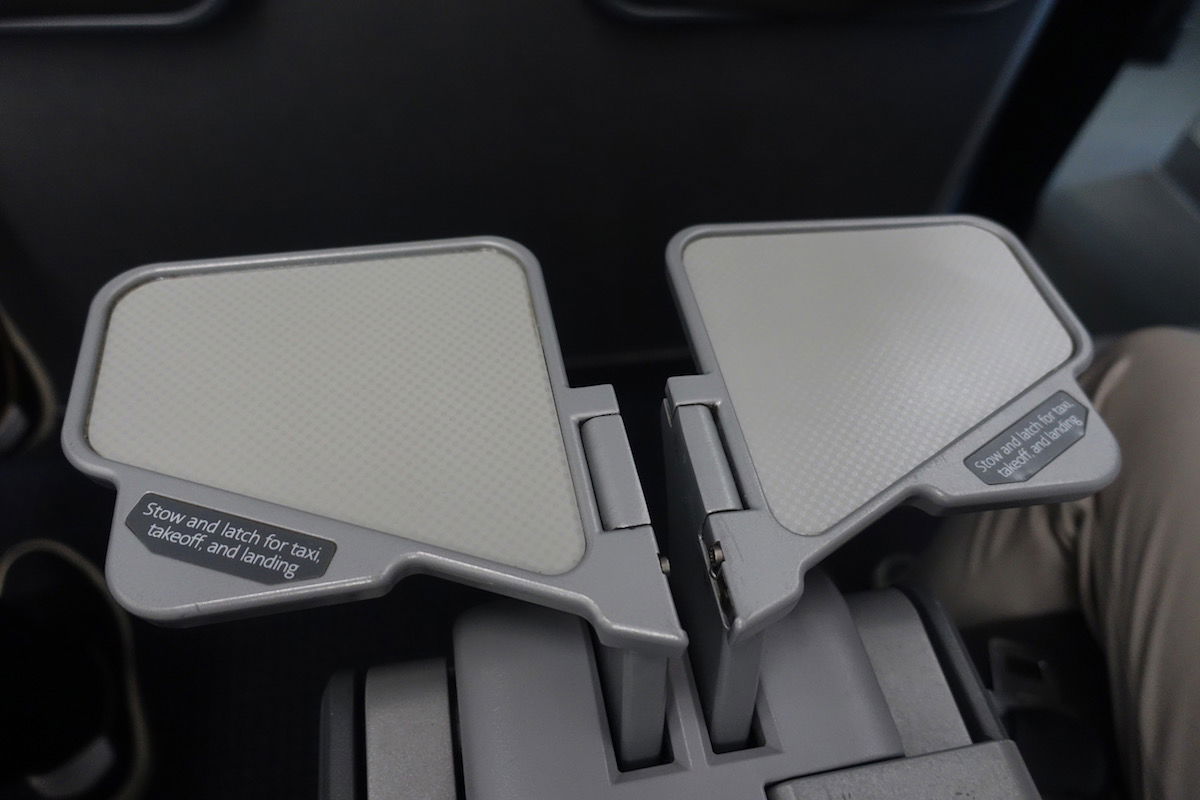 American Airlines first class drink trays
The power outlets (including 110v and USB outlets) plus headphone jack were underneath the center armrest. This is such a better location than where American is installing power on their reconfigured planes (which is to the back corner of the seat).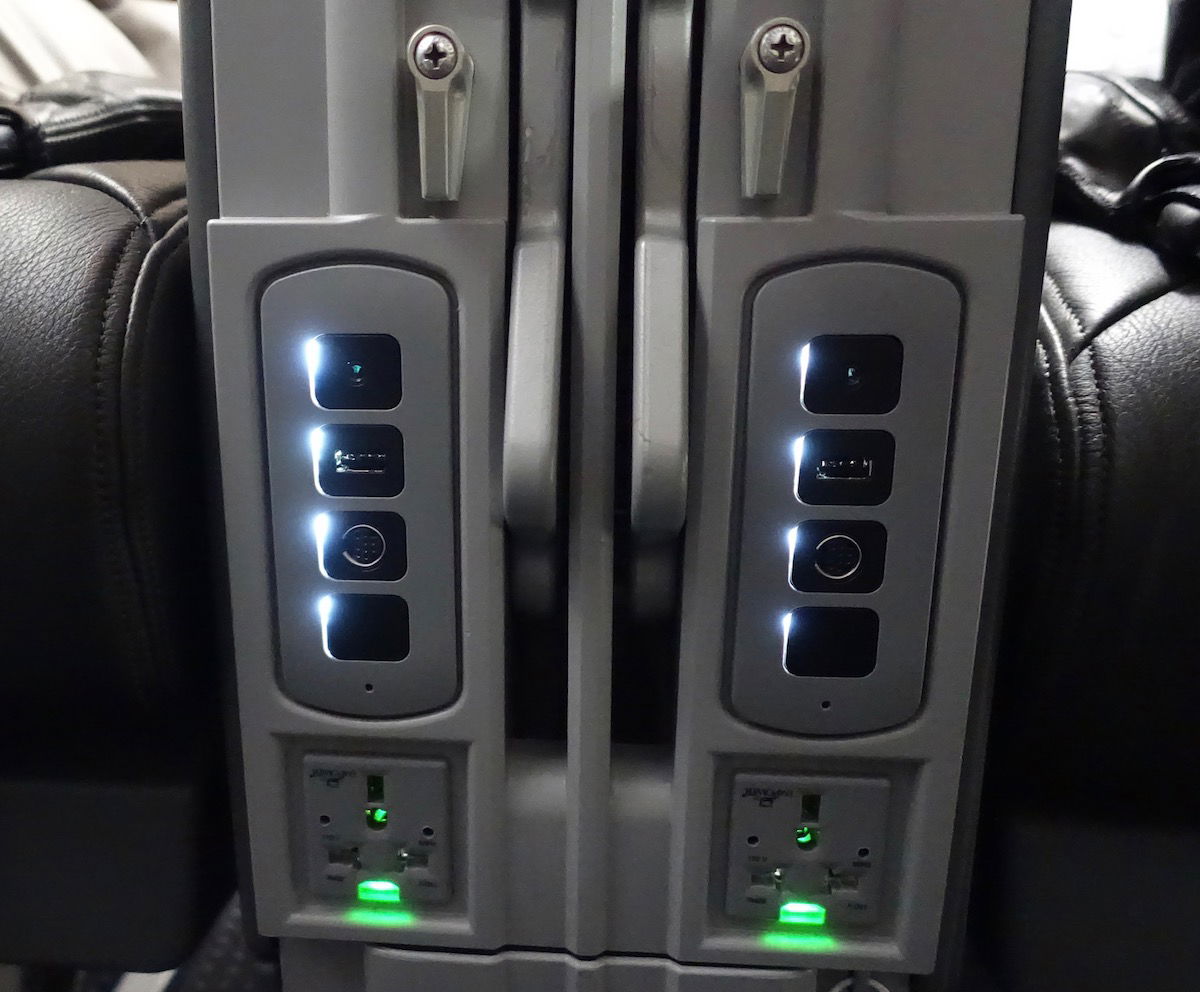 American Airlines first class power outlets
Waiting at my seat was a pretty basic blanket — American doesn't offer pillows on flights within North America, except in select premium markets.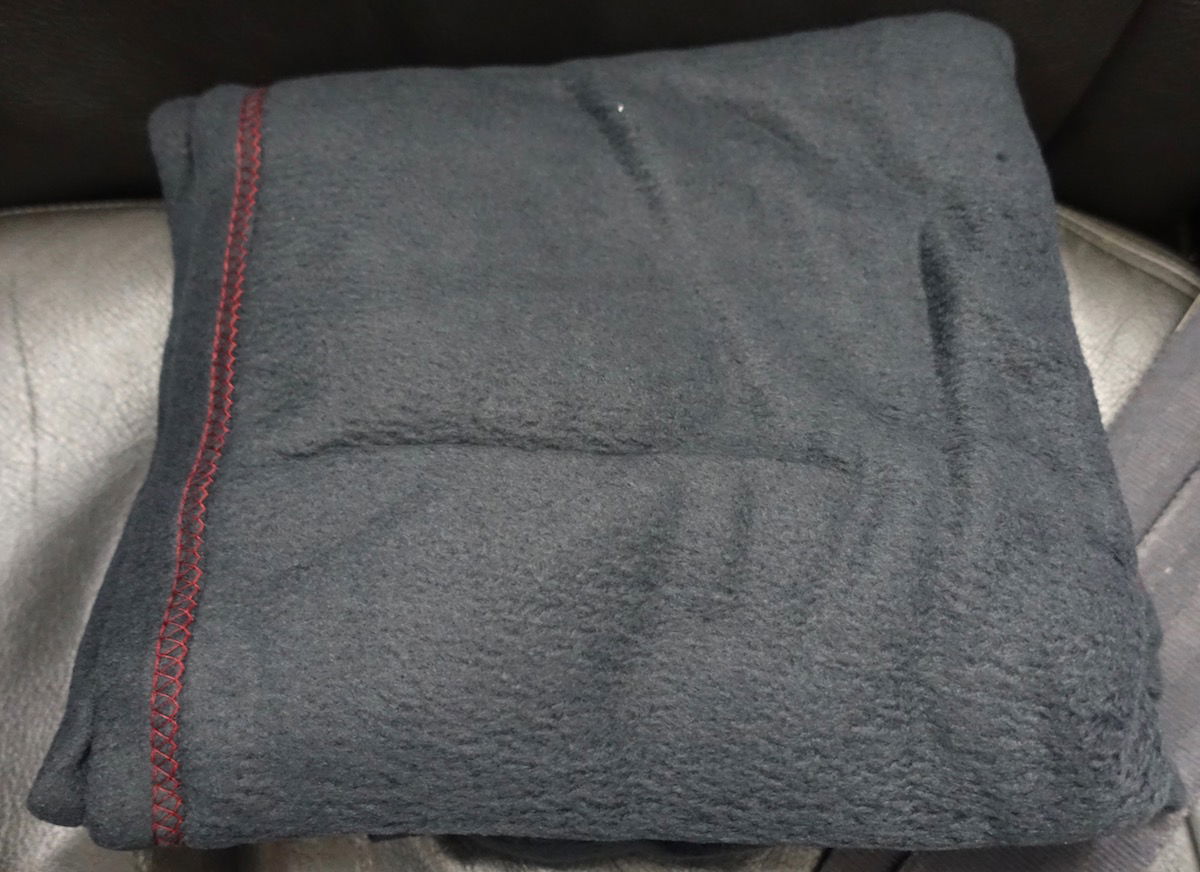 American Airlines first class blanket
A few minutes after settling in, the friendly flight attendant offered us pre-departure drinks of choice. A punctual flight, a plane with a nice interior, a friendly flight attendant, and pre-departure beverages of choice on American? Someone pinch me. Ford and I both had coffee with milk.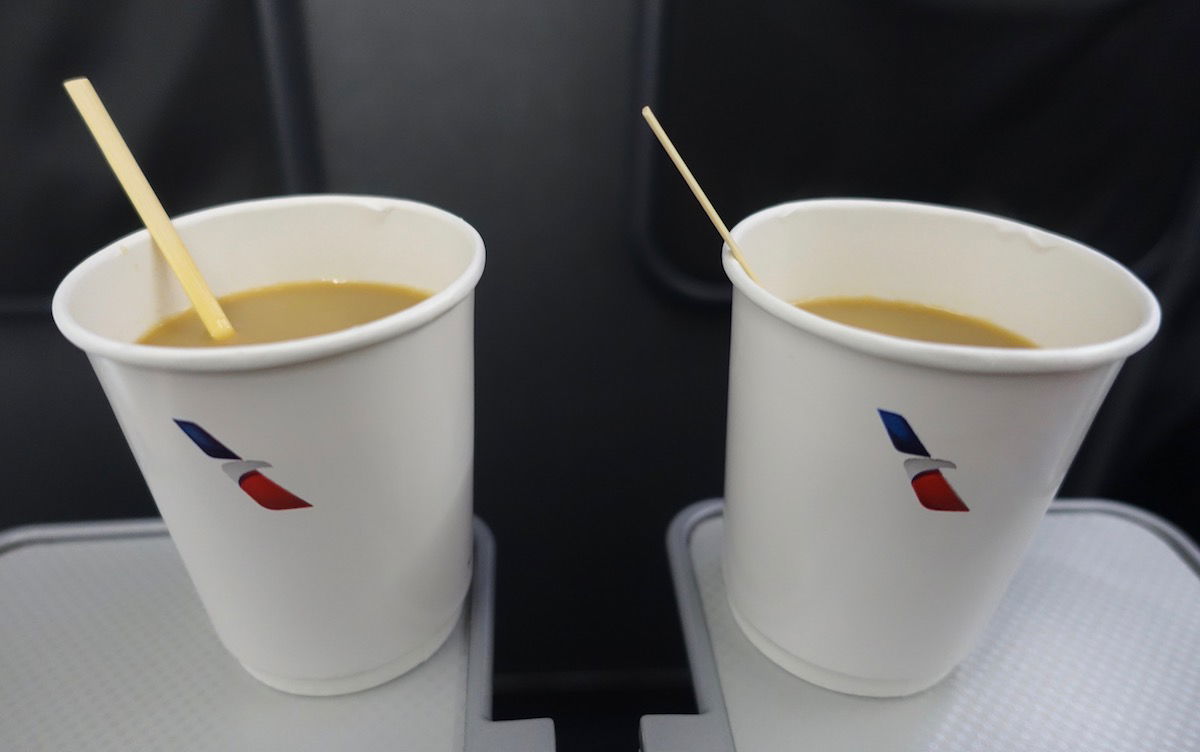 American Airlines first class pre-departure drinks
Boarding was efficient even though the flight was full, given that the A319 is a fairly small plane. At around 8:40AM the main cabin door closed. At this point the lead flight attendant announced our flight time of 2hr42min and our cruising altitude of 37,000 feet.
A few minutes later we started our pushback, at which point the safety video was screened. At 8:45AM we started our taxi.
While our taxi to the runway was fairly quick, we had to wait about 15 minutes before it was our turn for takeoff, as there were both planes arriving and departing. We took off right behind a 777-200 bound for Dallas.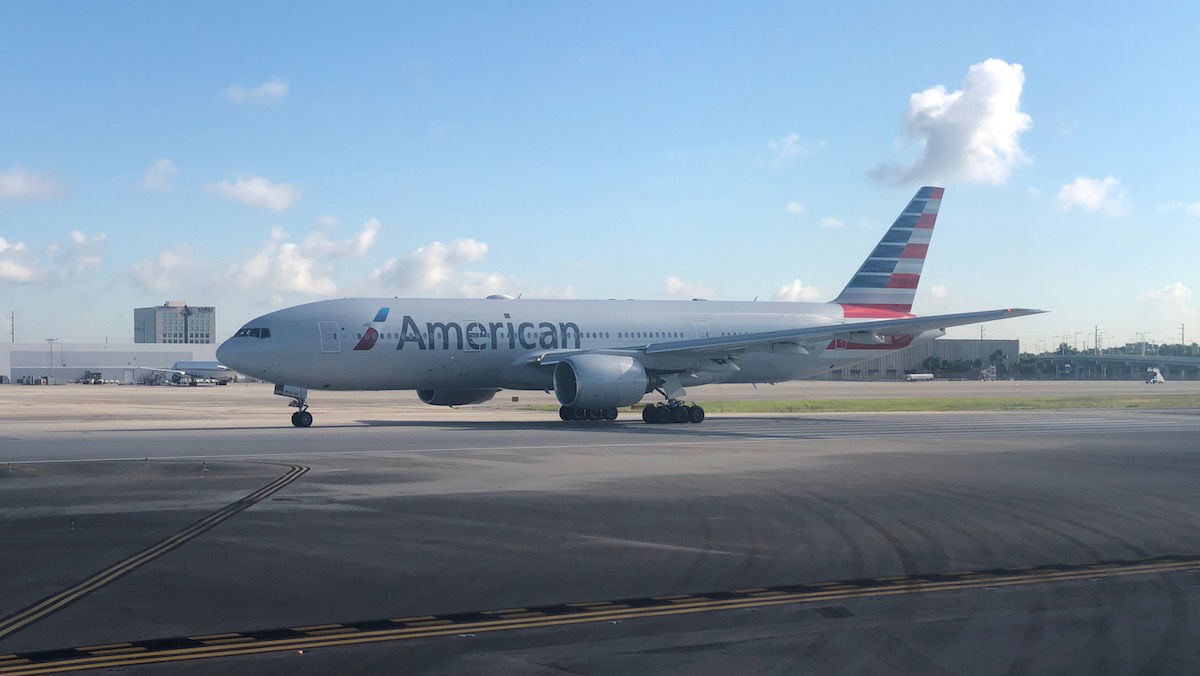 Waiting for takeoff Miami
We were cleared for takeoff on runway 26L at 9:10AM.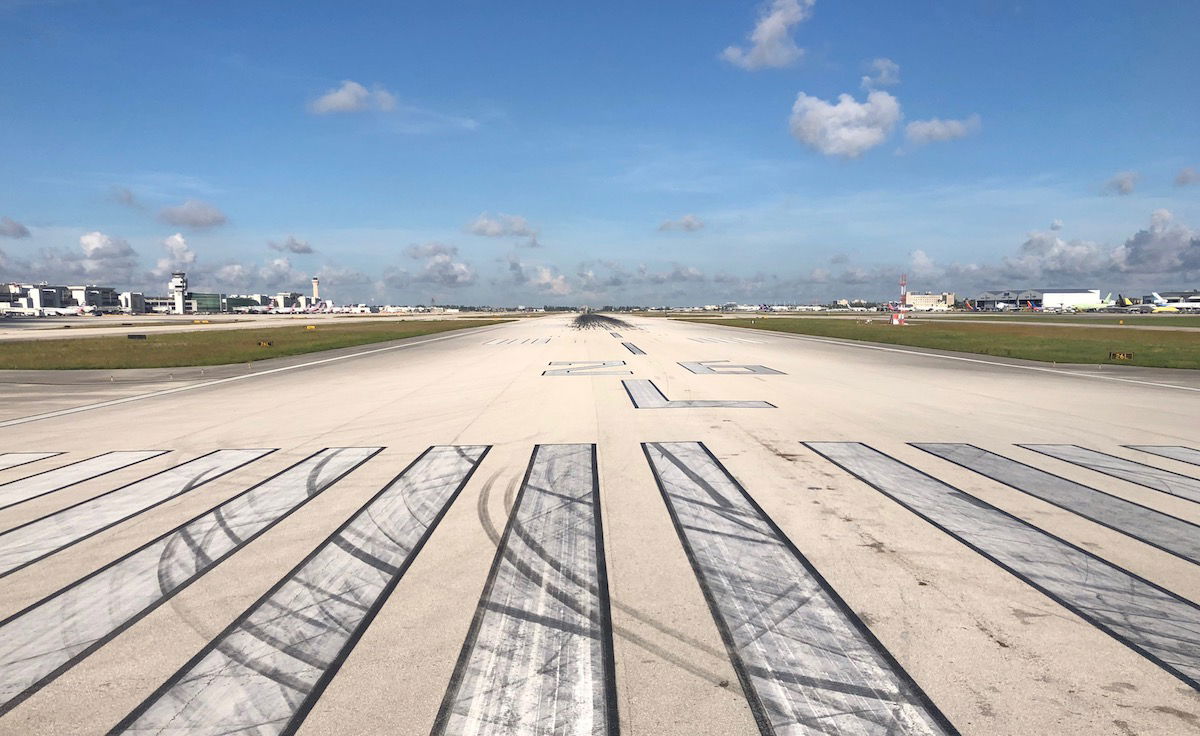 Taking off from Miami
While departure views were nice, we were flying west, so we didn't get to fly over the water.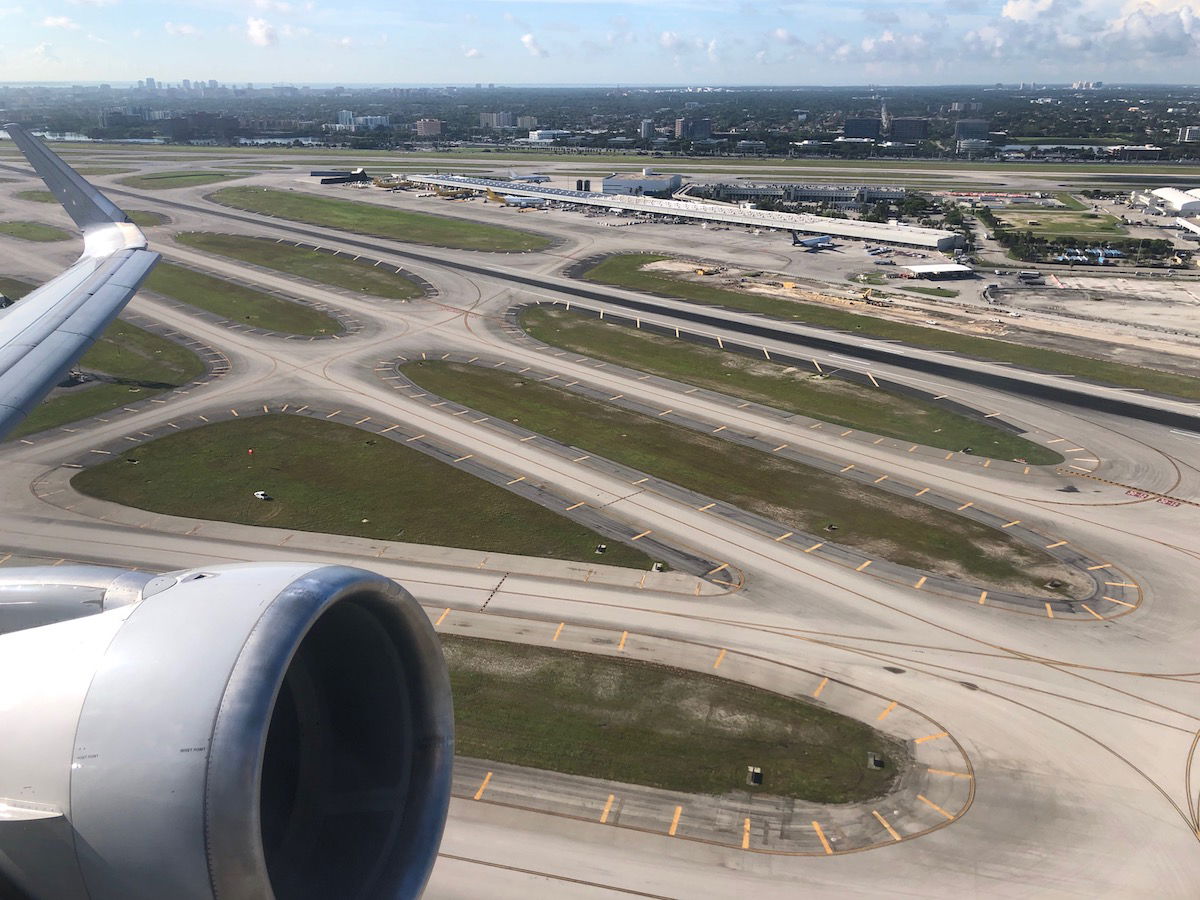 View after takeoff from Miami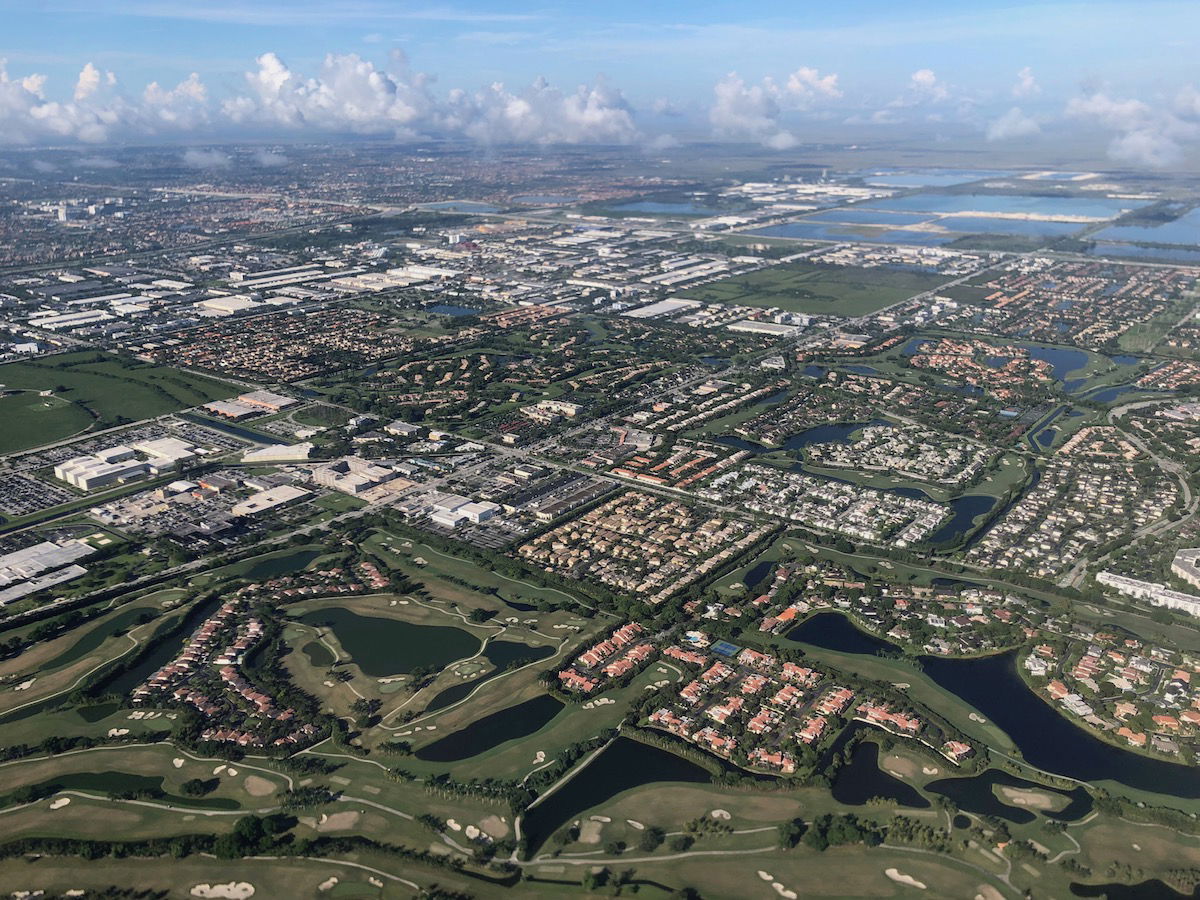 View after takeoff from Miami
This A319 had American's Viasat Wi-Fi. Personally that's my preferred provider (American otherwise has Gogo 2Ku — both are excellent). So I connected using my Gogo credentials. I'd note for those without a membership, the pricing was reasonable, as Wi-Fi for the entire flight cost $10.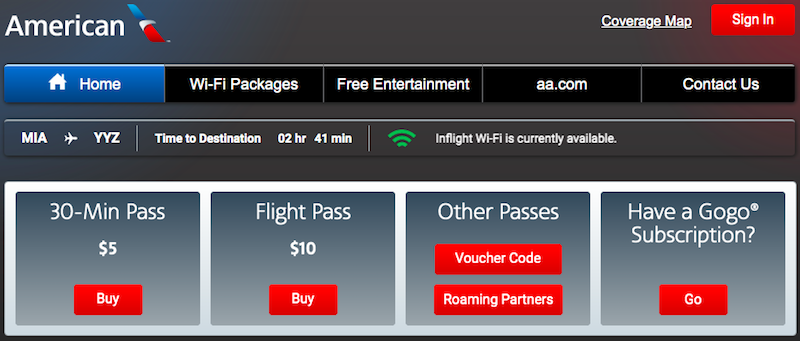 American Airlines Wi-Fi pricing
About 20 minutes after takeoff the flight attendant introduced himself by name, and reconfirmed the breakfast options that we had pre-ordered. He also asked us what we wanted to drink.
About 10 minutes later he offered us warm towels.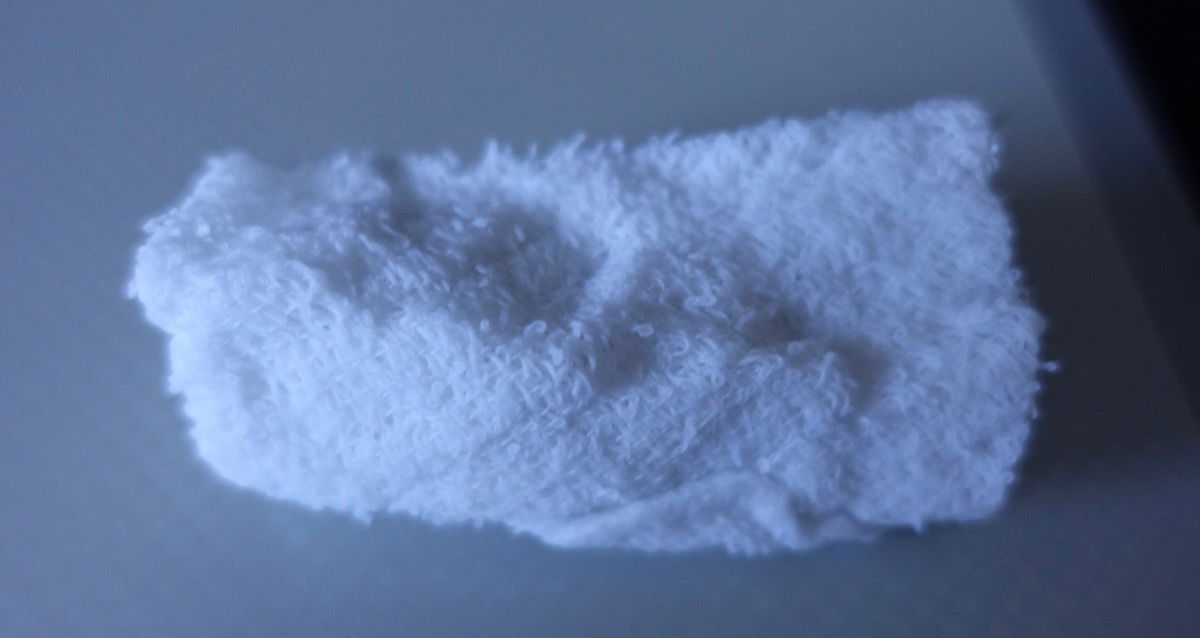 American Airlines first class warm towels
Then a few minutes later he offered us drinks — we both had water.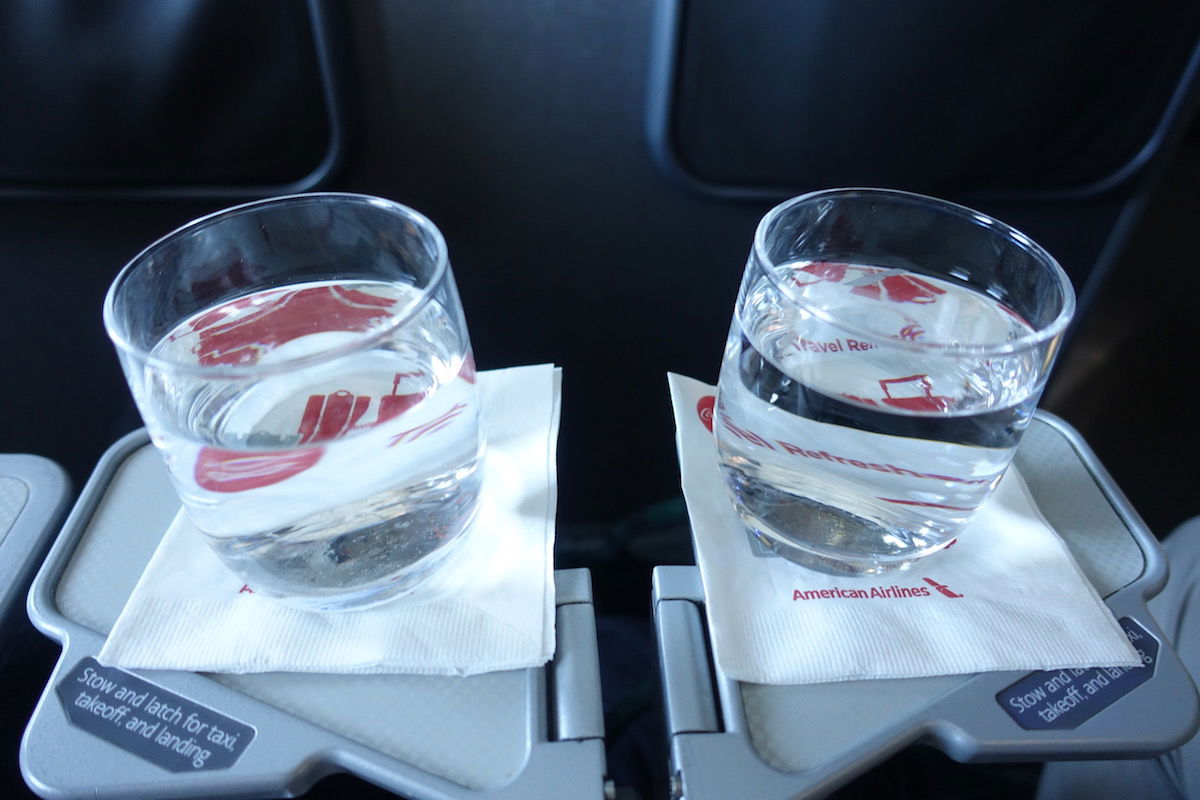 American Airlines first class water
About 40 minutes after takeoff breakfast was served. There were two options, and we selected one of each.
I had the oatmeal with a side of fresh fruit.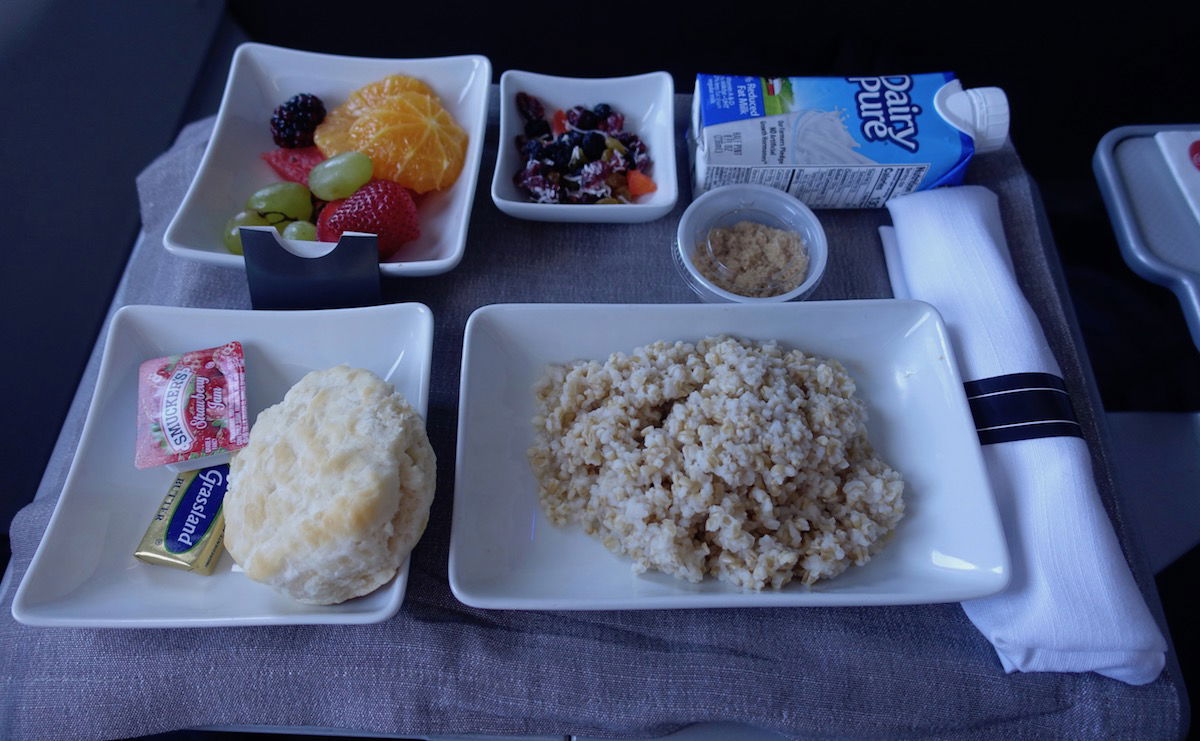 American Airlines first class breakfast
Meanwhile Ford had the scramble.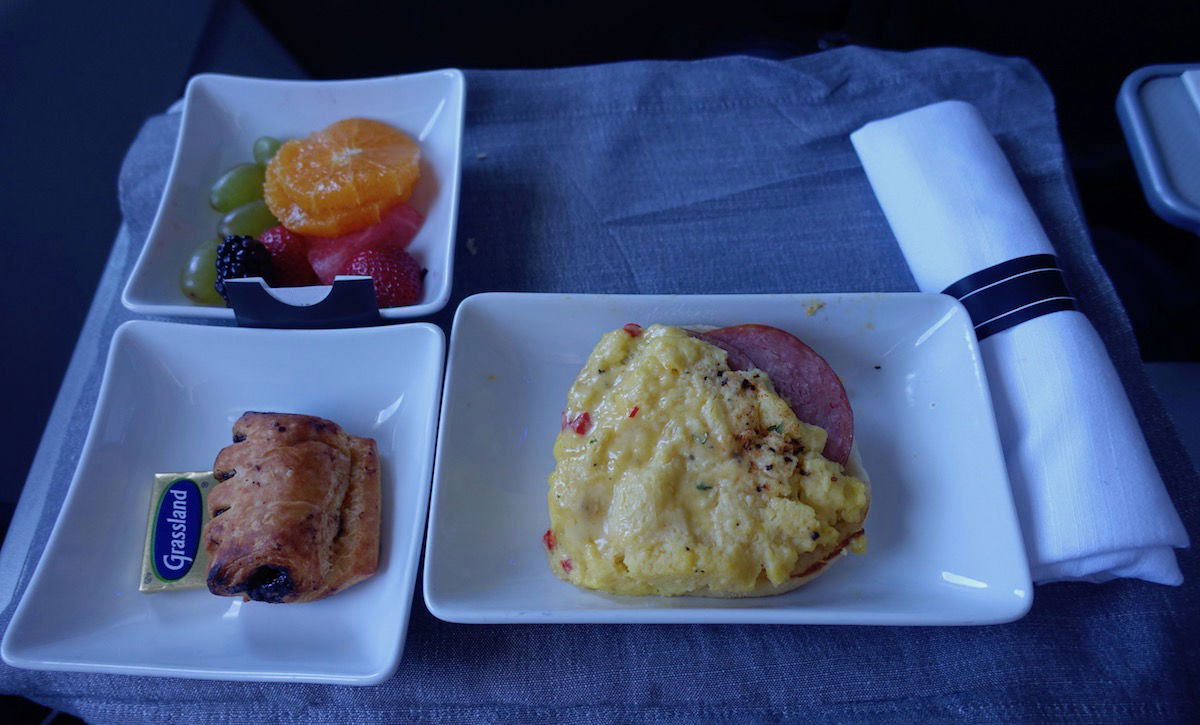 American Airlines first class breakfast
With both we had the choice of a biscuit, bagel, or chocolate pastry. I selected the biscuit, while Ford had the chocolate pastry.
The food wasn't great — the oatmeal was bland, while the egg dish just looked like it was too much effort for them to execute well. At the same time, I think just about all US airlines do breakfast pretty poorly. I'd actually say this breakfast was a bit better than what was served on Delta in first class on a flight of a similar length the week prior.
After the meal I checked out the lavatory at the front of the cabin, which was a decent size. It didn't have any special amenities, but was clean.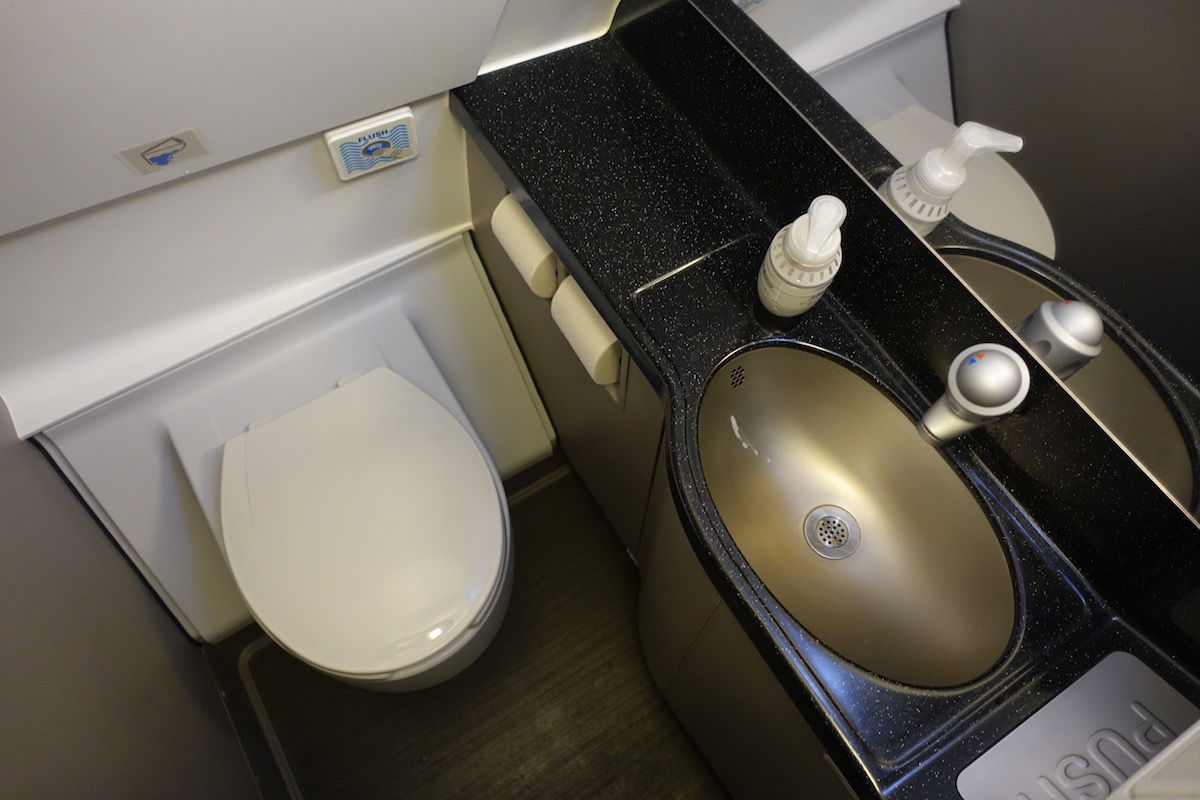 American Airlines first class lavatory A319
I worked for almost the entire flight. I'd note that the flight attendant was truly excellent, and constantly checked to see if anyone wanted anything.
Since I was working the entire flight I didn't use the entertainment much, other than to watch the moving map.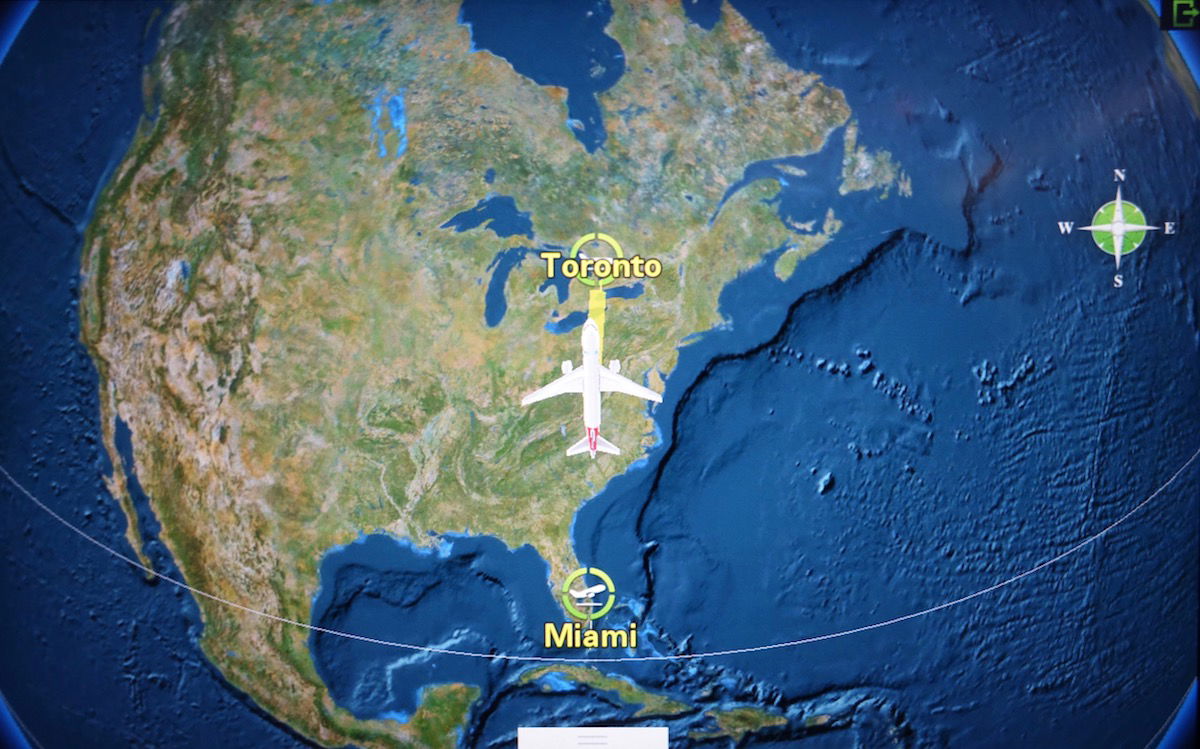 Moving map enroute to Toronto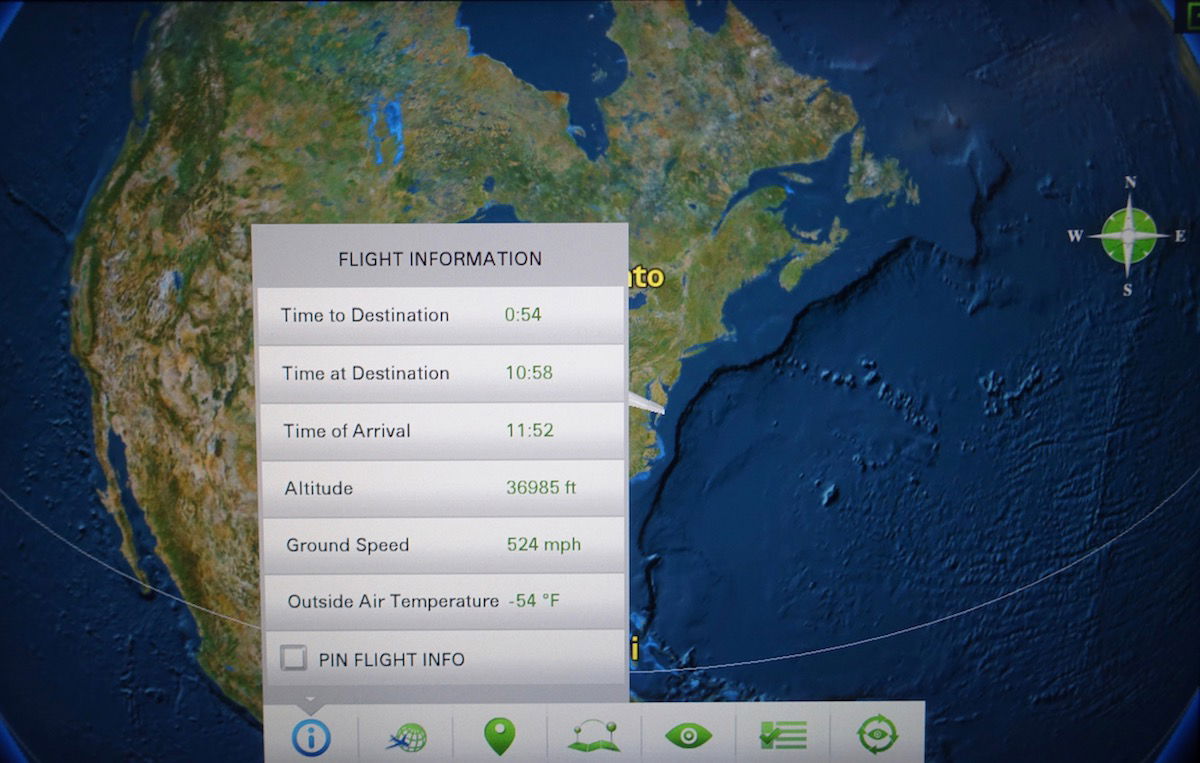 Moving map enroute to Toronto
For those who do want to watch the entertainment, the selection was quite good, with dozens of movies and TV shows.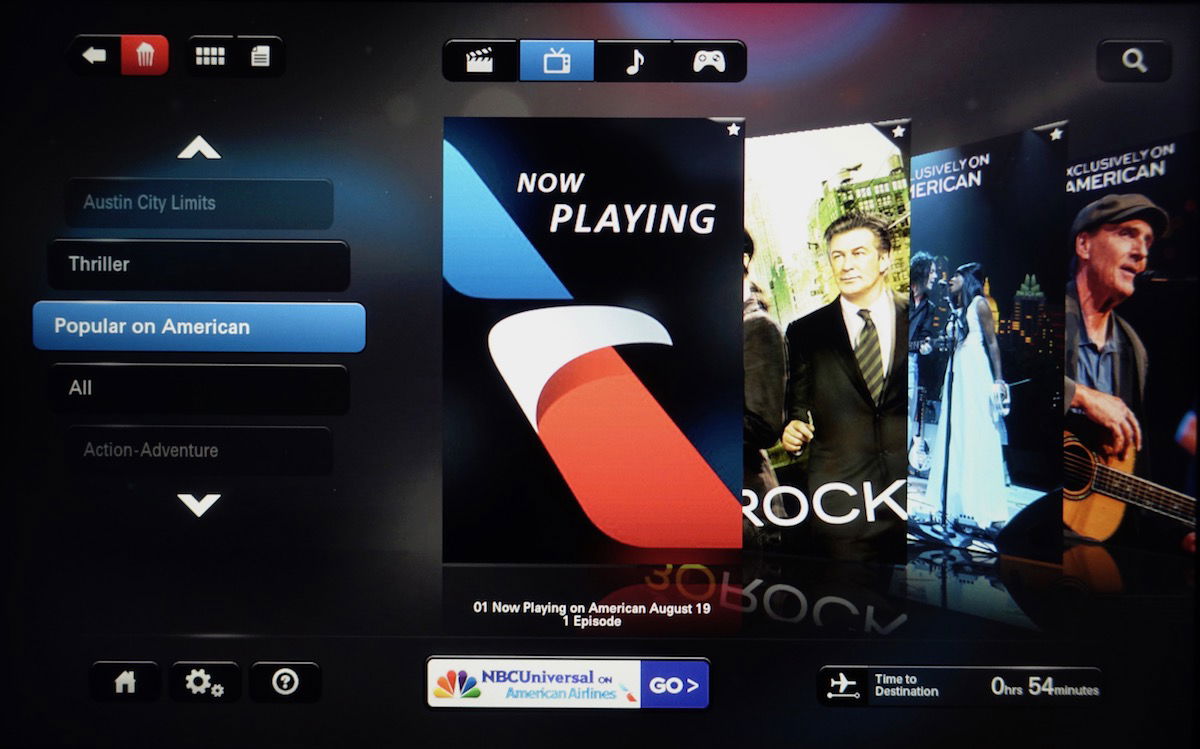 American Airlines entertainment selection
At around 11:30AM the seatbelt sign was turned on for landing. A few minutes after that the flight attendant came through the cabin to distribute mints and thank everyone for flying American.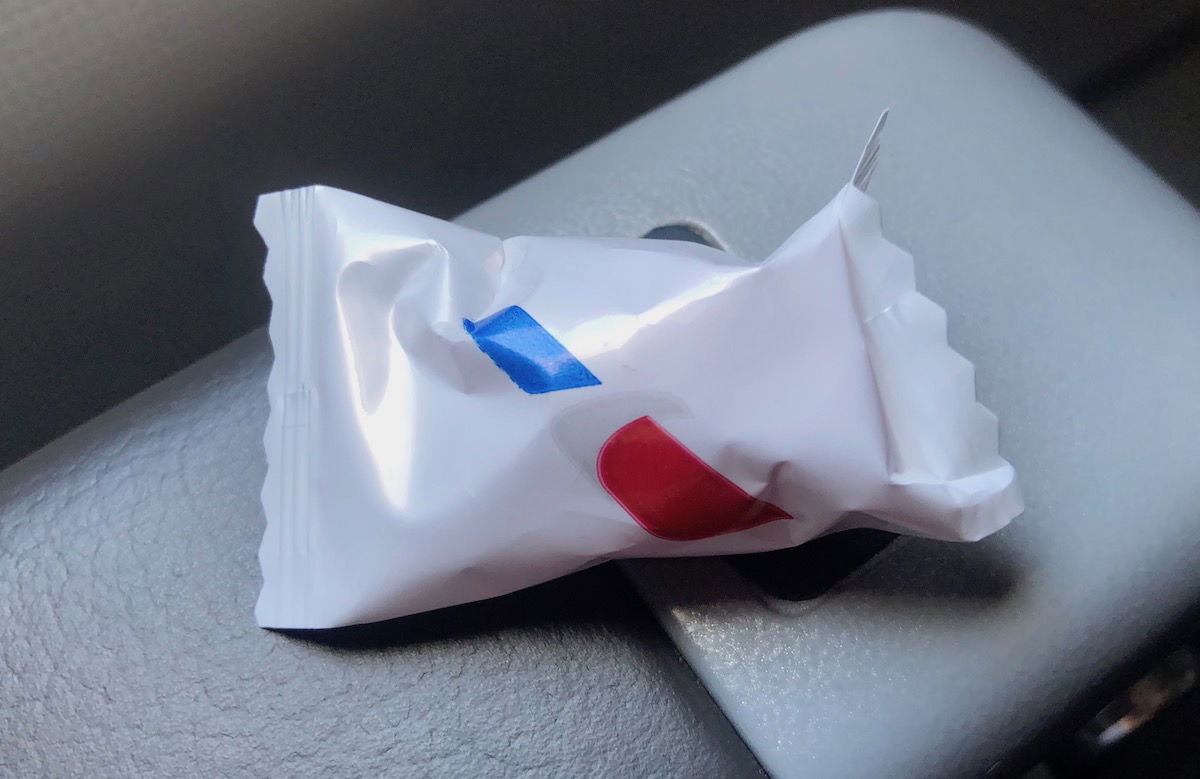 American Airlines pre-landing mint
It's also worth noting — simply because it's abnormal — that the crew didn't do a credit card pitch. I'm not sure if that's because this was technically an international flight, or what (as I know I've heard them on international flights as well).
It wasn't a particularly nice day in Toronto, and we ended up touching down at 11:50AM.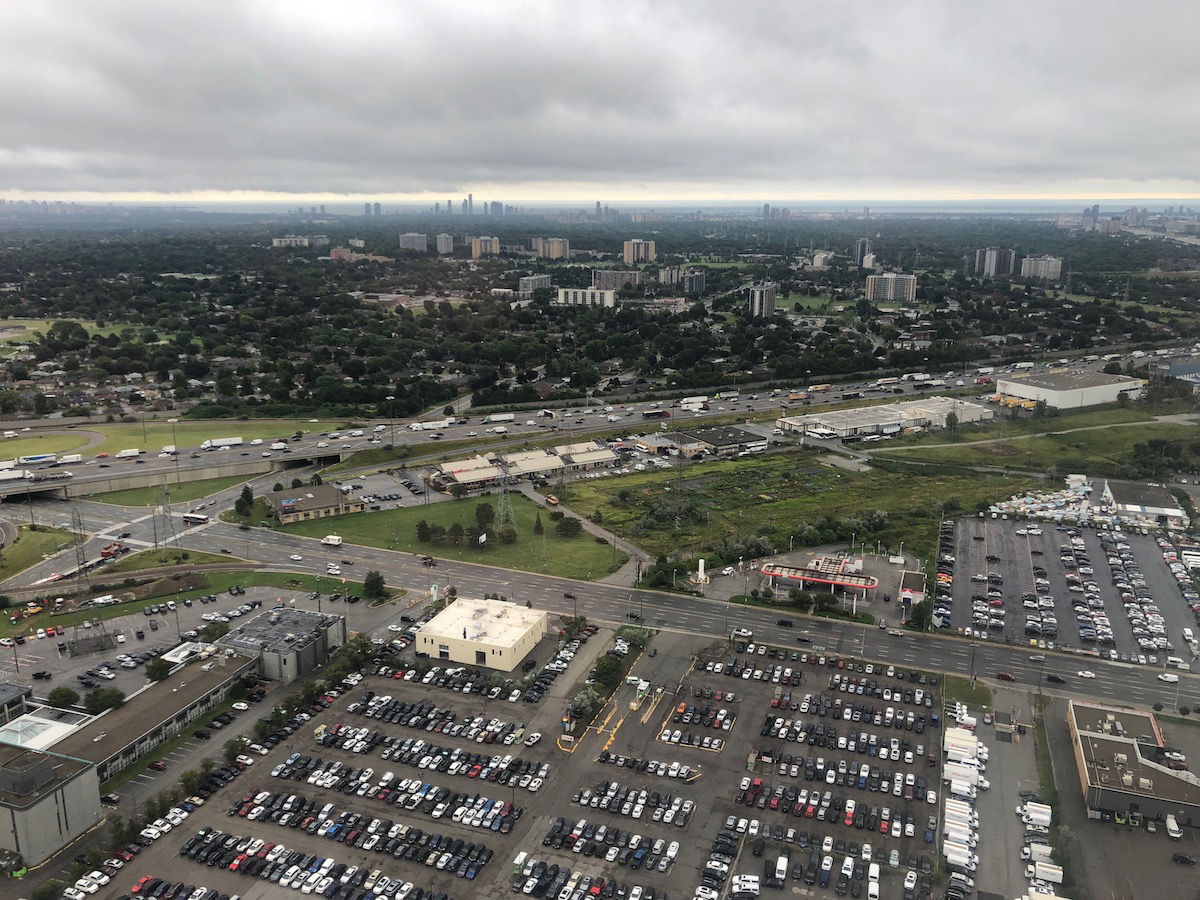 View approaching Toronto
From there we had a roughly 10 minute taxi to our arrival gate at Terminal 3, where we arrived at 12PM.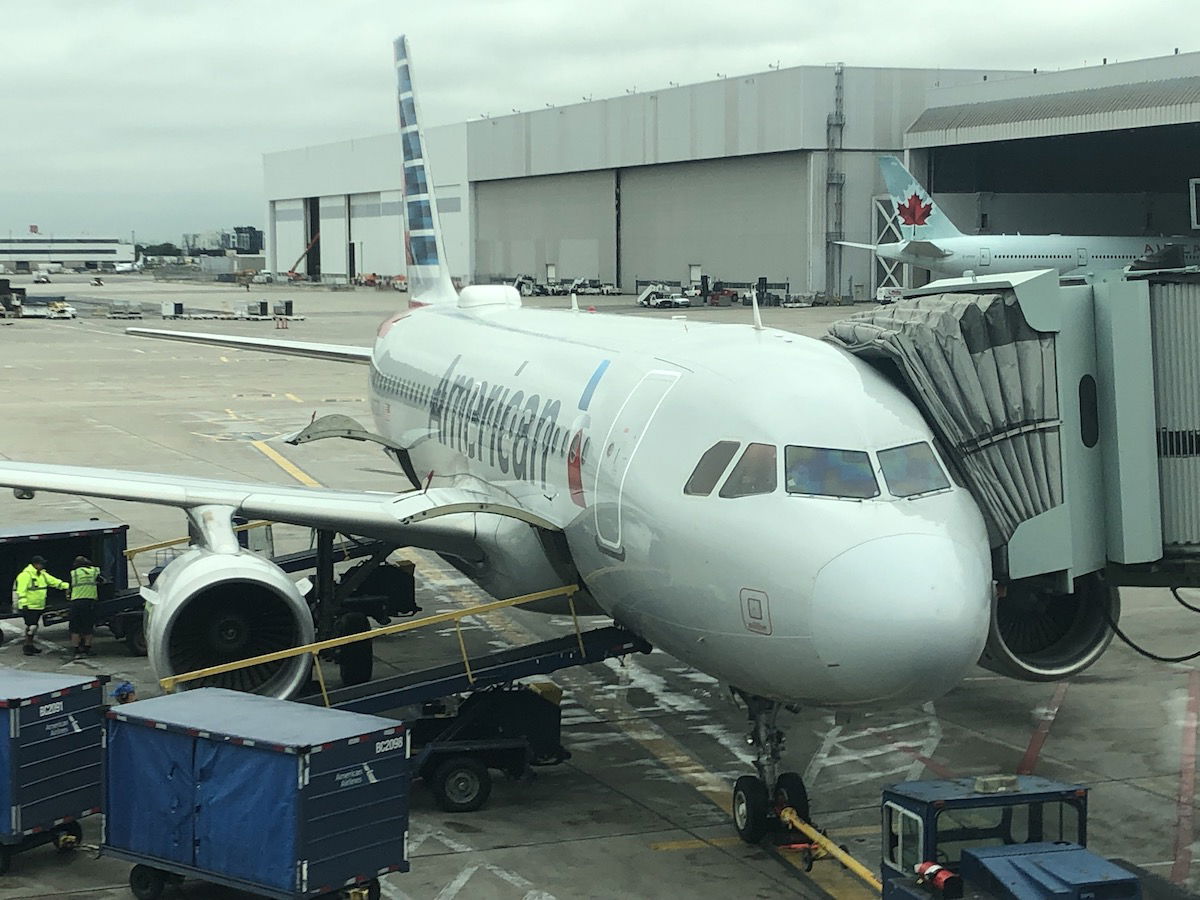 American A319 upon arrival in Toronto
Immigration was a mess, at least for those of us without NEXUS. First you have to go to a kiosk and enter all kinds of information. No big deal, except these kiosks seem to constantly be broken, and spend an inexplicable amount of time trying to adjust to your height when taking your picture.
Then we had to queue for an agent. The biggest issue was just that the queuing system for all of these things was nonsensical. Like there are dozens and dozens of kiosks, and then you have to line up again, but the line only starts in one place, and then people keep trying to cut it.
American A319 first class bottom line
This was a very good flight on American — if only they were always this good. Our flight was on-time, the service was friendly, and we got one of the American A319s with the old (nice) interiors.