---
I'll keep this review relatively short, and will focus on what made this flight unique. I was more detailed in my review of the New York to Paris flight a couple of days prior. Then there's my most detailed Air France first class review ever, which was from a Paris to Houston flight a couple of years ago.
Air France 990
Paris (CDG) – Johannesburg (JNB)
Saturday, August 31
Depart: 11:20PM
Arrive: 9:55AM (+1 day)
Duration: 10hr35min
Aircraft: Boeing 777-300ER
Seat: 1E (La Premiere First Class)
Ahhhh, back in Air France's stunning La Premiere cabin! At the door we were greeted by the cabin manager and "our" flight attendant, and were informed that we had the cabin to ourselves once again.
Can I just stop for a second to point out the degree to which I was pinching myself at this point? We had private cabins all the way from New York to Paris to Johannesburg. I couldn't possibly think of a more special flying experience out there… we're not worthy!
Flying first class is awesome enough, but having a private cabin? That's next level…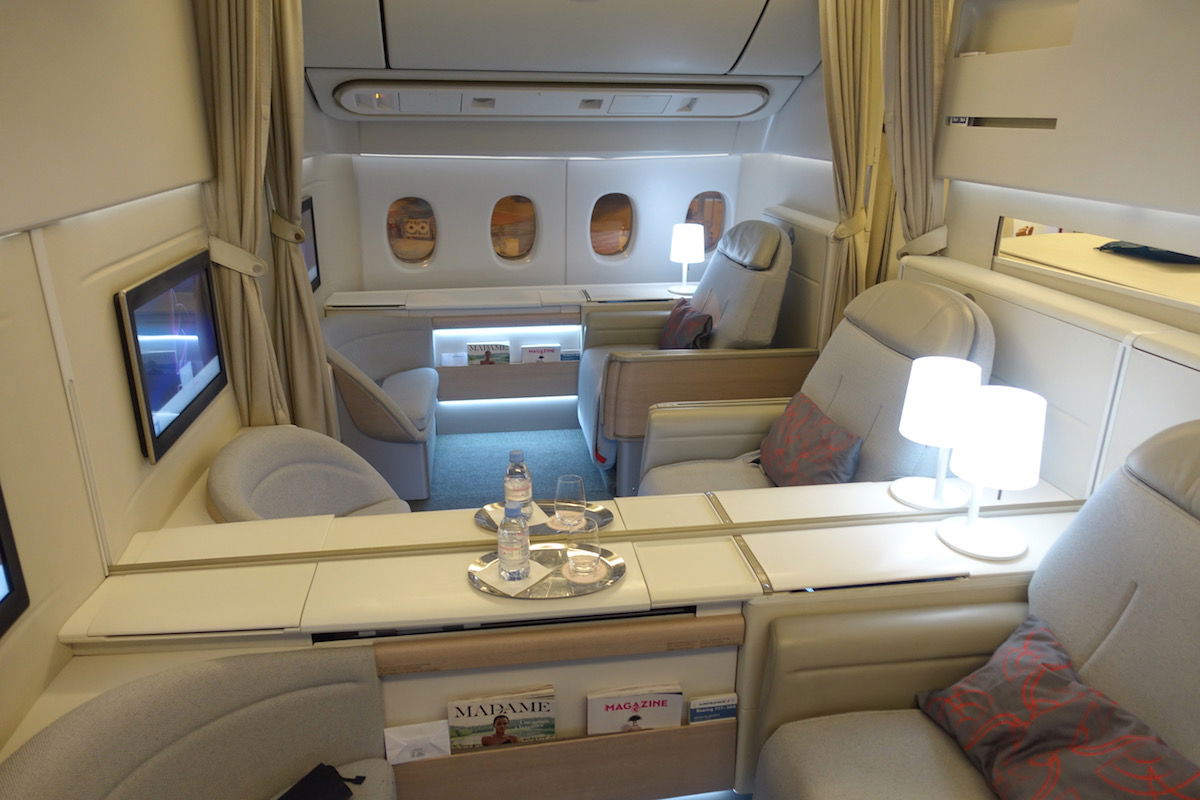 Air France La Premiere cabin
Already waiting at our seats were slippers.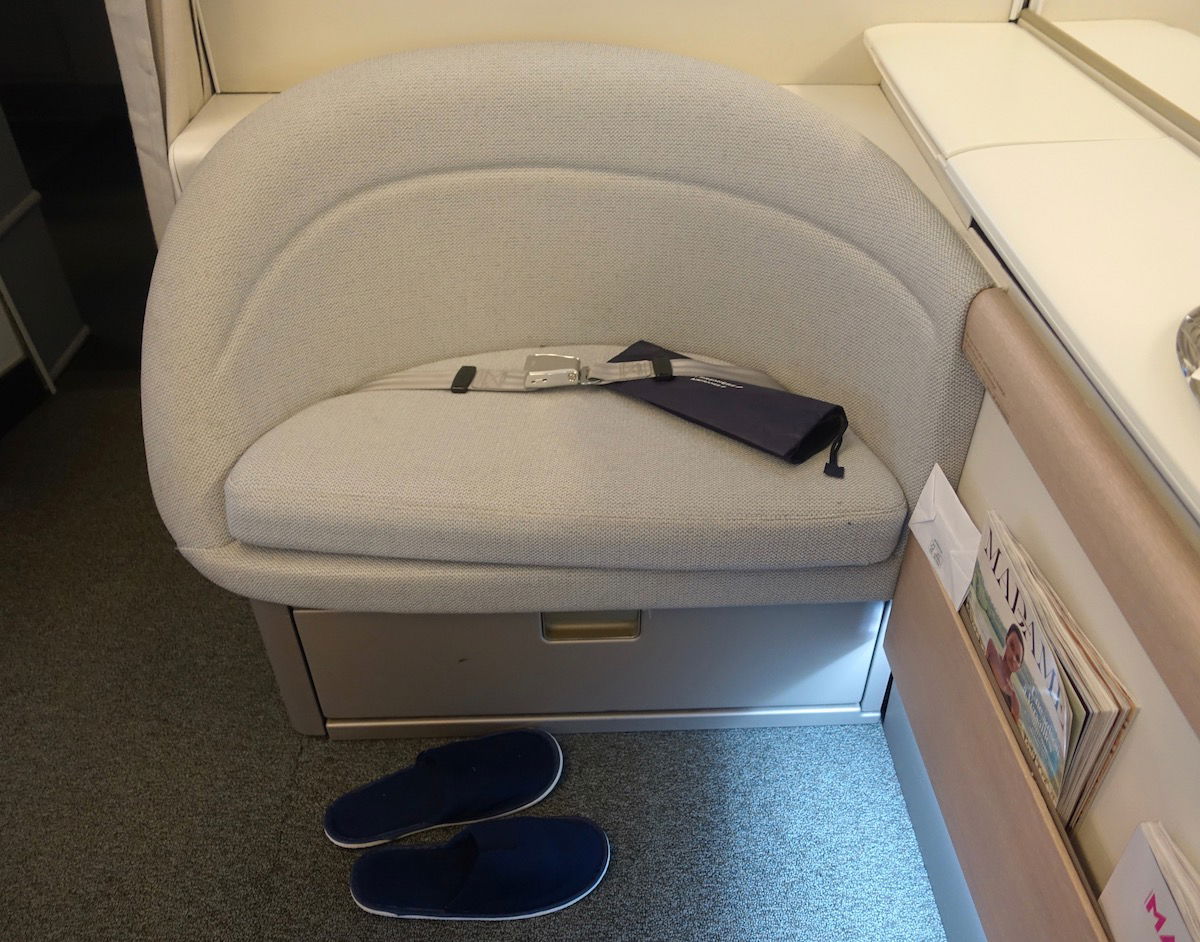 Air France La Premiere ottoman
There were also bottles of water on trays at each of our seats.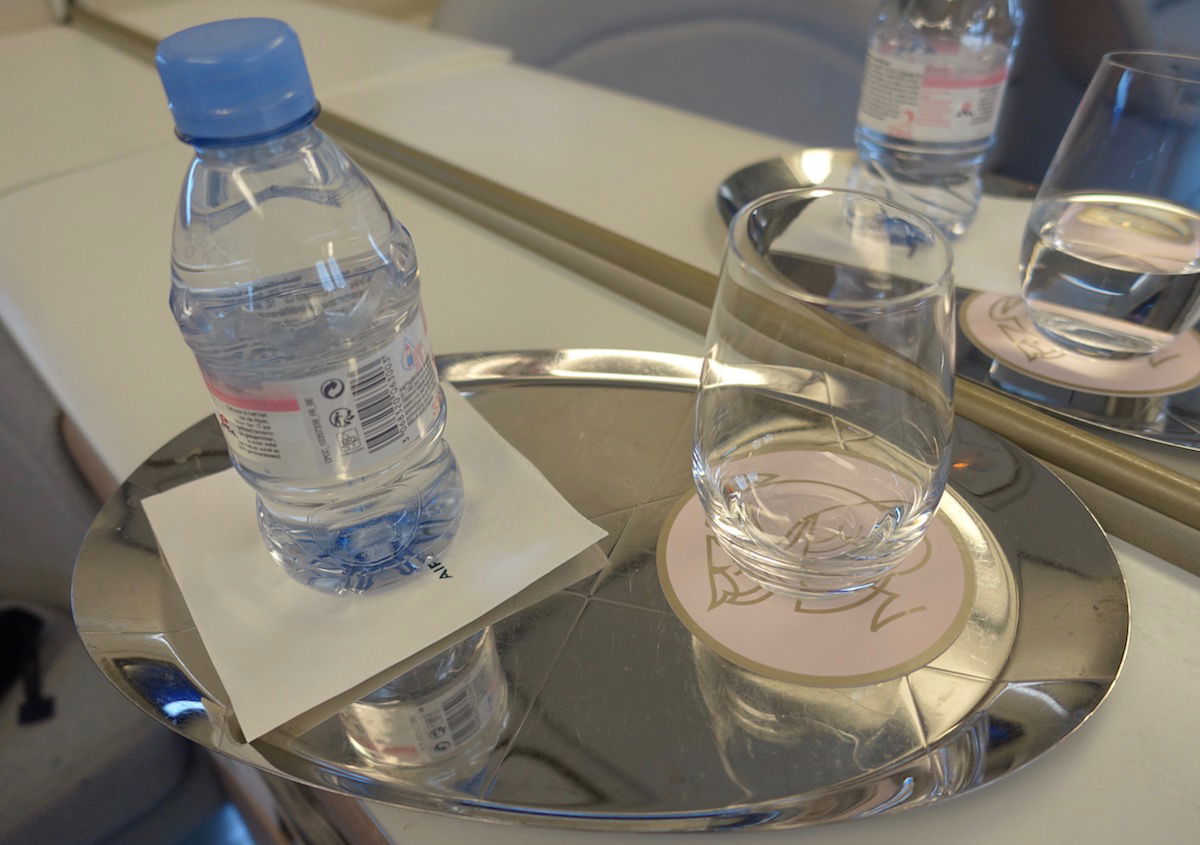 Air France La Premiere bottled water
Then we were offered pajamas and amenity kits — the same as on the previous flight.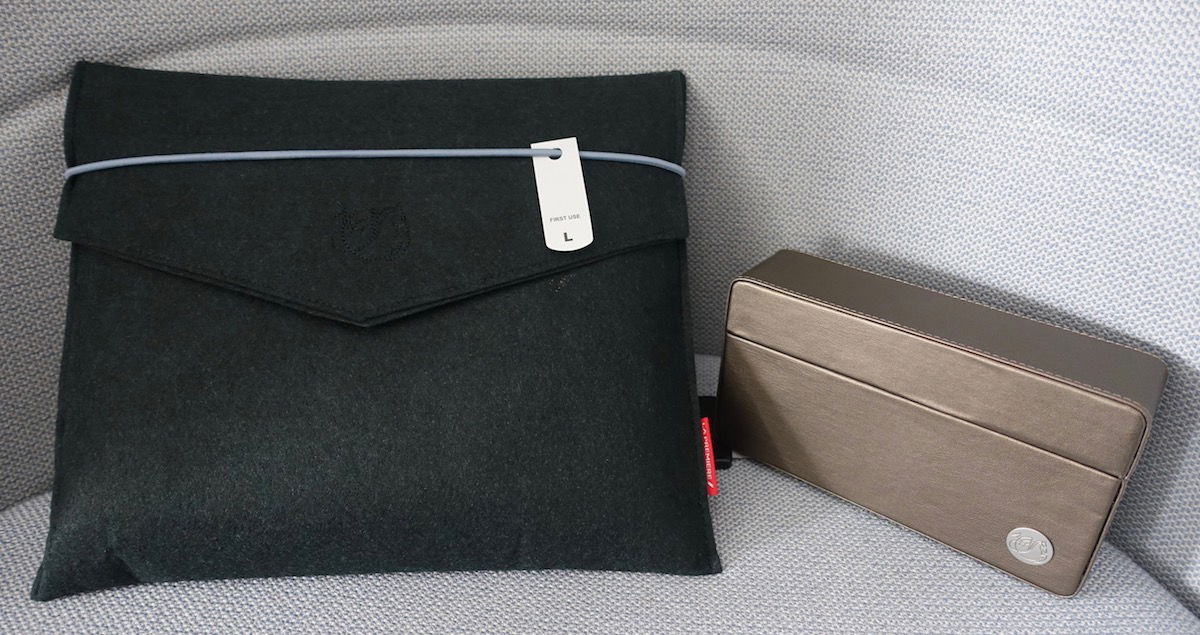 Air France La Premiere amenities
The guy taking care of us was incredibly friendly and polished. He offered us pre-departure drinks, and we all had some champagne (which was the Veuve La Grande Dame 2006). We were also offered some crackers to go along with it.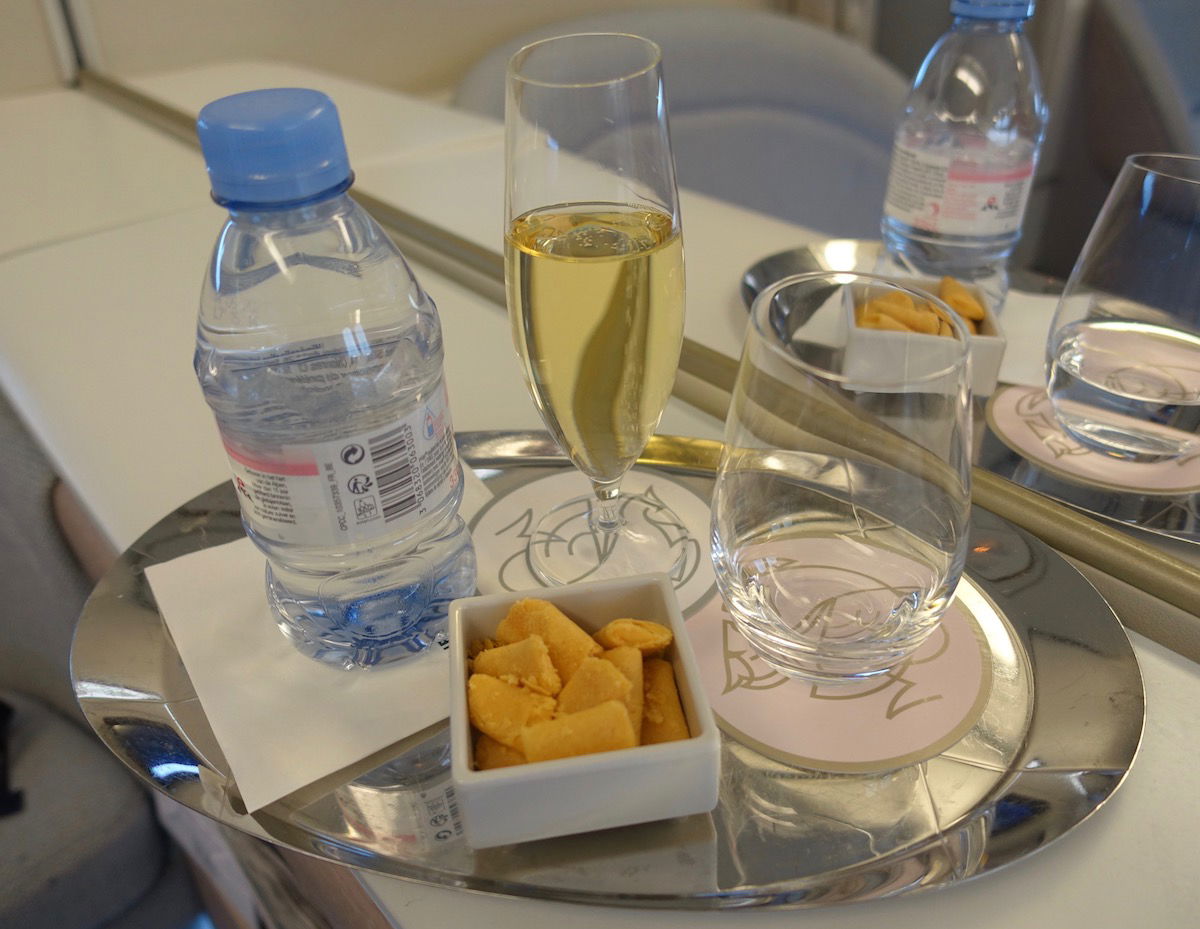 Air France La Premiere champagne & snacks
We were also presented with the menus for the flight.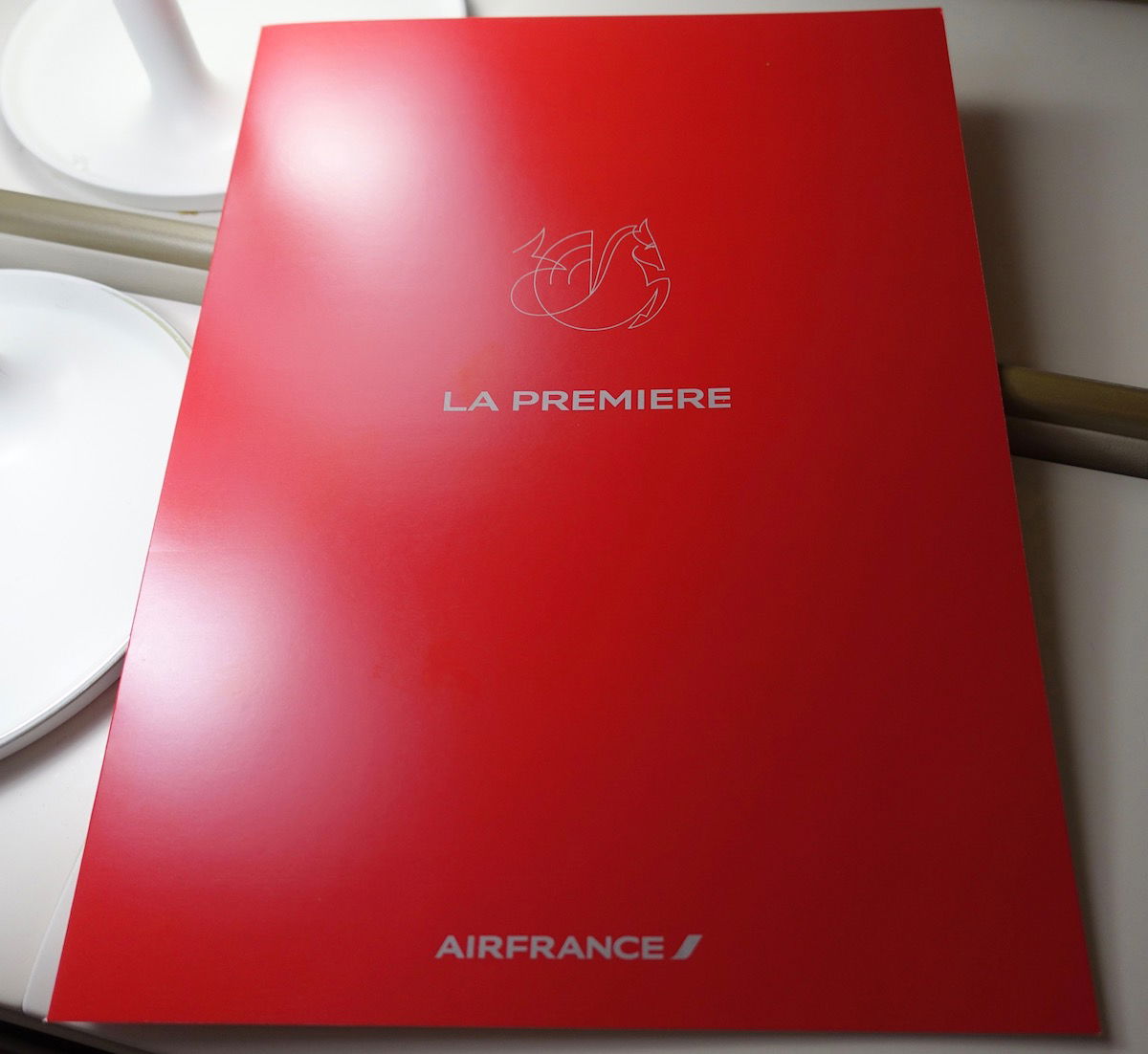 Air France La Premiere menu
As I mentioned previously, the crew was totally in on this being a surprise trip for my dad, so at no point did they mention where we were flying — I won't harp on that too much, so rather check out the previous post about this.
The friendly captain also came out during boarding to greet us and inform us of our 10 hour flight time to our undisclosed destination. 😉 We pushed back right on schedule at 11:20PM, and had a really quick taxi — we were airborne by 11:30PM.
After takeoff we did the unthinkable, at least when trying to celebrate and maximize a flight — we went straight to sleep. We had an amazing dinner in the lounge, with lots of food and drinks. We were tired, and as much as I would have loved to "party" the entire flight, the reality is that you can only eat and drink so much.
So we told the flight attendant we'd make this flight super easy for him, and that we'd eat the main meals before landing. We just asked to have our beds made. He promptly took care of that — my dad slept in the left window seat, Ford slept in the right window seat, and I slept in the right center seat, so that we all had our own space. If we have four seats we might as well enjoy all of them!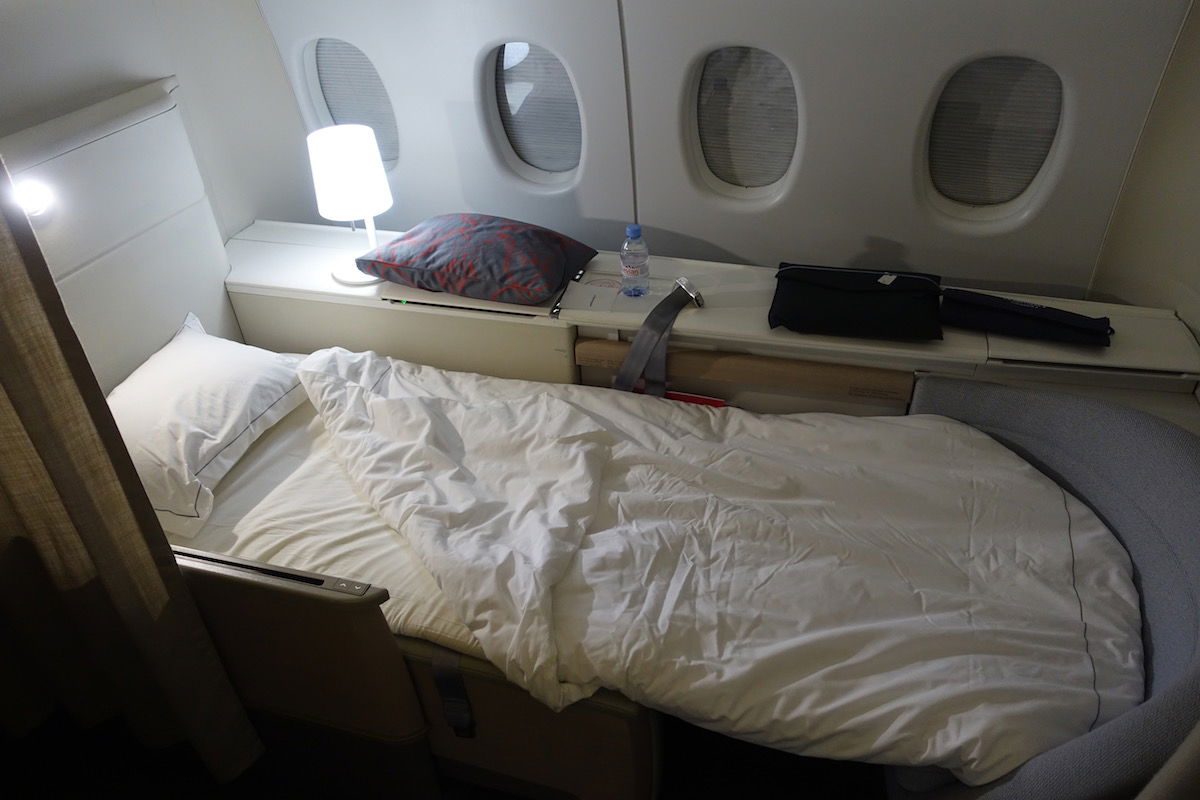 Air France first class bed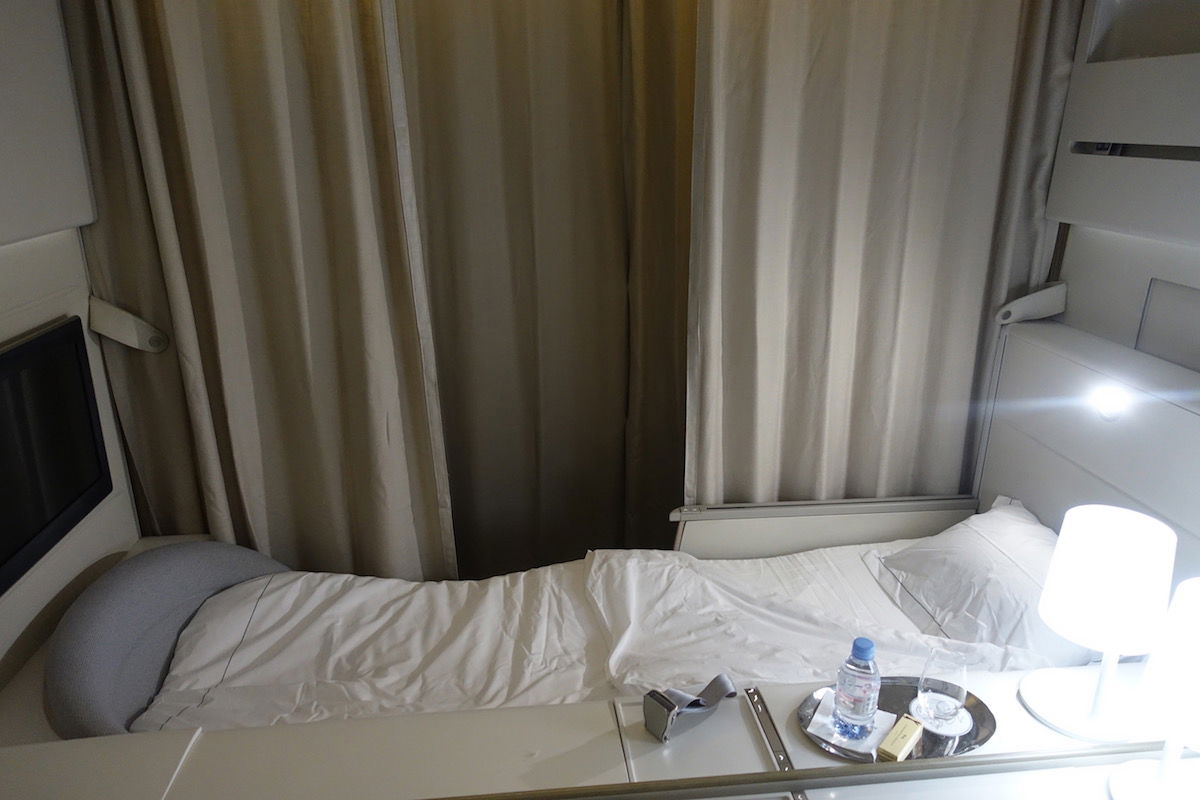 Air France first class bed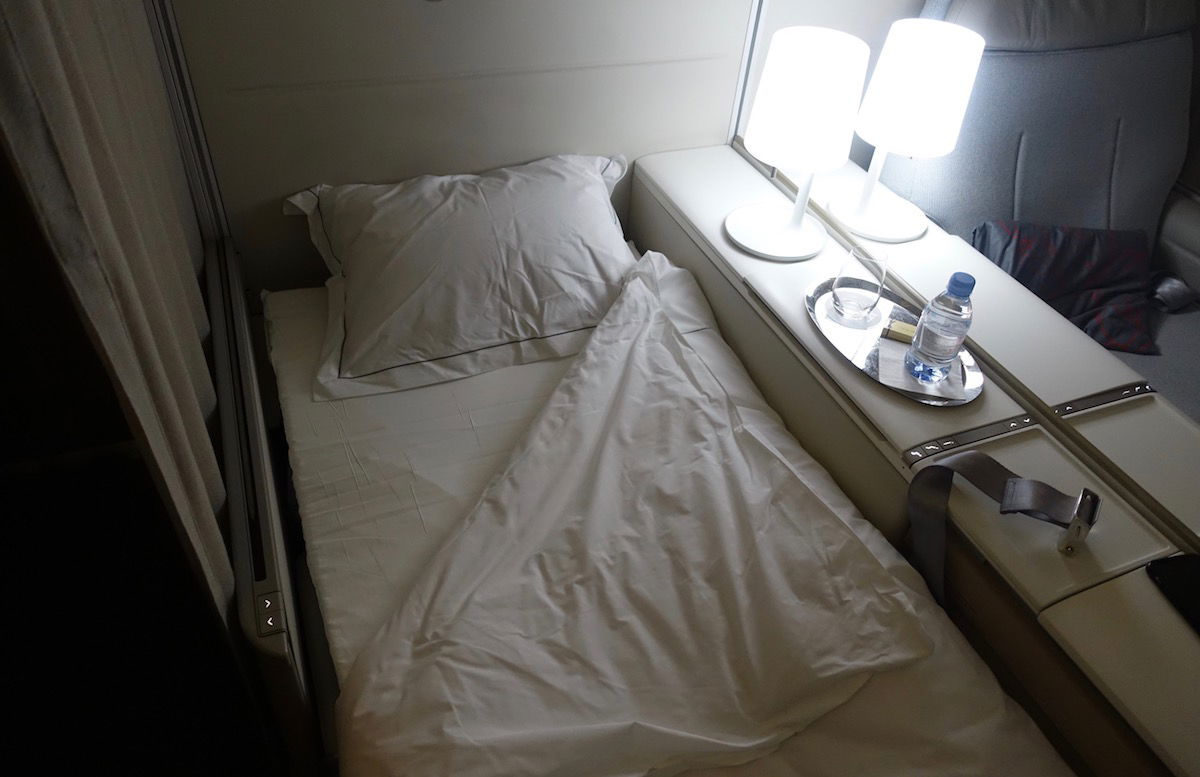 Air France first class bed
A bottle of water and box of chocolates was placed at all of our seats.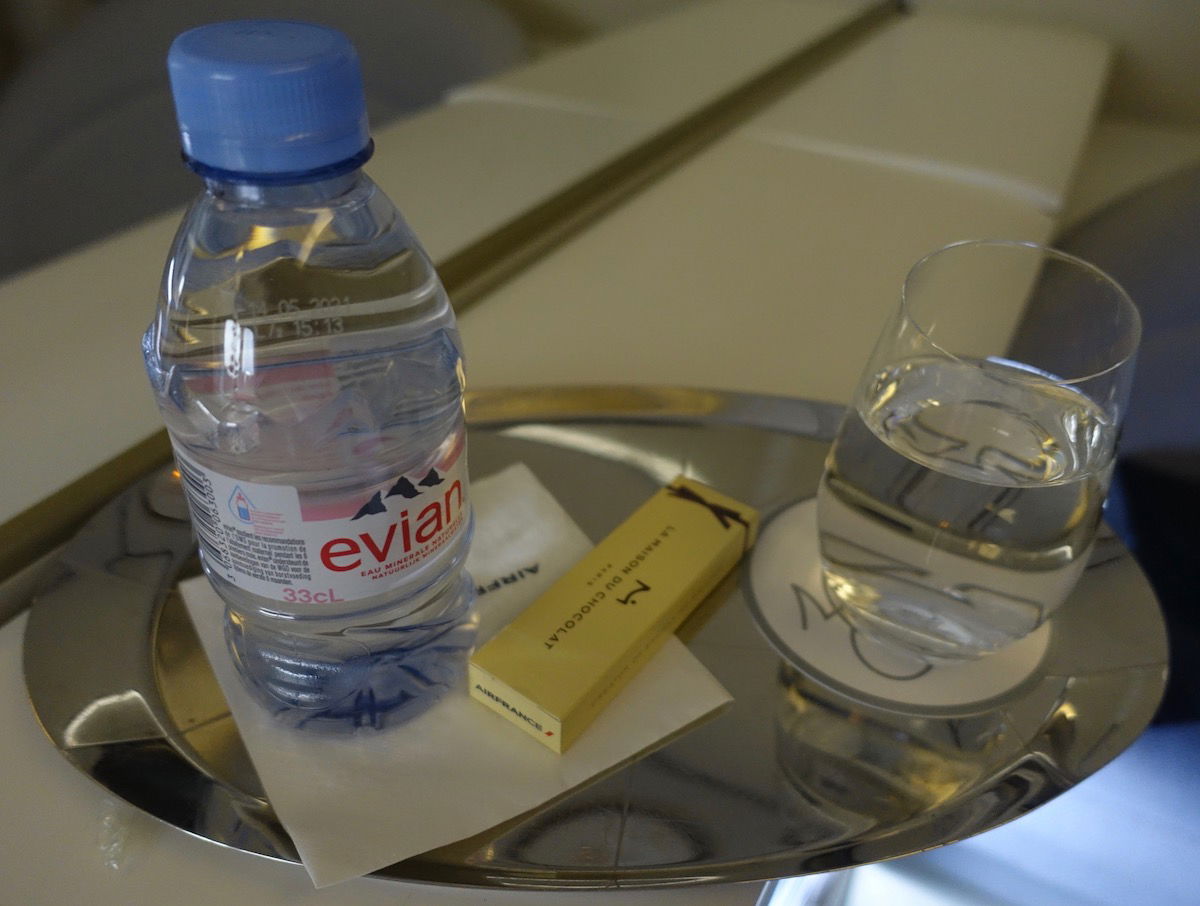 Air France La Premiere after takeoff water & chocolate
Air France's beds are just so comfortable, and we slept really well. I went to sleep with about nine hours remaining to Johannesburg…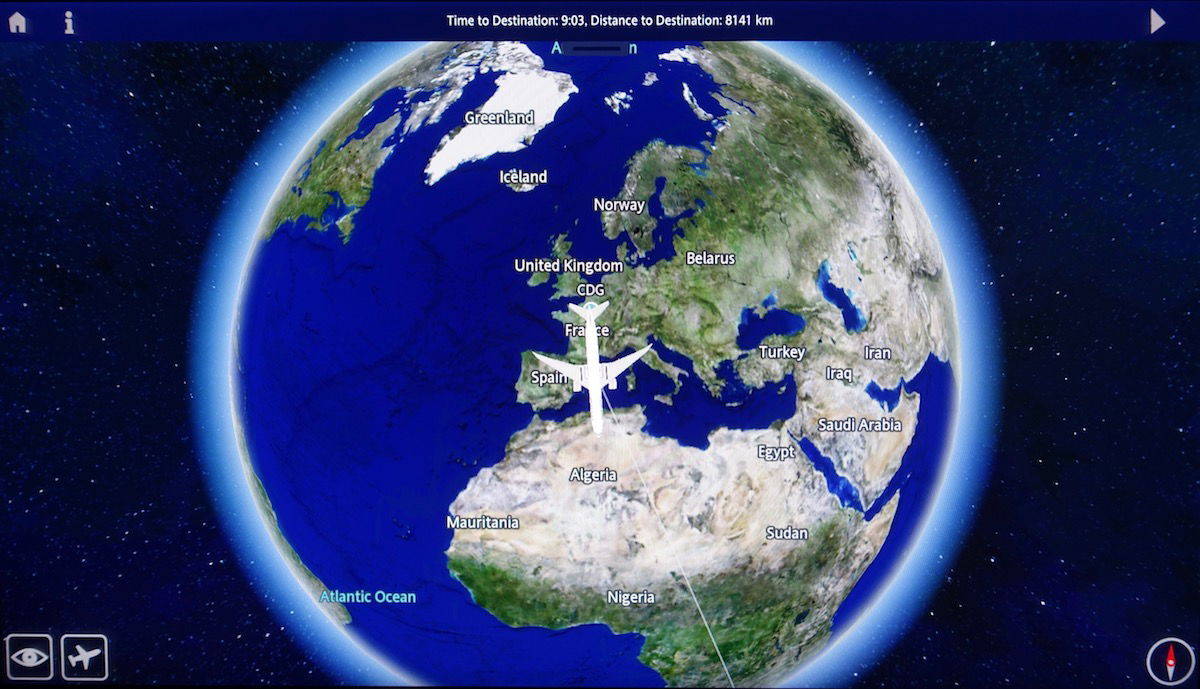 Air France moving map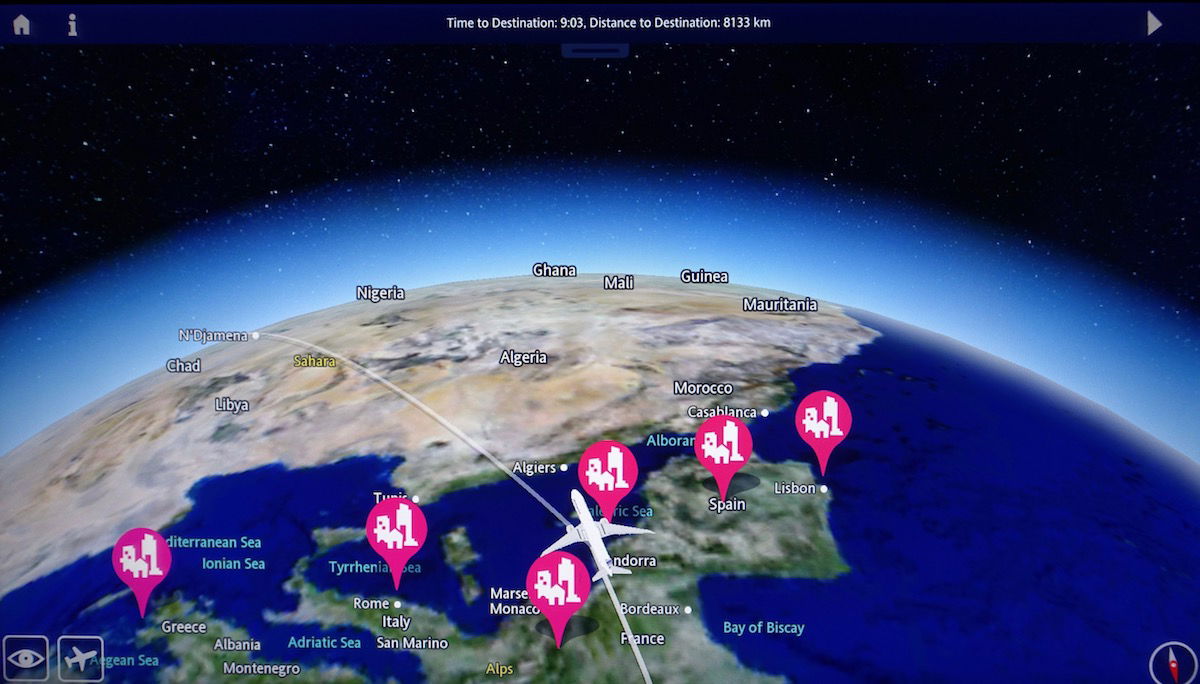 Air France moving map
I slept for a solid four hours, and woke up with five hours remaining to Johannesburg. While I would have ideally slept more, I decided to get up at this point as I wasn't very tired, and we also had an easy day ahead of us upon landing.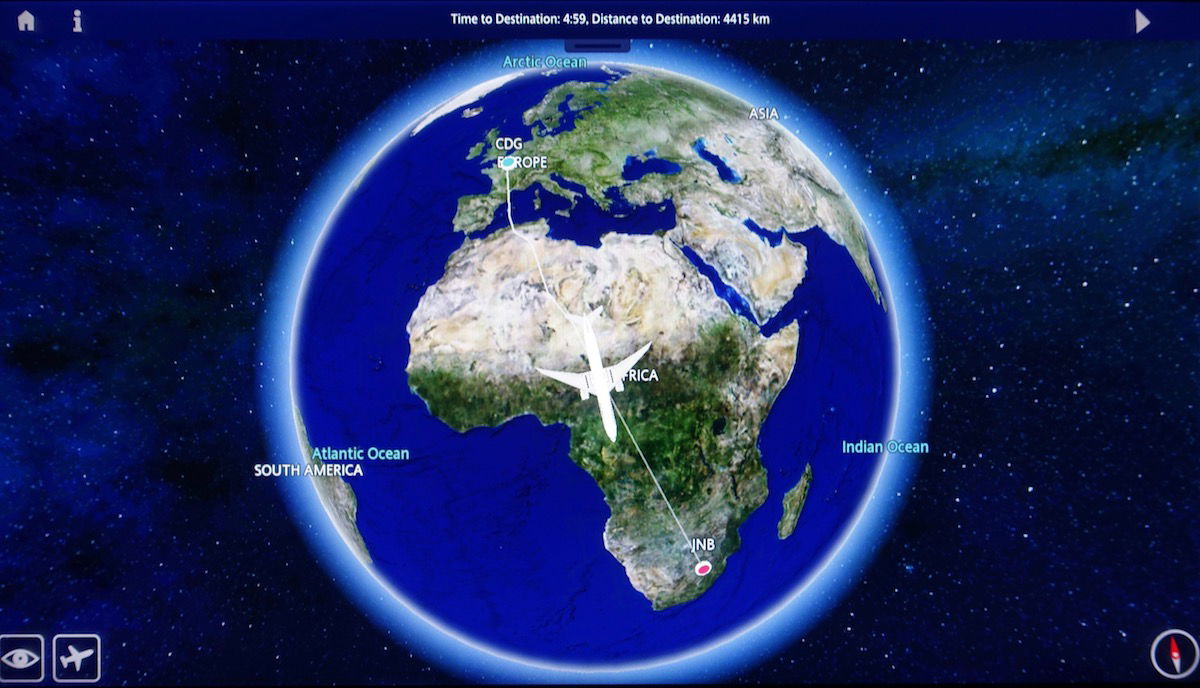 Air France moving map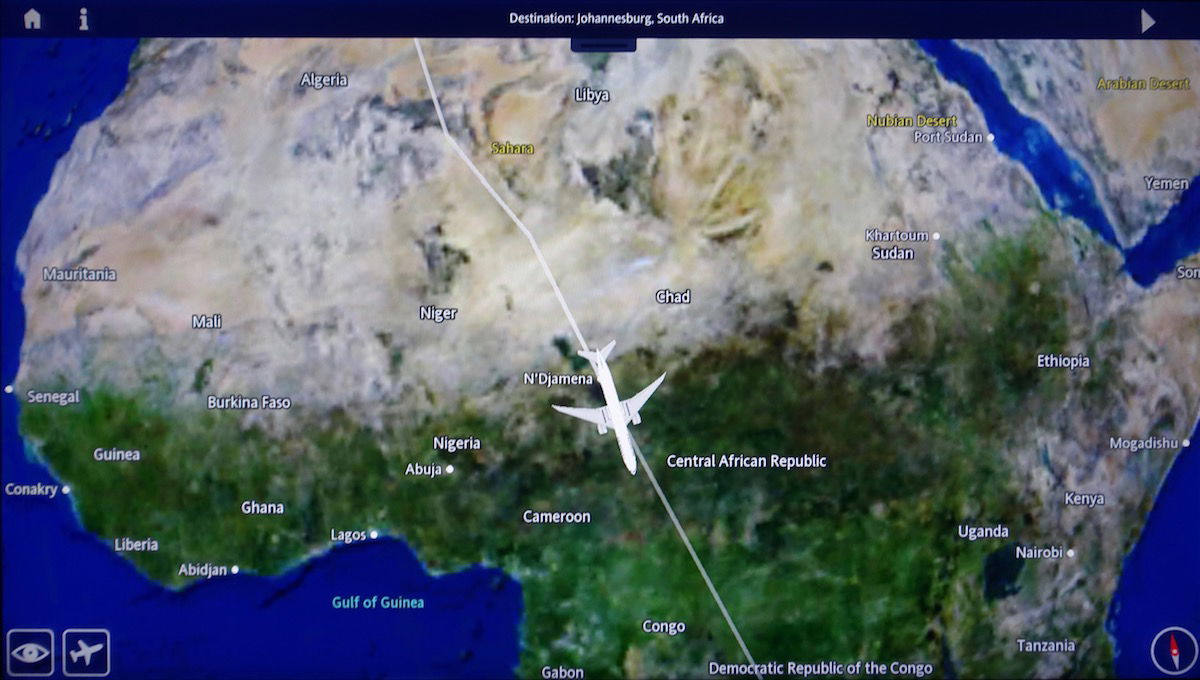 Air France moving map
I decided to watch a couple of TV shows, and ordered a cappuccino. While there are lots of things Air France does well, their cappuccinos aren't among them, and they almost taste powdered.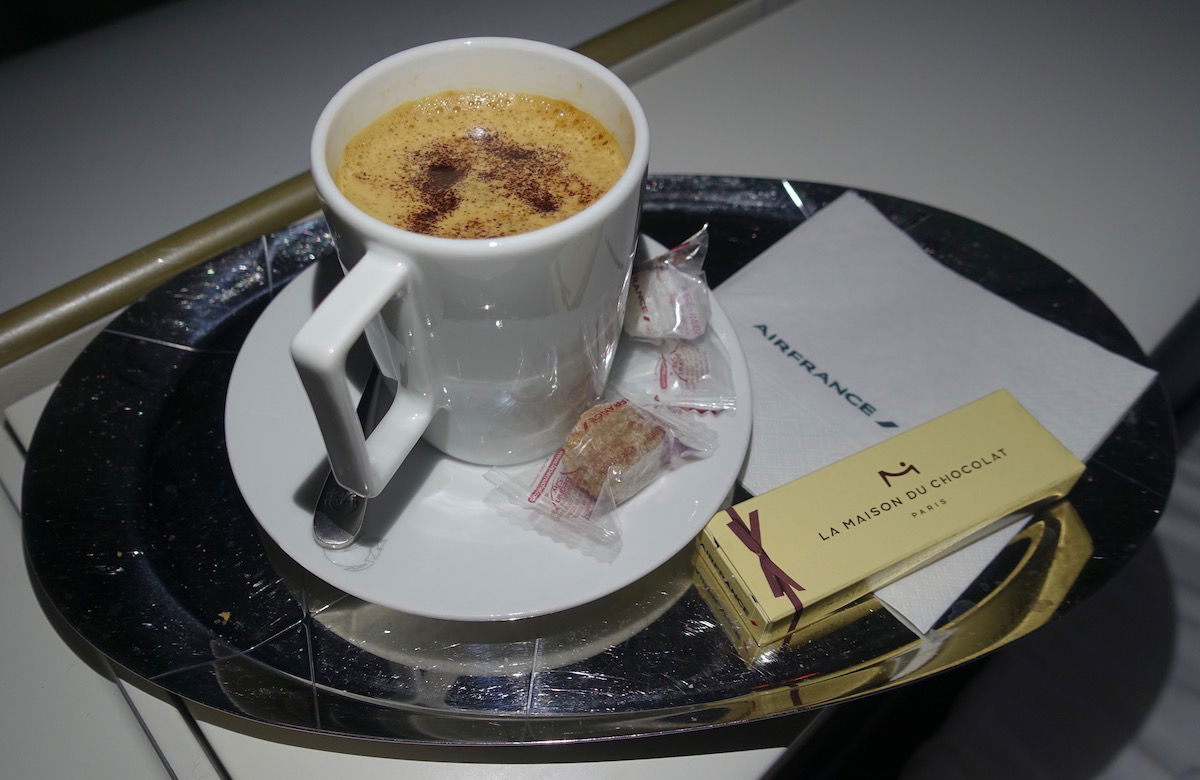 Air France first class cappuccino
Within the next couple of hours my dad and Ford both woke up, and then with around 2hr45min till landing, we decided to all dine together.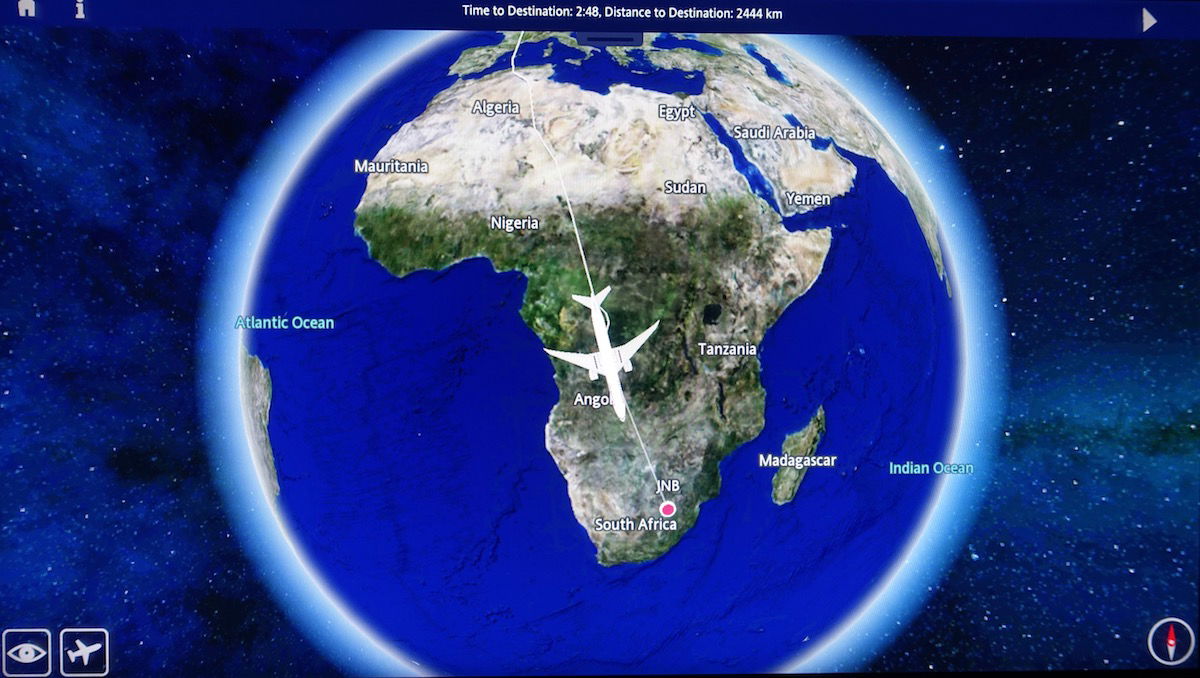 Air France moving map
The menu read as follows: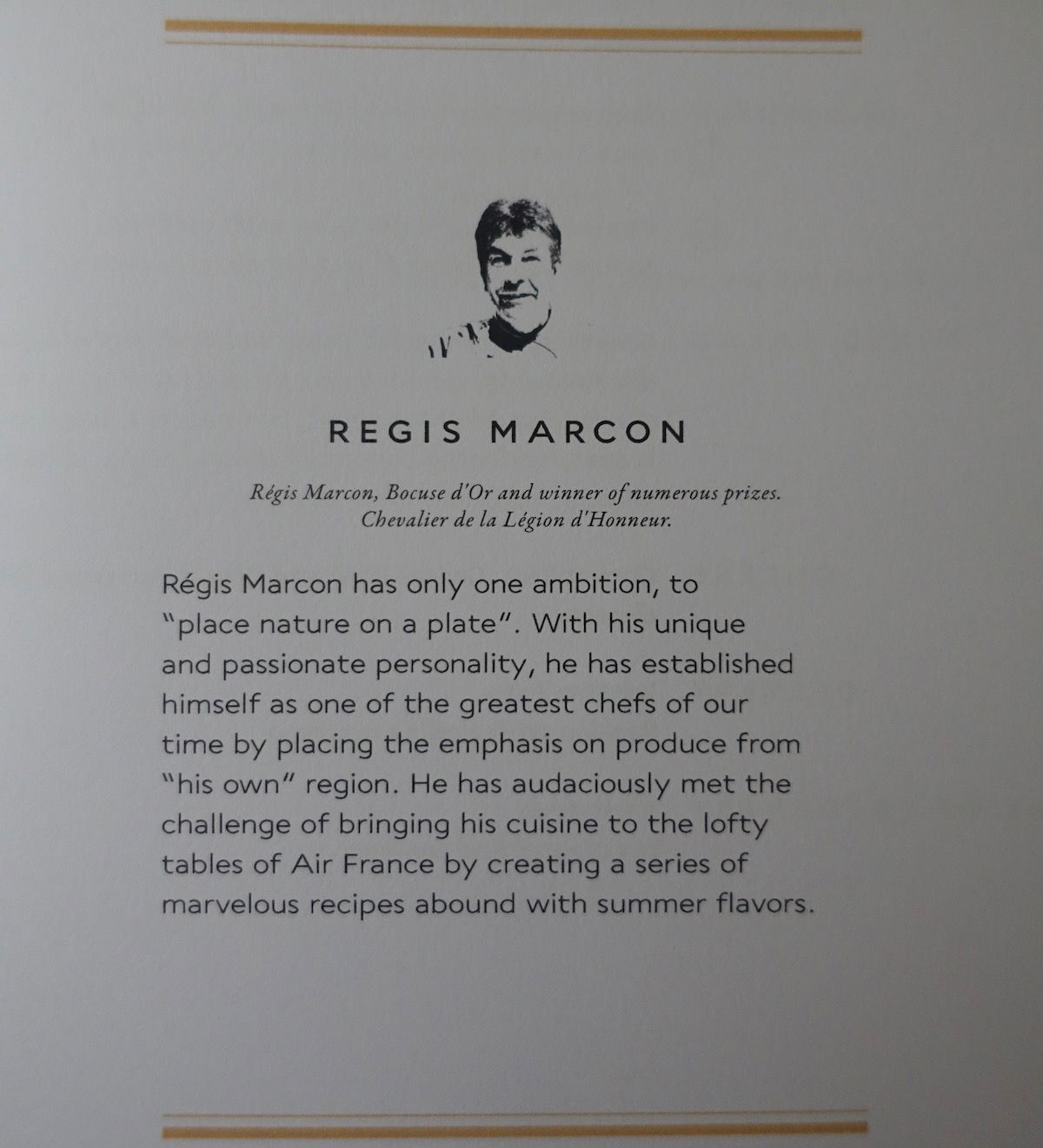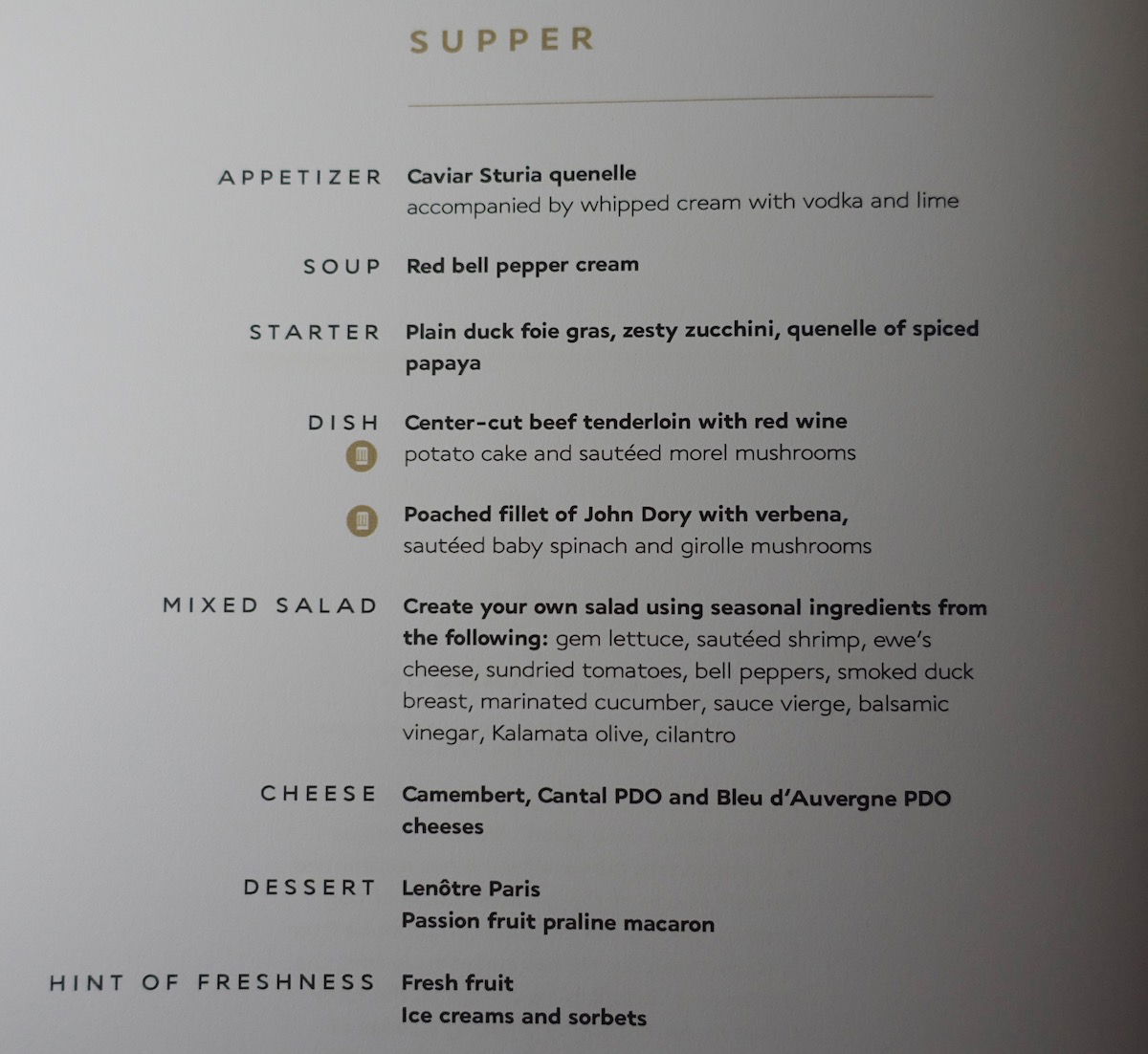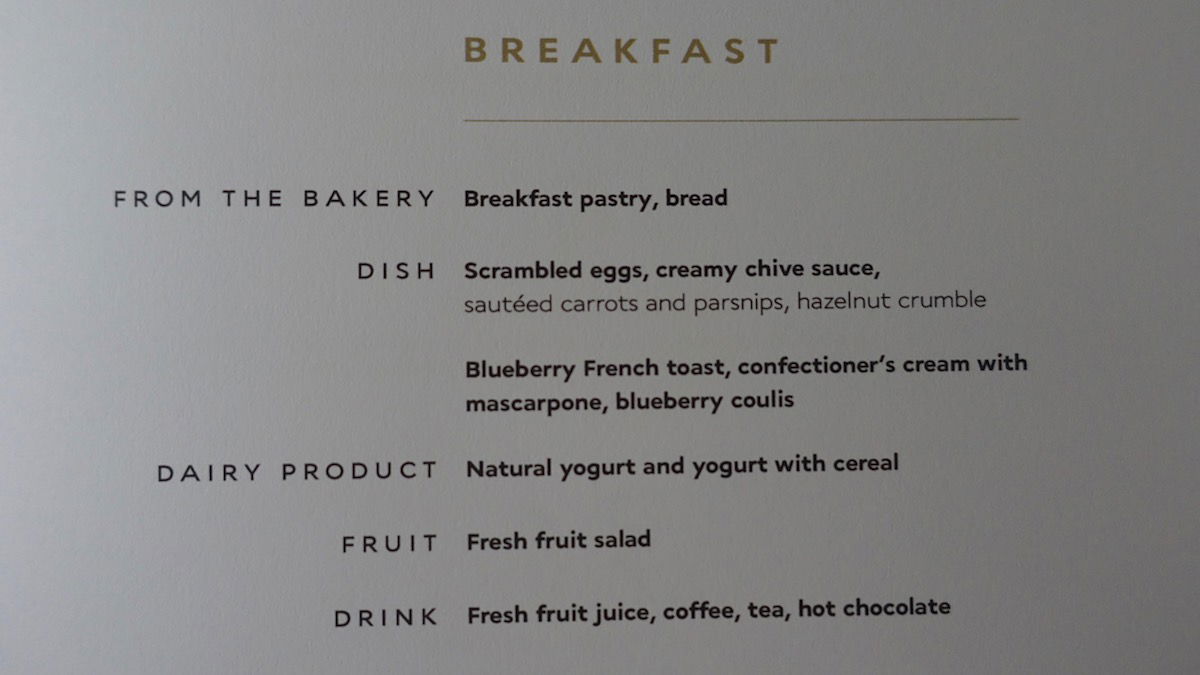 The drink list read as follows: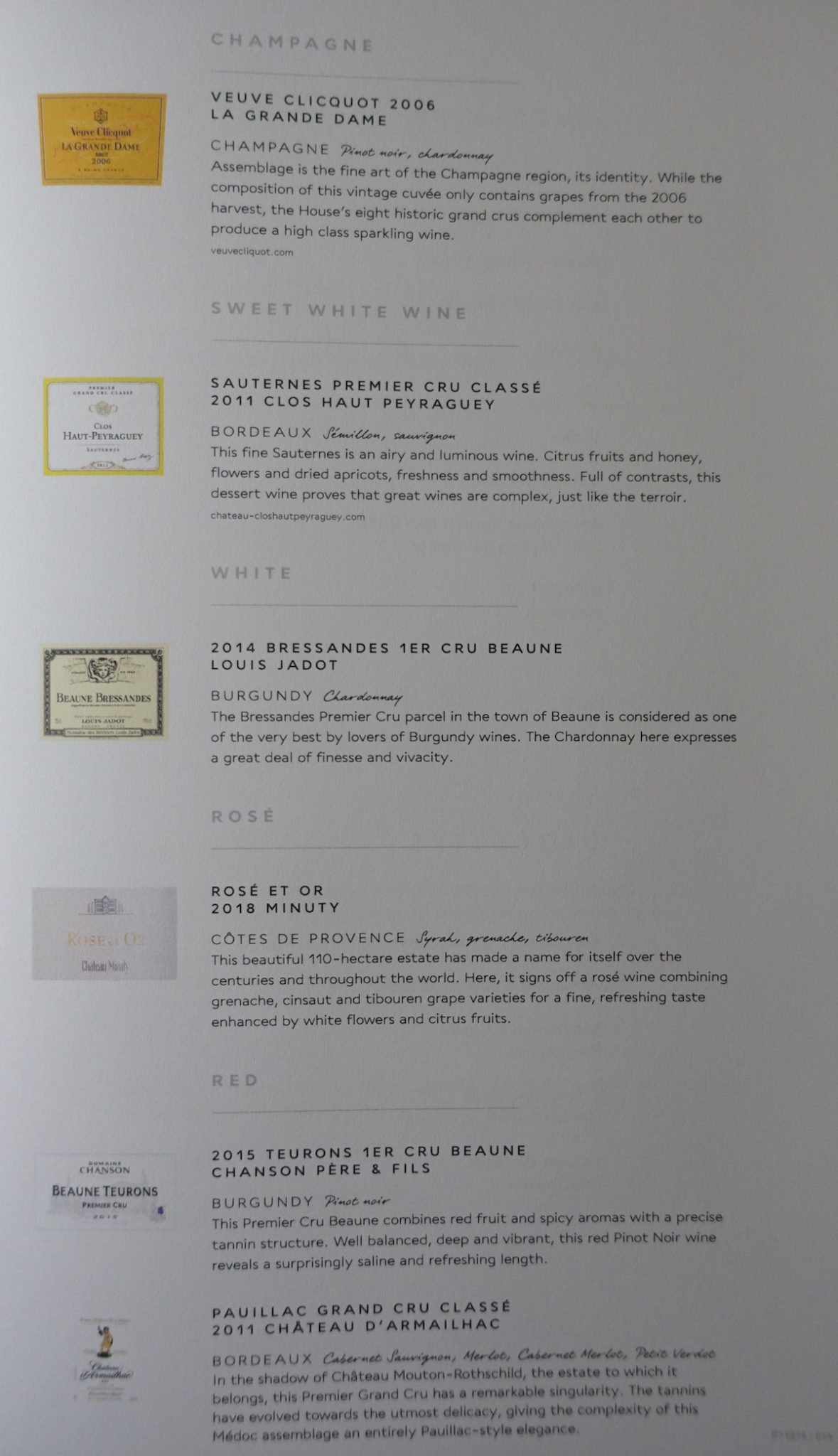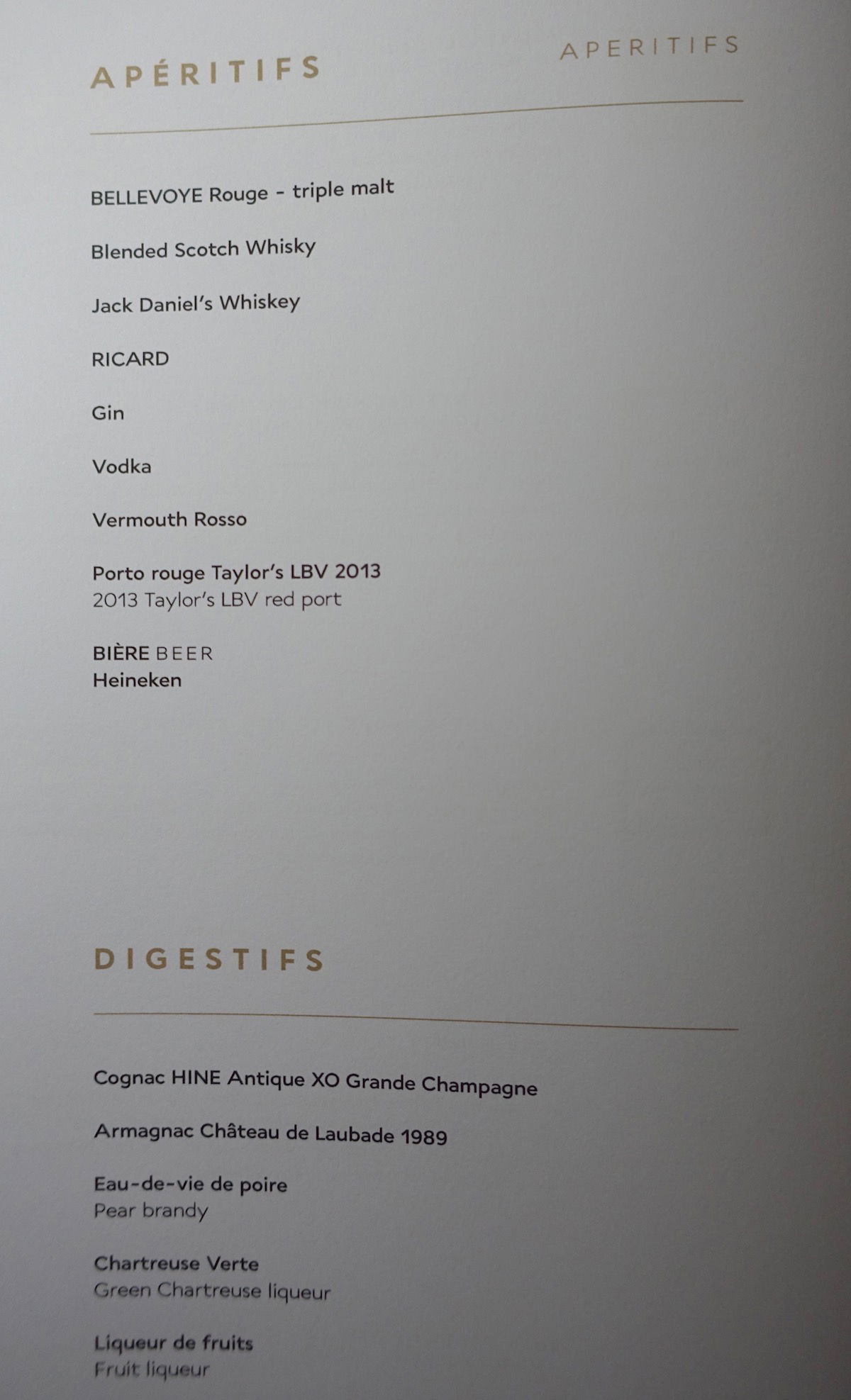 Service began with warm towels being distributed.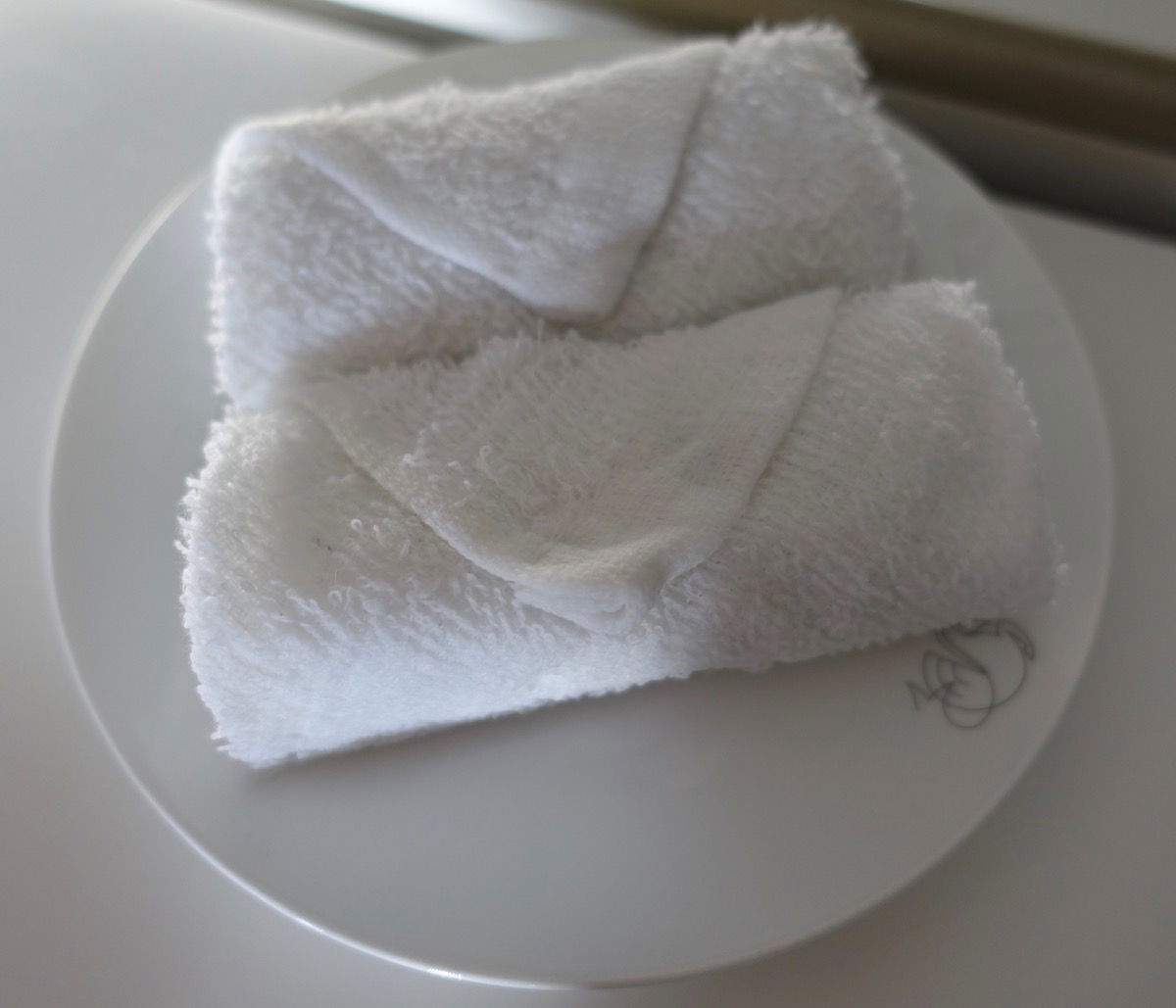 Air France first class warm towel
Then we were first offered a selection of water or juice.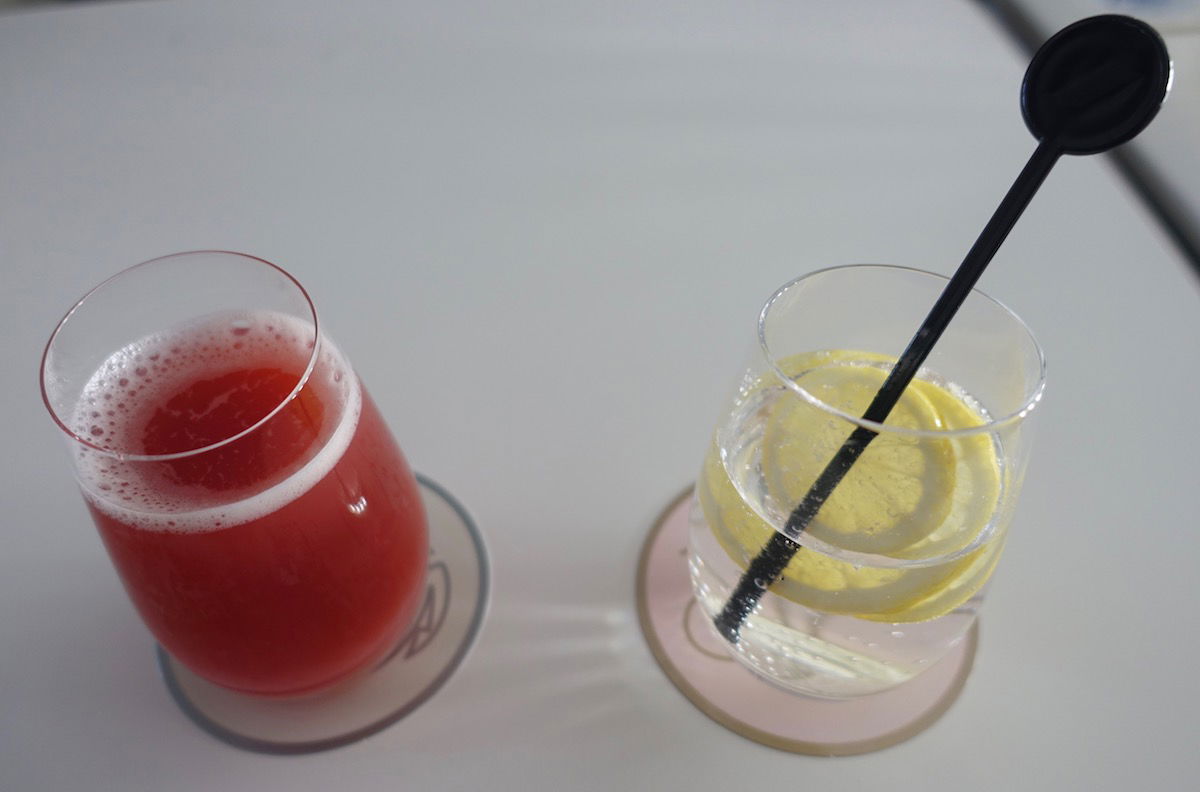 Air France first class drinks
My dad, Ford, and I all took different approaches to our one meal for the flight:
My dad had breakfast, since that's the "natural" meal you'd have after sleeping
I had dinner, because on principle I wasn't going to have my only meal on an international first class flight be breakfast
Ford took a hybrid approach, and had the dinner starters and the breakfast main course
We all dined together in the center section — two of us dined at one table, and one at the other.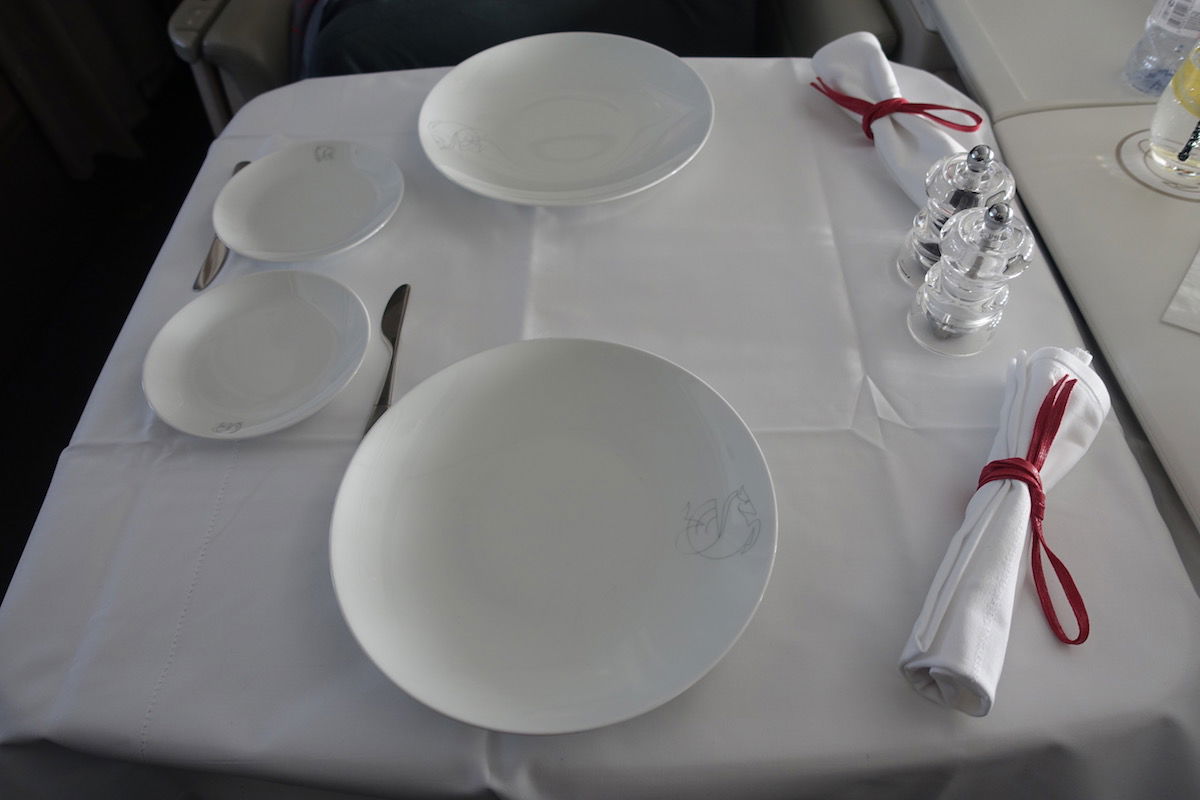 Air France first class table setting
To start, both Ford and I had the caviar sturia quenelle accompanied by whipped cream with vodka and lime, which was excellent.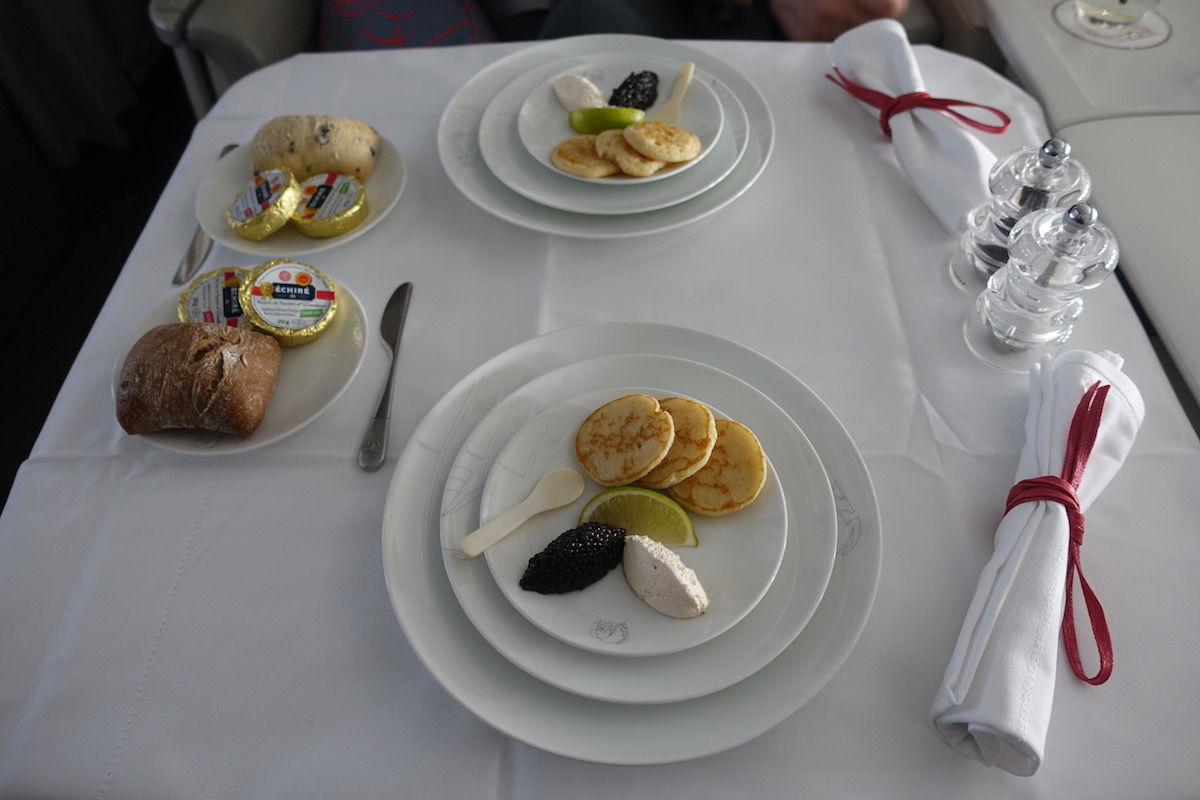 Air France first class caviar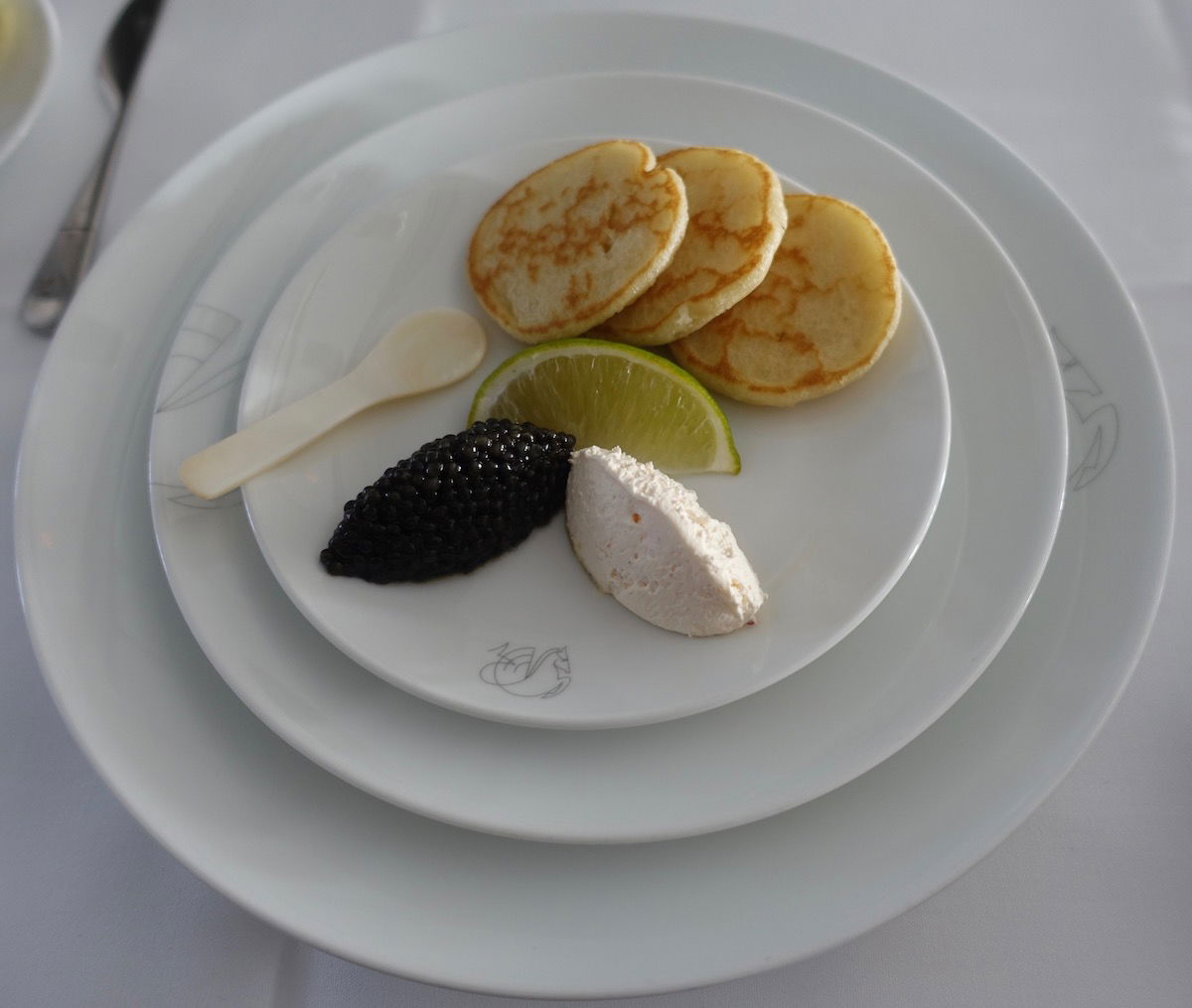 Air France first class caviar
Then for my main course I had the poached fillet of John Dory with verbena, sautéed baby spinach, and girolle mushrooms. The dish was pretty good, though by no means memorable.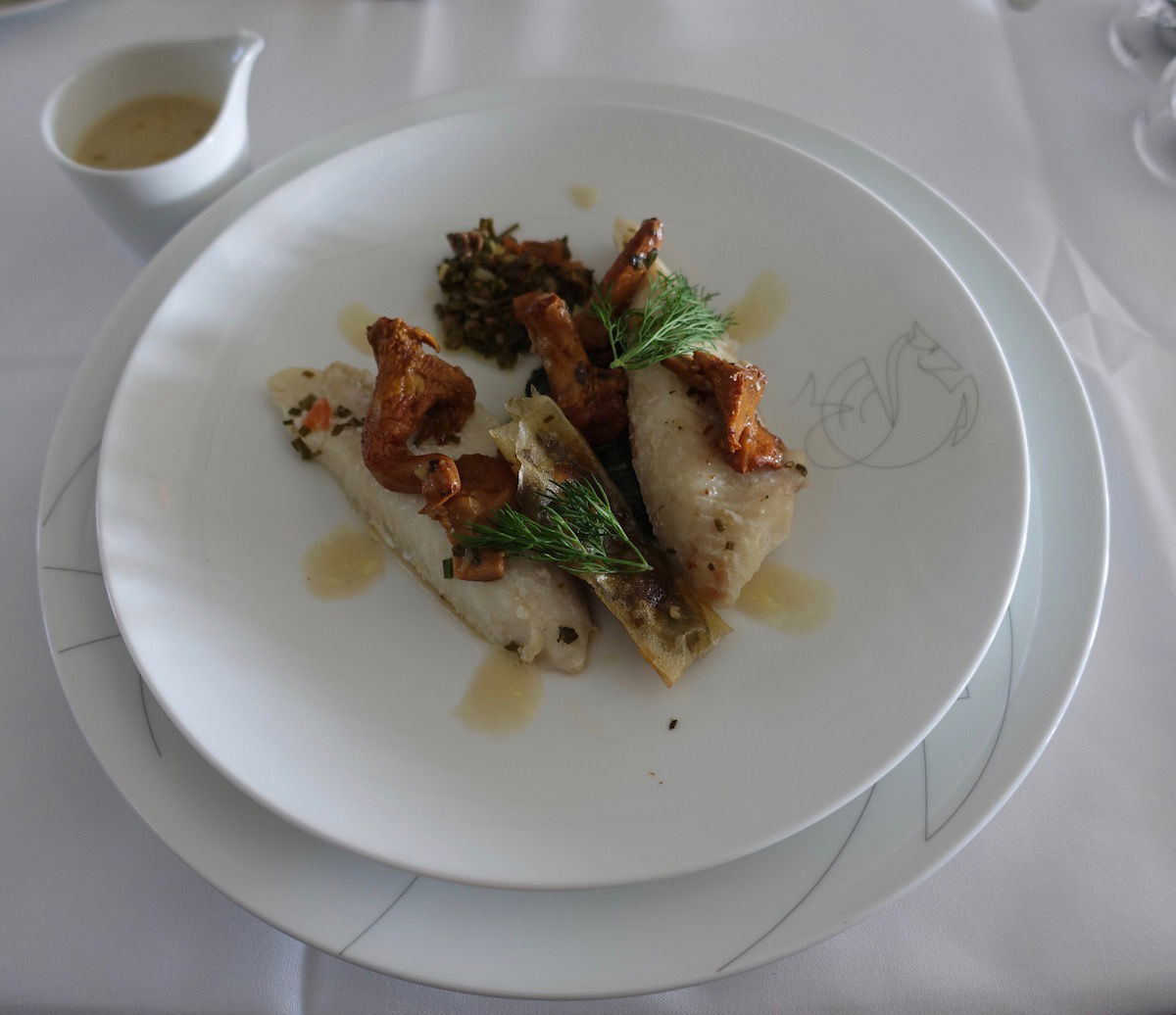 Air France first class dinner
Ford had a custom salad next, which he enjoyed.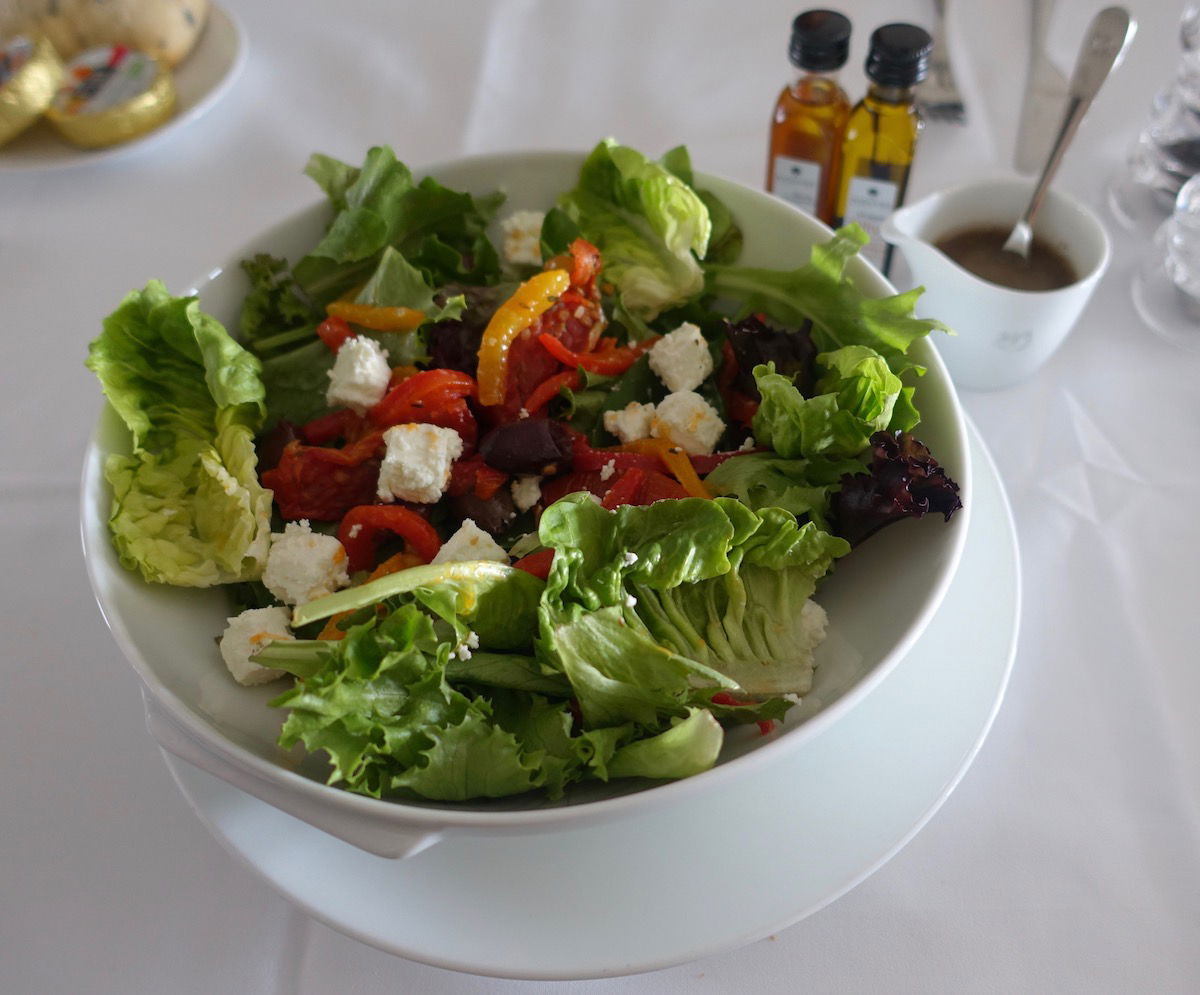 Air France first class dinner
For his main course, Ford had the scrambled eggs with creamy chive sauce from the breakfast menu.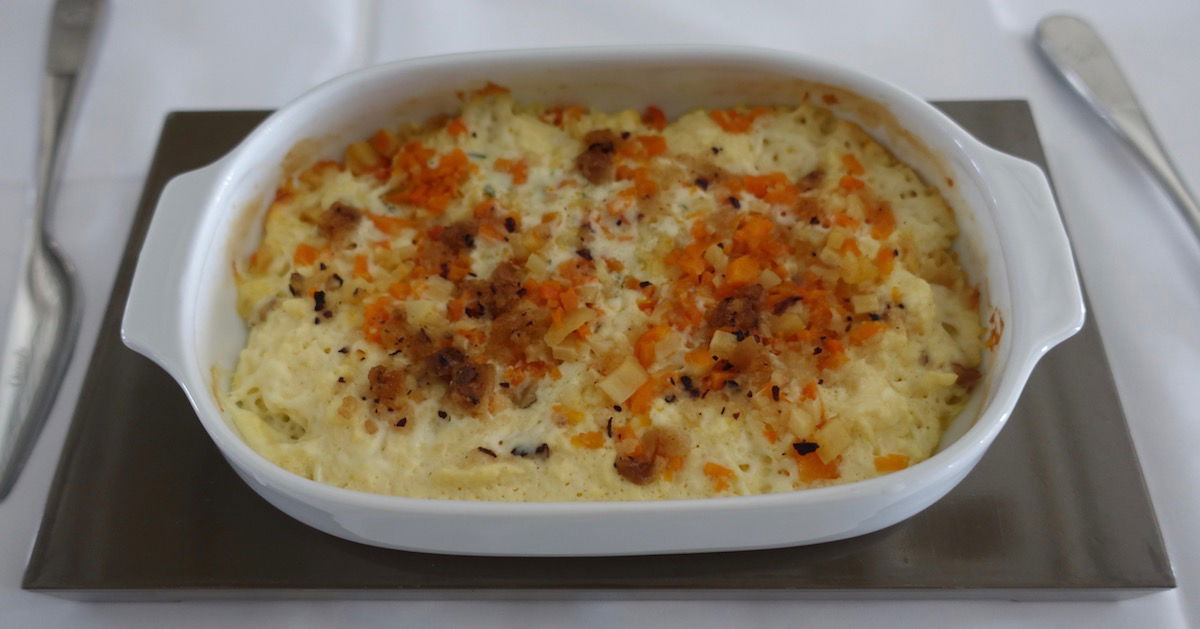 Air France first class dinner
My dad only had breakfast, including fresh fruit and yogurt to start.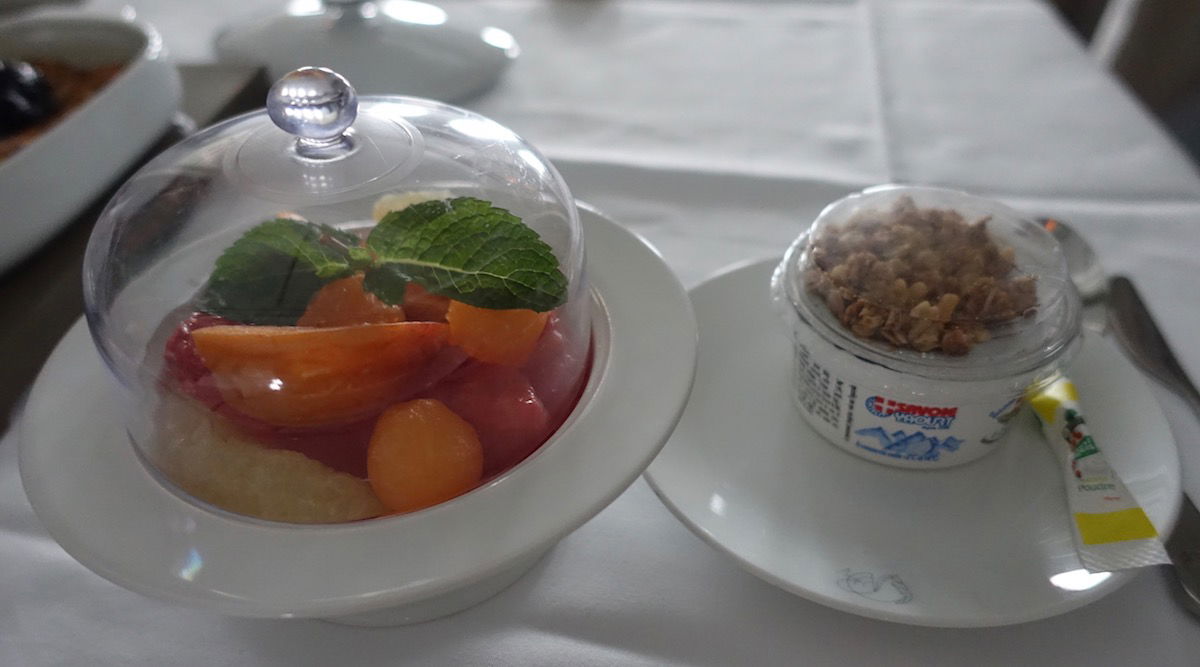 Air France first class breakfast
Then for his main course he had blueberry french toast.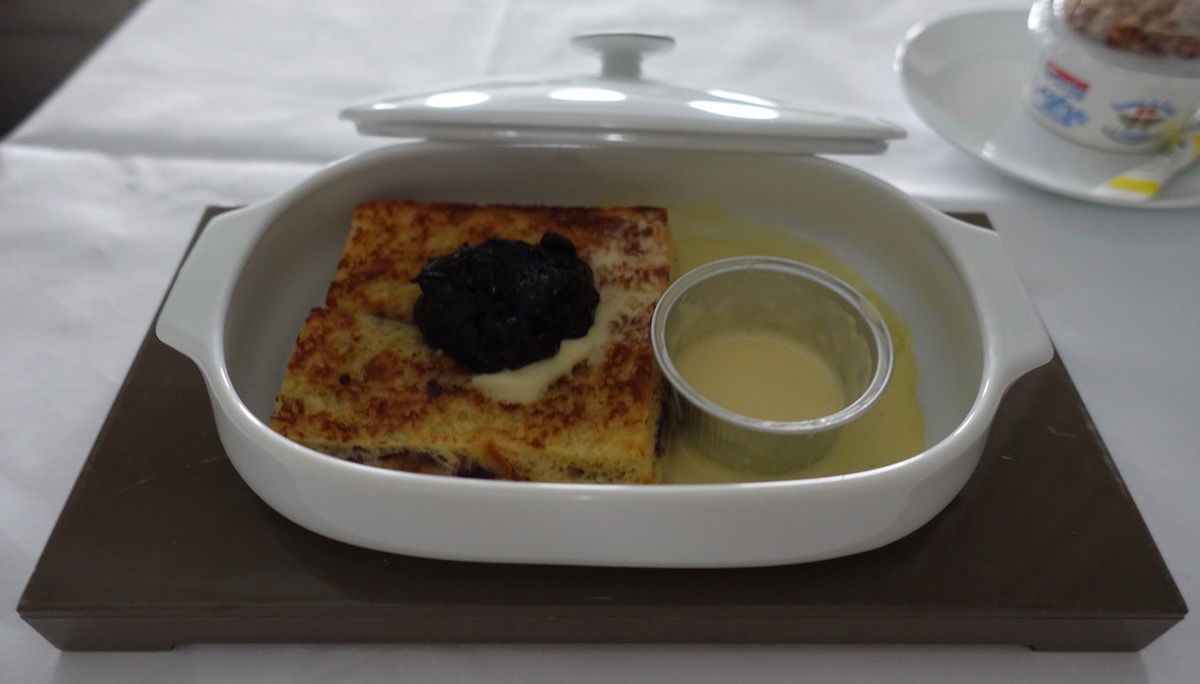 Air France first class breakfast
Then some tasty desserts were brought out. I love how they bring them out with the glass "covers."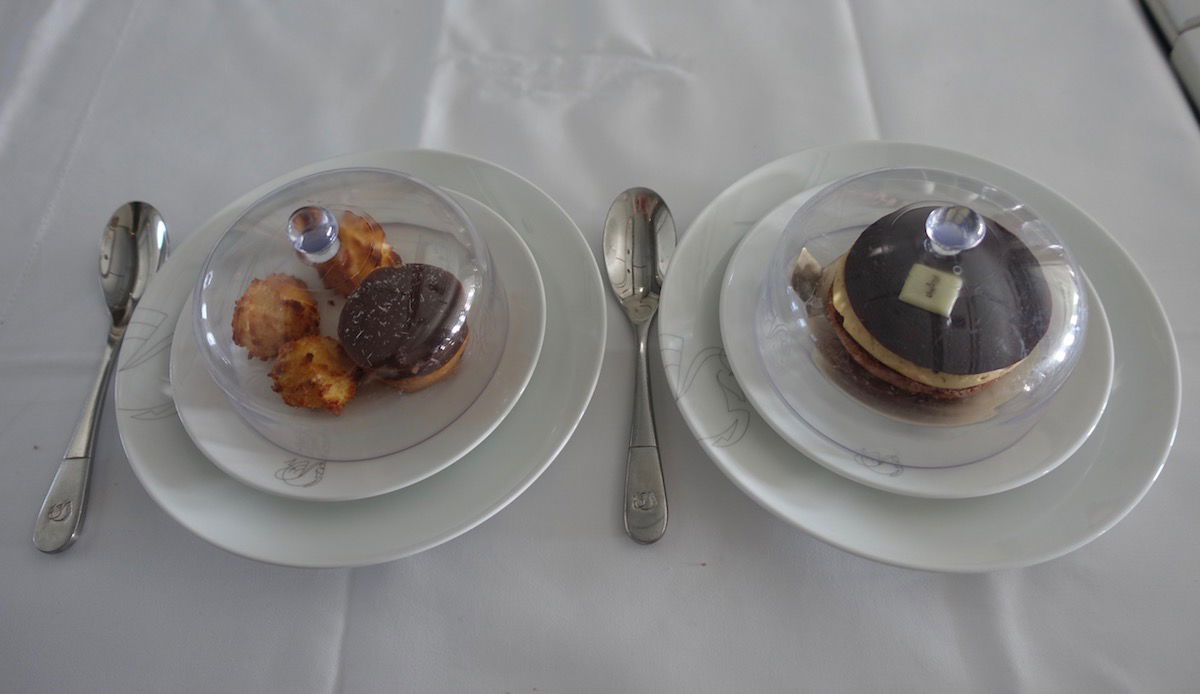 Air France first class dessert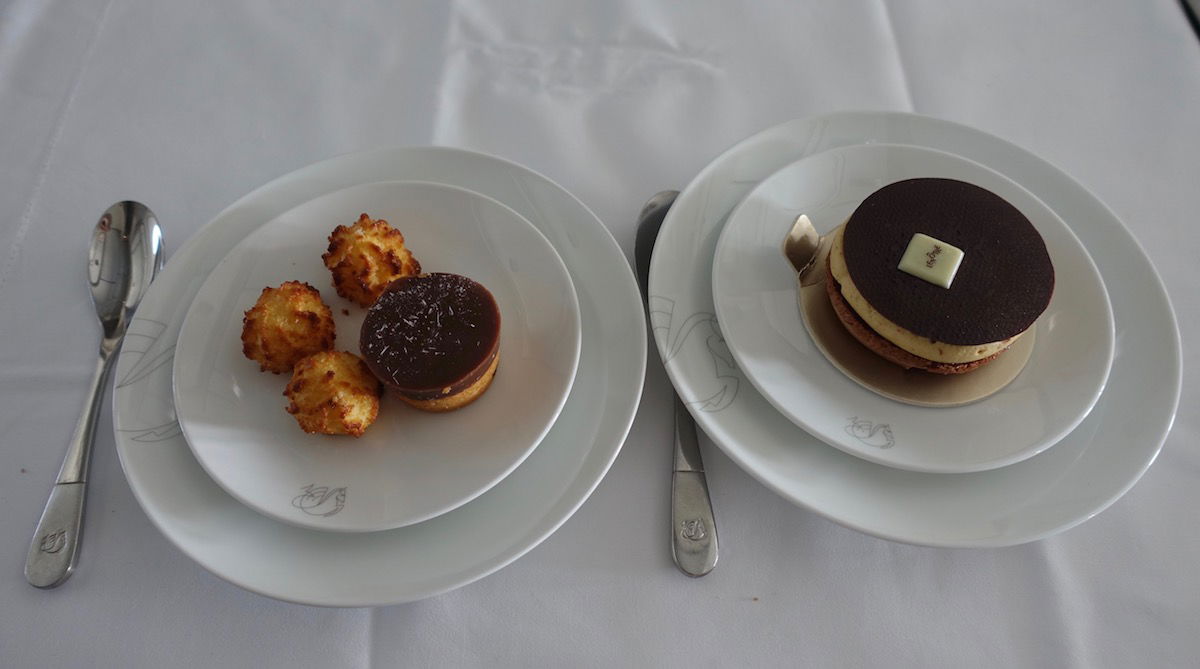 Air France first class dessert
At the conclusion of the meal I had a coffee.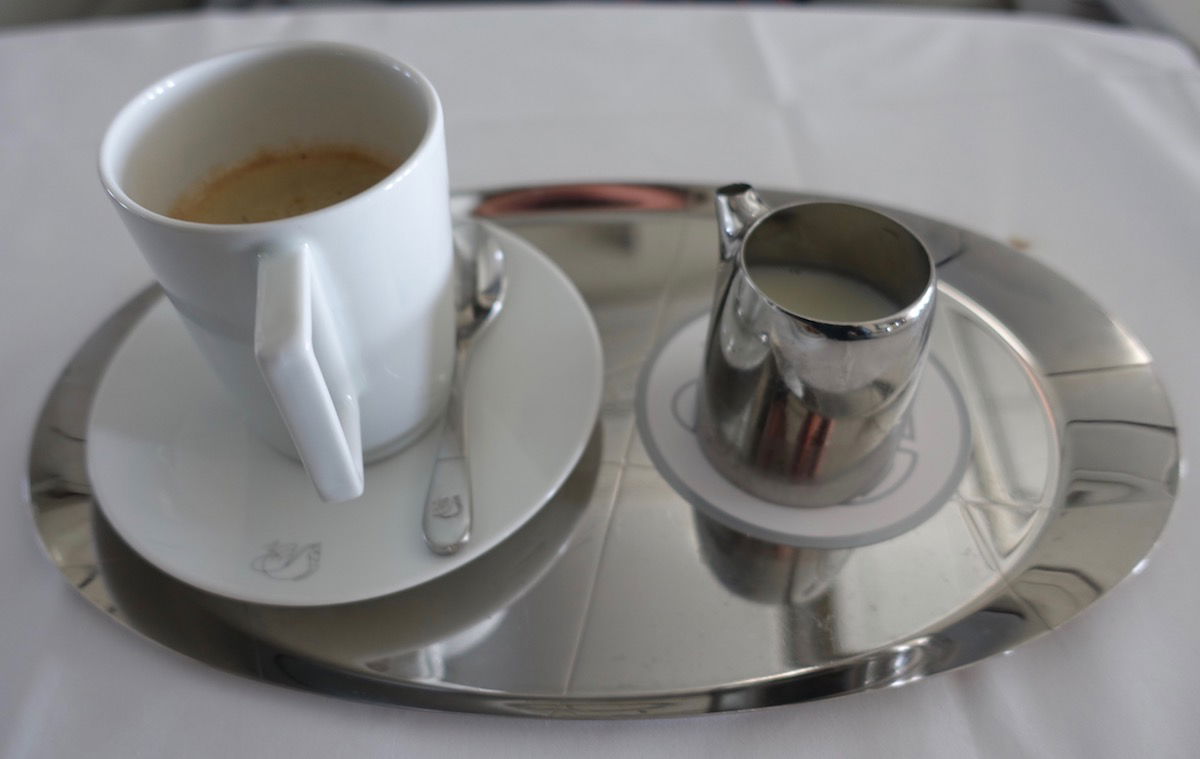 Air France first class coffee
Overall I thought the meal was solid, though I do think there's some room for improvement (and I only mention this because La Premiere is as good as it gets, all things considered):
It seems to me like yogurt should be served in proper bowls rather than containers, unless it's some super-premium brand
They could improve their juices — the flight attendant recommended a cranberry apple juice, but then brought out the bottle and it showed that it was Tropicana
There's definitely room for improvement when it comes to the coffee drinks, especially the cappuccinos
All minor in the grand scheme of things, but these all seem like easy enough fixes.
The crew just couldn't have been lovelier, between the excellent flight attendant taking care of us, as well as the cabin manager who constantly checked on us.
At around 9AM the captain announced that we'd be landing in 40 minutes. Five minutes after that the seatbelt sign was turned on. The views on approach were great, initially of the wide open landscape, and then of sprawling Johannesburg.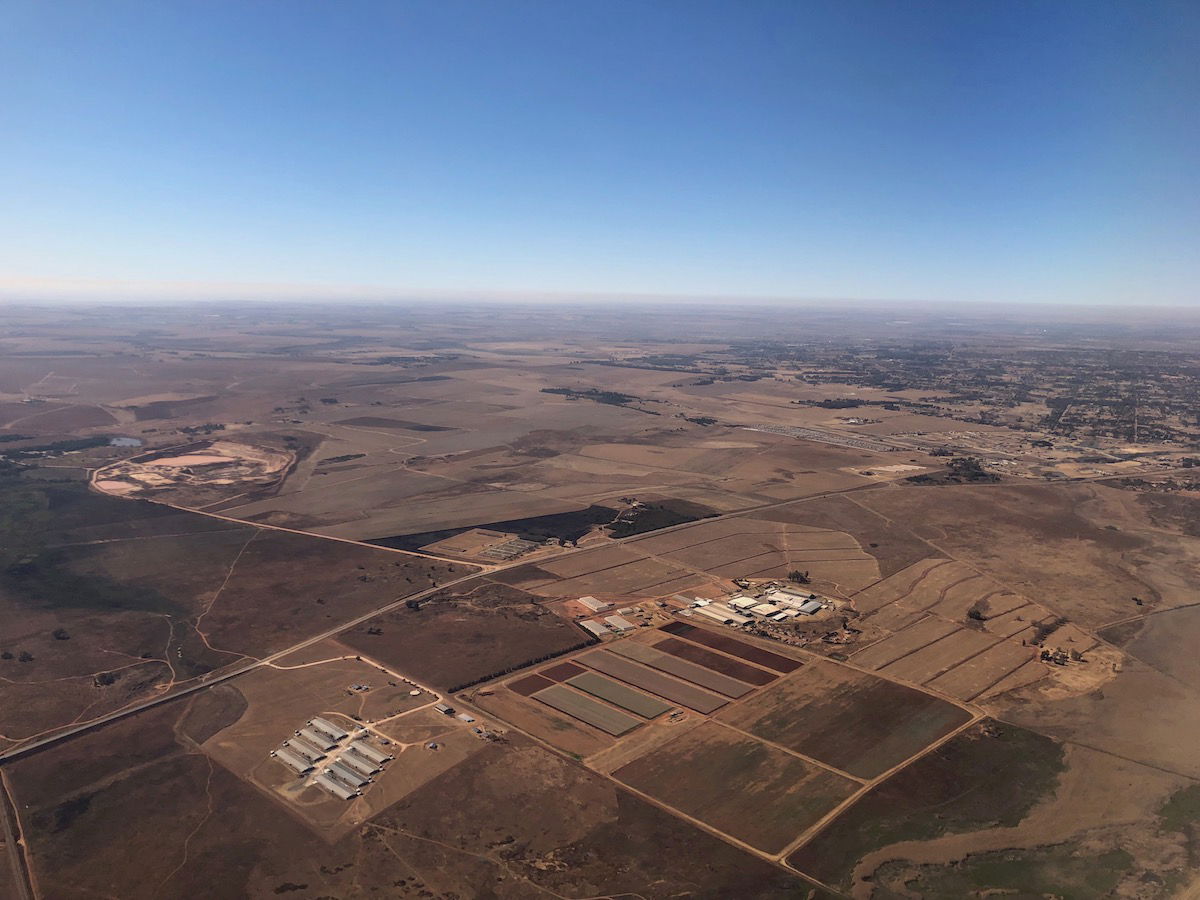 View approaching Johannesburg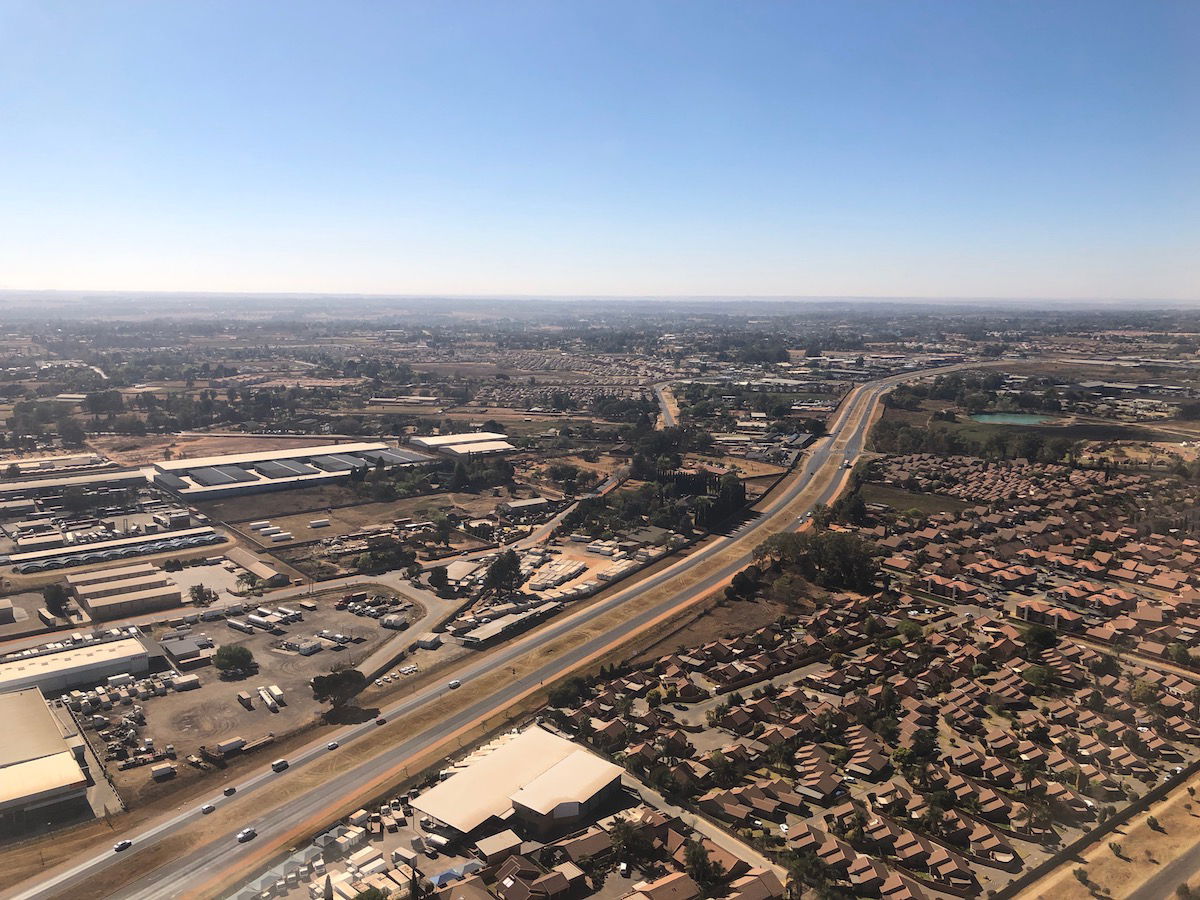 View approaching Johannesburg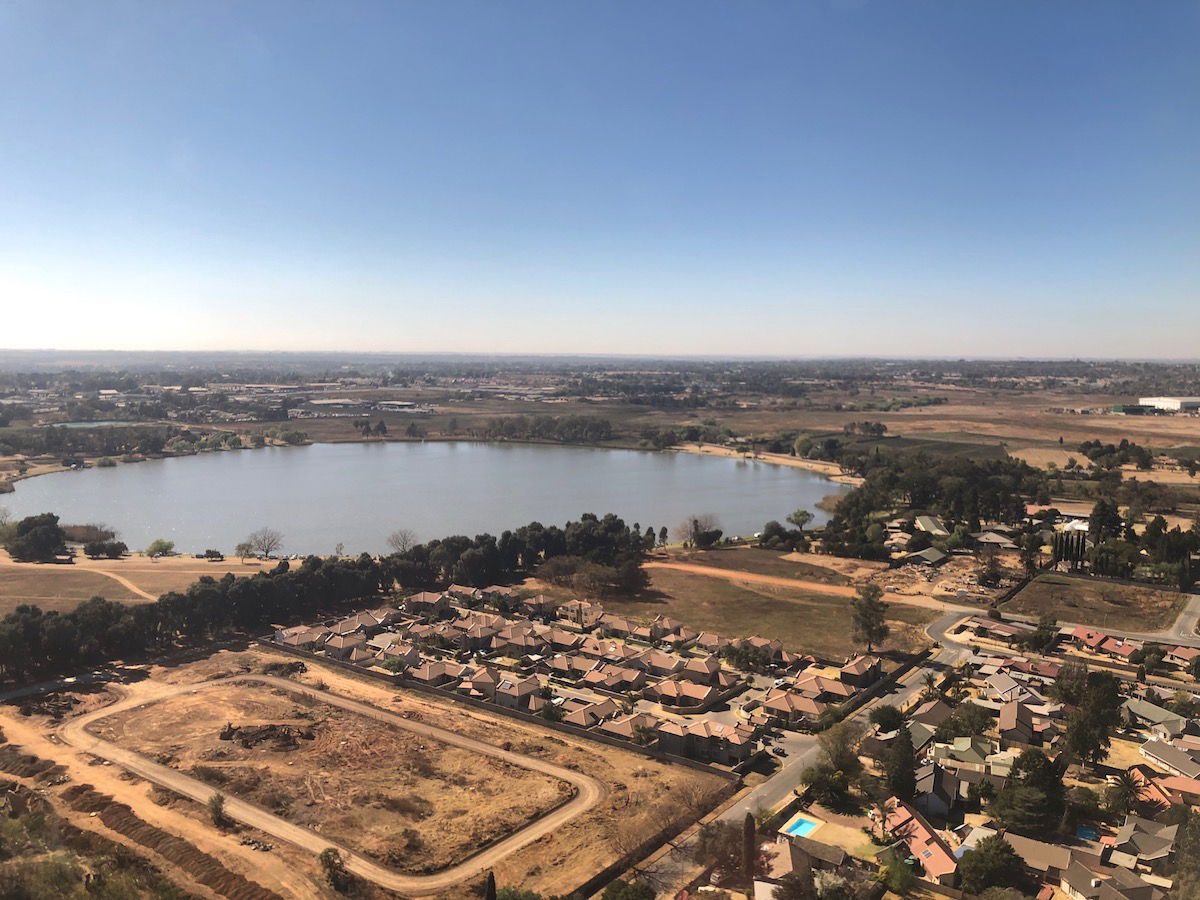 View approaching Johannesburg
We ended up touching down in Johannesburg at 9:40AM.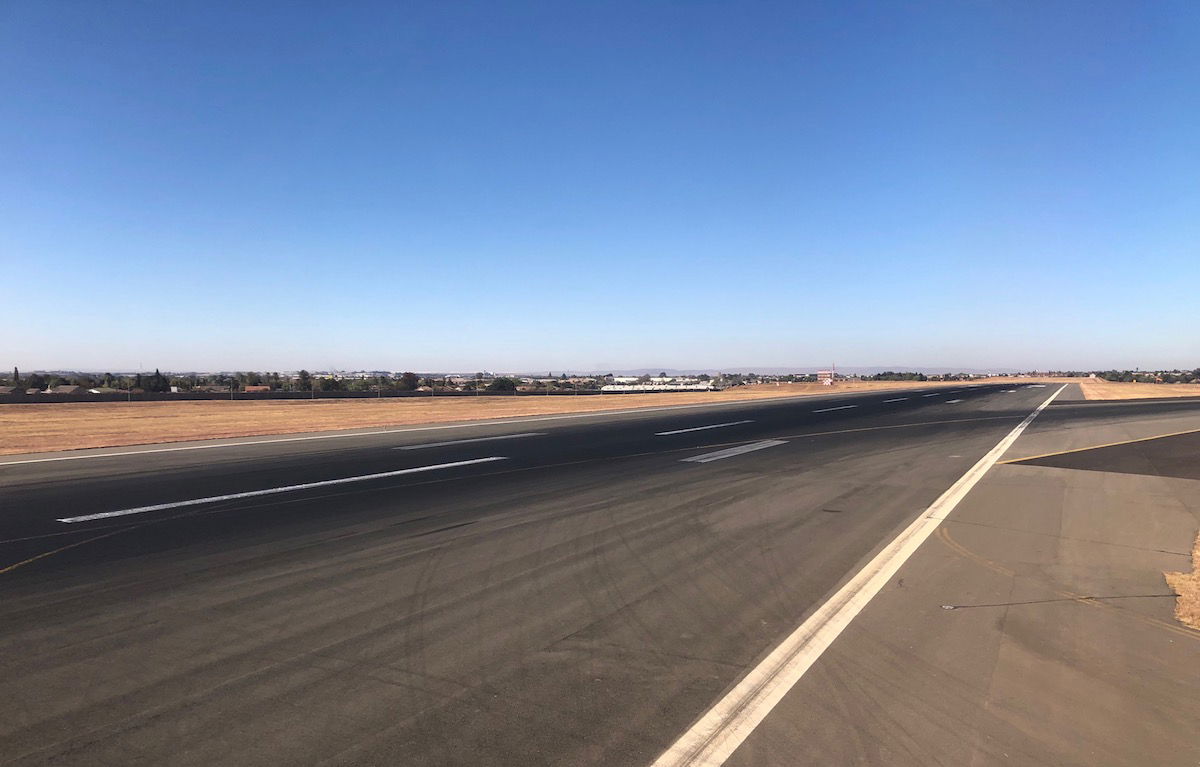 Taxiing Johannesburg Airport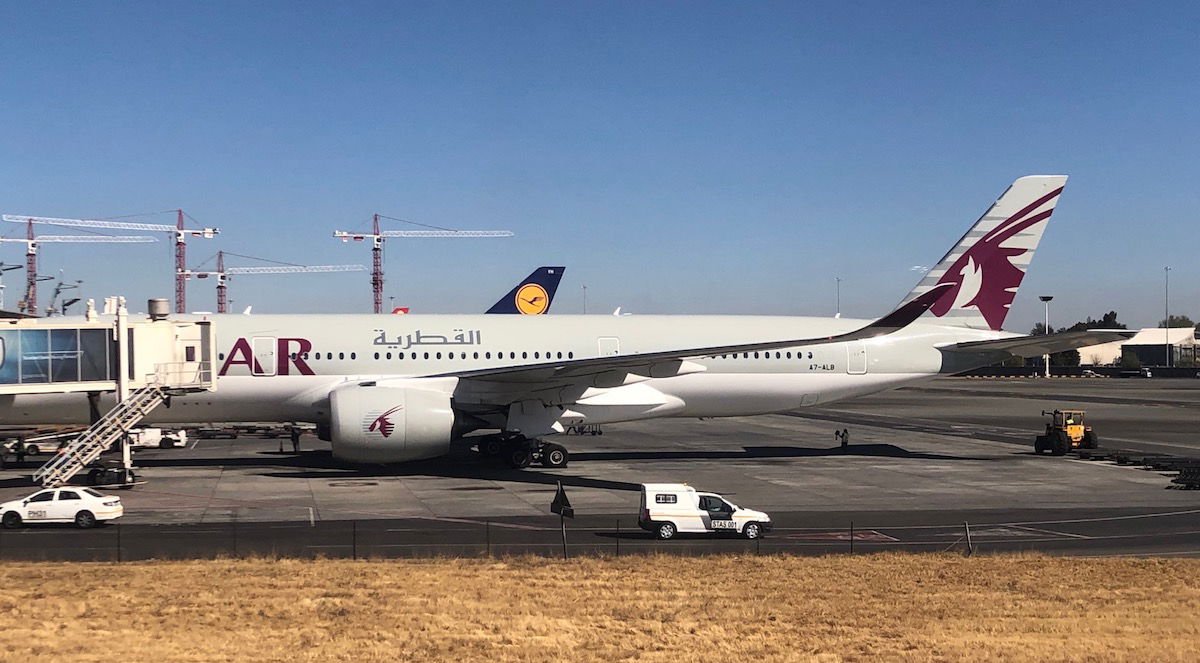 Qatar Airways A350 Johannesburg Airport
From there we had a five minute taxi to our arrival gate, where we parked between a Qatar Airways A350-900 and a Lufthansa 747-8.
Upon getting off the plane we were met by two Air France agents, who would help us get through immigration (Air France offers La Premiere passengers escorts through the airport globally). It was quite a walk to immigration, though they walked with us the whole way.
They couldn't actually get us a cut in line (not that we expected it), so when it came time to queue they just left us alone, and met us on the other end. Fortunately the line was very short. Both were friendly, and escorted us all the way to the InterContinental Johannesburg, where we'd spend the night.
Air France La Premiere Summary
I can't even begin to sum up how memorable the whole journey was from New York to Johannesburg via Paris. Not only does Air France have one of the world's best first class products, but on both flights we had the cabin all to ourselves.
What an incredible way to fly. What made this flight extra special was the great lengths the crew went to keep our destination a secret from my dad, which I didn't talk too much about in this post, but which you can read more about here.
These were two flights none of us will even forget, and this was only the start to one incredible adventure.