---
Malaysia Airlines 4
Kuala Lumpur (KUL) – London (LHR)
Monday, February 18
Depart: 10:45AM
Arrive: 4:15PM
Duration: 13hr30min
Aircraft: Airbus A380
Seat: 1D (First Class)
At the door I was welcomed by May and Liza, the chief stewardess and leading stewardess, respectively. I could immediately tell it would be a great flight, as they were all smiles. Liza directed me to my seat, 1D, and immediately offered me a beverage.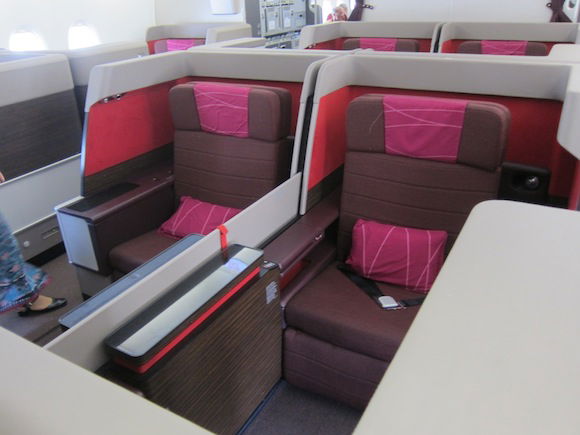 Our seats, 1D & 1G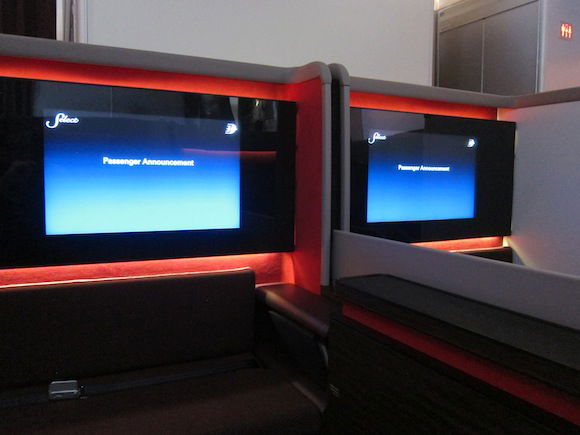 Our seats, 1D & 1G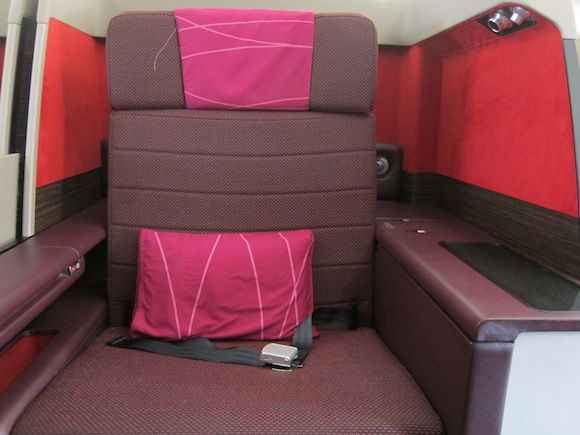 My seat, 1D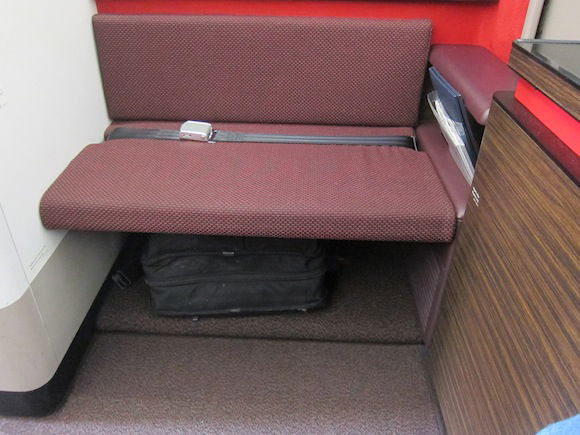 My seat, 1D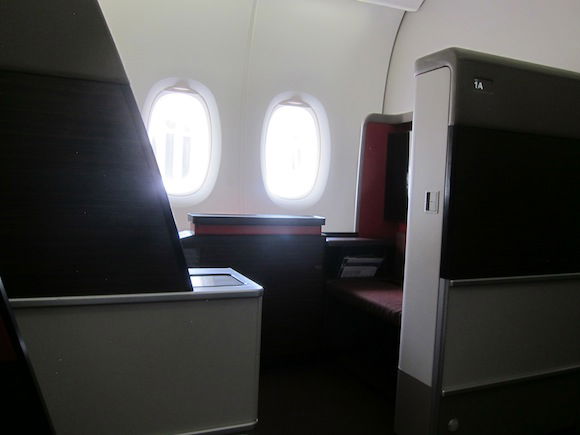 View from my seat of 1A
I ordered a glass of water and per Liza's suggestion also ordered one of their signature drinks. These were promptly served along with a hot towel.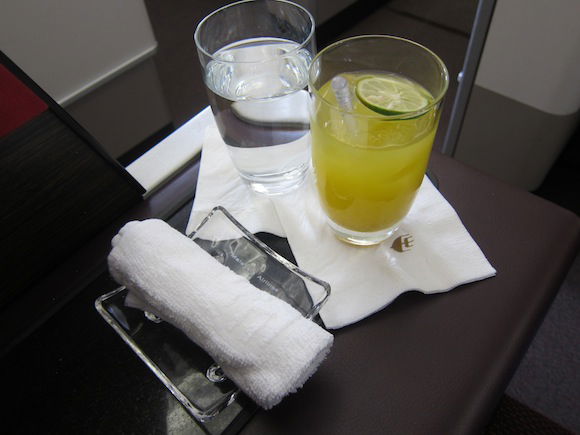 Pre-departure beverages
This time around instead of the bag with the amenities already being at my seat upon boarding, it was brought to me after drinks were served. Liza asked what size pajamas I wanted, and then brought over the bag, saying "Mr. Lucky, please enjoy the hospitality bag we've put together for you."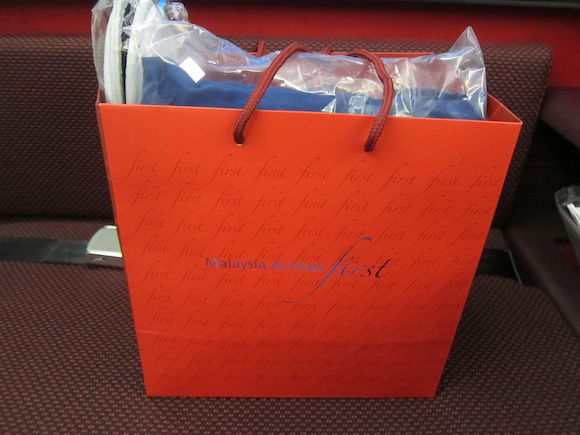 Hospitality bag
As was the case last time, the bag consisted of pajamas, slippers, an amenity kit, and headphones,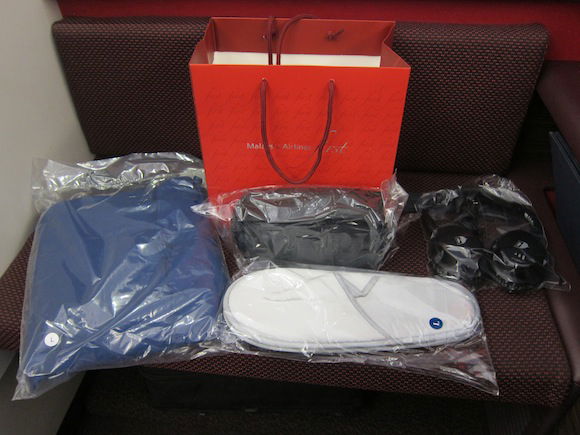 Amenities
After that I was offered the menu, which was presented in a nice leather binder.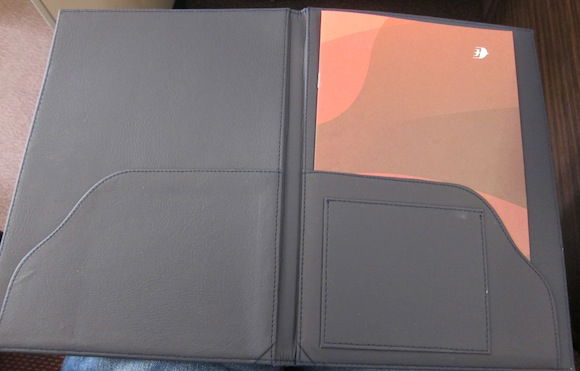 Menu
Next I was offered a UK landing card and Fast Track pass.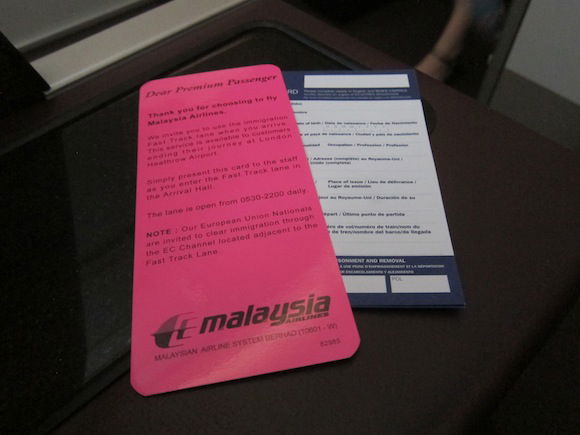 Landing card
As boarding finished up, four of the eight first class seats were taken. Seats were assigned perfectly in that the two window seats in row two were taken, while we had the center seats in row one, meaning there were only two people per row.
Right before push back the captain came on the PA to welcome us aboard and inform us of our flight time of 12hr55min, which he anticipated would put us into Heathrow right on time.
The safety video played as we pushed back, and our taxi to runway 32R took about 10 minutes. Once we were at the runway we were number one for takeoff, and again had a long takeoff roll and gradual climb out.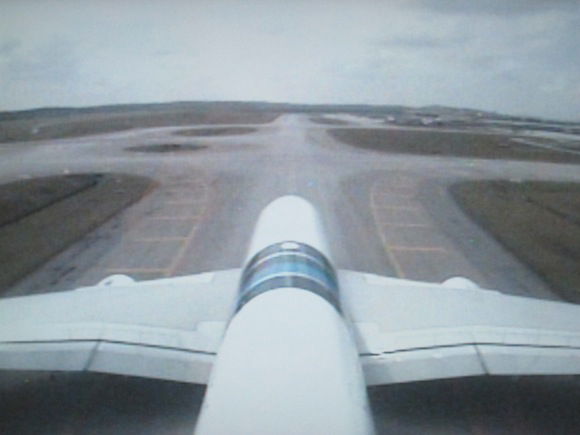 Tail camera while taxiing to runway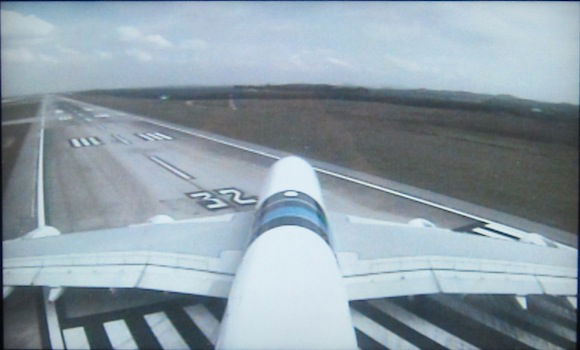 Tail camera on runway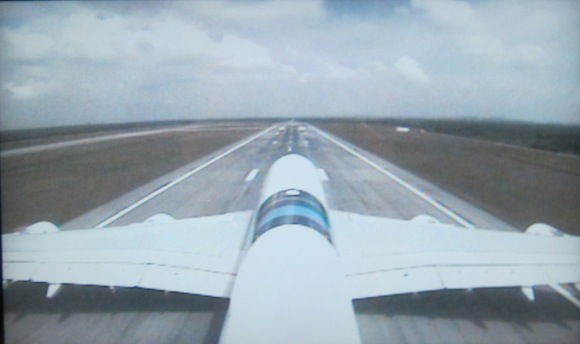 Tail camera while taking off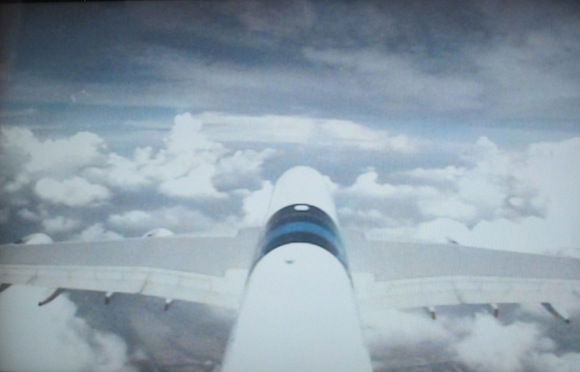 Tail camera once airborne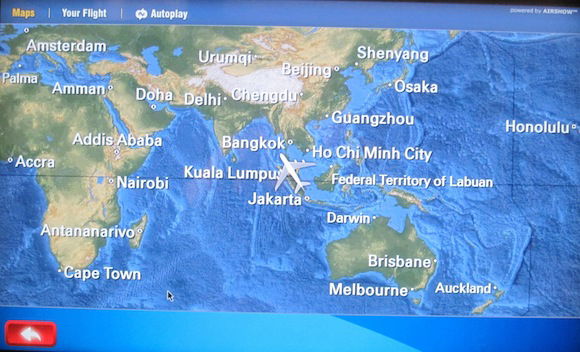 Airshow after takeoff
As we climbed out I browsed the entertainment selection, and eventually settled on watching "Fun Size." I realize I'm probably a dozen years too old to be watching the movie, though it wasn't totally horrible.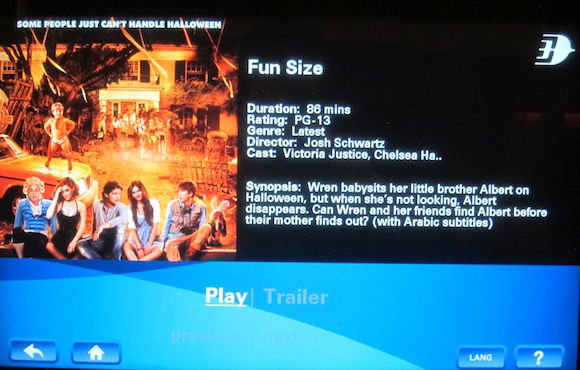 Fun Size
On our climb out the inflight service manager, Cecilia, came by to introduce herself and wish us a pleasant flight. She assured us her crew would take great care of us, and told us to call on her at any time if we needed anything.
About 20 minutes after takeoff the lunch service began. The menu read as follows (I won't post the beverage list again, as it was identical to the list on the outbound):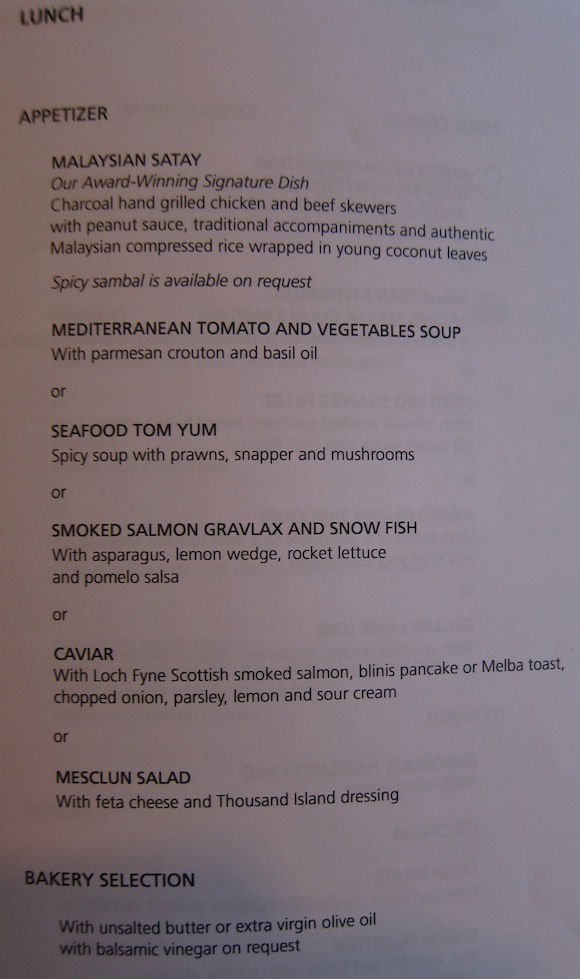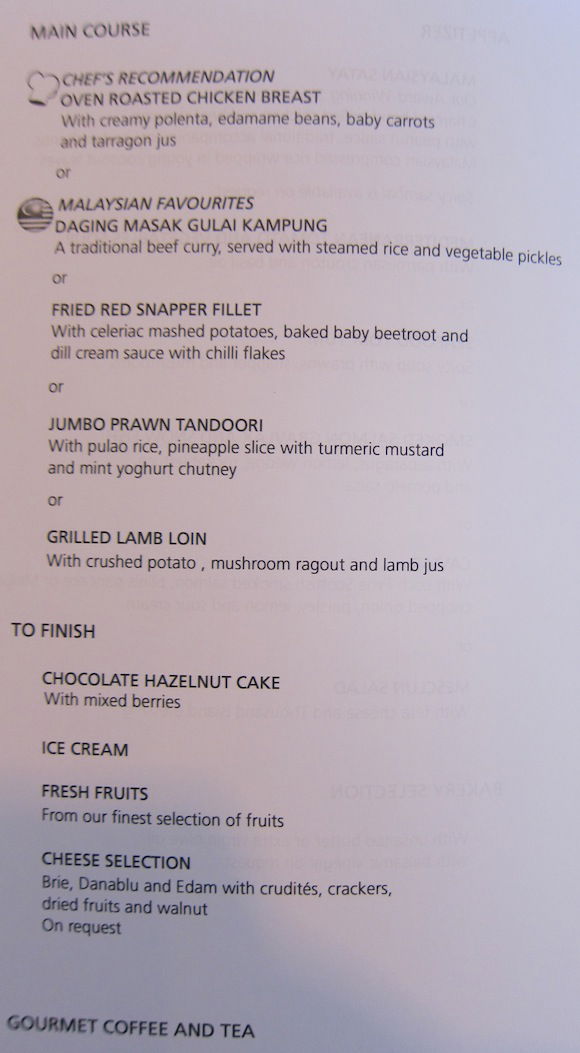 To start I ordered a Diet Coke and glass of Dom, which were served with mixed nuts.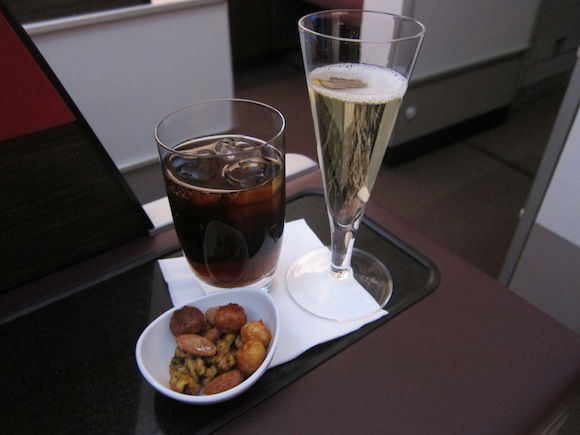 Drinks and mixed nuts
As is the norm on Malaysia, the first course consisted of satay, accompanied by peanut sauce and compressed rice in coconut leaves. This crew was much better than on the outbound on so many levels. Often it's the little touches that make all the difference. For example, not only was I addressed by name when I was asked whether I wanted satay, but I loved how I was asked — "Mr. Lucky, may I indulge you in some of our famous satay?"
The satay was delicious, and I was even offered seconds given that the cabin was fairly empty, which I gladly accepted.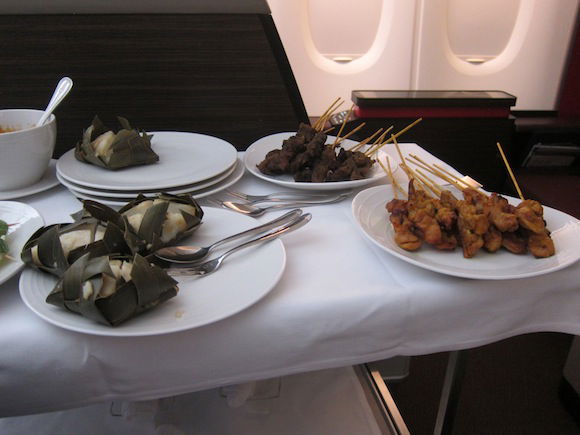 Satay cart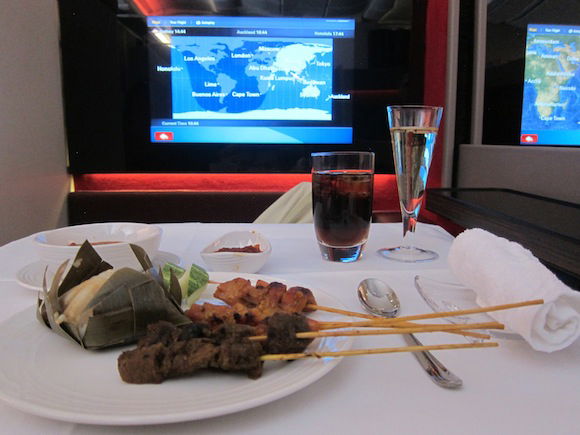 Satay
The next course consisted of caviar and smoked salmon. There's not much you can do to screw up this course, and unlike on the last flight, the flight attendants removed the cap of the tin before serving it.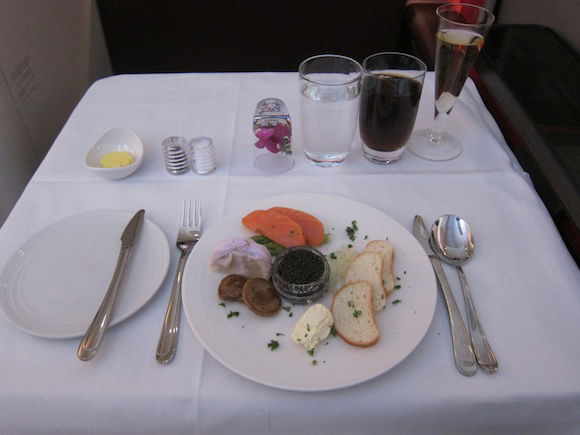 Caviar and smoked salmon
I then had the Tom Yum with prawns and snapper, which was excellent as well and not too spicy.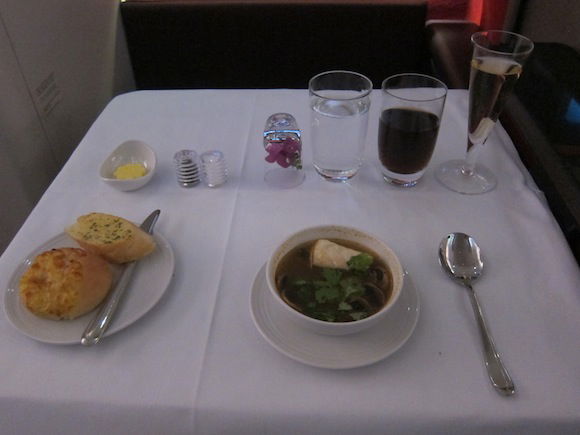 Seafood Tom Yum
The salad was one of the best I've had in the sky. While I would have preferred a non-creamy dressing, I loved the asparagus and cubes of feta cheese, both of which are far too rare in airplane salads.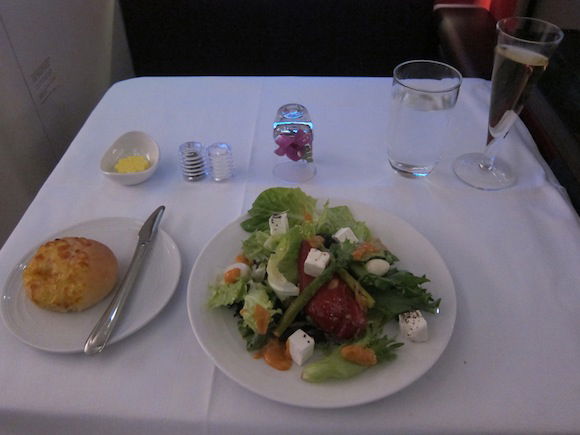 Mesclun salad
For the main course I ordered the jumbo prawn tandoori, which was good though not amazing. If anything it was a bit bland.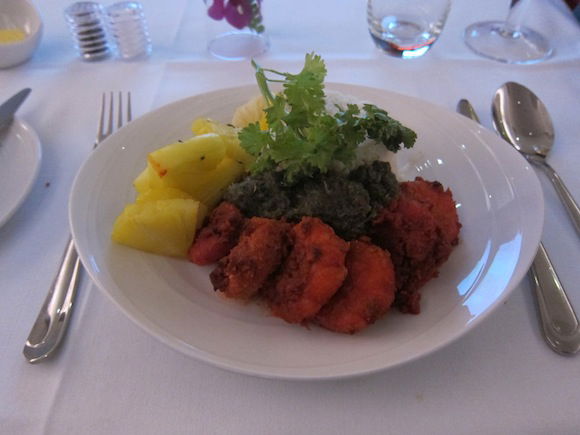 Jumbo prawn tandoori
For dessert I ordered the chocolate hazelnut cake and ice cream. I don't think they totally understood I ideally wanted them together, though it wasn't too tough for me to plate it my way. 😉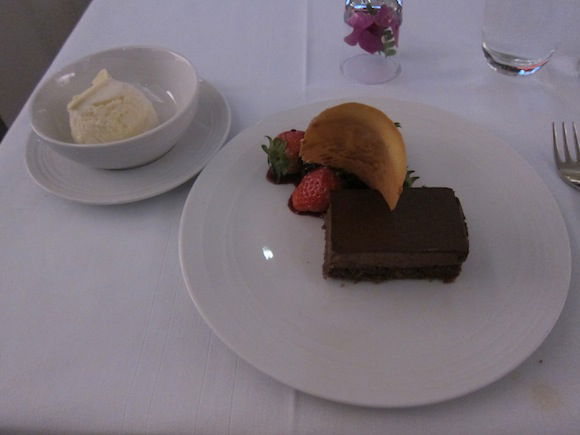 Chocolate hazelnut cake and ice cream
The lunch was phenomenal, both in terms of the quality of food and service. It was easily one of the most enjoyable airplane meals I've had. The service was attentive as my drinks always stayed full, and I was addressed by name at almost every interaction. Even the little details were amazing, like how questions were phrased. When a course was done the flight attendant didn't ask "are you done with that?" but rather "Mr. Lucky, may I clear your plate?" It's the little touches that count, and this crew had them down. I'd say they were on par with a very good Singapore Airlines crew.
After lunch I decided to head up the stairs to the business class cabin, given that it was a daytime flight and the business cabin was fairly empty. Right up the staircase was the snack bar, which featured cheese, fresh fruit, cookies, etc.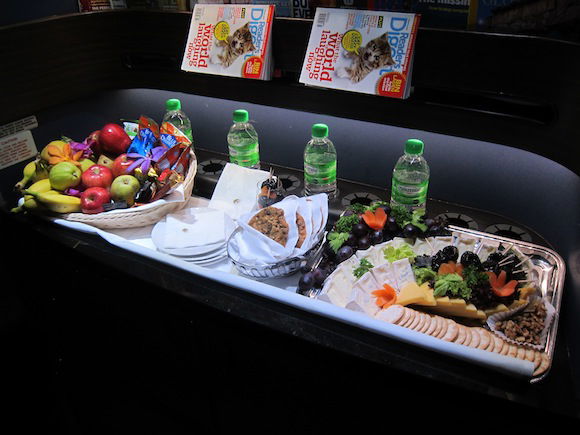 Onboard bar
Right by the bar are two of the business class lavatories, which are the most spacious on the plane. Lufthansa has first class on their A380s on the upper deck, and their lavatories are huge. While the business class lavatories in the same area on Malaysia aren't quite as big, they're still much more spacious than any others aboard.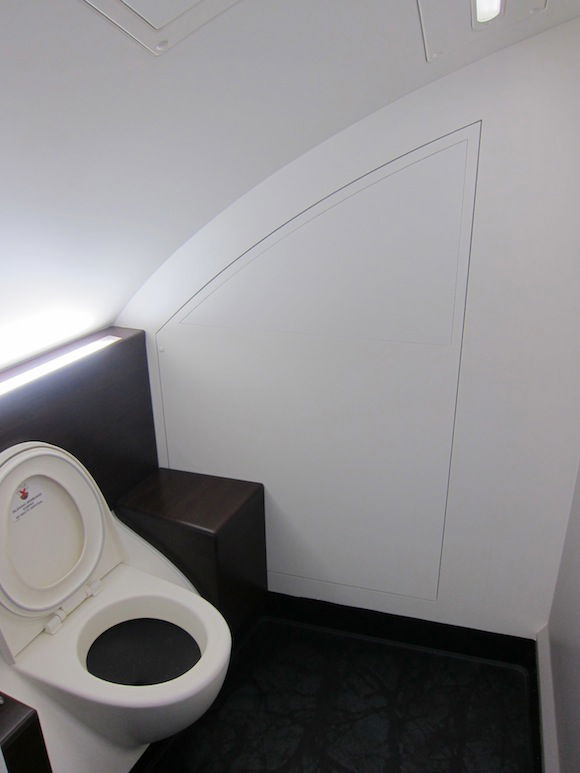 Business class lavatory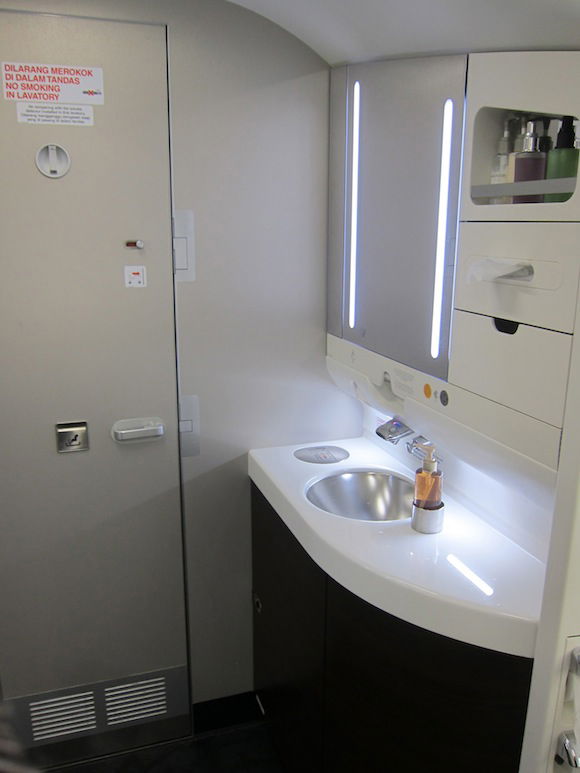 Business class lavatory
There are two business class cabins on the Malaysia A380 — one smaller forward cabin, and one main cabin behind it. Both are in a 2-2-2 configuration, with fully flat seats.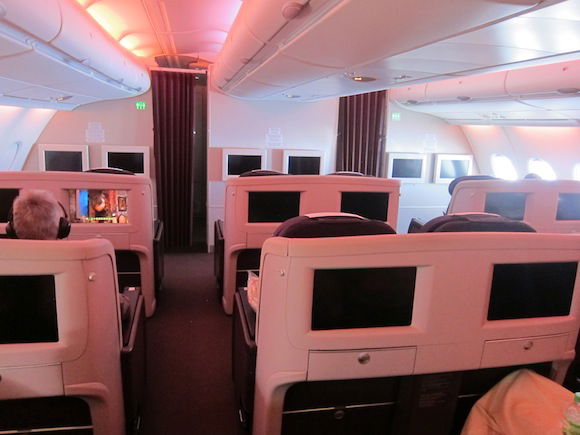 Forward business class cabin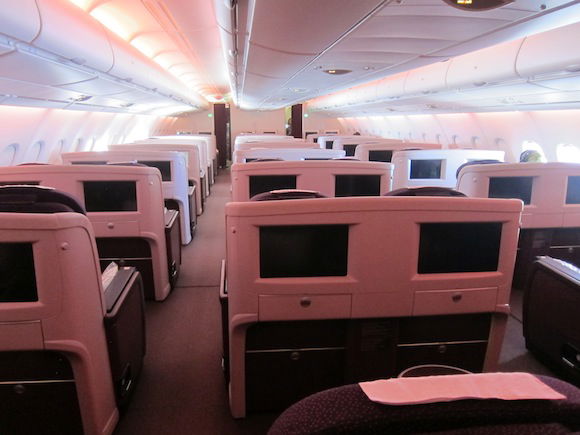 Rear business class cabin
As I toured the cabin in my pajamas one of the business class flight attendants approached me and offered to show me the business class seats, which I thought was a nice touch and I took her up on. The business class seats were pretty standard fully flat seats, with a decent amount of space. If traveling with someone I'd definitely take seats on the side rather than the center, given that the window seats have a bit of extra room on the side where you can store things.
While I found the seats comfortable in the bed position, I should note that if you're over 6'2″ or so, you'll probably find these seats extremely uncomfortable, as the bed isn't all that long.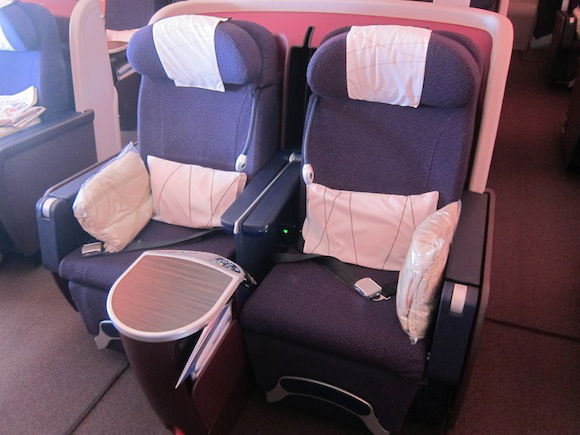 Center business class seats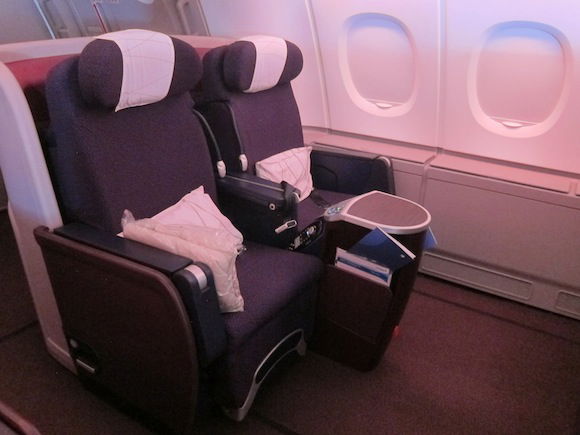 Aisle/window business class seats
There was also a business class menu on the seat, so I had a look at it to compare it to the first class menu. It read as follows: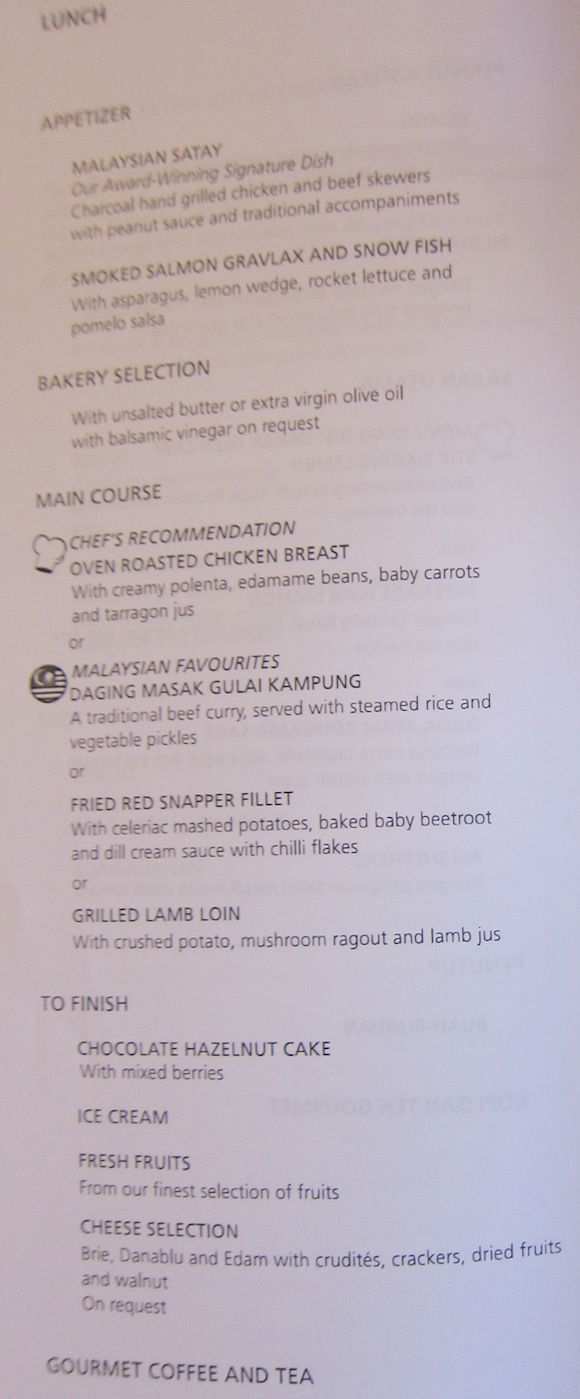 It's interesting to note that the first and business class menus are almost identical, save for a couple of appetizer choices and one extra entree choice in first class.
Once I got back to the first class cabin I requested my bed be made, which was promptly taken care of.

Turndown service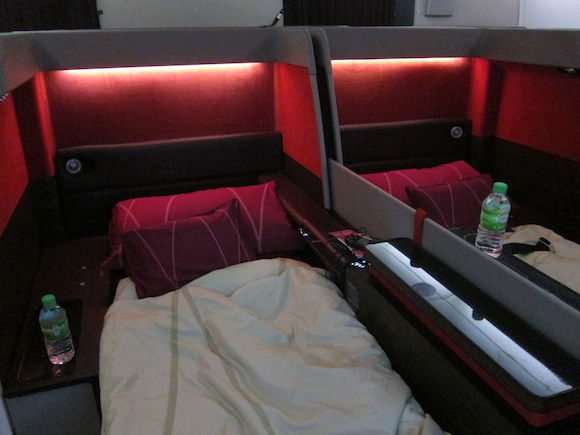 Turndown service
With over 10 hours to go to London I managed to fall asleep, and I slept for nearly eight hours, waking up about two hours out of London. Now that's what I call a good night day of sleep!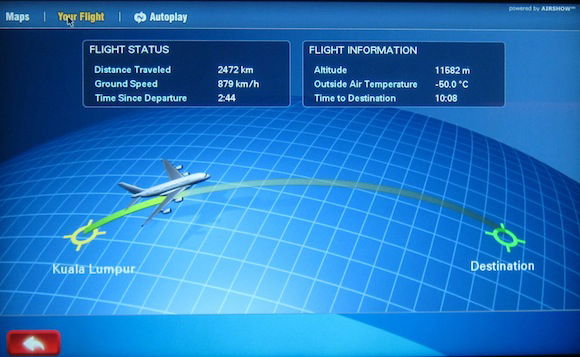 Airshow before going to sleep
I woke up as we were approaching Germany, and decided to watch a few sitcoms prior to dinner.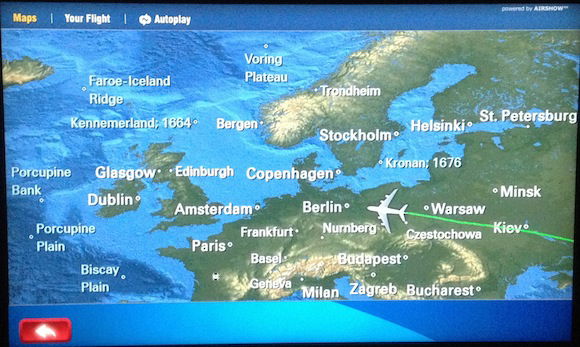 Airshow after waking up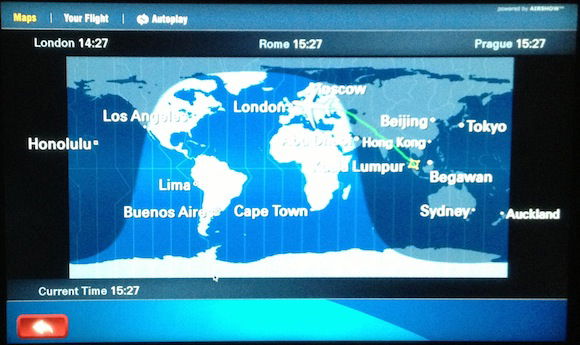 Airshow after waking up
I watched a few episodes of Family Guy I hadn't seen before, which kept me entertained.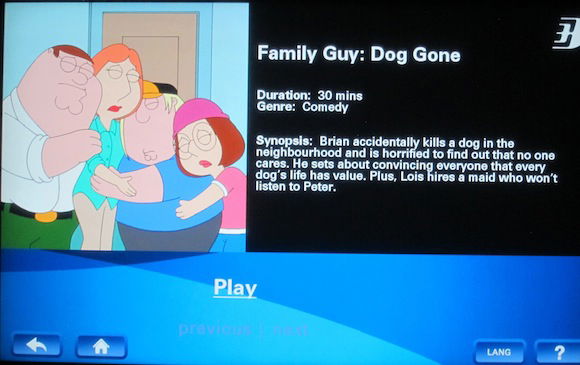 Family Guy
For what it's worth there was a snack menu on the flight, which read as follows: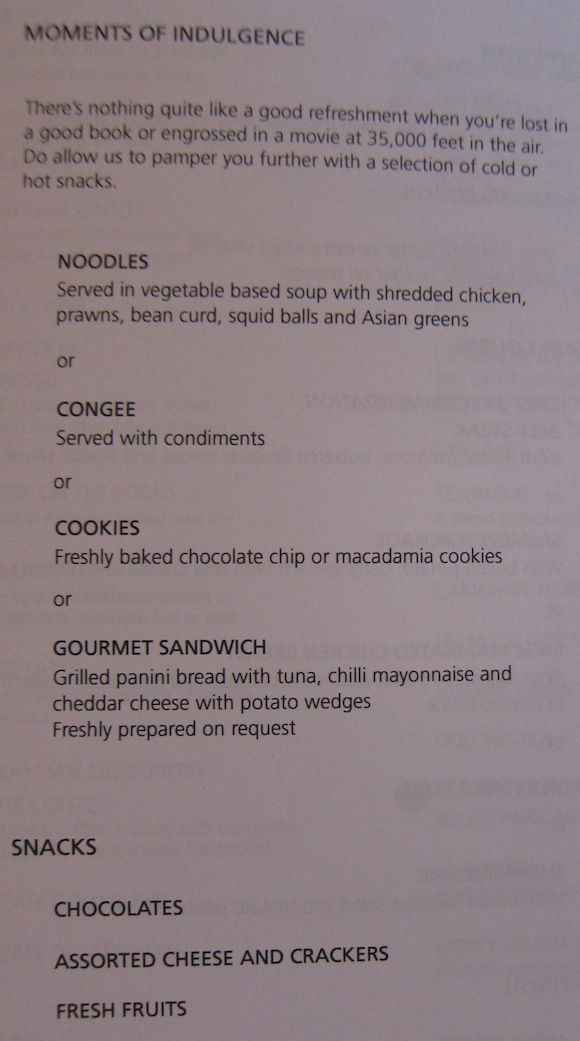 Since I slept almost the whole way I wasn't hungry, and instead just had dinner 90 minutes out of London. The menu read as follows: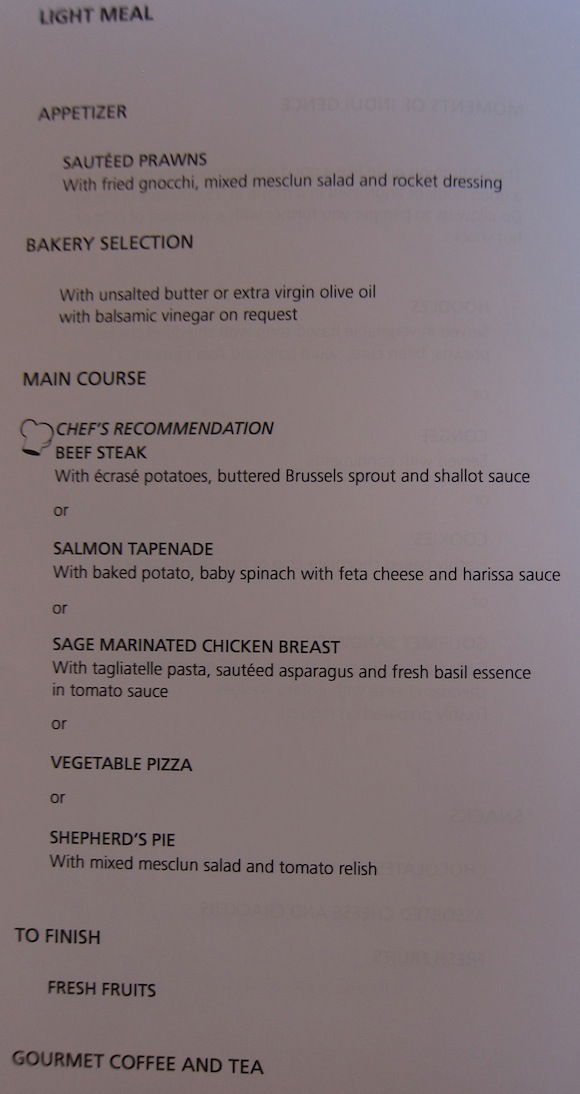 And as a point of comparison the business class menu read as follows: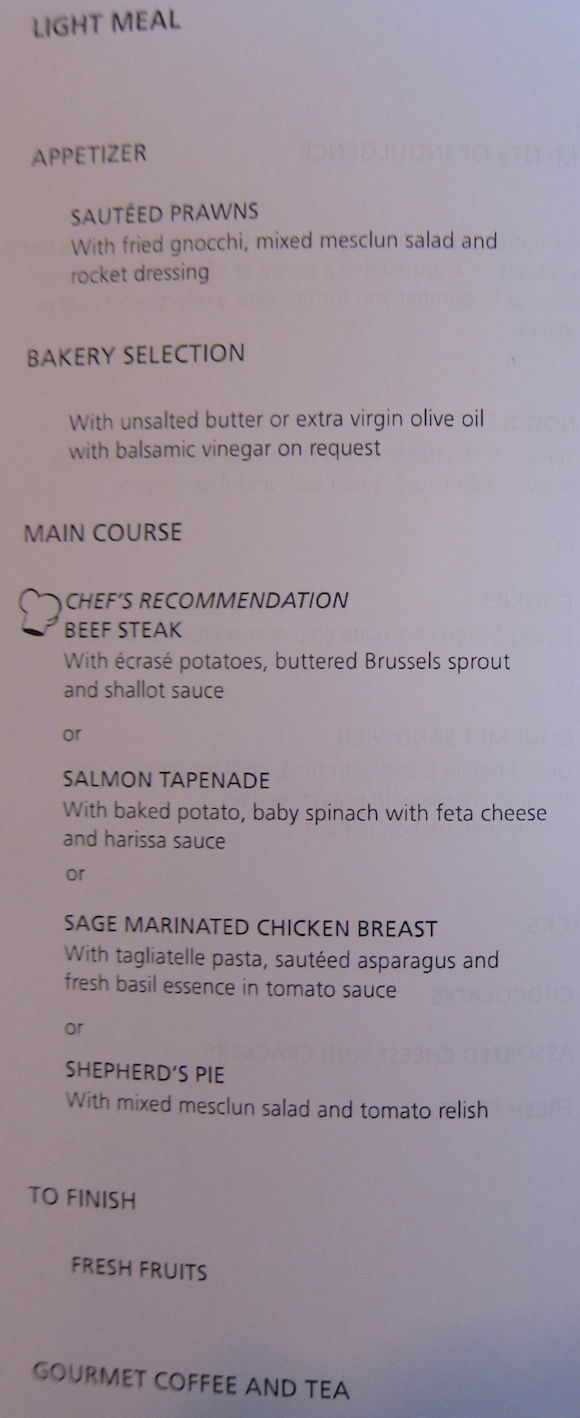 That's right, the first and business class menus were identical, except first class passengers had access to a veggie pizza — swanky, eh?
The prawns in the starter were quite good. While I love gnocchi, I don't think I've ever had decent gnocchi on a plane, and this flight was no exception. They were chewier than gum.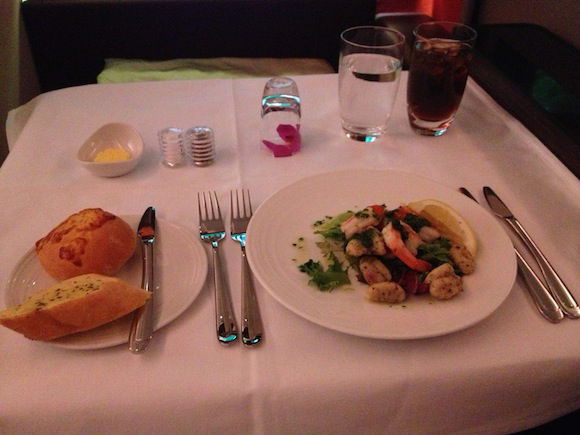 Sauteed prawns
I had eaten nothing but Malaysian food on both the outbound flight and while in Kuala Lumpur, so food wise I was Malaysianed out. Therefore I went with the veggie pizza, which was horrible. I mean, truly, truly horrible. But I wasn't all that hungry, so that was fine.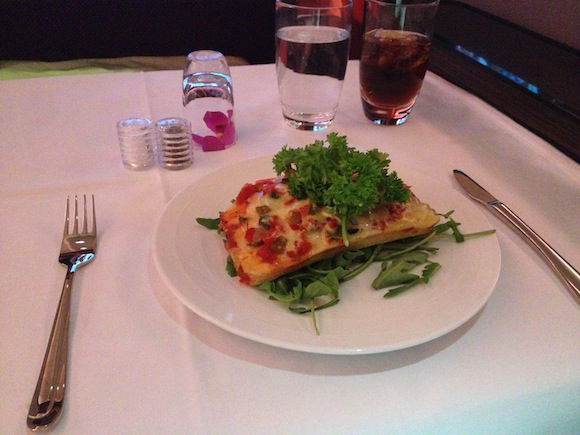 Vegetable pizza
Meanwhile my friend ordered the shepherd's pie, which he enjoyed.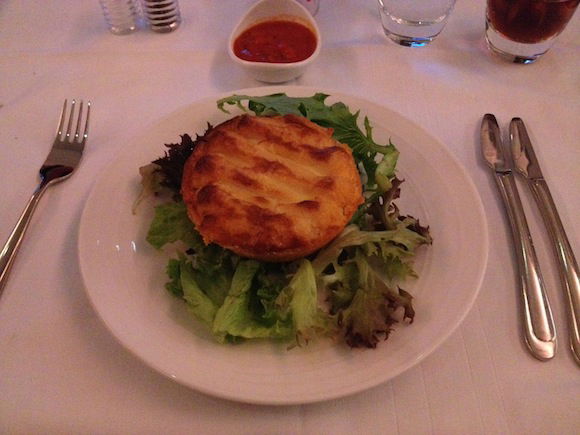 Shepherd's pie
The dessert consisted of fresh fruit.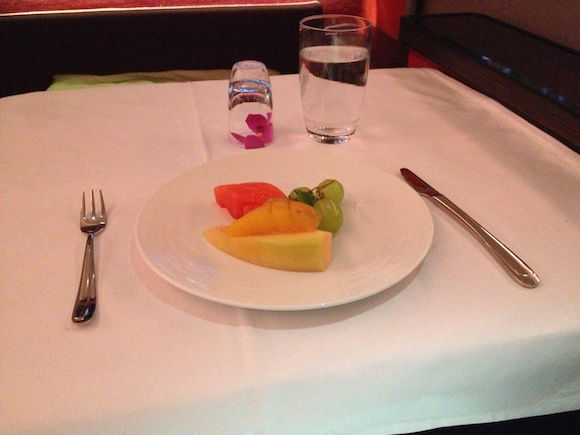 Fresh fruit
I finished off the meal with an iced coffee.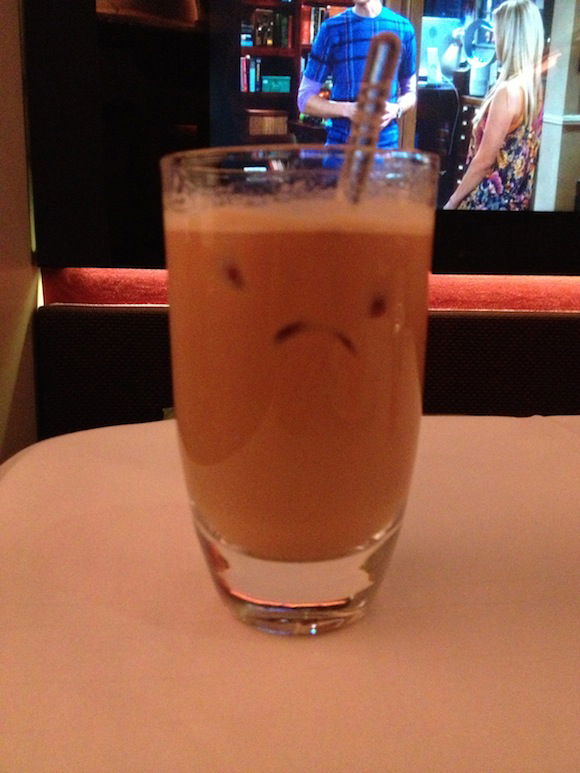 Iced coffee
We began our descent about 30 minutes out, so I changed out of my pajamas and stowed my carry ons. It was an uncharacteristically nice afternoon in London, so I switched to the window seat to enjoy the views.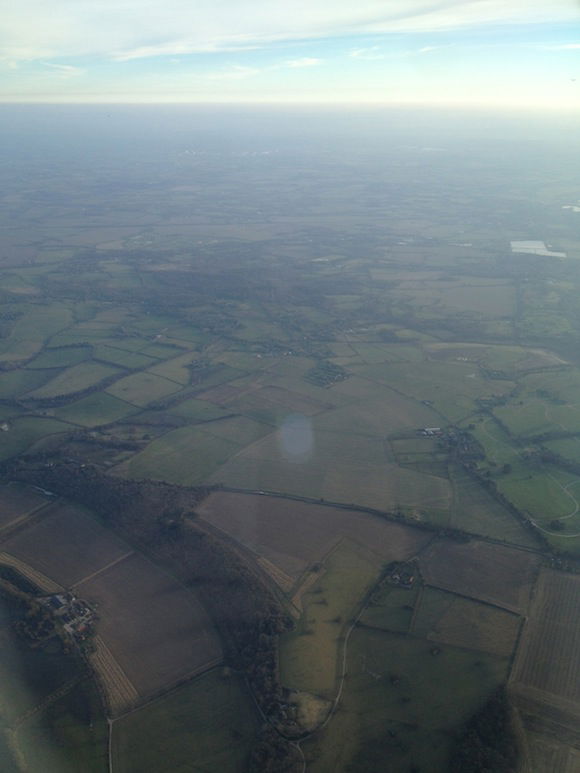 View on descent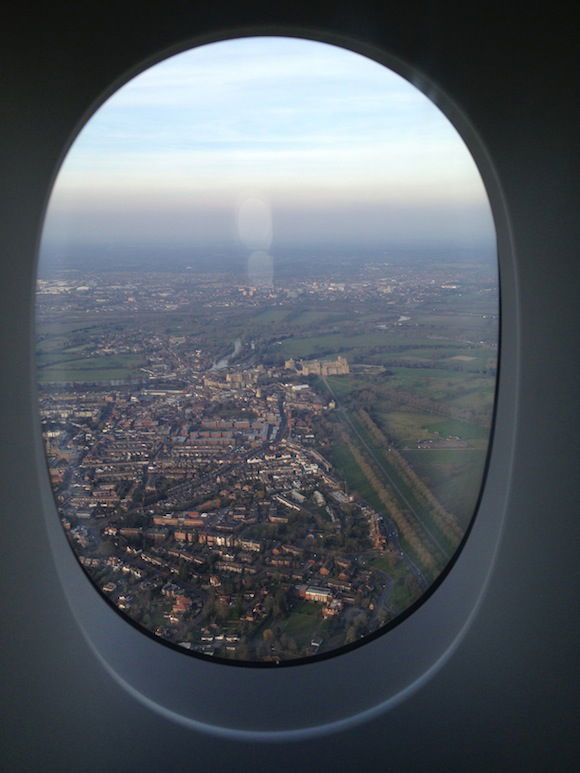 View on descent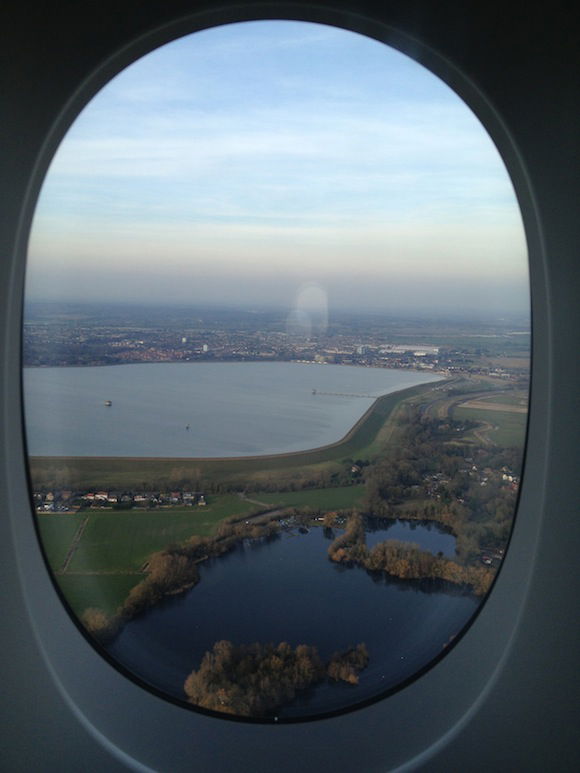 View on descent
We had a smooth touchdown on runway 9R a few minutes ahead of schedule, and a quick taxi to the gate from there.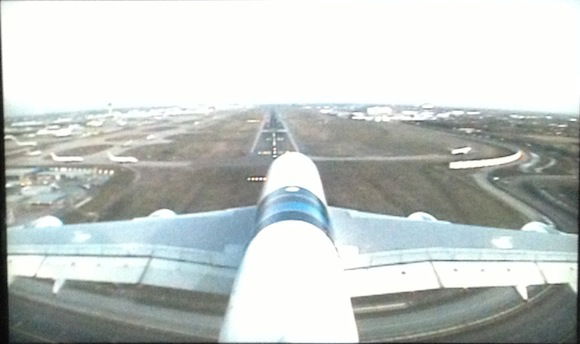 Tail camera on final approach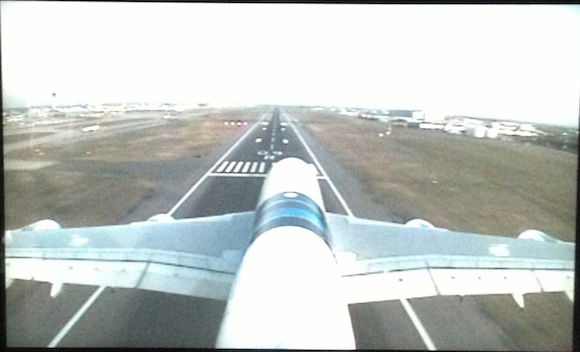 Tail camera on final approach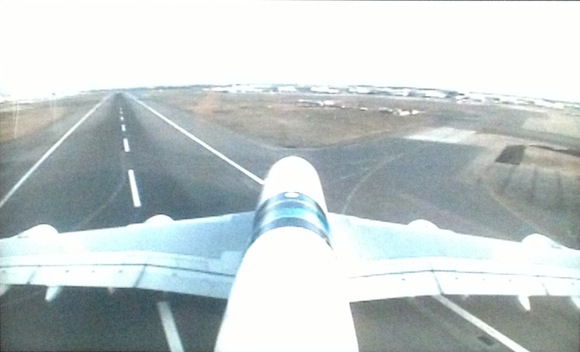 Tail camera taxiing off the runway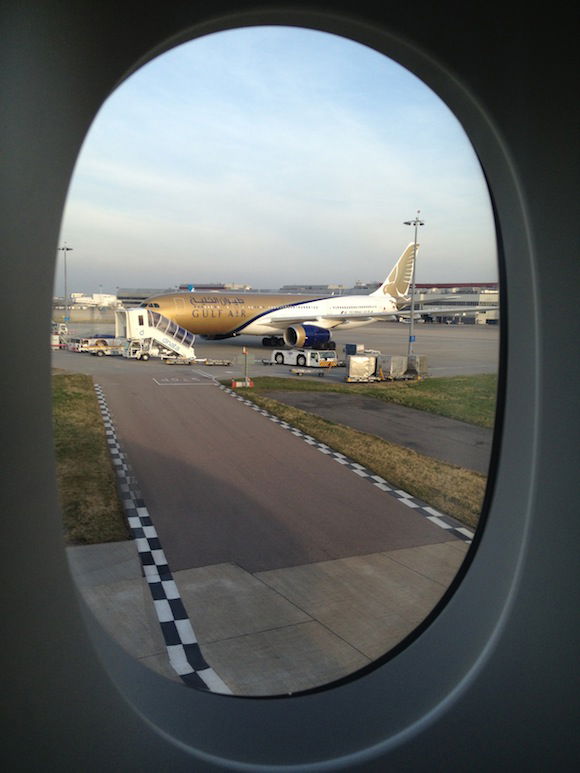 Gulf Air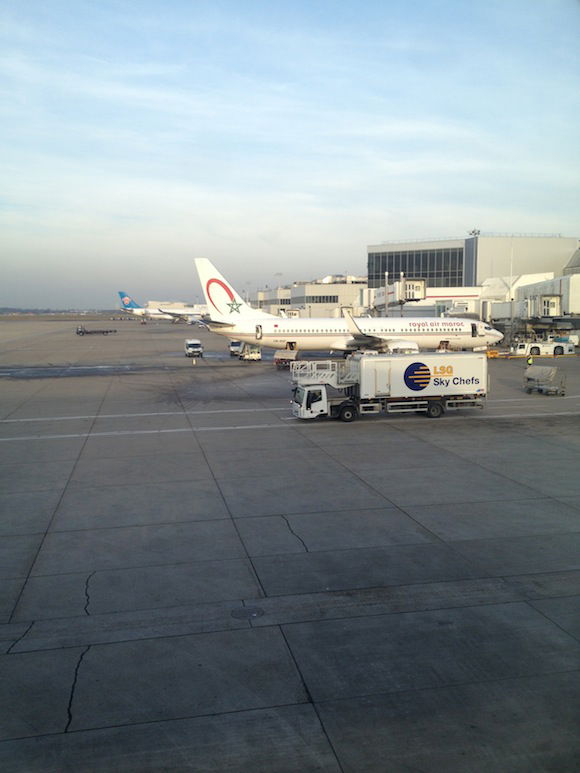 Royal Air Maroc
As we deplaned I thanked the crew for the great flight and snapped one last picture of the cabin.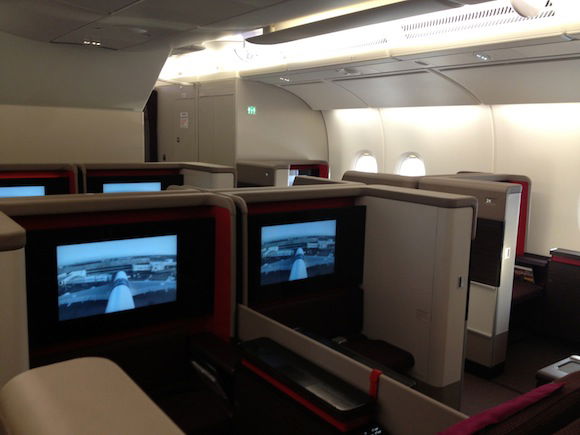 Cabin upon arrival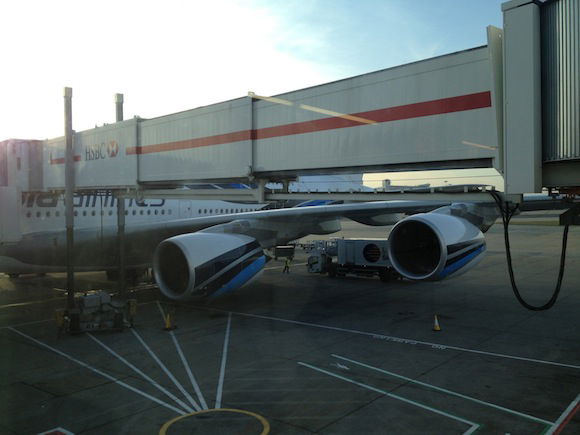 A380 upon arrival
I'm so glad I had the opportunity to fly the Malaysia A380. In addition to this I've flown the Qantas, Lufthansa, Emirates, and Singapore A380s, and I think of the five Malaysia's was the least pimped out. There were no suites with doors, bars, or showers, though it was still a really solid first class product. The first class seats weren't totally private though extremely spacious and comfortable for sleeping. The food was very good — perhaps not as gourmet as other airlines in first class, though the execution and taste was spot on for the most part.
On this sector the service was excellent as well. I'd definitely consider flying Malaysia in the future, and think they're a great new addition to OneWorld.