---
American 139
London (LHR) – New York (JFK)
Tuesday, February 19
Depart: 12:35PM
Arrive: 3:40PM
Duration: 8hr5min
Aircraft: Boeing 777-200
Seat: 11B (Business Class)
Upon boarding we took our seats in row 11, located in the middle of the business class cabin.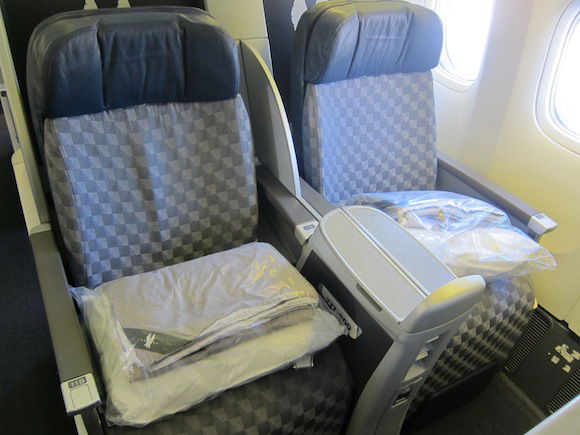 Seats 11A & 11B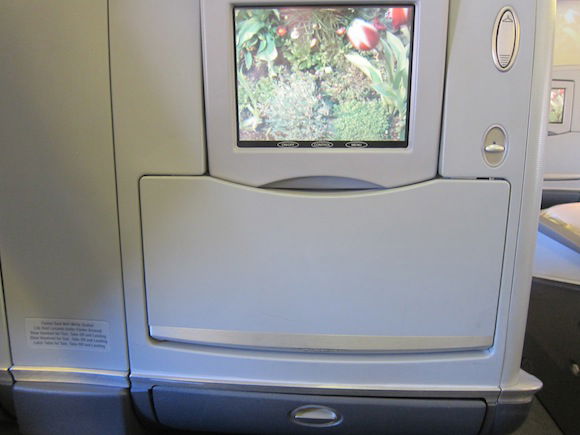 Console
Waiting at the seat were a pillow and blanket, as well as an American amenity kit.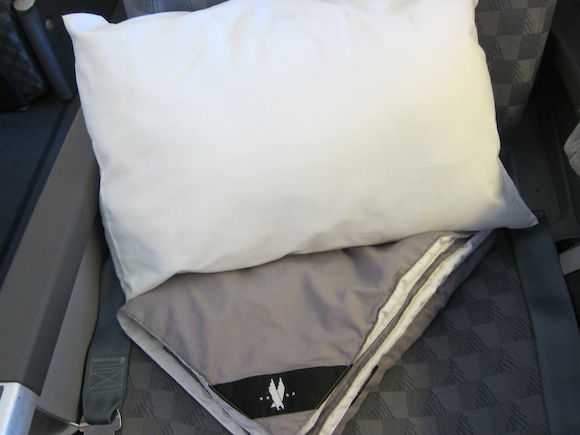 Pillow and blanket
Within a few minutes of settling in the rather charming (in a New Yaker kind of way) flight attendant introduced herself and offered us pre-departure beverages.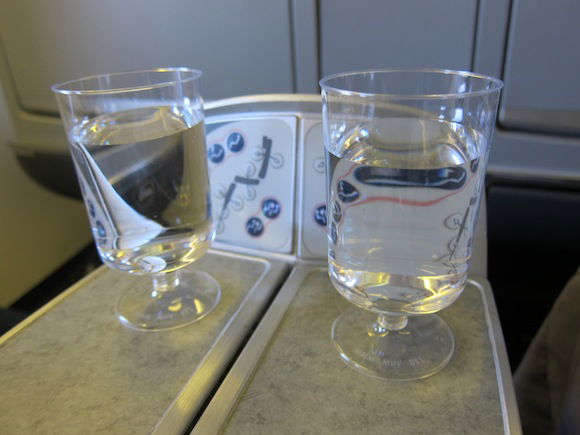 Vodka
Shortly thereafter Bose headphones and menus were distributed. As departure time approached the business class cabin was at most half full, and that's after at least a handful of non-revs were accommodated in business class.
Before pushback the captain came on the PA to advise us of our super short flight time of 6hr47min, which he anticipated would put us into New York early. While I can't really fault him for it, I don't think I've ever had a pilot that sounded as bored as this guy. I mean, this guy yawned and sighed over the PA, and he made no attempt to hide it. He could've given Ben Stein a run for his money.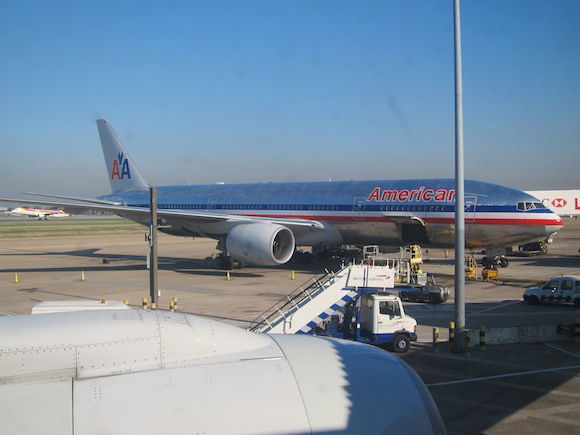 American 777 parked next to us
We pushed back on schedule and taxied to runway 27R, as the safety video played. Not only did we have an extremely short flight time, but the taxi was quick as well, and by the time we made it to the runway there were only a few aircraft ahead of us for takeoff, including the love of my life, Transaero. Sadly it was one of their 737s, and not one of their Hugh Hefner-esque 777s.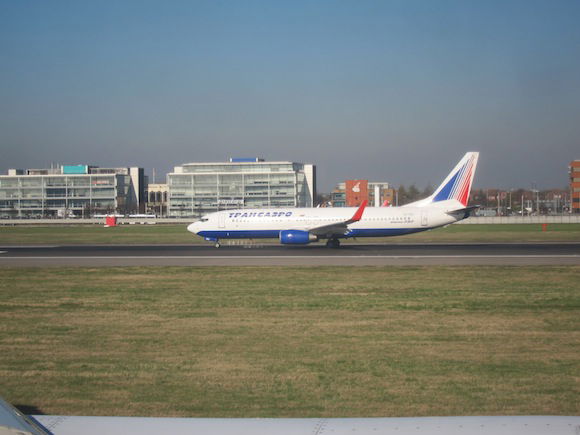 Transaero!
Eventually it was our turn for takeoff, and we had both a quick takeoff roll and steep climb out of Heathrow.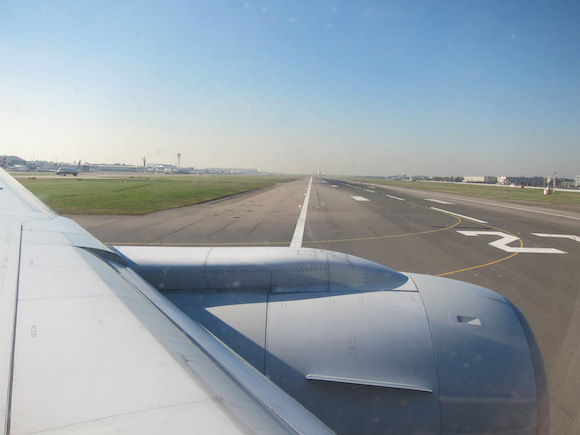 Lining up 27R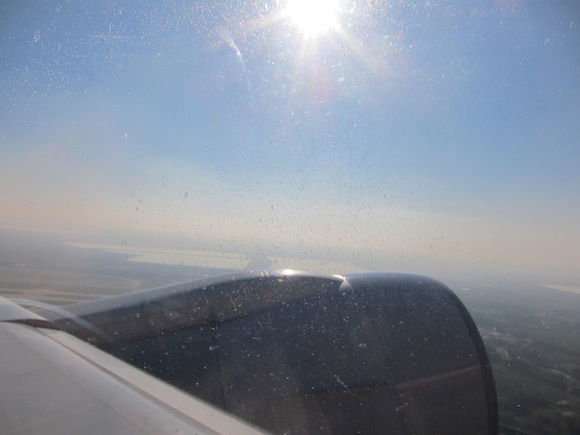 Airborne
Once we were airborne the meal service began, starting with orders being taken and hot towels being distributed. The lunch menu read as follows: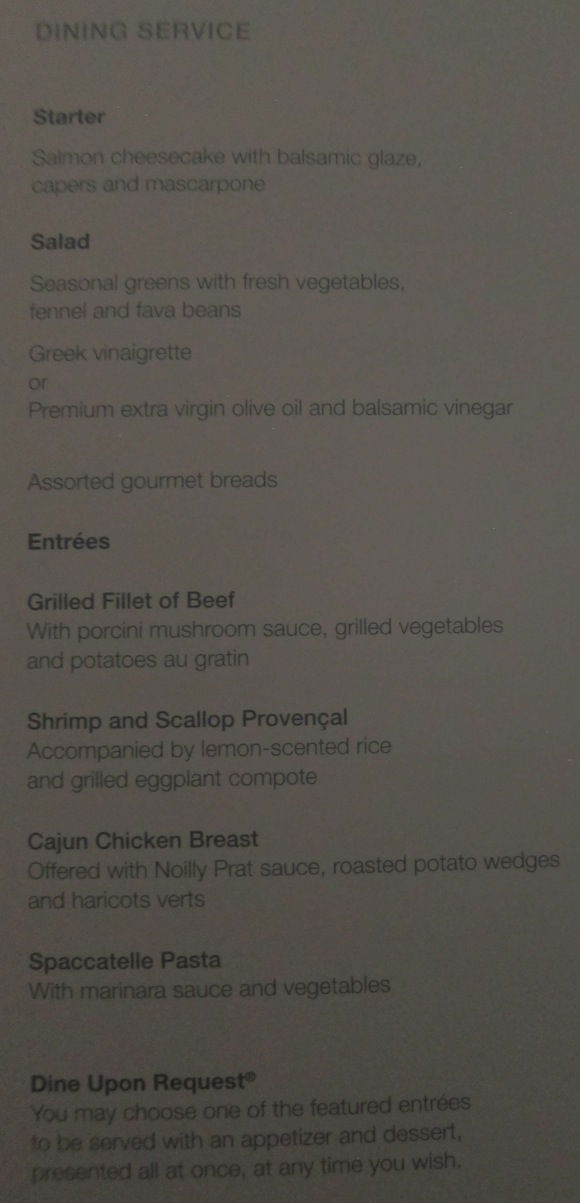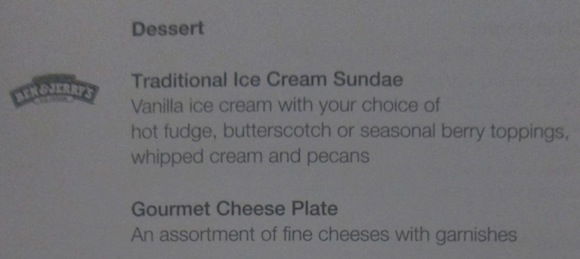 The wine list was the same as on the outbound, so check out that post for details on the wine.
Service began with drinks and hot nuts. I had the usual.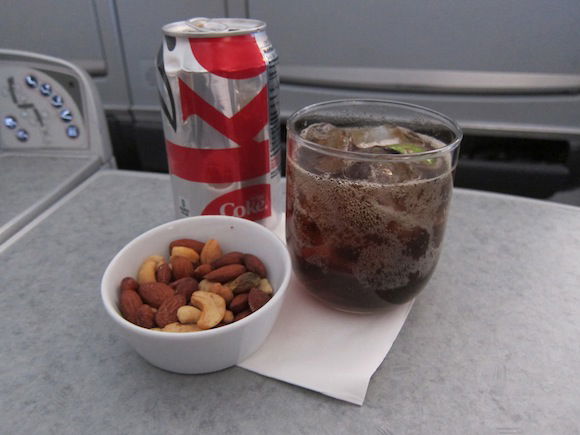 Diet Coke with lime and hot nuts
Next the appetizer cart was rolled around. The appetizer was rather interesting — a salmon "cheesecake" with balsamic glaze, capers, and mascarpone. I was most excited to see that they had pretzel bread, which is my fourth favorite thing about flying American (after hot nuts, ice cream sundaes, and their Twitter team, not necessarily in that order).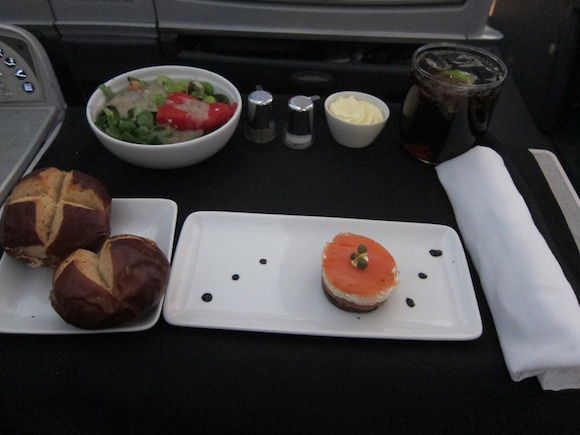 Salmon and salad
For the main course I went with the shrimp and scallop dish, which was good.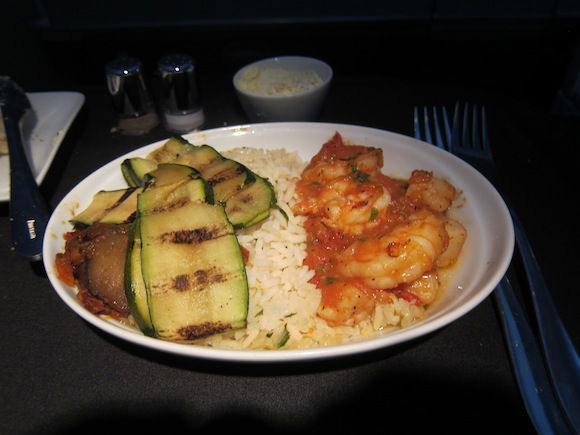 Shrimp and scallop provencal
Then for dessert I had an ice cream sundae.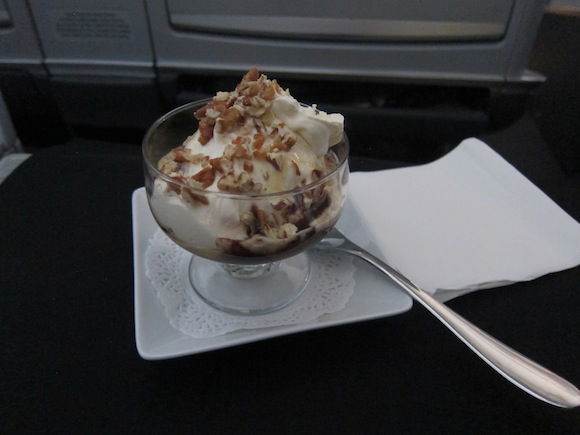 Ice cream sundae
Service throughout the meal was efficient, probably in part due to how empty the cabin was. The flight attendant working my aisle was generally friendly, certainly one of the better international flight attendants I've had out of JFK.
After the meal water bottles were distributed.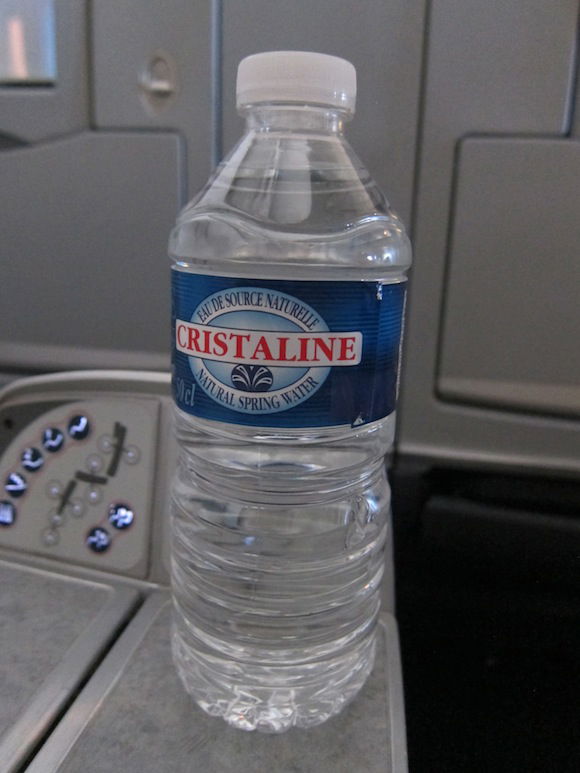 Water
I decided to recline my seat and see if I could get any sleep. I don't know what's wrong with me, but I have the ability to go a couple of days on virtually no sleep, and then hibernate nonstop for days at a time. I had gotten a full night of sleep on my Malaysia flight, and also the night before at the Hilton, yet I still managed to nap for about four hours on my American flight. That's surprising, since I usually have to be really tired in order to sleep in an angled flat seat.
The pre-arrival meal menu read as follows, though I skipped it because I figured I'd rather eat in the Flagship Lounge: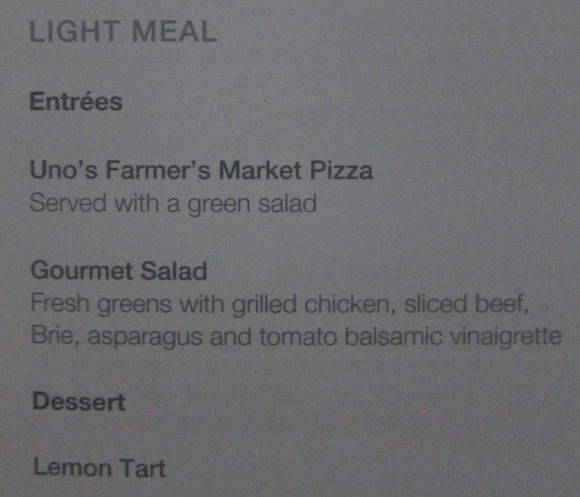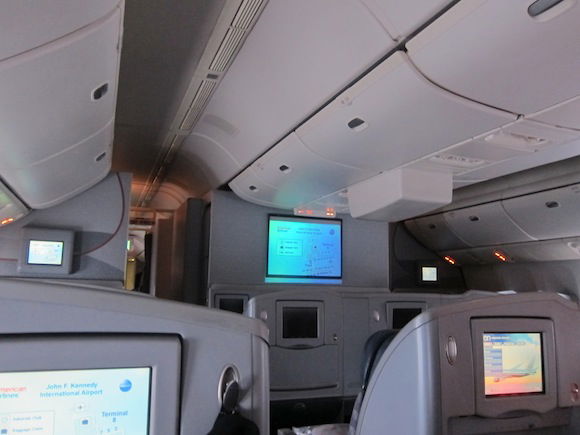 Cabin approaching New York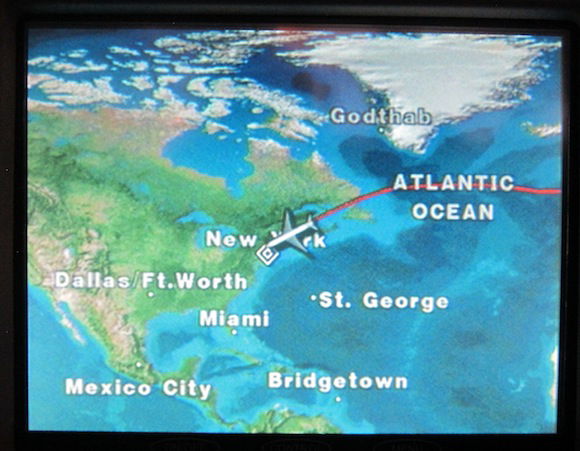 Airshow on approach
About 30 minutes out the captain came on the PA to advise us we'd be landing in New York about 45 minutes early, and sure enough after a quick descent and a smooth touchdown we made it to our arrival gate way ahead of schedule.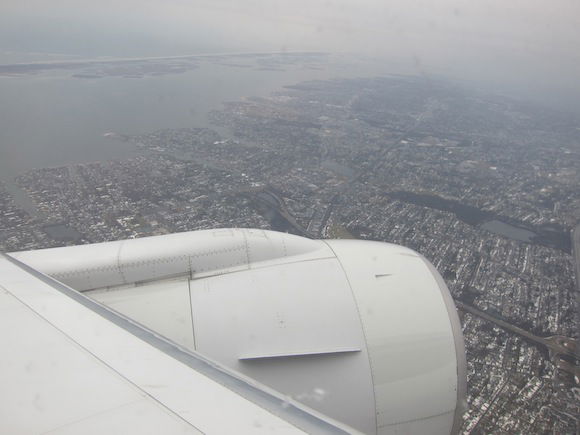 View on approach
Customs and immigration took only a couple of minutes thanks to Global Entry. Then we ran into Justin Ross Lee in the Flagship Lounge, and then it was just a quick New York to Seattle flight to finish off the journey.
Anyway, I had a great trip and was thrilled to have been able to try Malaysia's A380 first class product. They're a great addition to OneWorld, and I can't wait to fly them again.
Stay tuned, my next trip report will be coming shortly!