---
American 100
New York (JFK) – London (LHR)
Thursday, February 14
Depart: 6:15PM
Arrive: 6:20AM (+1 day)
Duration: 7hr5min
Aircraft: Boeing 777-200
Seat: 15H (Business Class)
Upon boarding we took our seats in row 15, the last row in business class.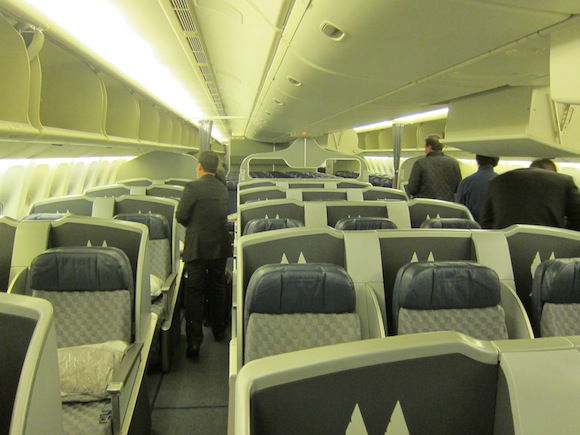 Business class cabin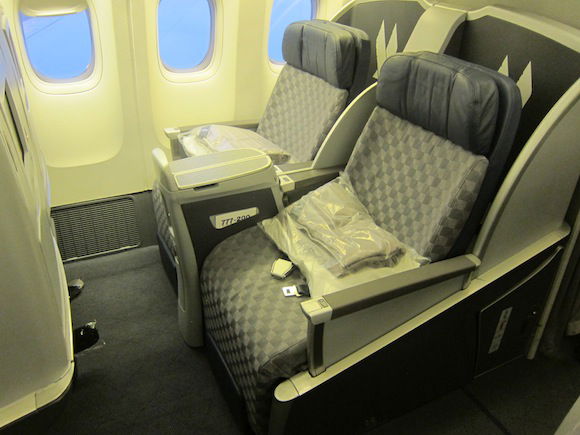 Our seats, 15H & 15J
The seats were American's standard old business class angled flat seats, with built in personal televisions.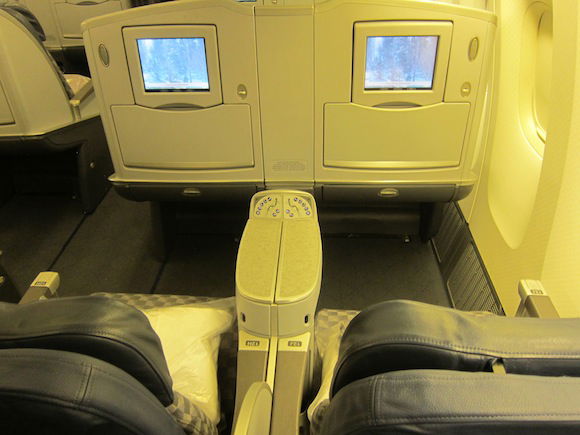 Seats 15H & 15J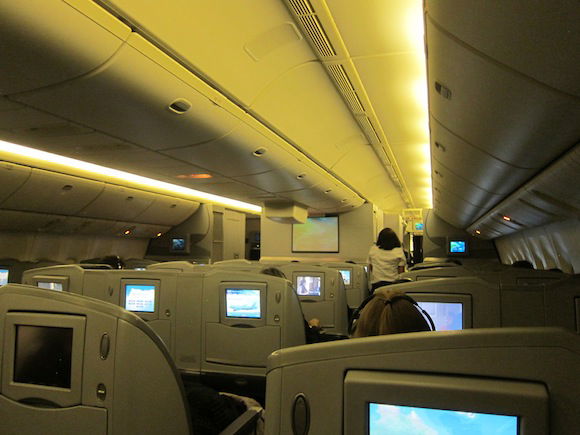 Cabin view from 15H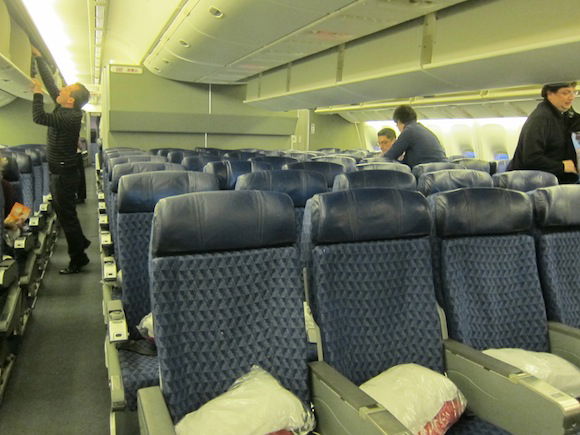 View of coach from 15H
Already at the seats were pillows and blankets.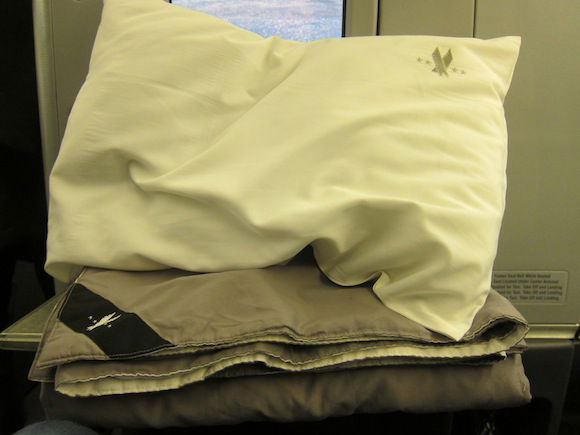 Pillow and blanket
In the foot cubby between seats were the amenity kit and slippers.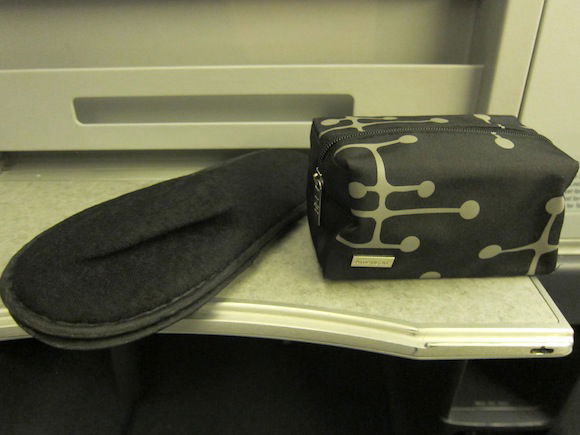 Amenity kit and slippers
American's amenity kits are actually pretty good for business class, and include a toothbrush, toothpaste, eye shades, socks, ear plugs, tissues, and a few types of lotion.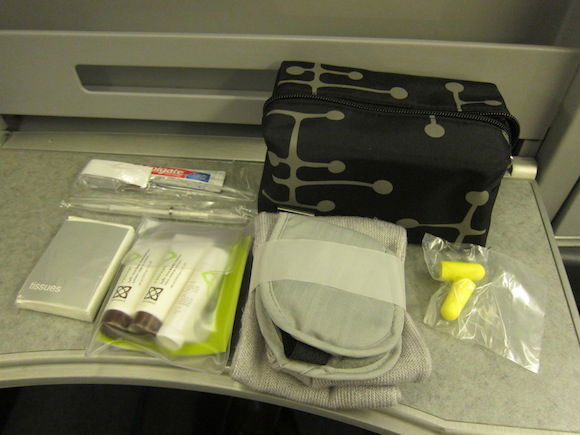 Amenity kit contents
Within a few minutes of settling in I was offered a pre-departure beverage, and selected water.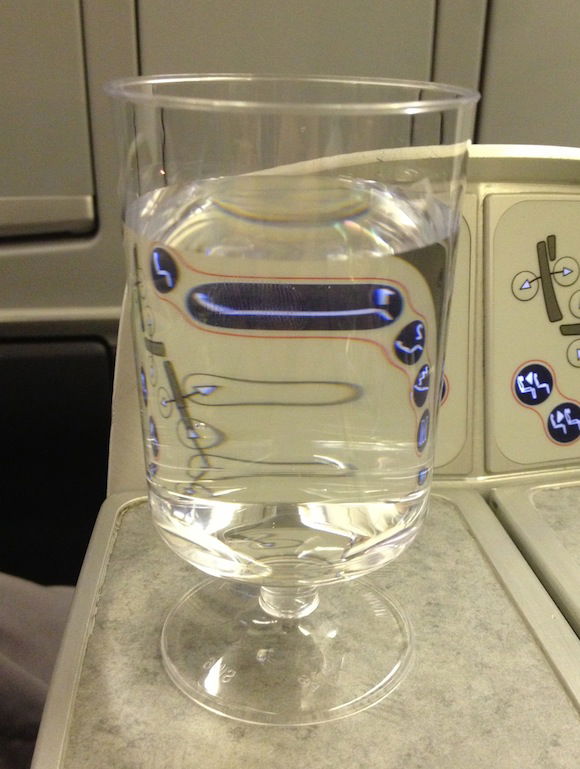 This is what water looks like
During boarding I headed to the lavatory and changed into my American pajamas.
As boarding finished up dinner menus were distributed, along with Fast Track immigration forms.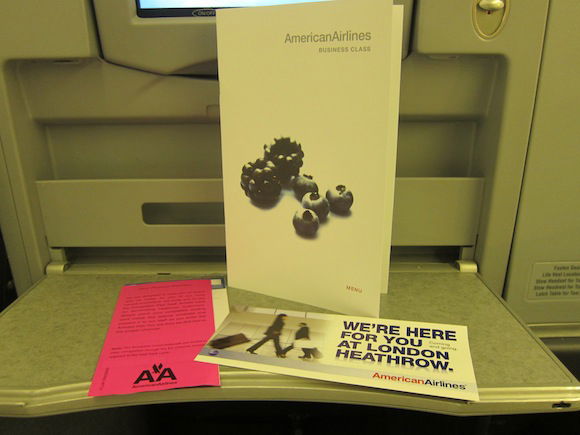 Menu for the flight
Bose Quiet Comfort headphones were also distributed. This is one thing that really impresses me about American. It amazes me the poor quality of headphones the world's top airlines offer even in first class (Cathay Pacific, Singapore, etc.), yet American manages to offer Bose headphones even in business class.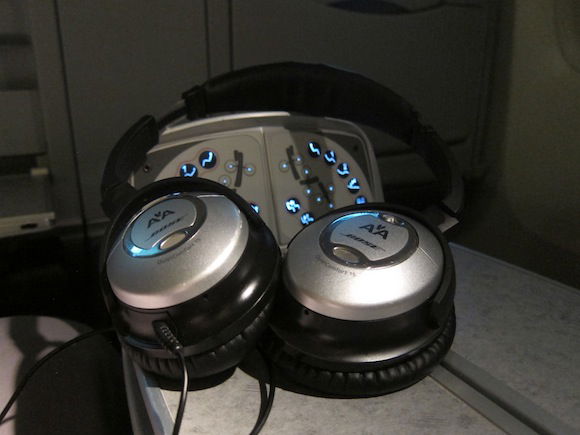 Bose headphones
As the door closed the captain came on the PA to advise us of our flight time of 6hr25min, which he anticipated would put us into London a few minutes early.
The safety video played as we began our push back. We taxied to runway 22R, and it was eerily quiet at JFK for a Thursday evening, given that there weren't more than five planes ahead of us in the queue for takeoff.
As we waited for takeoff the flight attendants took meal orders. Despite being seated in the last row (and it being an even numbered flight, meaning meal orders were taken starting in the front) we both got our meal choices.
After a powerful takeoff we began a very gradual climb to our cruising altitude, during which the purser shared some information about the flight. She had a tone that nearly drove me bonkers, as if she were talking to a group of kindergarteners. And while this part isn't her fault since it's in the script, I can't help but shriek every time I hear them announce that they'll be "serving [their] flagship dinner service in the main cabin once we level off." Flagship dinner service, really?
Due to chop on the climb out it was about 40 minutes before the seatbelt sign was turned off, at which point the crew began their service.
The dinner menu read as follows: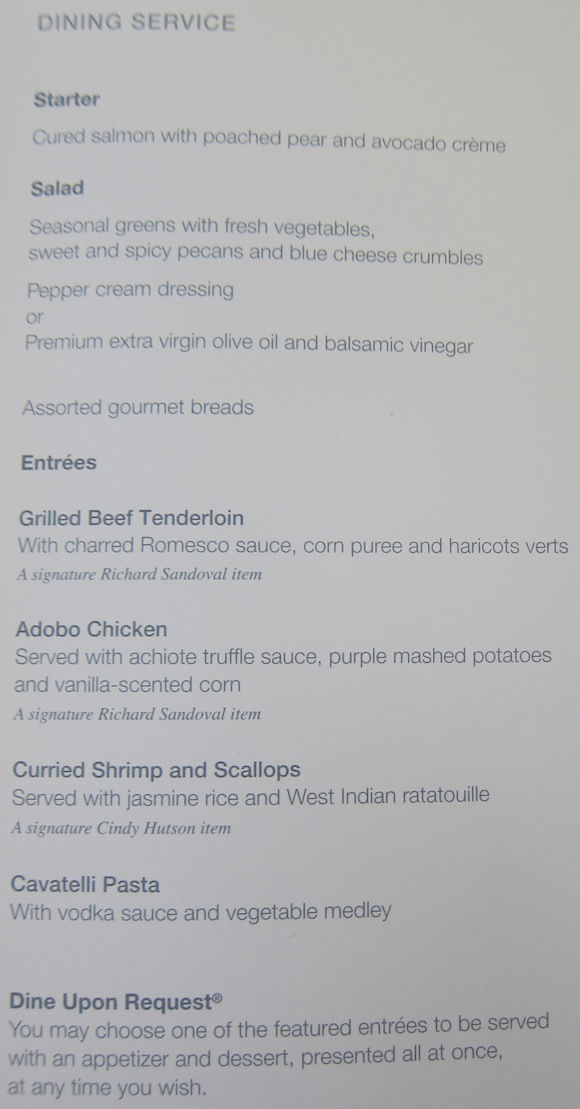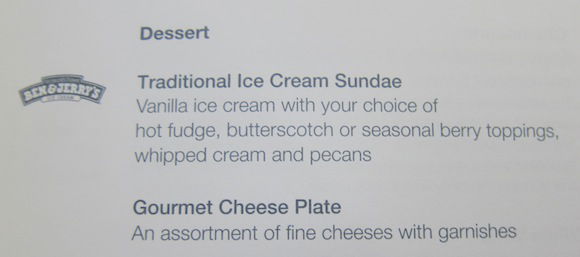 And the wine list read as follows: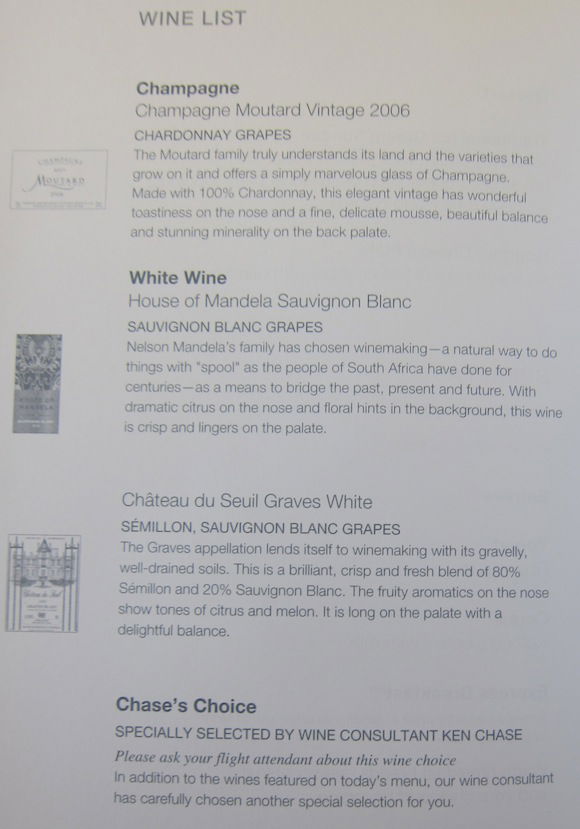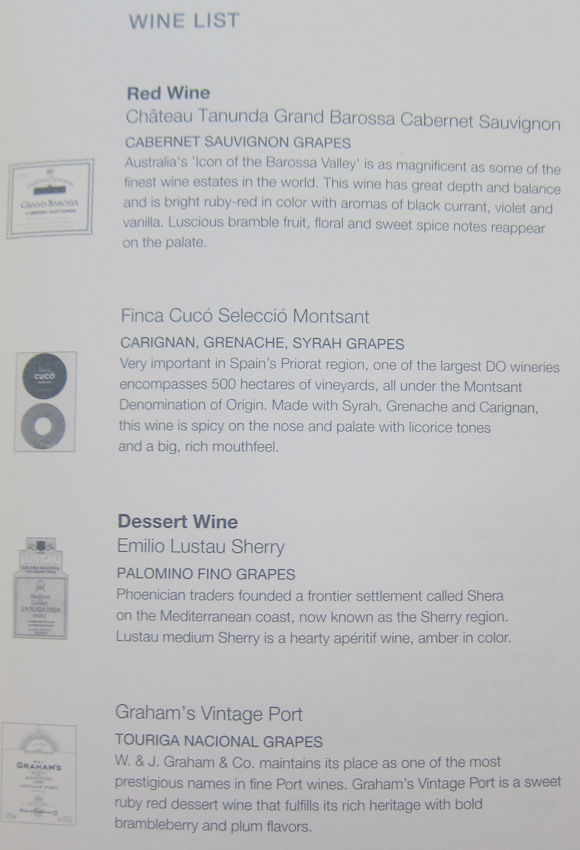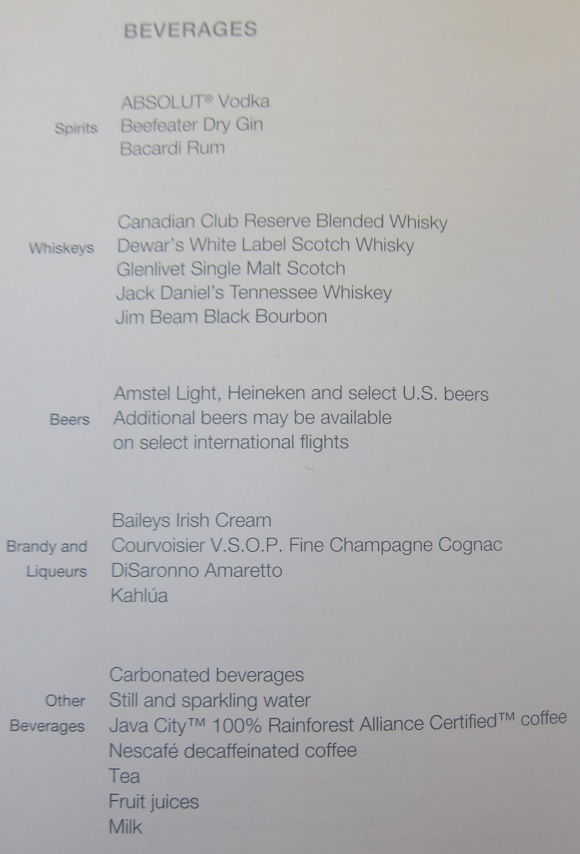 As usual service began with drinks and hot nuts. I ordered a Diet Coke with lime.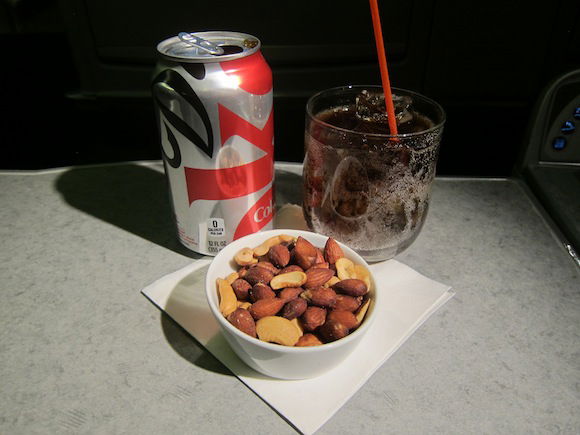 Diet Coke with lime and hot nuts
Next the cart was rolled around with the salad and appetizer. The cured salmon appetizer was pretty good, though I was most impressed by how American spruced up their salads recently. I was also offered bread from the bread basket.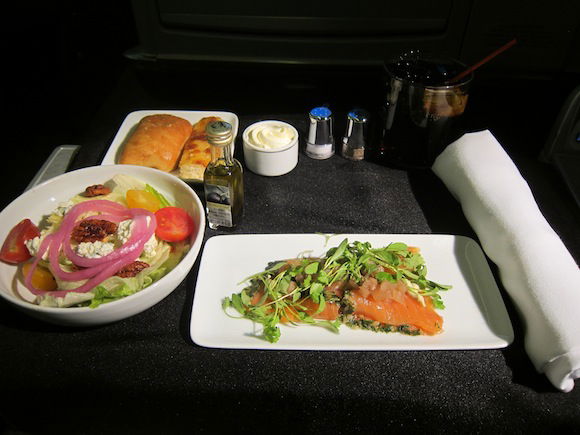 Cured salmon with poached pear and avocado creme and salad
For the main course I ordered the grilled beef fillet. It was about as good as it looks.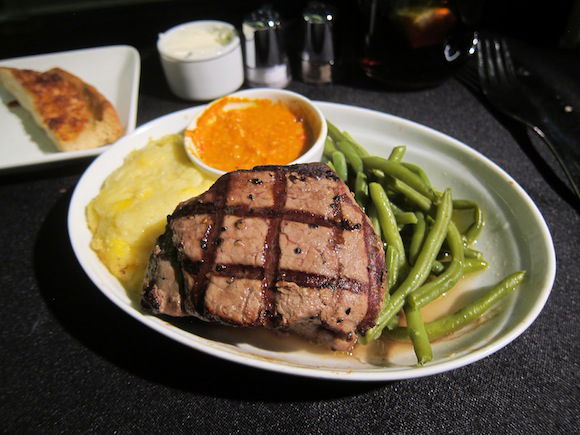 Grilled beef tenderloin
One of the ways American recently spruced up their business class meal service is by offering ice cream sundaes on all longhaul business class flights, and not just on the 757/767s. Previously American offered made to order sundaes on the 757/767 and not the 777, where they just offered ice cream sludge.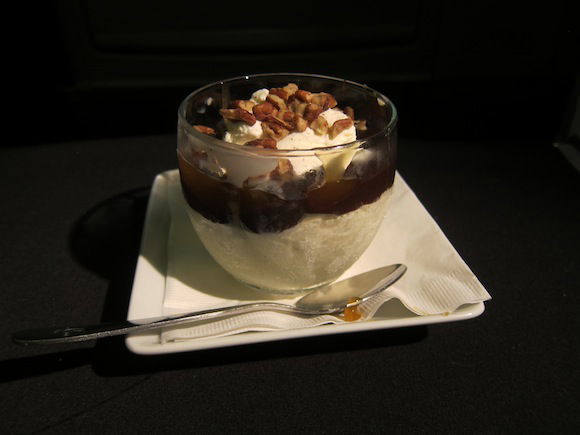 Ice cream sundae
The service throughout the meal was efficient though not especially friendly. I was never addressed by name and the flight attendant never smiled at me, though she wasn't actively rude either (which, for a JFK based crew, might actually be a compliment). 😉
Once the meal service was complete each passenger was offered a bottle of water. I was also asked whether I wanted to be woken for breakfast. I said no.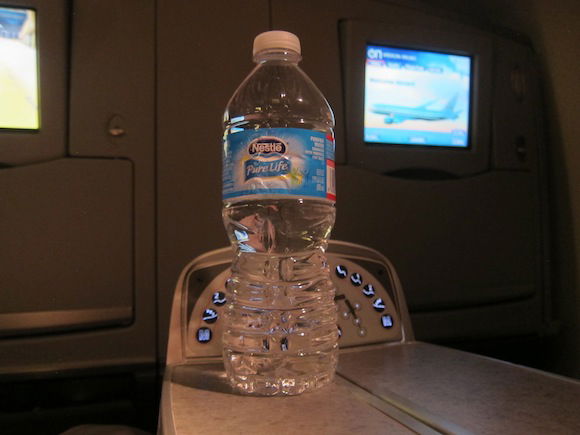 Bottled water
After dinner I tried to sleep a bit, though didn't have any luck. I can only sleep in American's old business class seats if I'm really tired given that I find angled seats very uncomfortable for sleeping, so I instead decided to watch a few TV shows. I started with a documentary about BMW.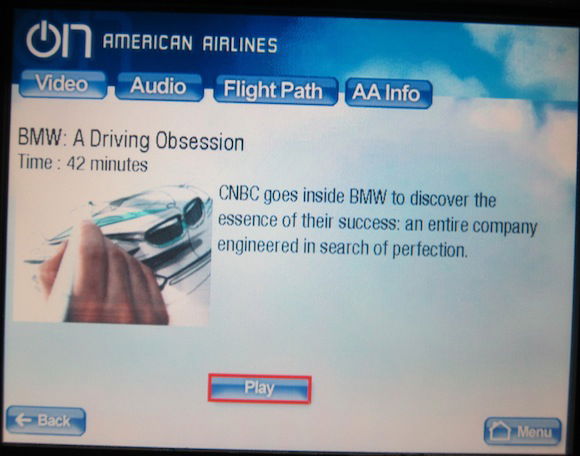 Entertainment selection
And followed that up with a documentary about the construction of the Marina Bay Sands.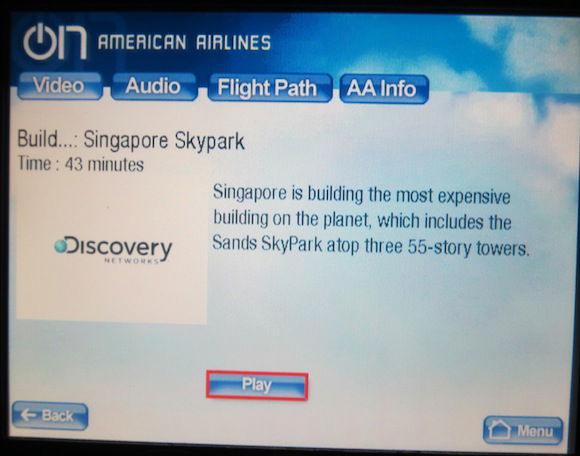 Entertainment selection
Eventually we were about two hours out of London.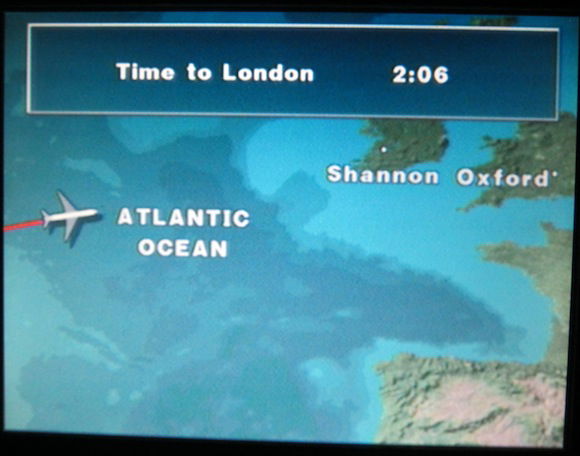 Airshow approaching London
About 60 minutes out the meal service began. The breakfast menu read as follows: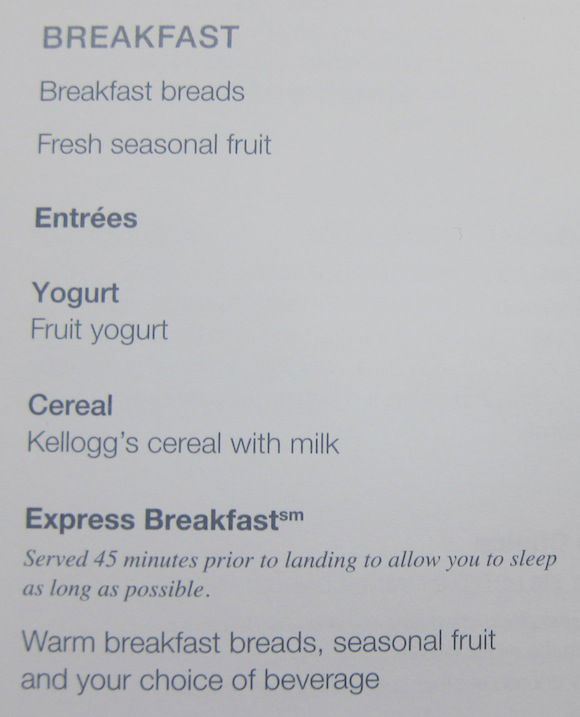 While it's hardly an elaborate breakfast, can you really ask for anything else when it's served only three hours after dinner?
I put down my tray table though the flight attendant ignored me. Eventually I asked if I could have breakfast, and she responded with "but you said you didn't want breakfast earlier." No, I said I didn't want to be woken for breakfast. I guess next time I'll clarify with "no, I wouldn't like to be woken for breakfast, but I would like to reserve the right to have breakfast if I'm awake."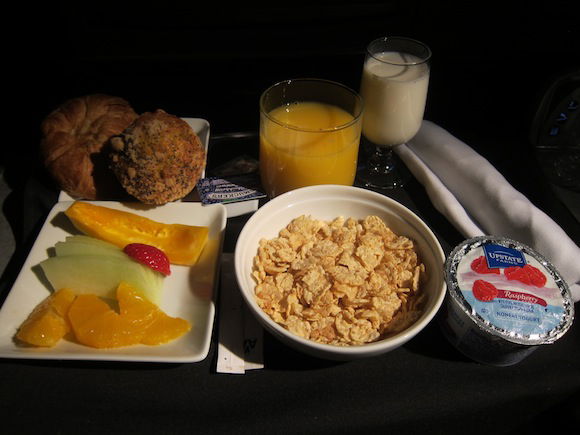 Breakfast
As we began our descent I changed out of my pajamas. At about 12,000 feet the captain came on the PA to inform us that we were early and waiting for the curfew to be lifted, so we made a couple of holding patterns.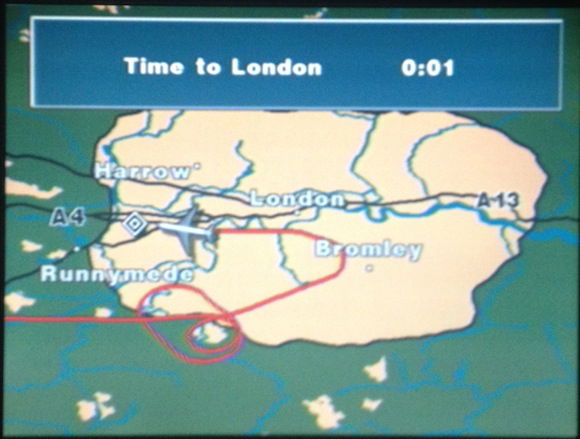 Holding pattern
After holding briefly we landed at Heathrow right on time, and within about five minutes were at the gate. I was excited for what was to come!
On the whole American's business class is a great value if you're upgrading from coach, given how easily it can be done. That being said, their hard product is simply uncompetitive compared to virtually every other airline with multiple frequencies between New York and London. British Airways, Delta, United, and Virgin Atlantic all offer fully flat beds in their business class products, so American's new business class product is long overdue. This is why I'm so excited about their new business class product, as I'm convinced they're going from having the worst hard product in the market to the best hard product.