After clearing customs we headed over to terminal seven via the AirTrain, which only took a few minutes. I've flown out of terminal seven many times (which is shared by British Airways, Cathay Pacific, Iberia, Qantas, United, and US Airways), though I've never seen it this crowded. The security queues were all the way to the door, so I can only imagine how long that took.

Terminal seven
We headed over to the far left of the terminal, where premium check-in is located. Cathay Pacific's check-in wasn't open yet, so we went to the Qantas first class line to see if they could print out our boarding passes, which they gladly did. They reminded us that because we were in Cathay Pacific first class we'd be entitled to use the British Airways pre-flight supper facility, which is one reason to book first over business on Cathay Pacific to Vancouver (since business class doesn't get access to that).
We got into the priority security queue, where I've never before seen a line of more than a few people. Tonight it was extremely long, with the added obstacle of British Airways escorting their first class passengers to the front of the line.
The TSA was also as unprofessional as ever, and they were more interested in discussing who pounded who last night than reminding us to take our liquids out of our bags (which is probably a blessing in disguise). The ID checker was also playing the game whereby they ask you for your name while looking at your ID. I've stopped trying to protest it because I realized it doesn't get me anywhere, though it was hilarious to see the reactions of unsuspecting Brits that just didn't understand why they were being asked. The guy in front of me was asked what his name was, and he responded with "I'm sorry, perhaps I'm just a bit confused, but isn't it right there?" Instead of providing an actual explanation the agent said "I need your name" again, to which the guy gave his name and said "well that just sounds like tomfoolery."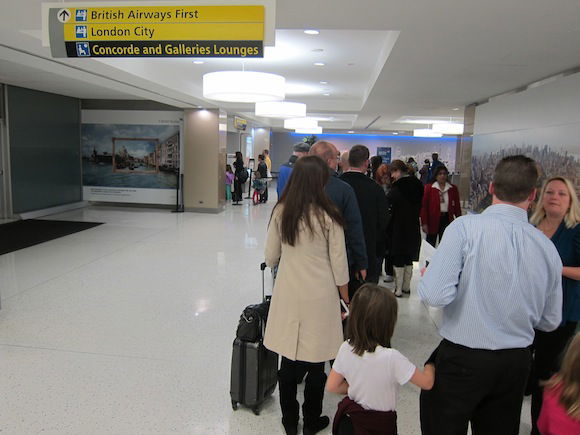 Premium security line
Once through security, we headed to the British Airways lounge. Of course, if you wouldn't otherwise have access, there are a number of alternative options in JFK available to anyone with a credit card with lounge access.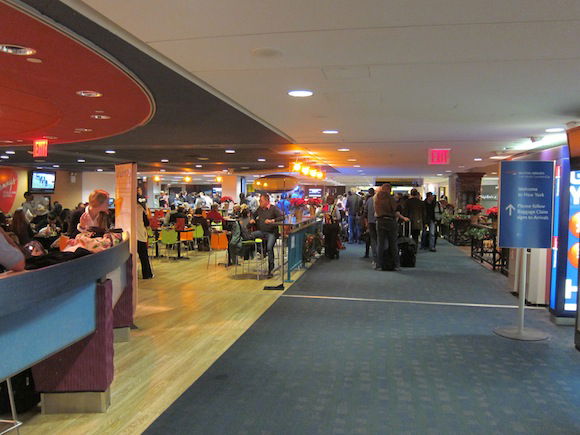 Terminal
There was an agent at the door who invited us to the Galleries (first class) portion of the lounge. However I first wanted a shower, so headed to the Elemis Spa section of the Terraces (business class) lounge instead. There I was immediately offered a shower, which felt lovely after a 15 hour flight.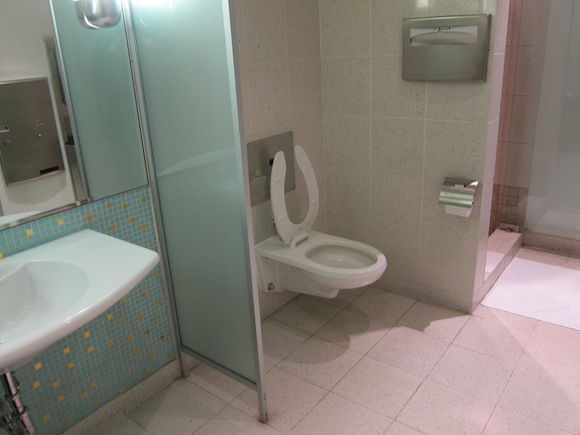 Shower
Then it was over to the Galleries lounge. The Galleries lounge is British Airways' first class lounge, except they have a separate lounge for their first class passengers called the Concorde Room. Instead this lounge is for partner first class passengers (those flying Cathay Pacific and Qantas) as well as OneWorld Emerald members. The lounge is dark and has a horrible food selection, so I really don't know why they even bother. I'd much rather they just have a decent business class lounge and the Concorde Room.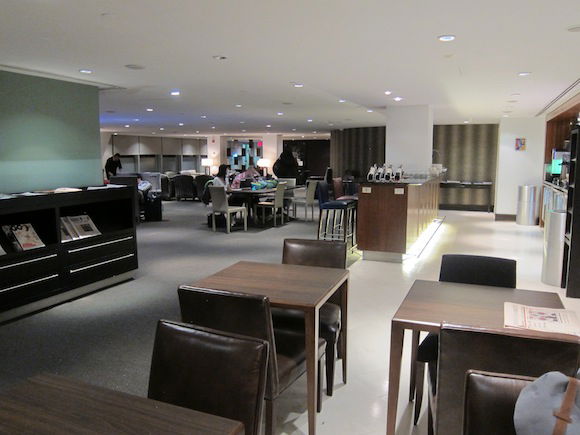 Galleries lounge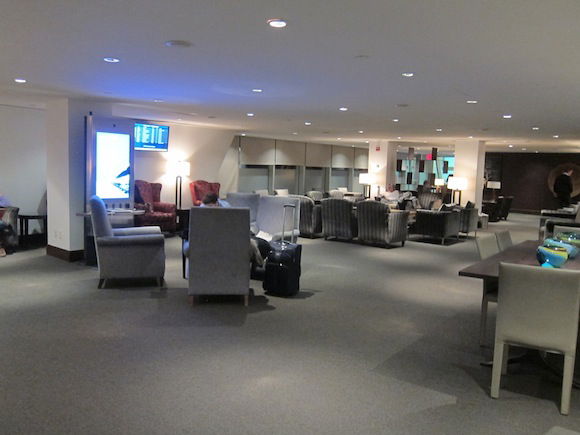 Galleries lounge
In addition to booze the buffet consisted mostly of Halloween leftovers.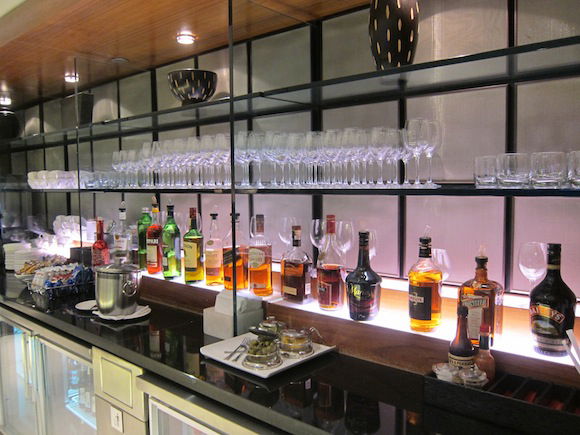 Drinks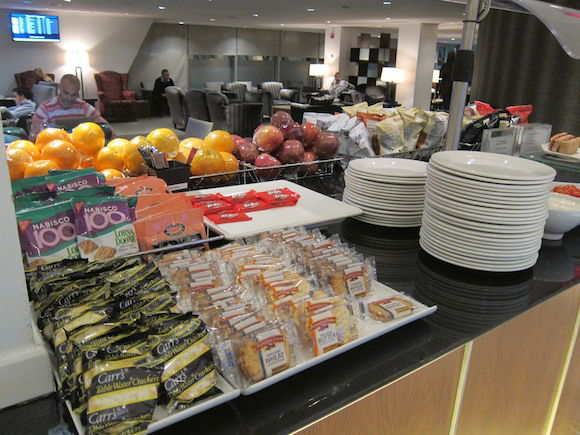 Food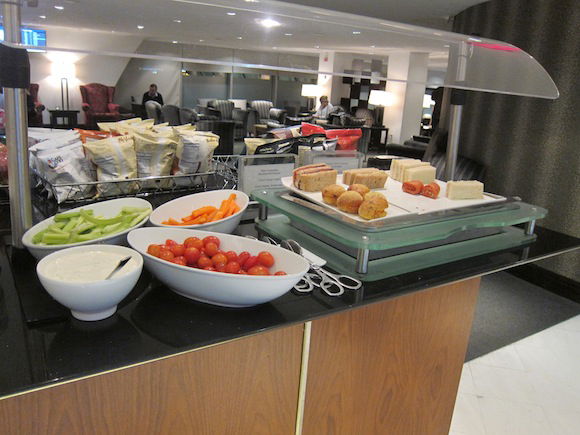 Food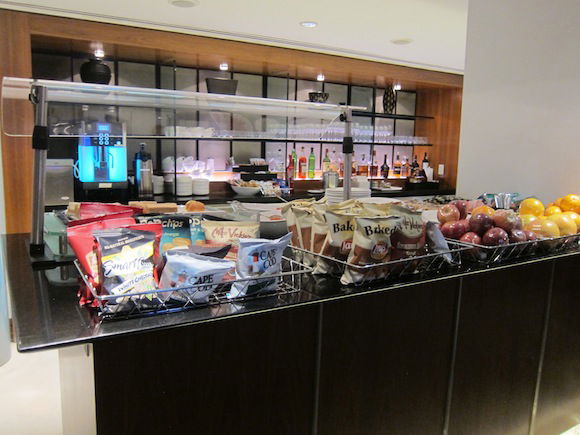 Food
At around 7:30PM we headed over to the pre-flight supper area to check out what their spread was like.
I wasn't really hungry, though did have a little bit to eat.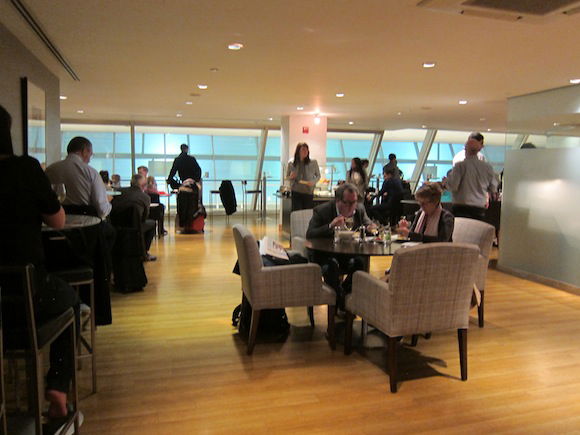 Pre-flight supper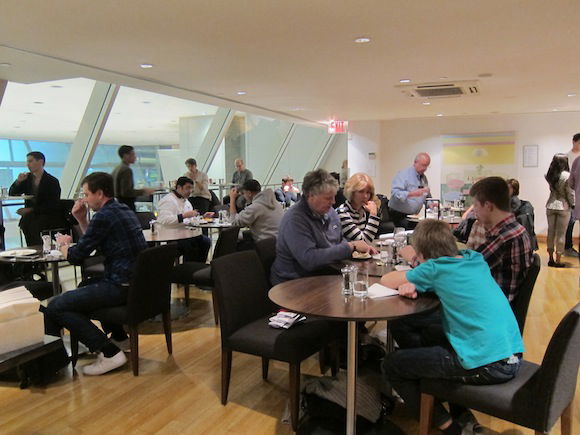 Pre-flight supper
The buffet was similar in quality to what you'd expect at Sweet Tomatoes, which I realize might sound like an insult, but Sweet Tomatoes is probably my favorite dining establishment on earth. There was salad, several hot options, and sides as well. The dessert spread was lackluster, with just cheese, fruit, and cookies.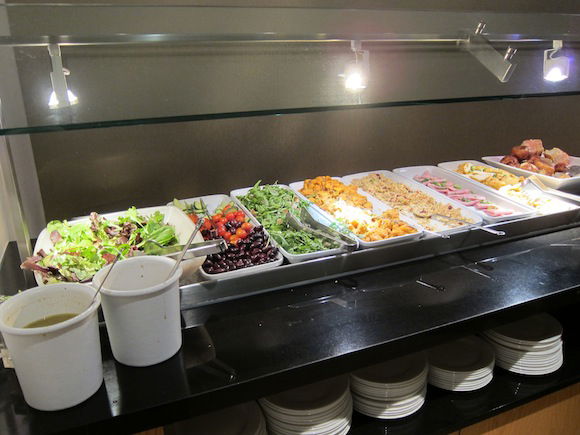 Pre-flight supper buffet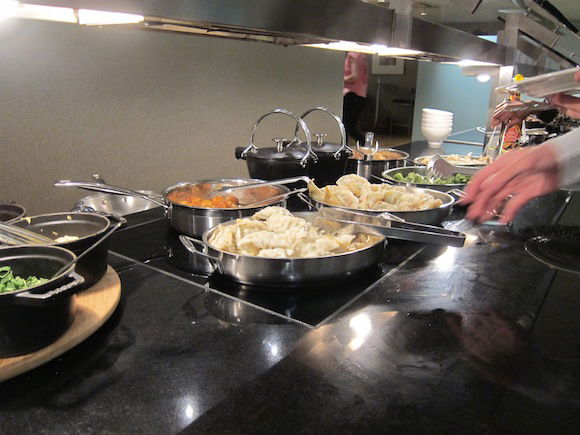 Pre-flight supper buffet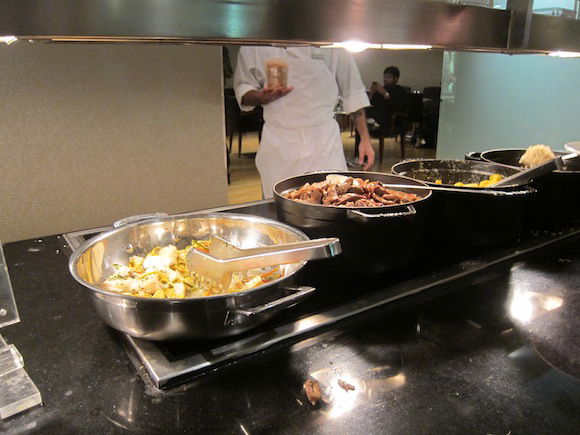 Pre-flight supper buffet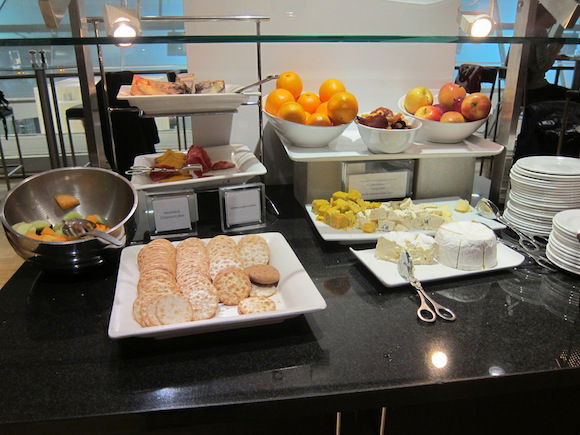 Pre-flight supper buffet
Halfway through the meal I was paged by the Cathay Pacific representative to please come to the front desk. Ruh-roh, that's something I like to hear when I'm in business class (in hopes of being upgraded to first class), though there aren't many good things you can be paged for when in first class.
We had been assigned seats 2D & 2K (a middle and window seat which face each other). The agent asked if I wouldn't mind switching to 1D, because a married couble was traveling in 2A and 1D. I explained that I was traveling with someone (you'd think she would have seen this since we were on the same record), but also that even if we switched, 2A and 2D Don't face each other. There's a wall on the left of 2D so the seat only opens up to the right. I'm not sure why I bothered to try and explain given that she really didn't seem to get it, but hey, I did my best.
Just a few minutes later the same agent announced the "immediate boarding" of our Cathay Pacific flight to Vancouver… nearly two hours before departure. I once again headed to the front desk and asked if they moved up our flight schedule by 90 minutes or what. She responded with "the computer says the plane is boarding." I responded with "two hours before departure?" She responded with "the computer says the plane is boarding." I then suggested she maybe call the gate, and sure enough there wasn't even an agent at the gate yet. Within a few minutes she announced the cancellation of boarding, which opened a whole new can of worms (she could have probably phrased it differently).
We spent the rest of the time hanging out in the Terraces Lounge, which is a bit more airy and open than the Galleries lounge. Unfortunately, a couple seated across from me started hardcore making out while I was directly facing them (I was looking at my laptop screen). She was on top of him and… well, you get the picture. Seriously, c'mon folks…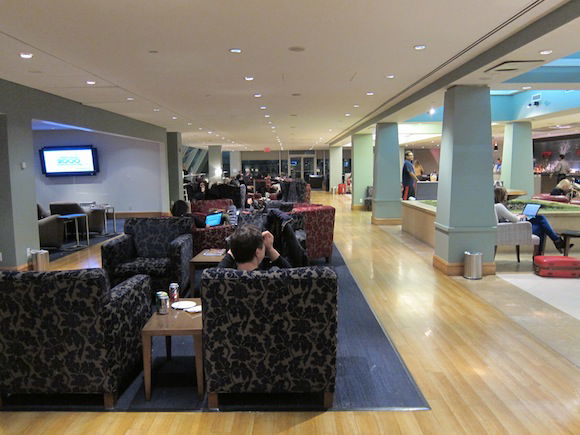 Terraces lounge

Terraces lounge
About 30 minutes before departure we decided to head down to gate six, where our flight would be departing from.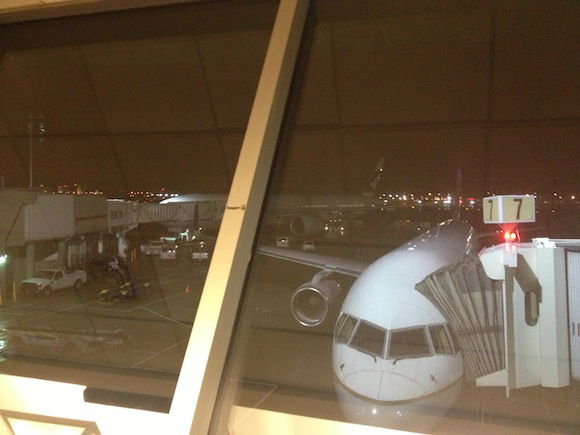 Our 777 to Vancouver in the distance
Within a few minutes boarding was announced, starting with first and business class, and so began one of the most interesting Cathay Pacific flights of my life…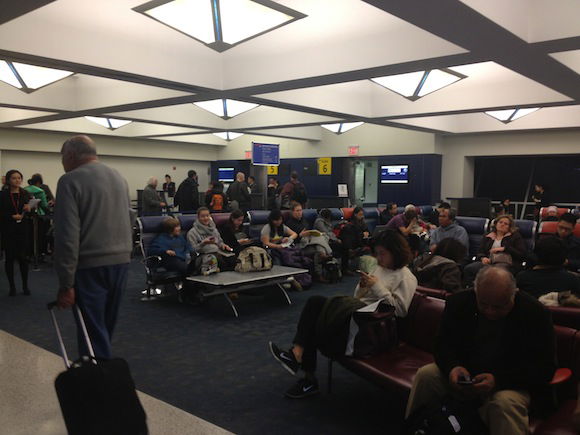 Departure gate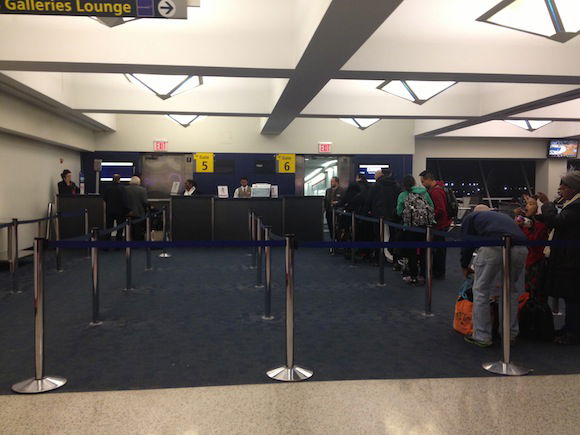 Departure gate