---
Upon landing at Heathrow we followed the signs for terminal five connections. It involved a lot of walking and also taking a train to the far end of the terminal. The joys of Heathrow.
The airport was chaotic, and even the Fast Track queue must have had a wait of over 20 minutes.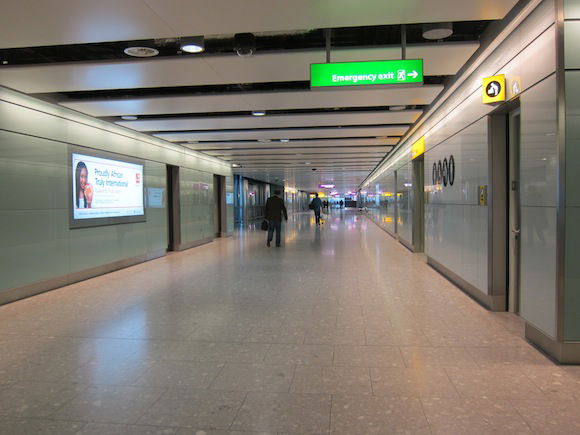 Corridor for terminal five connections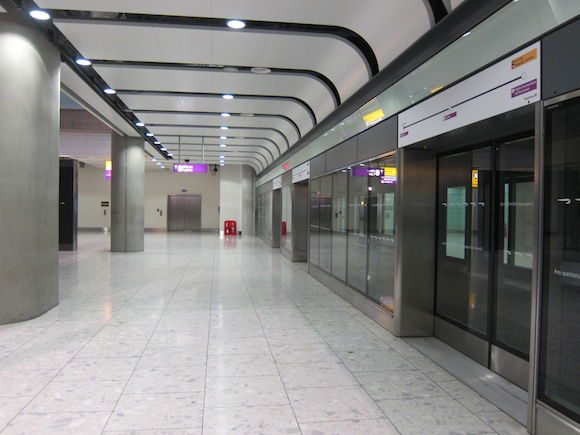 Train for terminal five connections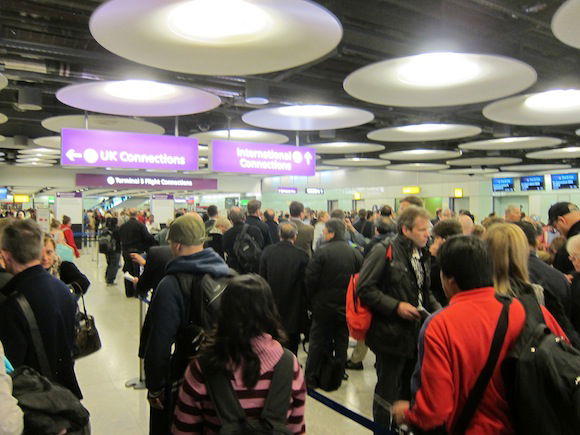 Security checkpoint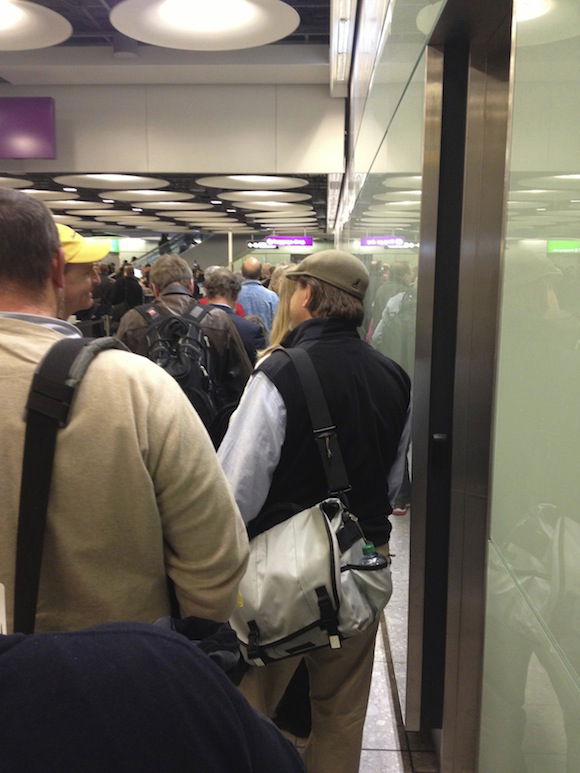 Fast Track queue
Before clearing security a British Airways agent checked our boarding passes, though I explained we hadn't been issued them and instead showed him the e-ticket receipt.
He typed in his computer, and said "no, you're not booked on the BA105 to Dubai." I asked him to look up the itinerary by the ticket number, and after typing it in he responded with "you're on the EK30 to Dubai at 4:30PM."
I've flown two million miles and booked over a hundred million miles worth of award tickets for people, though this was a first to me. There are some times in life you ask questions, and some times you just shut up and accept things. This was definitely the latter case, with one exception. I responded with "could you tell me which fare class we're booked in for that flight?" He responded with "it says 'P,' sir, though I'm not sure what that is." Not only is that first class, but it's a revenue first class fare, so I could even credit miles to Alaska Airlines Mileage Plan for the flight.
That's all I needed to know, and I responded with "it's off to terminal three then."
We took the bus to terminal three, which is always a bit fun thanks to the tarmac views. During the ride though I was so distracted by how the rebooking happened, as there was no rational explanation, that I hardly enjoyed the views.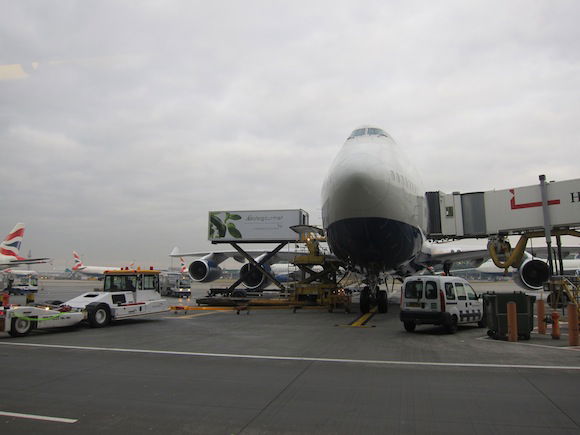 British Airways 747
It was around 3PM before we made it to terminal three, where we headed straight for the security checkpoint.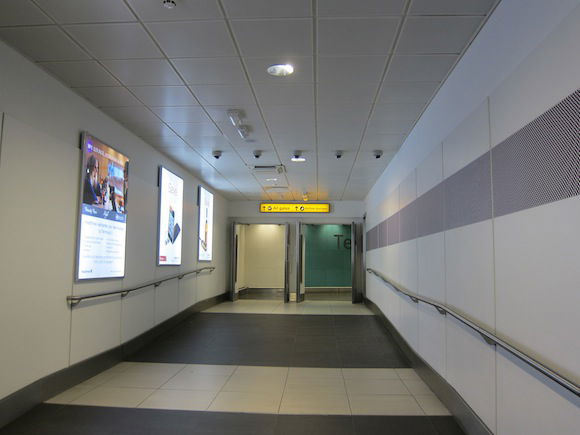 Corridor to security checkpoint
Unlike at terminal five the security checkpoint was deserted. They had ropes set up so that you'd literally have to walk for a few minutes to make it to the checkpoint. So I decided to cut under one of the ropes, and my friend followed me. While I got through fine, my friend got a scolding from the line dragon, who yelled "hey you, don't be naughty."
He responded with "sorry, I was just following him," which was met with a "oh yeah, well if he jumped off a cliff, would ya as well?"
Once in terminal three we headed to the Emirates lounge, which is located near gate seven. While the quality may not be as good, there are a number of alternative options in London available to anyone with a credit card with lounge access.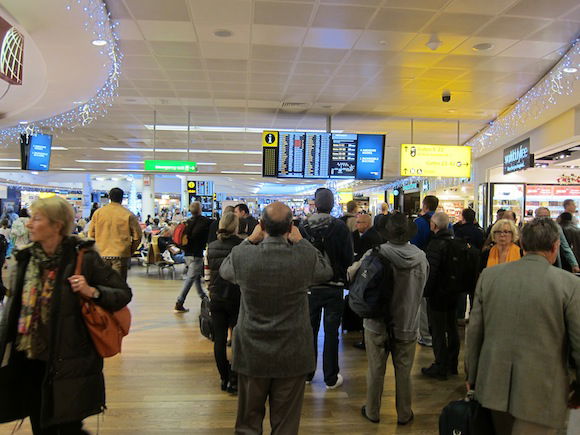 Terminal three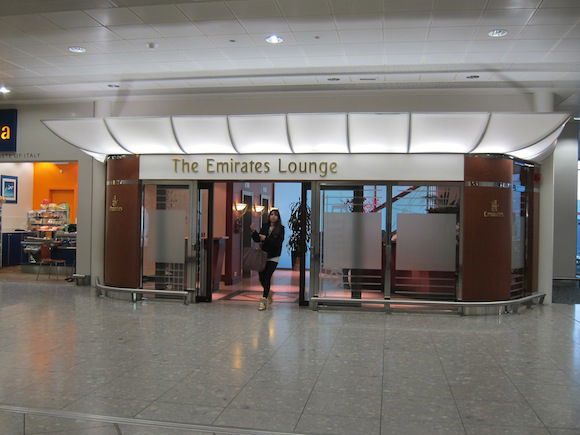 Emirates lounge entrance
Once in the lounge I was still only cautiously optimistic, since I couldn't rationalize why we were rebooked. I was fully expecting them to say "oh, your ticket still has to be reissued so you need to contact British Airways," and then I figured they'd realize their mistake. But instead upon entering the lounge we explained that we were rebooked from British Airways, and gave them our passports and baggage claim tag. This is the point at which we realized that the bag had actually been checked through on EK30 since we left Seattle, which would also explain why they couldn't issue the boarding passes for the flight to Dubai at check-in!
The agents invited us to enjoy the lounge and said they'd process our check-in and page us in the next 10 or so minutes. My excitement continued to build as I saw the Emirates Airbus 380 parked right outside the lounge window. What a beauty!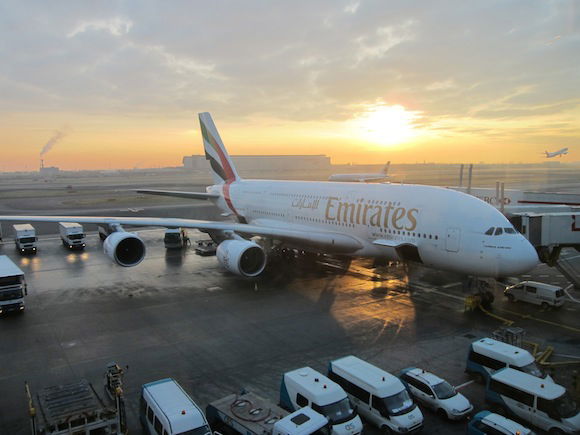 Emirates Airbus 380 taking us to Dubai
Sure enough within a few minutes they paged us and issued us our boarding passes for first class. At this point we asked them to add our Alaska Mileage Plan numbers to the reservation, though they had never heard of Alaska before and didn't believe they were partners of Emirates. After a bit of convincing they were willing to try, and sure enough the computer accepted it.
The lounge itself wasn't great, and felt straight out of the late 90s.
It consisted of one really long corridor with seating by the windows, and then a couple of larger seating sections away from the windows.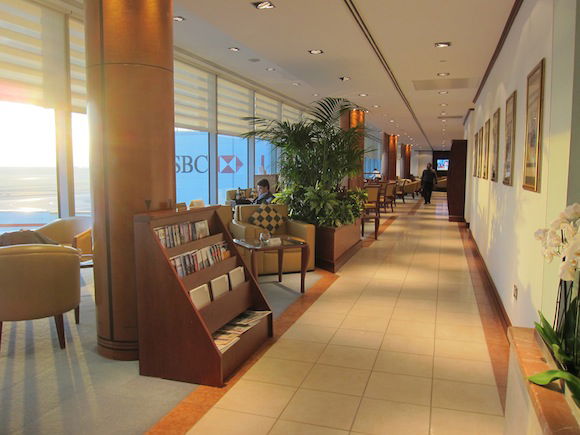 Emirates lounge seating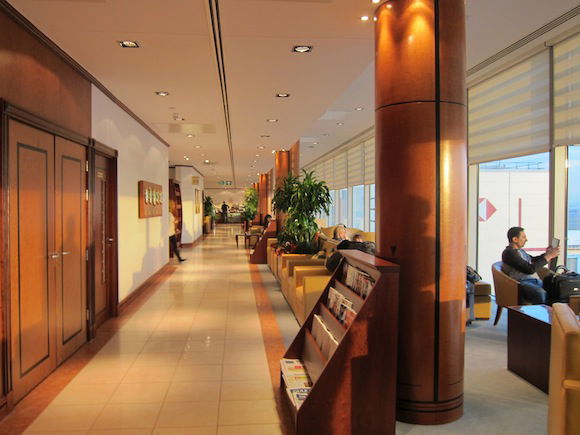 Emirates lounge seating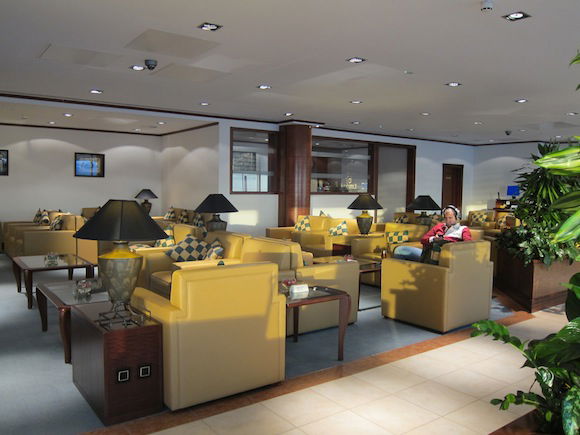 Emirates lounge seating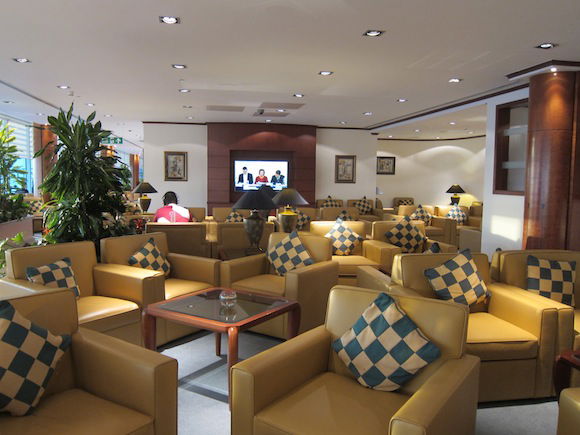 Emirates lounge seating
On one end of the lounge was a bar with self serve wine, champagne, booze, soft drinks, coffee, and water.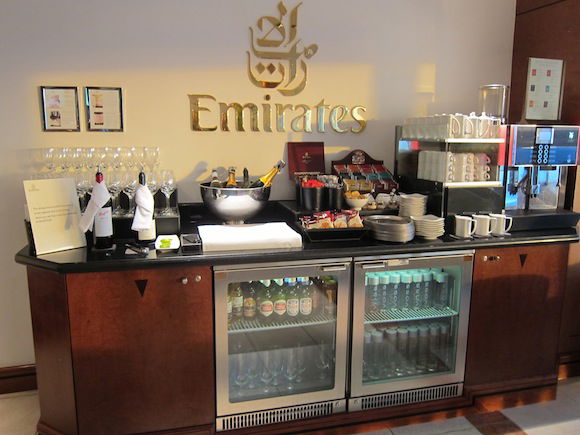 Self serve bar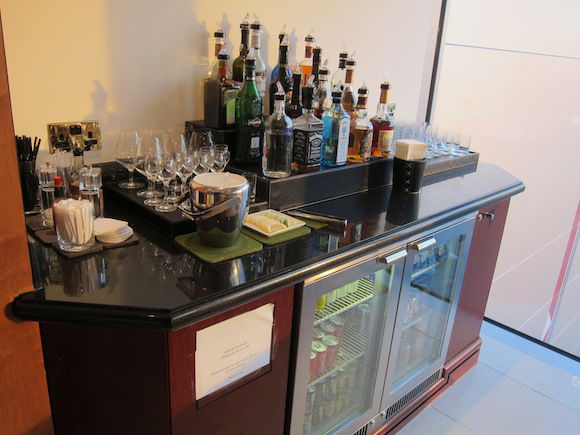 Self serve bar
And on the other end of the lounge was a small dining area and buffet, with all kinds of snacks.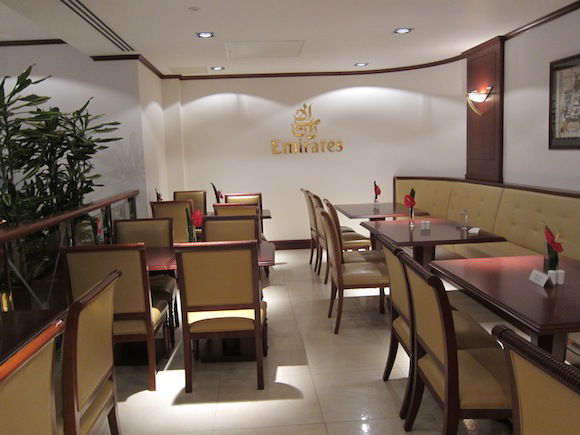 Emirates lounge dining area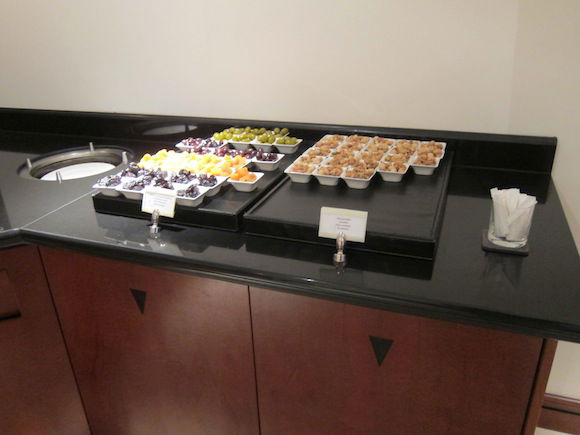 Emirates lounge buffet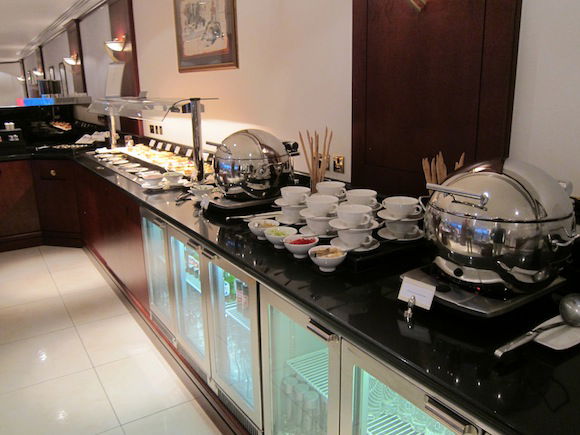 Emirates lounge buffet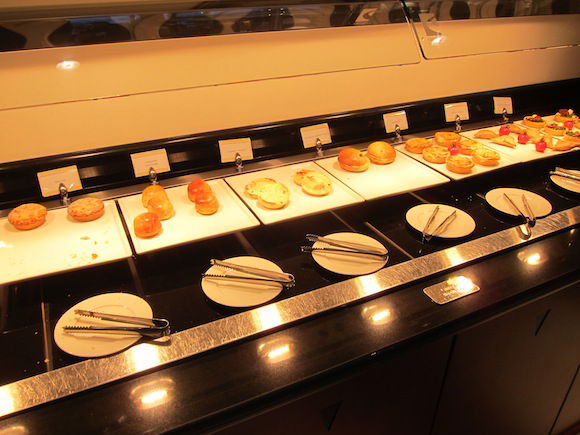 Emirates lounge buffet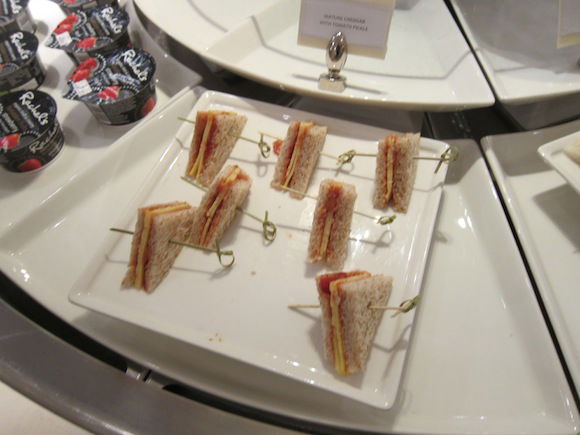 Emirates lounge buffet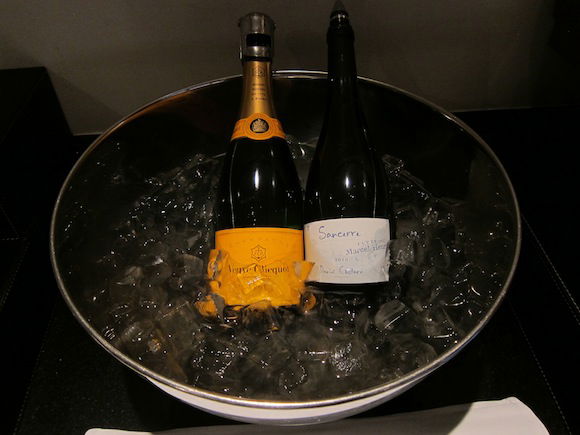 Champagne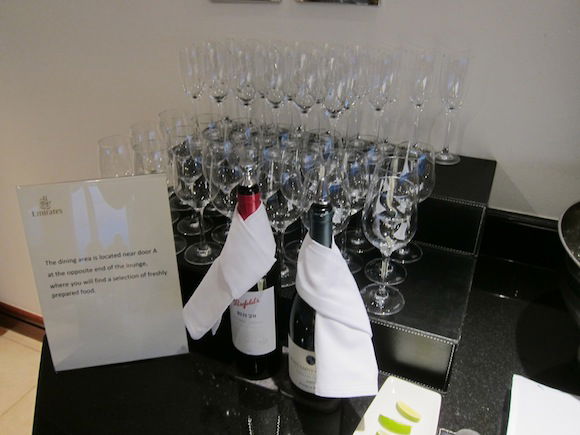 Wine
The lounge also has showers, though I decided to wait till I was aboard my flight for that, which is actually the aspect of the flight I was most looking forward to.

Shower room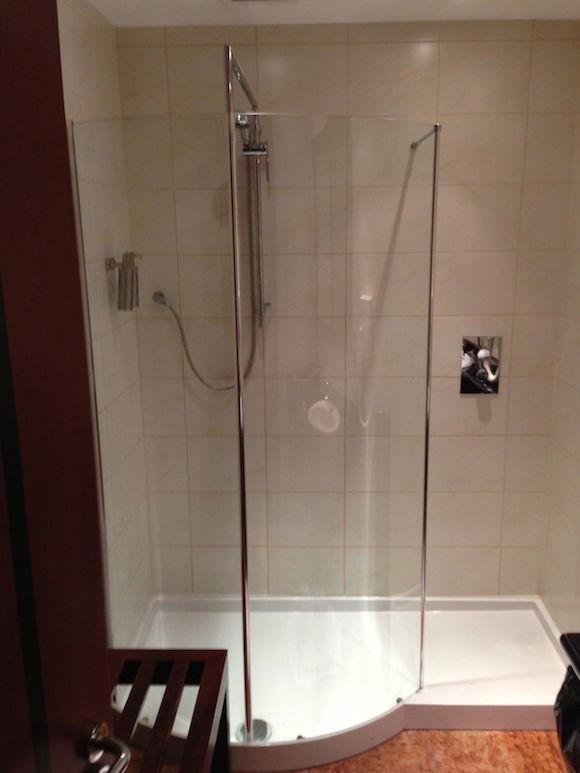 Shower room
At roughly 4PM boarding was called, and we headed down to gate seven, where we were immediately assisted at the priority queue.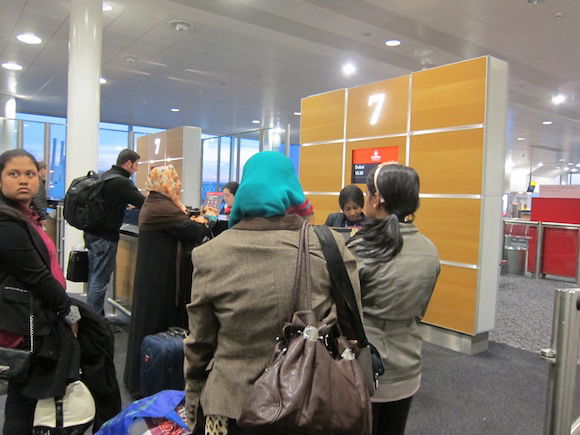 Departure gate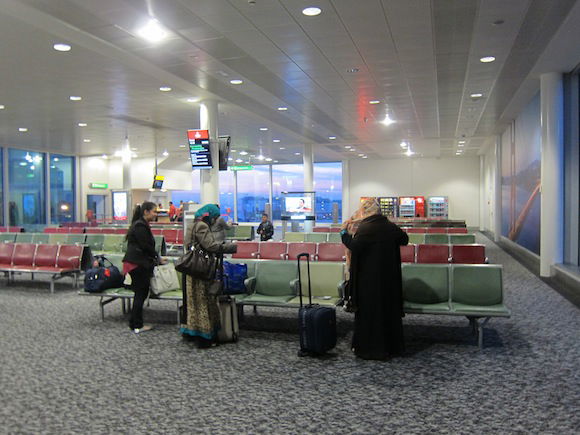 Departure gate
There are a lot of flights in my life I've looked forward to, though usually there has been time for my excitement to sink in. In this case I had about two hours notice, so I was still giddy as could be while boarding.