For those of you not familiar with the Burj Al Arab, it's the world's only seven-star hotel, whatever that means. When I was in Dubai last year I had afternoon tea at the Burj Al Arab. However, I was only able to reserve a table at Sahn Eddar, the hotel's lobby lounge. This time around I was hoping to have afternoon tea at the Skyview Bar, which is located on the 27th floor of the hotel.
We were planning only a couple of days in advance, so I figured we had virtually no chance of securing a table. I sent off an email to their reservations department, and was shocked to receive a confirmation for afternoon tea at the Skyview Bar for 1PM on the 13th, our day of arrival.
The afternoon tea is seven courses and costs 450AED (~$122USD) per person, which must be among the biggest and most expensive afternoon teas out there.
We left the Grosvenor House at around 12:15PM and made it to the Burj Al Arab at around 12:30PM. The hotel is located on a man made island, and there's no public access allowed. So at the gate you have to show your confirmation before they'll let you enter.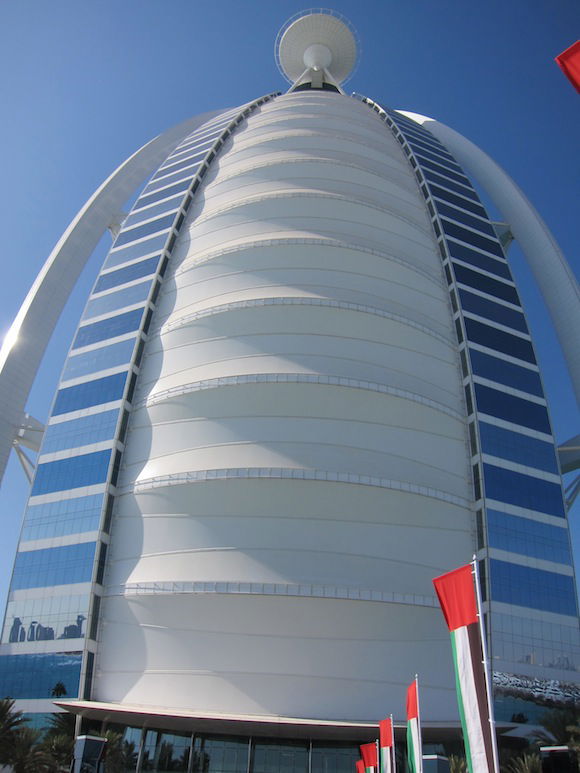 Burj Al Arab exterior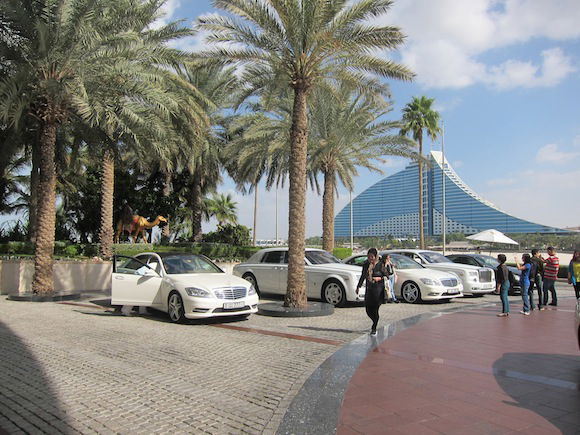 Hotel exterior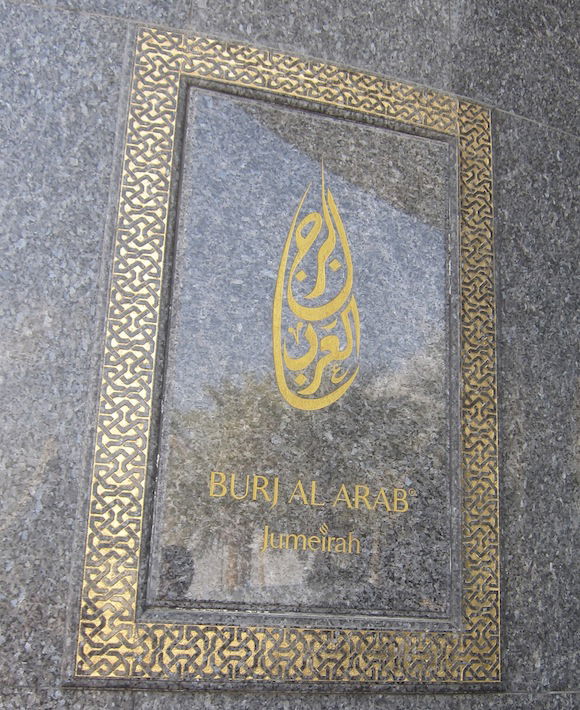 Signage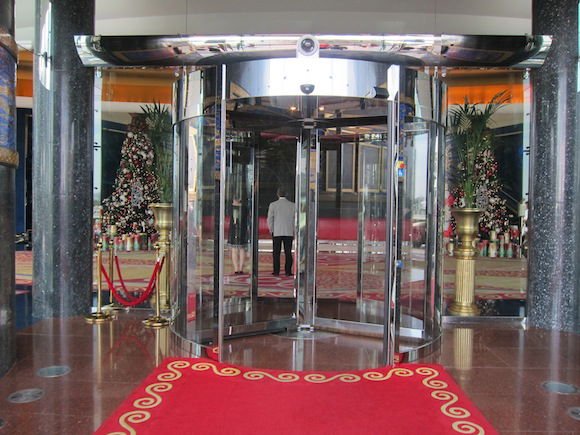 Entrance
As was the case last time, I found the public areas of the hotel to be a complete spectacle. The hotel guests seemed to mostly either be Middle Easterners or older Russian men with their daughters wives.
Meanwhile there were the people at the hotel just to enjoy afternoon tea, which seemed to be mostly Brits and Japanese people, both of which were taking pictures as if it were a red carpet (hey, I was part of that group too!).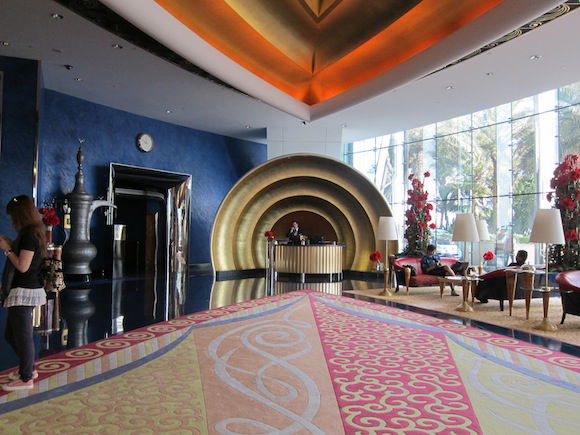 Lobby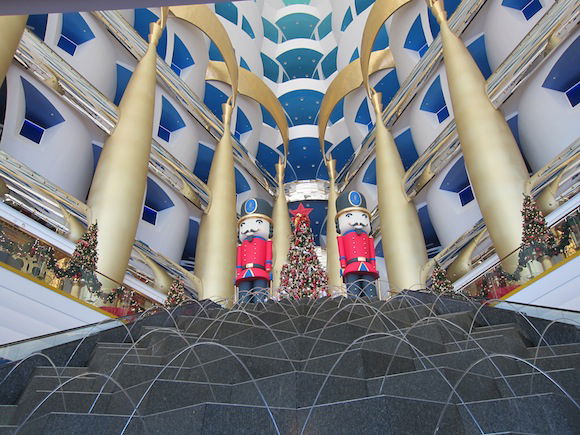 Lobby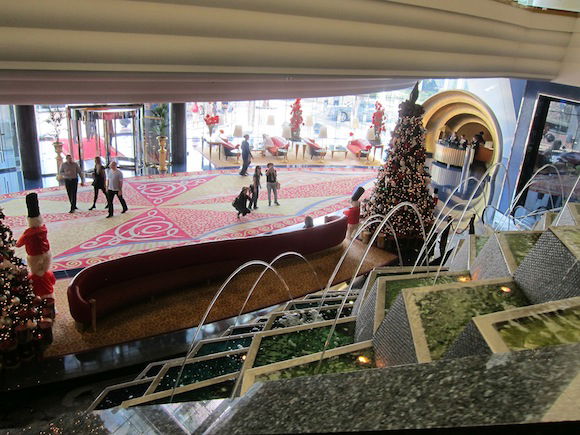 Lobby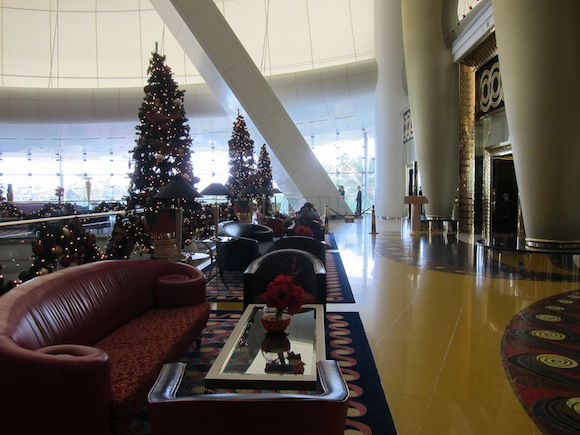 Lobby bar (where I had afternoon tea last time)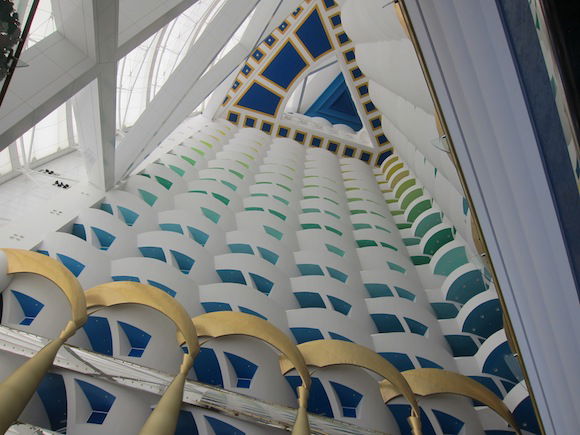 Atrium
After briefly touring the hotel we took the elevator to the Skyview Bar at around 12:45PM and "checked in." We were invited to take a seat, as our table would be ready shortly. If you're having afternoon tea at either of the facilities it's worth noting that they seat tables in order, starting with the best tables by the window. So the earlier you arrive, the better table you'll get. We were among the first there, so got an awesome table by the window.
The bar is interesting in that it feels more like a cruise ship from the late 90s than the world's most expensive hotel. Though I guess it does feel a bit gaudy/tacky, which fits in with the theme of the hotel.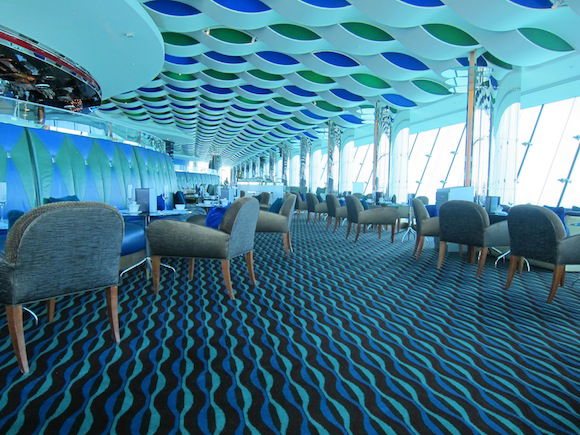 Skyview Bar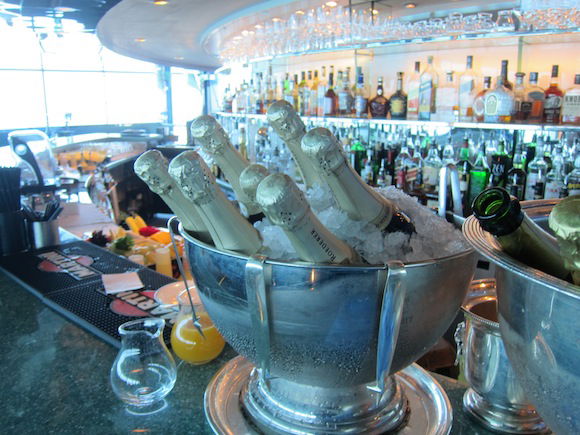 Bar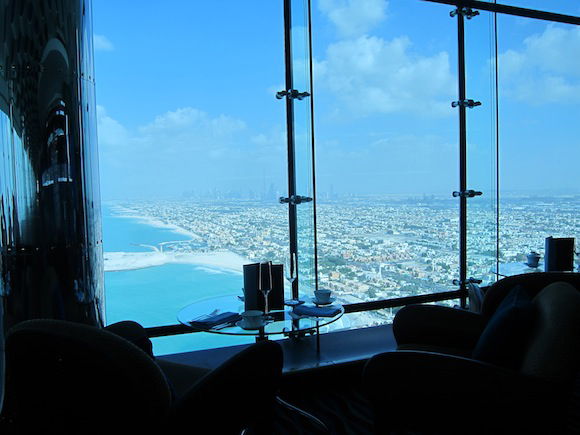 Our table by the window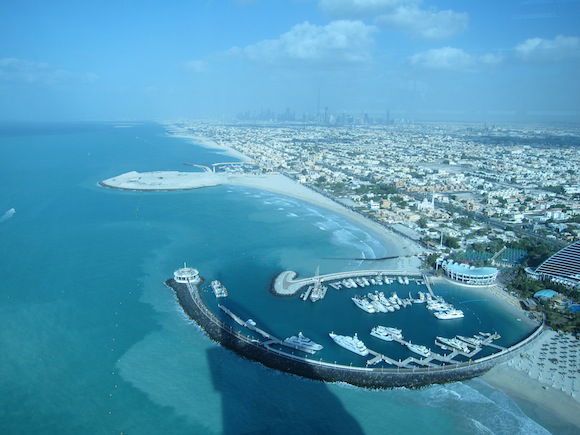 Our amazing view for afternoon tea
Our waitress was a lovely lady from Indonesia, and she familiarized us with the menu and explained that we could have as much as we wanted of everything, except champagne, which was an extra 150AED per glass beyond the first one.
Service began with a glass of champagne, which was Louis Roederer Brut. That was quickly followed by an artfully presented berry tart with cream.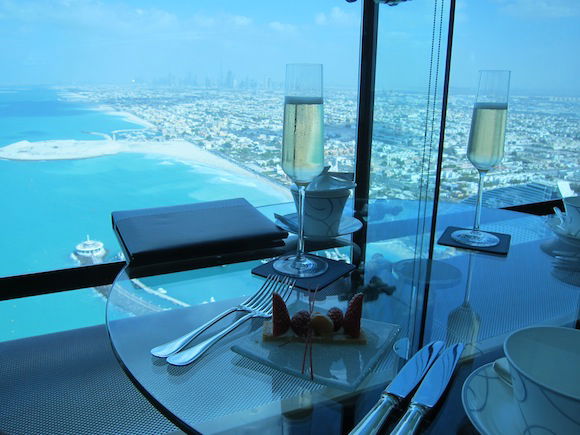 Champagne and berry tart with cream
The second course was the "chef's carvery of the day," which was some sort of beef with potato.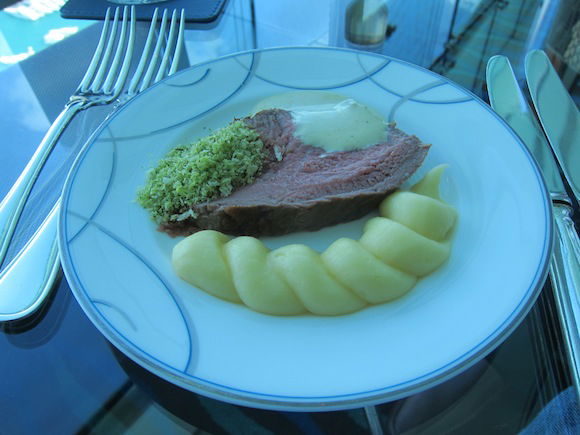 Chef's carvery of the day
At this point coffee/tea orders were taken. I ordered both a cup of vanilla infused tea and an iced coffee. They encourage you to try as many as you'd like, so I certainly took them up on that.
While those orders were put in, we were offered a selection of finger sandwiches, each of which was explained to us in great detail. We were offered more sandwiches, though had to turn them down as seven courses is plenty for us. 😉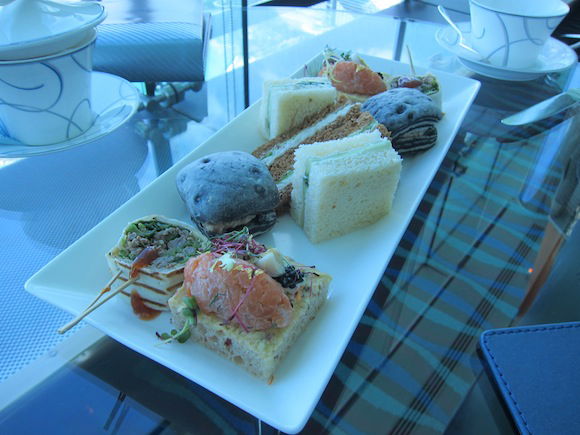 Finger sandwiches
As we finished the finger sandwiches our coffee and tea were served.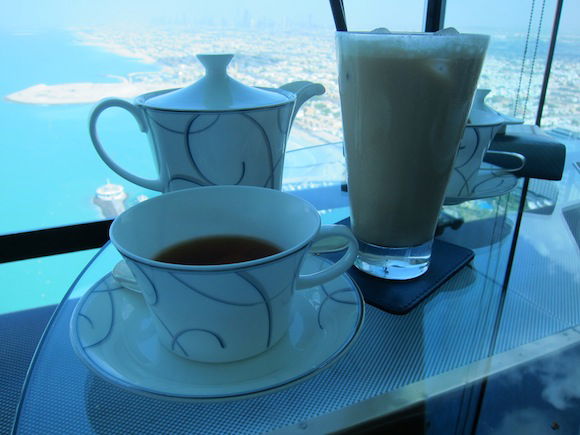 Tea and iced coffee
We were then offered a tray of sweets, presented on a "Burj Al Arab" style carrier.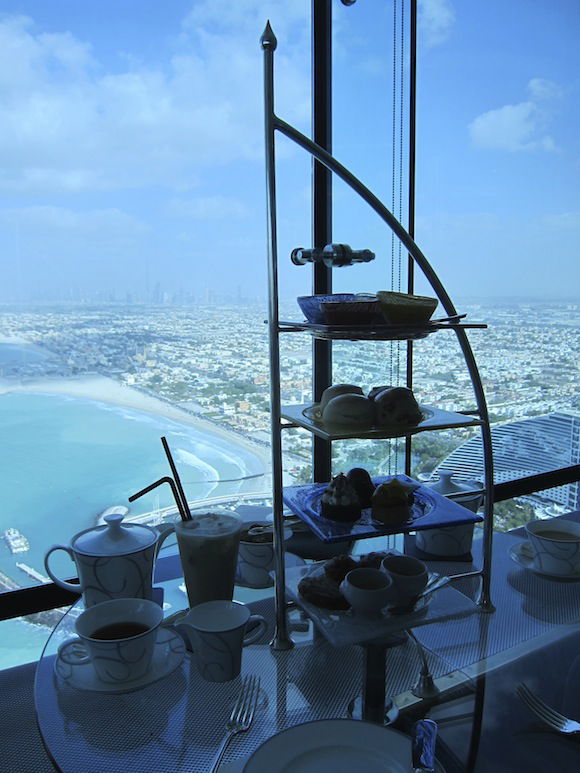 Sweets
This contained lots of sweets.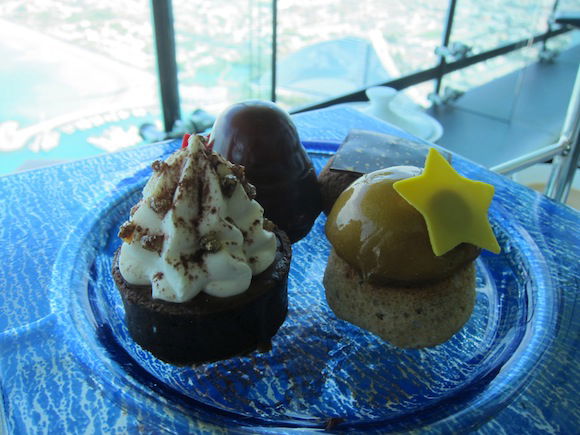 Sweets
And cookies/muffins.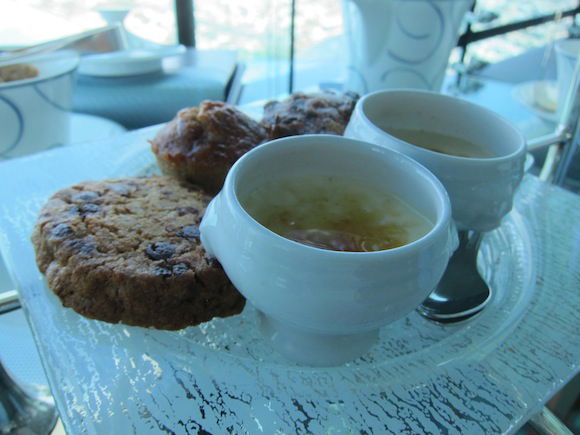 Cookies/muffins
And scones.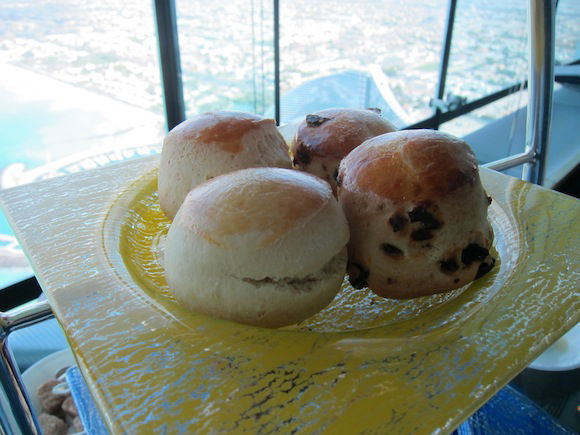 Scones
Which were served with clotted cream and jams.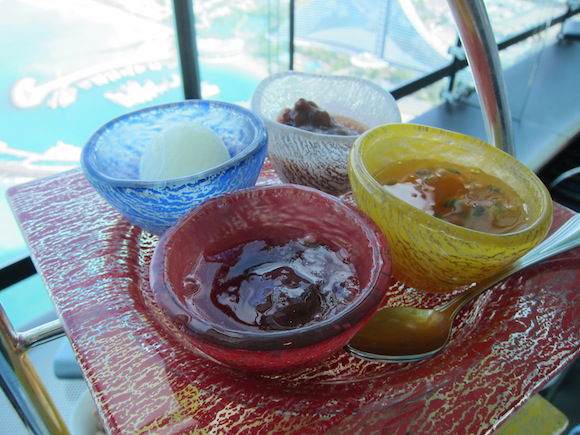 Clotted cream/jams
The next course was a lychee and rose sorbet, along with some Christmas cookies.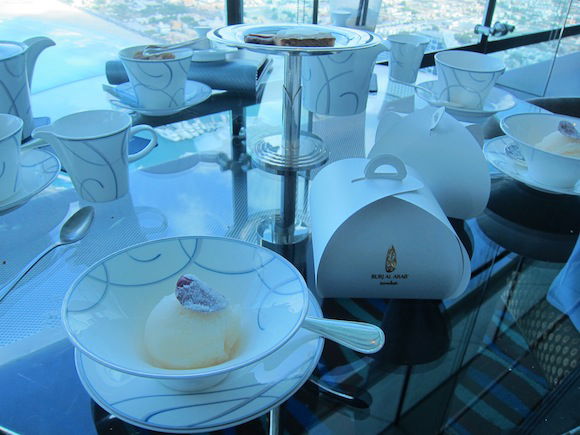 Sorbet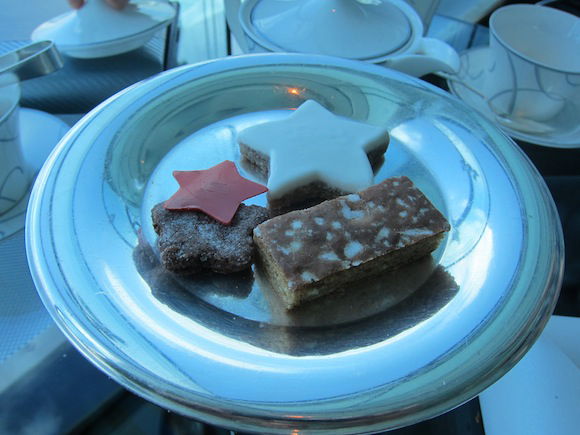 Christmas cookies
We were also offered a to go box with some more sweets.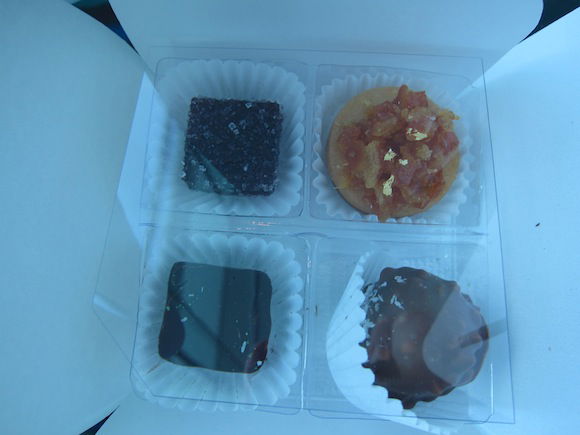 To go box
I know the summary seems pretty brief, though this was a roughly 90 minute affair. We were always asked if we wanted more, and the service was great throughout.
I've now had afternoon tea at both Sahn Eddar (the lobby bar) and the Skyview Bar, and definitely enjoyed the latter more for the amazing views.
Obviously afternoon tea here is outrageously expensive, and it's not something you have to experience multiple times. That being said, I think everyone that visits Dubai should make an effort to have afternoon tea here once, as it's an unforgettable experience.