---
When I was in Dubai last year I stayed at the Park Hyatt, which was spectacular, easily one of my most pleasant hotel stays ever. When you find a great hotel it's very tempting to return to it, though I figured a review of the same hotel just a year later probably wouldn't interest y'all much, so I decided to stay elsewhere.
After comparing rates and reviews, I decided on the Grosvenor House, which is a Starwood Luxury Collection property. It's generally considered to be the best Starwood property in Dubai, and as luck would have it, earlier in the year the property was downgraded from a category six to a category five property. Cash & Points was available, bringing the rate down to just 4,800 Starpoints plus $90 per night. That's a rate that's tough to argue with, so it's where we decided to spend our two nights.
I also decided to apply two of my Starwood Platinum "Suite Night Awards" to the reservation to confirm a junior suite in tower two (which is the newer of the two towers). One of my main motivations was that suites get you chauffeur service from the airport, so it seemed worth it to confirm the upgrade in advance for this benefit.
Anyway, let's fast forward to the stay. Originally we were scheduled to land in Dubai at around 8AM, figuring we wouldn't make it to the hotel much before 10AM. I had emailed the hotel in advance about early check-in, and they said they would do their best to accommodate.
Our check-in situation ended up getting even more extreme, as we were rebooked on Emirates from London to Dubai, landing several hours earlier than scheduled, at around 3AM.
So we had a couple of options. One was to just head straight for the Grosvenor House and hope for the best. I wasn't expecting them to let us check in at 4AM, though figured they may let us check-in at around 6AM or so. The other option was to just book a cheap hotel near the airport, and crash there for the morning, and then head over to the Grosvenor House in the afternoon.
The added challenge was that we had reservations for afternoon tea at the Burj Al Arab at 1PM on our day of arrival. This was the only time I could reserve a table, and frankly I was shocked that I was able to get one at all just a few days in advance.
So as I gave it more thought it just didn't make sense to get a different hotel, move all our stuff to the Grosvenor House, and then go to afternoon tea. I figured it made more sense to sit in the lobby of the Grosvenor House for as long as it took to check-in, to keep things simple.
Anyway, we made it to the Grosvenor House shortly after 4AM via Emirates' complimentary chauffeur service, and headed to the check-in desk in tower two.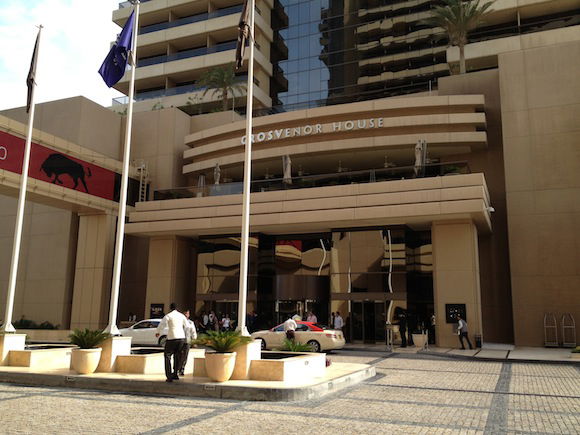 Hotel exterior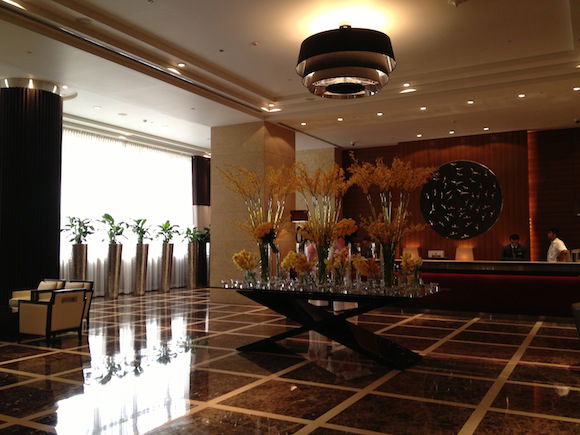 Tower two lobby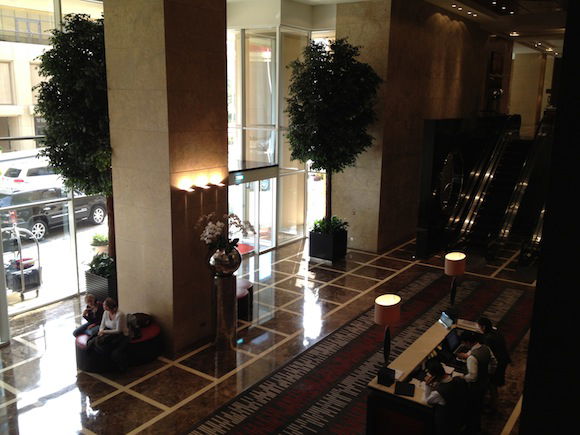 Tower two lobby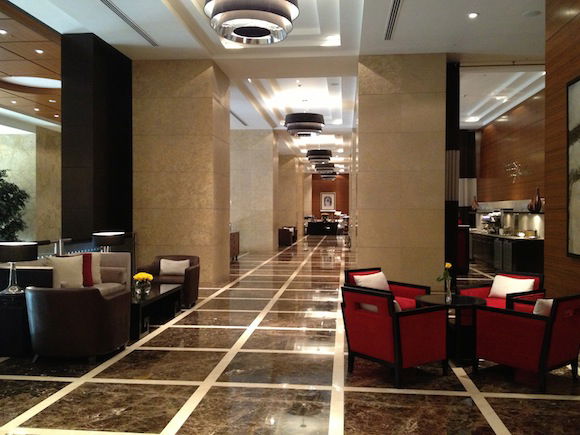 Tower two lobby
I explained to the agent the situation as apologetically as possible, and mentioned upfront that I realized it would probably be a while before our room was ready. He asked us to take a seat while he spoke to the duty manager, and the duty manager explained that the night audit hadn't yet been completed, so they couldn't assign a room, though once that was complete in the next couple of hours they could do so. That being said no suites were available from the previous night, so he said we would first be placed in a temporary room.
In the meantime he invited us to relax at "Level 5," the hotel's club lounge, which is open 24 hours a day. The agent escorted us to the club lounge and promised to inform us once a room was ready.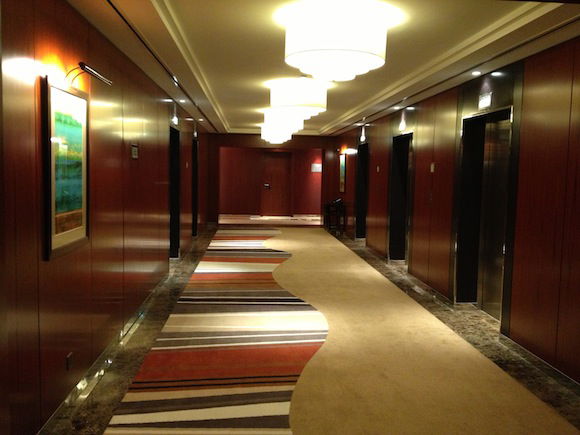 Elevator area in lobby
I thought they were extremely gracious and accommodating, given that they were offering us a temporary holding room at an early hour, which they certainly don't have to do.
The club lounge was spacious, and as soon as we settled in the night attendant offered us drinks.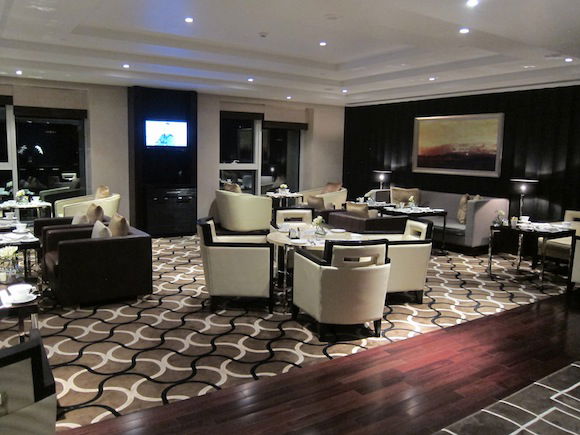 Level 5
I spent the next couple of hours getting caught up on work, and at around 6AM the same guy that checked us in appeared in the lounge to inform us that our temporary room was ready. We couldn't have asked for a better outcome, as we'd be able to nap for a few hours before heading to the Burj Al Arab.
Anyway, the first room we were assigned was a deluxe room in tower one on the 25th floor, room 2502.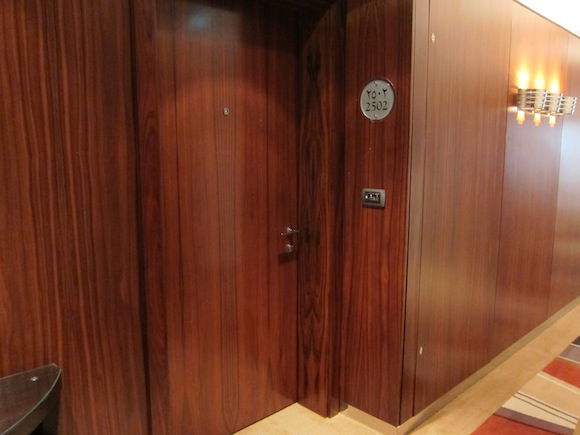 Room entrance
The room was ~350 square feet and nicely appointed. It featured a bed, desk, and lounge chair with ottoman.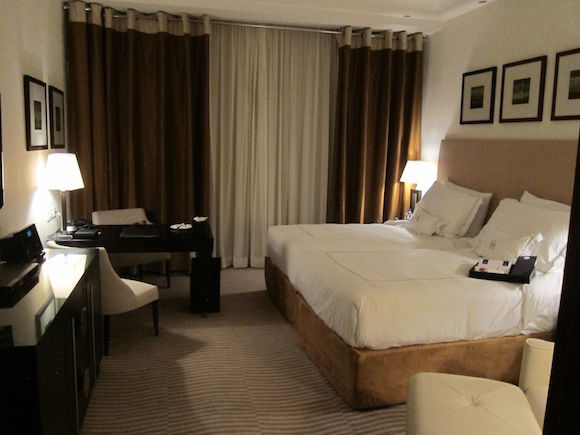 Deluxe room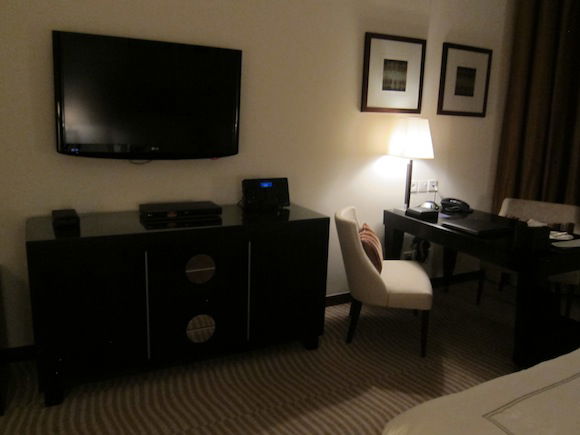 Deluxe room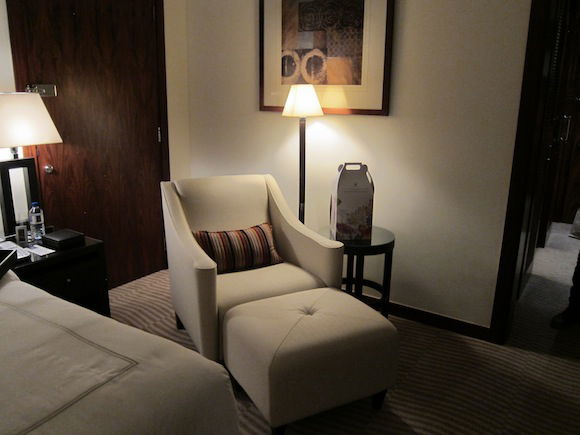 Deluxe room
The bathroom was surprisingly nice for a standard room, given that it featured both a tub and walk-in shower.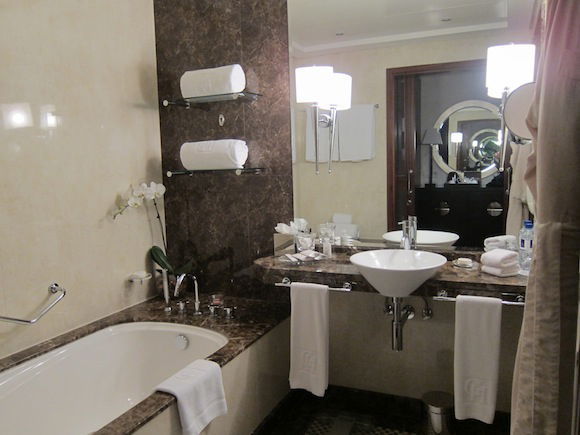 Bathroom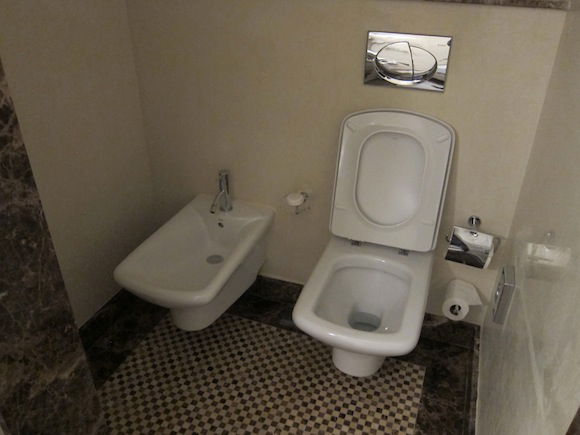 Toilet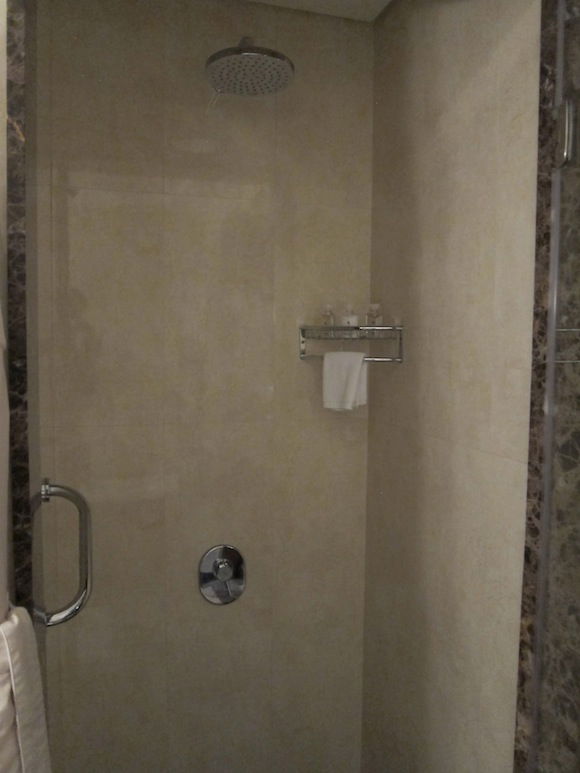 Shower
The room also featured somewhat obstructed views of the Gulf.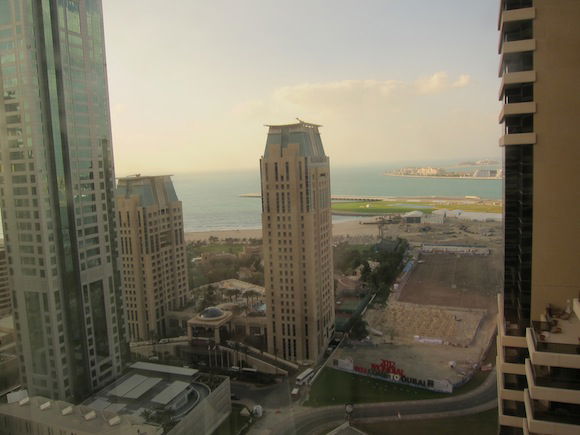 View from the room
After napping for a couple of hours and then showering, it was off to the Burj Al Arab for afternoon tea. When we returned at around 1PM we headed to the lobby of tower one to switch to our reserved room, which was quickly processed.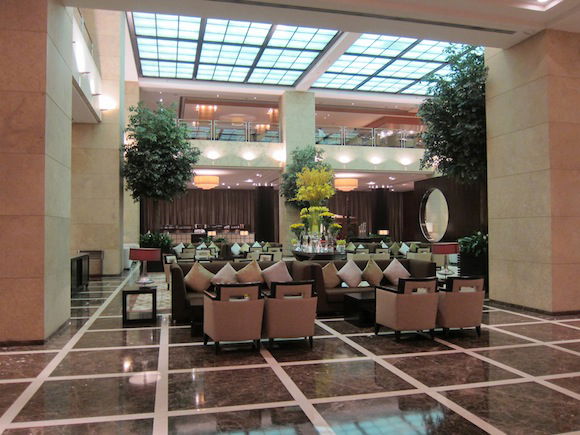 Tower one lobby
Our second room was in tower two, a junior suite on the seventh floor.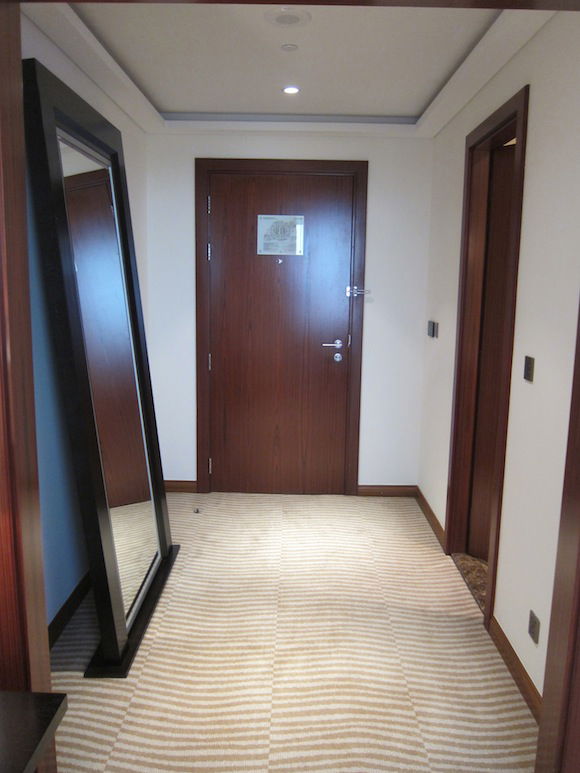 Room entrance
The room featured a small living room with two couches facing a flat screen TV.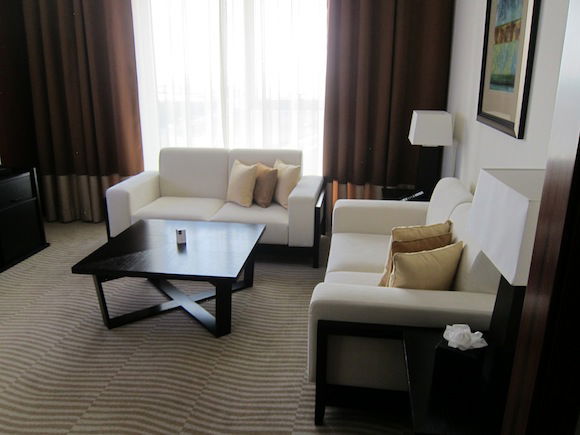 Living room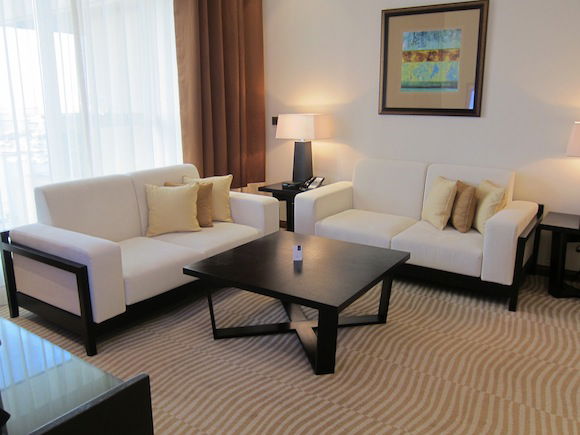 Living room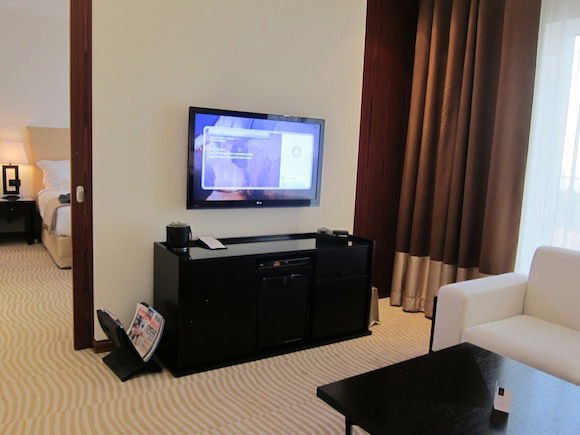 Living room flat screen TV
Below the living room TV was the minibar.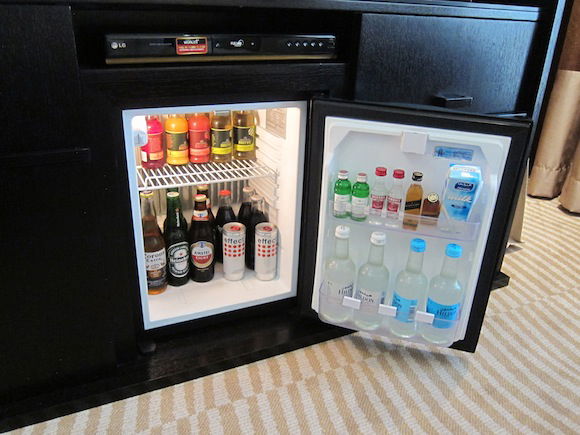 Minibar
Near the entrance of the room was a guest toilet.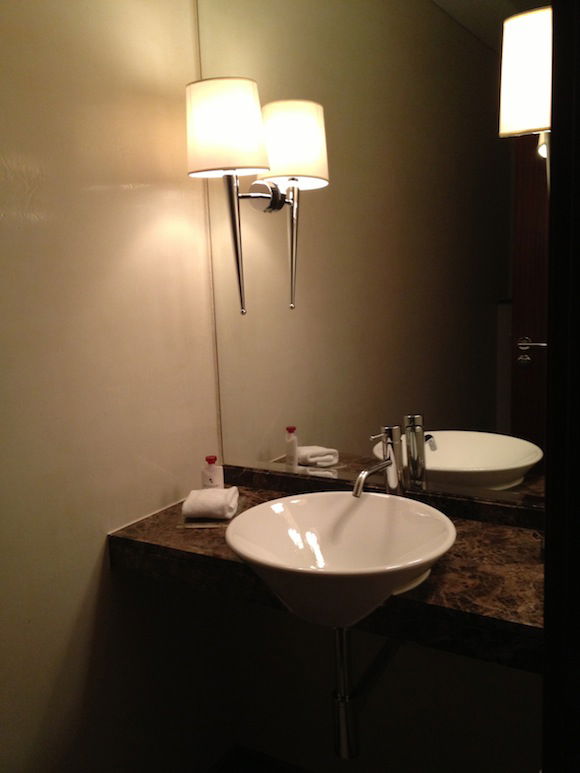 Guest toilet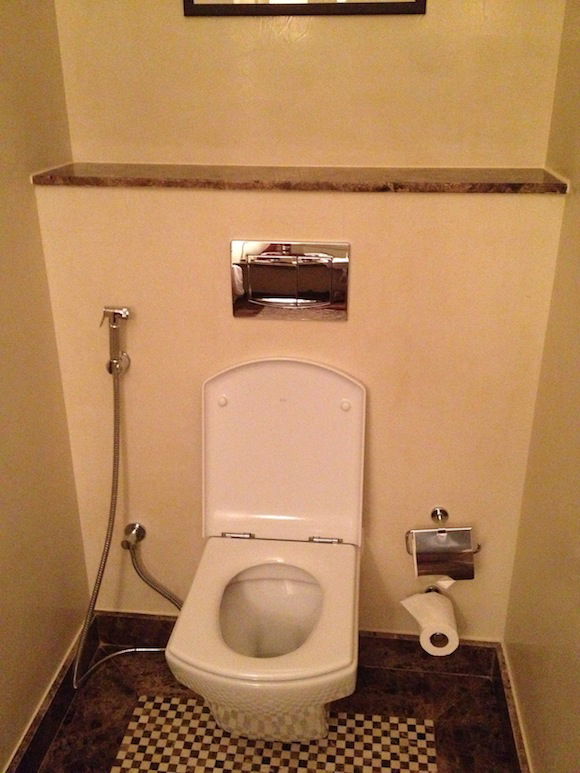 Guest toilet
The bedroom was separated from the living room by a wall, and featured a king size bed.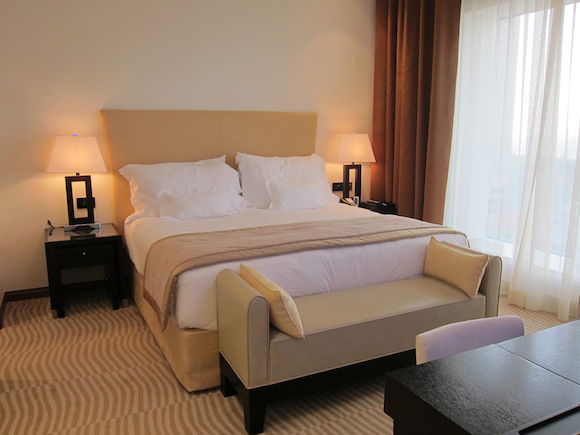 Bedroom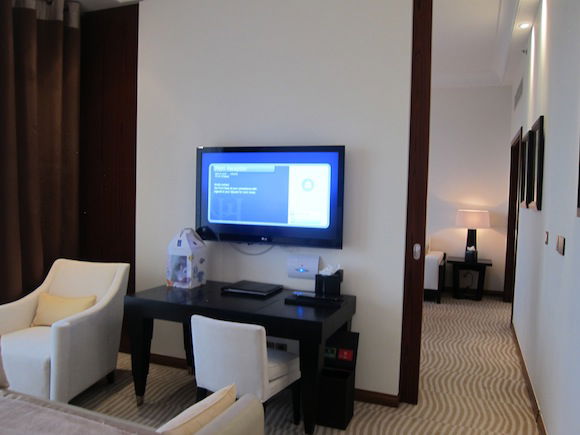 TV and desk in bedroom
The bedroom was connected to the main bathroom by a hallway, at the end of which was a vanity mirror and desk.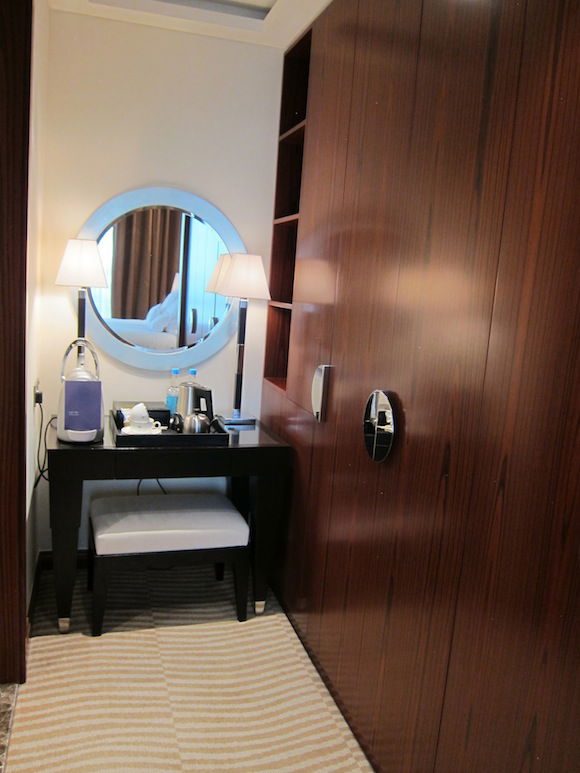 Hallway to bathroom
The bathroom was awesome, with a sink, bathtub, and walk-in shower with Bulgari amenities (my favorite).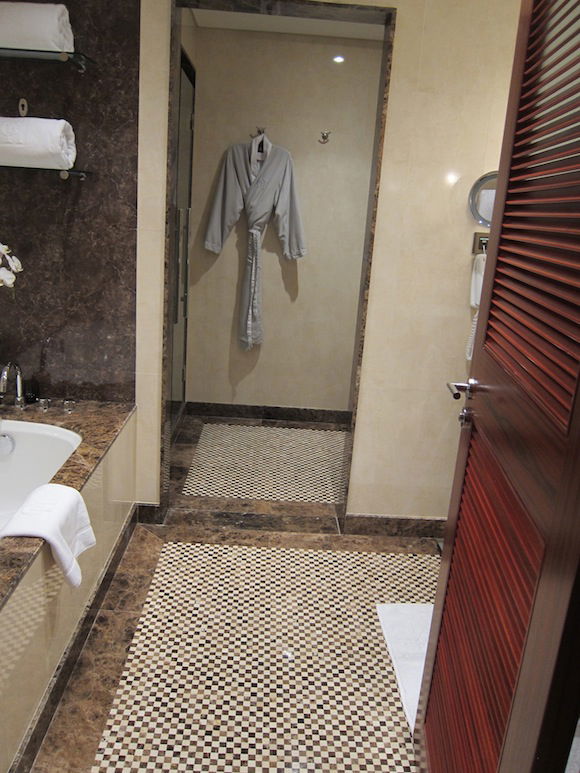 Bathroom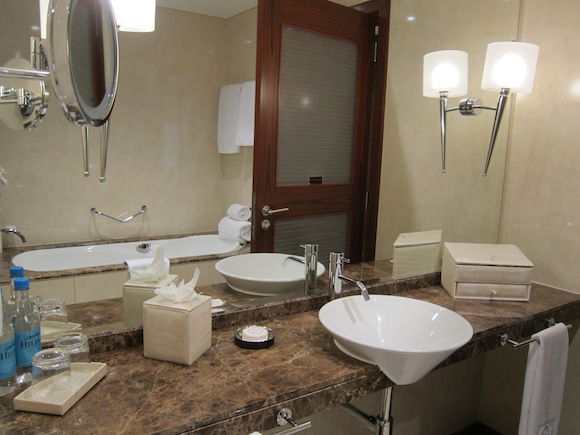 Sink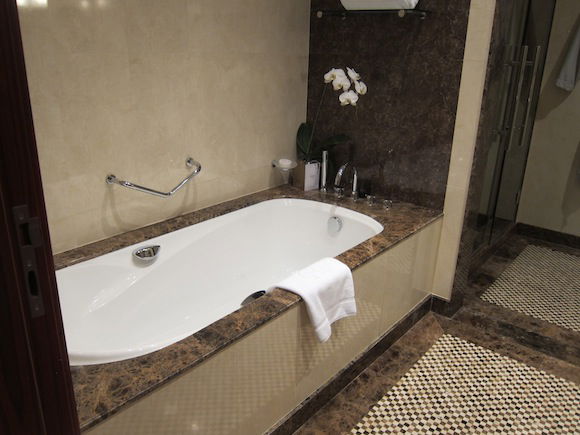 Bathtub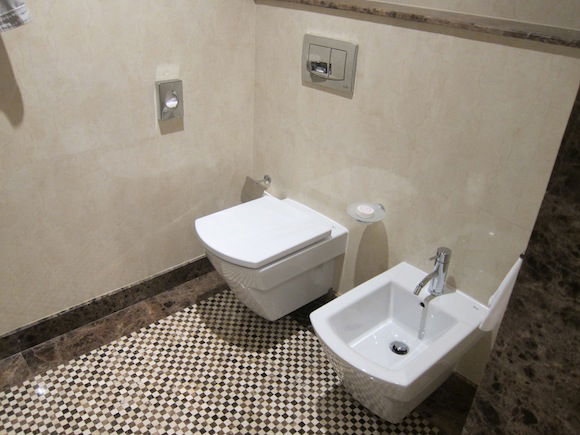 Toilet/bidet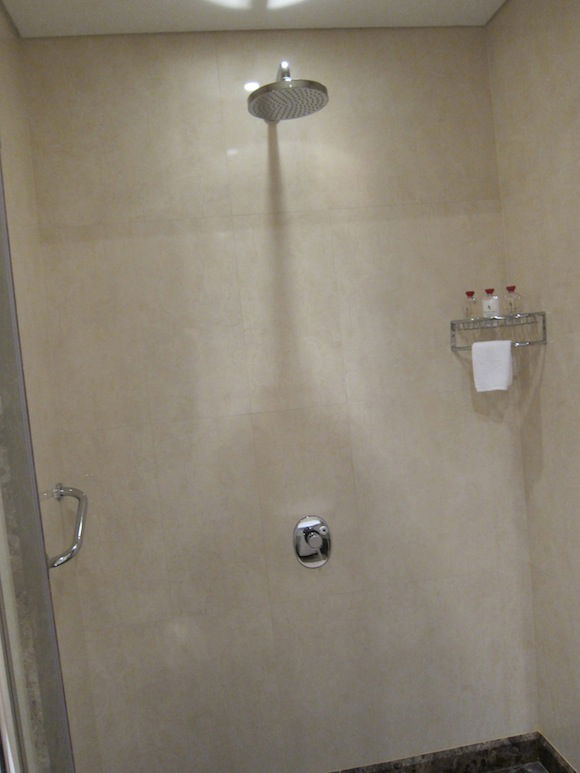 Shower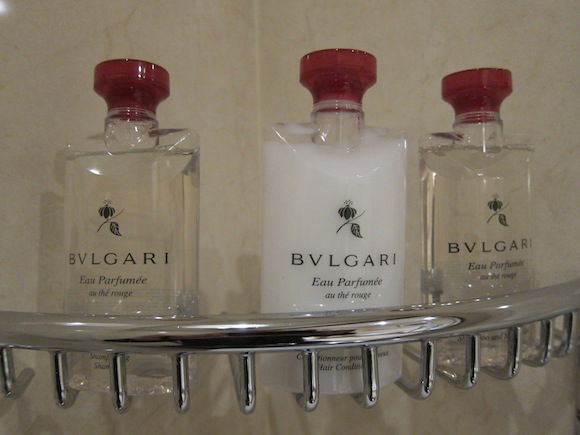 Bulgari amenities
As far as the views go, while the room was on a lower floor (meaning the views weren't as great), it did boast a direct view of the Gulf/marina.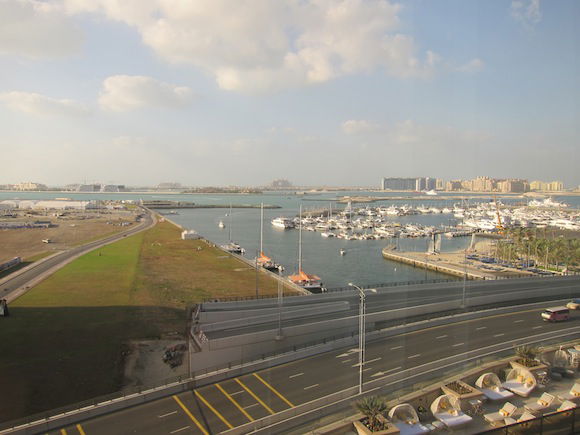 View from the room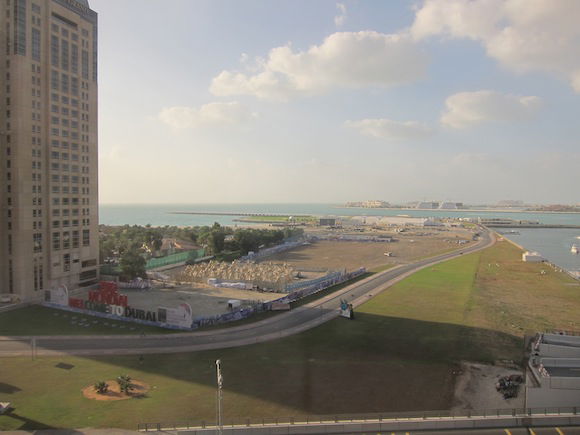 View from the room
While I had chosen the 500 Starpoints as the Platinum amenity, on the day of arrival a plate with three apples was delivered to the room.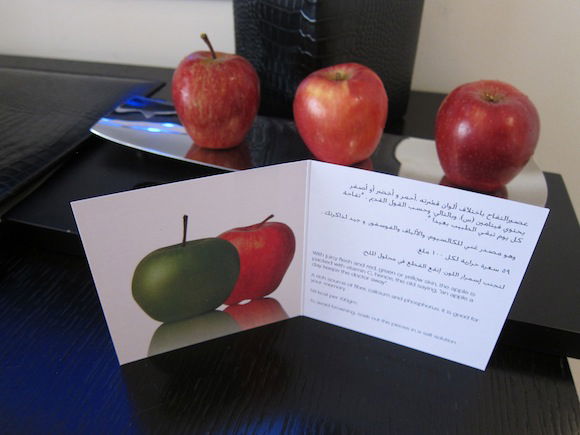 Welcome amenity
Then the second day I was offered another welcome amenity — more fruit!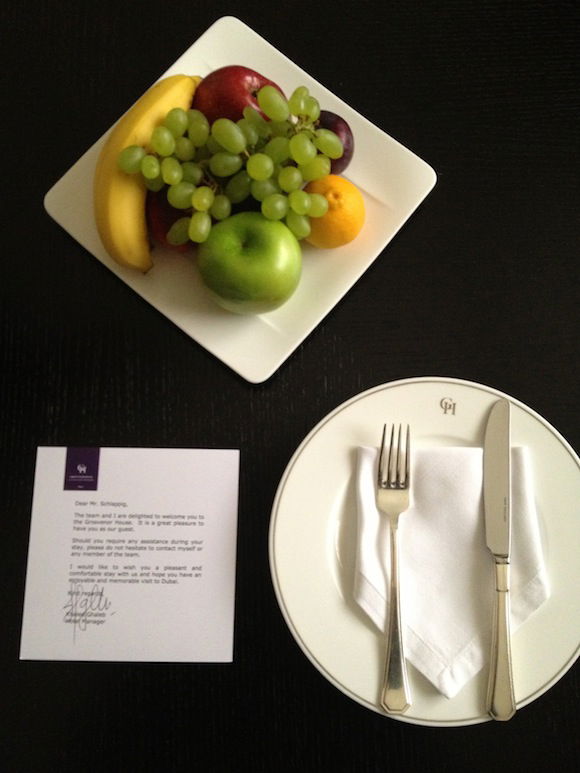 Second welcome amenity
Overall the room was nice. The design wasn't anything that I'd consider out of the ordinary, though the room did feel quite "fresh."
I'd say the highlight of the hotel was Level 5, the hotel's club lounge. Physically it's an impressive space, with plenty of seating. But the food spread was even more impressive, easily one of the most impressive I've ever seen at a hotel.
The lounge served breakfast from 6AM till noon. Let me stop for a second and say how awesome that is. Everyone is on a different schedule, and it's always extremely frustrating when a club lounge in a city that's an international gateway only serves breakfast for two or so hours.
The spread was as extensive as I've seen in many hotel restaurants, with everything imaginable. There was also a chef that was happy to prepare just about anything that wasn't available in the buffet (waffles, pancakes, eggs, etc.).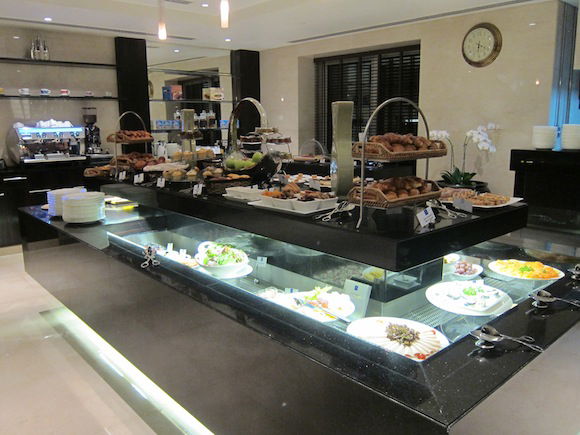 Breakfast spread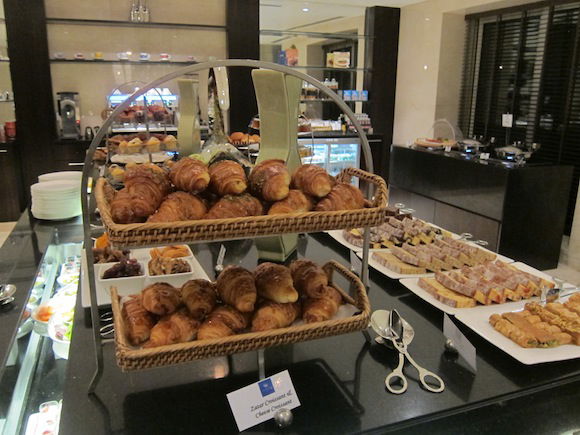 Breakfast spread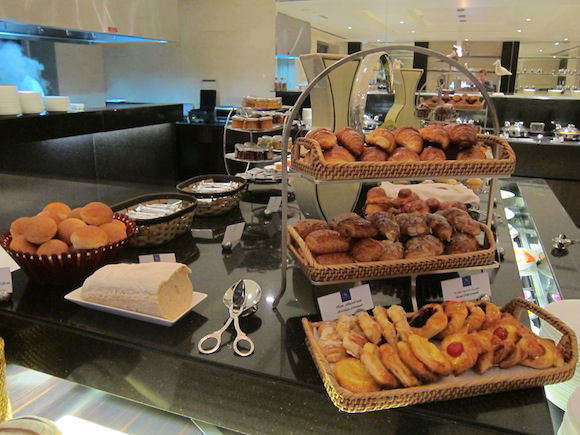 Breakfast spread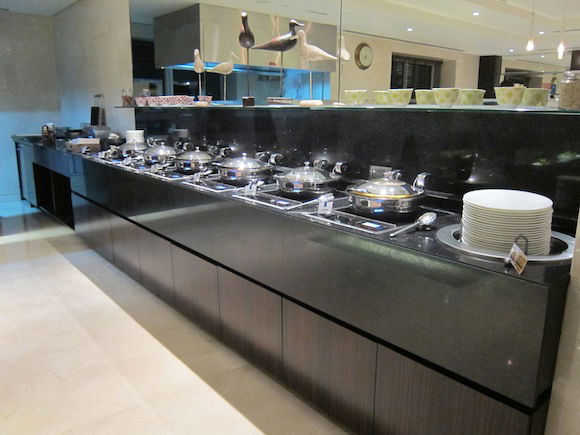 Breakfast spread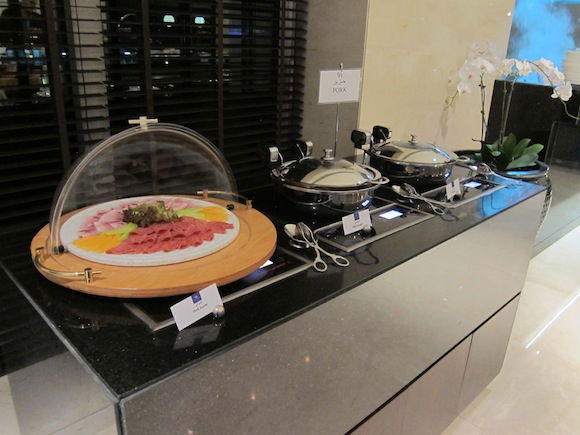 Breakfast spread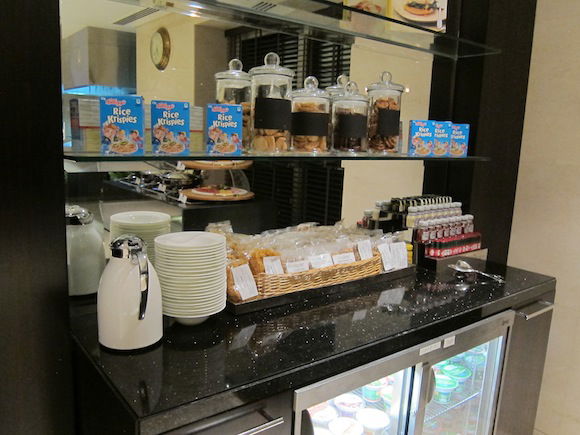 Breakfast spread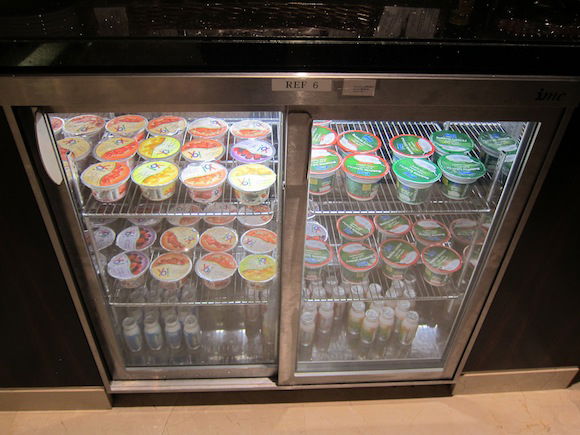 Breakfast spread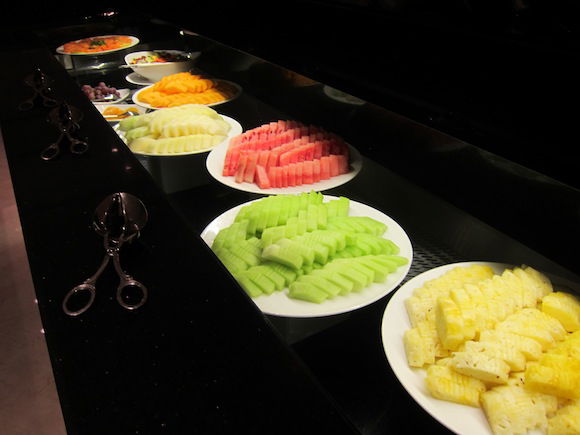 Breakfast spread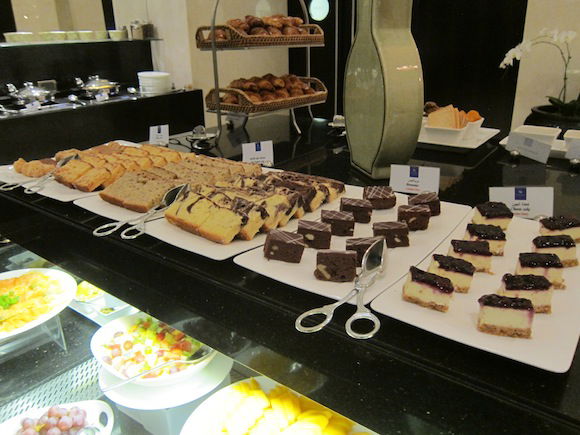 Breakfast spread
Then the lounge served afternoon tea from 1PM till 4:30PM, which was again an impressive spread, consisting of scones, finger sandwiches, salad, sweets, cake, and spring rolls.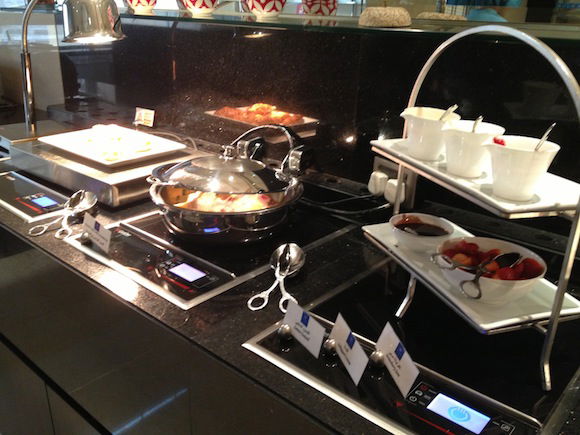 Afternoon tea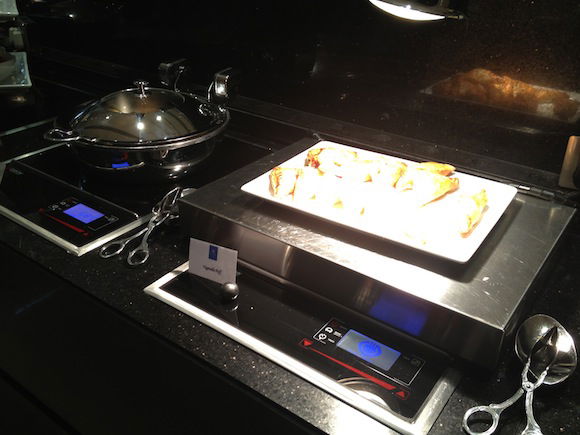 Afternoon tea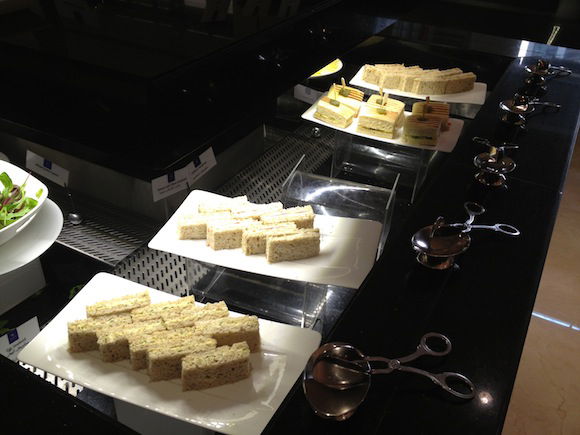 Afternoon tea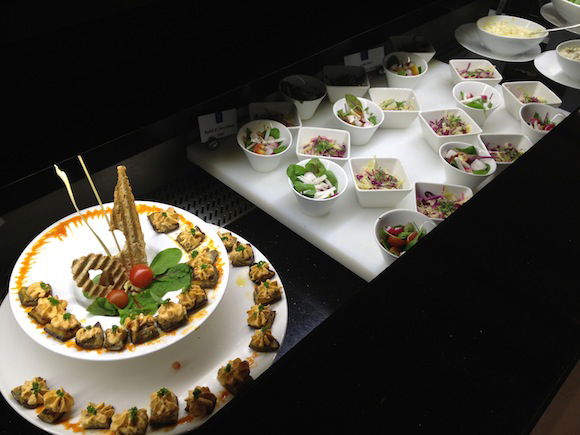 Afternoon tea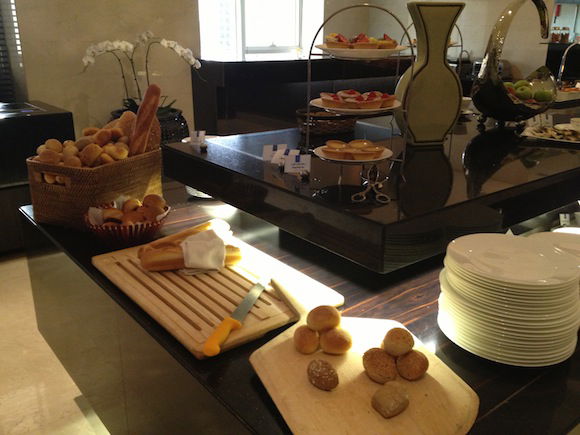 Afternoon tea
The evening spread was available from 6PM till 8PM, and was also extensive.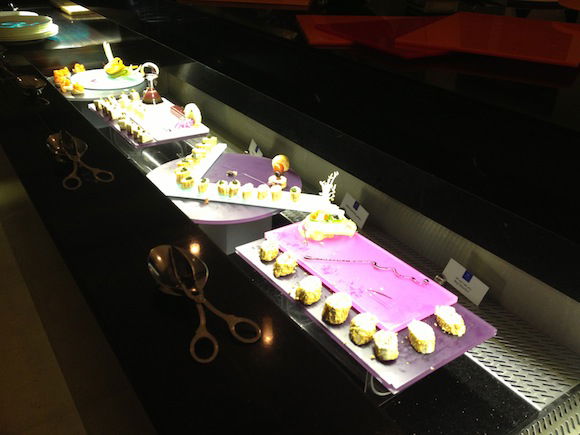 Evening spread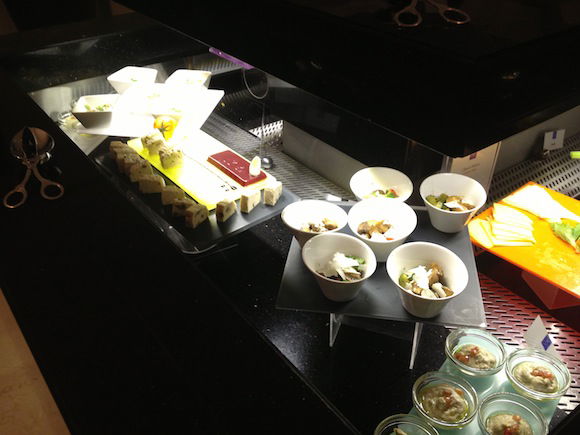 Evening spread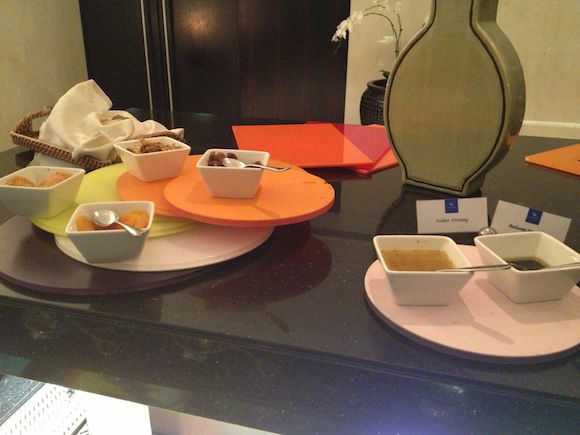 Evening spread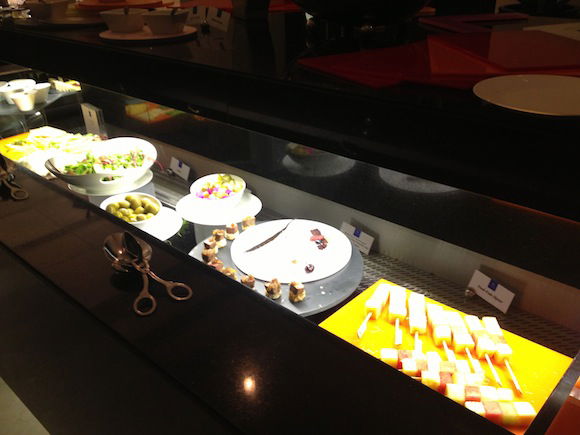 Evening spread
The hotel's gym, pool, and spa was located on fourth floor, with a unique Balinese theme (unique in that it's not present anywhere else in the hotel).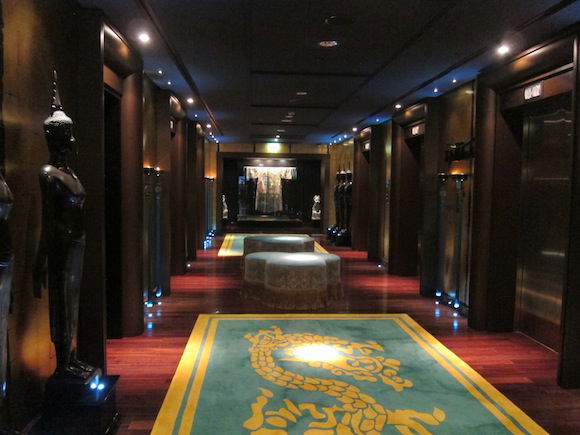 Spa entrance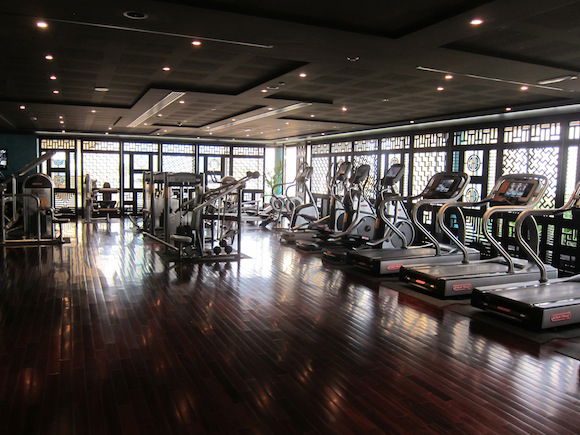 Gym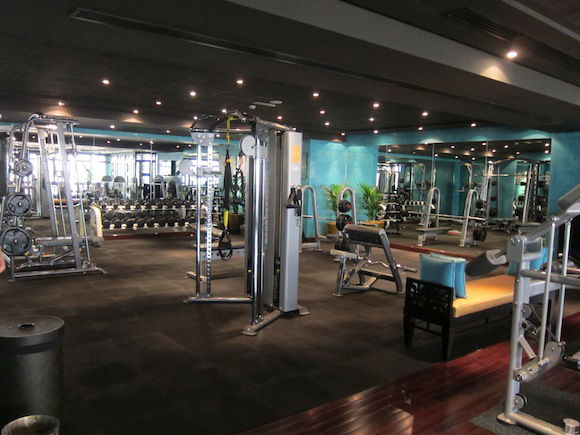 Gym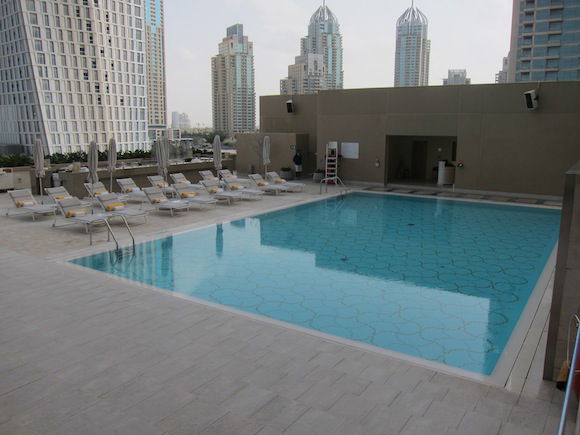 Pool
The building right next to the hotel (most visible from the pool) has to be one of the most interesting buildings I've ever seen.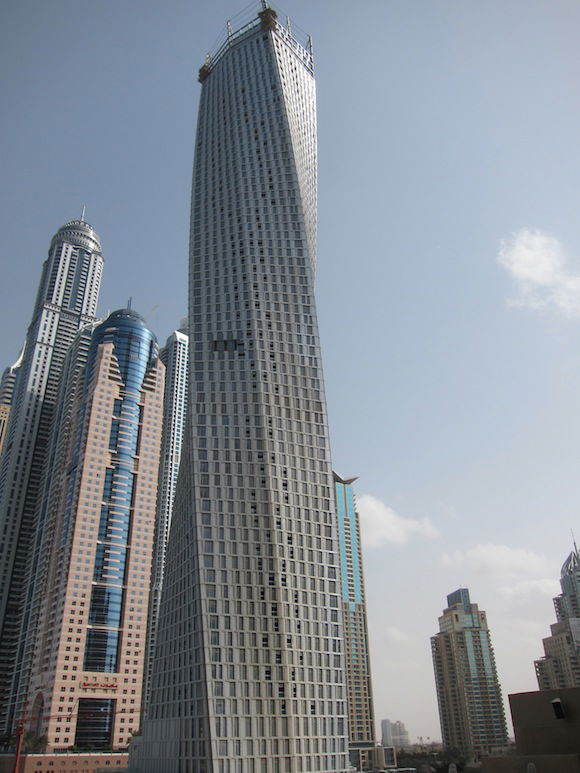 Wow!
Conclusion
I liked this hotel. The service was good across the board (at least by UAE standards), the rooms nice, and the club lounge was awesome. At the same time I didn't love the hotel, as it feels really generic for a Luxury Collection property. The way I see it, this is a really solid four star hotel, while the Park Hyatt is a solid five star hotel.
That being said, on cash & points this hotel is a spectacular value, so if I were short on Hyatt points and couldn't swing the Park Hyatt, or only had elite status with Starwood, I'd certainly consider staying here.