Yesterday I published my review of Emirates' new 777 first class, which is so far only available on a few Boeing 777-300ER aircraft. On this post, reader ah left the following comment:
@Lucky – does the new suite outweigh the benefits of a shower and bar on-board?
It's an interesting question that I've been asking myself as well, and in this post I wanted to address that. On the surface you may say "well of course the new first class is better than the old first class," but the A380 has some unique amenities that give it an edge in some ways.
In terms of the cabin itself, Emirates' A380 first class isn't that great. The cabin has 14 seats so doesn't feel especially private (even though it's rarely full). The cabin is narrower than first class on the 777, since the upper deck of the A380 isn't as wide as the 777. I actually think Emirates' old 777 first class is better than their A380 first class, if we're purely talking about the cabin.
But the A380 has two features that make it oh-so-fun. Of course I'm talking about Emirates' ridiculously over-the-top shower suites, which are unlike anything offered by any other airline, in my opinion. The novelty of showering on a plane just doesn't wear off, in my opinion.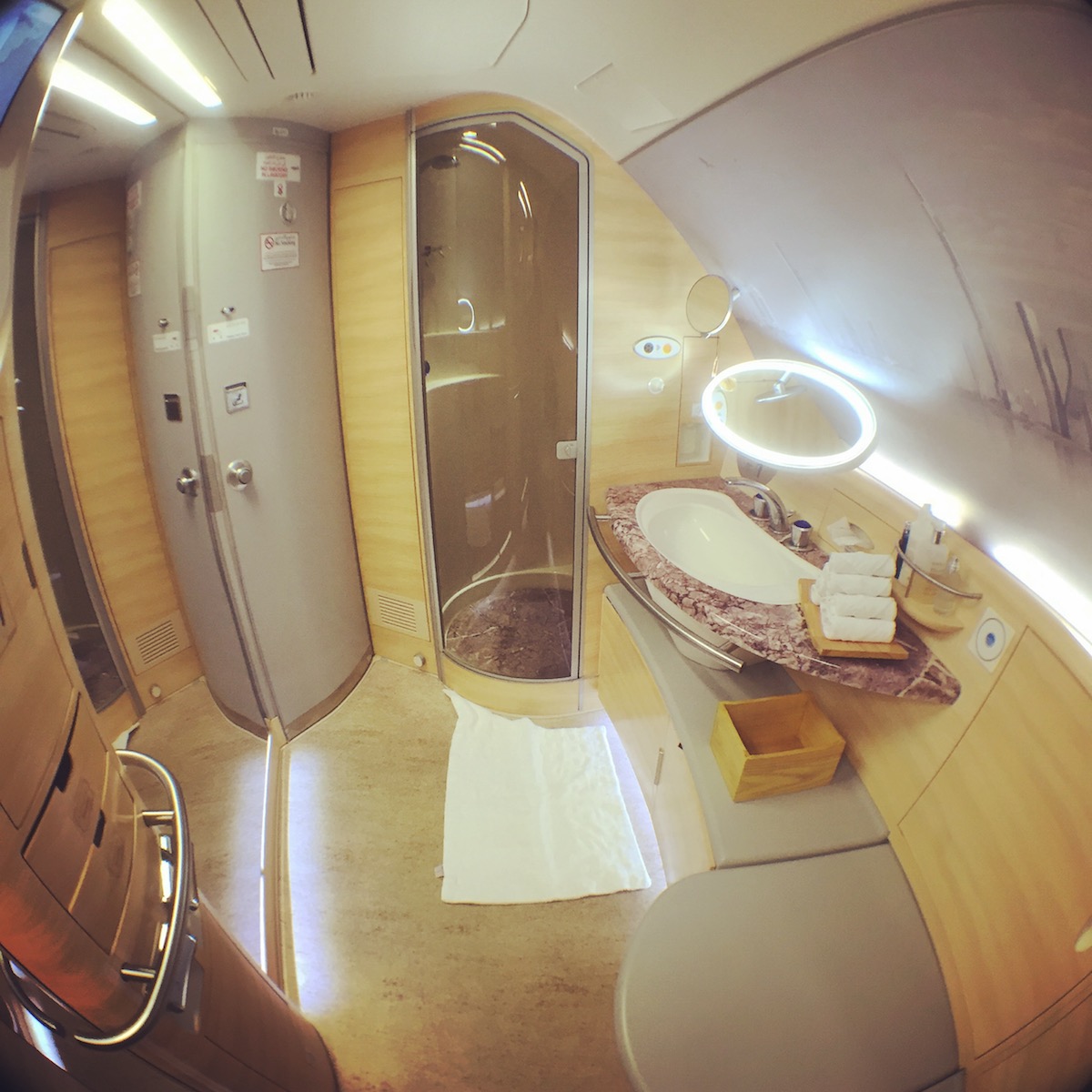 Then there's the onboard bar. When you get tired of being at your seat and want to stretch your legs, there's nowhere better to hang out than at the onboard bar.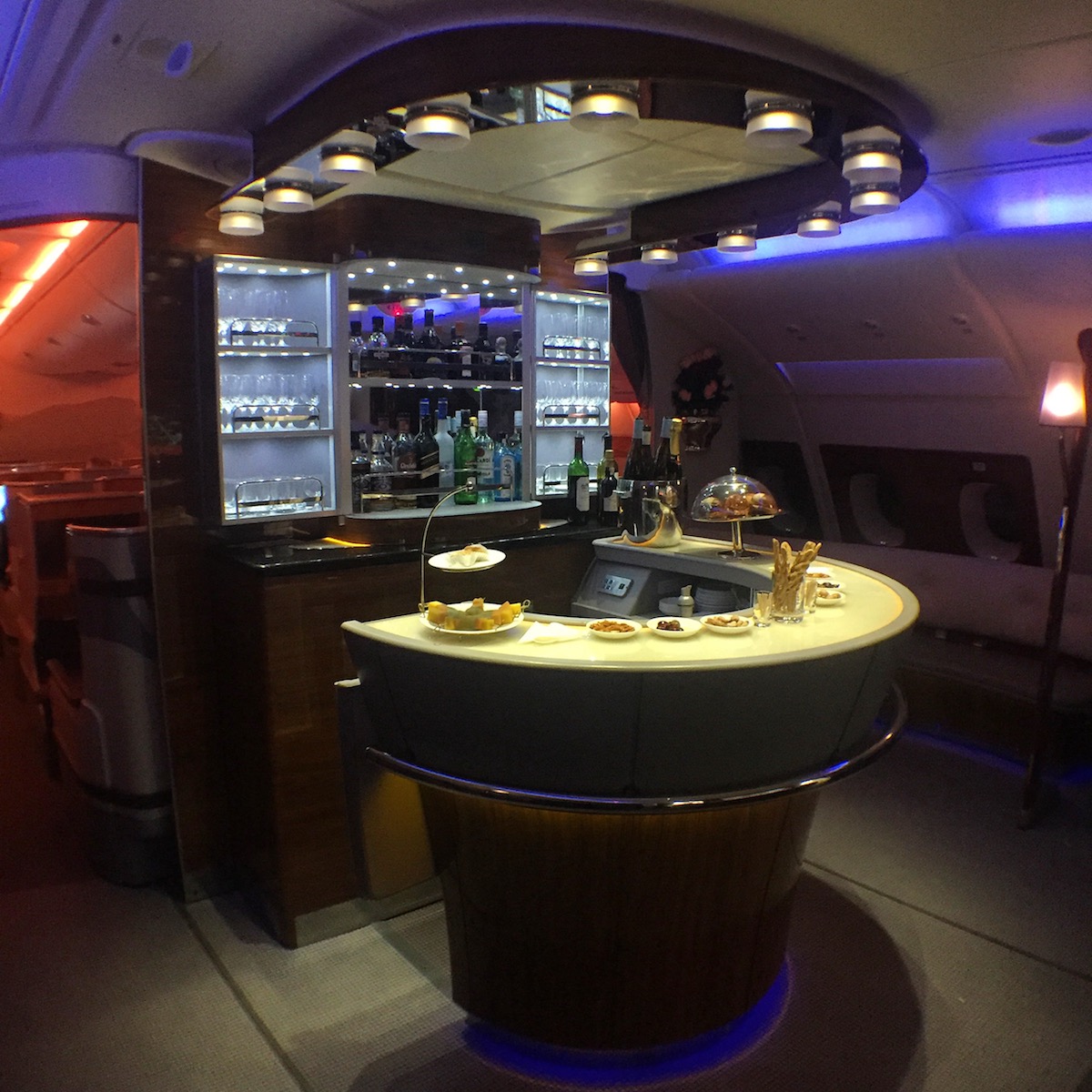 Then you have Emirates' new first class, which is better in just about every way. The suites are fully enclosed (floor to ceiling), are significantly more spacious, and have so many more gadgets.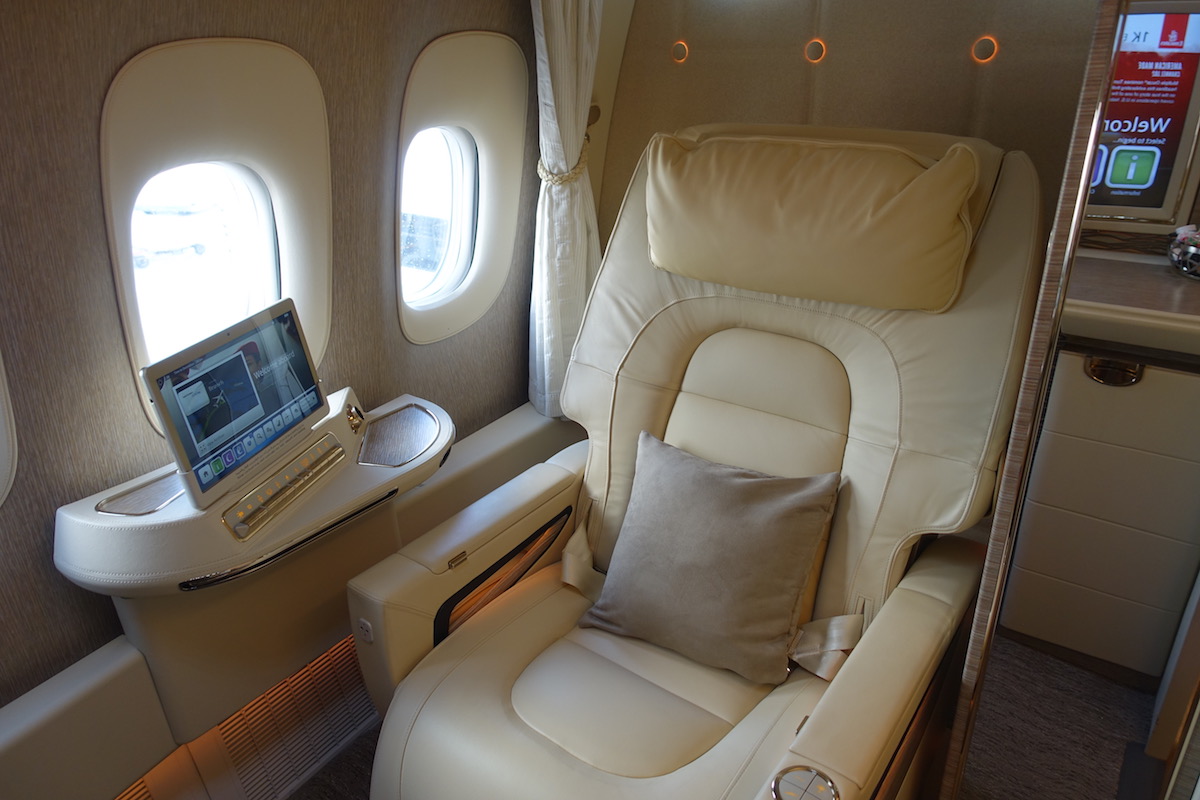 The downside? The obvious difference is that there's no onboard bar and shower. But the other major difference is that the new product isn't ideal if you're traveling with someone. You have so much privacy that you won't even really be able to spend any time with a travel companion. There's no option to dine together, no option to combine two suites into one, and the suite doesn't even have a buddy seat, or anything of the sort.
So, which is better?
I think that if you haven't flown Emirates' new first class, it's a must for the novelty. But if you take the novelty factor out of it, here's my philosophy:
If traveling alone, I'd choose Emirates' new first class for the incredible amount of personal space and unrivaled privacy
If traveling with someone, I think I'd actually choose the A380, for the ability to sit together, shower (not necessarily together), and go to the bar; I consider Emirates first class to be the most fun first class product in the sky, and it's a lot more fun with company, and that's something you're giving up with the new first class
Big picture, the thing to keep in mind is that so few planes have the new first class, so it's rare you'll ever have the chance. Emirates plans to have their new first class on nine 777s by the end of 2019, which is just a few percent of their fleet. For a vast majority of first passengers, you'll be choosing between Emirates' A380 first class and their "old" 777 first class.
I'm curious what you guys think — would you prefer Emirates' new first class under all circumstances, or does anyone think they'd prefer Emirates' old first class?