Last week Emirates revealed plans to retrofit 120 aircraft with new interiors, as part of a $2 billion investment. This is primarily being done in order to install the new premium economy product on these jets, though there are changes coming to all other cabins as well. The airline has today revealed some more details about this, so let's take a look at what we can expect.
How Emirates will retrofit 120 planes with new interiors
Between November 2022 and April 2025, Emirates plans to reconfigure 120 Airbus A380s and Boeing 777s with new interiors. Emirates' fleet consists of just over 250 jets, so that constitutes roughly half of the Dubai-based carrier's fleet.
When all is said and done, Emirates will have refurnished thousands of first & business class seats, and will have installed thousands of new premium economy seats. In addition to that, carpets and stairs will be upgraded, and cabin interior panels will be refreshed with new tones and design motifs, including the ghaf trees that are native to the UAE.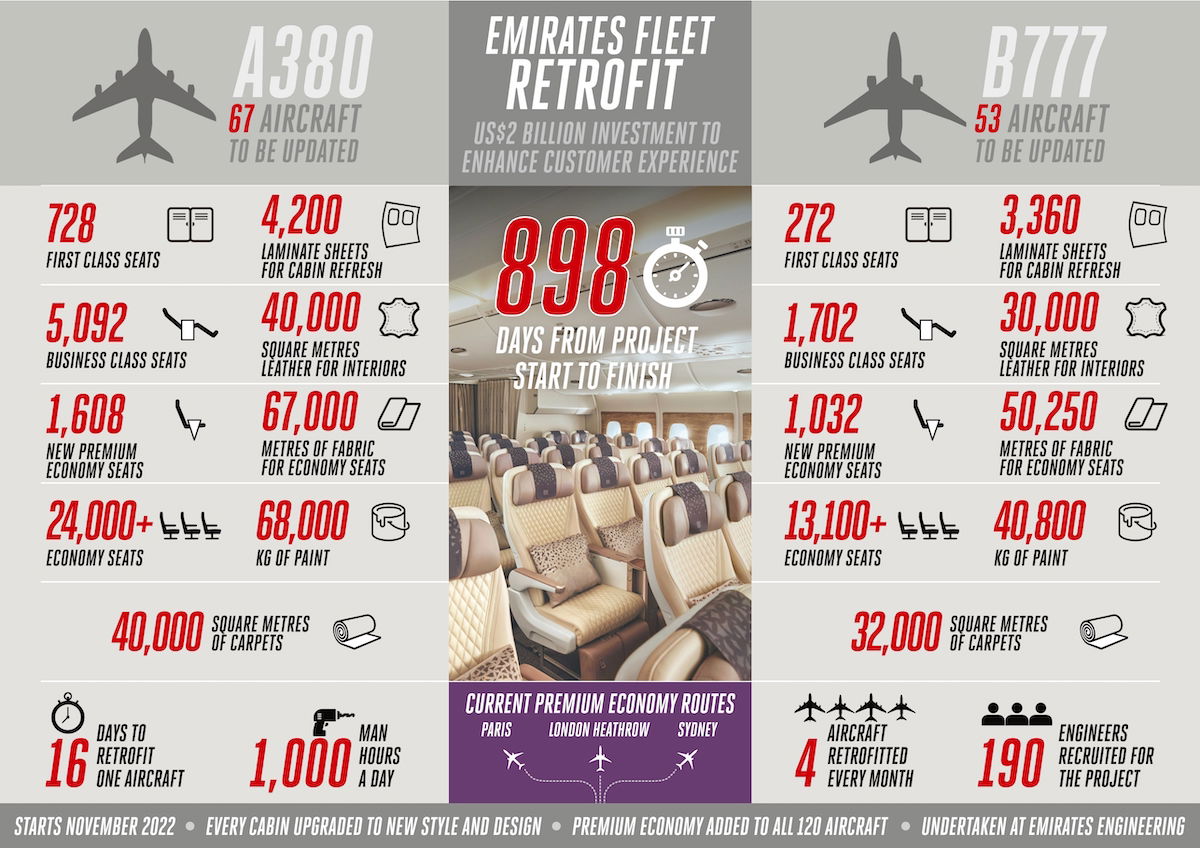 Each jet is expected to take around 16 days to be retrofitted, and Emirates plans to complete retrofits on four jets per month. In other words, around two planes will generally be worked on at a time. Let's take a closer look at the details.
Emirates Airbus A380 retrofit plans
Emirates will start by reconfiguring 67 Airbus A380s with new interiors. Based on the timeline of four jets being reconfigured per month, you can expect that they'll be reconfigured between November 2022 and April 2024, give or take.
Emirates' reconfigured Airbus A380s will feature 56 premium economy seats, in a 2-4-2 configuration. These seats will be at the very front of the lower deck, replacing economy seats.
I'd expect these Emirates A380s to feature the same cabin finishes that you'll find on Emirates' six newest A380s, which already feature premium economy. These planes have the new design motif, which is a bit less "in your face" than the old Las Vegas in the 1990s decor that Emirates is known for.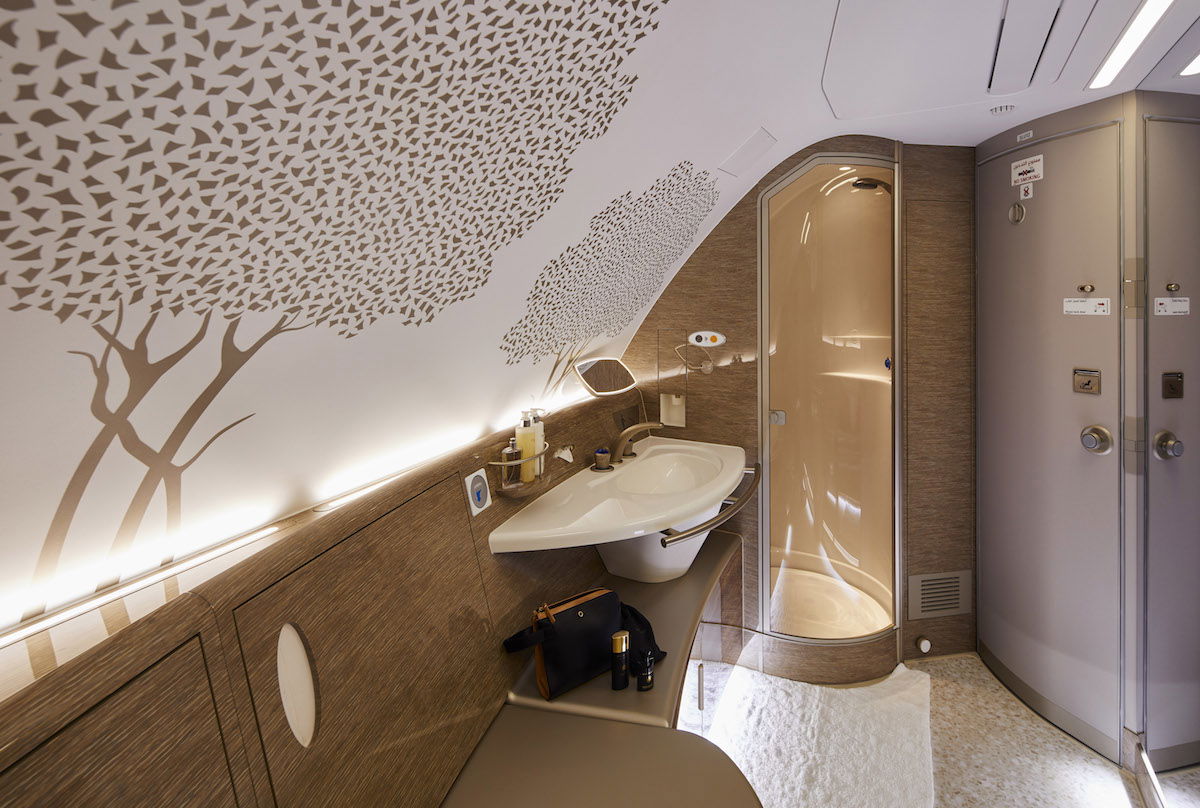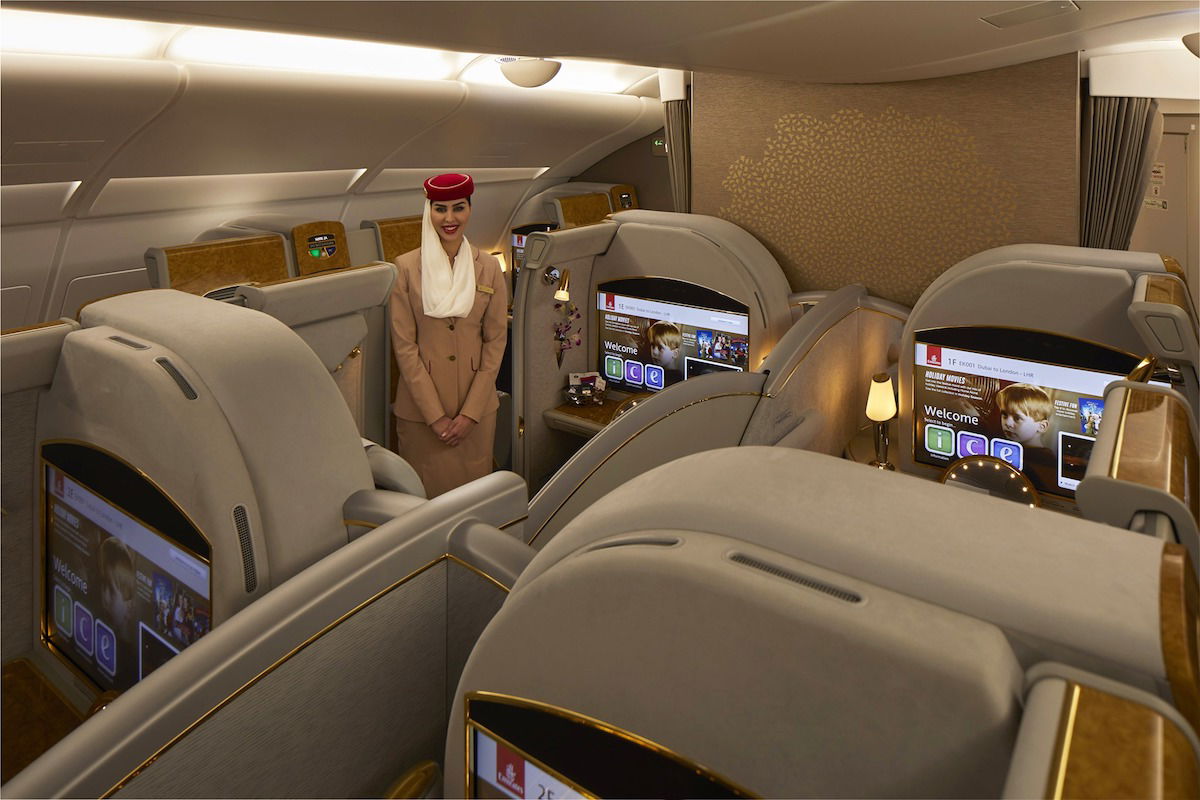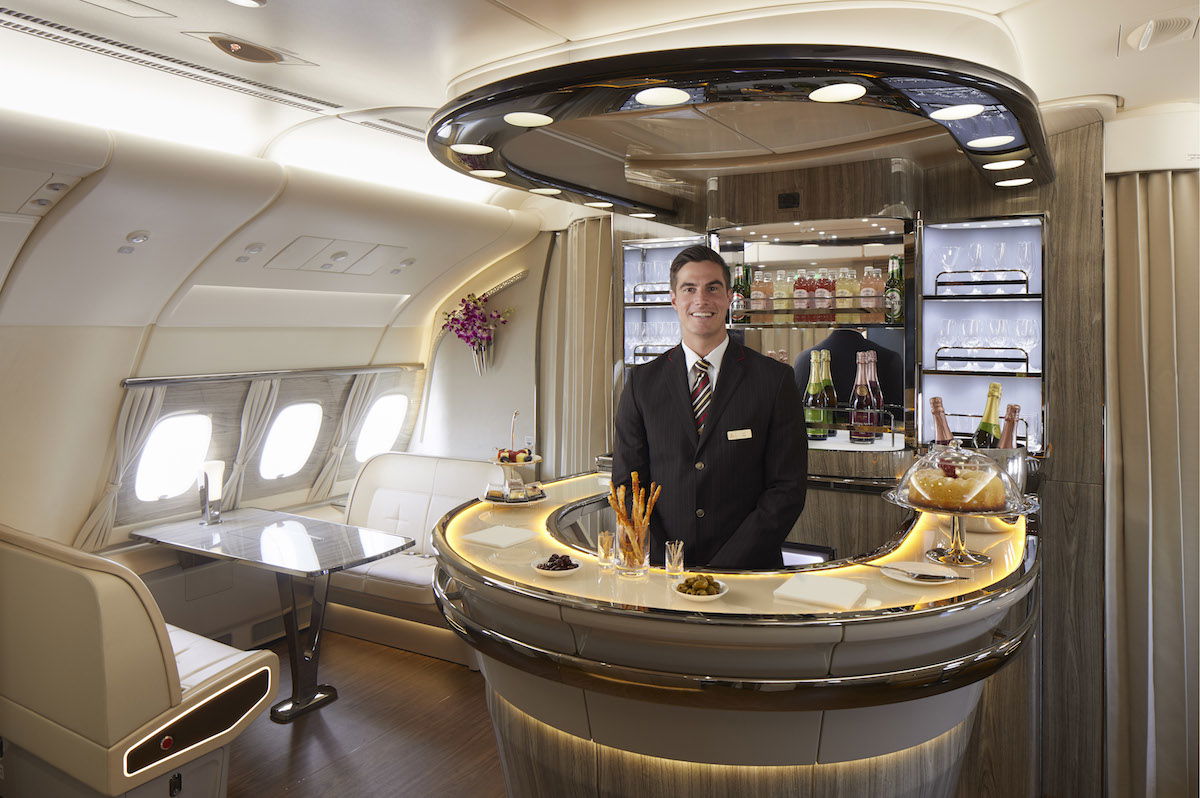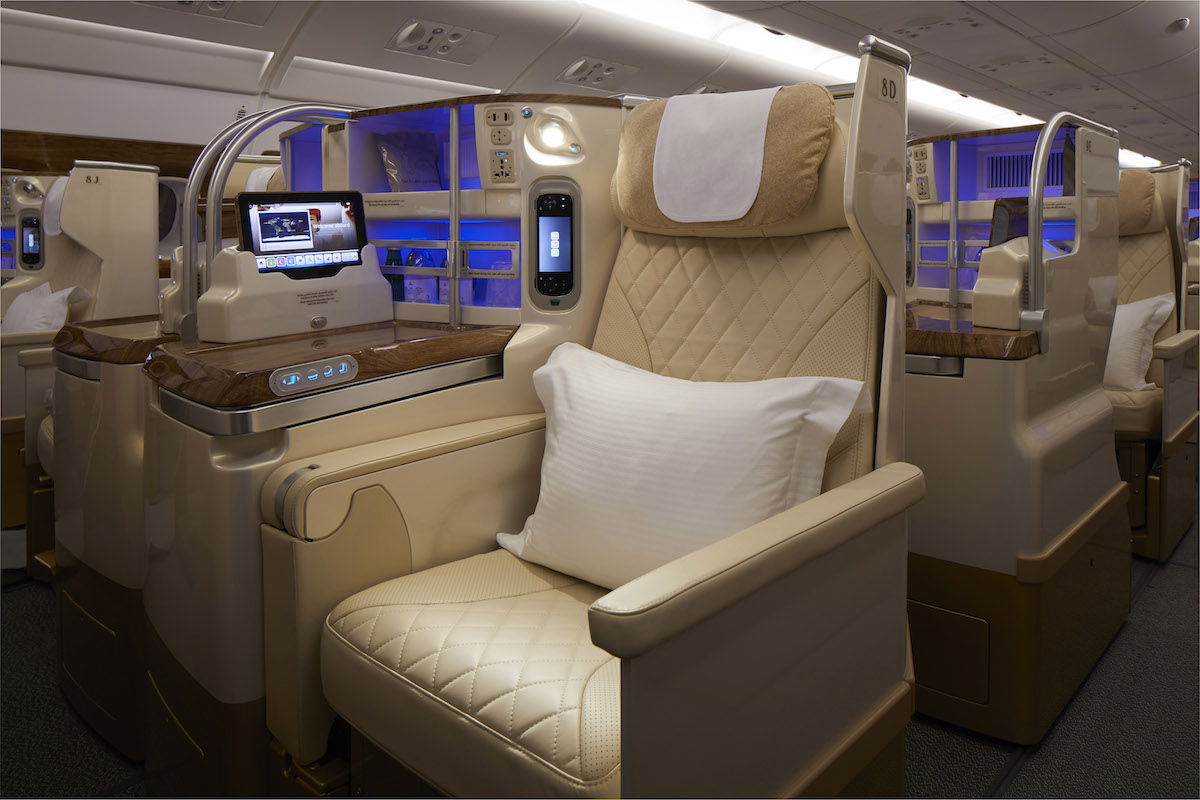 Emirates Boeing 777 retrofit plans
Emirates plans on reconfiguring 53 Boeing 777s with new interiors, but only after the A380s are reconfigured. This means that you can expect Emirates 777s to start to be reconfigured somewhere around early 2024, and the project will take just over a year.
Emirates' reconfigured Boeing 777s will feature 24 premium economy seats, in a 2-4-2 configuration. While the cabin will be located between business and economy, it's not yet know if the premium economy seats will come at the expense of economy seats or business class seats. I'd guess the former, but who knows…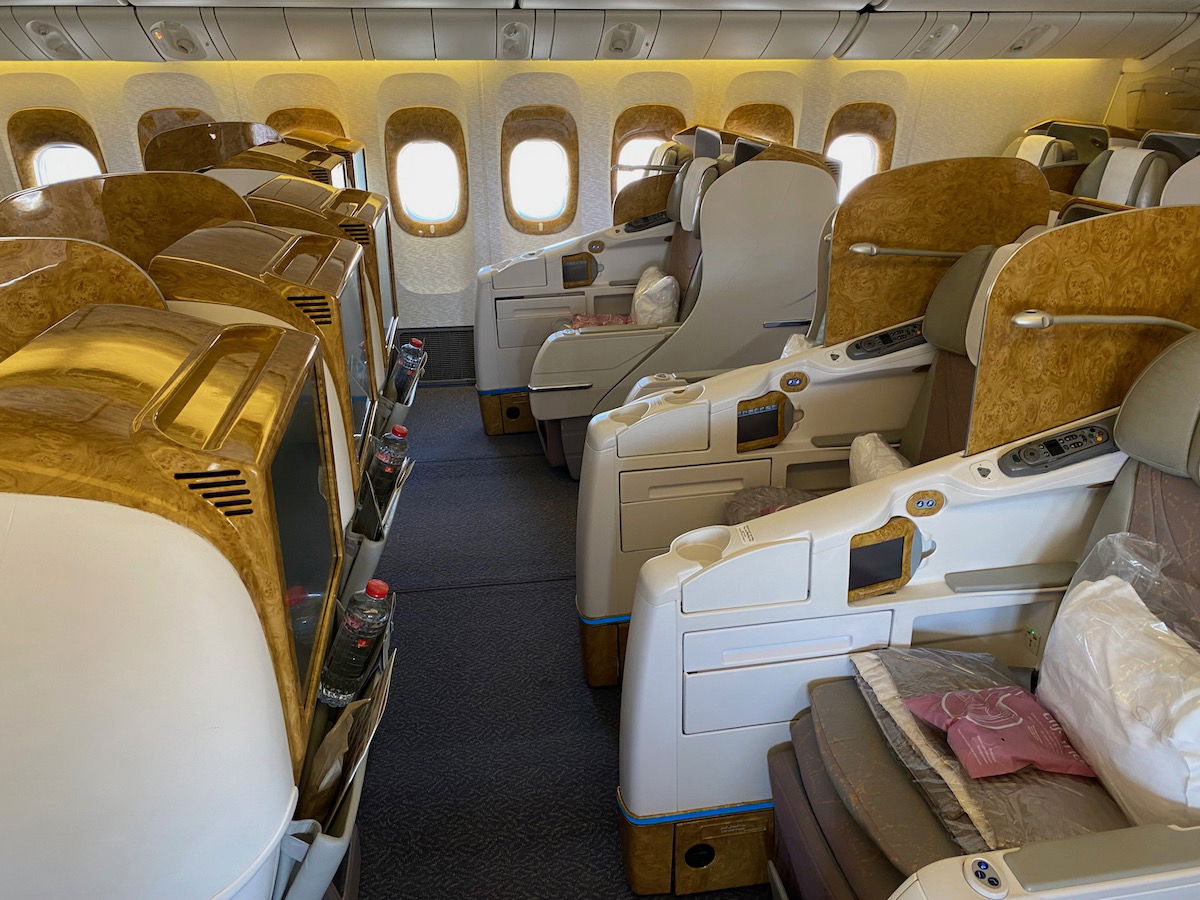 Emirates is upgrading its Boeing 777 business class?!
While Emirates is of course known for being a great airline, there's one major gap in the premium passenger experience. Specifically, the Boeing 777 is the backbone of Emirates' fleet, yet most 777s have angled business class seats in a 2-3-2 configuration. That's woefully uncompetitive. While Emirates isn't revealing much just yet, it sounds like the airline plans to introduce a new Boeing 777 business class.
In the press release about the retrofit project, it's acknowledged how first class suites will be "refurbished," while for business class seats it's stated that they'll be "upgraded to a new style and design." It sure sounds to me like we should expect a new Boeing 777 business class product, which might also explain why Emirates is first retrofitting A380s first, and then 777s.
At a minimum, I expect we'll see Emirates install its A380 business class on 777s, consisting of staggered seats in a 1-2-1 configuration. At least those seats are fully flat and have direct aisle access. But who knows, maybe we'll see the airline introduce something even better. After all, Emirates' A380 business class isn't exactly cutting edge in 2022 (let alone 2024 and beyond).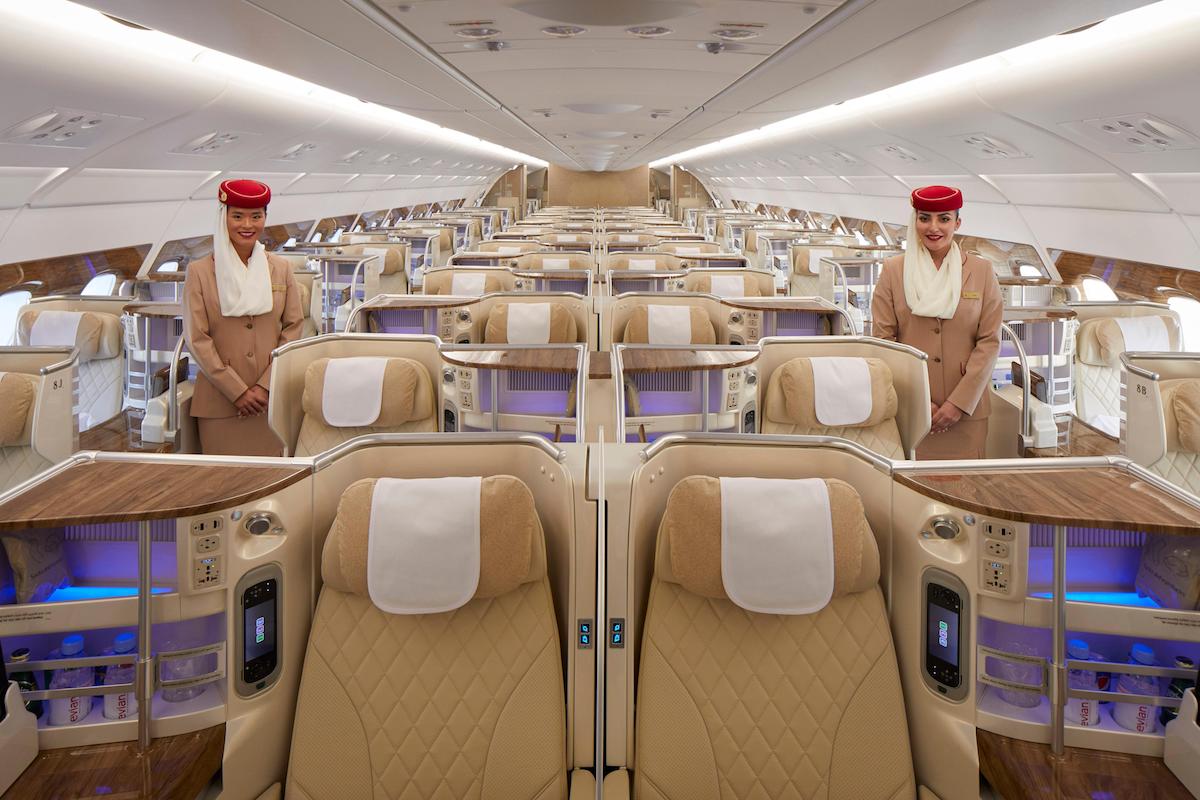 Sadly it sounds like Emirates doesn't have plans to install its new 777 first class on more planes, as this is currently only available on nine 777s. Maybe the airline will have a change of heart on this, as it's still well over a year until 777 reconfigurations start.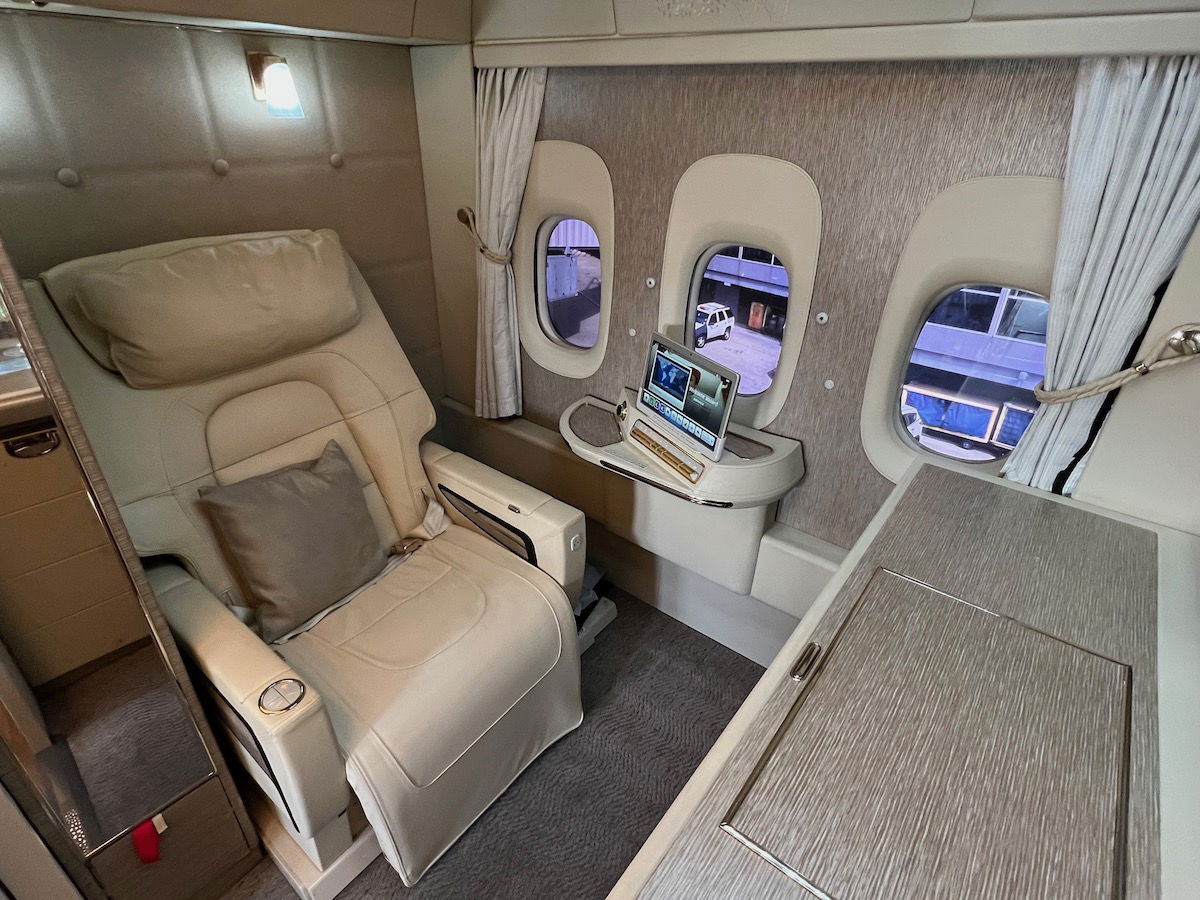 Bottom line
Emirates has now outlined plans for reconfiguring its fleet. 120 jets will be reconfigured between November 2022 and April 2025, with A380s going first, followed by 777s. All cabins will be refreshed, though the most significant development will be that all these planes will get premium economy, and 777s should get a new business class.
We don't yet have many details on Emirates' new business class, but it's exciting to hear that this is supposed to happen.
What do you make of Emirates' fleet retrofit plans? Do you think Emirates will just install its A380 business class product on 777s, or…?