As I mentioned in the introduction post, we booked the Grand Hyatt for $160 per night and decided to use a suite upgrade, which confirmed us into a 141 square meter (about 1,500 square feet) "Grand Suite Twin." Given that we'd also get access to the club lounge and free internet thanks to my new Diamond status with Hyatt's Gold Passport program, it was quite the bargain.
It was about a 30 minute ride from the airport to Nusa Dua, the area that the Grand Hyatt is located in. Last time I stayed at the InterContinental, which is in Jimbaran Bay. While the InterContinental as such is pristine, the surrounding areas are a bit more local, while Nusa Dua was just a bunch of resorts with very clean sidewalks, streets, etc. There's even a "car check" at the entrance to Nusa Dua, where guards look in trunks, inside the car, etc. There was yet another "car check" at the entrance to the hotel, along with metal detectors while walking into the lobby, as is the norm in Bali.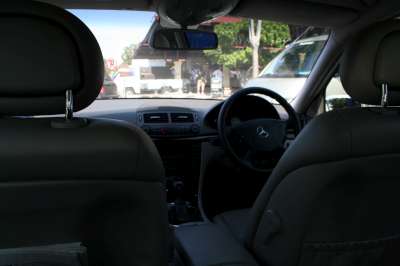 E-class Mecedes
When we arrived at the hotel there were two people waiting to take us to our room. They already knew us by name. Not sure if this is because we ordered a car service or because I'm a Diamond, but it made the check-in process rather painless. As we entered the hotel I loved the open air lobby and immediately remembered why I love Bali — the open aired lobby overlooked a pond which overlooked the pool which overlooked a garden which overlooked the beach which overlooked the ocean. Ah….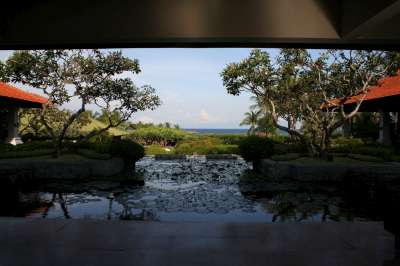 Lobby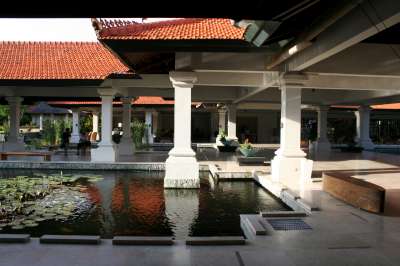 Lobby
We were escorted straight to our suite with no sort of registration (hell, I didn't even need to show my ID). All the features and benefits were explained to us as we were brought to "building three" of this massive resort.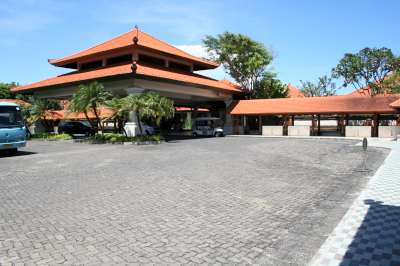 Entrance to the Grand Hyatt
The suite was huge, with a large living room with sofa and chairs, a desk area, a table with four chairs, a bathroom near the entrance, and then a good-sized bedroom with a huge bathroom. The patio was a decent size and had a few chairs on it.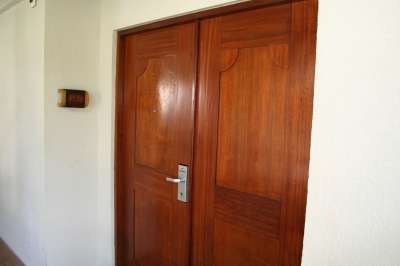 Entrance to suite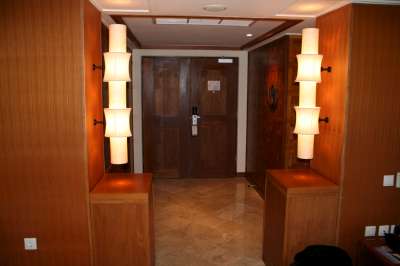 Hallway with bathroom to left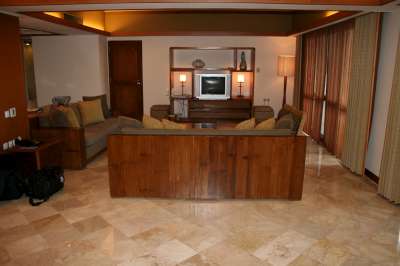 Living room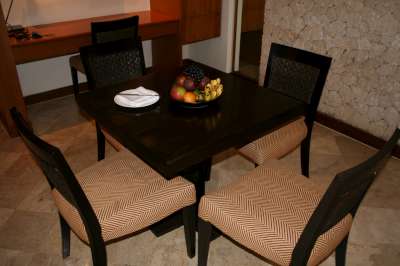 Table
I couldn't help but laugh at what they called two twin beds, which just happen to be in the same "honeymoon bed" type frame.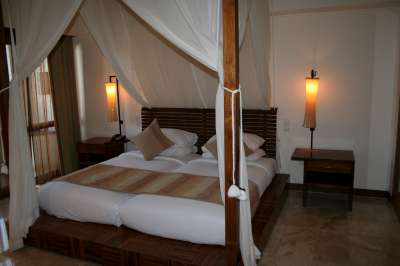 Bedroom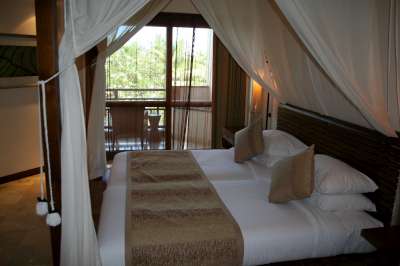 View from bedroom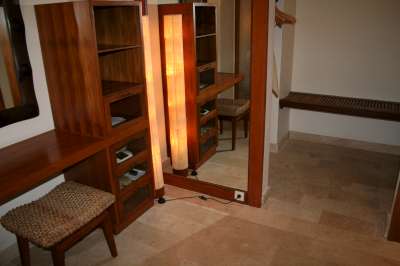 Vanity mirror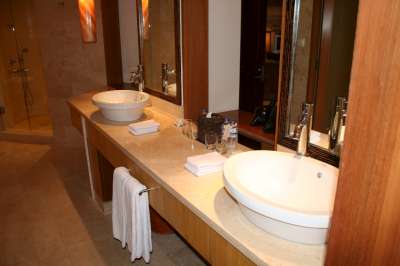 Sink area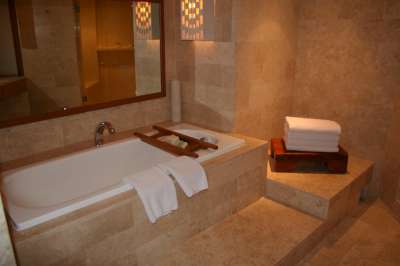 Bath tub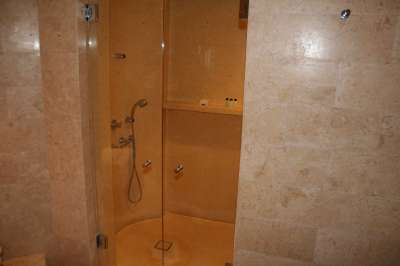 Huge shower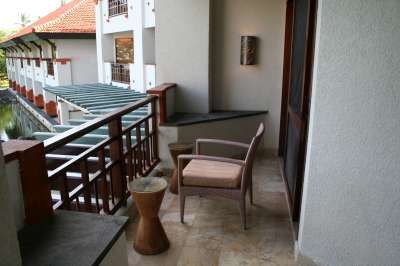 Patio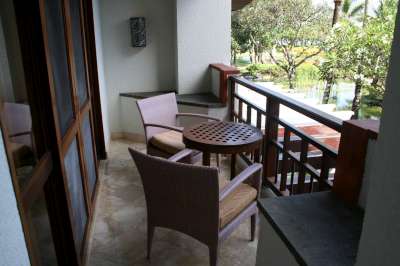 Patio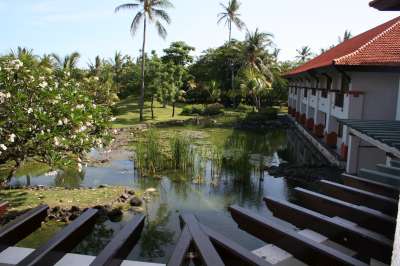 View from patio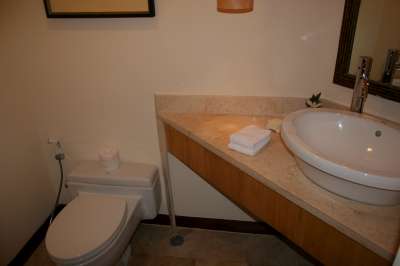 Guest bathroom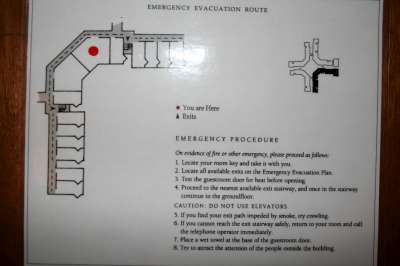 Floor layout showing size of our suite compared to other rooms
This was my first stay at a Grand Hyatt as a Hyatt Diamond, and I noticed a few differences between my stay here and my stays at InterContinental hotels, where I'm a Royal Ambassador. First of all, I was impressed by the fact that all the benefits were explained to us, when far too often I have to follow up at other hotels. At the same time I was a bit disappointed by the "Food and Beverage" amenity I received for being a Diamond. At InterContinental hotels I'm used to receiving some "local" gift, a bottle of wine, a box of chocolate, etc., along with a bowl of fruit, which is actually somewhat useful. The only "amenity" I saw here was a bowl of fruit. Guess it's food OR beverage, and not food AND beverage? Anyway, that wasn't a huge deal, but just one of those little nuances I picked up on.
The resort itself was typical of Bali. It was very well kept with exceedingly friendly people and a very relaxing atmosphere. On the plus side, the beach was very nice, much nicer than the one in Jimbaran Bay (where the InterContinental is). The water was actually clear and the sand very clean. At the same time, the resort just didn't feel as "fresh" and modern as the InterContinental. It's kind of tough to describe, but the InterContinental feels a lot more like a five star resort than this place. Not that the Grand Hyatt is run down or anything, but it's just not anything spectacular. I guess it felt a bit like a four star hotel in Hawaii, unlike the InterContinental which feels distinctly different.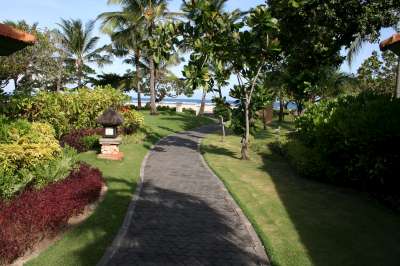 Walkways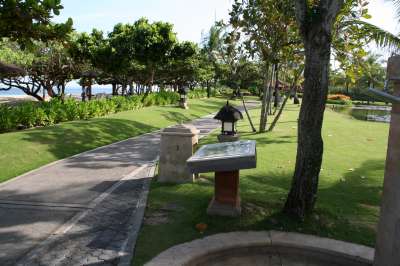 Well maintained property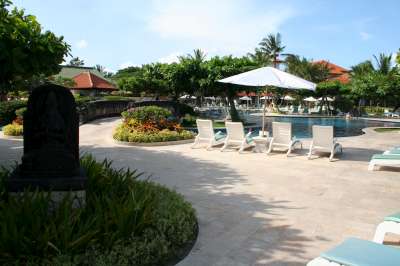 Pool area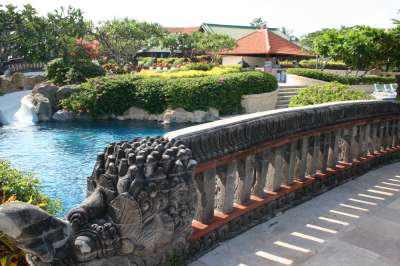 Pool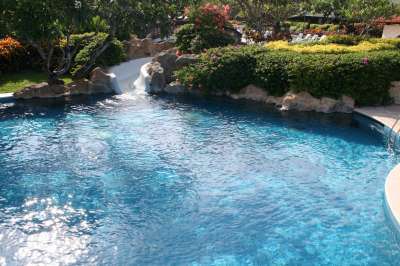 Pool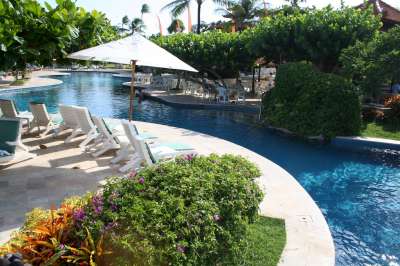 Pool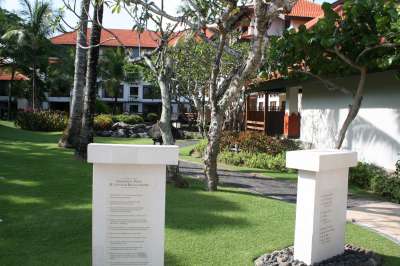 Grounds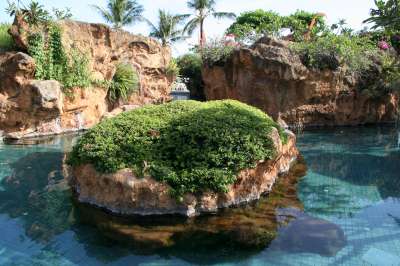 Pool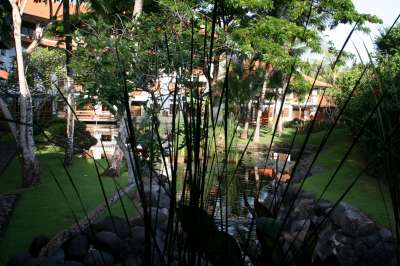 Just because…
We spent the first day roaming around the resort (only arrived in the afternoon) and the second day decided to go to the beach. Bad idea for me, since I actually liked the beach for once. I spent at least three hours in the ocean "turtling" around (I realize I just made up a word, but my movements did resemble that of a turtle), which was a VERY bad idea. There goes the rest of my vacation! I was sunburned as hell for the rest of the trip. It was also hot. Really hot. Like, really really hot and humid.
Anyway, let's talk a bit about the club lounge. On one hand I loved it, given that it felt very "Balinese." On the other hand I usually like to "cool off" in the club lounge after spending most of the day outside. Unfortunately the club lounge was outside. Nice in theory, but in 100 degree weather, not so much. It's also worth noting that it was located on the other side of the resort, a good 10 minute walk (although after all the food on Cathay, it was much needed exercise).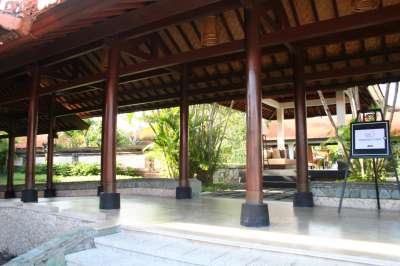 Entrance to club lounge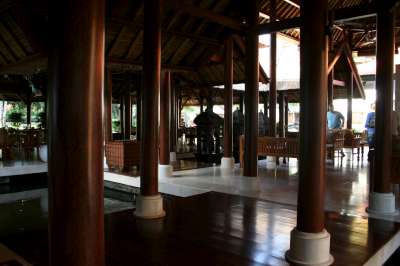 Club lounge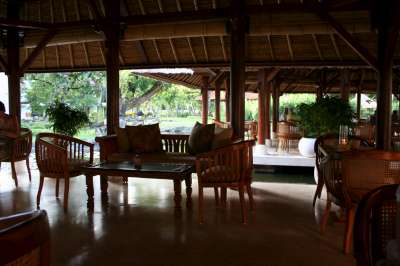 Club lounge
The service in the club lounge was very good. As I've said many times before, I find Indonesians to be among the most hospitable people in the world, and the people working the club lounge were no exception. At the same time, they weren't nearly as polished as at the InterContinenental, but then again I wasn't expecting that.
Breakfast was served in the club lounge from 7AM till 10:30AM and was fairly "continental." Plenty filling, but there weren't any hot options aside from bite sized omelet samples.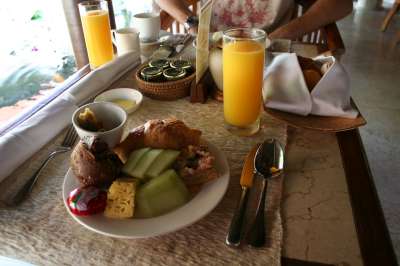 Breakfast
The evening spread, which was served from 5PM till 7PM, was a bit more substantial, featuring several hot options, along with the usual club lounge fare — nuts, cheese and crackers, veggies, etc.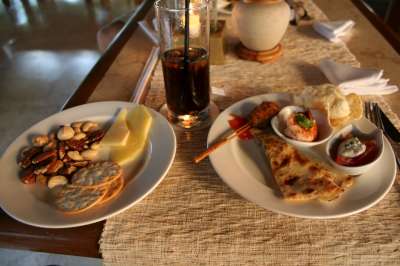 Evening snacks
On our second night we asked the concierge for restaurant suggestions, and I was rather peeved when he kept suggesting the hotel restaurant. We clearly stated we wanted something else, but he kept mentioning how good the hotel restaurant was. We did some research on our own online, and decided on Bumbu Bali. It seemed reasonably priced and local, so we went down and asked them to make a reservation for us. They even told us the restaurant would pick us up and drop us off.
The whole dinner experience seemed a bit surreal. We were still jetlagged so took a nap before dinner, waking up 30 minutes before we were to be picked up. You know how sometimes real life seems a bit like a dream, with your eyes processing "frames" of reality slower than it's really occurring? Well, that's kind of what it felt like, in a good way.
We were promptly picked up at 8PM, as promised, and driven to the restaurant. We entered through what basically looked like someone's garage, and as we walked in all the employees loudly exclaimed "welcome to Bumbu Bali," much like we hear "welcome to Moe's" here in the Southeast US (if you have no clue what I'm talking about, nevermind).
The food was quite good, but the atmosphere was even better. They had Balinese dancers and music, and I loved the food presentation. We had a satay appetizer, and then shared a chicken and beef main course. The whole dining experience was great, and after dinner we were driven back to our hotel. The total came out to about $40USD, which is quite reasonable by international standards.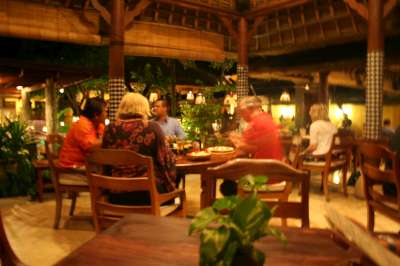 View from our table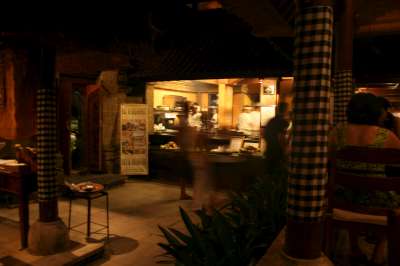 View of the kitchen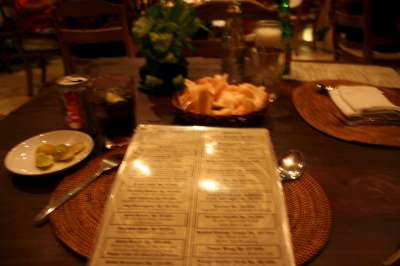 Menu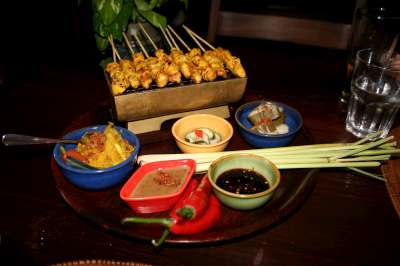 Chicken satay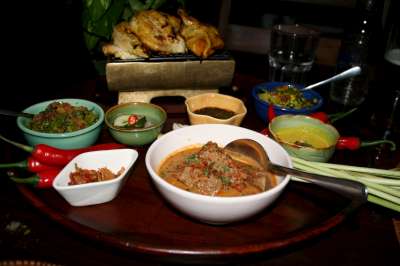 Main courses
We checked out at about noon after two nights at the Grand Hyatt, at which point we were picked up by the InterContinental, where we would be spending the next two nights.
Would I return to the Grand Hyatt? Well, at $160 with club lounge access, internet, and a huge suite, it was a real bargain. Were I a non-status guest, I wouldn't spend $160 on a normal room. Basic rooms are cheaper at the InterContinental, and I find it to be much nicer. Nonetheless when I return to Bali I'd consider spending a few nights here due to the reasonable rate and great benefits.