I think most that read my trip reports will recognize that I have positive or at worst neutral reviews of flights and hotels at least 95% of the time. This week I seem to just be having really bad shower luck. On Friday I mentioned the showers at the Grand Hyatt Santiago, due to the difficulty of controlling the temperature and pressure. Yesterday I mentioned the showers in the "Cool Corner Room" at the W Santiago, which aren't at all enclosed or separated from the room, which is frustrating because your whole room shouldn't heat up when you take a shower, in my opinion.
But here's my greatest shower complaint of all. After the upgrade "issue" yesterday at the W Santiago I got a suite, which featured the single most poorly designed shower I've ever seen anywhere. Take a look: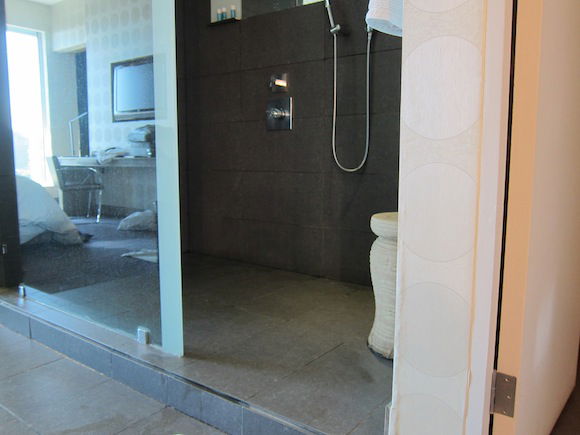 Who on earth thought it was a good idea to have the shower be a raised platform above the bathroom floor, with no barrier preventing water from flowing down? After showering for a few minutes (which is how long it took for the water to build up), probably half of the water drained where it was supposed to, while the other half flowed into the bathroom.
It really blows my mind. Surely someone designed this hotel, so what was going through their head when they made that decision?
Funny enough most of the reviews I've read about this hotel are glowing, though it's one of the few hotels on my "no way in hell am I returning" list (and it's because the hotel is all style and very little substance). The Grand Hyatt, on the other hand, I love.
Anyway, just my two cents, though maybe I'm off base…