One of the best benefits of being a Starwood Platinum member is unlimited upgrades to the best available room, including standard suites, based on availability.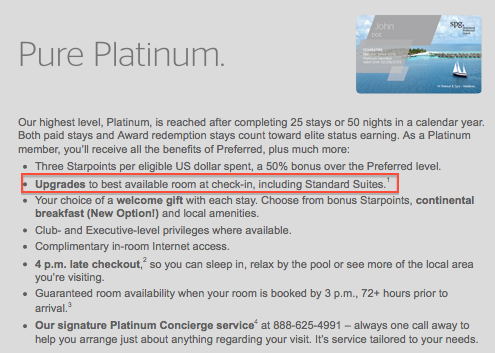 While that's the generous corporate policy, a majority of hotels are franchised, and many like to set their own rules. The hotels do have to abide by the corporate policy, and sometimes it leads to a bit of a fight at check-in. Hotels will claim they don't have any suites available, even though they're still selling them online. If they're selling suites online then I think it's safe to assume they're available, so obviously they're playing some kind of a game.
Which brings me to my stay today at the W Santiago. I checked in this afternoon and asked nicely about the possibility of a suite upgrade. The hotel was still selling "Marvelous Suites" online. The agent said "we've upgraded you to a Cool Corner Room, though don't have any suite upgrades available." I pointed out to him that they were still selling Marvelous Suites online, and he rebutted by saying that wasn't actually the case.
Okay, in fairness I had loaded the list of rooms available while at the Grand Hyatt since I don't have international data, so it could have been that the room was reserved in the meantime.
We went up to our "Cool Corner Room," which was anything but "cool" and I would've probably preferred a standard room. I can appreciate the idea between W hotels, but this place is totally style over substance.
The "Cool Corner Room" has a bathtub right in the middle of it. What the…?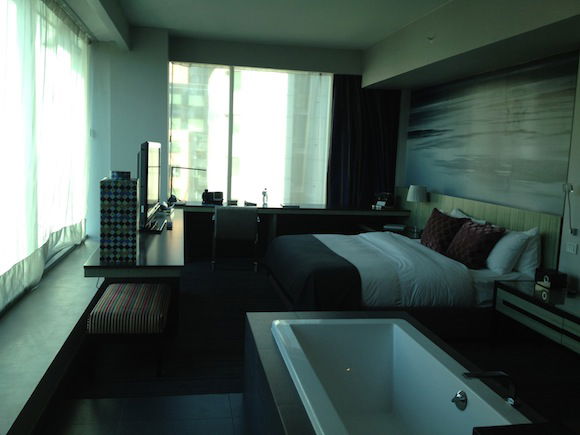 And the shower wasn't at all enclosed and was open to the rest of the room. I'll never again complain about the shower at the Grand Hyatt Santiago. Maybe it's just me, but I like the steam from the shower to stay in the bathroom area and not fill the whole room. I like bathrooms/showers warm and rooms cold — am I that far off base?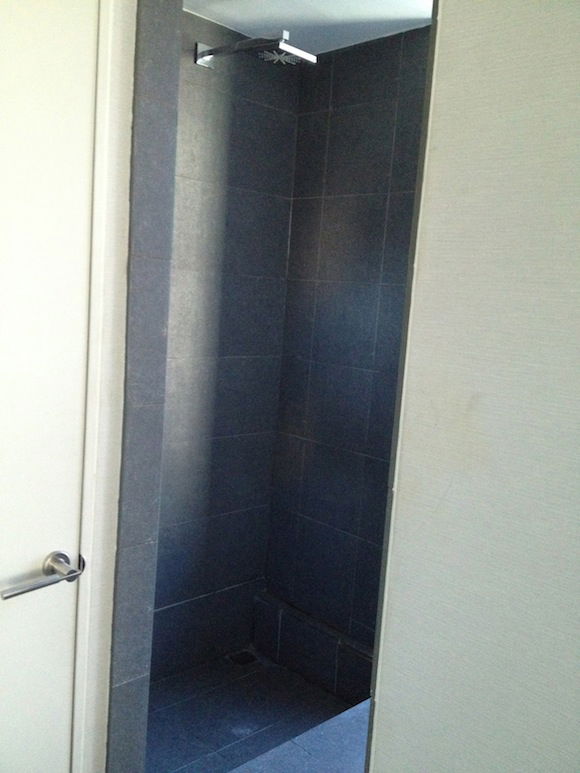 These aren't life and death "defects," but it completely blows my mind that you can spend tens of millions of dollars building a hotel without considering the practicality of the features. These are the kind of things road warriors notice, in my opinion.
I quickly logged online and checked whether the Marvelous Suite was in fact still available, and it was. So I went back down to the front desk where I was helped by another associate.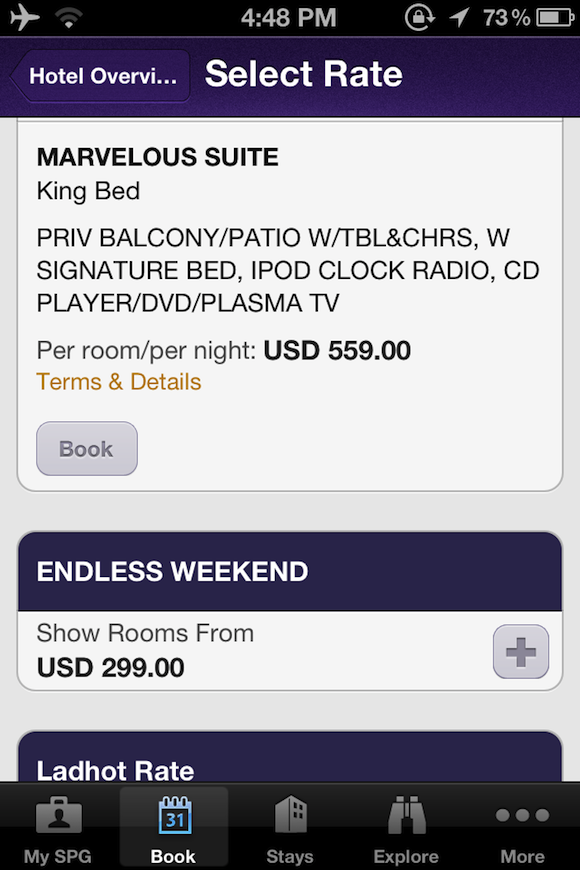 Let me say this upfront — if I had asked for the second time and the associate were to just look at availability and tell me the suites weren't available and it was an availability glitch, I'd take it at face value and move on. But almost every time they seem to dig themselves a deeper hole when confronted about upgrade availability.
Our conversation went something like this:
Me: "Hi, I just checked into room 5XX, and was wondering if you maybe had a suite available as a Starwood Platinum member? I just looked at spg.com and it looks like you're still selling Marvelous Suites for tonight, so they should be available, no?"
He typed for a minute.
Agent: "How long are you staying for?"
Me: "Just one night."
Okay, at this point I'm thinking they must have something available for tonight, since he asked how long I was staying. I don't think he'd ask that if they didn't even have suites available for that night.
Agent: "It looks like your rate was $248, is that right?"
Me: "Yes, that's correct."
Agent: "We don't have any suites available."
Okay, this is the point at which I knew I wasn't going to drop it. I booked the rate using a "Best Rate Guarantee" since I found a lower rate at a website other than spg.com, though that still entitles me to elite benefits. So at this point it was clear I was being denied the upgrade because of my rate, which was about $50 lower than the prevailing rate. These are the same games some hotels play with those on points stays.
Me: "But the website is still selling suites, so what would you do if I booked one of them?"
Agent: "We will have a suite available late tonight, so the guest would have to wait."
Me: "How late?"
Agent: "Probably around 10PM. They have late check-out."
Me: "It's already 5PM, isn't 4PM the latest check out goes?"
This guy must think I'm really dumb. He thinks he can push me away by giving me an unreasonably late time when the suite would become available.
So at that point I did what any reasonable person would do — I tweeted @spg!
SPG has the best hotel Twitter out there, in my opinion, though I hate getting them involved because I feel bad for them. I feel like a kindergartener tattle tailing on my classmate to my teacher. I imagine it must be awkward for corporate to have to contact the hotel and say "um, can you please upgrade this guest like you're supposed to?"
But they do so time and again for just about anyone, and have such a great attitude. In this case I tweeted SPG and 13 minutes later got a call from the front office manager, and 15 minutes later the following tweet from SPG: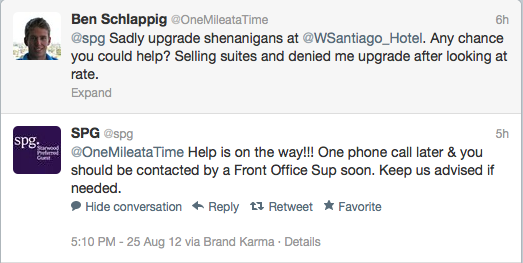 God bless Twitter!
This is where it gets funny, because how does the front office manager justify the lack of the upgrade previously? In this case she said "we heard you were interested in a suite, and as it turns out we just had a cancellation, so we would be happy to give you that suite. Just give us 30 minutes to prepare it."
Riiight, of course you just had a "cancellation." 😉
And in the end I got a very nice suite on the top floor (vs. my previous room which was on the lowest floor), though it still has the flippin' bathtub in the middle of the room!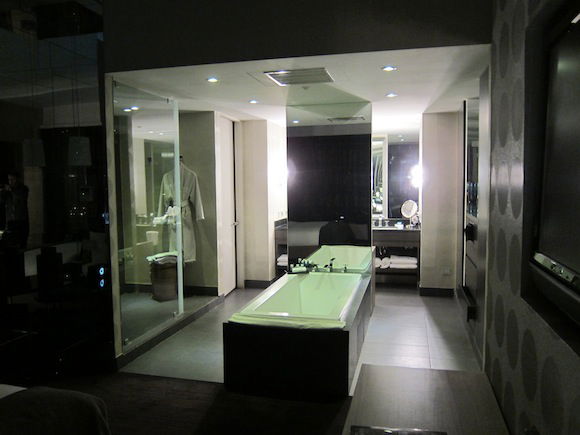 Anyway, kudos to Starwood and thumbs down to the W Santiago for playing games. And if you're a Platinum member, keep the hotels honest!