Once we landed we headed towards immigration since we wanted to check out the First Class Terminal (FCT). I actually didn't realize we'd have access to the FCT until a couple of days before the flight. A while back LH changed the rules for access to say that you need a departing LH F boarding pass, meaning those arriving in F and continuing in C within Europe couldn't use the FCT.
Fortunately my brother pointed out to me the new wording, so it seems like they changed the rule back to the way it was before, which is a good thing.
To access the FCT from the terminal one can either clear immigration and then walk to the FCT, or another option is to go to F check-in and ask for a car to the FCT. We chose the former, since it was a beautiful day outside (not to mention we had been sitting for eight hours) and it's literally a five minute walk.
Since we were arriving from the terminal we took the side entrance, where we had to ring the buzzer and a personal assistant came to pick us up.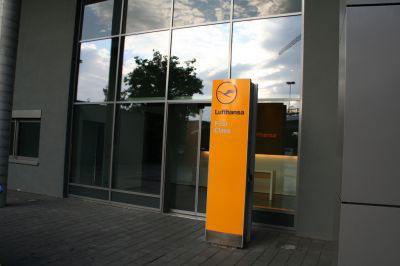 Side entrance to the FCT
First of all, I should say that all of the FCT pictures below were taken on a previous trip. I've heard that the FCT has a "no photography" policy as of late, but I figured I had good pictures from my last trip, so no need to take more.
The friendly PA greeted us, checked our boarding passes, and brought us up to the main level. This drops you off at the entrance, which is pre-security, where passengers would typically wait while the PA checks you in. Of course we were already checked in, so there was no need for that.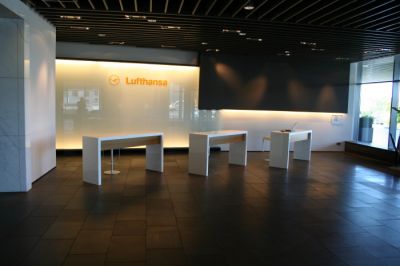 Entrance, where the PA's often stand
One of the best things about the FCT has to be the security process. There are about four security officers and there's never a wait. You put your bags on the belt, walk through the detector, and you're good. It's a process that consistently takes 30 seconds and is totally painless.
The PA asked if we had been to the FCT before, to which I responded yes. Instead of her giving the grand tour I figured I could handle it, since it was my brother's first time.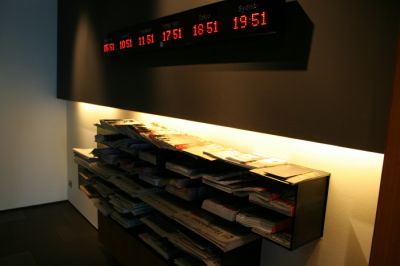 Newspapers, magazines, and world time near the entrance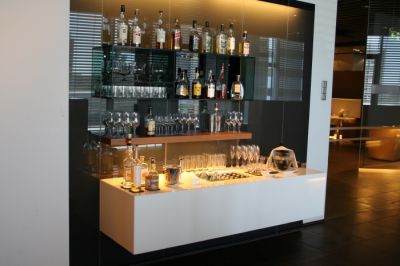 Drink selection in the cigar lounge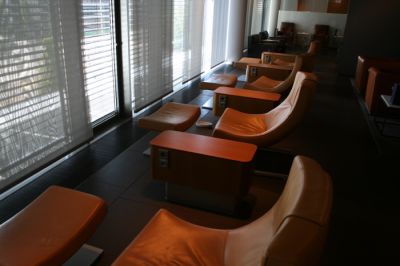 More comfortable seating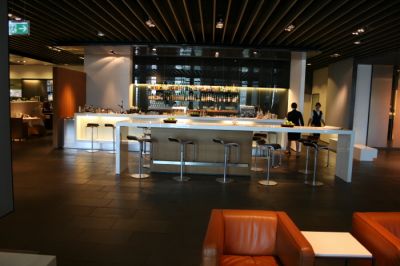 The bar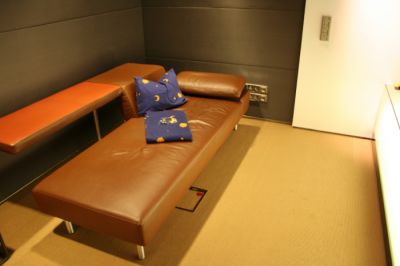 Day rooms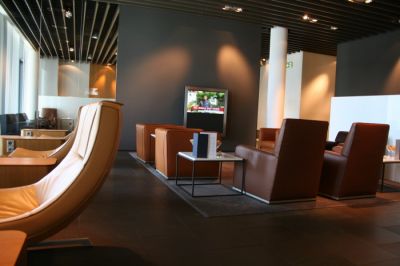 TV seating area in FCT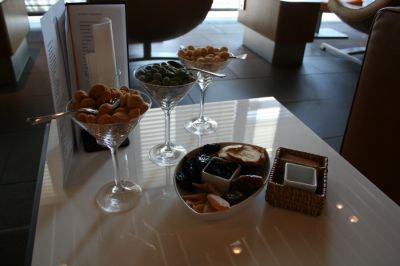 Table snacks
One of the coolest things about the FCT is that it's also a great restaurant. They have individual tables set with bottles of water (sparkling and still), and one can choose buffet or a la carte dining, or even better both!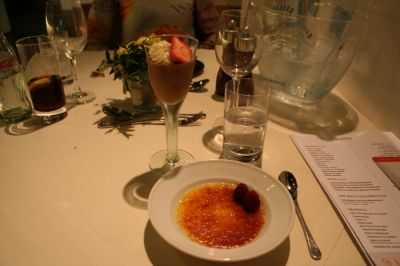 Even better (is that even possible?!?)
Like I said, those pictures were from a past trip. Our FCT experience this time around wasn't nearly as exciting, since we had just had breakfast on the flight and both of us much preferred to use the internet.
The FCT has little T-mobile internet cards available upon request for two hours of internet. The wording on the cards cracked me up, roughly saying "As a gift of Lufthansa, we'd like to give you two hours of free internet!" Jeez, what an incredible gift for international first class passengers, ya think I could get a free glass of water if I ask really nicely too?!? OK, sorry. 😉
Within just a few seconds of sitting down someone came by to see if we wanted anything to drink, and quickly returned with our selection.
Towards the latter part of our all too short layover I took a quick shower, which I had to wait ten minutes for. The shower rooms are great though, well worth the wait.
About 20 minutes before our scheduled departure time our PA came by, asked us to pack our stuff, and escorted us to the S-Class Mercedes that would be taking us to our plane.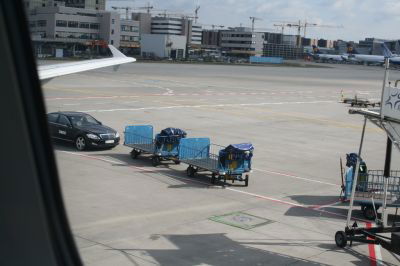 The car from our seats
The aviation geek in me thinks this is the coolest part of the whole experience. It's not so much the car, but driving under the tails of all kinds of heavies on the tarmac that's amazing.
After a short ride the chauffeur parked the car under the wing of our A321, and escorted us up the stairs and onto the jet bridge. As we were about to enter I overheard one FA say to another that they were waiting on two passengers, which I guess was us. The chauffeur helped store our bags in the overhead and bid farewell, and the door closed within seconds.
Before I go further with the flight, I just wanted to say that there's only one word which can describe the whole FCT experience — seamless. The FCT is a world in which there are no worries. You don't have to worry about missing your flight, the PA is always there to do that for you. If you're thirsty, want a snack, or even a five course meal, worry not, the FCT is there for you.
Of the lounges I've been to, I'd definitely say it's the best, although the Thai ground experience in BKK is pretty close, but that's probably because I'm a total sucker for massages. Still, it's tough to beat and this alone is a reason to choose LH, in my opinion.
LH4128, FRA-MLA, 1015-1235
As soon as we sat down someone recognized our FlyerTalk tags, and as it turns out there was a FlyerTalker seated directly behind me. That definitely made an otherwise boring flight a bit more fun, although I was so tired by the time we took off that I dozed off for most of the flight, so my apologies to that FlyerTalker for being a bit anti-social.
After a quick taxi we were off, and the meal service began shortly.
The menu for this flight read as follows:
Menu

Hors d'oeuvre

Turkey Brochette with Peanut Dip,
Asian Vegetable Salad and Green Asparagus

Main Courses

Breast of Poularde with Red Thai Sauce,
Asian Vegetables and scented Rice

Fillet of Pangasius Fish with Coconut Sauce
accompanies by Singapore Noodles with Cashew Nuts,
Green Bean Kernels and Pink Pepper

Dessert

Mango, Kiwi, Pineapple, Papaya and Cantaloupe

Chocolates
The purser on this flight was very professional and went at a good pace. She came through Business about four times in the first hour with the drink cart, so suffice it to say that service was attentive.
Service on these intra-Europe flights is without a doubt better than in the US, but it's literally a coach seat with a blocked middle. I would much rather get a sandwich in the terminal and have a bigger seat, but that's just me….
Like I said above I dozed off for most of the flight and woke up as we were flying down the coast of Italy.
The flight was uneventful, and we touched down right on-time. I didn't realize that MLA has no gates, so we had to de-plane via stairs. I was already dreading taking a bus, but as soon as the seven business class passengers were aboard the doors closed and we drove away. Very cool!
Malta airport was pretty decent, and as we exited into the arrivals hall two guys dressed very normally (not in uniform) ask for our boarding passes. We thought they were trying to solicit something, but then they showed their badges, that they were cops (or whatever). After showing them our BP's we continued to the taxi stand, where we got a cab to the InterContinental.
To be continued…