Part One: The Planning Process
Part Two: TPA-IAD on United in First Class, Lufthansa Senator Lounge IAD
Part Three: IAD-NRT on ANA in First Class
Part Four: ANA First Class Lounge NRT and NRT-SIN on Singapore Airlines in First Class
Part Five: The Crowne Plaza Changi
Part Six: The Grand Hyatt Singapore
Part Seven: Singapore
Part Eight: Singapore Business Class SIN-BKK, Thai First Class Lounge BKK
Part Nine: BKK-NRT on Thai in First Class, NRT-ICN on United in First Class
Part Ten: The Hyatt Regency Incheon Airport
Part Eleven: The Park Hyatt Seoul
Part Twelve: Seoul
Part Thirteen: ICN-FRA on Asiana in First Class
Part Fourteen: The InterContinental Frankfurt
Part Fifteen: Lufthansa First Class Terminal and FRA-SEA on Lufthansa in First Class
Part Sixteen: Conclusion
---
After a quick subway ride from the city, I arrived at Terminal 3 by around 2PM for my 4PM flight. First of all, Terminal 3 is friggin' impressive. Enough said.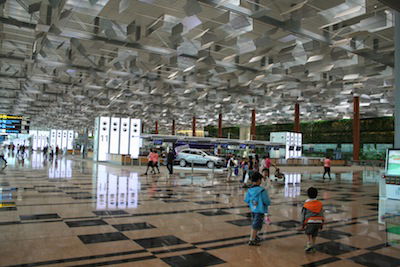 Terminal 3
I checked the departure monitor, and my flight, SQ976, was listed as departing from Terminal 2, so I took the SkyTrain over there.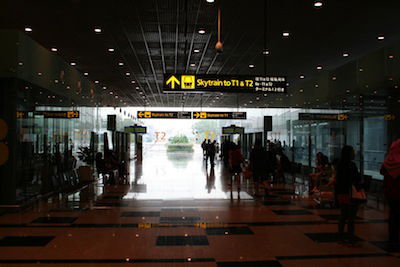 Skytrain
Terminal 2 is still nice, though not nearly as impressive. I couldn't find the business class check-in, so eventually just went to one of the economy class counters where there was no line.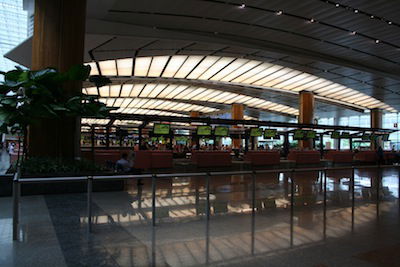 Terminal 2
As the agents determined I was in business class they began to panic, as they didn't have the business class cardstock. Singapore has a different color boarding pass for each class – first class is red, business is blue, and economy is green. The agent frantically ran somewhere to fetch some blue cardstock, and moments later returned with it. Once he printed out my boarding pass to Bangkok I asked whether he could also print out my connecting boarding pass for my flight to Tokyo. He obliged, but soon realized I was flying first class. Yet again he jumped up and frantically searched for some red cardstock, which he soon returned with.
At Changi airport security is at each individual gate, so I only had to wait in the line to have my documents and passport checked and departure slip collected. Behind security Changi is one of the classiest airports in the world. From fish ponds to upscale shopping, they really have everything.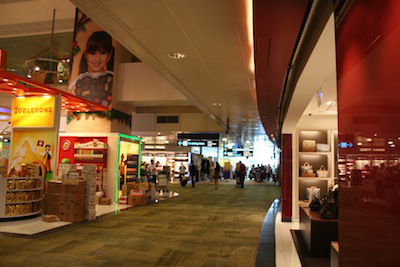 Terminal
I headed towards the Silver Kris Lounge, which was only a couple of minutes away. As I entered I showed the agent my boarding pass (in particular my connecting boarding pass, which is in first class), and as he saw the red on the boarding pass he directed me to the first class side. Once I was well inside he asked if he could make a copy of the boarding pass, so he returned with it moments later. He explained technically I was only entitled to use the business class lounge, but offered to make a "one time exception."
The first class lounge was deserted. I'm pretty sure there was only one other person in there when I entered. While the first class lounge is decent, it's nothing special. It really amazes me how Singapore Airlines will invest hundreds of millions of dollars in their onboard experience, even going so far as creating true suites in the sky, while they completely ignore ground services. Lufthansa and Thai have infinitely superior ground services, and it seems to work quite well for them.
The lounge is dark and has a decent buffet, but it really can't even begin to compare with the dining options in either the Thai or Lufthansa lounge, let alone the spa in the Thai Airways lounge or the car transfers, day rooms, or bar at the Lufthansa First Class Terminal.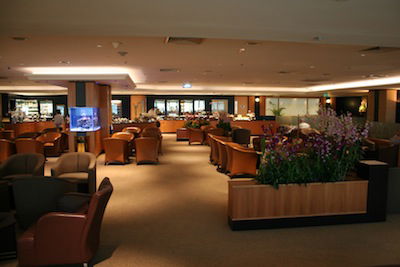 First class lounge
I had some snacks consisting of pasta with shrimp and some sushi, which were quite good.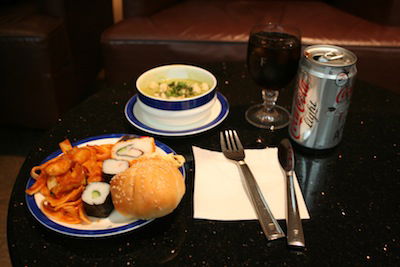 Snack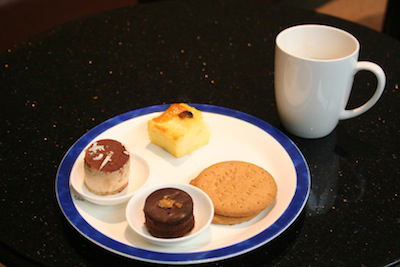 Dessert
At around 3:15PM I decided to head to the gate for my flight to Bangkok, which was about ten minutes away. I had to queue for about five minutes to get through security, though it's always a privilege compared to the TSA here in the States.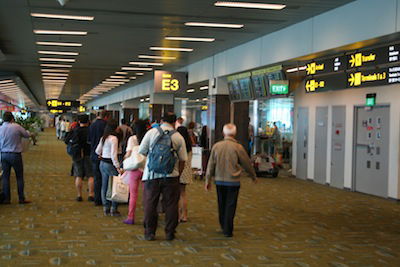 Gate E3
Once through security boarding had already started, so I proceeded straight aboard, where I was greeted by the in-flight service manager and a lovely Singapore girl.
Singapore 0976, SIN-BKK, 777-200
Friday, June 18
Depart: 4:00PM
Arrive: 5:25PM
Duration: 2hr25min
Seat: 15H (Business Class)
I was directed towards my seat, which was located on the right side of the aircraft, and immediately offered a newspaper and magazine.
This aircraft was equipped with Singapore's regional business class (no first class), which is sufficient for a regional flight, though nothing great. Each seat has a personal television with KrisWorld entertainment system, and the recline and legrest controls are electronic.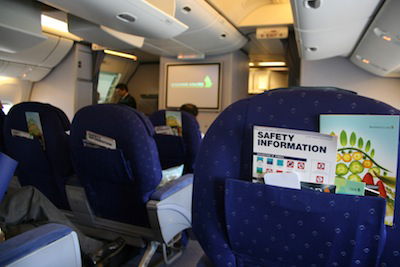 Business class cabin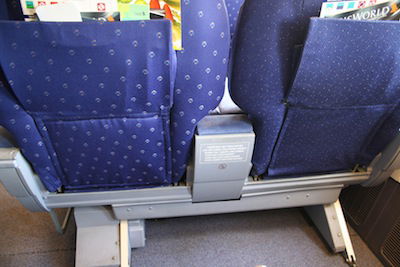 Legroom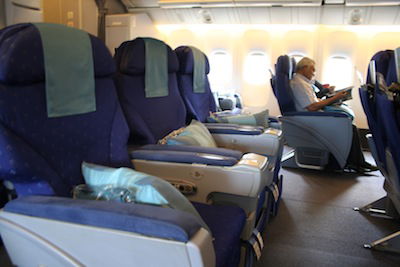 Center seats across from me
The aircraft continued to fill up, and by the time departure time was upon us, business class was full except for a few seats. Pre-departure beverages were offered, including champagne, water, orange juice, or a refreshing pineapple drink. I went with the pineapple drink, which was tasty. This was followed by hot towels.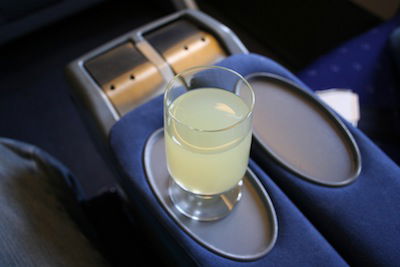 Pre-departure drink
The captain made his pre-departure announcement as well, advising us of our flight time of 1hr54min, and explaining we'd arrive right on "shed-jewel." As the door closed beverage orders were taken for after takeoff. I went for a Diet Coke, while my seatmate, an older Japanese businessman, went with a hot chocolate (while reading Men's Health magazine).
As we taxied out the safety video played, and soon we were in the queue for runway 20C. There we had to wait for about 20 minutes, as they were using this runway for both arrivals and departures, and sometimes even two arrivals in a row.
The climb out was pretty rough, so the captain left the seatbelt sign on for a while. Nonetheless beverage service started almost immediately (minus hot beverages, which aren't served on Singapore Airlines when the seatbelt sign is on… sorry Mr. Hot Chocolate!). They served with Singapore's trail mix, which is quite tasty.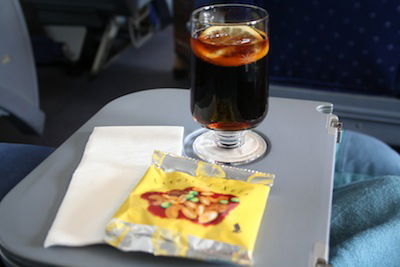 Diet Coke and trail mix
Following that the flight attendants came through the aisle with the meal service. The menu was already in the seatback pocket at the gate, and read as follows:
Light Meal Menu

Starter
Barbecue pork with noodles salad

Main
Tagine of prawns with saffron couscous, apricot, pistachio and preserved lemon

Soya sauce chicken, black mushrooms and leafy greens with fragrant rice

Japanese style fried noodles with beef and vegetables

Thai battered fish, seasonal vegetables and pineapple rice

Finale
Fresh fruit selection

Gourmet coffees & selection of fine teas
The wine list read as follows:
Champagne:
Charles Heidsieck

White Wine:
2008 D'Arenberg Olive Grove Chardonnay
Saint-Veran "Rives De Longsault" 2005

Red Wine:
Chateau Lacombe-Noaillac 2005
Valpolicella Superiore 2008 Allegrini

Port:
Offley LBV 2005 Port
I asked for the prawns with couscous, which they still had available. I wasn't a huge fan of the appetizer, but the main course, Singapore's lovely garlic bread, and fruit dessert were plenty filling. During the meal I watched an episode of How I Met Your Mother, and began to watch Napoleon Dynamite. It never gets old, I swear.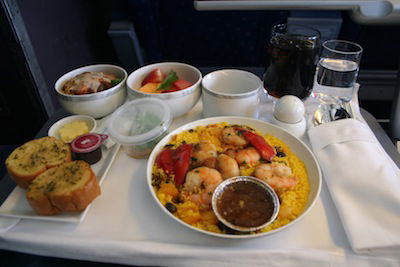 Meal
Drinks were constantly being topped off, and the general Singapore spirit was felt throughout the flight. After all trays were cleared duty free items were offered, and I was surprised by how many people made purchases.
Soon enough we were on our descent and our captain advised us we had 30 minutes to go. The cabin crew began to prepare the cabin for landing. We descended down towards a smoggy Bangkok, and by around 5:15PM touched down for an early arrival. After a quick taxi to the gate a much more exciting portion of my journey was about to begin.
I was connecting on Thai Airways in first class, and if there's one thing that makes me *love* Thai Airways, it's their ground services in Bangkok. I would argue they're the best in the world for connecting passengers (though Lufthansa's First Class Terminal has the edge if and only if you're starting your journey IN Frankfurt).
As I got off the plane there was a Thai Airways representative standing there with a sign that had my name on it. She introduced herself and asked me to follow her to the waiting golf cart. She proceeded to drive me all the way to the Thai Airways first class lounge, which was quite a hike away. I'd like to point out how damn impressive this is. Some airlines offer an "escort" service for connecting passengers, but how many airlines pick you up from the gate of your arriving flight on *another* airline without even asking? I can't think of any off to the top of my head.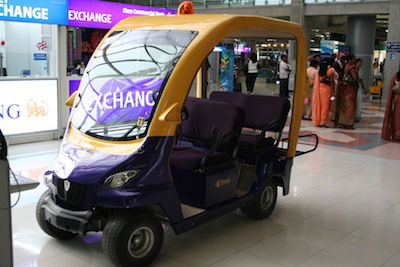 Waiting golf cart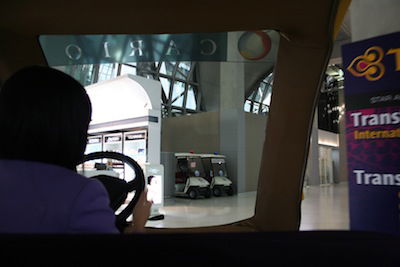 Golf cart ride
Before making it to the first class lounge I had to re-clear security, though she cut me to the front of the line, which made it absolutely painless.
Once in the lounge I was greeted with the traditional Thai greeting by no less than five people. The Thai Airways first class lounge has an interesting layout, with several "living rooms," so that each passenger can have their own living room, plus a huge seating area. I've always gotten a private living room, as the lounge never seems to be full.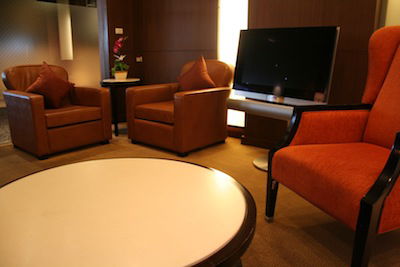 "My" living room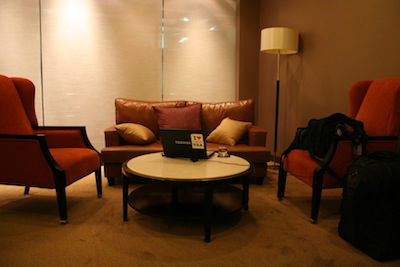 "My" living room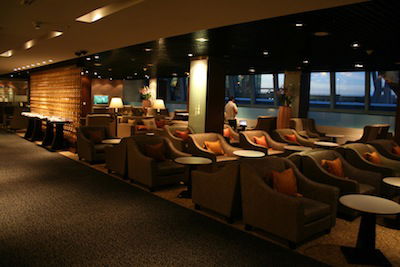 The rest of the lounge
As I was escorted to "my" living room the agent asked whether I'd care for a massage. I explained that I was going to go to the spa for an appointment later on, but he insisted that he'd make it for me. We agreed on an 8PM full body massage, so he went to the spa to make the appointment for me. Thai Airways offers first class passengers an hour-long full body massage, and business class passengers a 30 minute neck or foot massage. There's nothing more relaxing than a good massage before a redeye.
The service in the lounge just comes across as so genuine and attentive that you can't help but be in a good mood, regardless of how bad of a day you had (not that I had a bad day, I was just exhausted, but couldn't help but smile the whole time I was in a lounge). Every 5-10 minutes one of the "waitresses" came by to see if I wanted something to eat or drink, and also to bring me a new towel all the time. I just had an ice water.
As it turns out my friend Alex was also in the lounge heading to Sydney, so we talked for an hour or two, about everything miles, points, and travel related. By that time it was 7PM, and with my massage only an hour away, I knew it was time for a shower. Passengers are required to shower before the massage, so I always try to do it before it's "time." The service in the bathroom area is equally attentive, with no fewer than four ladies standing there to greet and direct passengers to a shower room.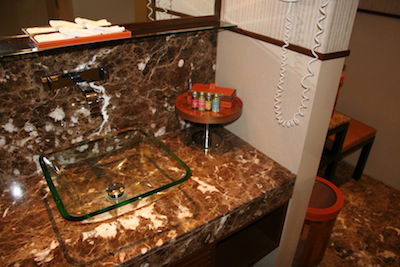 Shower room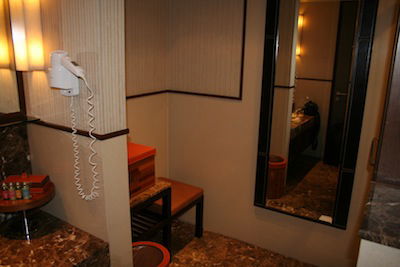 Shower room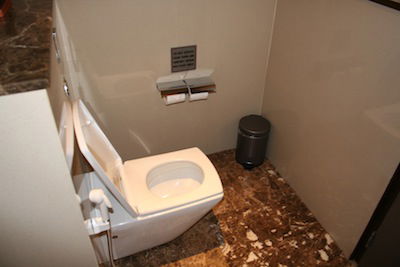 Shower room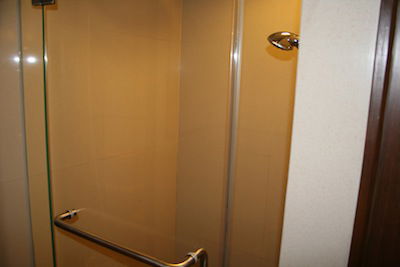 Shower room
The water pressure and temperature was quite good, and I was feeling quite refreshed. By around 7:30PM I was back in "my" living room, and the waitress insisted I have something to eat, so I asked for some spring rolls, some chicken on a skewer, and a Diet Coke.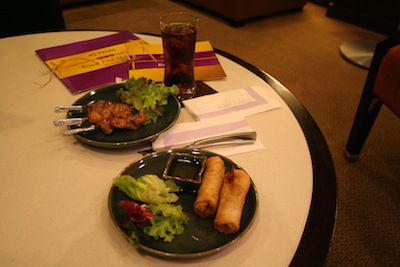 Spring rolls and chicken skewer
There's a buffet display area in the lounge, though it's staffed with about four people that follow you around to take your order, as they bring the food to you.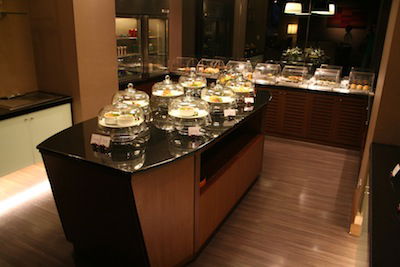 Buffet area
I had a refill on my Diet Coke, at which point it was time to head to the spa for the massage.
Of course they didn't let me walk there alone, but instead escorted me and alerted them that I was coming. They're almost frighteningly attentive. Once in the spa I was asked to sit down in the waiting area and was offered green tea, which was tasty. Within a few minutes my masseuse showed up and directed me to the room. While business class passengers get massages in chairs that are partitioned off, they have separate treatment rooms for first class passengers, which include a shower, toilet, bathtub, and large massage table.
Once you get in the room they ask you to change out of your clothes into "fishnets" of sorts that act as underwear. Not sure what purpose they serve, exactly, as they hide nothing, and if anything are a bit uncomfortable. Nonetheless the masseuses are always excellent about being very "discreet," and use a towel to cover up what needs to be covered up. The massages are phenomenal and incredibly relaxing. I had one slight problem about 30 minutes through my massage, though. I guess I had a bit too much to drink (two Diet Cokes and a cup of green tea), and really needed to pee. I'd argue there's not much worse than needing to pee while getting a massage, as that's all you can think about. Maybe I should have asked her to stop for a moment, but that would have felt a bit weird, so I just allowed myself to be tortured for the last 30 minutes of the massage. Or is that all too much information…?
Once I was done with the massage it was 9PM, so I used the opportunity to do some last minute email-checking, and once again the waitresses insisted I eat something. I have an unquenchable sweet tooth, so went back to the buffet to take a look at what they had, so I settled on a chocolate tart, which was promptly served to me.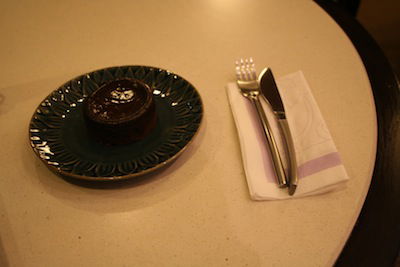 Chocolate tart
Boarding was supposed to start at 9:35PM, so at that time I headed to the front area to check on the status, and without even showing the agent my boarding pass he said "don't worry Mr. Lucky, we'll get you when we're ready for boarding."
About ten minutes later they were indeed ready for boarding, and I was brought to the front of the lounge and directed to the waiting golf cart on the first floor. I was joined by a Japanese businessman in a super-expensive suit along with his female companion, and well, I don't quite know how to describe her. She was maybe 4'6" (probably close to 5'6" with her heels), and was wearing a rather short dress with open straps in the back. I would have guessed she was about 11, but her dress makes me hope she's a bit older. Hmmm…
We were leaving from a gate on the other side of the terminal, so it was quite a golf cart ride to get there. Once again we were escorted through security, so there was no wait. We then arrived at the gate, only to find that boarding hadn't started. The guy that escorted us asked the gate agent about the status of the flight, and apparently it would be about 10 minutes before boarding started.
True to their word, 10 minutes later they sought out the first class passengers and began boarding.