It's the moment we've all (kind of) been waiting for — Lufthansa has just officially unveiled the details of their new business class product, which will debut on the 747-800 that enters passenger service soon.
I think it's fair to say this has been pretty anticipated, given that they've been lagging the competition for years with their angled flat dentist chair business class seat. So I think most of us assumed their new product would be cutting edge. After all, Swiss' new business class product is excellent, and they've had it for years.
Anyway, check out the pictures of the new business class product on Business Traveller, including a couple of videos, as well as Lufthansa's official new business class seat website. While the seats are fully flat, the seat is in no way innovative, and I'd argue even a bit impractical. With the design it will be pretty tough for the person in the window to get out when the person in the aisle is reclined, but more importantly, I find it bizarre that the foot compartments are so close to one another. I hope you're ready to play footsie with your seat opponent!
Don't get me wrong, this seat is a massive improvement over the old one, but Lufthansa is only now starting to roll the seat out, so expect it to be at least a few years before it's found fleetwide. I can't wait to see what Singapore has by then.
What are your thoughts?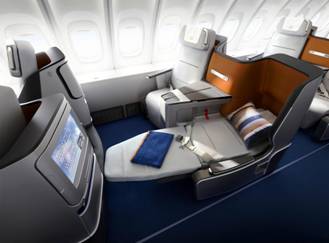 Photo courtesy of Lufthansa