Emirates first class is one of my favorite first class products in the world. From the perspective of maximizing fun while flying, it really is tough to beat. I remember my first flight in Emirates first class like it was yesterday.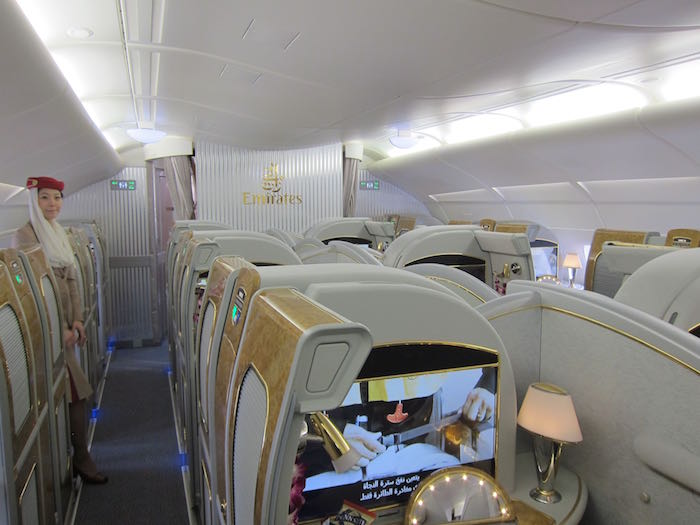 Between the onboard shower spa…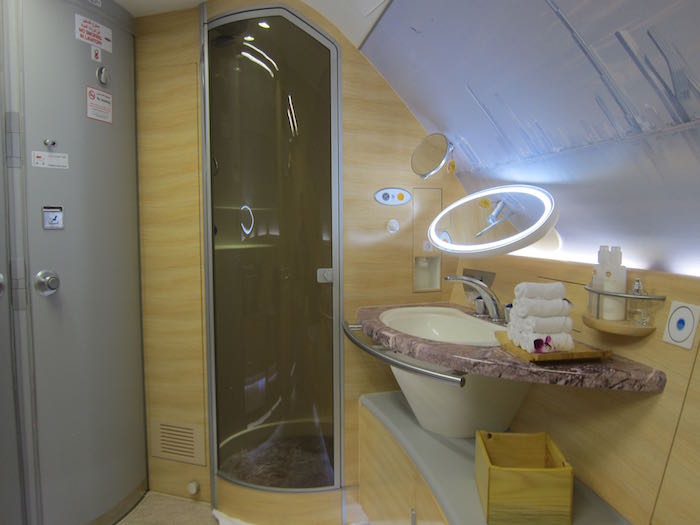 The onboard bar…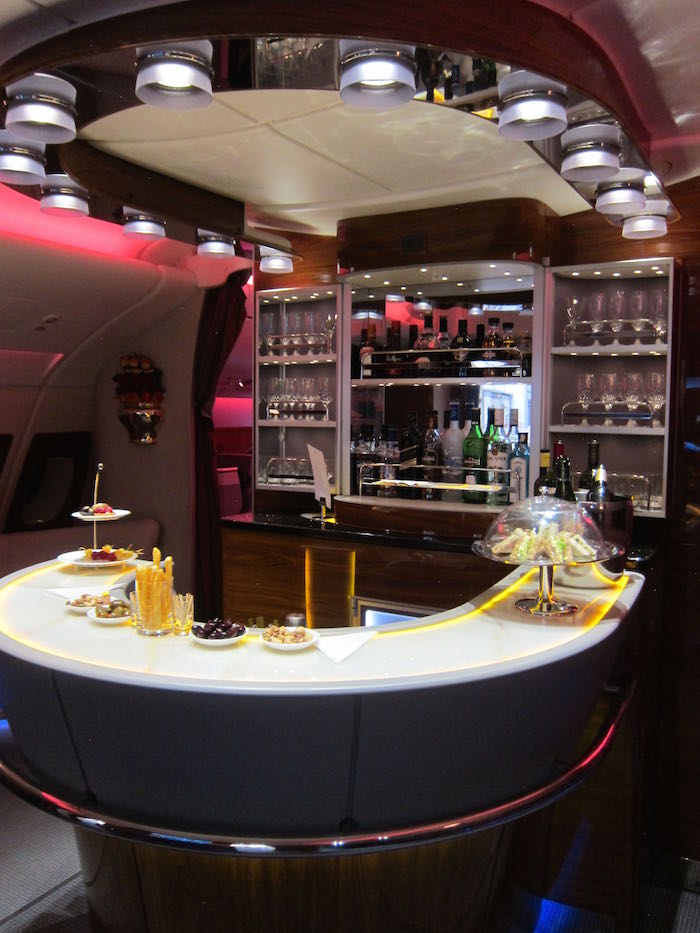 Amazing food…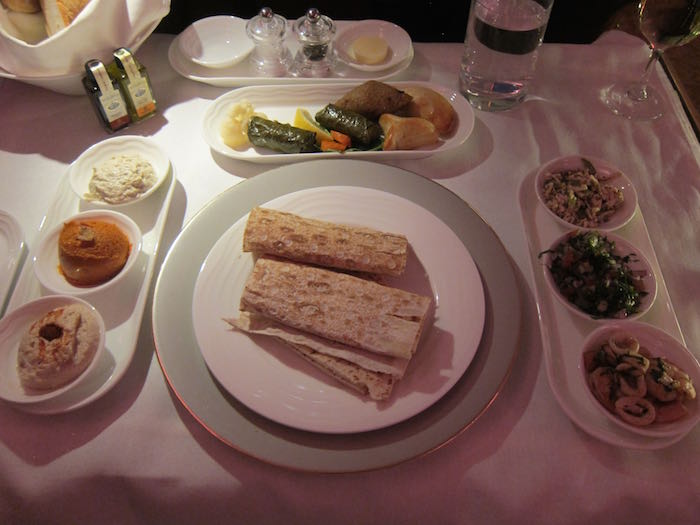 And much, much more, it really is a product that's tough to beat.
I've reviewed it several times on the blog:
And one of the best things about Emirates first class is that it's quite easy to redeem Alaska miles for it. I'd actually argue that there has never been a better time to redeem Alaska Mileage Plan miles for travel in Emirates first class.
Alaska is selling miles with a 35% bonus
As I first wrote about last week, Alaska is selling Mileage Plan miles with up to a 35% bonus through August 9, 2015.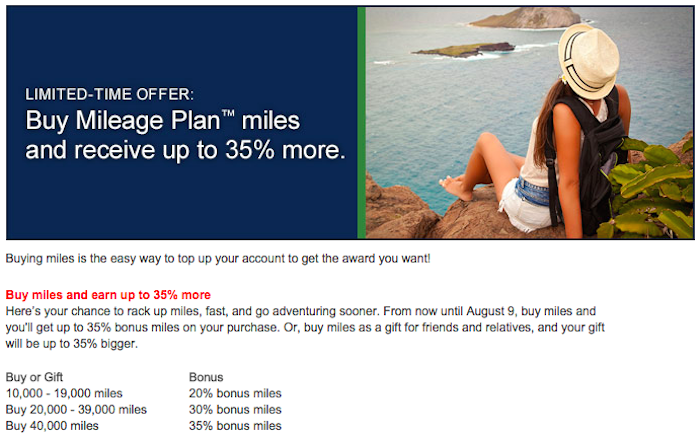 To get the 35% bonus you have to buy Alaska miles in increments of 40,000 miles. If you do purchase 40,000 miles you'd get a 35% bonus, for a grand total of 54,000 Mileage Plan miles. At a cost of $1,182.50 including tax, that comes out to ~2.19 cents per mile.

The exciting thing about Alaska's promotion on the purchase of miles is that there's no limit to how many miles you can buy. You can buy at most 40,000 miles (pre-bonus) per transaction, though you can make as many transactions as you'd like. Beyond that, you can only use the same credit card for at most four transactions per 30 day periods.
But as long as you follow those rules, you could literally buy a million Alaska miles if you wanted to.
Cost to redeem Alaska miles on Emirates
Alaska miles can only be redeemed for travel on Emirates to/from North America. The cool thing is that Alaska allows stopovers even on one-way awards, which is a great opportunity to stop in Dubai enroute to another destination.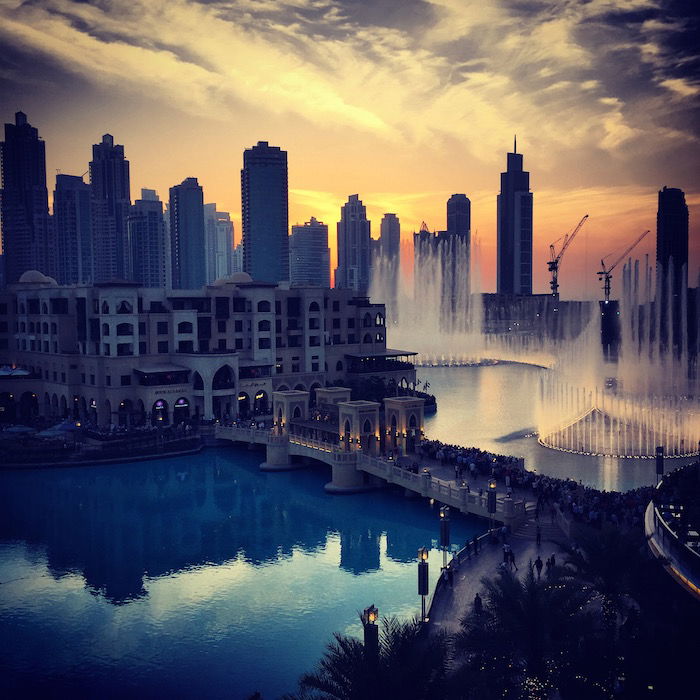 Alaska's redemption rates for Emirates first class are as follows:
First class between North America and Middle East/India: 90,000 miles one-way
First class between North America and Africa: 100,000 miles one-way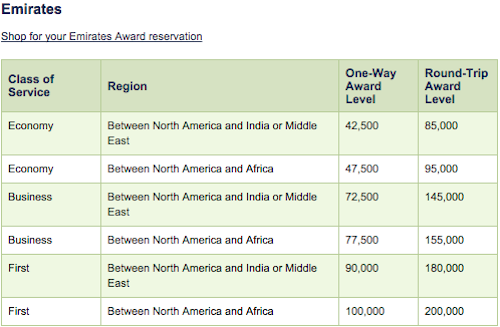 First class between North America and Asia: 100,000 miles one-way
First class between North America and Europe: 100,000 miles one-way

I'd say those are pretty compelling redemption rates, especially given how much backtracking is involved for some cases. For example, flying from Los Angeles to London via Dubai in first class for 100,000 miles is a heck of a deal.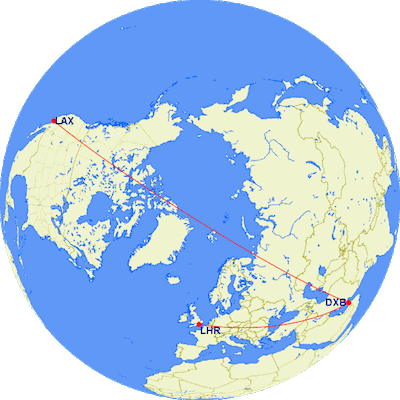 Emirates first class award availability
So there's a good offer right now for buying Alaska miles, and Alaska has attractive redemption rates. The logical question I've been asked repeatedly in recent days is "how good is Emirates first class award space using Alaska miles?"
It has been possible to redeem Alaska miles for travel on Emirates since early 2013, though the partnership hasn't been without hiccups. For example, between late last year and April of this year, Alaska didn't seem to have access to a vast majority of Emirates first class award space. While we never got a full explanation of what was going on, ultimately the space did return, so it wasn't a huge deal.
I'd argue award availability for Emirates first class to/from North America is as good as it has ever been.
Looking throughout the schedule I see two first class award seats most dates between Houston and Dubai:

The same is true between Dallas to Dubai:

And if looking within a few months of departure, I even see many dates with three first class award seats between Dallas and Dubai:

There are two first class seats on a good number of dates between San Francisco and Dubai:

And even between New York and Dubai on several flights: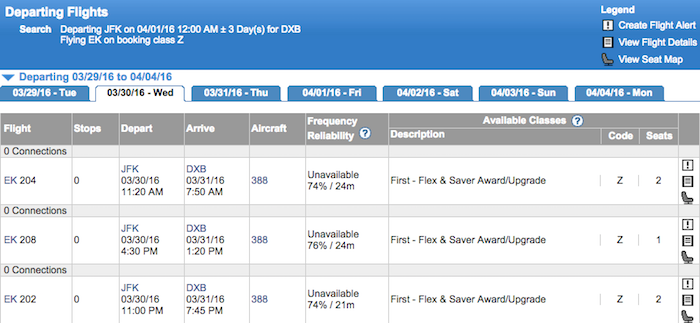 The point is, there's consistently Emirates first class award availability for two people, whether you're booking far in advance or close to departure. You might have to be flexible about which North American gateway city you fly out of, but availability is truly as good as I've ever seen from Emirates.
You certainly won't find first class award space this consistently available with Cathay Pacific, Etihad, Lufthansa, Qatar, Singapore, etc.
As I've written about before, if you really want to maximize your experience and get four A380 first class showers out of a single one-way, you can fly from New York to Milan to Dubai to Bangkok to Hong Kong on one ticket.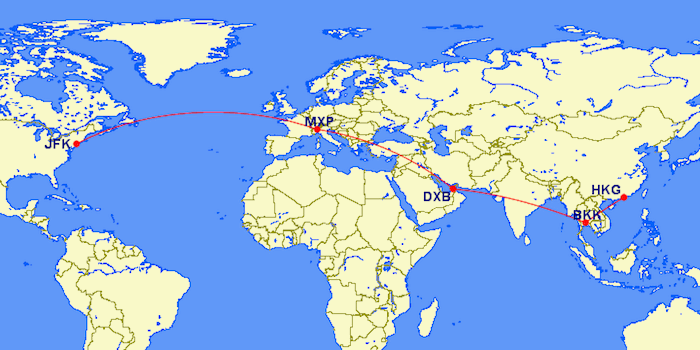 That's possible because Emirates has a one-stop flight from New York to Dubai (via Milan), and then a one-stop flight between Dubai and Hong Kong (via Bangkok).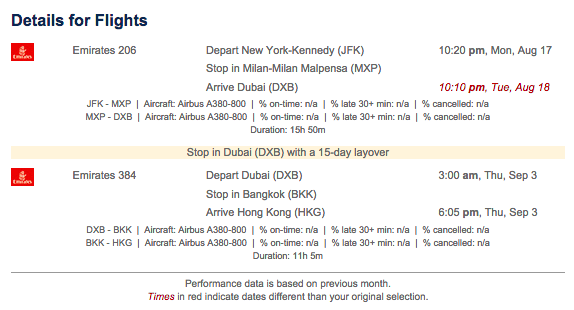 Bottom line
Between the bonus on purchased Alaska miles, Alaska's great redemption rates on Emirates, and Emirates releasing a good amount of first class award availability, there really hasn't been a better time to redeem Alaska miles on Emirates.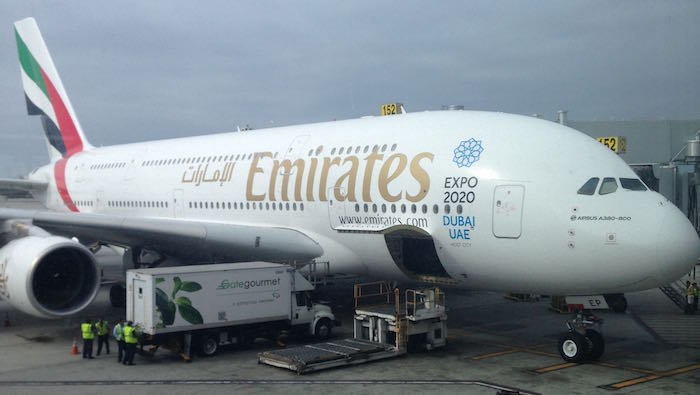 If you haven't yet showered on a plane, what are you waiting for? 😉