Flying different premium cabin airline products can be a great way to sample all kinds of amazing alcohol, and in particular champagne. As ridiculous as it might sound, I've sort of grown to really appreciate the subtle differences between champagne and other wine thanks to my flying and travels. Recently Andrew M was kind enough to share his knowledge of wine, to explain how the best wine on the ground may not be the best wine in the air.
My good friend Matt/one of the fanciest people I know shared his picks for the top airline champagne early last year, and he's back with an updated list. Okay, maybe he's also partly mostly to blame thank for my increased understanding and appreciation of champagne. We're embarking on a round the world trip next week, so stay tuned for more updates from him! Thanks to Matt for sharing his thoughts!
---
It has been just over 18 months since my last champagne post.  That's a really long time.  In that time period, we've seen multiple airlines go to revenue based frequent flyer programs, Emirates has taken delivery of roughly 7,000 more Airbus A380's, the Boeing 787 has become so commonplace it bores me (also – it's apparently not hail-proof), and Ben has started talking much more about Etihad and Emirates than he has Lufthansa.  OH, and United.com apparently decided to wave goodbye to the early 1980's.  (Unfortunately, we cannot say the same about nearly all United Clubs – hope springs eternal, however.) 
A lot has happened in the champagne world, too!  So it's time to update the prior "Airlines that Serve the Best Champagne" post.  I'm going for quality over quantity, and only pointing out what I think are the five best first class champagnes.  I'll also highlight the best domestic champagne currently on offer, and point out a few great lounges for champagne lovers.  Check out the old post for additional offerings. 
Krug Grande Cuvee (Non-Vintage)
Krug was listed first in my last review, and it is listed first again here.  Not because it is the most expensive or rarest champagne (in existence or served on airlines), but because it probably my favorite champagne.  (It is also Ben's favorite champagne.) 
Current bottlings of Krug Grande Cuvee include a blend of over 100 different wines from vintages that span back to 1990.  Because Krug pulls from so many vintages, and thus has such a broad spectrum of wine to pull from, they seem to always be able to craft perfectly balanced champagne.  It is aged in oak barrels, which gives it certain richness, but what stands out to me is the well-integrated acidity and the dark pinot noir fruits.  I would say you should drink it with this or that, but honestly, you should just drink it – it's that good.
Served on: Cathay Pacific, Singapore Airlines, ANA, Qatar Airways, EVA Air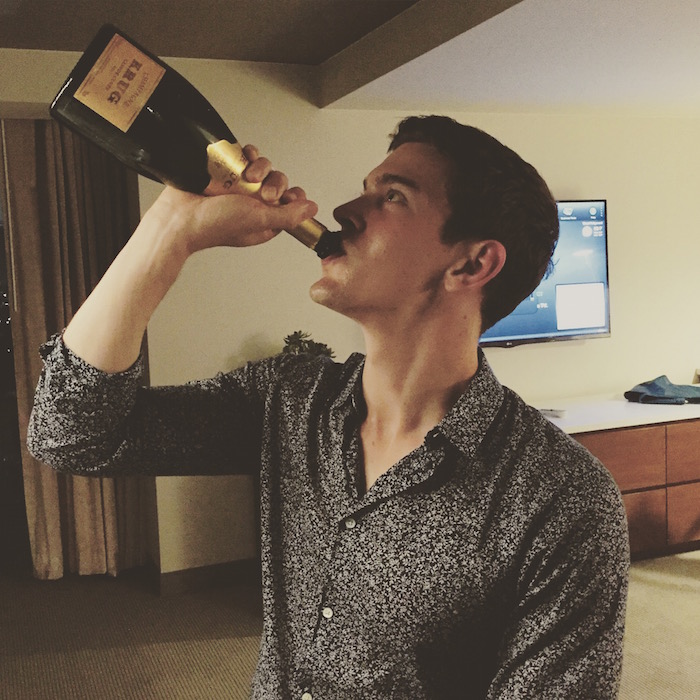 (Photo by Aaron T.) 
Dom Perignon (Various Vintages)
No champagne list would be complete without Dom Perignon.  This well-known label is Moet & Chandon's tete-de-cuvee or prestige champagne.  It is always vintage champagne, i.e., made from the grapes of a single year, and is (theoretically) only released in the best years.
It seems that airlines are currently serving a mix of 2004 and 2005 Dom Perignon, with the 2004 vintage being offered by the vast majority of airlines (and perhaps all of them except Emirates).

The good news is that unlike 2003 Dom Perignon, which was not showing very well upon release, both the 2004 and 2005 vintages are drinking nicely right now.  The 2004 is very "classic" champagne.  It is a more reserved style, and as a result a lot of the Dom Perignon yeastiness shows through still, because it is still young.  It will no doubt be fabulous champagne if you're willing to wait.  On airplanes, though, we don't wait.  Or at least you shouldn't wait.  On a flight, my motto is that you should drink early, often, and throughout. 
That's why 2005 Dom Perignon is my current favorite.  It is drinking incredibly well out of the bottle.  2005 was not an ideal growing season, and due to a lot of untimely rain, the fruit was very ripe upon harvest.  As a result, the 2005 bottling is drinking like a bottle with considerably more age, without much yeast but with nice toast and mineral.  Another fun fact: this is the first Dom vintage in decades that was predominately chardonnay (60% chardonnay and 40% pinot noir – it is usually 50/50). 
Emirates is the only airline I know of that serves 2005 Dom at the moment.  Because it was a short vintage, it may be the only airline ever to serve it.  Maybe this is a good thing, though.  After four or five bottles, you'll definitely need a shower to sober up. 
Served on: Emirates Airline (2005), Singapore Airlines, Thai Airways, Malaysia Airlines
2002 Salon Cuvee "S"
Salon was noticeably absent from my first review.  This was not because it was not served on any airline at the time – the only airline that serves it was and still is Japan Airlines (JAL) – but rather because I had never had it.  Since then, I've tried 2002 Salon on two occasions.  It is unquestionably amazing champagne.  Made from 100% chardonnay from the grand cru of Mesnil, it is aged on its yeast (or lees) for over a decade before it receives a cork.  That means it takes roughly 12 years to go from vine to store shelf, which is kind of crazy. 
Without going too far into the wine making process, I will simply say that because this is 100% chardonnay from Mesnil, and because it does not go through malolactic fermentation, it retains a very racing acidity (which I love) mixed with lemon and minerality one would expect from Mesnil grapes.  This wine will age for as long as many of us will live, but if you encounter it on JAL I strongly suggest you consume every bottle that is loaded.  It will go especially well with the amuse bouche and caviar courses. 
Served on: Japan Airlines
Pol Roger Sir Winston Churchill

 

(2002/2004)
This is another champagne I did not review before.  And another one I only recently had the pleasure of trying.  There are some people that just love Pol Roger champagne.  I'm not that guy.  They're very nice wines, but give me Bollinger over Pol Roger any day. 
Nevertheless, SWC is extremely nice.  For those who are familiar, it is like a more elegant Bollinger La Grande Annee.  The wine focus is on texture and on more subtle pinot noir fruit flavors than any Bollinger wines, but that's the best comparison I have.  The 2002 is the only one I've had the pleasure of drinking, and I understand it has attracted more attention that the 2004, but I couldn't offer an opinion either way.
Served on: Qantas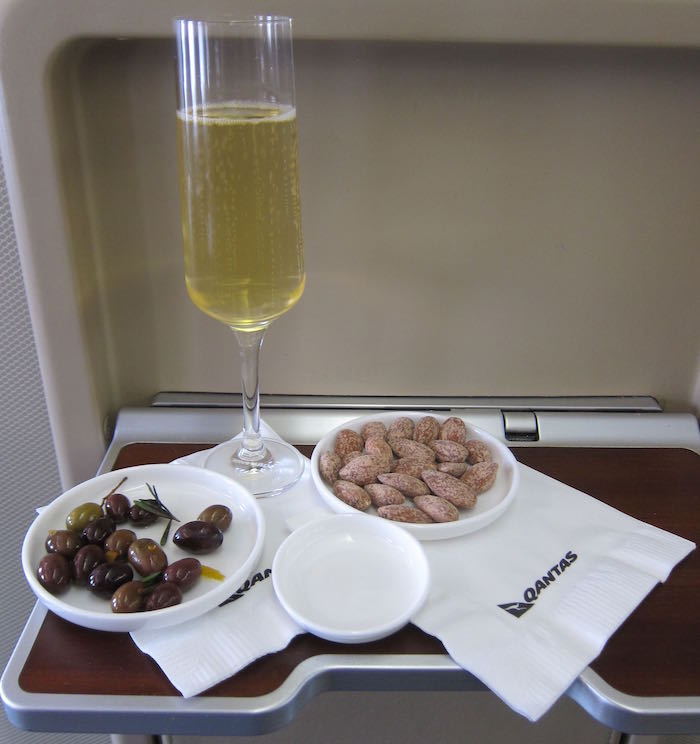 Laurent-Perrier Grand Siecle (Non-Vintage)
This cuvee is often overlooked stateside because, as a blend, it bears no vintage date and yet commands more than $100 a bottle.
It costs as much as it does because it is actually a blend of three of Laurent-Perrier's previous (declared) vintages — the current offering comprises a blend of 2004, 2002, and 2000 vintages.  Sadly, I must admit I have only enjoyed a couple glasses of Grand Siècle, though perhaps that was necessary to make room for Ben's 6 bottles on BA.
It is the most understated champagne that made its way onto this list, but sometimes being understated is good.  (Note, for example, that I only posted pictures of me drinking out of two champagne bottles, despite reviewing many more.  That's being understated.)
Served on: British Airways, Swiss, and (sometimes) Lufthansa
Best Domestic Champagne
Until recently, if I were flying domestically I'd say have Woodford Reserve or Avion on Delta, or Gin/Vodka on any other airline domestically.  The first couple times I flew American Flagship First between LAX and JFK they offered Gloria Ferrer sparkling.  That's a perfectly fine offering, but when I was recently on an evening American flight from JFK to LAX, I ordered sparkling water because I felt like maybe I'd had enough and I wasn't persuaded by Gloria (sorry, hunny). 
Imagine my excitement when I saw bottles of Lanson Brut being walked through to the business class cabin.  Needless to say I changed my order to Lanson.  Promptly.  I explained to the flight attendant this was new in my experience.  He was unaware, as he had been flying internationally the last six months.  What he lacked in information he made up for in attentiveness.  My glass was always full.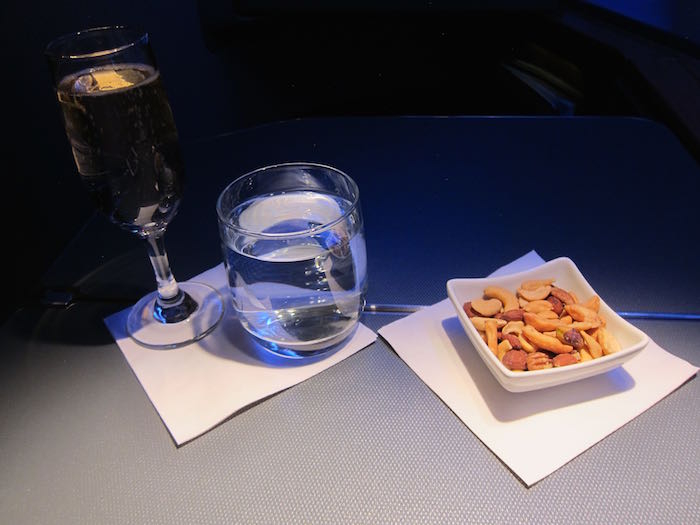 For a non-vintage champagne, there is a lot to like about Lanson.  It has a great, crisp, apple and citrus fruit palate, with a moderately high acidity level.  That, I think, really helps make it stand out at high altitudes. 
Given its retail price, I must admit that this is a huge upgrade for AA flyers between JFK and LAX/SFO.  I should point out that although I was in first, they were definitely pouring this in business as well.  And as evidenced by the menu, this was not just a fortunate catering mishap.  Definitely something to go to the dAArk side for.  (UPDATE: As of September 12, 2015, AA is also serving Lanson on the ground in the Flagship Lounge at JFK.)
Noteworthy Lounge Champagne Offerings
There are also a few highly noteworthy lounge champagne offerings. 
Qatar Airways' Al Mourjan Lounge Doha serves Krug Grande Cuvee.  Yes, Krug.  On the ground.  How does Qatar fill planes?  I'd never leave the lounge.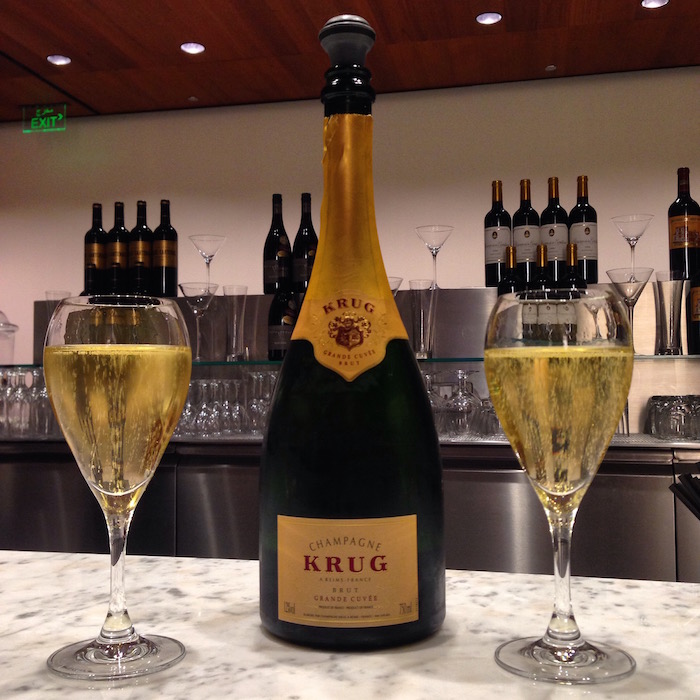 British Airways' Concorde Room London Heathrow and New York serve Laurent-Perrier Grand Siecle.  That is a fantastic lounge offering.  It helps make up for the inedible food, too.
Cathay Pacific's The Wing First Class Lounge Hong Kong serves multiple types of champagne.  When I was there last July, they had Duetz Brut, Laurent-Perrier rose, and something else.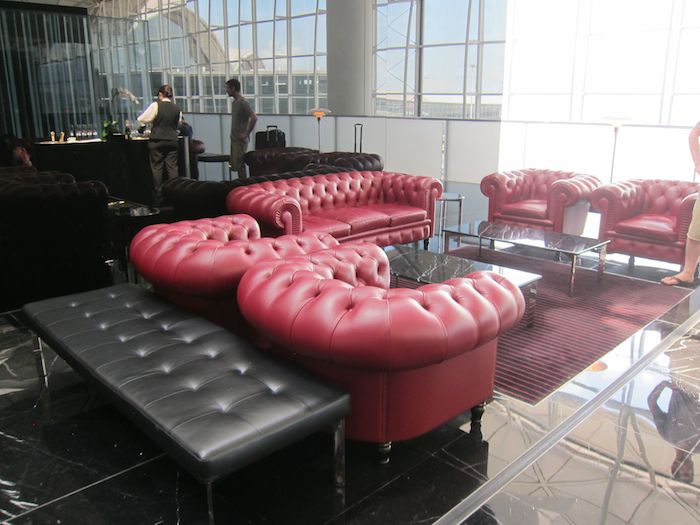 Qantas' First Class Lounge Los Angeles serves Laurent-Perrier brut along with Nicolas Feuillatte rose.  Neither are top of the line, but coupled with fantastic service and great décor, even we Angelinos can't complain.  (JK – I think they should have had a third champagne, and done a table-side caesar.)
Bottom line
Those are my thoughts on the airlines with the best champagne, both on the ground and in the air.  It's great to see what seems like an increased effort on the part of airlines to woo passengers with an improved soft product.  I'm especially looking forward to having some Dom 2005 on Emirates next week!
What are your favorite airline champagnes, either on the ground or in the air?