Emirates' champagne selection just got more exclusive, without the airline actually changing anything…
Emirates' exclusivity with three champagne brands
Emirates has formally announced that it's the only commercial airline in the world to be serving Moet & Chandon, Veuve Clicquot, and Dom Perignon onboard. These agreements are in place until 2024, so the airline has these exclusive bragging rights for quite some time.
For those wondering how this breaks down:
Dom Perignon is served in first class across all routes globally; at times the airline even serves exclusive vintages and plenitudes, like the airline having recently served the 2003 P2 vintage
Veuve Clicquot is served in business class on routes to the Americas and Europe
Moet & Chandon is served in business class on routes to Africa, the Middle East, and Asia Pacific, including Australasia; the Emirates Business Lounge Dubai even has a special Moet & Chandon bar
Moet & Chandon is also available for purchase in economy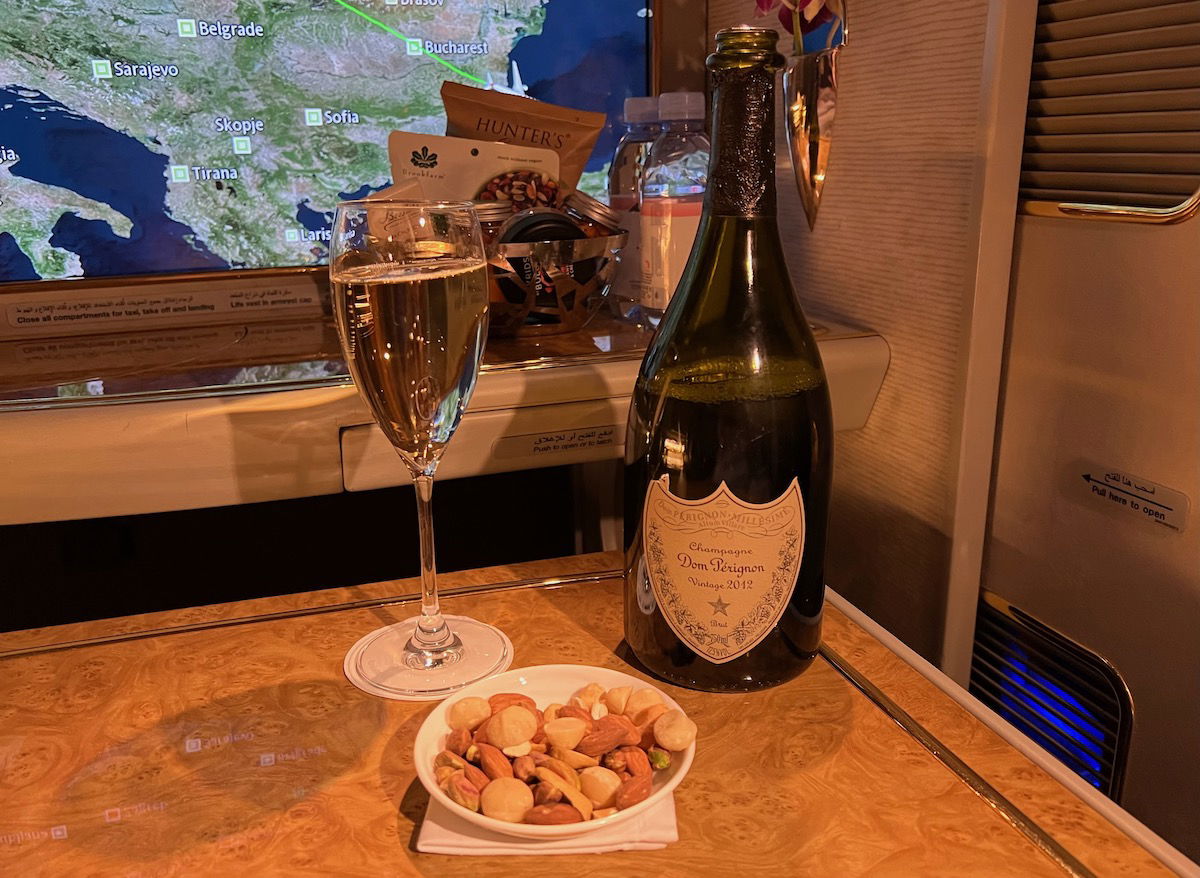 You've gotta love that Emirates is essentially framing this in the context of a worldwide champagne shortage, promising to keep passengers well hydrated:
Despite the well-documented world shortage of champagne, due to harsh weather and a reduced harvest in 2021, pandemic supply chain issues, and an explosion in demand for champagne globally, Emirates passengers remain well-served onboard with the finest selection of bubbles available, ready to toast the festive season, special occasions, and the hope and promise of a new year.
Emirates takes a unique approach to procuring wine. The airline has invested over $1 billion in its wine program over the past 16 years, and that largely involves buying wines and champagnes at the earliest opportunity, and then allowing them to mature.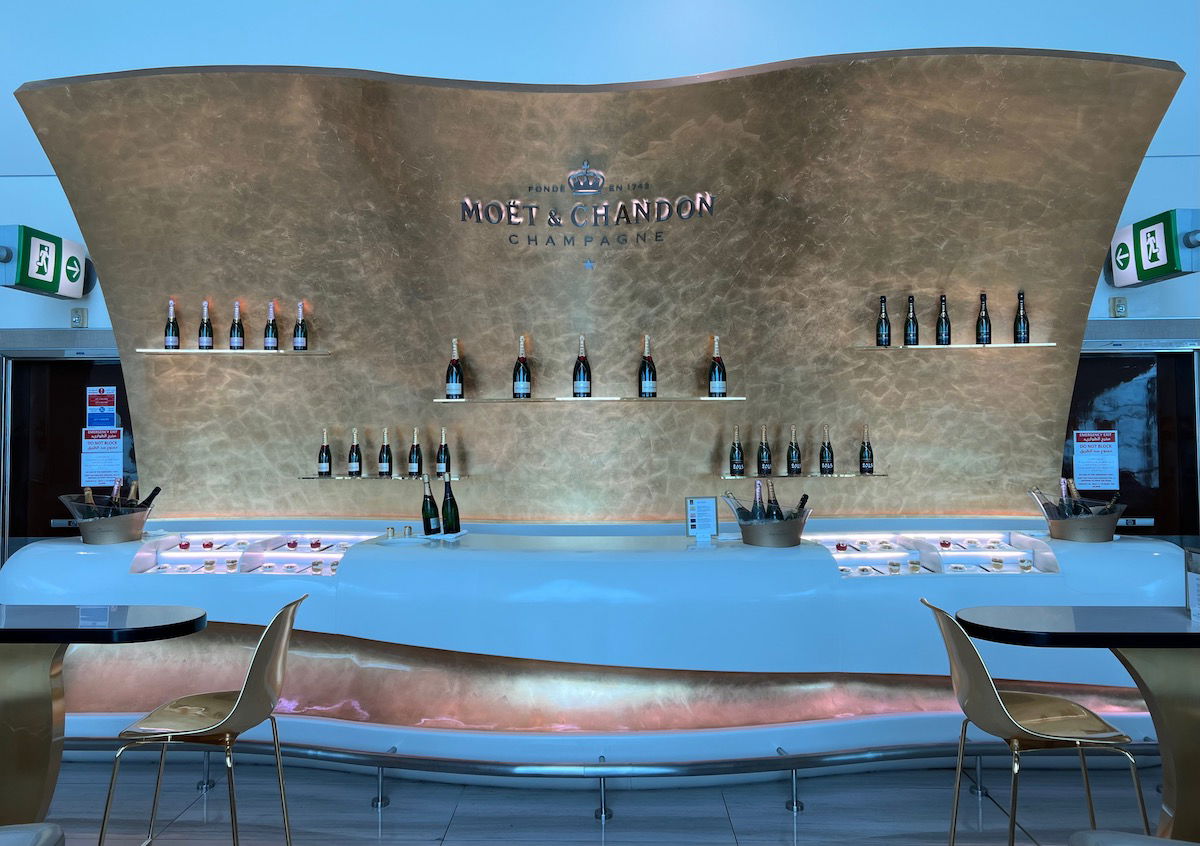 This is an interesting arrangement
Serving great champagne in first & business class is awesome to begin with, but having exclusive bragging rights with three great brands is even cooler.
It's interesting to see Emirates make this announcement, given that in November 2022, Singapore Airlines had to drop Dom Perignon in first class. As we learned at the time, this was because of Emirates' exclusive agreement. What we didn't know at the time is that a similar agreement exists for business class champagnes.
Ultimately I suspect Emirates was able to negotiate this exclusively both due to the volume of champagne it purchases (Emirates' first & business class footprint is much bigger than that of many other airlines), plus the carrier investing in champagne many years in advance.
However, after reviewing my list of the airlines serving the best champagne, I am curious if Emirates' claims here are actually correct. Emirates claims to be the only commercial, international airline "officially" serving these types of champagne onboard.
Last I checked, Veuve Clicquot La Grande Dame 2006 (which is much more premium than the Veuve Clicquot that Emirates serves) is available in EVA Air business class. Either that recently changed, or Emirates is making this claim based on the specific type of Veuve Clicquot it serves.
Furthermore, the same champagne is available in the Qatar Airways Al Safwa First Lounge and Air France La Premiere Lounge. However, Emirates did claim to be the only airline serving those champagnes "onboard," so I guess that doesn't preclude any airlines from serving that champagne on the ground.
Does anyone know if EVA Air has stopped serving Veuve Clicquot, or…?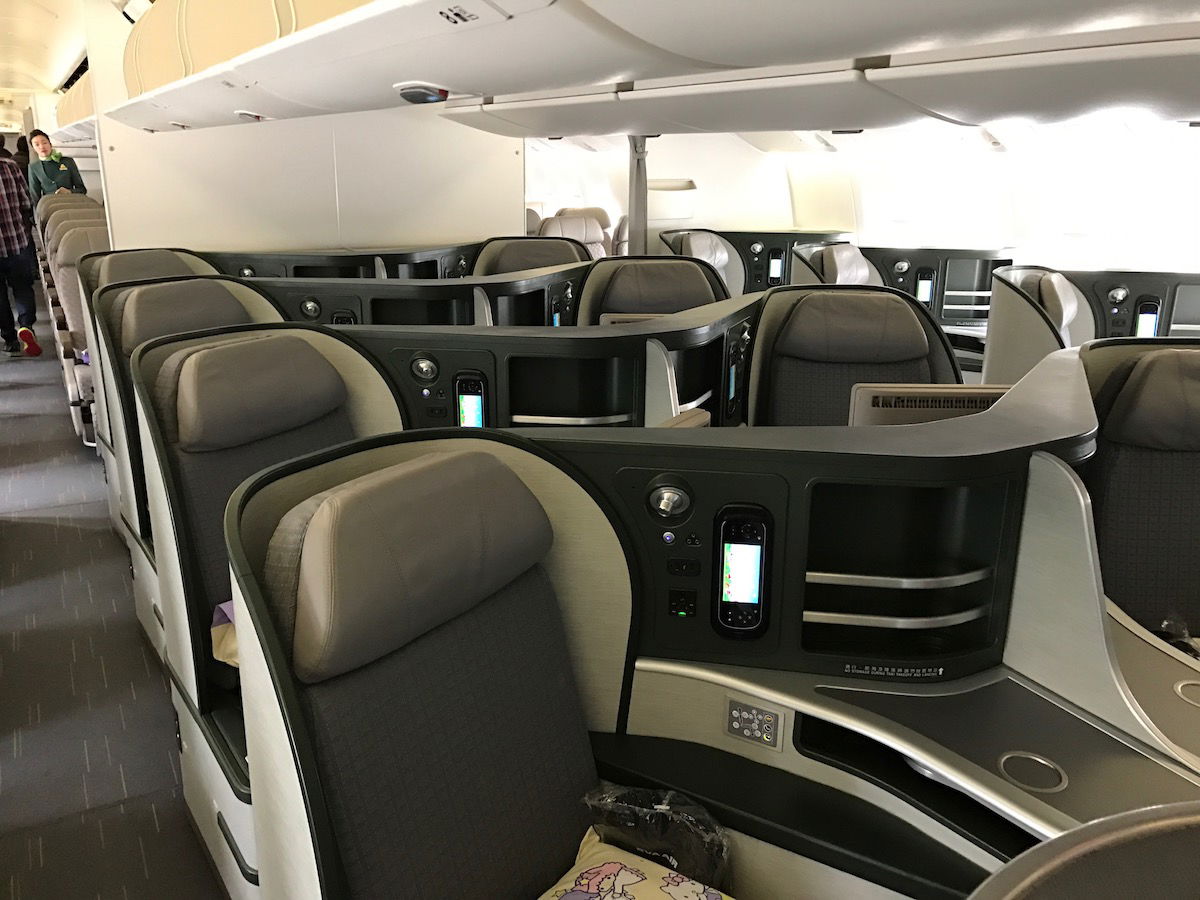 Bottom line
Through 2024, Emirates has the exclusive bragging rights to be the only airline serving Moet & Chandon, Veuve Clicquot, and Dom Perignon onboard. That's the same champagne Emirates has served for quite some time, but the airline now has more exclusivity surrounding it, which is interesting.
What do you make of Emirates' champagne claims?