In the interest of full disclosure, OMAAT earns a referral bonus for anyone that's approved through some of the below links. These are the best publicly available offers (terms apply) that we have found for each product or service. Opinions expressed here are the author's alone, not those of the bank, credit card issuer, airline, hotel chain, or product manufacturer/service provider, and have not been reviewed, approved or otherwise endorsed by any of these entities. Please check out
our advertiser policy
for further details about our partners, and thanks for your support!
If you don't yet have a Blacklane account you can receive a 20% discount on your first ride by using promotion code 6X6KHRHN during the booking process (this can be entered right after you enter credit card information). We receive a future discount as well, and appreciate the support!
Tiffany first wrote about Blacklane back in 2016, and about how she often finds it to be a good alternative to Uber. I'm unfortunately a creature of habit, so when I'm used to using a service I just keep using it whenever possible, and often don't want to learn the ins-and-outs of something new. So for whatever reason I didn't start using Blacklane for over a year after that post, even though I usually trust Tiffany's advice 100%. I finally used Blacklane for the first time a few months ago, and have been using it ever since.
I'm using Blacklane to supplement Uber and largely replace airport pick-ups arranged through hotels. This won't be for everyone, so let me explain where I see value in Blacklane.
I try to avoid taxis at airports
I've had horrible luck with taxies over the years. From drivers nearly falling asleep on me, to drivers getting lost (even in a city with supposedly the most competent cabbies), to drivers claiming I damaged their car, to drivers refusing to take me to my desired destination, to drivers taking me the long way, it seems that more often than not getting from the airport to the hotel in a taxi is an adventure.
So for cities where where public transportation isn't good, I use one of two methods to get from the airport to the hotel:
I order an Uber
I order a hotel car
Yes, ordering a hotel car can be expensive, but until recently I thought it was money well spent. When you're coming off a long flight the last thing you want to do is get in an argument with a driver, be in an unsafe car, or wait in a long line.
I used to use Uber for airport pick-ups, though increasingly am finding this to be a not-great option:
Many airports don't allow Uber to do airport pick-ups
When you're in a foreign country there's often a huge communication barrier when it comes to actually meeting up with your Uber driver at the airport
Increasingly I'm finding Uber drivers play games when it comes to airport pick-ups (or something)
Let me give a couple of examples. In Colombo, Sri Lanka, a few months ago, I ordered an Uber on arrival. The outside roadway by the airport isn't that big, and the driver's location showed as being near where I was. There weren't that many cars, so I figured I had to be missing something. I texted the driver, he texted back where he was, and I went there. Long story short, I spent 20 minutes trying to find him, and in the end I just canceled the ride. I'm not sure if this was a game and he just wanted the cancelation fee, or what.
A couple of months ago at Heathrow I tried to order an Uber from Terminal 3. All the Uber drivers at Heathrow seem to park in one area off the airport premises, and it's a good 15 minutes until they get to the terminal. Four times in a row drivers canceled on me about 10 minutes after accepting my ride — it took nearly an hour before I was in an Uber. What a waste of time.
What is Blacklane?
Before I share why I love Blacklane for airport pick-ups, let me explain the very basics of the service (they have both a website and app). While Uber is more of a ridesharing service that's on-demand, think of Blacklane more as an easy way to arrange a high-end car service in advance.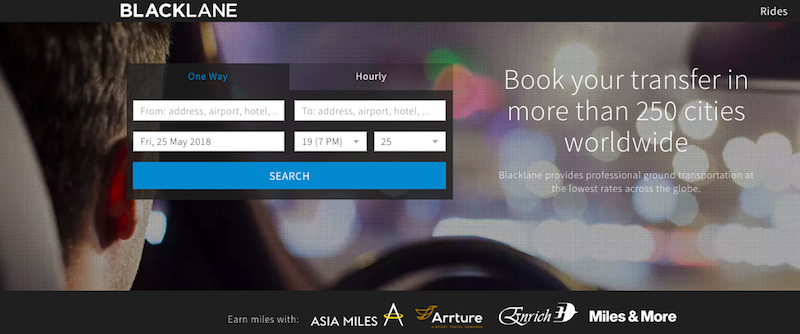 The idea is that you can book a driver in advance, and they'll meet you wherever you want to be met whenever you want to be met, and you can typically cancel up until an hour before the scheduled ride. So they can meet you in the arrivals hall of the airport and can have a sign with your name on it (or whatever name you'd like — you could have them make the sign for Miss Vanjie, if you'd like).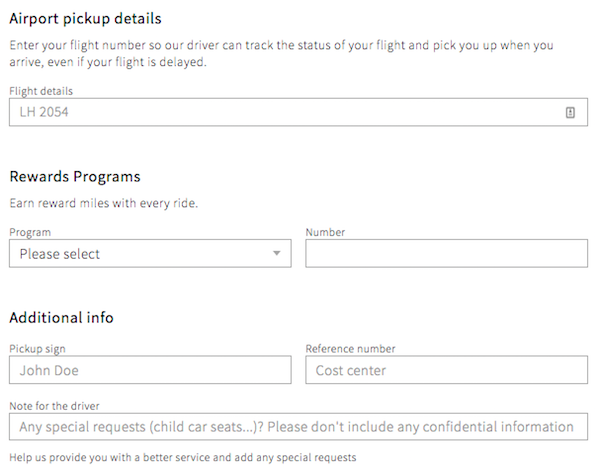 With Blacklane all gratuity, tolls, and taxes are included (which is also how Uber used to be, but nowadays they're actively soliciting tips).
The thing to be aware of is that Blacklane is more of an UberBLACK competitor, rather than an UberX competitor. So Blacklane isn't going to be cheaper than a taxi.
Why I use Blacklane for airport pick-ups
Blacklane is useful because it's consistently cheaper than what you'd pay for an airport pick-up from a hotel, yet it's so much more reliable and practical than trying to be picked up at the airport in an Uber. The driver will be waiting for you in the terminal with a sign (if that's where you want to be met), and you'll be driven in a nice, air conditioned car (usually a Mercedes Benz E-Class, or equivalent).
Maybe it's a sign of how easy my travels have become thanks to things like TSA PreCheck and Global Entry, but often the most stressful part of a travel experience nowadays is the process of getting from the arrivals hall to my hotel, and Blacklane takes the stress out of that.
Would I use Blacklane in a city with great public transportation? No, generally not.
Would I use Blacklane for a ride to an airport? Generally not, because I like the option of leaving whenever I want, rather than having to schedule a ride in advance.
Is Blacklane a good option for someone who is looking for the cheapest possible option from the airport to the hotel? No way.
But if you value reliability and a hassle-free experience getting to your hotel, I think Blacklane is great. As someone who used to often spring for a hotel car, I've fallen in love with Blacklane — it's reliable, and basically provides an experience that's on par with a hotel car, except it's cheaper.
Furthermore, I also find the process of arranging a Blacklane car to be easier than arranging a hotel car. To arrange a hotel car I either have to call the hotel or send the hotel an email, and often you have to go back and forth by email. Heck, some hotels don't even publish their email addresses on their websites. In the case of Blacklane I can put in my request for a car before boarding my international flight, and then consistently the car will be there when I arrive.
One Blacklane pricing example
I think this post is too long already, so I don't want to provide too many examples, but let me give one. Beijing is a city where there's no good public transportation from the airport to the city. I've had some bad experiences in taxis going from the airport to hotels in Beijing.
Let's say you're staying at the Park Hyatt. The hotel directly charges 880CNY for an airport transfer, which is ~140USD. That's ridiculously high. Meanwhile Blacklane charges 72USD including everything, so it's about half the price, and this is for a comparable car. That's before any discounts, and at a minimum you should be able to get a $10 discount per ride (more on that below).

It goes without saying that a taxi would be much cheaper, and also that there may be cheaper car services out there. But the beauty of Blacklane is that it's one service you can use globally, so you're not spending the time researching, planning in advance, emailing back and forth, and wondering about the reliability of a service. To me that's worth it.
Other ways to maximize value with Blacklane
When it comes to maximizing value with Blacklane, there are a few more things to be aware of:
Bottom line
Blacklane won't make sense for everyone, and that's fine. As someone who used to find it worthwhile to sometimes pay for a hotel transfer from an airport, Blacklane has been awesome. Blacklane is easy to use, cheaper than a hotel car (and typically cheaper than UberBLACK), everything is included, and I've had good experiences with the service so far.
If you haven't yet given Blacklane a try, I'd recommend doing so. Or if anyone has a tip for another comparable service they recommend or prefer, I'd love to hear it (though I'm a slow adapter!).
If you don't yet have a Blacklane account you can receive a 20% discount on your first ride by using promotion code 6X6KHRHN during the booking process (this can be entered right after you enter credit card information). We receive a future discount as well, and appreciate the support!