As expected, Virgin Atlantic has just revealed their brand new Upper Class seat, which will debut on their newly delivered Airbus A350-1000s this year. The airline is expected to take delivery of 12 of these planes, with all the planes joining their fleet by 2021 (hopefully the newly ordered A330-900neos also get these seats).
This comes just a couple of weeks after British Airways revealed their new Club Suite, which will also debut on their A350-1000s this summer.
So, what should we expect from Virgin Atlantic's new A350s?
New Virgin Atlantic Upper Class experience
Virgin Atlantic is not only introducing a new business class seat, but they're also modifying their onboard bar concept.
New Upper Class seats
Virgin Atlantic's new Upper Class product will consist of modified reverse herringbone seats.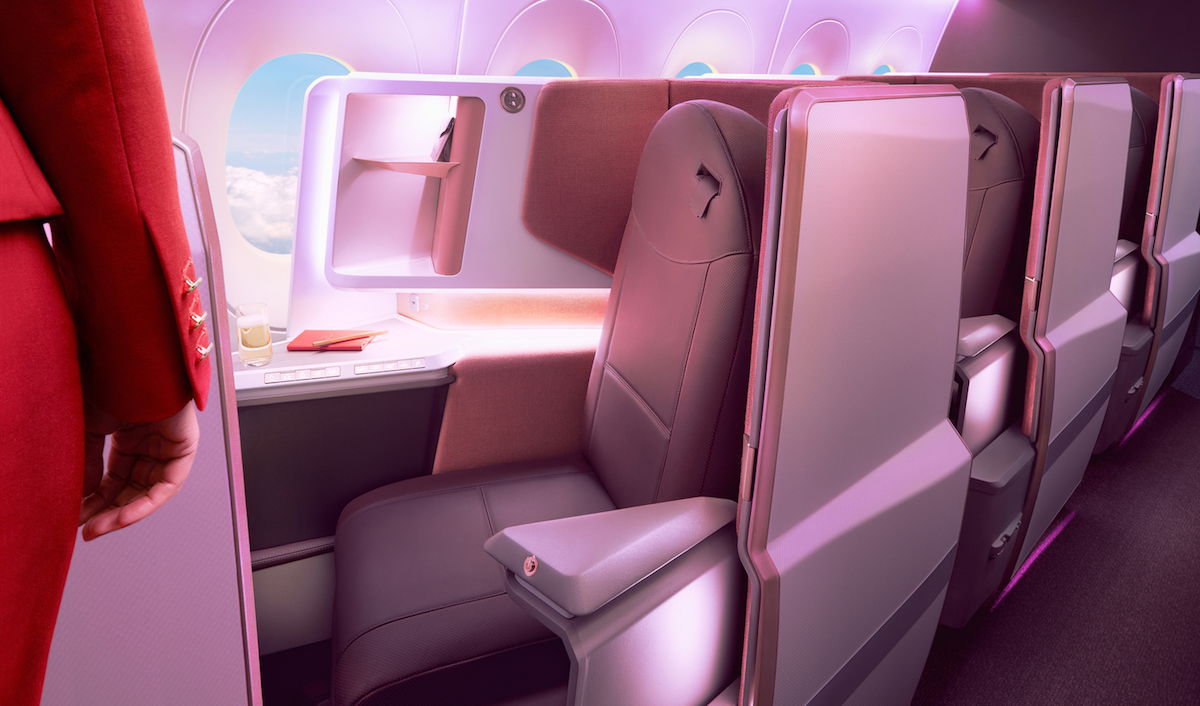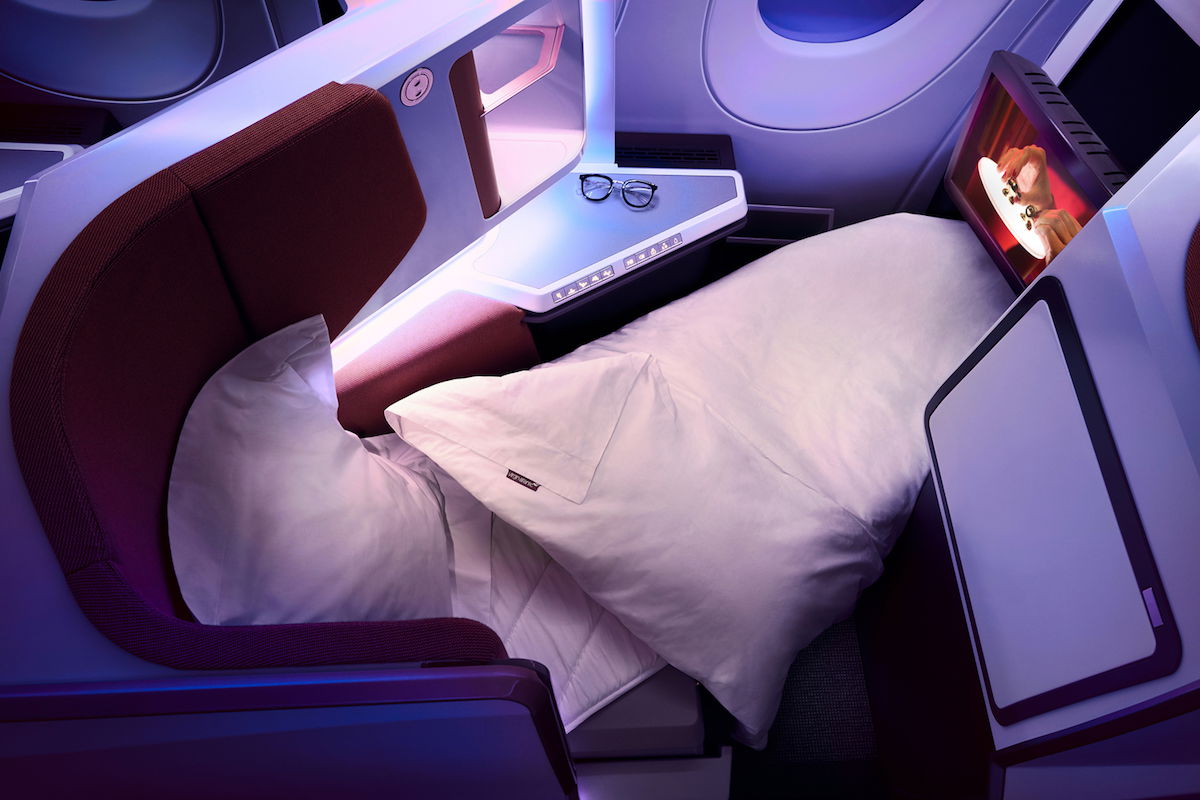 They've selected a Cirrus NG seat reverse herringbone seat, which is similar to the seat you'll find on many American and Cathay Pacific planes, though the configuration of the center seats is different.
While these are heavily modified seats, disappointingly they won't feature doors. Rather they'll just feature partitions that give you a bit of extra privacy, but it's a far cry from a door.
I've seen some people refer to them as half doors, but that seems quite generous. Virgin Atlantic says that this is a way to maintain a social interaction between passengers, and also with the crew.
Virgin Atlantic's new A350-1000 Upper Class cabin will feature a total of 44 seats, spread across 11 rows in a 1-2-1 configuration.
The seats will recline to create an 82″ bed, so unlike the old Upper Class seat, you'll no longer have to flip the seat over to turn it into a bed, which I'd consider to be great news.
Each seat will also feature an 18.5″ TV screen. Since this is Virgin Atlantic, they're also introducing personalized mood lighting at each suite, and better reading lights. Furthermore, they'll introduce a deep mattress pad, and what they call the thickest pillow in the sky.
In many ways this is very similar to British Airways' new seat, except it doesn't have nearly as much privacy.
New Upper Class lounge
Virgin Atlantic is known for their Upper Class onboard bar, though I'd argue that nowadays they're no longer actually that great. Other airlines have more impressive bars, and personally I find that they can be quite bothersome, as people tend to get quite loud and drunk, and it can disturb those trying to sleep in seats nearby.
With that in mind, Virgin Atlantic is instead creating an eight person lounge, known as "The Loft." The company behind the lounge is the same company that designed their original onboard bar, as well as Emirates' onboard lounge.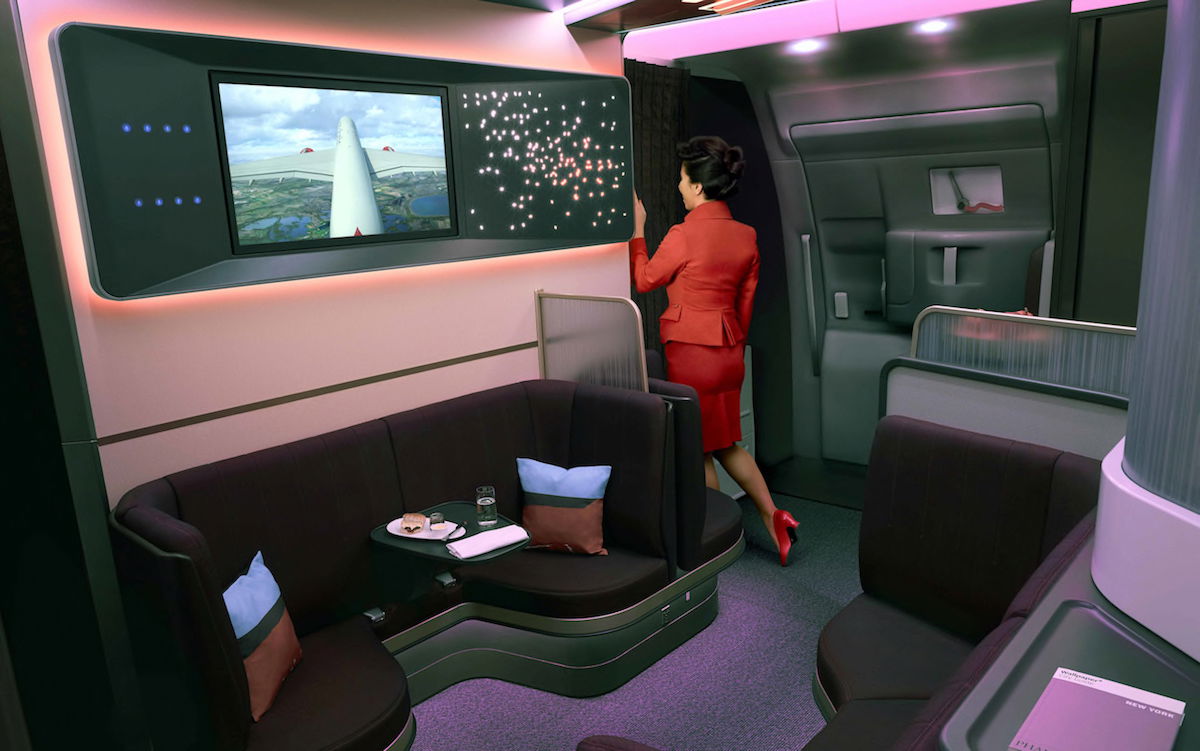 This will also be located near the entrance to the plane, so the area will also act as a lobby of sorts for those boarding.
Personally I'm a big fan of this change, since it allows passengers to still be social, while hopefully encouraging them to be a bit quieter.
Virgin Atlantic premium economy & economy cabins are all new too
Virgin Atlantic is also introducing new premium economy and economy products, though again, don't get too excited.
New premium economy seats
Virgin Atlantic's new premium economy cabin on the A350-1000 will feature 56 seats, which will be in a 2-4-2 configuration (which seems quite tight, given that economy has just nine seats per row). Each seat will feature a 13.3″ screen.
Virgin Atlantic has chosen the Collins Aerospace MiQ seats, which are perfectly fine, though hardly revolutionary.
New economy seats
Virgin Atlantic's new economy cabin will be in a 3-3-3 configuration. The first four rows of seats will feature 34″ of pitch, matching their concept on other planes, where they have an extra legroom economy section in addition to premium economy. The rest of the cabin will feature 31″ of pitch.
Virgin Atlantic has selected the Recaro CL3710 seat for the cabin.
What routes will feature the A350?
Virgin Atlantic has scheduled their first A350-1000 flight between London and New York JFK on September 10, 2019. The airline will initially operate the A350 on the route 6x weekly.
The airline plans to increase A350 service on that route over time, so you can expect that New York is their initial focus.
This contrasts to British Airways, which is putting their new A350s on flights to Toronto and Dubai.
My take on Virgin Atlantic's new cabins
Given the amount of hype surrounding these cabins, I'm a bit disappointed. Economy seems about what you'd expect, premium economy is fine though nothing innovative, and Upper Class isn't quite as good as British Airways' new Club Suite.
They're essentially introducing reverse herringbone seats in business class, except they have Virgin Atlantic touches, like personalized mood lighting. Don't get me wrong, this isn't bad at all, but it's nothing to get excited about.
Virgin Atlantic does say that they'll eventually reconfigure existing planes, though no timeline has been given for that yet.
What do you make of Virgin Atlantic's new A350 cabins?