---
United 114
Papeete (PPT) – San Francisco (SFO)
Tuesday, December 11
Depart: 10:40PM
Arrive: 8:45AM (+1 day)
Duration: 8hr5min
Aircraft: Boeing 787-8
Seat: 3B (Business Class)
Since Papeete Airport doesn't have any jet bridges, I boarded the 787 via stairs at the forward door. The crew seemed caught off guard that boarding began, and wasn't fully set up yet.
This flight was operated by a Boeing 787-8, featuring 36 business class seats. There was a forward cabin with three rows of seats in a 2-2-2 configuration, and a rear cabin with the same number of seats.
While these planes should eventually feature United's new Polaris seats, for now they have B/E Aerospace Diamond seats, which are a pretty common (and basic) fully flat business class seat.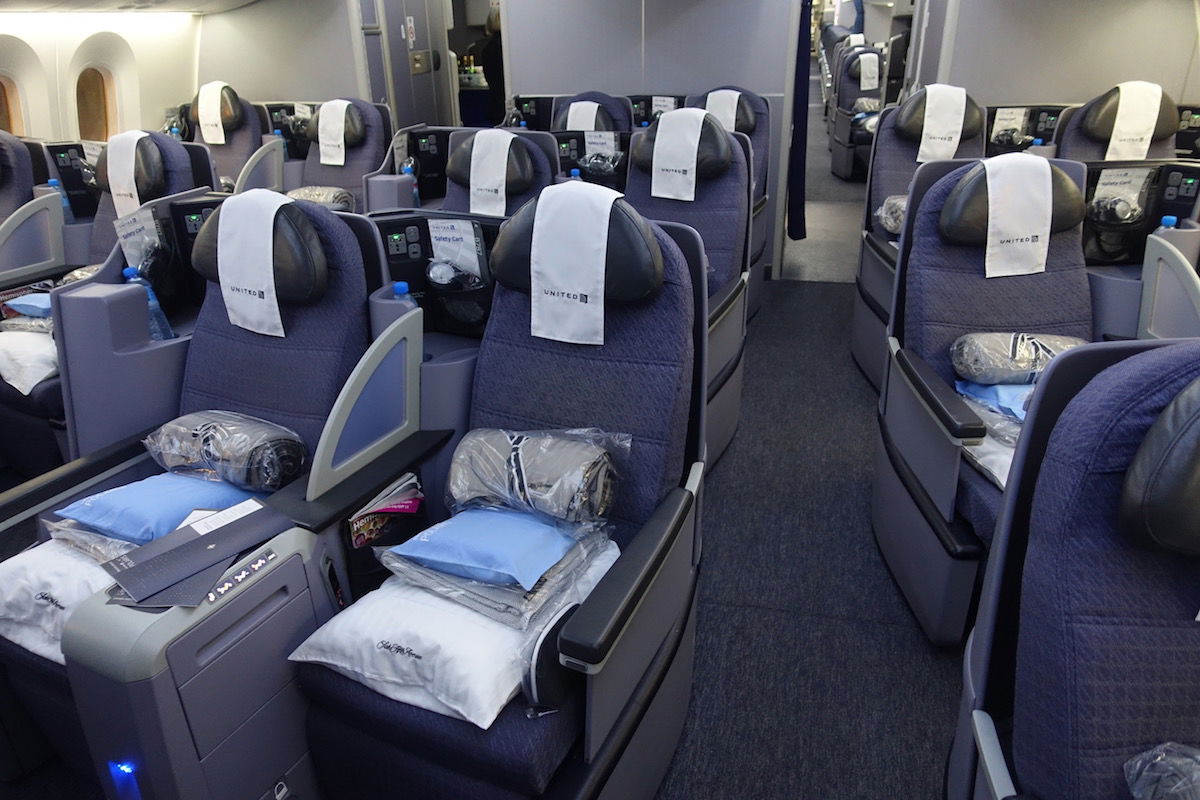 United 787 business class cabin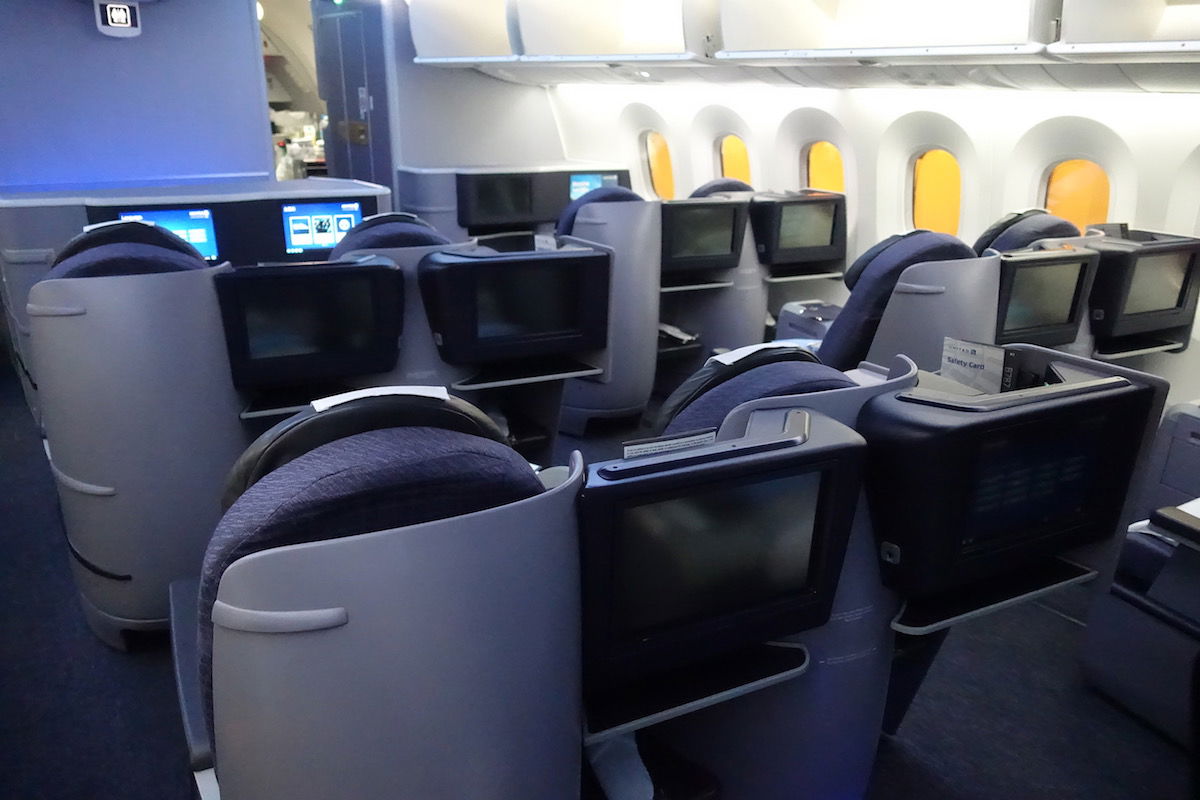 United 787 business class cabin
There's really no difference between the various seats, though if traveling alone there's certainly an advantage to sitting in the middle, so you have direct aisle access, and don't have to disturb your neighbor to get out of your seat (or be disturbed by your neighbor).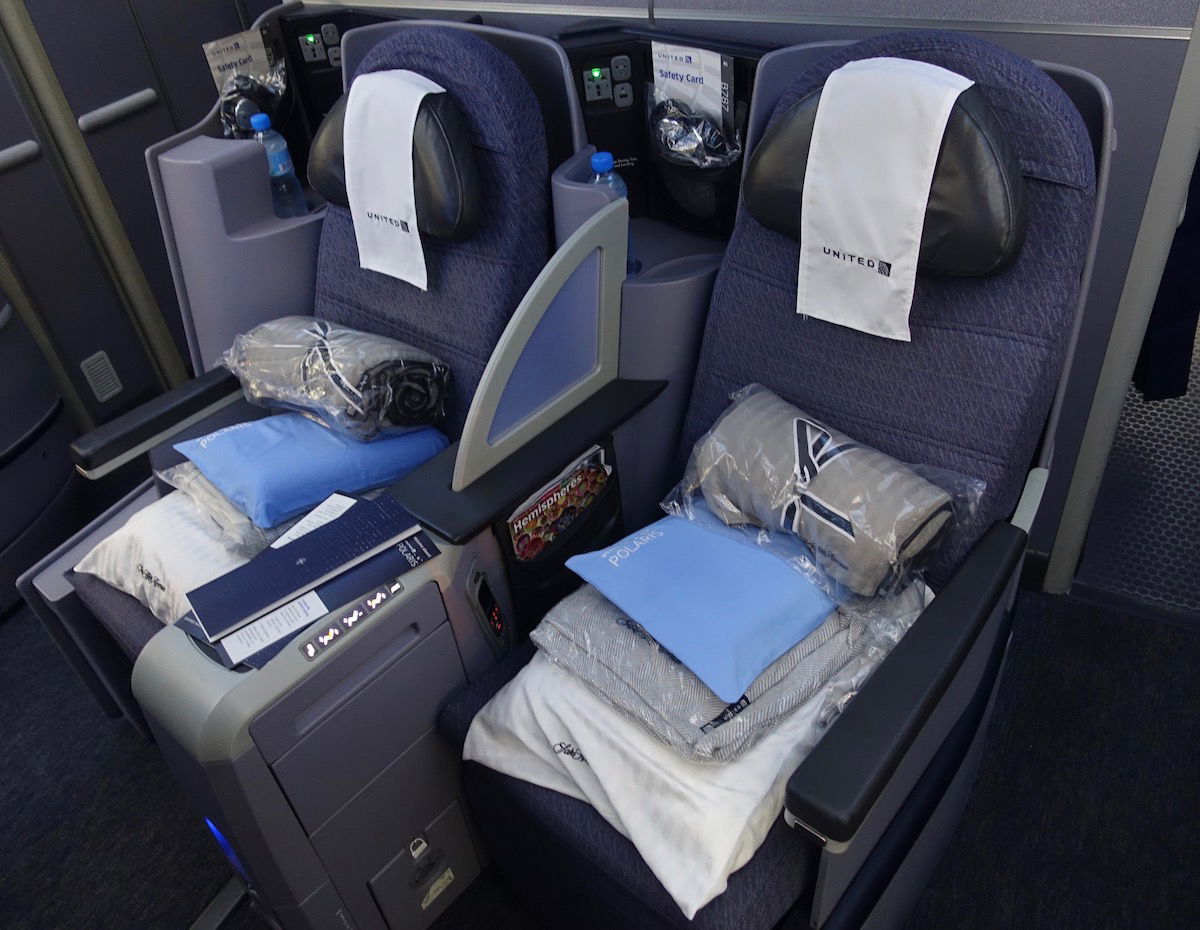 United business class seats 787
I assigned us seats 3A & 3B, the window and aisle seat in the last row of the forward cabin.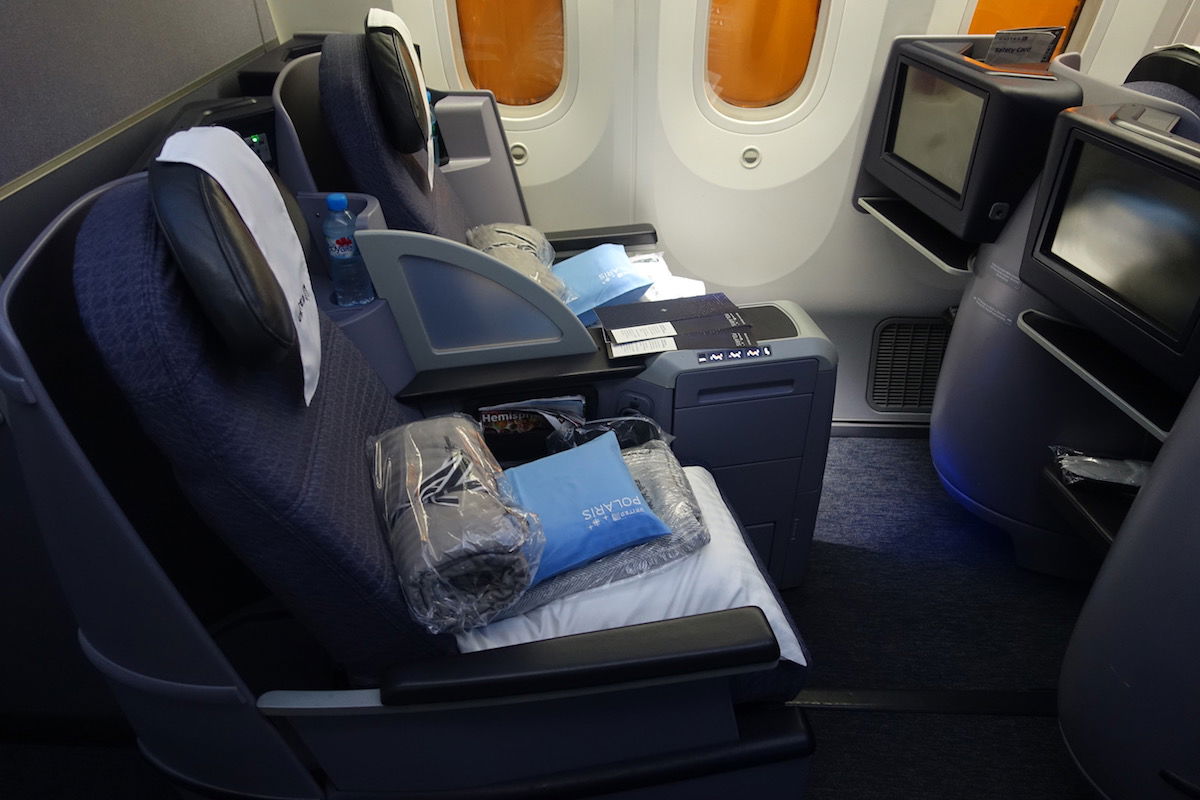 United business class seats 787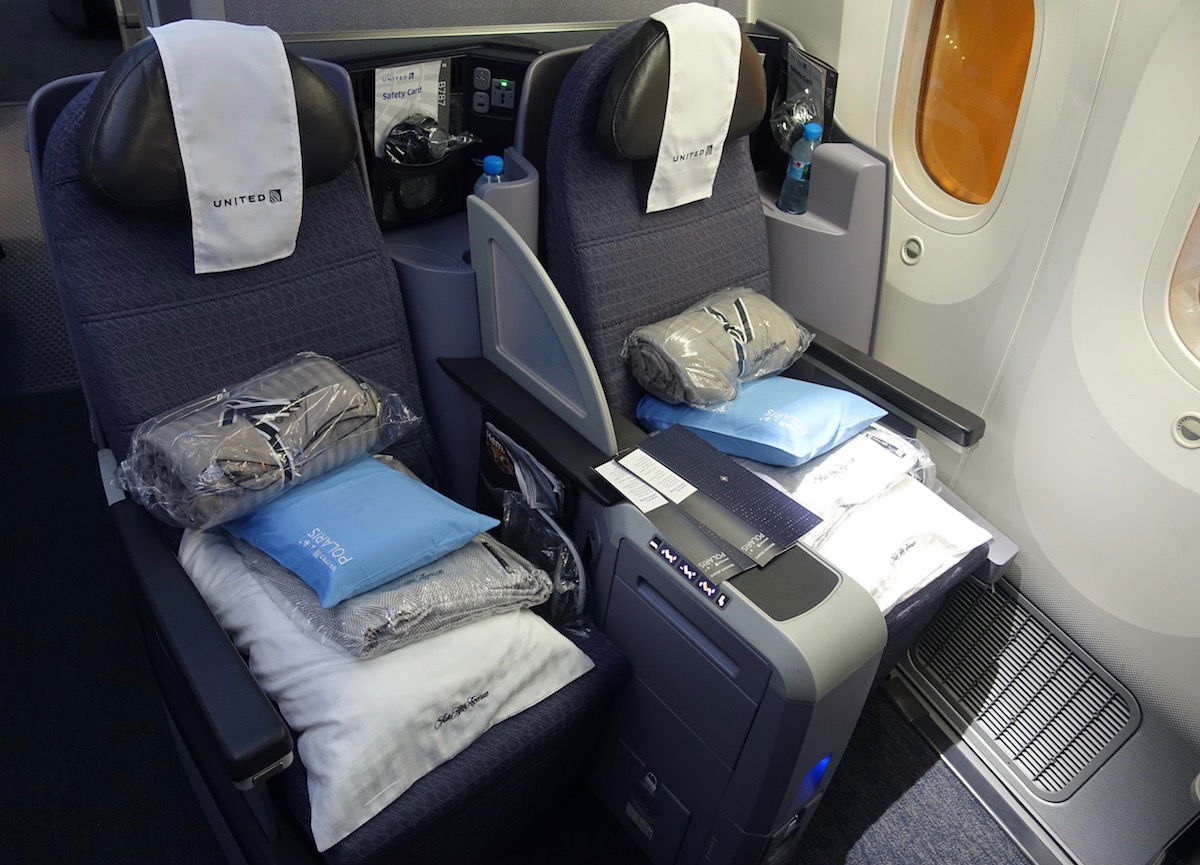 United business class seats 787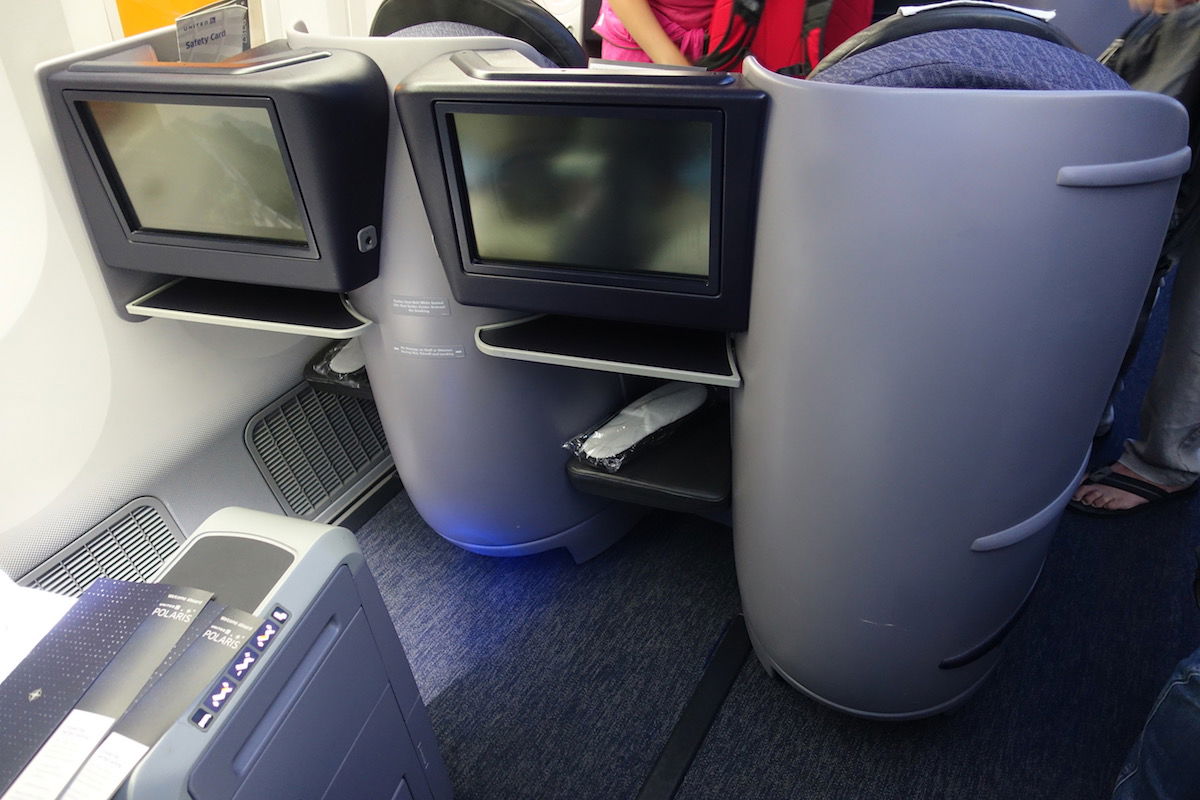 United business class seats 787
Each seat has a small exposed storage compartment to the back left of the seat, featuring outlets (both 110v and USB), as well as the headphone jack. This is also where you can store cords and a few other things during the flight — sadly it's just about the only storage these seats have.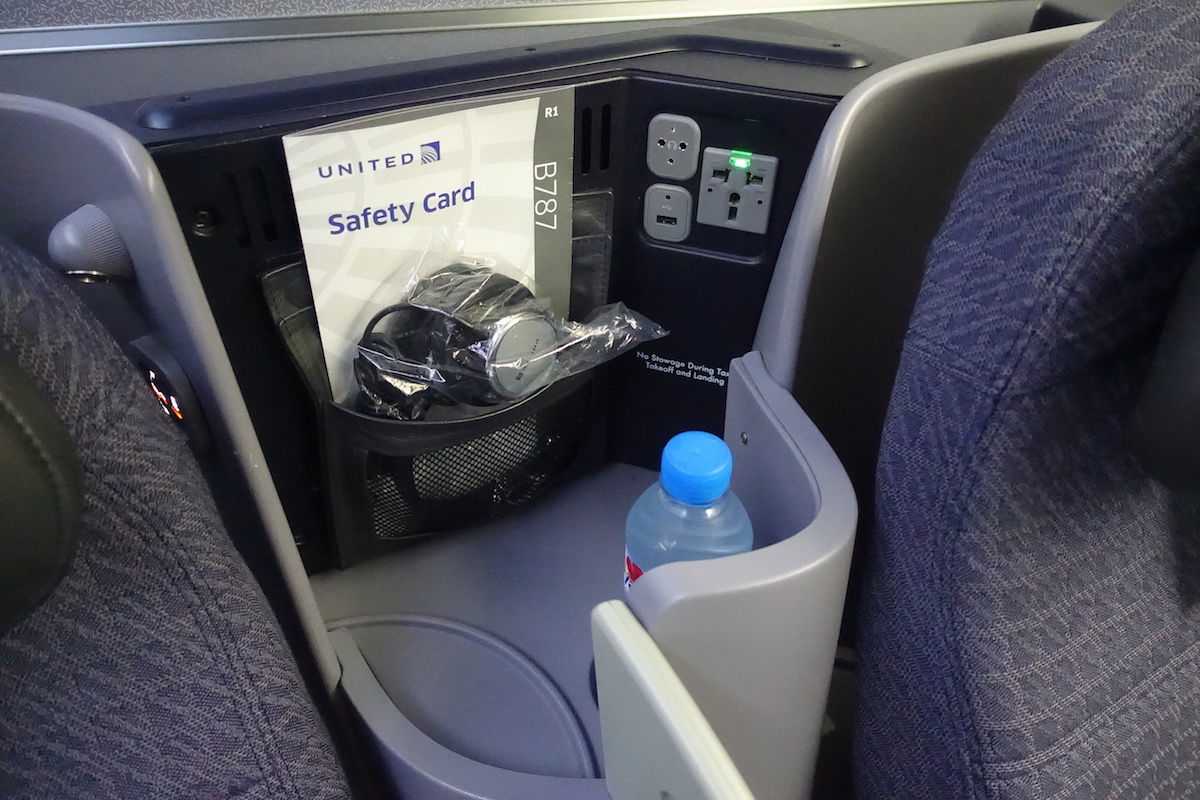 United business class seat storage
On the center armrest were the seat controls, which were easy to use. My one annoyance is that due to where they were positioned, I sometimes found myself accidentally hitting them with my elbow, adjusting the position of the seat.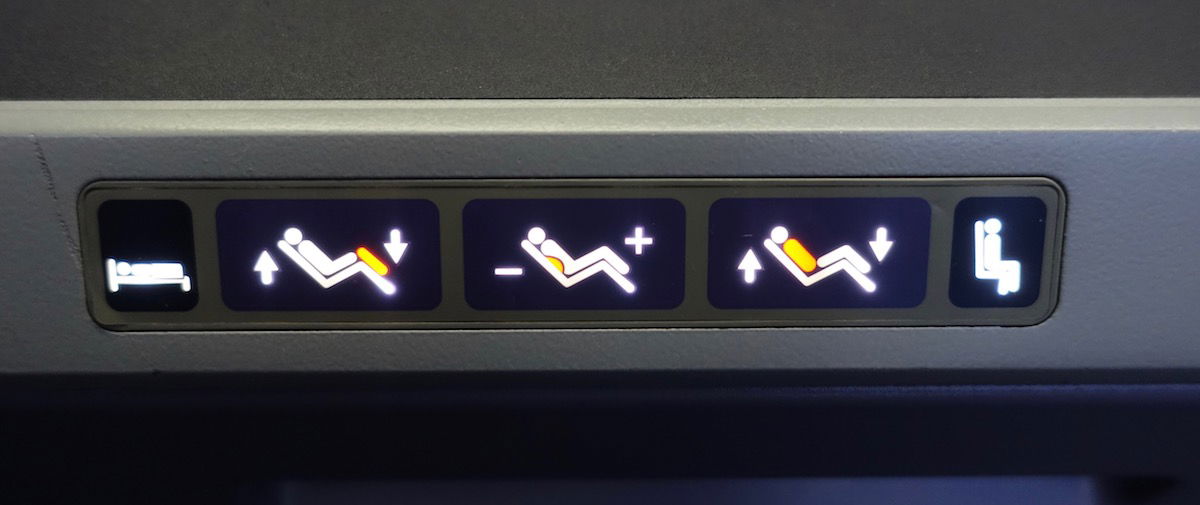 United business class seat controls
Then the tray table also folded out from the center armrest, and could be folded in half.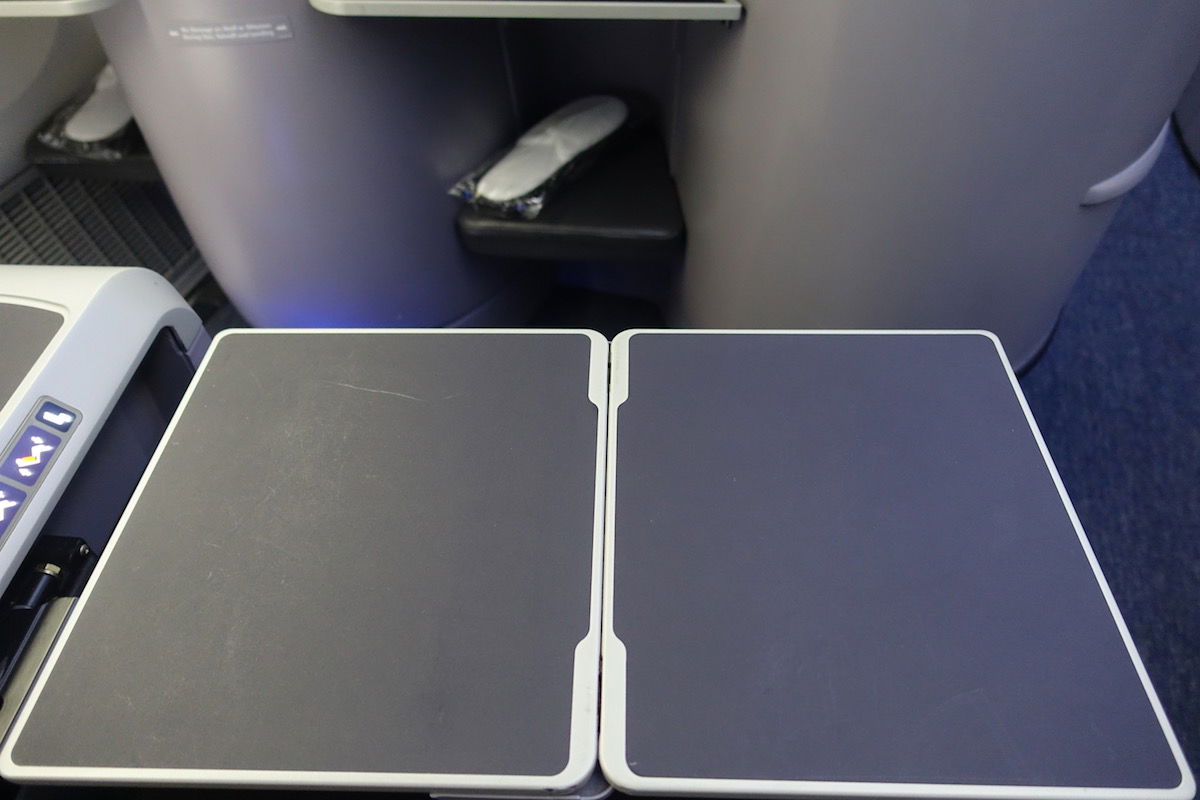 United business class seat tray tables
While these seats are fully flat, one downside to them is that they only have small footwells. The reason for this is that your feet essentially go inbetween the seats in front. That's how they're able to fit more seats into a small area. As a side sleeper who sleeps with knees bent, this doesn't bother me at all, though otherwise this is definitely a downside to these seats.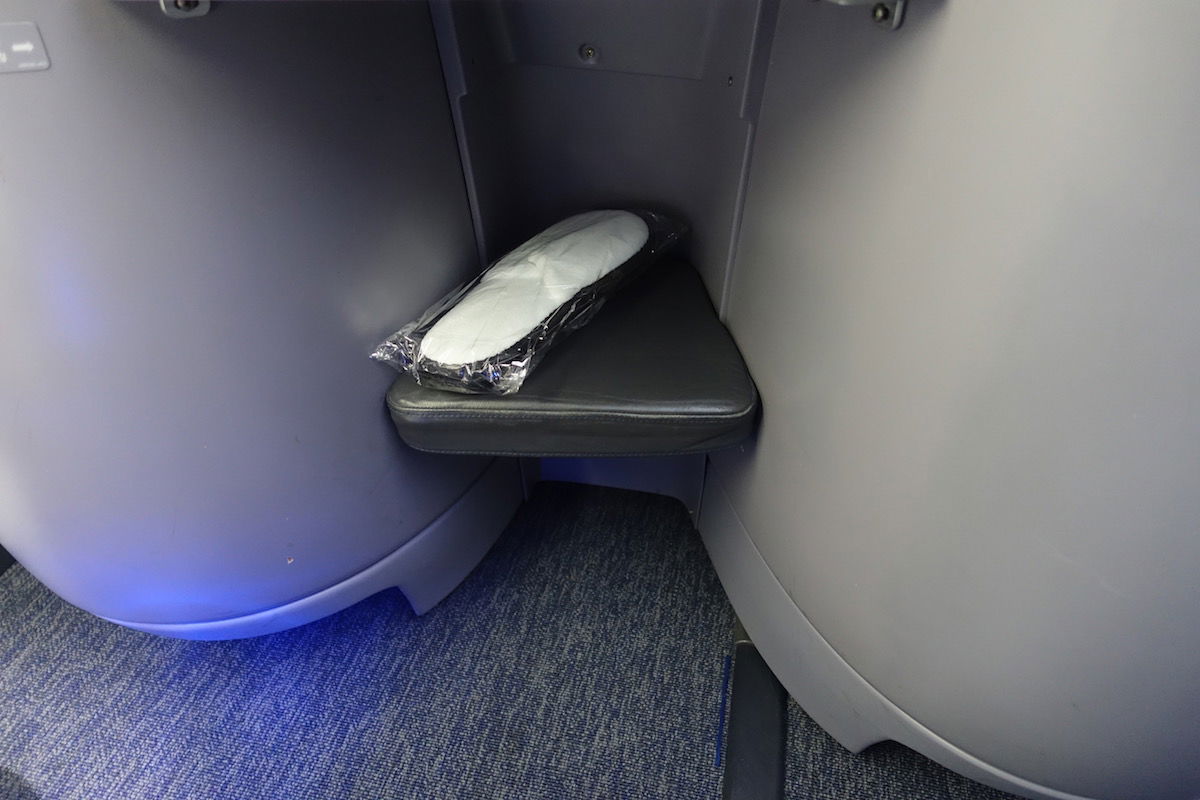 United business class seat footwell
On the plus side, every seat has an individual air nozzle, which is a feature that I really value, given how warm some airlines keep their cabins.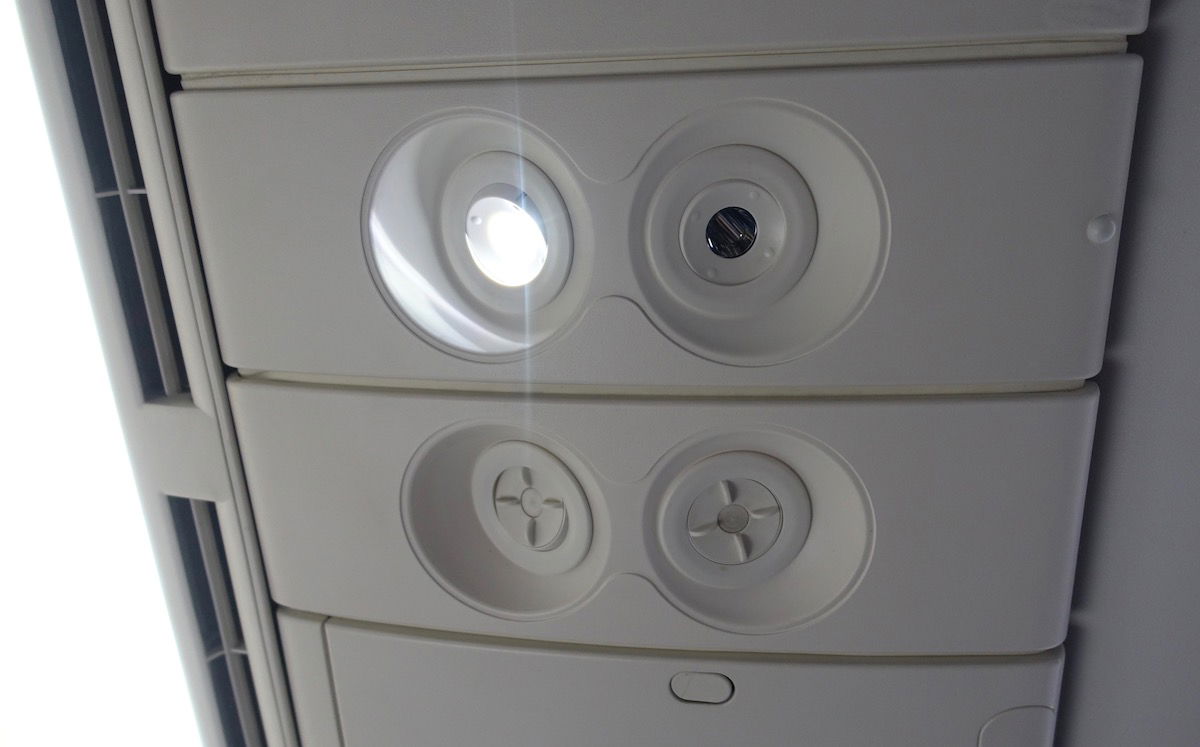 United 787 individual air nozzles
So overall this was a solid hard product for the quick flight from Tahiti to San Francisco, especially since I was traveling with Ford, and could sit next to him. But I'm not sure I'd feel the same way if traveling alone on the 16+ hour flight from San Francisco to Singapore.
While the plane didn't have the new Polaris seats, it did have most of the Polaris amenities. United's Polaris bedding is exceptional, arguably the best in the sky in business class. There's a thick duvet, a light day blanket, a thick pillow, and then a cooling gel pillow. This is in addition to the on-demand mattress pad.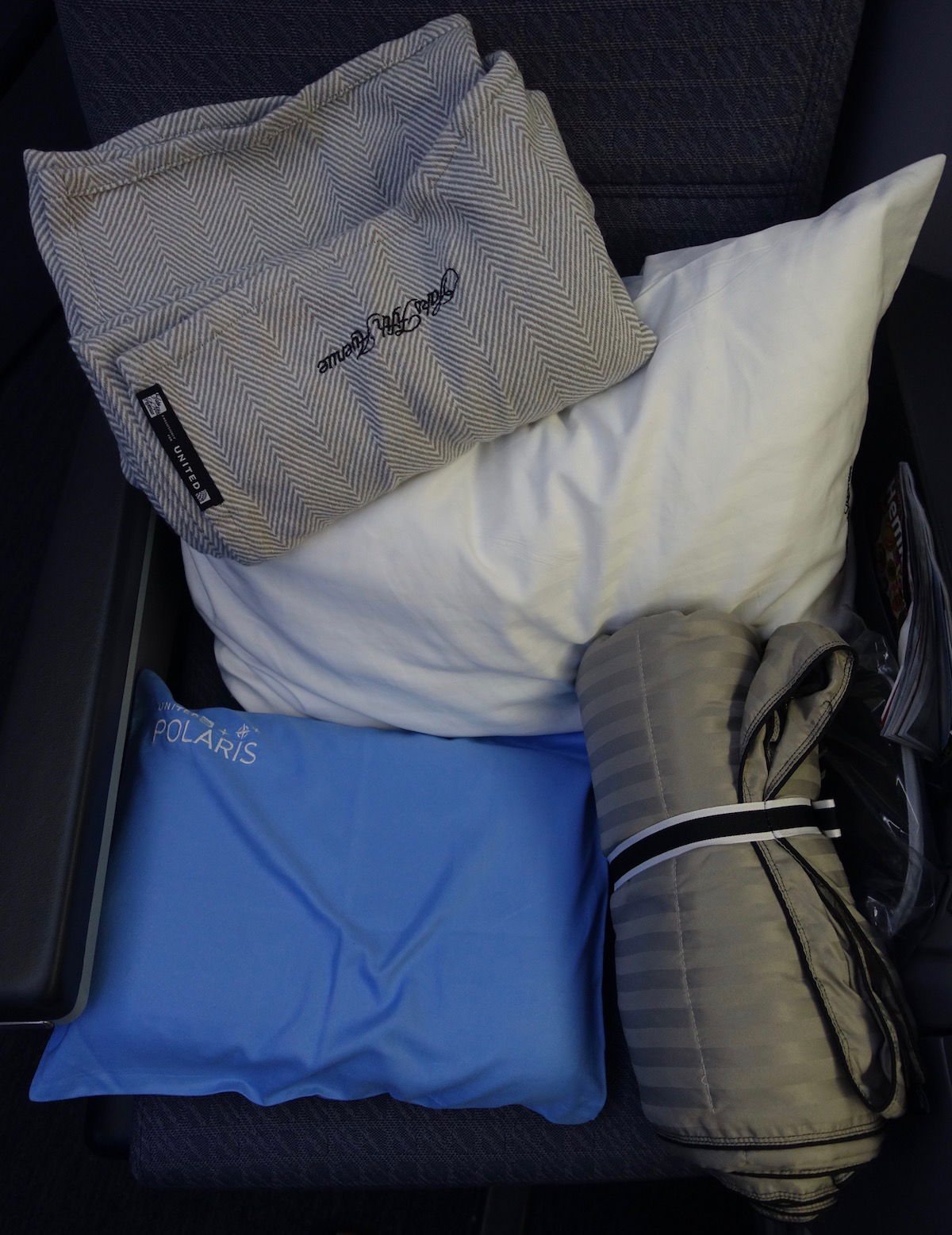 United Polaris bedding
Also waiting at our seats upon boarding were the Polaris menus for the flight.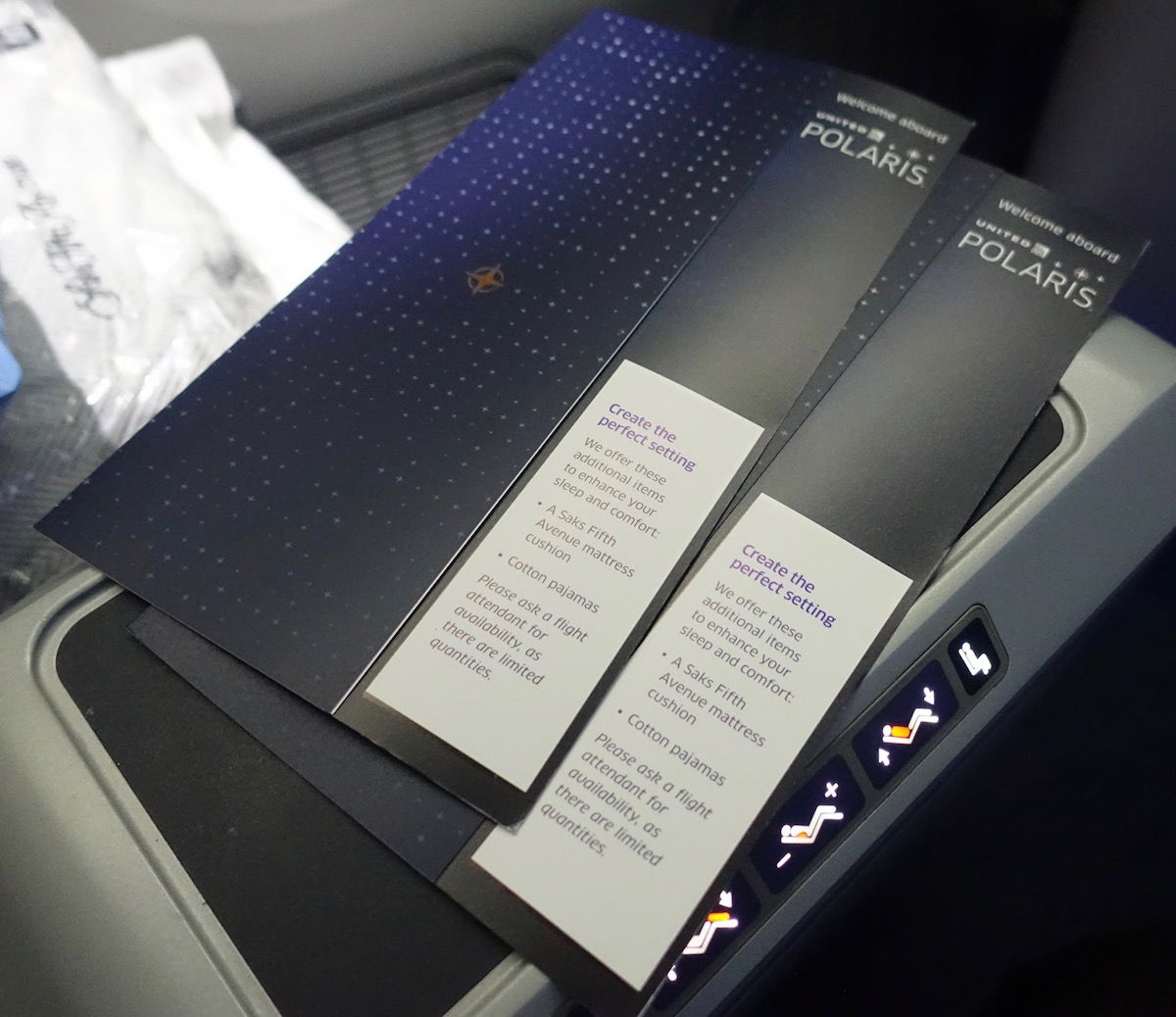 United Polaris menu
Then there were a pair of headphones — while not Bose or Bang & Olufsen, they're fairly decent quality.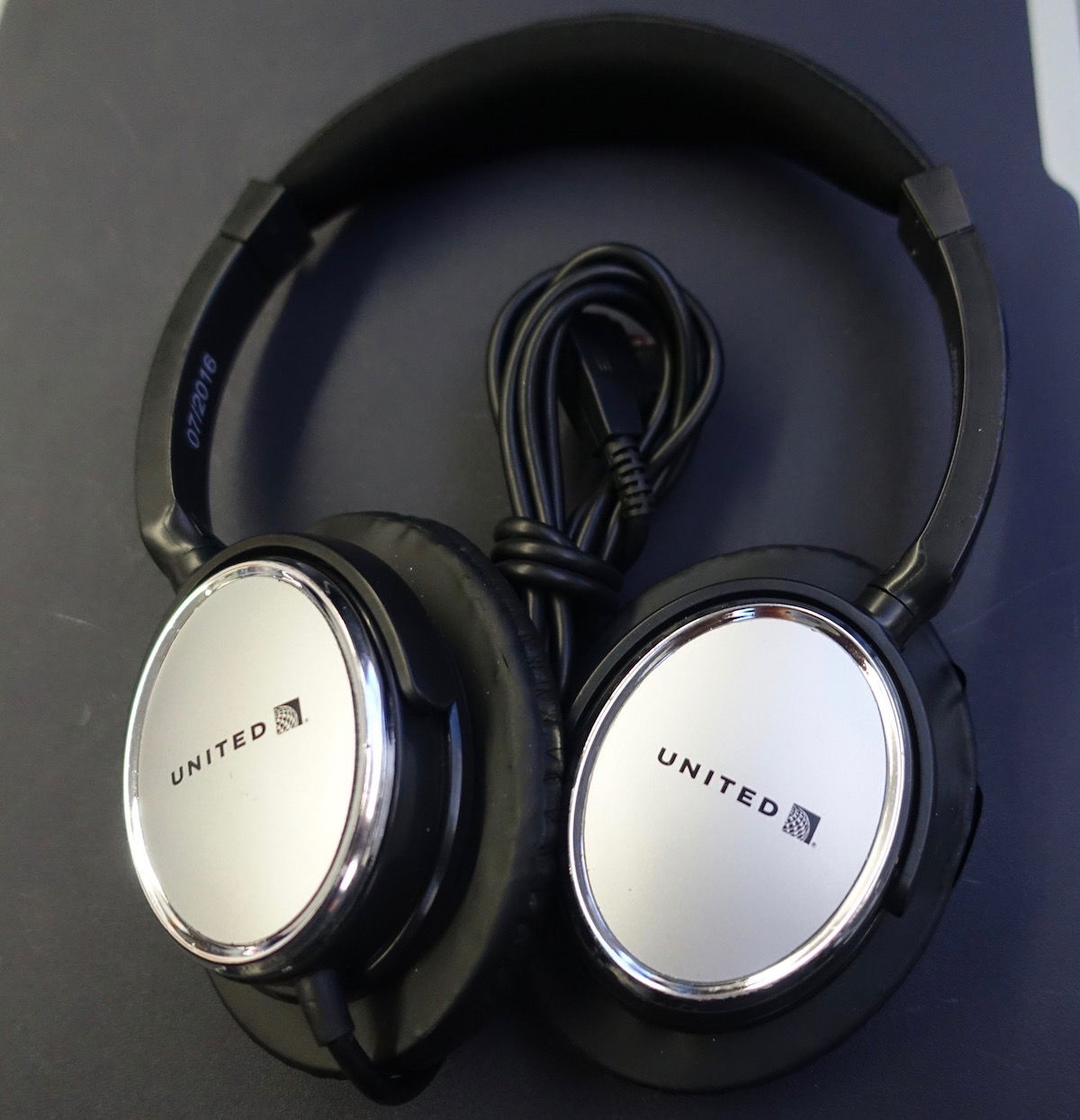 United Polaris headphones
There were also a pair of slippers.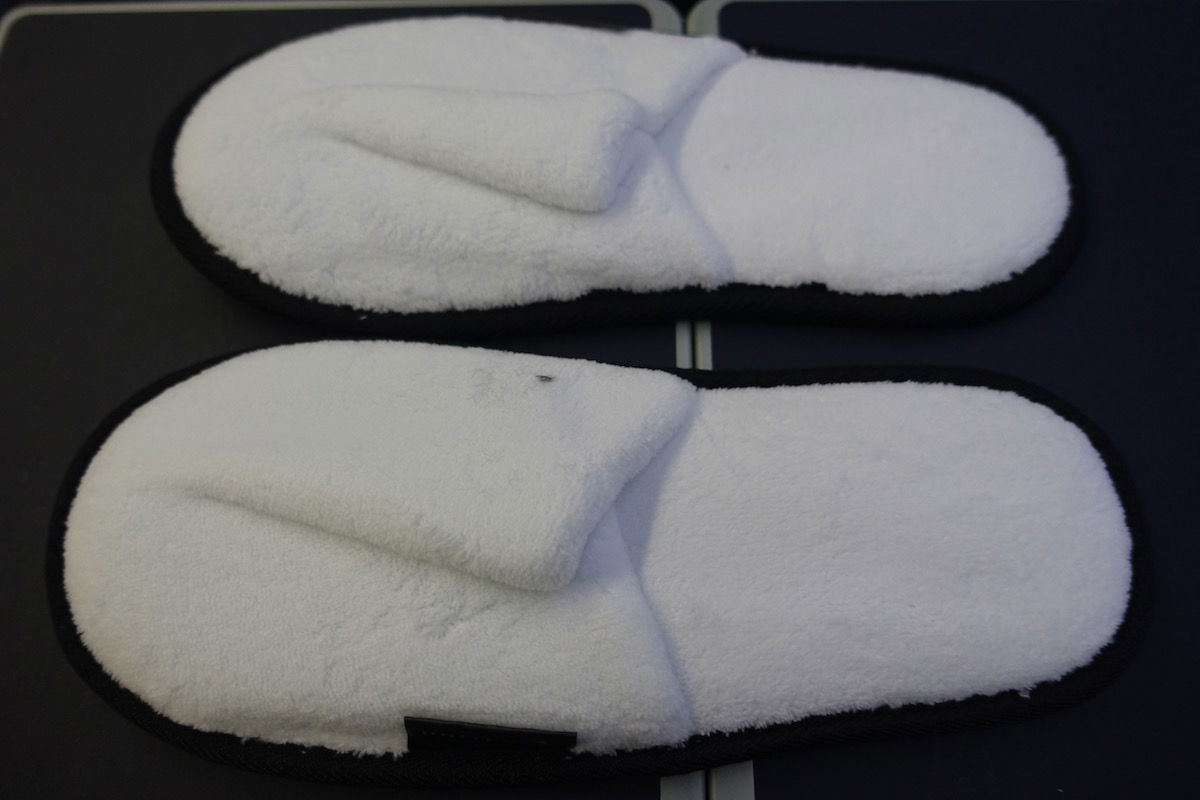 United Polaris slippers
Then there was the amenity kit, which was well stocked, with eyeshades, tissues, socks, earplugs, a pen, lotion, lip balm, a toothbrush, and toothpaste.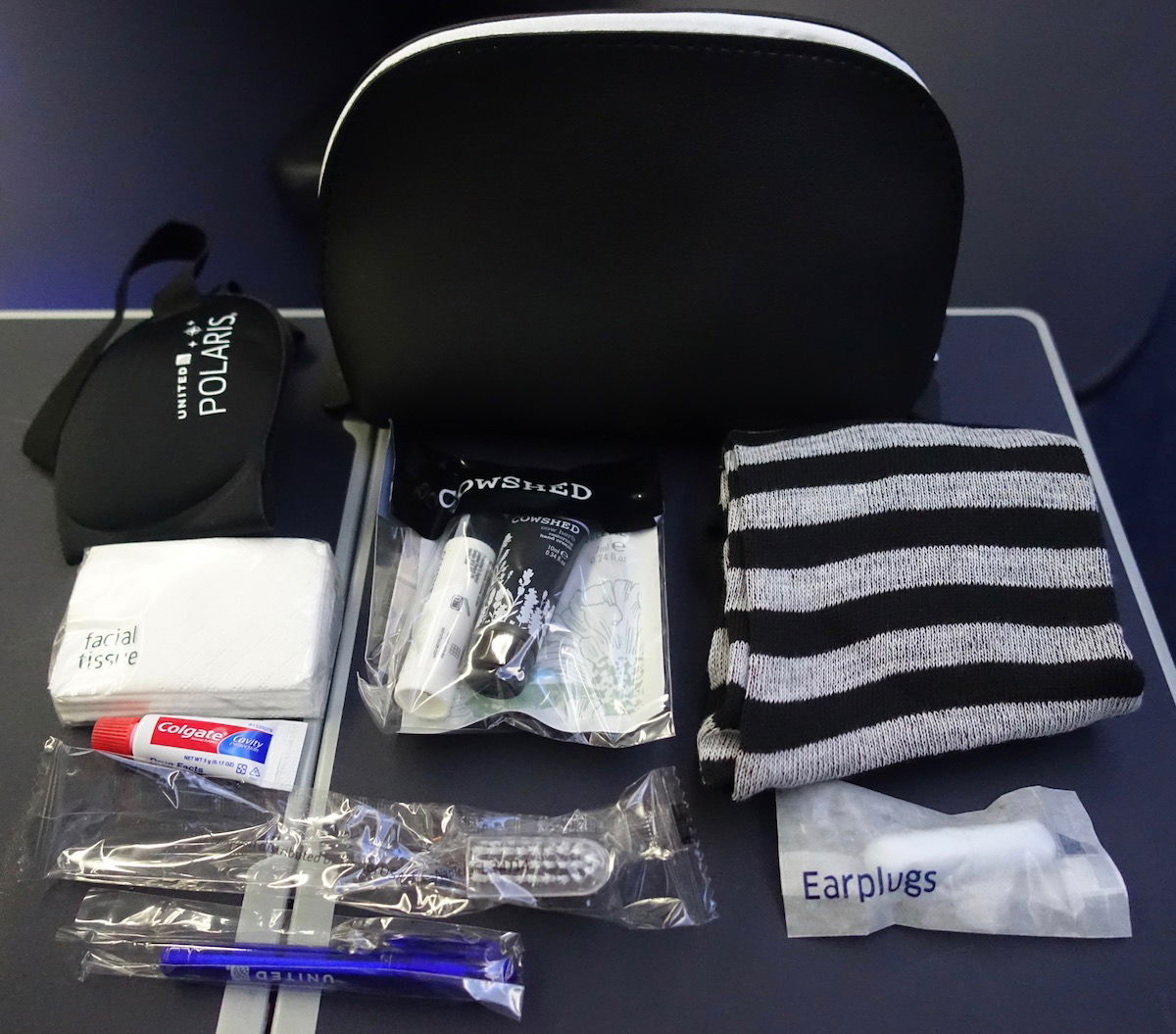 United Polaris amenity kit
For the first 15 minutes onboard there was no service, as passengers tried to find their seats. Initially the flight was booked with 26 out of 36 business class seats taken, but after non-revs the cabin ended up full. As you might expect, it was a very leisurely crowd, with most passengers wearing flip flops.
At 10:10PM (20 minutes after boarding) we were offered pre-departure drinks. I asked for some champagne, though as it turns out they had already run out of champagne. I don't know if they literally just load a single bottle for pre-departure drinks, or what. So instead I had some water.
While minor, I'd also note that one particular flight attendant was the type who wants to hand everything to you, rather than placing it down. So she handed me a napkin and then handed me the drink, rather than just putting it on the center console.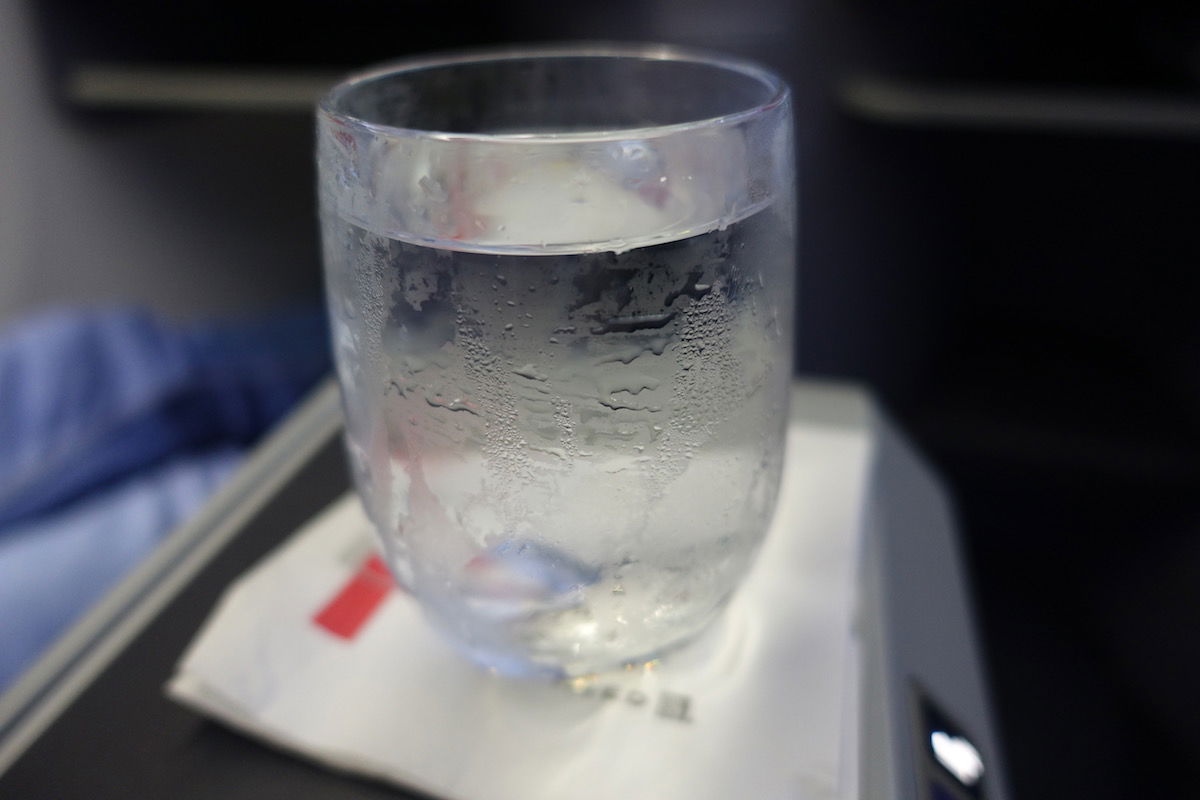 United Polaris pre-departure drinks
Two minutes later that flight attendant returned, looked at us, and said "first and second choice for dinner?" What a greeting!
That was followed by "breakfast?"
"I'll have the panini, please."
"Hmmm, you mean the quiche?"
"No, the panini, it's the other option."
"The other option is fruit."
"Maybe they catered it incorrectly then, because the menu says the options are quiche or panini."
"Oh, you're right, sorry, I hadn't looked at the menu."
Is it too much to hope that the flight attendant would look at the menu before taking orders? Like, I don't expect Singapore Airlines levels of service, where they've memorized the exact description of everything on the menu, but…
I realize I'm stereotyping here, but as a general rule of thumb if I were to sum up service at American, Delta, and United, I'd say:
Delta flight attendants are the most consistently friendly and eager to please
American flight attendants are the most consistently indifferent, and just going through the motions
United flight attendants are the most consistently extreme, and are either extremely professional or militant and actively unhappy to be there
So while one flight attendant working business class was just awful, the purser was a delight. She took all the plastic wrapping from my bedding as I removed it, and she even offered me a pre-departure drink refill. Oh, and she smiled.
At 10:15PM the captain added his welcome aboard, informing us of our flight time of 7hr22min, and anticipated early arrival in San Francisco.
At 10:25PM the main cabin door was closed, and five minutes later we began our push. At that point the welcome aboard announcement was made, and then the safety video was screened. Announcements on this flight were in both English and French, and my gosh does United have long announcements (and this crew in particular really seemed to enjoy making announcements).
We had a quick taxi to our departure runway, and at 10:40PM were cleared for takeoff on runway 4.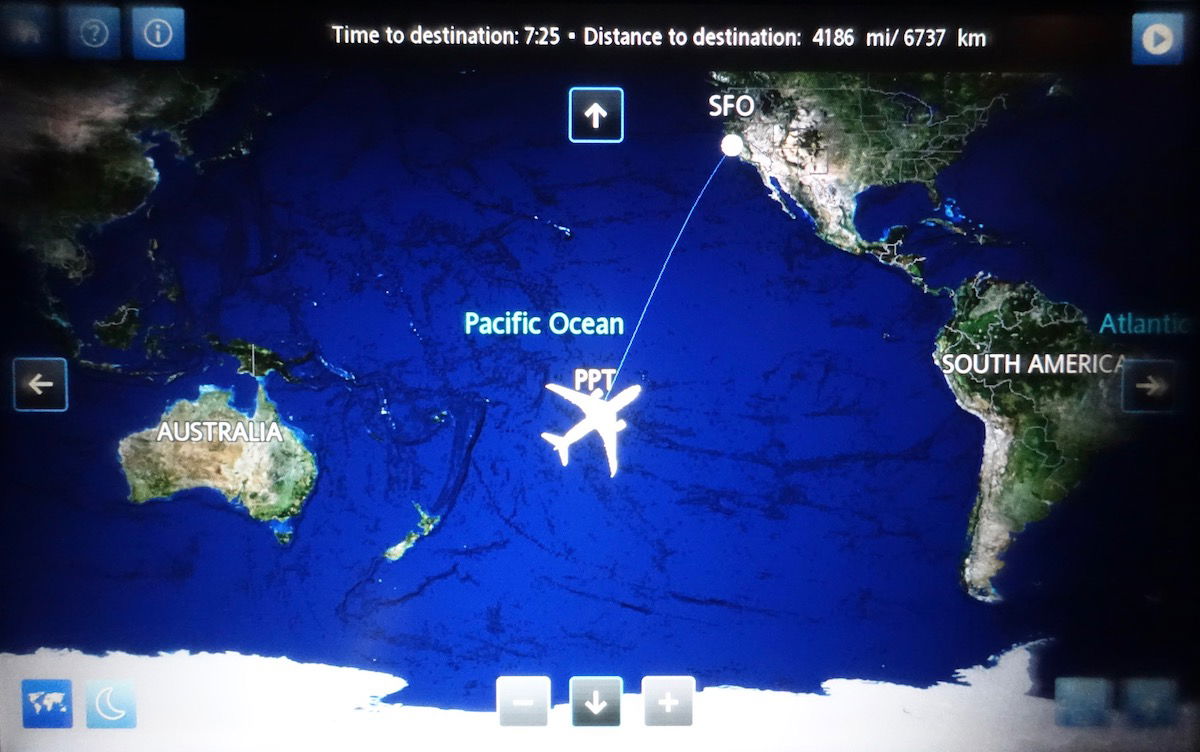 Moving map from Tahiti to San Francisco
As we climbed out I browsed the entertainment selection. United's 787 entertainment selection is excellent, with a variety of movies and TV shows.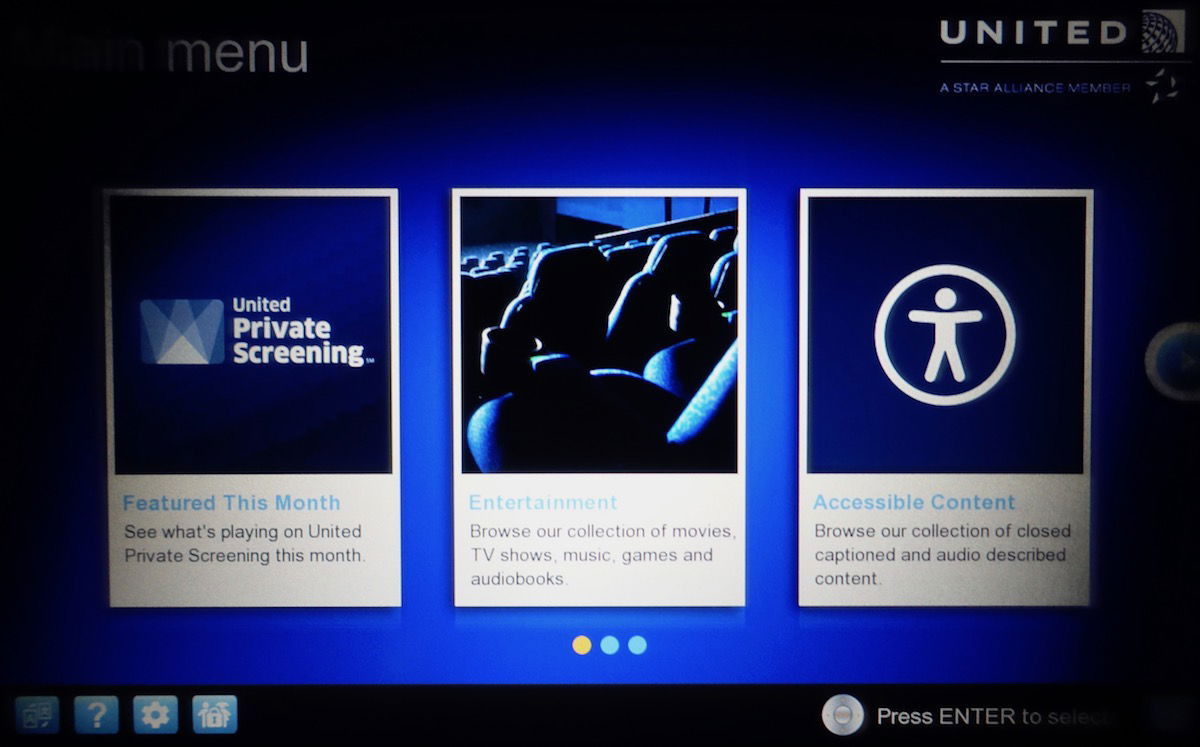 United entertainment selection 787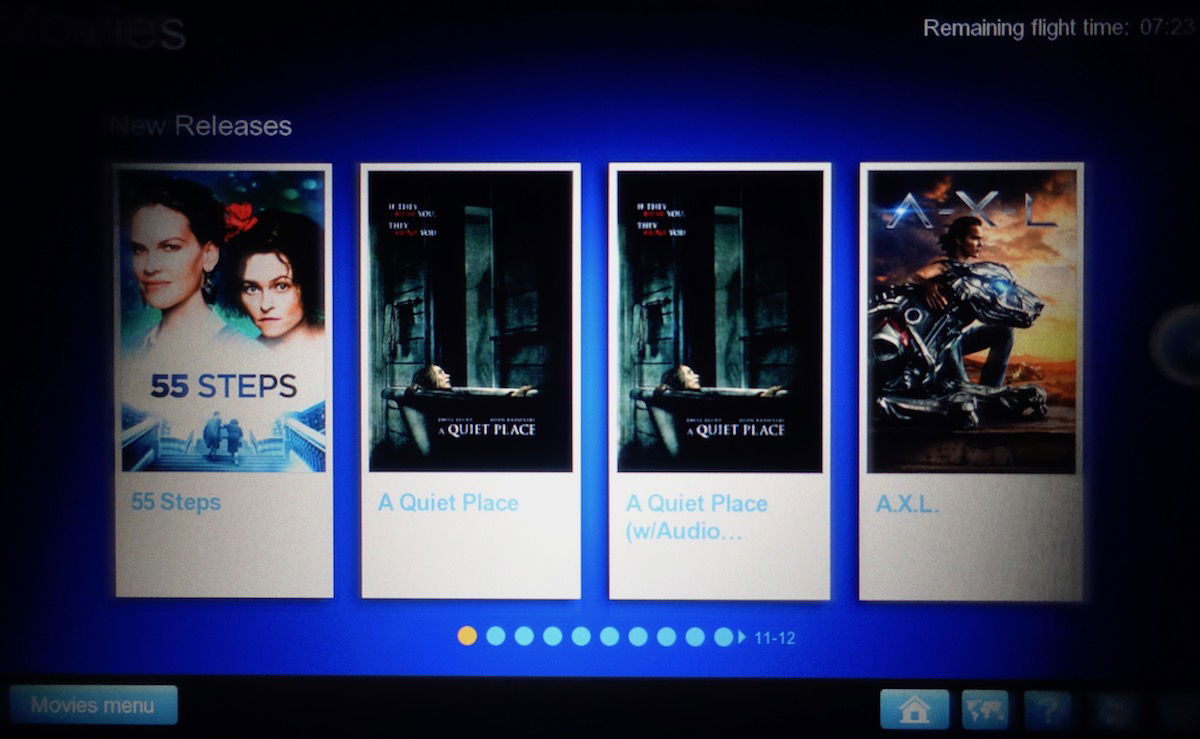 United entertainment selection 787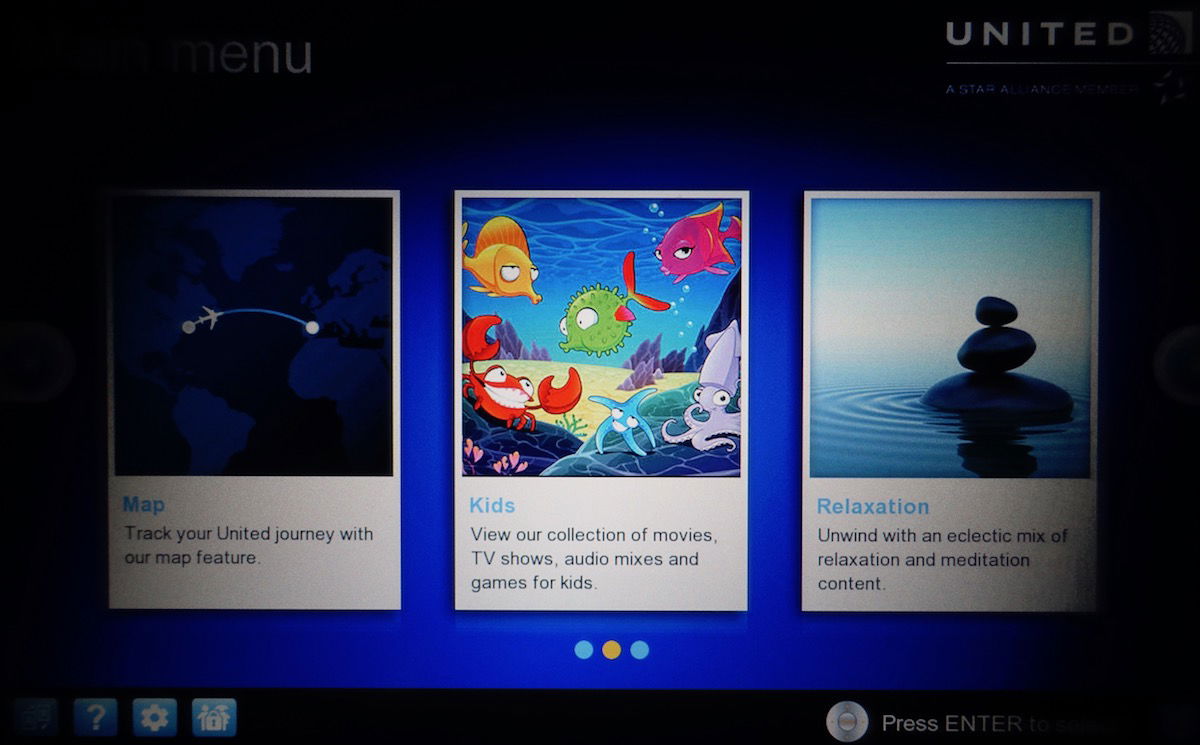 United entertainment selection 787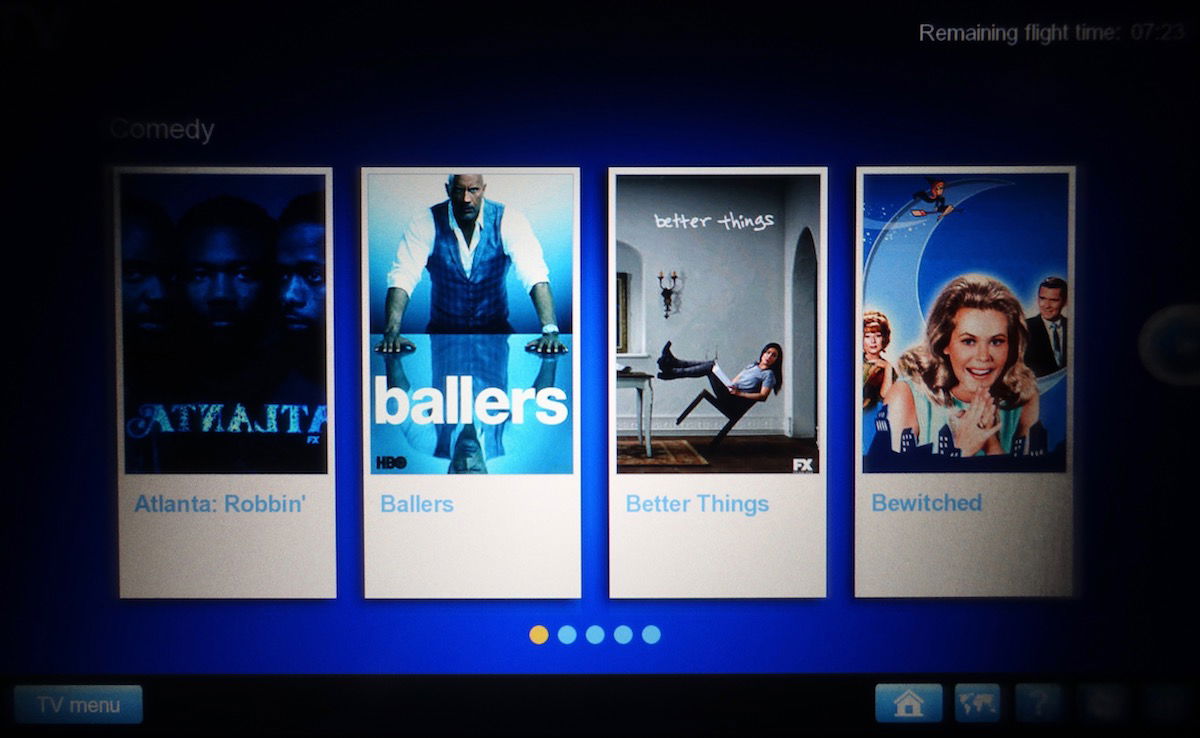 United entertainment selection 787
United's 787s also have Wi-Fi, with the following pricing:
1hr costs $4.99
2hr costs $8.99
Full flight costs $18.99
The pricing is reasonable and there are no data caps, though I also find United's Wi-Fi to be among the slower offerings out there, so that's not ideal.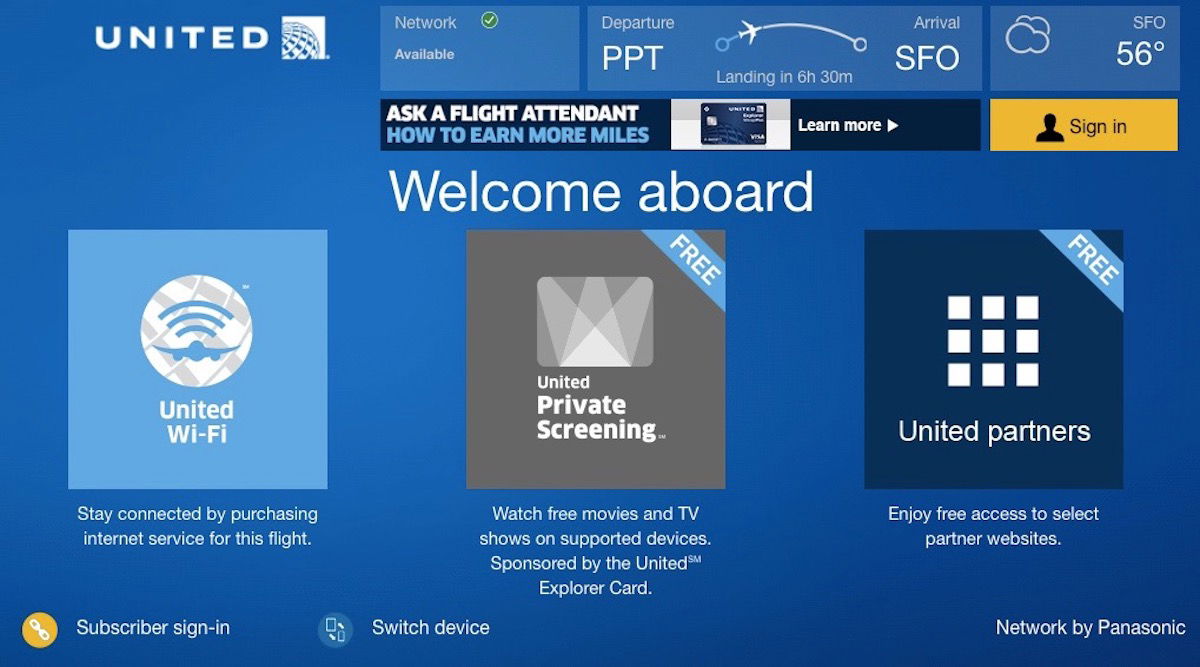 United Wi-Fi 787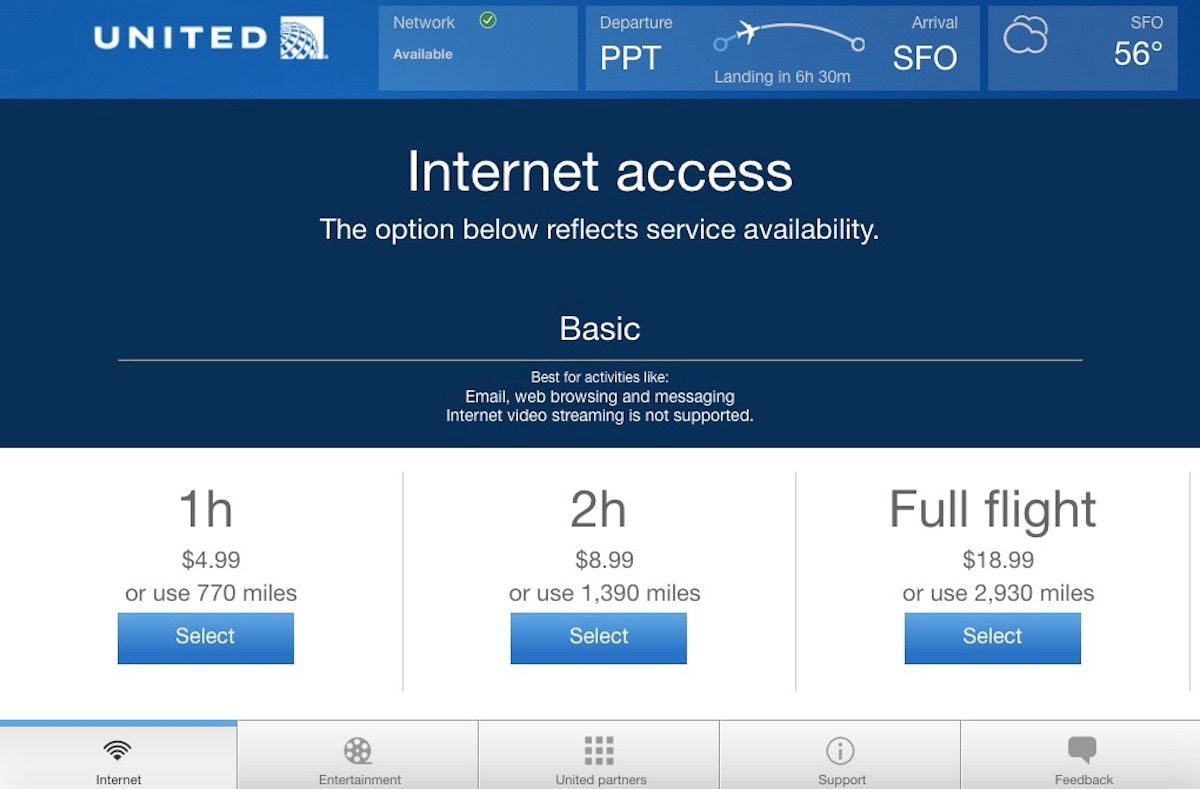 United Wi-Fi 787
About 20 minutes after takeoff warm towels were distributed (I like that United actually has big towels), and then 25 minutes after takeoff tablecloths were distributed.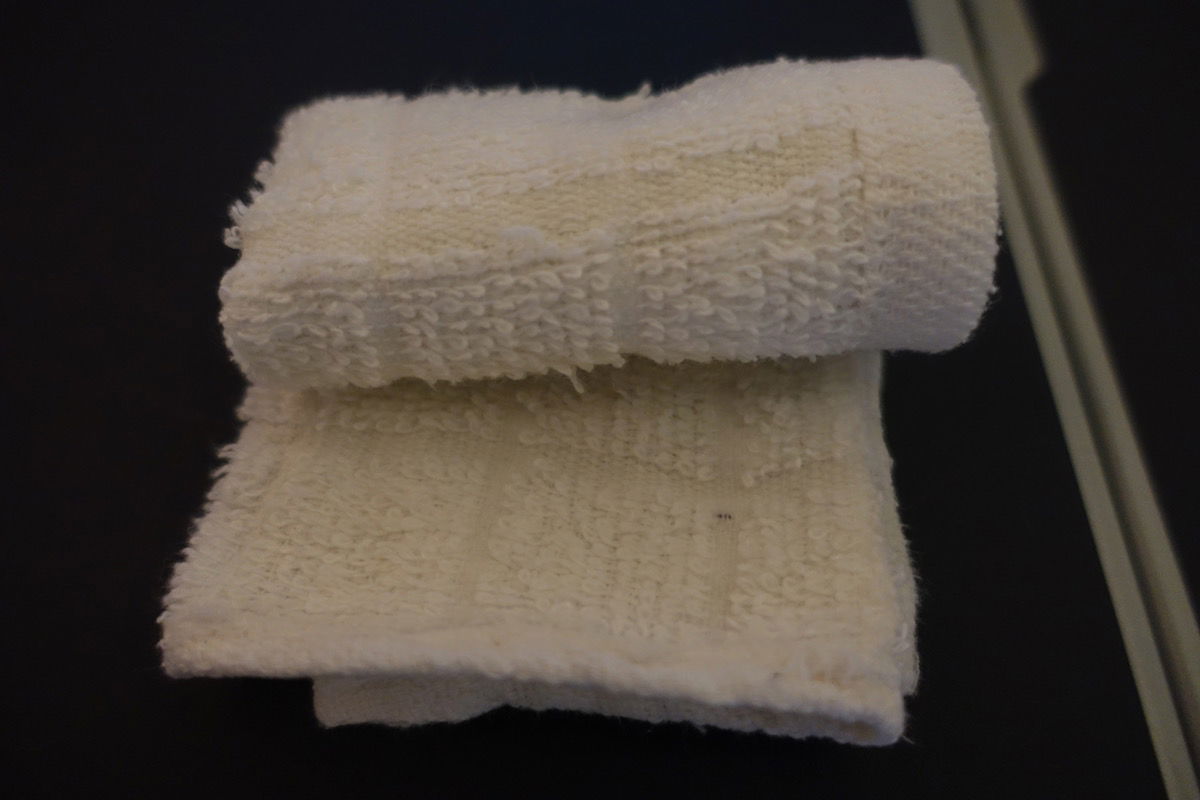 United Polaris warm towel
At that point the meal service began. The menu read as follows: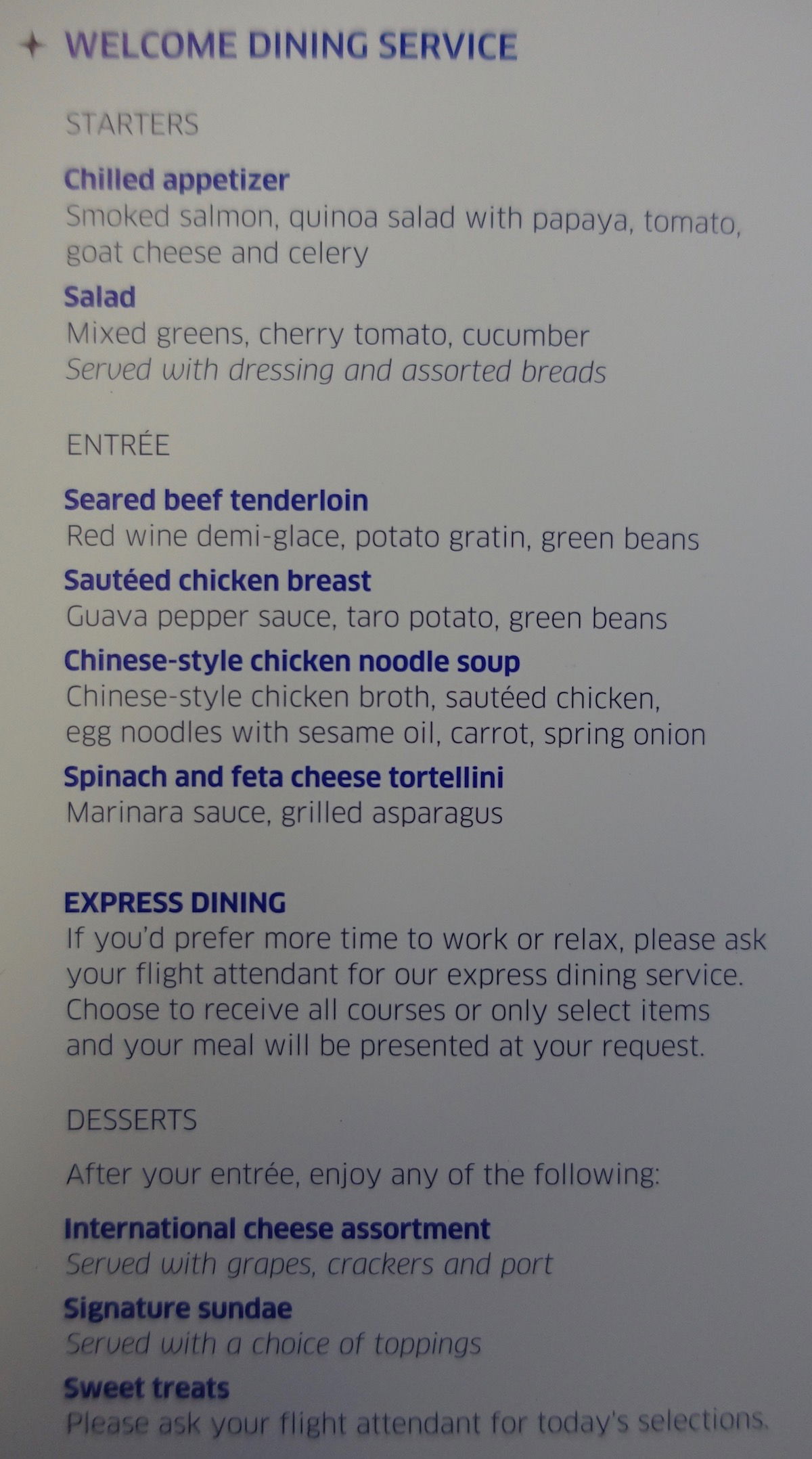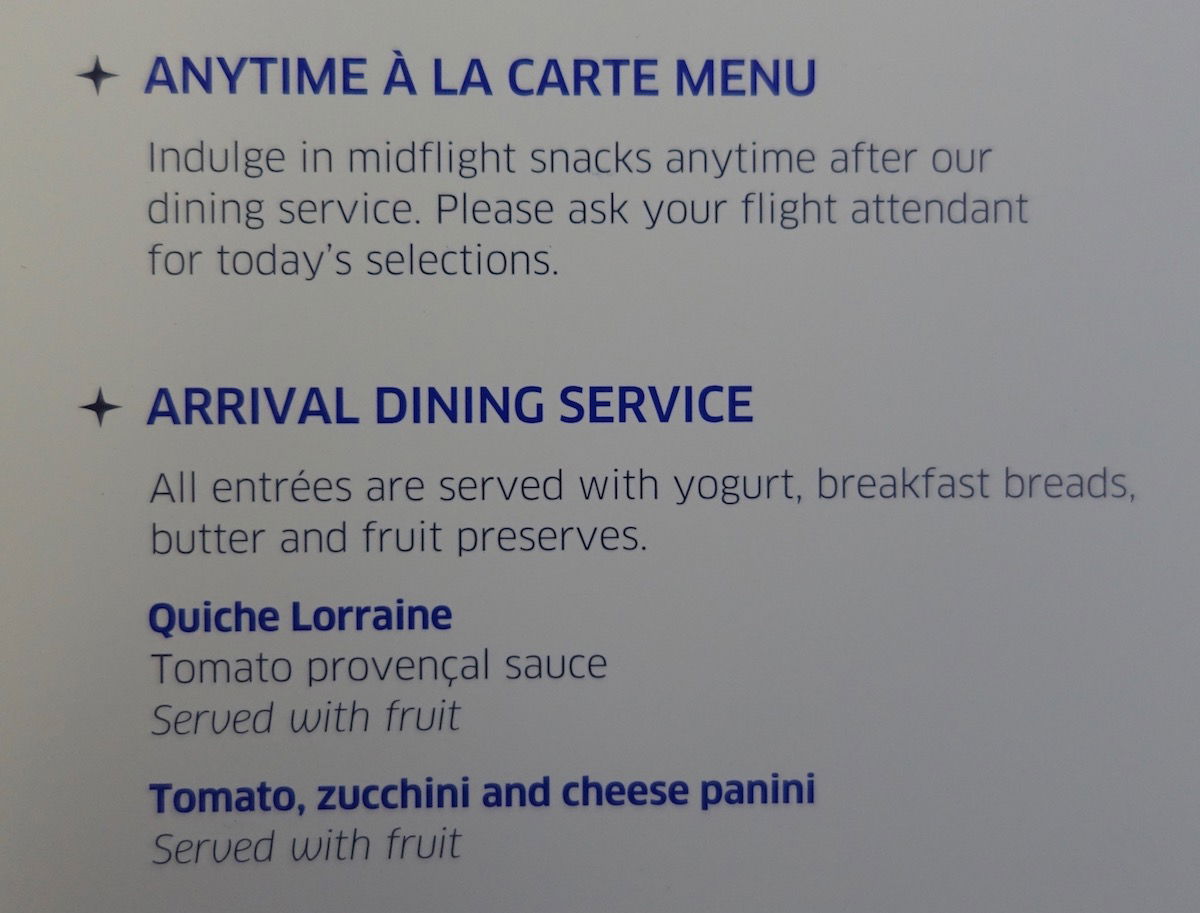 The drink list read as follows: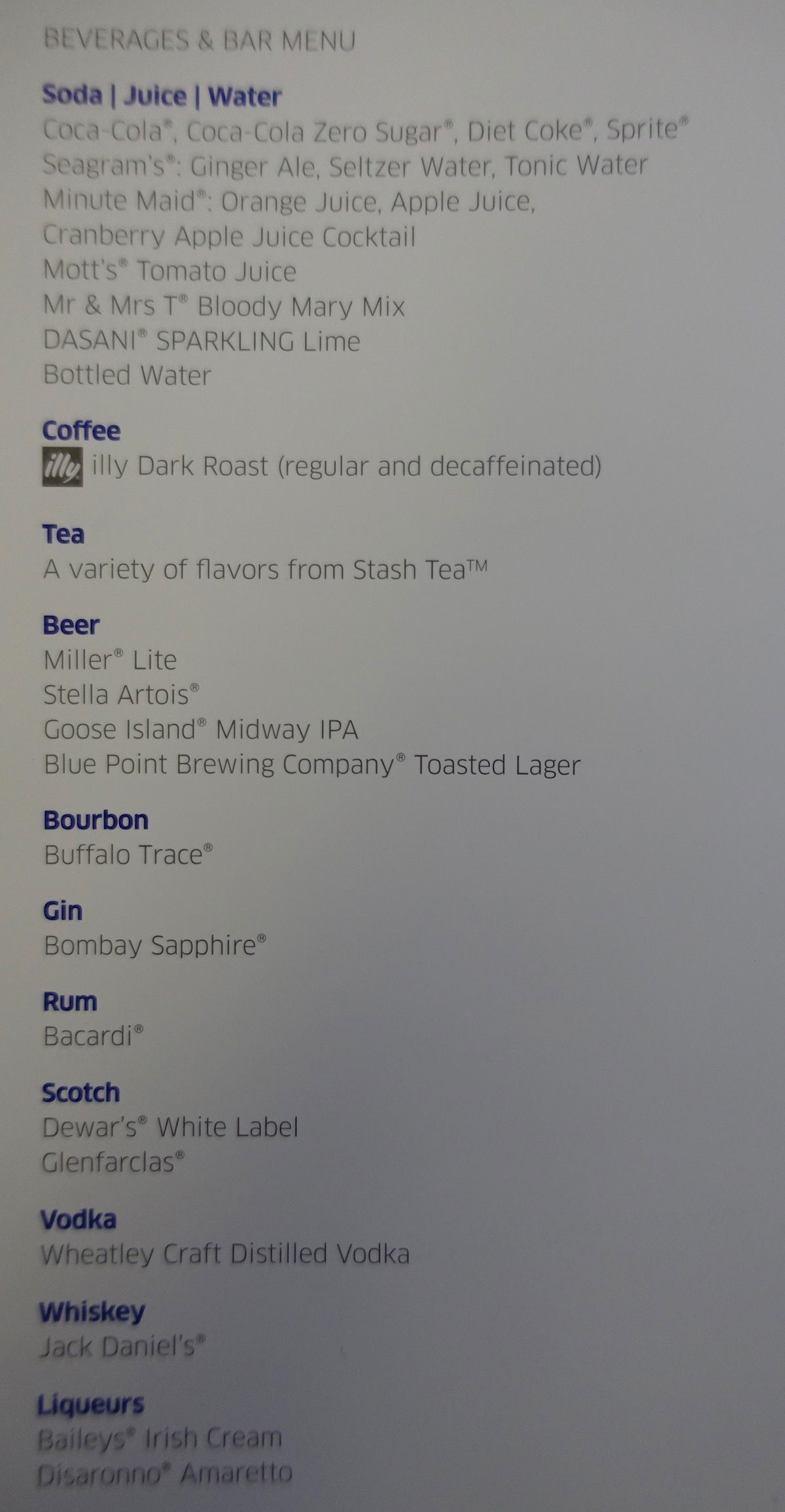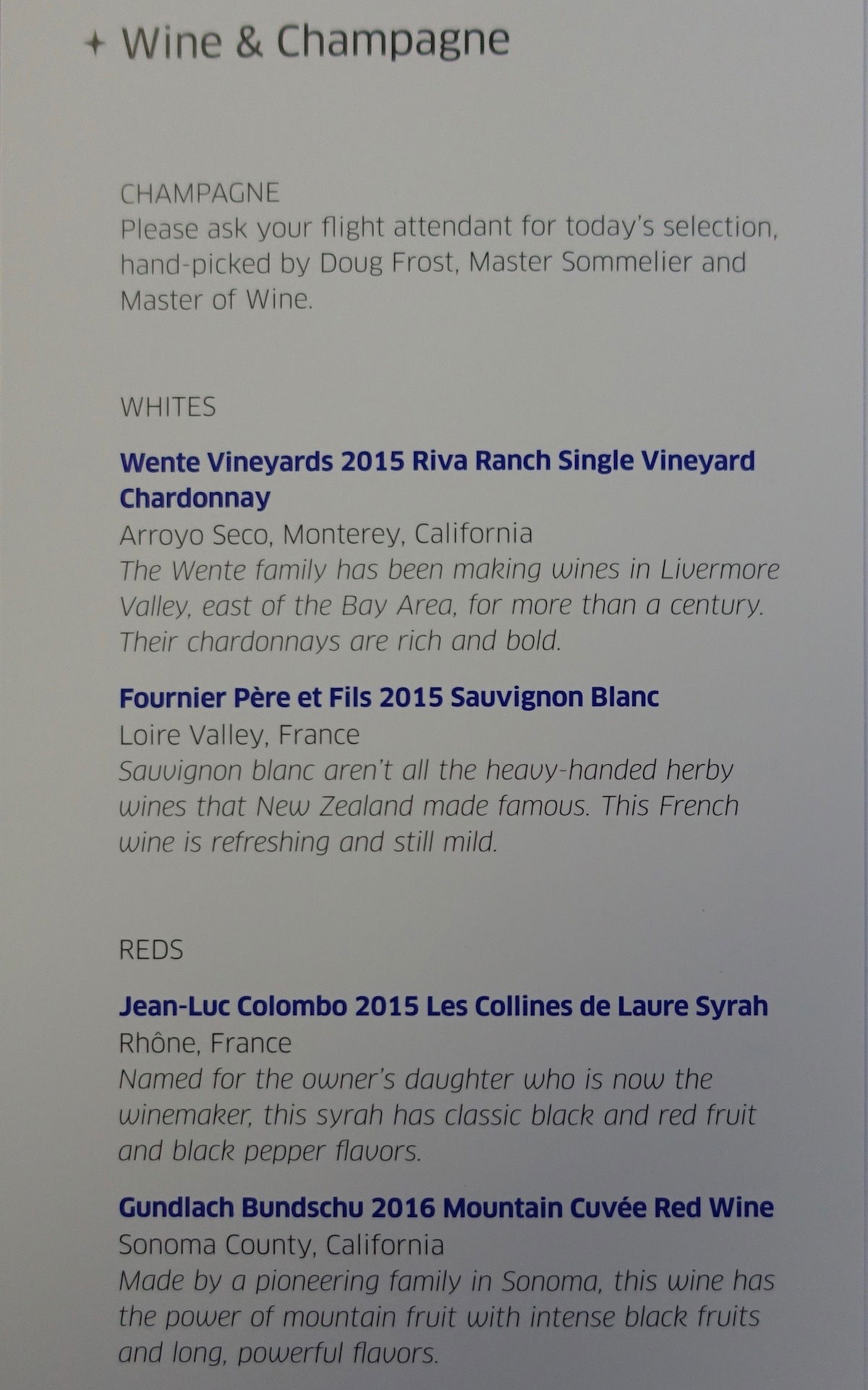 Then there's of course United's reminder not to steal their bedding: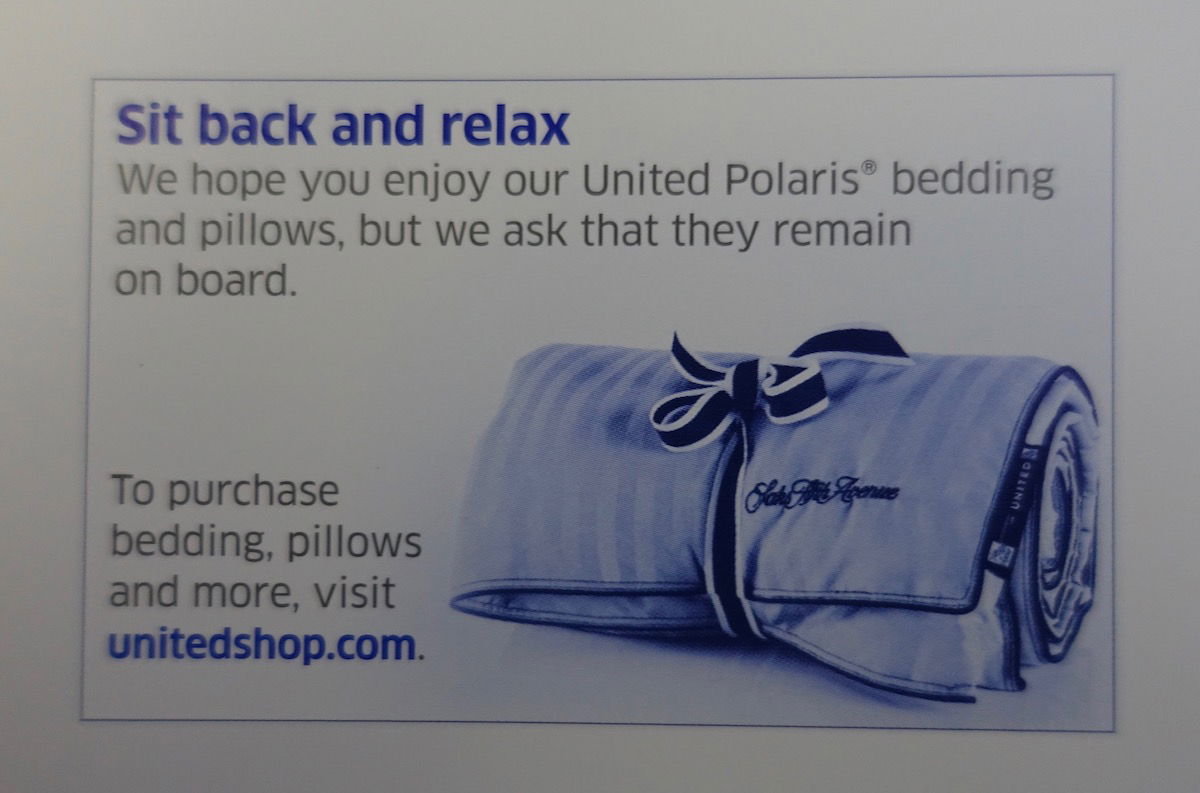 About 30 minutes after takeoff the flight attendant got to our seat to offer us drinks. I ordered some still water and champagne, which was served with warm mixed nuts.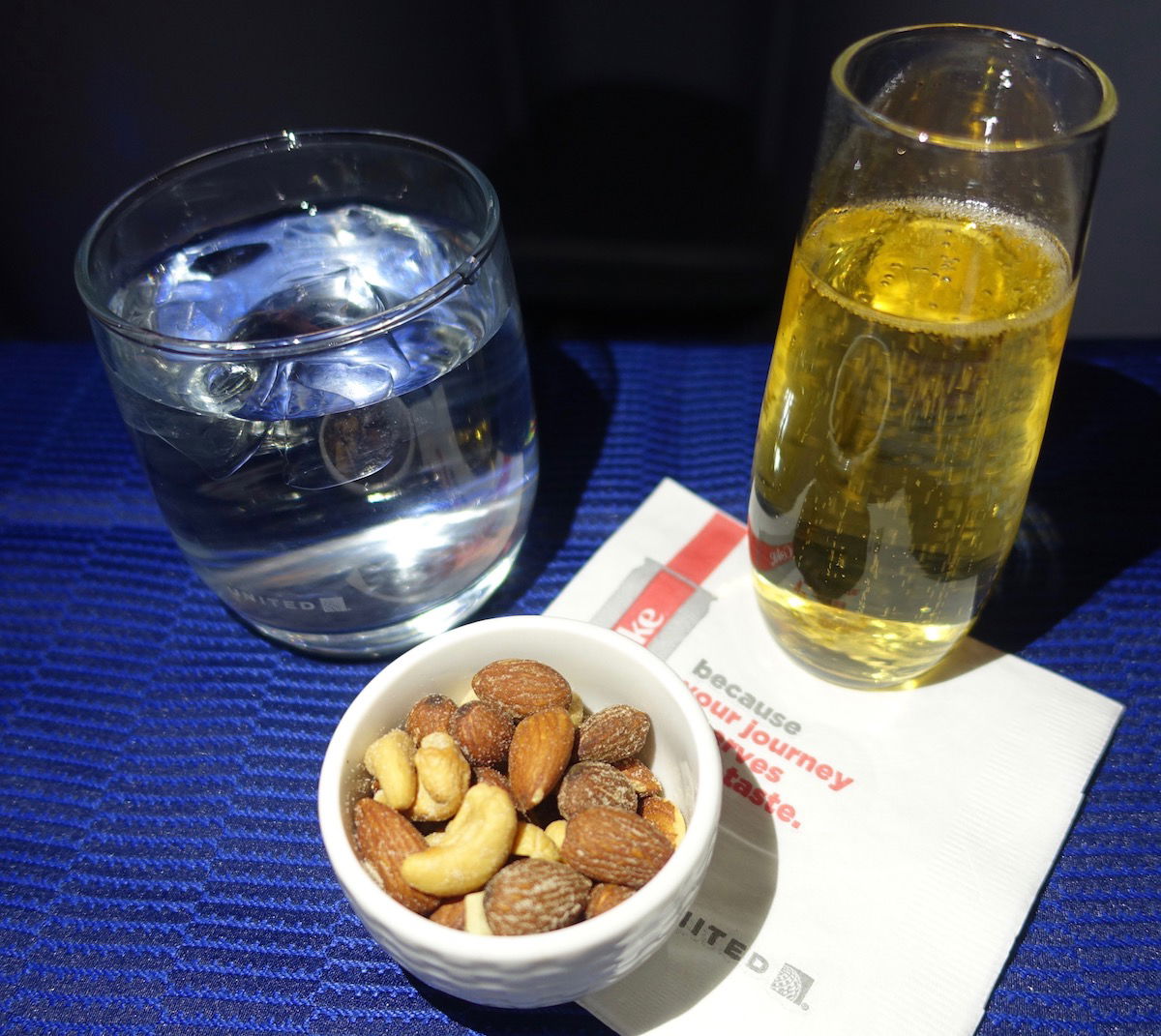 United Polaris dinner — mixed nuts and champagne
50 minutes after takeoff the starter and salad were served.
The appetizer consisted of smoked salmon, quinoa salad with papaya, tomato, goat cheese, and celery. Then the salad consisted of mixed greens, cherry tomato, and cucumber. I think United and I have different definitions of what constitutes "mixed" greens. I was also offered a selection from the breadbasket, and chose garlic bread.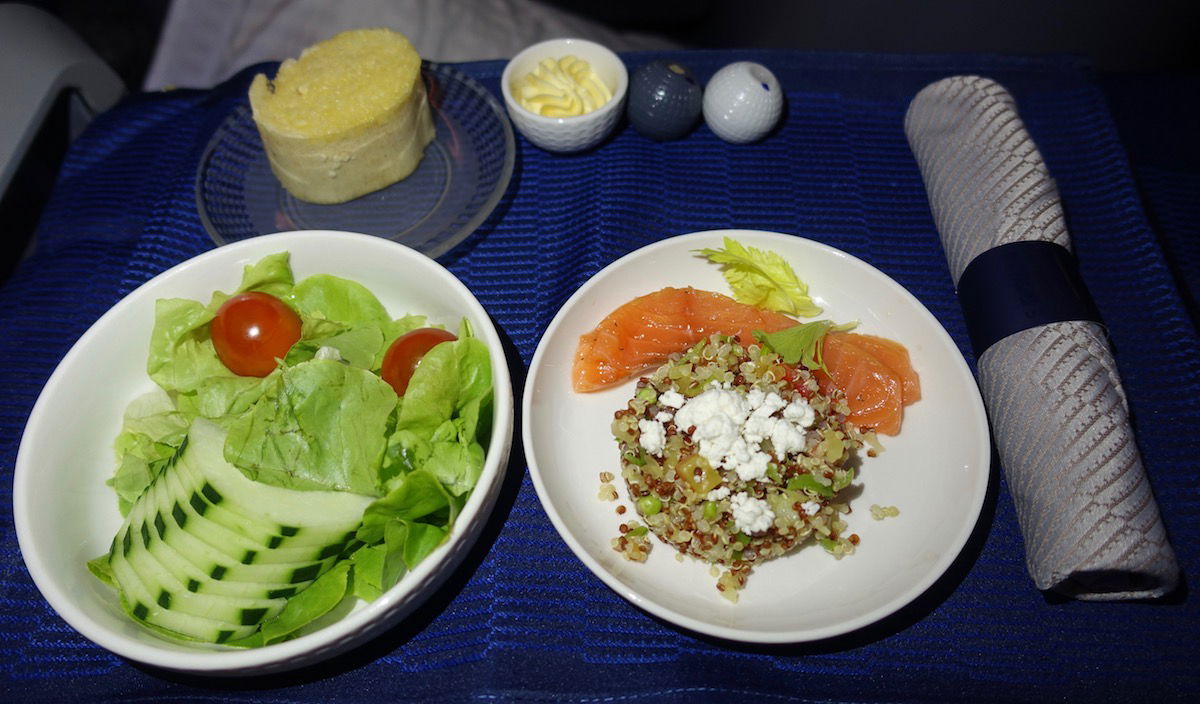 United Polaris dinner — starter and salad
The main courses were served about 65 minutes after takeoff.
For the main course I was surprised there were no fish options on the menu, given that we were on a flight departing from a Pacific island. So I ordered the Chinese-style chicken noodle soup with chicken broth, sautéed chicken, egg noodles with sesame oil, carrot, and spring onion.
This was disgusting, and I think pictures do justice to that. There was virtually no broth, the noodles were hard, and the chicken was tasteless. This has to be one of the worst meals I've had in international business class in a long time.

United Polaris dinner — main course
Ford had the sautéed chicken breast with guava pepper sauce, taro potato, and green beans, which he said was alright but not amazing.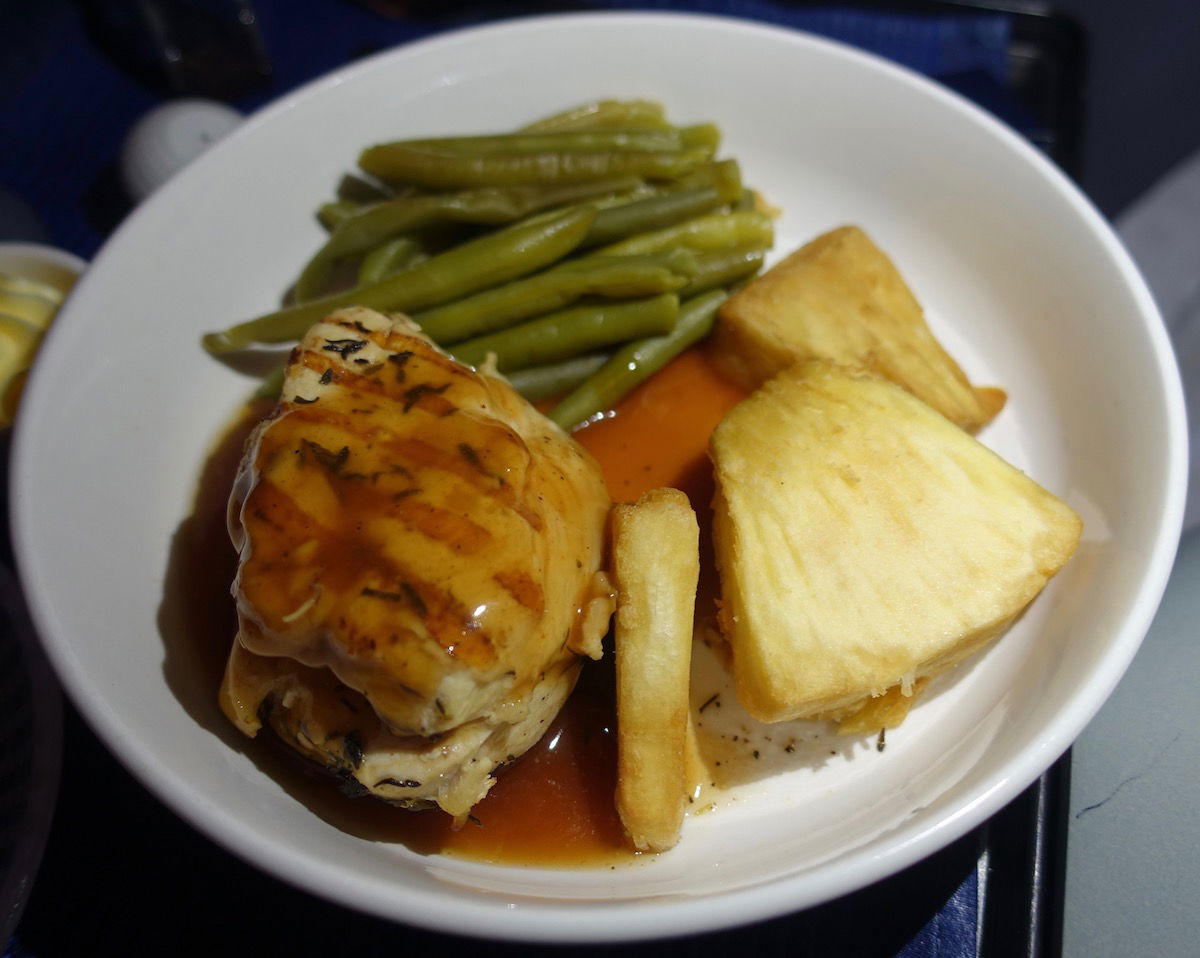 United Polaris dinner — main course
Then 85 minutes after takeoff the dessert trolley was rolled down the aisle. The menu indicated that the options were a sundae, cheese plate, or sweet treats. I asked for the sundae, and again, the flight attendant looked at me like I had two heads.
"Huh? We don't have that."
Apparently they catered pavlova for dessert instead. That's totally fine, but you'd think she could say "I'm sorry, the menu wasn't accurate, this is still a new station for us and they are figuring out catering," or something.
The pavlova was actually decent, and lighter than ice cream.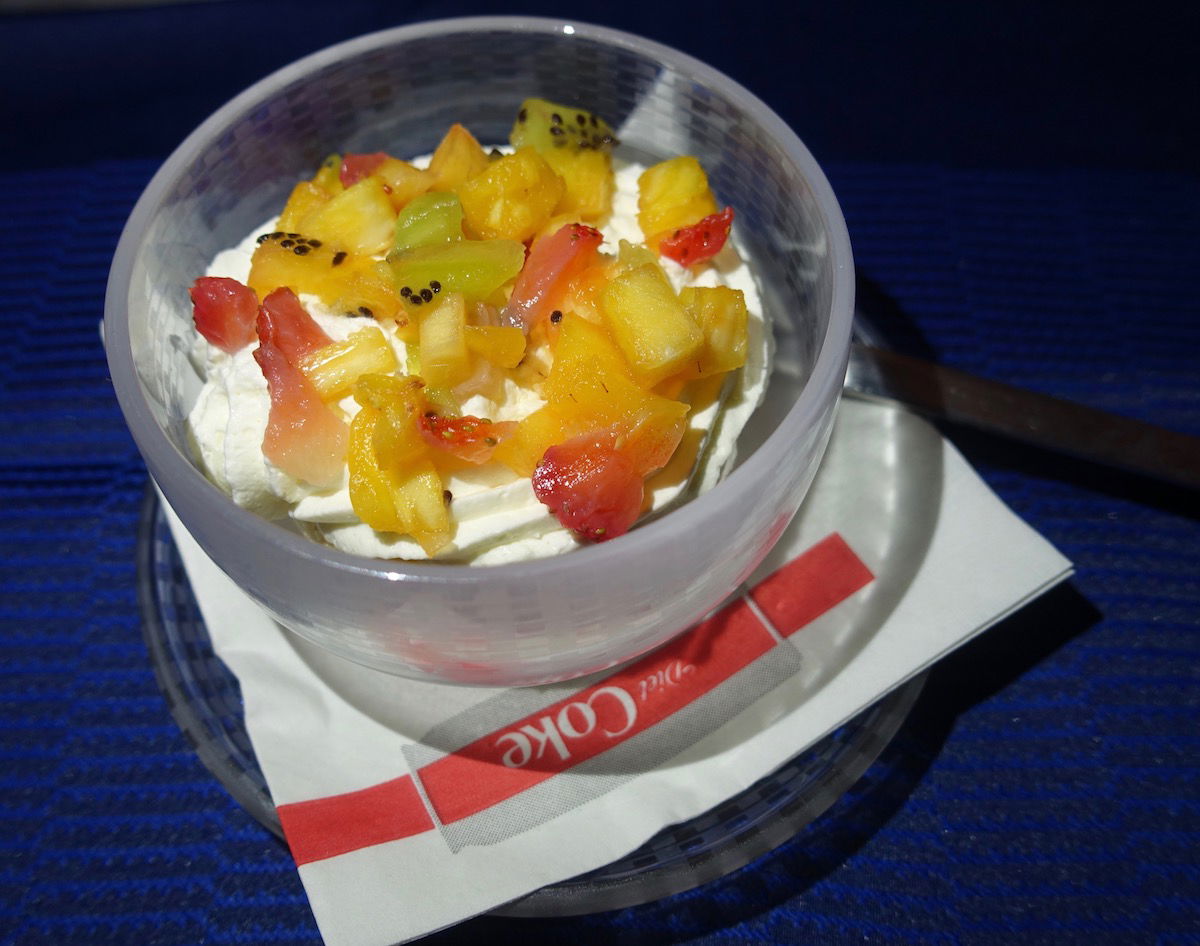 United Polaris dinner — dessert
The meal service was completed just over 90 minutes after takeoff.
I'm not even sure how to describe the service during the meal, other than to say that it sort of felt like being at a dinner party… only the hosts don't actually want to have a dinner party… and they also forgot that they planned it until the first person showed up at the door.
Like I said above, the purser was super friendly and professional. But then one of the other flight attendants was a grouch, and a third flight attendant alternated between being friendly and grouchy by the minute.
I just don't understand United's flight attendant training. I almost feel like a couple of these flight attendants took pride in making their jobs as hard as possible. For example, wouldn't it make sense to look at the menu before you start asking people what they want to eat? Like, not just because it's good service to know what you're offering, but because it will make your own life easier? Or when one flight attendant on one aisle ran out of something, they'd just yell across the aisle at the other flight attendant.
The whole service flow almost felt like a parody to me.
Anyway, the cabin lights were dimmed about 90 minutes after takeoff, so I appreciated that the service was at least pretty quick. I needed to get some sleep, because the day I was landing at SFO I'd be flying that same night to Melbourne, Australia, so it would be a long day.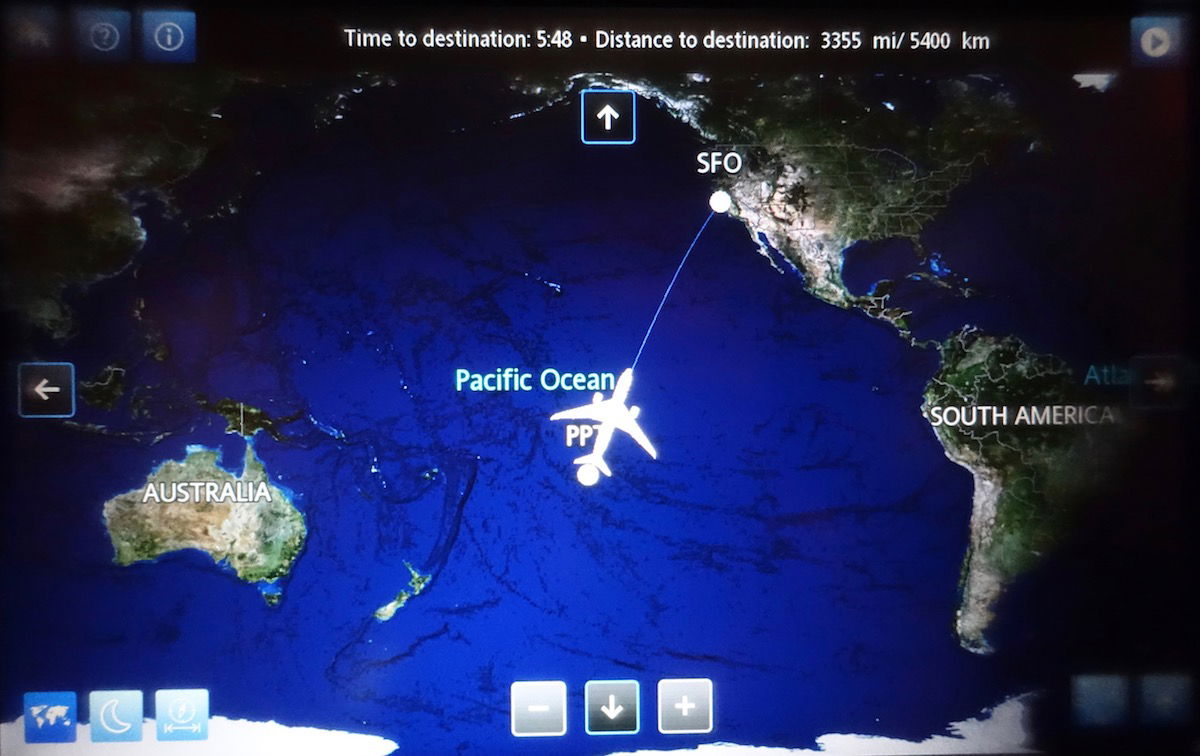 Moving map enroute to San Francisco
Before going to sleep I visited the lavatory, of which there were two right behind our seats. It was a pretty standard 787 lavatory, with some basic toiletries.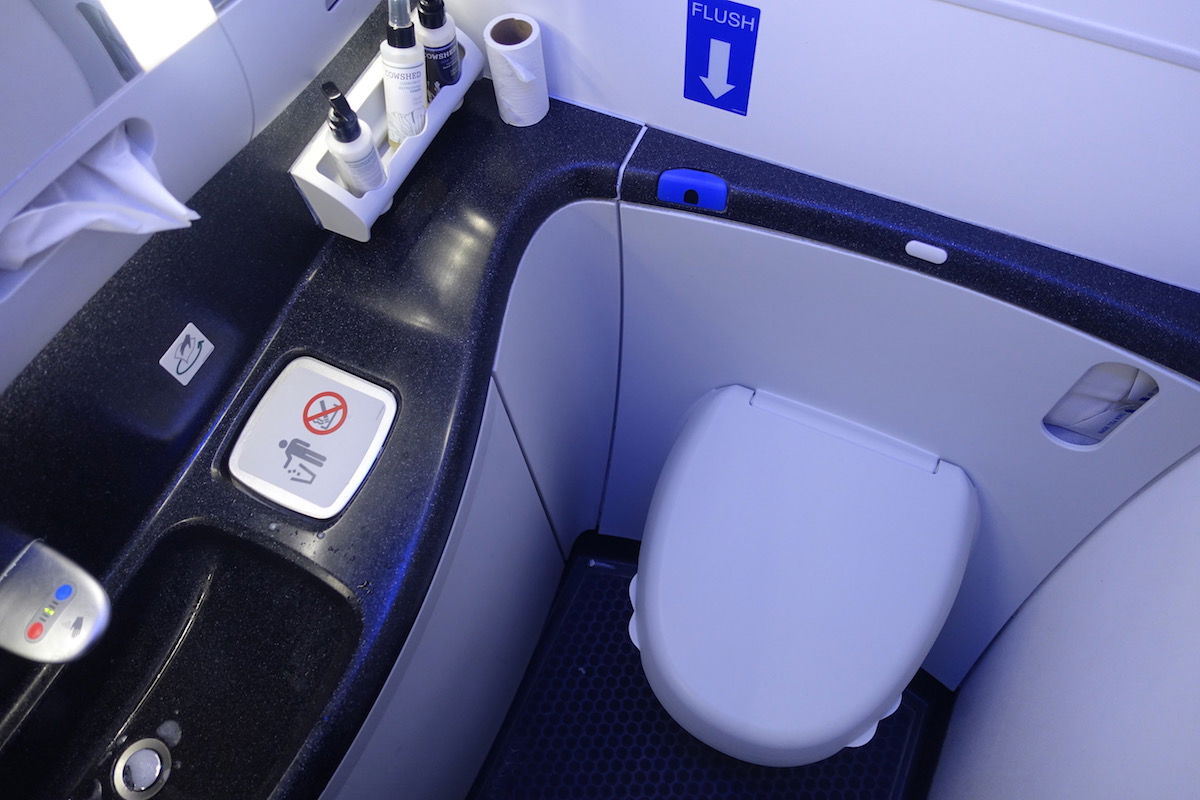 United 787 lavatory
At this point we requested mattress pads, and reclined our seats.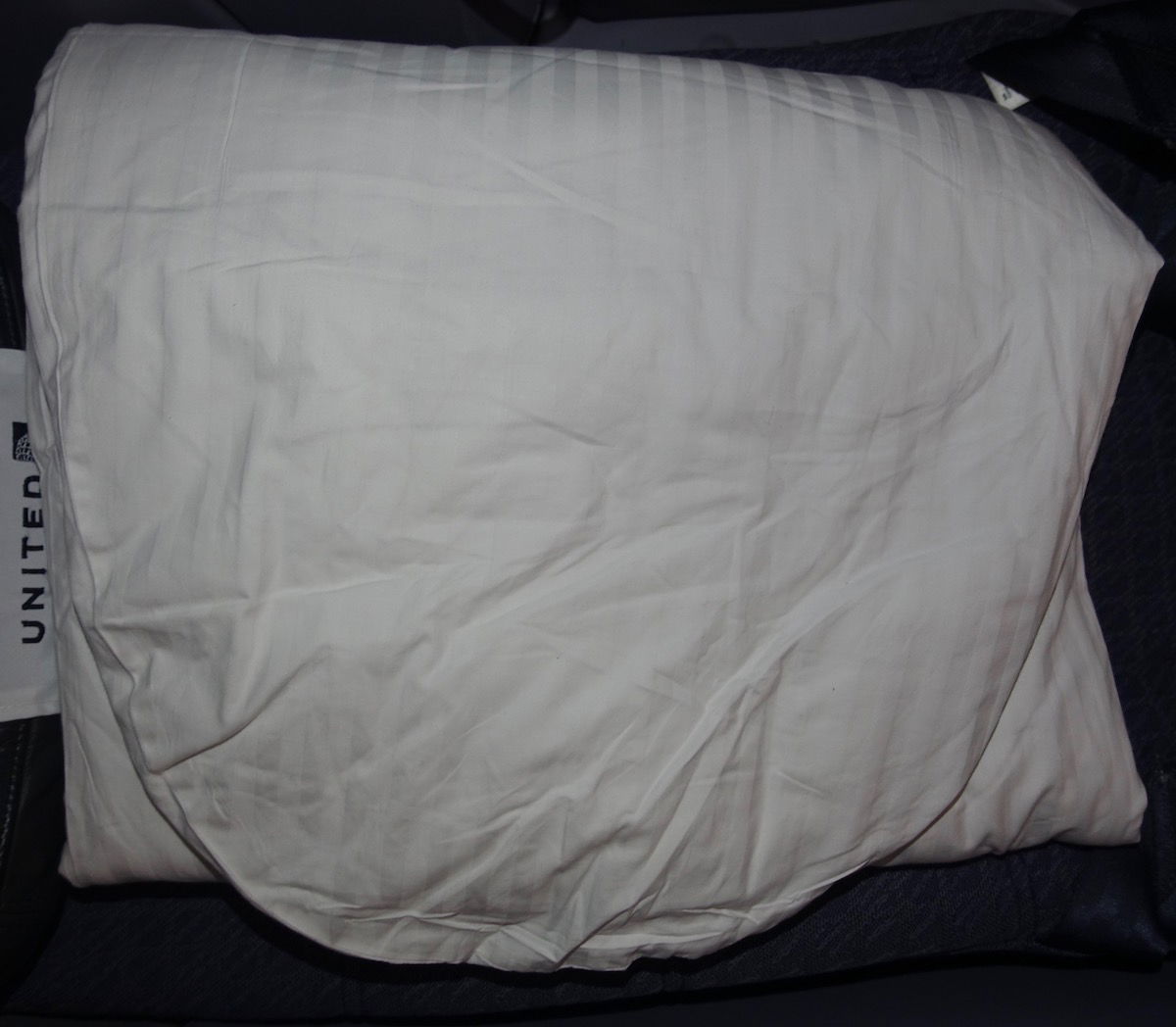 United 787 mattress pad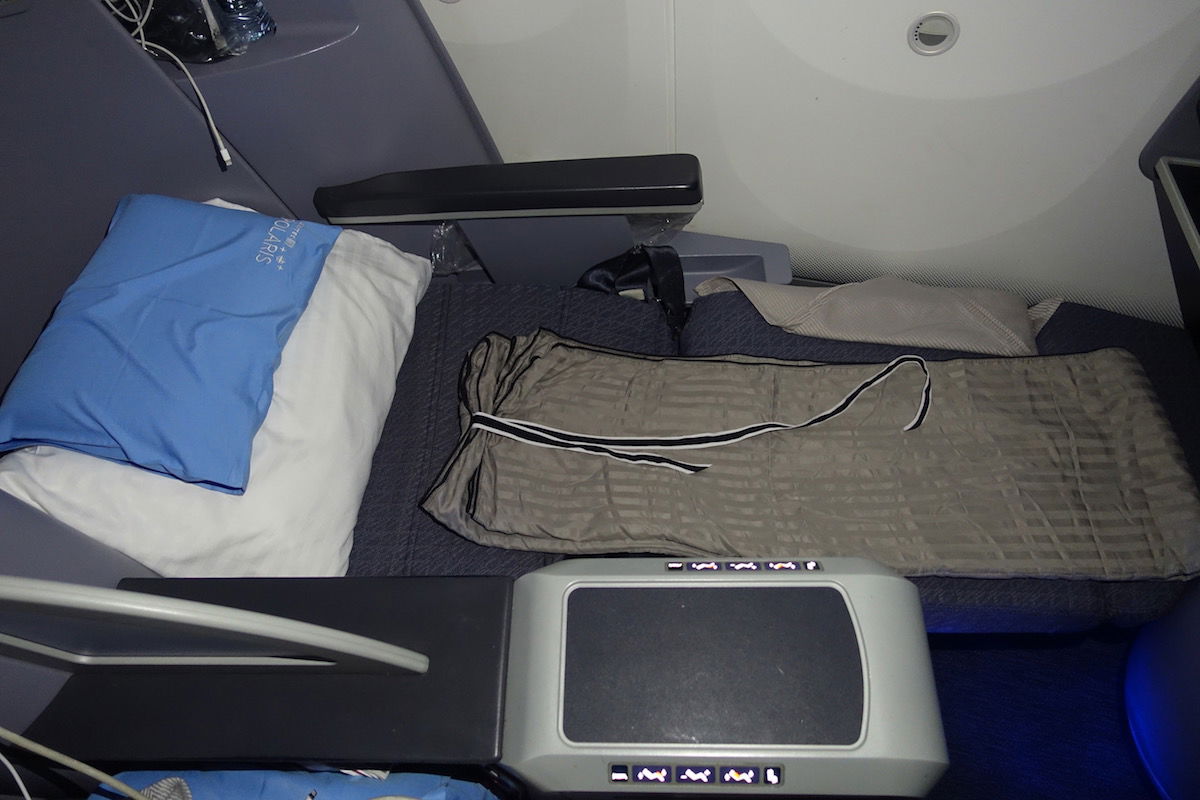 United business class bed 787
I slept extremely well, and woke up about 90 minutes before landing, meaning I got just over four hours of sleep. I'd say that's pretty good.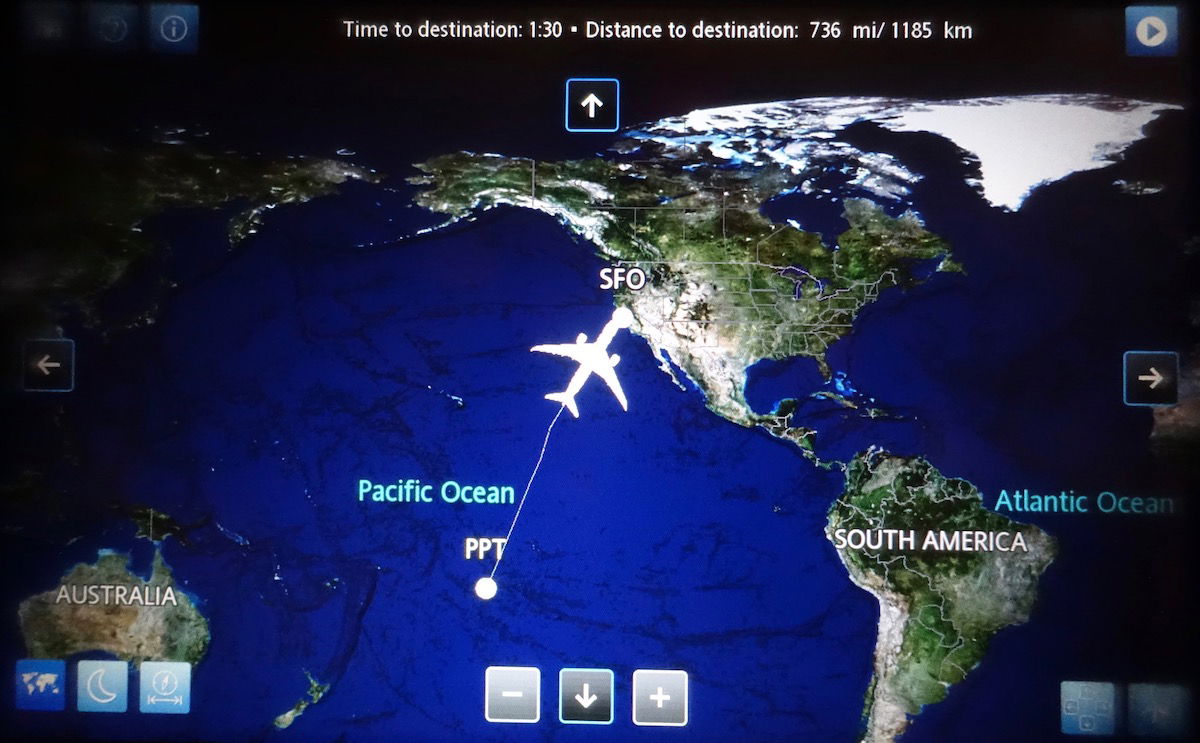 Moving map enroute to San Francisco
Upon waking up I pushed the call button in hopes of getting some coffee. That was ignored, so I pushed it again, and then finally a flight attendant showed up.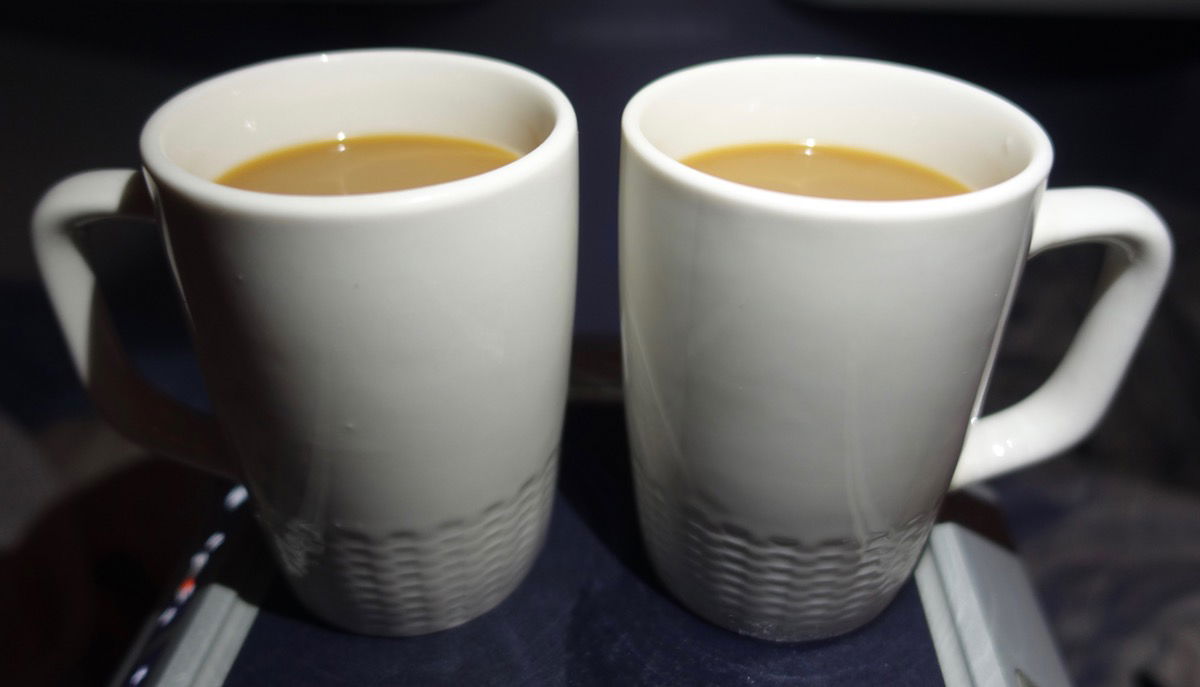 United business class breakfast — coffee
About 75 minutes before landing the cabin lights were turned on, and the breakfast service began.
For breakfast I ordered the tomato, zucchini, and cheese panini, which was awful. The bread was hard, and there was barely anything between the two pieces of bread. I had one bite and left it.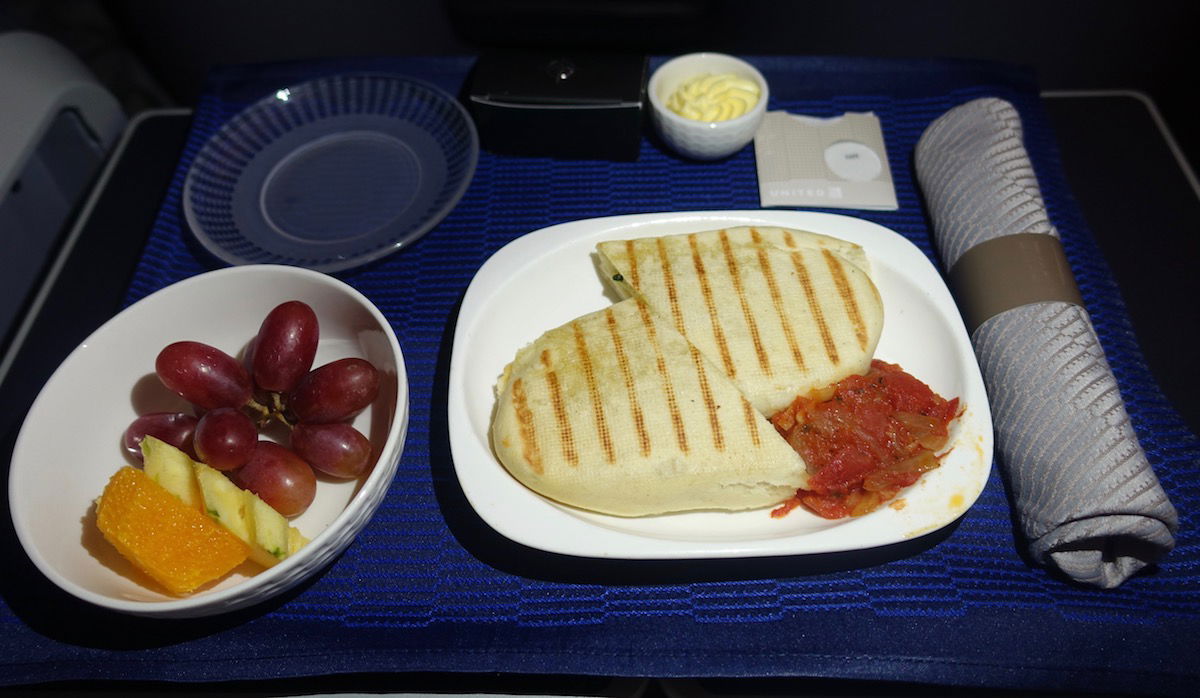 United business class breakfast
Ford had the quiche lorraine, which seemed like the better of the two options.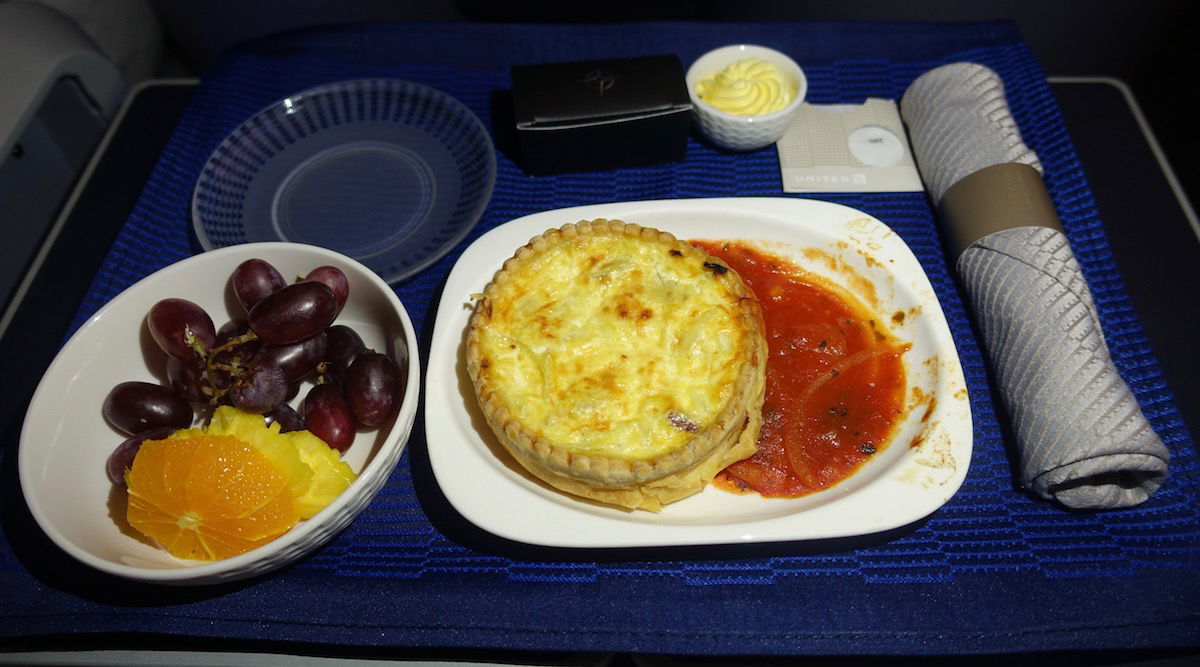 United business class breakfast
One thing that's probably worth mentioning again is that these seats really lack any storage space. So while United's bedding is excellent, there's not any place to put it. This is the bedding we had, not even including the mattress pads (which we left on our seats, even when upright).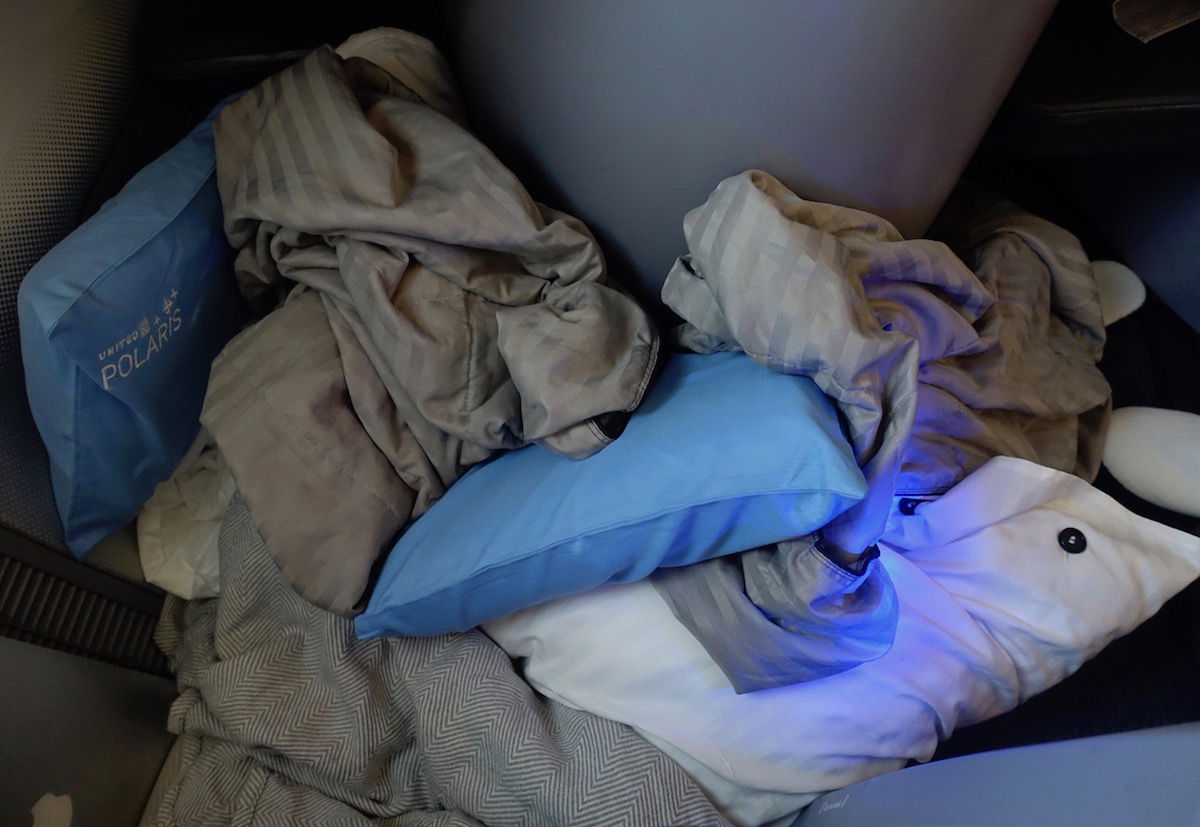 United Polaris bedding overload
Anyway, at around 7:35AM PT the captain announced that we'd be descending in about 10 minutes, and would be at the gate by around 8:15AM.
Sure enough we soon began our descent, and it was a beautiful morning in the Bay Area.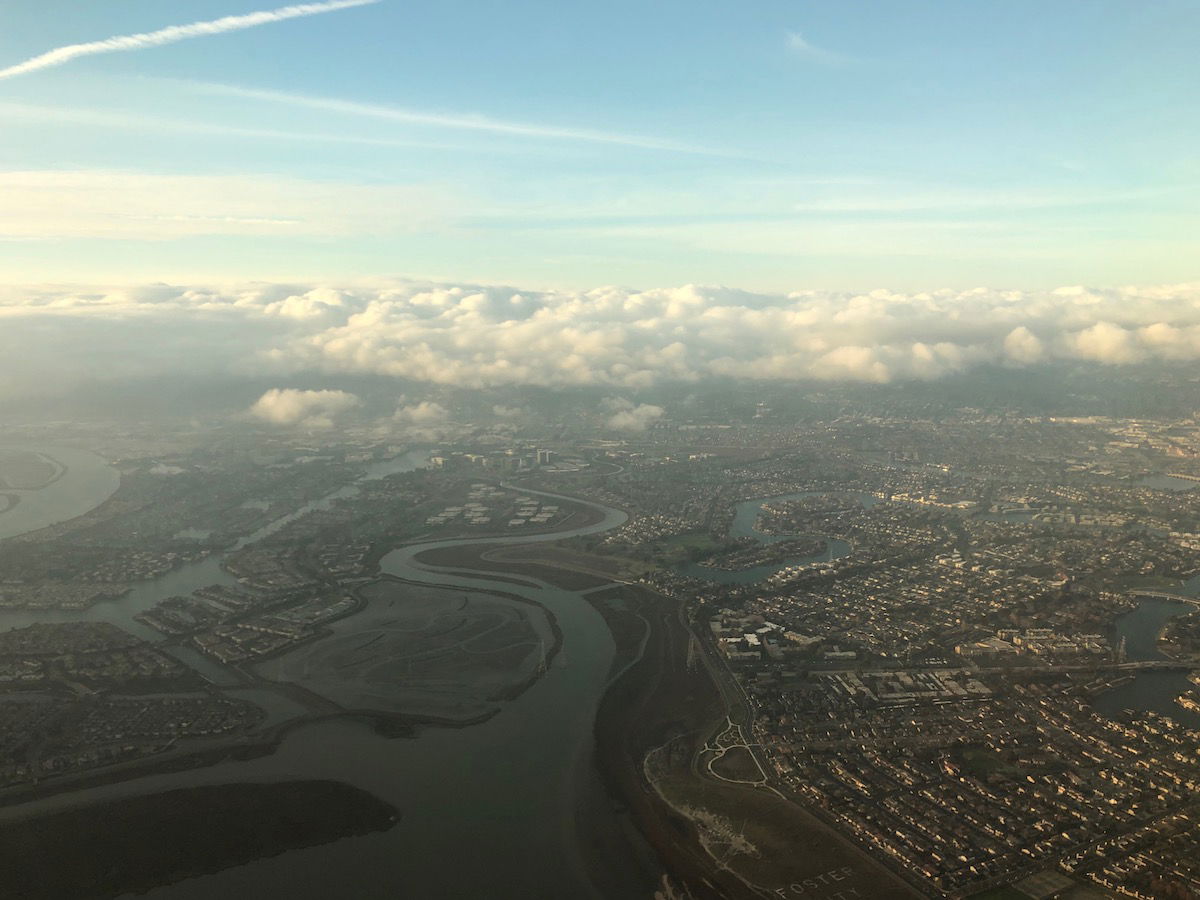 View approaching San Francisco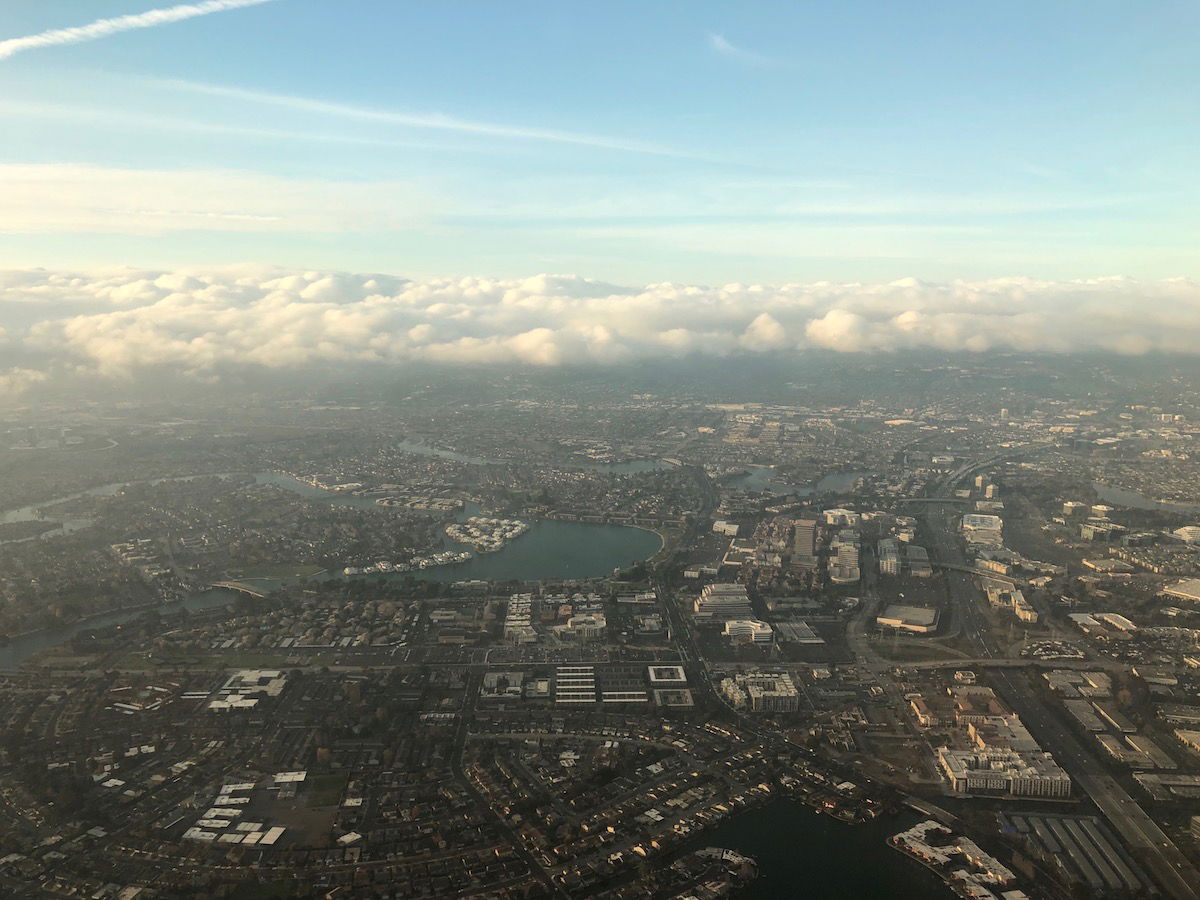 View approaching San Francisco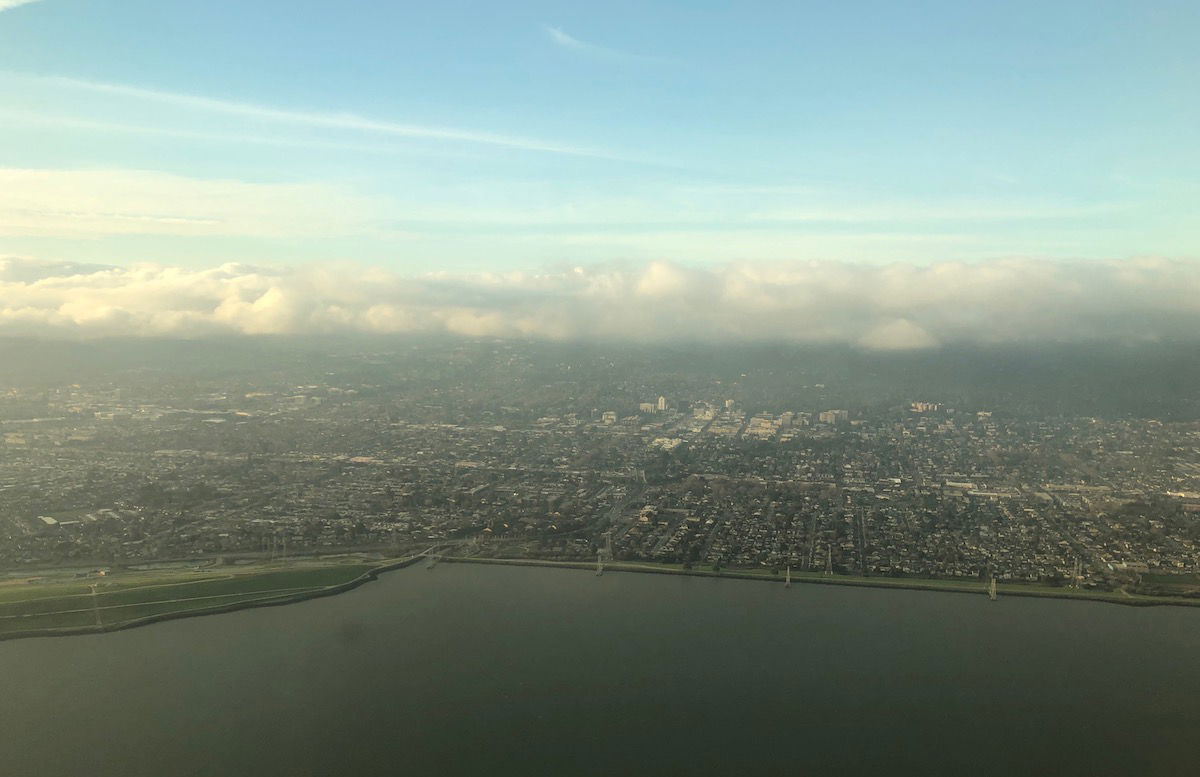 View approaching San Francisco
We touched down at 8:05AM.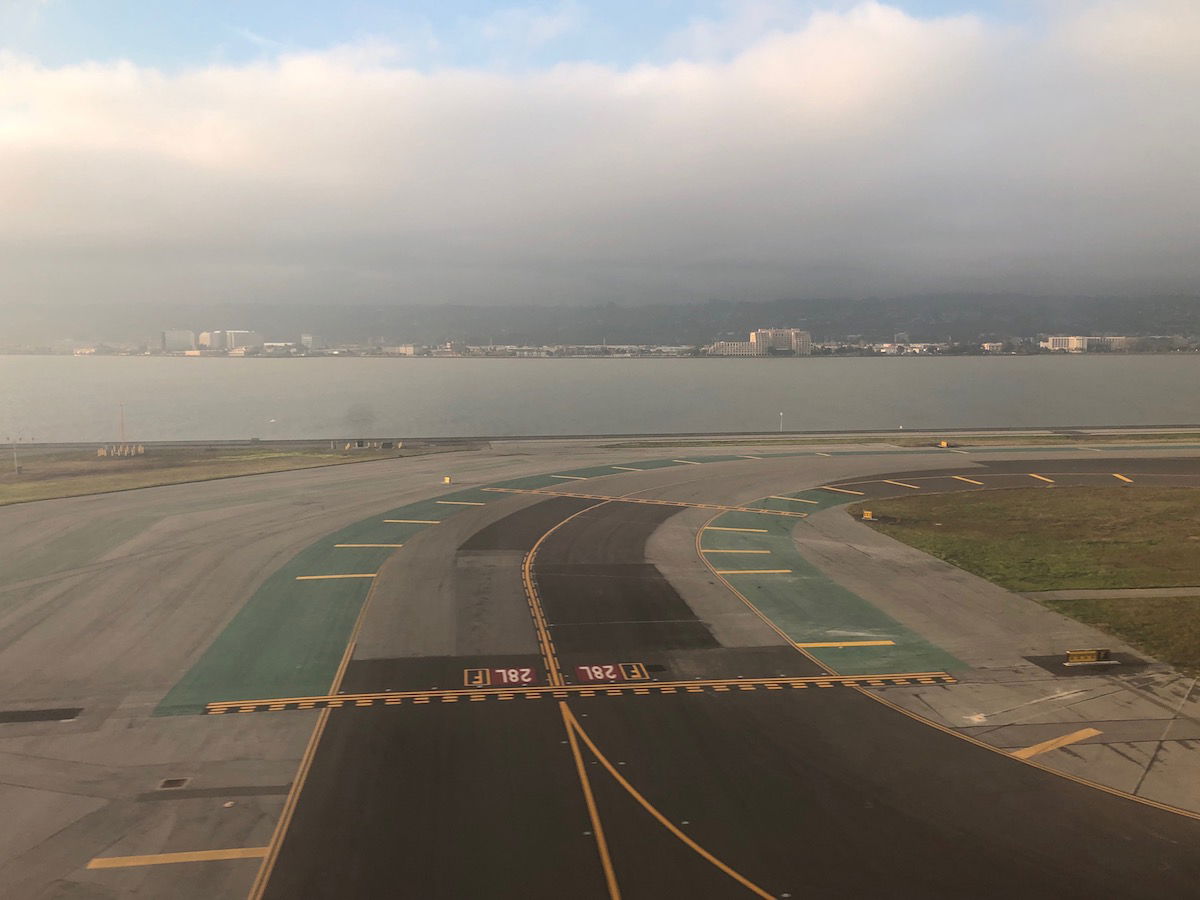 Landing at SFO
From there we had a 10 minute taxi to gate 95 at the international terminal. We passed a United 777-300ER, and ended up parking next to a United 787-9.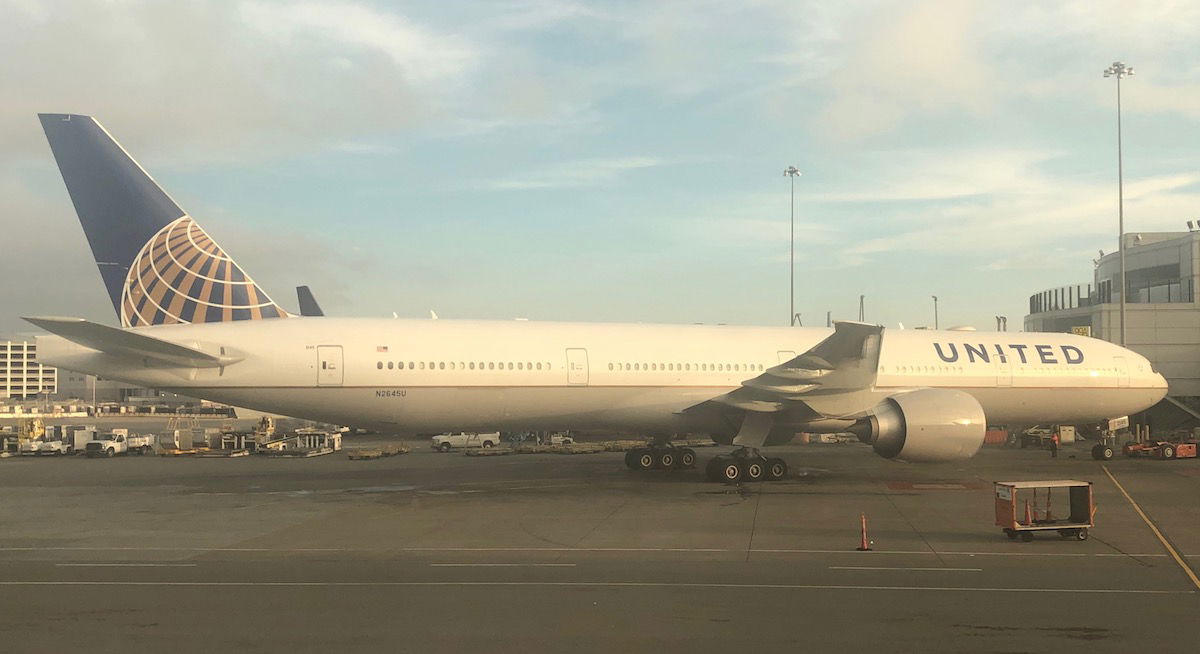 United 777-300ER SFO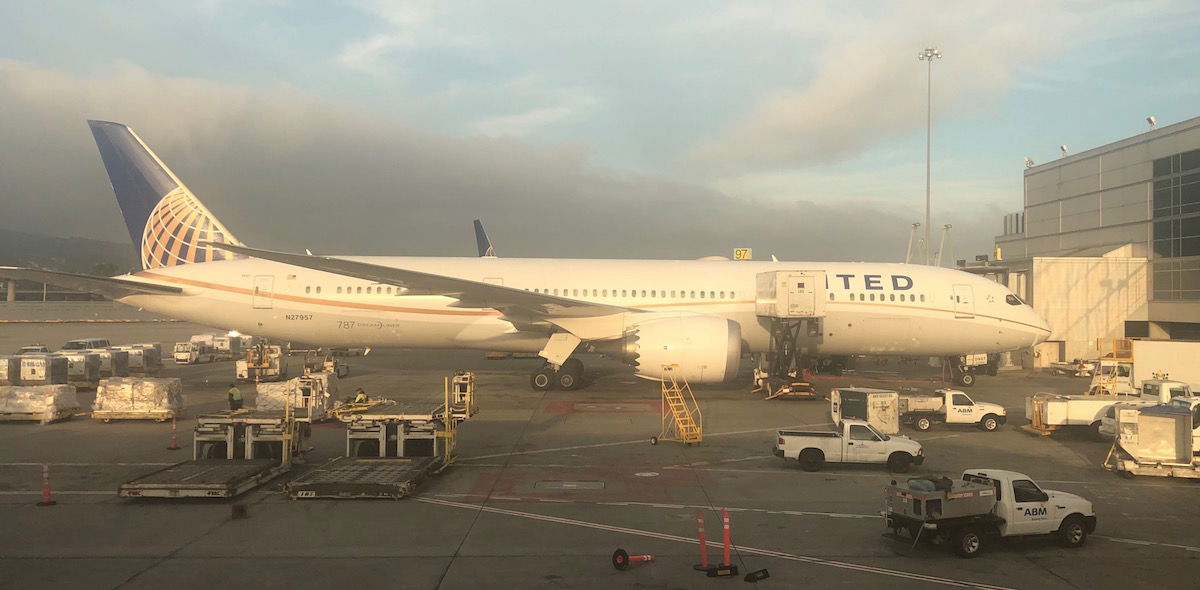 United 787-9 SFO
Immigration was quick thanks to Global Entry, and we headed to the Polaris Lounge.
United 787 business class bottom line
For a flight of just over seven hours, United Polaris was more than sufficient. The old seats are comfortable, especially if traveling with someone, and United's bedding is exceptional. On top of that, their entertainment and Wi-Fi are above average.
Unfortunately the food on this flight was really bad, though that may just be a function of Tahiti still being a new airport for them, and maybe they need to revise their catering budget a bit. Tahiti is really expensive, so I'm not sure if United is just not willing to pay for better quality, or what.
On top of that, service was a mixed bag. The purser was great, while the other flight attendants weren't nearly as good, and one was even comically bad.