---
I arrived from Lisbon at 5:15PM, and my connecting flight to Newark was at 6:05PM. I rushed to get to the connecting flight, since I was still hoping to be among the first onboard to get cabin pictures.
I was surprised by just how much time it took to get to the departure gate. First I had to clear security (why, though?), then I cleared immigration, and then I made my way to gate 10, located at the far end of the terminal. Once at the gate I had to undergo the typical ridiculous security questioning for US-bound flights, before eventually finding myself in the "sterile" gate area.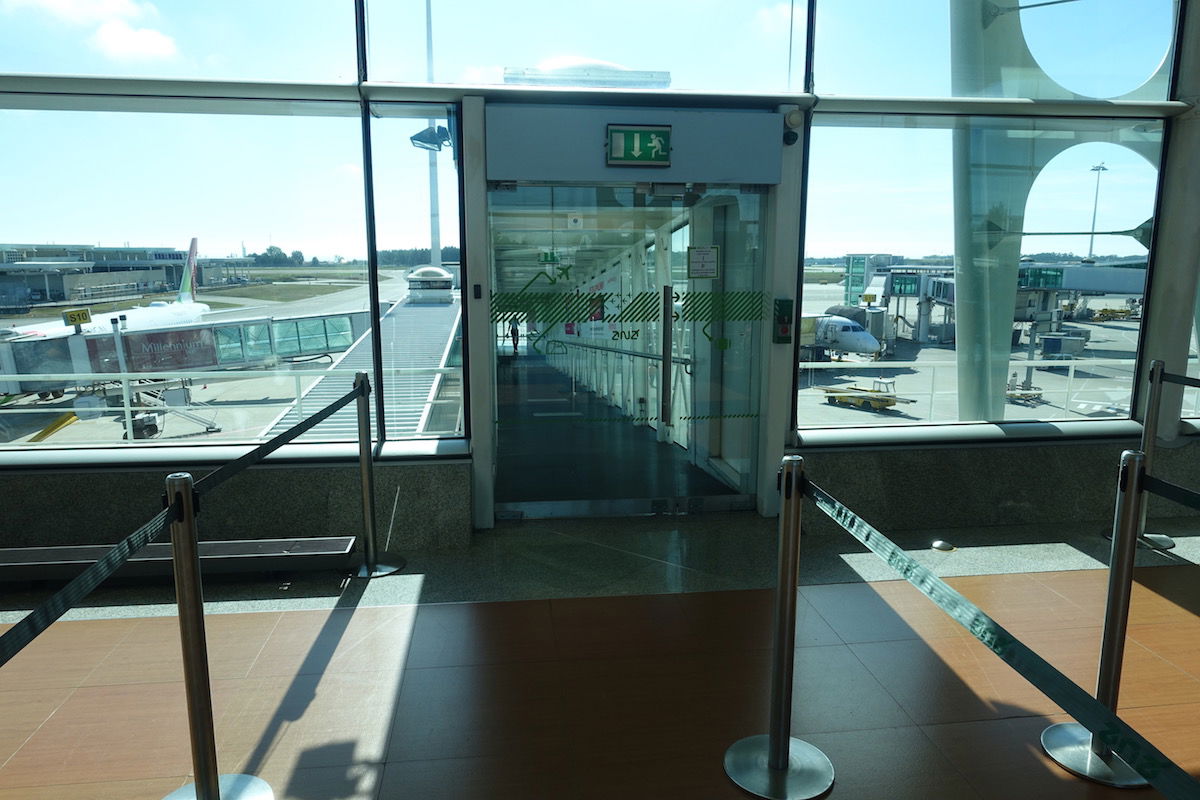 Porto Airport departure gate
While boarding was scheduled for 5:20PM according to the boarding pass, in reality boarding started at 5:35PM. And while boarding started at 5:35PM, we had to stand in the hot jet bridge until 5:50PM, because they crew wouldn't let us onboard yet.
TAP Air Portugal 213
Porto (OPO) – Newark (EWR)
Monday, August 5
Depart: 6:05PM
Arrive: 9:10PM
Duration: 8hr5min
Aircraft: Airbus A321LR
Seat: 2A (Business Class)
Entering the TAP Portugal A321LR business class cabin was almost like deja vu. The cabin is a near identical layout to what I had on Aer Lingus the night before, minus the cabin finishes. TAP's A321 business class cabin consisted of a total of 16 seats, spread across five rows.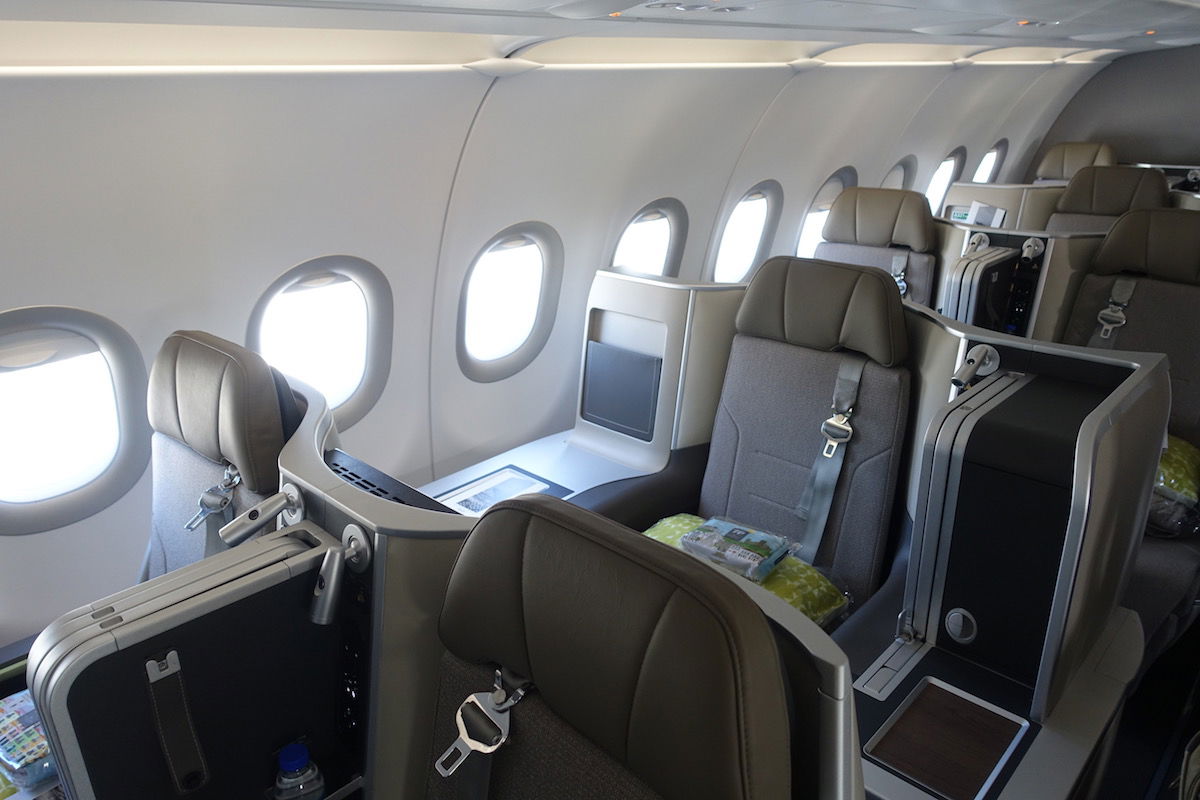 TAP Air Portugal A321LR business class cabin
In rows one, three, and five, seats are in a 2-2 configuration.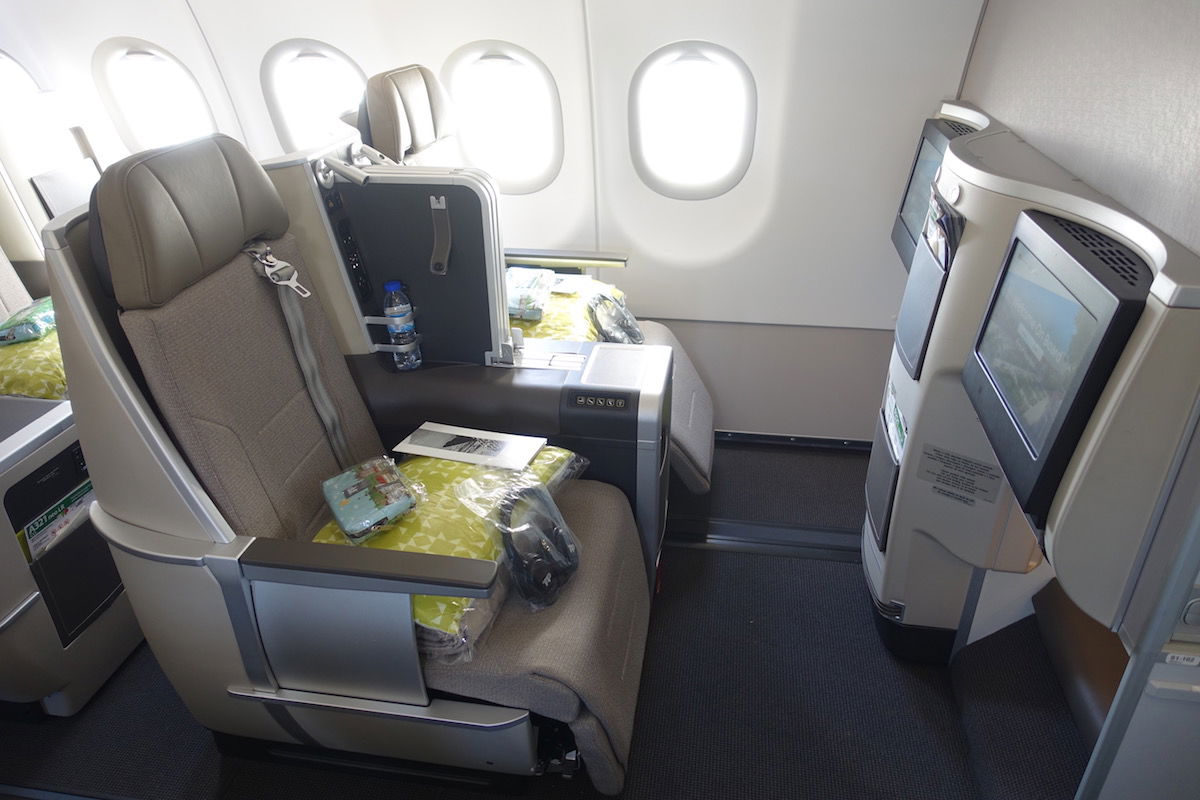 TAP Air Portugal A321LR business class seats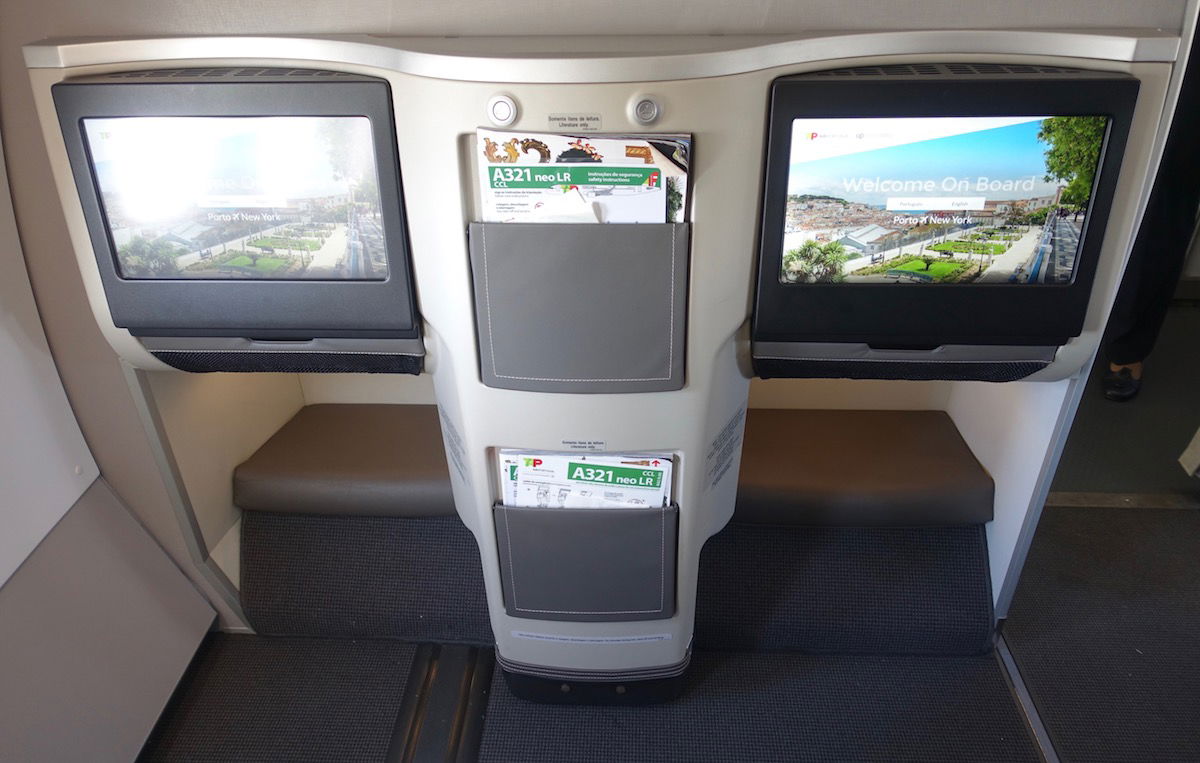 TAP Air Portugal A321LR business class seats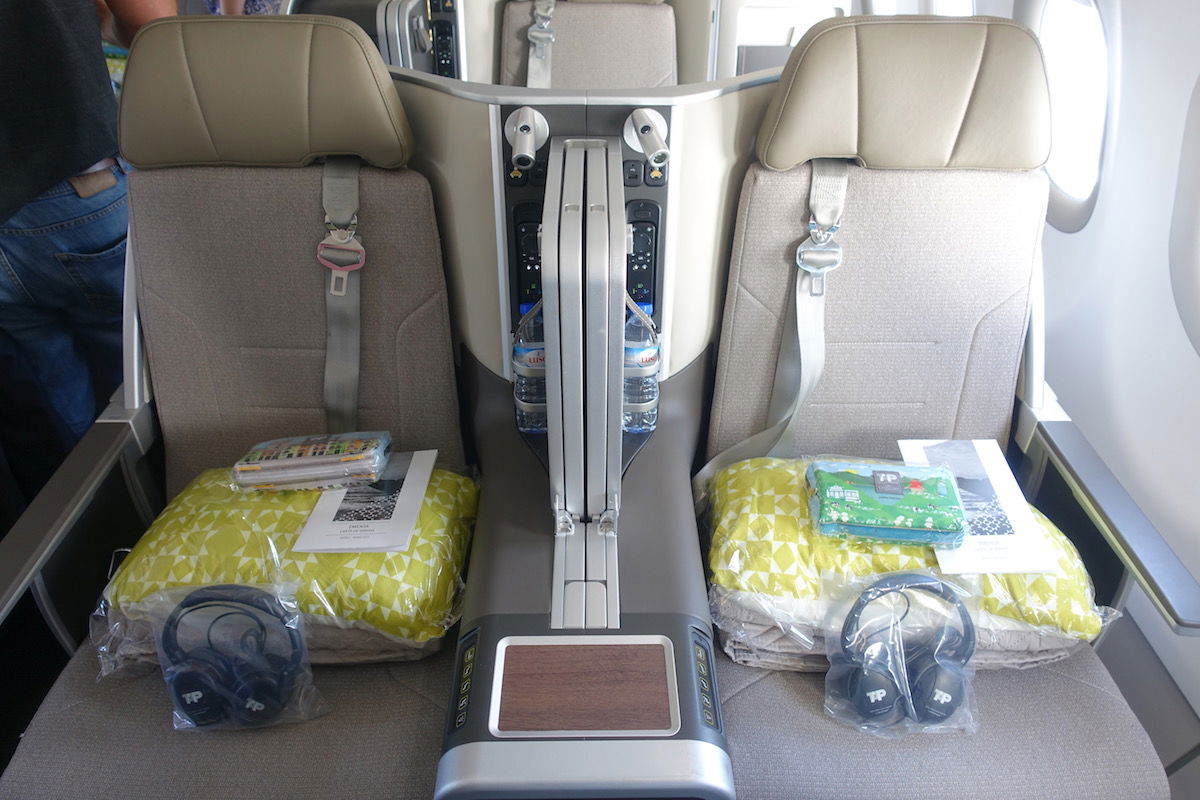 TAP Air Portugal A321LR business class seats
Then in rows two and four, seats are in a 1-1 configuration, consisting of what many of us call "throne" seats. These are the seats to be in, thanks to just how much personal space they offer. There's no extra fee to assign these seats — they're available first come first served.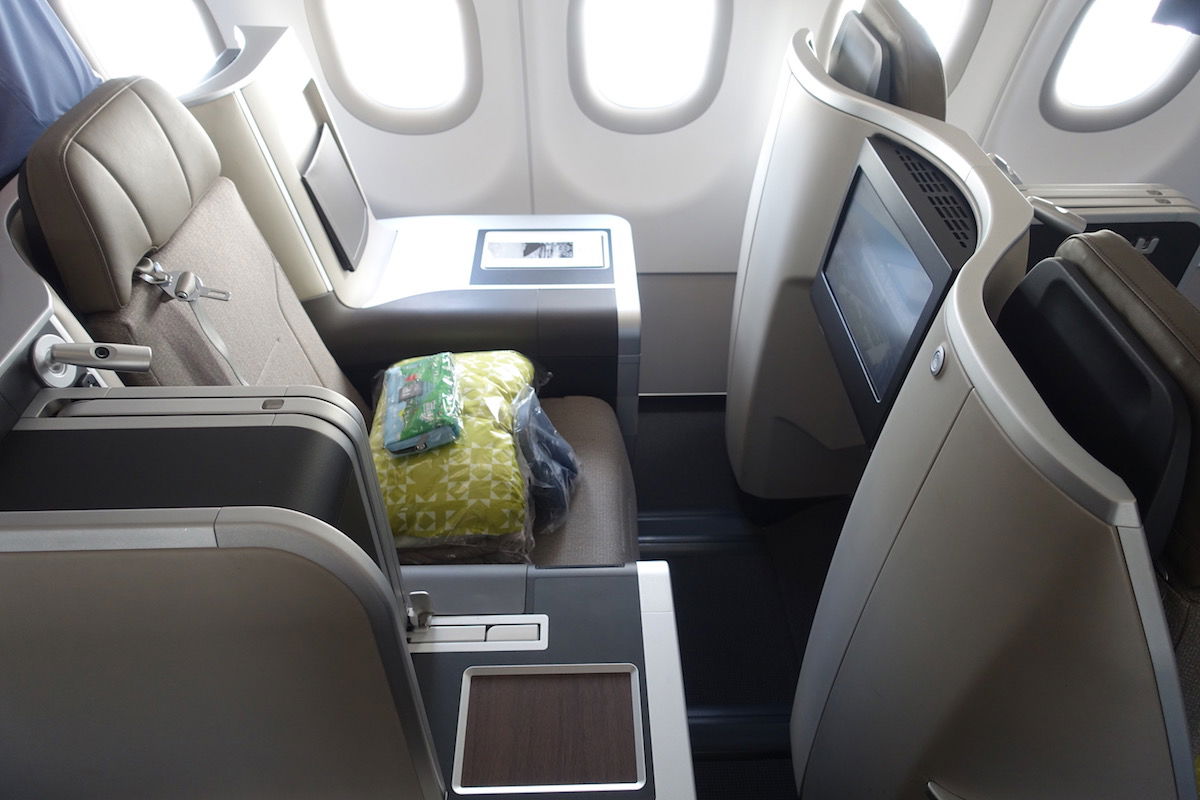 TAP Air Portugal business class seats A321LR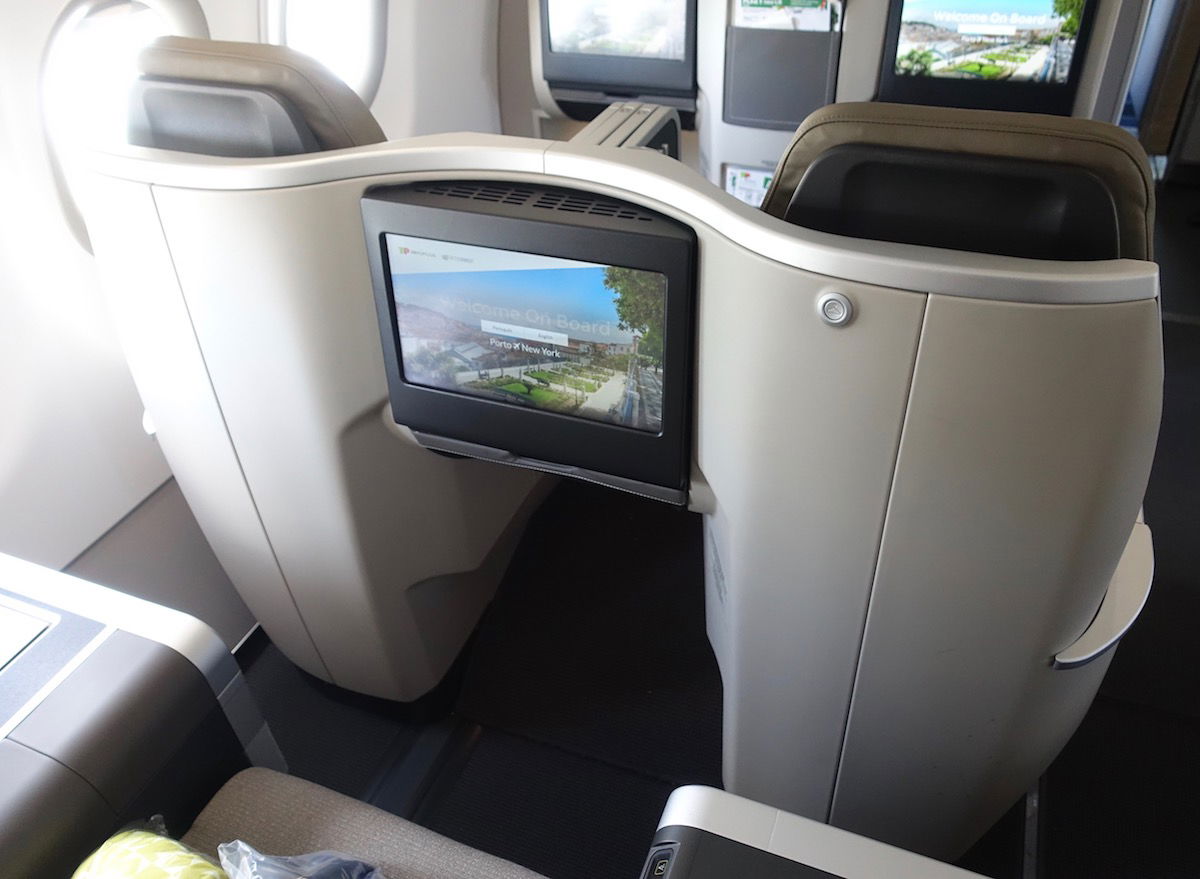 TAP Air Portugal business class seats A321LR
TAP has the same business class seats on the A321LRs that they have on their newest A330-200s (which is a good product, but not as good as their new A330-900neo business class).
Given the A321's cabin layout, this configuration is also almost identical to JetBlue Mint, except the "throne" seats on TAP don't have sliding doors.
To the left of my seat was a big counter where I could store things during the flight. While Aer Lingus had a storage compartment underneath the left of the seat on the same plane, TAP didn't, so I guess they didn't select that option.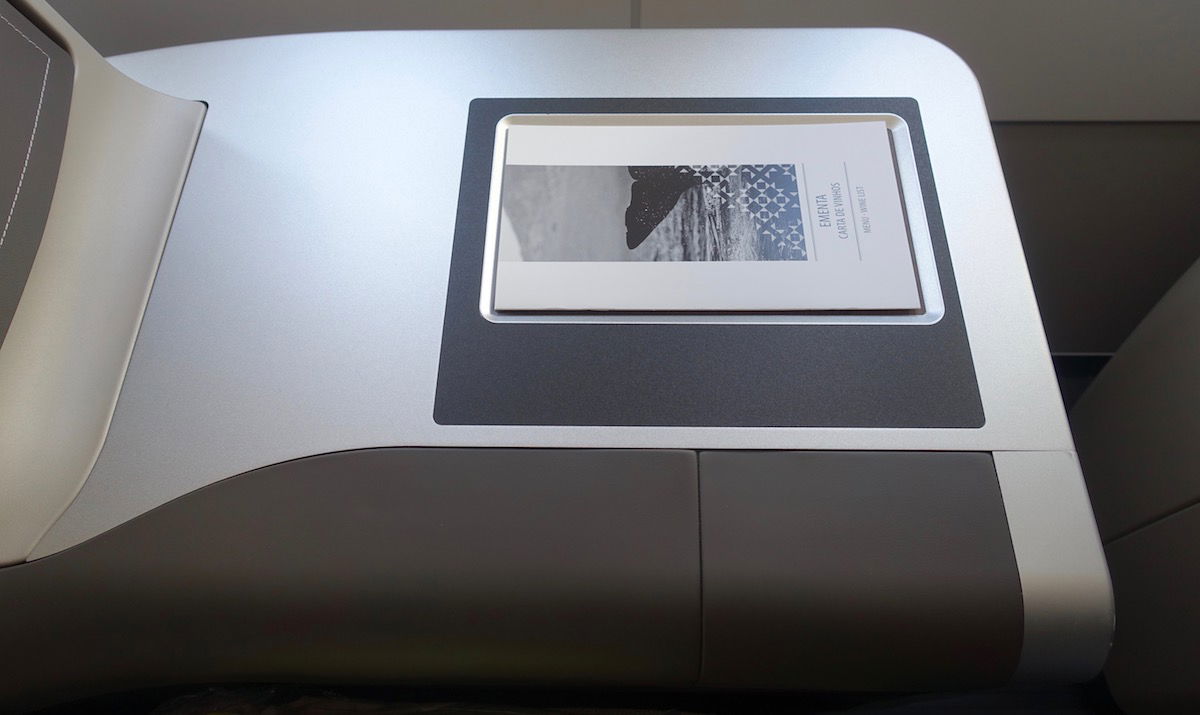 TAP Portugal business class seat
To the right of my seat was an enclosed storage compartment, entertainment controls, headphone jacks, and a water bottle holder with a water bottle in it.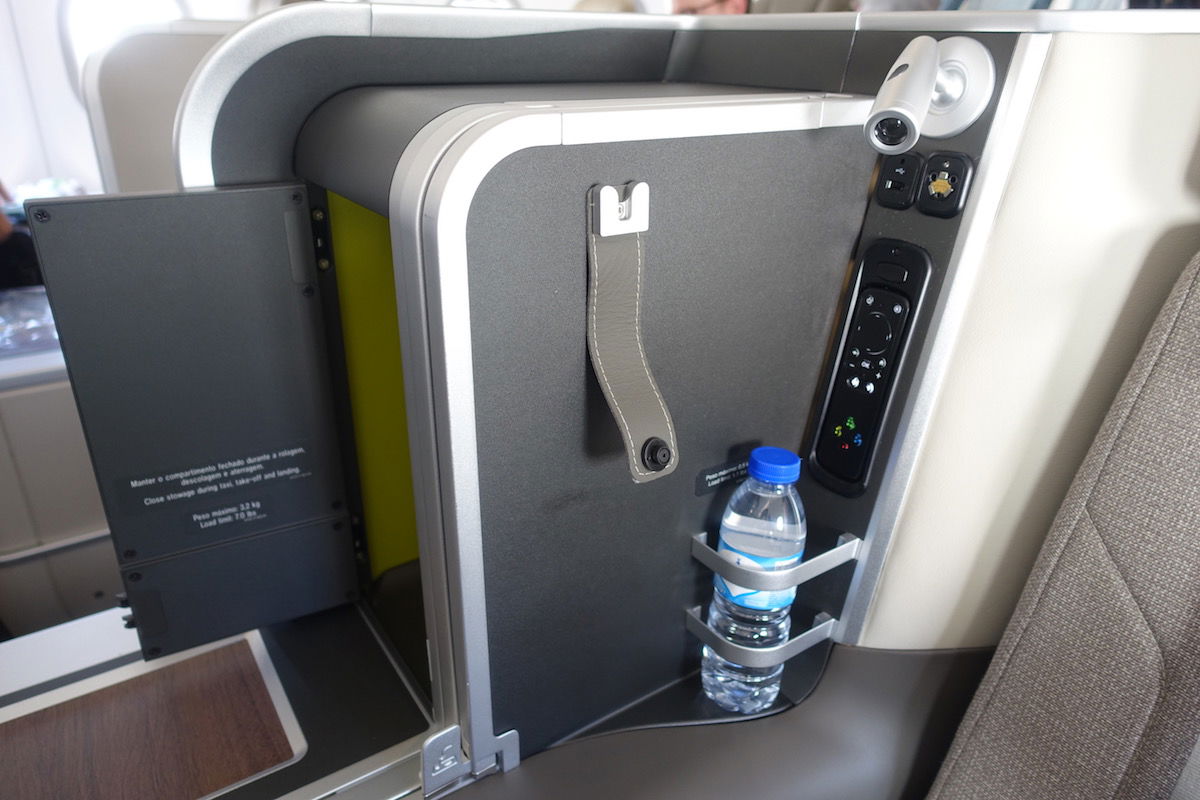 TAP Portugal business class seat storage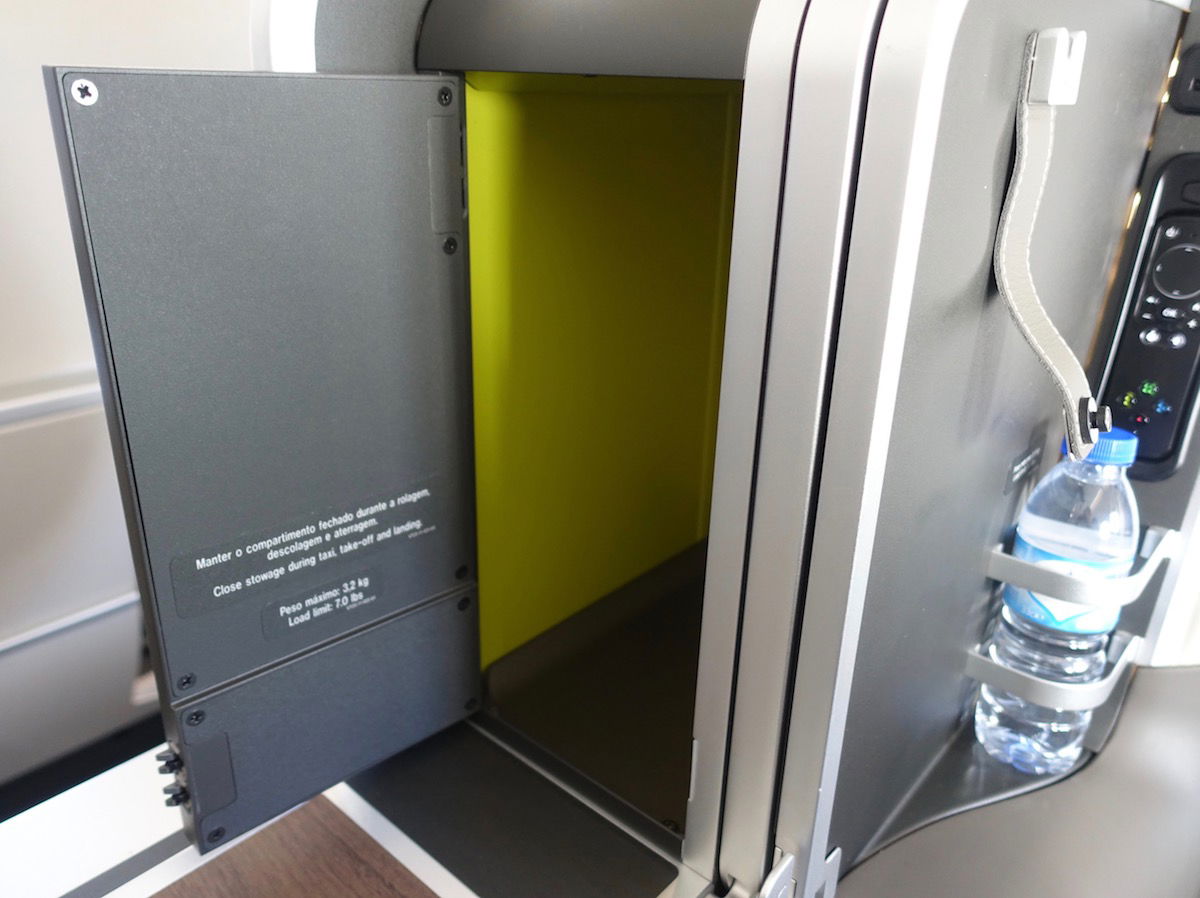 TAP Portugal business class seat storage
The seat controls were on a button to the right of the seat.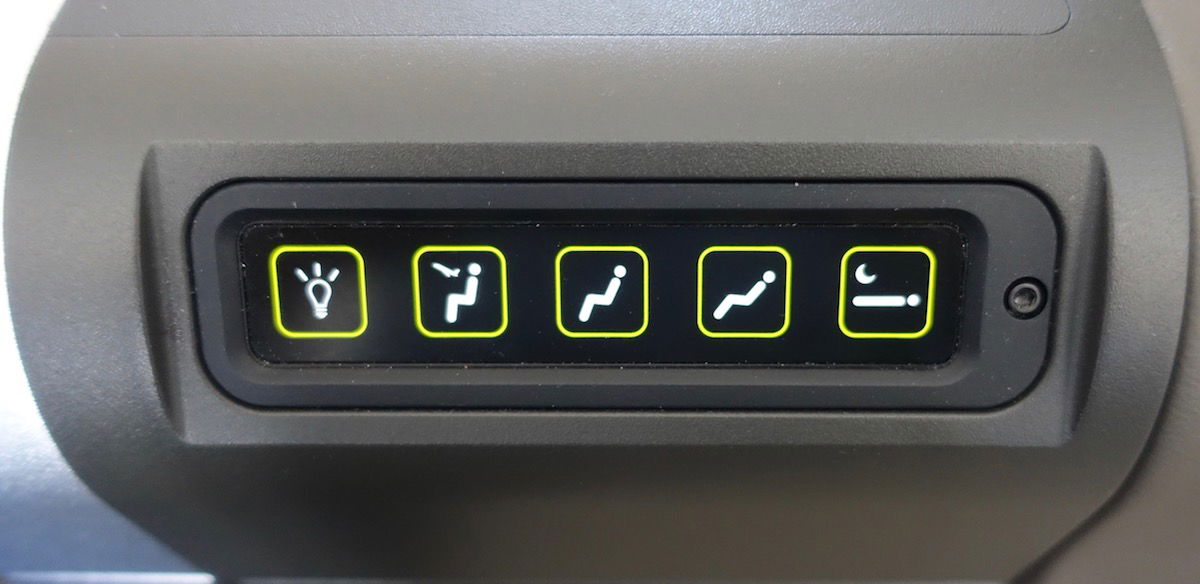 TAP Portugal business class seat controls
The tray table also folded out from the right side of the seat (I'm not sure what exactly that huge stain is — it wasn't just that the table was wet).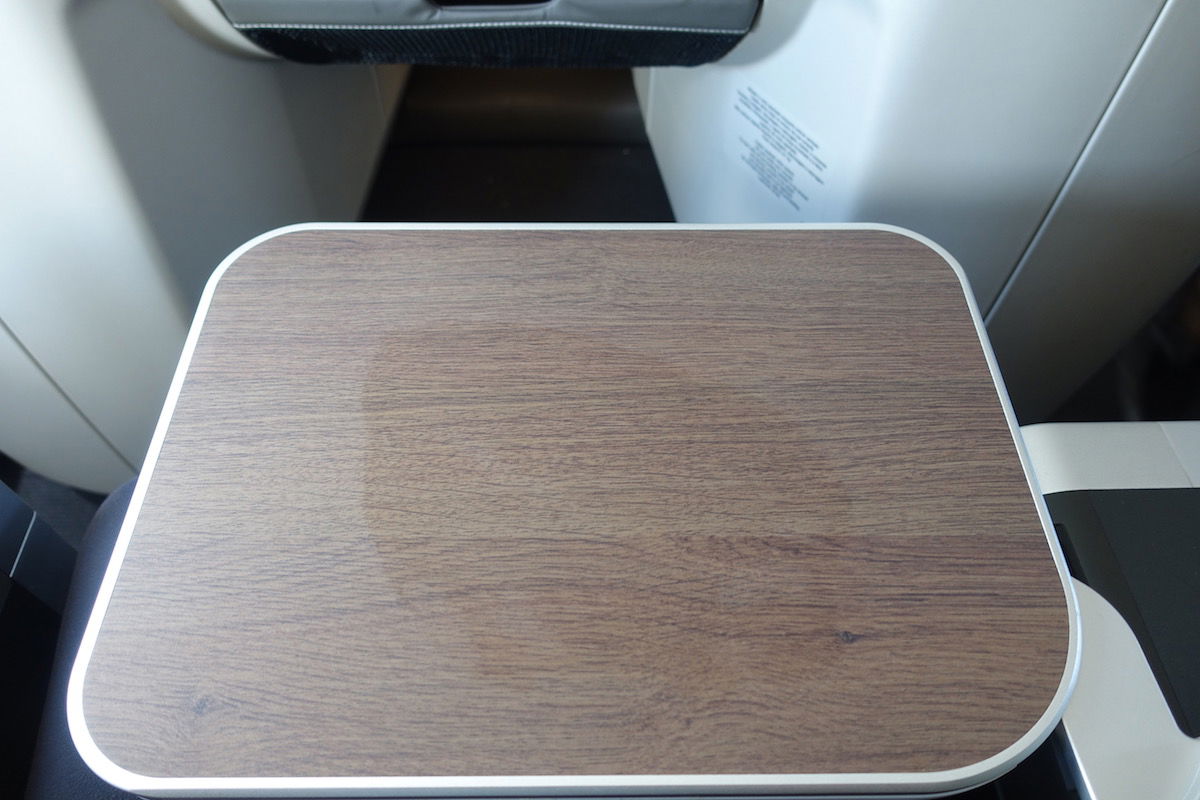 TAP Portugal business class seat tray table
The 110v and USB power outlets were located on the front right of the seat.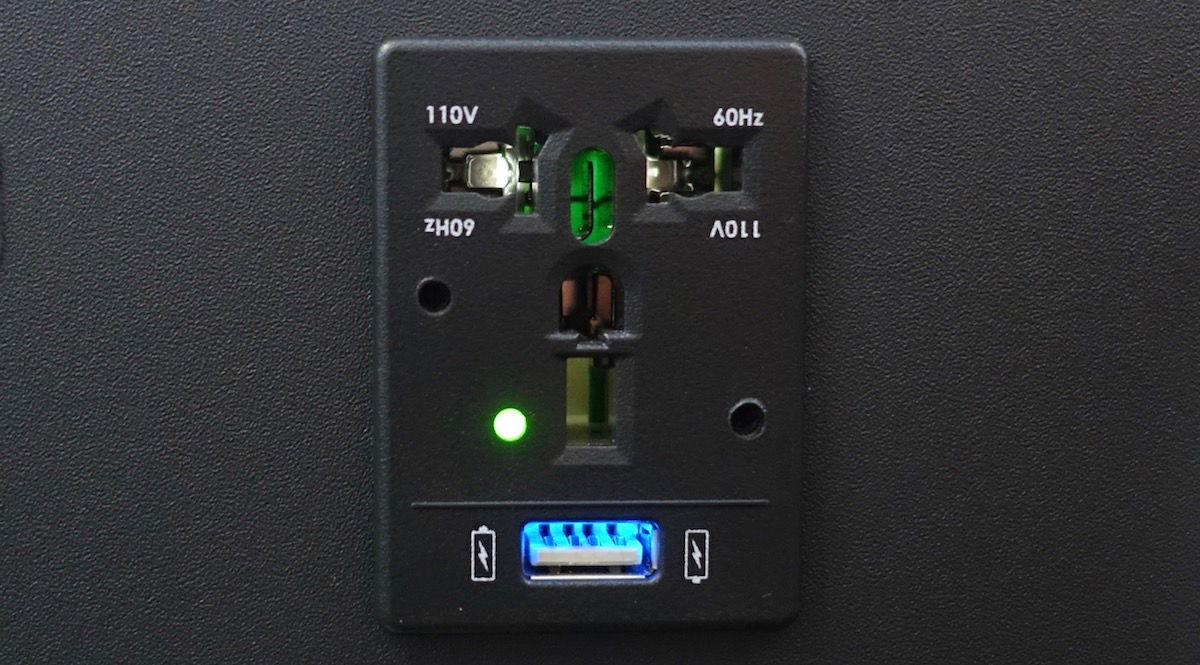 TAP Portugal business class outlets
There was also an individual air nozzle above my seat.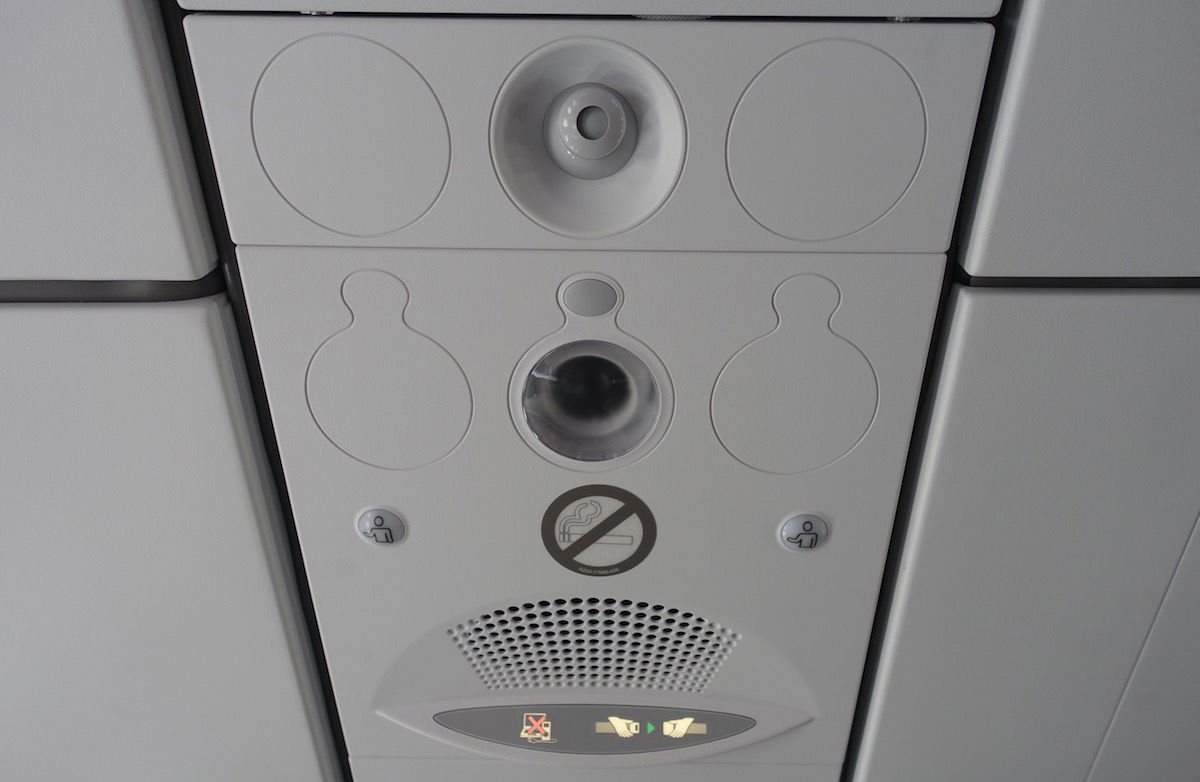 TAP Portugal business class air nozzles A321LR
The only downside to these throne seats is that they have fairly small footwells, which feel a bit tight when you're trying to sleep. That's because the footwell is located in between the two seats in front.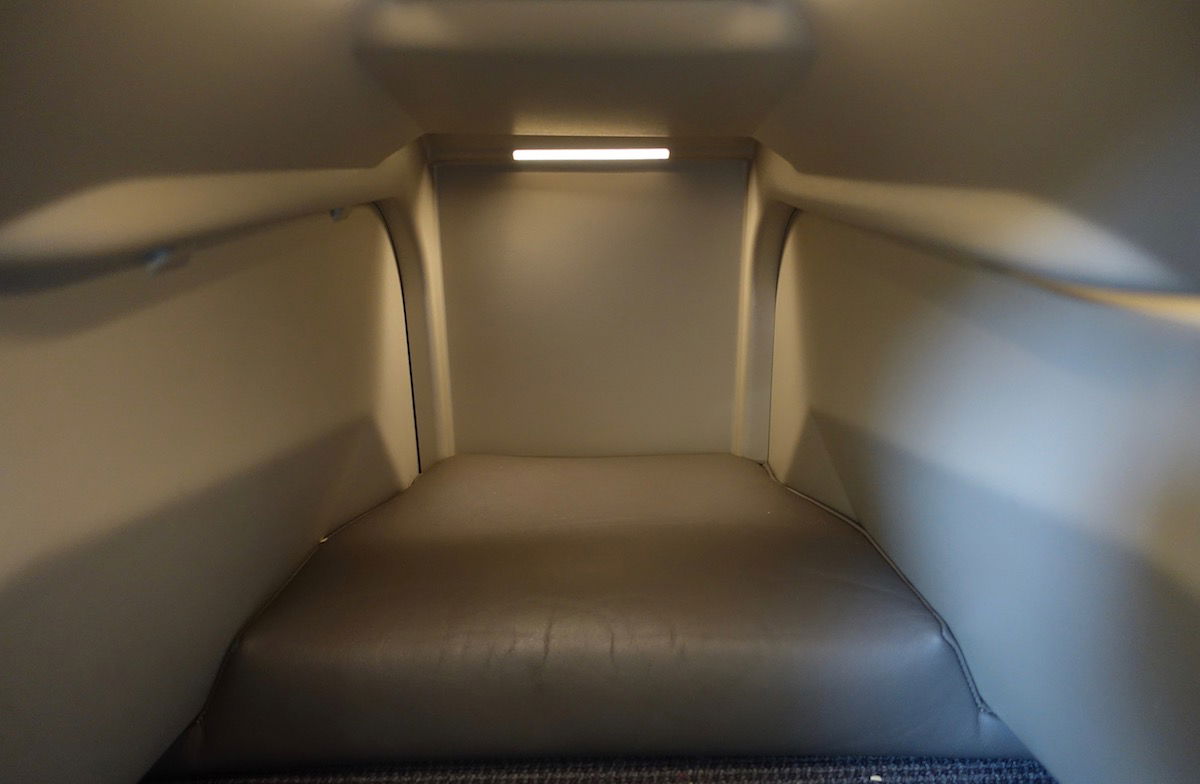 TAP Portugal business class seat footwell
Waiting at my seat on boarding were an excellent pillow and blanket. The blanket in particular is really soft and cozy.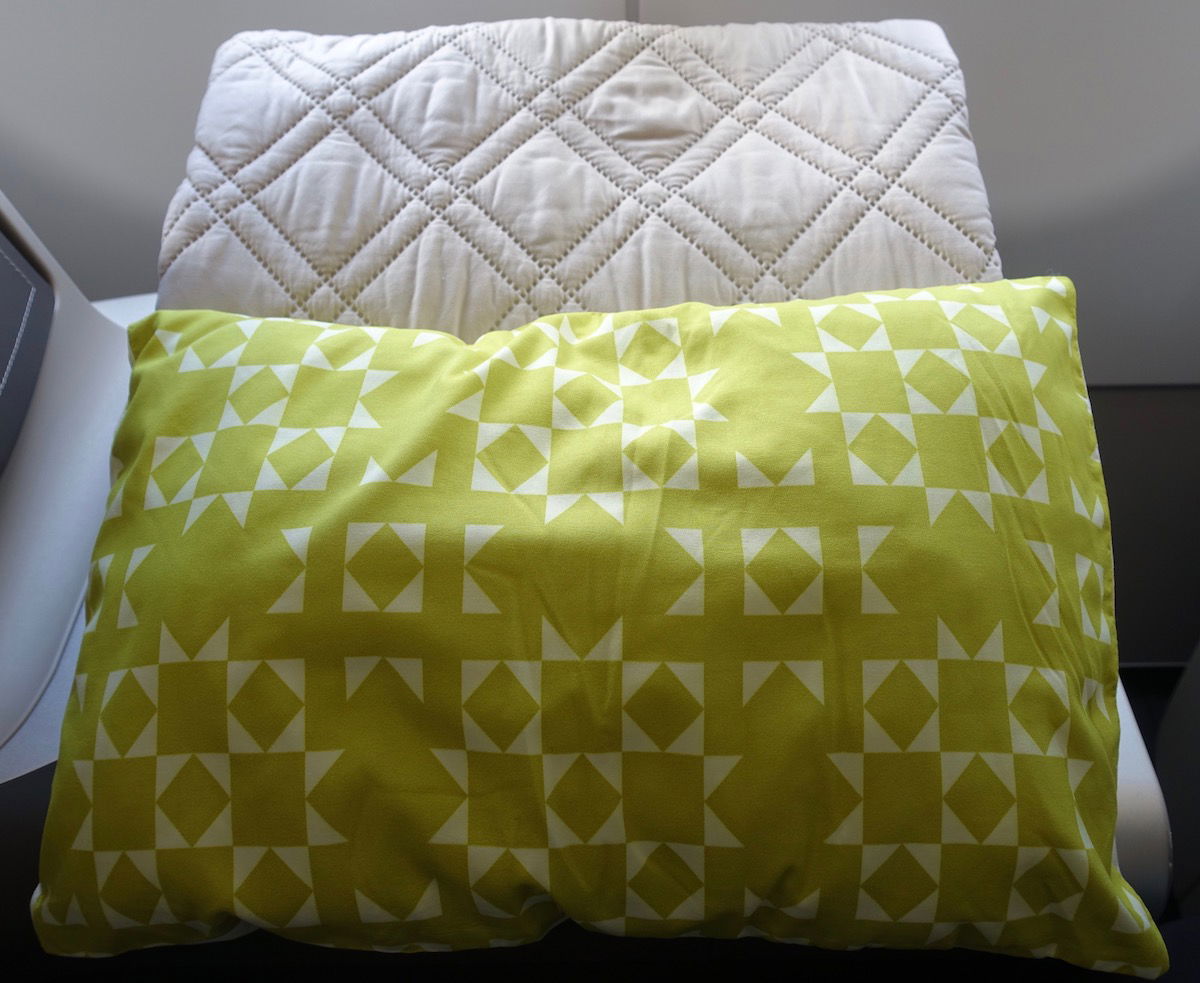 TAP business class pillow & blanket
Then there were a pair of alright headphones.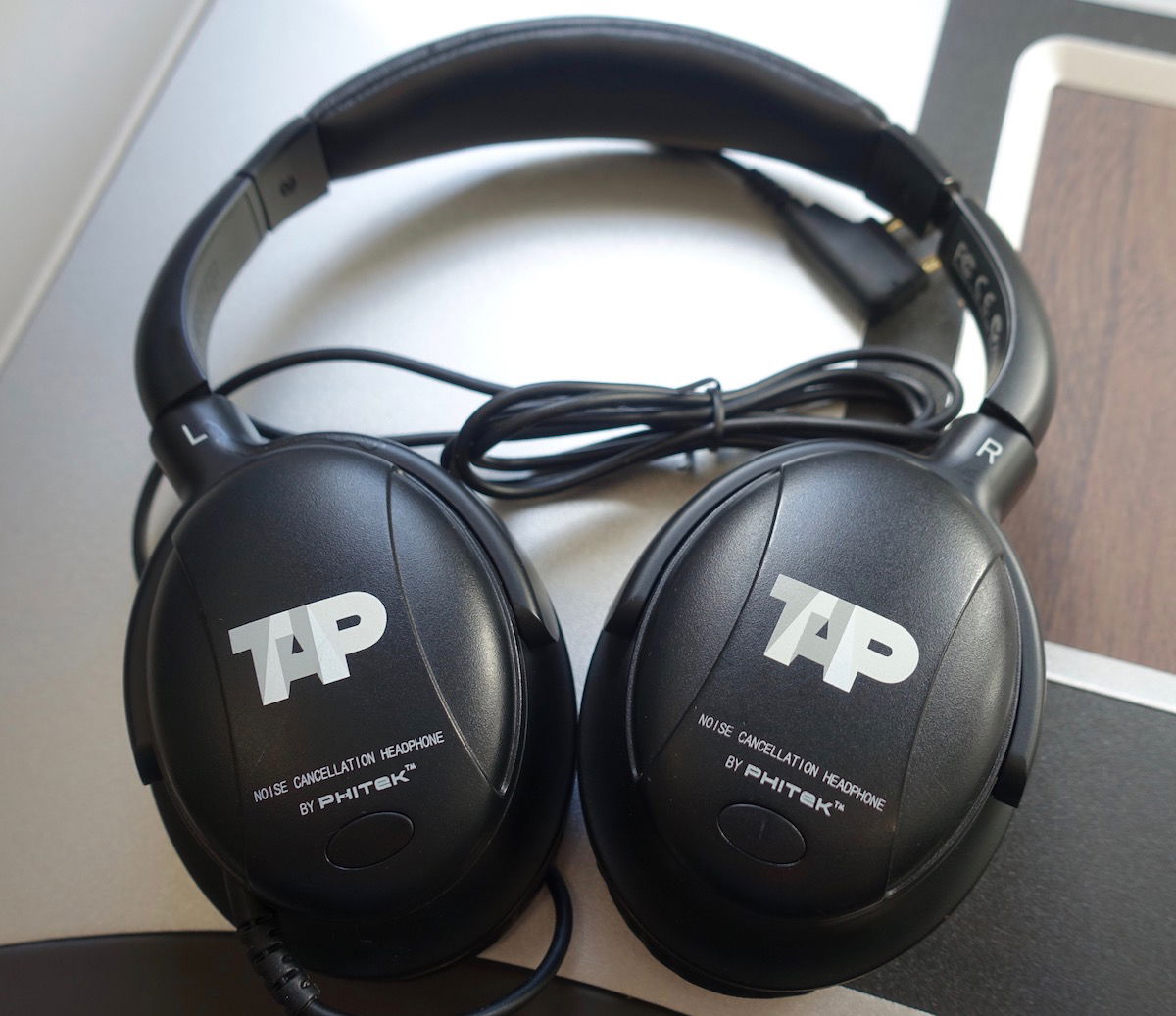 TAP business class headphones
There was also a pretty well stocked amenity kit with some colorful socks, a pen, a toothbrush and toothpaste, a comb, eyeshades, earplugs, lip balm, moisturizer, and more.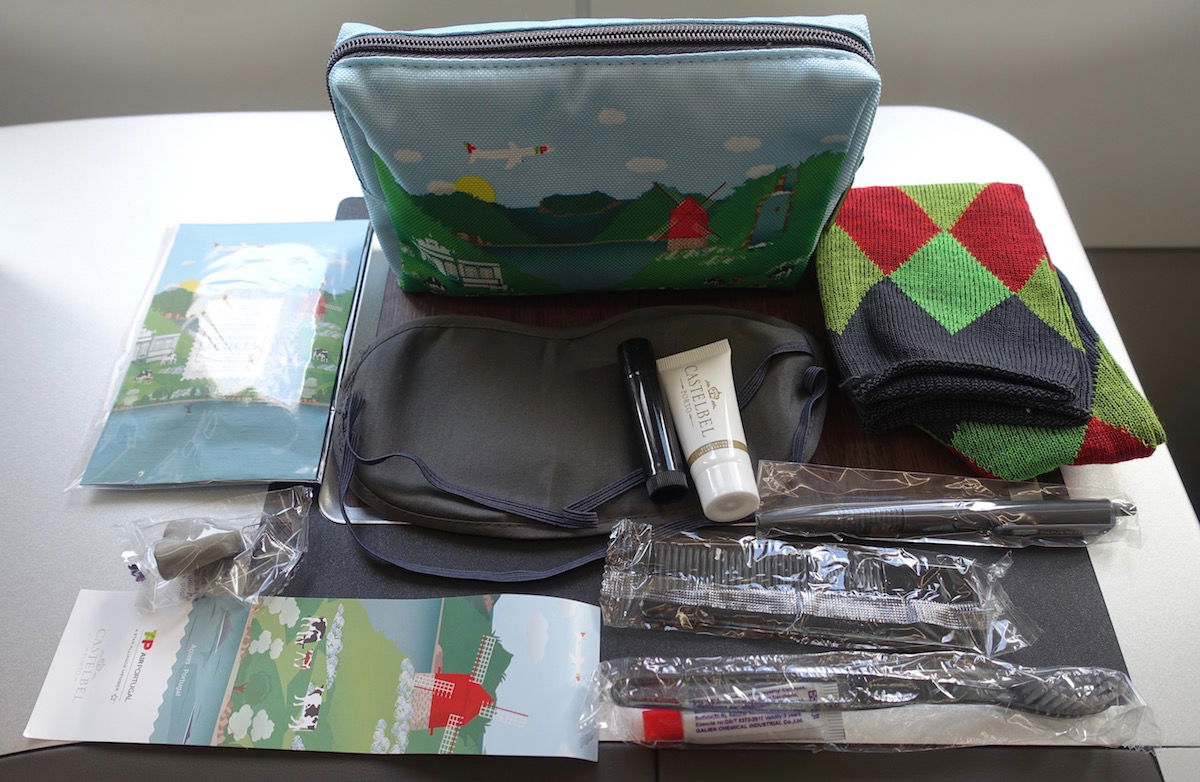 TAP business class amenity kit
The boarding process was fast but hectic, given that everyone was boarding through the forward door. Interestingly just a day before departure the business class cabin was two thirds empty, but business class ended up going out full.
My guess is that economy was oversold and they had to upgrade people, or maybe they just have really attractive upgrade pricing. The problem is that no one seemed to be assigned seats together, so the boarding process turned into a game of musical chairs.
I was amazed by how quickly everyone boarded, because by 6:05PM the door closed, and then five minutes later we began our pushback.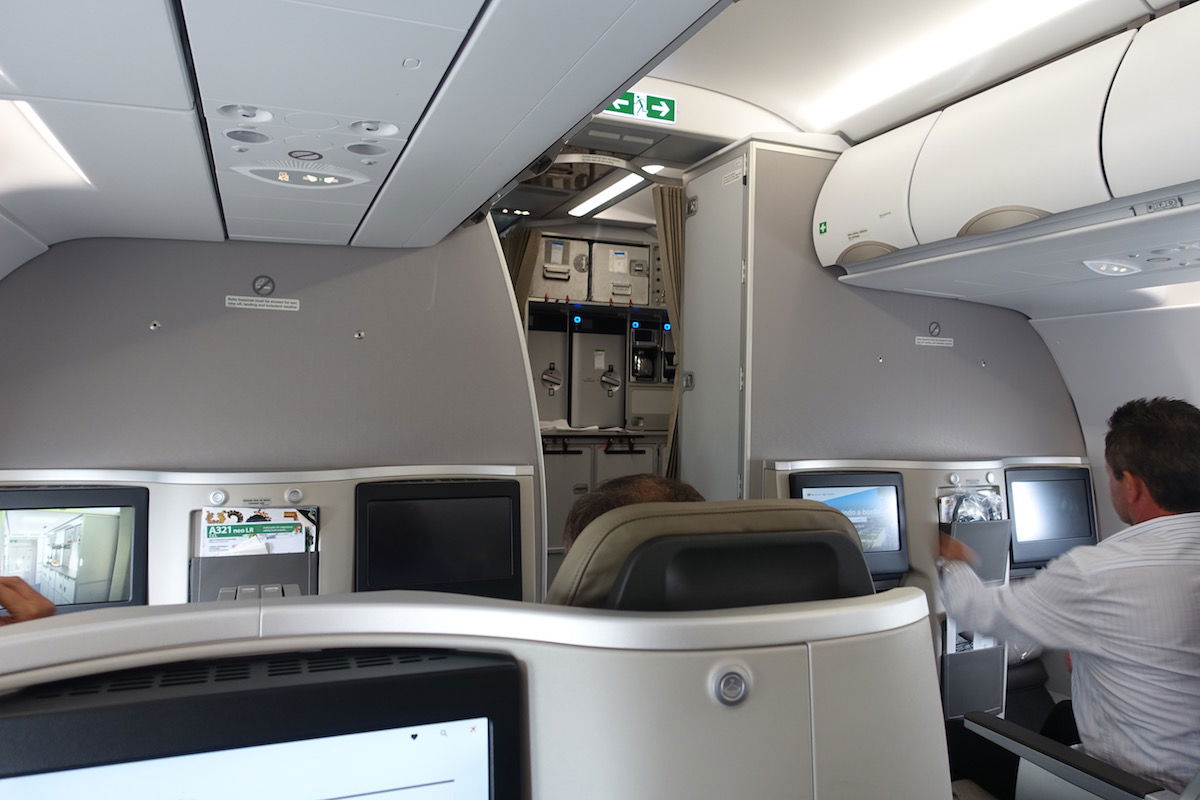 TAP business class cabin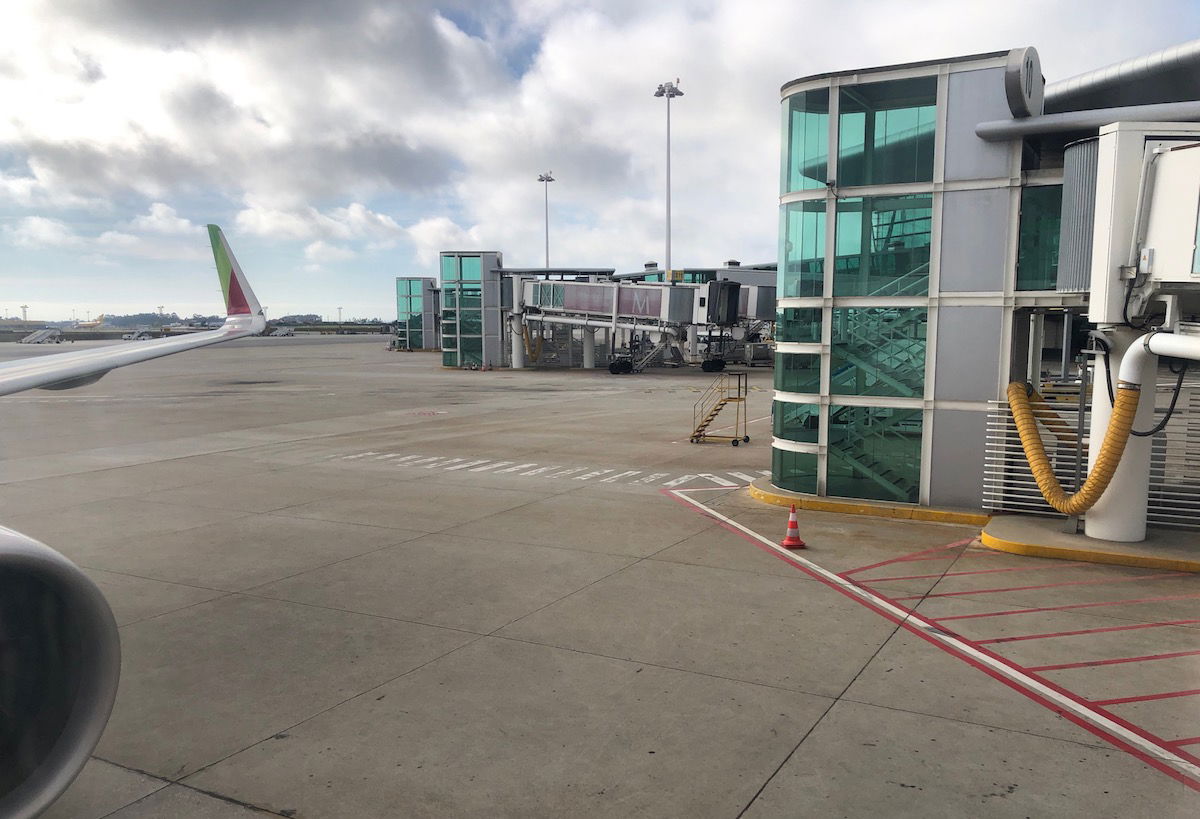 Pushing back Porto Airport
There were no pre-departure beverages. I'm not sure if that was due to laziness, due to the late start to boarding, or because of the challenges of serving these on a single-aisle plane.
At this point the safety video was screened, and the cabin manager announced our flight time of 7hr25min to Newark.
At 6:15PM we began our taxi. Is that a 727, and if so, does anyone know who it belongs to?!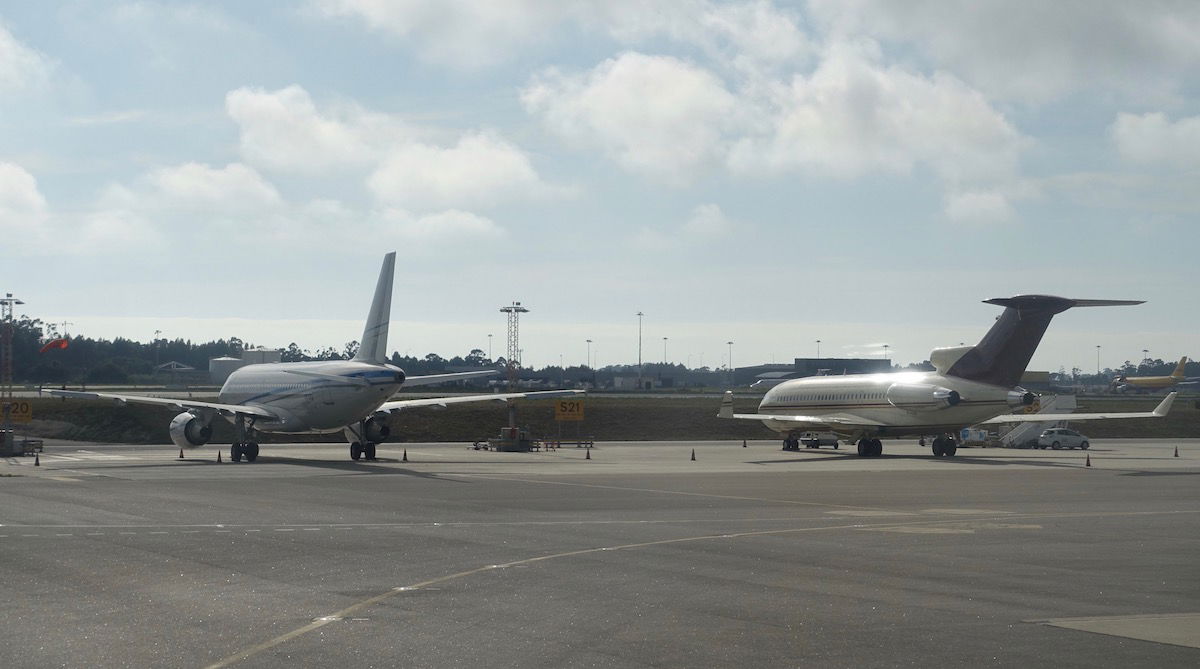 Taxiing Porto Airport
We had a short taxi, and by 6:20PM we were cleared for takeoff on runway 35.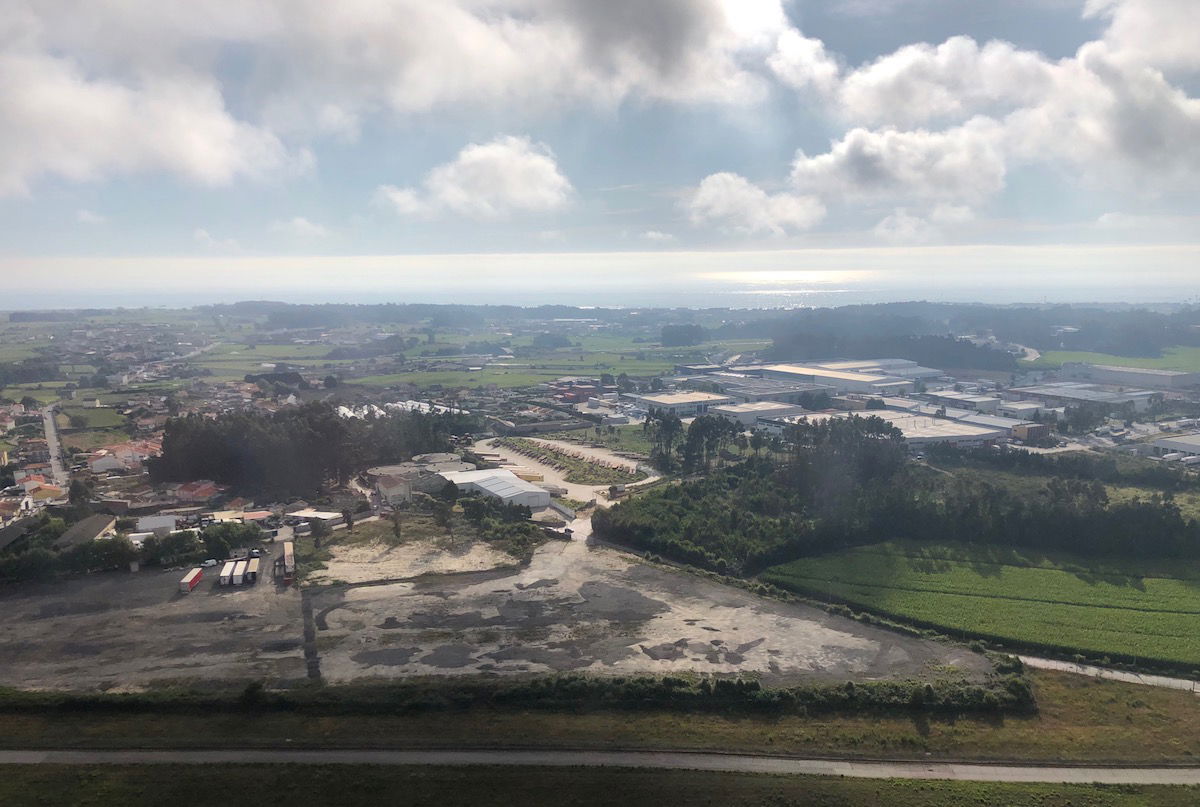 View after takeoff from Porto
We had lovely views of the coastline on departure.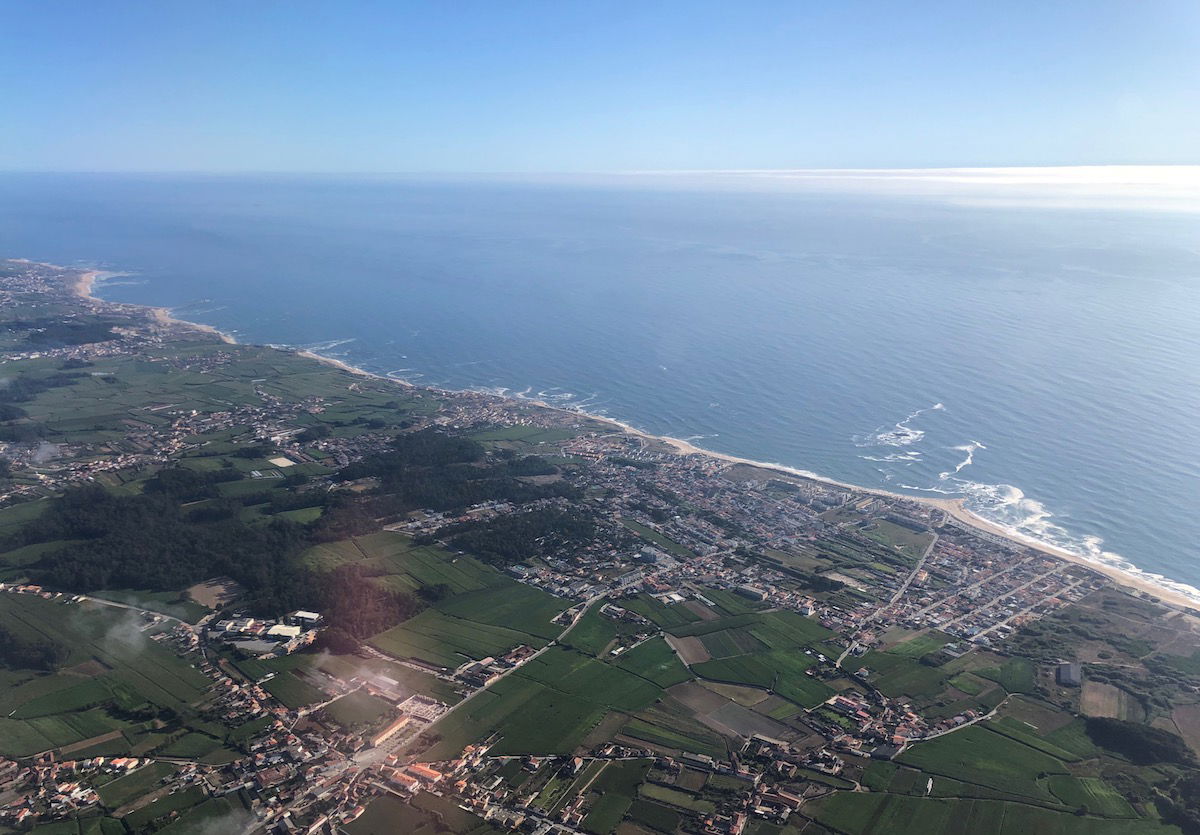 View after takeoff from Porto
10 minutes after takeoff the seatbelt sign was turned off, at which point the crew closed the curtains between cabins.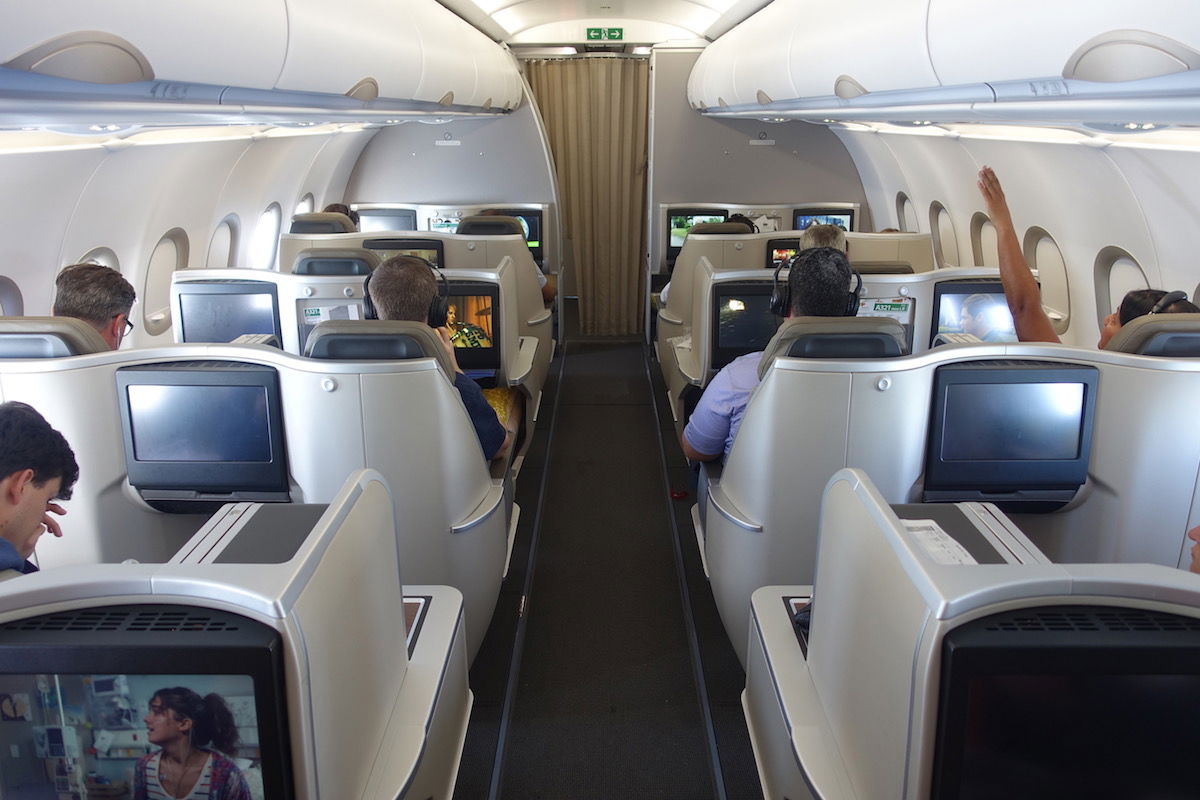 TAP A321LR business class cabin
To start I had a look at the entertainment system, starting with the map for our flight.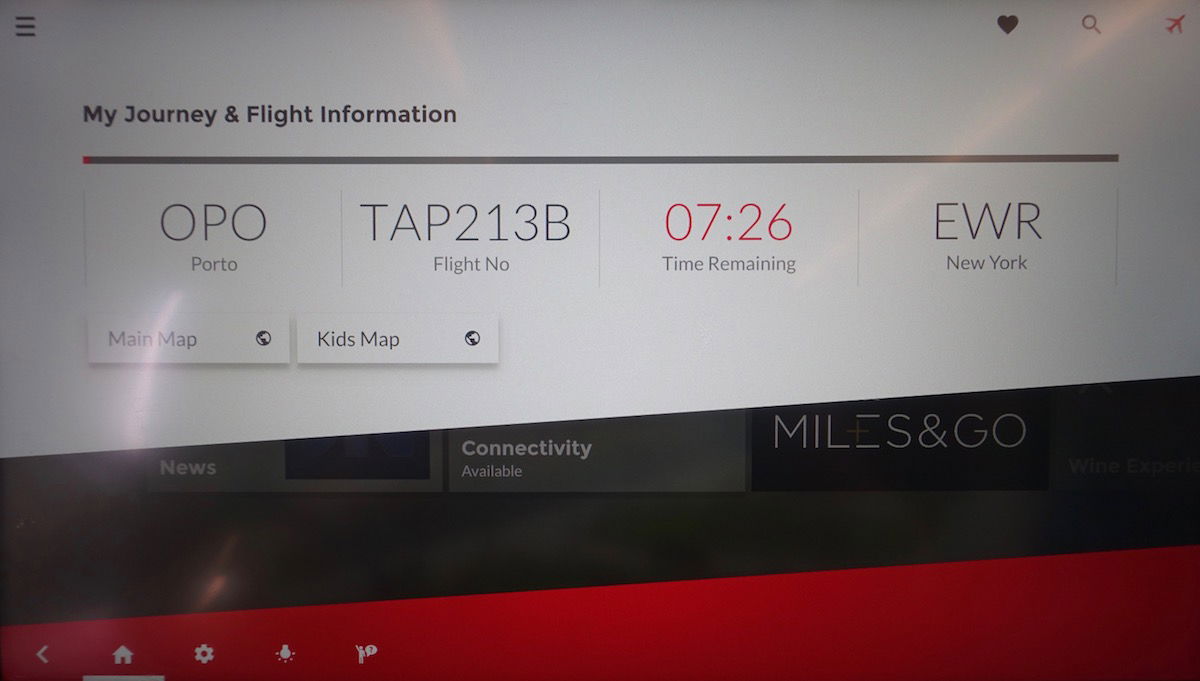 TAP Portugal entertainment selection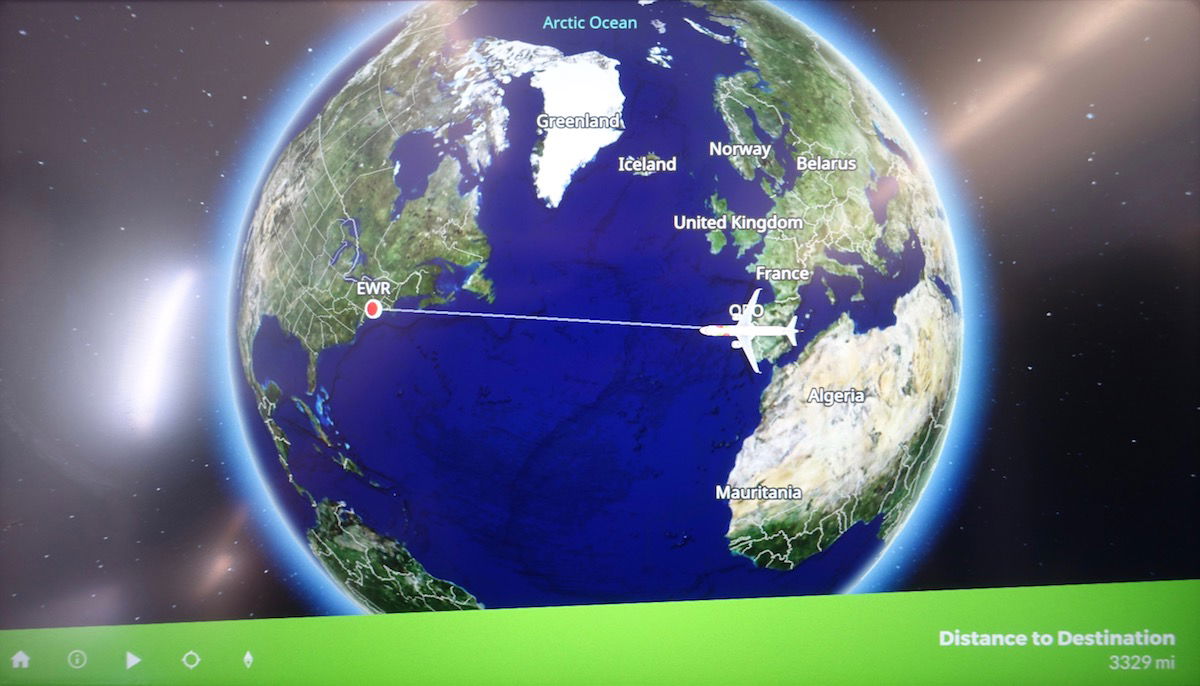 Moving map enroute to Newark
The entertainment system was surprisingly impressive, with 100 movies to choose from. I ended up watching "Isn't It Romantic," starring Rebel Wilson, which was decent enough for an airplane movie.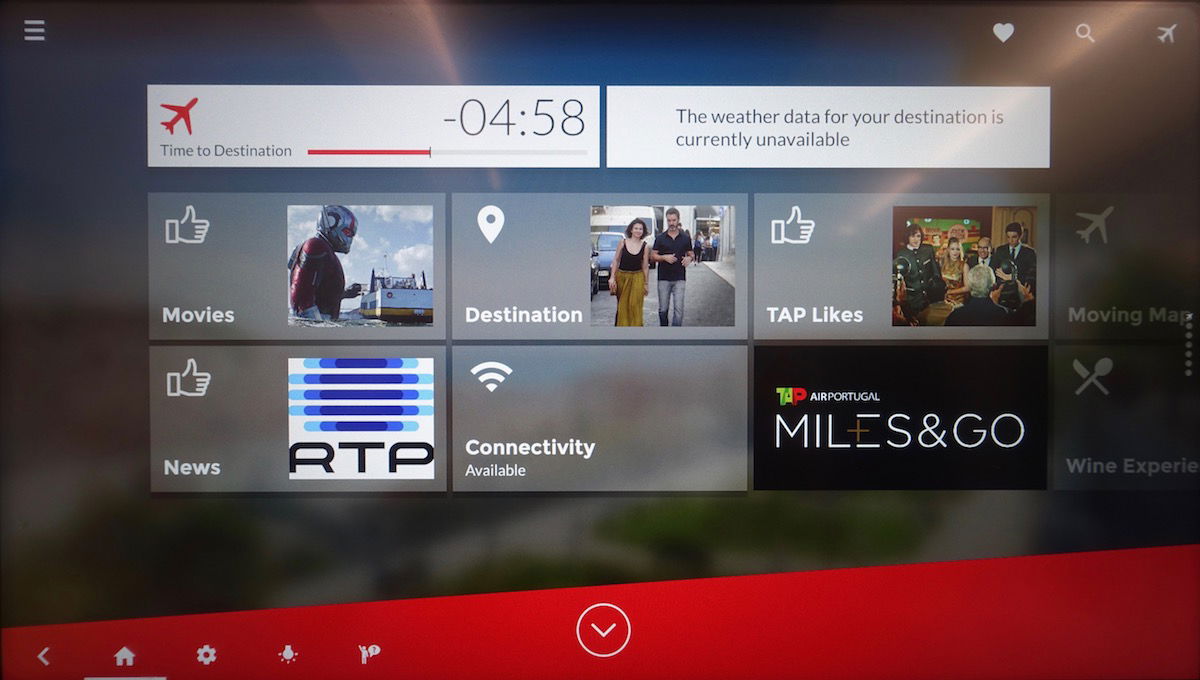 TAP entertainment selection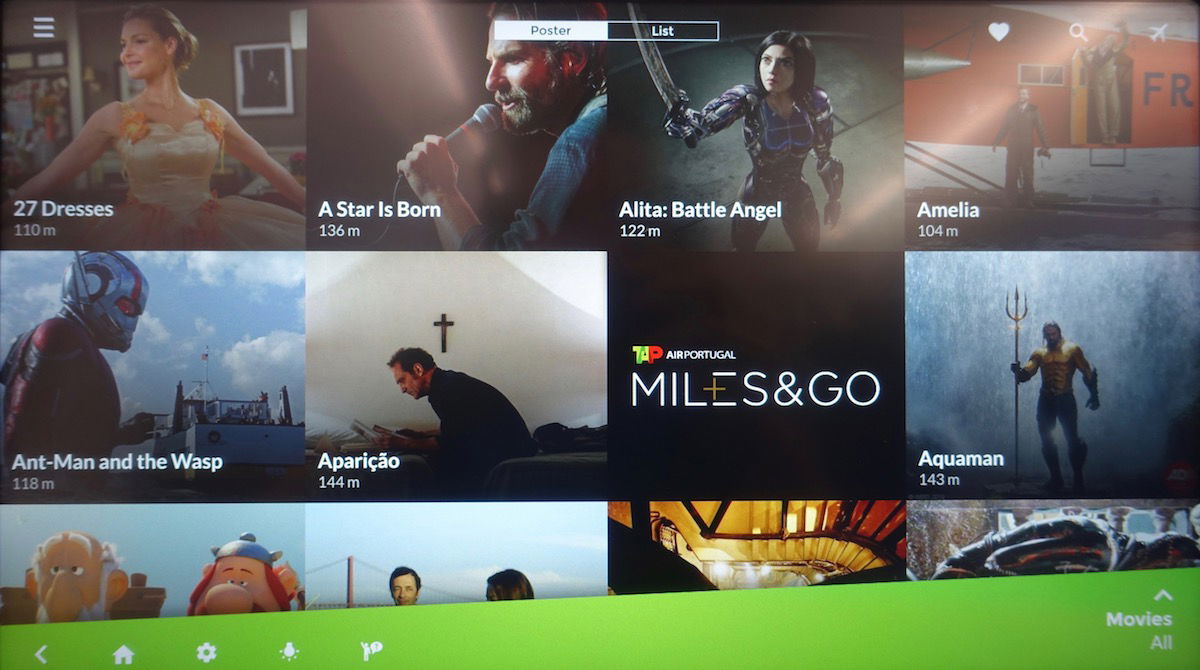 TAP entertainment selection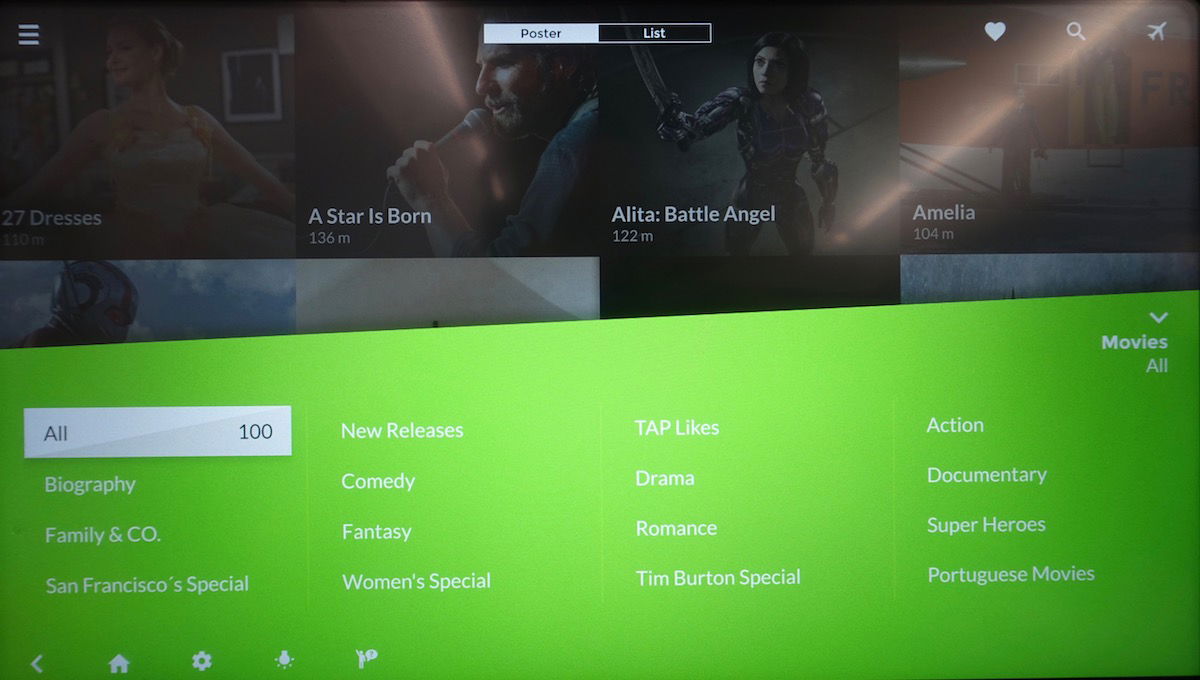 TAP entertainment selection
TAP has Wi-Fi on their A321LRs. Unlike on Aer Lingus, it's not free for business class passengers, though. The Wi-Fi pricing is as follows:
TAP Free Messaging — 0EUR
TAP Email — 6.99EUR
TAP Browsing — 14.99EUR
TAP Total Wi-Fi — 24.99EUR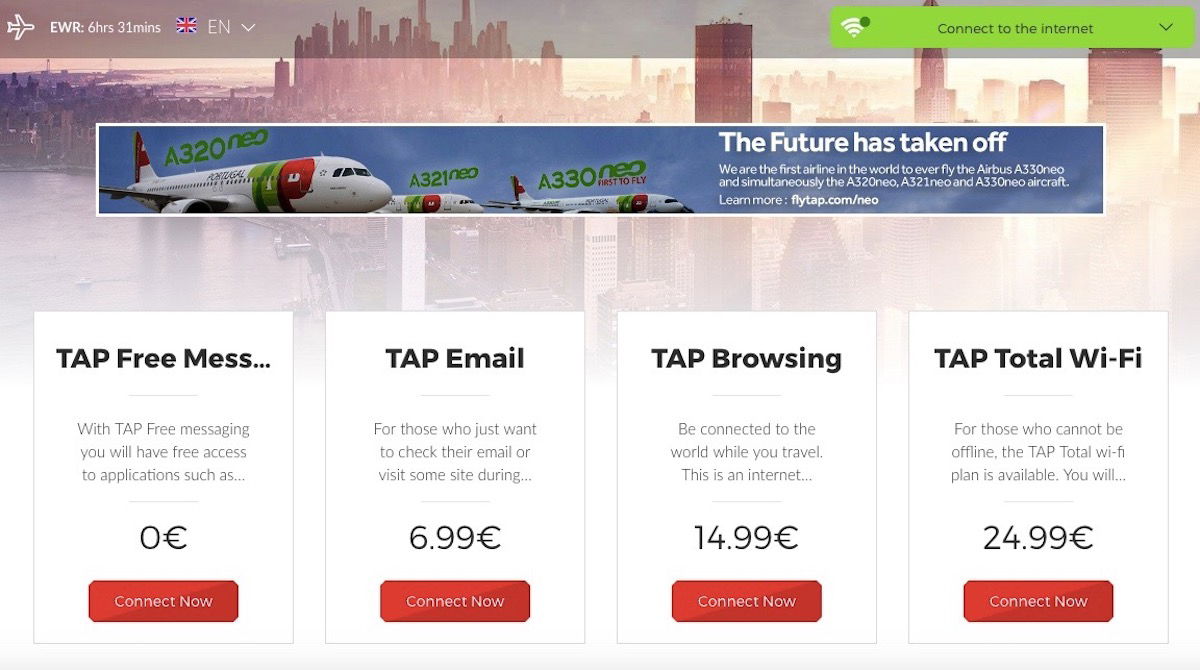 TAP Air Portugal Wi-Fi pricing
One annoying thing about how the packages were displayed is that it didn't actually show how much data was included with each package until you got well into the purchase process. For example, I purchased the biggest package, which included 200MB of data.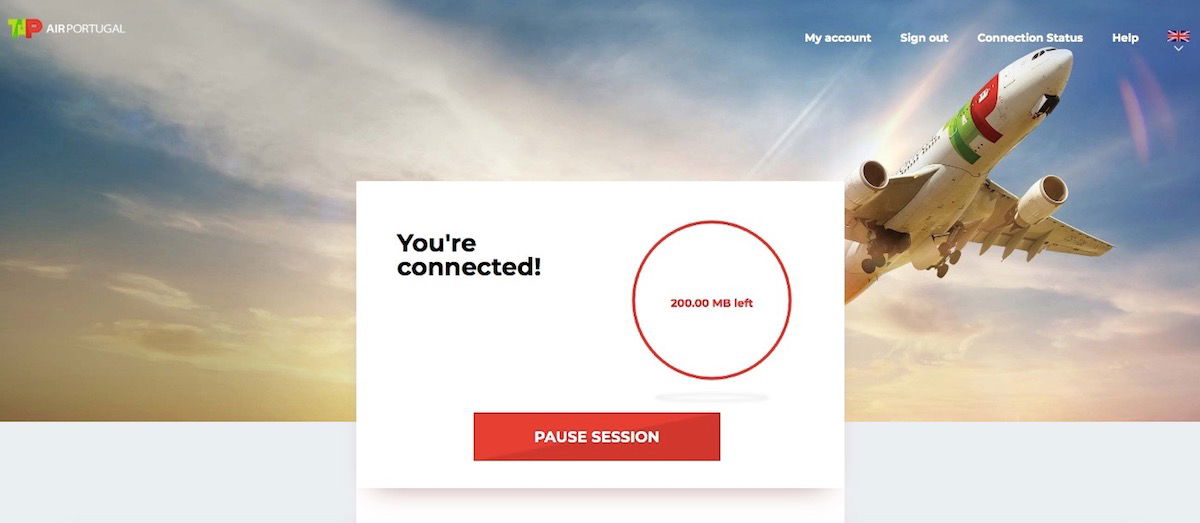 TAP Air Portugal Wi-Fi
That's definitely on the steep side as far as Wi-Fi pricing goes, though at least the speeds were good. It's also nice that TAP offers free messaging. When you sign up for this it's technically only for an hour, but after an hour you can sign up with another email address and start your time over. The process of doing that is really easy.
Service began about 25 minutes after takeoff. The dinner menu read as follows: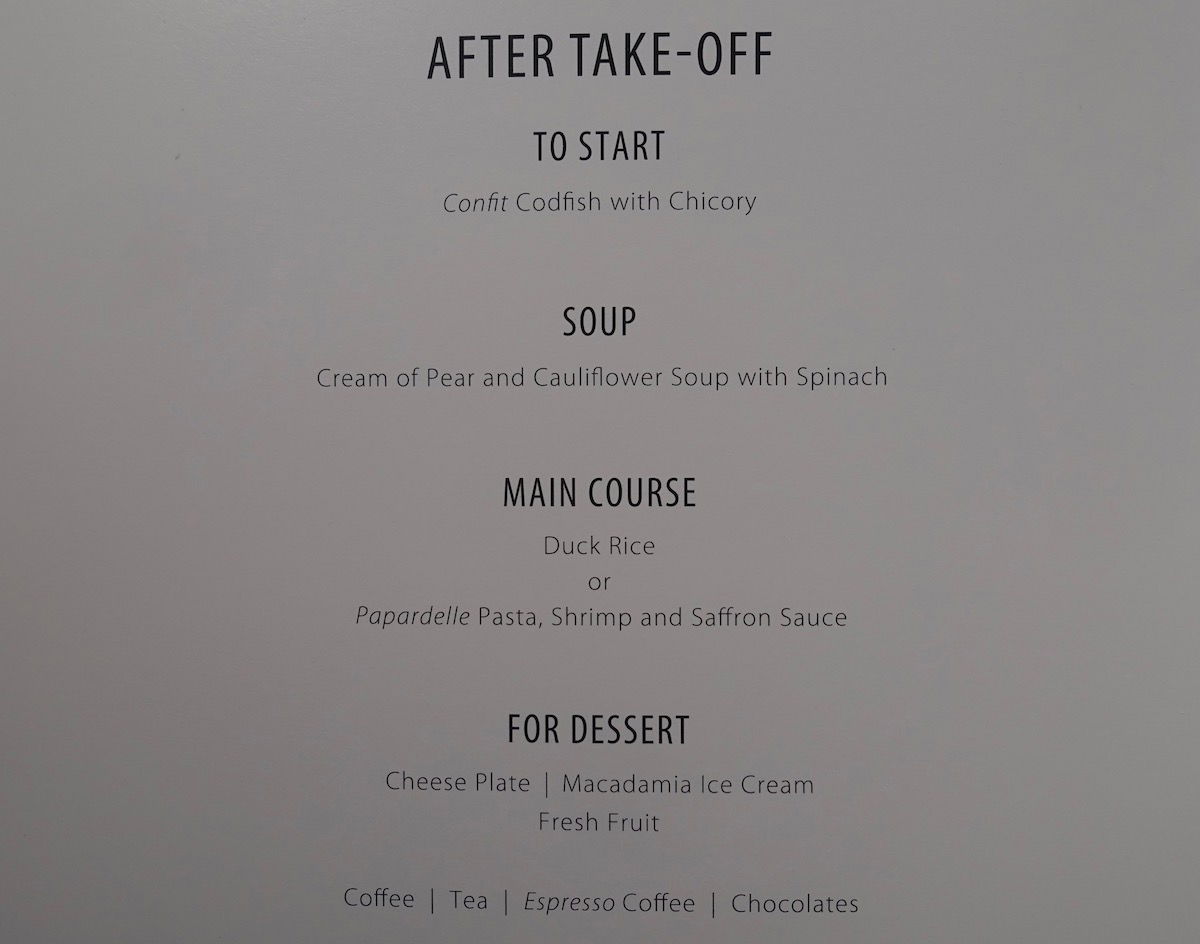 The drink list read as follows: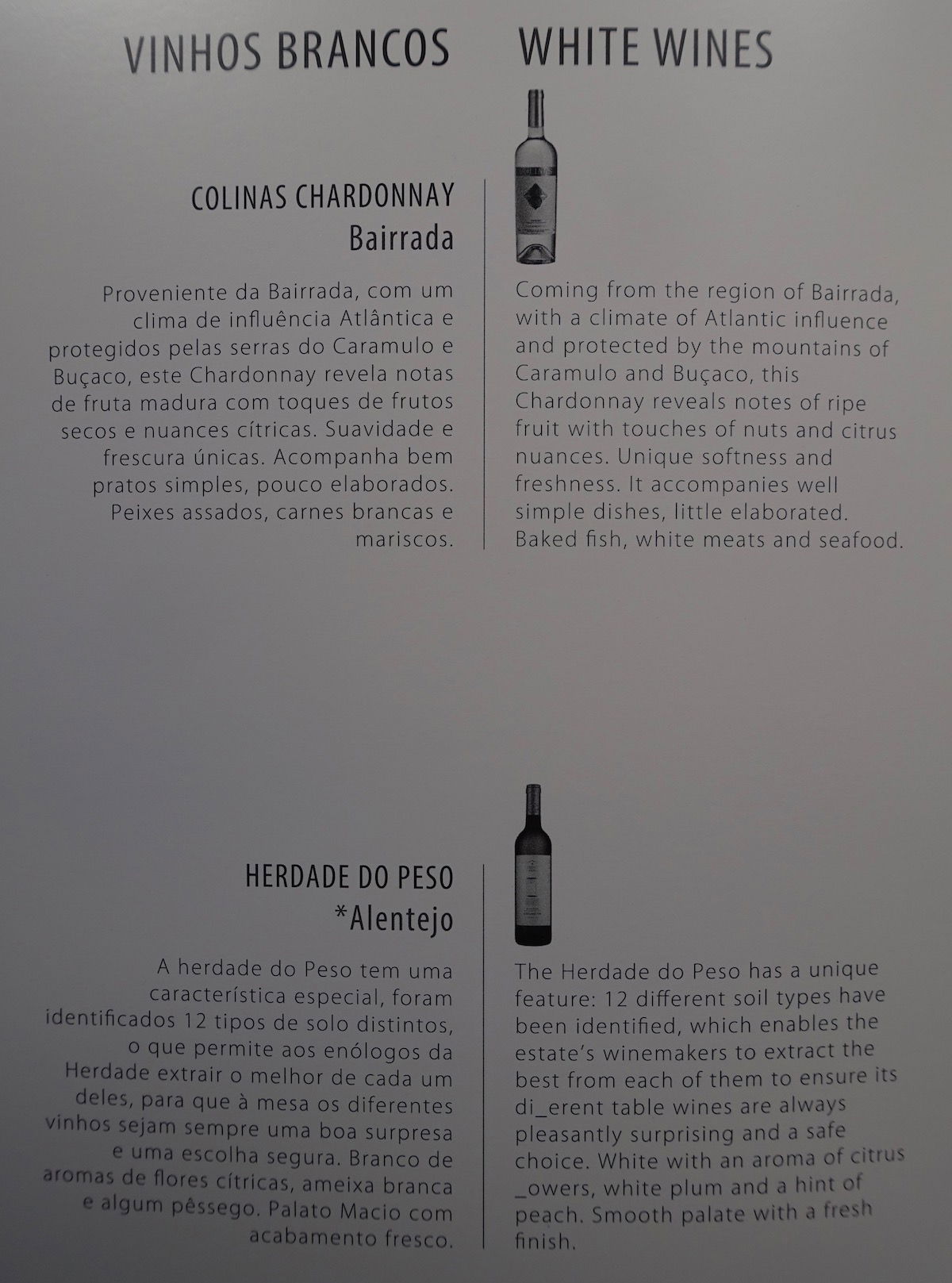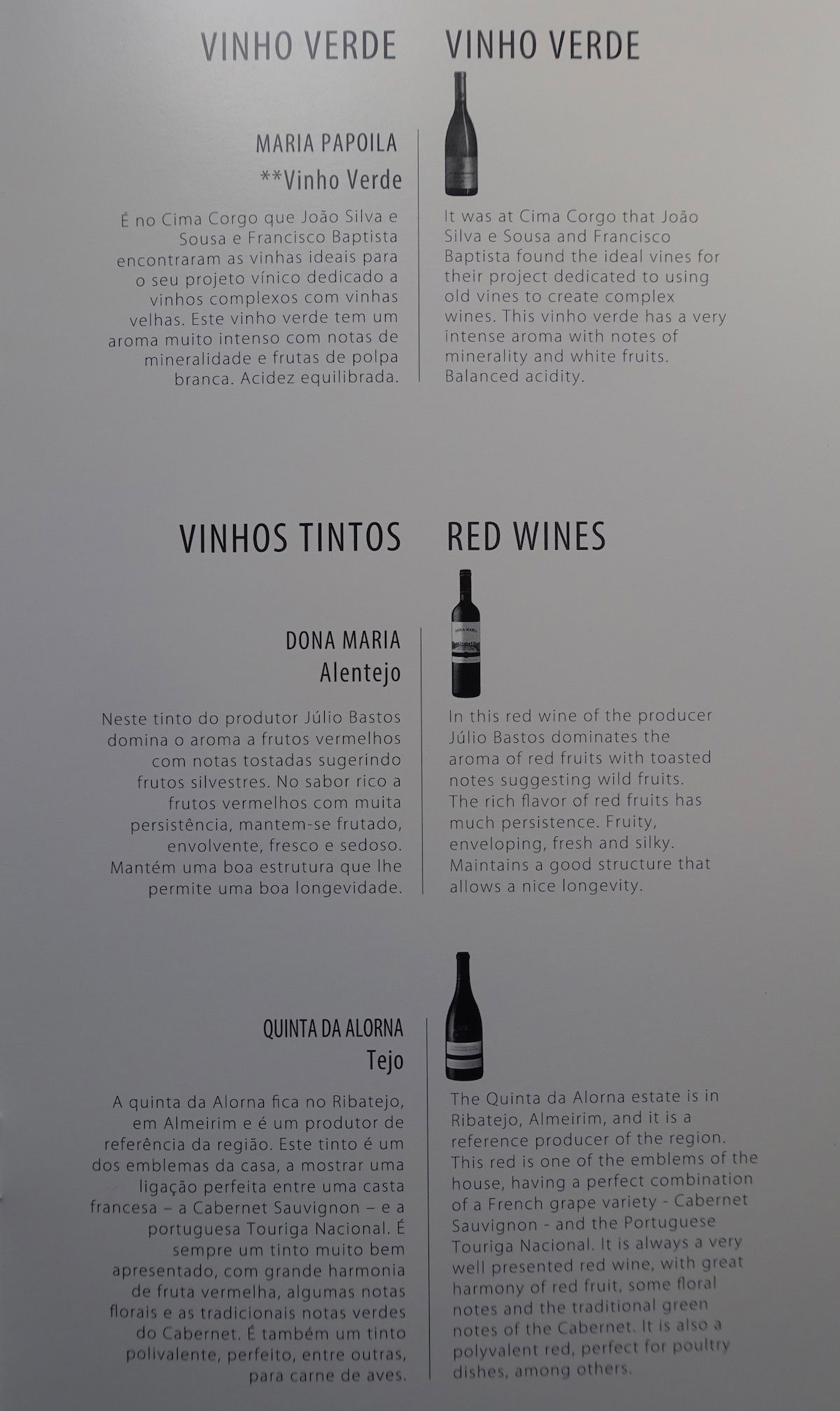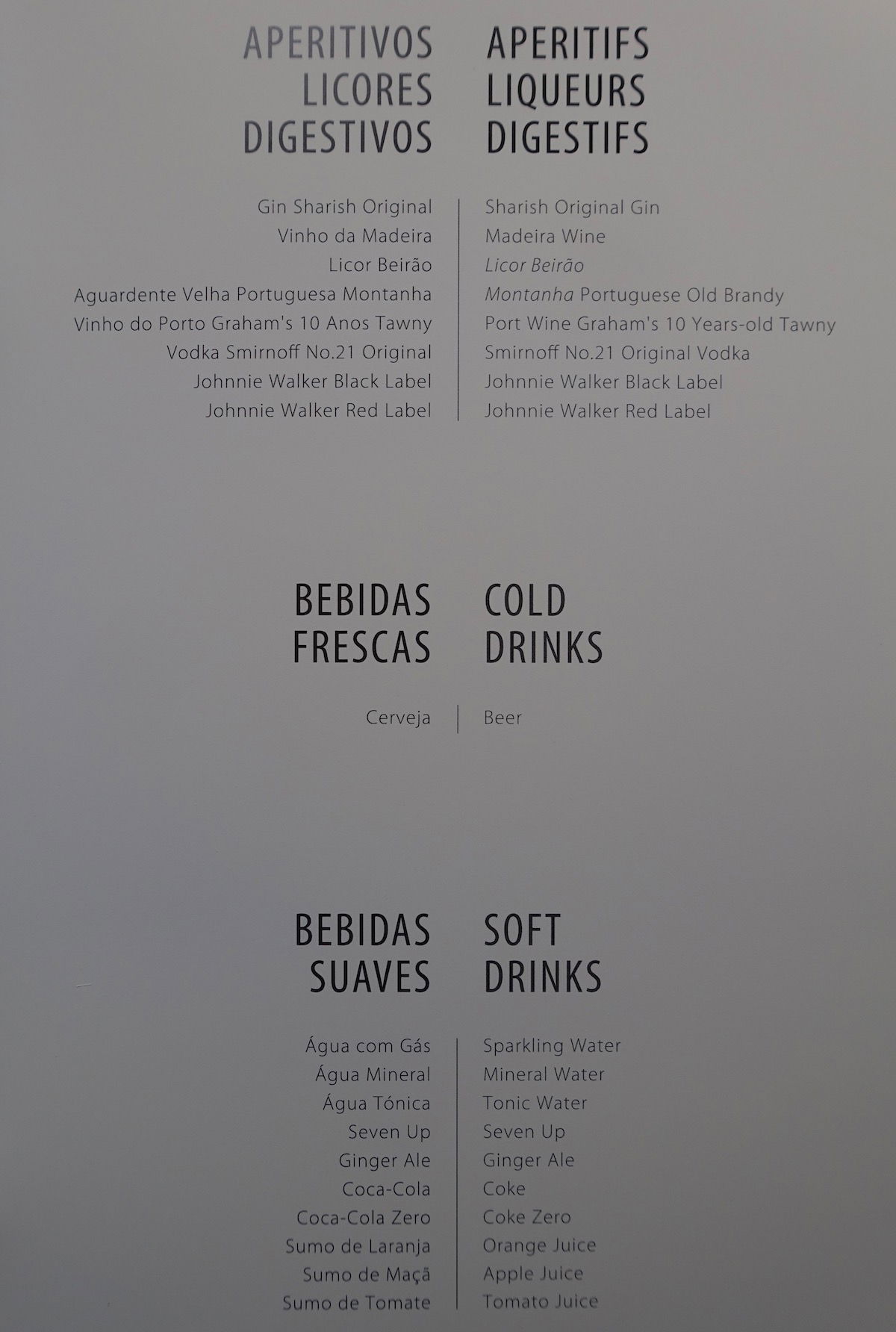 25 minutes after takeoff warm towels were distributed.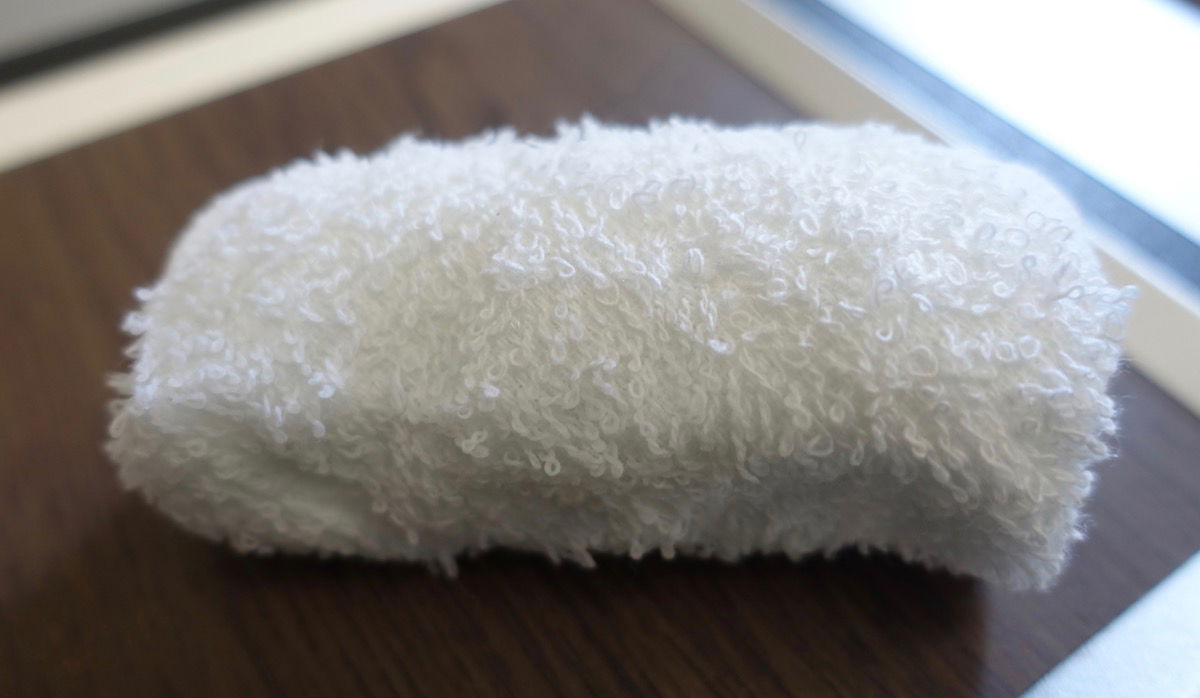 TAP business class warm towel
Then about 45 minutes after takeoff the lead flight attendant took dinner orders. While the crew wasn't terrible, there was zero charm to the service. "What do you want to eat?"
50 minutes after takeoff a cart was rolled down the aisle with drinks. I ordered a glass of sparkling wine, which was Montanha Reserva Premium. While not great, it was surprisingly not-terrible given the price point. That was served with some packaged snack mix.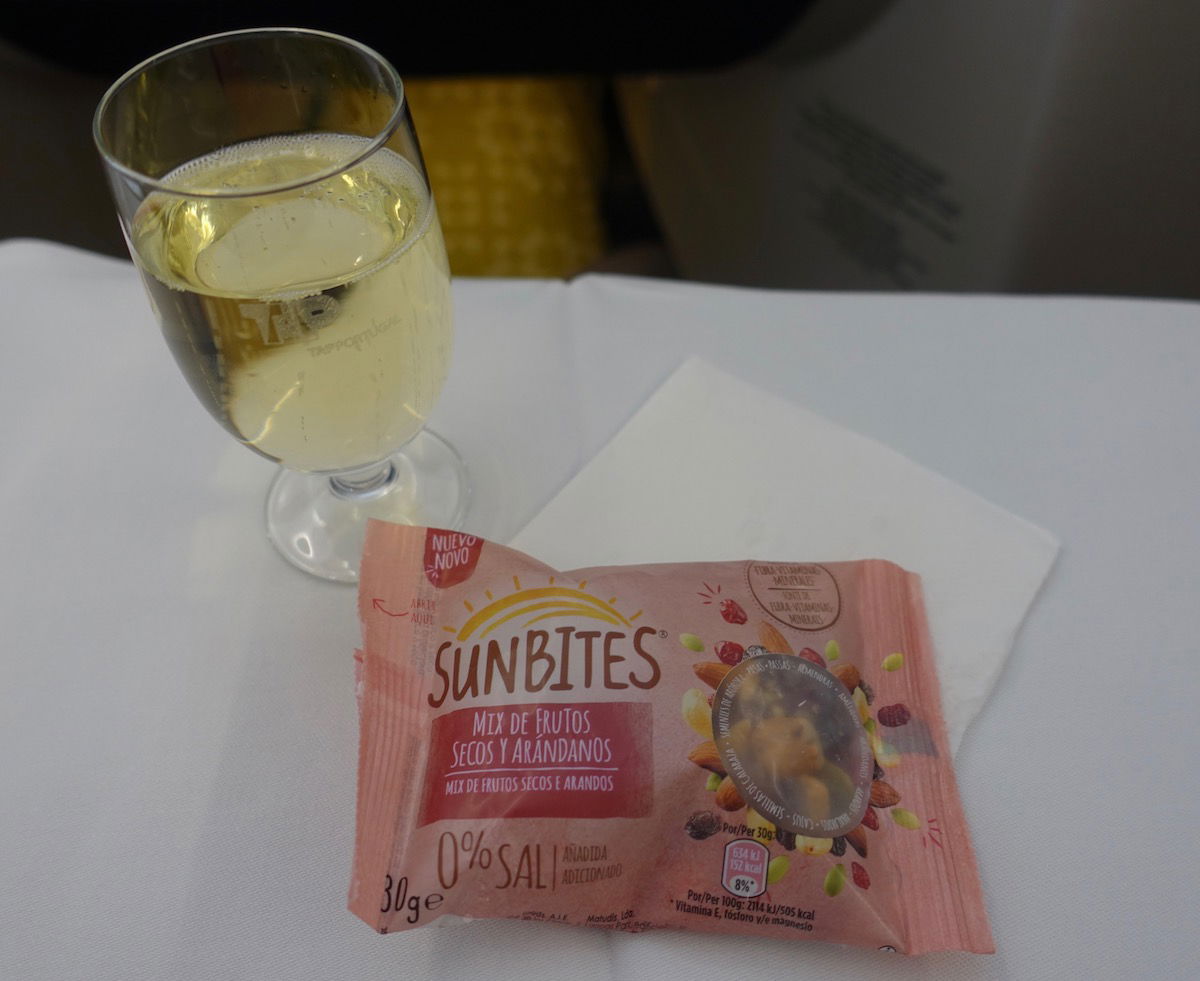 TAP business class dinner — champagne & snack
1hr10min after takeoff the starter and soup were served. The appetizer consisted of confit codfish with chicory, which was flavorful and surprisingly good. Then there was a cream of pear and cauliflower soup with spinach. The soup was also pretty good, though it was only lukewarm when served. I was also offered a bread roll.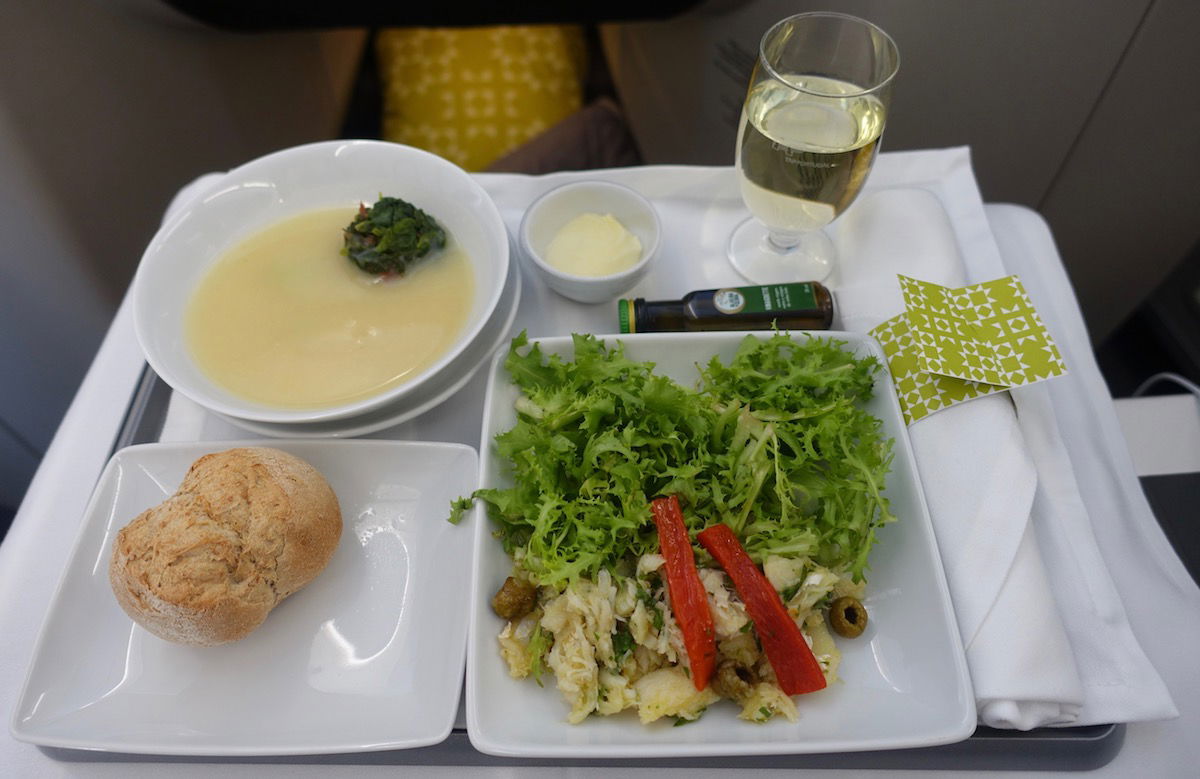 TAP business class dinner — appetizer & soup
The main courses were served 1hr35min after takeoff, and I thought the choices were underwhelming. There were just two choices — duck rice or pappardelle pasta with shrimp and saffron sauce. I chose the latter. It wasn't great, but also probably not as bad as it looks?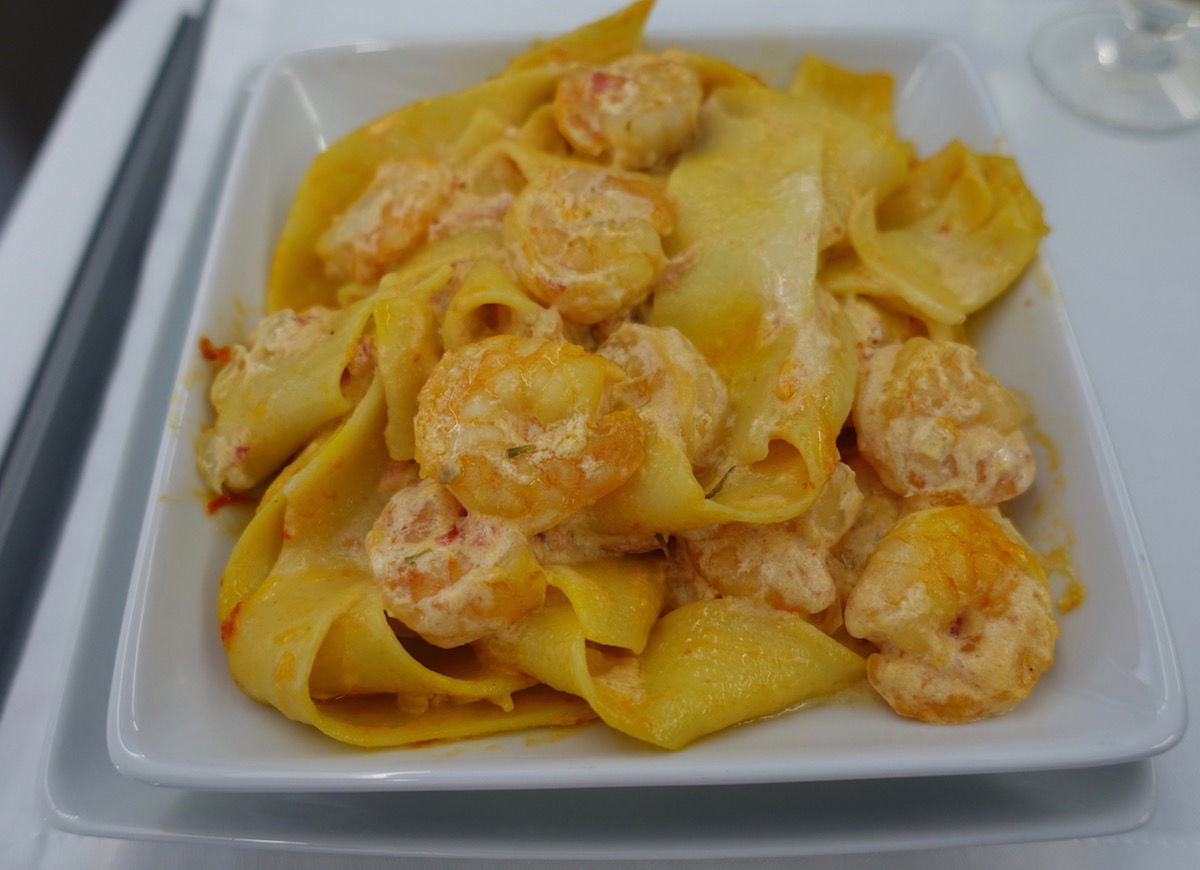 TAP business class dinner — main course
A dessert trolley was rolled through the cabin about 2hr5min after takeoff, with the choice between a cheese plate, macadamia ice cream, or a fruit plate. I chose the ice cream, which was served in a plastic container.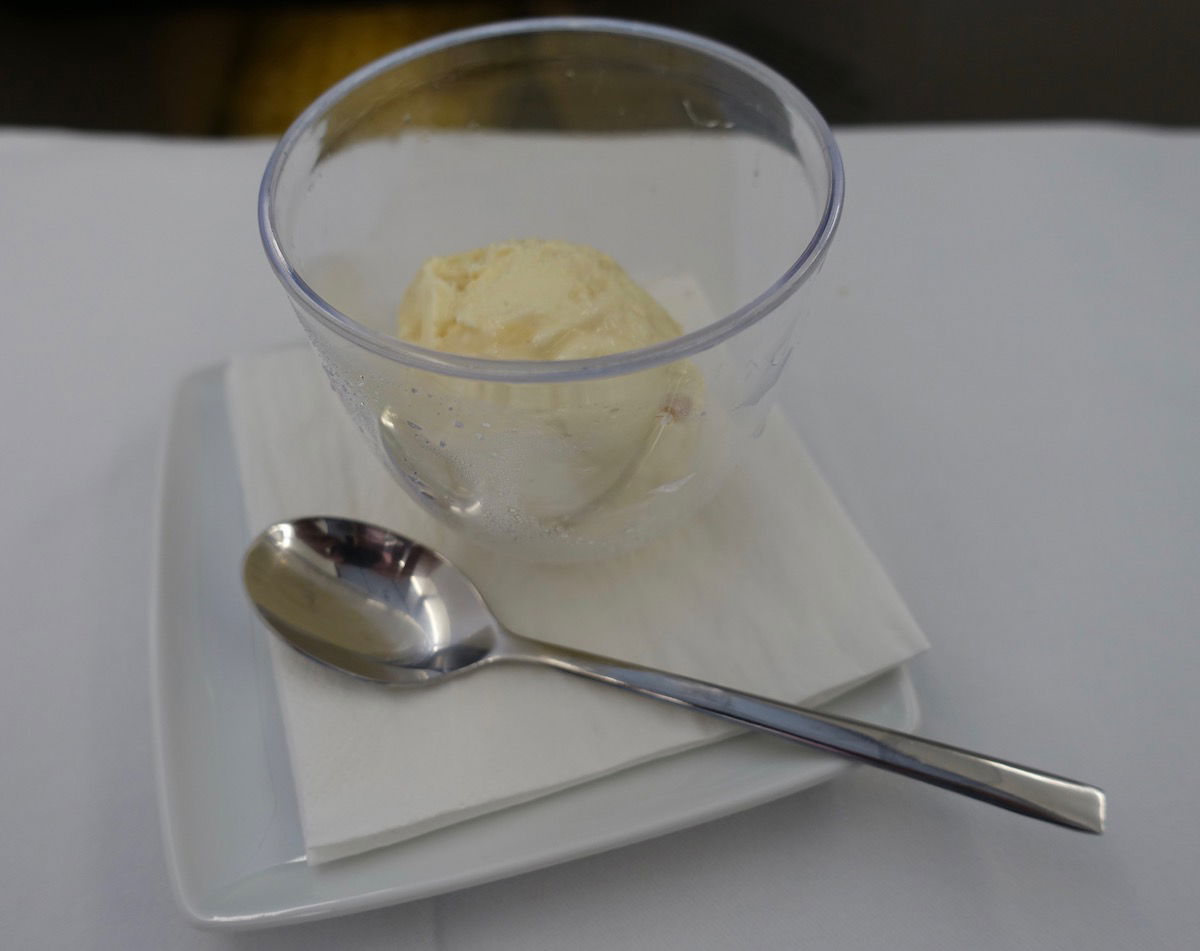 TAP business class dinner — dessert
Lastly the crew served coffee, tea, and port. I had a cup of coffee, and was offered a small box of chocolates to go along with it.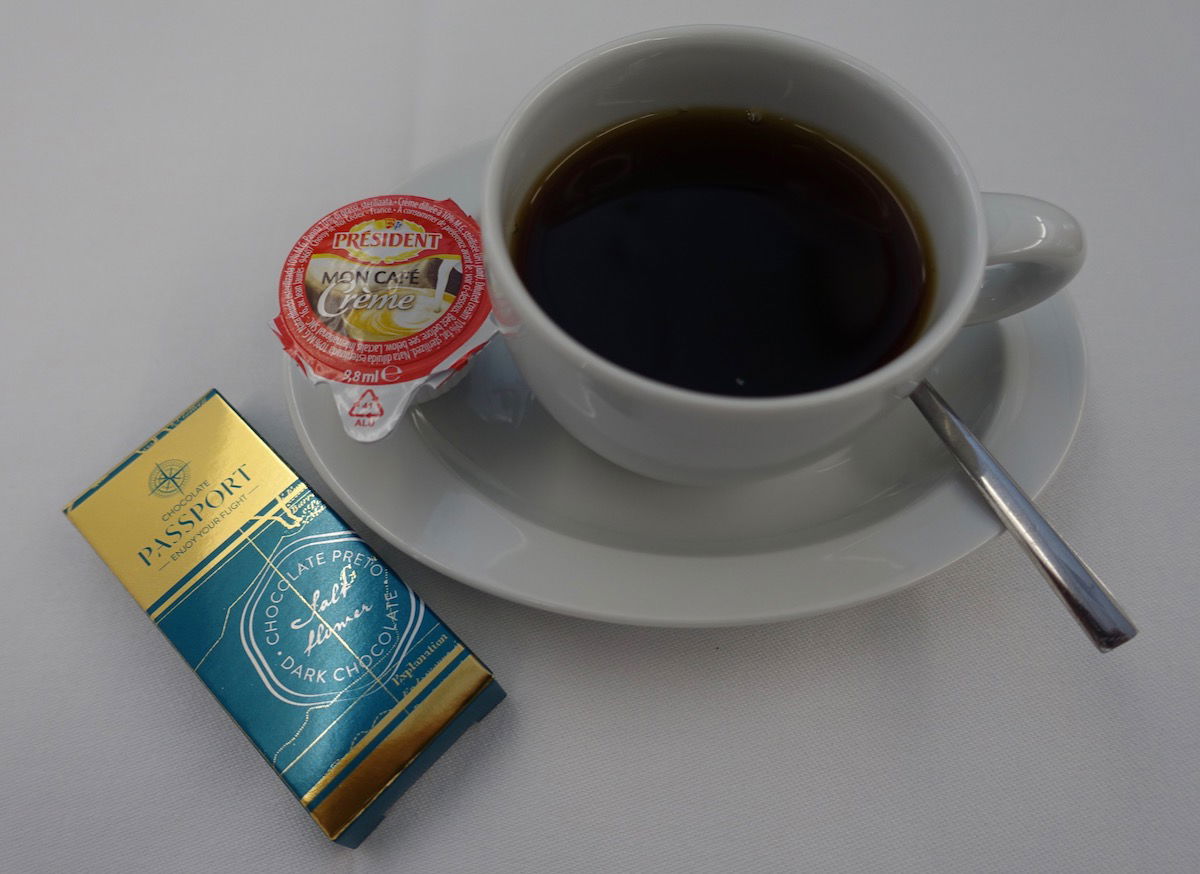 TAP business class dinner — coffee & chocolate
My tray was cleared about 2hr30min after takeoff, so it was a pretty drawn out meal service. Overall I thought the food was… fine? I wasn't impressed by the food, but it was edible, and given TAP's price point, I thought it was good enough.
The service was strictly the two flight attendants going through the motions, though they didn't particularly seem to love their jobs.
After the meal I checked out the lavatory, located at the front of the cabin. While it was a decent size, it had no special amenities.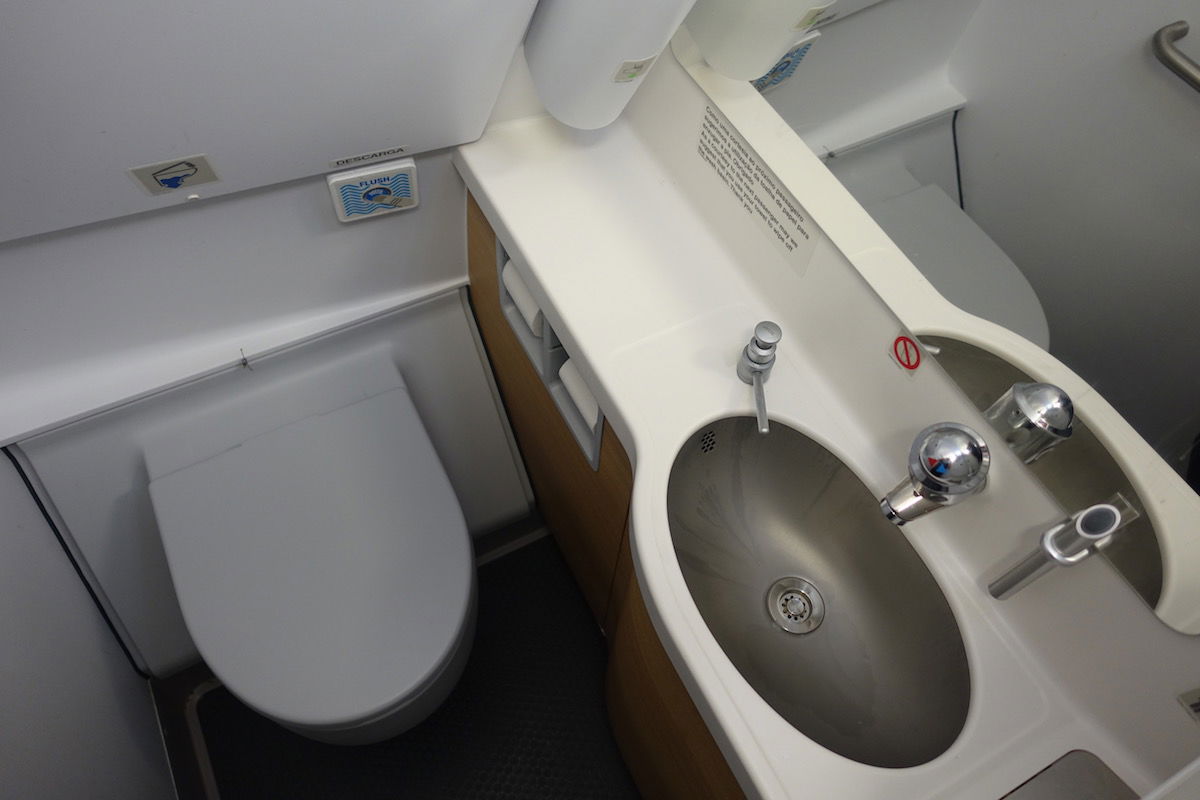 TAP A321LR lavatory
By the time the meal was done we were under five hours from our arrival in Newark.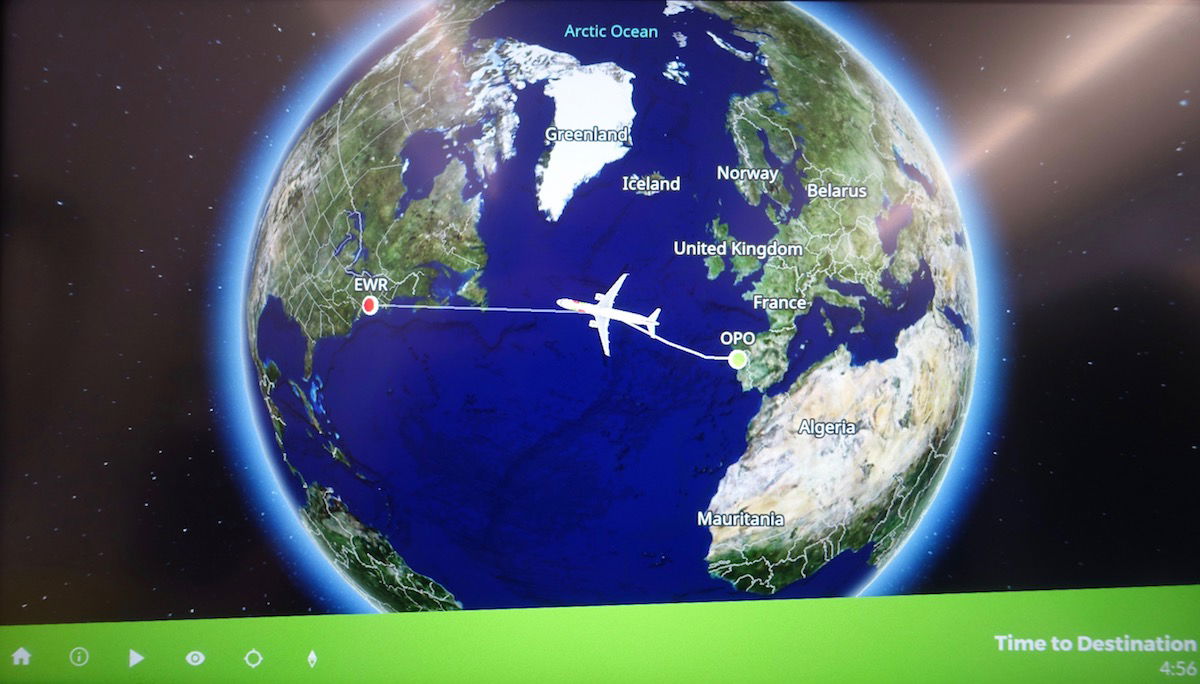 Airshow enroute to Newark
Since I had taken a redeye the night before I was tired at this point, and decided to sleep. I reclined my seat and made myself comfortable.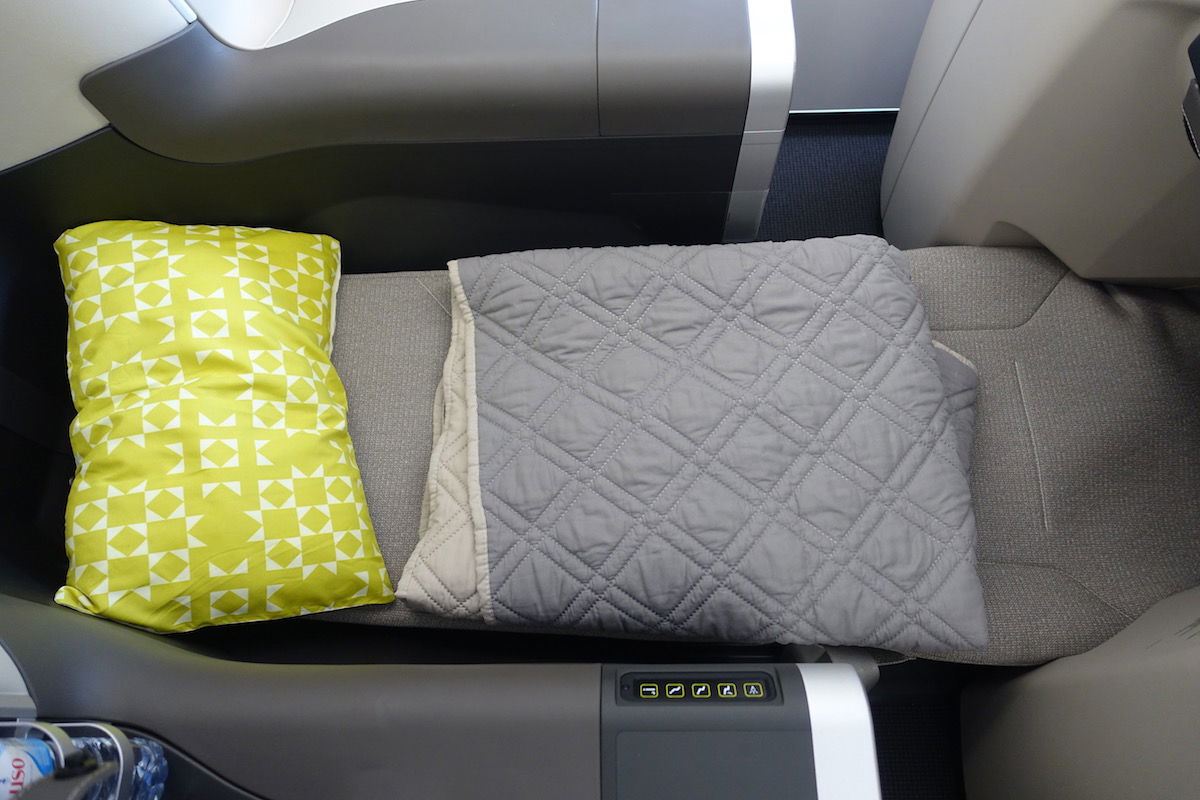 TAP A321LR business class bed
I got a great three hour nap, and woke up with 1hr50 remaining to Newark, as we were over Canada.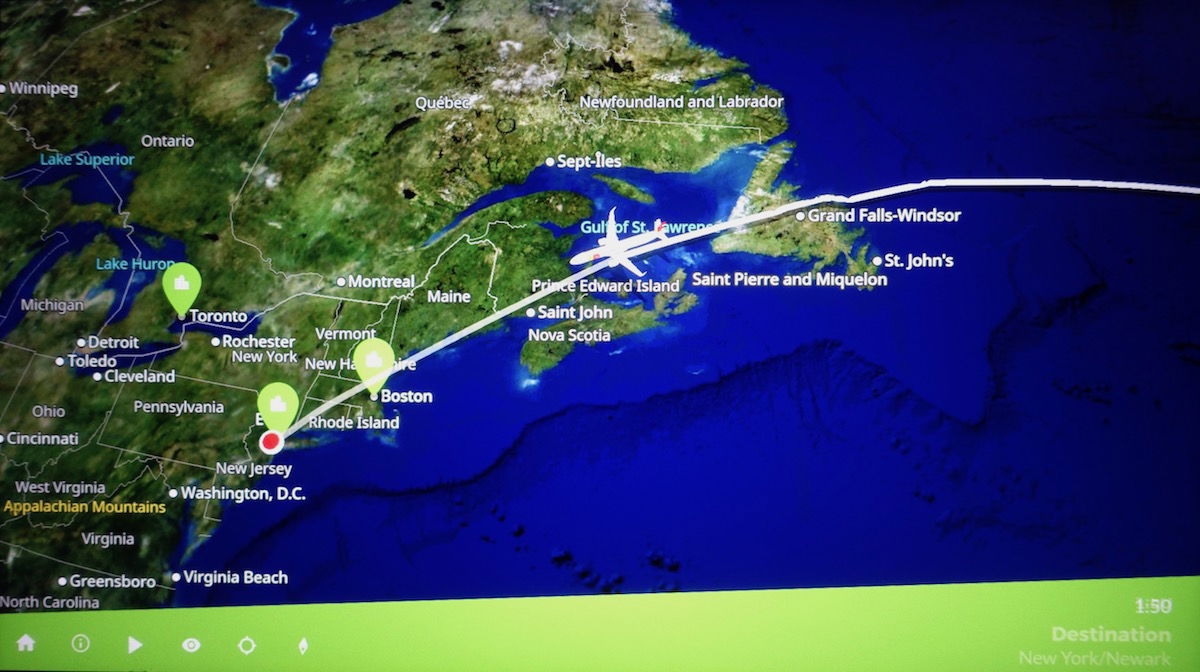 Map enroute to Newark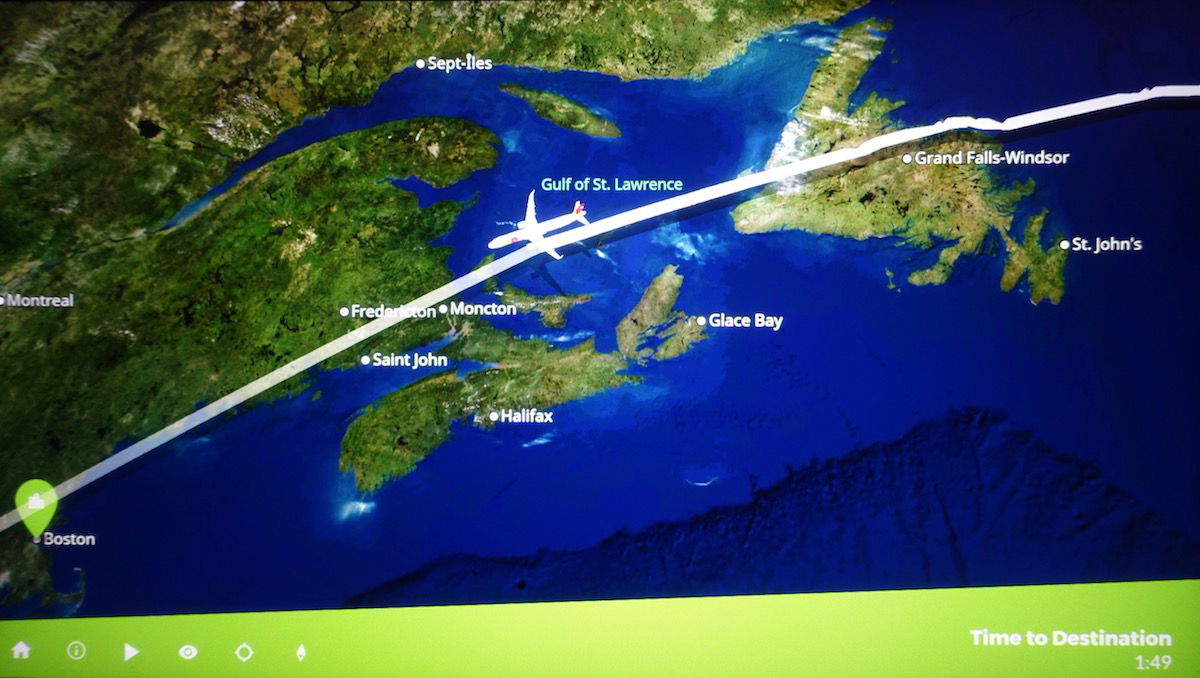 Map enroute to Newark
About 30 minutes after waking up the lights were turned on in the cabin in preparation for the pre-landing service. The menu read as follows: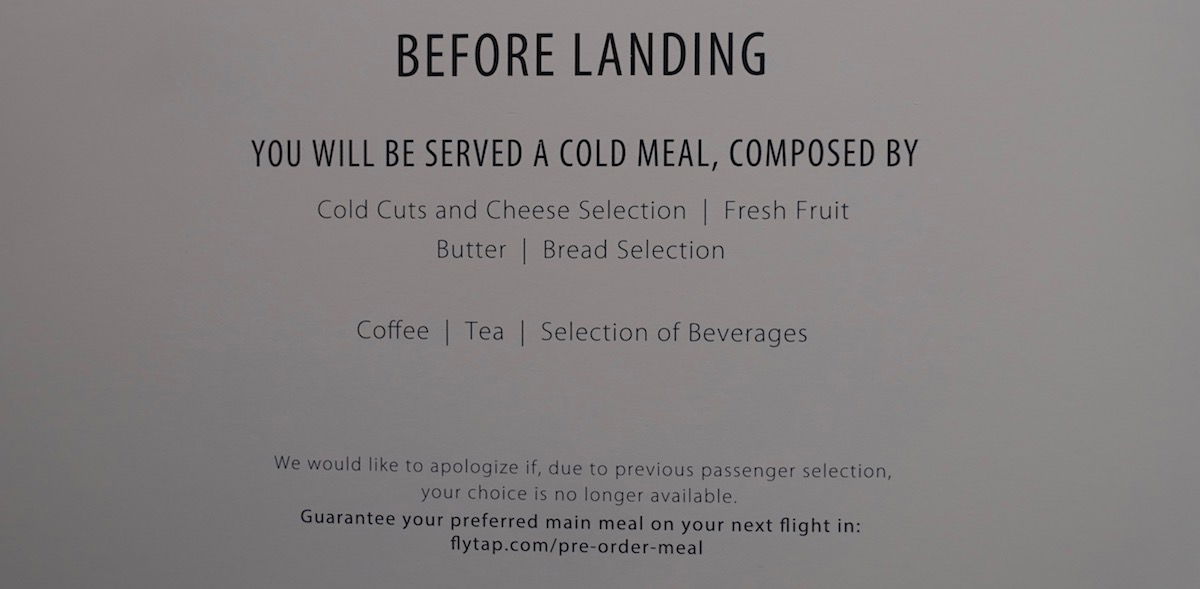 Admittedly this isn't that long of a flight, and it was also departing in the evening (so I guess they assume most people aren't hungry at 1AM?), but the "snack" was super underwhelming. It was a tiny plate with cold cuts, as well as two small slices of pineapple, two slices of orange, and a roll.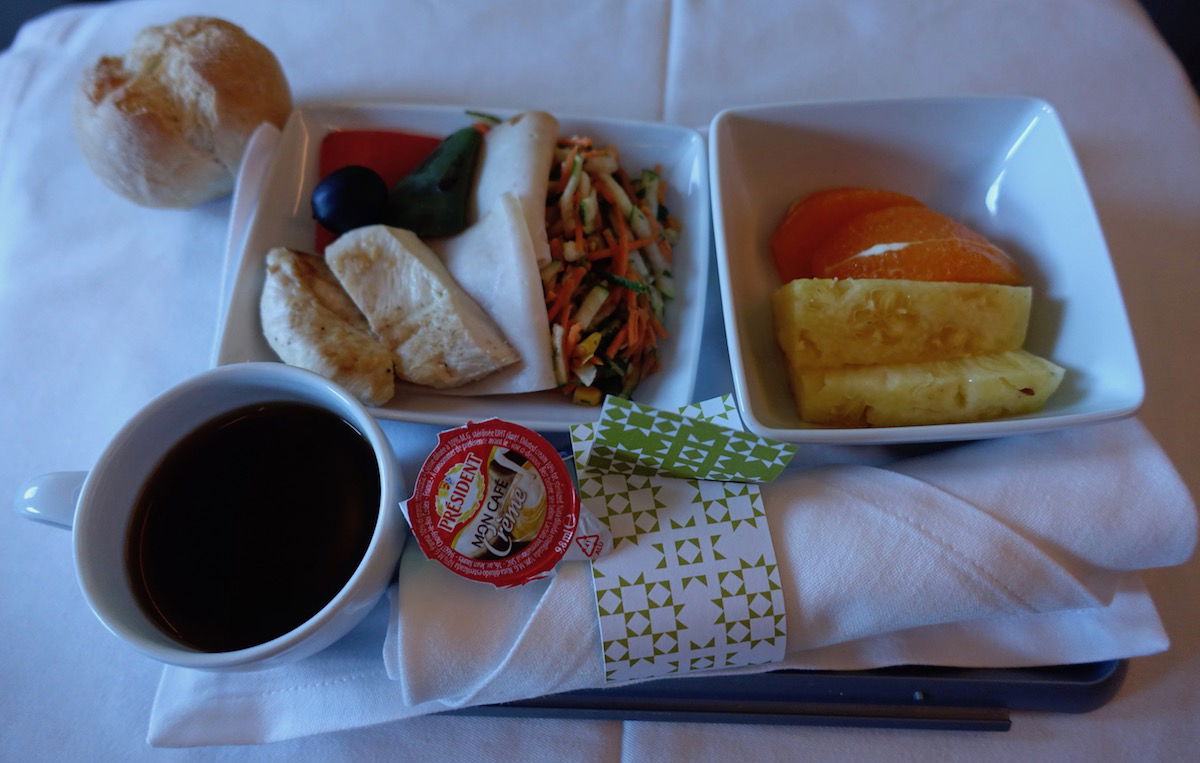 TAP business class pre-landing snack
At 8:20PM Newark time we began our descent, and 10 minutes later the captain made an announcement that we'd be landing at 8:50PM. Sure enough we touched down at that time.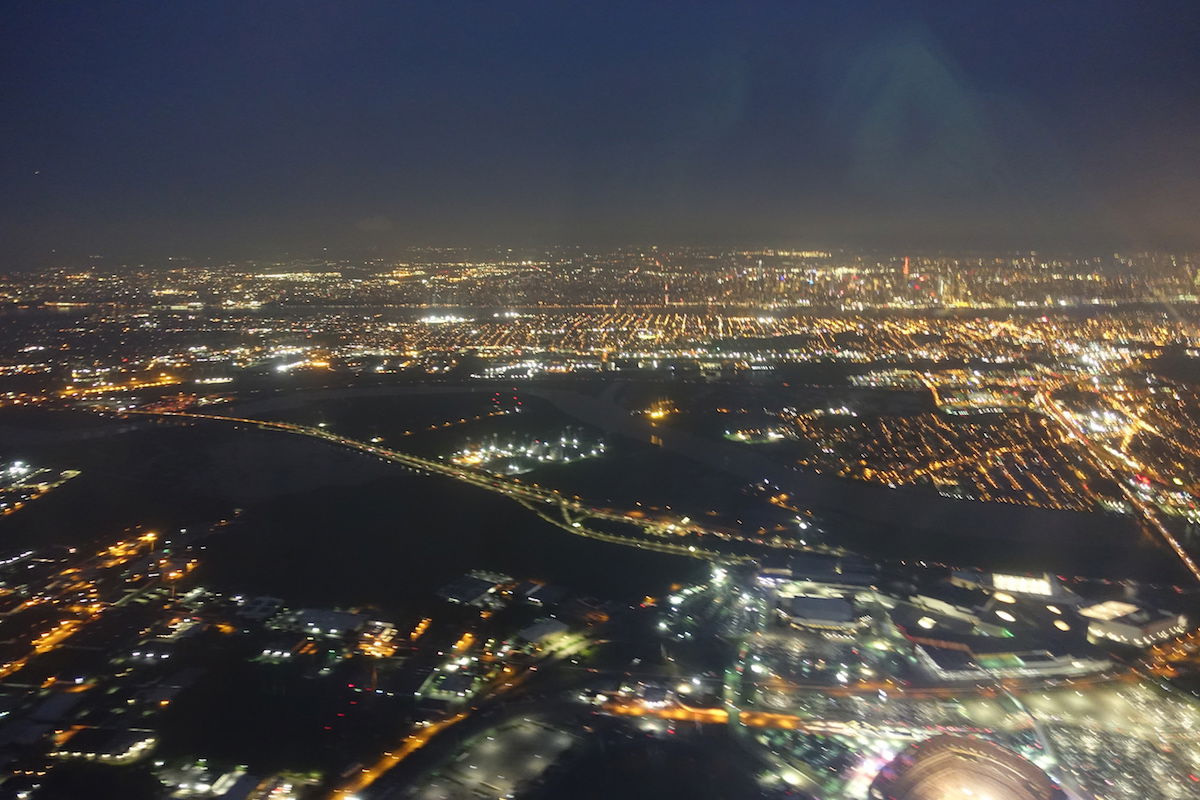 View approaching Newark
From there we had a 10 minute taxi to our arrival gate, where we arrived at 9PM. I cleared immigration in minutes thanks to Global Entry, and was excited for the next portion of my adventure (bonus points to anyone who can guess the next segment!).
TAP A321LR business class bottom line
TAP's A321LR is a cool little plane. As was the case with Aer Lingus, in some ways I think I prefer this plane to the A330-200/300 thanks to how exclusive the cabin is. In the case of TAP I'd note that their A330-900neos have new business class seats, so I'd probably prefer the plane.
The flight had comfortable seats, good bedding, and pretty good Wi-Fi.
Otherwise I find TAP's soft product to be subpar — the food and drinks are meh, and the service is hit or miss (and in this case was sort of a miss).
Still, given the price point, TAP offers unbeatable value.