---
After landing in Dublin from Hartford, my next destination on this very long journey to Greece was… Newark?!
That's right, I decided to fly TAP Air Portugal's new A321LR from Porto to Newark, which is their first transatlantic route for the aircraft type. I figured flying transatlantic on an A321LR twice in 24 hours would make for an interesting comparison, given how this plane is becoming increasingly popular.
Aer Lingus and TAP Air Portugal are also the only two airlines currently flying these planes transatlantic with flat beds.
How I booked TAP Portugal business class
TAP is in the Star Alliance, so there are lots of opportunities to redeem miles on them. However, the airline is known for their incredibly low fares, in both economy and business class. Perhaps the most surprising part is that even their one-way fares are cheap, which is otherwise rare for network carriers on long haul flights.
So I booked the following for about $1,000 one-way in business class:
8/05 TP1323 Dublin to Lisbon departing 10:40AM arriving 1:15PM
8/05 TP1960 Lisbon to Porto departing 4:00PM arriving 4:55PM
8/05 TP213 Porto to Newark departing 6:05PM arriving 9:10PM
Perhaps that was against my better judgment, since TAP is just about in American Airlines' league when it comes to their punctuality, and a 70 minute connection in Porto sure seemed risky. But I like to live dangerously, and I figured if I misconnected I was entitled to 600EUR compensation thanks to EU261, so why not? 😉
I'll be writing a detailed review of the Porto to Newark flight in the next installment, but first I wanted to write briefly about my two intra-Europe flights. This won't be as detailed of an installment as usual, given that I've reviewed TAP's intra-Europe business class before.
TAP's A319 business class Dublin to Lisbon
On intra-Europe flights I've started assigning myself bulkhead seats in business class whenever possible. Everywhere else I avoid bulkheads, but with legroom being so bad within Europe, I find the bulkhead is usually the best option.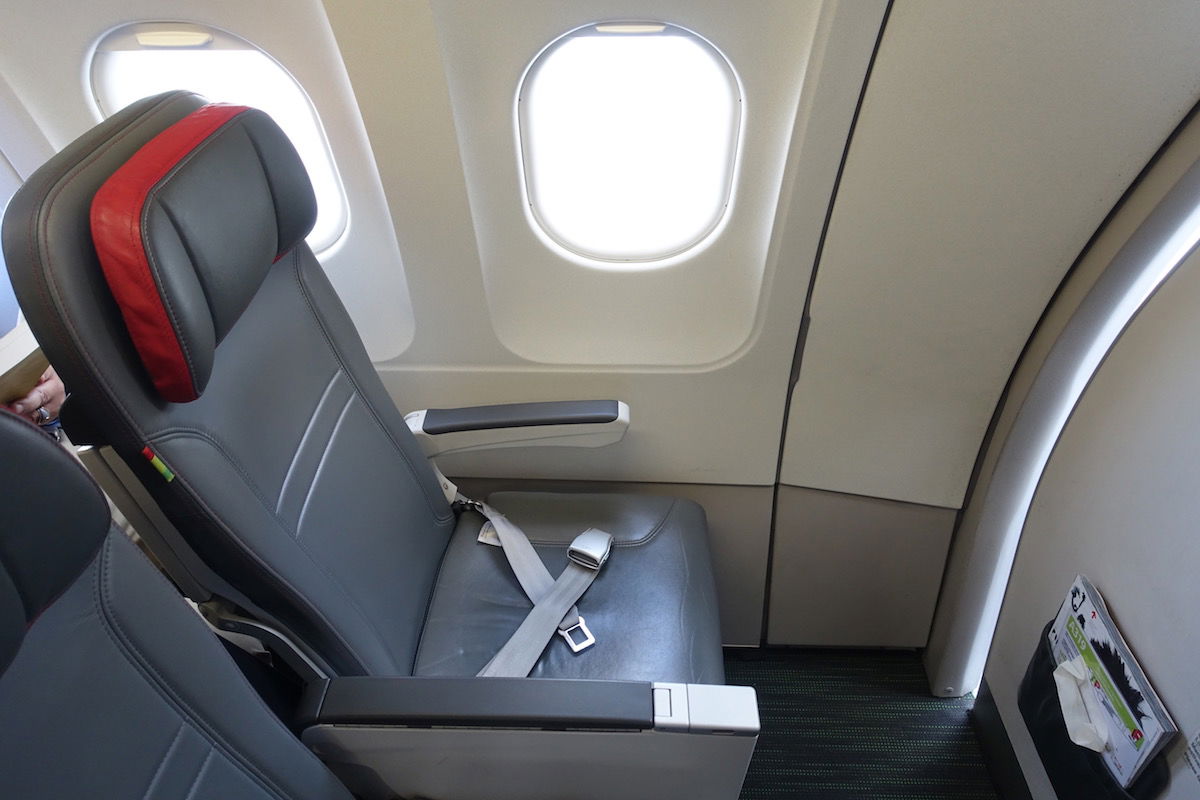 TAP A319 business class seat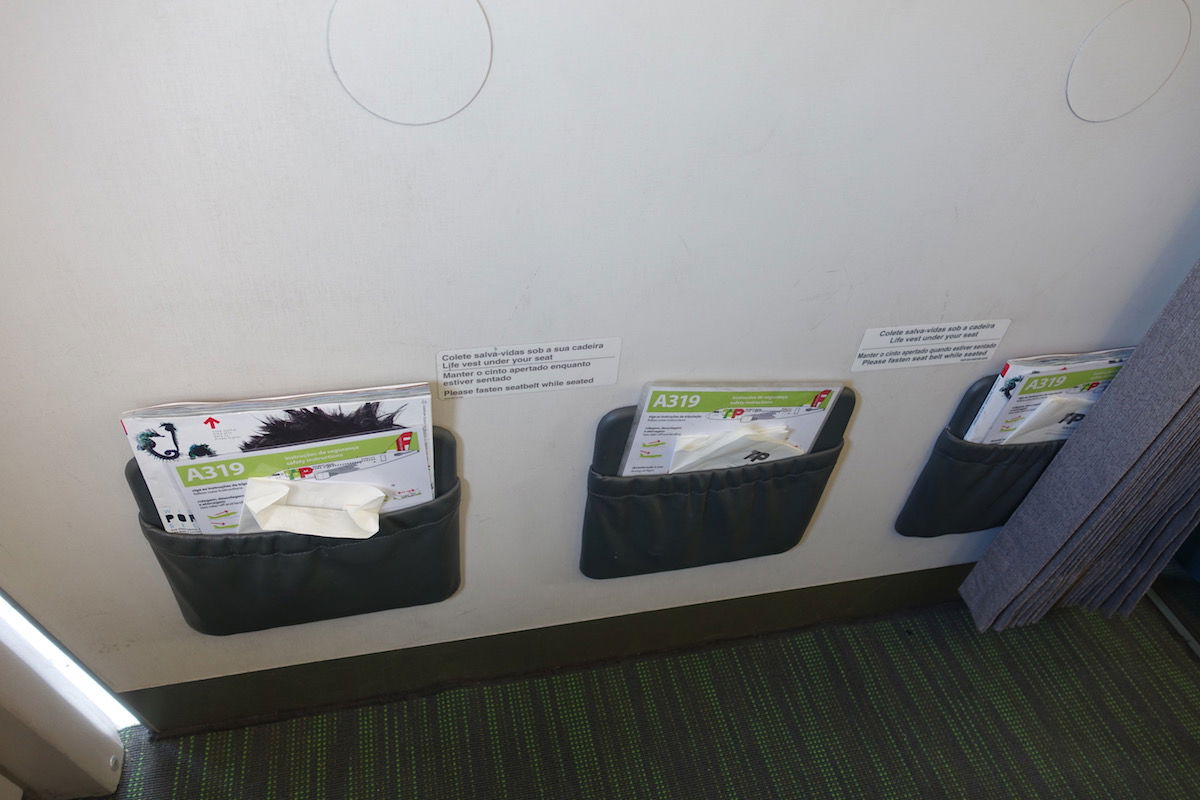 TAP A319 business class seat legroom
The flight wasn't off to a great start. We boarded on-time, and at 10:45AM the captain announced that we were just waiting on some last paperwork. A few minutes later the door closed, but then we just sat there for quite a while. Unfortunately I find this to be the norm for the airline.
At 11:10AM the crew came through the cabin offering all passengers water, which made me think we might have a much longer delay. After all, often you can't even get TAP flight attendants to provide service in-flight. 😉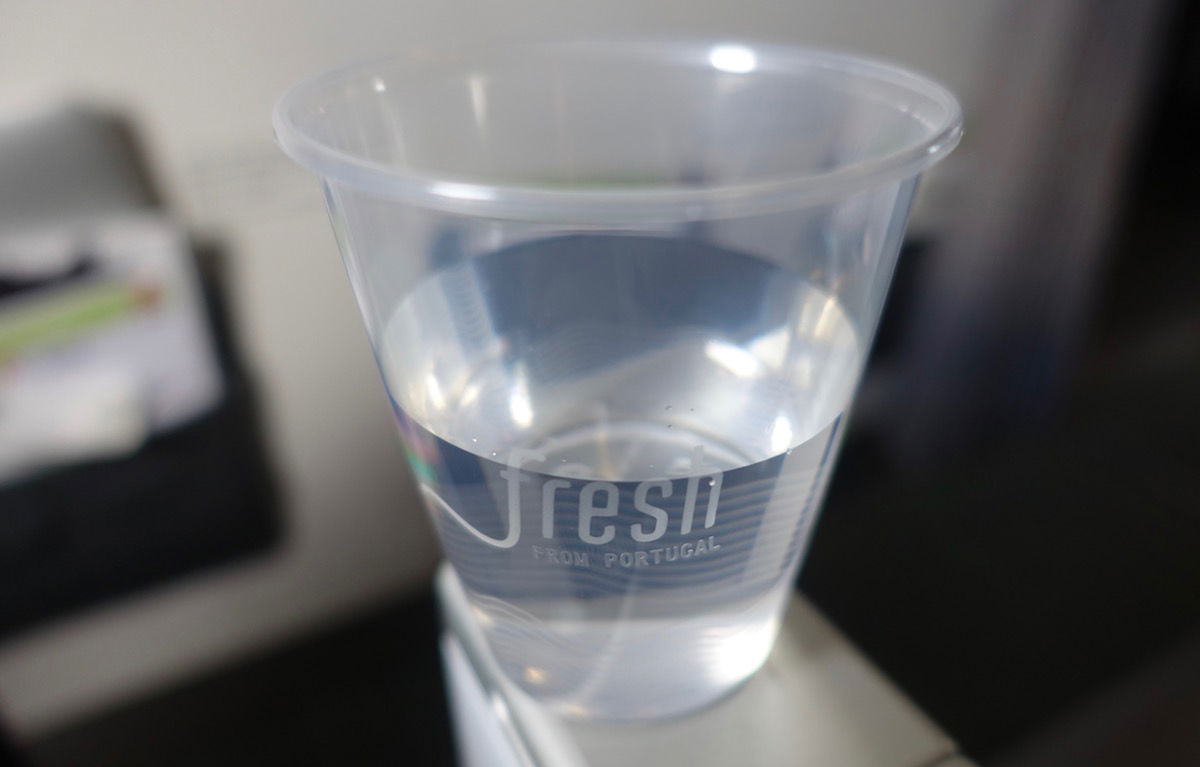 TAP business class water during delay
Fortunately about five minutes later we pushed back.
Other than that, the flight was pretty uneventful. I will say that TAP has some things going for them. For example, on demand they have the best blankets and pillows of just about any airline within Europe, since many airlines don't even stock these.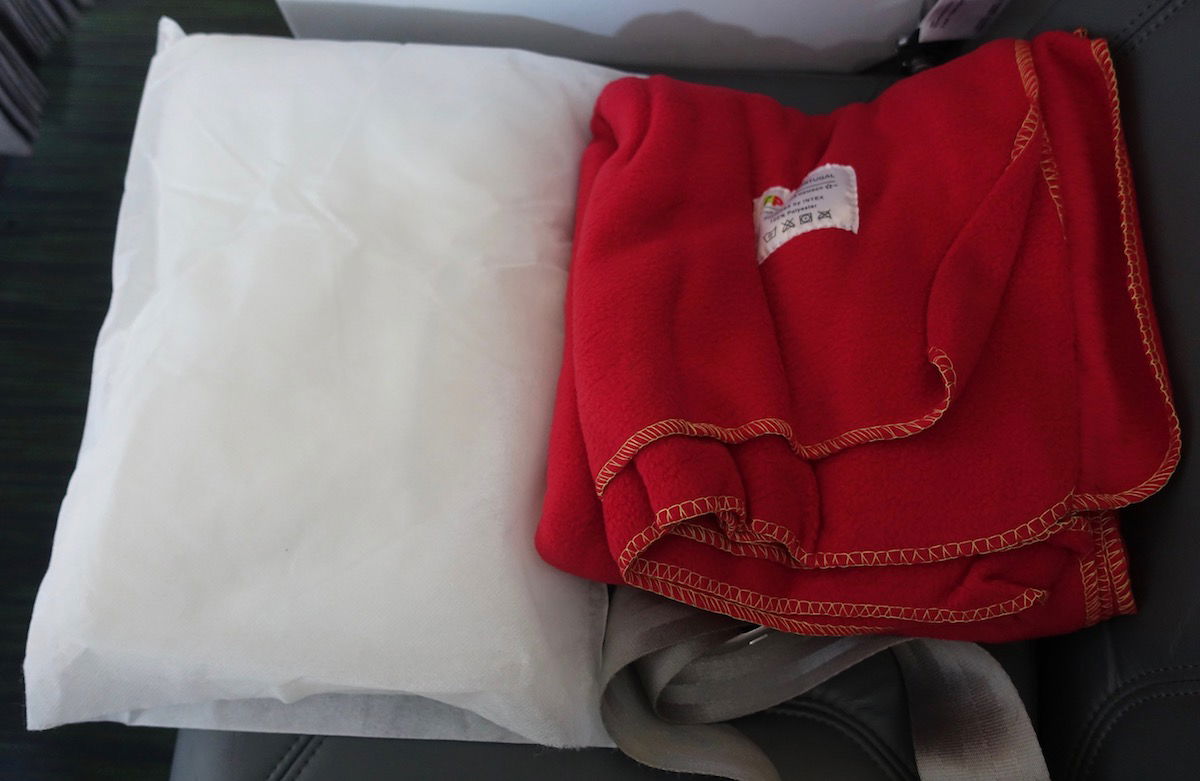 TAP business class pillow & blanket
Many of their planes also have power outlets, which is still a treat within Europe.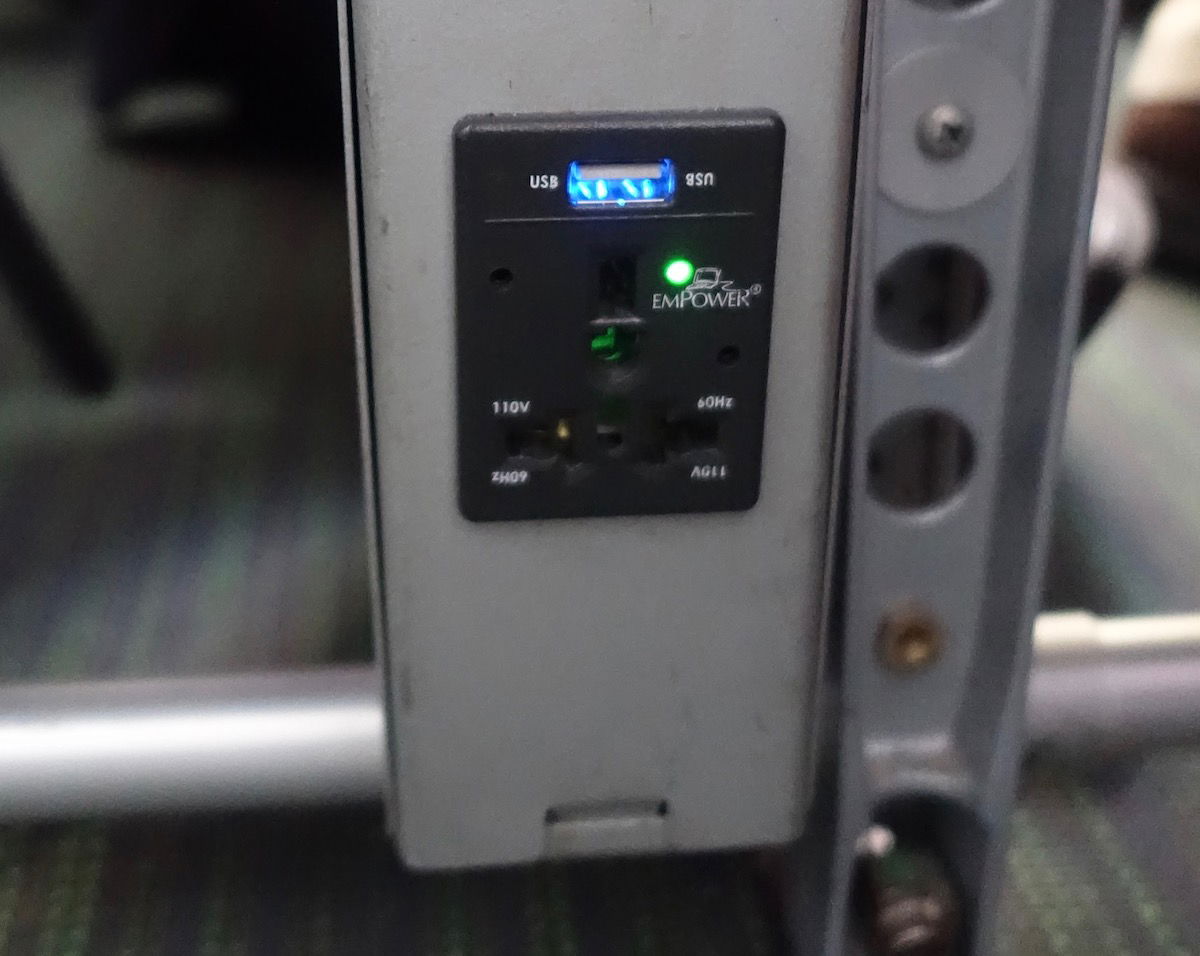 TAP business class power outlet
In general I find that TAP has among the rudest service within Europe, though I do have to give the two flight attendants working this flight a lot of credit, and in particular the cabin manager. They were friendly, and my water glass was refilled an unnecessary number of times.
The snack on this flight wasn't exactly exciting for a 2hr30min lunchtime flight, and just consisted of some fresh fruit, some sort of cold cuts with some sort of creamy goop, and a Portuguese egg tart (yum).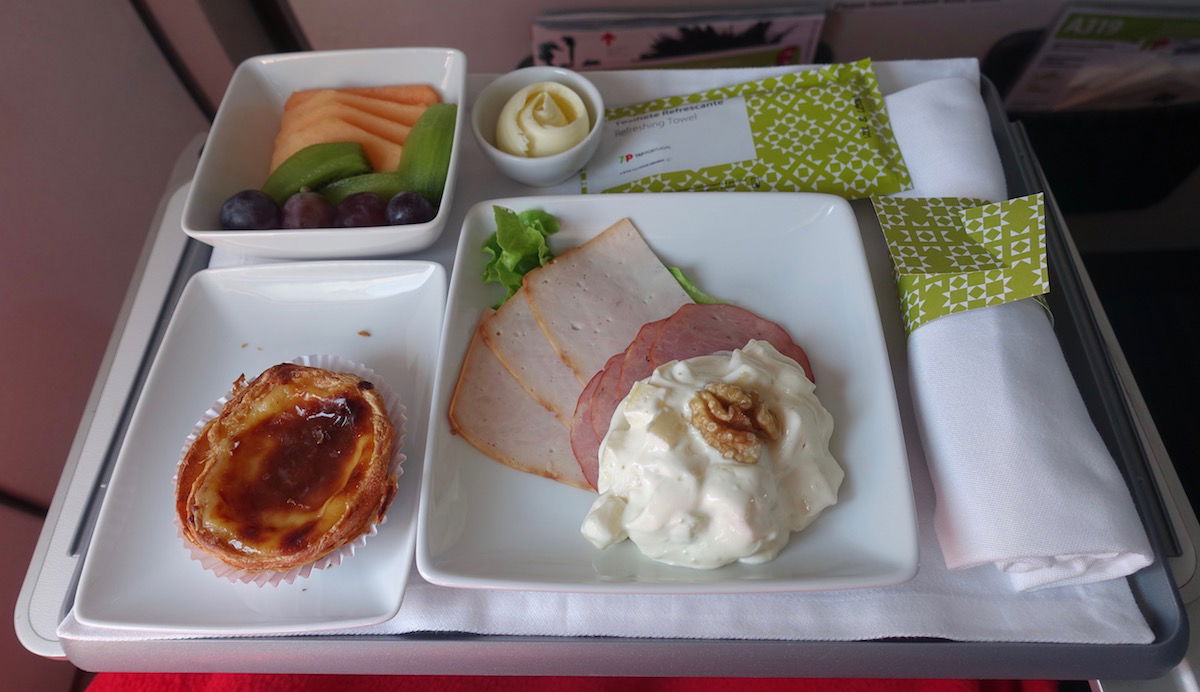 TAP business class meal
The views approaching Lisbon were beautiful, as usual.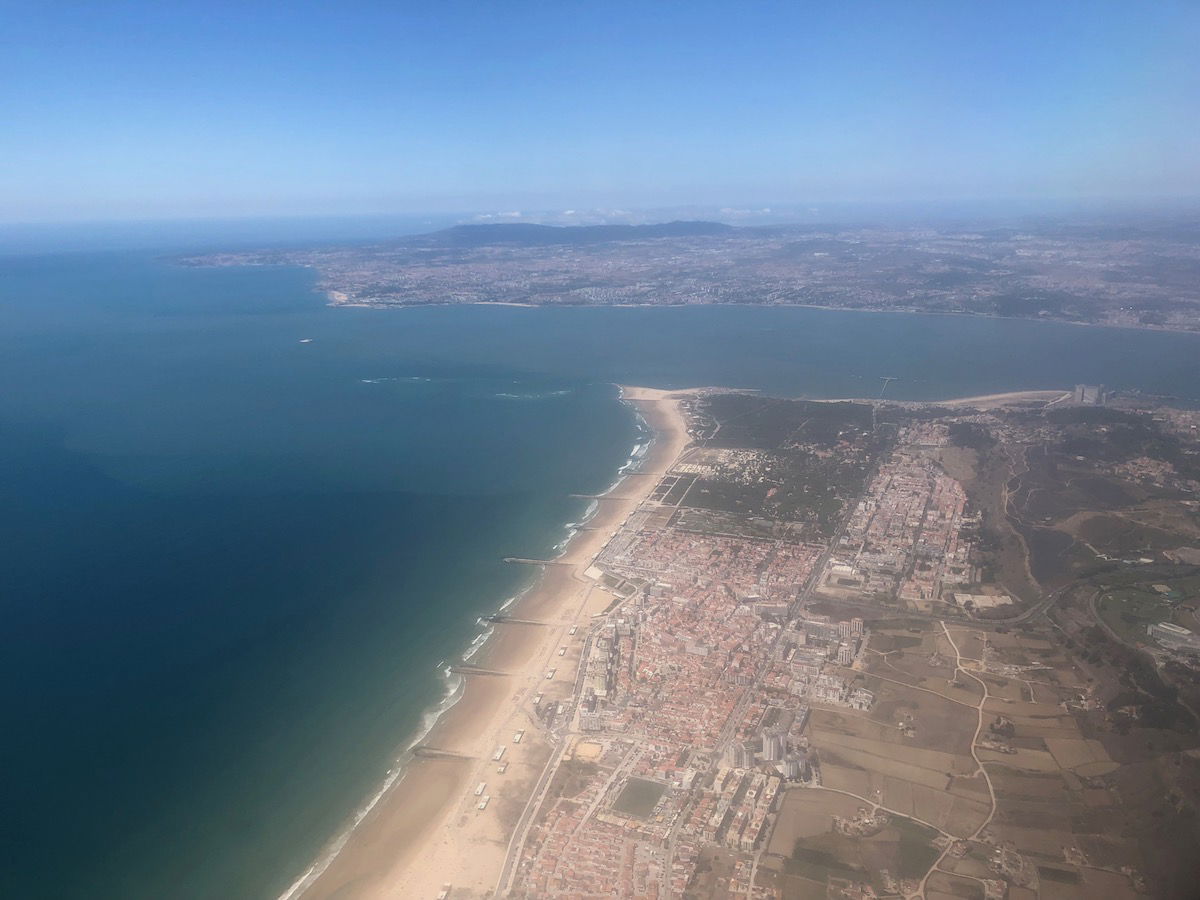 View approaching Lisbon
We arrived at a remote stand, and they sure took their time getting us to the terminal. We were over an hour late getting to the terminal.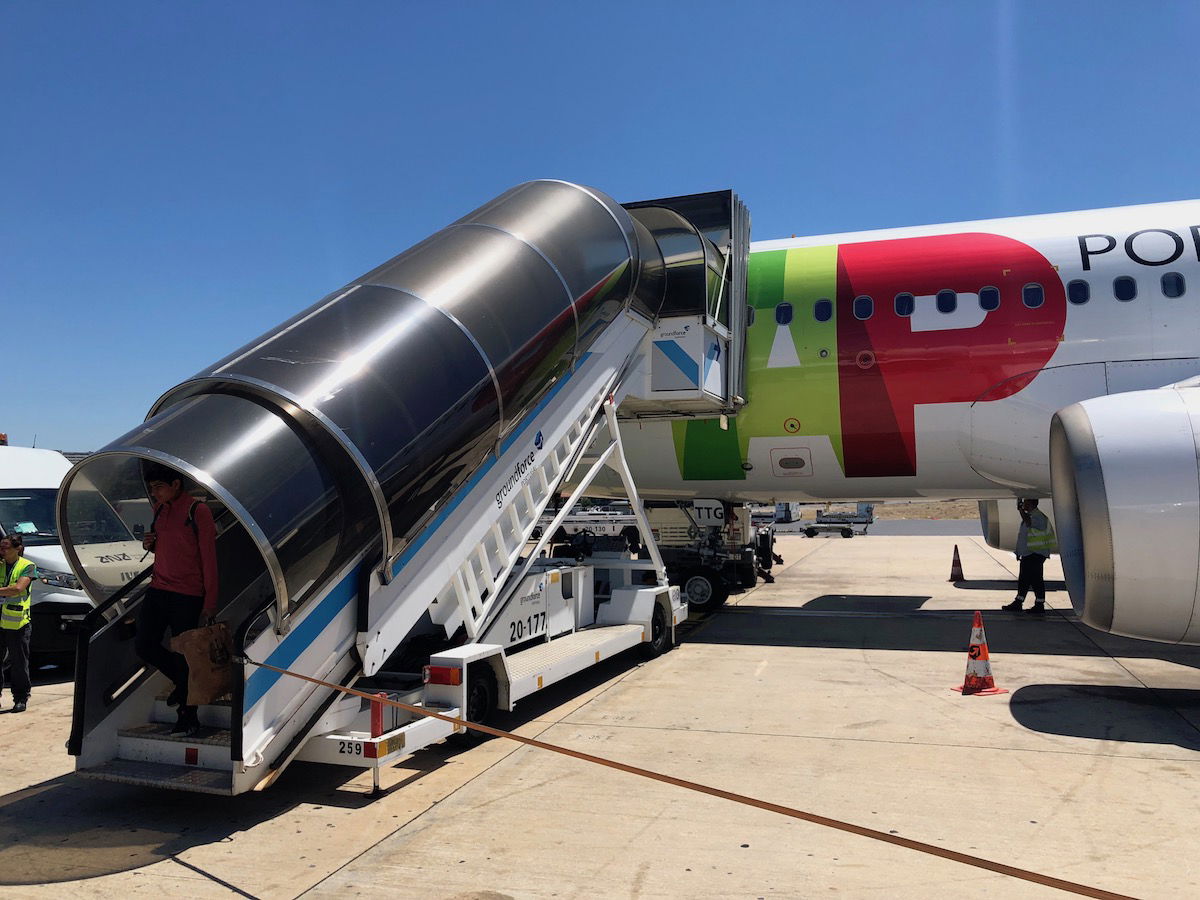 TAP plan upon arrival in Lisbon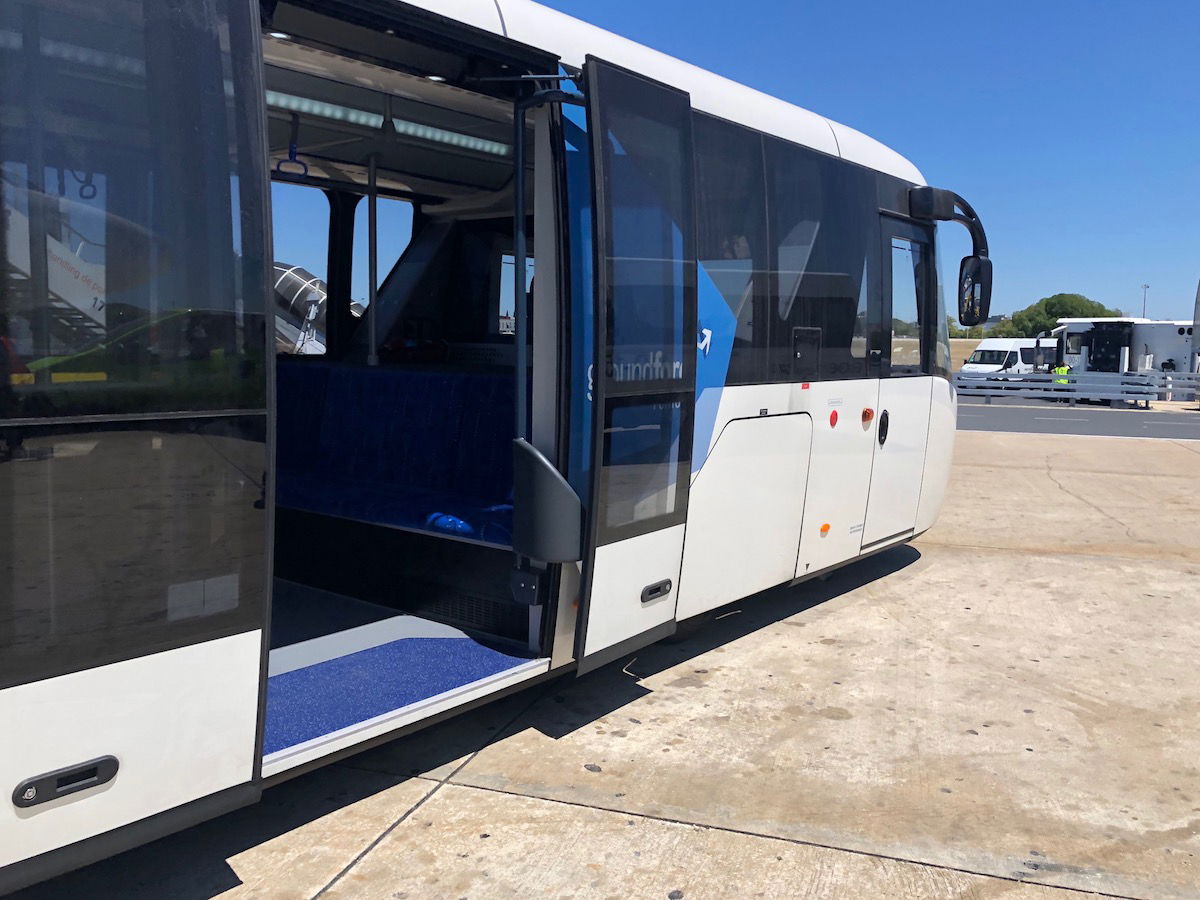 Bus to terminal
The Lisbon ground experience
My 2hr45min connection in Lisbon was now closer to 90 minutes. I've reviewed the TAP "Premium Lounge," so won't be doing so again.
All that I'll say is that the airport was busier than I've ever seen it before. Unfortunately the lounge wasn't much better. The airline has expanded significantly recently, and this lounge just doesn't have the capacity to meet the demand.
The lounge literally smelled like a bathroom — I don't know what was going on, but the lounge smelled so bad. Furthermore, the only seat available was on this booth right by the bathroom. In order to walk between where I was sitting and the buffet I had to walk through the shared sink area for the bathrooms.
"Appetizing," I'd say, but the whole lounge smelled like a bathroom, so…
I was amused on my connecting flight how before the inflight entertainment they have the below ad about the lounge:
The two people both live in "Hollywood" but happen to run into one another at the airport in Lisbon. One says "at the best lounge in the world," and the other responds "well, that's true."
I'm curious what their point of reference is, the No. 7 First Class VIP Lounge Changsha Airport?
TAP's EMB190 business class Lisbon to Porto
Fortunately my connection was departing (nearly) on-time, and this time the flight was operated by an EMB190.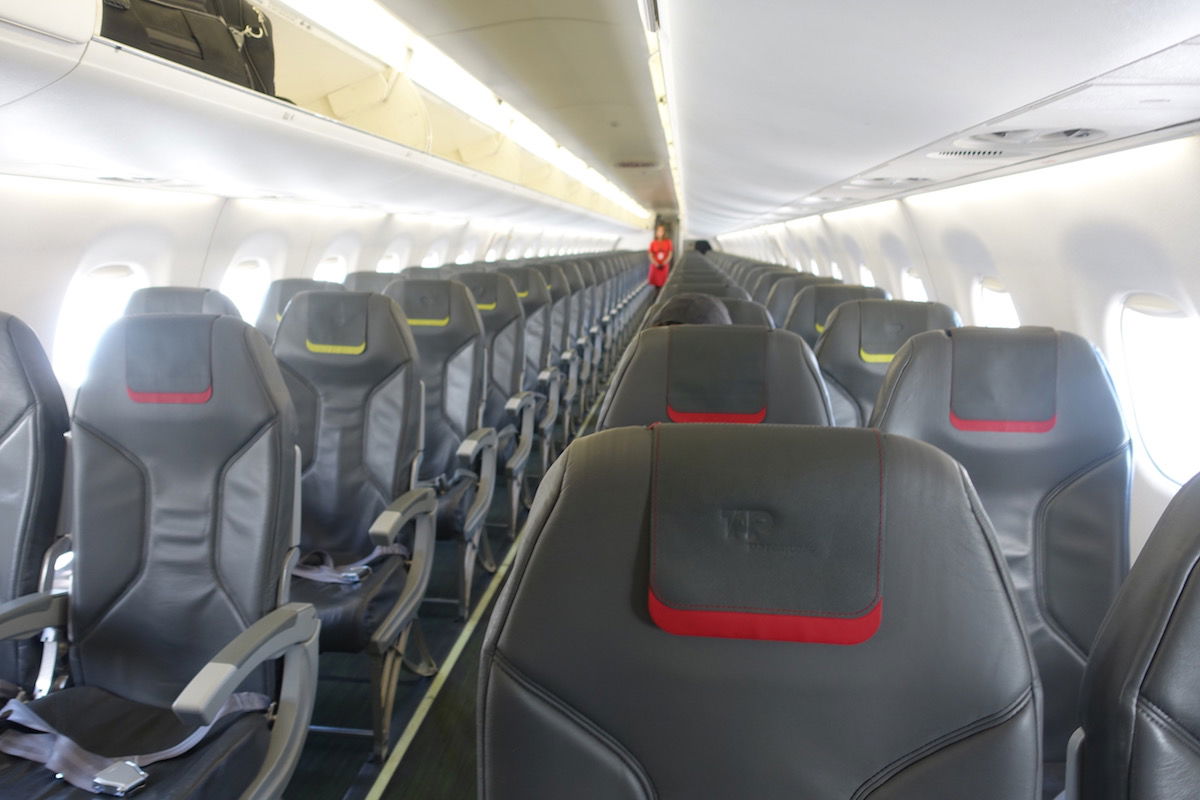 TAP EMB190 cabin
While I'm a fan of Embraer jets in general, I'm confused that they don't block any seats in business class, so you actually sit next to someone else. On the plus side, the legroom was exceptional in the first few rows of the cabin.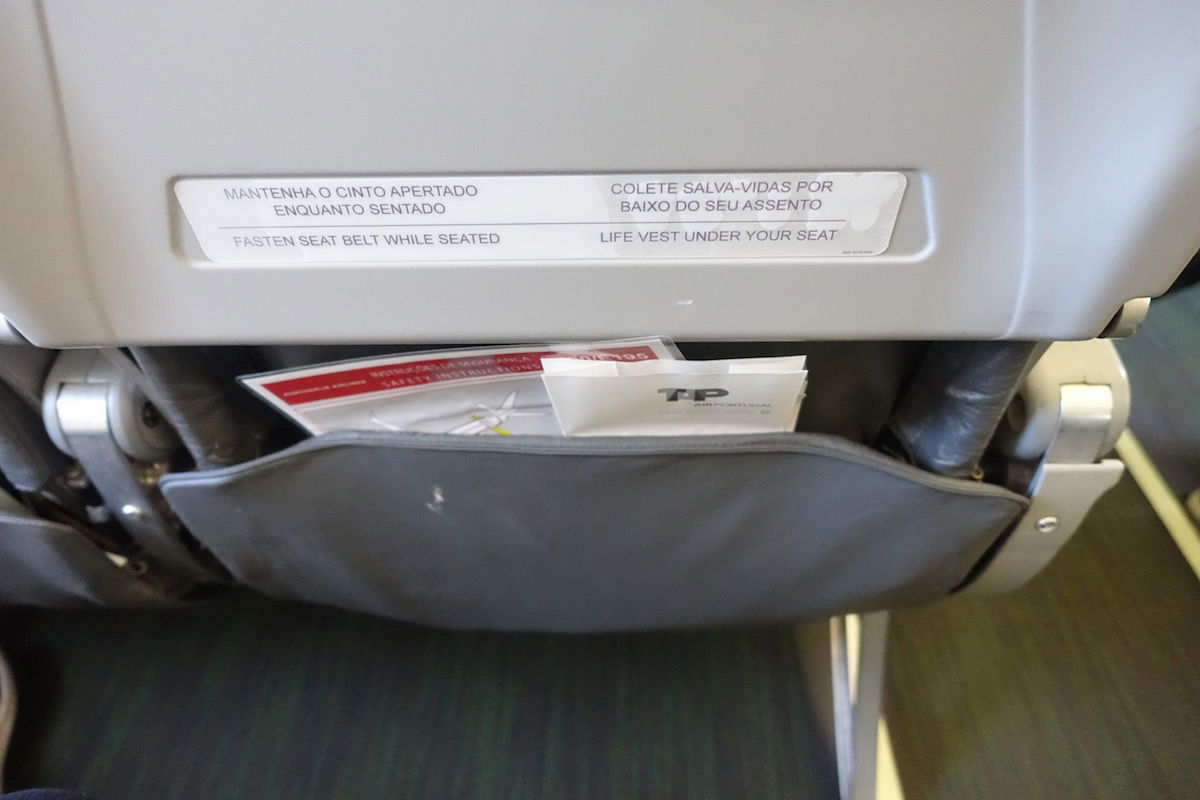 Amazing legroom
The 10 seat cabin was full, with half of the cabin being occupied by a deadheading TAP crew. Then in row one was a kid who was playing a shooting video game without headphones for about 15 minutes. Nice.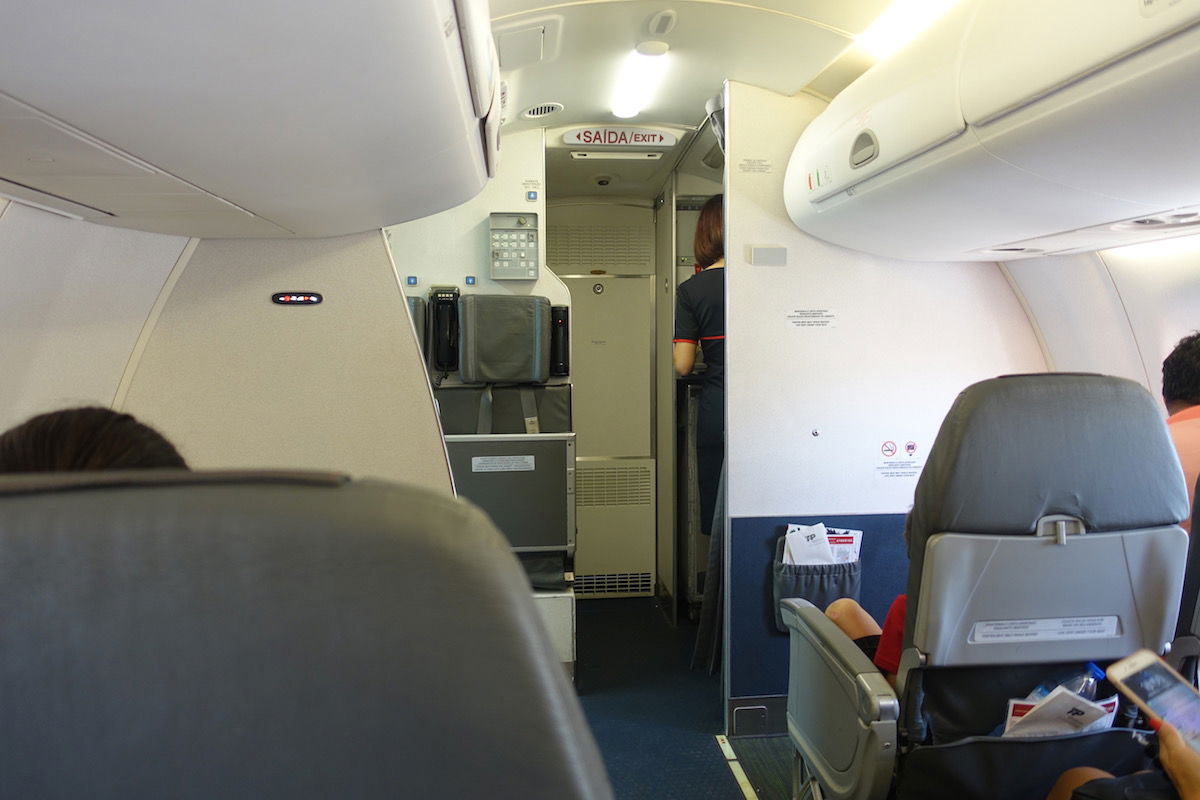 TAP EMB190 business class cabin
We ended up departing about 15 minutes late, though fortunately it was just a 35 minute flight to Porto. Once airborne, we were served the choice of juice or water, then an egg tart, and then coffee or tea.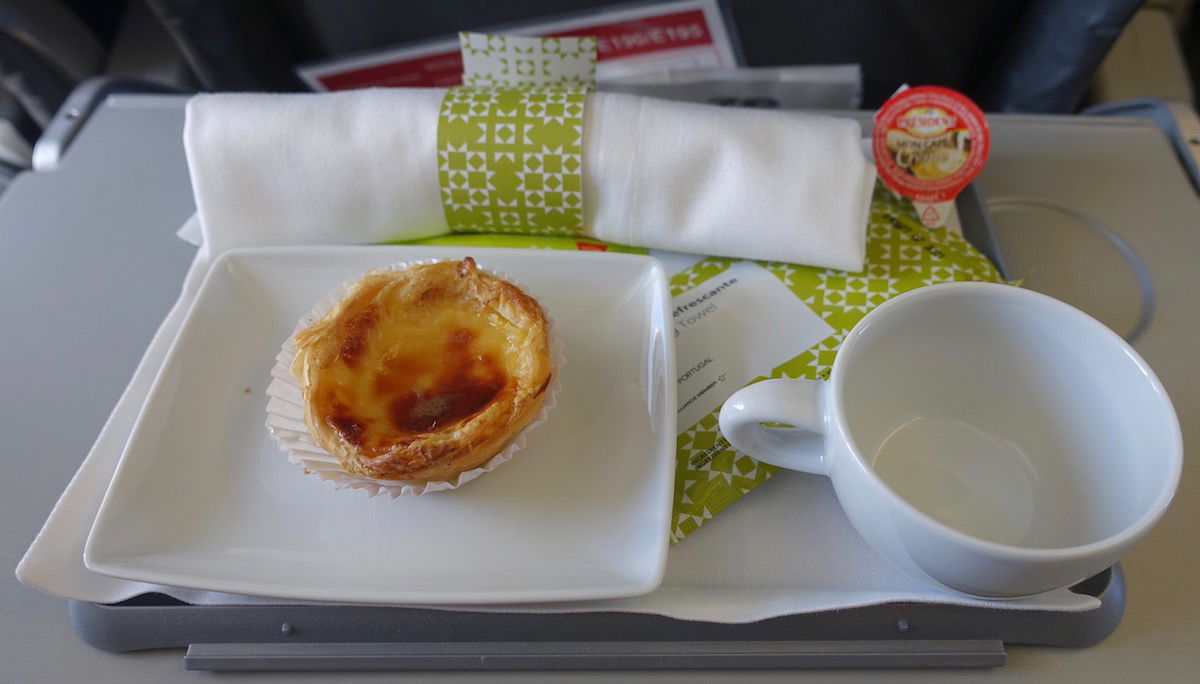 TAP business class snack
The cabin manager on this flight was also very friendly. She spent most of the flight talking to the kid in row one, and it was nice to see how she interacted with him. We ended up arriving in Porto early enough so I could make my connection, which I'd say is almost a small miracle.
TAP business class bottom line
I have a bit of a love-hate relationship with TAP. They mostly have an above average hard product on long haul flights, and they also have incredibly low fares. At the same time, I find their service is hit-or-miss, food isn't great, and they're not very punctual.
In this case my intra-Europe experience was pretty good. I wasn't that delayed, and both of my crews were friendly. I also appreciate that they offered proper pillows and blankets, as well as power ports, on the A319.
If you've flown TAP business class, what was your experience like?