Introduction: A VERY Quick Trip To Hong Kong
Review: United Club Los Angeles Airport
Review: United Club San Francisco Airport
Review: United Business Class 777-300ER San Francisco To Hong Kong
Review: United Club Hong Kong Airport
Review: Singapore Airlines Business Class 777-300ER Hong Kong To San Francisco
---
United 869
San Francisco (SFO) – Hong Kong (HKG)
Tuesday, March 28
Depart: 1:00PM
Arrive: 6:45PM
Duration: 14hr45min
Aircraft: Boeing 777-300ER
Seat: 18L (Business Class)
I boarded through door L2, which is between the two Polaris cabins. United's Polaris cabin on the 777-300ER is massive, with a total of 60 seats. There are 28 seats ahead of the second set of doors, and 32 seats behind the second set of doors. I was in seat 18L, which is the window seat in the last row, so I walked to the far aisle and then turned right.

United 777-300ER Polaris cabin
While each Polaris seat features direct aisle access, the seats alternate between being closer to the aisle and being closer to the window. Odd numbered seats are more private and are further from the aisle, while even numbered seats are closer to the aisle.

United 777-300ER Polaris seats
For example, below is a picture of seat 17L, which is a "true" window seat. The advantage of this seat is that it feels extremely private, as you basically have your own cocoon.

United 777-300ER Polaris seats

United 777-300ER Polaris seats

United 777-300ER Polaris seats
Meanwhile I was in seat 18L, which was the seat closer to the aisle. These seats are angled towards the aisle, and what's a bit odd is that they already start closer to the aisle than the "true" window seats, not even accounting for the angle. I would have preferred one of the seats in an odd numbered row, but when I booked there were none available.

United 777-300ER Polaris seats

United 777-300ER Polaris seats

United 777-300ER Polaris seats
The same general setup is true for seats in the center section. Seats in even numbered rows are closer to the aisle and are angled.

United 777-300ER Polaris seats
Meanwhile in odd numbered rows seats are really close together, though there's a partition between them. When you board that partition is in the upright position, and then you can lower it if you're traveling with the person seated on the other side of it.

United 777-300ER Polaris seats
For more on the seats as such, see the post I wrote about United's new Polaris seats.
Waiting at my seat was an impressive amount of bedding. There were four pieces of bedding, plus a Polaris bear.
This included two pillows (do note that United has already cut one of these pillows).

United Polaris Saks Fifth Avenue pillows
There was also a light day blanket.
Then there was a thicker blanket (interestingly the ribbon doesn't actually come off the blanket, but rather is attached to it).
There was also a Polaris bear at each seat, which was because this was the first week that United was offering Polaris service internationally, so they offered these to commemorate that.
Pretty cute, eh?
Also waiting at the seat was the menu and drink list for the flight.

United Polaris menu & wine list
Anyway, back to the actual seat. Since I was in the seat closer to the aisle, there was a nice faux-marble (I think?) counter closer to the window. United really did a fantastic job with the finishes in this cabin.

United Polaris seat side table
Along the counter was the easy to use entertainment controller, as well as a 110V and USB outlet, and the headphone jacks.

United Polaris entertainment controls

United Polaris power outlet and headphone jacks
There was also a lamp, as well as a small storage compartment towards the back of the seat.

United Polaris seat side console
There were United branded headphones, though they weren't especially comfortable, so I used my own instead.
Ahead of me was the tray table as well as the ottoman. The ottoman was a decent size — it wasn't that spacious, but also wasn't as restrictive as some other ones.
Waiting on the ottoman were a pair of slippers, which were soft.
The tray table would slide out from underneath the console, and could be folded over, so that you could have a large or small surface, depending on your preference.
Then the seat controls were located immediately to the right of the seat. I found the location of these to be super annoying, since I quite easily hit them with my elbow at several points throughout the flight.
Also waiting at my seat on boarding was an amenity kit with Cowshed products. The amenity kit had both a "Relax" and "Refresh" section.
For business class, this was a really impressive kit, in my opinion.

United Polaris amenity kit contents
As far as Cowshed toiletries go, there a "relaxing pillow mist," lip balm, and soothing hand cream.

United Polaris amenity kit contents
Literally a minute after getting to my seat I was greeted by the flight attendant who would be taking care of me. "Welcome to Polaris! Can I get you something to drink?" It's very impressive that United offers pre-departure beverages of choice in business class, as that's very rare.
I ordered some champagne, which was quickly brought to me in an interesting cup setup. It was essentially a plastic cup that was "hooked" into a plate. There's a plate because you also get a chocolate on boarding. I think it's fantastic that United offers pre-departure beverages of choice, and especially that they offer them as each person settles in. They're clearly putting effort into service, and that's refreshing to see.
However, I found the actual cup and plate design to be terrible. The flight attendant didn't warn me that the cup and plate weren't really attached, so it easily comes out of the "hook," causing me to spill some champagne. The same thing happened to the guy across from me, and the lady in front of me. It might be time to rethink that design. 😉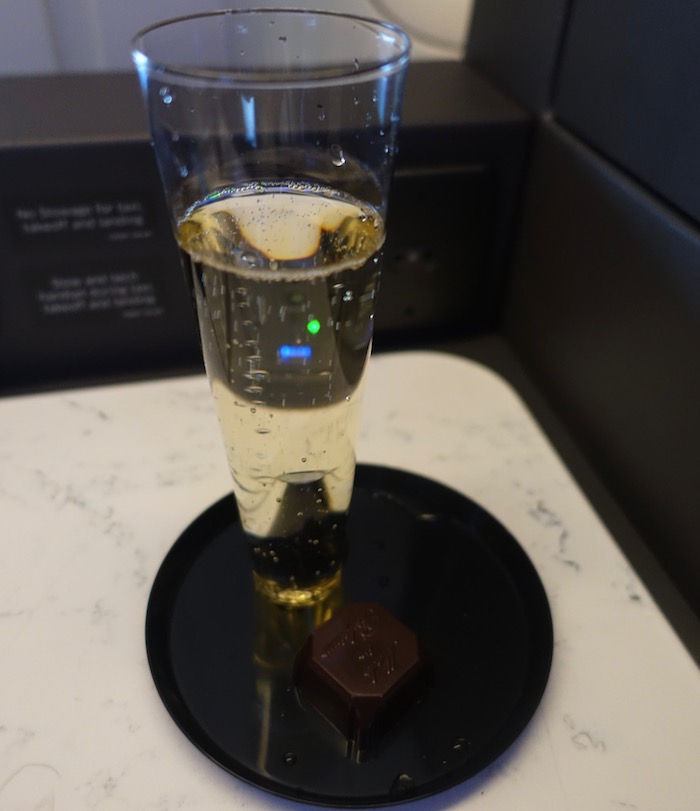 United Polaris pre-departure champagne

United Polaris pre-departure chocolate
Boarding took a while, as is the norm on US airlines. By around 12:55PM boarding was complete, and every seat in business class was taken (though much to my surprise there were several non-revs in business class, so they couldn't even fill Polaris with people willing to pay to upgrade).
Shortly before 1PM Captain Kim added his welcome aboard the brand new 777-300ER, and informed us of our flight time of 14hr9min. In addition, he introduced his three first officers, including their hometowns (which I don't think I've ever heard before). He also informed us that the "from the flight deck" (formerly known as Channel 9) feature would be available, which allows you to listen to air traffic control. YAY!!!! That's probably my favorite part of flying United, though many pilots choose not to make it available.

United's "from the flight deck" audio
Shortly thereafter, Diane, the purser, added her welcome aboard "the new spirit of United." Employees really are proud of the product, which is nice to see.
At 1:10PM we began our pushback, next to an Air New Zealand 777.
As we taxied out the safety video was screened. Shortly thereafter the crew walked through the cabin to take meal orders for both meals. The flight attendant asked for the first and second choice for both meals. I ended up getting my choice for both meals, though.
We taxied out towards runways 28L & 28R, and the views were gorgeous.
I was listening to ATC, and as we approached the runway, ATC asked if we could accept runway 28L for takeoff.
"We're going to need 28R today, United 869 Heavy." For those of you not familiar, runway 28R is a bit longer than 28L, so you know you're on a real heavy plane when you need that runway.
By 1:30PM we were cleared for takeoff, and had a long takeoff roll, and a smooth climb out.
The views were gorgeous, even though they were somewhat obstructed due to the location of the wing and engine.
About 25 minutes after takeoff the seatbelt sign was turned off, so I got out of my seat and snapped a quick picture of both the rear and forward Polaris cabins.

United Polaris rear cabin 777-300ER

United Polaris forward cabin 777-300ER
I also checked out the lavatory. There are a total of four lavatories in the Polaris cabin — two between the two cabins, and two at the very front of the plane. There was often a queue for these, as they were also shared with the crew. The lavatories weren't large, though were fairly nicely appointed.

United 777-300ER lavatory amenities
Once back at my seat, I saw that the crew had passed out landing cards for Hong Kong.
I decided to browse the entertainment selection, which was extensive.

United 777-300ER entertainment selection

United 777-300ER entertainment selection
There were tons of movies and TV shows from which to choose, and the system was highly responsive.

United 777-300ER entertainment selection

United 777-300ER entertainment selection
I also checked out the airshow, of course, which is what I kept on for most of the flight.
Eventually I decided to watch the show "Vice Principals," which I hadn't seen before, but found to be hilarious.

United 777-300ER entertainment selection
United's 777-300ERs also offer wifi. Rather ridiculously, wifi was broken for the first half of the flight. Apparently this has been a common problem, so it's time United figures this out, in my opinion.
Finally a bit over halfway into the flight the wifi started to work. The cost was $8.99 for one hour, $14.99 for two hours, or $29.99 for the whole flight. That's on the pricey side compared to some other airlines, but still reasonable (I just wish I didn't have to pay $30 for just a few hours of wifi, since the wifi only kicked in over halfway into the flight). Once connected the speeds were okay, though not great.
The initial service was slow to get started, and only began about an hour after takeoff. The menu read as follows:
The wine & champagne list read as follows:
The drink list read as follows:
Here's the rest of the pamphlet regarding Polaris services, branding, etc.:
Service began with warm towels. United uses better towels than other US airlines do in business class, which is nice.
After that tablecloths were distributed.
Then a cart was rolled down the aisle with drinks. United advertises their new wine flight, where you can sample either all the whites or all the reds. It's a nice feature, though I wish they'd actually label the wines, so you know what you're having. It was served with mixed nuts, and I also requested a sparkling water (they have San Pellegrino — awesome!).
By 3PM I was served the starter and salad. It's interesting that United still uses trays, rather than placing things directly on tablecloths.

United Polaris appetizer, salad, and bread
The starter consisted of smoked salmon with edamame, radish, and hummus. It was decent enough, though nothing special.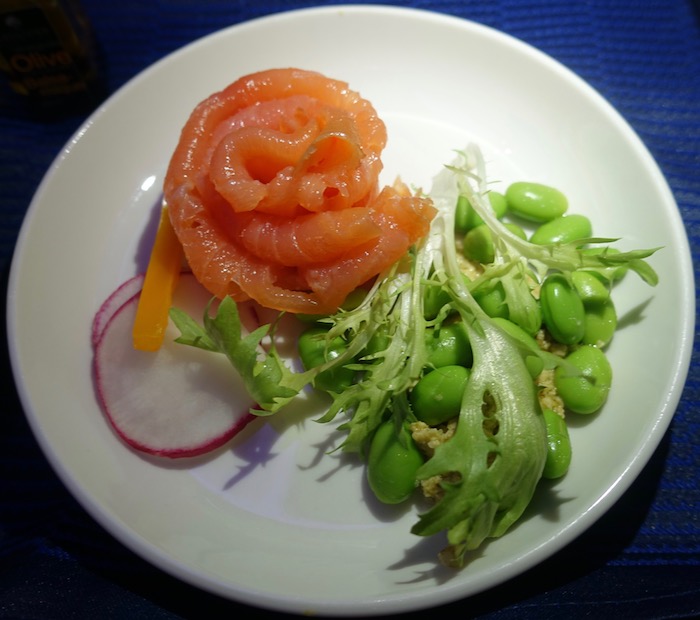 United Polaris appetizer — smoked nori-wrapped salmon with edamame, radish, and hummus
The salad consisted of Boston lettuce with soba noodles, and was fairly good.

United Polaris salad — Boston lettuce, soba noodles with sesame dressing
As far as bread goes, I was offered two pieces of cheese bread — I was a bit surprised that there was no choice of bread.
While drinks and appetizers were served off carts, the mains were brought directly on trays. As soon as my appetizer was cleared I was served my main course. I ordered the seared short rib with rice and vegetables. The short rib itself was excellent, while the rice and veggies were bland.

United Polaris main course — seared short rib
Once the main was cleared, I was asked if I wanted cheese and port. Sure, why not? The cheese plate was cute and fairly high quality, at least for business class.
Then lastly the dessert cart was rolled down the aisle. I had an ice cream sundae, along with a cup of coffee (unfortunately United doesn't have espresso based drinks). The ice cream sundae was excellent, as always.

United Polaris ice cream sundae with coffee
The entire meal was done about 2hr30min into the flight. I'd say the meal service was good, in the sense that everything was fairly well executed. However, I didn't really think there was anything special about the food.
The crew was Hong Kong based, and good, but not great. They were friendly and efficient, but also not especially warm.
In Polaris there are three amenities available on request, and quantities of all of them are limited, so I asked for them as soon as the meal was done.
This includes a mattress pad, a cooling gel pillow, and on ultra longhaul flights, even pajamas. All three of these were great.
The mattress pad was extremely well padded and comfortable.
The cooling gel pillow actually cooled me down.

United Polaris cooling gel pillow
The pajamas were also extremely high quality, much to my surprise.
While the bedding is fantastic, the problem is that there's nowhere to store it, so when you're not sleeping, the seat just looks sort of ridiculous (and the below picture doesn't even have the mattress pad in it).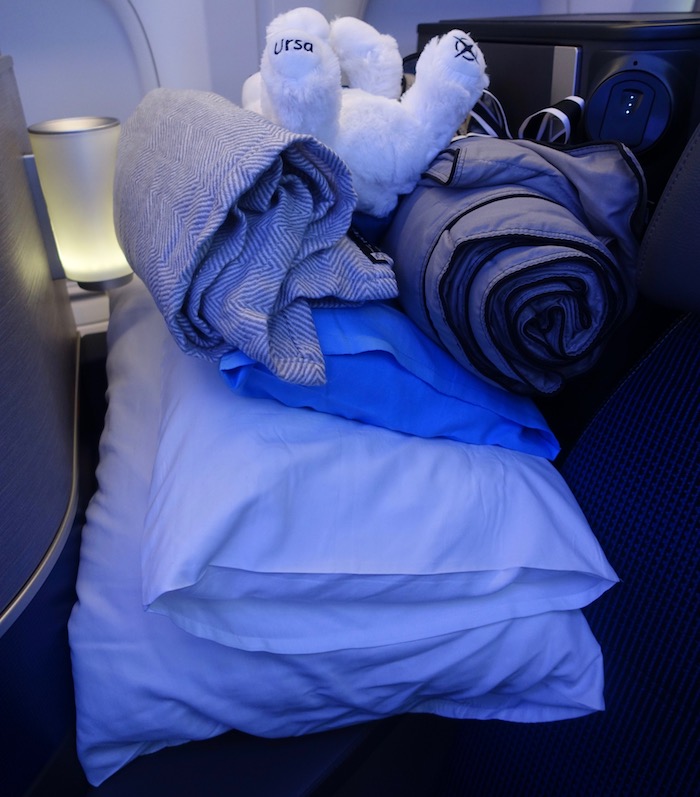 A lot of bedding in United Polaris!
After lunch I decided to try and get some rest, with about 11 hours left until arriving in Hong Kong.
The crew asked if I wanted help making my bed, though I said I could take care of it — it was a nice offer, nonetheless. United's Polaris bedding is so damn impressive. It's hands down the best bedding available in any business class product.
My seat was one of the seats closer to the aisle, and it really did lack privacy. You sort of feel like you're almost sleeping in the aisle. Fortunately thanks to the "shell" around the seat you have a bit of privacy around your head, but it's easy for people to bump your knees while you're trying to sleep.
I managed to get about three hours of rest, and woke up with eight hours to go to Hong Kong. It wasn't great rest, not because of the seat, but rather because I just wasn't that tired so early in the day.
I had heard a lot about United's mid-flight snacks, so decided to check that out. The snack menu read as follows:
There was also a small bar setup in the galley with snacks. I was a bit underwhelmed by the selection, as American's 777-300ER business class snack bar has a better selection.
I decided to order the tomato bisque and grilled cheese sandwich, which I was told would take about 20 minutes to prepare. It was so delicious, but also so unhealthy. But seriously, it was really good.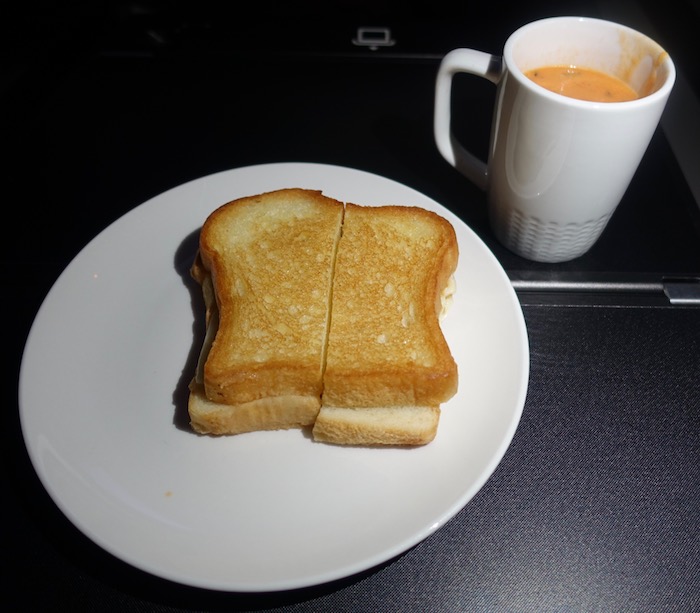 United Polaris snack — tomato basil soup and grilled cheese sandwich
I worked for most of the rest of the flight, and then about 75 minutes before landing the pre-arrival meal service began. The menu read as follows:
Everything was served on a single tray, including a Chobani greek strawberry yogurt, some fresh fruit, a croissant, and my main course. I ordered the Southwest omelet, which was tasty.

United Polaris pre-arrival meal
The crew later came through the cabin with cinnamon rolls.

United Polaris pre-arrival meal cinnamon roll
About 30 minutes out the captain provided updated arrival information, and around that time the crew came through the cabin with boxes of chocolates for each passenger, and thanked everyone for flying Polaris.
The views on our descent were great, especially as the sun was slowly starting to set.
The seatbelt sign was turned on about 20 minutes before landing, and I enjoyed listening to ATC on the descent.
We had a smooth touchdown in Hong Kong on runway 7L at 6:40PM, and from there a 10 minute taxi to our arrival gate.
We pulled in next to a Cathay Pacific A330.
United Polaris 777-300ER bottom line
I'm glad I had the chance to experience United's 777-300ER Polaris in the first week it was in international service. Ultimately this represents a huge improvement for United, though the product as such is hardly revolutionary. The new seats are a big improvement over United's other seats, though not better than the widely available reverse herringbone seats, in my opinion.
United has done a really great job with the Polaris amenities, including the bedding, amenity kits, pajamas, etc.
I though the food was solid, though nothing special. While there are some nice aspects to the service, like the wine flight and great mid-flight snack, the meal as such didn't seem materially different from what I've had on other flights operated by US airlines.
Overall Polaris represents a great improvement for United, though there's nothing revolutionary about it. If you can get on one their planes with the new seats then it's a good way to fly, though keep in mind it'll be five or so years before the entire longhaul fleet features the new seats (and even that might be optimistic at this point).
If you've flown United's new Polaris product, what was your experience like?