I can't even begin to say how excited I was to be flying the new JetBlue Mint Suite across the Atlantic — that's both because it was a brand new business class product, and because a decade ago I would have never expected we'd see JetBlue operating transatlantic flights.
Despite my over-the-top excitement, JetBlue didn't disappoint — the carrier's transatlantic business class product is phenomenal, and on the passenger experience front, a force to be reckoned with.
How to book JetBlue Mint to London
As I explained in the introduction post to this series, we found a great Mint fare back when JetBlue first put flights to London sale. Our roundtrip fares from San Juan to London cost $880 per person, and then in each direction I upgraded one of us to JetBlue's first row Mint Studio for $129. In other words, each of our Mint tickets cost about $1,000 roundtrip — not bad, eh?
What's the best way to book JetBlue Mint to London going forward?
Business class fares vary significantly, and seem to start at just under $2,000 per person roundtrip
You can redeem TrueBlue points, but JetBlue has a revenue based frequent flyer program, so the number of points required is directly correlated to the cost of a ticket in cash; however, Mint redemptions generally get you less value than economy redemptions (expect to get just over one cent of value per TrueBlue point — ouch!)
You can redeem 64,000 Emirates Skywards miles for a one-way JetBlue Mint ticket between New York and London, but the taxes, fees, and carrier imposed surcharges can be significant
Something I find interesting about JetBlue's Mint is that the airline very much is about maintaining the "integrity" of the cabin in terms of pricing. Most airlines will sell discounted upgrades as the departure date approaches (or on the day of departure) if seats are empty, but JetBlue doesn't. I'm curious if that will change over time.
The JetBlue Mint ground experience at JFK
We had a roughly four hour connection at JFK Terminal 5, as we were arriving from San Juan the same day (I won't review that flight, because I reviewed our JetBlue Even More Space experience to San Juan). JetBlue doesn't have any sort of a lounge for Mint passengers. This doesn't come as a surprise (we knew the airline didn't have a lounge), though it certainly distinguishes JetBlue from other airlines.
I can't help but wonder if JetBlue will eventually have a lounge, or what exactly the plan is. I did some walking around Terminal 5, and didn't notice any obvious spaces where a lounge could be opened. The only lounge in the terminal is operated by Aer Lingus, and that's even shut at the moment.
The only thing I'd note about the ground experience is that JetBlue did have some decorations in the terminal celebrating the new transatlantic service.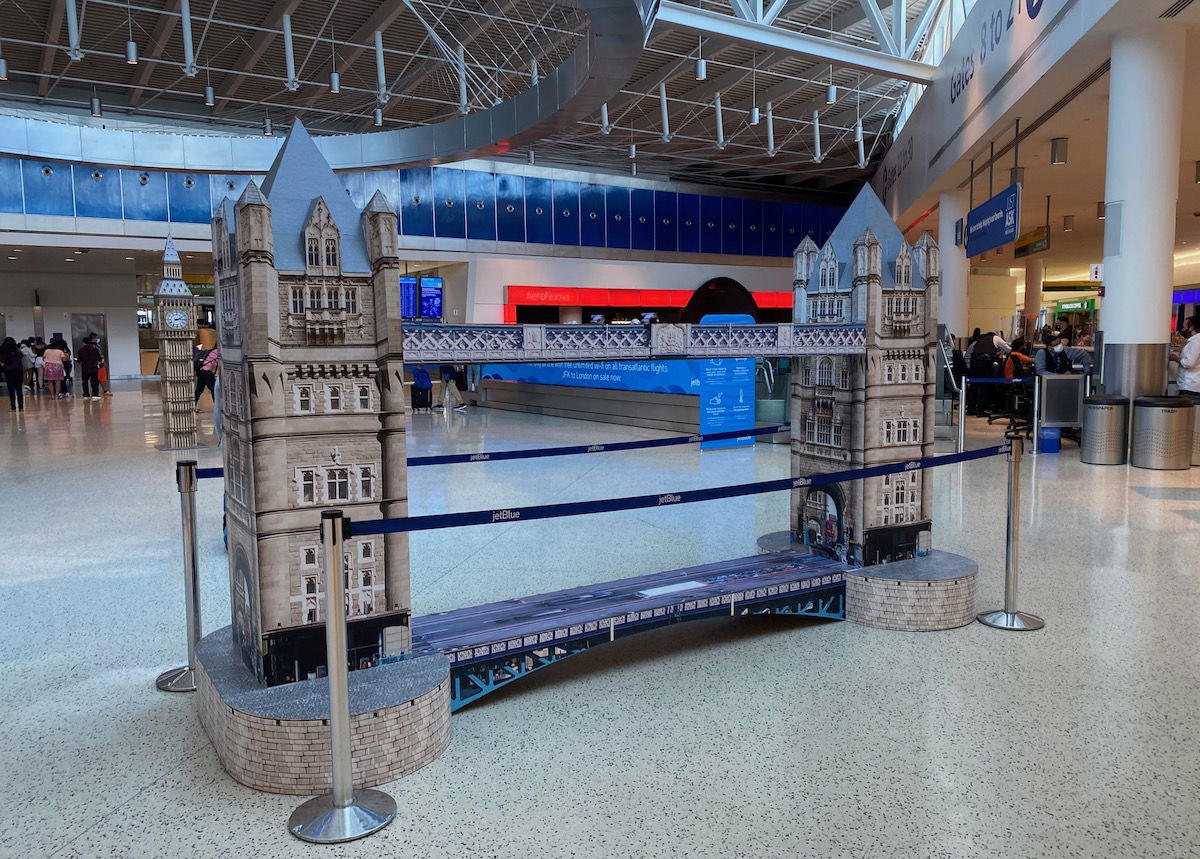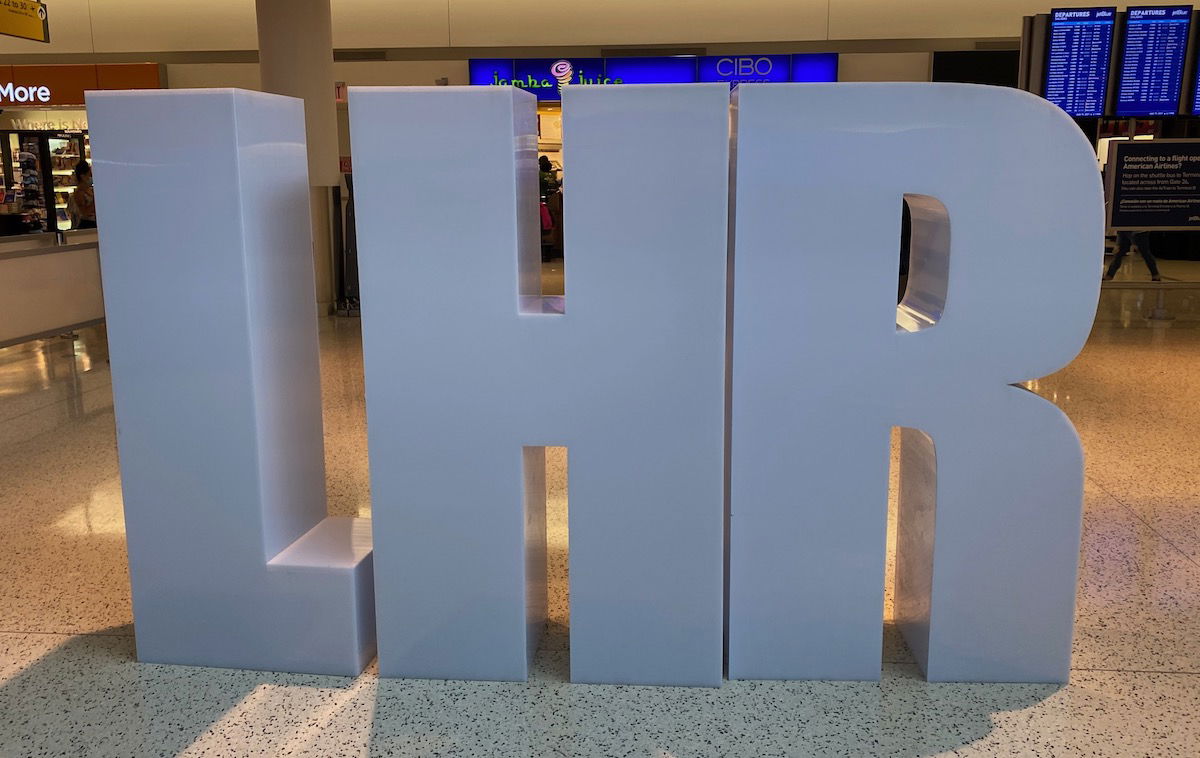 Our flight was departing from gate 22, which is a pretty convenient gate if you're just entering the terminal.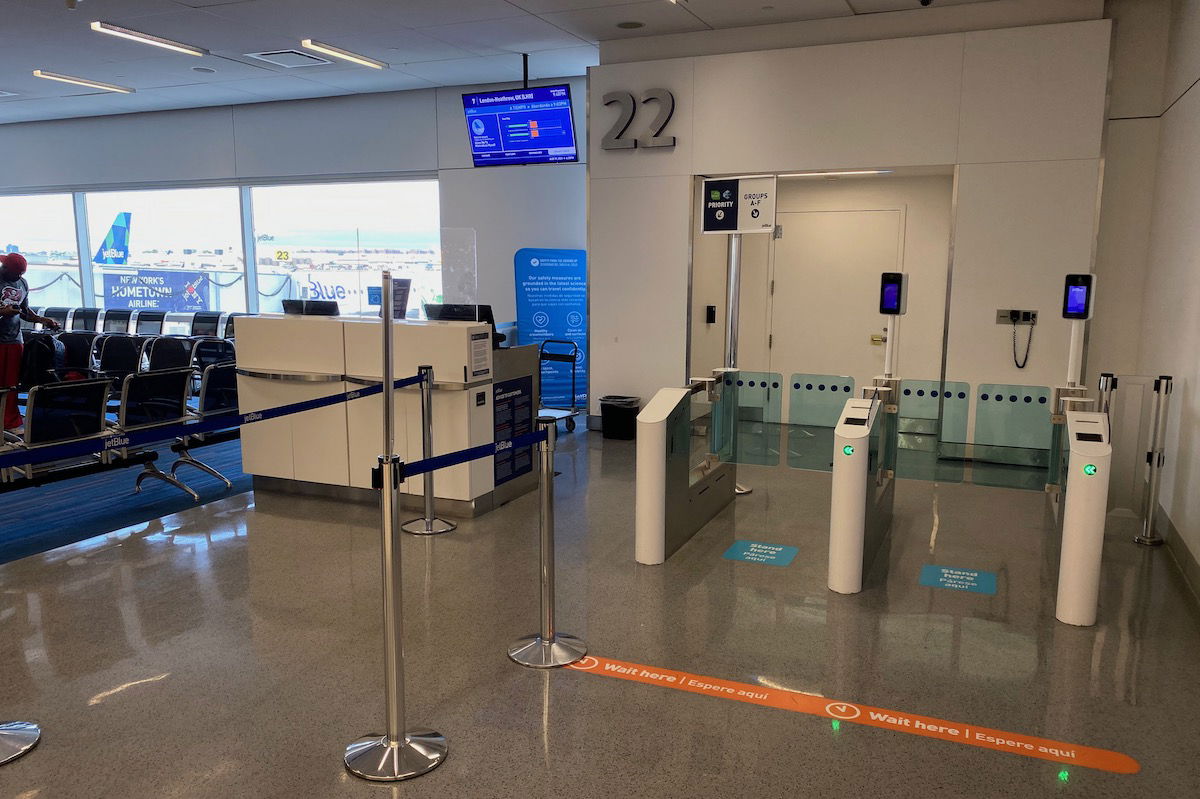 Already at the gate was the gorgeous JetBlue A321LR that would be flying us to London. Specifically, we were flying N4048J, JetBlue's second-ever A321LR, which was delivered to the airline in June 2021. JetBlue has fun with naming planes, and this plane was called "Allow Me To Mintroduce Myself." Hah.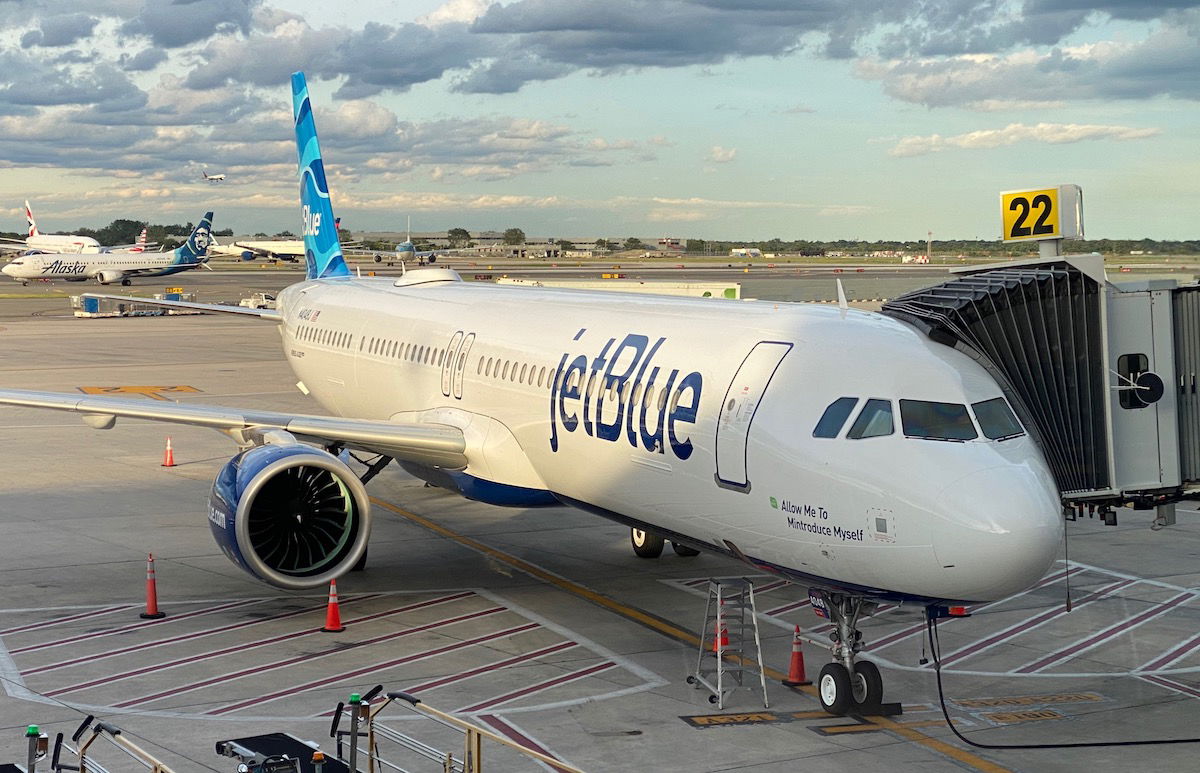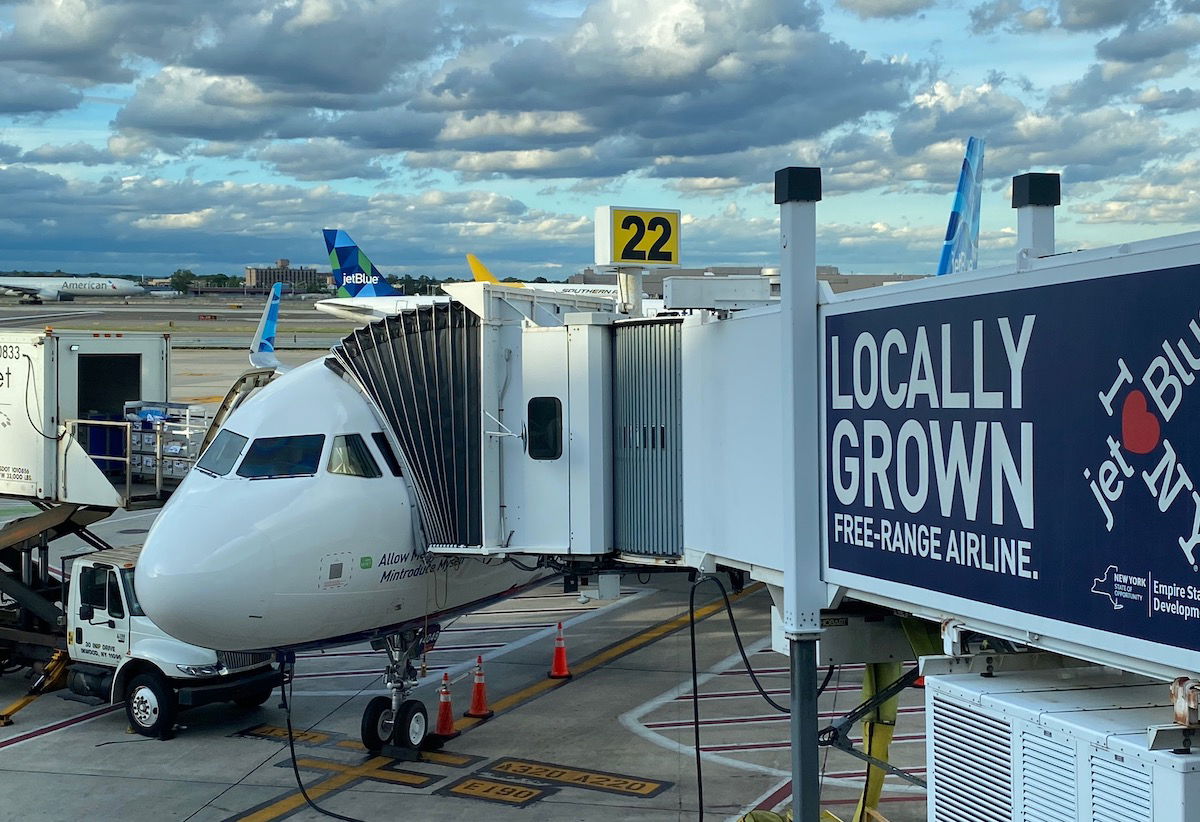 Since we had a long layover, we just sat down the in the quiet gate area and got some work done, as there was fast and free Wi-Fi in the terminal.
The flight was scheduled to board at 9:03PM, 45 minutes ahead of the 9:48PM scheduled departure. The gate agents were exceptionally friendly, and the gate was very well staffed (there were at least four gate agents, if not more — JetBlue is really putting its best foot forward with this London flight).
Full disclosure — while I almost always try to "fly undercover," I had reached out to JetBlue a few days before my flight to ask about early boarding, so I could snap cabin pictures. I really wanted some good pictures of the plane, and that can be tough to do with a narrow body plane when otherwise just trying to be first onboard. So I was able to board about five minutes before other passengers.
JetBlue Mint from New York to London review
I've flown millions of miles and almost all the great premium products in the world, but there was something that had me downright giddy about boarding a JetBlue flight to London.
JetBlue B67
New York (JFK) – London (LHR)
Thursday, August 19
Depart: 9:48PM
Arrive: 10:10AM (+1 day)
Duration: 7hr22min
Aircraft: Airbus A321LR
Seat: 2A (Mint Suite business class)
When I first boarded the A321LR, my jaw dropped. It's not that JetBlue has the world's best long haul business class seats, but there's something so incredibly beautiful about this cabin — seeing a premium cabin this big in a 1-1 configuration was special.
At the front of the plane was JetBlue's Mint cabin, featuring a total of 24 seats. This includes the two Mint Studios (the two seats in the first row, which feature a bit more room), plus the 22 Mint Suites (the next 11 rows of seats).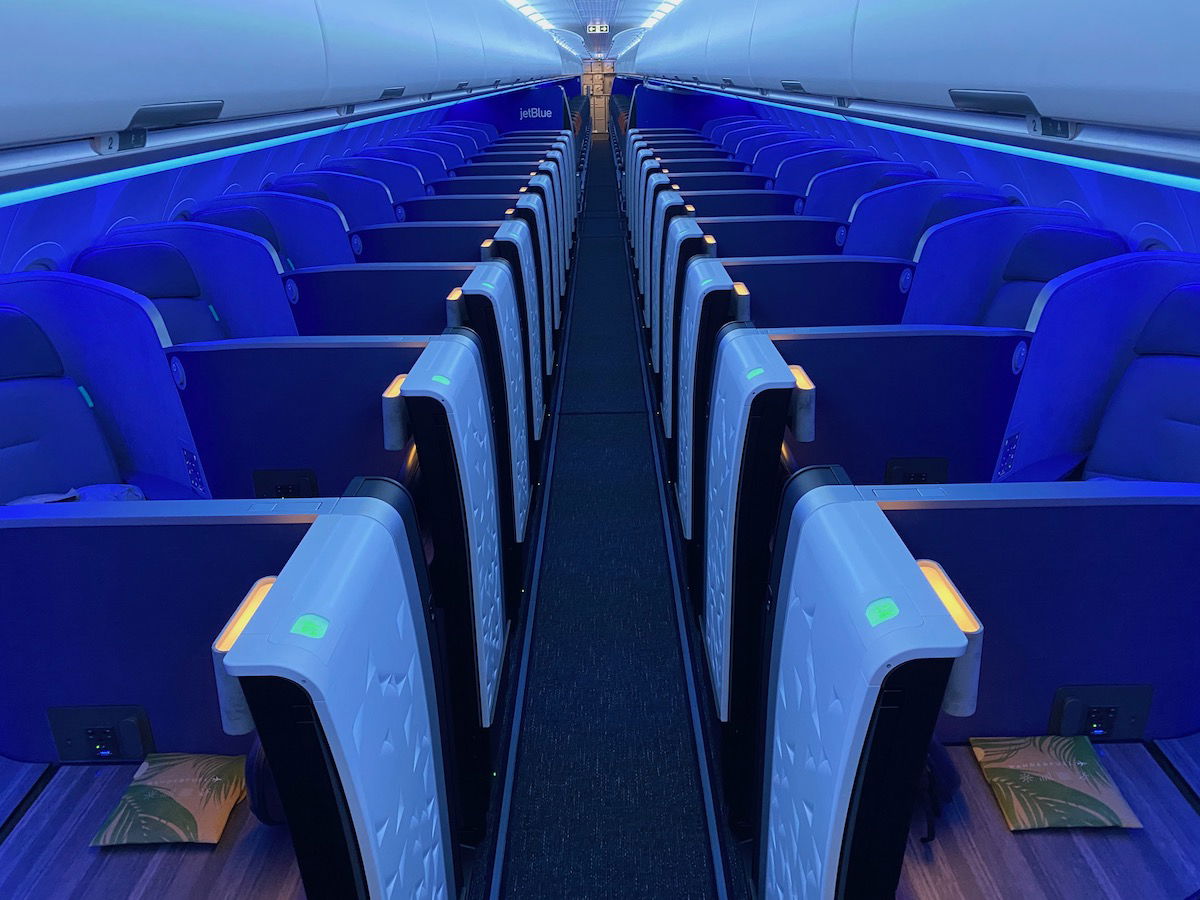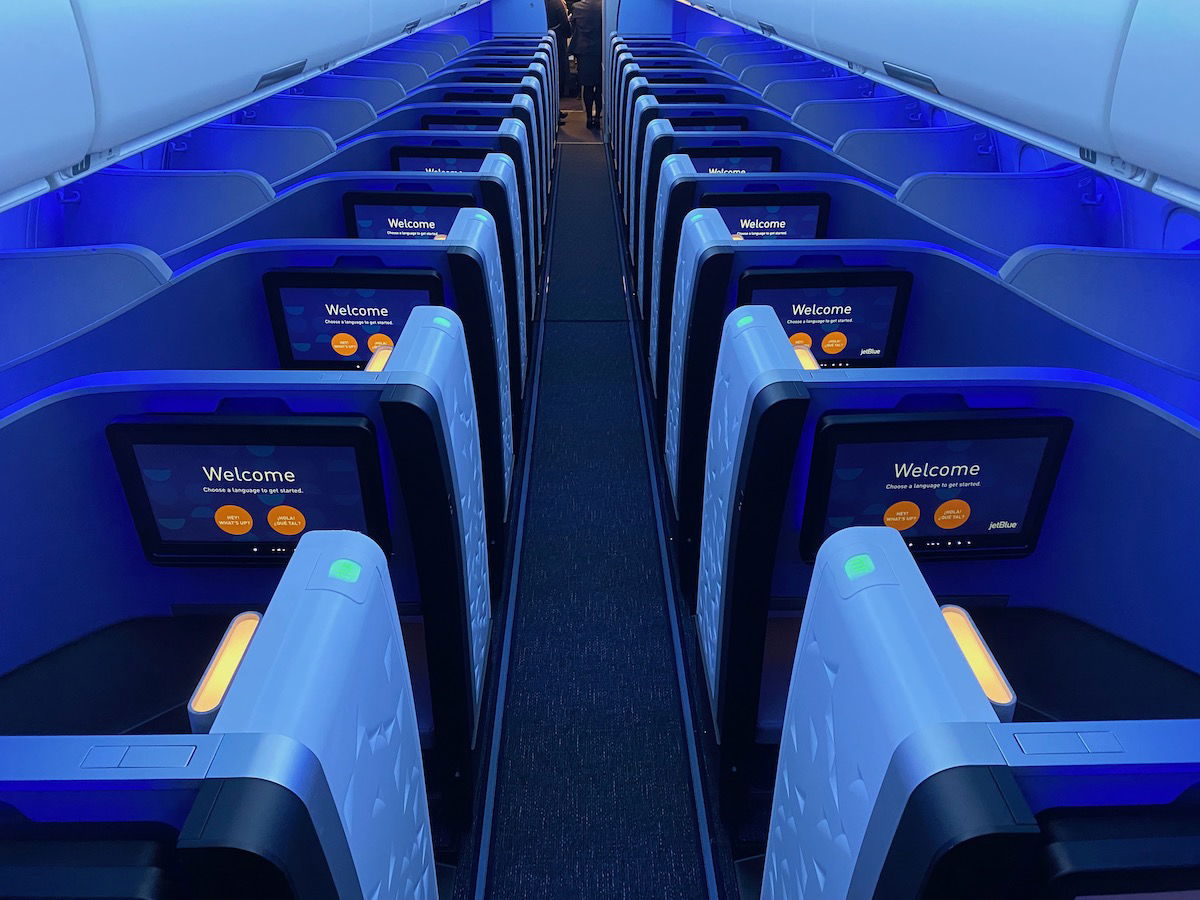 Seriously, how futuristic is this cabin?! The general design blows La Compagnie's A321neos and American's A321Ts out of the water, in my opinion.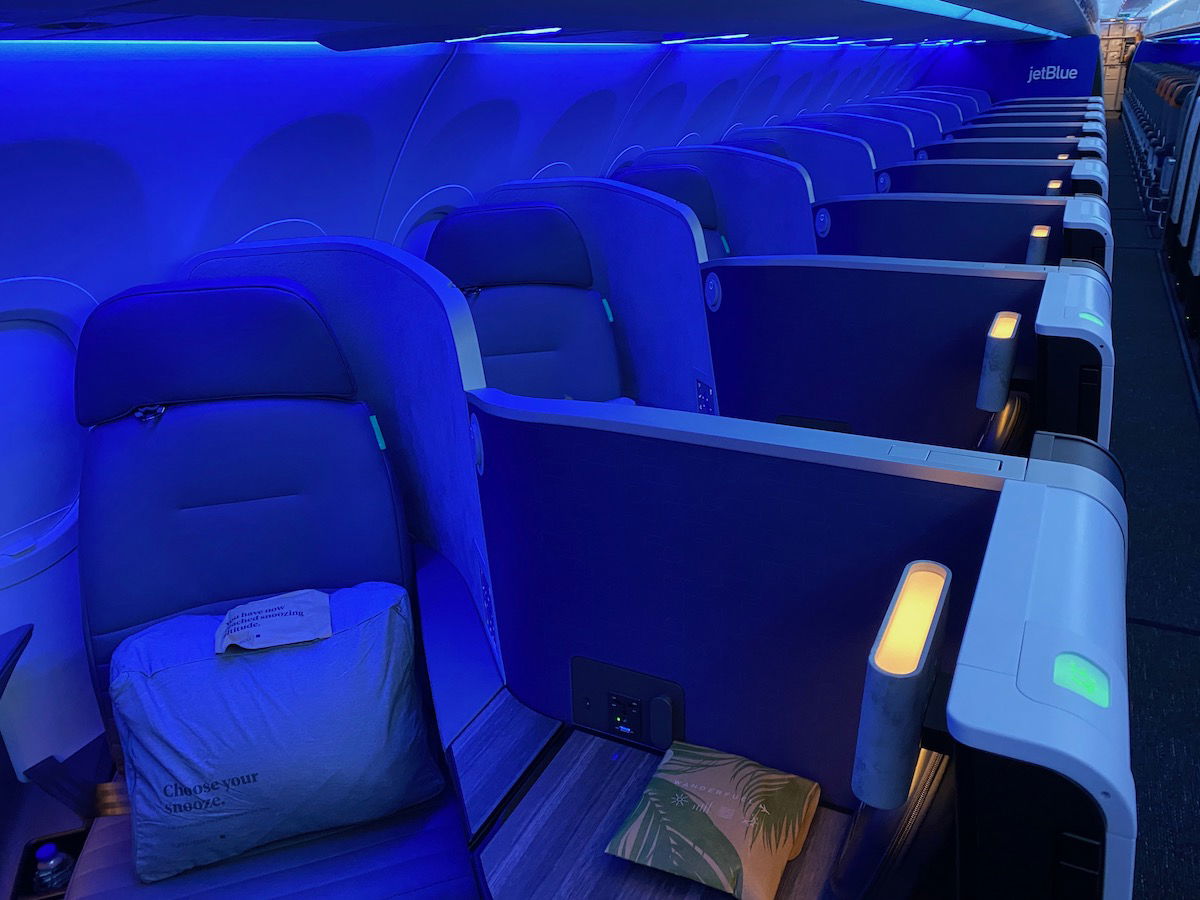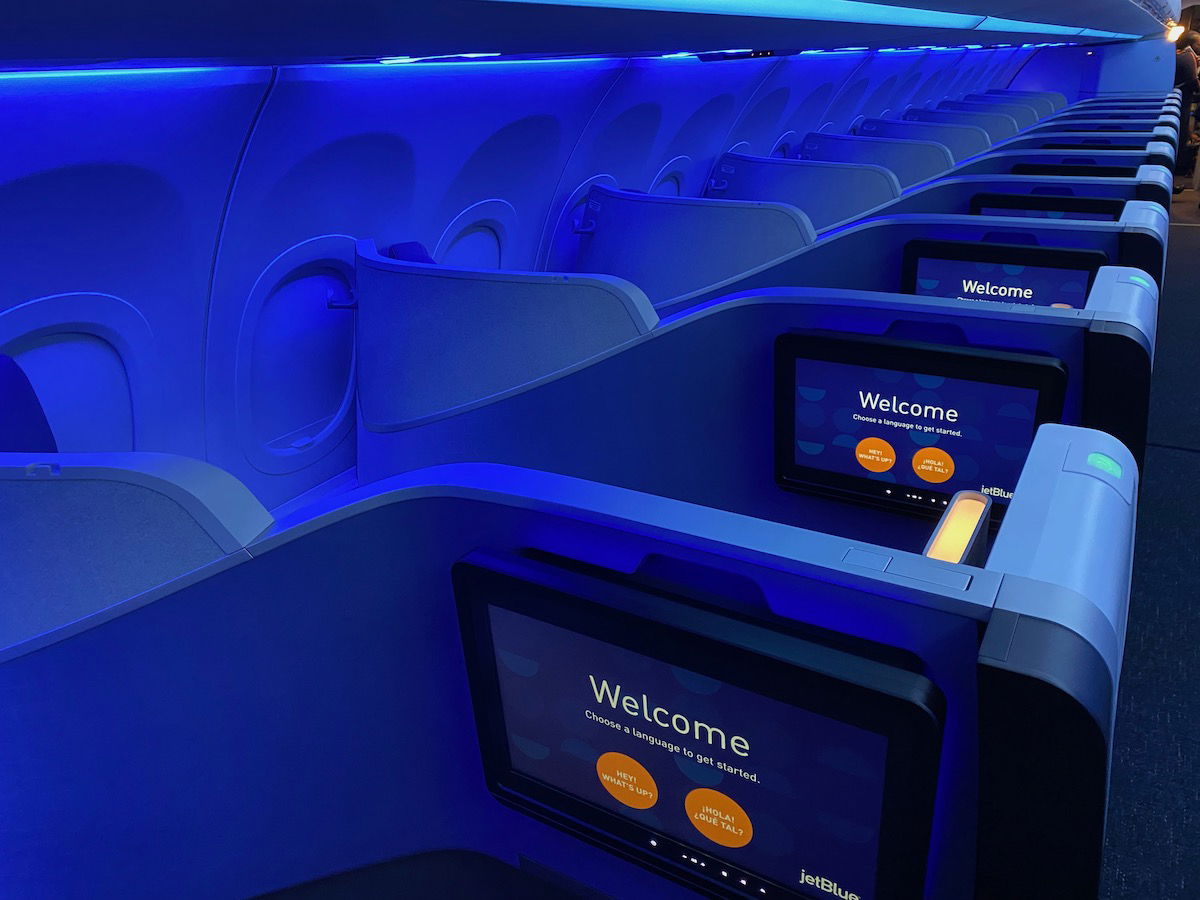 Behind the 24-seat business class cabin was economy, which featured 114 seats, spread across 19 rows.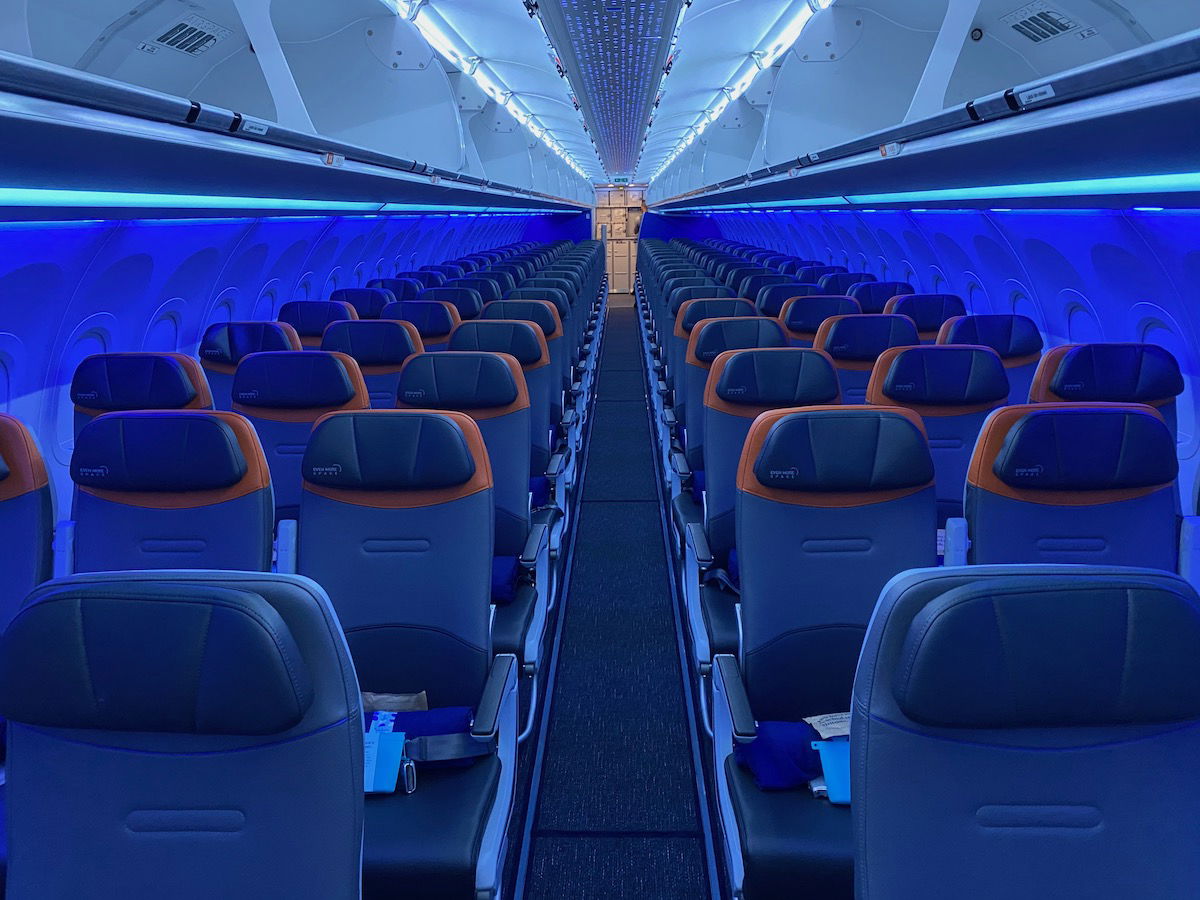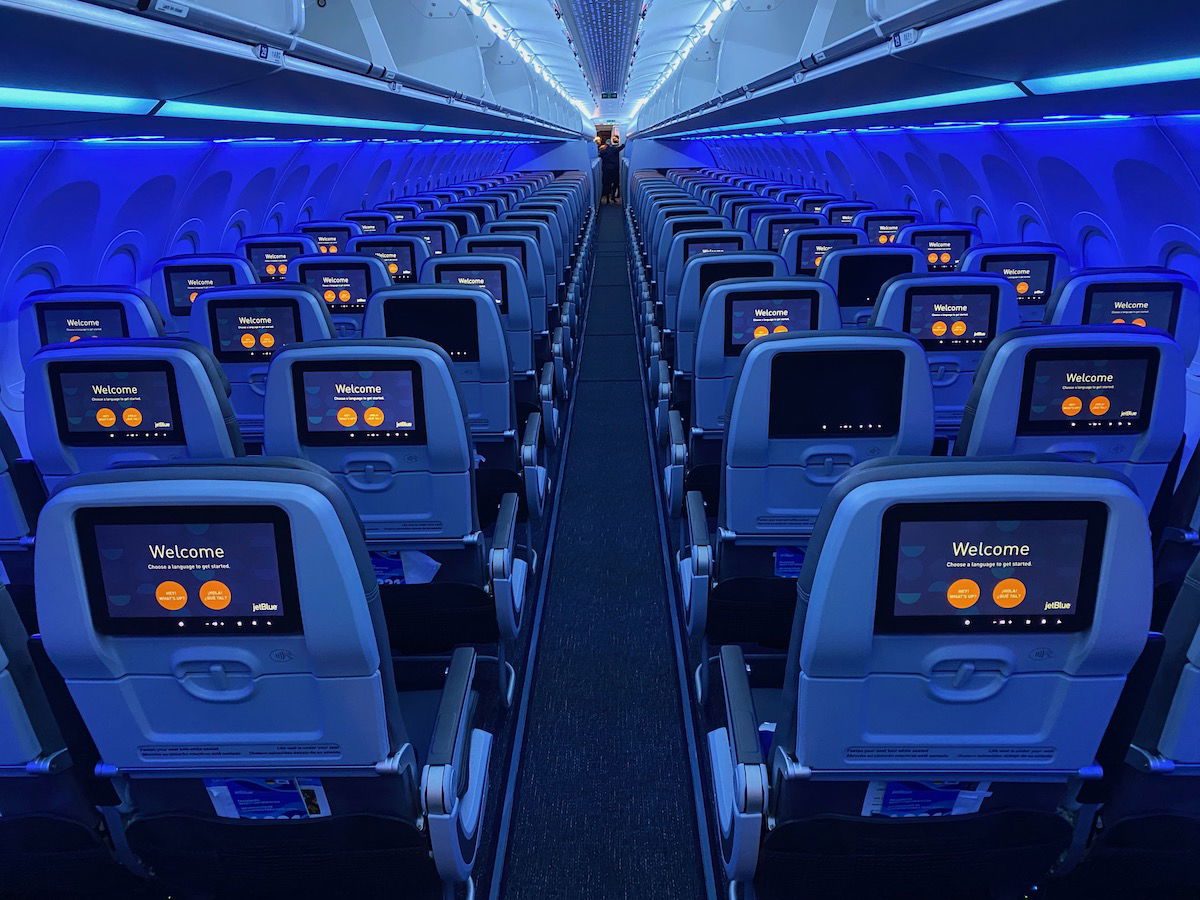 This included four rows of Even More Space seats, which are JetBlue's extra legroom economy seats. In the Even More Space section there was one exit row and then three "regular" rows.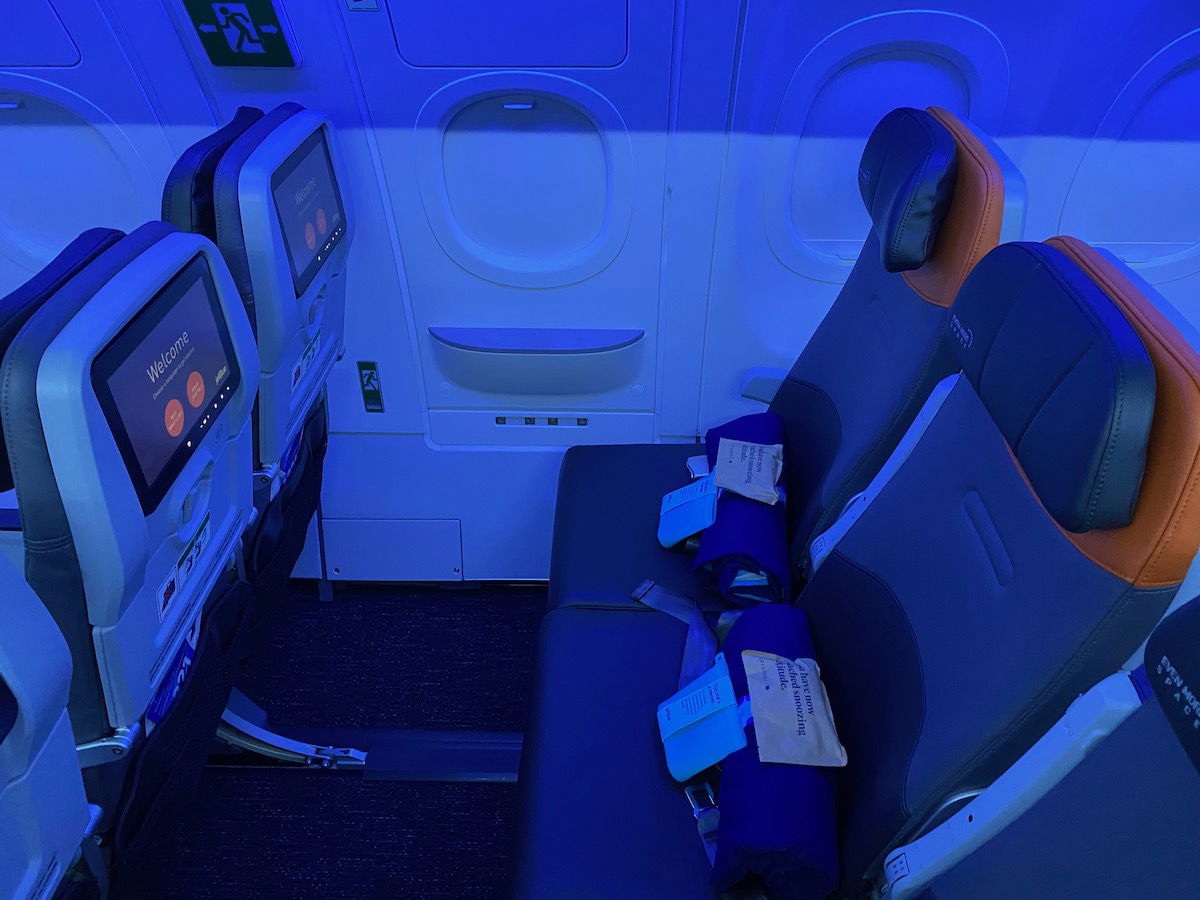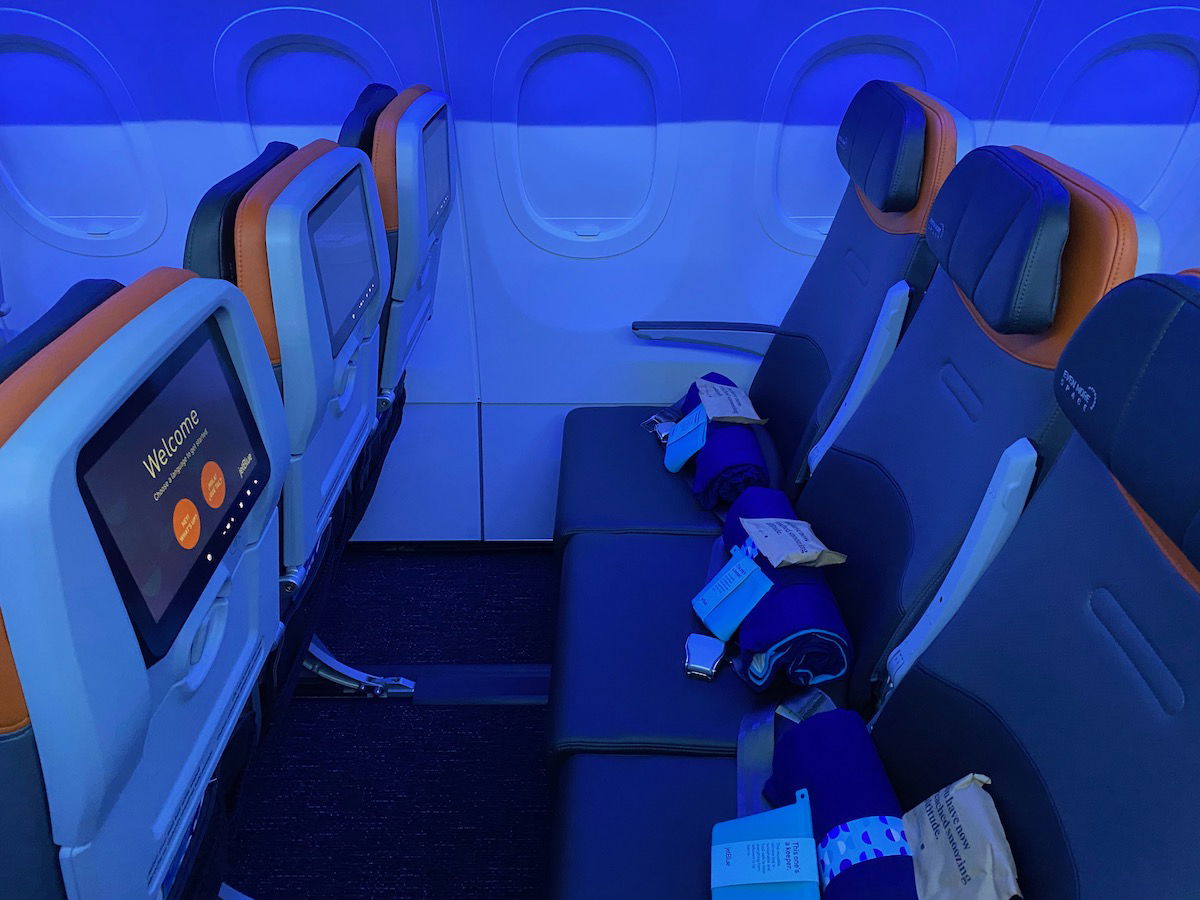 JetBlue's regular economy seats even feature 32″ of pitch, which is excellent, and among the best you'll find across the Atlantic. Add in the good seat width on narrow body Airbus aircraft, and economy doesn't get much more comfortable across the Atlantic than this.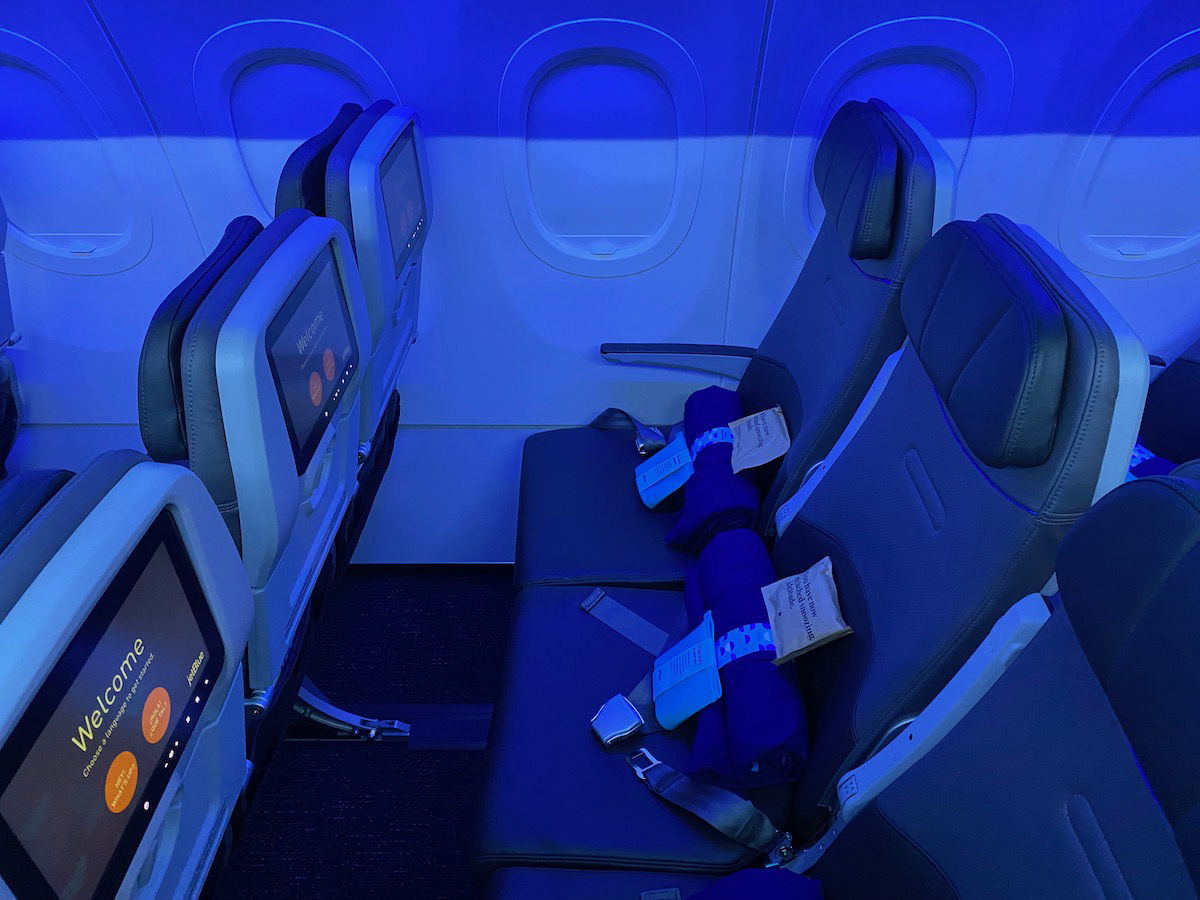 Surprisingly the first row of the cabin isn't Even More Space, but rather is just standard economy seating, despite the amount of legroom. Is this due to the lack of recline, or…?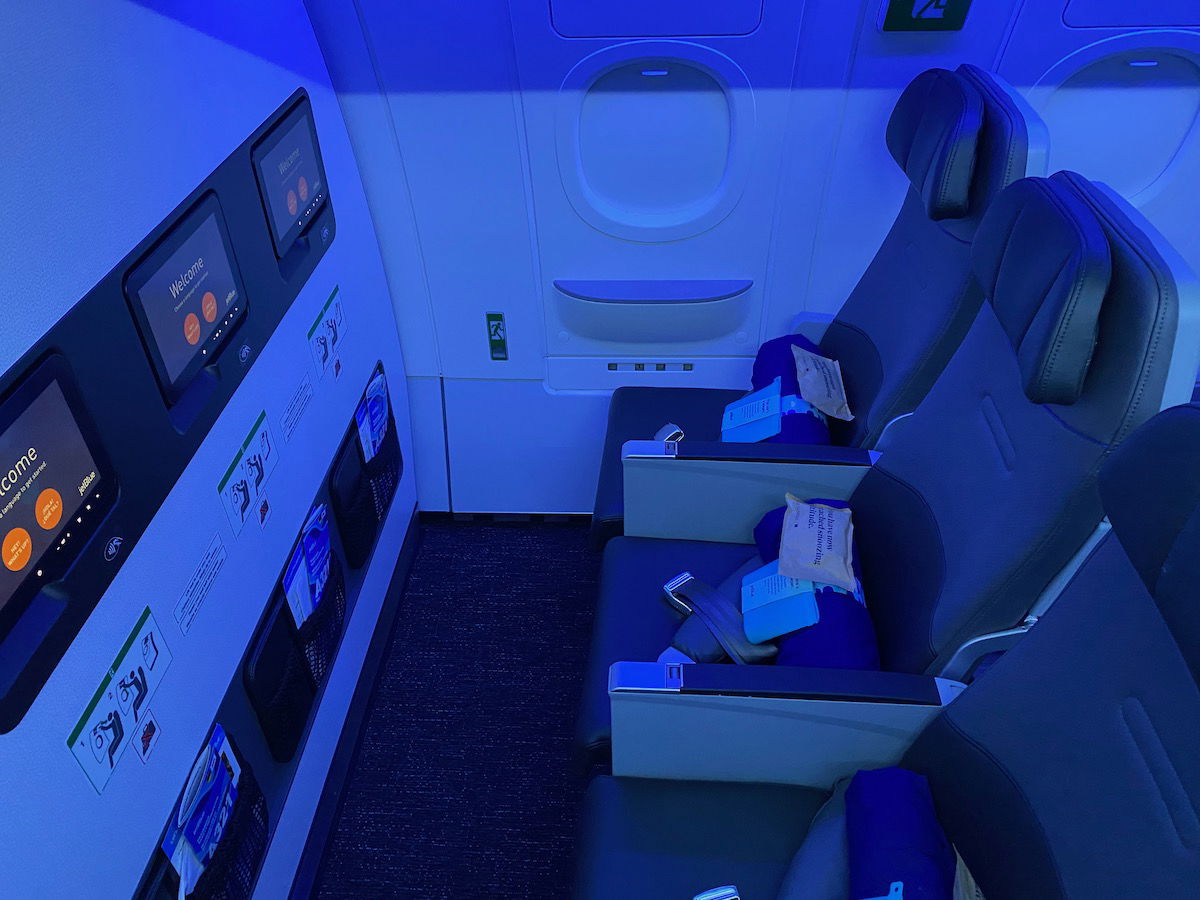 While we're talking about the plane's overall layout, I think it's worth contrasting the A321LR's 138 seats to some of JetBlue's other A321 versions:
JetBlue's all-economy A321s feature 200 seats, so that's 62 more seats than you'll find here
JetBlue's A321s with the "old" Mint product feature 159 seats, so this plane features 21 fewer seats, though it does have eight extra business class seats
Ultimately this is a fairly efficient configuration, given the size of the premium cabin
On this flight I assigned us seats 1A (Mint Studio) and 2A (Mint Suite). Ford had the Mint Studio on the outbound, and I had the Mint Studio on the return. So I'll briefly talk about the Mint Studio, but expect a more detailed review of that on the return.
JetBlue's first row of business class seats are known as the Mint Studio. Due to the way the plane is configured, the first row features a bit of extra space, so JetBlue decided to create a special product around it, and it can be purchased for a modest upcharge.
While this is still a herringbone seat, the main point of differentiation is that it has a lot more shoulder space, your bed is wider, and in theory two people can dine together (as there's an additional tray table on the side).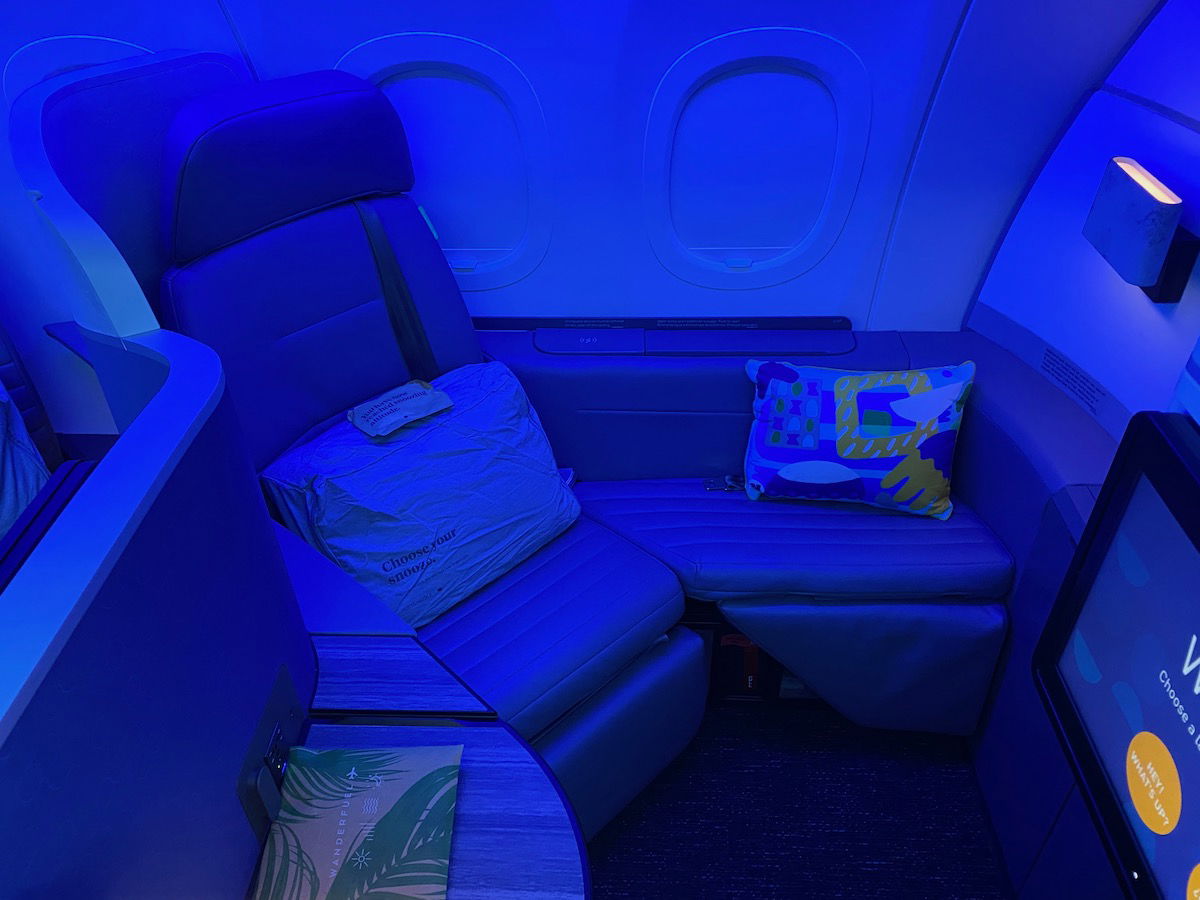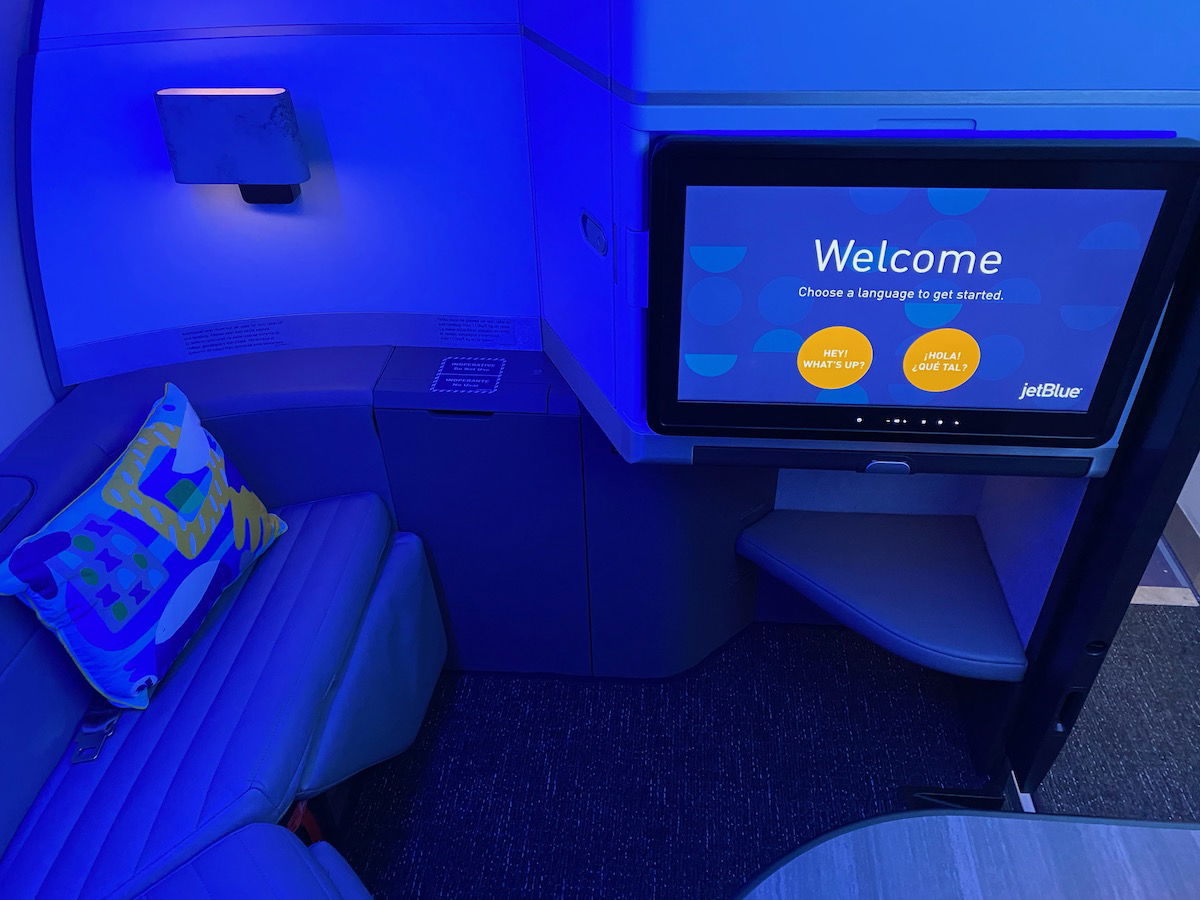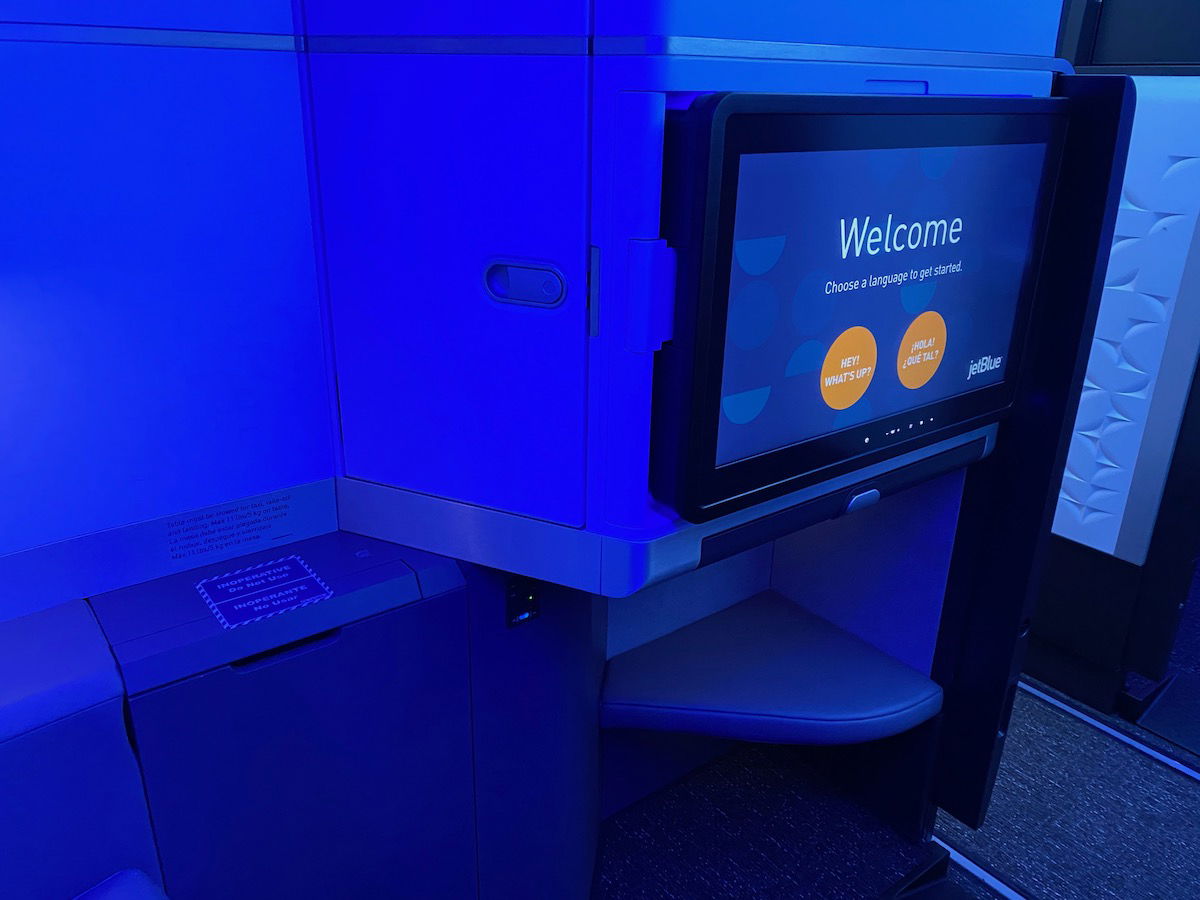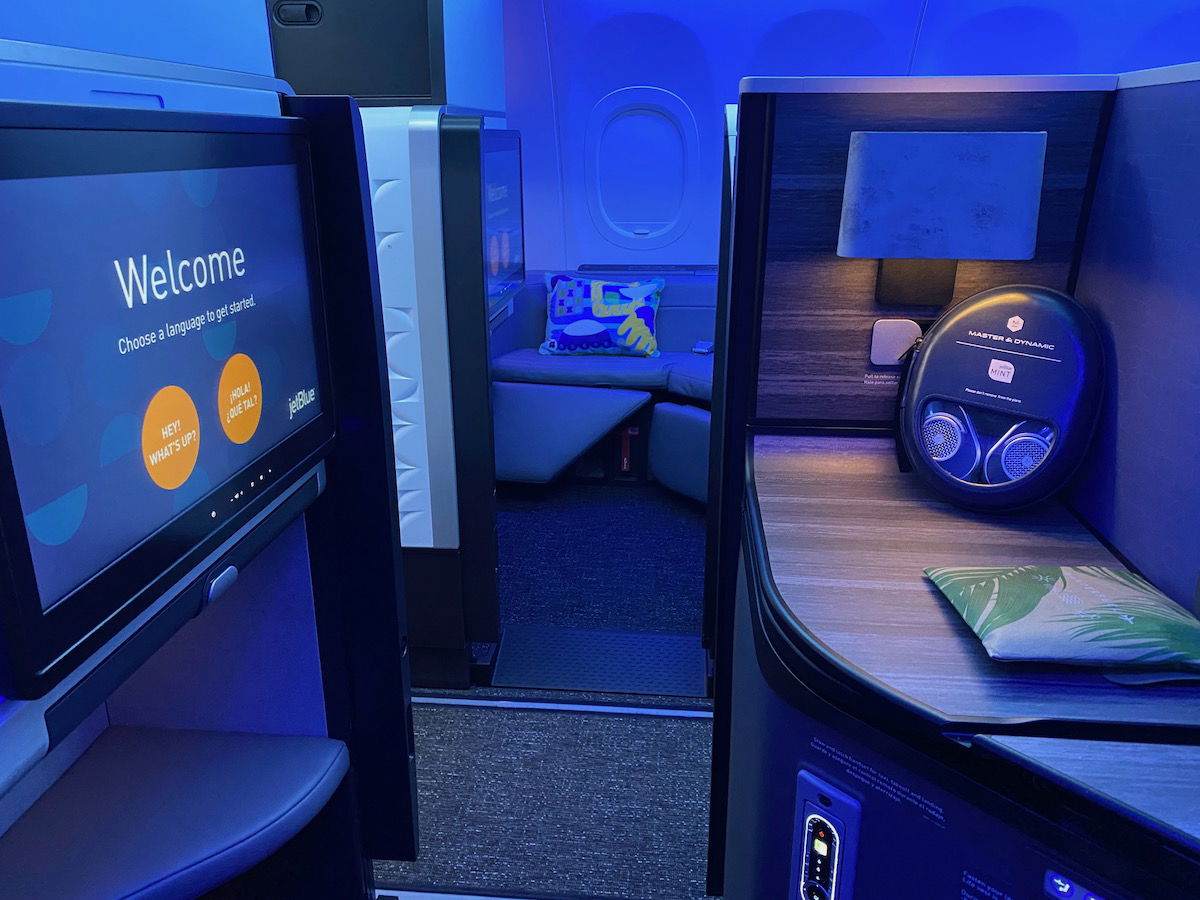 On this flight I was seated in the Mint Suite, which is what the other 22 business class seats are. In some ways JetBlue's new Mint product is regressive, in the sense that the new seats are herringbone seats, and face the aisle. Most airlines with herringbone seats are eliminating these in favor of seats that instead face windows, like reverse herringbone seats.
That being said, that wasn't a thoughtless decision on JetBlue's part — figuring out a premium product for a narrow body plane isn't easy, and I'd say JetBlue did a great job balancing passenger experience with economics.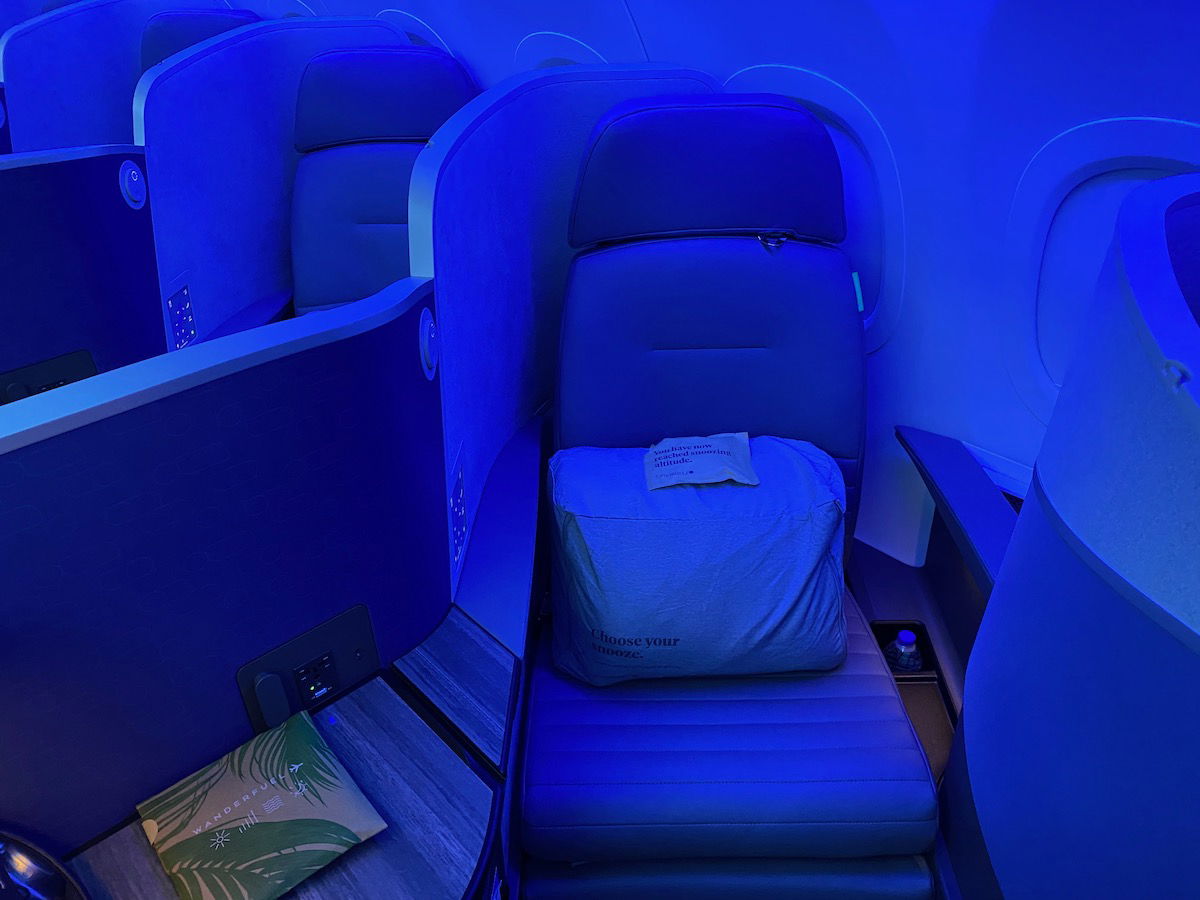 On the plus side, this was by far the most comfortable herringbone seat I've ever flown in. The shoulder space was excellent on both sides, and the seat finishes were thoughtfully designed.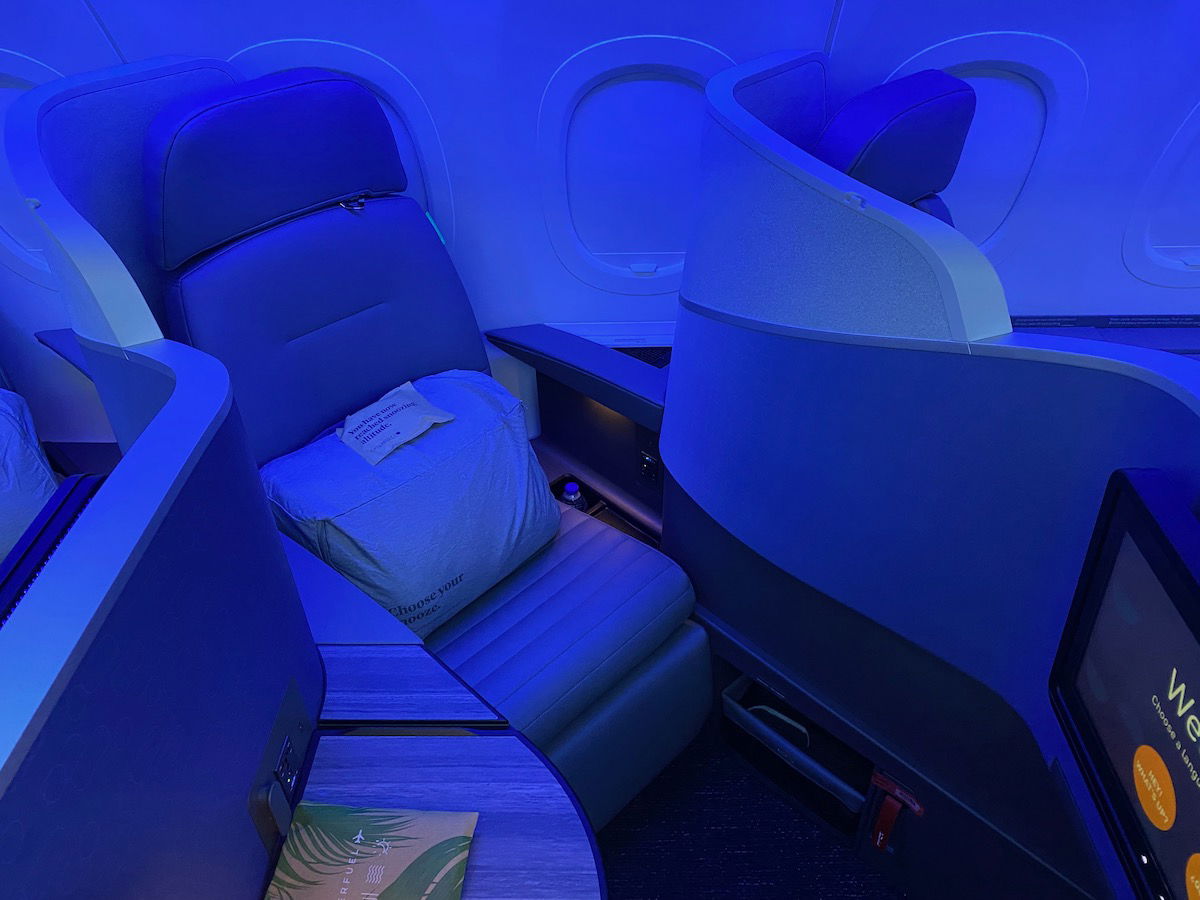 The entertainment monitor was attached to the "wall" of the seat, and could be extended out so that you could view it straight on.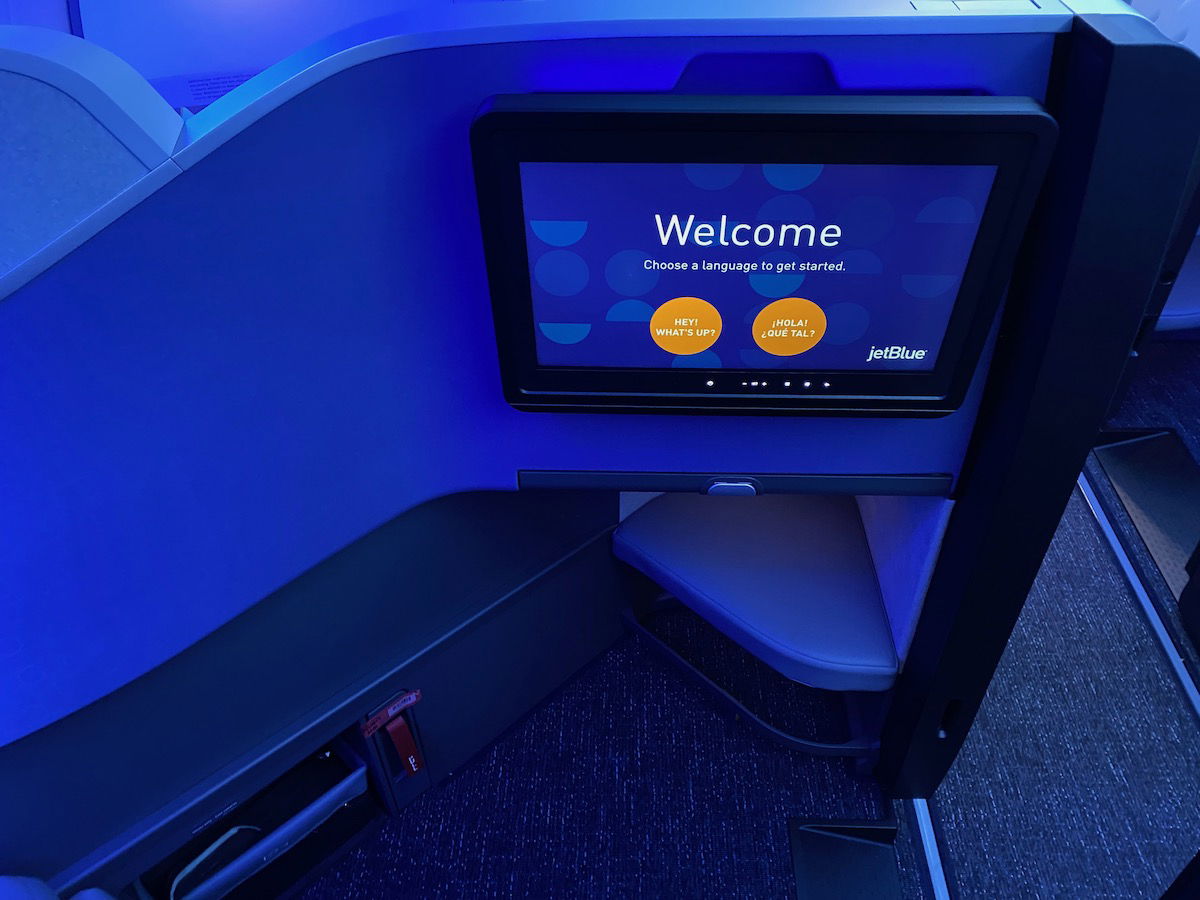 Underneath the entertainment screen was a storage compartment, which is an awesome feature — it's shallow, but it's perfect for storing a laptop, reading glasses, etc.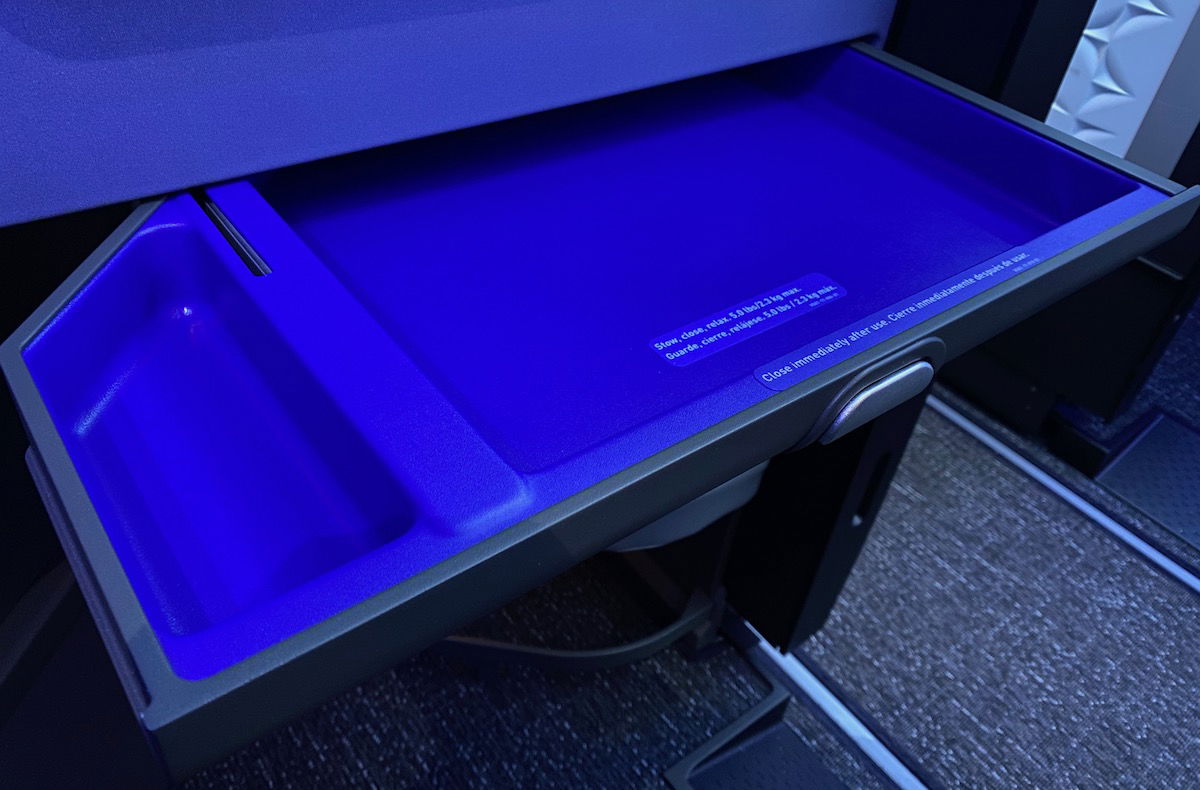 One massive advantage of this over a reverse herringbone configuration is just how big the footwell was. Whether lounging or sleeping, there was plenty of space for my feet, and no small hole they had to be squeezed into. Also underneath the footwell was a convenient place where you could store your shoes during the flight.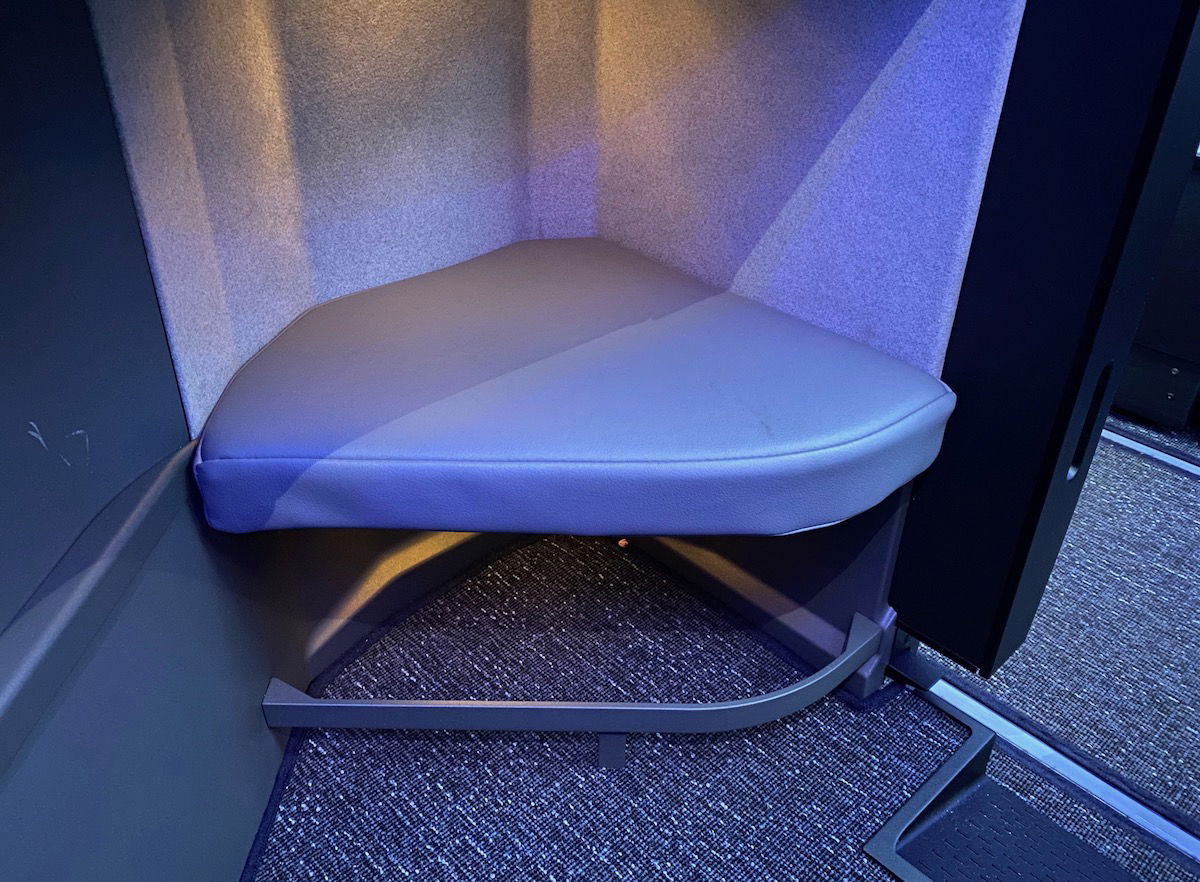 Along the left side of the seat was a further small "basket" where you could store shoes, or something else.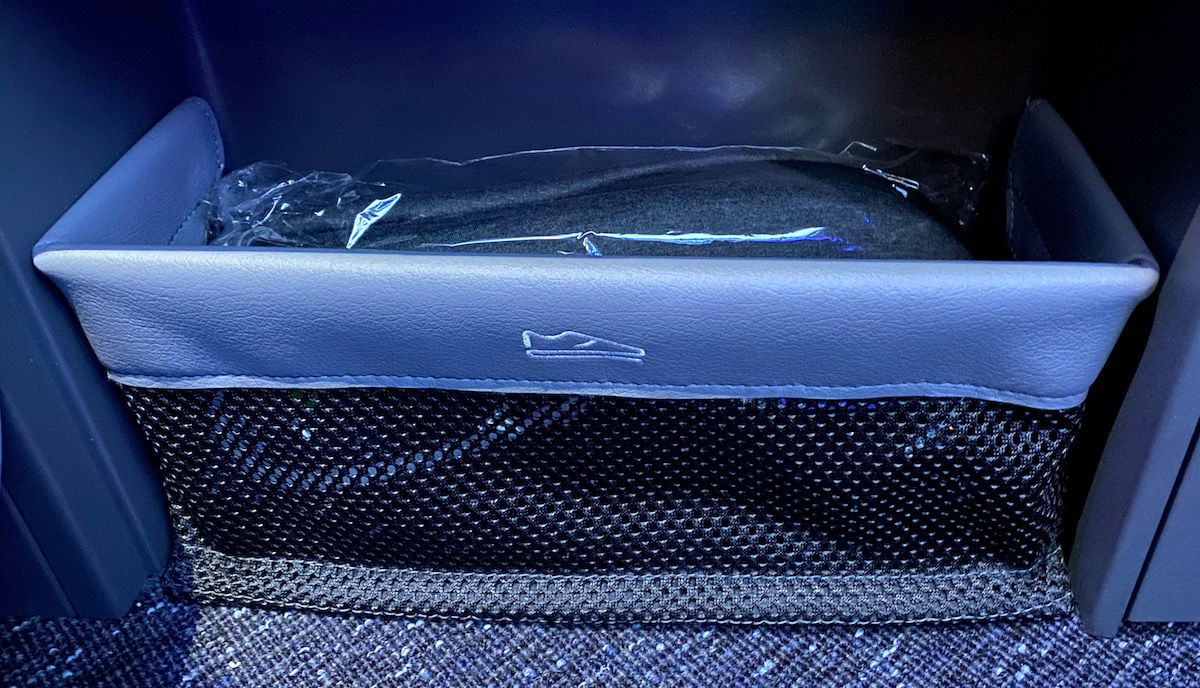 Along the left side of the seat closer to the fuselage was a small storage area where there was a bottle of water, and an area that allows for wireless charging. While the concept of wireless charging is great, I'm not sure this was fully thought through. I had to move my phone around for 30 seconds (like literally one millimeter at a time) before it started charging. And then without me touching it, it stopped charging, I guess because it moved a little bit. I definitely wouldn't rely on this.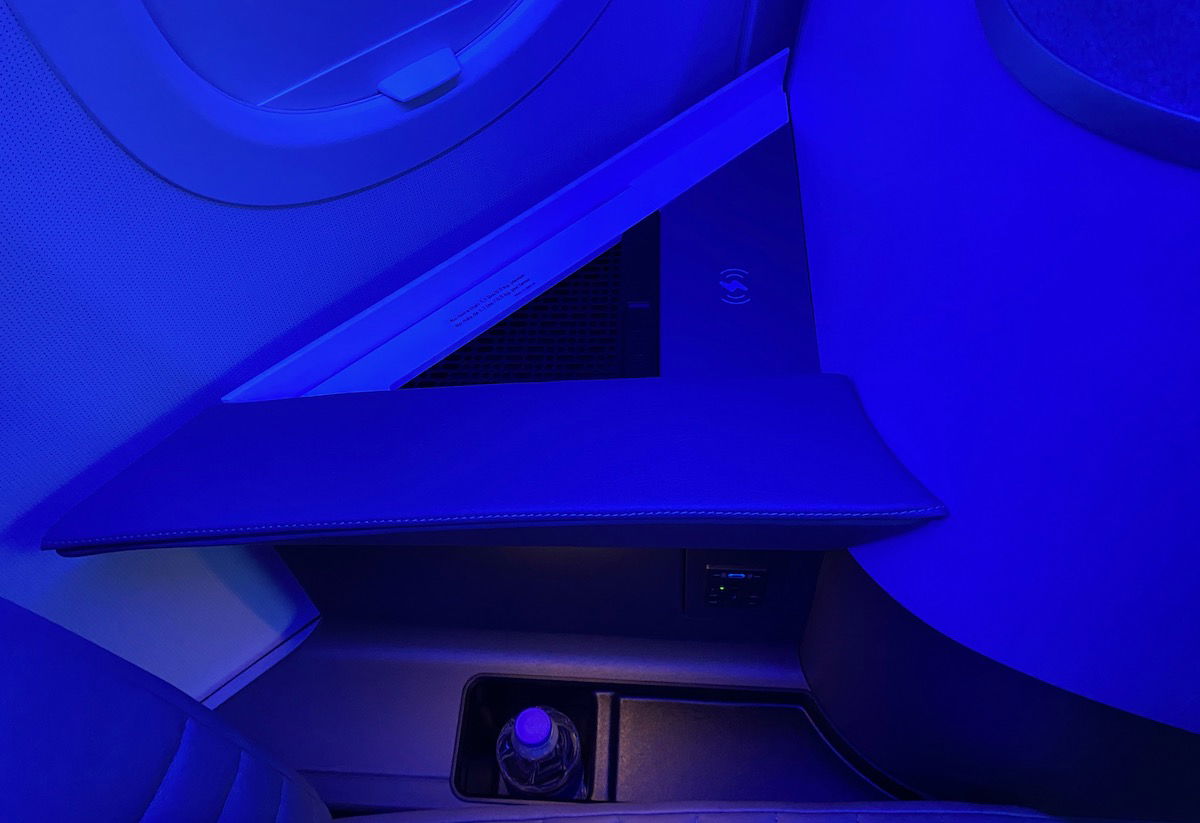 Also along the left side of the seat was a hook for headphones, which was a convenient place to store them.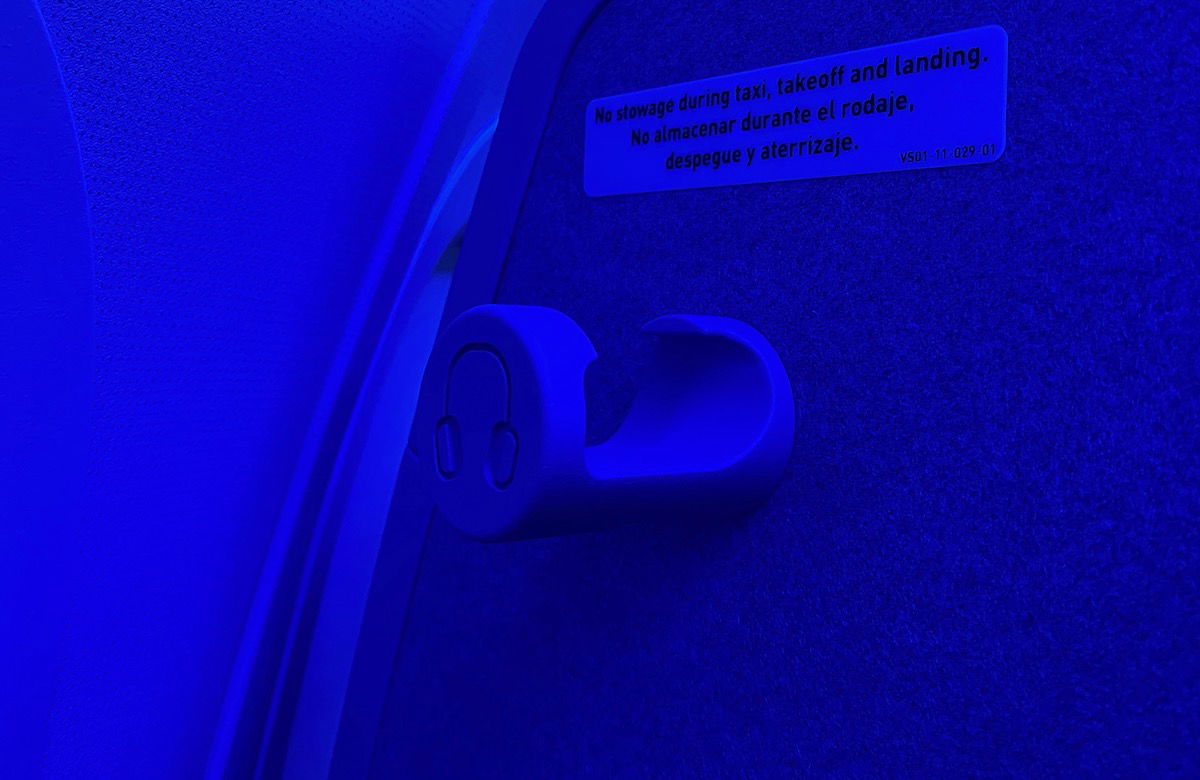 Most of the features were along the other side of the seat. There was a cute lamp, and immediately below that was the latch that closed the door. Then there were also 110v and USB outlets.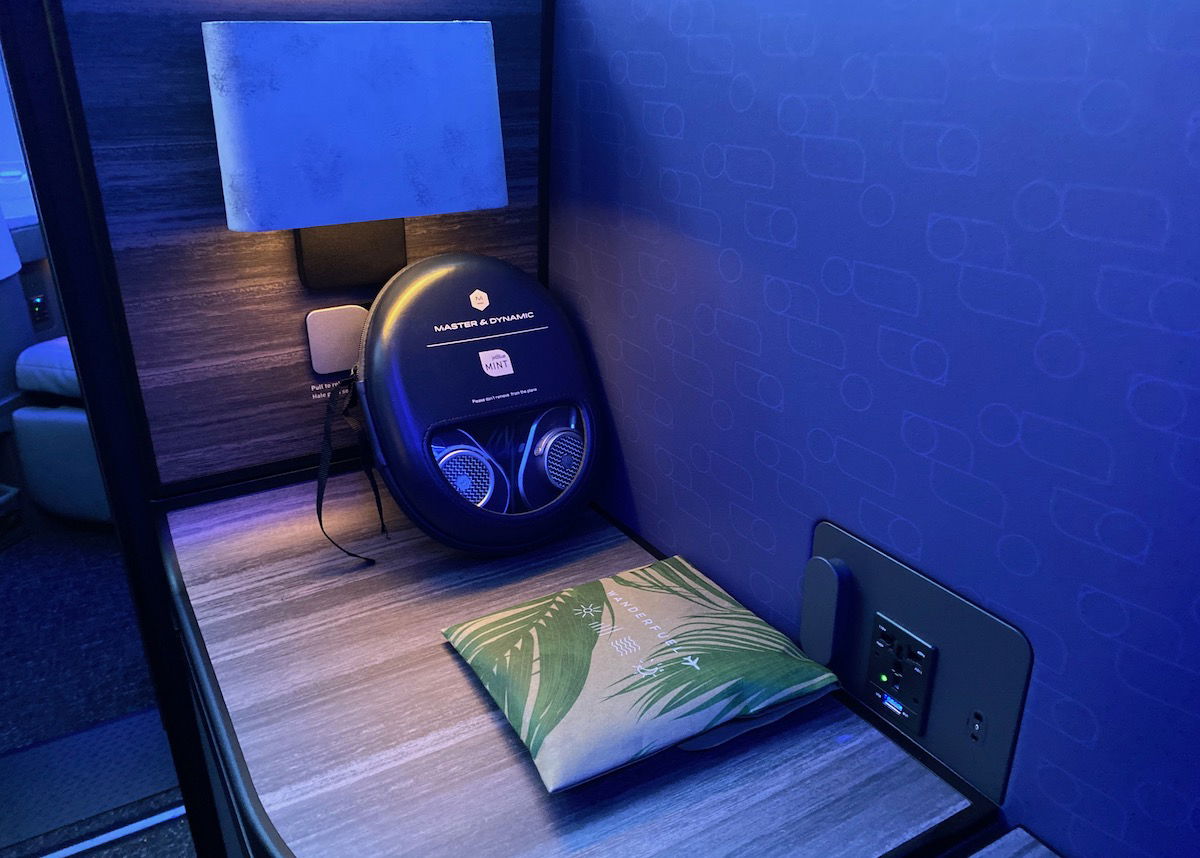 The seat controls were also to the right of the seat, and were easy to use. I do wish they had been placed somewhere slightly different, since they were right near where you might naturally place your arm. I accidentally shifted the position of my seat several times just because I rested my arm in the area.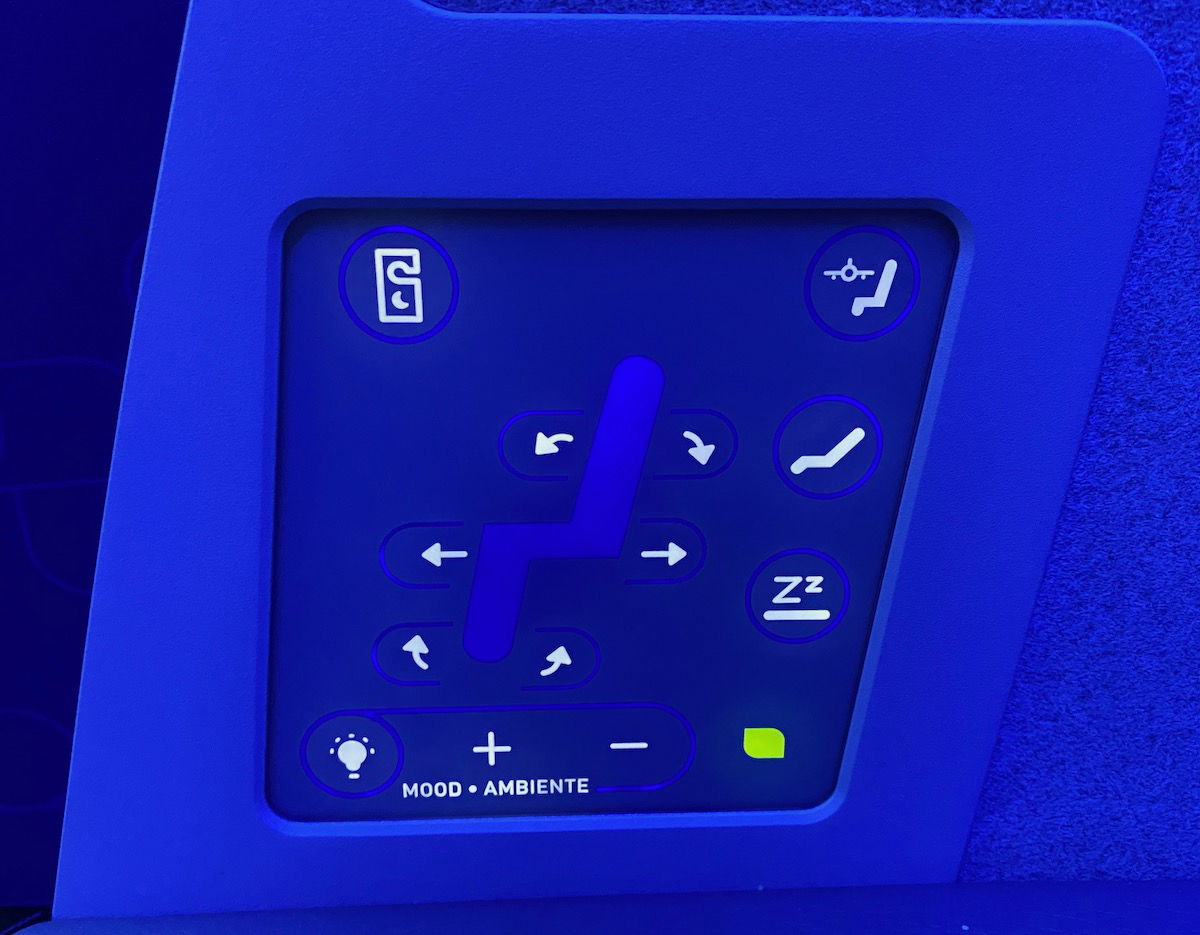 Underneath the seat controls were the entertainment controller (though the entertainment is also touchscreen, so this isn't really needed), as well as buttons to either get your seat fully upright or fully reclined. This is also where the literature pocket is located.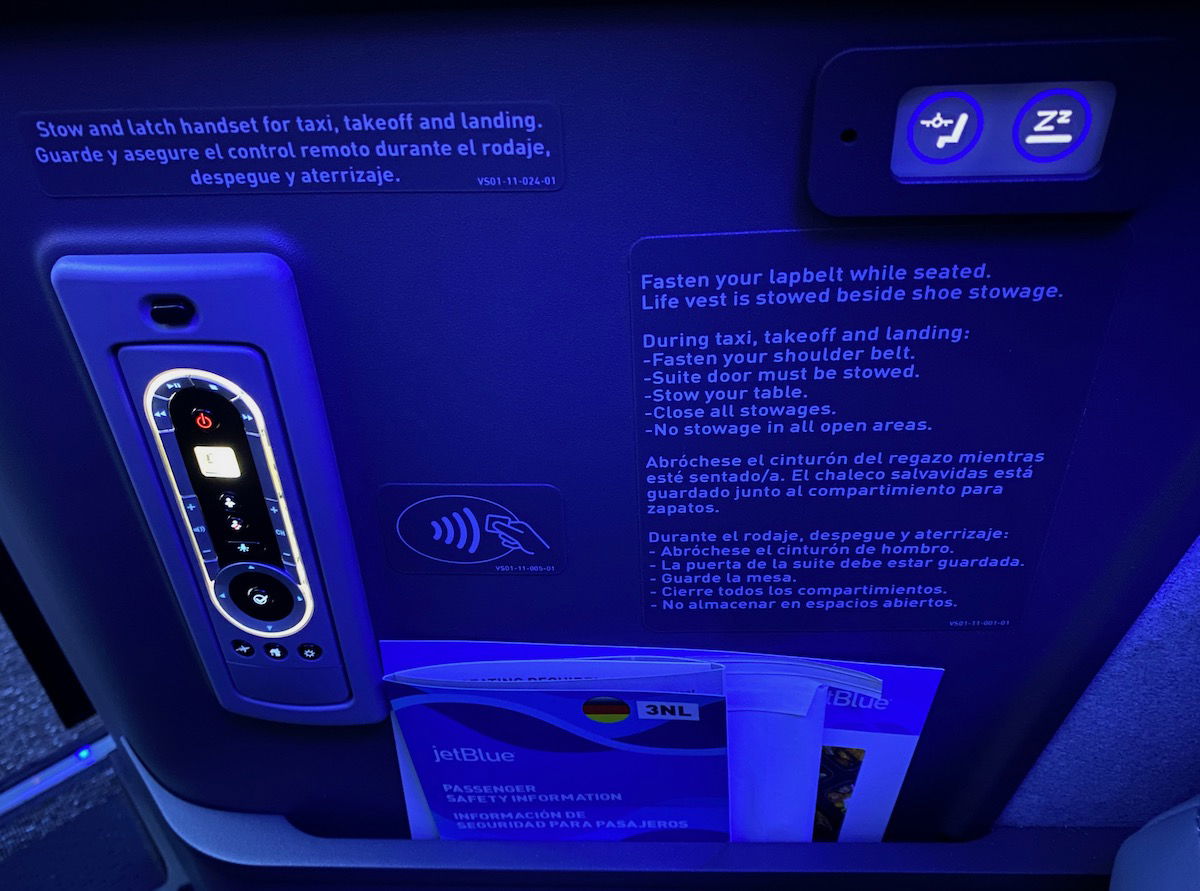 The tray table folded out from this side of the seat, and was easy to maneuver around.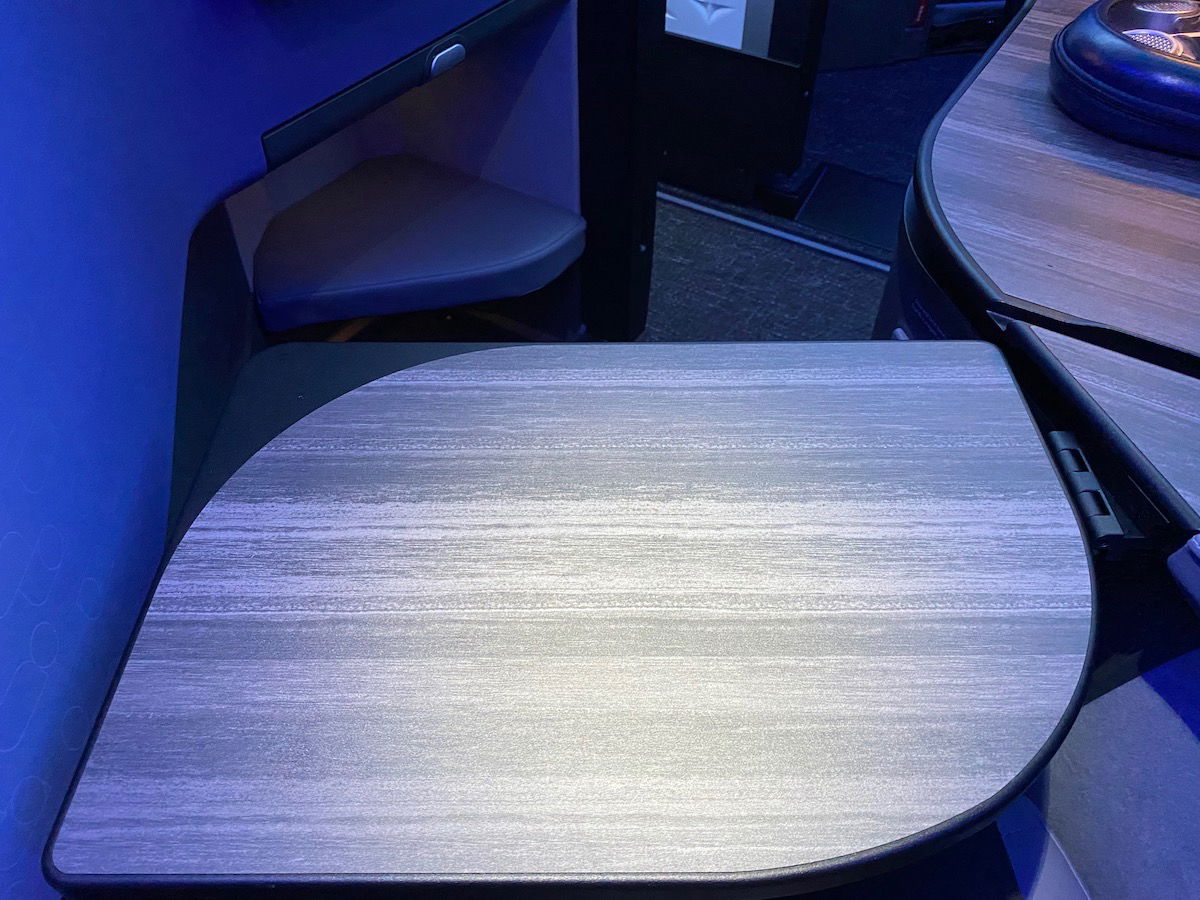 One of the coolest features of the new Mint Suite, no doubt, is the door. This can be closed by pulling the latch underneath the lamp, and then can easily be opened by just physically pulling the door. The door is very similar to what you'd find in Delta One on the A350, which makes sense, since the seat manufacturers are the same.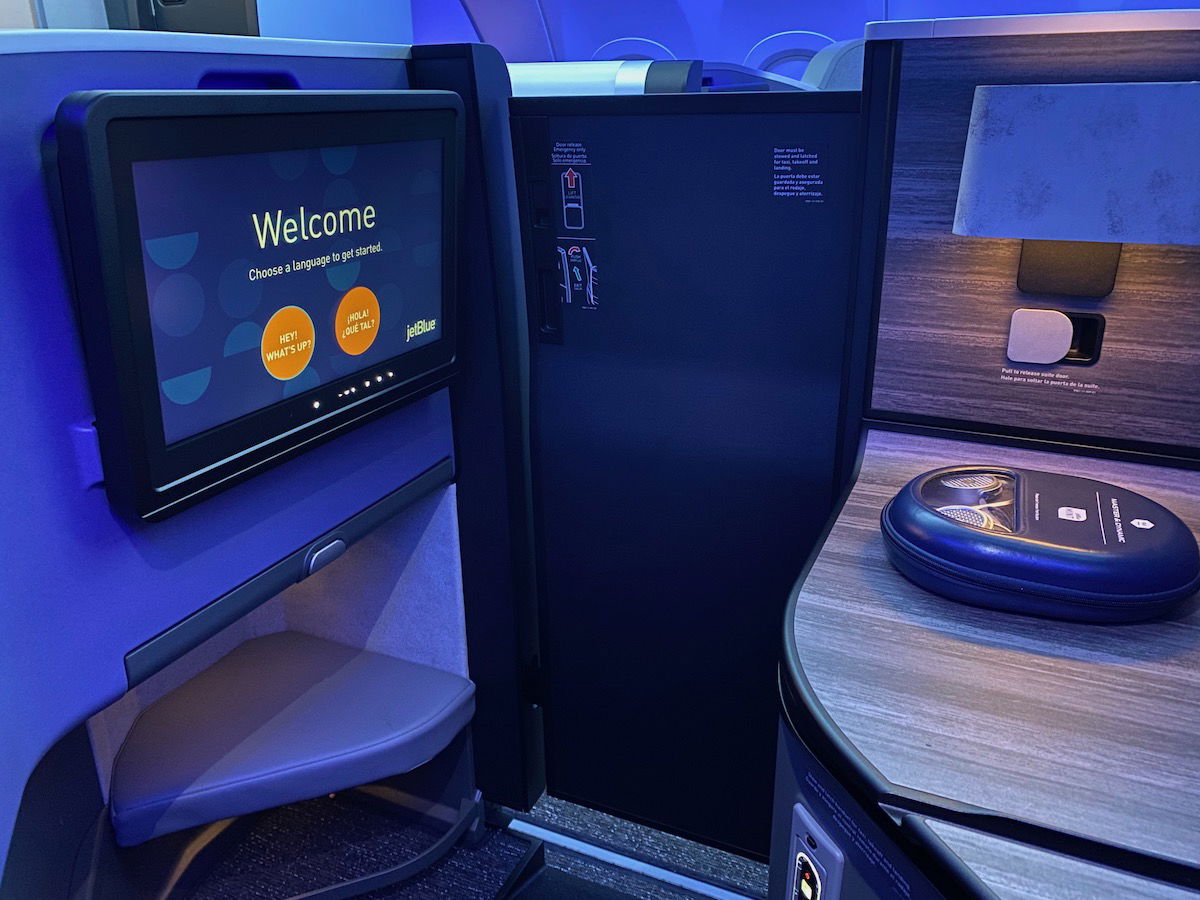 The doors aren't particularly high, so don't expect the doors will give you any privacy from the crew as they walk down the aisle. However, the door is useful in terms of giving you privacy from the person seated across from you, since seats do face the aisle.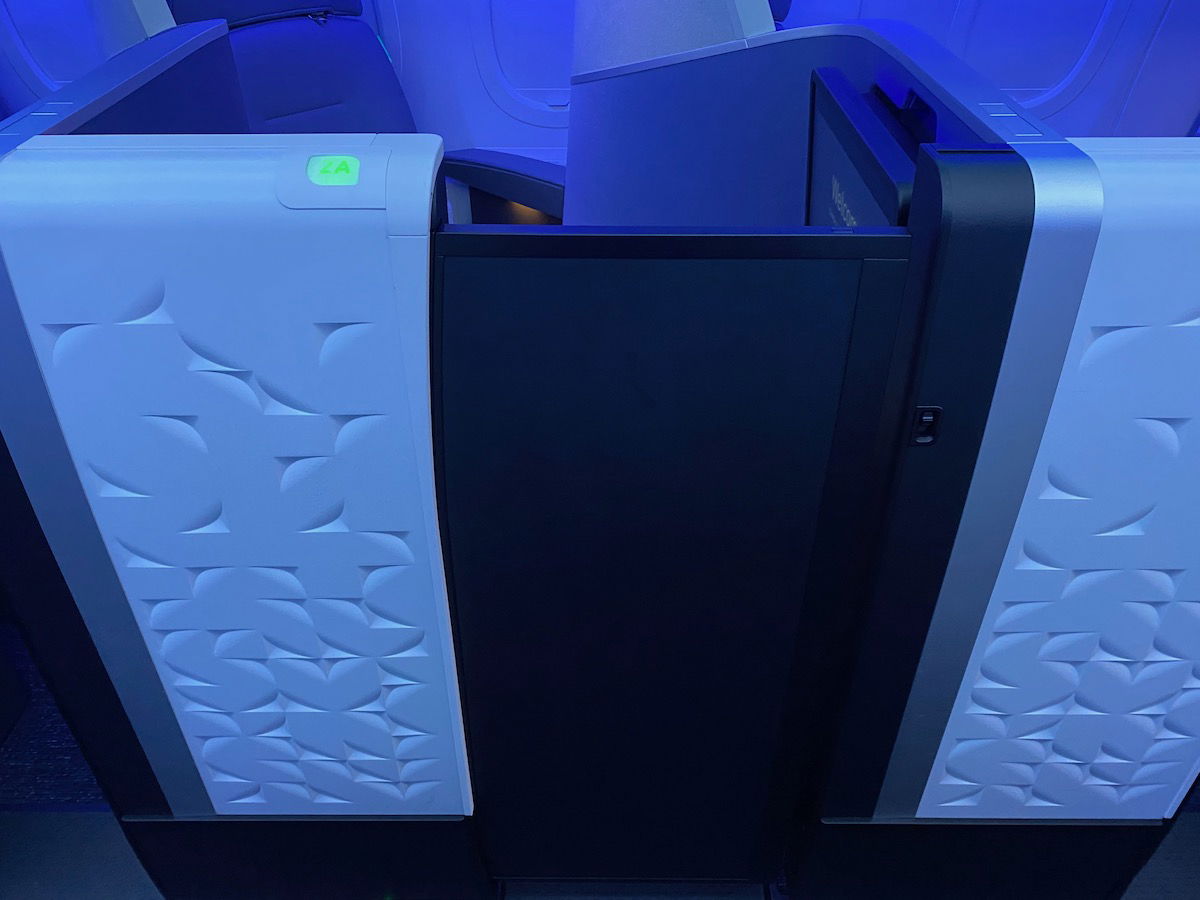 As far as other features go, the overhead console was pretty swanky-looking, and featured a reading light and an individual air nozzle.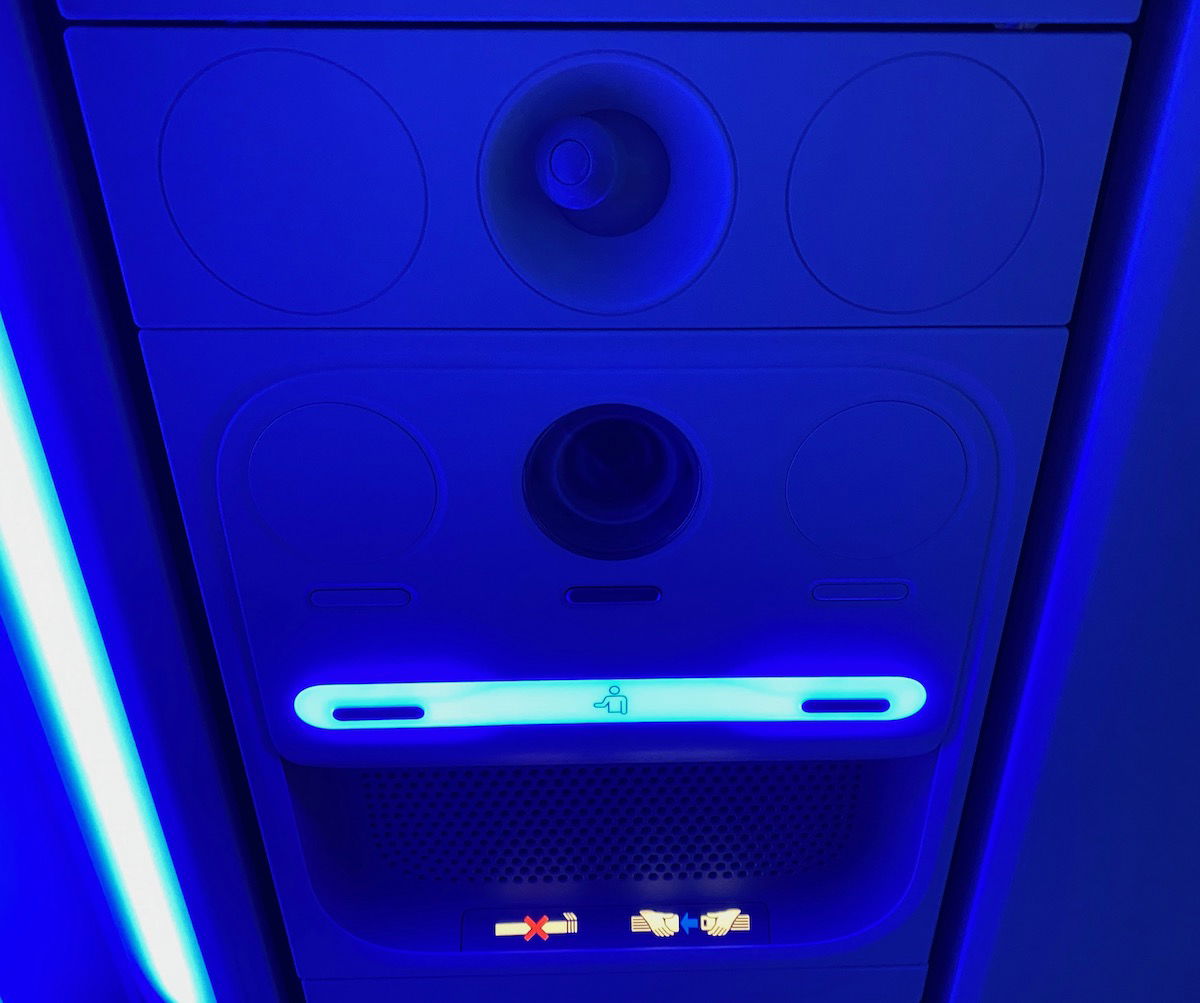 Also, thanks to JetBlue's A321LRs having Airbus' Airspace interiors, the overhead bins are huge, not that you should ever have trouble finding space for your bags in business class.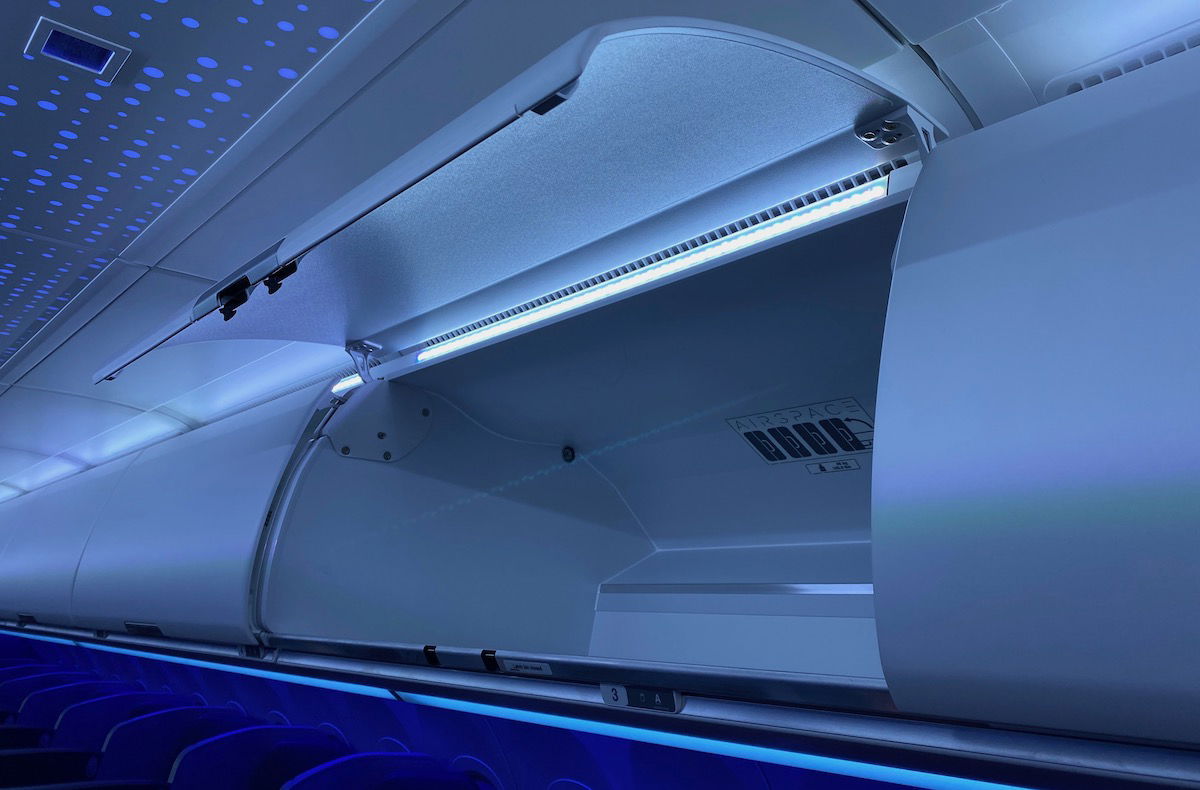 So yeah, JetBlue's new Mint Suite is a solid hard product. Is it the best business class seat in the world? Absolutely not. But it's a pretty incredible product for a narrow body plane. I'd say this is as good as herringbone seats get, by a long shot. While this product had more storage space than other herringbone configurations I've flown in, I still found that storage in general was lacking.
As far as the other amenities go, waiting at my seat upon boarding was some bedding from Tuft & Neddle.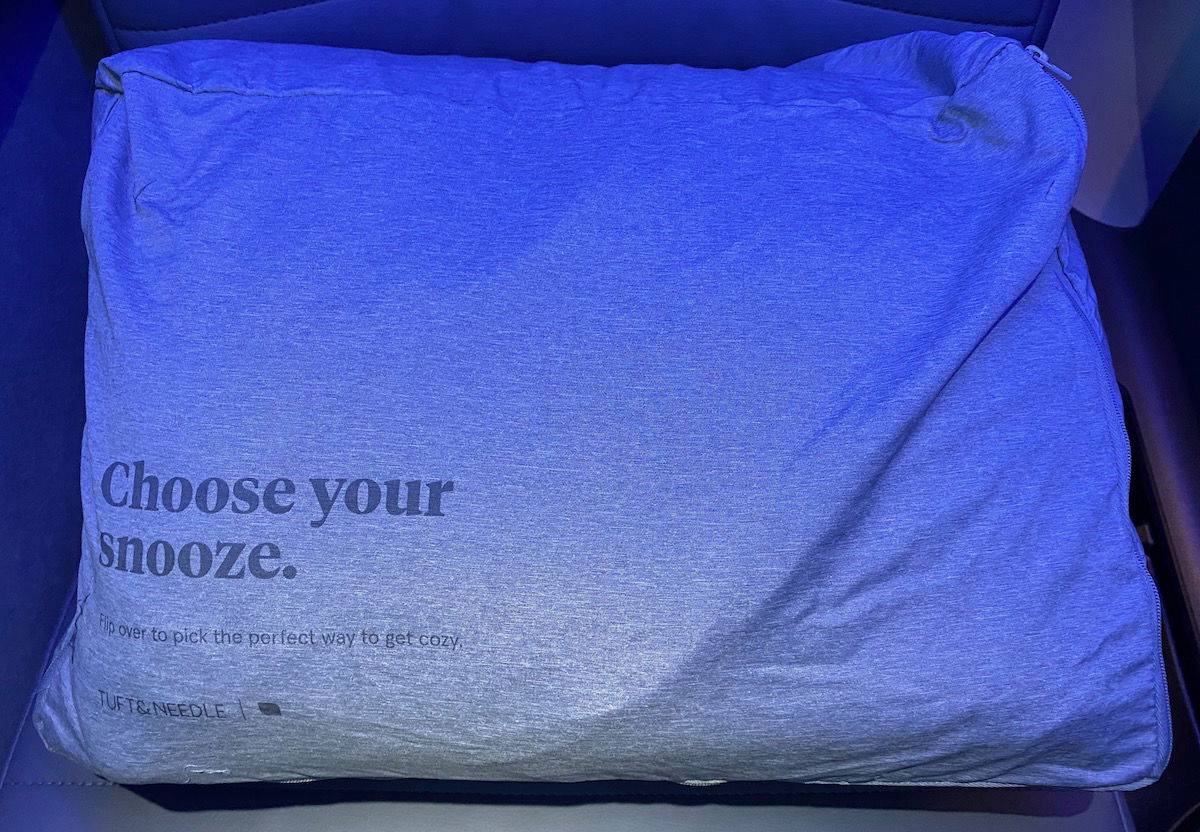 This included both a pillow and blanket, which I thought were excellent — the pillow was nicely padded, while the blanket was thick without being warm. While there's no mattress pad, it's claimed that the seat cushion as such has Tuft & Needle mattress pad technology, and I'm inclined to believe that, as the padding was awesome.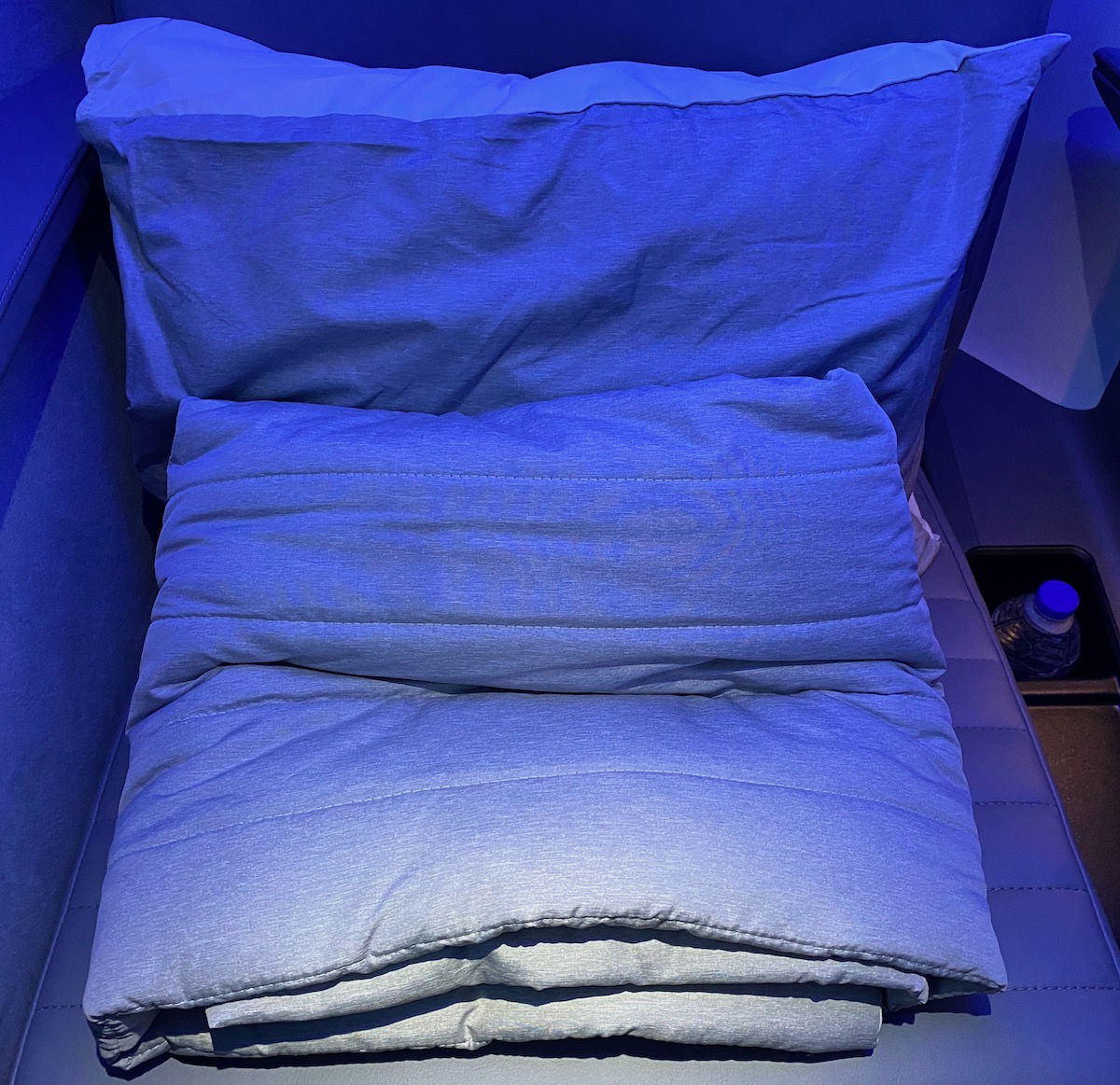 JetBlue Mint passengers get Master & Dynamic headphones, which I found to be reasonably high quality.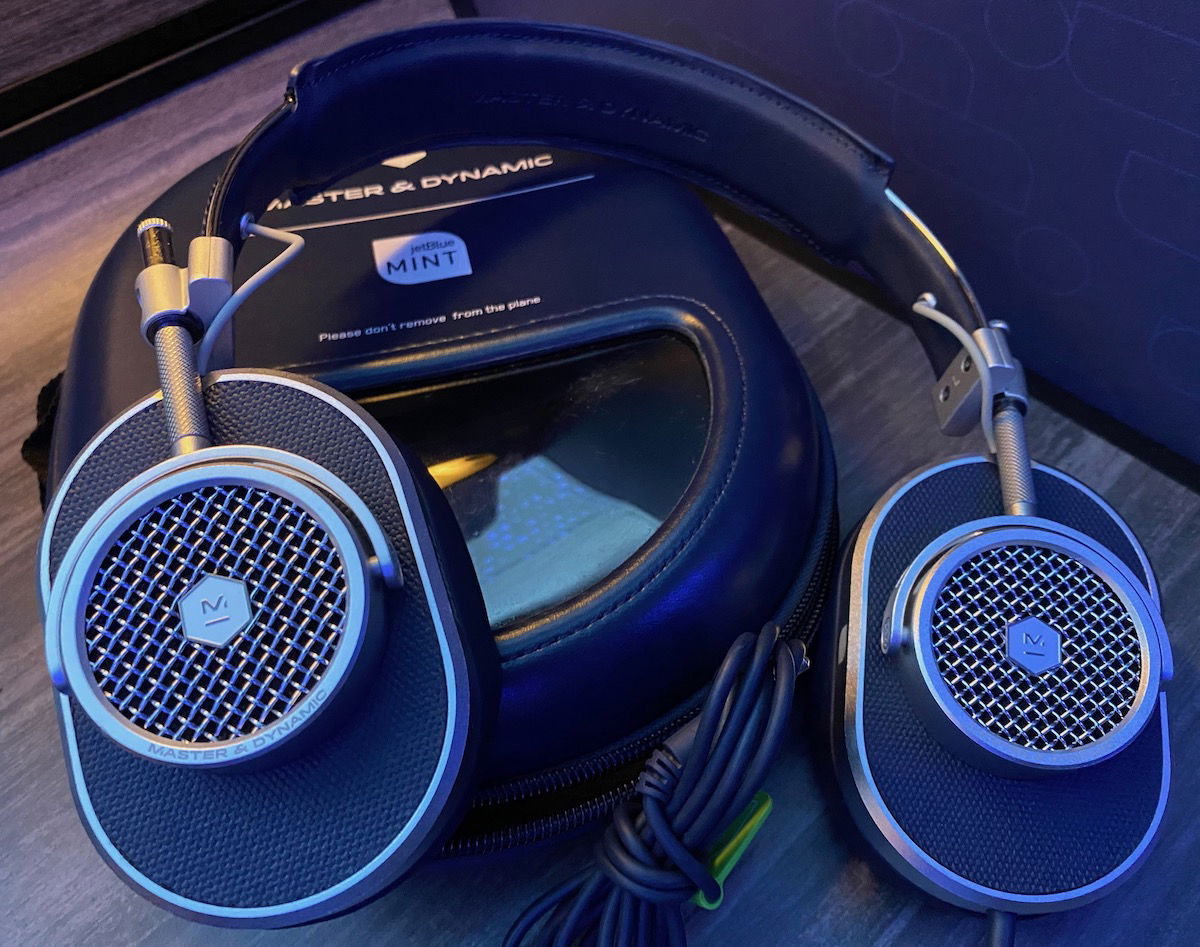 Then there were the other goodies that JetBlue Mint passengers get, including slippers, Tuft & Needle sleep amenities, and a Wanderfuel wellness kit.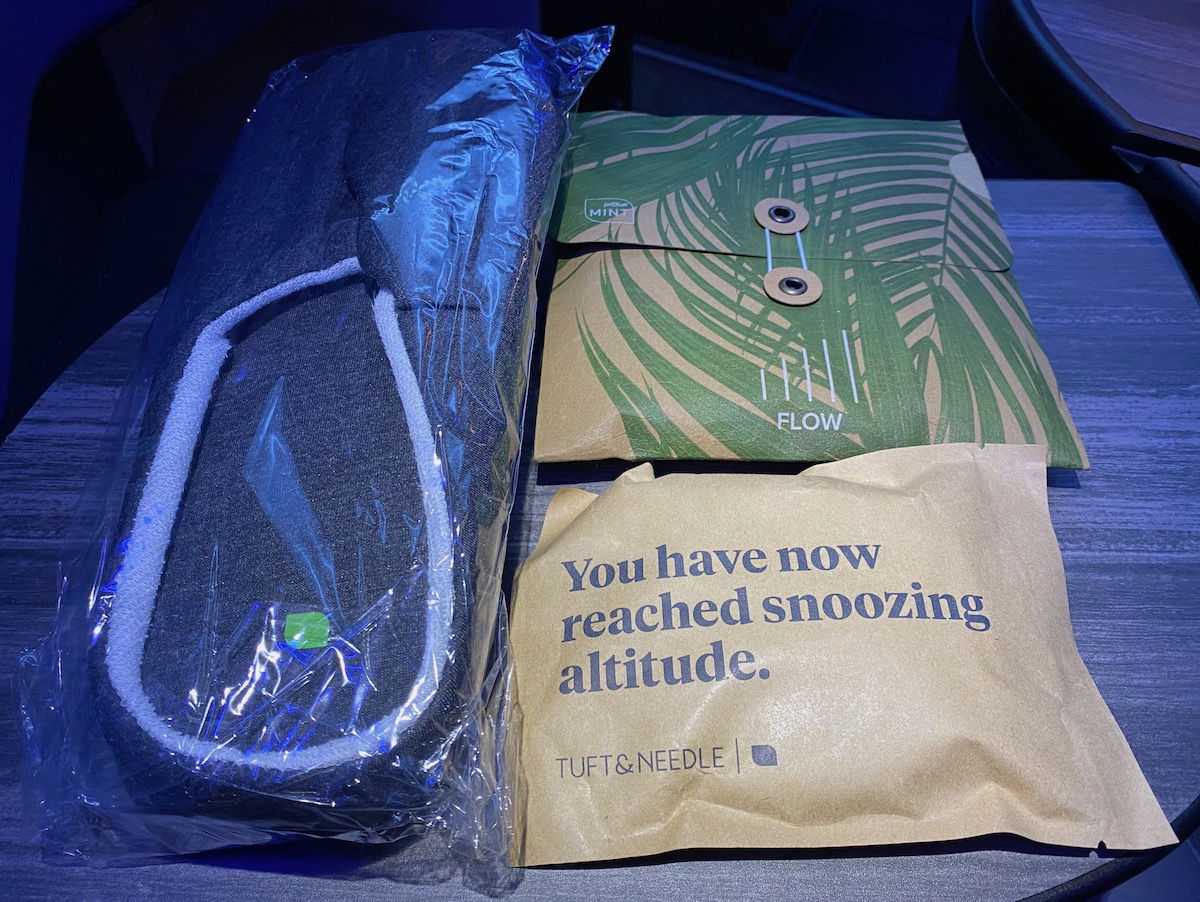 I loved JetBlue's slippers, as they were so well padded.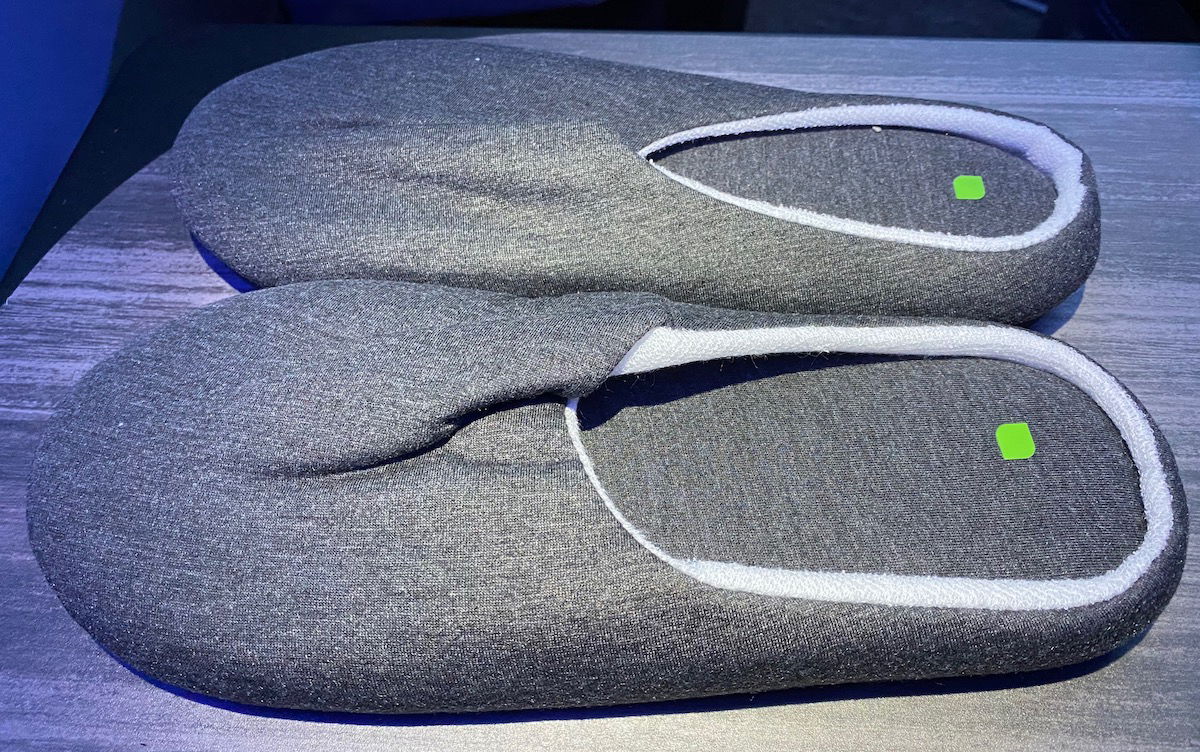 Then there were the Tuft & Needle sleep amenities, which includes earplugs, eyeshades, and a single-use toothbrush. I wasn't a fan of the toothbrush — it apparently already had toothpaste on it, but my mouth didn't feel particularly fresh after using it.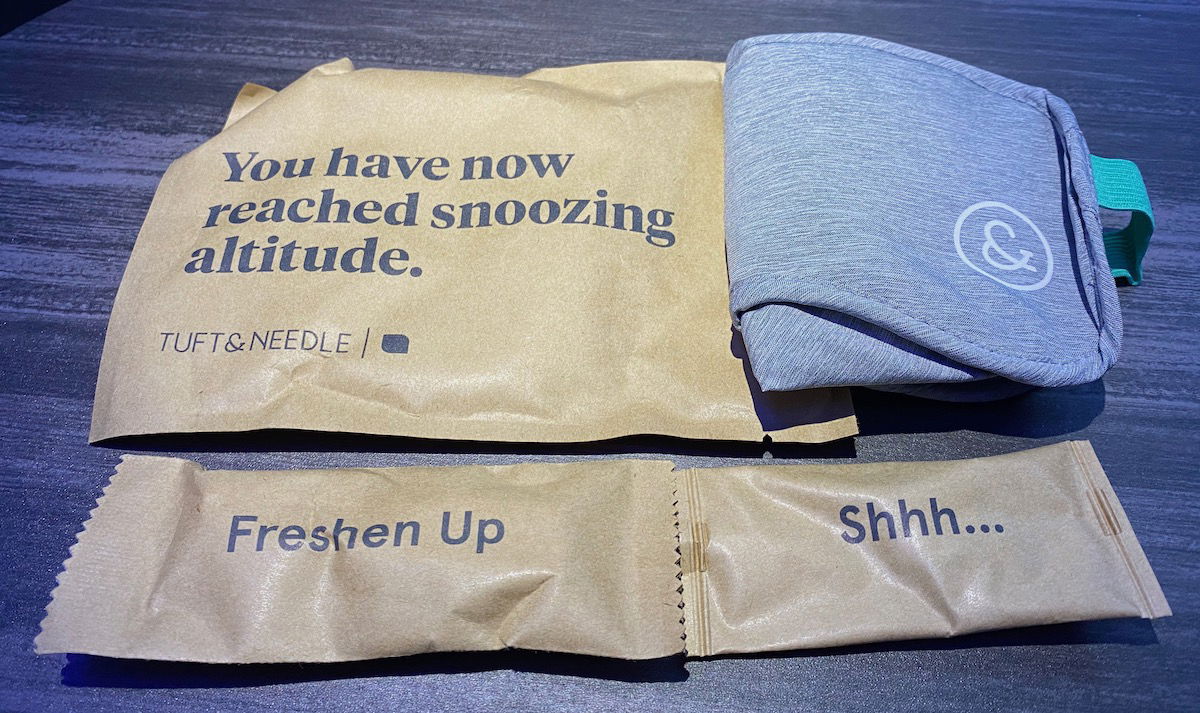 Then there was the Wanderflow wellness kit. There are a few different versions of these, and I got the "Flow" one, which includes socks, deodorant wipes, an immune support chew, a lip mask, an electrolyte powder, and a recovery cream. While not your typical amenity kit, I thought the contents were cute.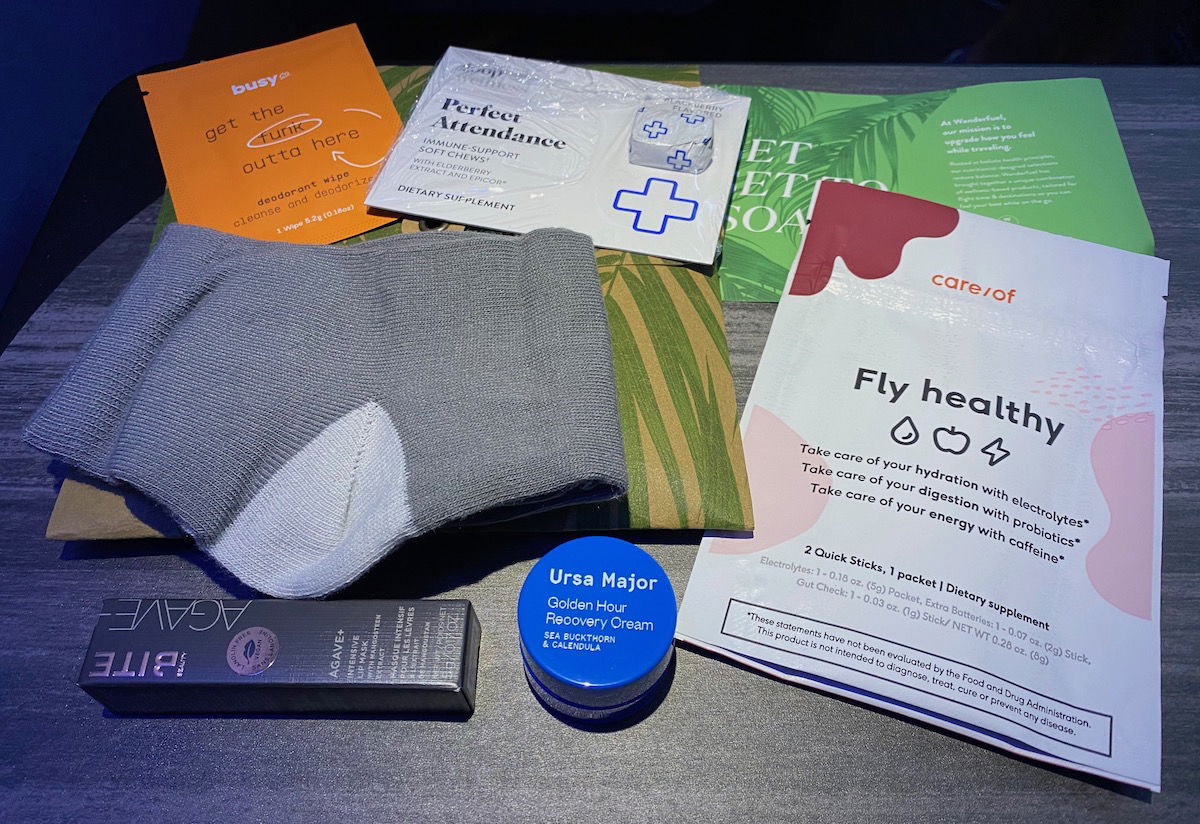 Lastly, there were a bunch of amenities available on demand, including a lint brush, lotion, lip balm, hand sanitizer, and a stain stick. Those are some amenities you may not find on other airlines.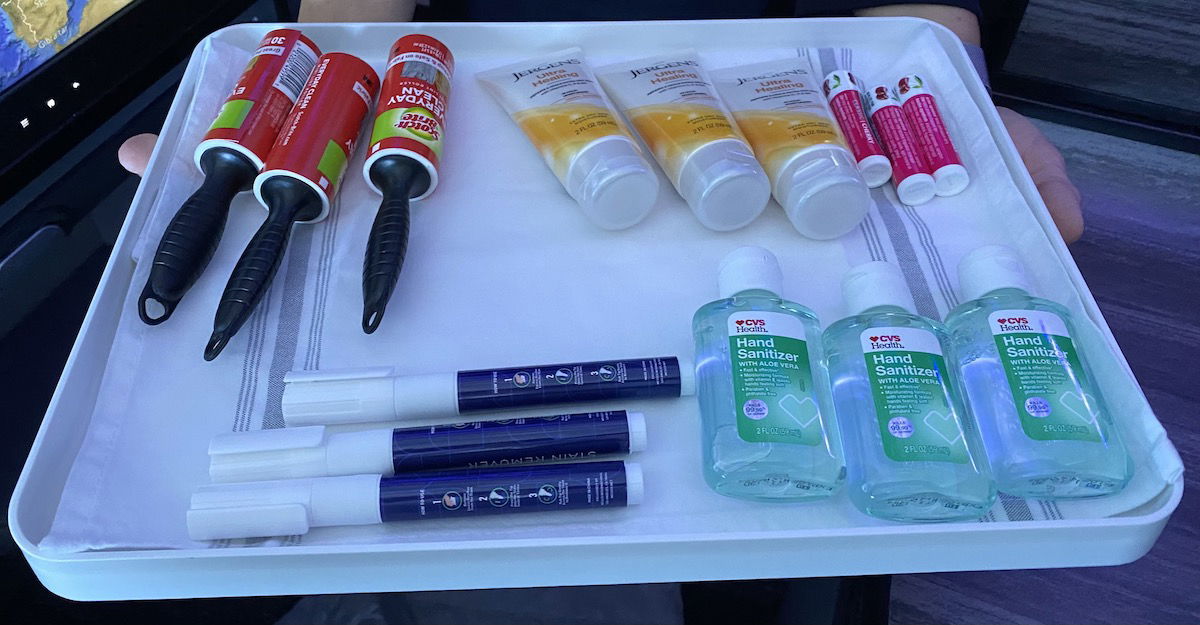 Service began within minutes of boarding. JetBlue's A321LRs have five flight attendants, with three working in business class and two working in economy class. The Mint team consisted of Susan, Megan, and Ashley, and they couldn't have been lovelier.
Suffice to say the flight attendant to passenger ratio was incredible — only 10 of the 24 Mint seats were taken. Economy was surprisingly full, by comparison, with around 80 of the 114 seats occupied.
The reaction of economy passengers walking through the cabin sure was something. While some people obviously booked JetBlue because they were excited to fly the airline, there were just as many people caught off guard. I can't count the number of expletives I heard (in a positive way), as people saw the Mint cabin.
Within moments of settling in, the crew greeted each Mint passenger with a big smile, and asked if they had flown Mint before, and if so, if they had flown the new Mint product yet. They then gave each passenger a rundown of the seat, the service, etc. It's so nice when crews take the time to provide an explanation like this, and it's also a great way for them to interact and show their personality.
A few moments later pre-departure drinks were served, with the choice of sparkling wine or a non-alcoholic spritzer. I selected the sparkling wine, and basked in the fact that this was my first pre-departure drink on a US airline since the start of the pandemic.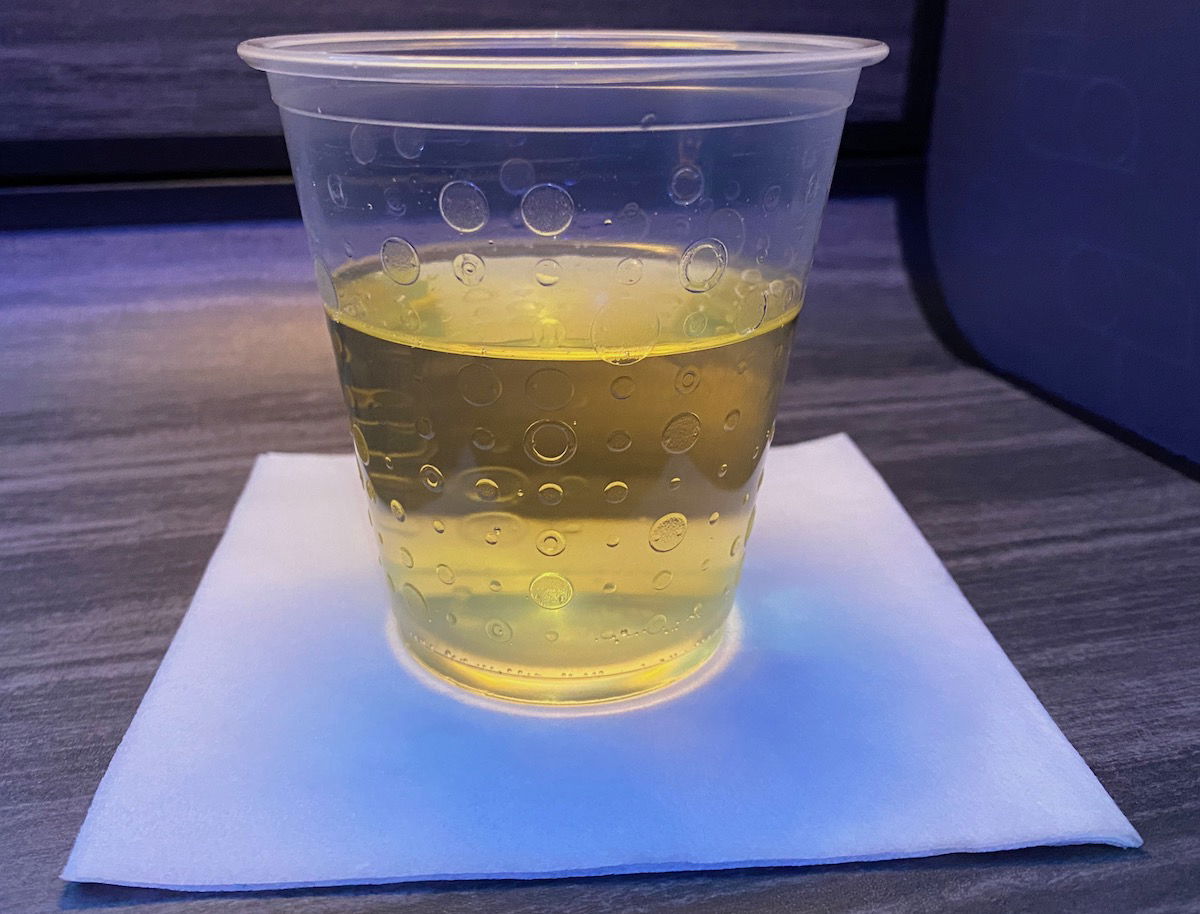 Once pre-departure drinks were served, the crew distributed the menu and cocktail list for the flight. I loved the personalization, that the menu listed the names of the crew members.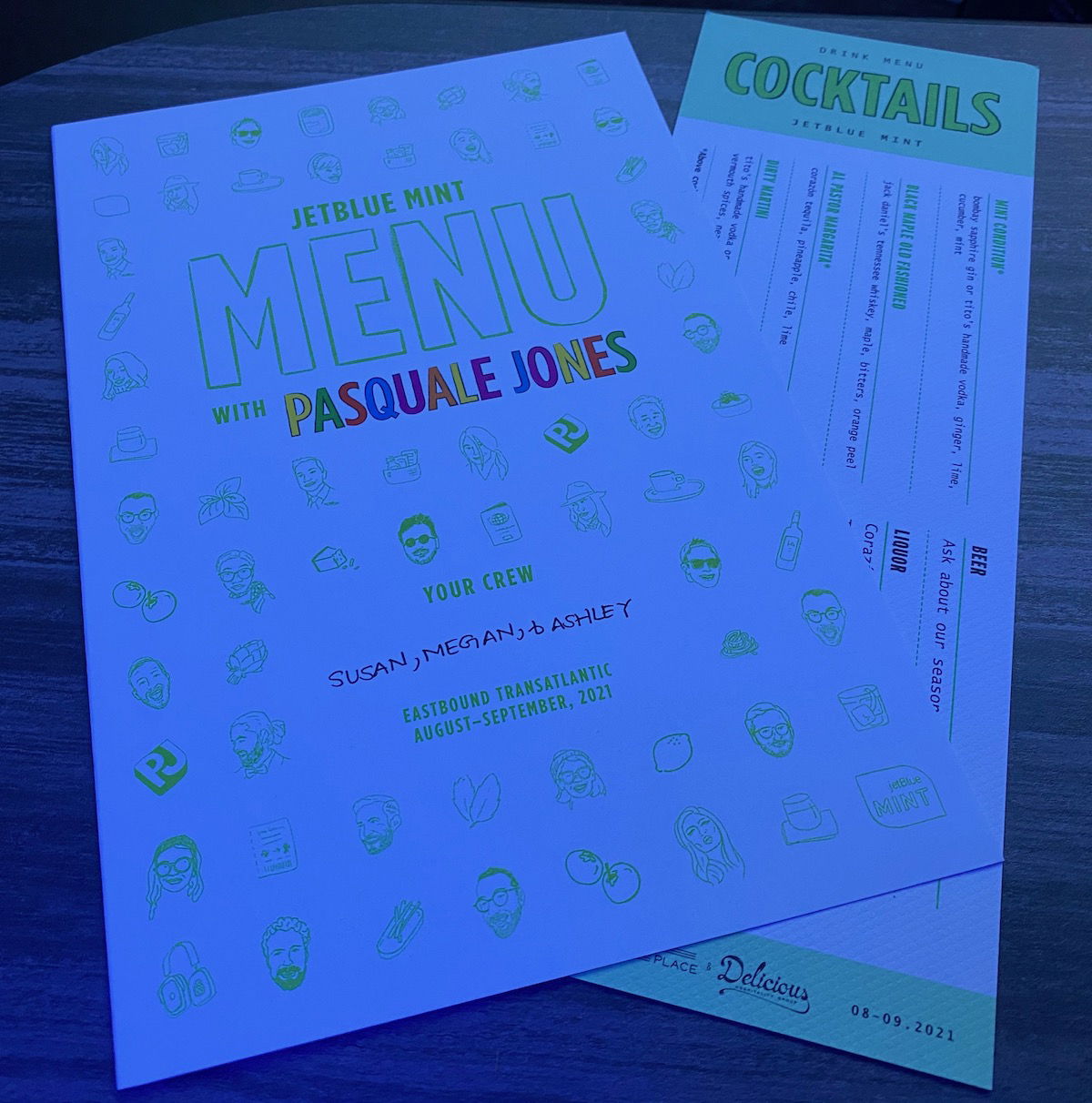 At around 9:35PM, captain David made his welcome aboard announcement, informing us of our flight time of 6hr28min. He said he anticipated some light bumps within the first 30 minutes of the flight, but that it should be smooth after that.
A couple of minutes later the door closed, at which point the safety demonstration was performed. Even though JetBlue has personal televisions throughout its fleet, it doesn't have a safety video — rather the demos are manual.
By 9:50PM we began our taxi to the runway. The Mint seats on the A321LR have shoulder straps that have to be worn for takeoff and landing. We had quite a long taxi to the runway (by coronavirus-era standards), though were airborne by 10:15PM.
As we climbed out I browsed the entertainment selection, which was endless. The monitor was touchscreen, or you could just use the controller next to the seat. The options were impressive, with more movies, TV shows, and even live TV options, than I could count.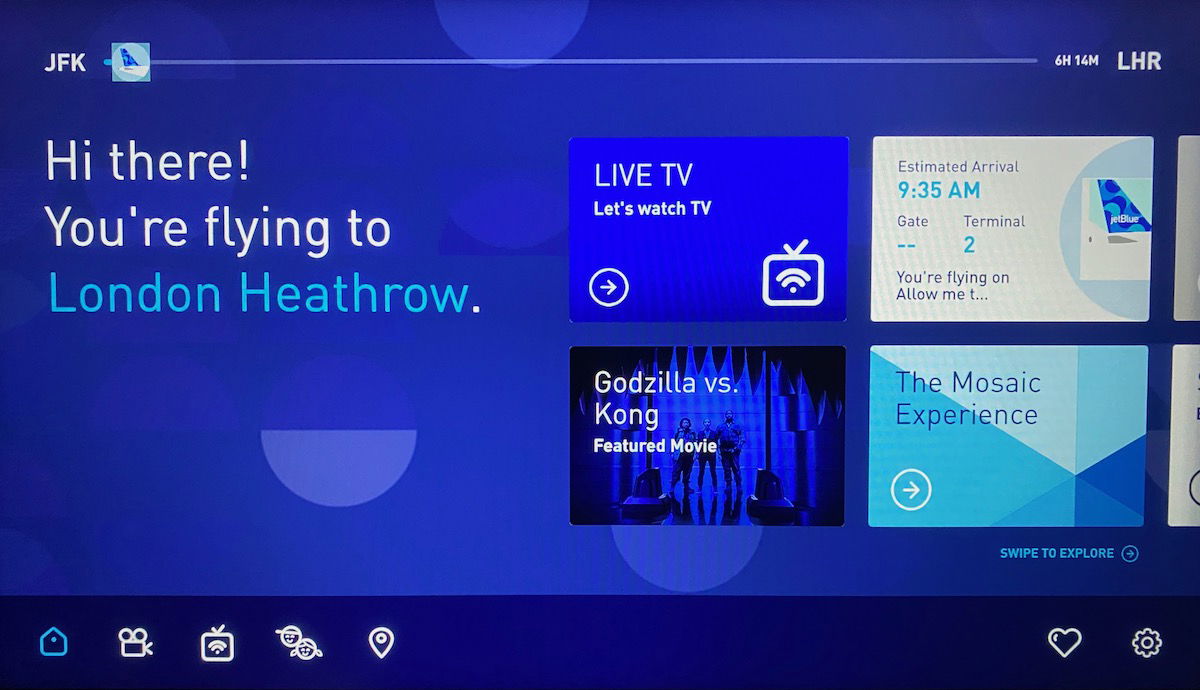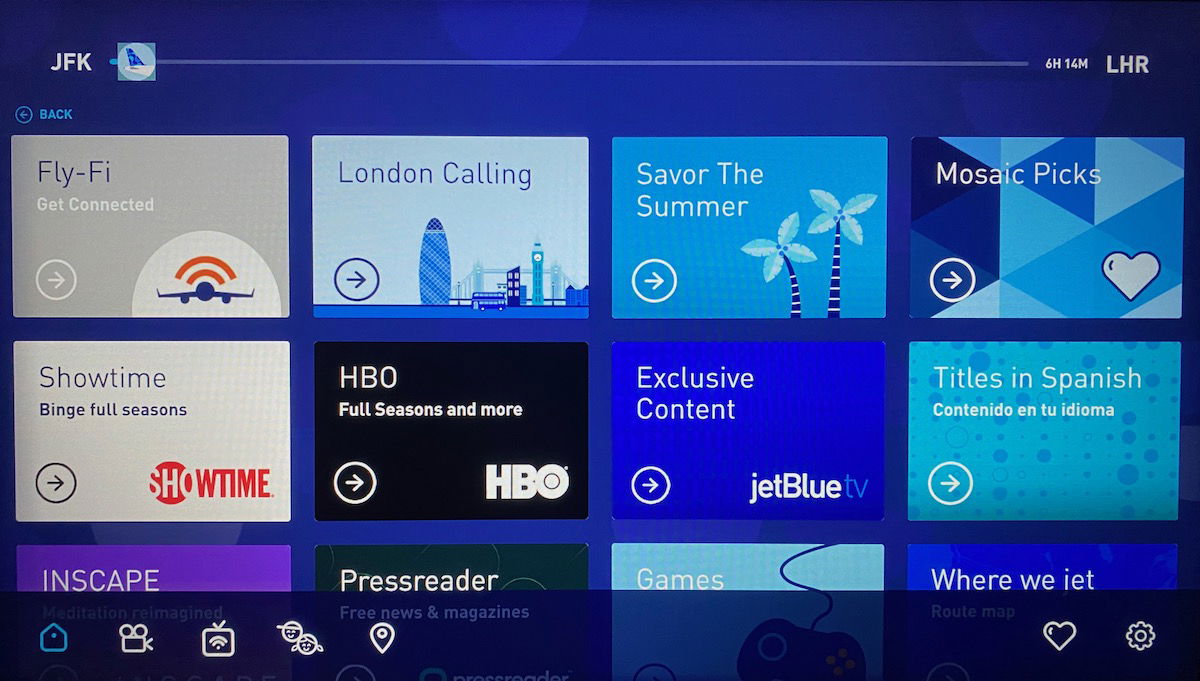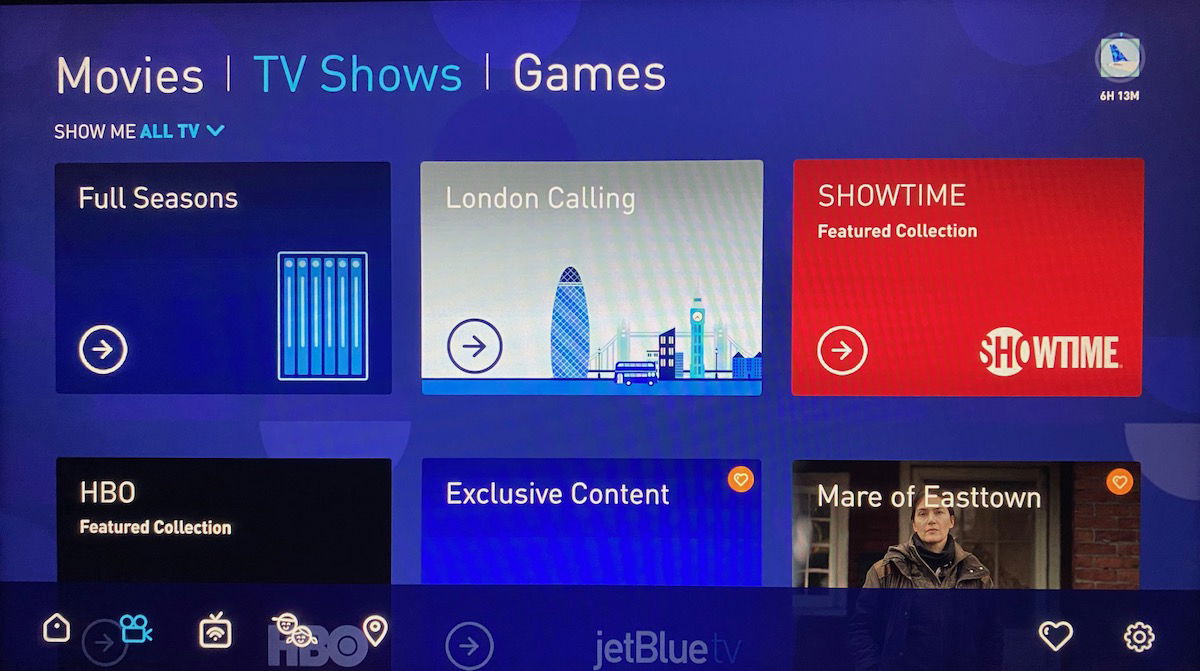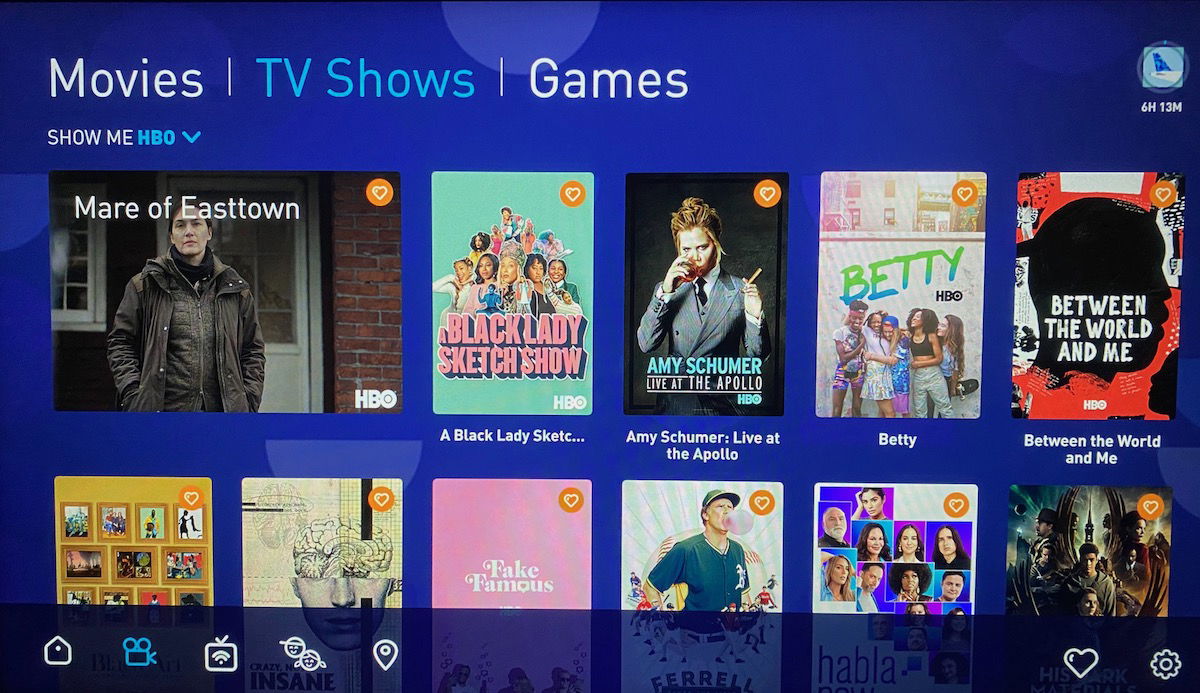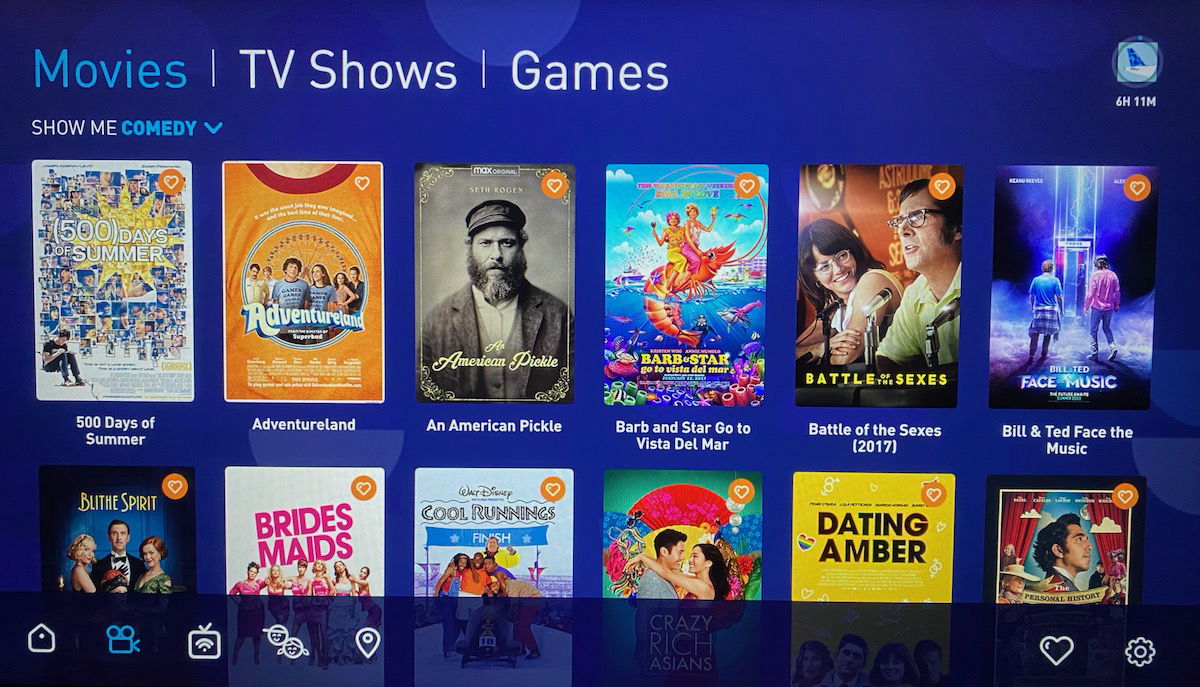 You can also pair your phone with the entertainment and use it as a controller if you'd like, though I didn't find that to be necessary.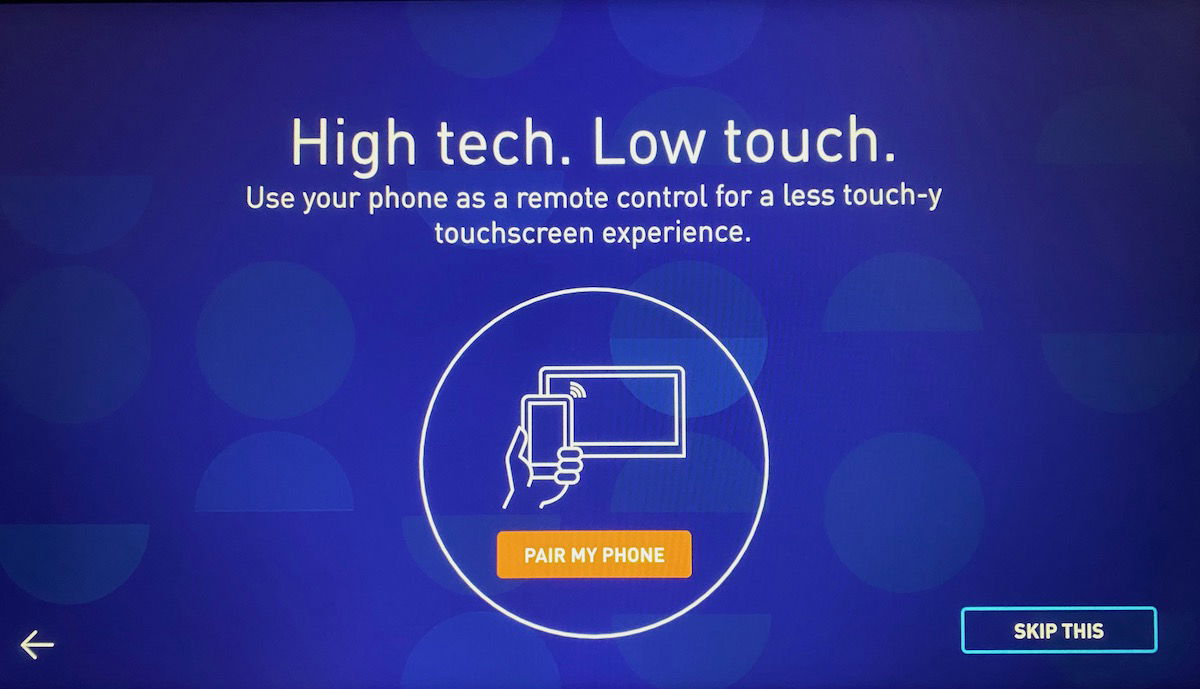 I also checked out the moving map for our flight, which offered quite a bit of flexibility to zoom in and out as much as you wanted.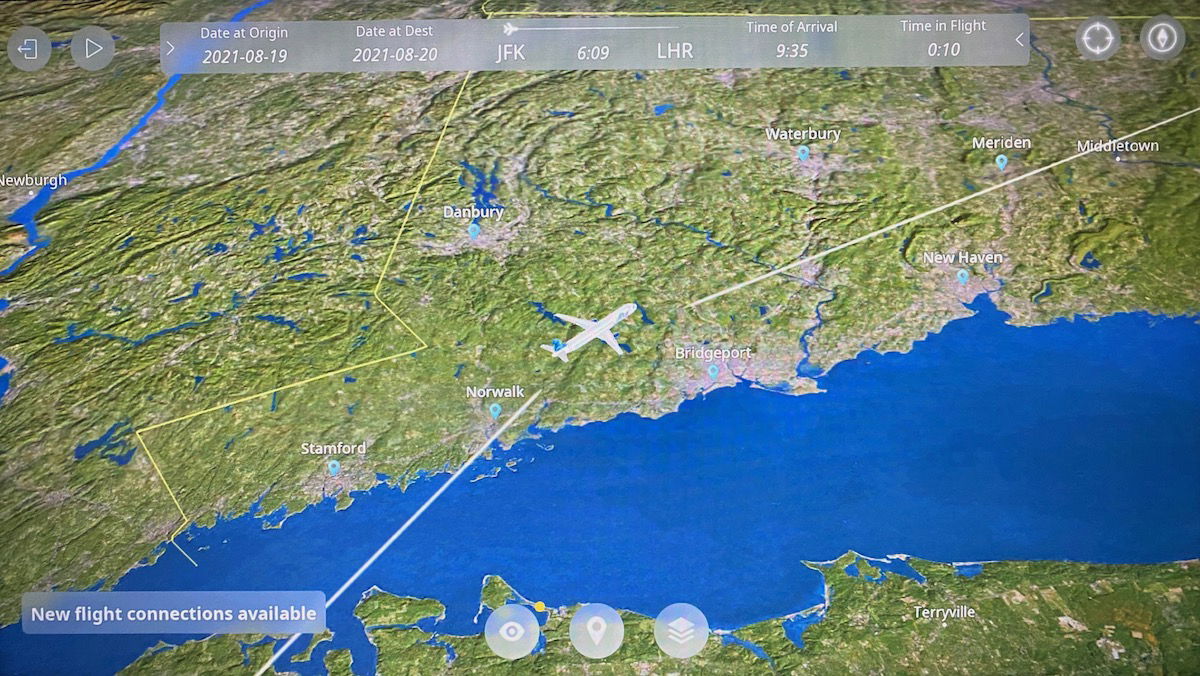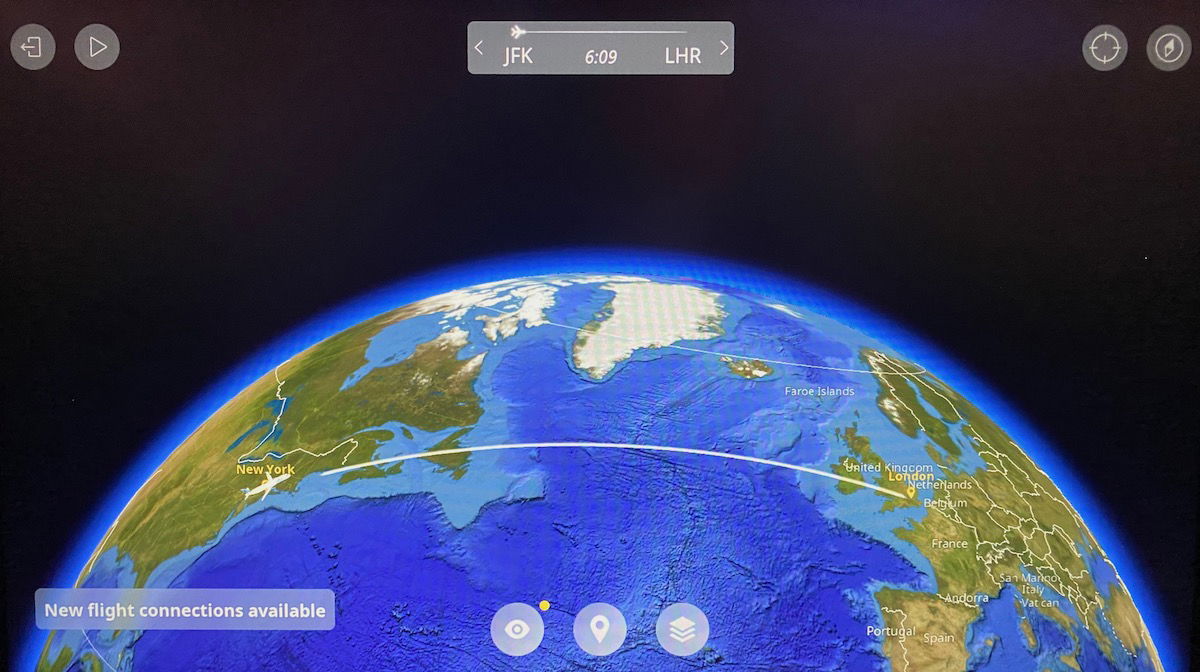 The best part of JetBlue's entertainment is Fly-Fi, which is JetBlue's unlimited high-speed Wi-Fi. Yep, this is even available across the Atlantic. All passengers can use as much Wi-Fi as they'd like on as many devices as they'd like, with no data caps.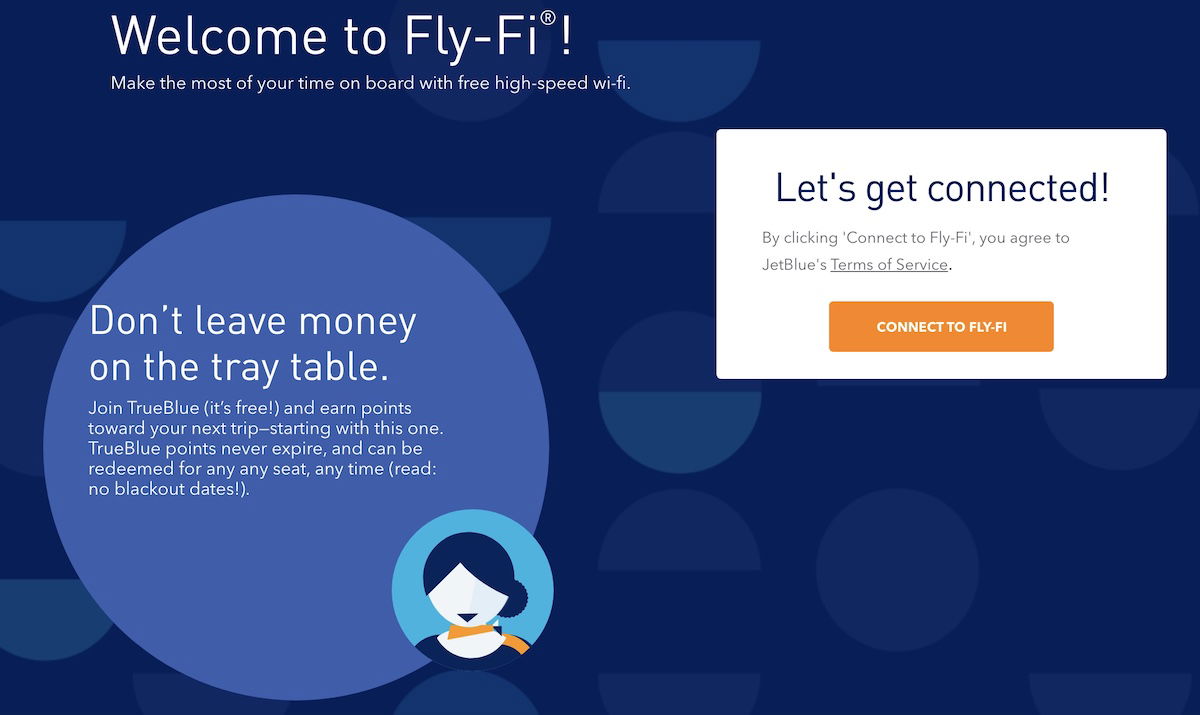 This is such a ridiculously awesome competitive advantage. Not only was Wi-Fi free, but it was also the fastest I've experienced across the Atlantic. La Compagnie is the only other airline I know of with free Wi-Fi across the Atlantic with no data caps, and speeds there were comparable.
As we climbed through around 10,000 feet, the crew came through the cabin to "unlock" the suite doors, since they're locked for takeoff and landing. On top of that, they asked each Mint passenger if there was anything they could get out of the overhead bin for them. How refreshing!
Shortly thereafter meal orders were taken, in anticipation of dinner. The dinner menu read as follows: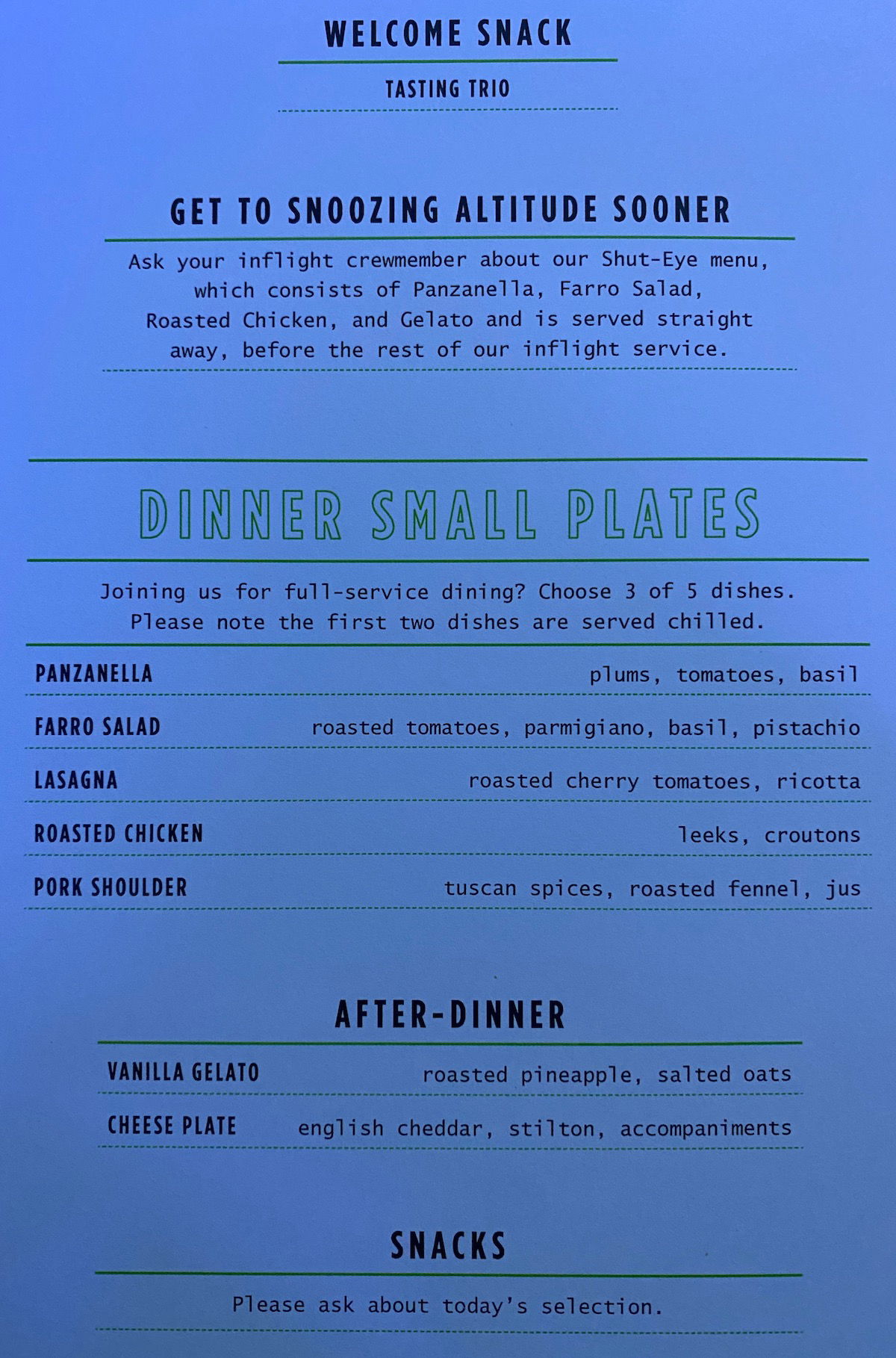 JetBlue has partnered with Delicious Hospitality Group for its catering on these flights. As you can see, JetBlue takes an unconventional approach to meal service. Rather than having a dedicated appetizer and then a main course served separately, you can choose three of five dishes, and then afterwards dessert is served.
As an alternative, there's a pre-set menu you can select to be served right away, if you want to maximize your sleep.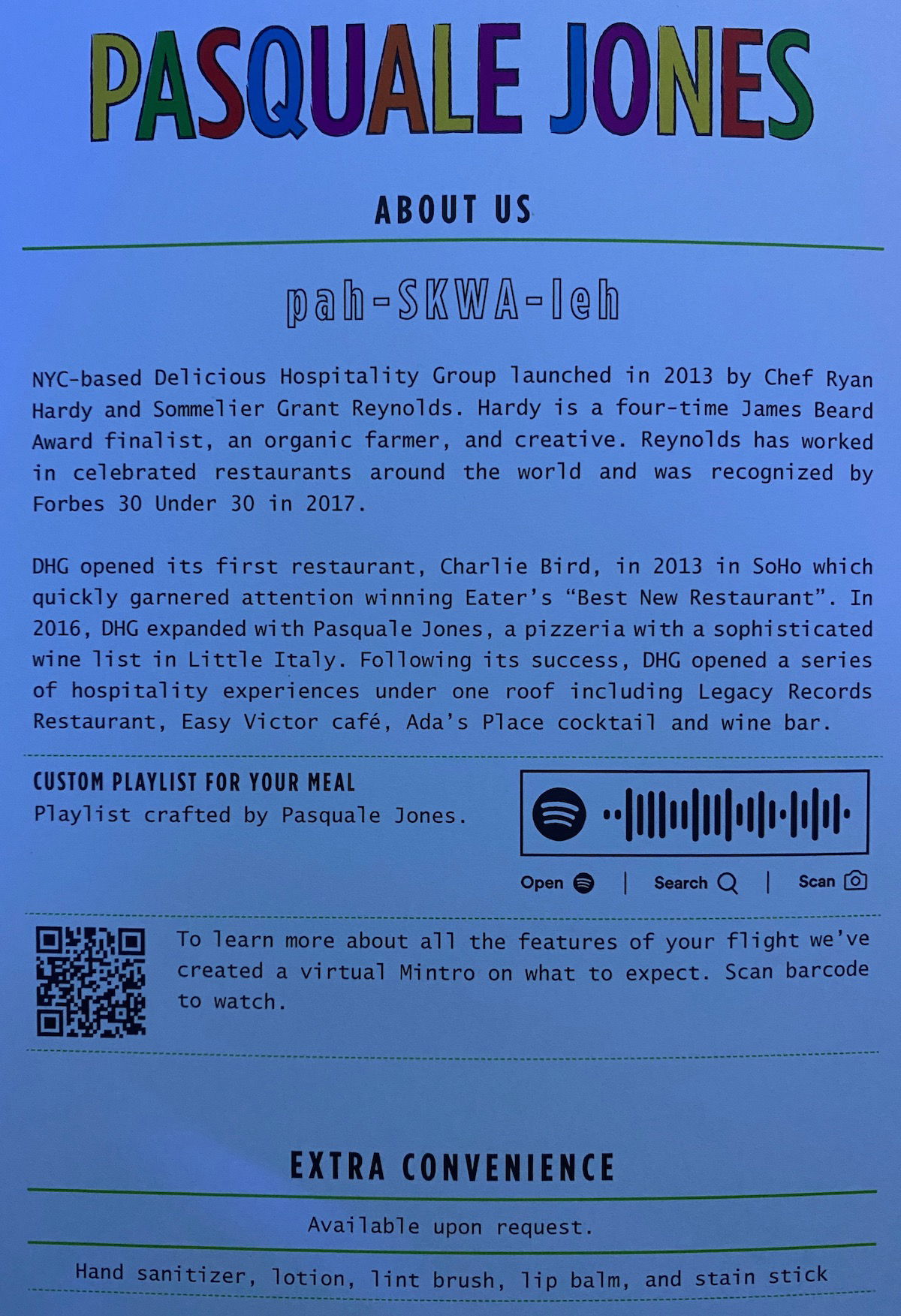 The cocktail, beer, liquor, and wine list read as follows: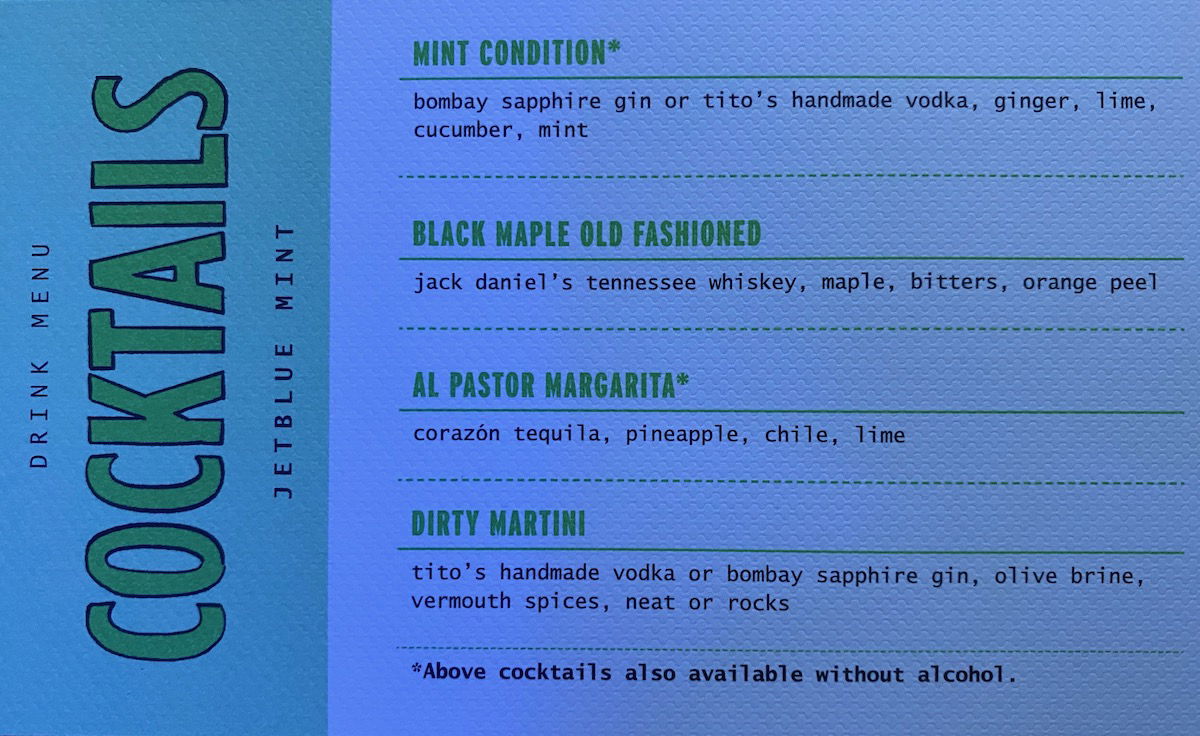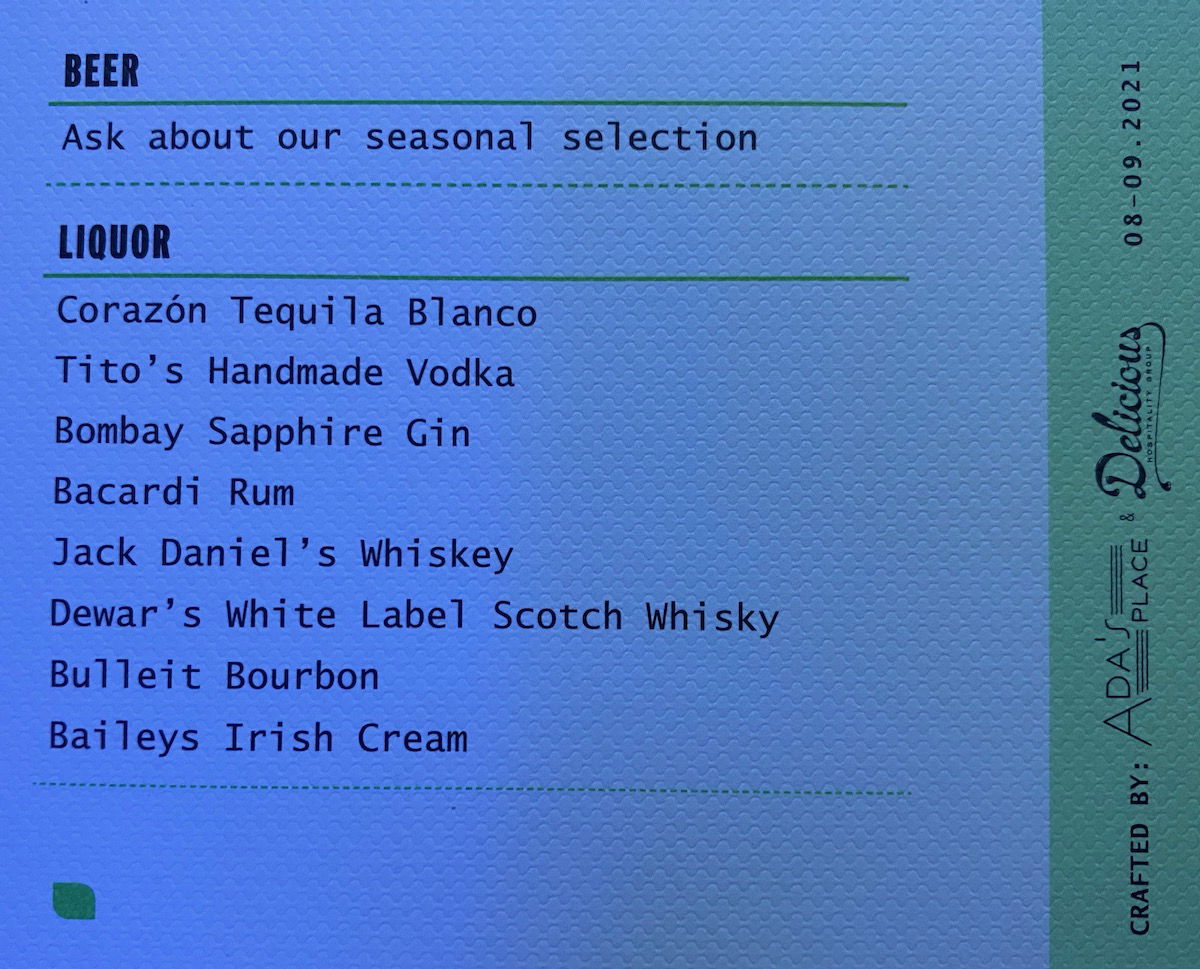 The first round of drinks were served around 55 minutes after takeoff (which was a rather long wait, especially since we were seated at the front of the cabin, and there was also a light load), but boy was it worth the wait. First of all, I feel JetBlue read my mind with the cocktail list. Dirty martinis are my go-to cocktail always, so to see that selected as one of the few signature cocktails sure made me happy.
The dirty martini was excellent (I would've been happy with it in a bar), and it was served with a tasting trio of snacks, including dolma, almonds, and roasted red peppers.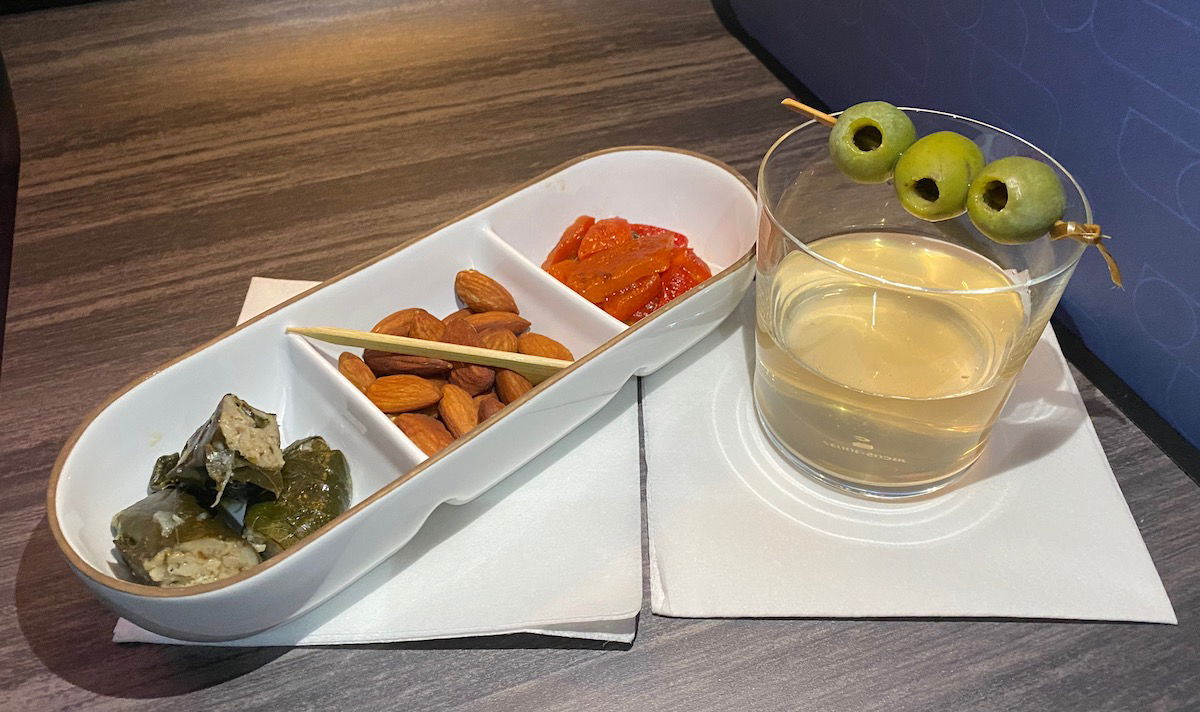 About 25 minutes later the meal was served. For my dinner, I had selected the following:
Panzanella with plums, tomatoes, and basil
Lasagna with roasted cherry tomatoes and ricotta
Roasted chicken with leeks and croutons
This was served with a bread roll, as well as extra virgin olive oil, sea salt flakes, and chili oil.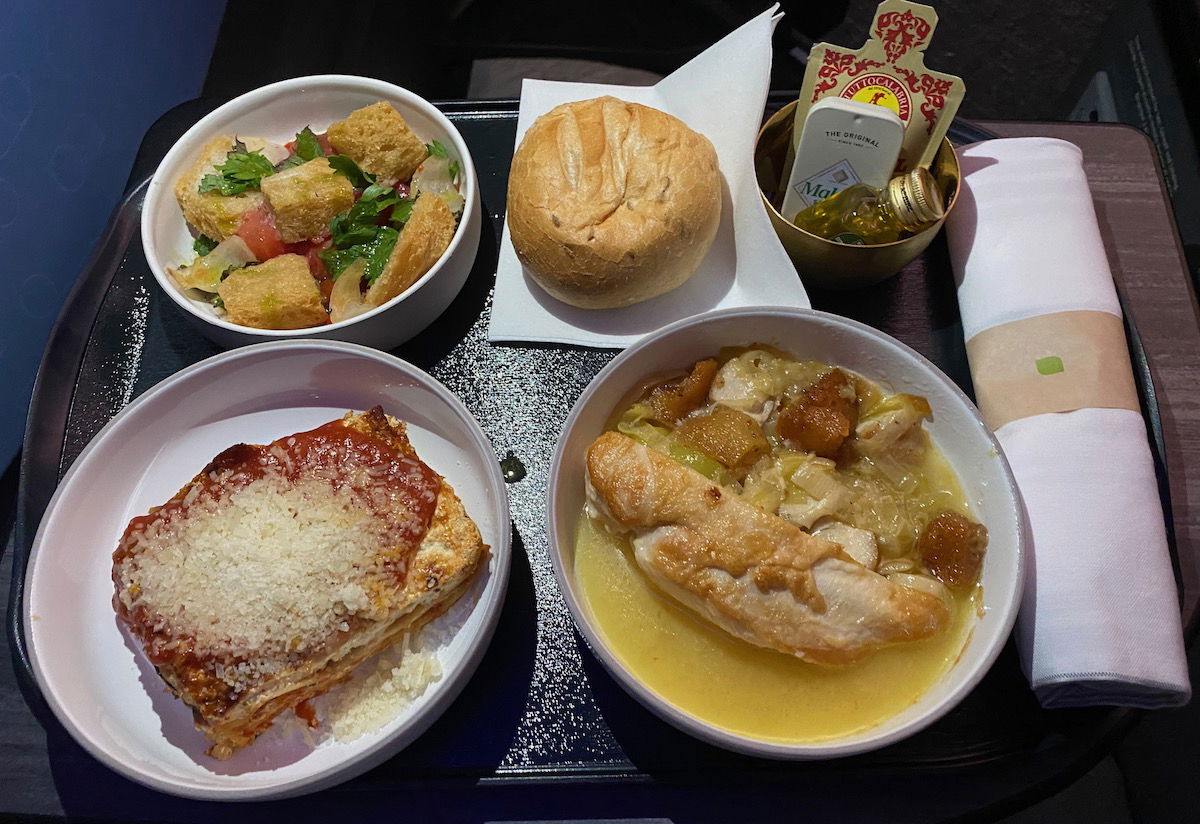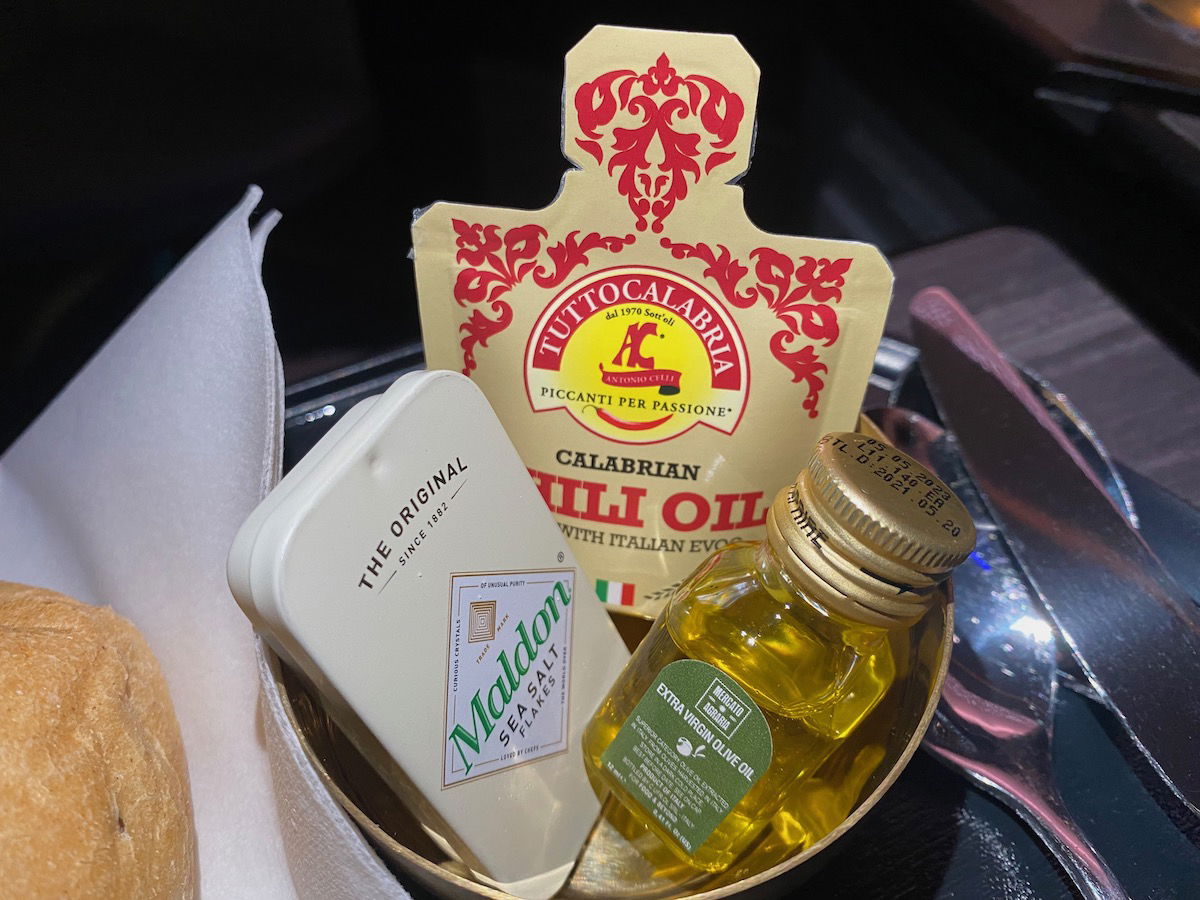 All three dishes were amazingly delicious. I would've been thrilled to be served any of these in a fancy restaurant. I just don't get it — how is JetBlue's food so much better than what virtually every other airline serves in business class? This tastes like food you'd get in a restaurant, rather than food you'd get out of the microwave.
For example, just look at the lasagna — isn't that beautifully presented, unlike virtually every lasagna I've otherwise been served on a US airline? The food was exceptional.
About 25 minutes after the main course was served, a dessert trolley was rolled down the aisle with coffee, dessert, and after dinner drinks. I decided to try the Italian dessert wine, and also asked if I could try both the dessert and the cheese (just so I could report back, of course). 😉 The dessert consisted of vanilla gelato with roasted pineapple and salted oats (YUM!), and a cheese plate with English cheddar, stilton, and accompaniments.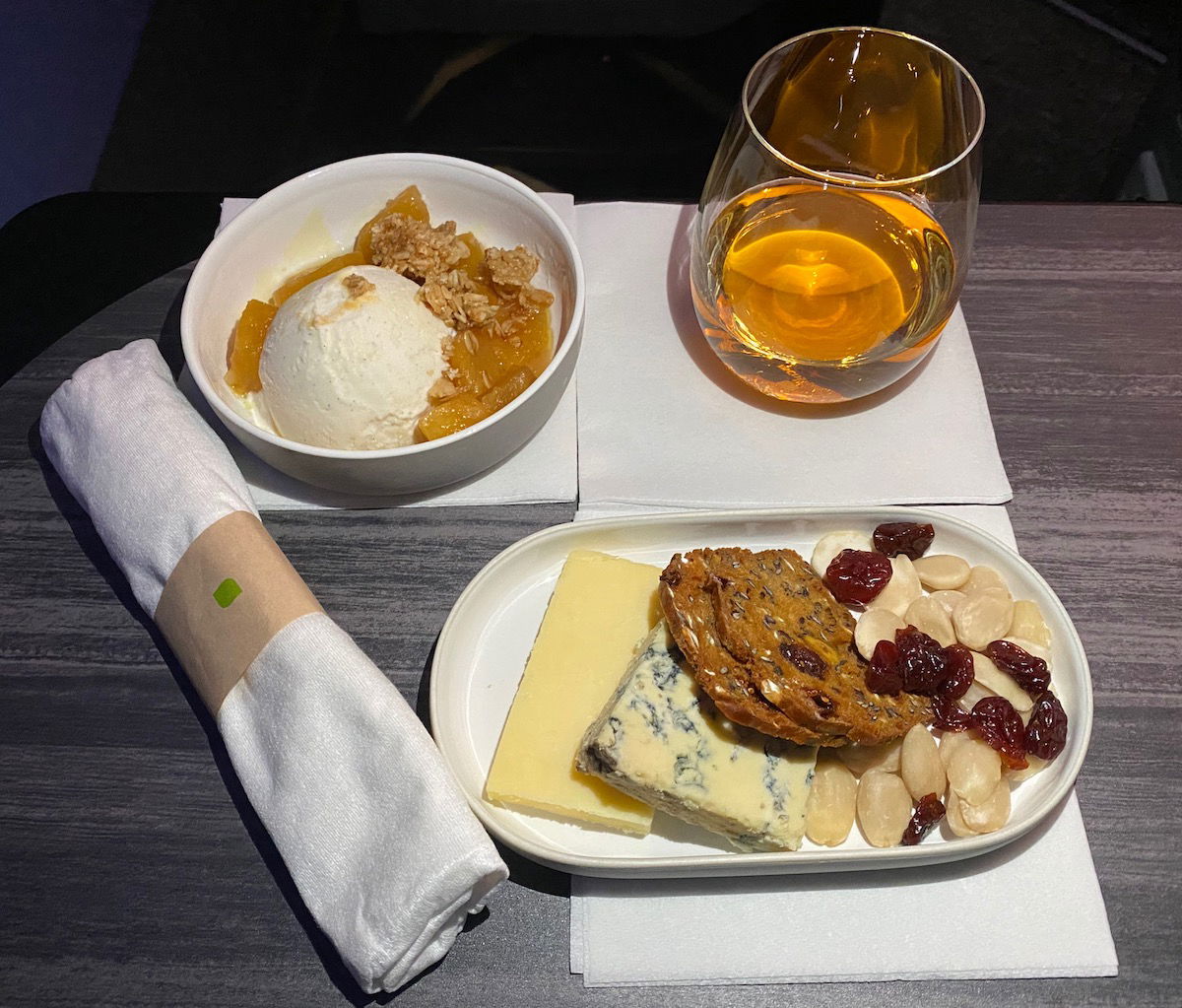 My tray was cleared just around two hours after takeoff. I can't say enough good things about the meal — what a feast, from the cocktails, to the food, to the service. JetBlue simply puts all other US airlines to shame with its catering and overall dining experience. And that's not even factoring in that most other US carriers have significantly cut back catering due to coronavirus.
After the meal I checked out the lavatories — there were two at the front of the cabin — one right behind the cockpit, and one behind the main cabin door. They were a good size, had a cool tile-looking wallpaper, and they even had some touchless features.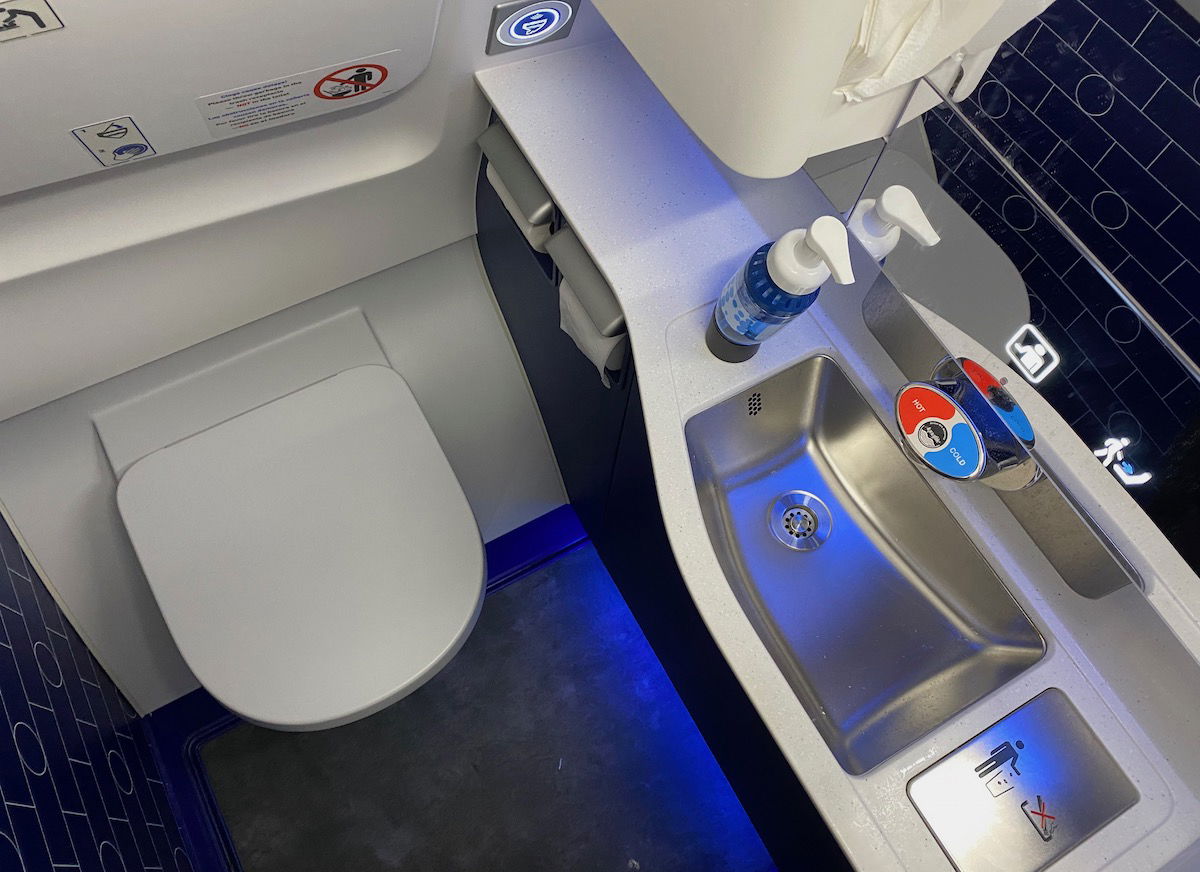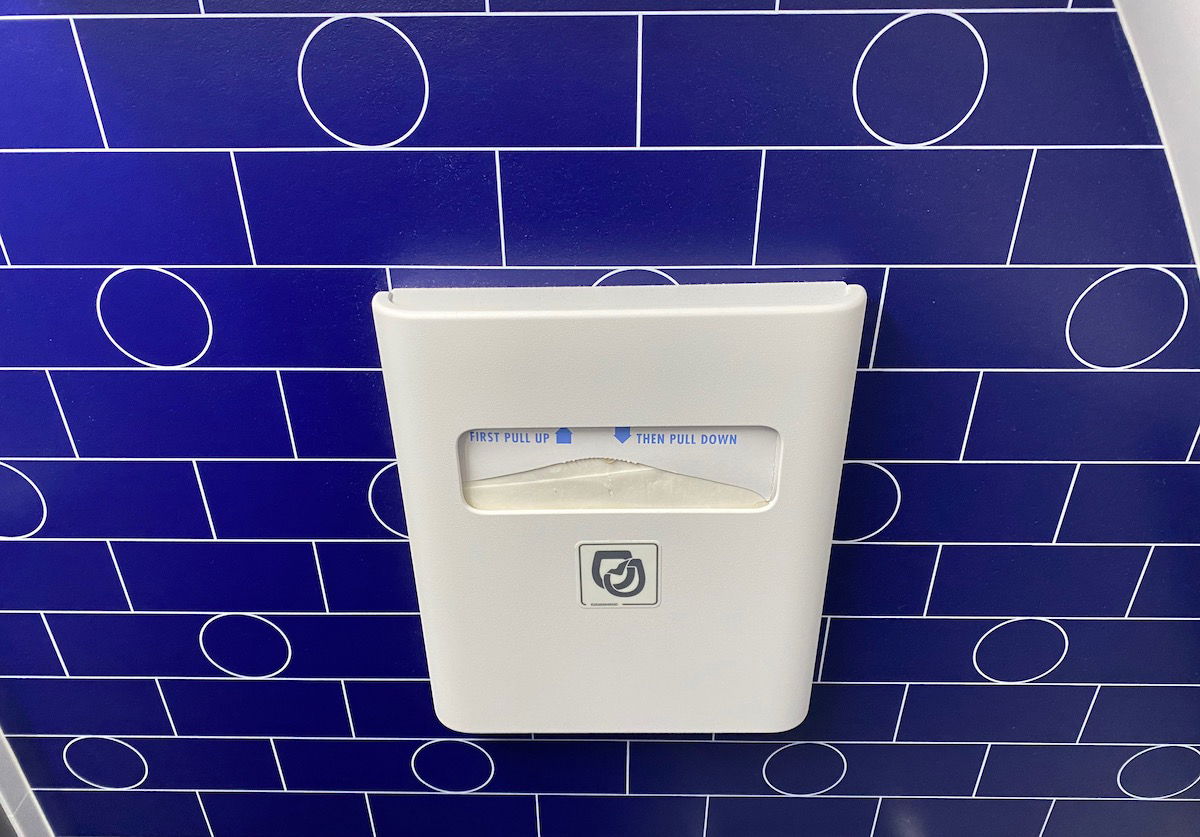 At that point I reclined my seat and prepared to get some rest, with around 4.5 hours to go to London. While I'm generally not a huge fan of herringbone seats, these seats are comfortable for sleeping — the padding and bedding is excellent, the seat was wide enough so that I didn't feel restricted, and there was also lots of room for my feet.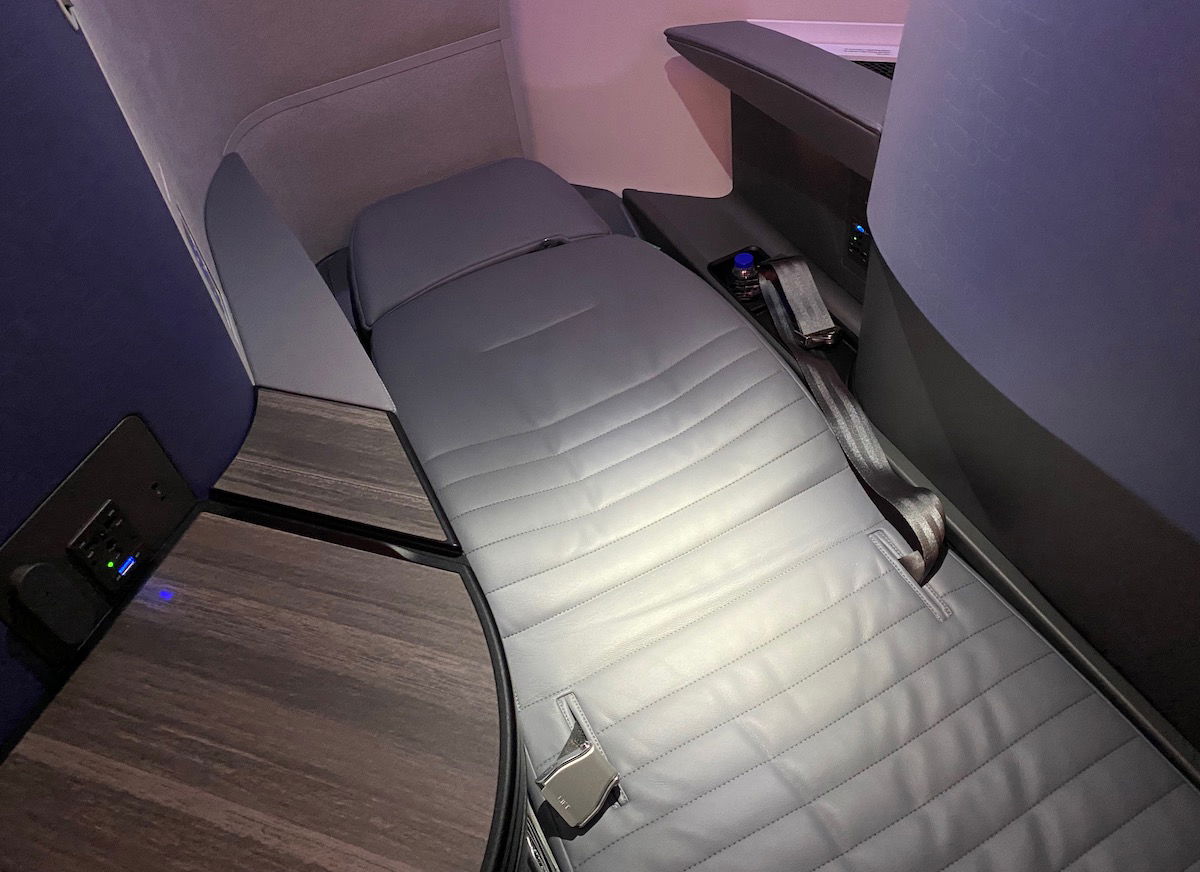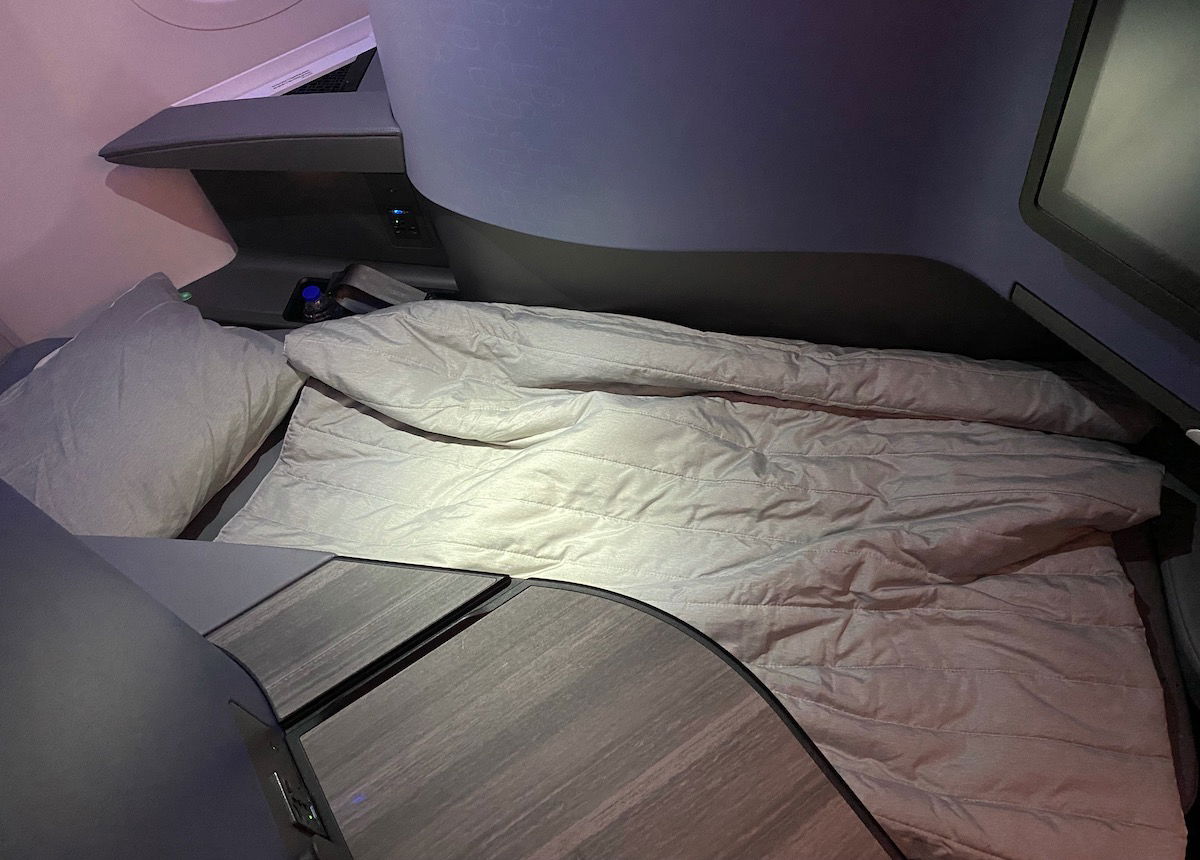 I feel asleep almost immediately, and woke up about 2.5 hours later, with just under two hours remaining to London.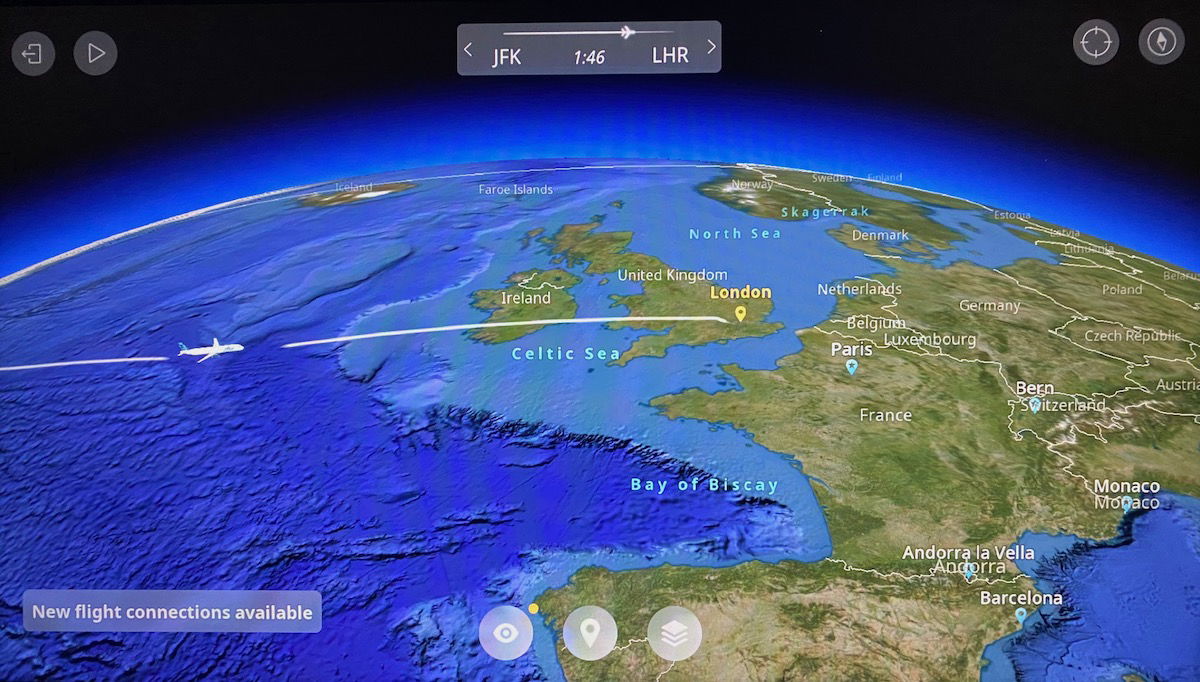 I headed to the lavatory to brush my teeth, and was cheerily greeted by the three flight attendants. It's amazing that the three of them were hanging out in the forward galley all night without disturbing passengers, which is all too common on other airlines.
One saw I had a toothbrush in my hand, and ran to get a bottle of water for me. While I didn't quite want breakfast yet, I figured I'd put the crew's barista skills to the test. Unlike other US airlines, JetBlue has cappuccinos in business class.
So the crew whipped up a delicious oat milk cappuccino for me.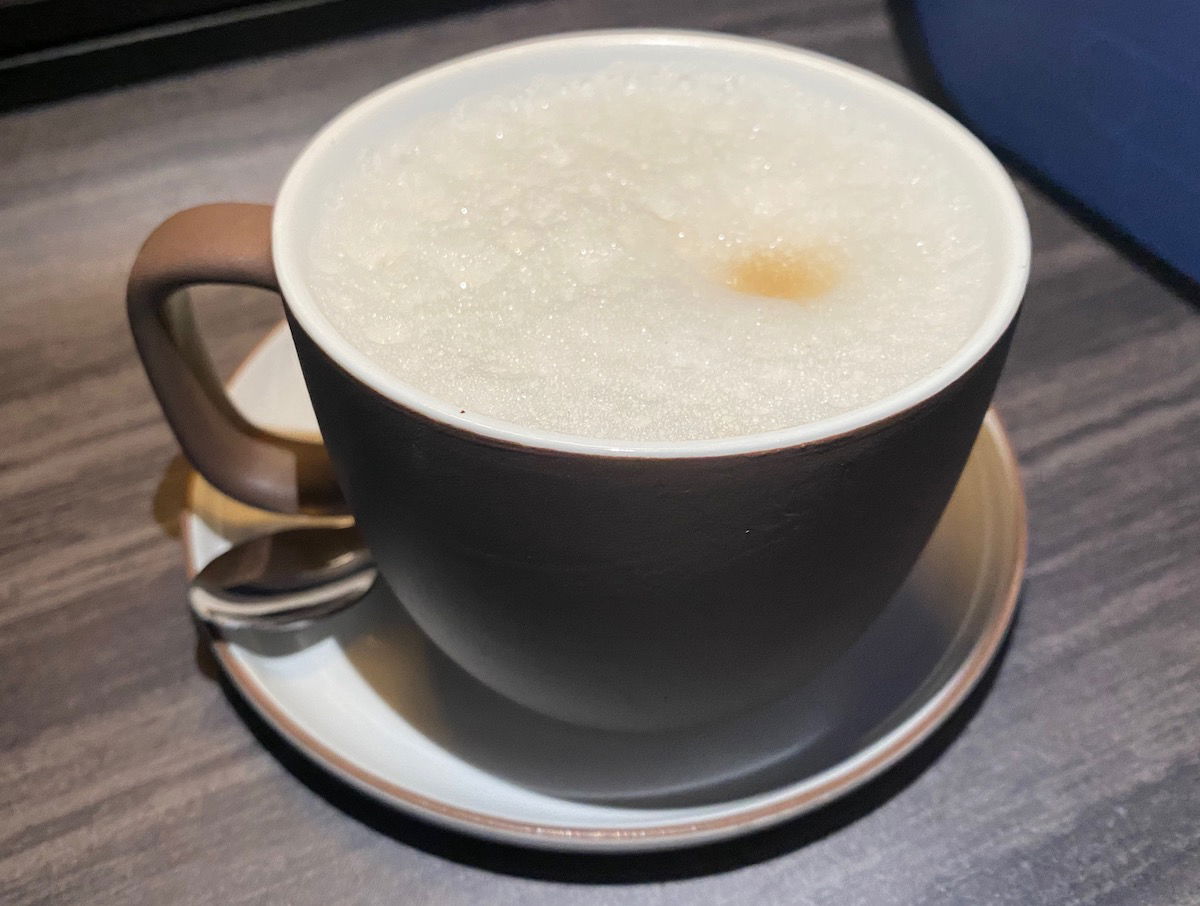 I also noticed that there were iced cappuccinos on the menu, so I decided to try one of those as well. Both were excellent. JetBlue is definitely winning the coffee game, though if I had one further wish (since JetBlue actually listens to customers), I'd love to see the airline also introduce cold brew onboard.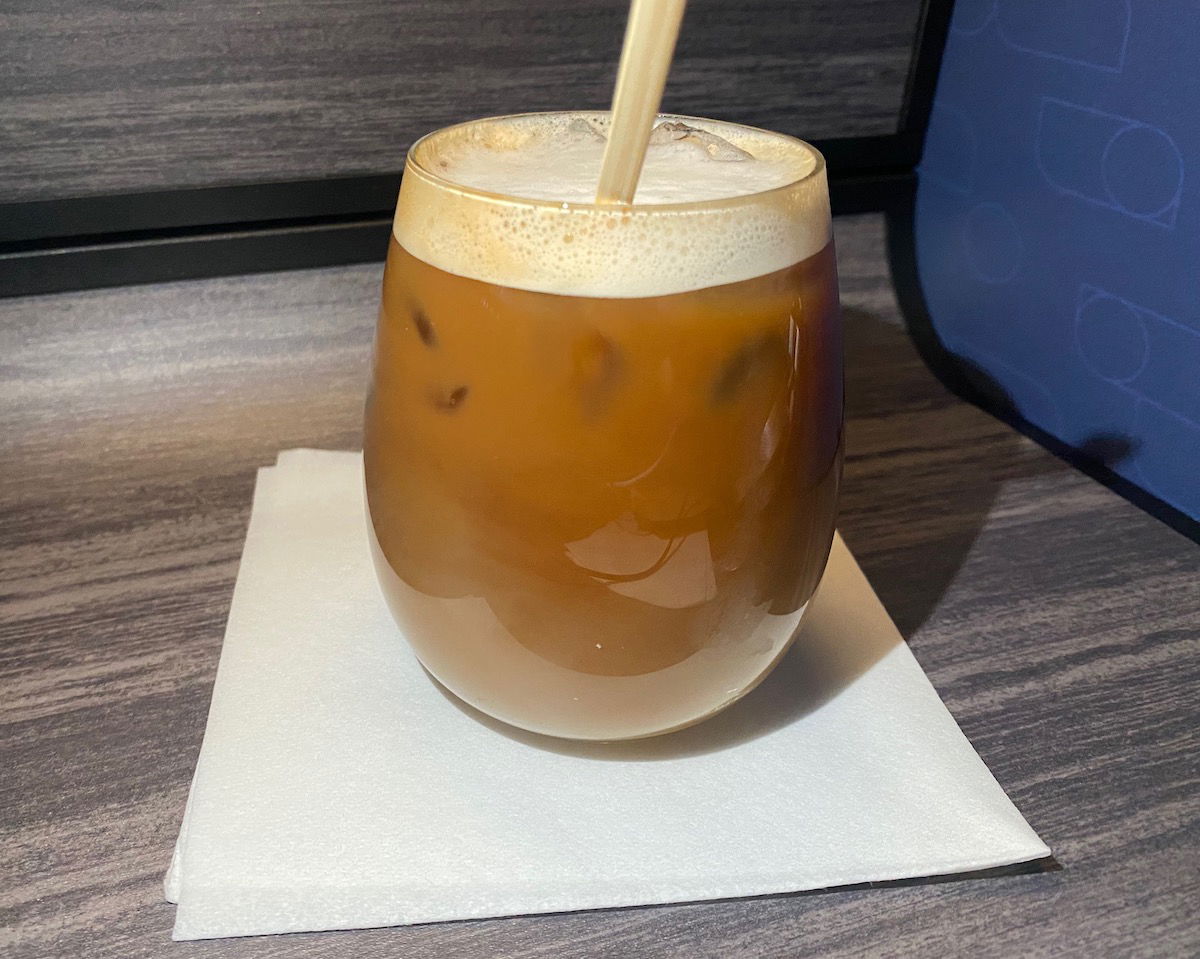 About an hour before landing, I asked about having breakfast. Much like with the dinner service, there are several options you can choose from. There are a total of three things on the menu, and you can select two of them, plus you can choose whether or not to have a side of bacon (pigs are adorable and smart, so I passed). The breakfast menu read as follows: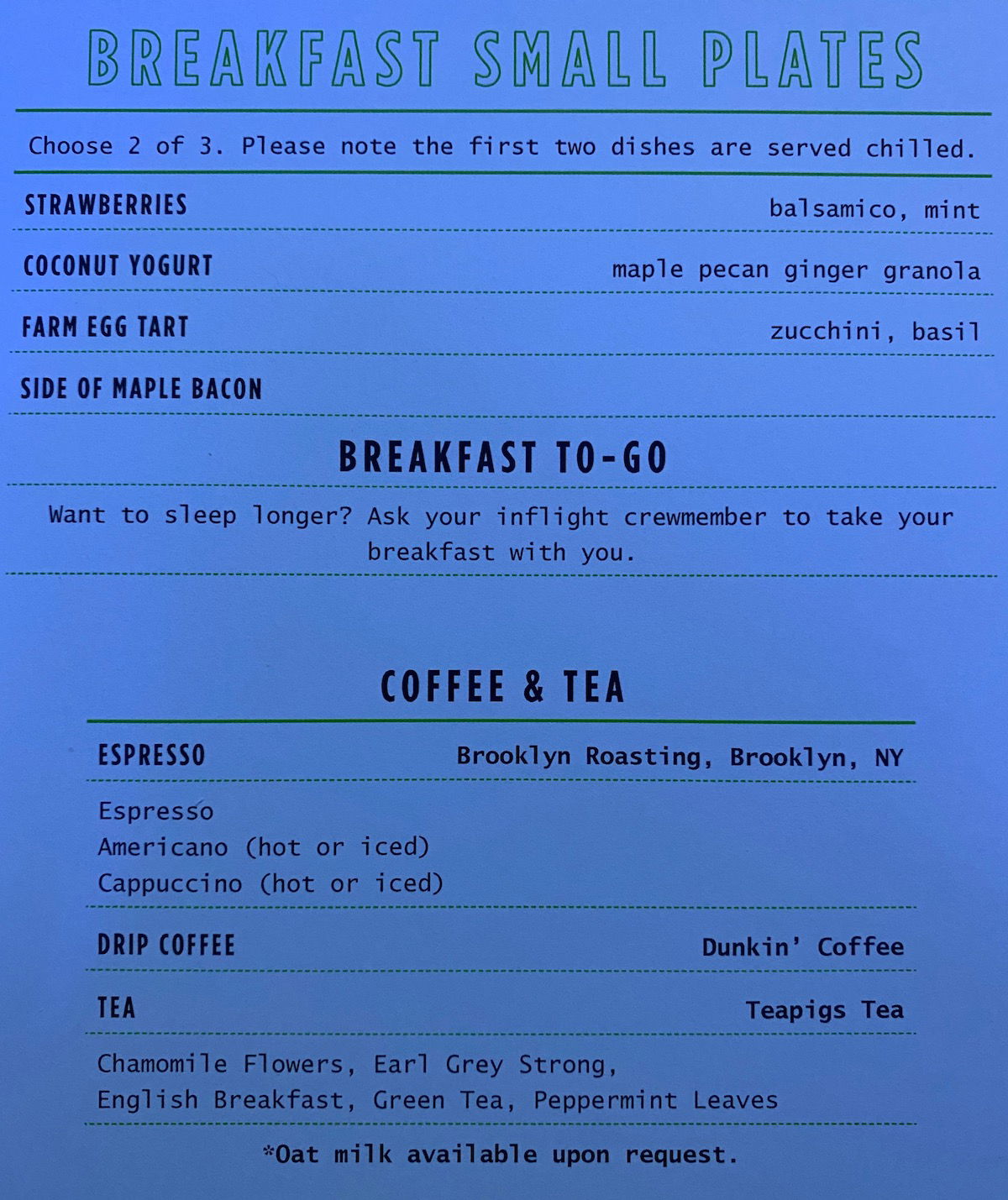 The service began with a wrapped warm towel, which had a nice lemon scent. This is the first warm towel I've been served on a US airline since the start of the pandemic, so I was happy to see that.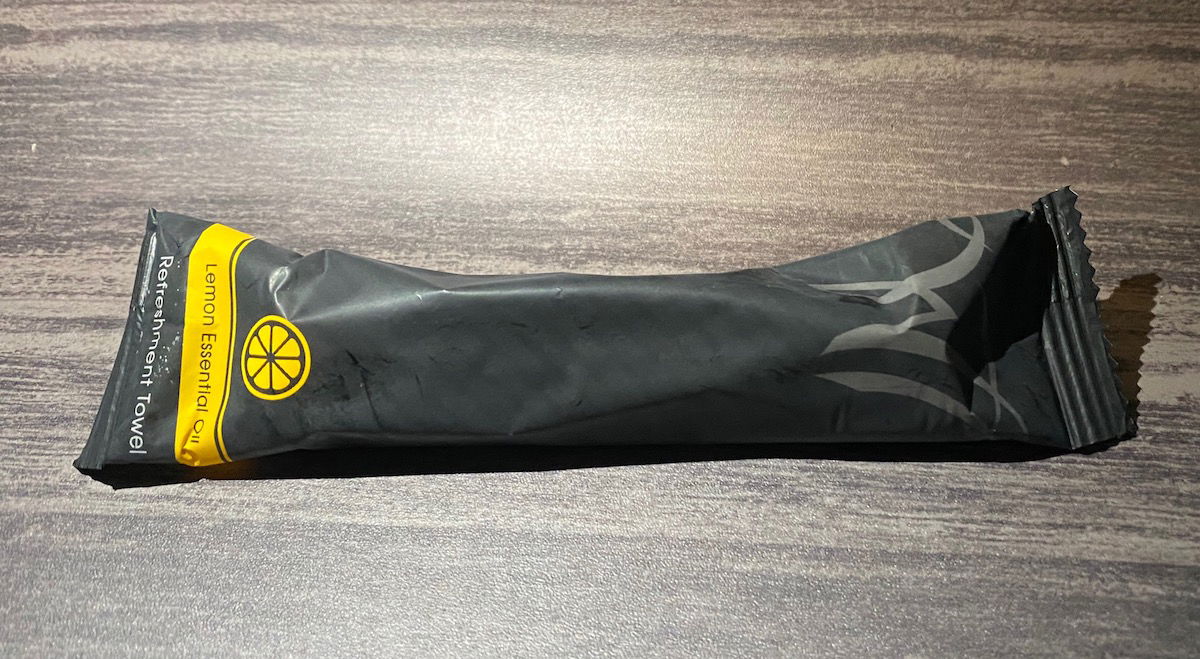 Much like the dinner, the breakfast was excellent. I ordered the farm egg tart with zucchini and basil, as well as the coconut yogurt with maple pecan ginger granola. Rather unusually, breakfast was accompanied by two scones, as well as jam and clotted cream. I was too full to finish the two dishes I had been served, let alone the scones.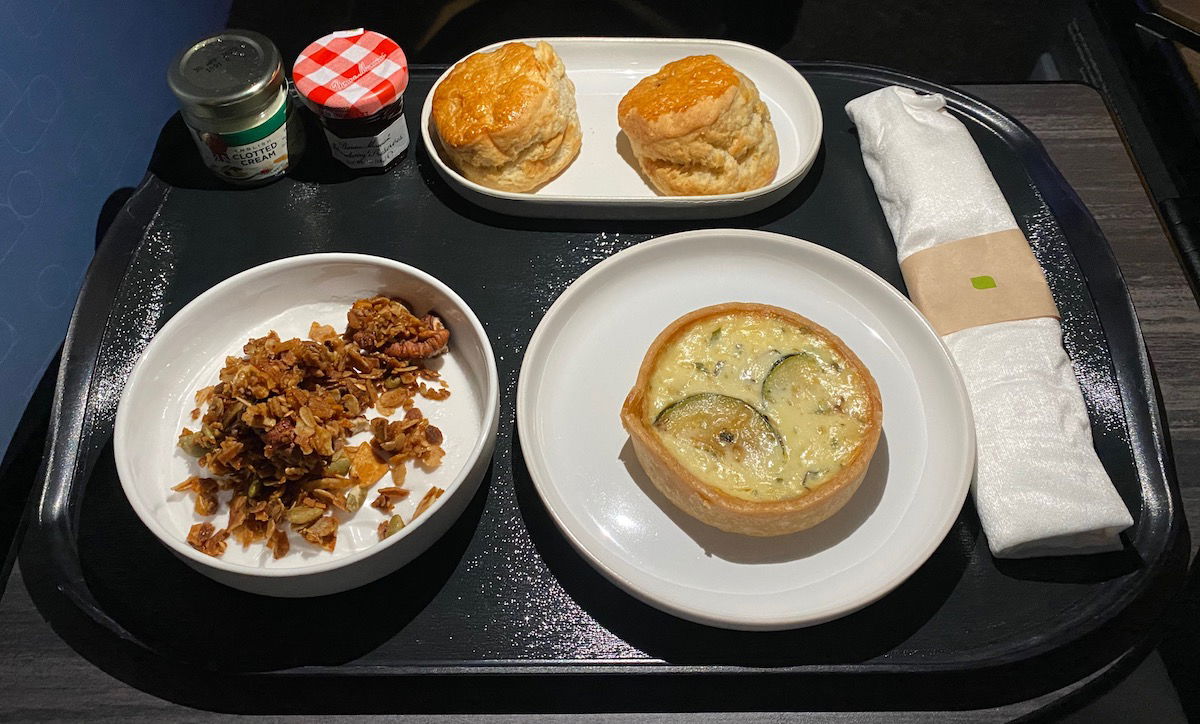 JetBlue has another awesome breakfast option, for those who prefer to sleep. You can choose to have breakfast to-go, which Ford took advantage of. This was served in a cute bag, and included a pressed juice with greens and ginger, a cold brew with milk and sugar, and a breakfast bar. This is such a great concept, and JetBlue actually chose some thoughtful things to put in the bag, rather than a banana and a juice from concentrate.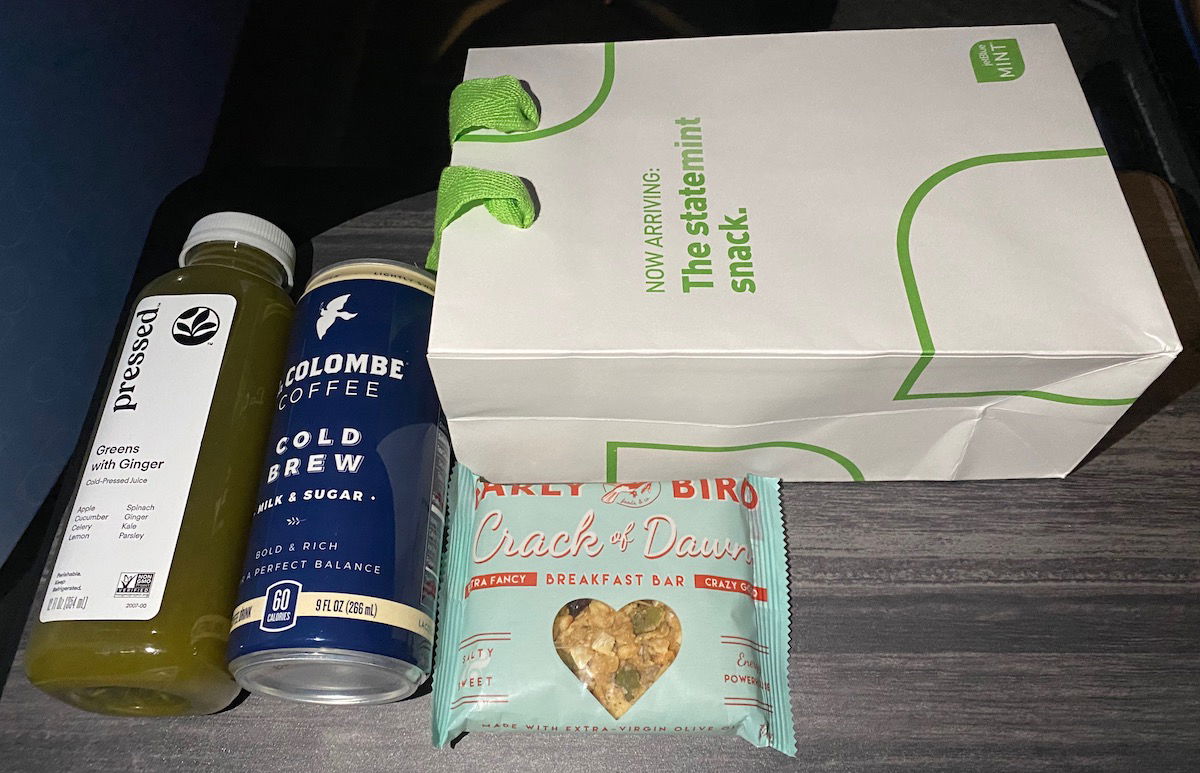 Shortly before the descent started, the crew came around and gave each person a thank you card, along with a little Mint-themed cocktail pin.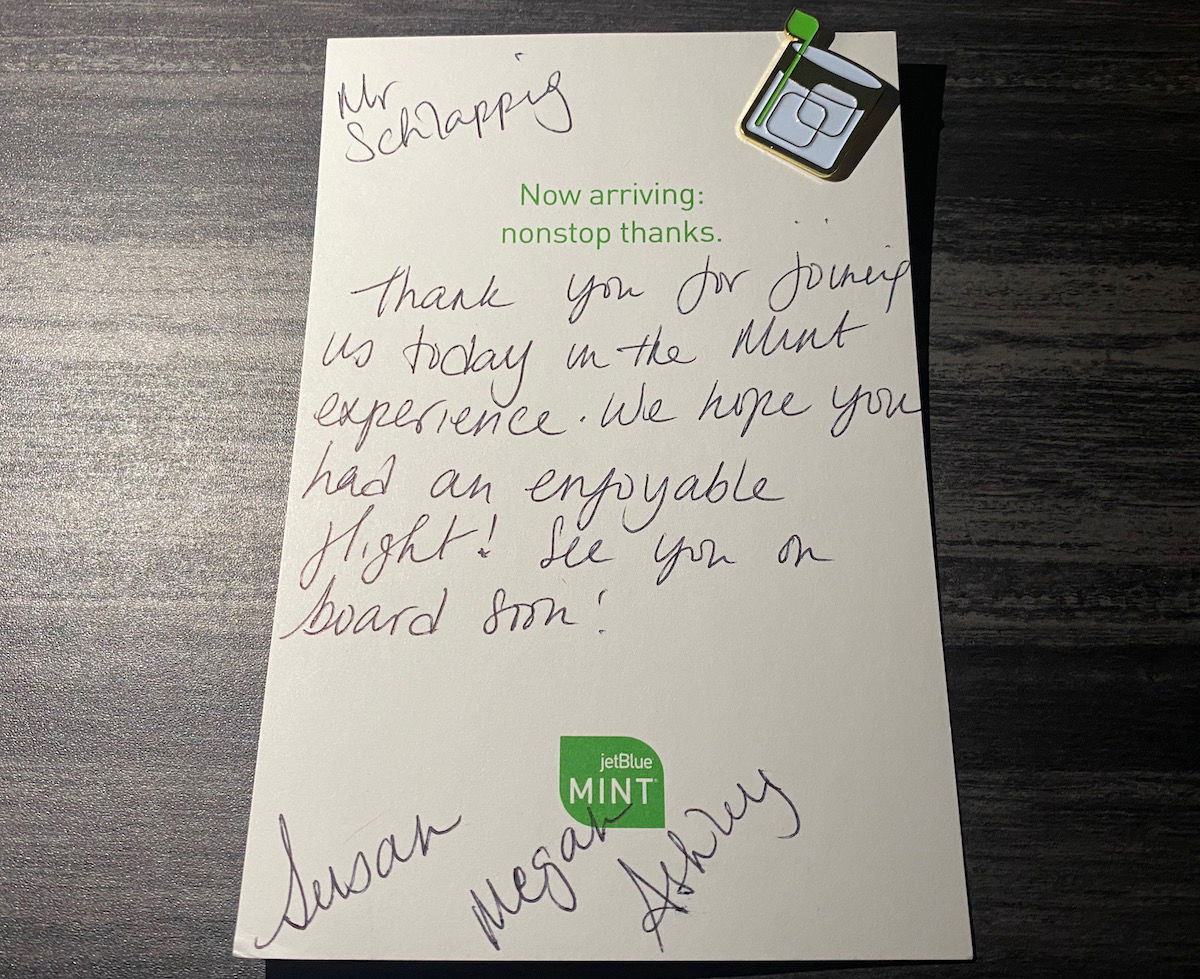 At 9:20AM local time the captain announced we'd be landing in about 25 minutes, and should be at the gate about 20 minutes ahead of schedule. We had lovely views of London on the approach, even though it was a cloudy day.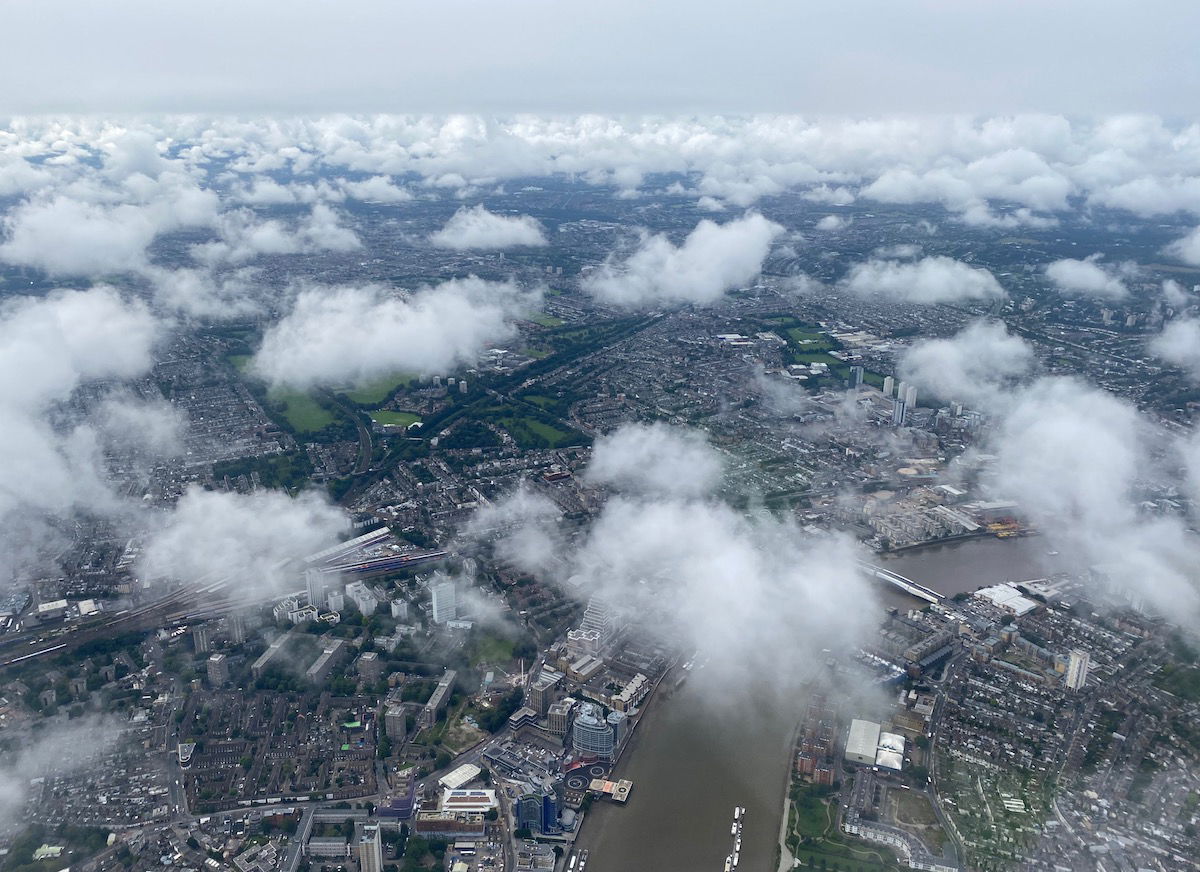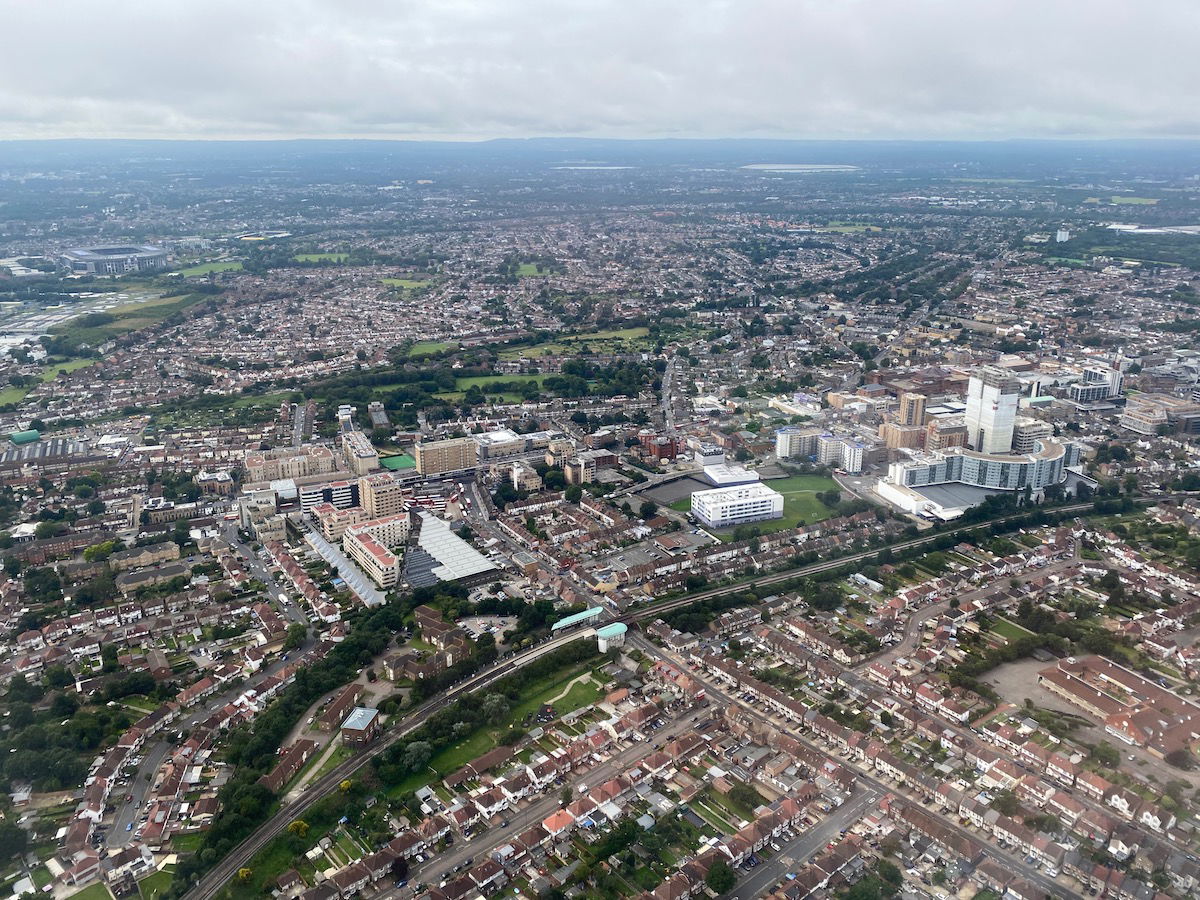 We touched down on runway 27R at 9:45AM — hi, British Airways A380!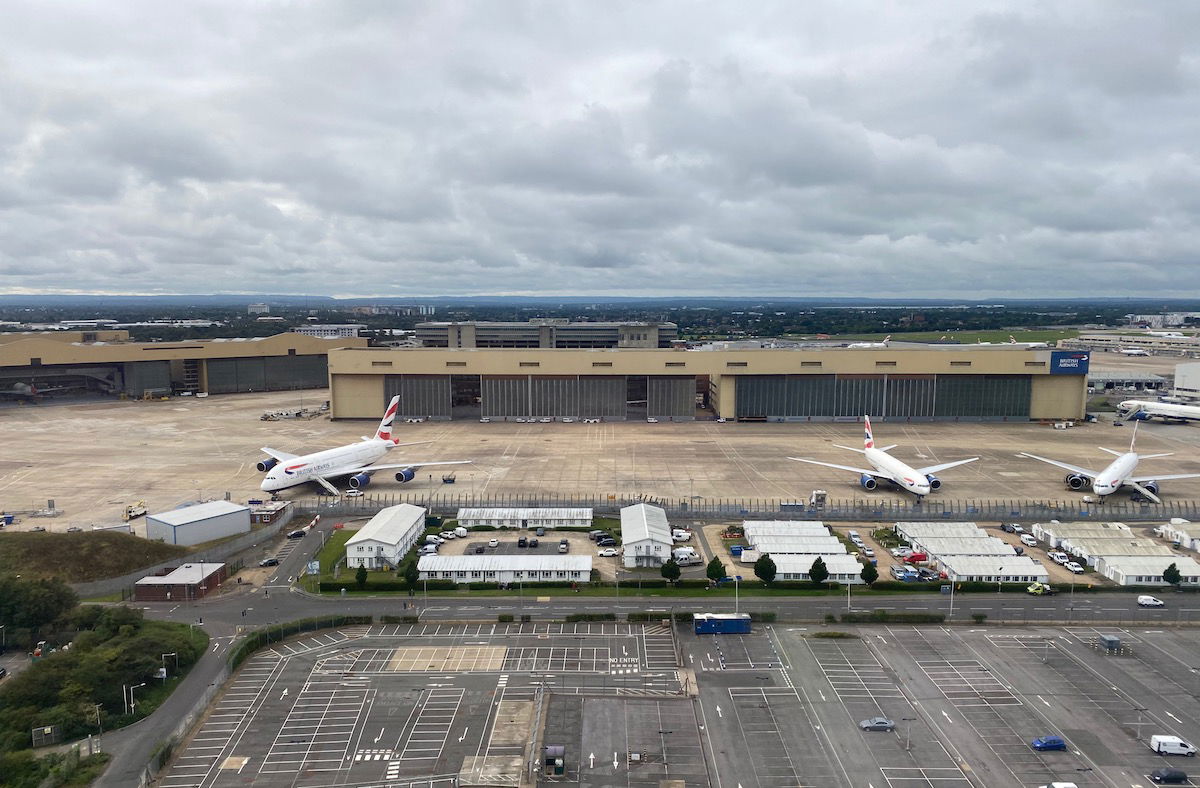 From there we had a short taxi to the gate at Terminal 2, where we parked next to an Air India 787-8 and Hi Fly A330-900neo.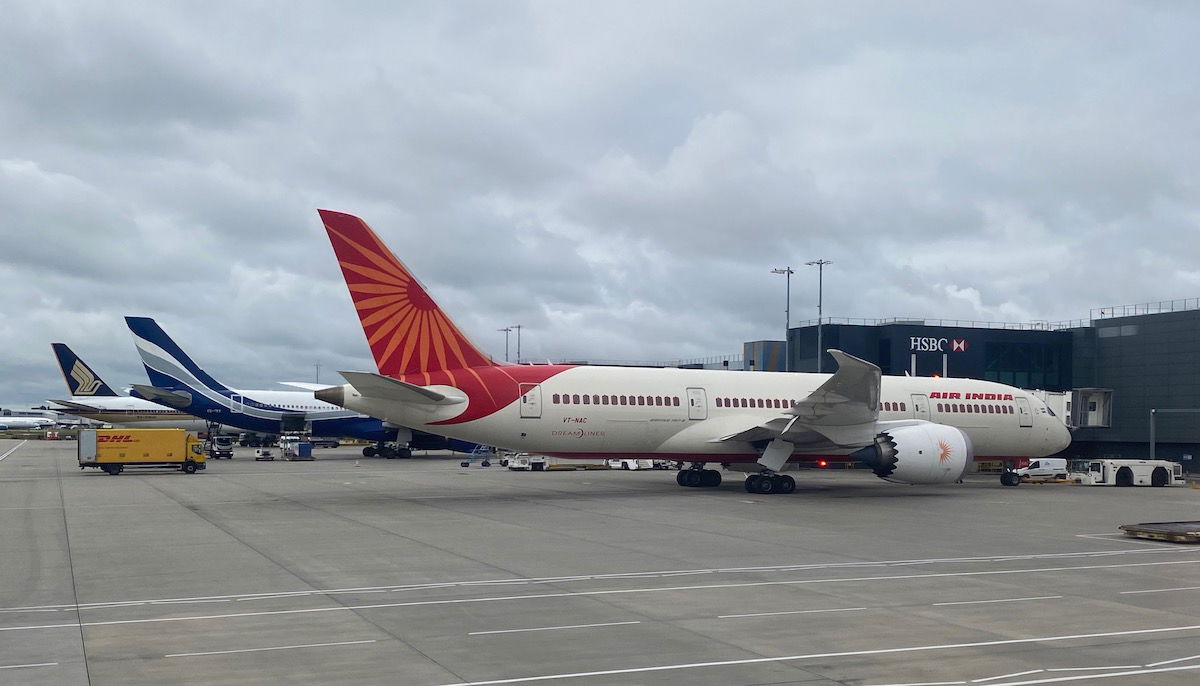 We bid farewell to the crew, and then headed to immigration… an experience I'll save for the next post.
Bottom line
JetBlue's new transatlantic Mint Suite is a phenomenal product, and this was easily one of my most enjoyable transatlantic business class flights ever. If I had to rank what I loved about the flight, it would probably be the crew (who are consistently excellent in JetBlue Mint), then the restaurant-quality food, then the top notch drinks (dirty martinis and iced cappuccinos, yes please!), then the free and fast Wi-Fi and great entertainment, and then the seat and amenities.
While the New York to London market is a tough one to crack, I wish JetBlue all the best, and I can't encourage people enough to give JetBlue a try, and for that matter to support the airline on this route. There's something so refreshing about flying with genuinely consistently awesome employees, and more than anything else that's what sets JetBlue apart here.
The only disappointment of the experience was the lack of a lounge on the ground, but that's something all passengers know of going in. I'm curious if that might be introduced over time.
What do you make of JetBlue's Mint Suite?