To position to Puerto Rico we flew with JetBlue from Tampa to San Juan, and my gosh, JetBlue's economy experience is incredible. It has been years since I've flown JetBlue (simply because I live in Miami, and I avoid Fort Lauderdale Airport — fortunately JetBlue now flies to Miami), and I was really impressed, particularly because I got to fly an A320 with an updated cabin.
How I booked our JetBlue tickets
Ford and I were starting our trip in Tampa (so that Winston could spend some time with his grandparents), and JetBlue conveniently flies nonstop between Tampa and San Juan. We booked flight B62751, departing Tampa at 9:30AM and arriving in San Juan at 12:29PM (the flight is blocked at 2hr59min).
I have a bunch of JetBlue TrueBlue points, so I redeemed those for our tickets. The ticket cost just over 10,000 TrueBlue points one-way, as the airfare was around $150 per person. Since I have the JetBlue Plus Card, I also got a 10% refund on redeemed points.
We also paid $34 per person to upgrade to Even More Space seats, which is JetBlue's extra legroom economy seating. Even More Space includes:
3-6″ extra legroom (standard seats have 32″ of pitch, standard Even More Space seats have 35″ of pitch, and exit row Even More Space seats have 38″ of pitch)
Even More Speed fast track security at eligible airports (though if you have TSA PreCheck, this is a moot point)
Early boarding, including early access to overhead bins
JetBlue Even More Space check-in & boarding
We got to Tampa Airport at around 7AM, for our 9:30AM flight (we left early to avoid traffic, and figured we might as well work from the airport). We had a checked bag (don't ask), but fortunately there wasn't much of a line, so we had our boarding passes and our bag checked within a couple of minutes. Thanks to having the JetBlue Plus Card, I didn't have to pay for the checked bag.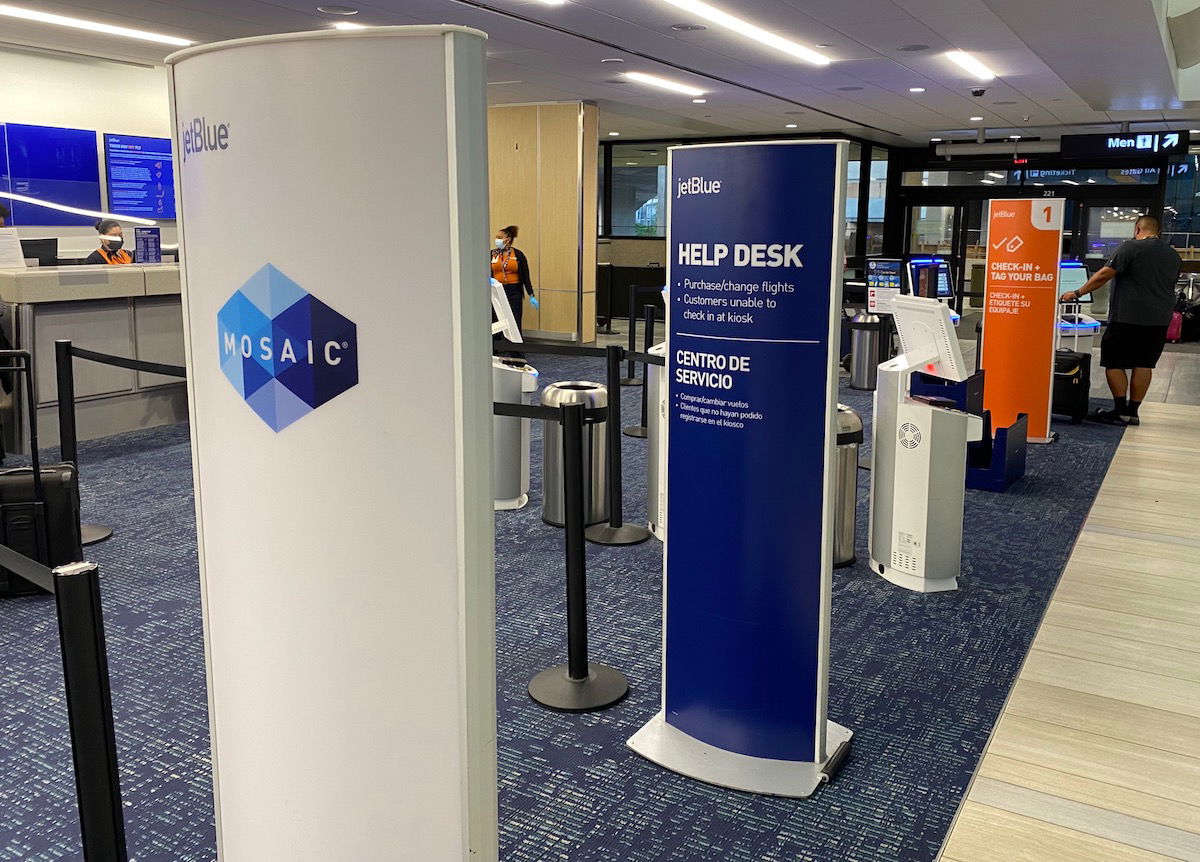 We proceeded to the A Concourse, where we cleared security within a few minutes. The terminal was eerily quiet, given that I feel like most airports in Florida have been similarly busy to how they were pre-pandemic.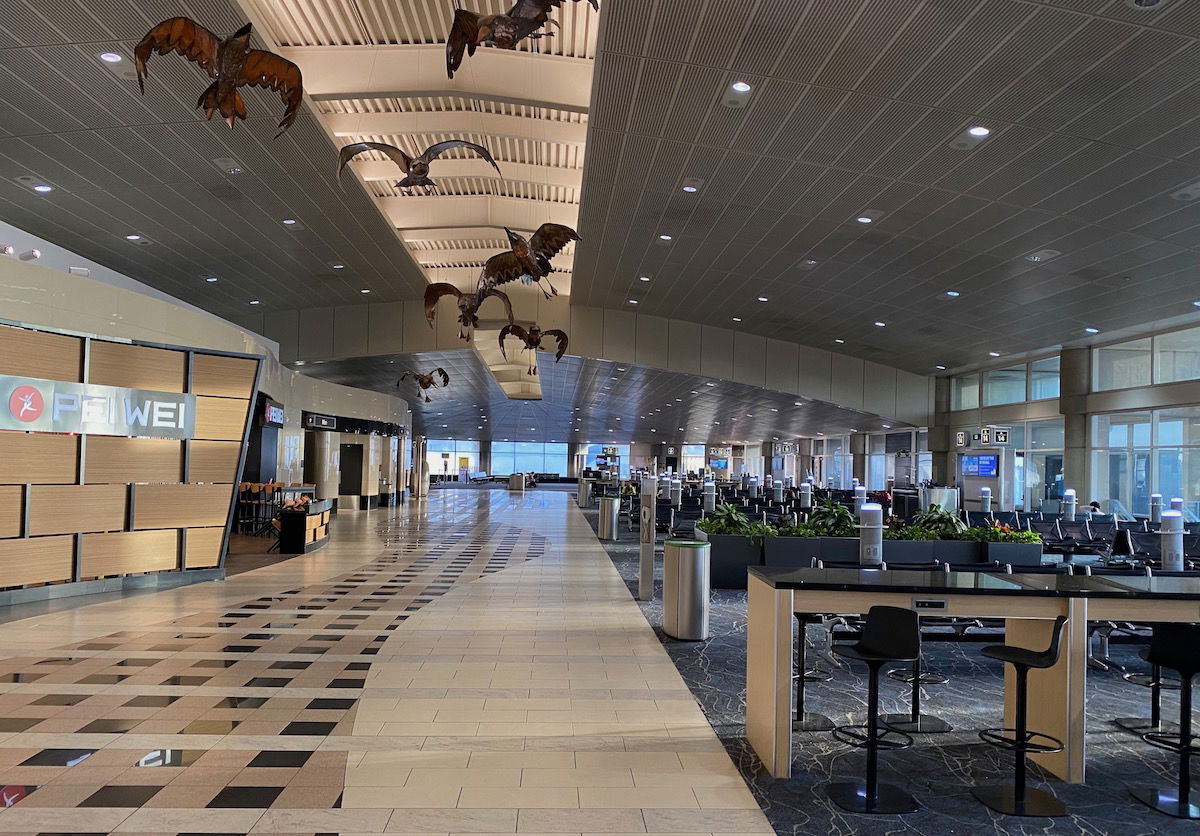 Our flight was departing from gate A14, and boarding was scheduled for 8:55AM.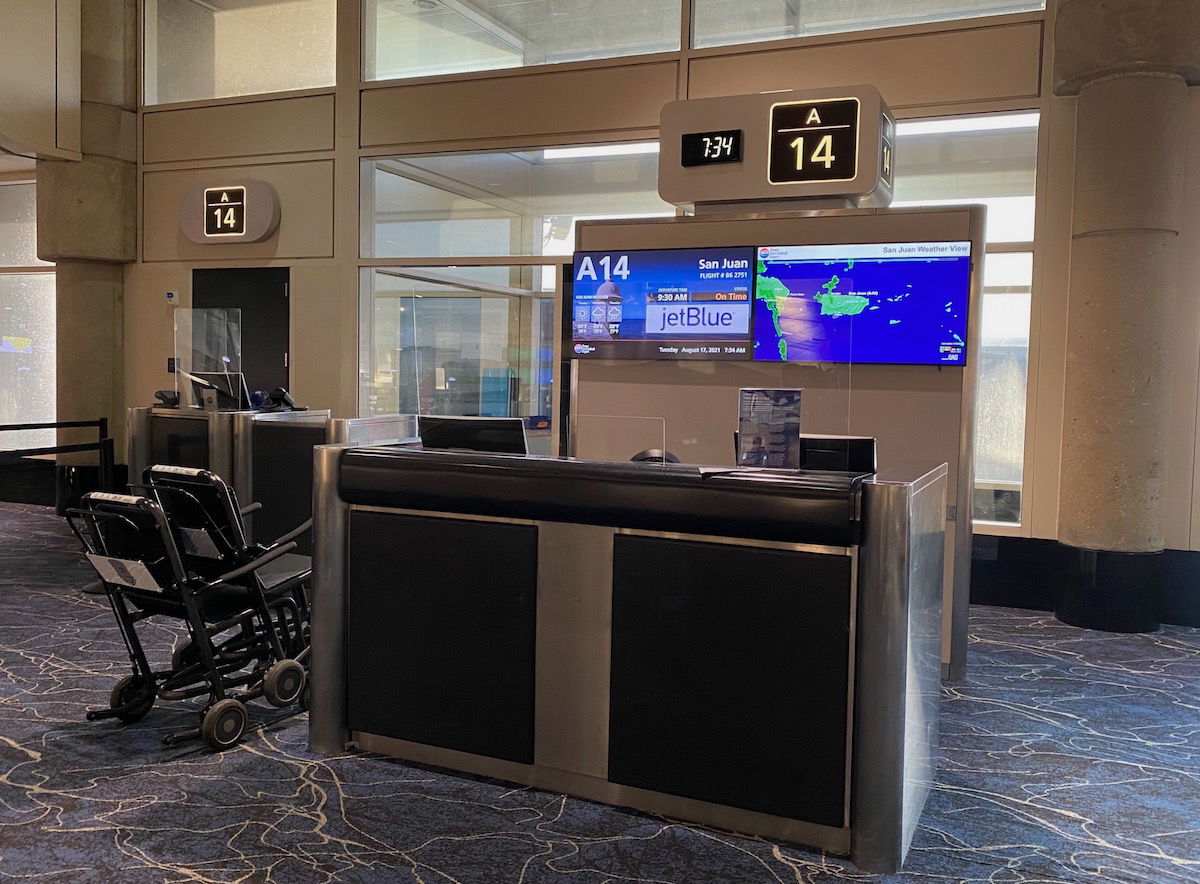 Our flight was operated by N805JB, a roughly nine year old Airbus A320. The plane arrived from San Juan at around 8AM, so everything was running on schedule.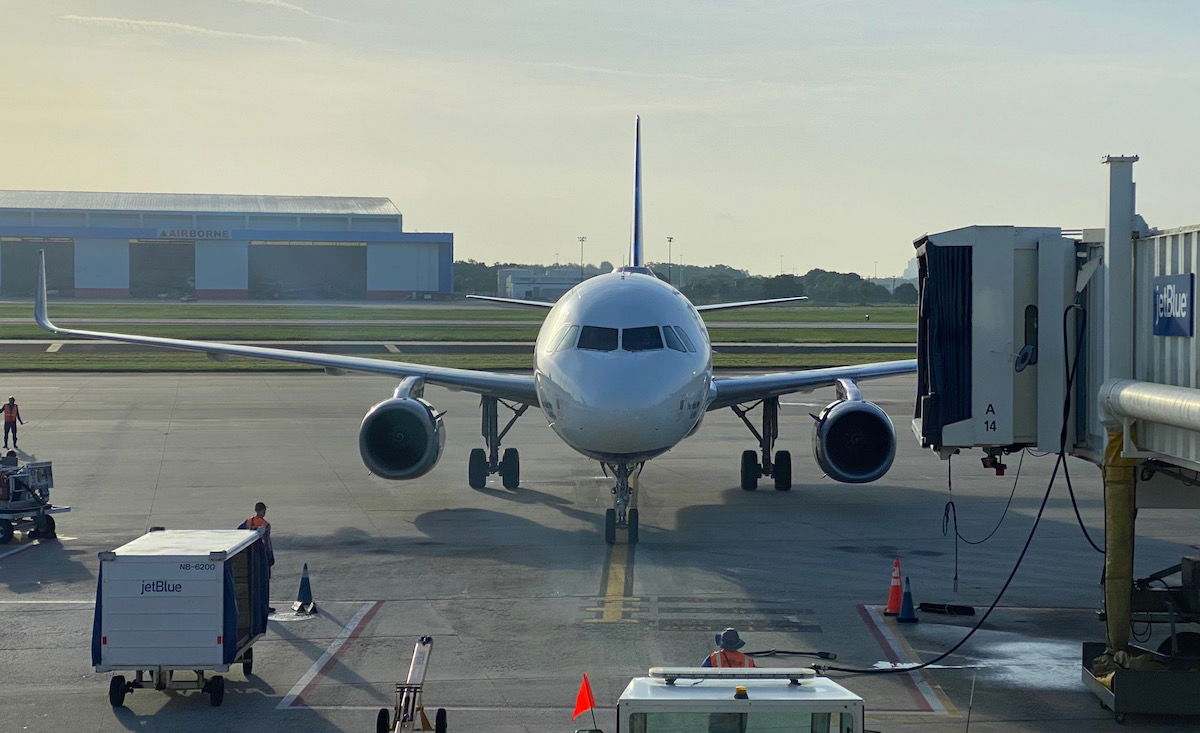 Boarding started at 8:55AM, with passengers requiring extra time being invited to board first, followed by Mosaic members, following by Even More Space customers. As I entered the plane, I found it interesting how prominently JetBlue displays information on the fuselage about HEPA filters, as well as Viasat Fly-Fi connectivity.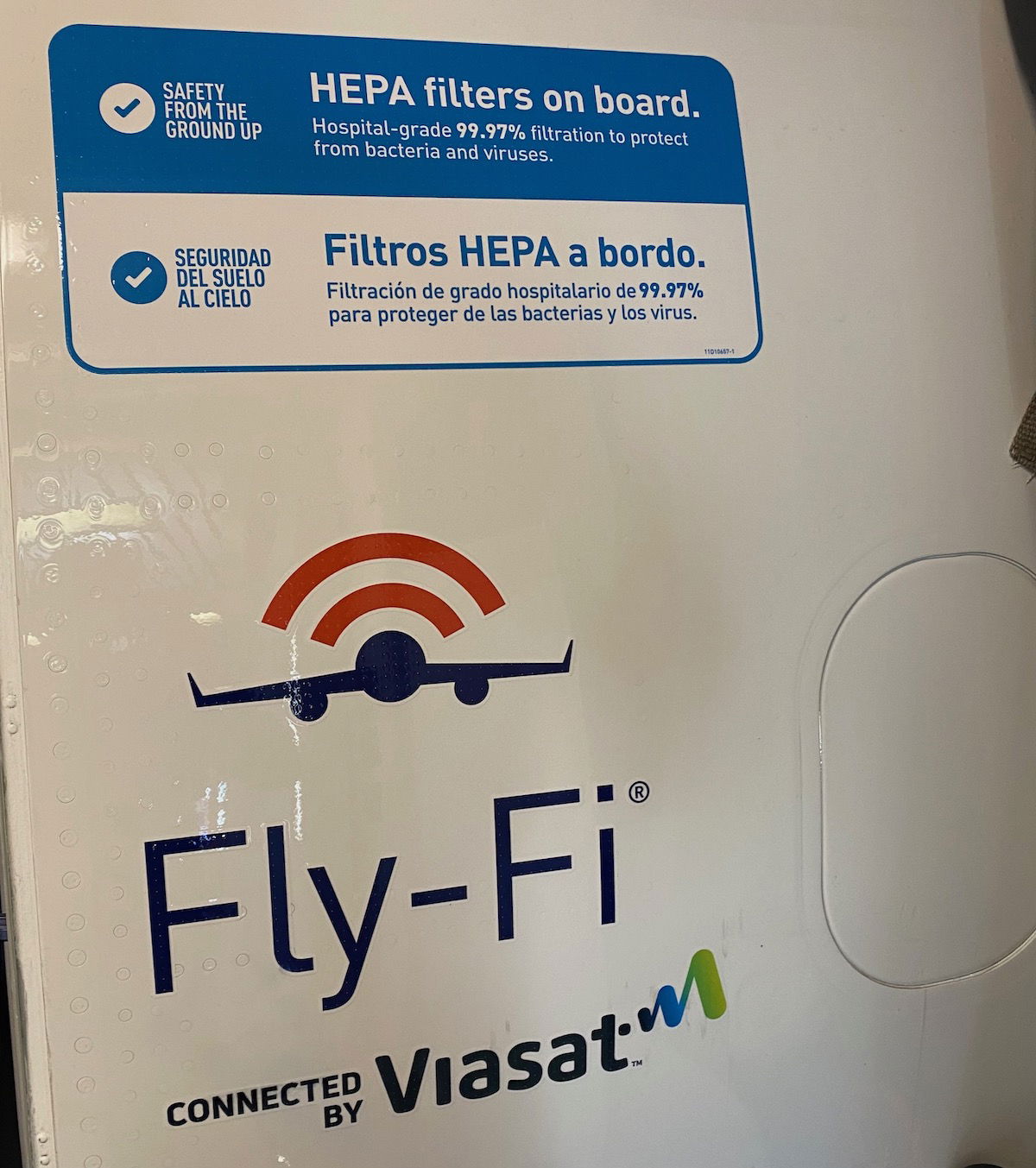 JetBlue A320 restyled cabin layout & seats
This was my first time flying a restyled JetBlue Airbus A320, and I was impressed. The plane featured a total of 162 seats, spread across 27 rows in a 3-3 configuration. JetBlue managed to add two rows of seats while reconfiguring these planes, but the airline did so in a surprisingly pleasant way.
You can generally tell if you're on a refurbished plane based on the seatmap — if it has 27 rows you have the new configuration, while if it has 25 rows you have the old configuration.
There were seven rows of Even More Space seats — the first five rows of the plane, and then the two exit rows. The Even More Space seats up front featured 35″ of pitch, so the legroom seemed excellent. I also thought the seat finishes were quite nice.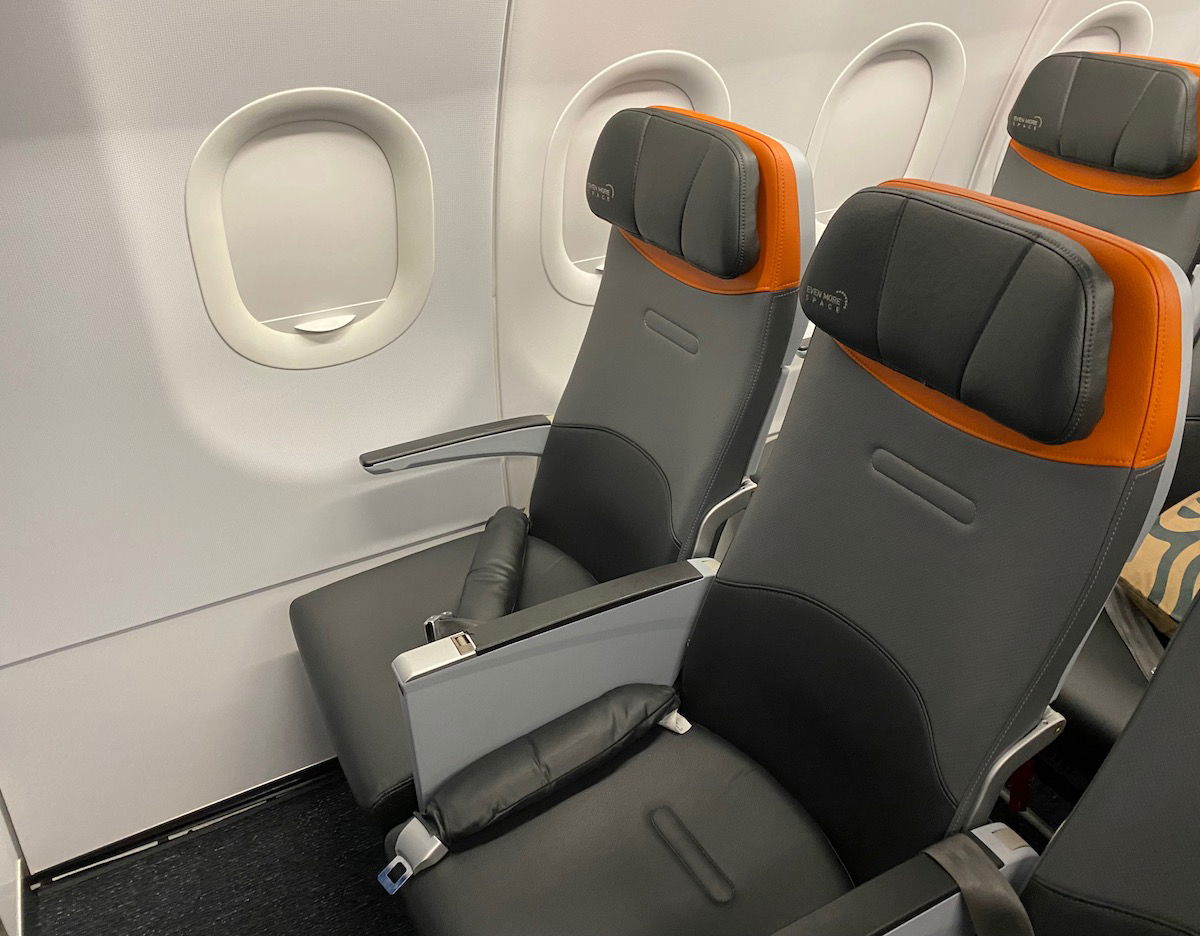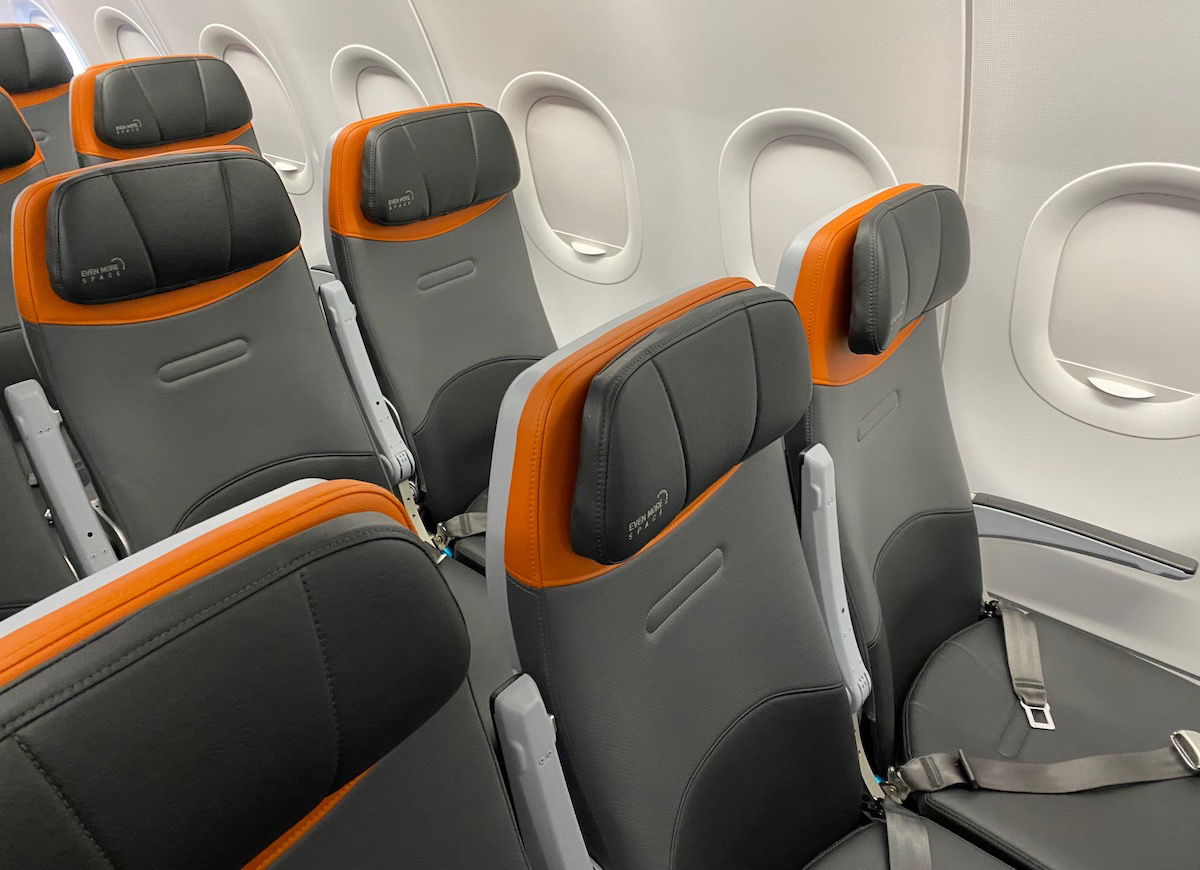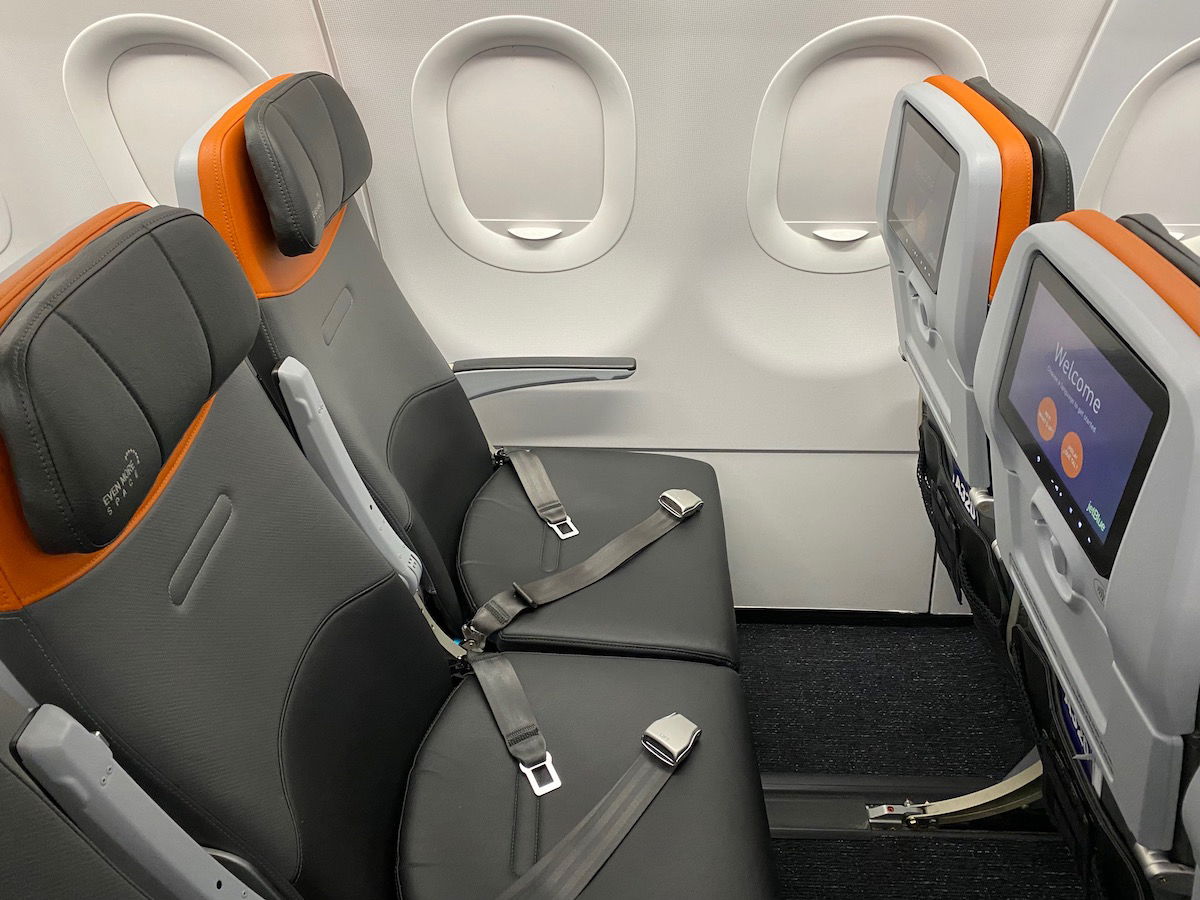 Even JetBlue's regular economy seats had 32″ of pitch, which is still excellent. There were four rows of these standard seats between the first five rows of Even More Space seats and the exit row seats.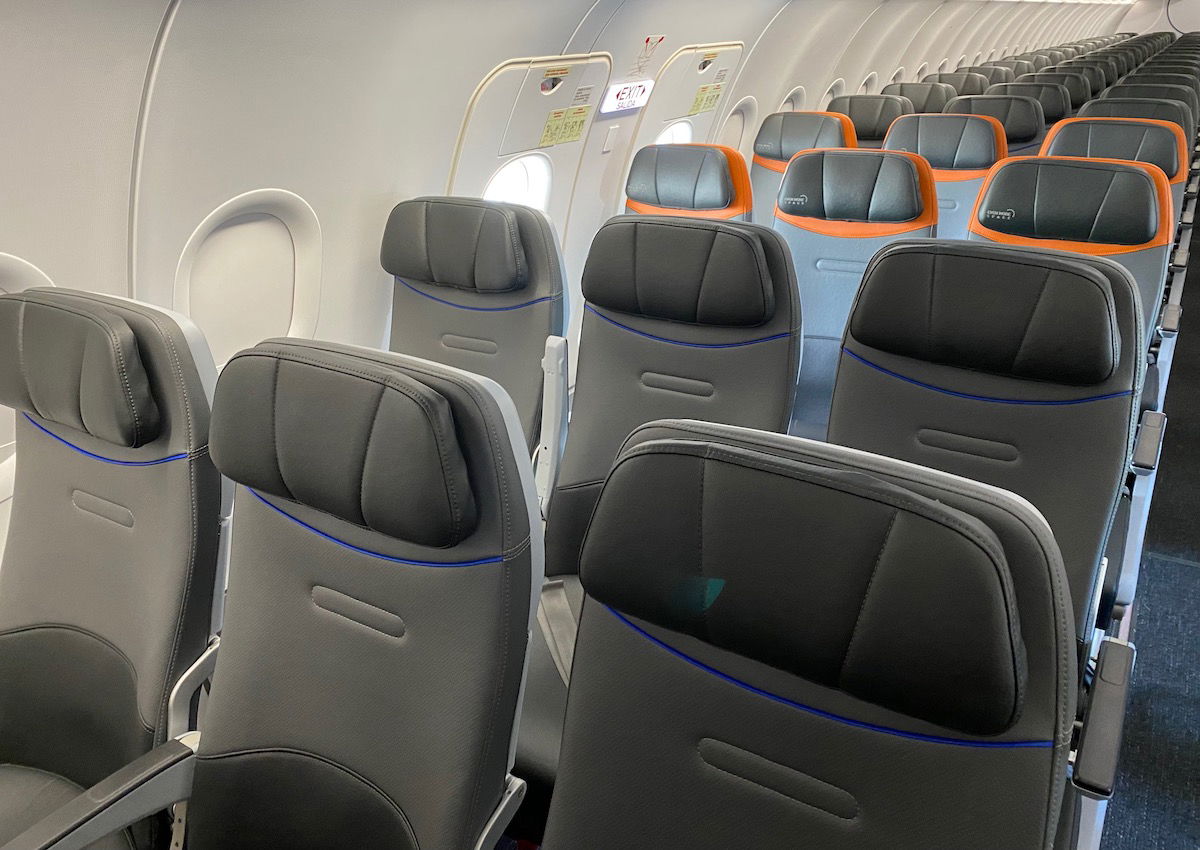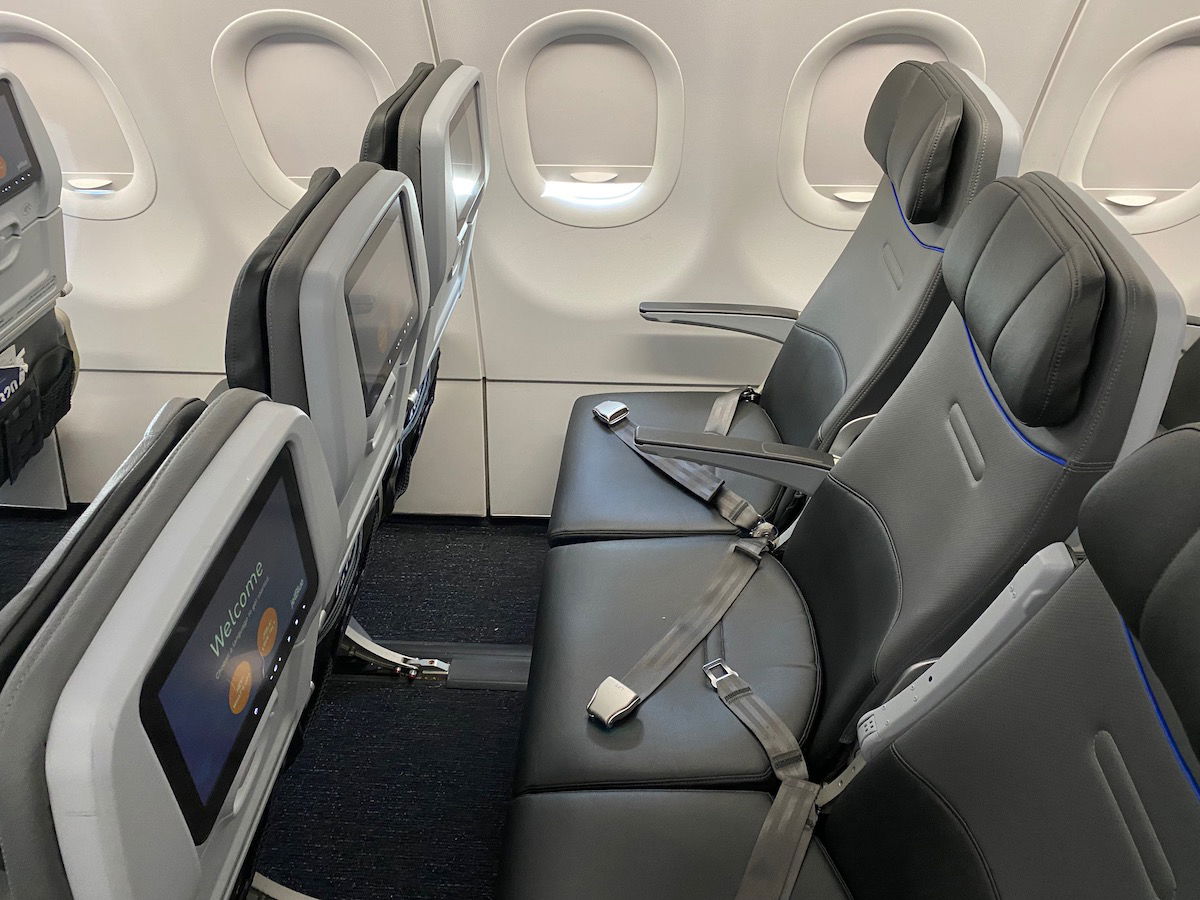 I assigned us seats 11A & 11C, the aisle and window seats in the second exit row (with recline), on the left. We were the only people seated in the exit row, and for that matter the flight had a light load, as it was maybe one-third full.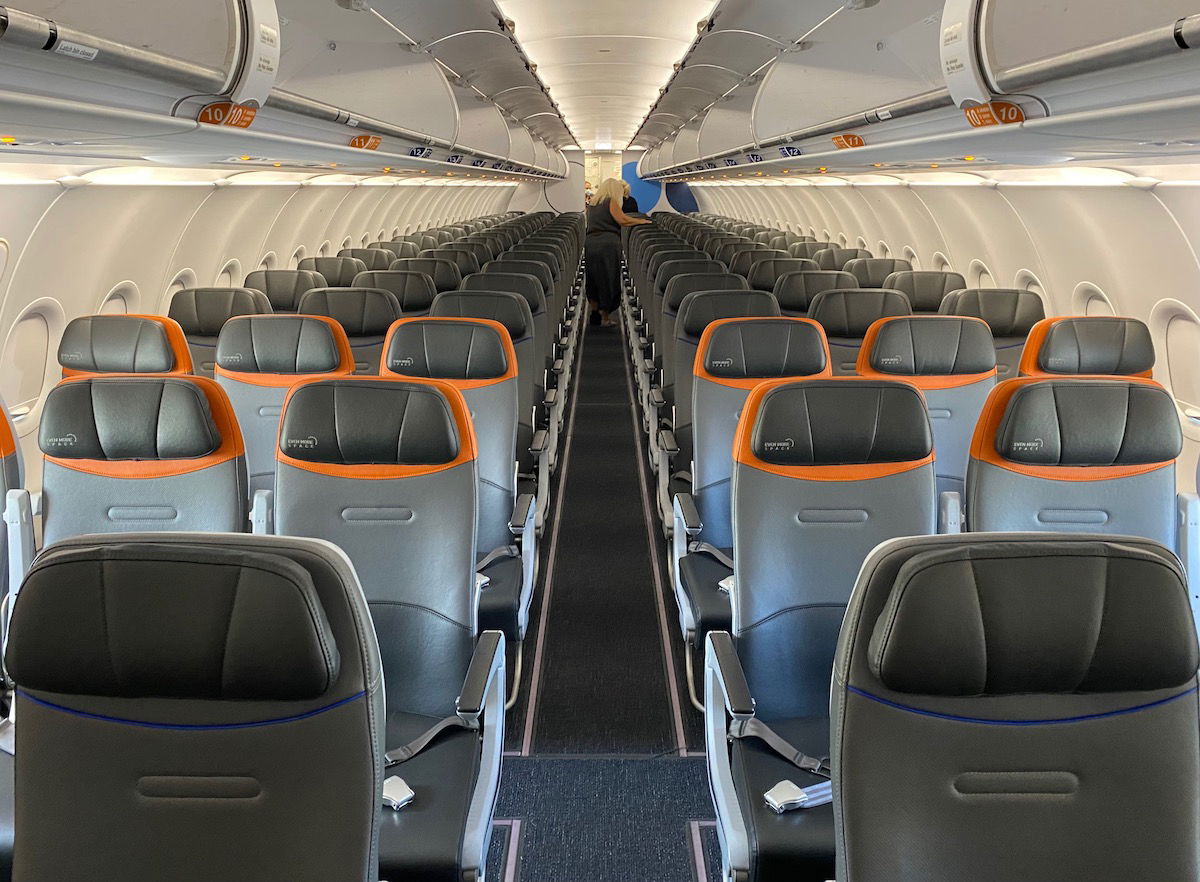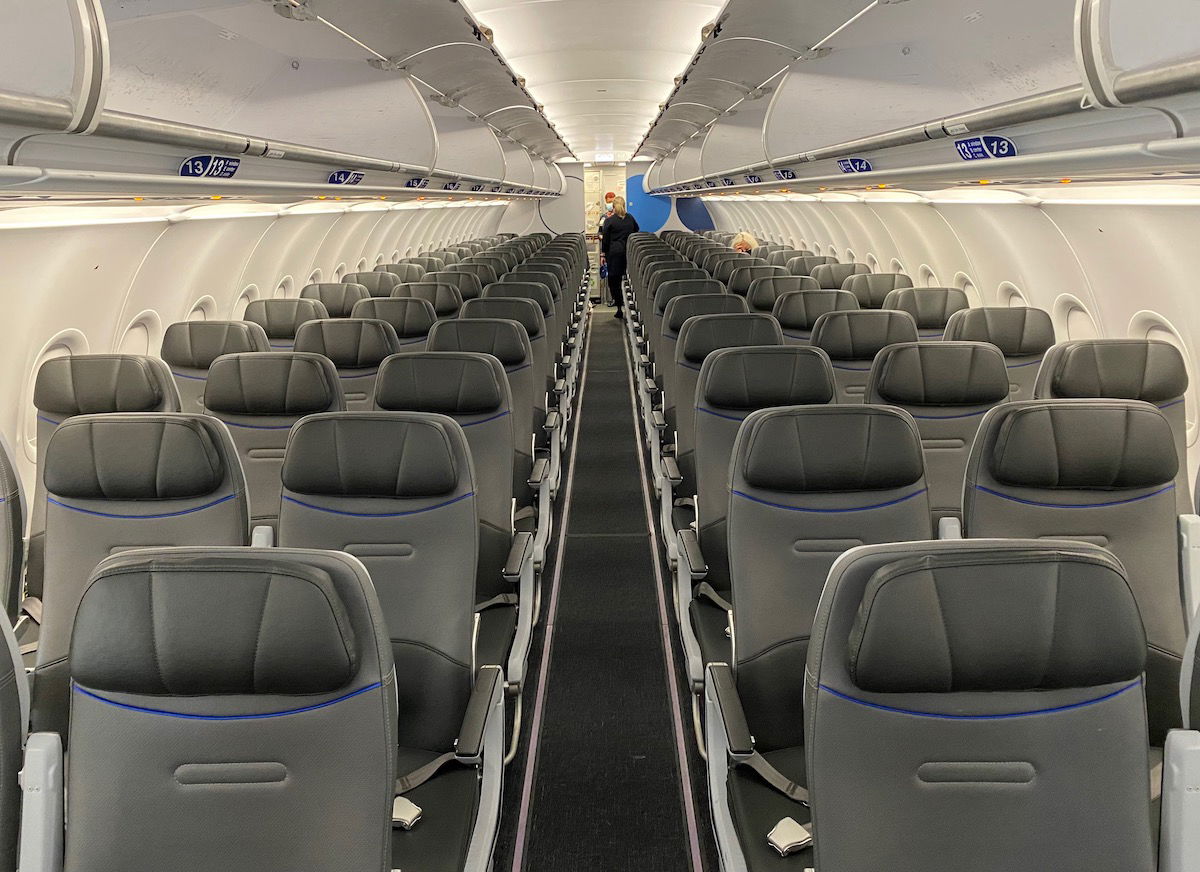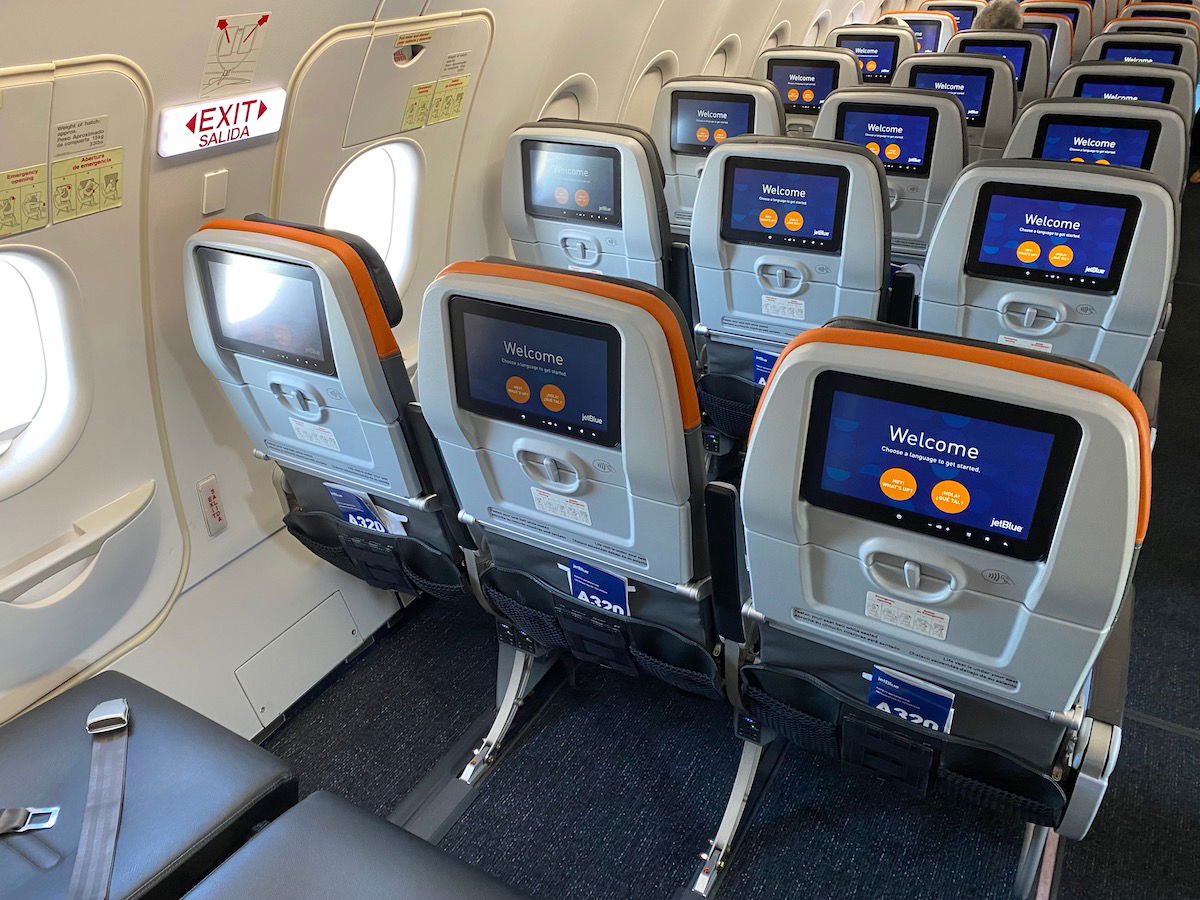 JetBlue A320 Even More Space seat features
As you'd expect, legroom was excellent in the exit row.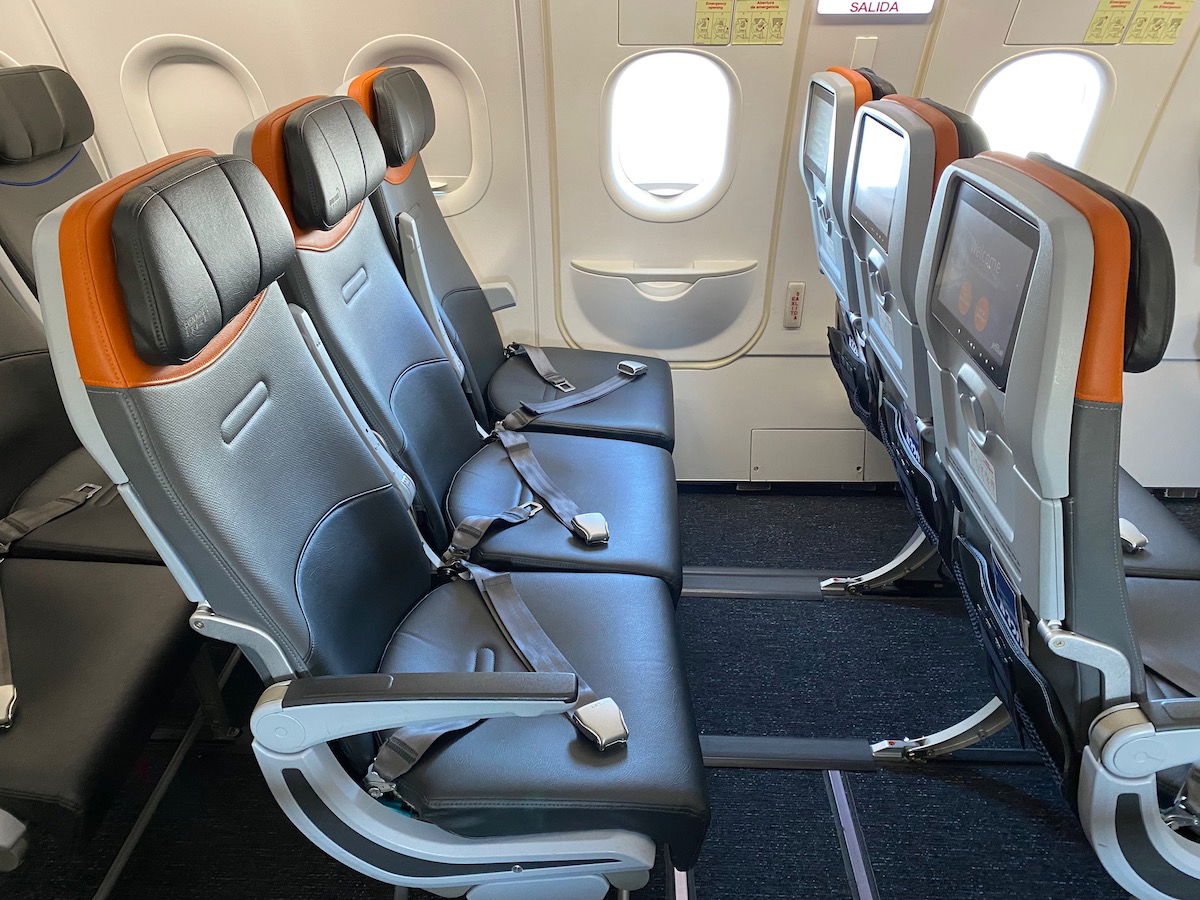 Even though JetBlue has gone for thinner seats (as most airlines have), I didn't find the seats to be uncomfortable at all. I also really liked the headrest, which could be nicely adjusted into a "U" shape for extra comfort.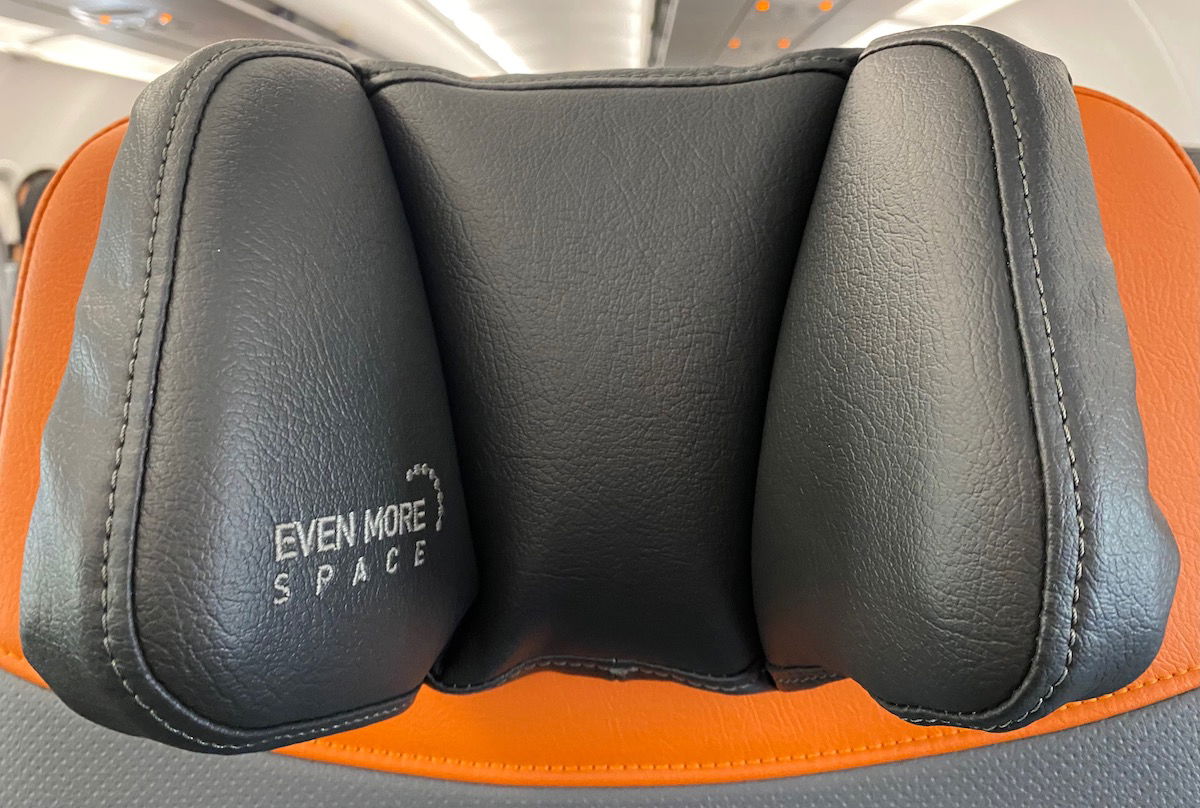 But even beyond that, maybe I've just been flying American Airlines too much, but it was so refreshing to be on a narrow body plane that actually had an appealing interior.
There was a 10.1″ HD seatback touchscreen television at each seat.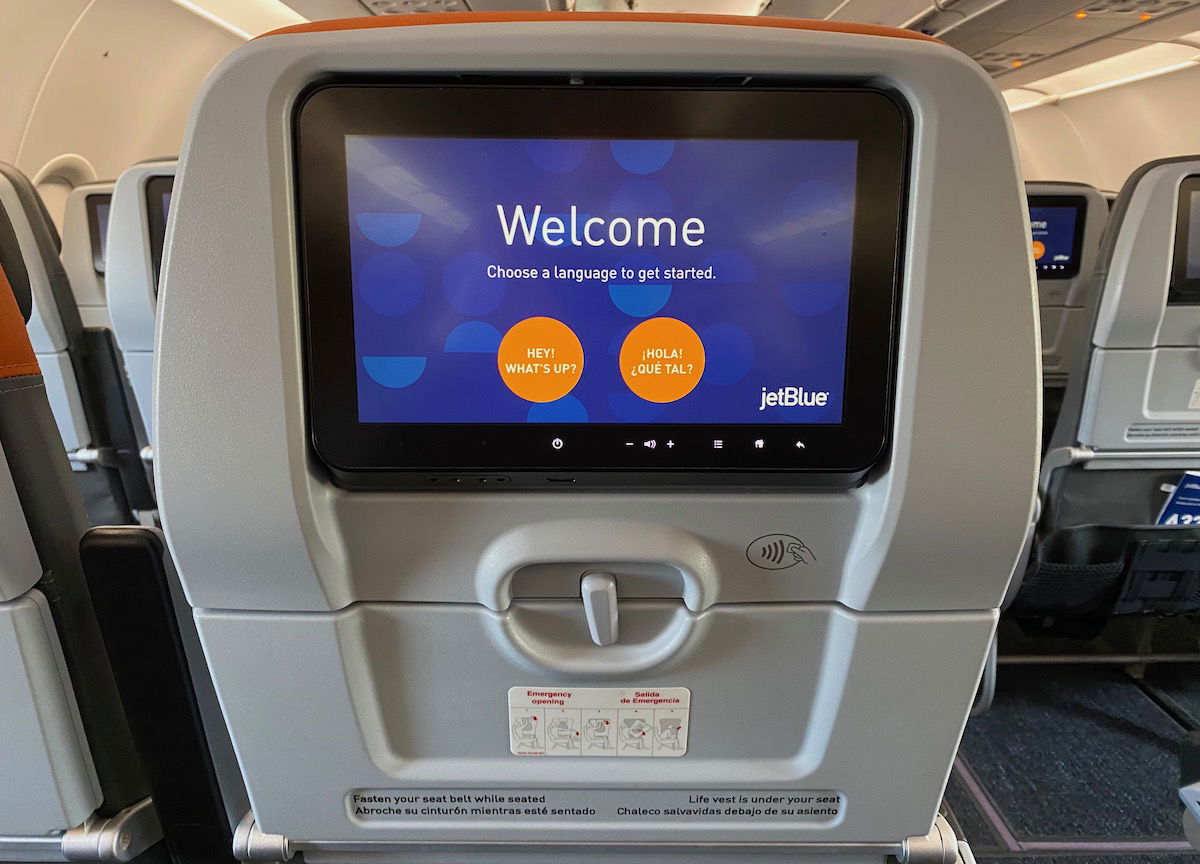 There was both a 110v and USB outlet at each seat, to allow you to stay charged.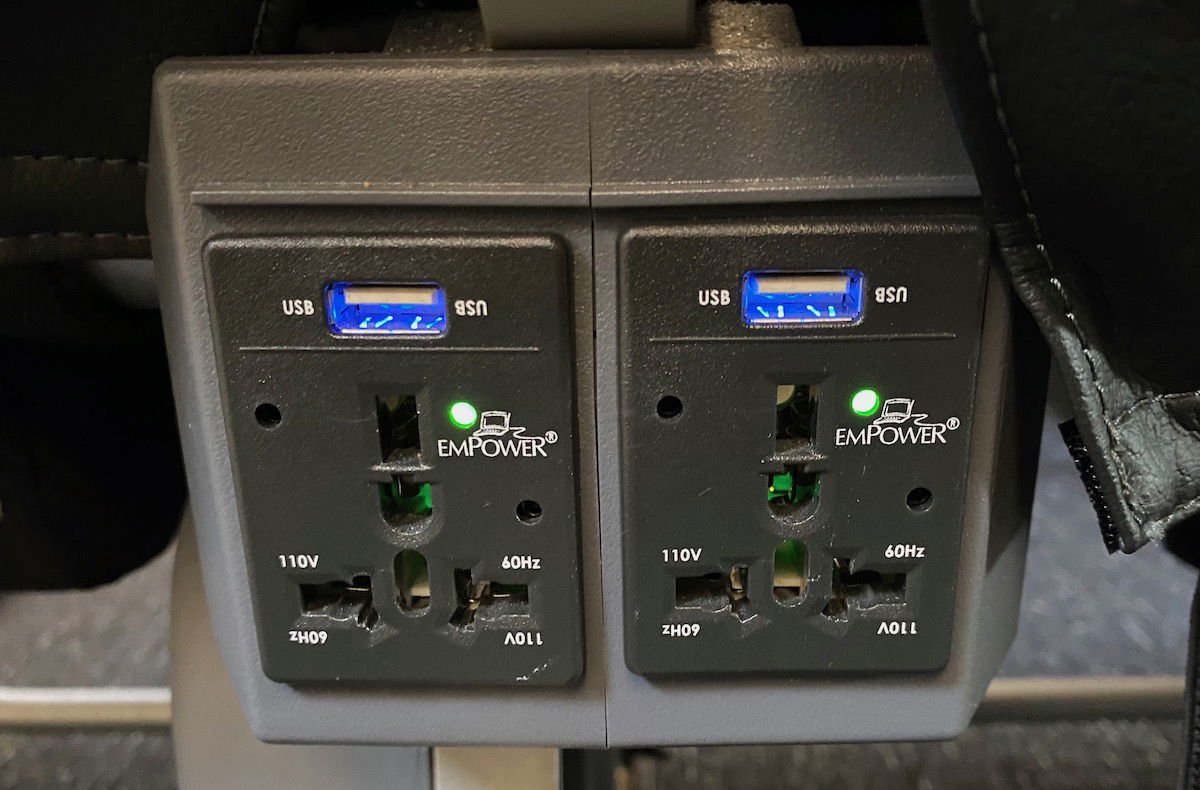 The seatback pocket was functionally designed — in addition to there being a main pocket, there were three smaller pouches, perfect for a phone, glasses, etc.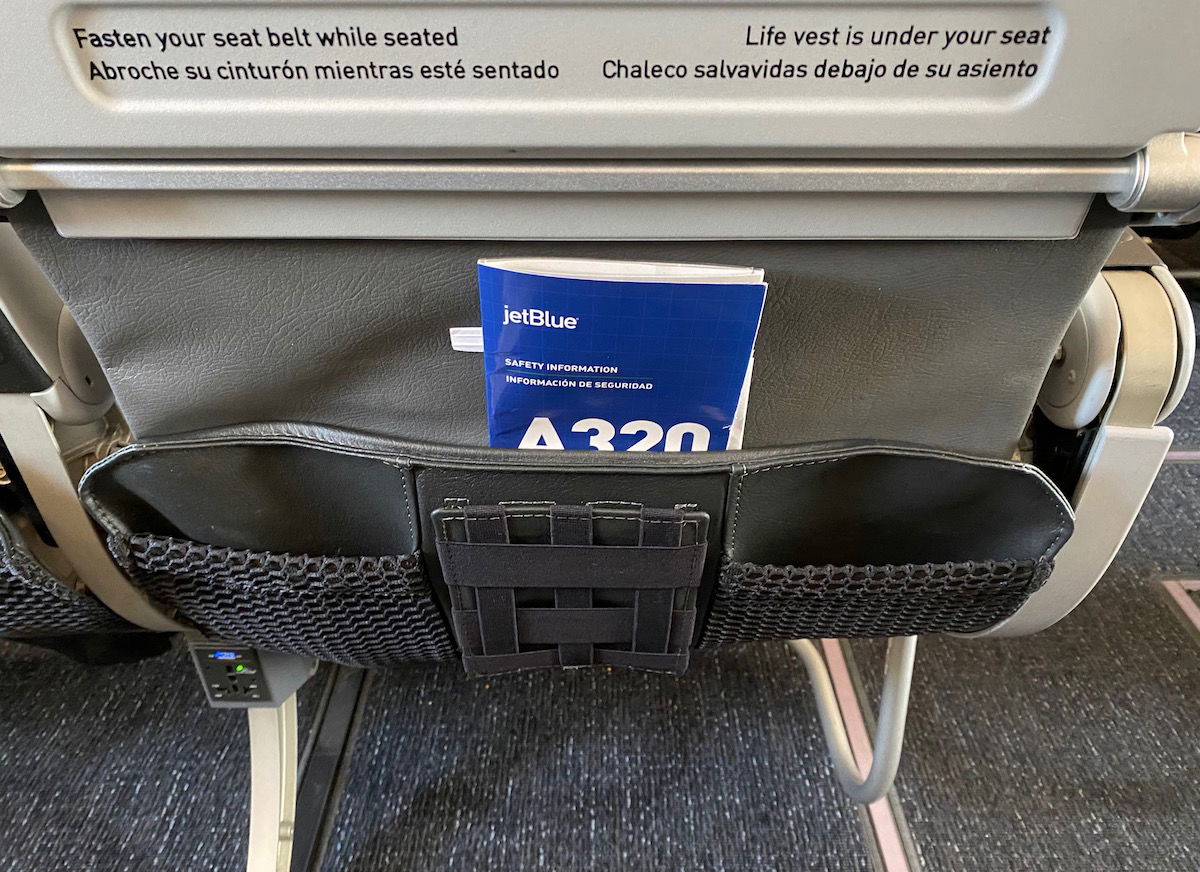 The tray table was pretty standard (that stain seemed to be permanent, so it wasn't a lack of cleaning).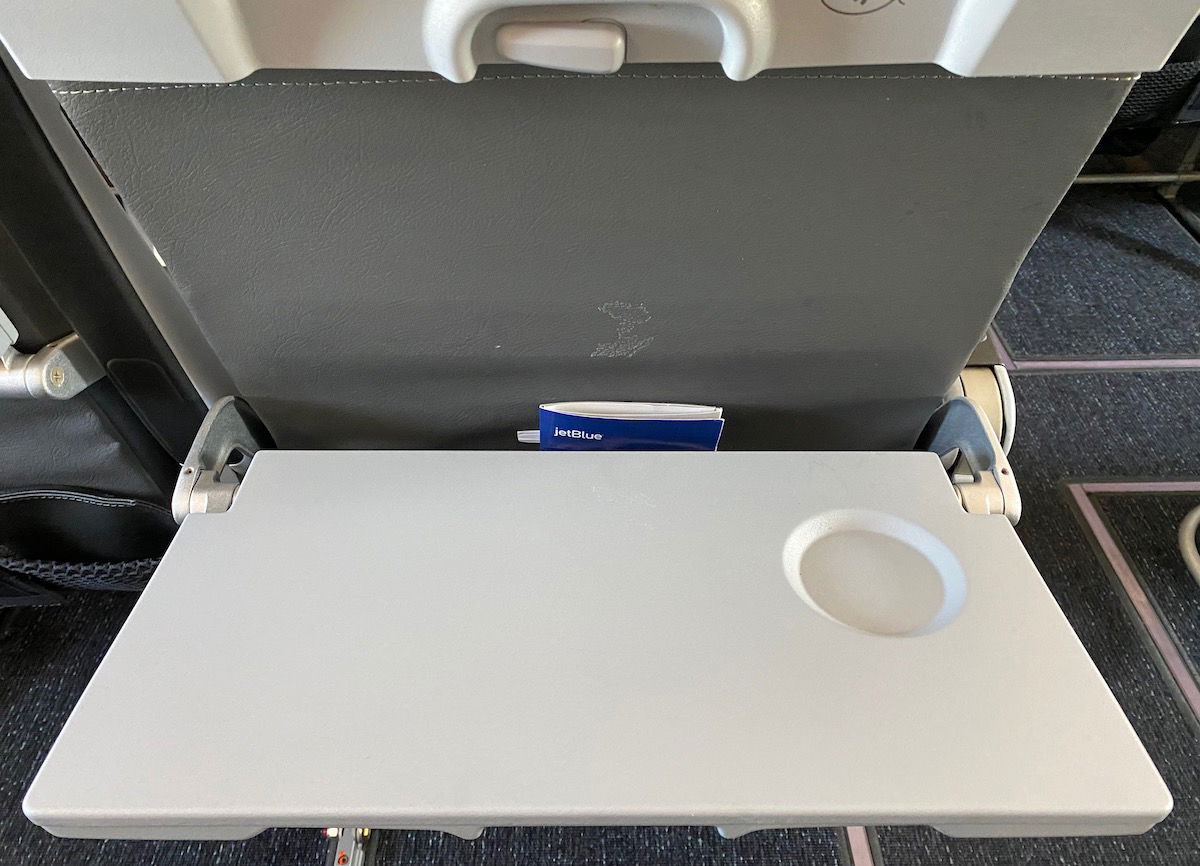 In theory there also seemed to be some sort of a contactless payment option, though I'm not sure the practical use for that.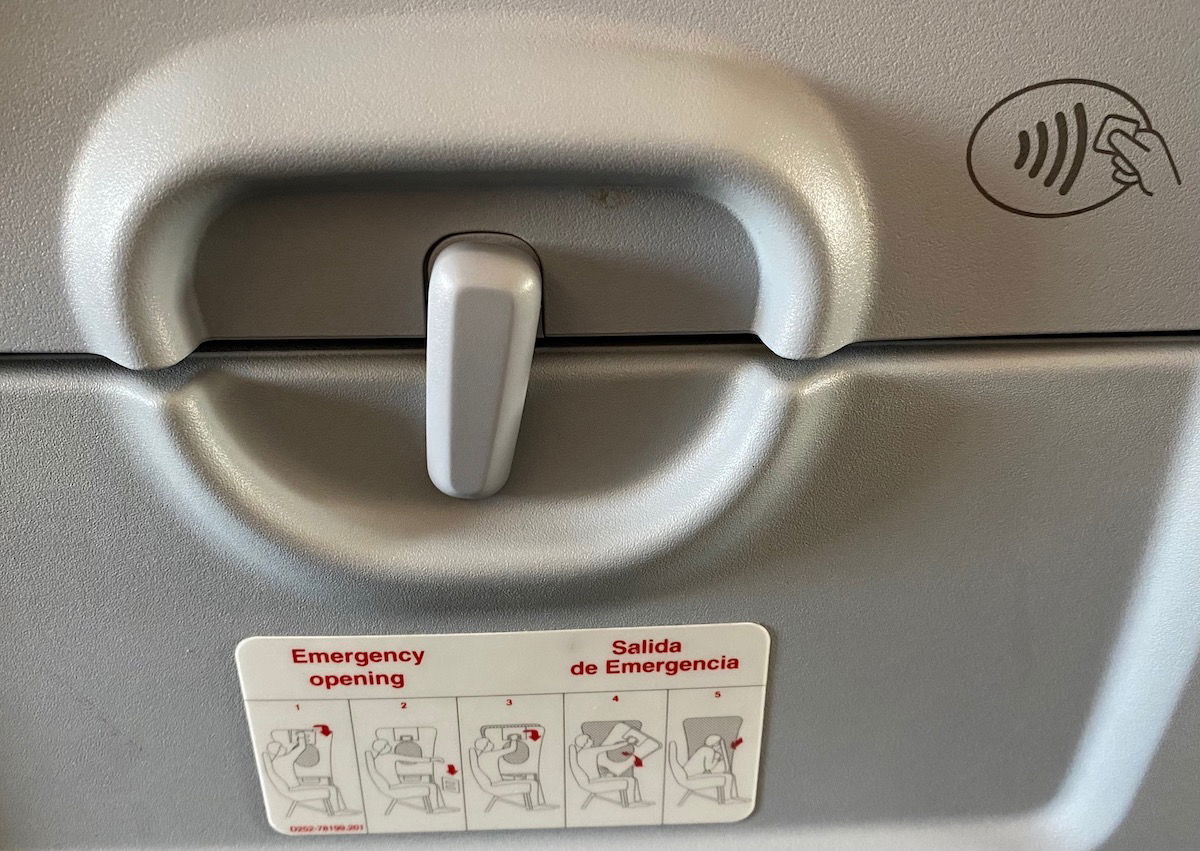 The overhead console had both reading lights and individual air nozzles.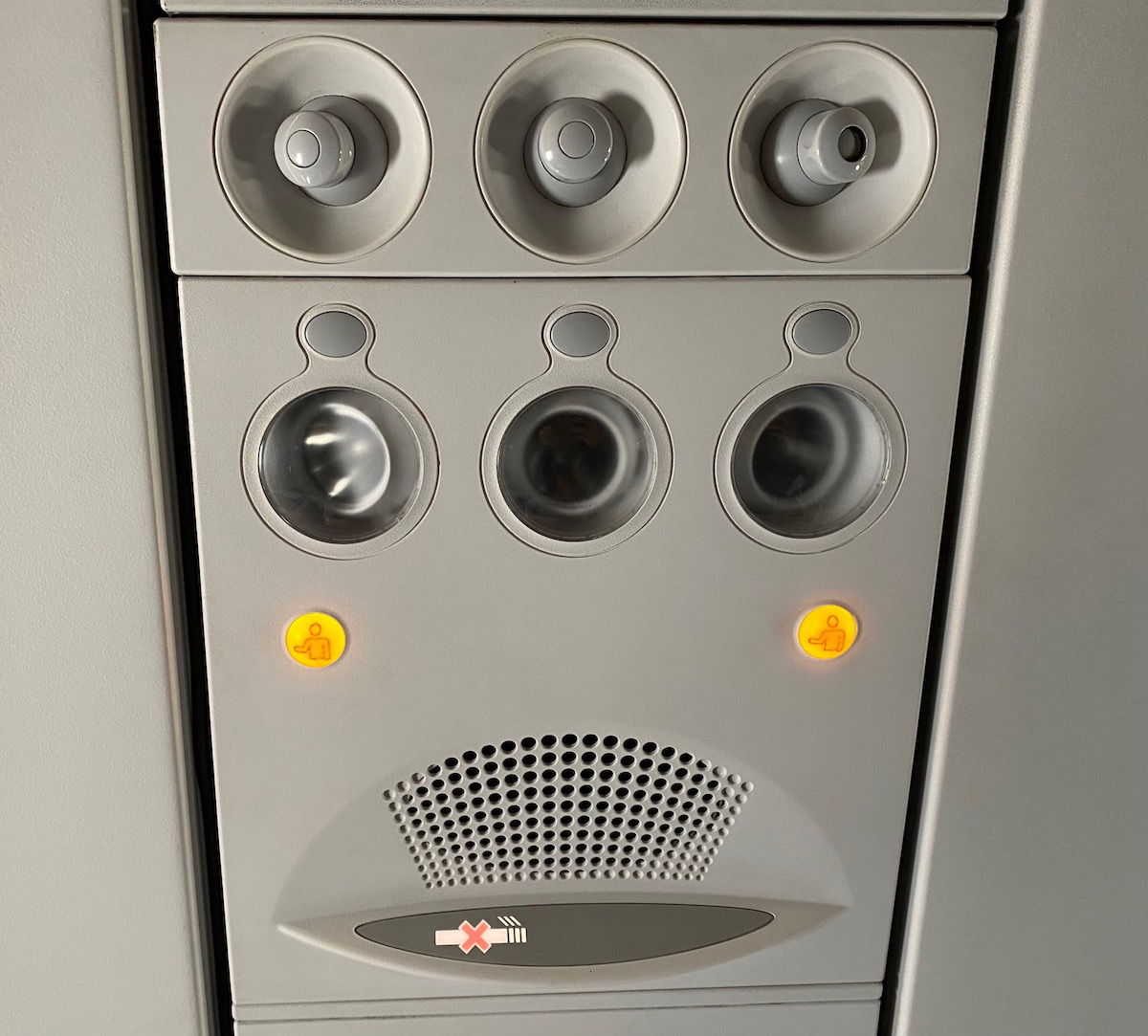 The cabin also had blue mood lighting, which was calming.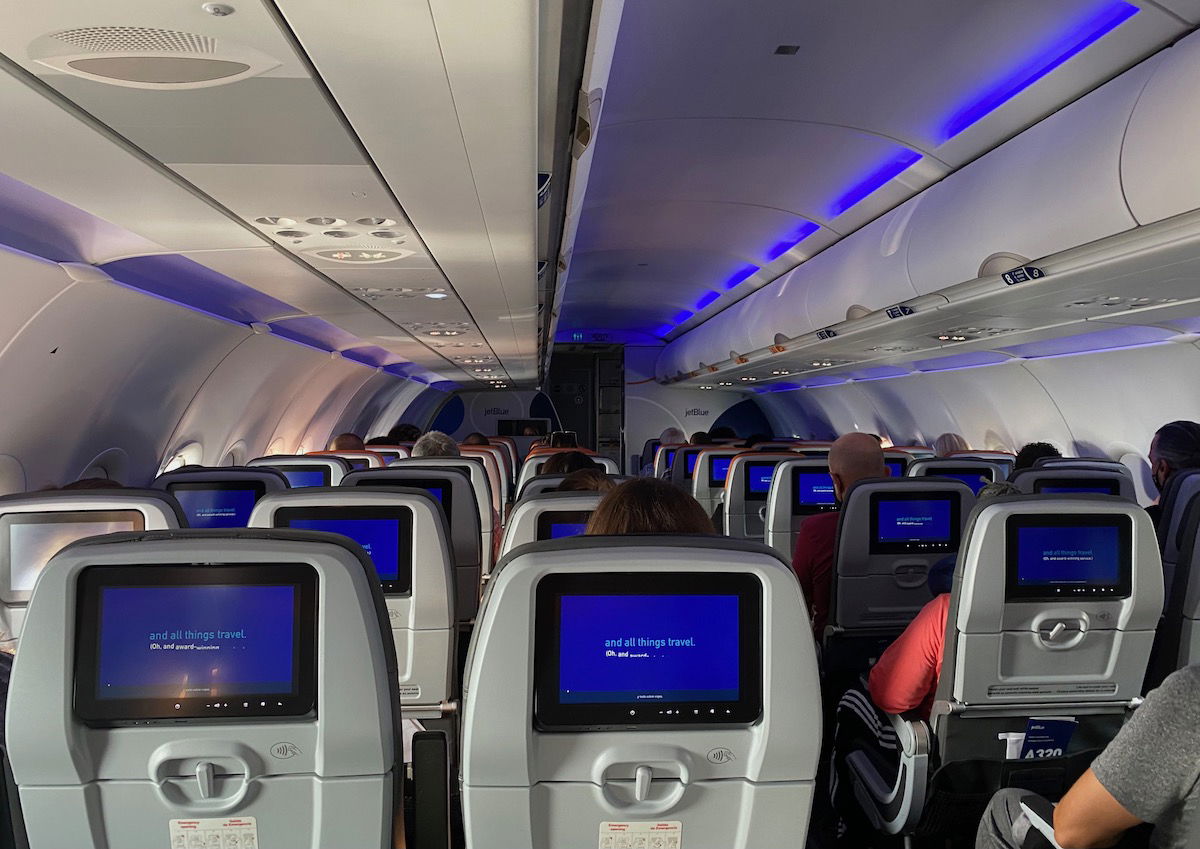 JetBlue inflight entertainment
There was a personal monitor at my seat, with an incredible selection of movies and TV shows. You can use your phone as a remote control so that you don't actually have to touch the screen.
While that's a cool concept, I thought this was ultimately more trouble than it was worth. Essentially a simple controller-looking screen shows up on your phone, and then you can scroll. Unless you have major germ concerns, I'm not sure it's worth the trouble.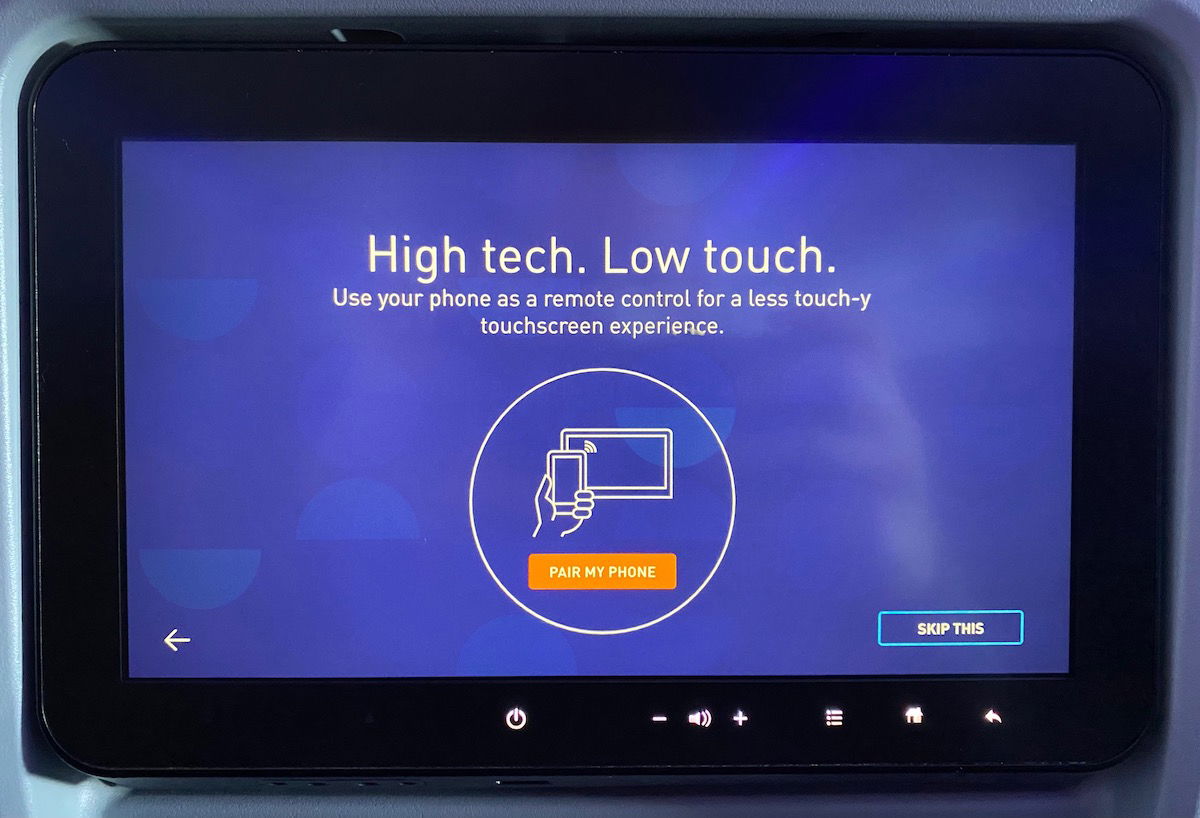 JetBlue also has a customization option, which some people might like, and others might find creepy. Essentially your screen greets you by your first name, and asks you to confirm that it's you (in case you're wondering about the name, Ford's legal first name is John, and I guess we had swapped seats).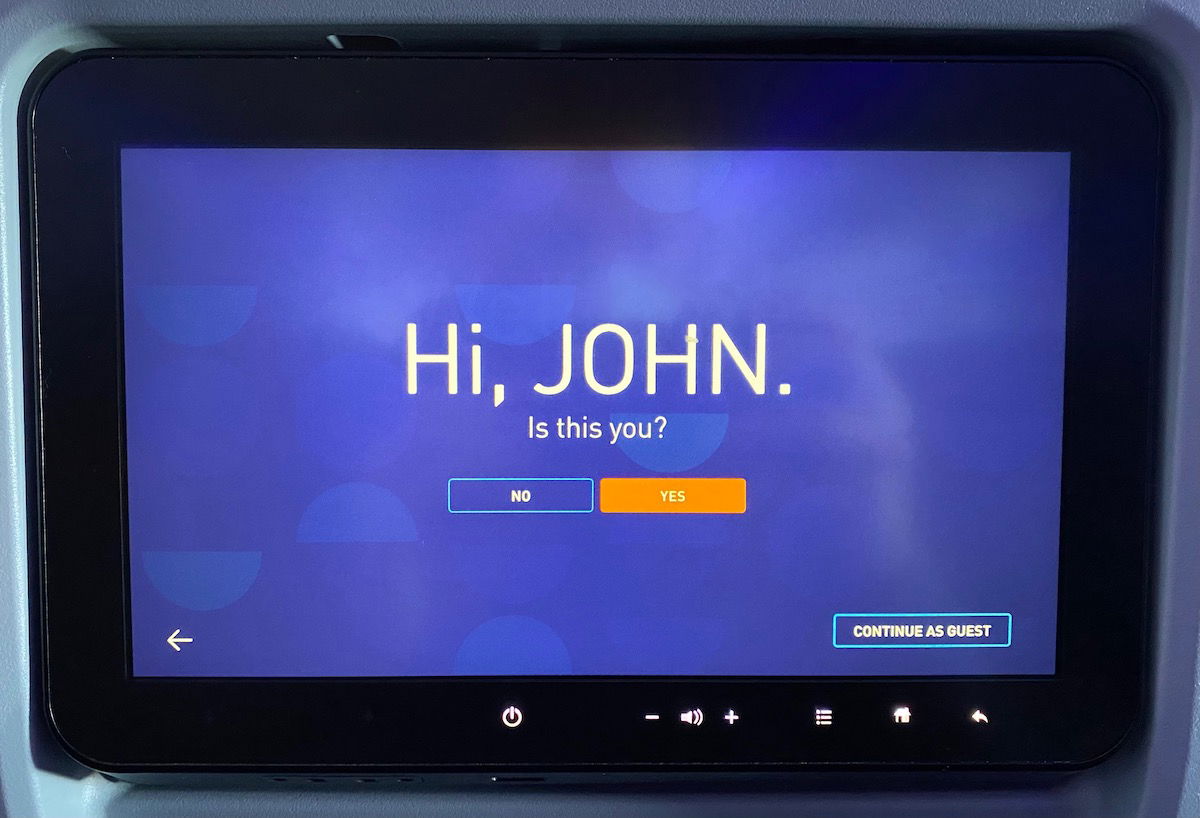 If you confirm that it is you, you're asked to enter your last name and date of birth. Alternatively you can just continue as a guest.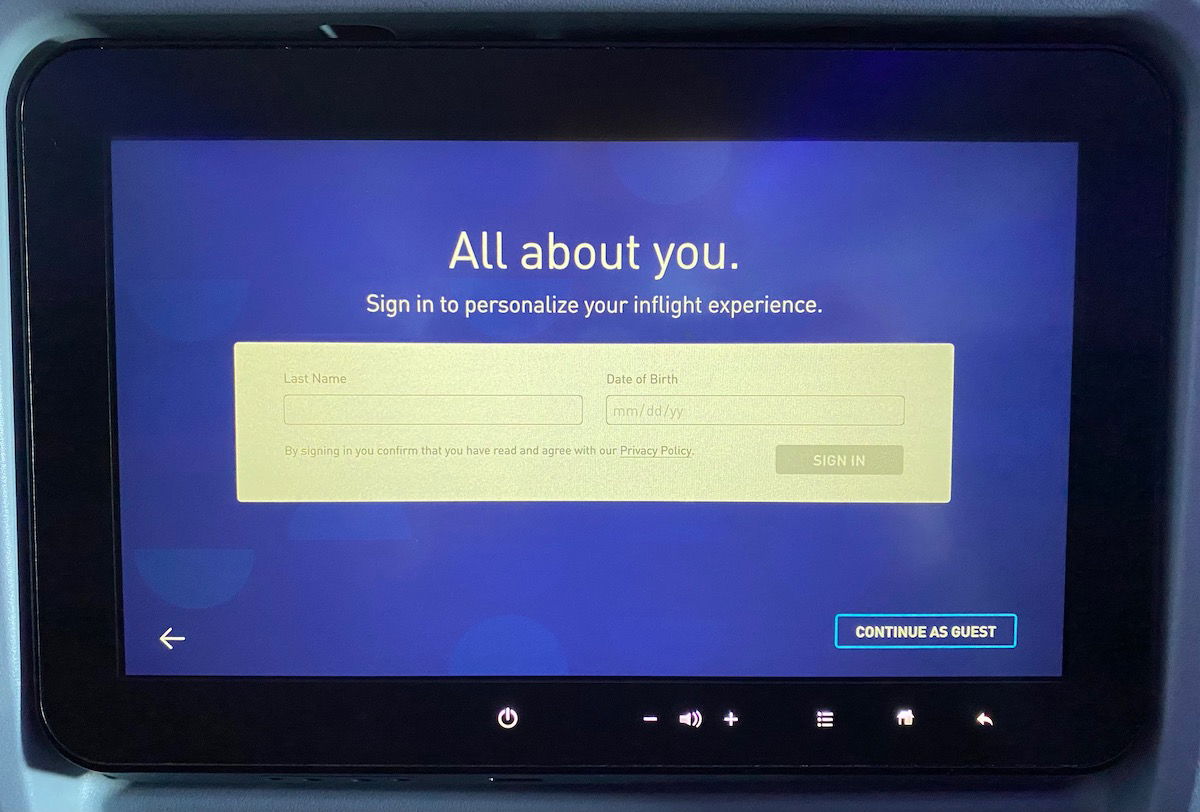 In theory I can appreciate the value in personalization, but the problem was that even when logged in, I'm not sure what exactly was different?
Anyway, JetBlue's entertainment selection is simply top notch. In addition to DirecTV, you have an endless library of movies, TV shows, and more.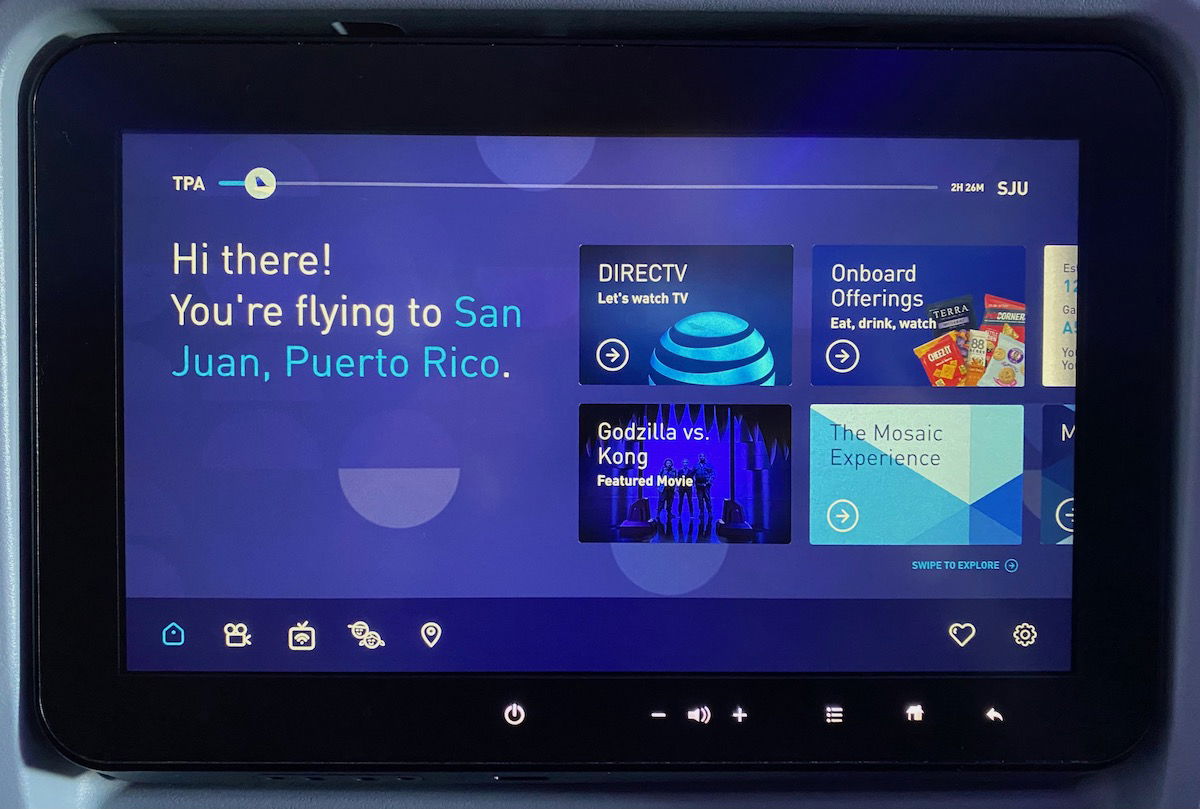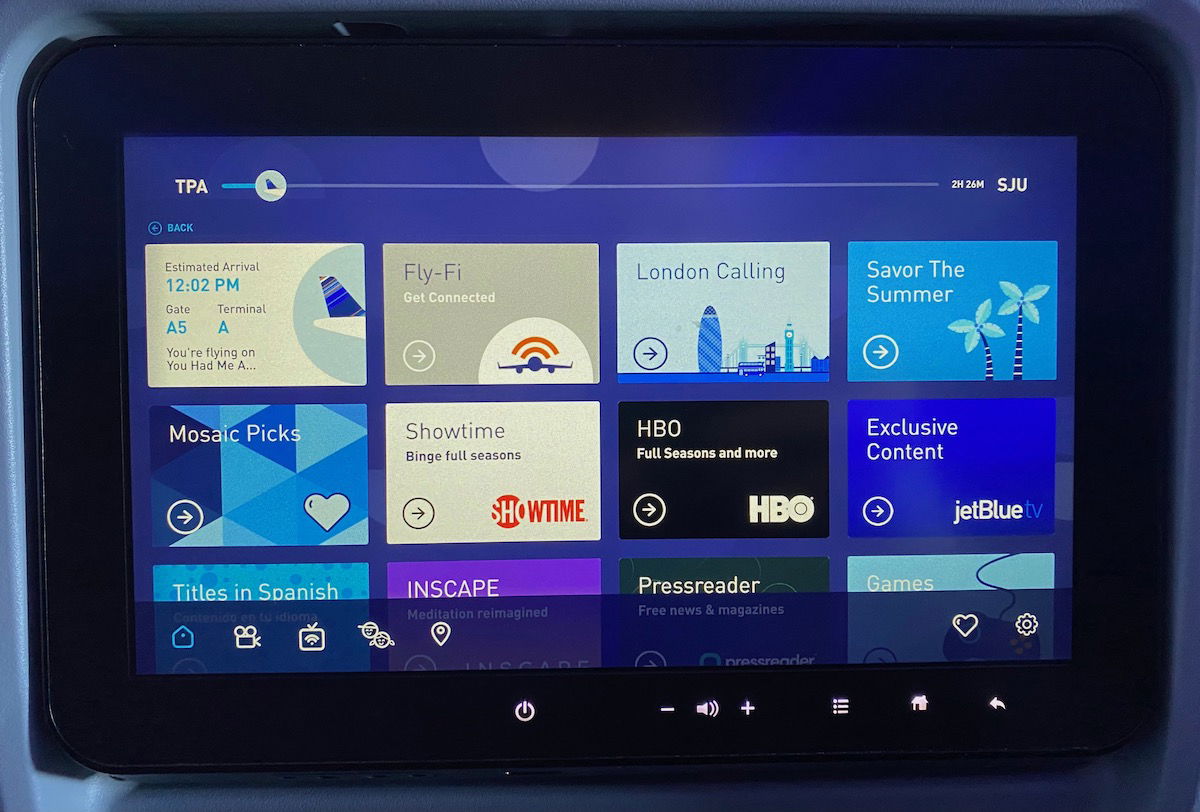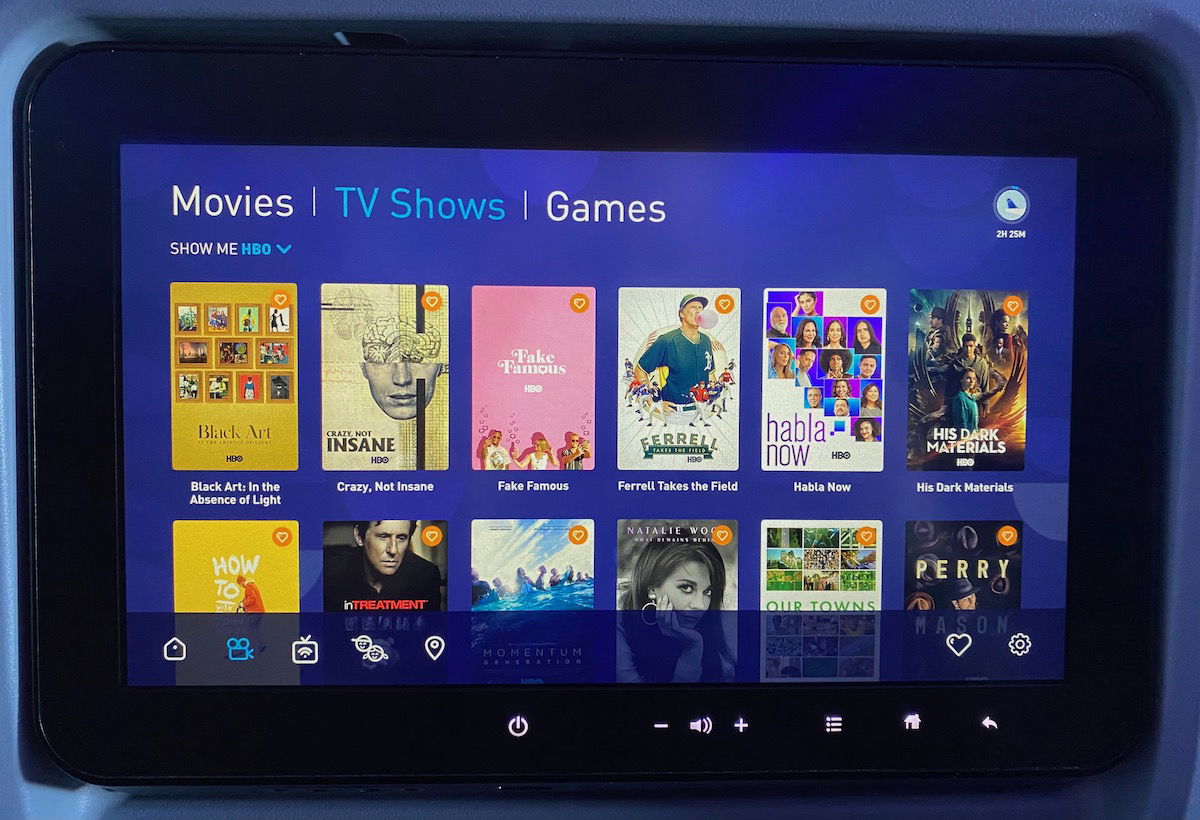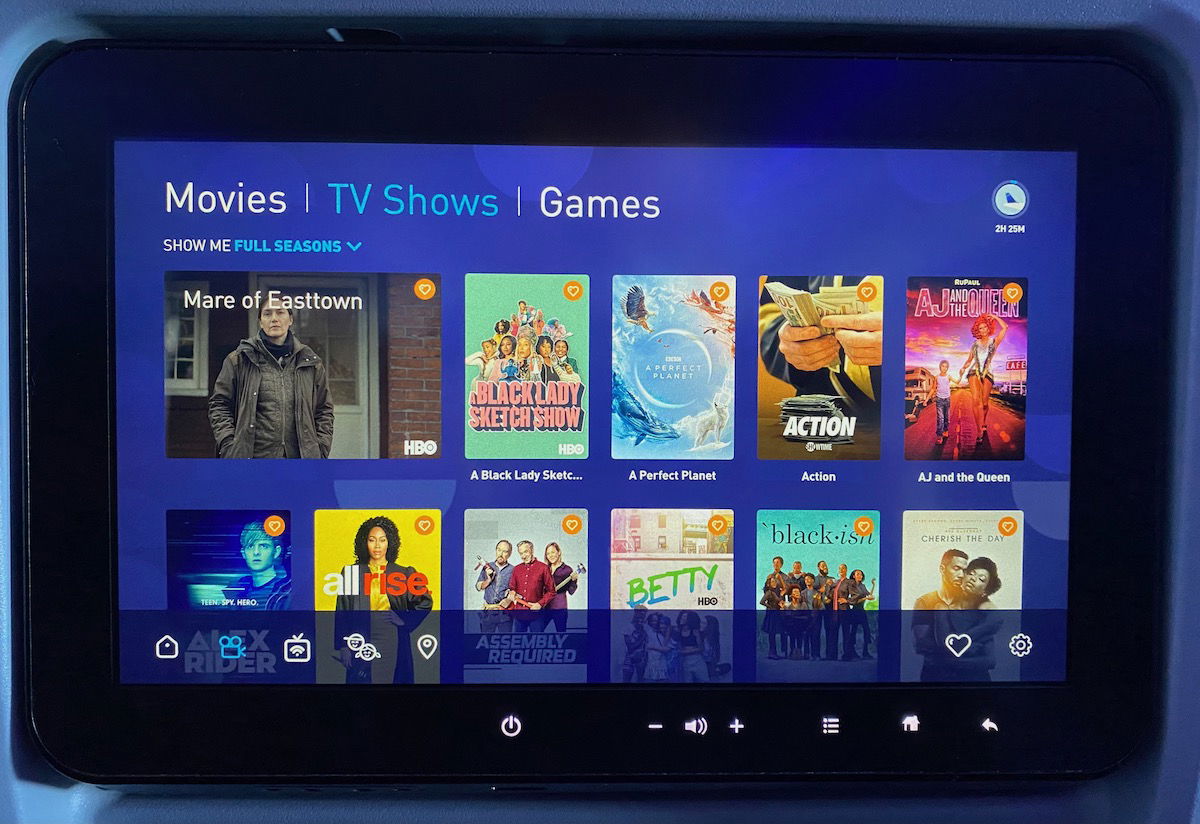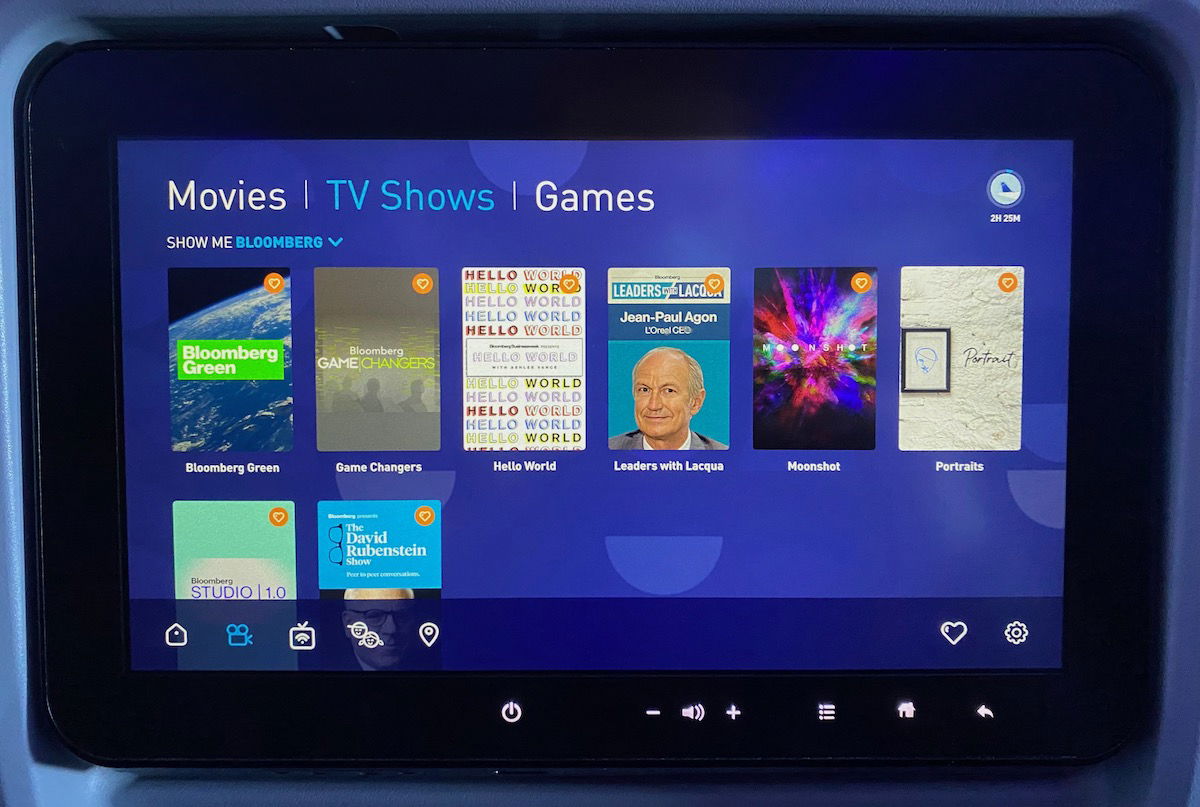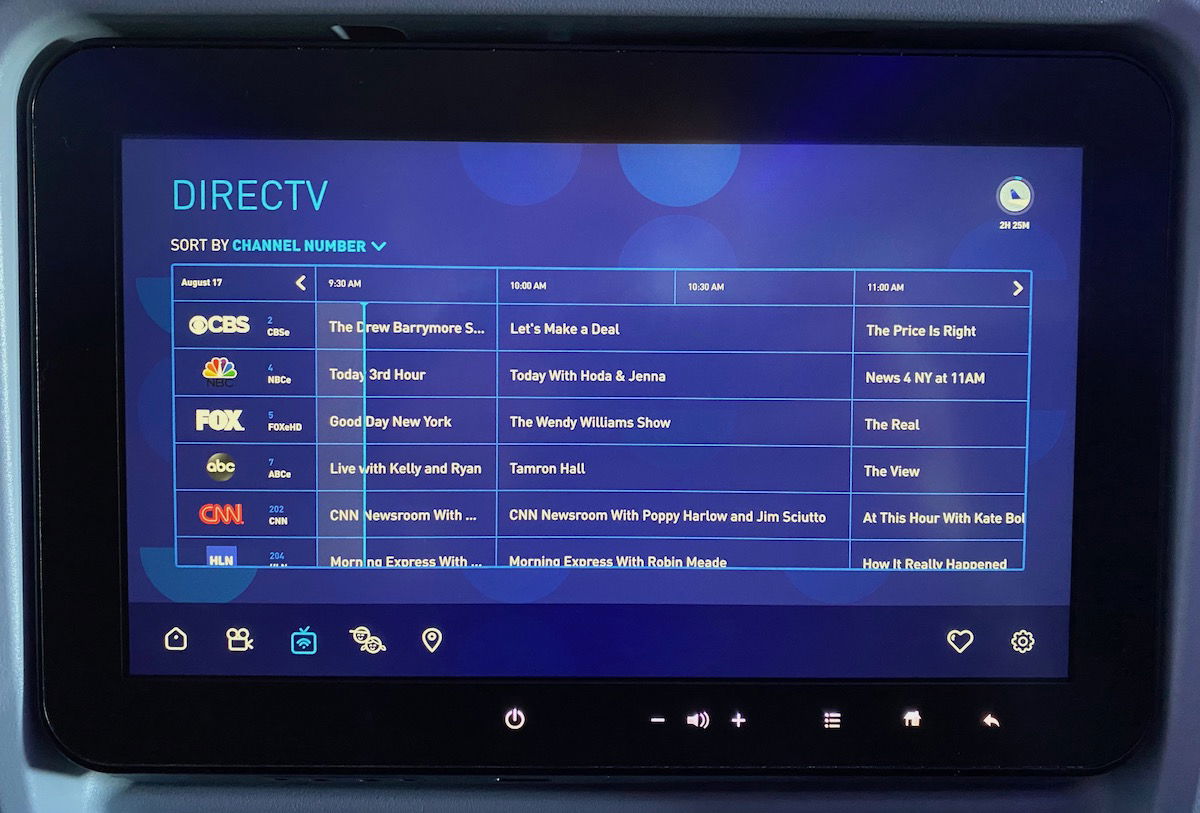 There was also the airshow, which I enjoyed keeping an eye on for our 2hr30min flight.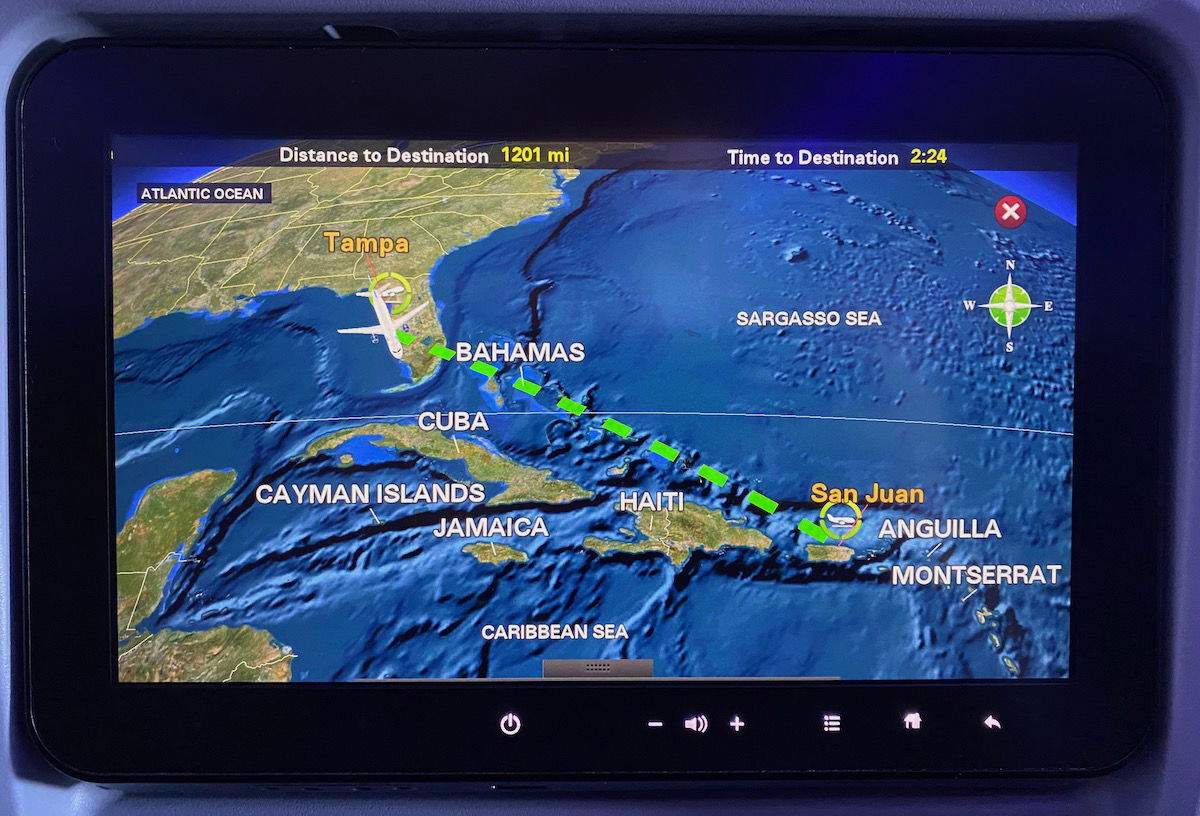 JetBlue Fly-Fi Viasat high speed Wi-Fi
Not only does JetBlue have an awesome seatback entertainment system, but the airline also offers complimentary high-speed Viasat Wi-Fi, which is perhaps my favorite amenity offered by any airline in the United States, as JetBlue is the only one to offer free Wi-Fi to all passengers with no caps.
I also love how easy it is to connect — you just have to select your language, and then click "connect to Fly-Fi."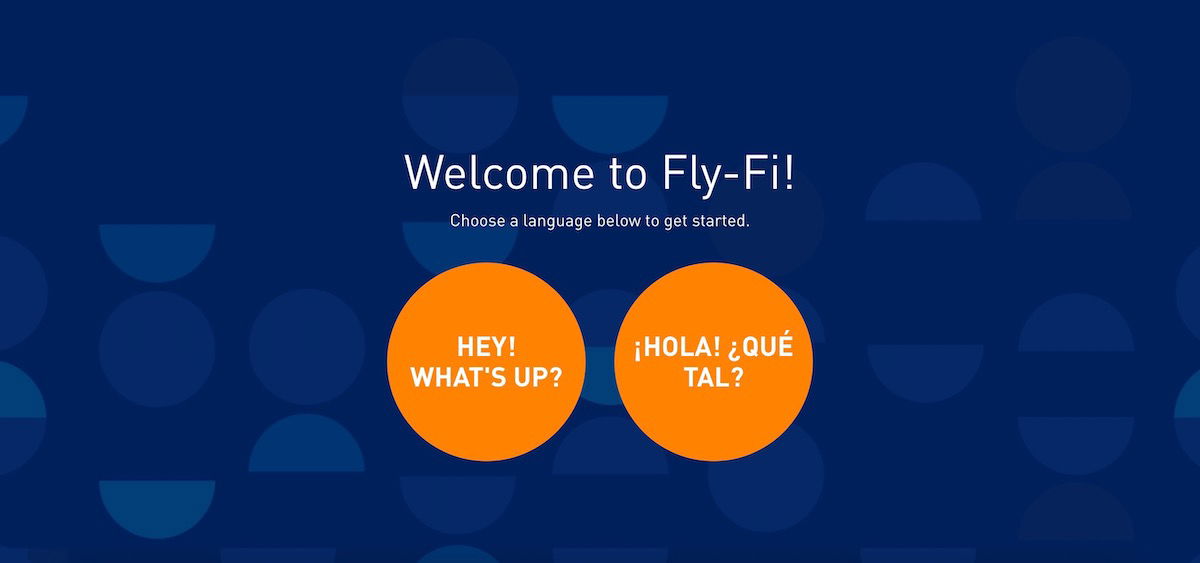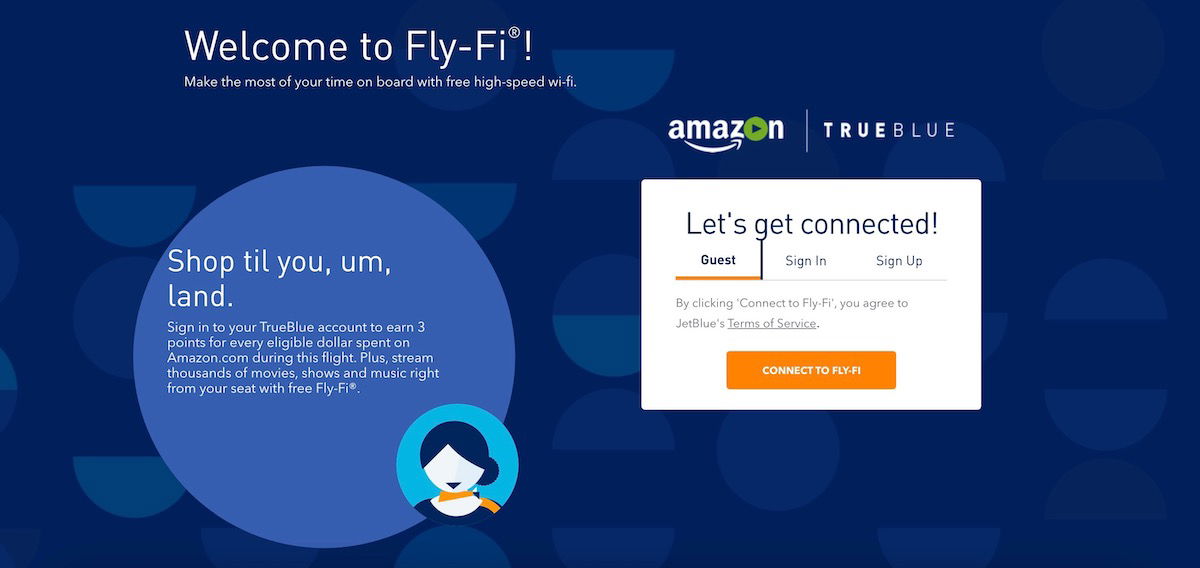 Viasat Wi-Fi even worked on the overwater portion of this route, which was awesome.
JetBlue food, drinks, and amenities
JetBlue offers complimentary soft drinks, water, juice, coffee, tea, and snacks. The personal entertainment monitor had a full listing of what was available, which is a nice feature.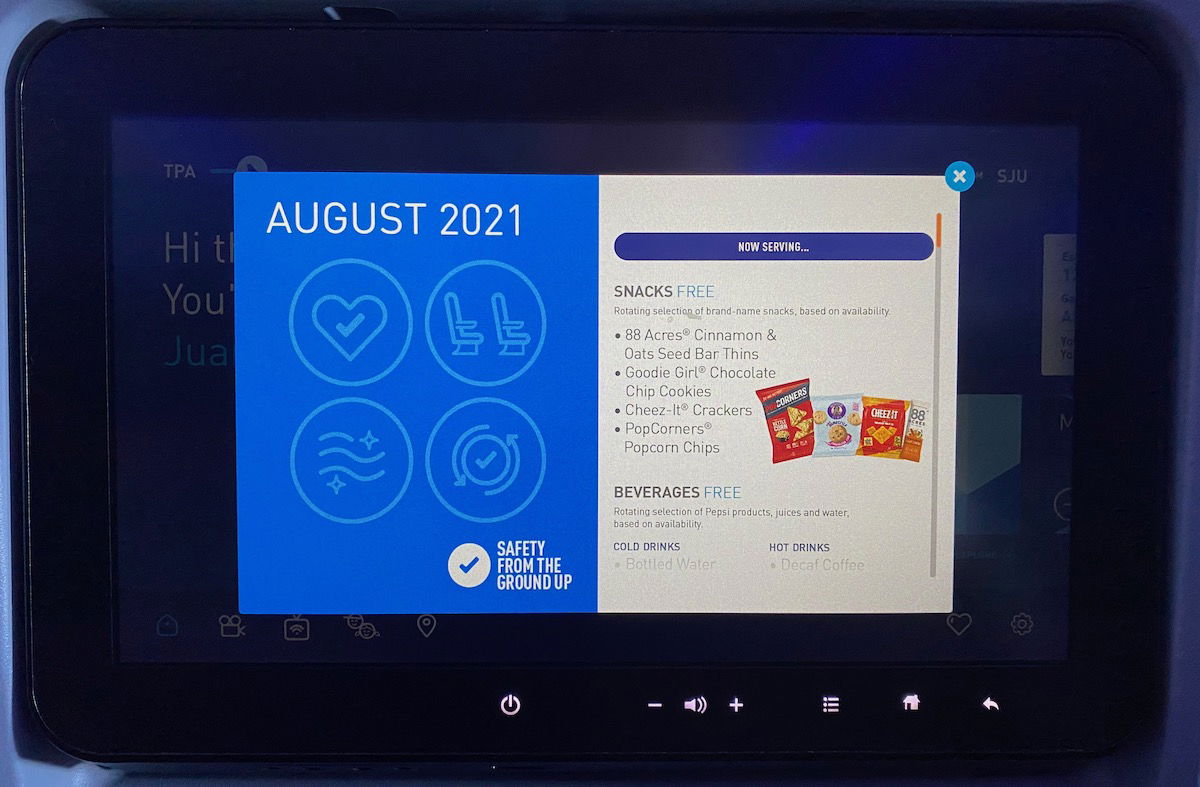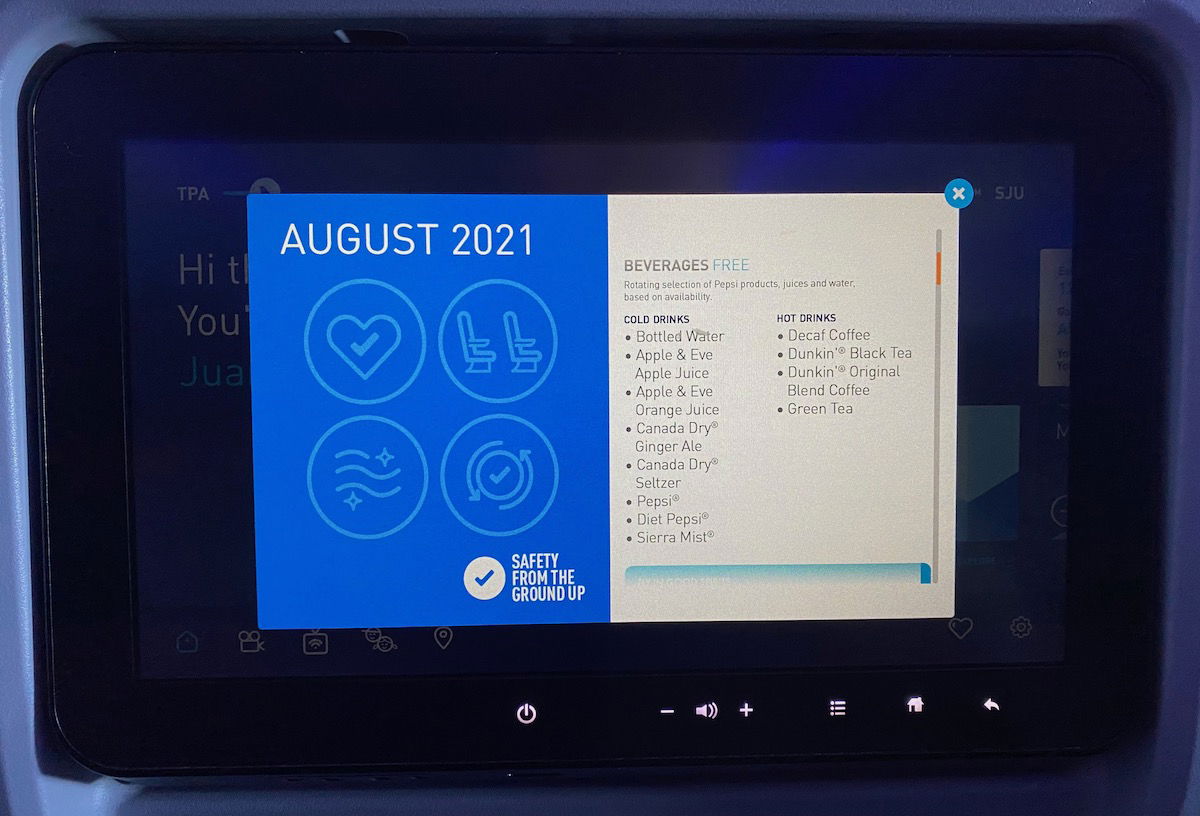 To drink I had a cup of water and a coffee (JetBlue serves Dunkin coffee). While the coffee isn't as good as you'd get on the ground (not that it's amazing, but…), I do love that JetBlue serves it in a Dunkin cup, and puts a lid on it. Why can't more airlines put lids on coffee, especially given the risk of turbulence and spills?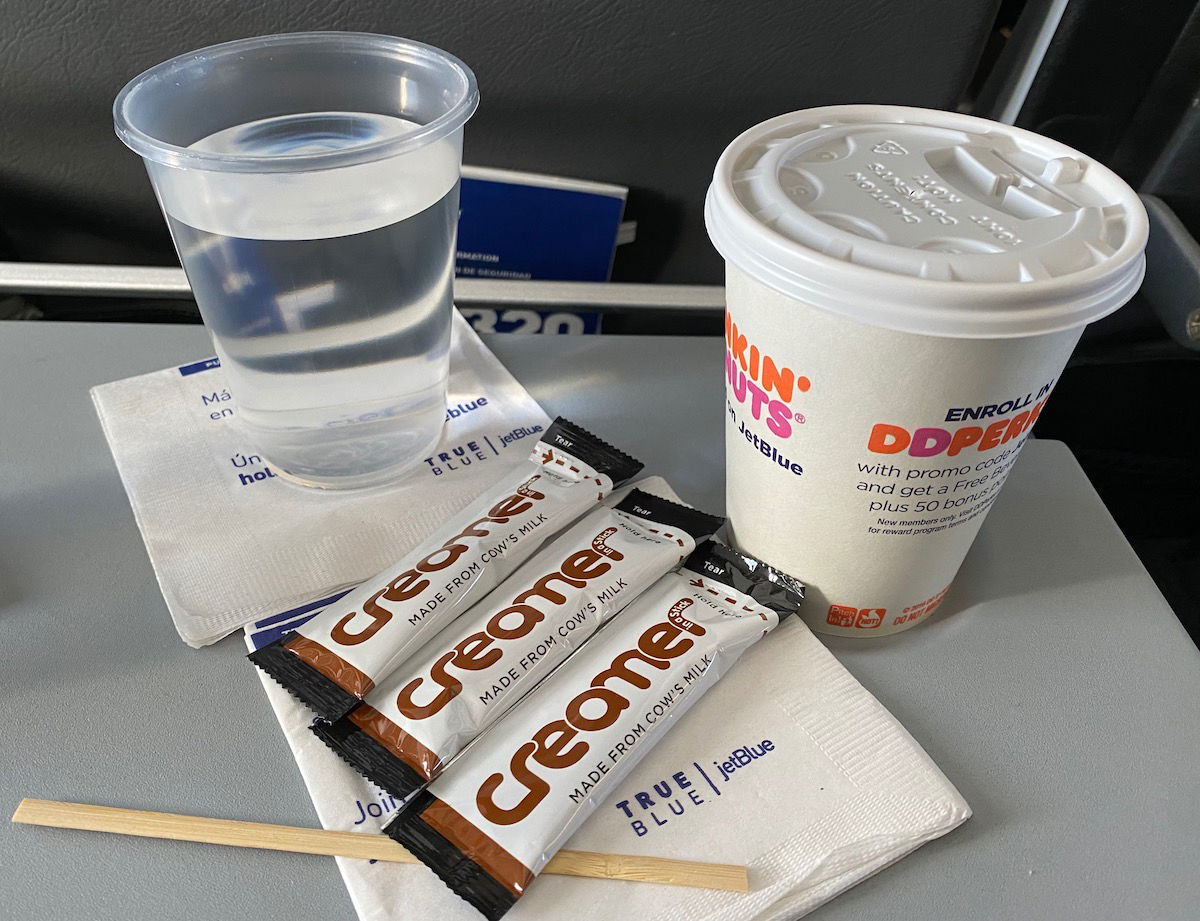 There were a few snacks to choose from, including chips, Cheez-Its, and chocolate chip cookies.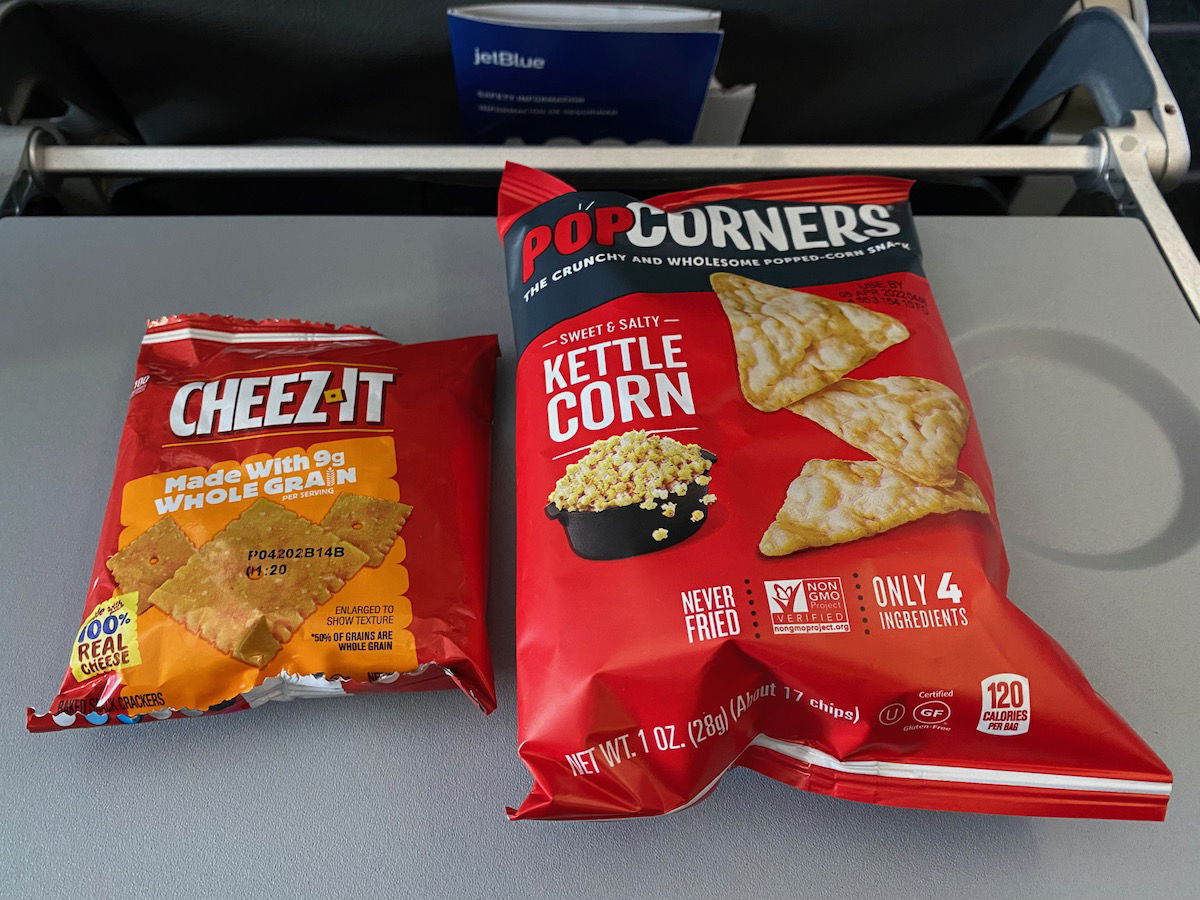 JetBlue also has a buy on board service, and you can purchase:
Pillows ($6) and blankets ($6)
Wine ($8-9), beer ($8), and spirits ($8)
EatUp boxes ($9)
We purchased a pillow and blanket, both to try it out, and since Ford wanted to try to sleep. I appreciate that JetBlue sells these, since other airlines don't generally offer these in economy, with no option to purchase them either.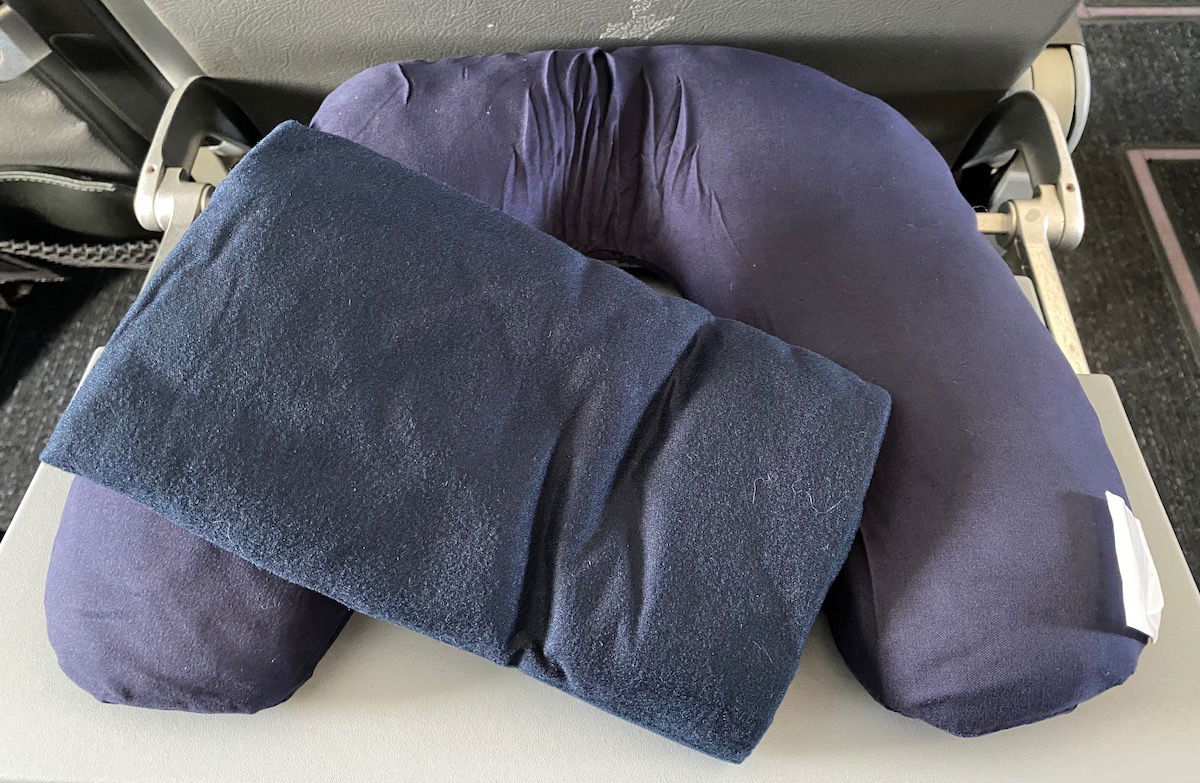 JetBlue A320 lavatory
While I think for the most part JetBlue did a phenomenal job with refreshing cabins, there's one exception — the lavatories. There's one lavatory at the front of the plane, and two lavatories at the back of the plane.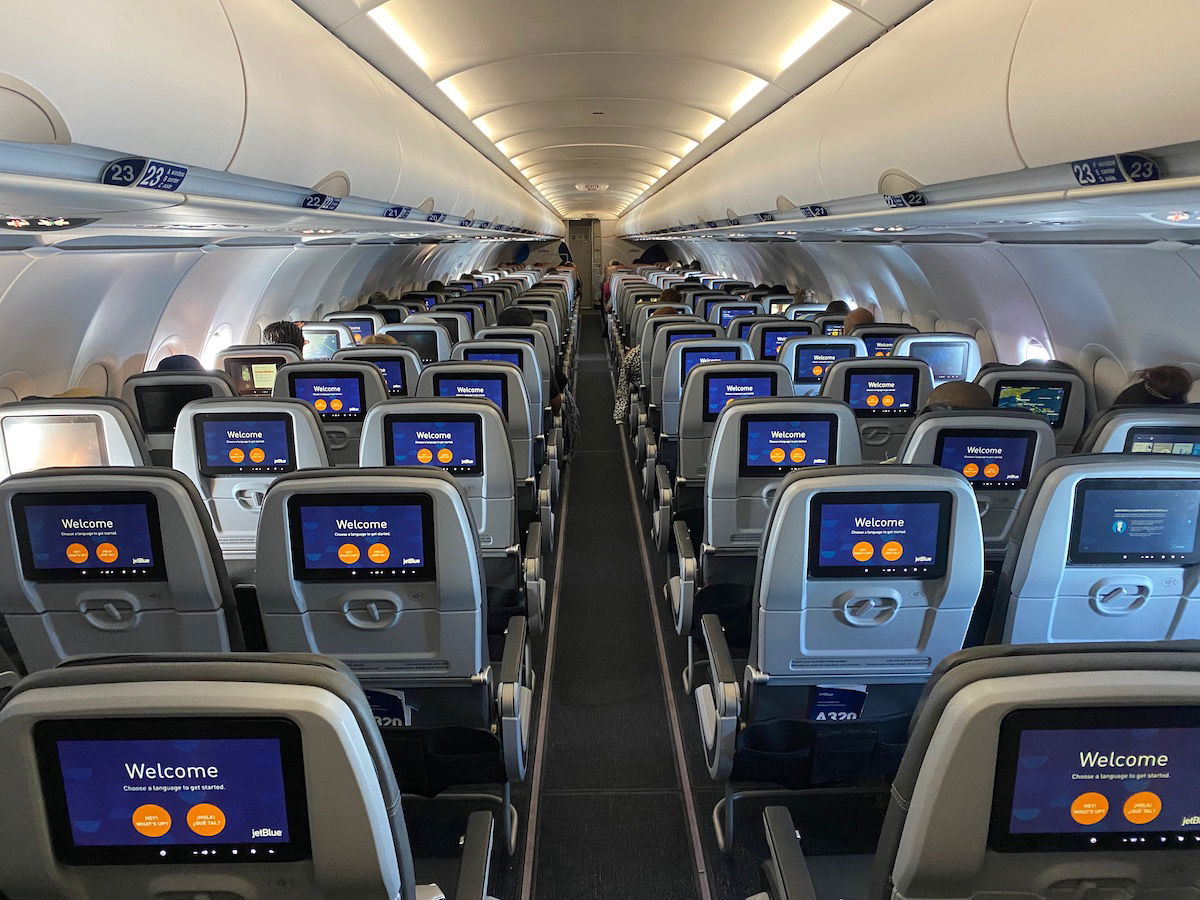 I suspect part of the extra space for adding two rows came from the positioning of the two lavatories in the back, which are tiny. They're next to one another behind the galley, and they're no bigger than American's 737 MAX lavatories, and perhaps even a bit tighter? The bathroom itself is tiny, and so is the sink for that matter, and you can barely wash your hands without splashing yourself.
If you use the far lavatory, also watch your head as you exit — I hit mine. The top of the lavatory door is curved, and there's a hook of sorts by the door, and I slammed my head against it because of how tight the whole thing was.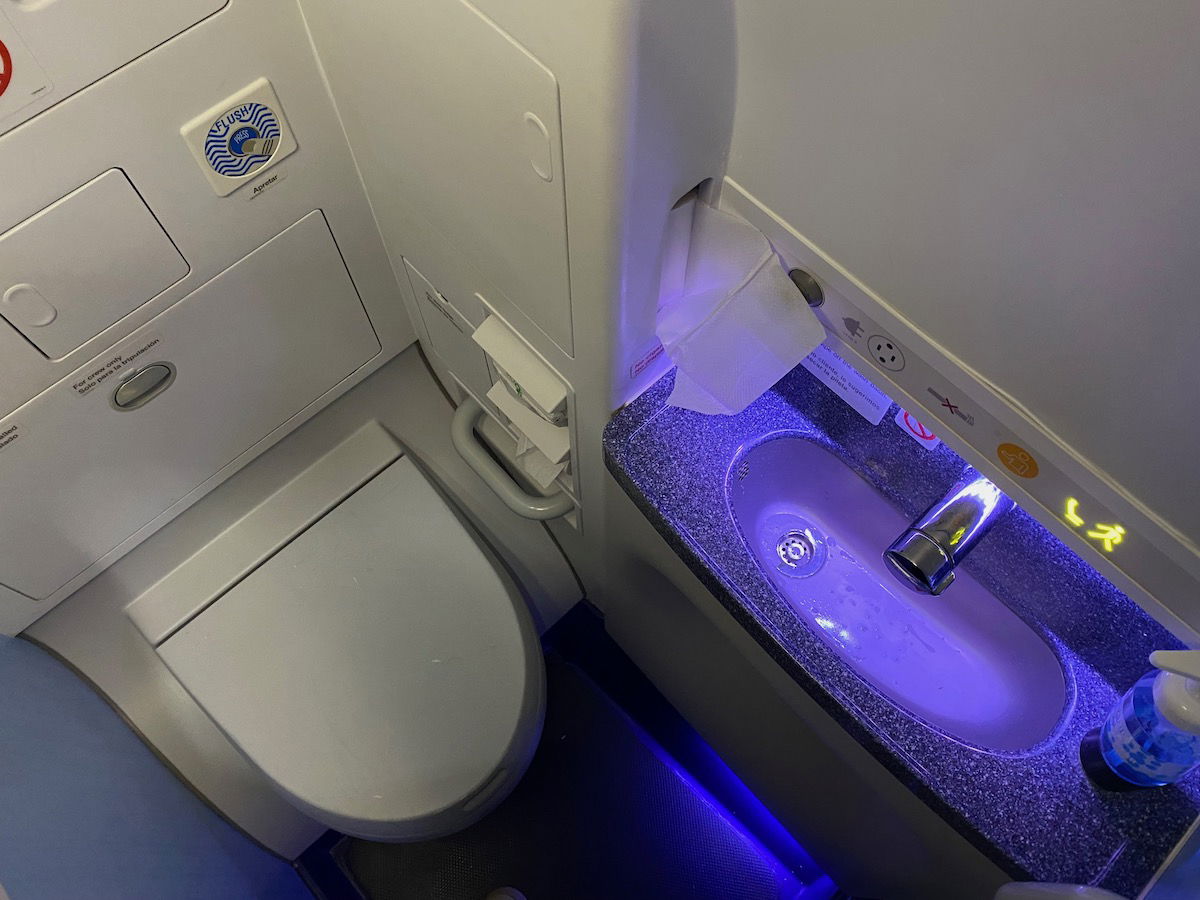 JetBlue service
Usually I find JetBlue flight attendants to be above average (and Mint flight attendants are consistently phenomenal, since they're specially trained and chosen). Well, this crew was… not.
The flight attendants weren't actively rude, but it was clear they didn't want to be there, and didn't particularly enjoy their jobs. During boarding my enthusiastic "good morning" was met with a reluctant "hi," and the crew didn't seem to have any spare smiles.
When I went to the rear lavatory the two flight attendants were just standing in the aisle chatting (there were no carts or anything). One had her back towards me, so I made eye contact with the other one, thinking she'd ask her colleague to step to the side (after all, I didn't want to have to raise my voice or touch her).
Nope, she just stood there and they continued their conversation, and maybe 30 second later she suggested her colleague move to the side. Of the JetBlue flights I took this trip, this was the only crew that really wasn't good. Which is a shame, because the experience otherwise was great.
By the way, while I realize this wasn't the crew's fault, the number of announcements made throughout the flight (in both English and Spanish) was simply beyond. Without exaggerating, I'd estimate that the PA was in use for maybe 30 minutes of the flight. I really wish airlines would be a little more thoughtful about what they announce.
Clapping galore…
I thought it was adorable how when we landed in San Juan the cabin erupted with clapping. It wasn't just a few people clapping, but it must have been 80% of the plane cheering. There were even people waiving Puerto Rican flags in the cabin.
There aren't many United States domestic routes where you see people clapping, so Puerto Rico is a pretty unique place. Interestingly there was also clapping on the San Juan to New York flight, but not quite as much.
Bottom line
JetBlue offers a phenomenal passenger experience. It's the only airline with a domestic product that can compete with Delta, and for that matter I'd say that JetBlue's experience is better.
The airline has beautiful cabins with amazing inflight entertainment, free Wi-Fi, power outlets at every seat, and a good amount of legroom. Personally I think Even More Space is also worth it, given the relatively modest price premium.
It's sad to see just how different the experience is between American and JetBlue. It's not like JetBlue's costs are materially higher for what the carrier chooses to offer, but it makes such a difference in terms of the passenger experience. I'm going to make a point of flying JetBlue more often going forward, because this was truly a lovely way to fly.
If you've flown with JetBlue in recent years, what was your experience like?