Want to receive extra benefits for your stay at Claridge's London through Virtuoso, including complimentary breakfast, a hotel credit, a room upgrade, and more? Contact [email protected] for more details. He may even be able to help if you already have a stay booked.
There are some cities with amazing points hotel, where I'll gladly return to the same hotel every time I visit. London isn't one of those places. I've reviewed a countless number of points hotels in London over the years, and they've ranged from average to quite good. For our four nights in London this time we decided to mix it up a bit. Long story short, I'm happy we did, because our stay was flawless, and this was my best London hotel experience to date.
How & why we booked Claridge's London
For once I didn't have much input in the hotel booking process. Ford essentially told me he had always wanted to stay at Claridge's (it's one of London's most iconic hotels), he said he'd pay for it, and that's that. Works for me!
The nightly rate for our stay ended up being ~£400 (~$550) including all taxes & fees, after factoring in a fourth night free promotion that was being offered. Ford booked us through Virtuoso, which offered the following additional benefits:
A room upgrade, subject to availability
A daily breakfast credit of £40 per person, which can be used either in the restaurant or via in-room dining
A £75 hotel credit once per stay
A welcome amenity
A welcome drink
Late check-out, subject to availability
While not cheap, this seemed like a good rate for Claridge's, which is typically one of London's most expensive hotels. We booked this months ago while the UK was still fully locked down, and rates have increased since then. Ford is of course happy to help with Claridge's Virtuoso requests (you'll pay the same rate as direct with the hotel, but will get more perks), and can be reached at [email protected]
Claridge's London location in Mayfair
Claridge's is located in Mayfair, at the corner of Brook Street and Davies Street. Everyone has different preferences as to where they'd like to stay.
Ford and I like to get our steps in, so we loved the proximity to Hyde Park, as we walked there every day. We were also able to walk to all of our meals, so we thought the location was great. Others will of course feel differently.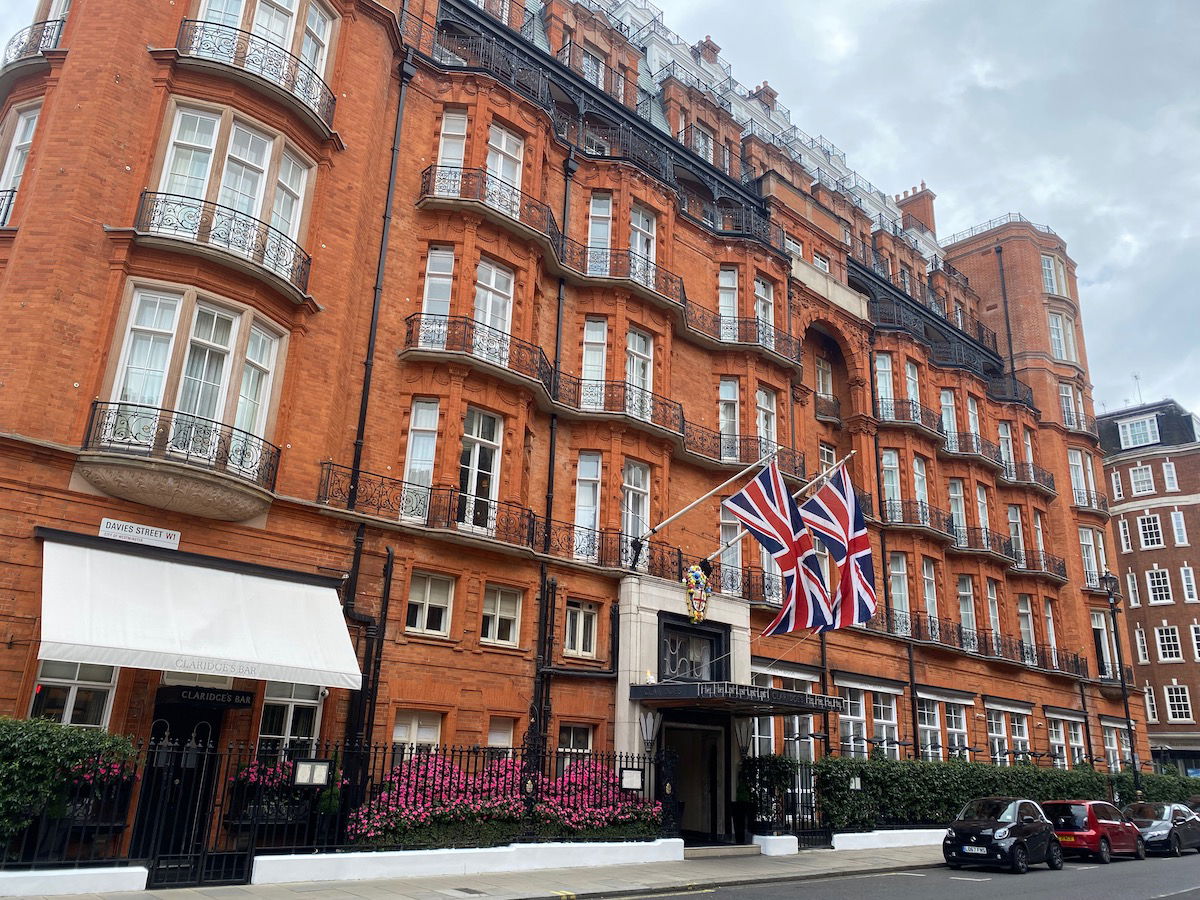 Claridge's London lobby & check-in
I could tell from the moment that we arrived that service at Claridge's would be phenomenal. As we pulled up to the hotel, two bellmen immediately helped us with our bags and asked us for the name on the reservation. We were escorted into the lobby, where one of the bellmen introduced us to the receptionist to start the check-in process. It was a flawless handoff, as it's not often you don't have to even give the front desk associate your name.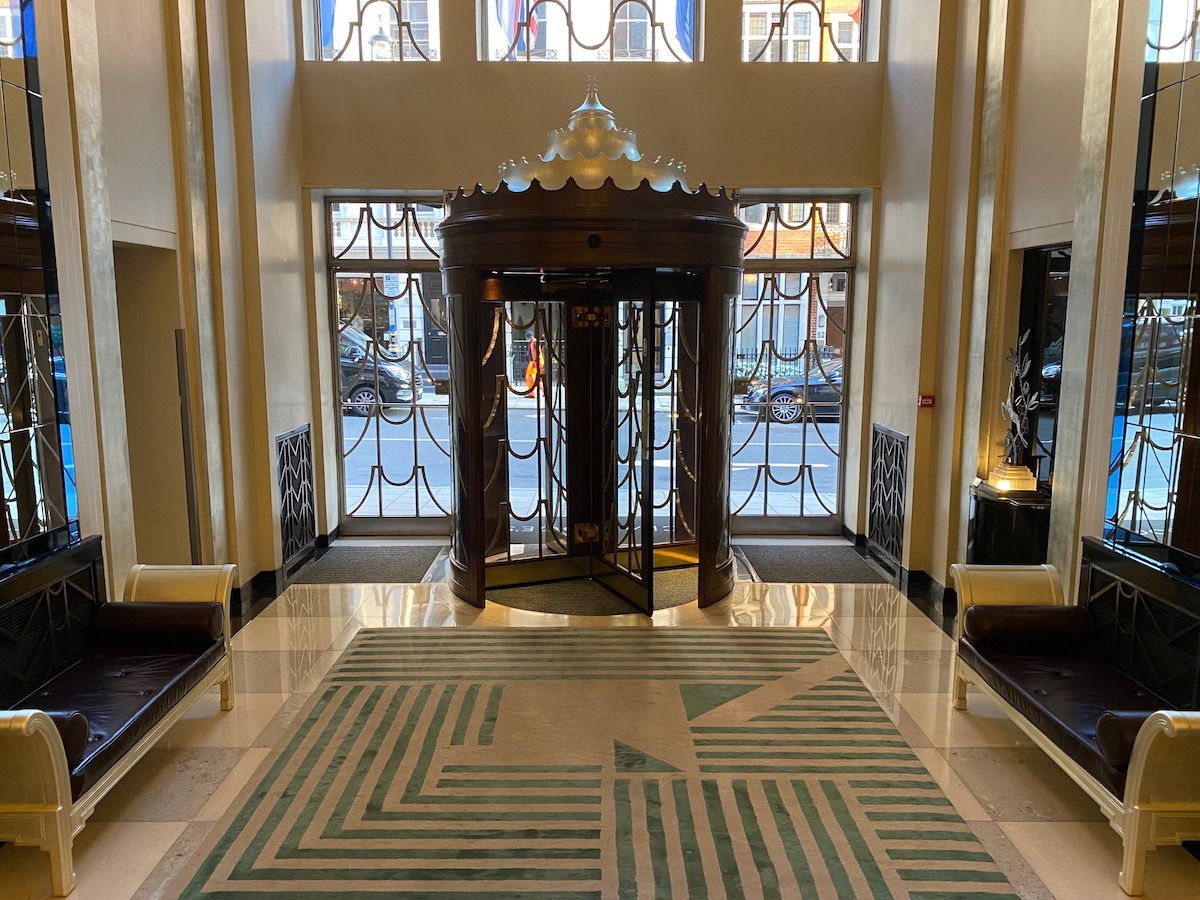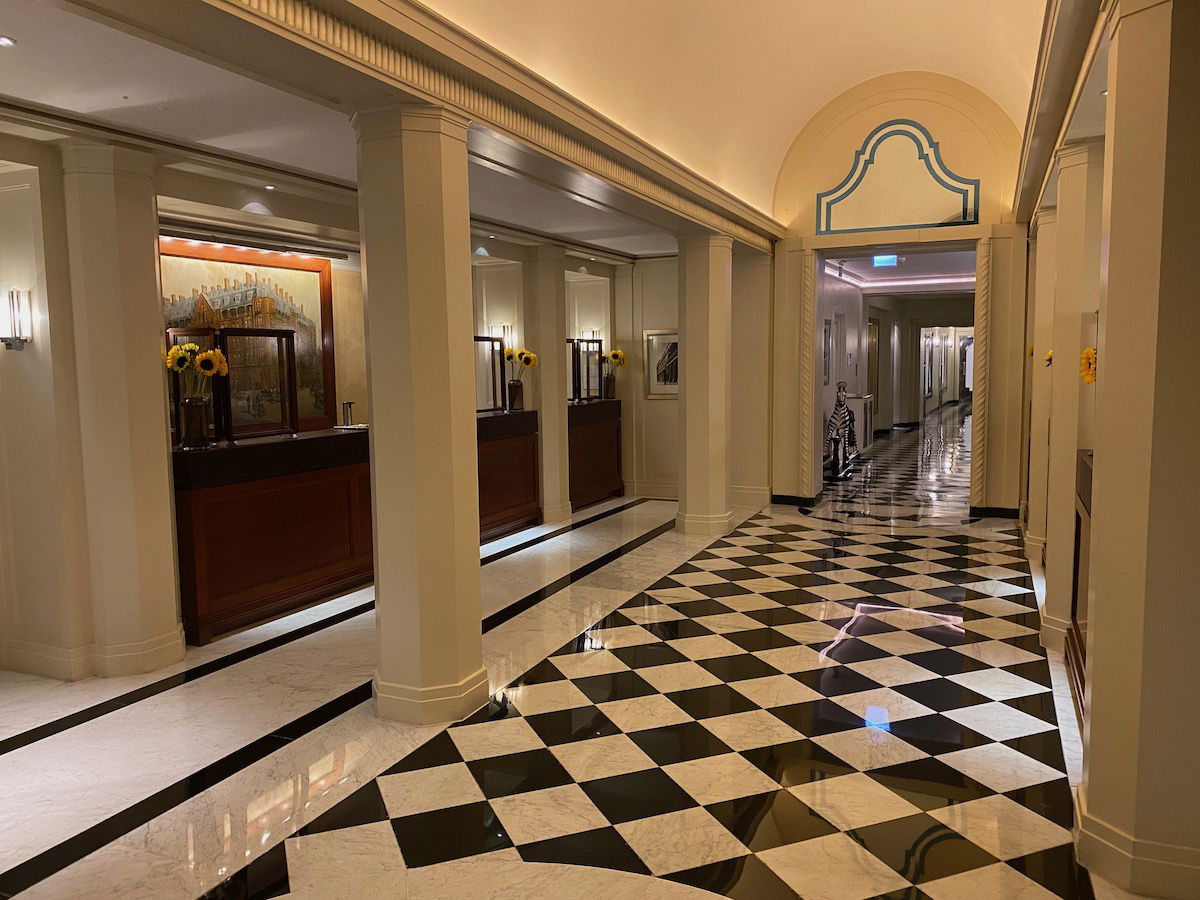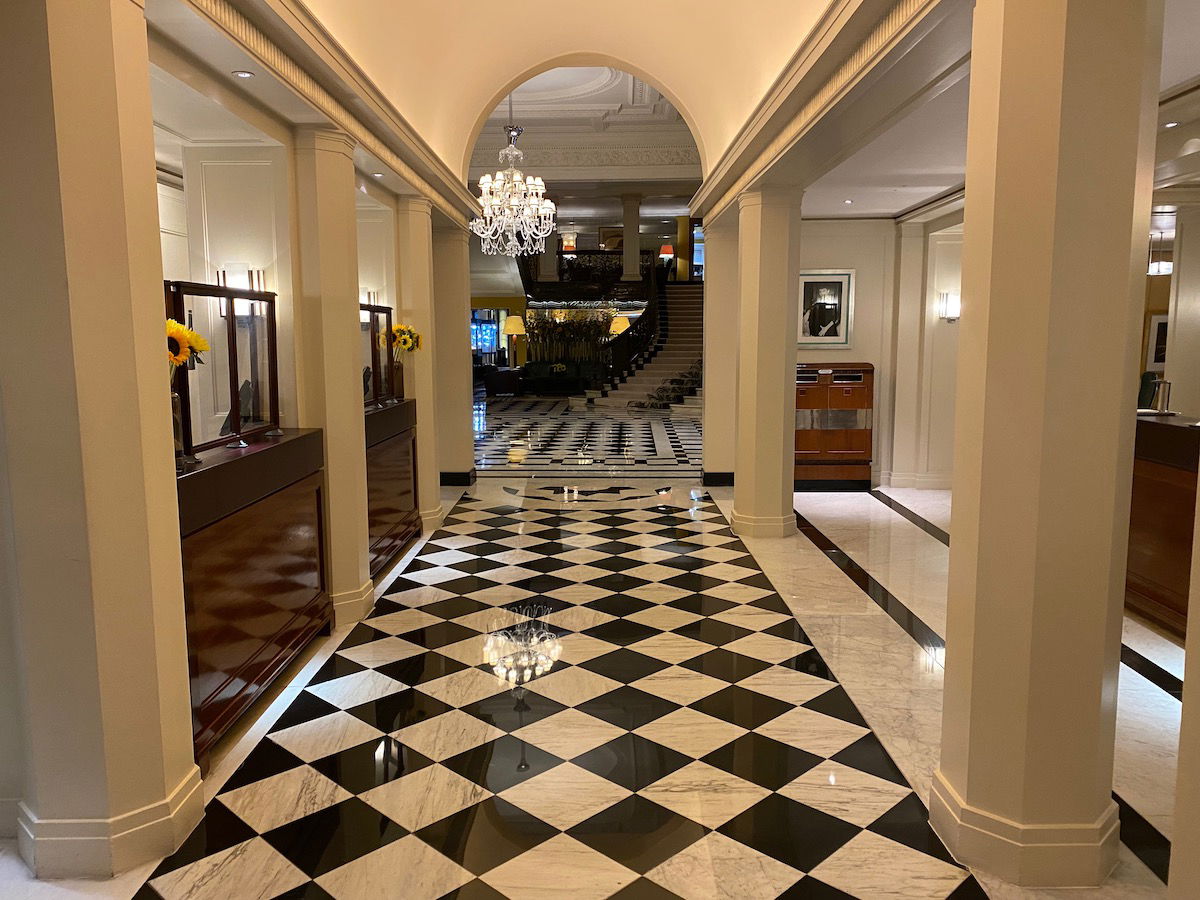 The lady checking us in was incredibly professional. Frankly I was a bit worried the hotel would have a stuffy vibe, given its reputation, but I didn't find that to be the case at all. Rather service was consistently polished and professional while still feeling personable and sincere.
The front desk associate informed us we had been upgraded to one of the newly renovated Claridge's King rooms, which is two categories above the base room. Our room wasn't quite ready yet since we were early, but we were invited to enjoy a complimentary welcome drink at the bar (which I'll review later), and then she'd get us when our room was ready.
We first explored the lobby a bit — while most definitely not how I'd want to decorate my home, I loved how grand it felt, and it had a real sense of place. I do think the lobby is a bit past its prime (personally I don't love the yellow paint or the couches), but I believe the hotel's public areas are in the process of being refreshed.
The lobby had a huge chandelier, a staircase, and some seating, though the focal point was The Foyer & Reading Room, which is the hotel's well known restaurant open all day (it's most popular for afternoon tea).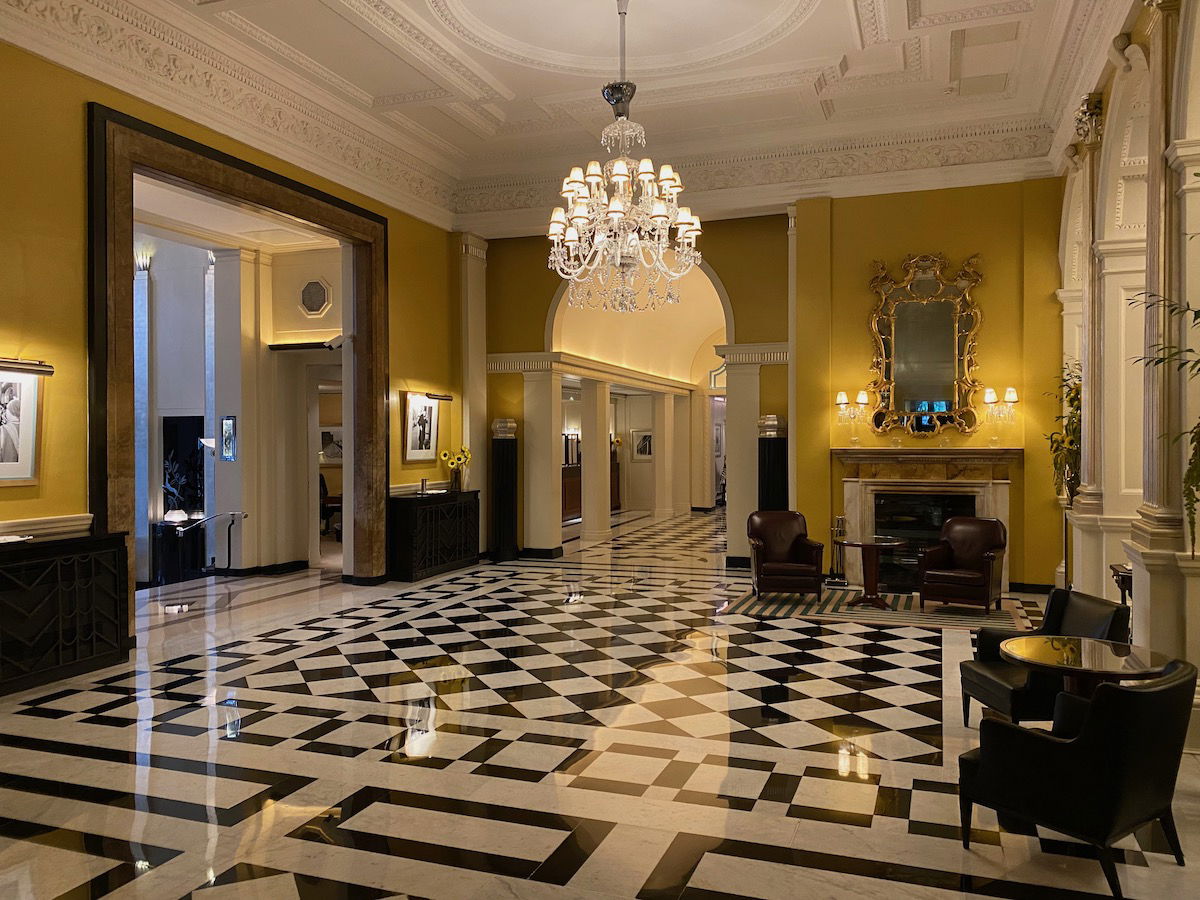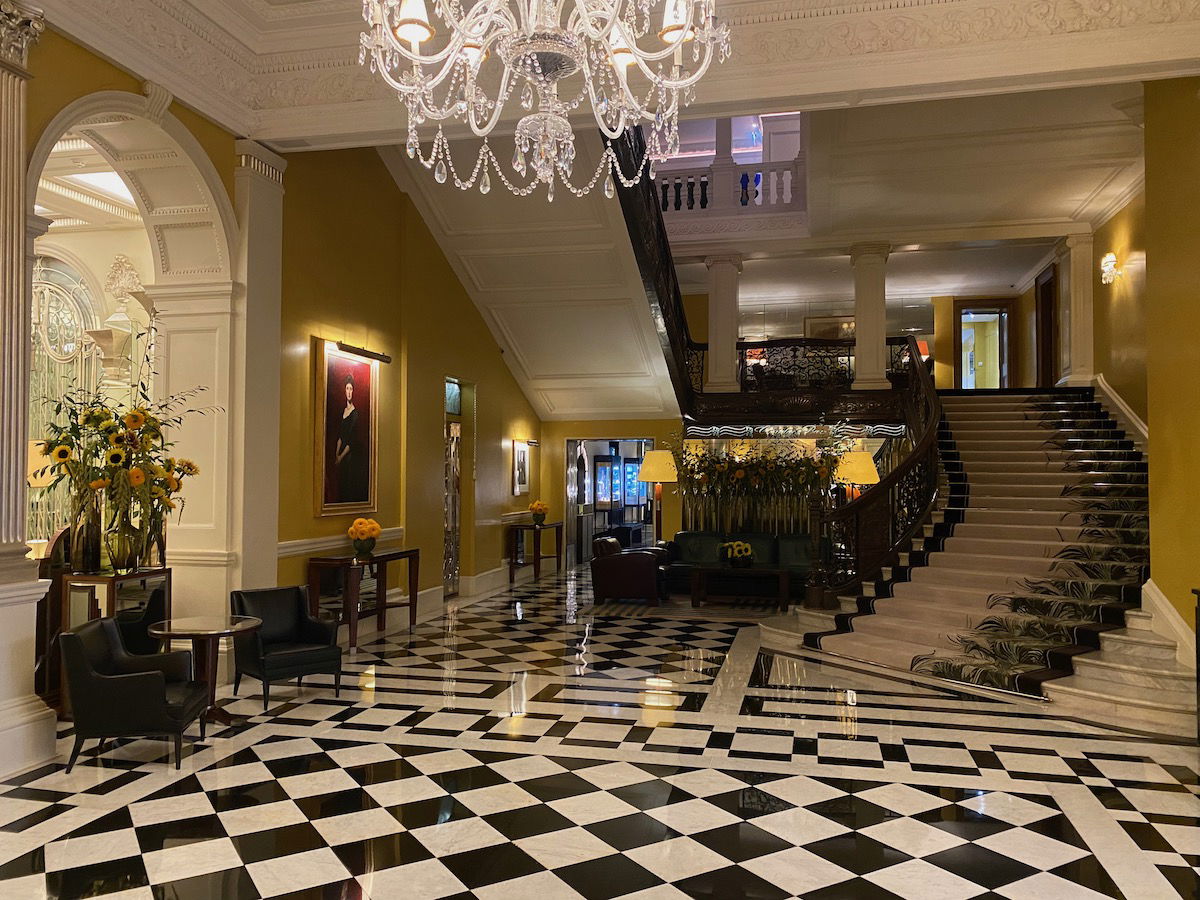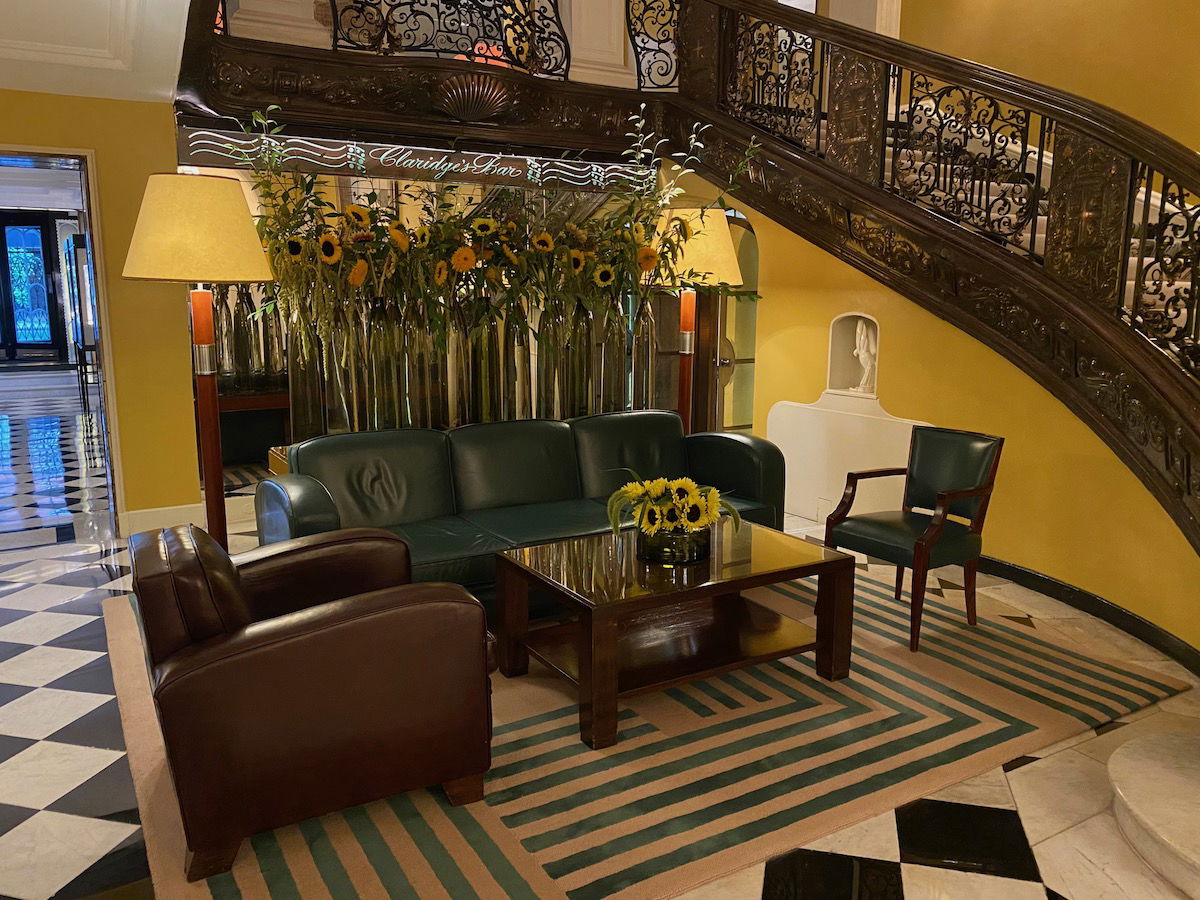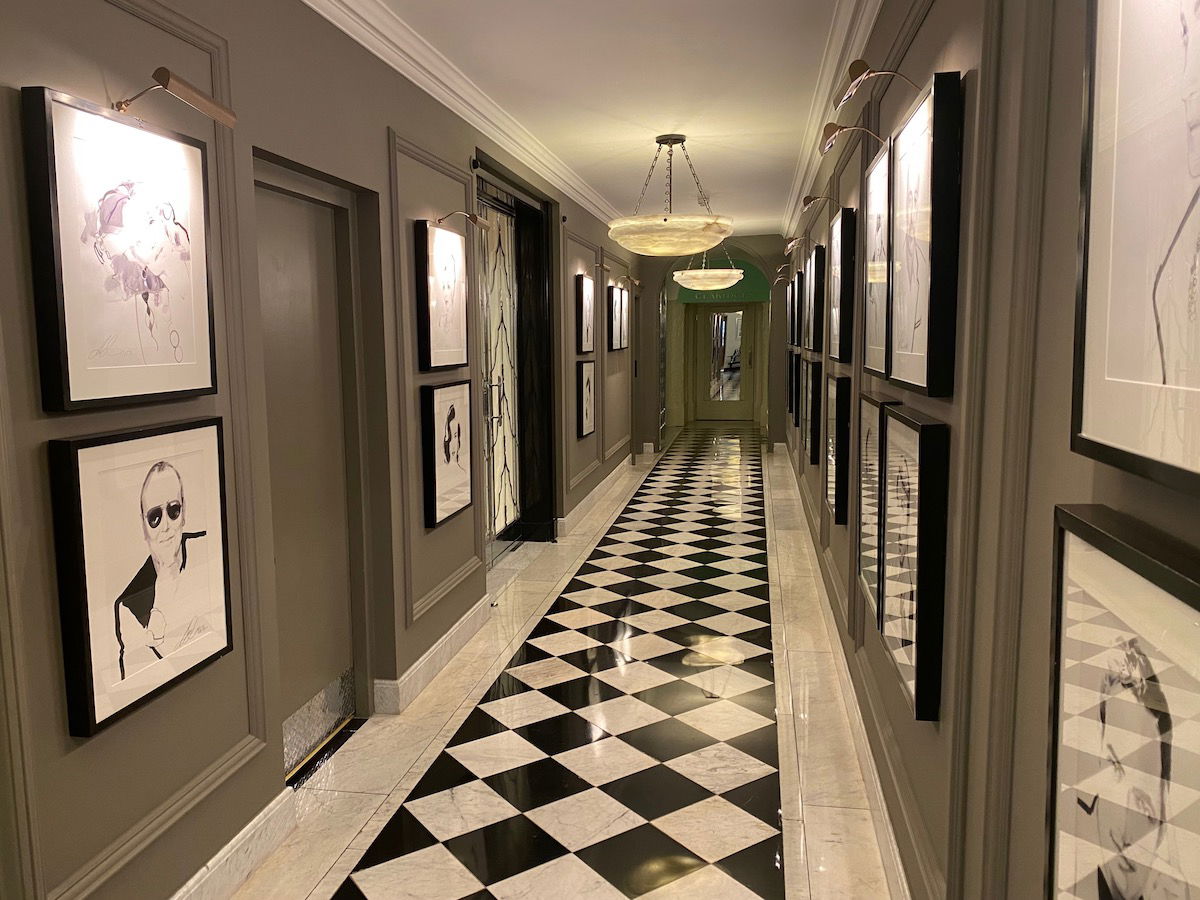 The hotel has several smaller elevators spread out around the property. One is particularly cool — I was told the hotel has the last man-operated elevator in all of London, and it has been in use since 1896.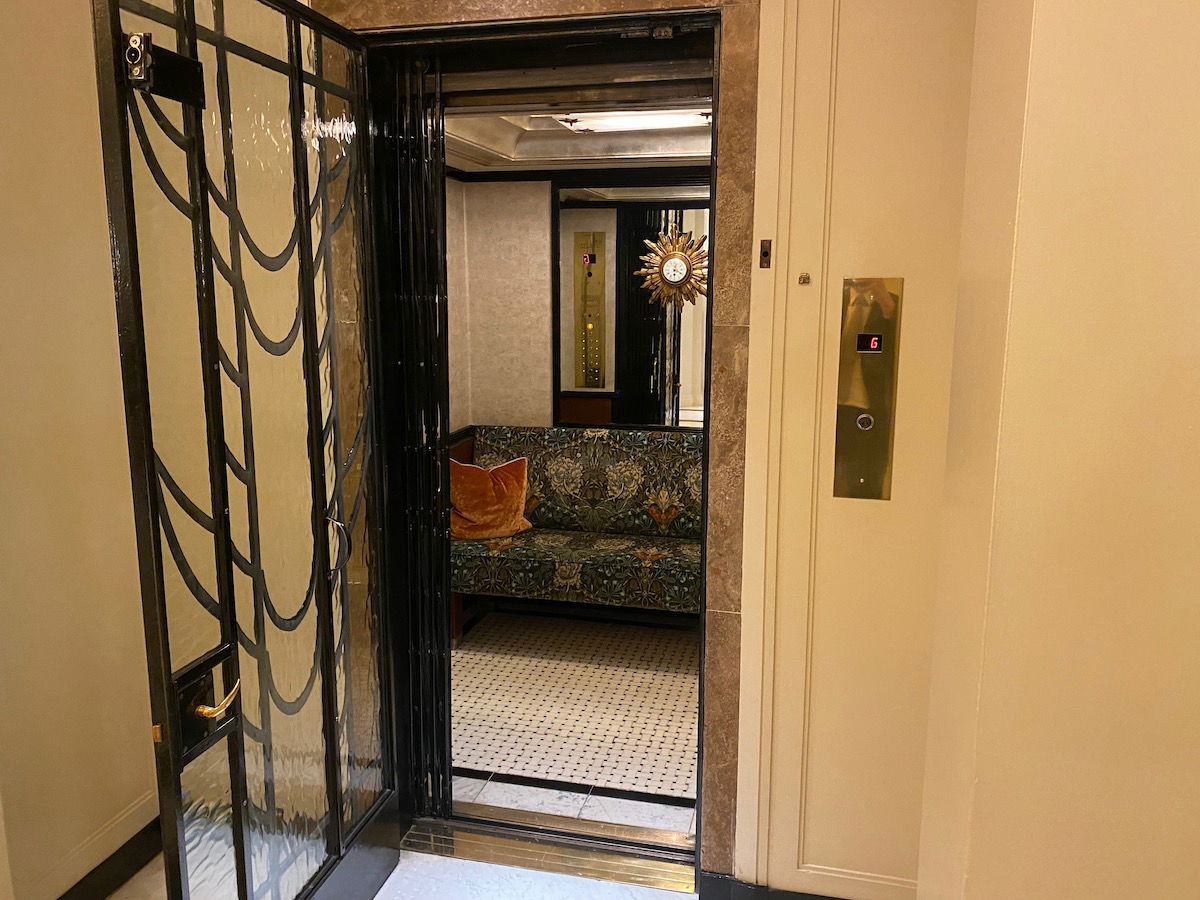 But even the newer elevators, including the one closest to our room, were pretty cool.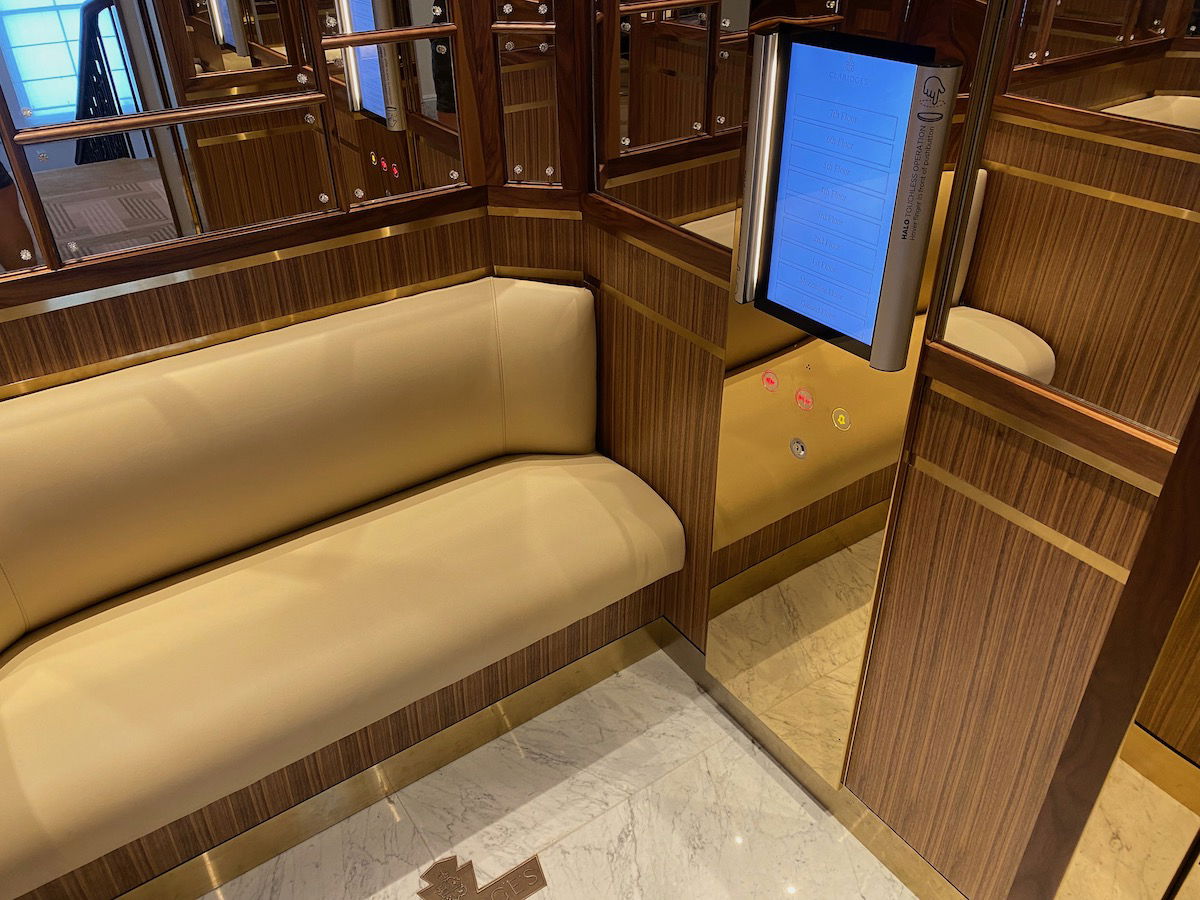 For that matter, the hotel's staircase was pretty grand as well…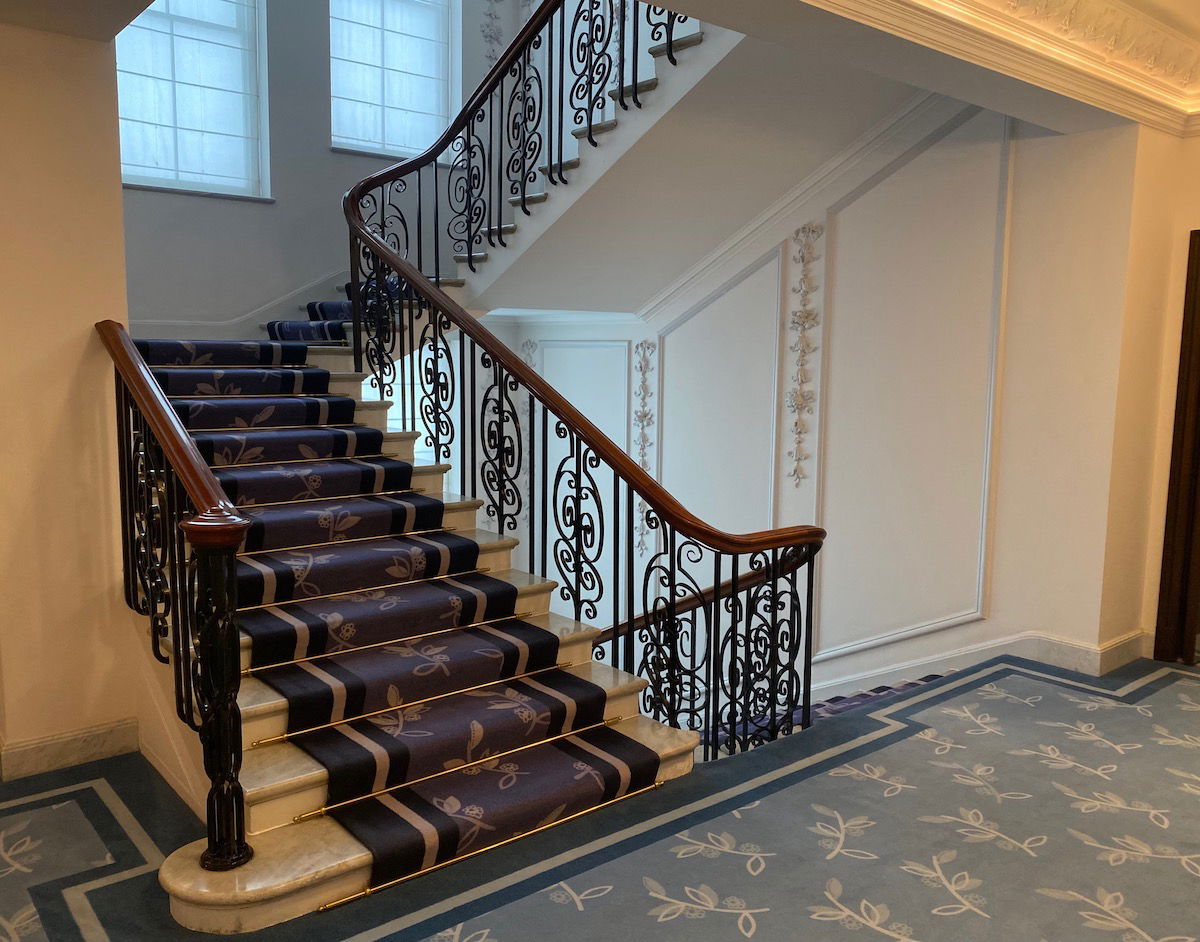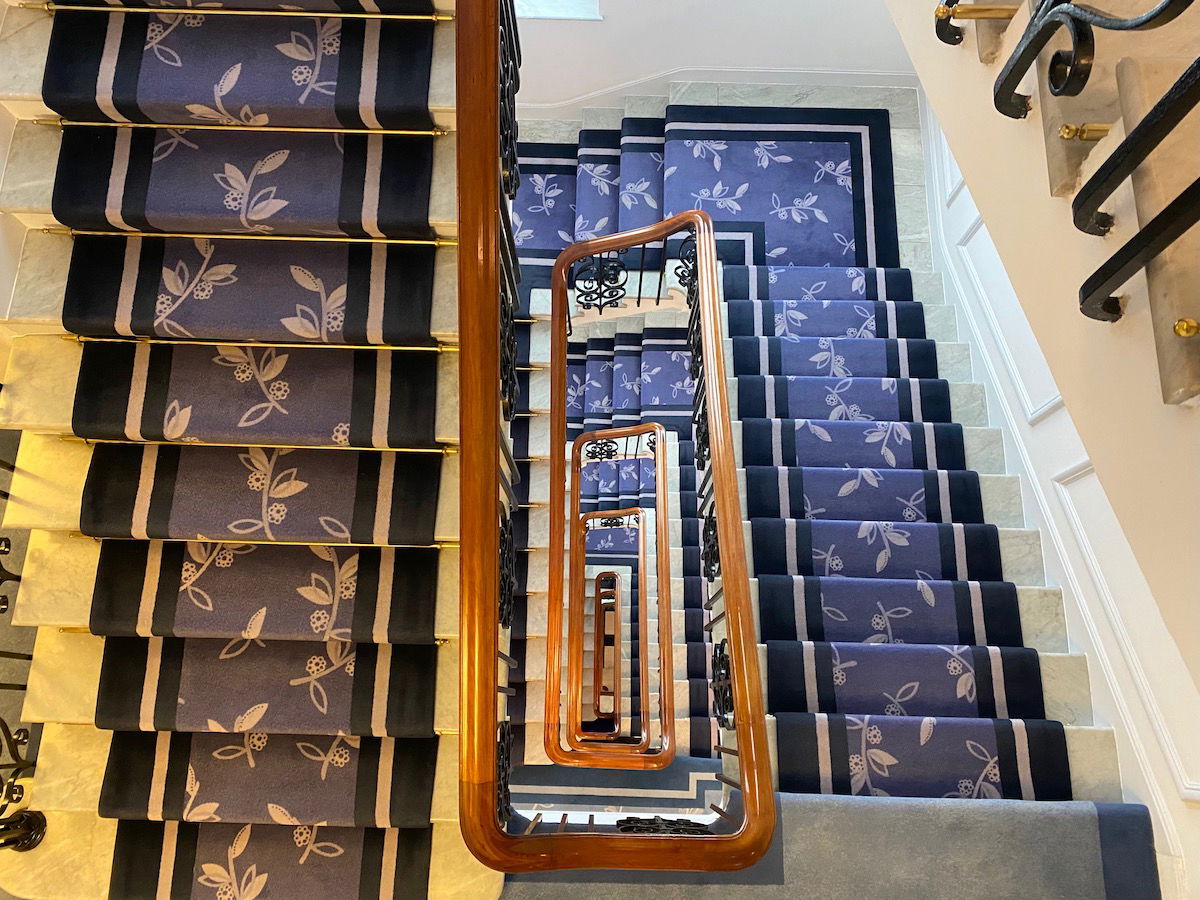 Claridge's London Claridge's King room
We were assigned room 524, a Claridge's King room on the fifth floor (the hotel has seven floors). Claridge's doesn't have any signs in hallways pointing to where rooms are. At check-in I was a bit confused when the front desk associated gave us very detailed instructions for getting to our room, so I guess that explains why.
Fortunately our room was easy enough to find — and what a gorgeous hallway!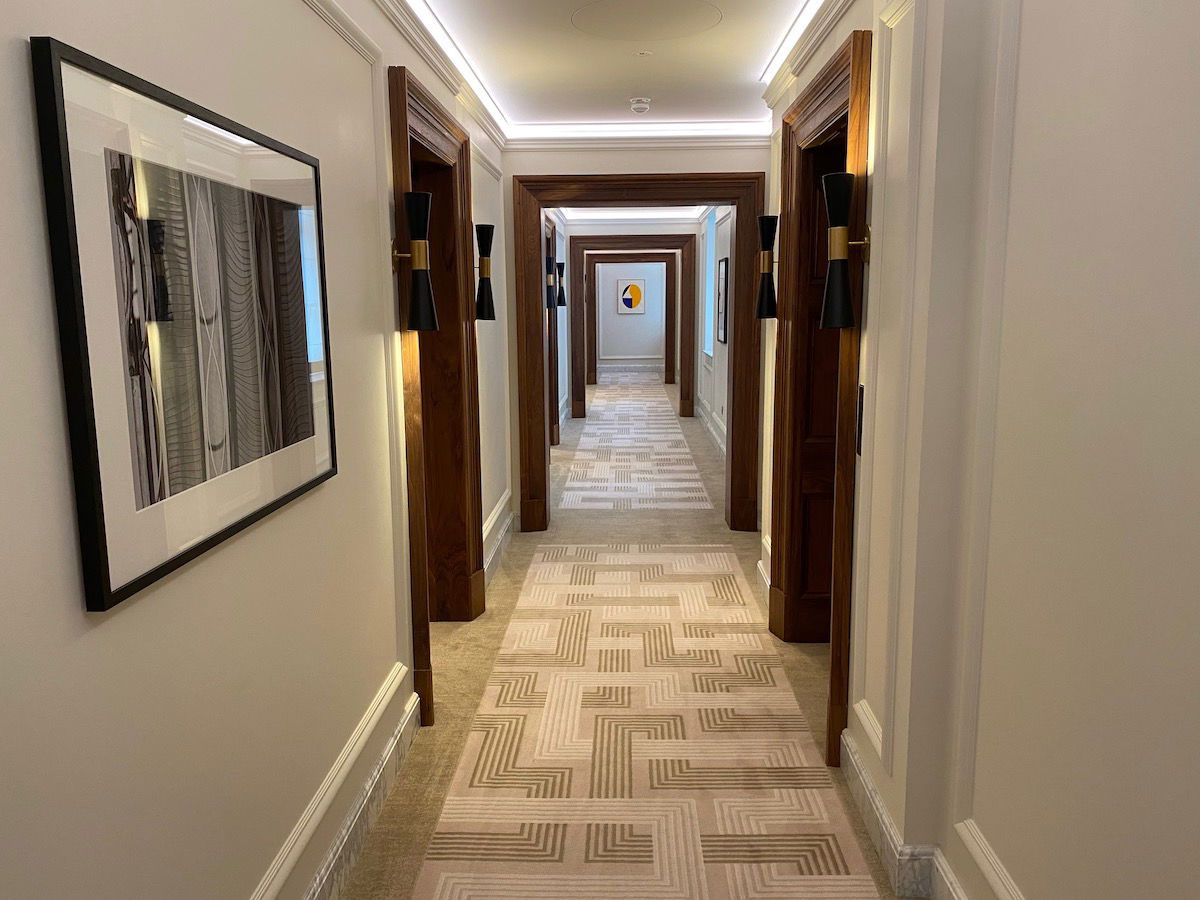 Our Clardige's King room had recently been renovated — the elevator attendant even informed us we may be among the first guests to be staying in the room, as renovations had been completed so recently. The hotel did an incredible job, in my opinion, as the room struck the perfect balance between classic elegance and modern luxury.
Inside the entrance to the room were two closets to the right (with a luggage rack between them), and then the bathroom to the left.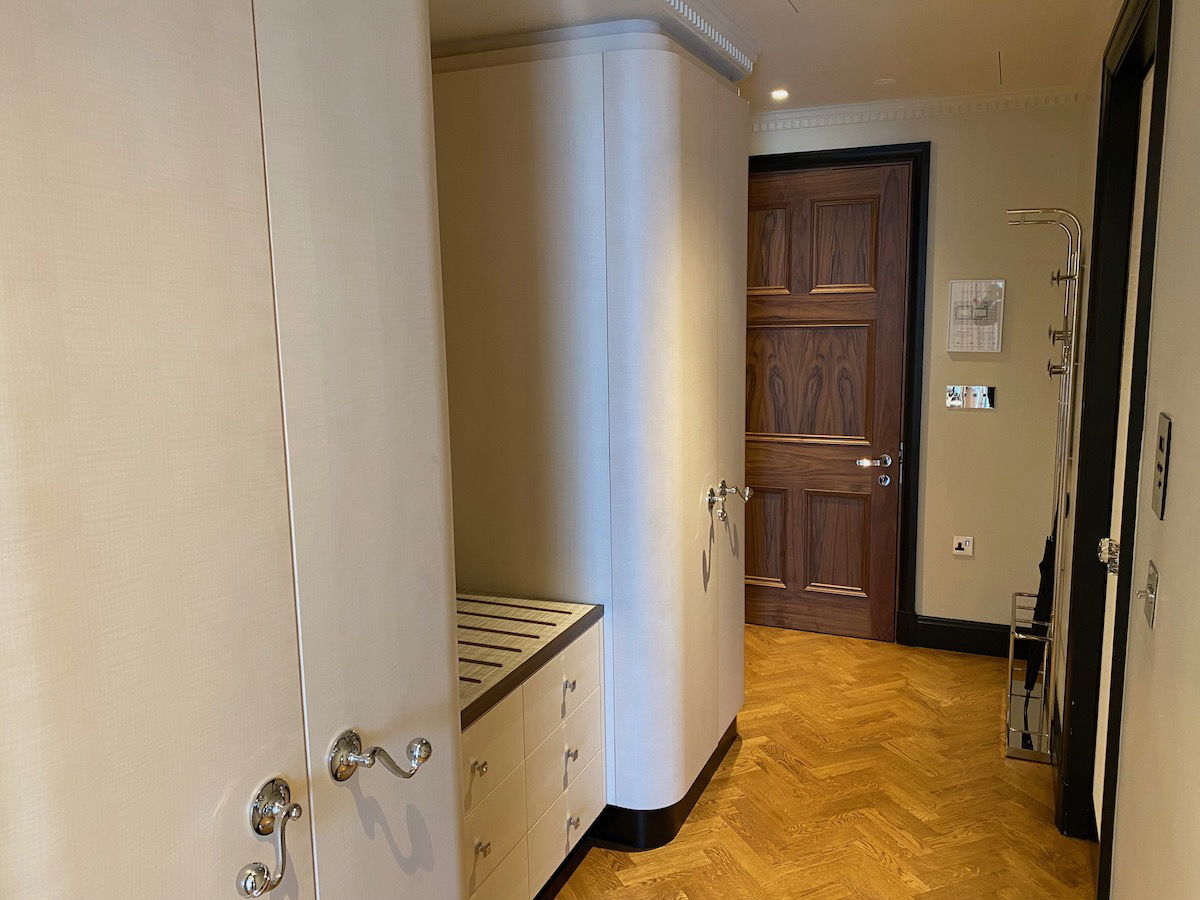 The closets were large and had a pretty cool design.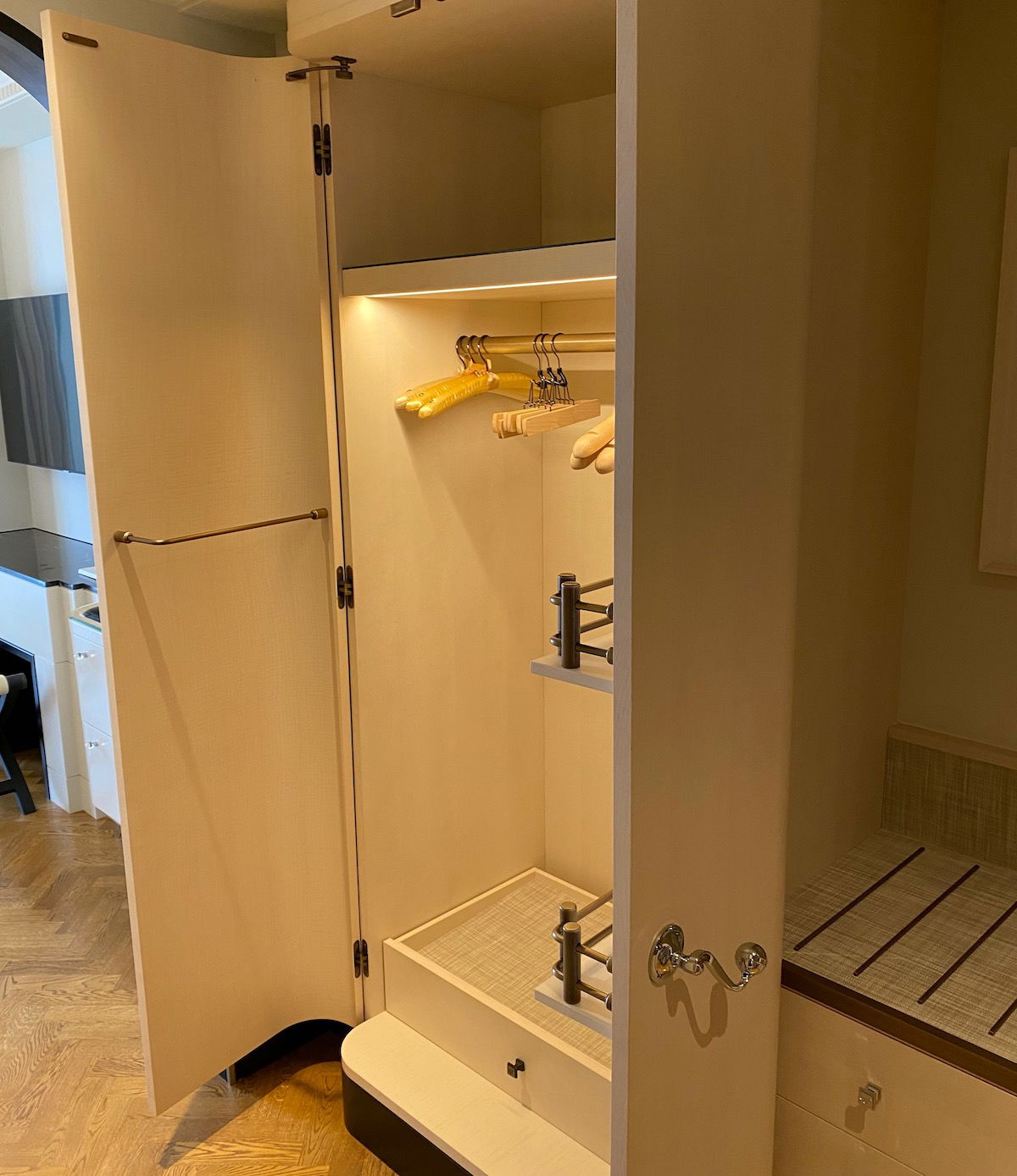 The room itself was a great size, especially for London. There was a comfortable king size bed with a soft mattress, a chair with an ottoman by the window, a table with two chairs (which could be used as a desk or a dining table), a wall-mounted TV, and then a vanity along the wall closest to the bathroom.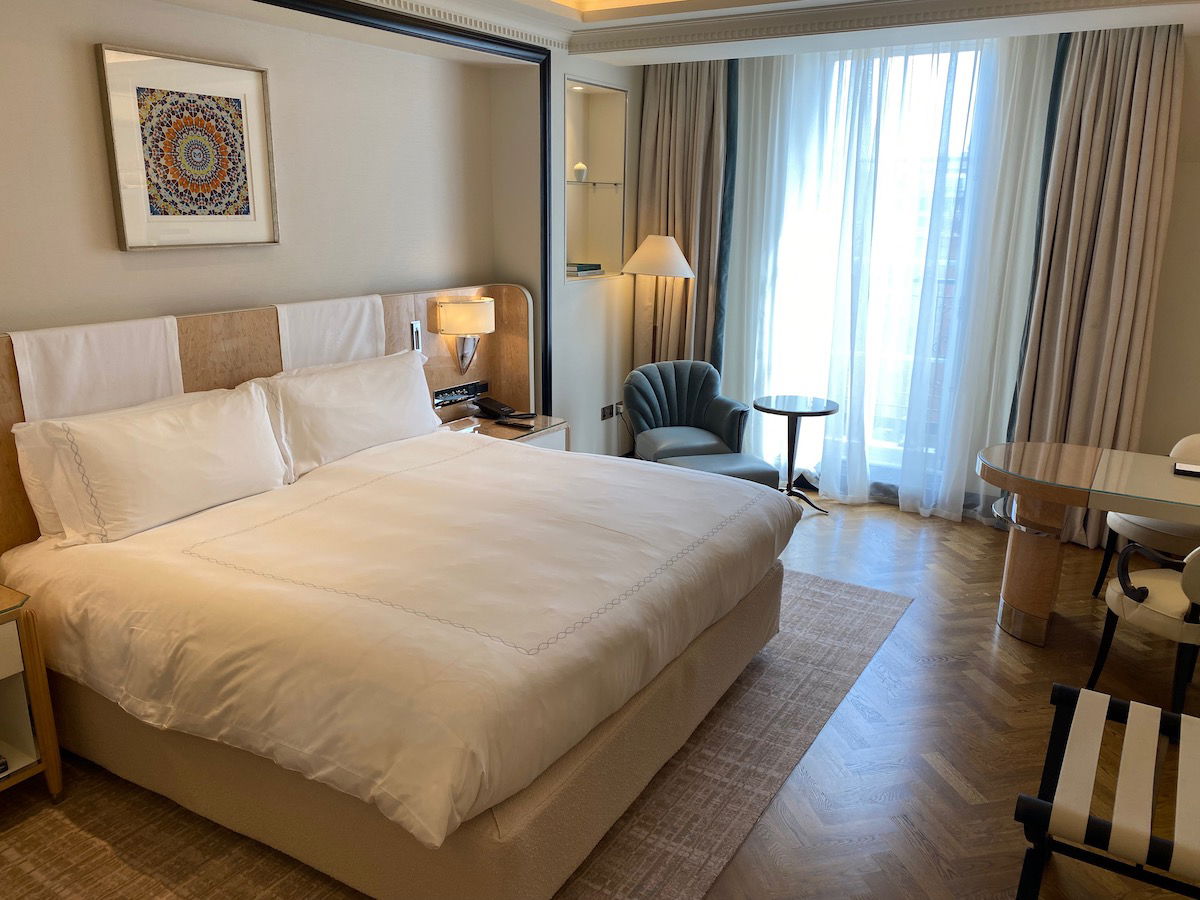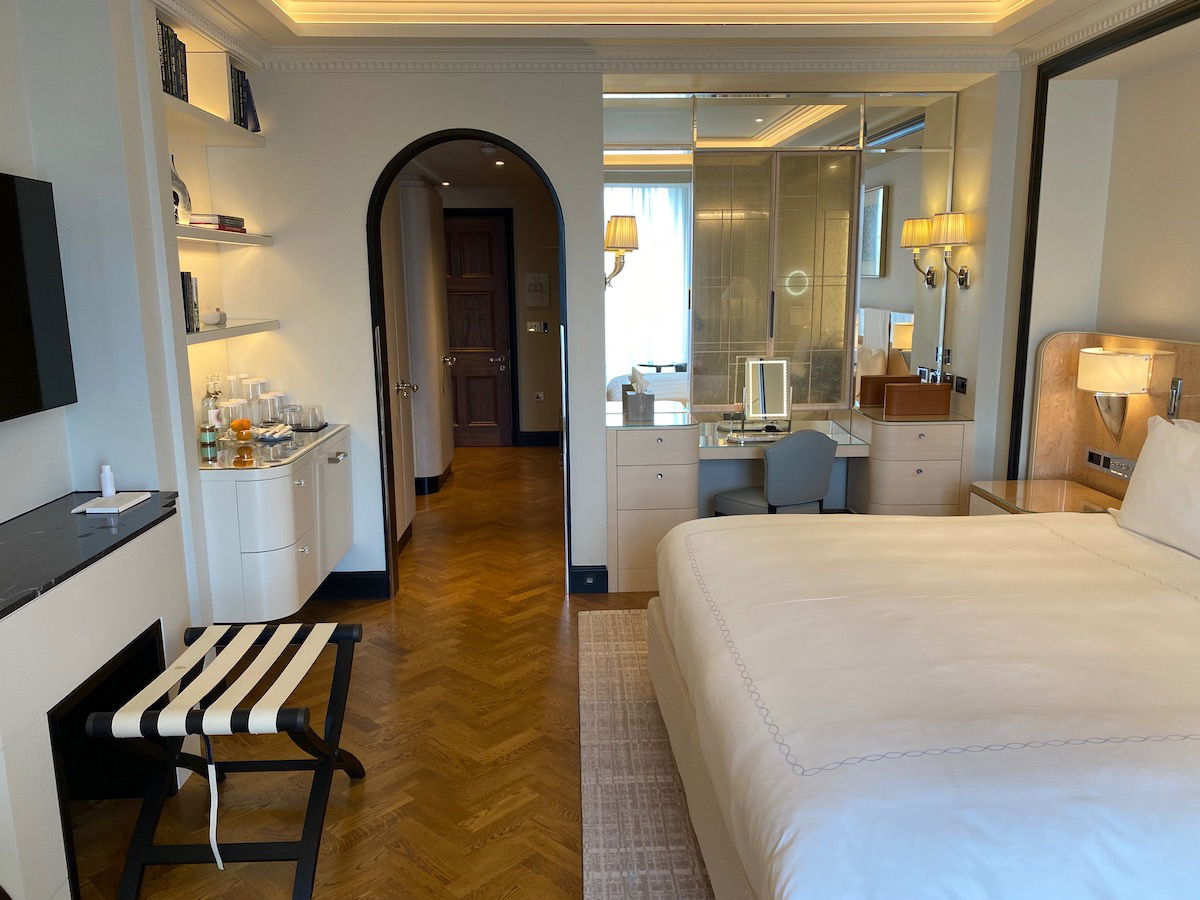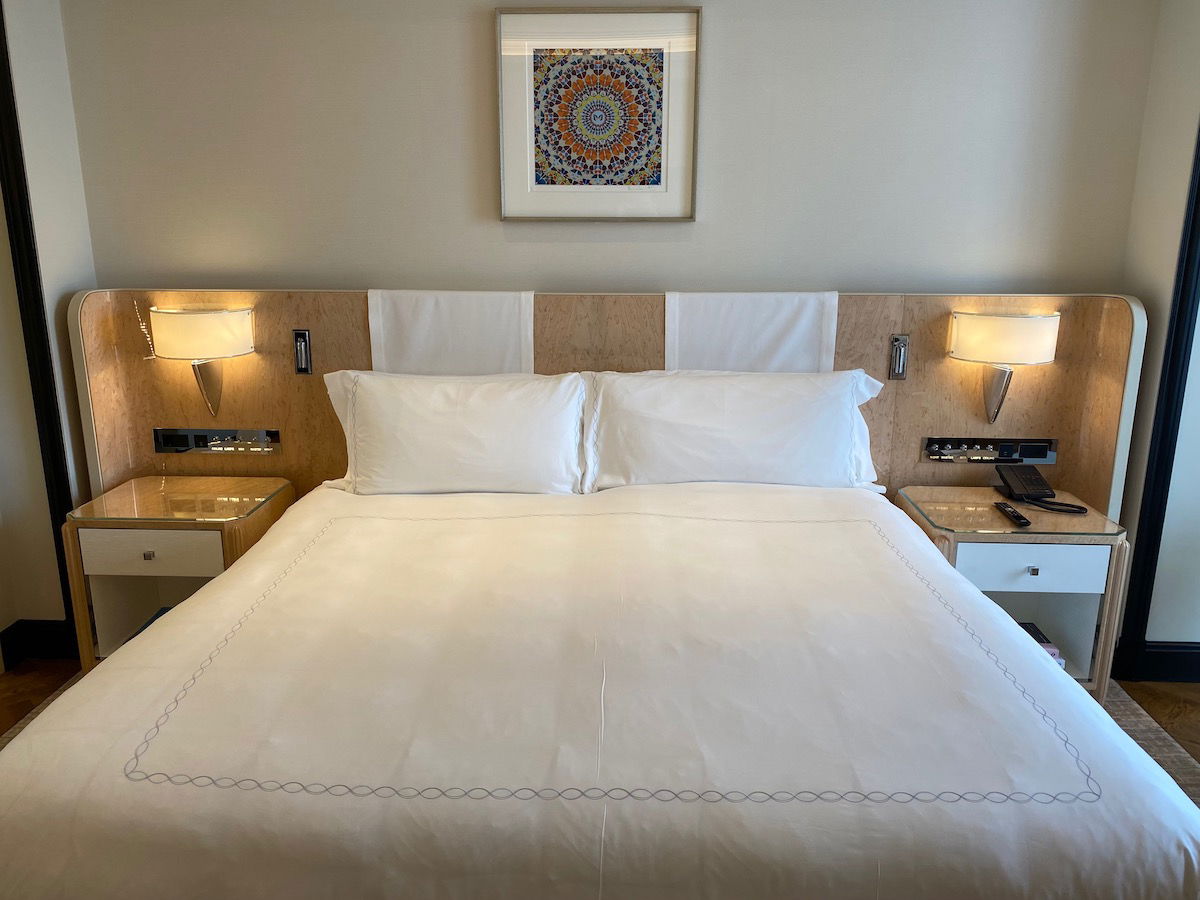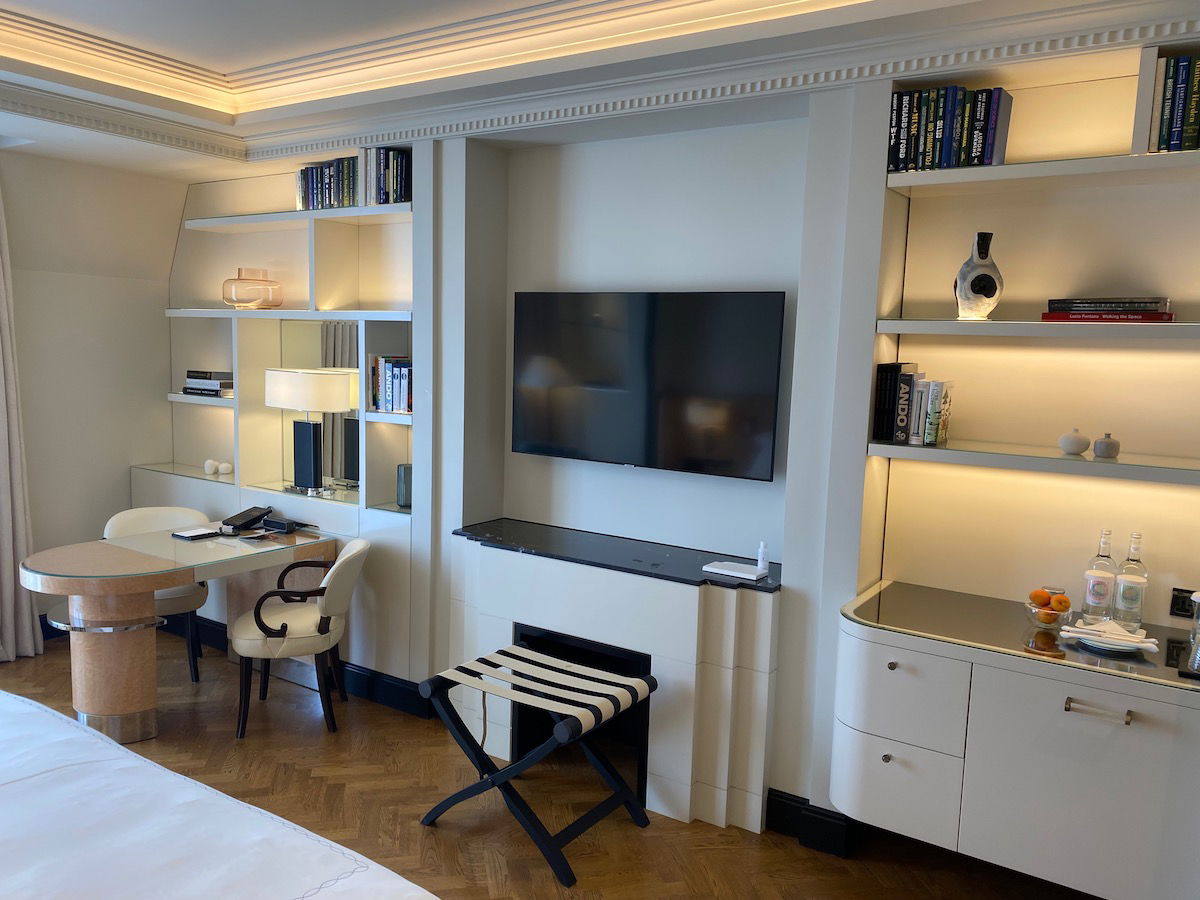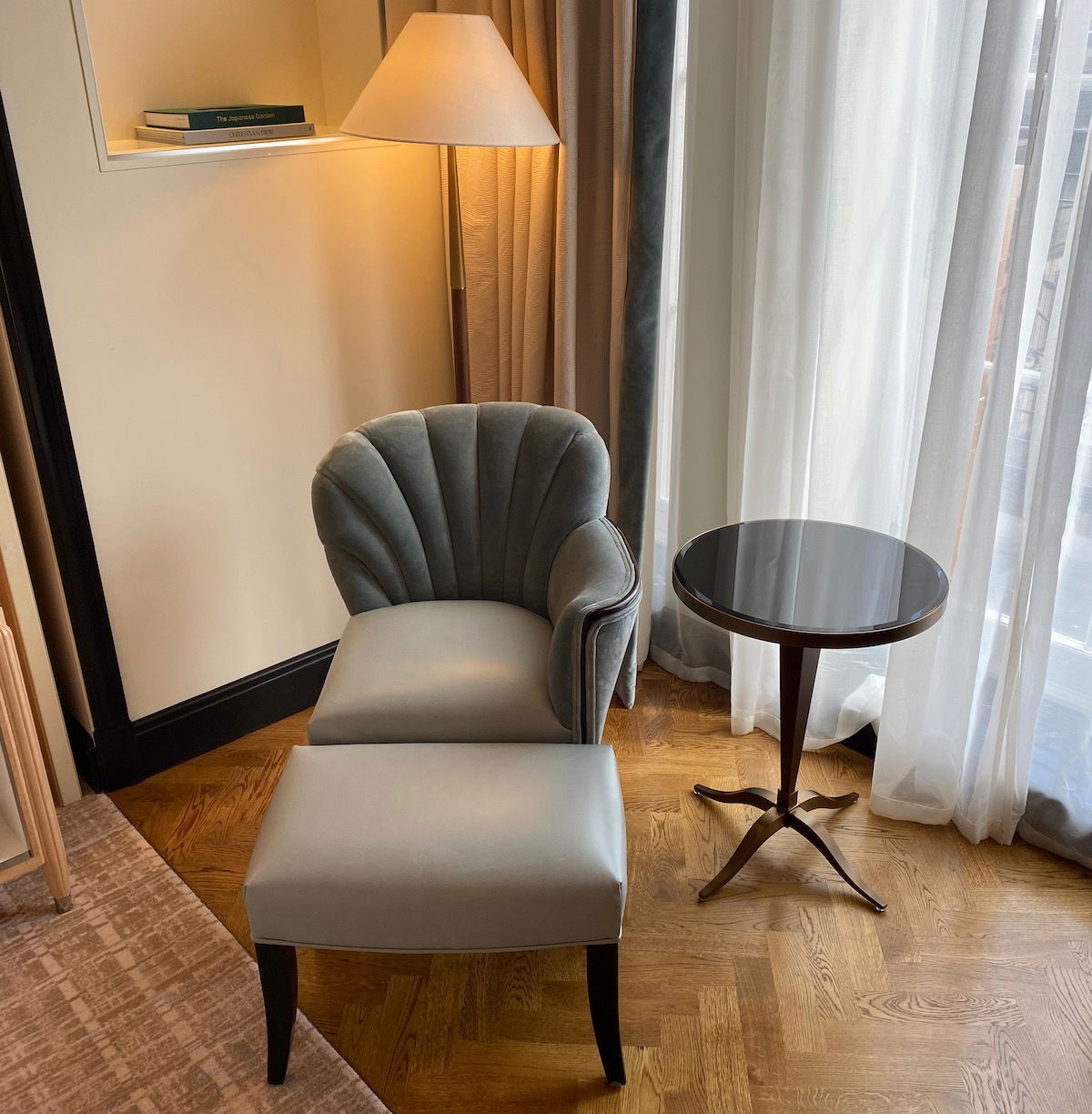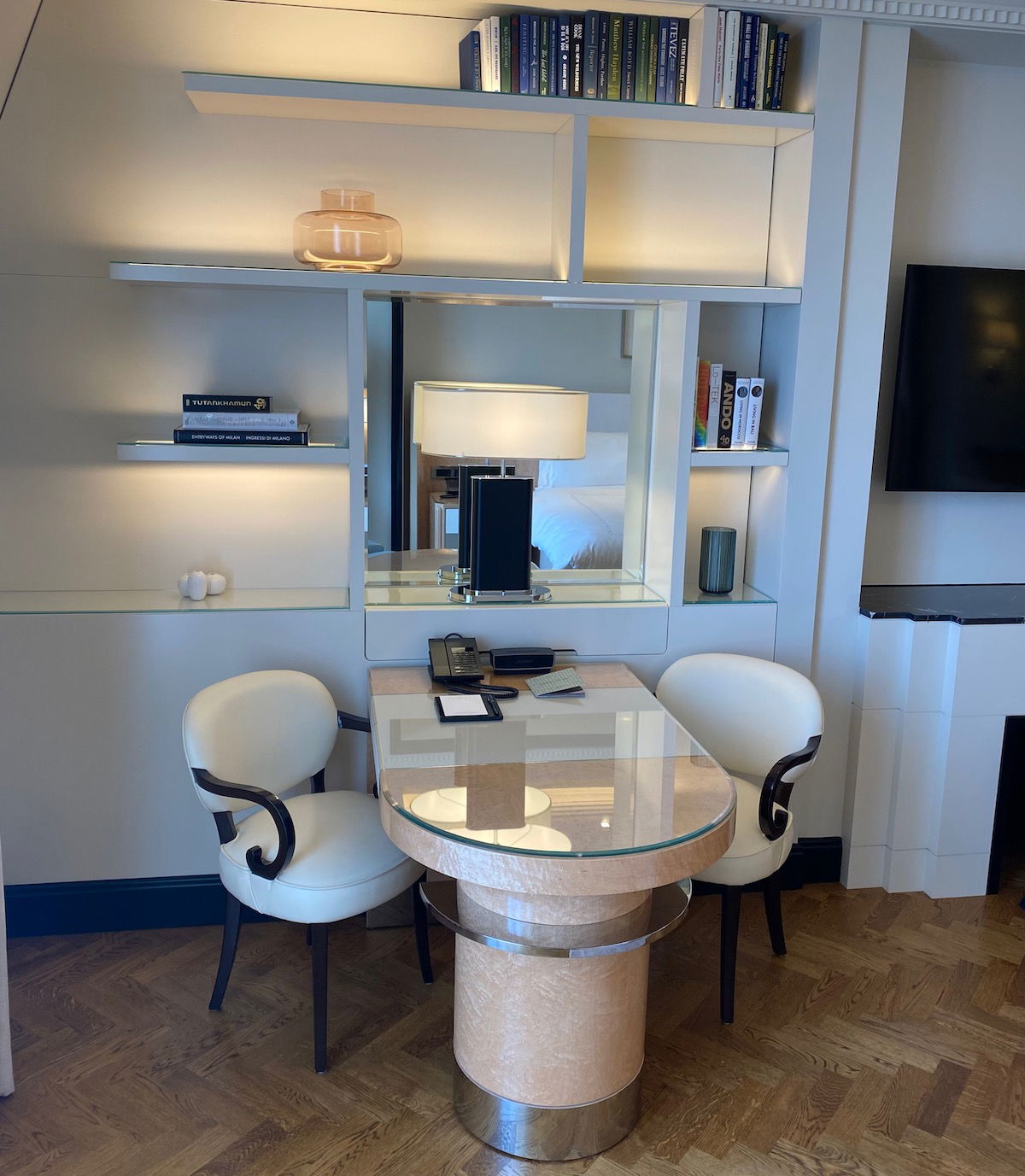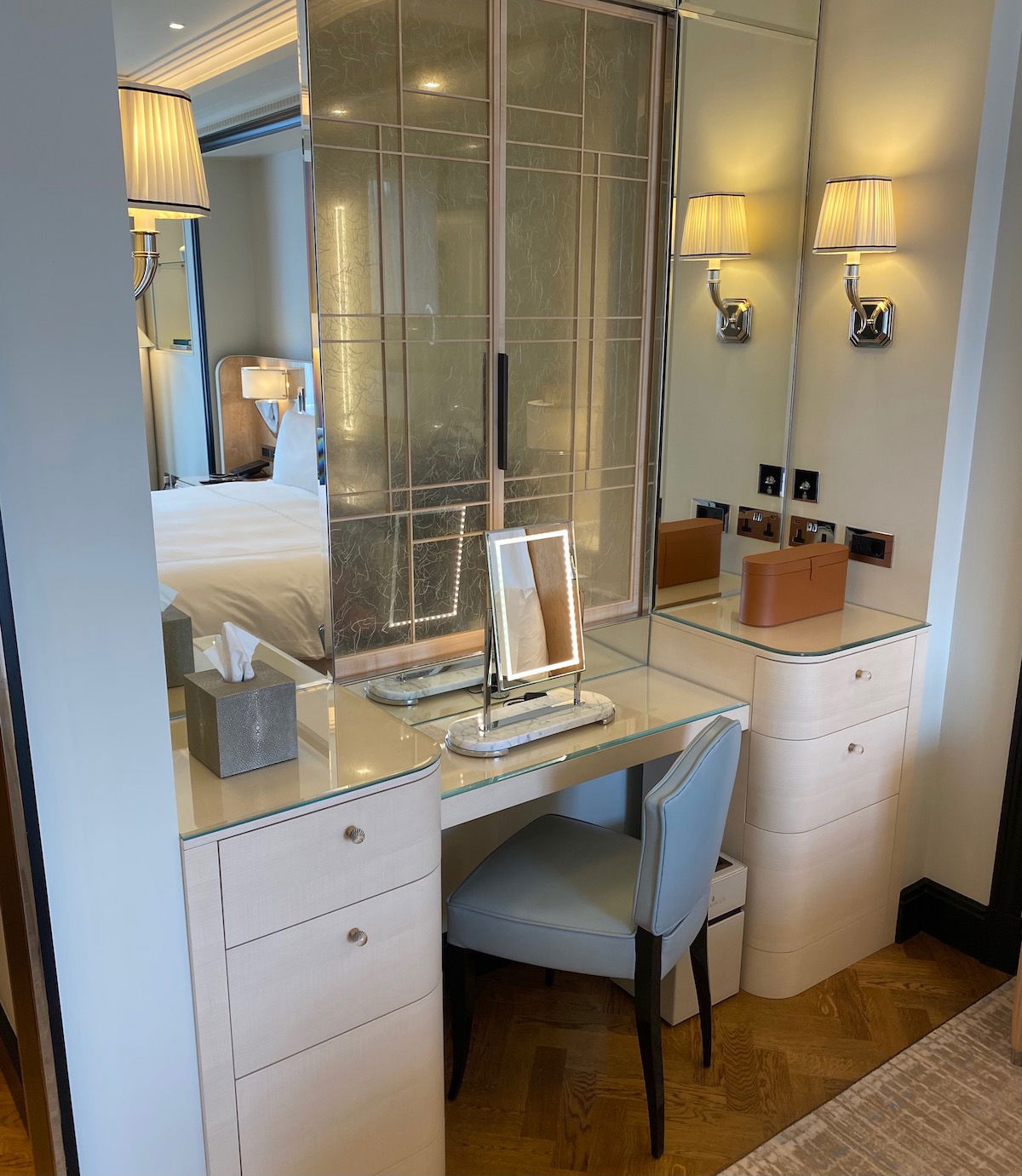 I loved the attention to detail in the design of the room — look at the number of details that went into the area around the molding, for example. I also thought it was cute how there were endless books stacked on shelves along one of the walls.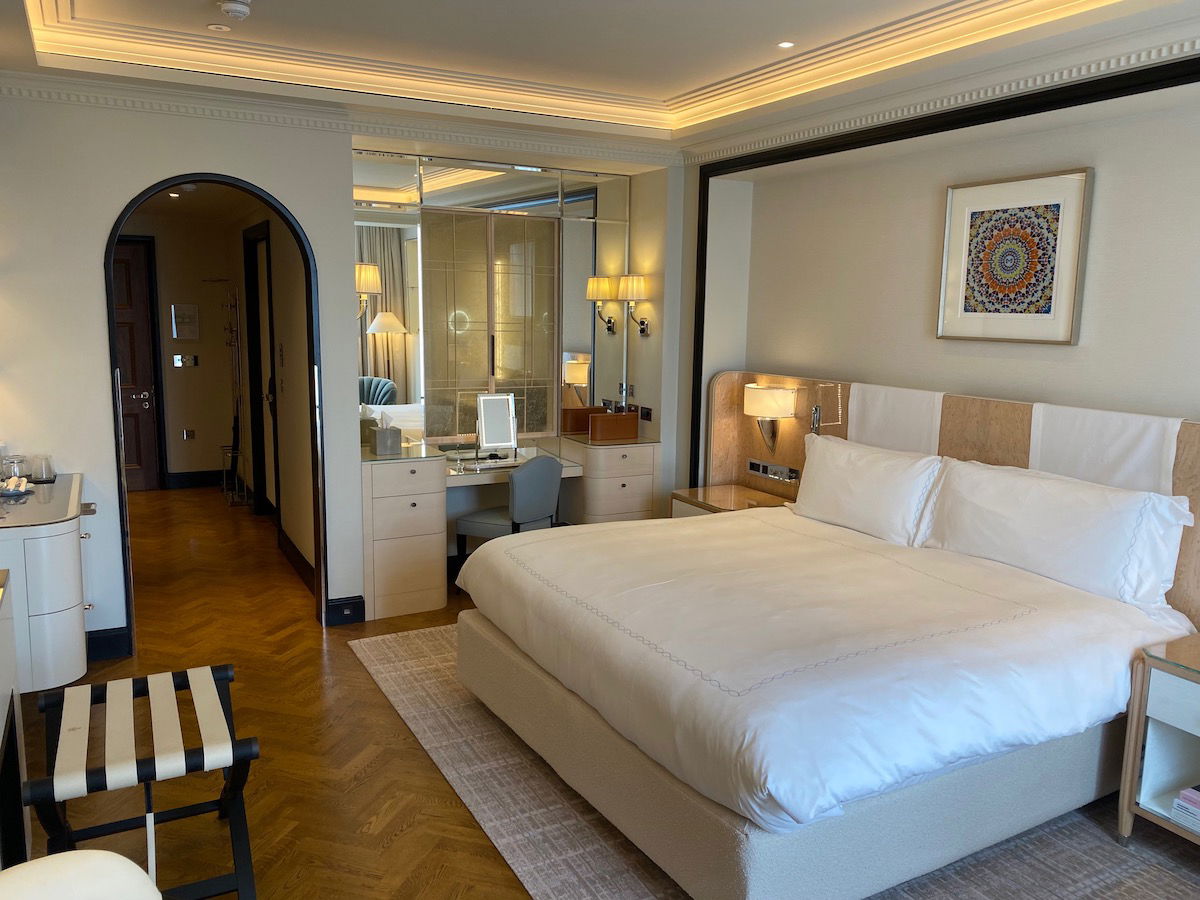 The minibar was back near the entrance.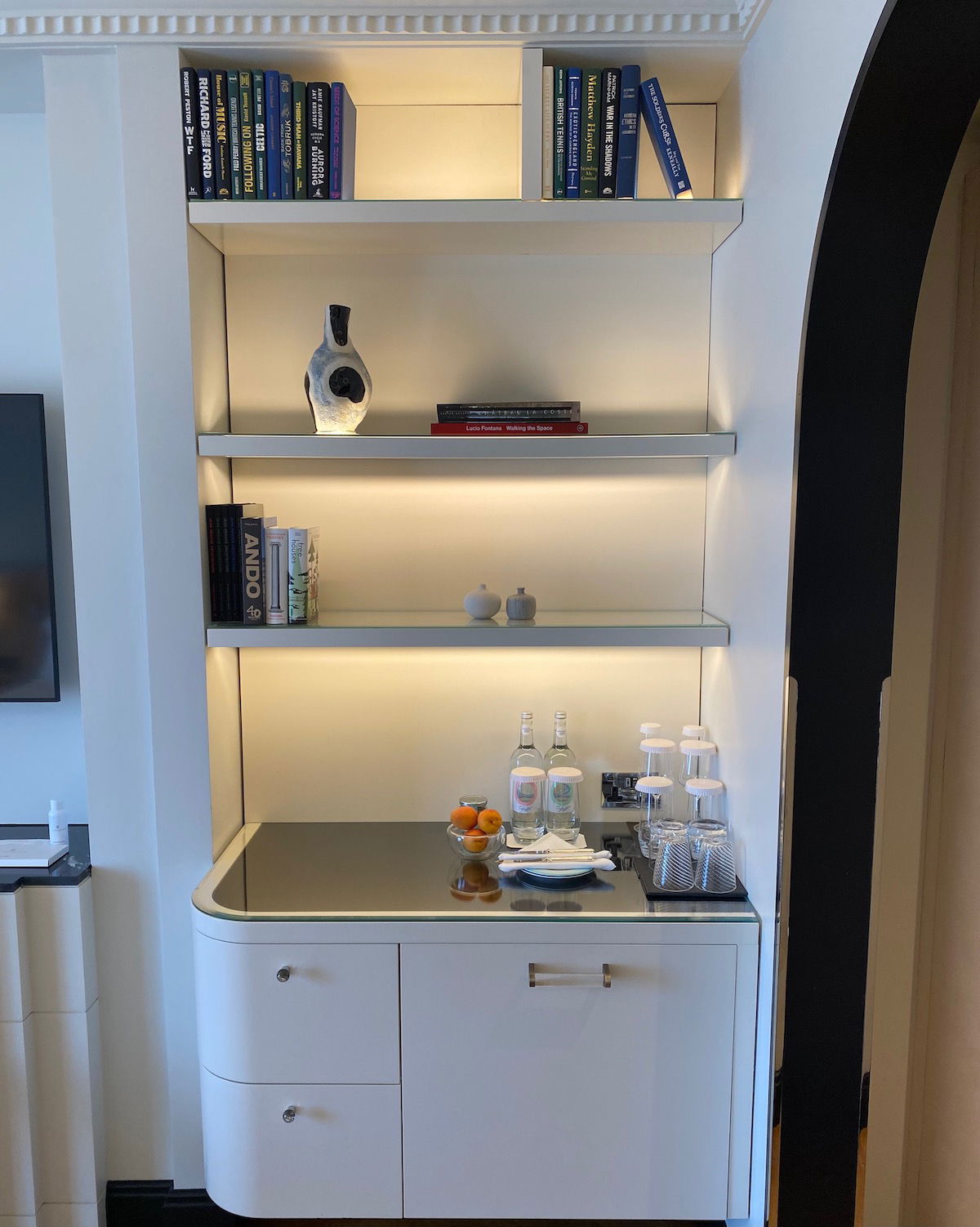 Waiting there was a welcome amenity with a couple of bottles of water, a jar with nuts, and some fruit.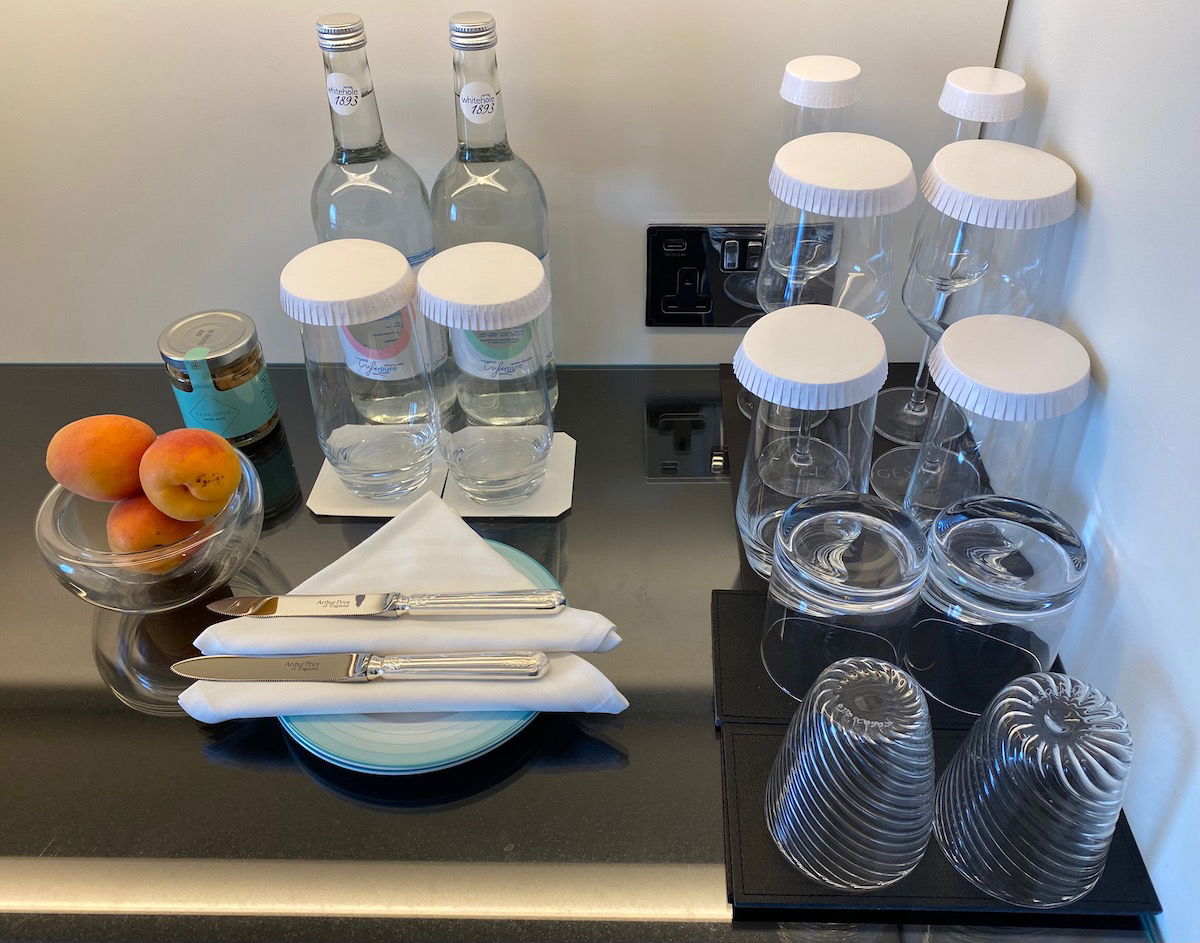 The minibar was well stocked, with both drinks and snacks.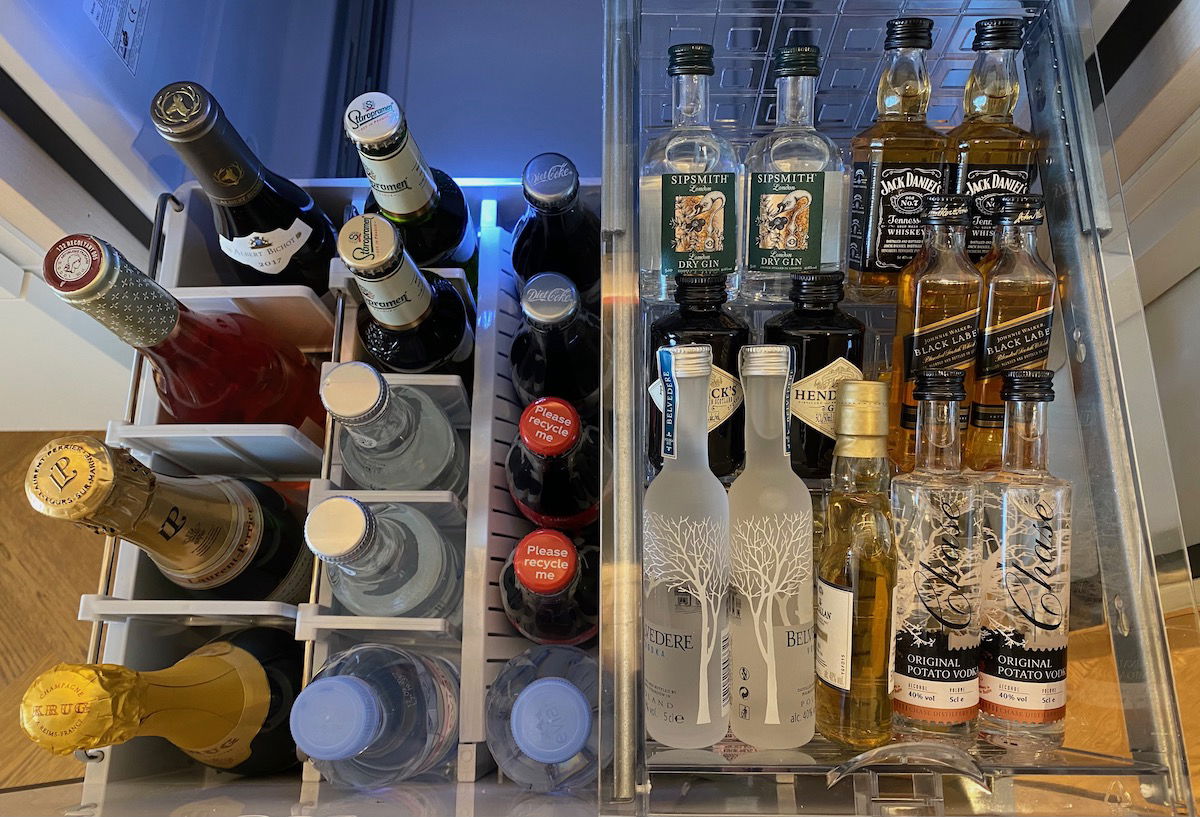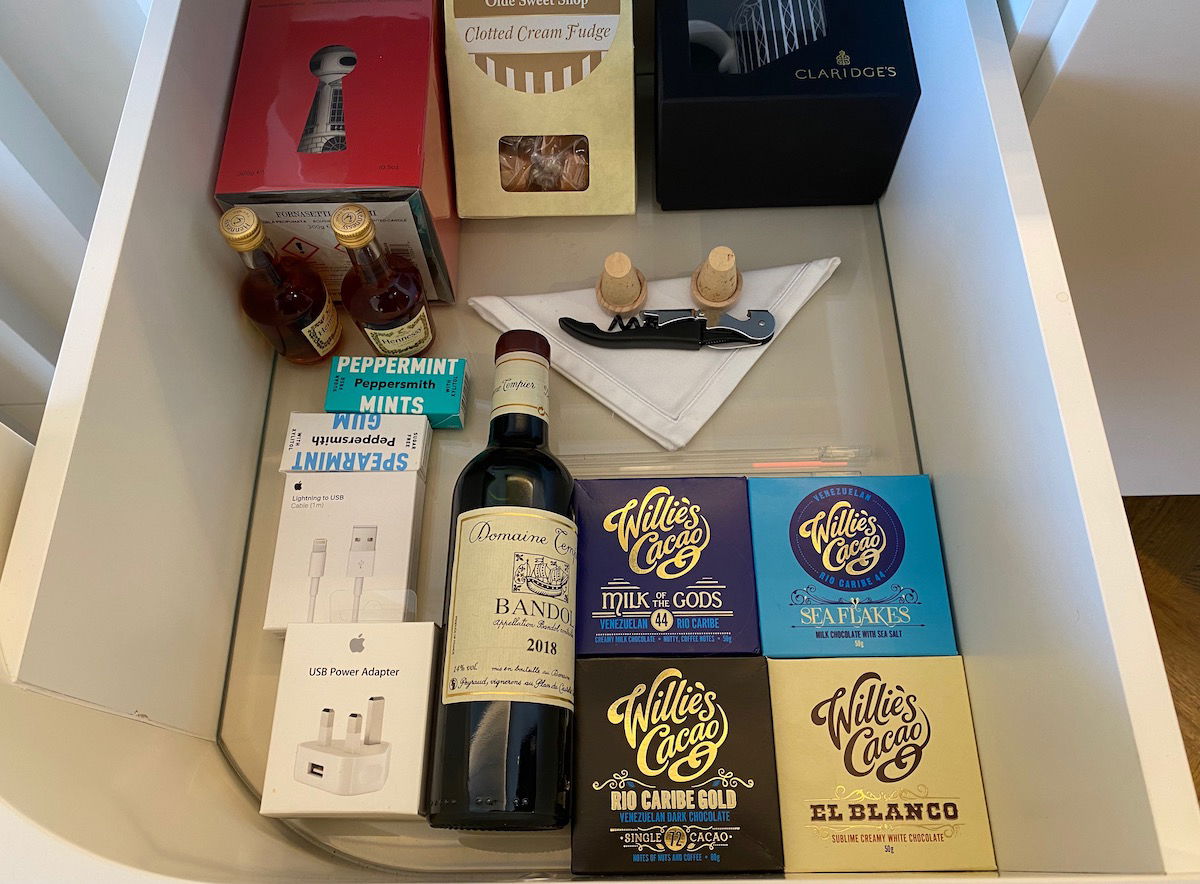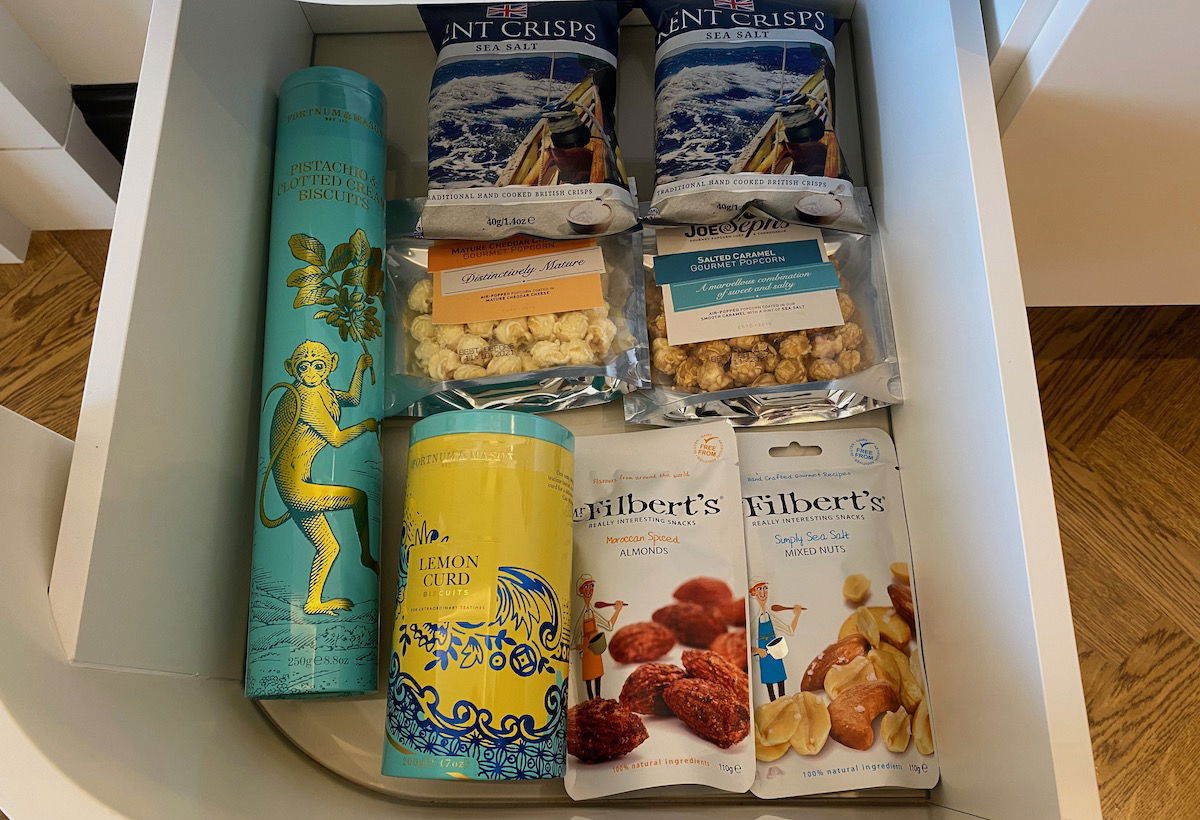 The only thing I found strange about the whole room was that there wasn't an in-room coffee machine, which I've never seen before at a luxury hotel. Given how good service was here I'm sure they would have brought one if we asked, but I never got around to it.
I thought the buttons to control the lights were cute as well, and appreciated the variety of outlets by the bedside.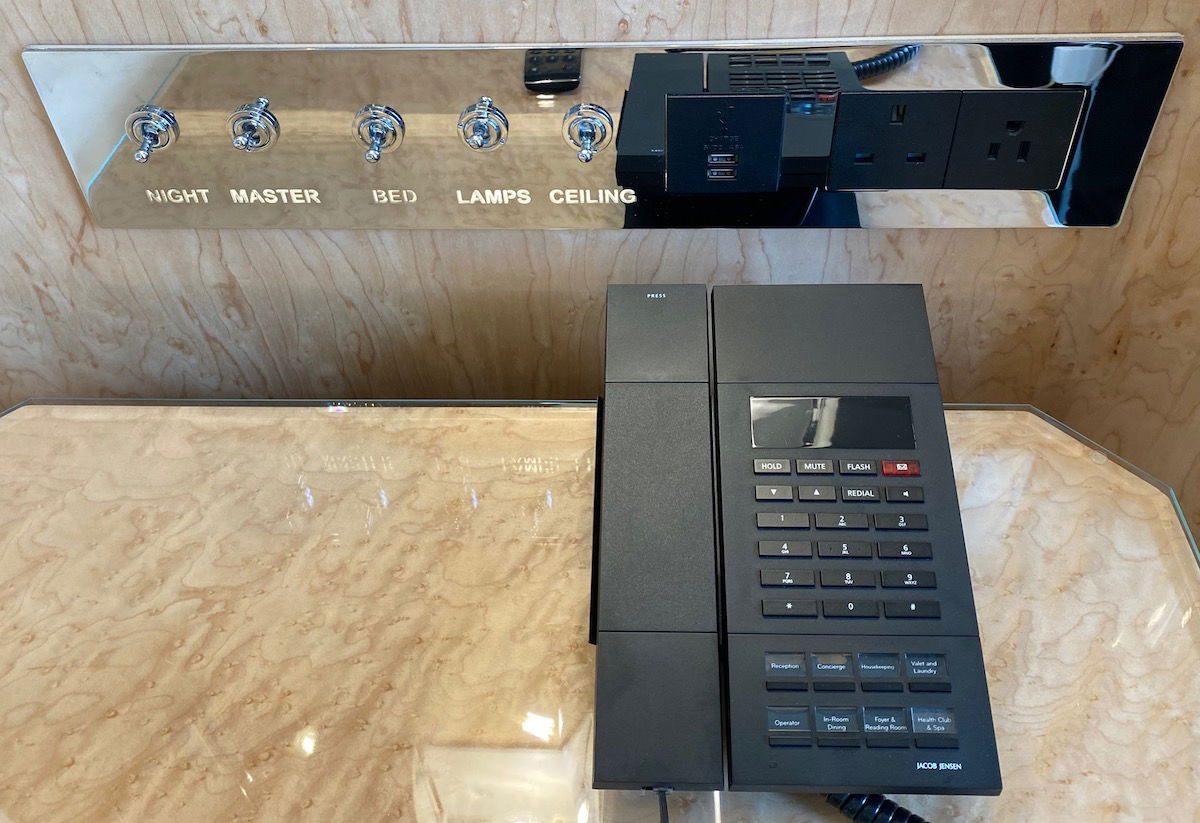 While the room didn't have a balcony, it did have pretty good views of surrounding buildings — the room didn't face a major street, so was always quiet.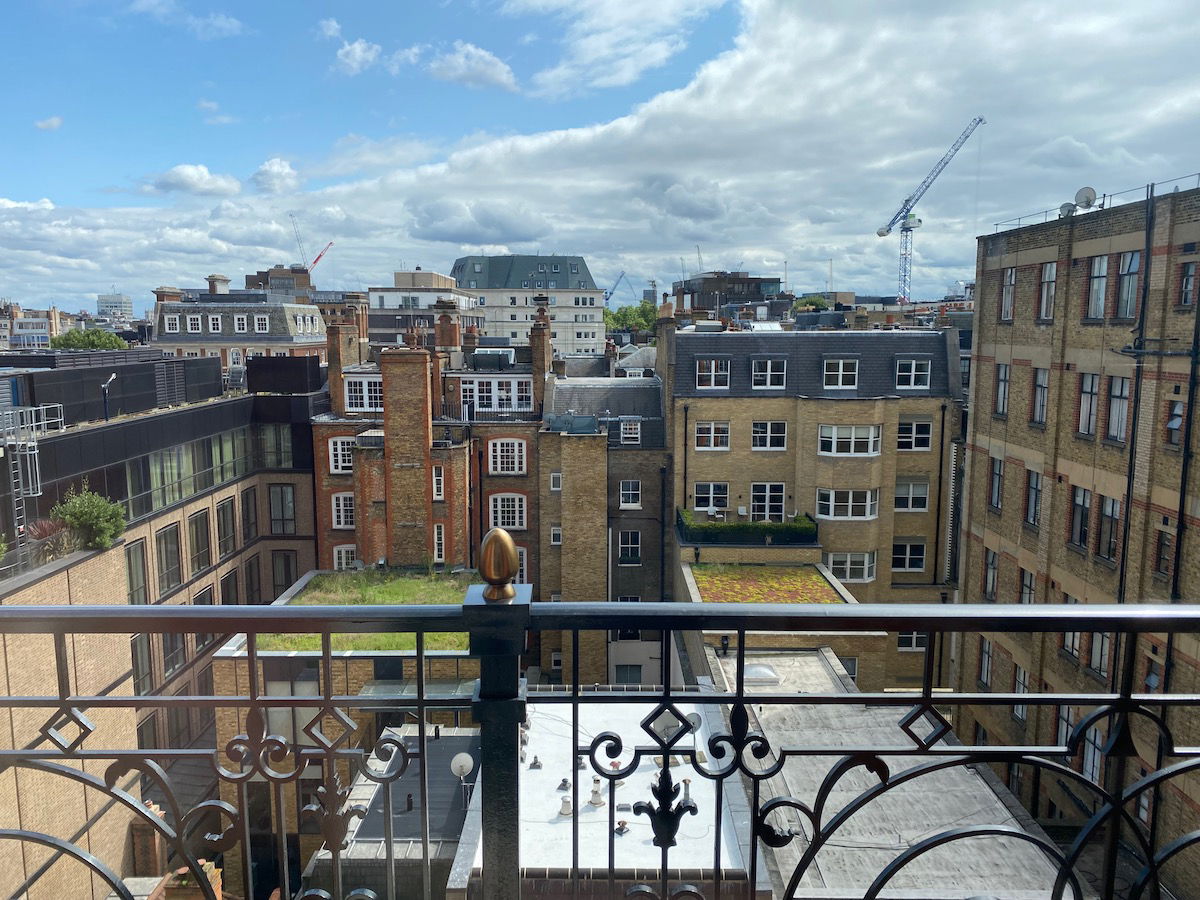 The bathroom was fantastic, particularly for a non-suite. There were double sinks, a full tub, a huge walk-in shower, and a fancy automatic toilet with a heated seat.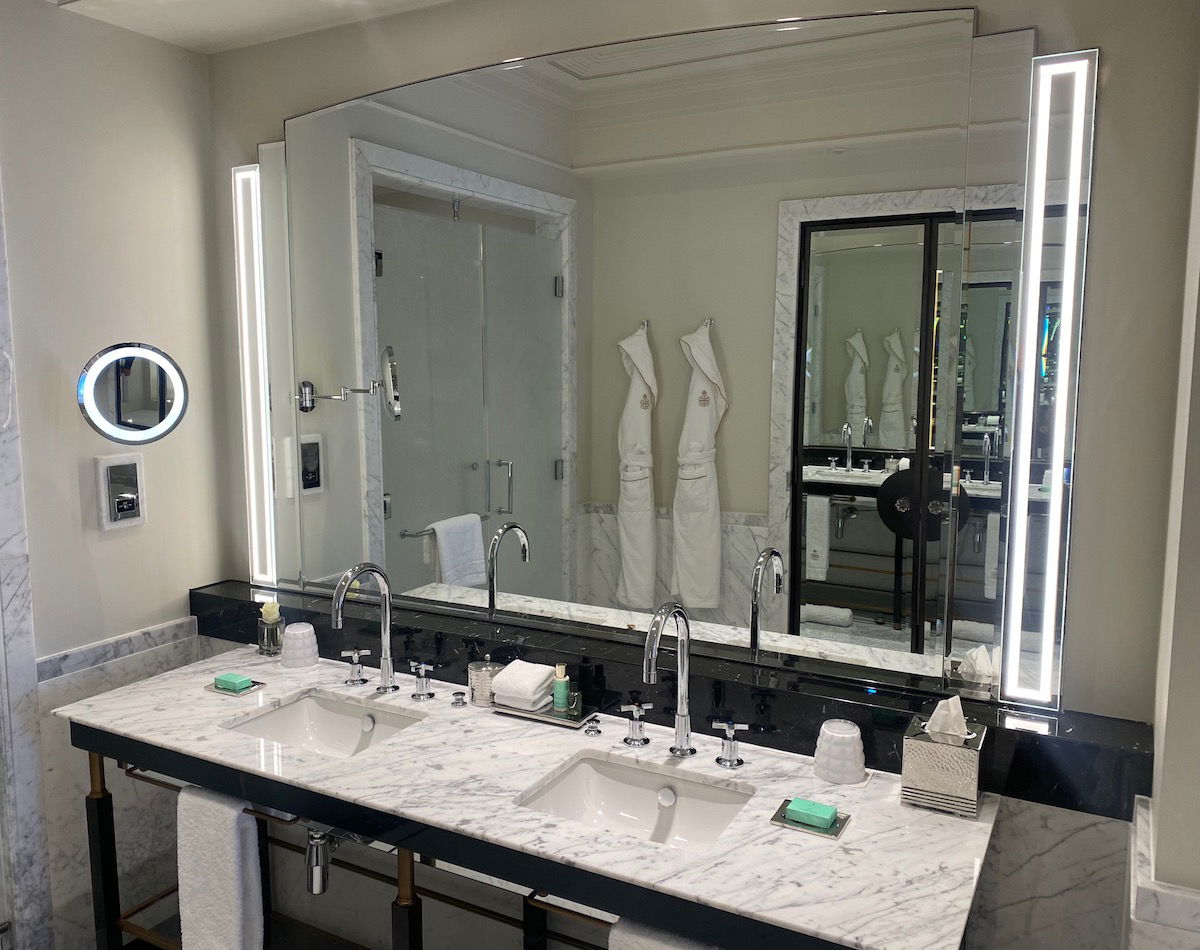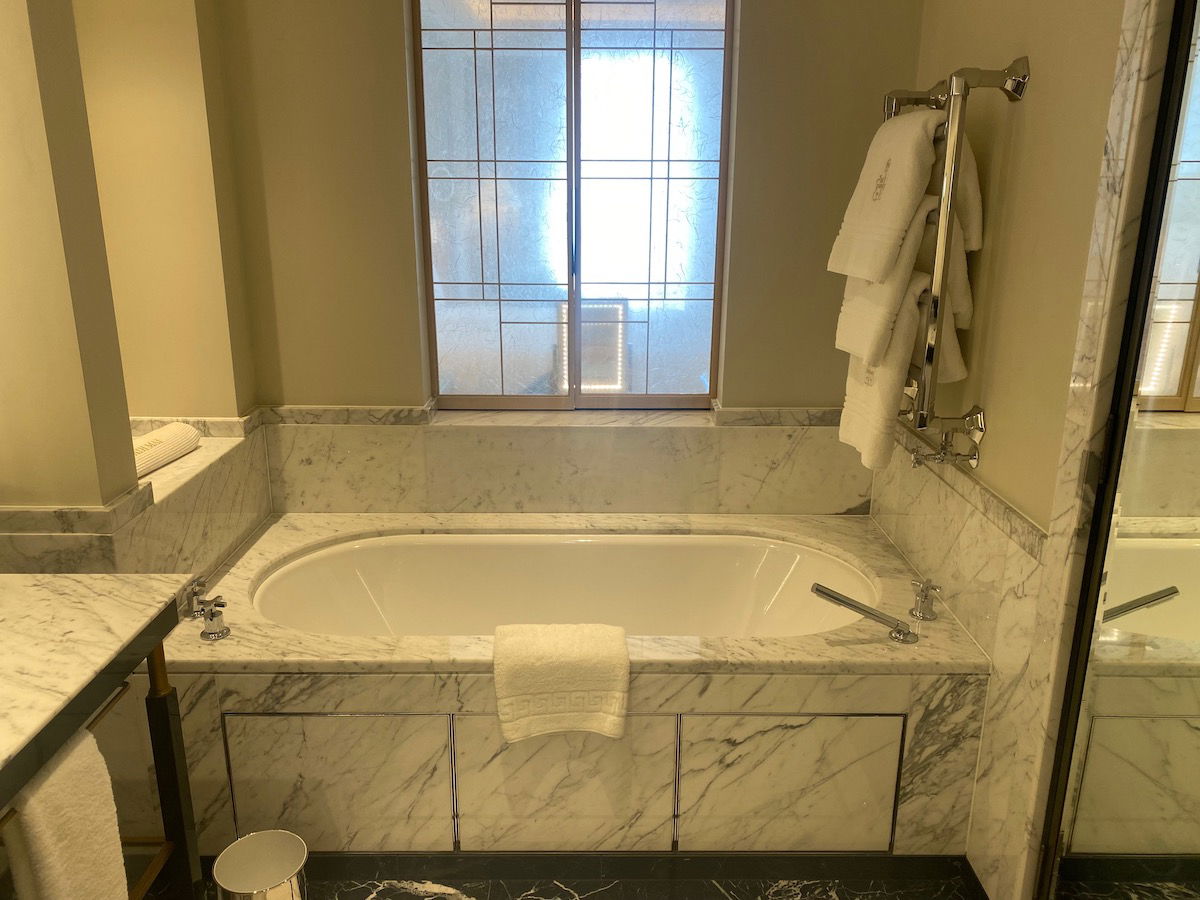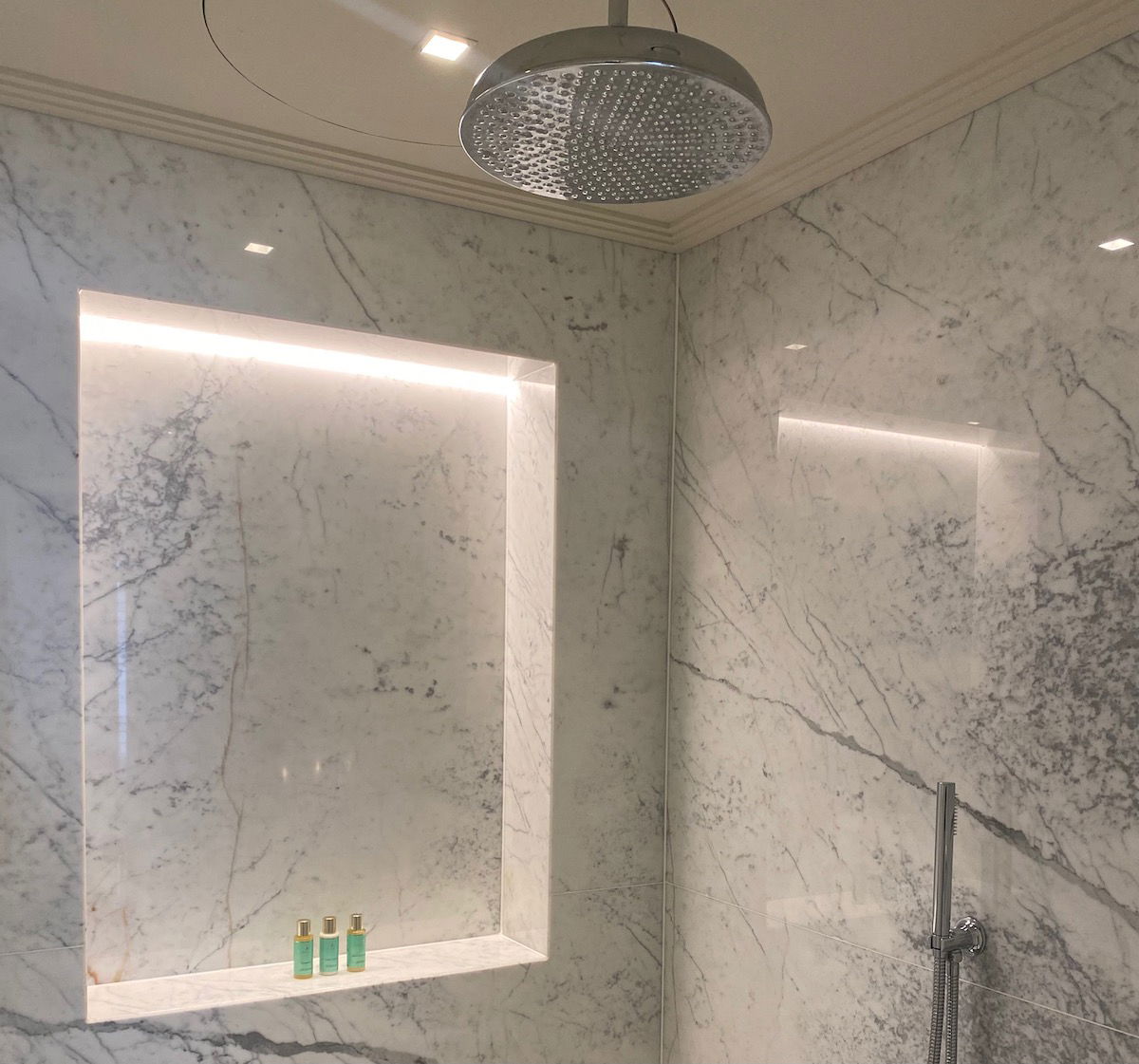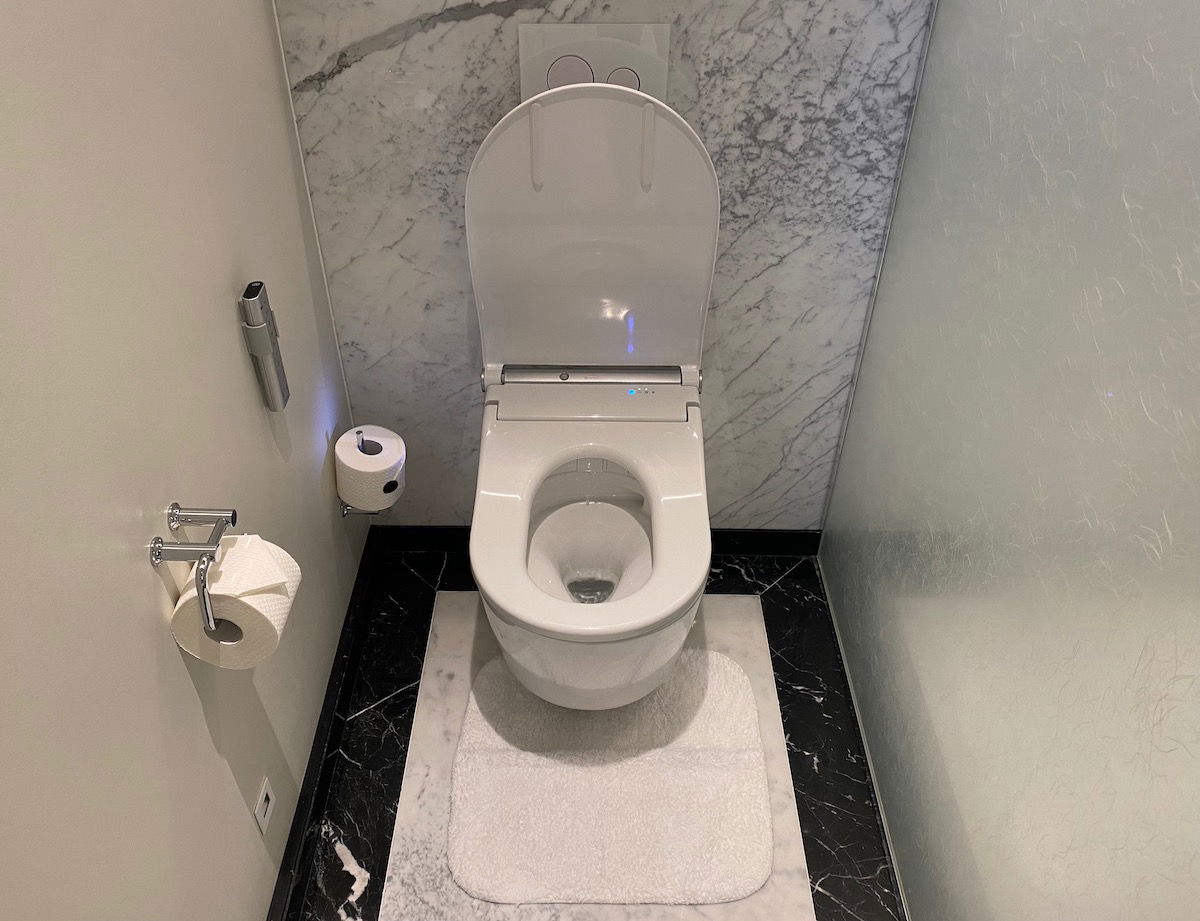 Toiletries were from Claridge's, and were high quality.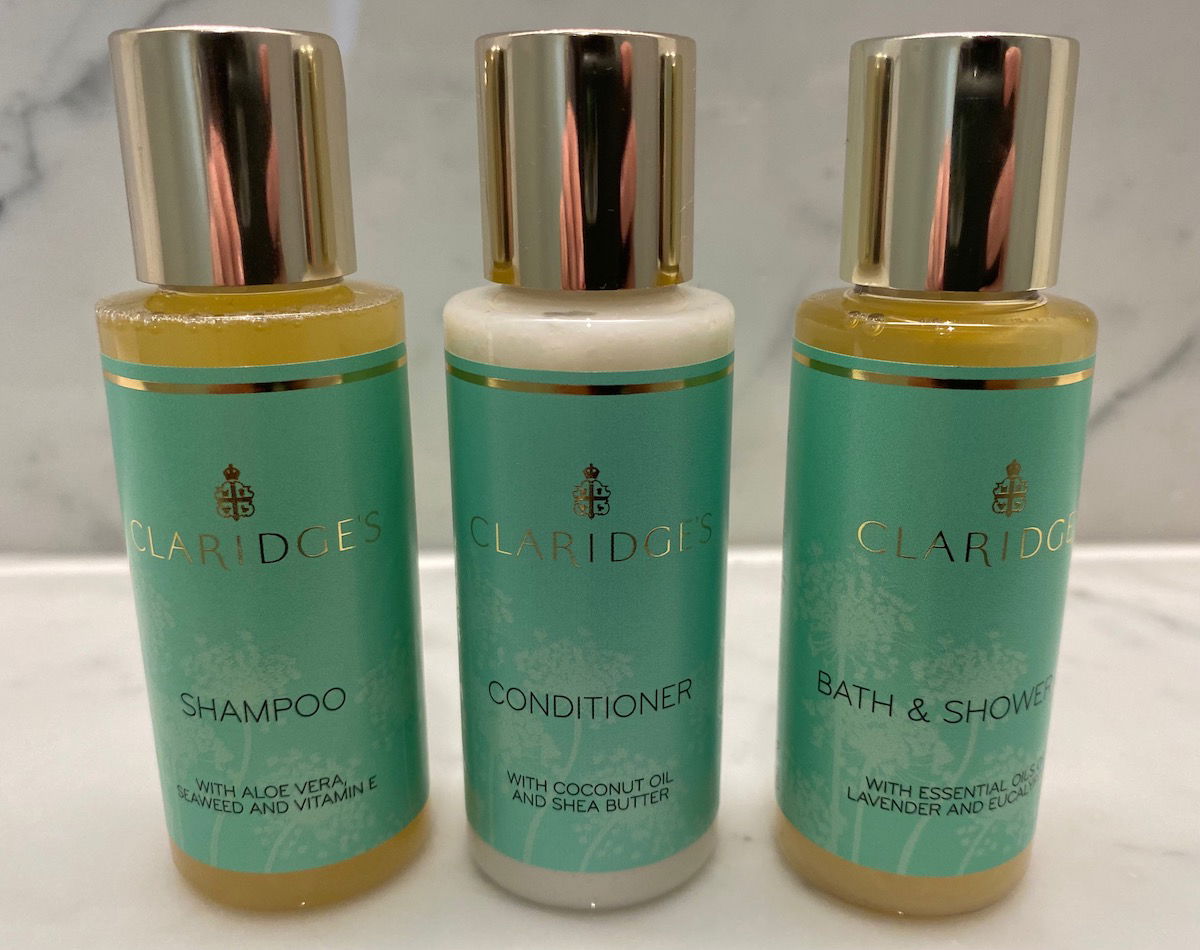 Wi-Fi in the room was fast and free, and I also have to note that the air conditioning worked really well (which isn't always the case in the UK). You can basically turn your room into a freezer if you'd like.
Claridge's Bar welcome drinks
All hotel guests at Claridge's receive a complimentary welcome drink at Claridge's Bar, located just off the lobby. What a nice touch.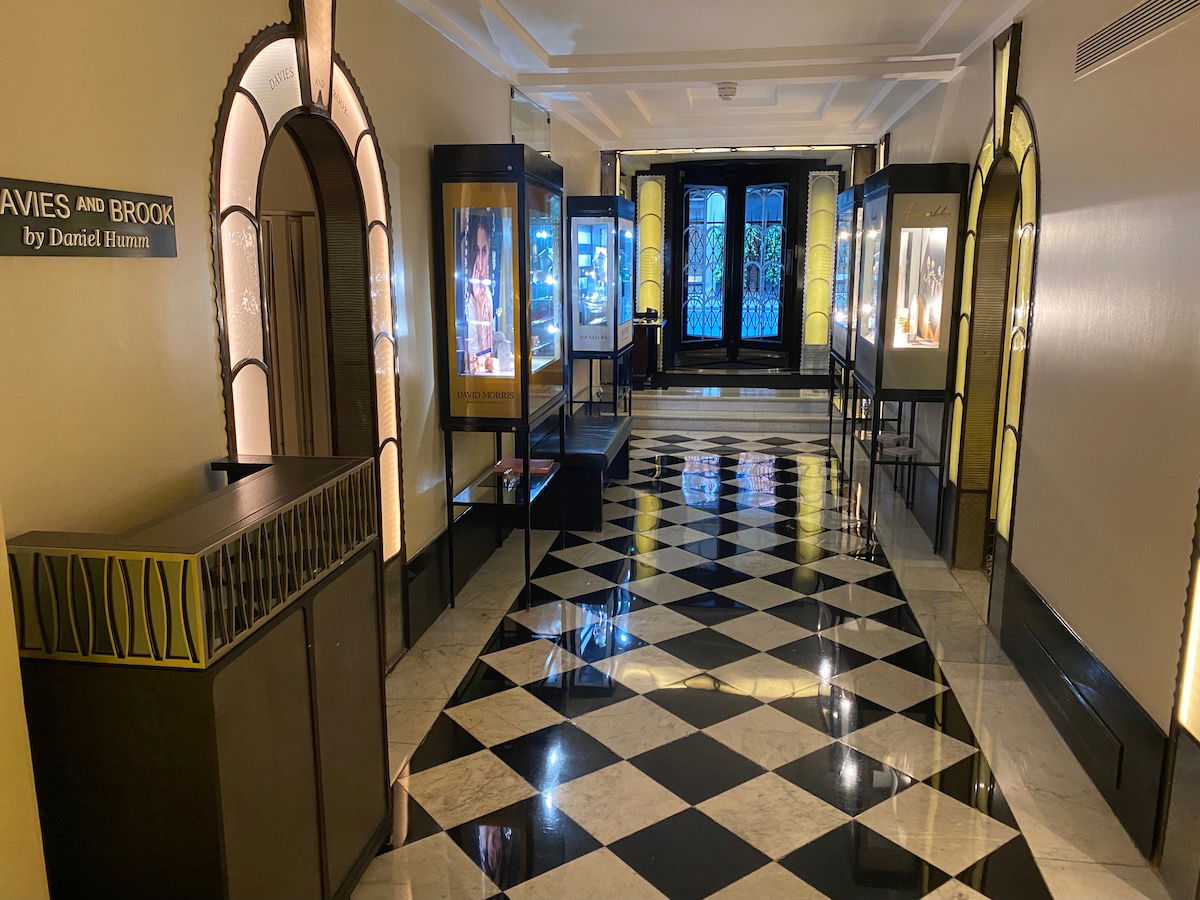 The bar feels old school, and has both indoor and outdoor seating.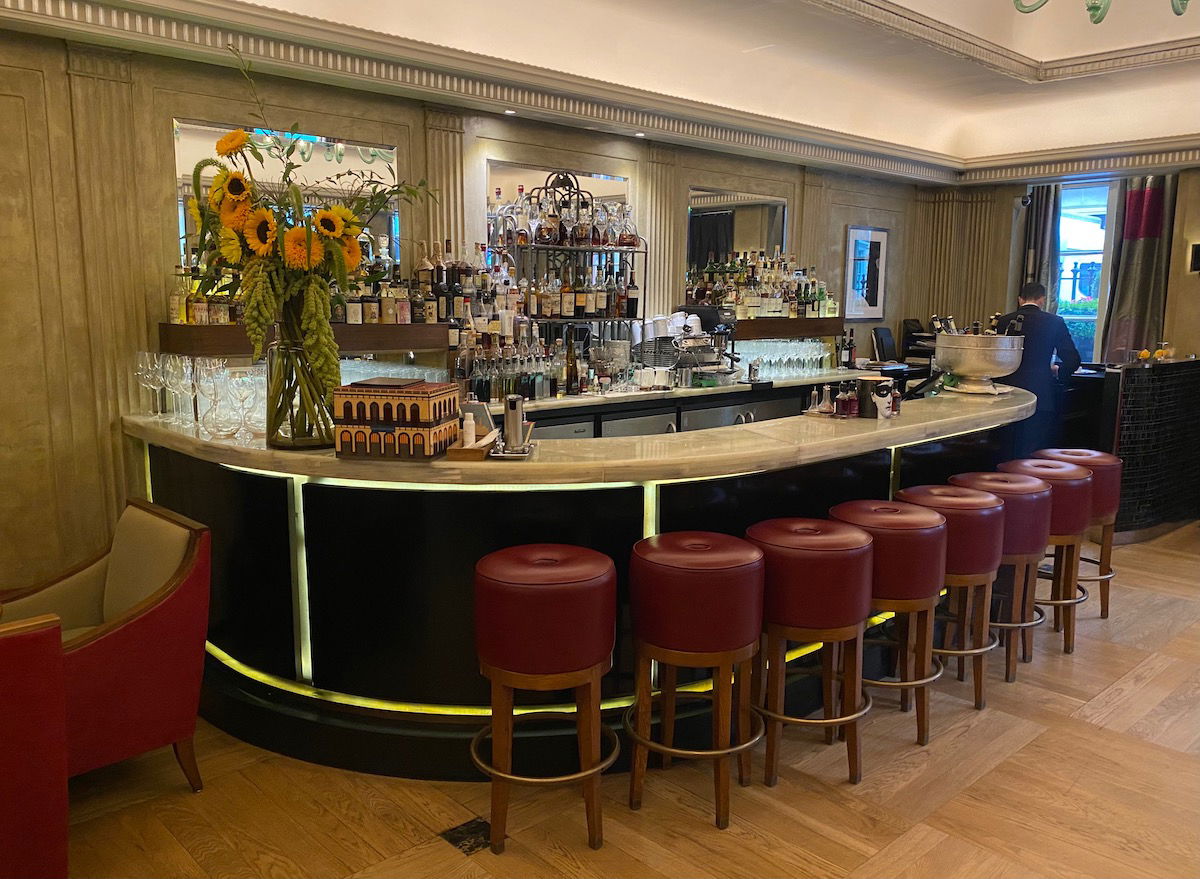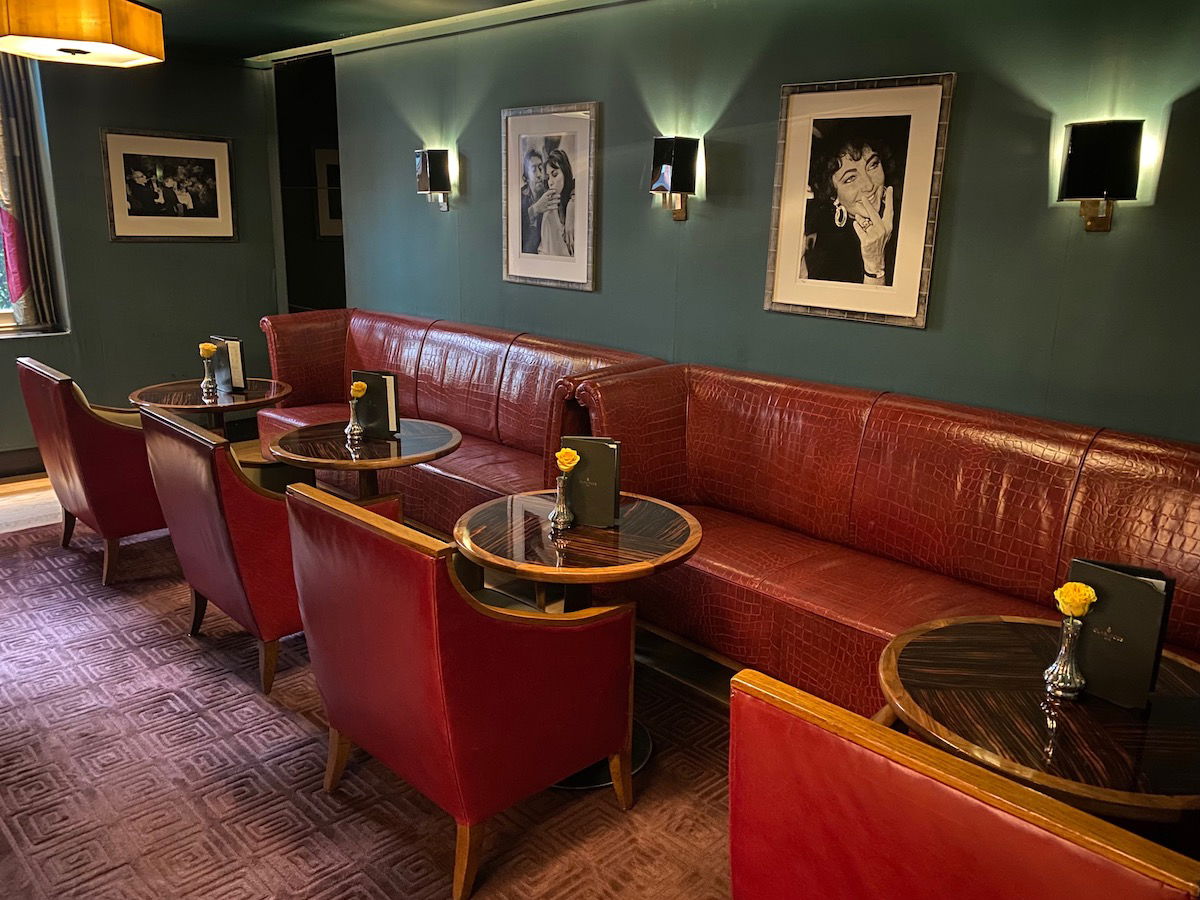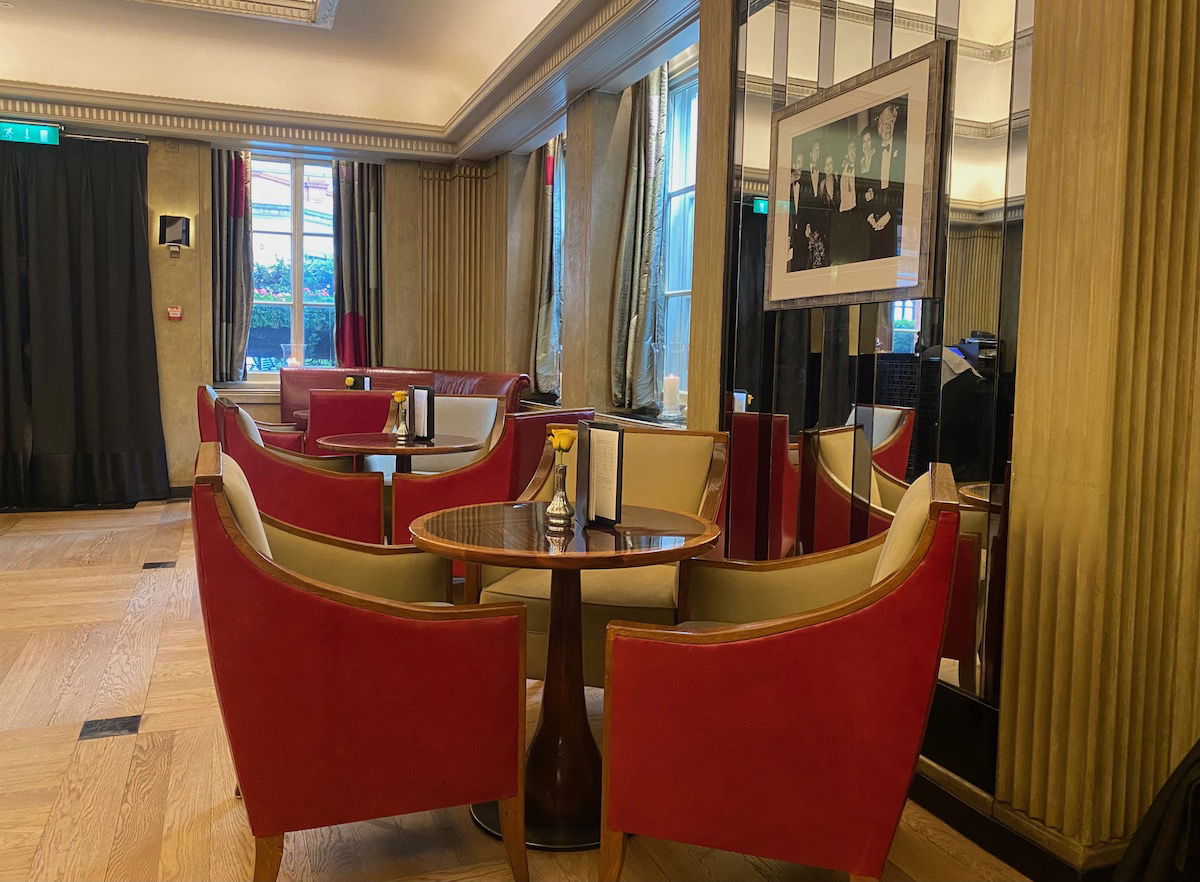 There was a huge selection of cocktails, and both of our cocktails were excellent, and served with some nuts and crisps.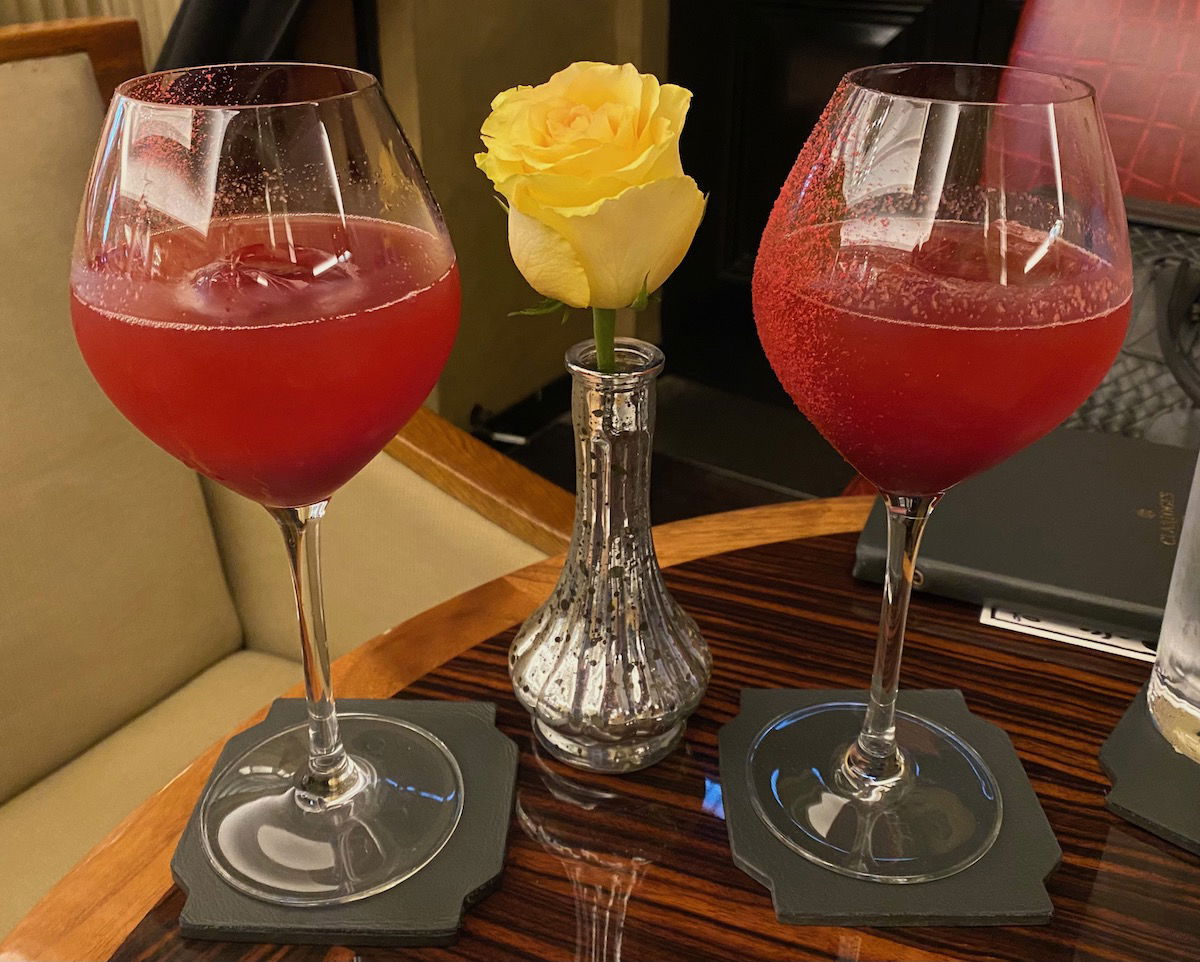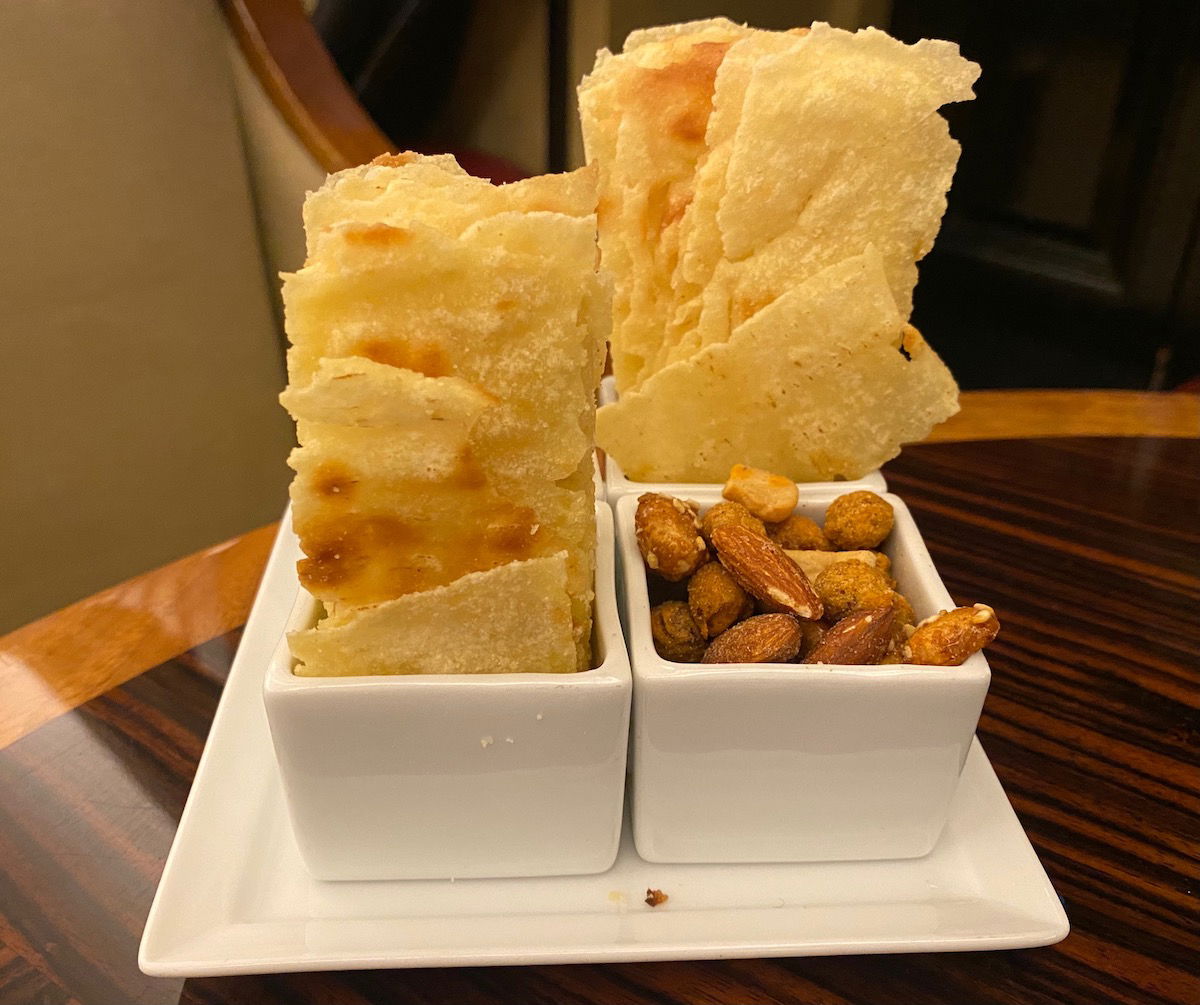 You can find the Claridge's Bar drink list here. We didn't order anything to eat, but there was also an extensive food menu, with pizza, pasta, and more.
While we never visited, I should also mention that Davies and Brook is located across from Claridge's Bar, and also looked pretty opulent.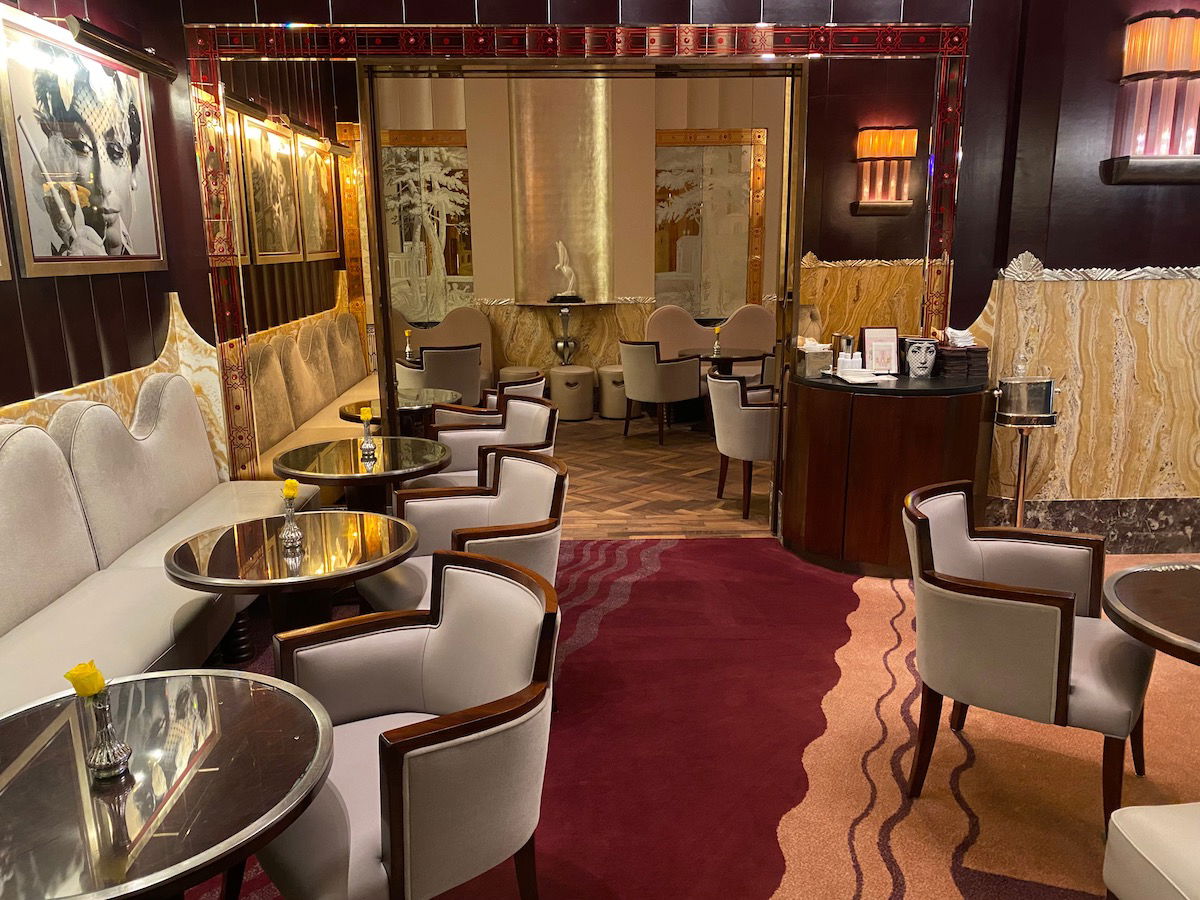 Claridge's London The Foyer & Reading Room
No doubt the most popular venue at Claridge's is The Foyer & Reading Room, which is located off the lobby. This venue is open for breakfast, lunch, afternoon tea, and dinner. One complaint I've seen about Claridge's is that the hotel heavily emphasizes food & beverage venues for outside guests — for example, afternoon tea here seems to be very popular.
I think that criticism is fair, in the sense that the lobby is definitely buzzing for much of the day, partly with people just coming for afternoon tea. However, this is by no means as commercialized or hectic-feeling as the Peninsula Hong Kong, for example, where you literally have people standing in a queue in the lobby waiting to be seated.
We had breakfast at The Foyer & Reading Room two mornings.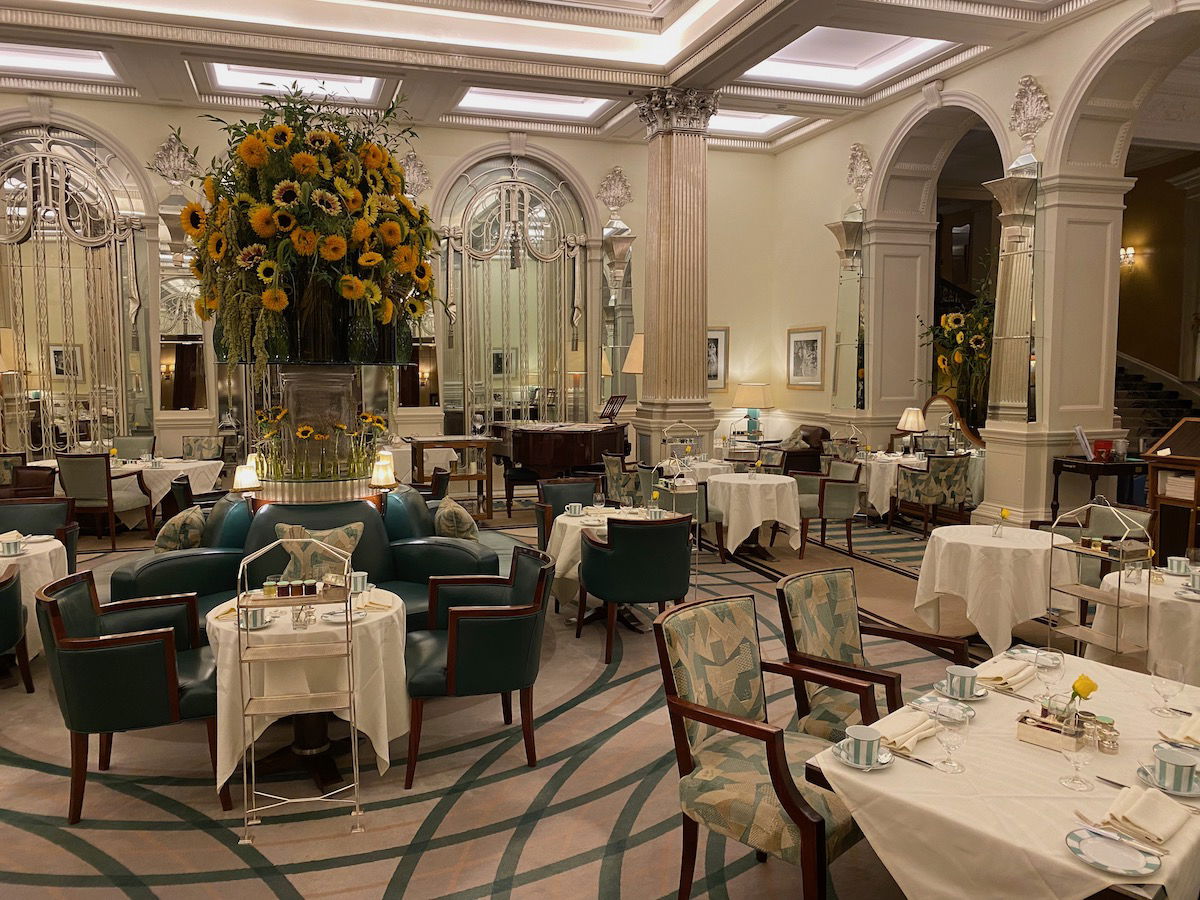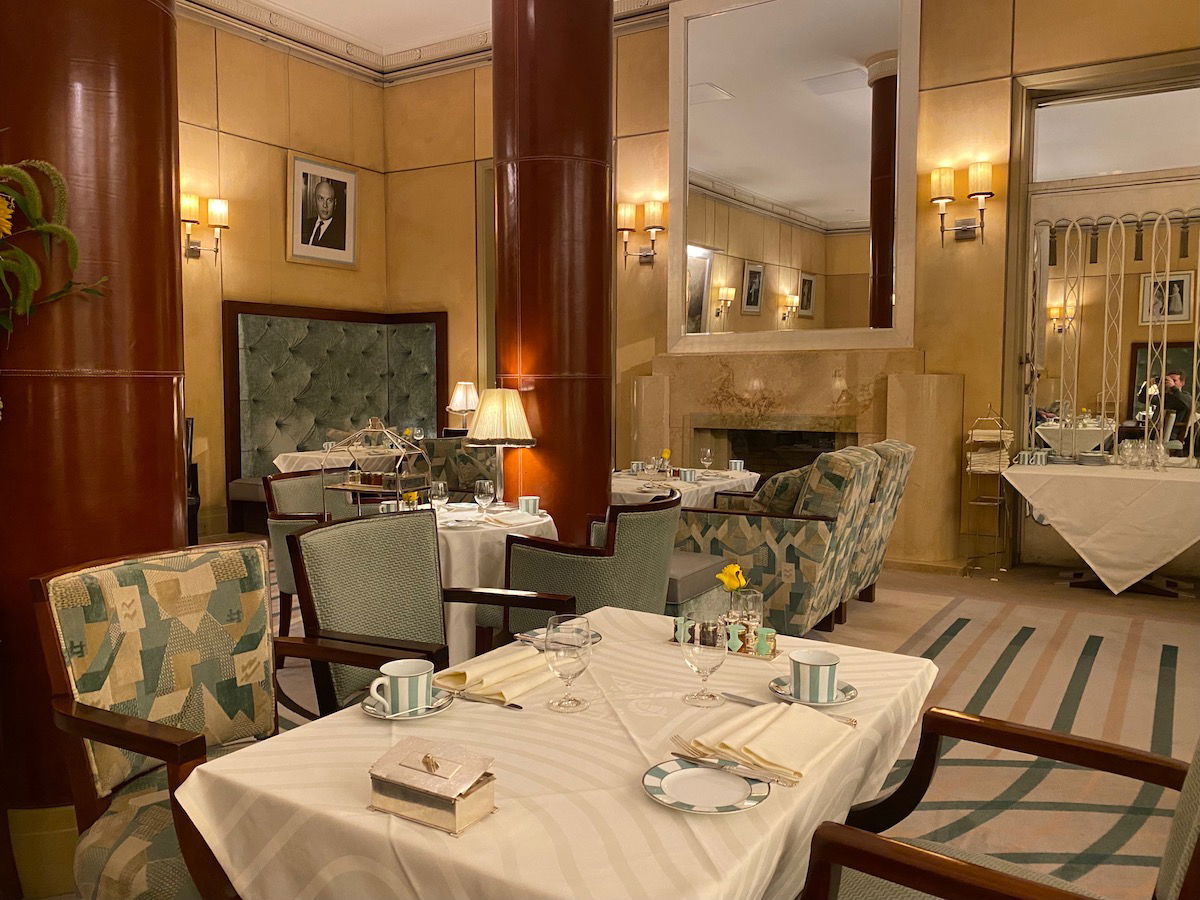 The breakfast menu read as follows: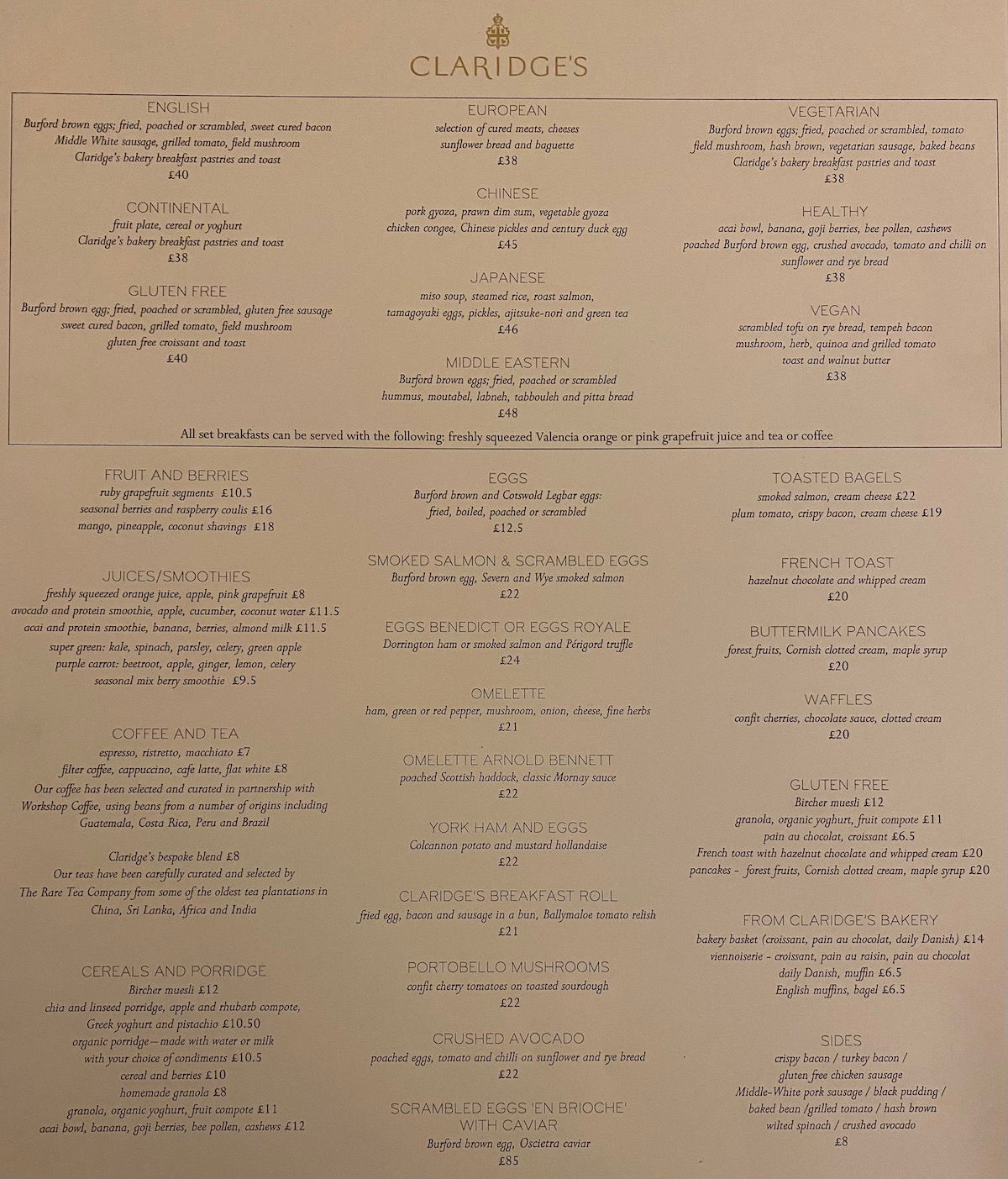 For booking through Virtuoso we received complimentary breakfast. Technically it was the English breakfast that was included, though the way it works is that if you want something else, you get a £40 per person credit towards it (since that's the cost of the English breakfast). We never ordered the English breakfast, but we loved the variety of the breakfast menu.
The breakfast options reflect how international this hotel is — there are breakfast sets that are European, Chinese, Japanese, Middle Eastern, etc. Our favorite was the Middle Eastern breakfast.
The breakfast included coffee and freshly squeezed juice.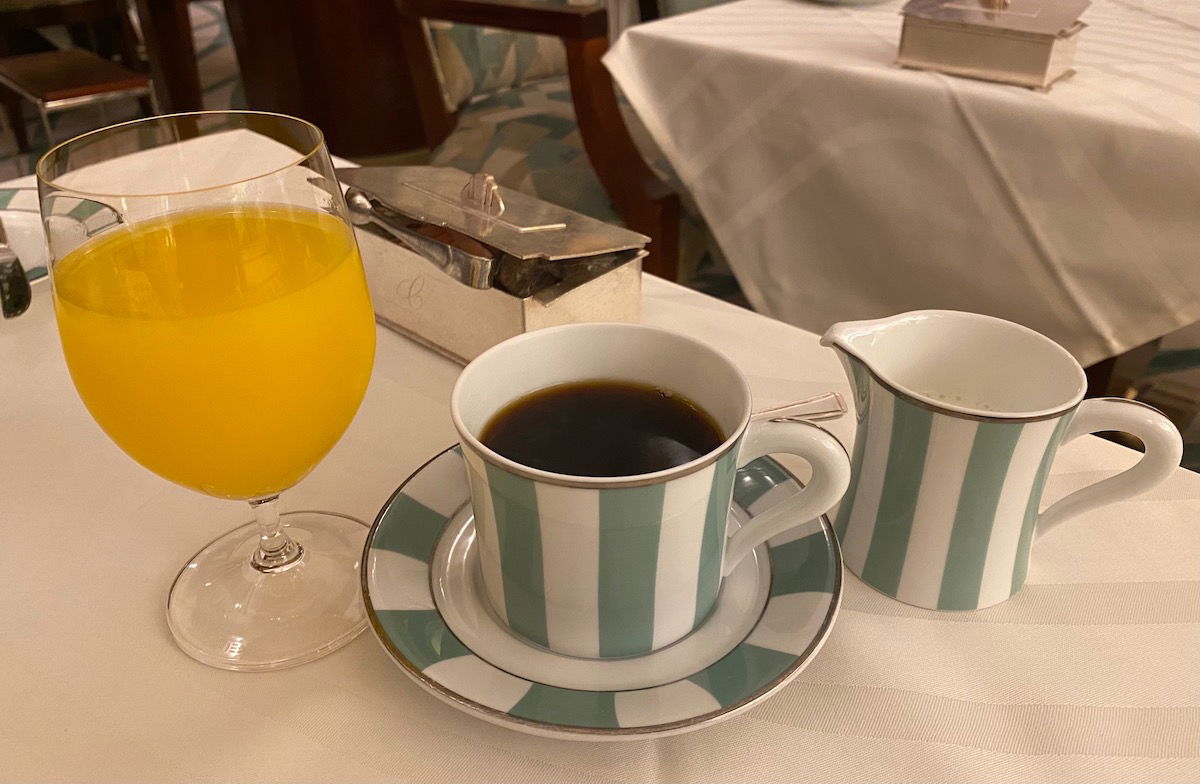 Then we were brought a bread plate, with croissants, muffins, and pastries.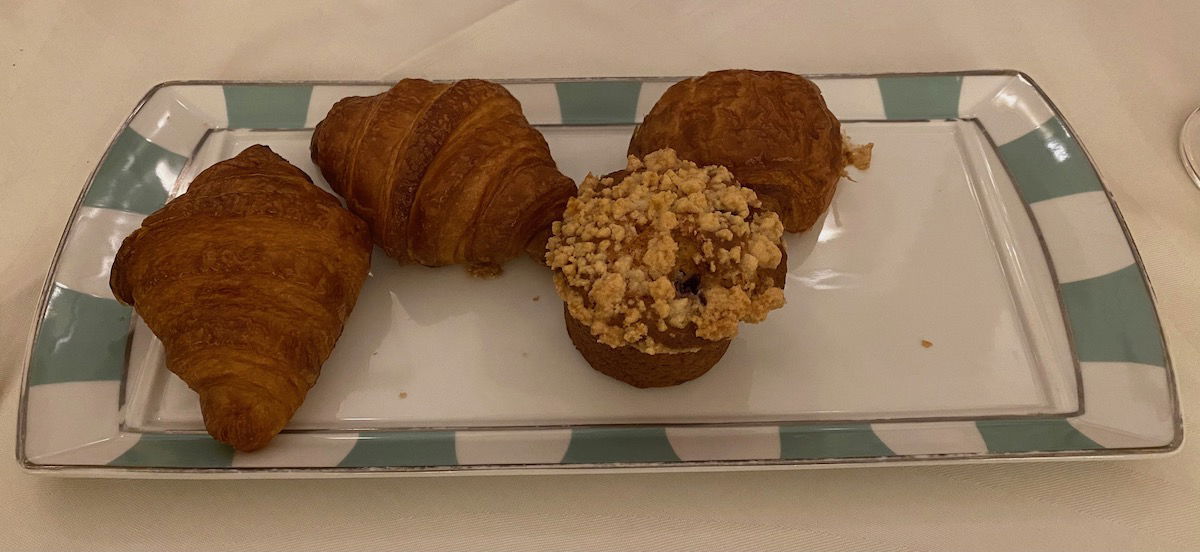 Then the Middle Eastern breakfast included eggs cooked to order, plus hummus, moutabel, labneh, and tabbouleh, served with pita bread. YUM. In retrospect we should have probably ordered one Middle Eastern breakfast and one of something else, given the quantity of food.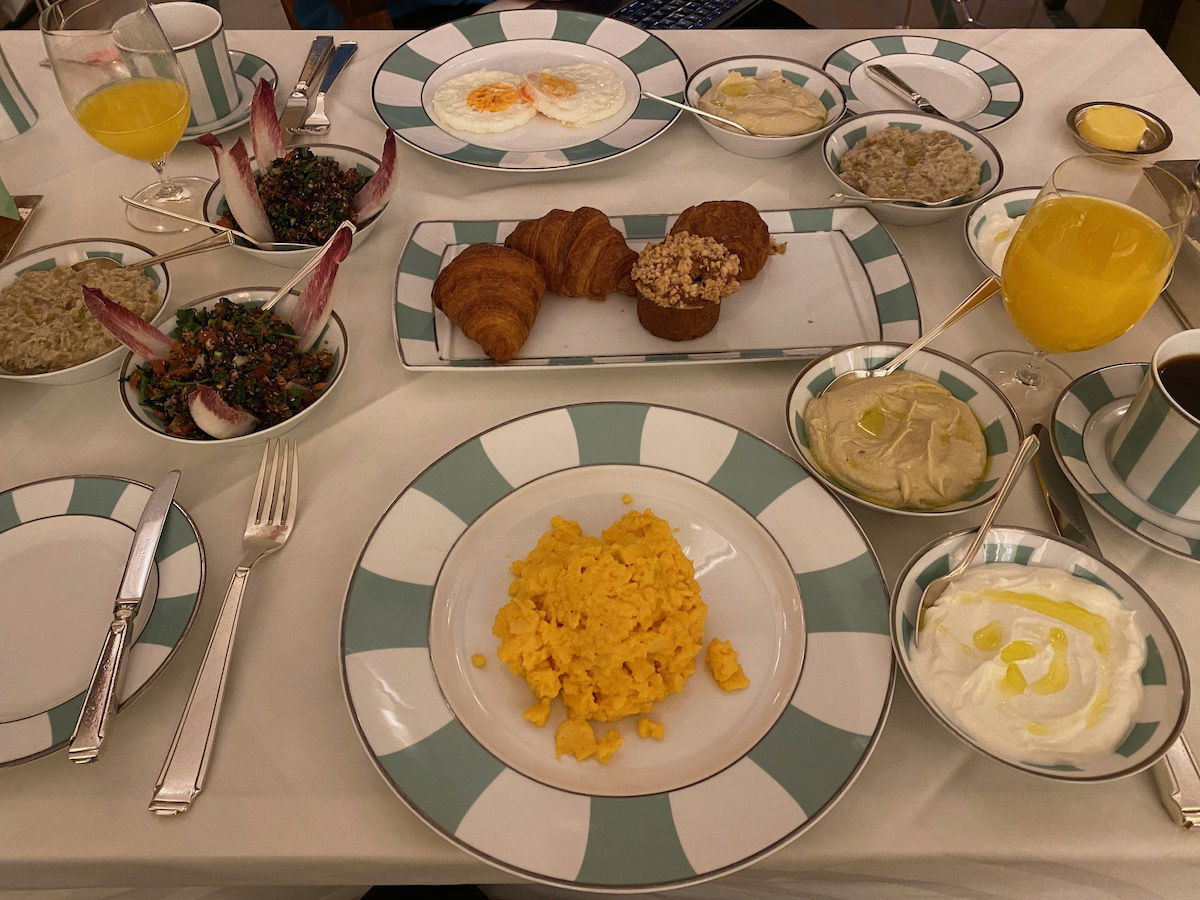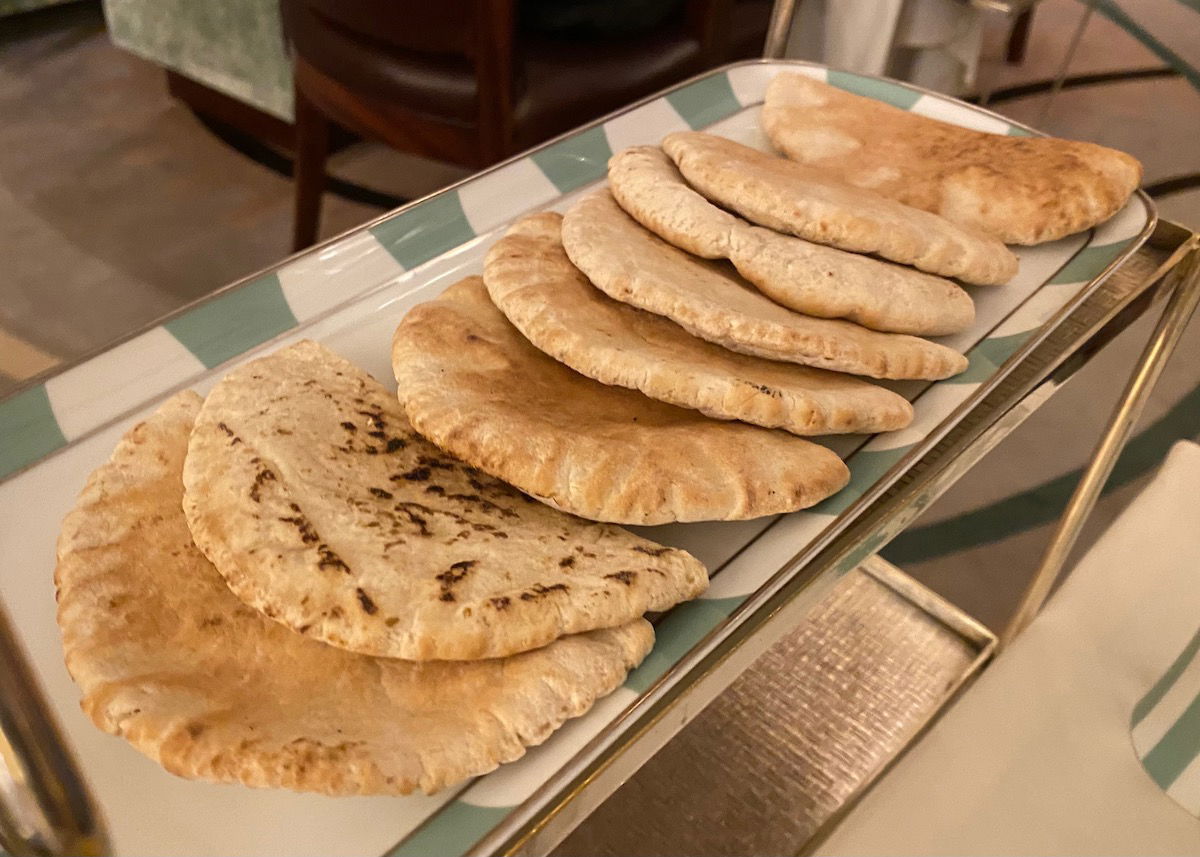 Claridge's London room service breakfast & lunch
A couple of mornings we decided to have room service breakfast, since that was also included through Virtuoso. One morning we had the healthy breakfast. In addition to coffee and juice, it included an acai bowl with bananas, goji berries, bee pollen, and cashews, and crushed avocado, tomato, and chili on sunflower and rye bread.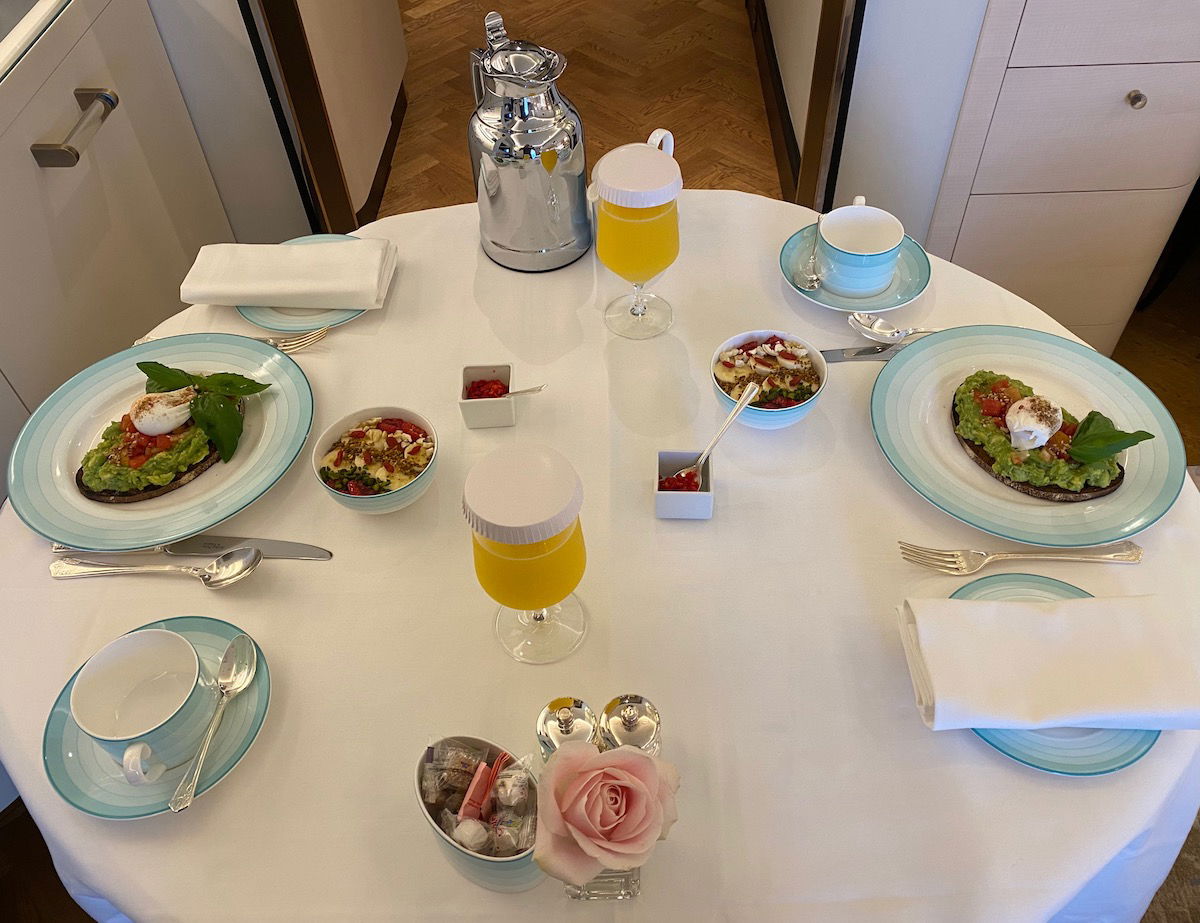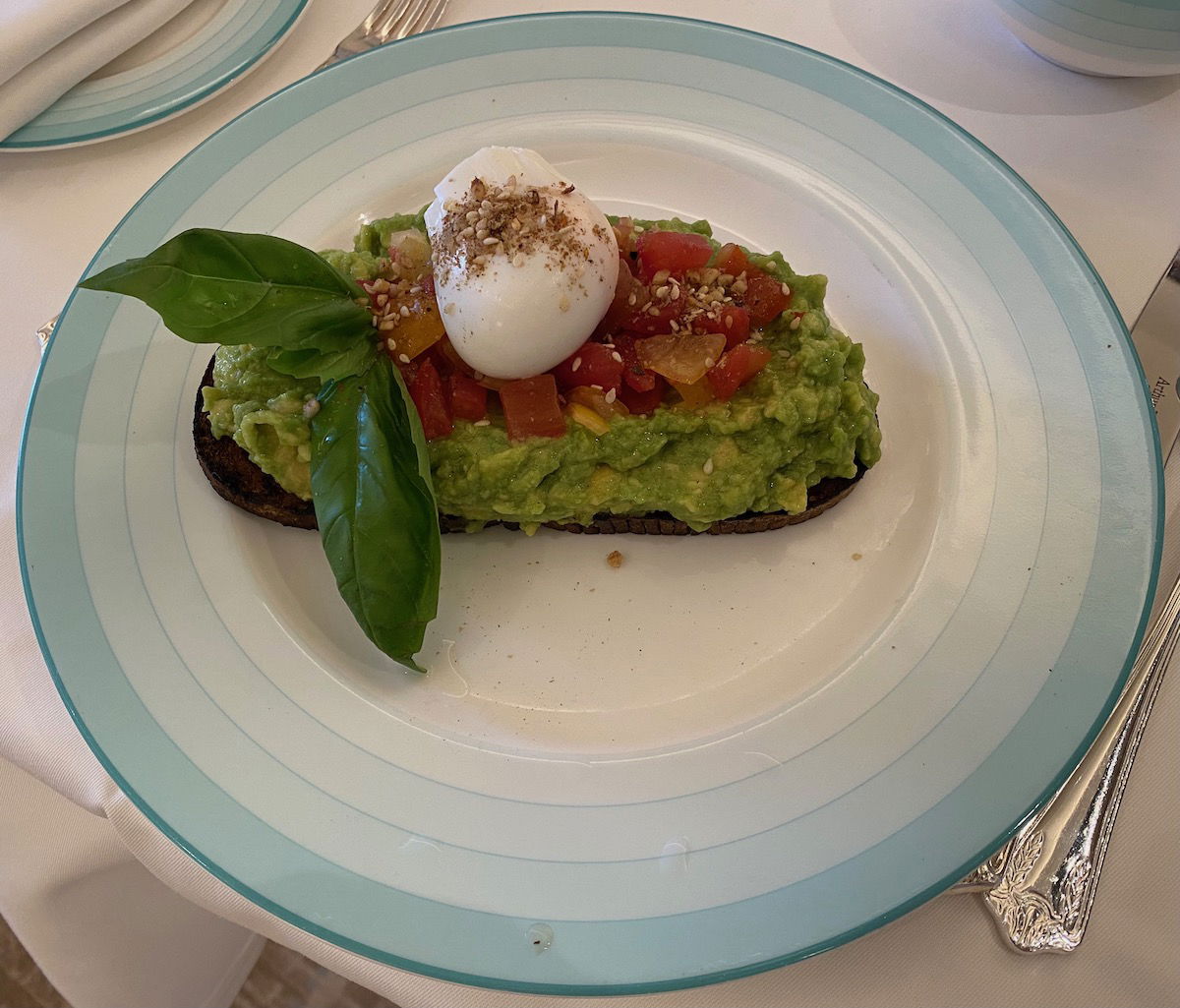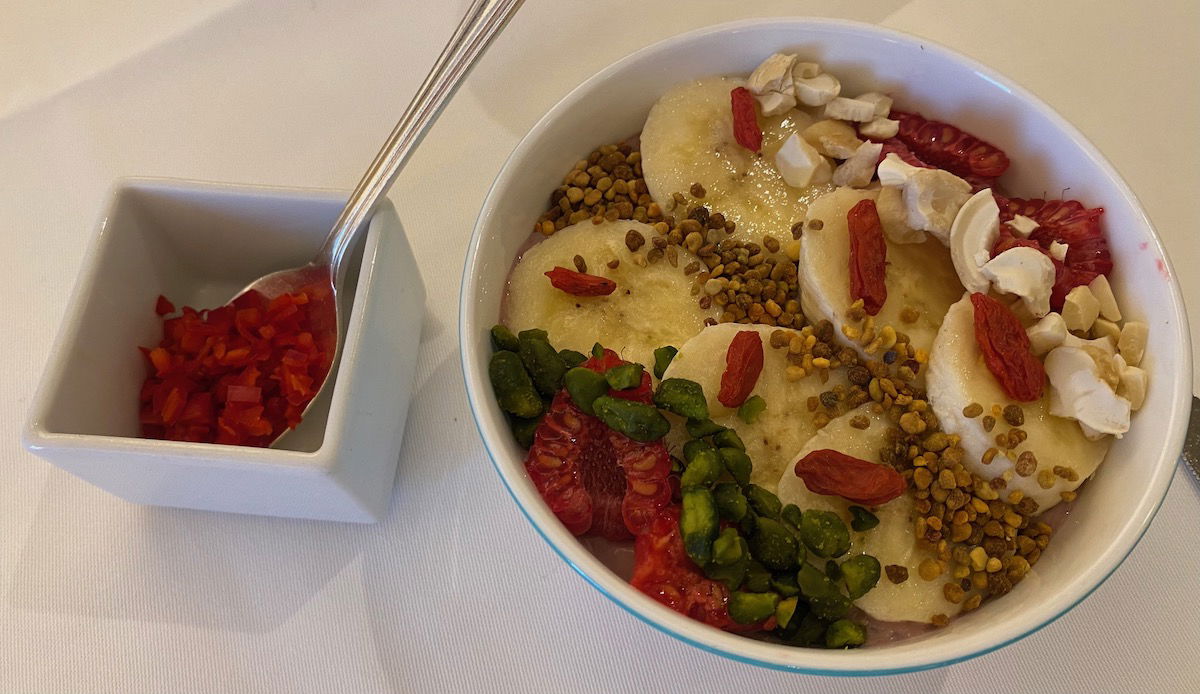 The other morning we had the Middle Eastern breakfast again, because it was that good.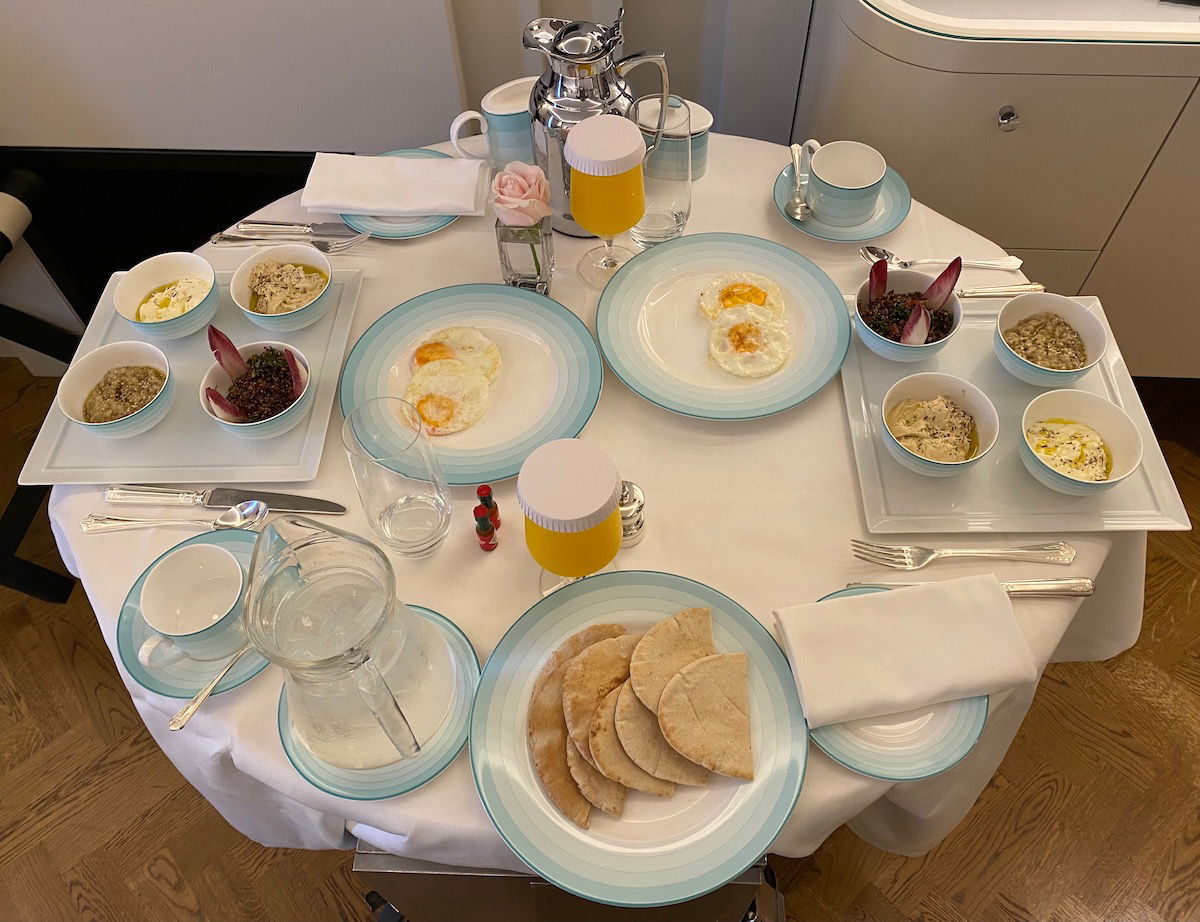 One day we decided to order room service lunch, given that we had a hotel credit to spend, and it was raining outside. You can find Claridge's in-room dining menu here. Between us we shared the shish taouk, a pizza margherita, the halloumi mishwi, and hummus. All of it was excellent.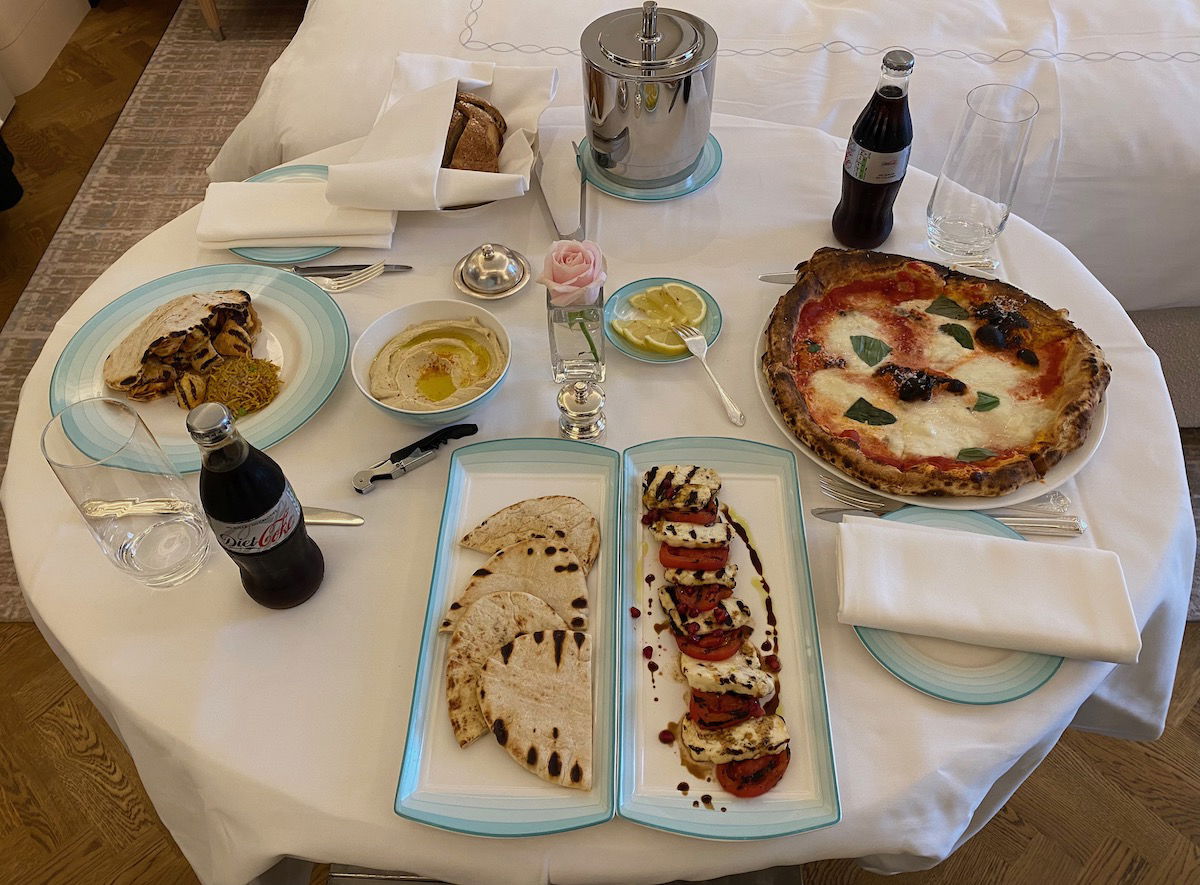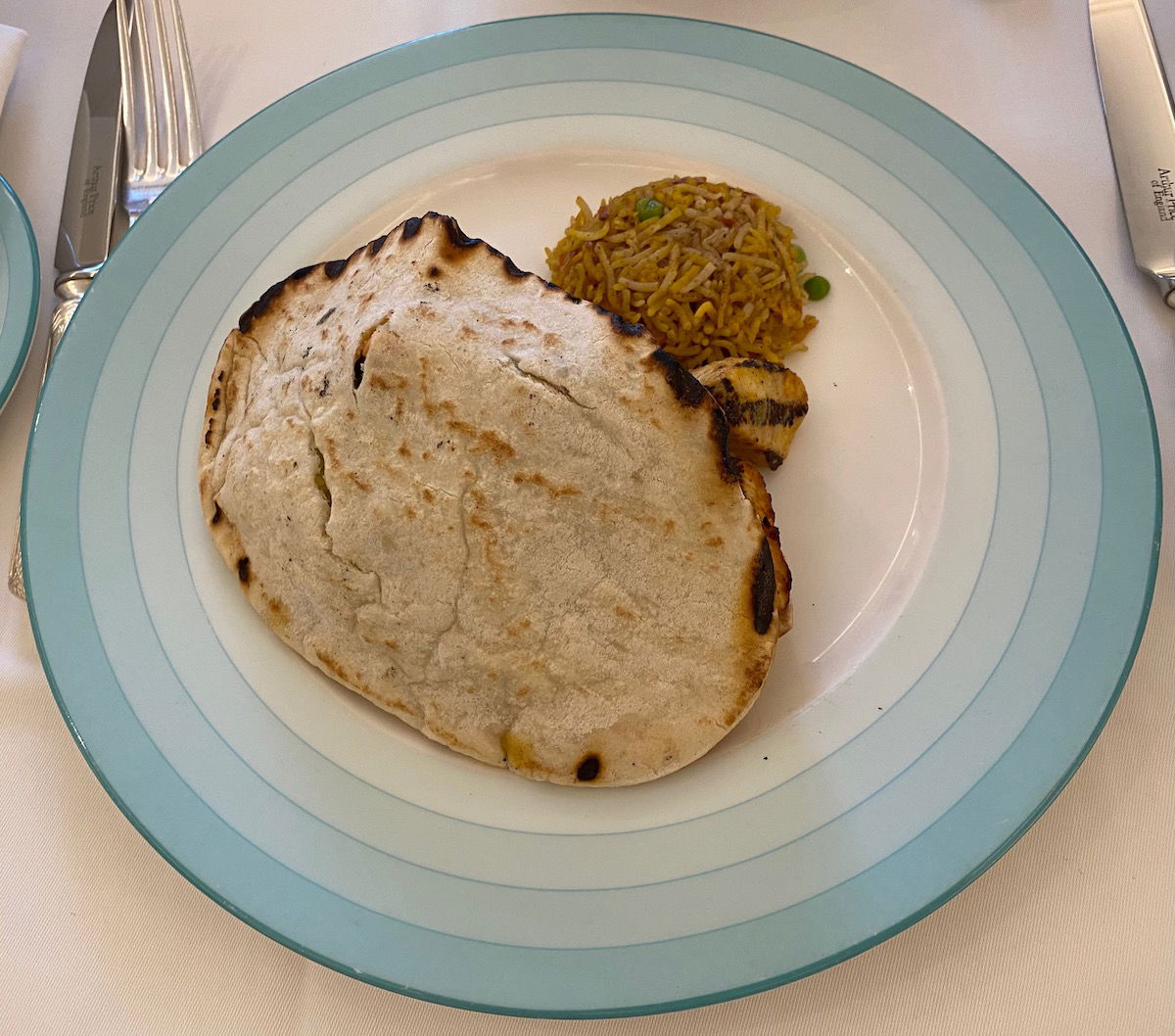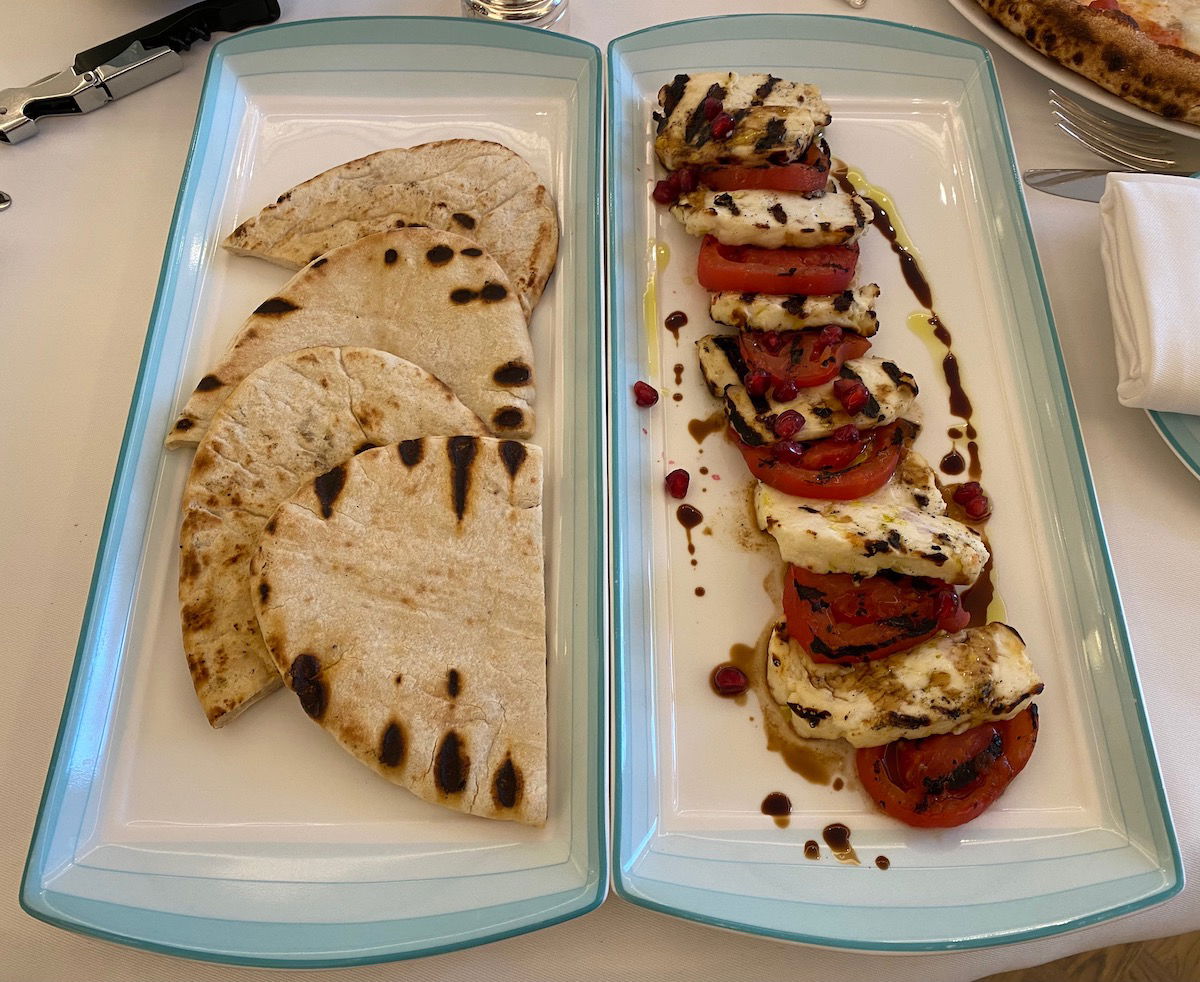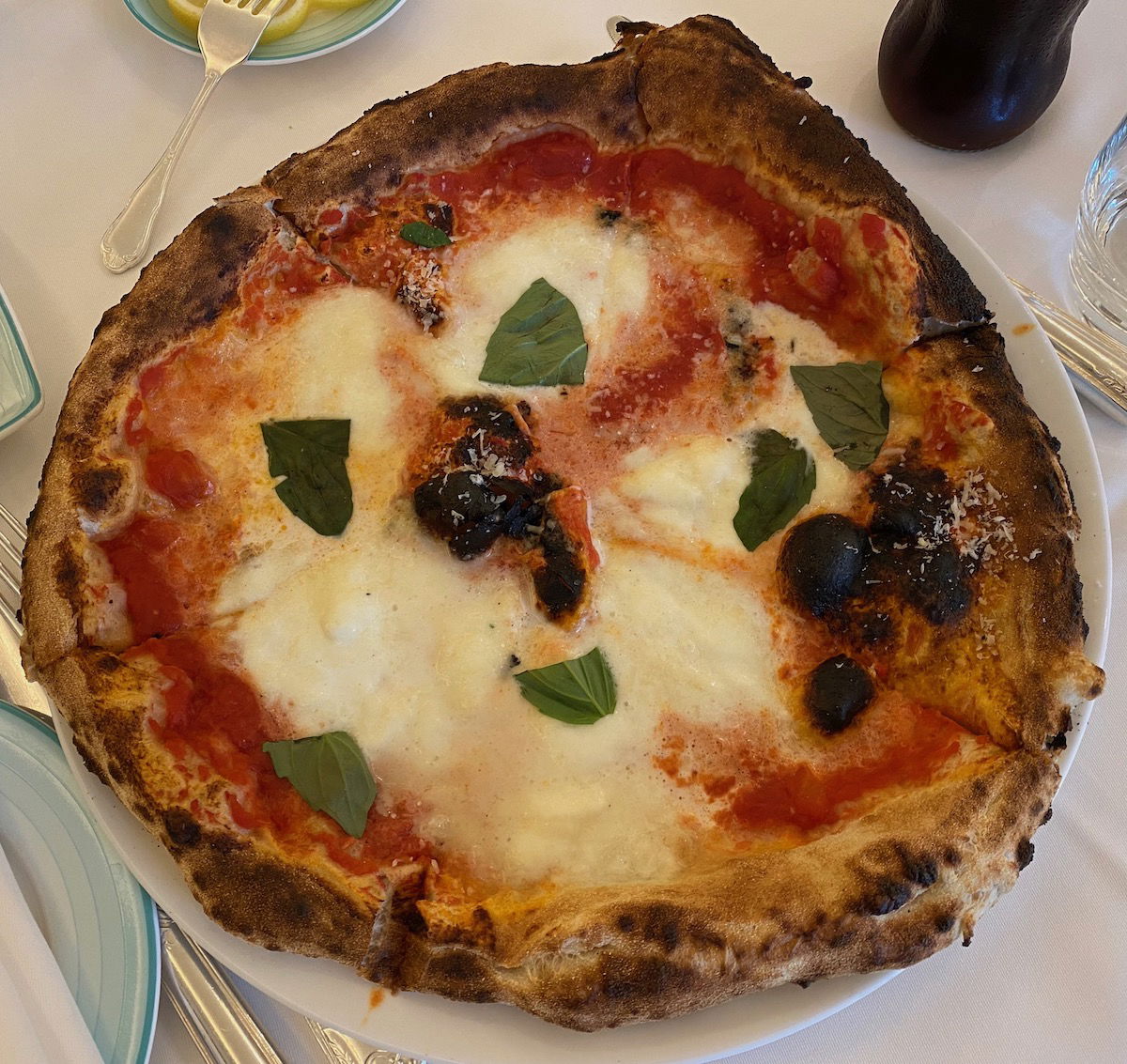 I was also impressed by the speed of room service deliveries. For both breakfast and lunch we were told our meals would be delivered in 20-30 minutes, and in two cases the food actually arrived in less than 20 minutes.
Claridge's London gym & spa
Claridge's has a spa, which I didn't have the chance to use, but you can find the treatment menu here. I did, however, have the chance to use the gym, which was located on the third floor. The gym is open 24/7, and during standard hours there's even a gym attendant who is constantly cleaning equipment, which is a nice touch.
For a historic city hotel, I thought the gym was excellent. It was in three separate rooms — I'd guess these might have been guest rooms at some point. One of the rooms mostly had strength training equipment, including free weights and some machines.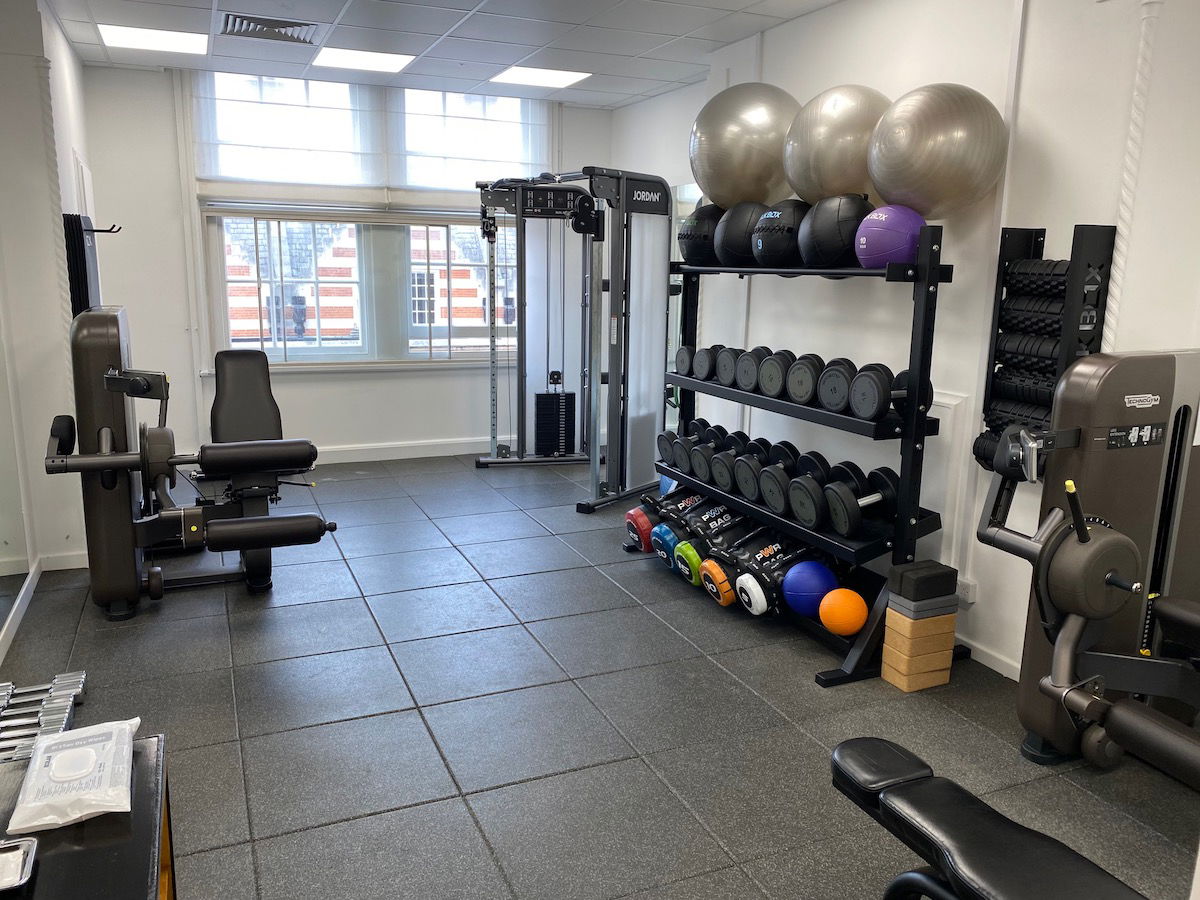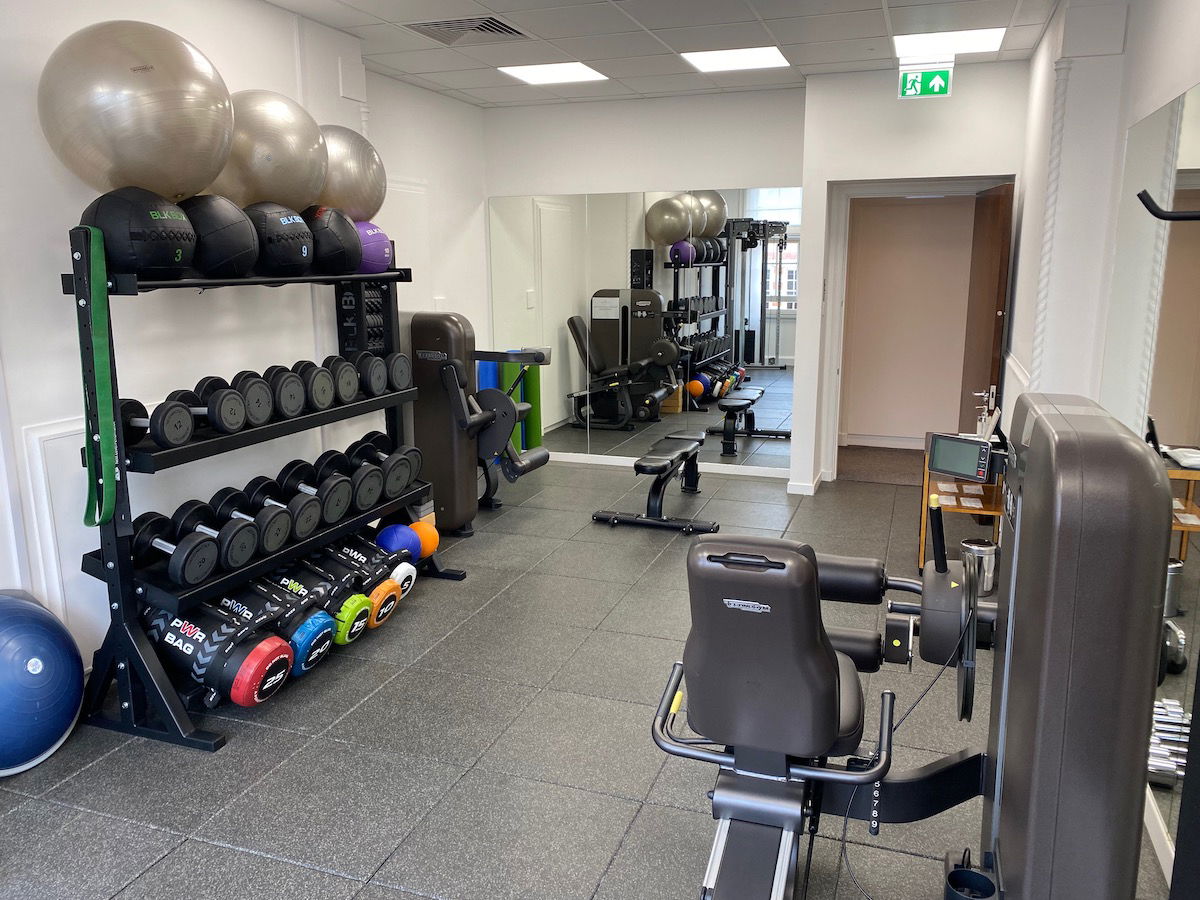 Then the two additional rooms mostly had cardio equipment.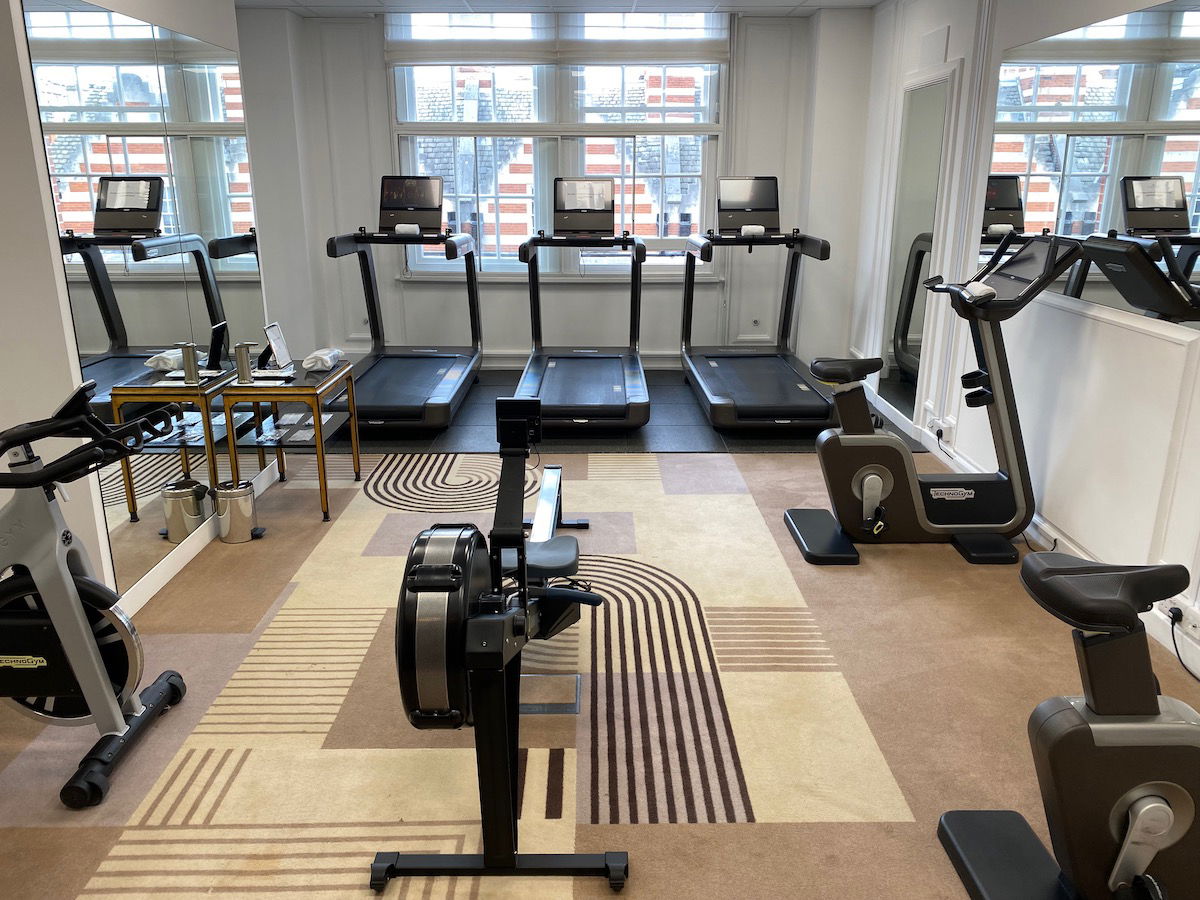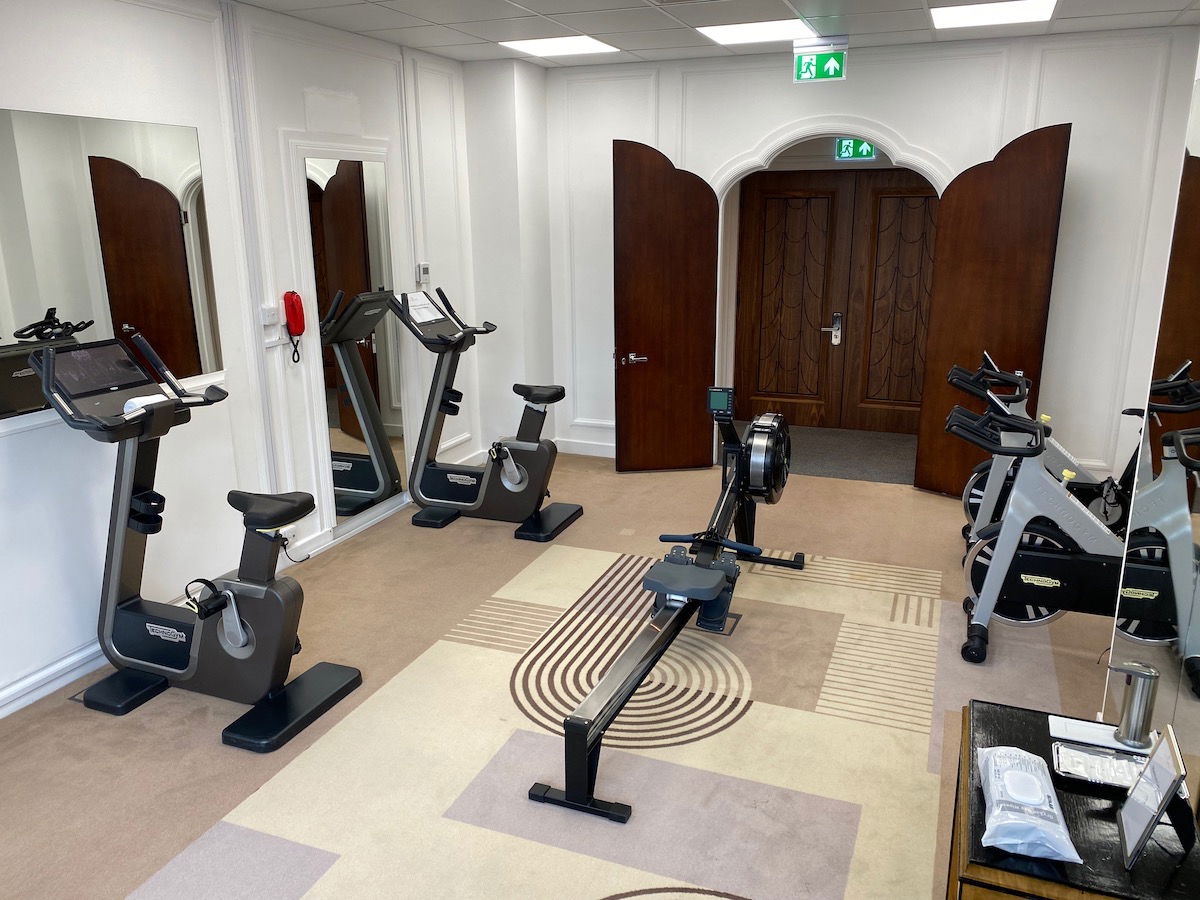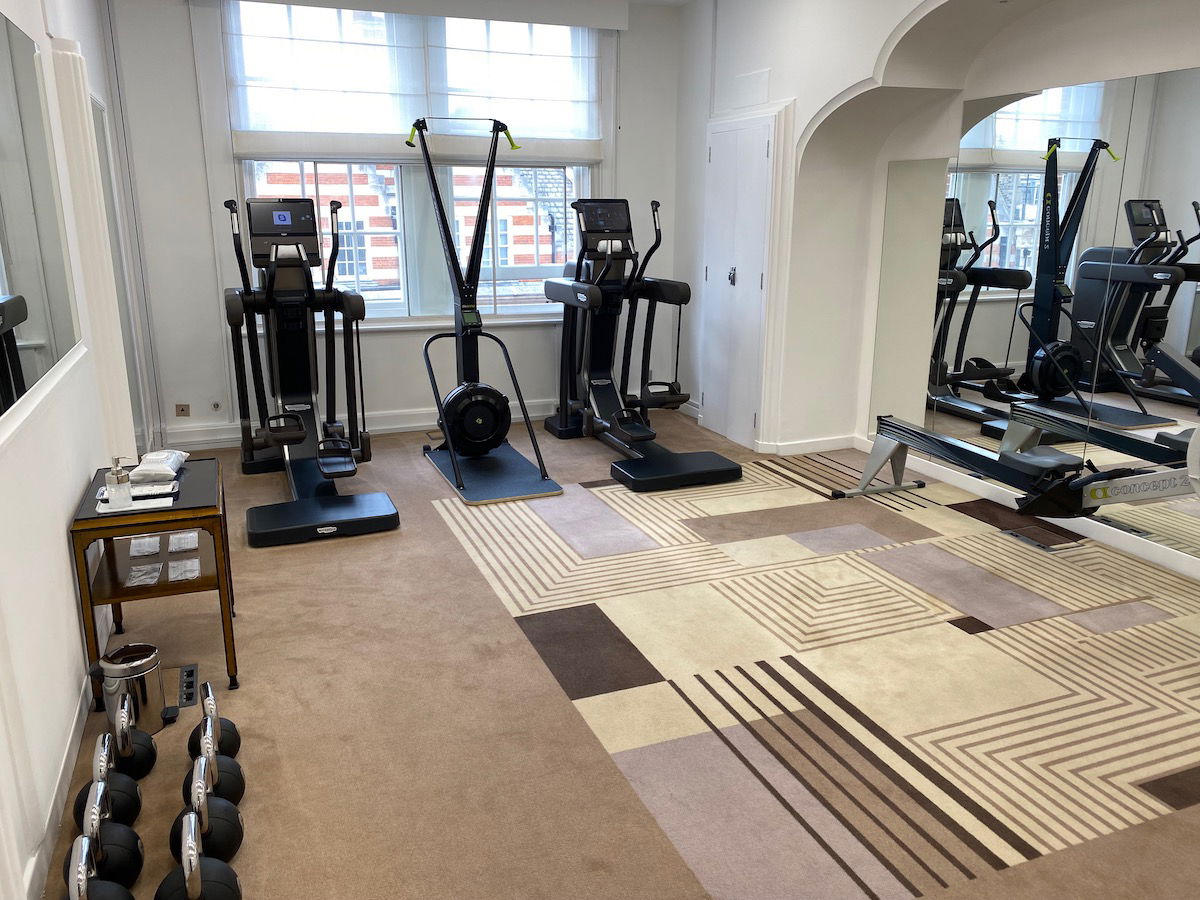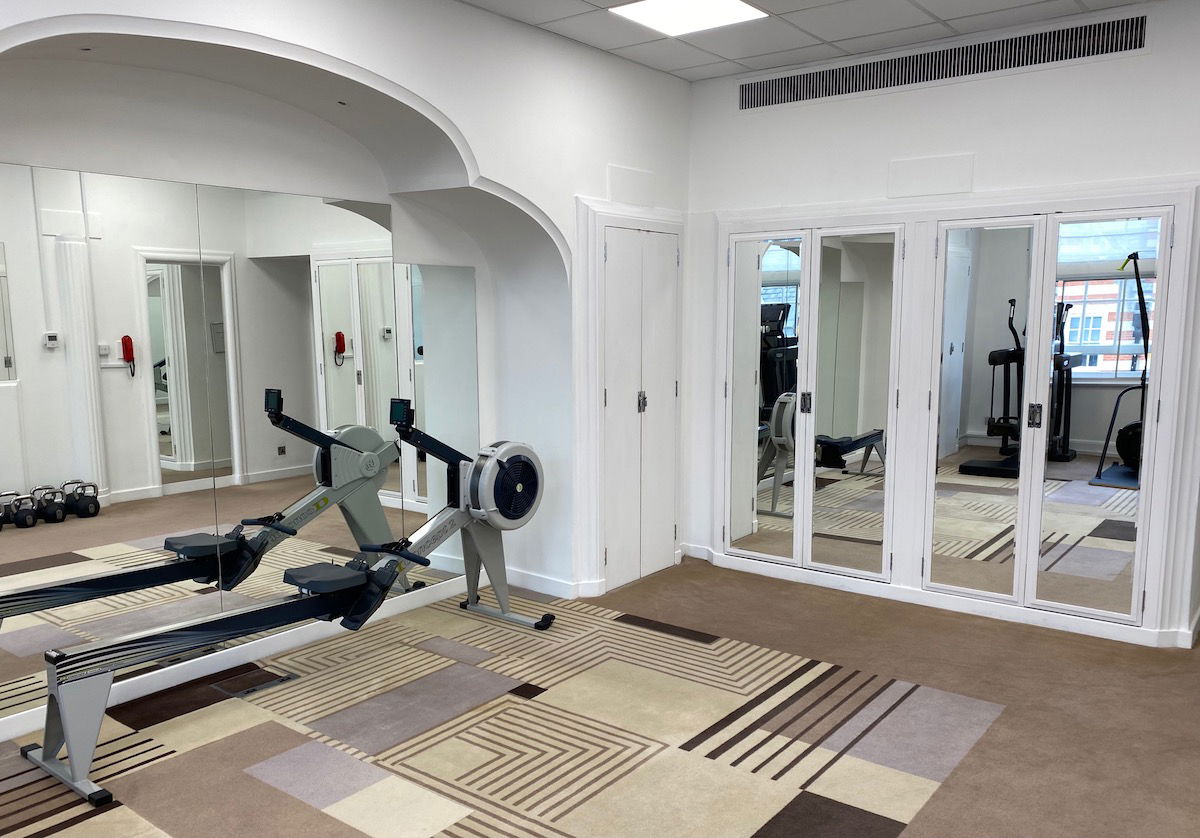 The gym even had a bathroom and shower room.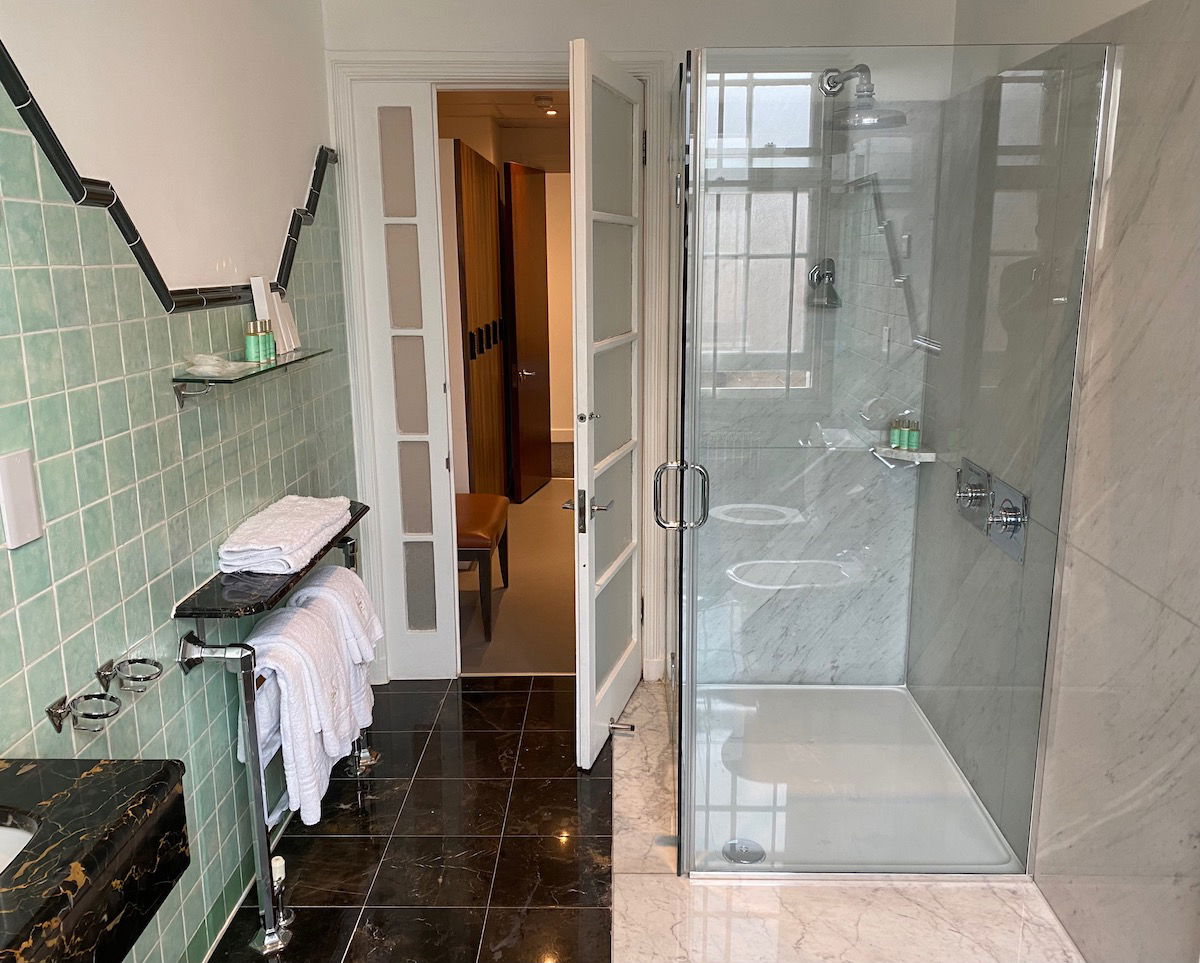 Claridge's London service
The service was what impressed me most about Claridge's. Across the board, every employee we interacted with had amazing attention to detail, was incredibly friendly (and not stuffy or arrogant), and seemed to show personality rather than following a script. While Claridge's has 190 rooms, in terms of service it feels much smaller.
A couple of random thoughts:
The lovely woman who checked us in remembered Ford's last name, and each time we walked through the lobby he was addressed by name; that's impressive for a hotel of this size
You don't have to sign for anything at the hotel, whether it's in a restaurant, via room service, etc. (you have the choice of doing so if you want to, but it's nice not to have to, and it also takes away the expectation of US-style tipping)
Housekeeping is also the perfect example of service here. Our room was serviced twice a day, and we'd always contact the front desk when we wanted it done, based on when we were leaving. They were always there within minutes.
The attention to detail was very impressive. For example, clearly my laptop screen isn't very clean, because a cleaning wipe was left next to my computer.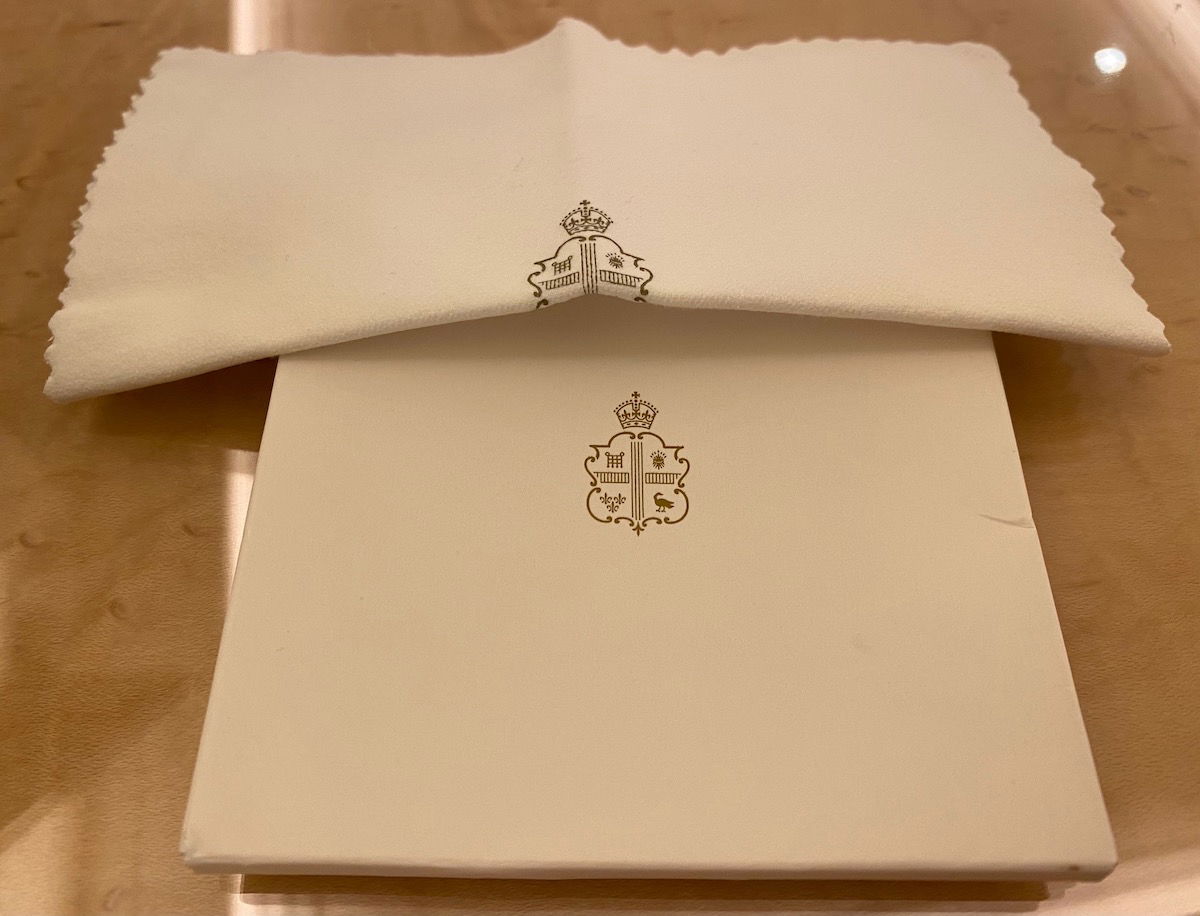 We were traveling with suits, but we had packed them in our carry-ons. Out of nowhere, a Claridge's-themed garment bag showed up in our closet.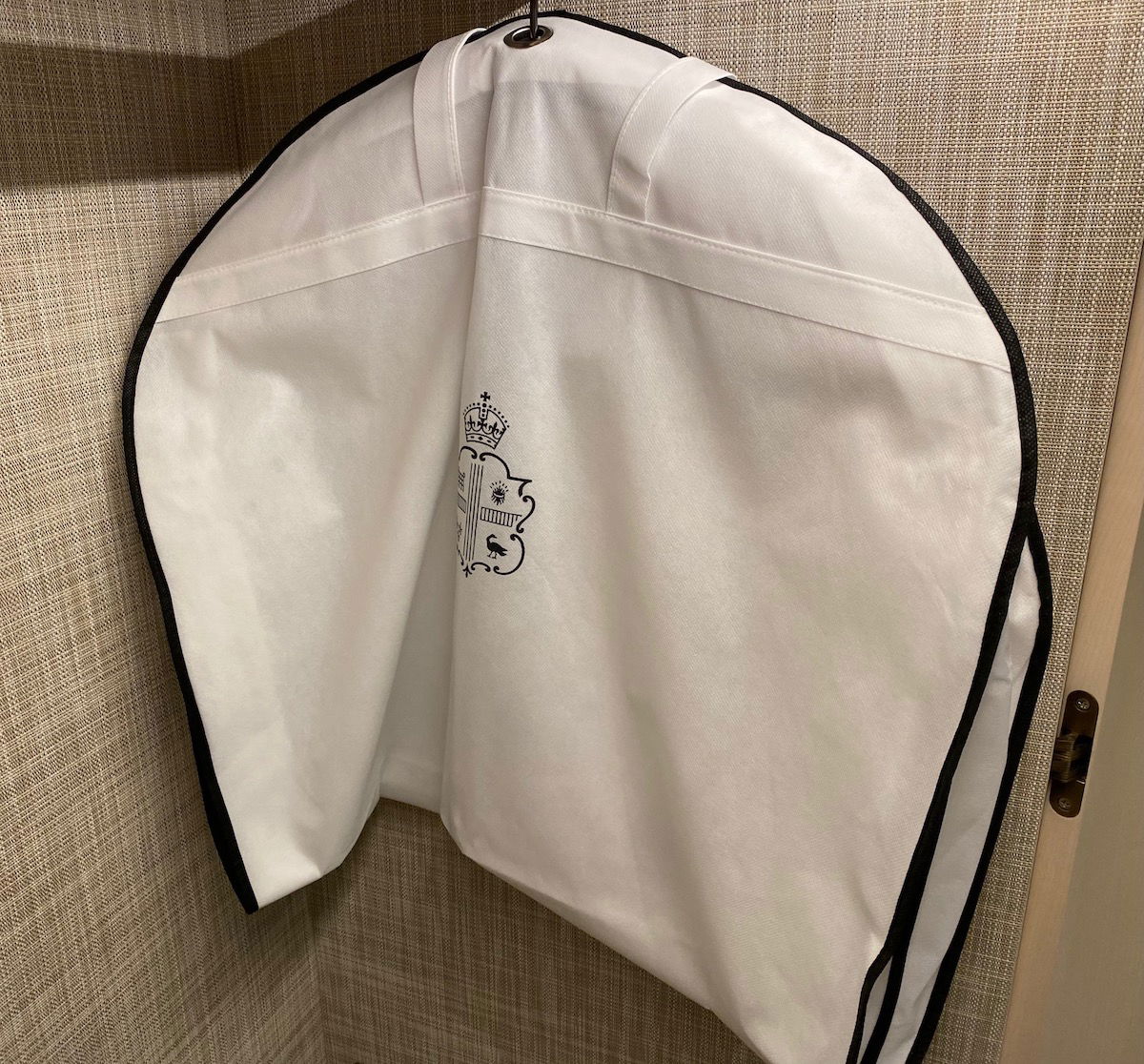 I appreciated that the hotel had all kinds of toiletries you may forget at home, so I had used some of the cotton swabs. Not only were they refilled in the container where they initially were, but they placed an additional pouch of them immediately below the pouch that I was using.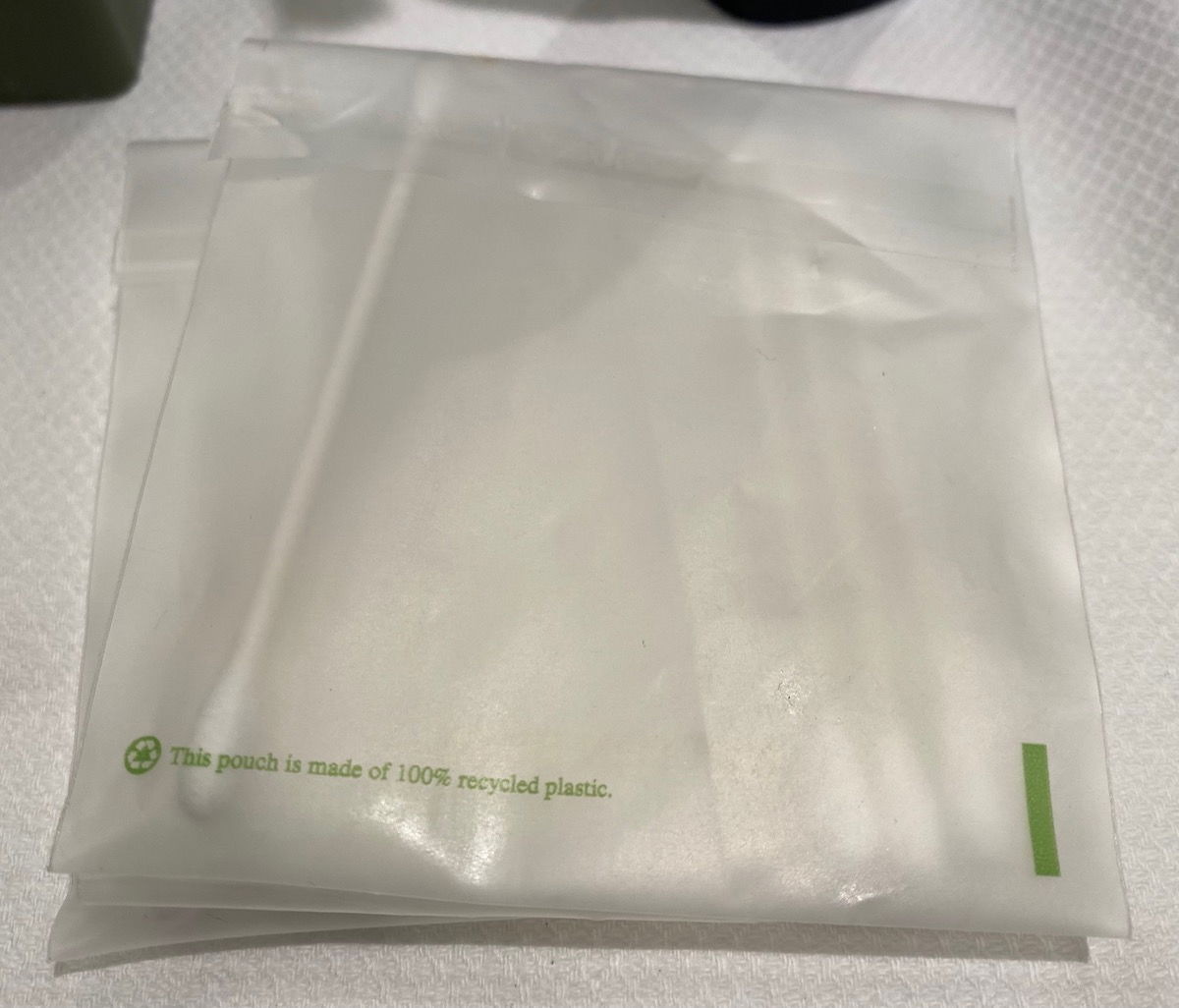 At turndown service there were cute notes placed on the bed about the history of the hotel.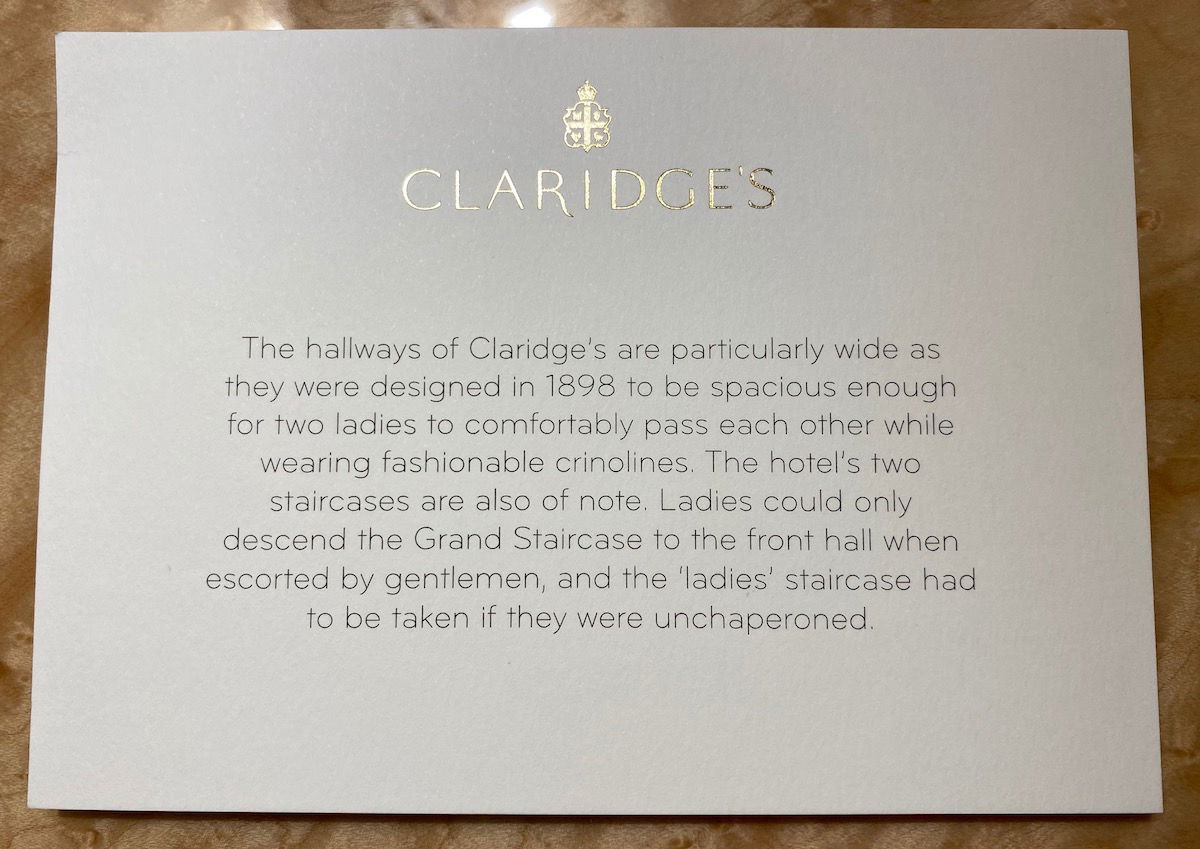 Ford had called down to get an iron, and the way in which it was delivered to our room was probably the cutest presentation I've ever seen for an iron.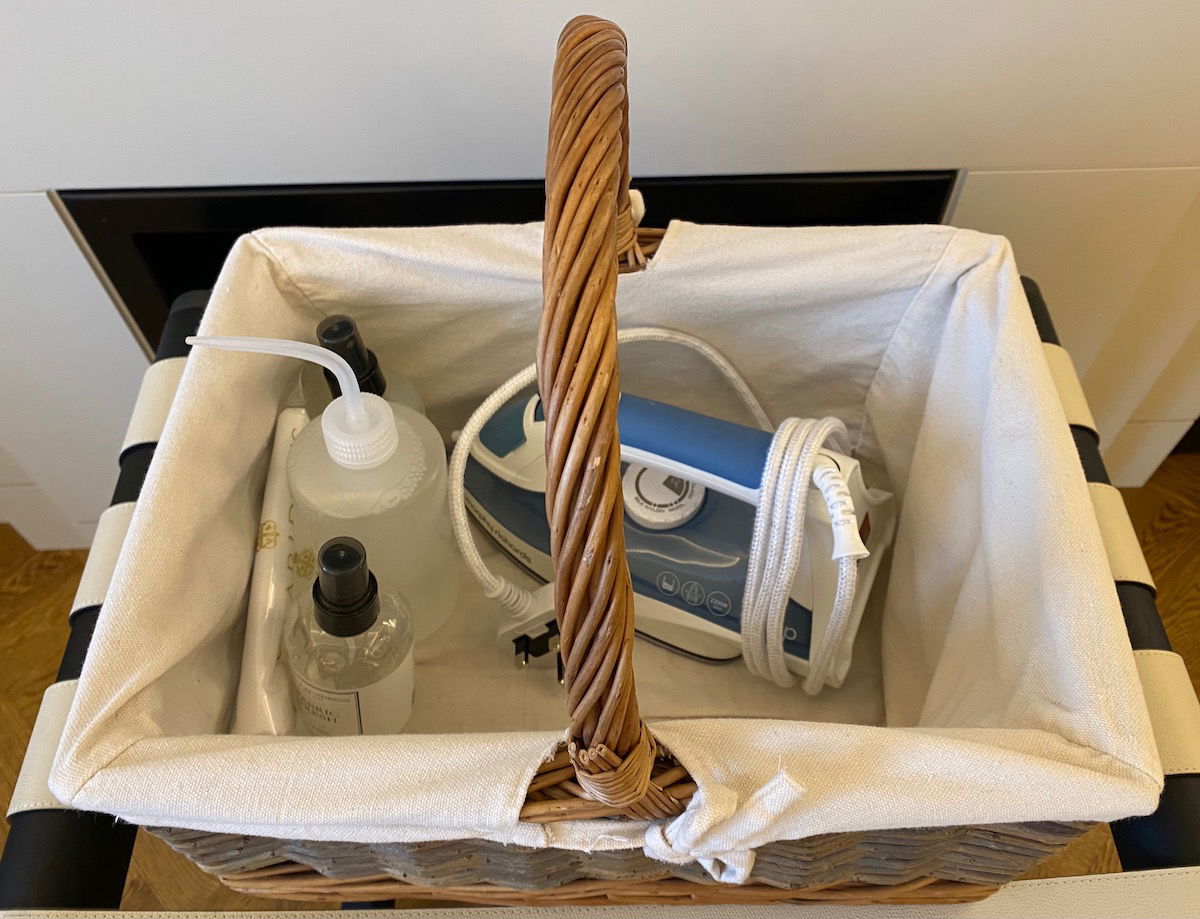 I don't have a single criticism of the service at Claridge's, which is quite rare since we interacted with staff quite a bit.
Bottom line
While Claridge's has quite a reputation, the hotel still managed to exceed my expectations. The hotel has beautifully updated and large rooms, great food & beverage outlets, and incredible service.
This was my first time staying at a non-points hotel in London (I think), and I have no regrets. While not cheap, we booked at a time when rates were lower than they usually are, and on top of that we got some extra value through Virtuoso, including a room upgrade, a daily £80 breakfast credit, a £75 property credit, and more.
If you're looking for a great place to stay in London, I'd recommend Claridge's — it won't disappoint.
If you've stayed at Claridge's, what was your experience like? And is there any other hotel I should check out in London next time?
Want to receive extra benefits for your stay at Claridge's London through Virtuoso, including complimentary breakfast, a hotel credit, a room upgrade, and more? Contact [email protected] for more details. He may even be able to help if you already have a stay booked.