US airlines are notorious for offering all kinds of ways to upgrade to first or business class, ranging from being able to redeem miles, to being able to use systemwide upgrades, to receiving complimentary upgrades, to having endless opportunities to buy-up to a premium cabin with cash.
JetBlue Mint is one of the best premium products in the United States. Interestingly unlike virtually every other US airline, JetBlue makes it hard to get a seat in Mint without outright paying. In this post I wanted to take a closer look at the limited number of ways you can upgrade to JetBlue Mint.
What is JetBlue Mint?
For context, JetBlue Mint is the name of JetBlue's premium cabin. While JetBlue offers a pleasant economy experience, the airline introduced its version of a business class product nearly a decade ago, and it's phenomenal.
JetBlue Mint is only available on select Airbus A321 aircraft (including some A321ceos, some A321neos, and all A321LRs). Mint is offered in a limited number of premium markets, including all transatlantic flights, as well as select transcontinental flights, and flights to the Caribbean.
What makes JetBlue Mint different?
For one, JetBlue Mint seats are fully flat beds. The exact configuration varies depending on the aircraft. The initial JetBlue Mint configuration has a staggered layout where seats in every other row have a door. Meanwhile the new JetBlue Mint configuration features direct aisle access and doors from every seat.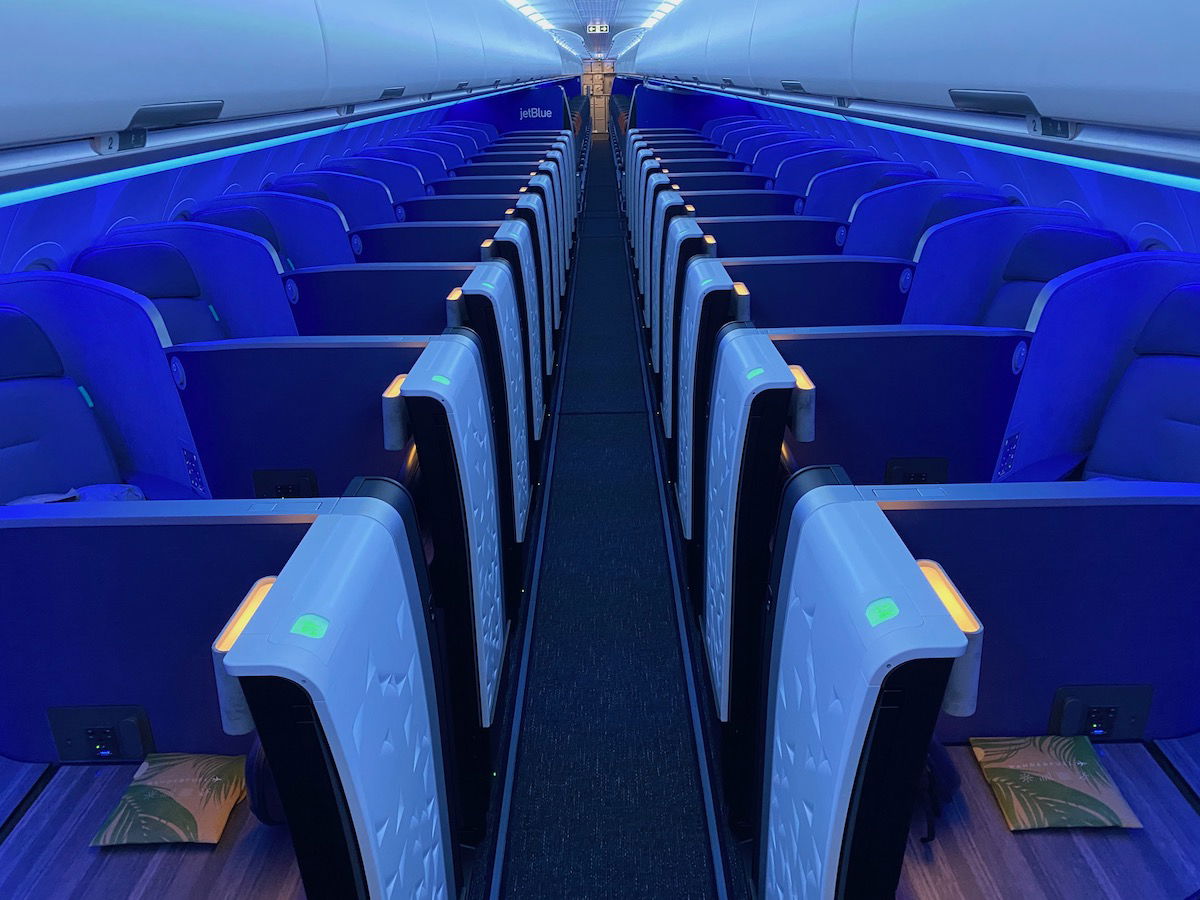 On top of that, JetBlue's Mint soft product is exceptional as well. The crews are consistently friendly, and the food and drinks are top notch. It's such an innovative experience compared to what you'll otherwise find in the United States.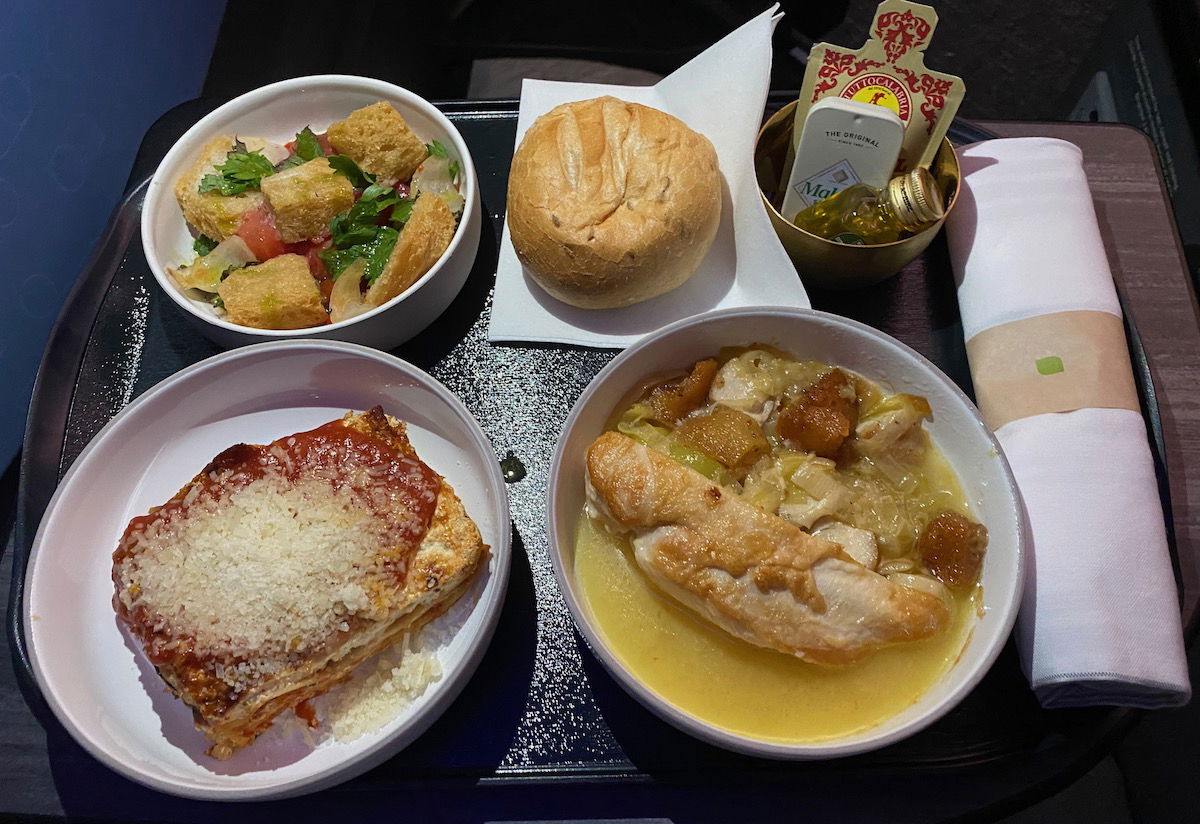 The best ways to upgrade to JetBlue Mint
JetBlue tries to maintain the integrity of its Mint cabin in terms of pricing and exclusivity, much more so than other US airlines. There are no ways to use points to upgrade to JetBlue Mint, and the airline also doesn't sell upgrades to Mint in advance.
So if you want to "upgrade" to JetBlue Mint ahead of your flight, your only option is to quite literally pay the fare difference, using either cash or points. With that in mind, let's talk about the ways that you can upgrade to JetBlue Mint.
You can use JetBlue Mosaic Mint upgrade certificates
Mosaic is the elite tier in the JetBlue TrueBlue loyalty program. Mosaic status is earned based on how many "tiles" you rack up, and then there are four tiers of Mosaic status. The two highest tiers come with some Mint upgrade certificates:
JetBlue Mosaic members who rack up 150 tiles annually receive four Mint upgrade certificates
JetBlue Mosaic members who rack up to 250 tiles annually receive an additional two Mint upgrade certificates
Note that you need two Mint upgrade certificates to upgrade a transatlantic flight, and one Mint upgrade certificate to upgrade any other flight. These Mint upgrade certificates will clear 24 hours before departure, subject to seats being available (there are no additional capacity controls).
For context in JetBlue tiles, you can expect that you earn one tile for every $100 spent on JetBlue, and one tile for every $1,000 spent on a JetBlue credit card.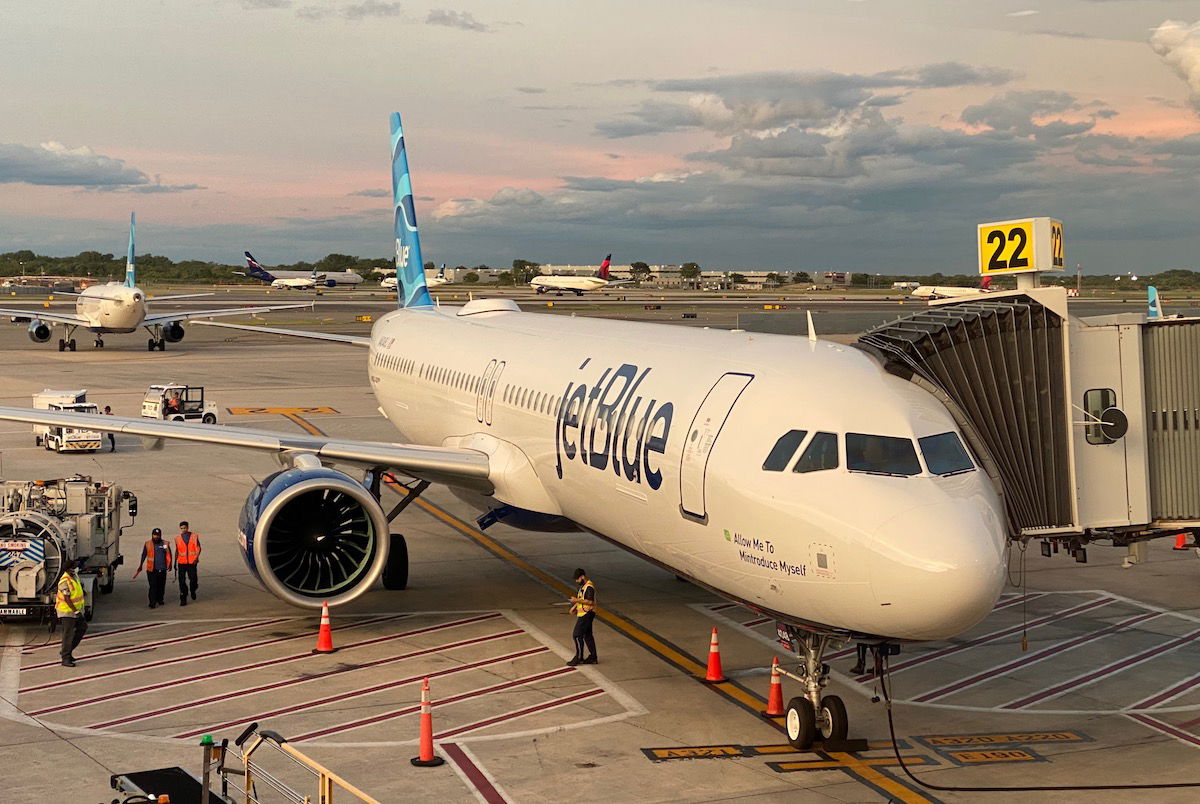 You can buy a JetBlue Mint upgrade at the gate
If you don't have one of the highest tiers of Mosaic status, you only have one other option for upgrading to JetBlue Mint. This is to pay cash for an upgrade. Unlike other airlines, JetBlue won't sell you Mint upgrades in advance, or even at check-in (if you are quoted an upgrade cost, that's simply the fare difference for Mint).
Instead, the airline only sells Mint upgrades at the departure gate for your flight, typically within an hour or so of departure. How much are Mint upgrades? While it depends, the data points that I've seen suggest that the costs are generally as follows:
A Mint upgrade on a transatlantic flight often costs $699
A Mint upgrade on other flights often costs $449-599
I'd certainly welcome more data points as to Mint upgrade costs, as I think many people would find that to be useful. If you upgrade to Mint, you should get all the standard Mint services, though you won't earn bonus points, or have your fare class changed.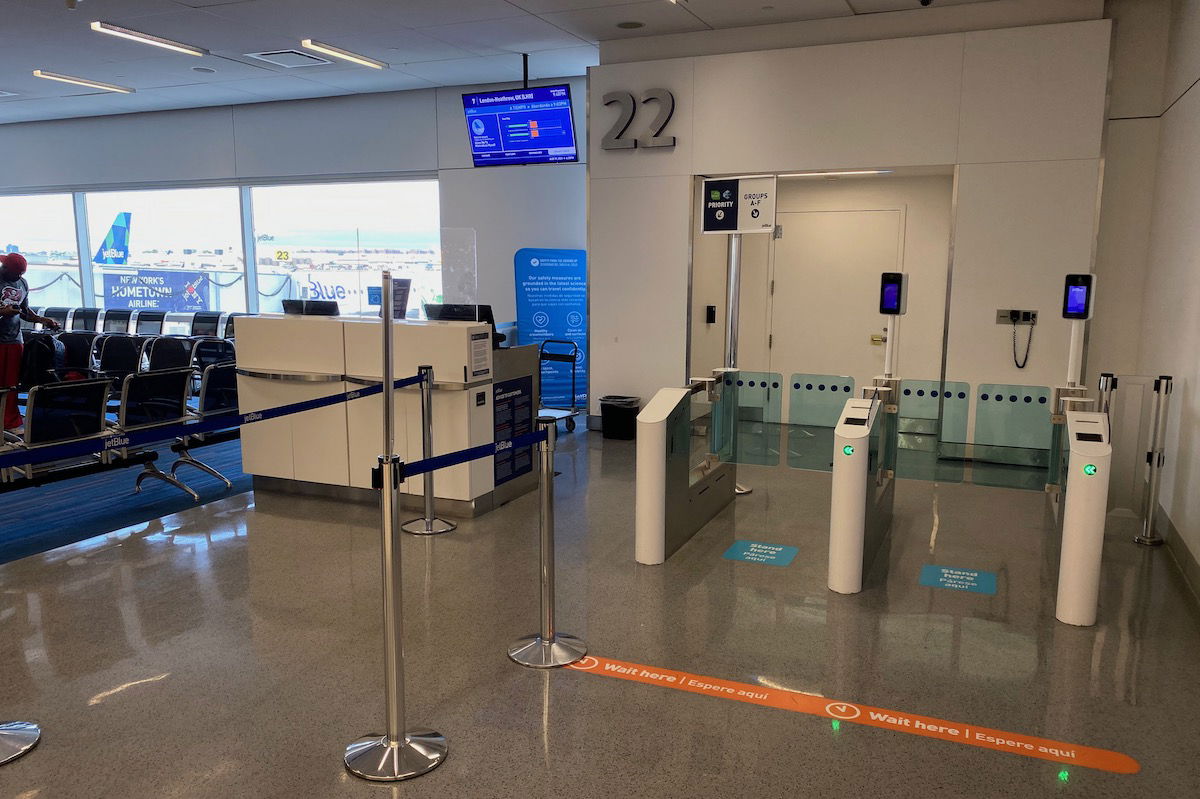 You can redeem points to book JetBlue Mint
While not an upgrade, it is worth noting that you can redeem points for travel in JetBlue Mint. JetBlue TrueBlue is a revenue based frequent flyer program, and you can redeem points for any seat on any flight. The exact value you'll get per point varies depending on the cost of a ticket, though.
For example, take a flight from Miami to Los Angeles, for example, where economy costs $149, while Mint costs $784.

If you wanted to redeem points, you could book economy for 13,400 points plus $5.60, or you could book Mint for 71,600 points plus $5.60. You'd get around 1.1 cents per TrueBlue point with this redemption.

You can also redeem American AAdvantage miles for travel on JetBlue, including in Mint. This is possible for all flights except transatlantic ones, and you can generally expect to pay 65,000 AAdvantage miles for a one-way Mint business class ticket, pending award availability.

You can't redeem points to upgrade to JetBlue Mint
Just to be 100% clear, there are no ways to use JetBlue TrueBlue points to upgrade to Mint. If you booked a JetBlue award ticket in economy, you can always rebook your ticket in Mint by paying the points difference, but that's not an upgrade, but rather just repricing your ticket for the product you want.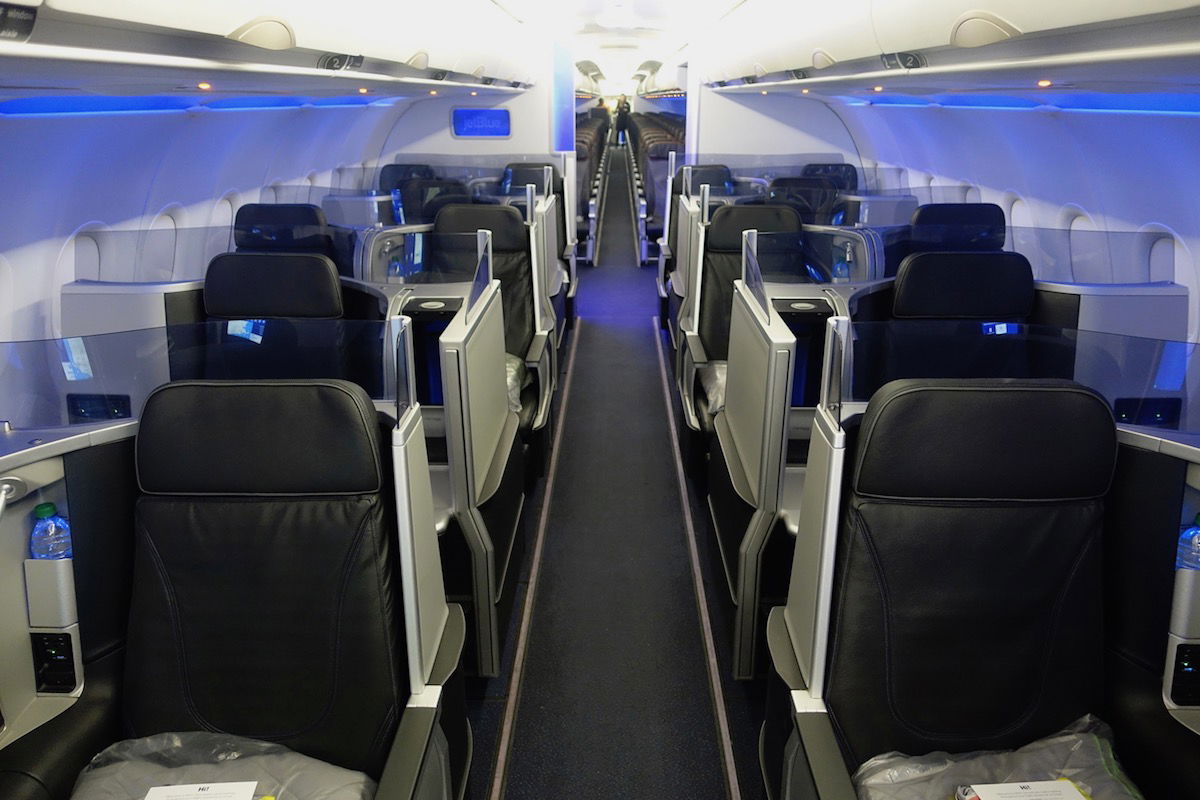 Bottom line
JetBlue is the most restrictive US airline when it comes to giving people opportunities to upgrade to its business class (known as Mint). TrueBlue Mosaic members can earn up to six Mint upgrade vouchers per year. The only other way to upgrade to Mint is at the gate, when upgrades are sold at a discount on a space available basis.
The only opportunities to "upgrade" to Mint in advance are to just rebook your ticket and pay the fare difference for Mint.
If you've upgraded to JetBlue Mint, what was your experience like?