My trip to London started off with a positioning flight to San Juan, given that the JetBlue Mint fare was way cheaper when originating in Puerto Rico (this was the case at the time I booked, but not anymore). While Puerto Rico is open to people from all over the United States, there are some requirements as part of the "Travel Safe" program, and that includes completing a form that needs to be filled out by the time you arrive in Puerto Rico.
I figured I'd share my experience with that, just as I did for entering Greece, the United Kingdom, Hawaii, etc.
Requirements for entering Puerto Rico
Puerto Rico is open to everyone from within the United States, though you either need to be vaccinated, tested for coronavirus, or have recently recovered from coronavirus:
Those who are fully vaccinated with an approved vaccine in the United States don't need to get tested; you need proof of vaccination, and it has to be at least two weeks since your last shot
Furthermore, those who have recovered from coronavirus within the past 90 days can enter without getting tested
Unvaccinated people over two years old must provide evidence of a negative molecular or antigen test performed within 72 hours of arriving in Puerto Rico
Those who don't meet one of those requirements will be assessed a $300 fine, though that can be waived by having a test performed within 48 hours of arriving in Puerto Rico
For those who are unvaccinated, it should be reassuring that you can still enter Puerto Rico if your coronavirus test results don't come back in time, since you could get tested within a couple of days of arriving, if needed.
Puerto Rico's "Travel Safe" travel declaration
All travelers to Puerto Rico need to complete a travel declaration. The good news is that this is a fairly easy process, much easier than what you need to go to Hawaii:
The form takes maybe five minutes to fill out
You don't need to complete this ahead of travel if you don't want to; you could even complete the form when you land if you want to (but you won't be able to leave the airport until you do, so I wouldn't recommend that)
The airlines don't have to check your eligibility and/or whether you completed the form, given the options to complete testing on arrival
Anyway, the form is pretty easy to fill out. Note that each adult has to fill out their own form (minors can be added as part of an adult form).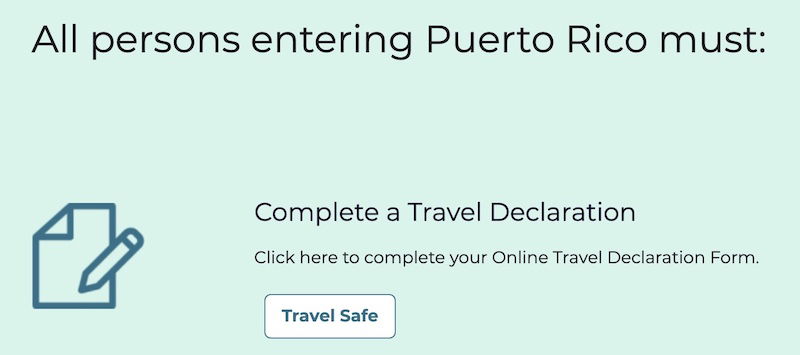 This is a two step process:
First you need to register an account, which includes adding all your personal info; this account can be reused for multiple trips
Then you need to enter details specific to your particular trip
To start the process, click the "Register Here" button, and you'll be taken to the form.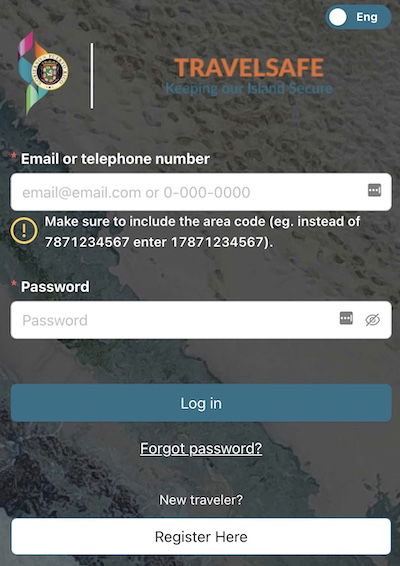 Details that need to be provided include your name, gender, date of birth, last four digits of your social security number (odd, no?), phone number, email address, choosing a password, sharing if you've been vaccinated or not, and entering your identification documents (whether that's a driver's license or passport).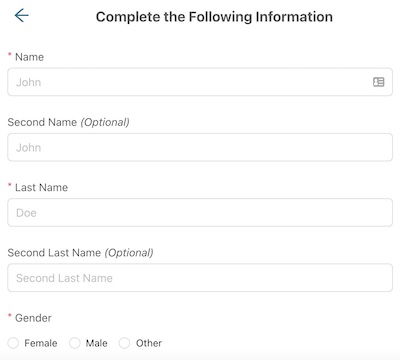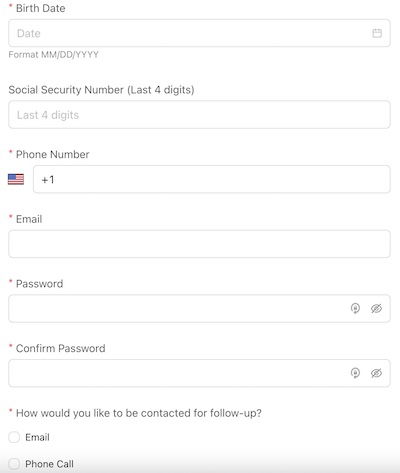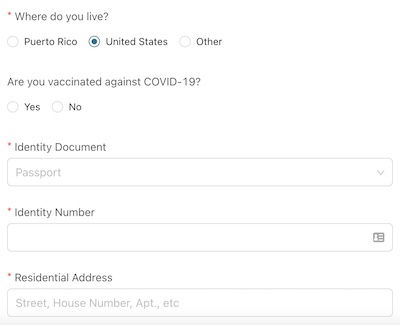 Once this is complete, your profile will be set up, and you can go to the "Add New Trip" section of your account, and add your trip details.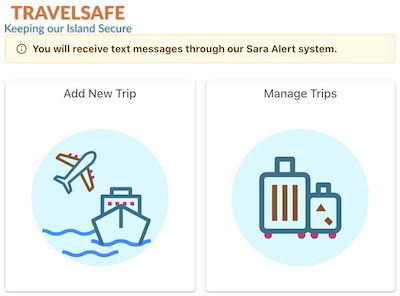 You'll be asked to share your arrival details (whether you're arriving by plane or ferry), where you'll be staying, why you're visiting, and how long you'll be staying for.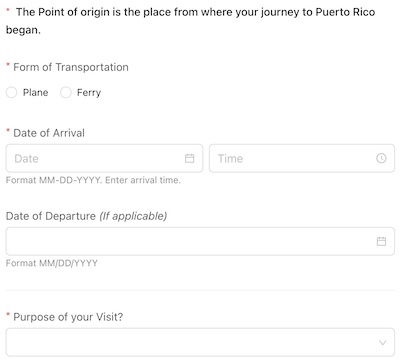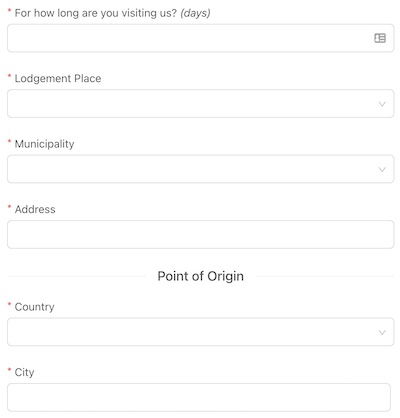 You'll also be asked if you're traveling with minors, if you have any symptoms of COVID-19, and whether you've recently been in close contact with someone who had it.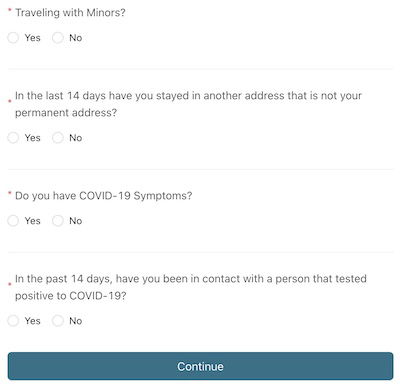 You'll then be asked by which method you intend to enter Puerto Rico — vaccination, testing before travel, testing upon arrival, or recovery from coronavirus.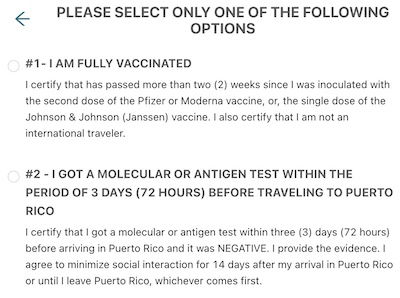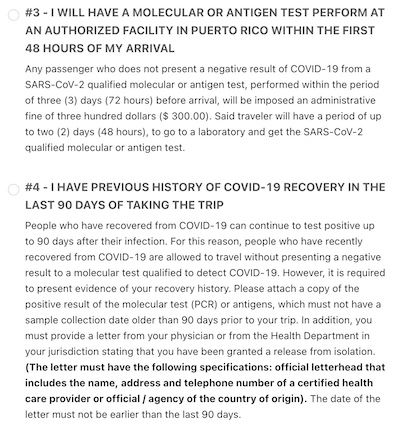 Depending on the option you choose, you'll be asked to provide proof. For example, if you select that you're fully vaccinated, you'll need to share the vaccine type, when you got your doses, and you'll have to upload a photo of your vaccine card.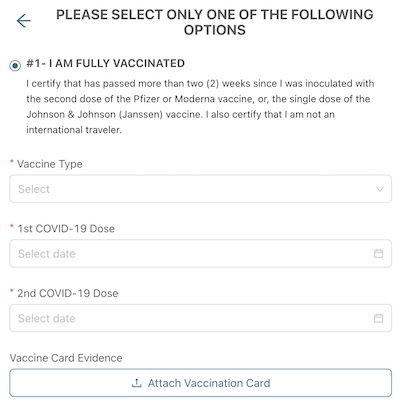 Once this process is done, you'll immediately be issued a QR code, which you'll need to have handy to enter Puerto Rico.
What it's like arriving at San Juan Airport (SJU)
My experience arriving at San Juan Airport (SJU) was easy. As you attempt to exit the baggage claim hall, there's a checkpoint where your QR code and ID are checked by staff. They simply scan your QR code, and then on their screen the picture of your vaccine card (or whatever document you're using for travel) comes up, and they verify it looks correct.
There was no line on the way out for us, though I'd note:
There were a lot of confused people who didn't seem to realize they had to fill anything out
Our driver told us that sometimes there's a very long line to get out, but I didn't experience that
Bottom line
Travelers to Puerto Rico need to complete a travel declaration, regardless of whether they're visiting or returning home. This is because Puerto Rico requires travelers to either by vaccinated, have recovered from coronavirus, or get tested, and the easiest way to streamline that process is with a travel declaration form.
I found Puerto Rico's "Travel Safe" program to be pretty easy — not only can you complete this any time up until when you arrive, but it's also a fairly short form. Furthermore, if you're not vaccinated, there's even an option to get tested within a couple of days of arrival, which takes some of the pressure off of pre-travel testing.
If you've traveled to Puerto Rico during the pandemic, what was your experience with the arrivals process and travel declaration?