---
And the award for the most improved airline goes to…
What Is La Compagnie?
La Compagnie is an all business class airline that began flying between Paris and Newark in the summer of 2014. I flew the airline shortly after they launched, and had a "meh" experience.
However, the airline has no doubt matured over the years. For one, La Compagnie just took delivery of two A321neos. Unlike the 757-200s that they used to operate, the A321neos feature fully flat beds and Wi-Fi onboard. Furthermore, in addition to their Newark to Paris route, the airline this past summer flew between Newark and Nice, and they're bringing back that route in the summer of 2020.
I was looking forward to checking in on both La Compagnie's soft and hard product — how are the new seats, how is the service, and what else is going on with the airline?
How I Booked My La Compagnie Ticket
La Compagnie generally has attractive business class fares. You can expect normal pricing to be somewhere around $1,600 roundtrip when booking in advance, but on top of that they sometimes have fare sales.
For example, earlier this year they had incredible $1,000 roundtrip fares. Really I just needed to fly them one-way, though, since I figured one flight was enough to review them. At the time I was booking there was a sale where one-way tickets were bookable for 600EUR (~$660) including all taxes and fees, which is a spectacular deal.
La Compagnie A321neo Review
La Compagnie 102
Paris (ORY) – Newark (EWR)
Wednesday, November 13
Depart: 2:30PM
Arrive: 5:10PM
Duration: 8hr40min
Aircraft: Airbus A321neo
Seat: 18F (Business Class)
At the door I was greeted by a flight attendant, and I was immediately blown away by the cabin. WOW. This has to be the sleekest narrow body commercial plane in the world.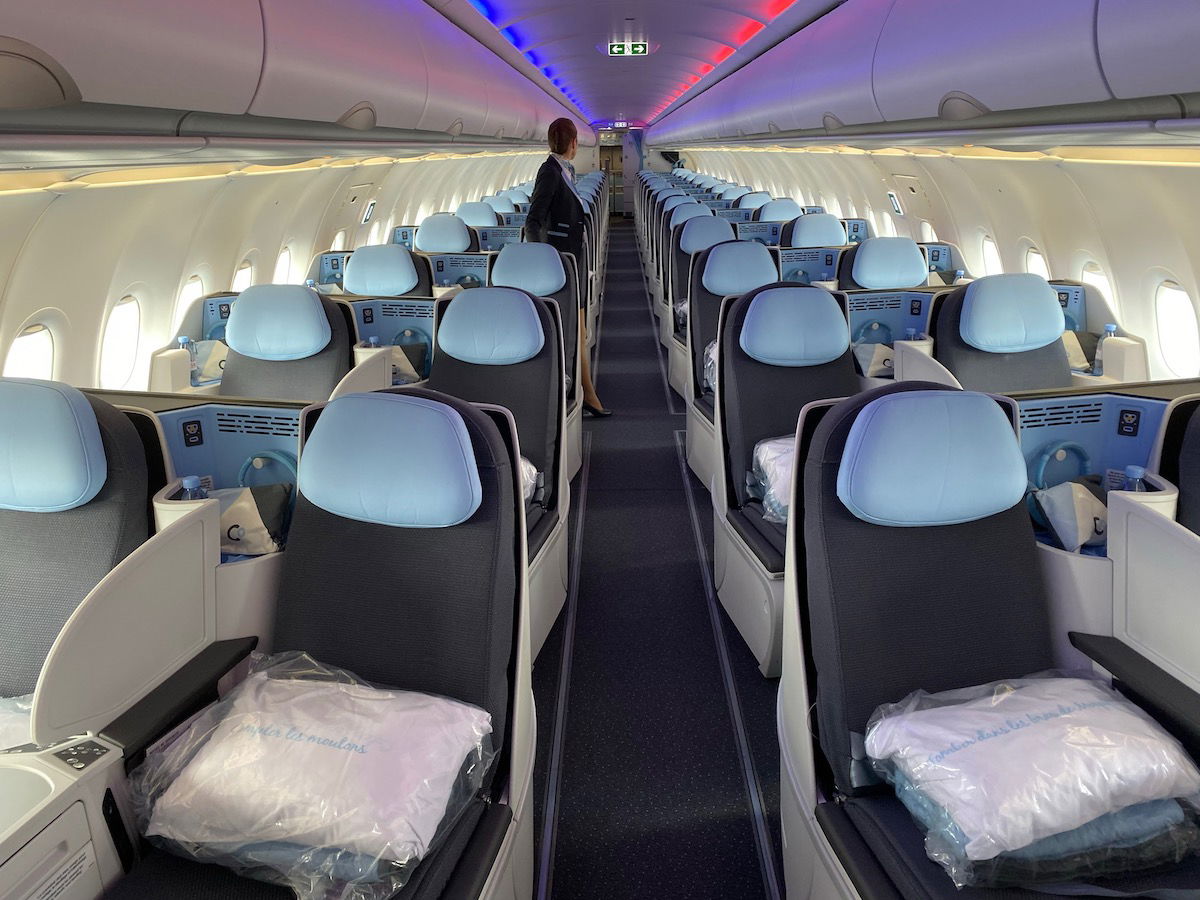 La Compagnie business class cabin A321neo
The A321neo has just a single cabin with 76 business class seats, spread across 19 rows in a 2-2 configuration. Wow, wow, wow… I love the baby blue seat finishes, I love the mood lighting, I love the new plane look. I love all of it.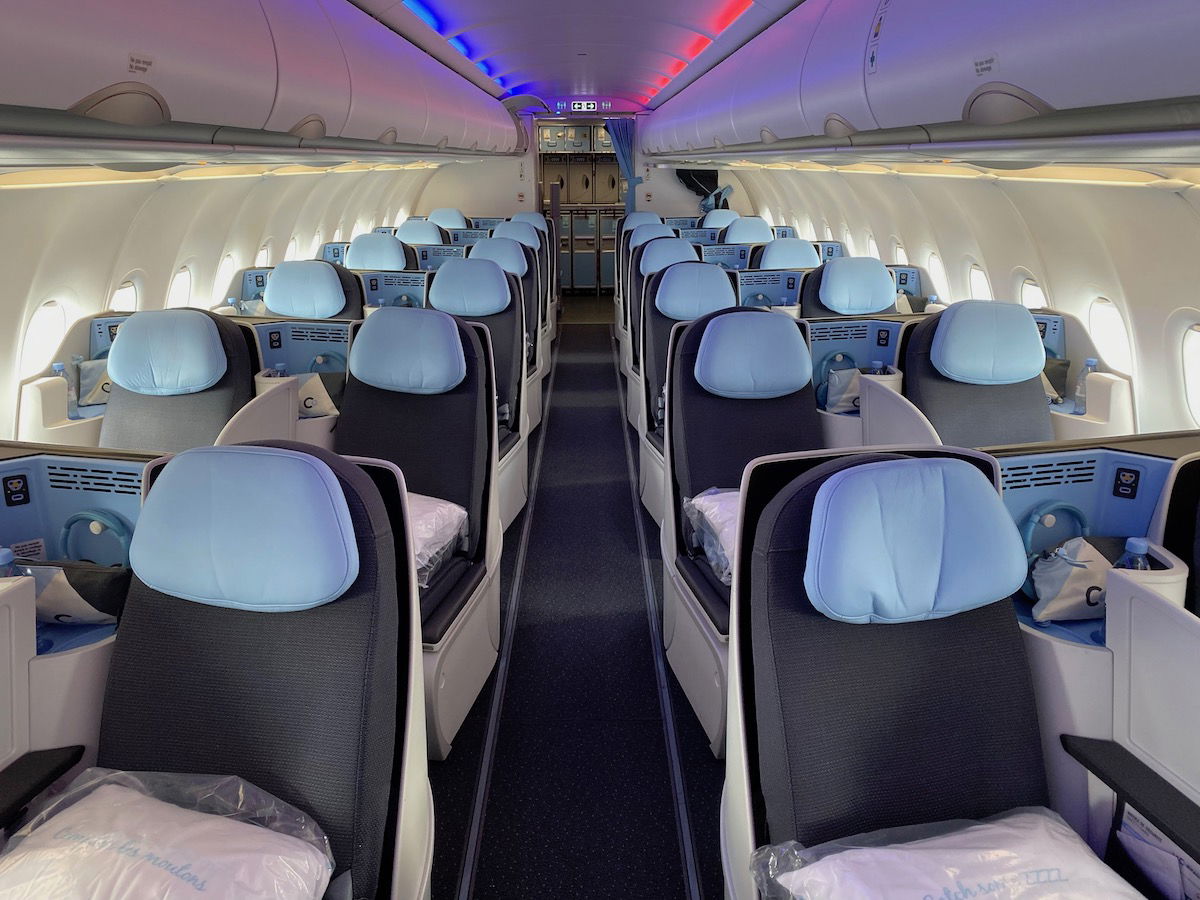 La Compagnie business class seats
La Compagnie selected B/E Aerospace Diamond seats for their A321neos, which are fully flat seats. These are pretty common seats that you'll also find on dozens of other airlines (in the US you'll find them on select American A321s, as well as on select American, Delta, and United 757-200s).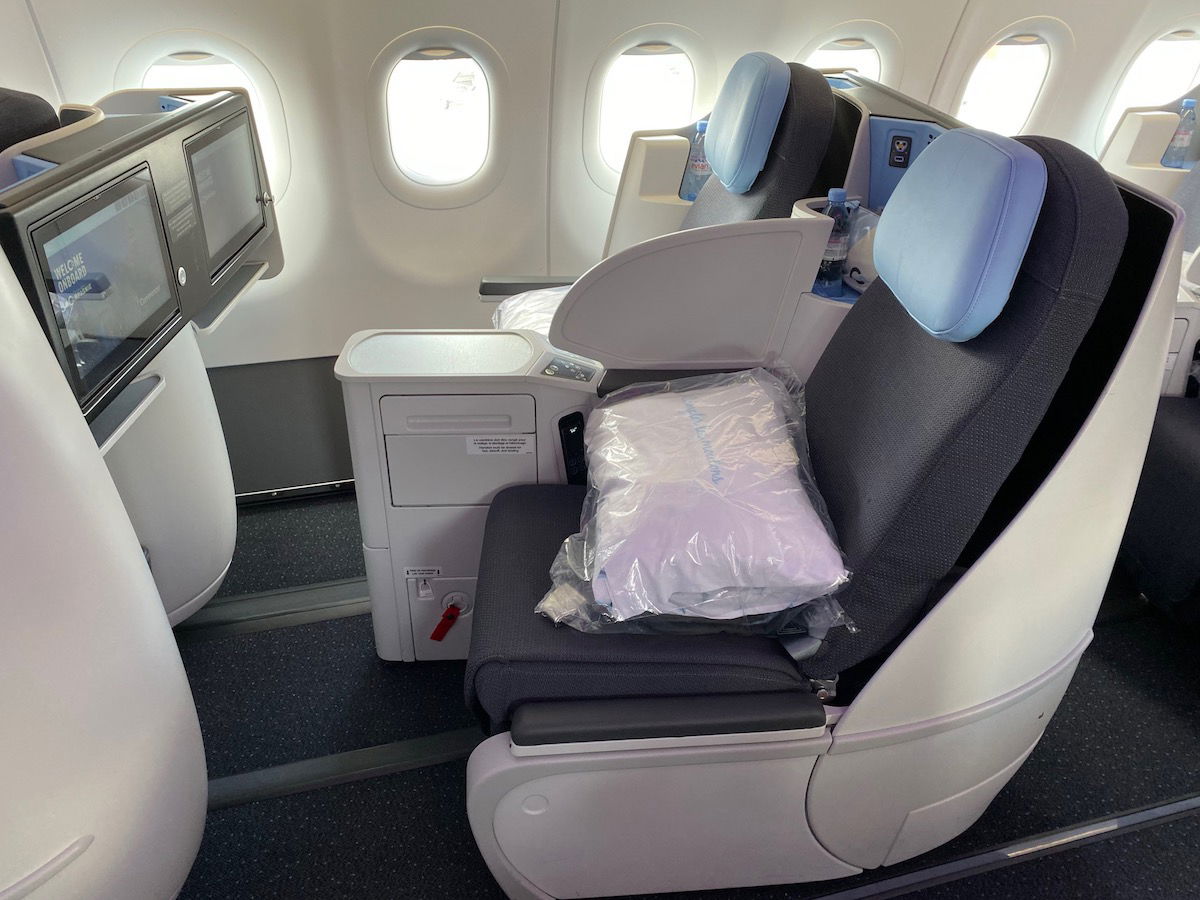 La Compagnie business class seats
The reason these seats are so efficient is because the footwell is underneath the seat in front, meaning that the amount of space needed per seat isn't that great. Is this a cutting edge business class product? No way.
But it's a phenomenal product for what La Compagnie is trying to offer, which is an all business class service at a reasonable price.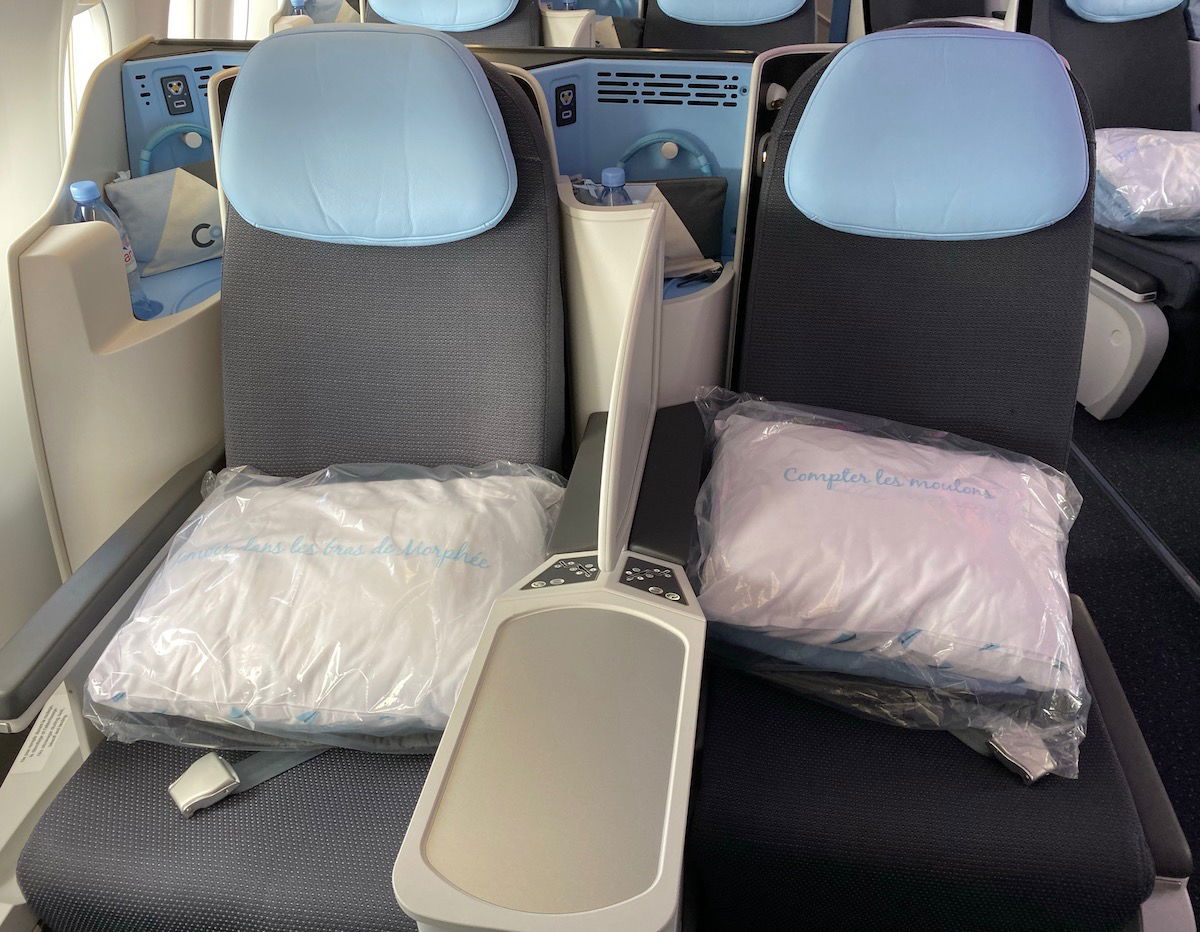 La Compagnie business class seats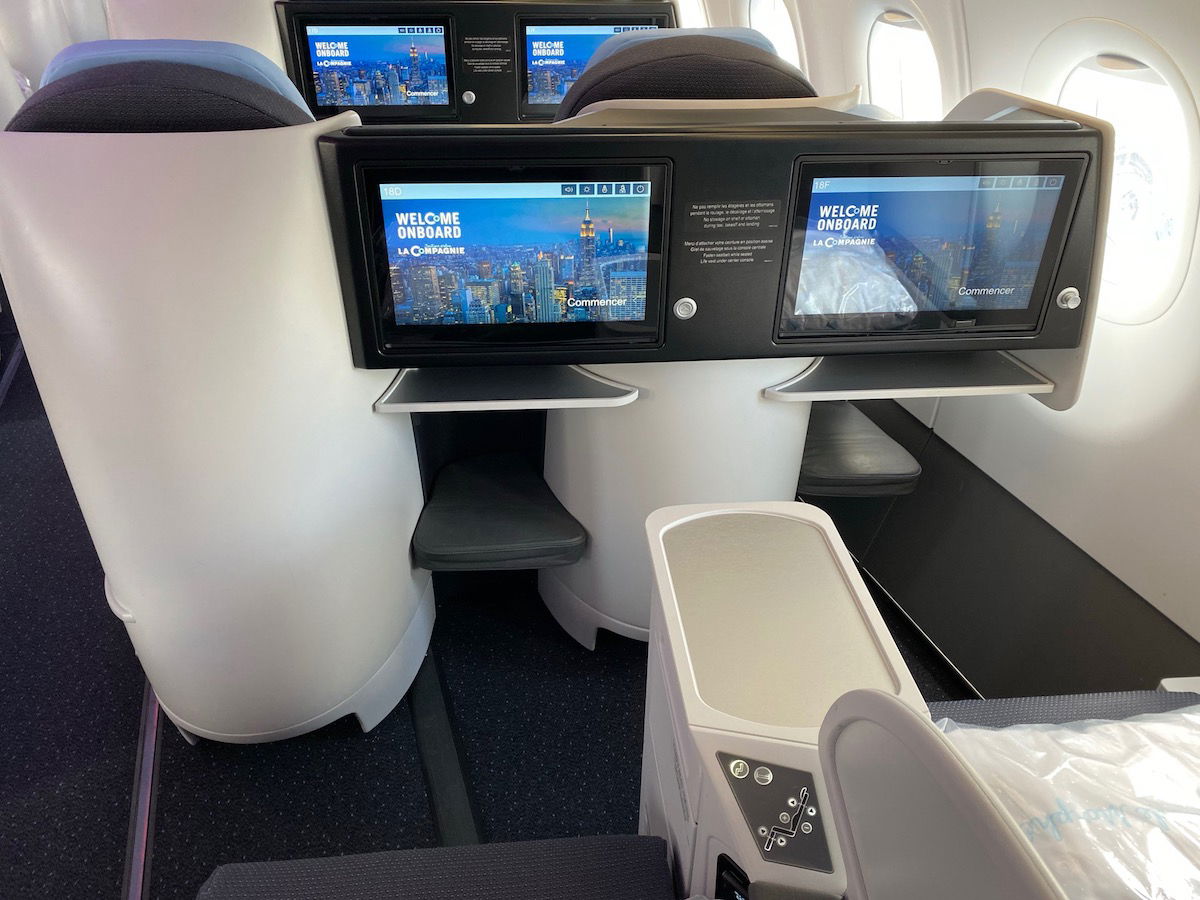 La Compagnie business class seats
It's not just that I like the cabin finishes as such, but there's something so sleek about the symmetry of the cabin, the entire A321neo consisting of just a single cabin, etc.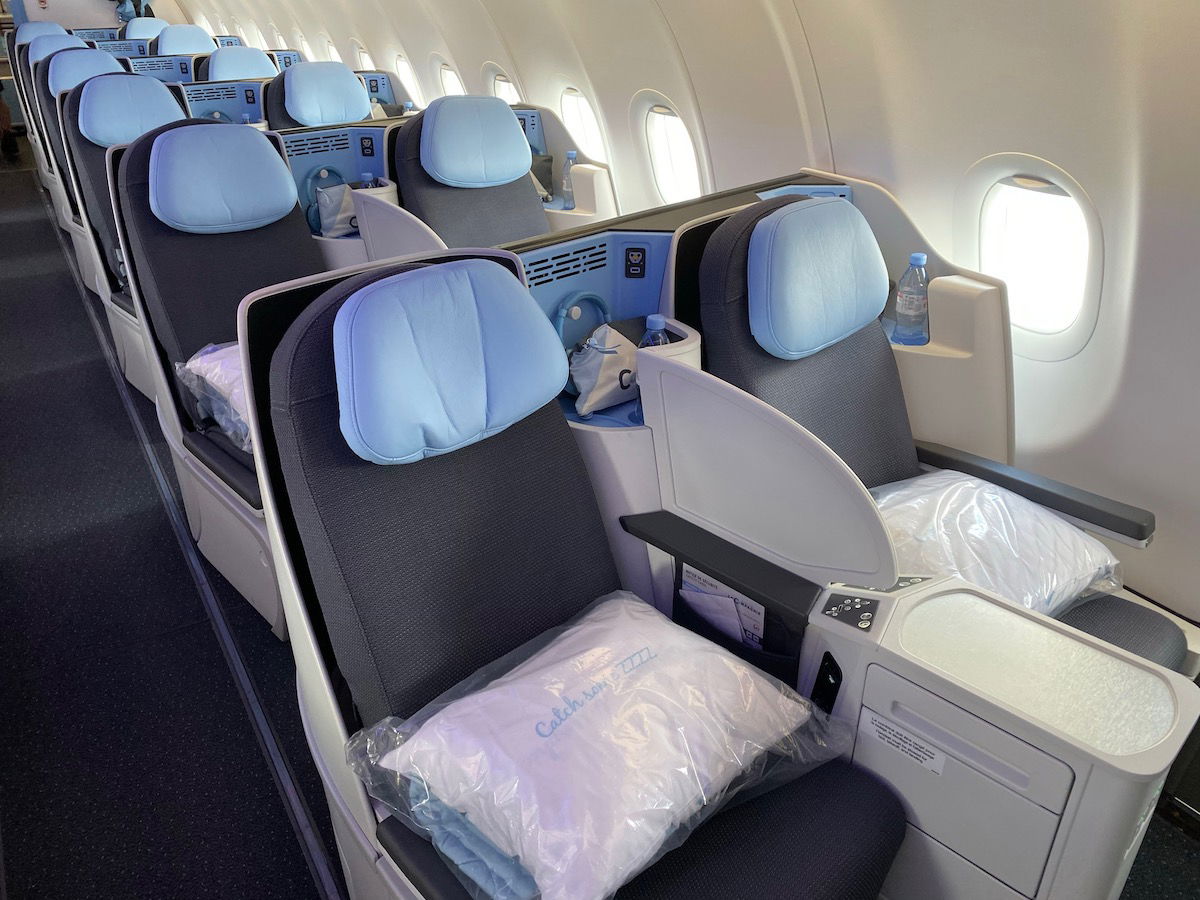 La Compagnie business class seats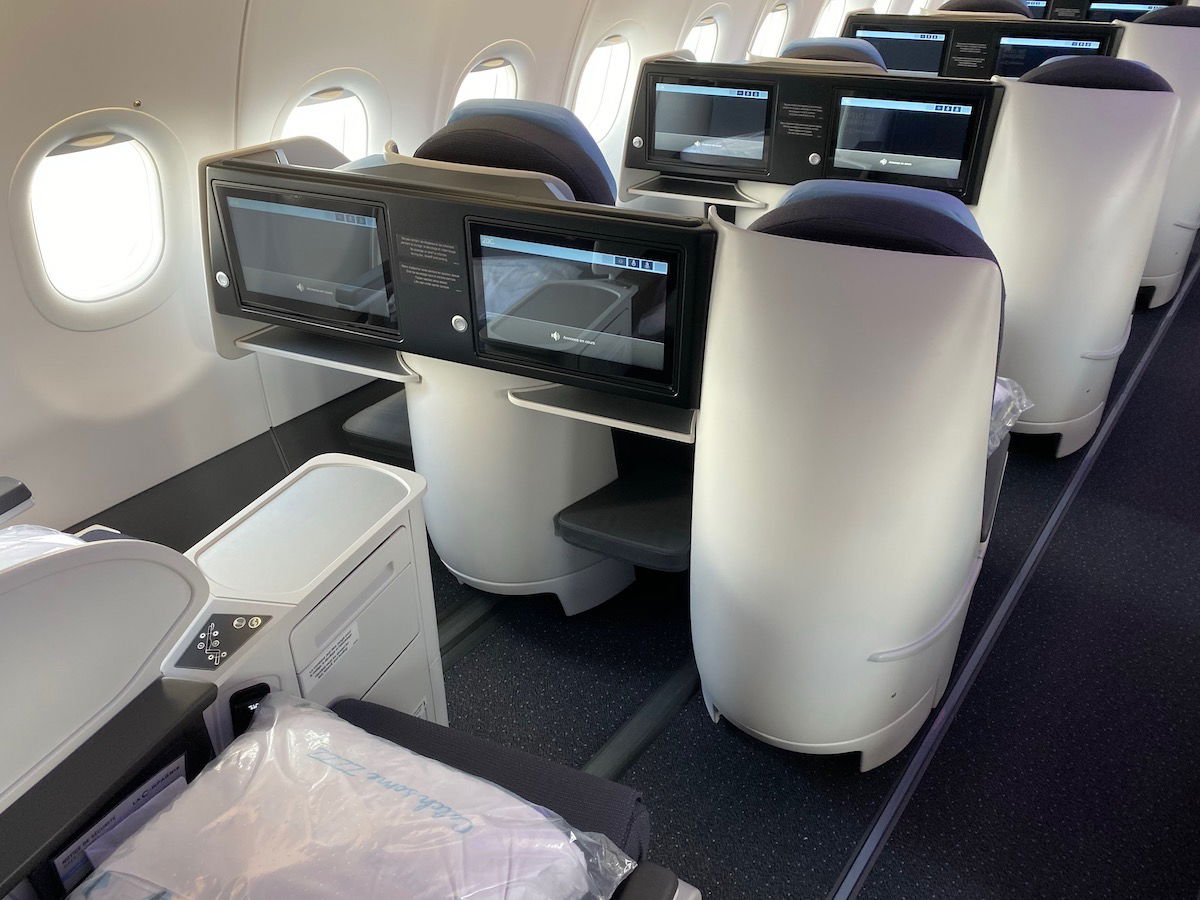 La Compagnie business class seats
In the last row on the left were some crew rest seats. I'm not sure what exactly they're for, given that the flight had just two pilots. I believe the flight attendants may have rested here a bit during the flight.
However, these seats could be selected during the booking process, so I wonder if this is consistently a formal crew rest area, if they just have it in case they ever need it with different routes, or if they have it and use it only when the cabin isn't full.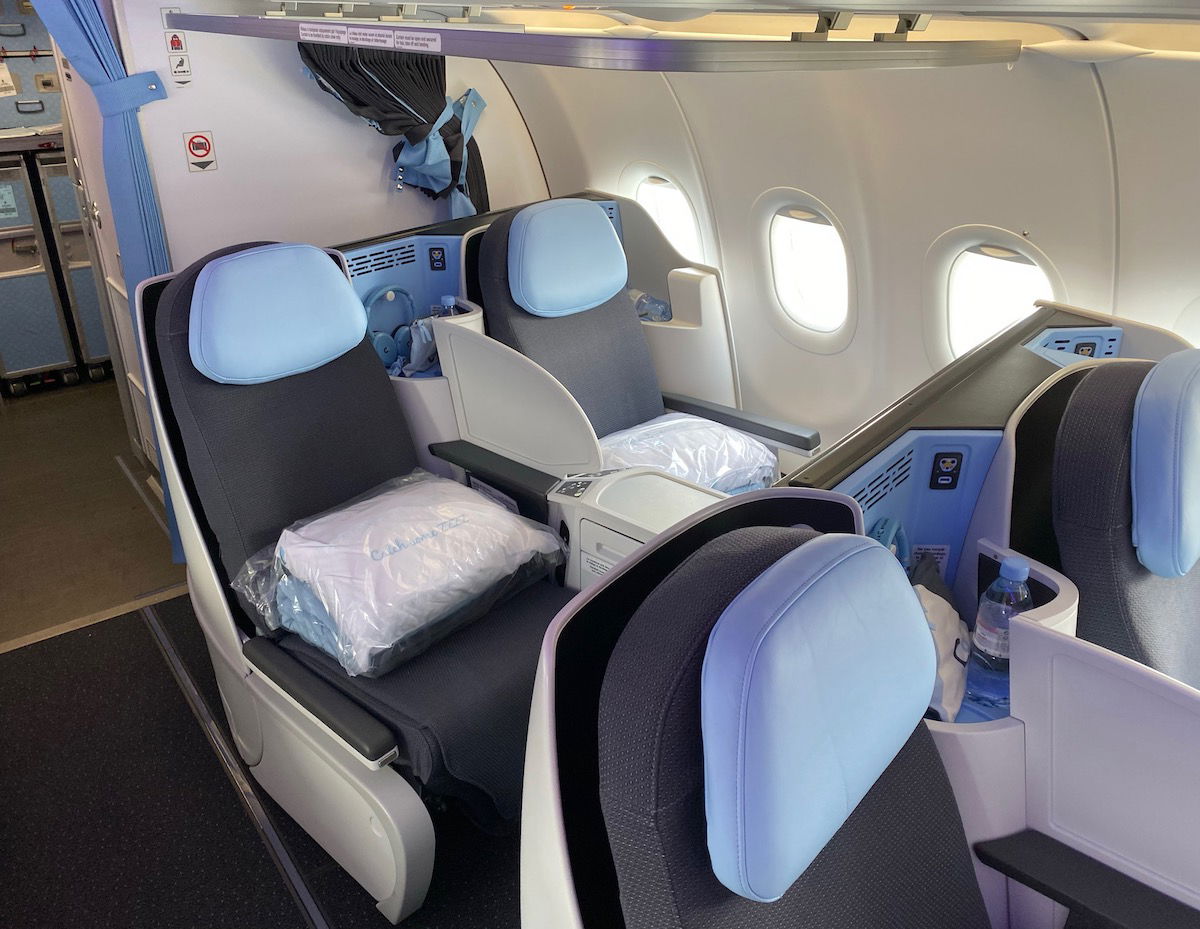 La Compagnie crew rest
I selected seat 18F, the window seat on the right side in the third to last row (there are 19 rows of seats, but seat numbers go to row 20, since they skip row 13).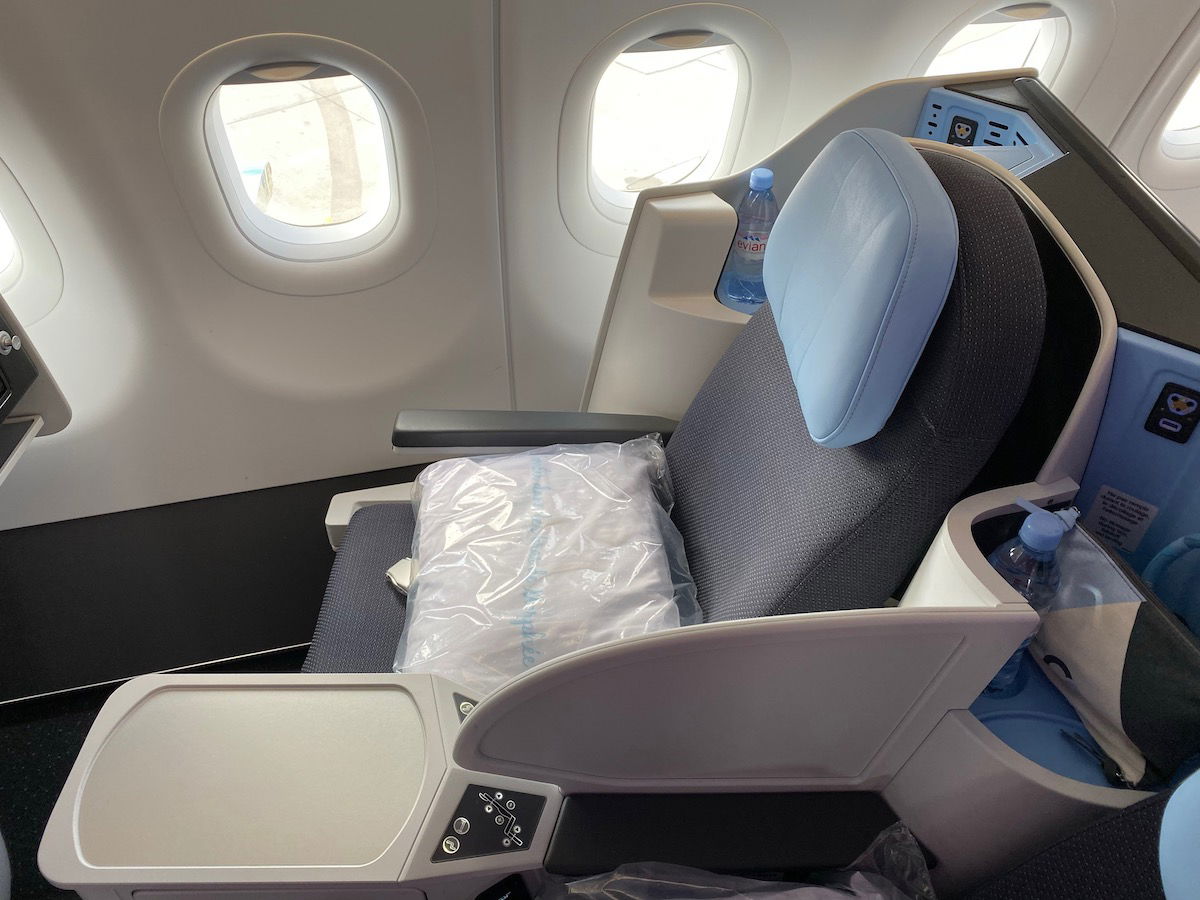 La Compagnie business class seats
In these B/E Aerospace Diamond seats, there's a storage compartment to the back right of the seat, which also has the headphone jack and USB outlet.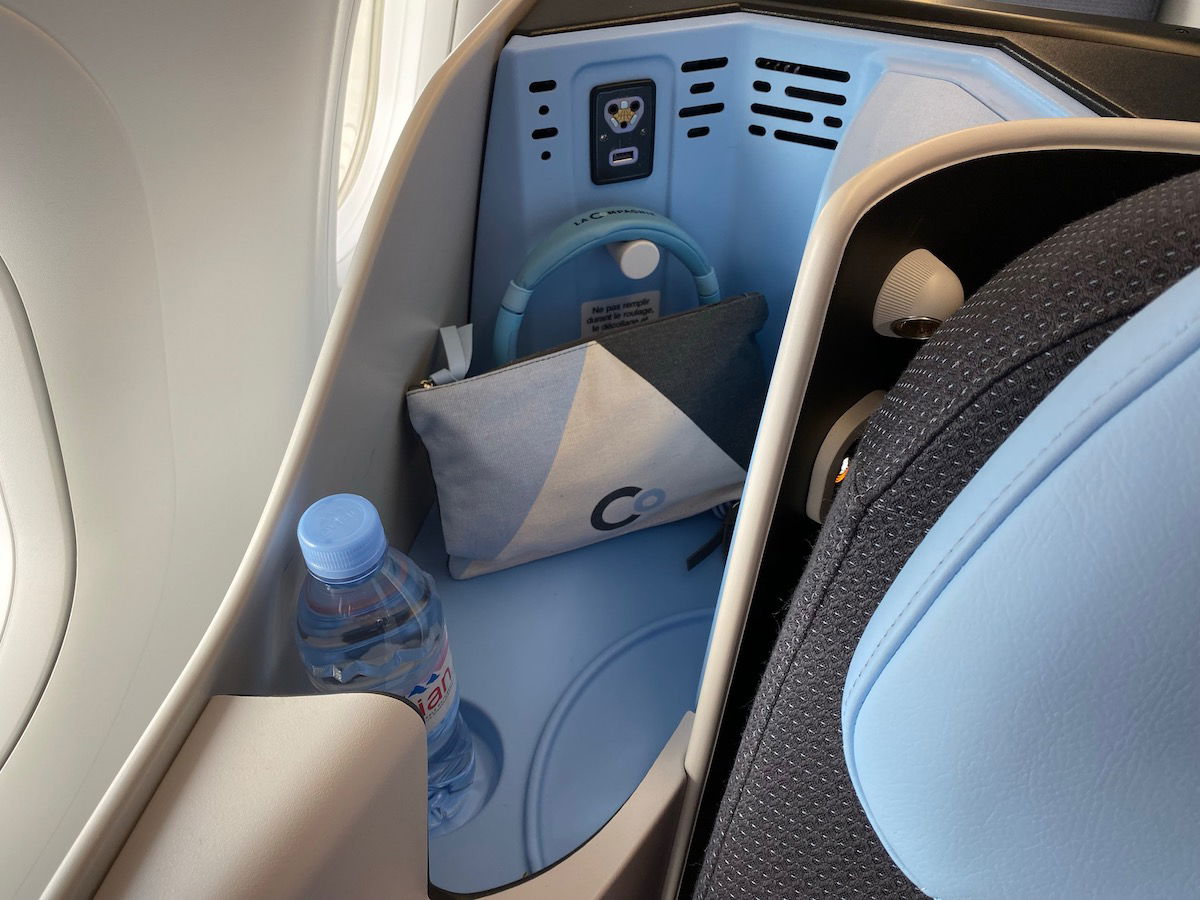 La Compagnie business class seat storage
There was a permanent privacy partition between seats. While you'll still see your neighbor when sitting up, it at least gives you some privacy while sleeping.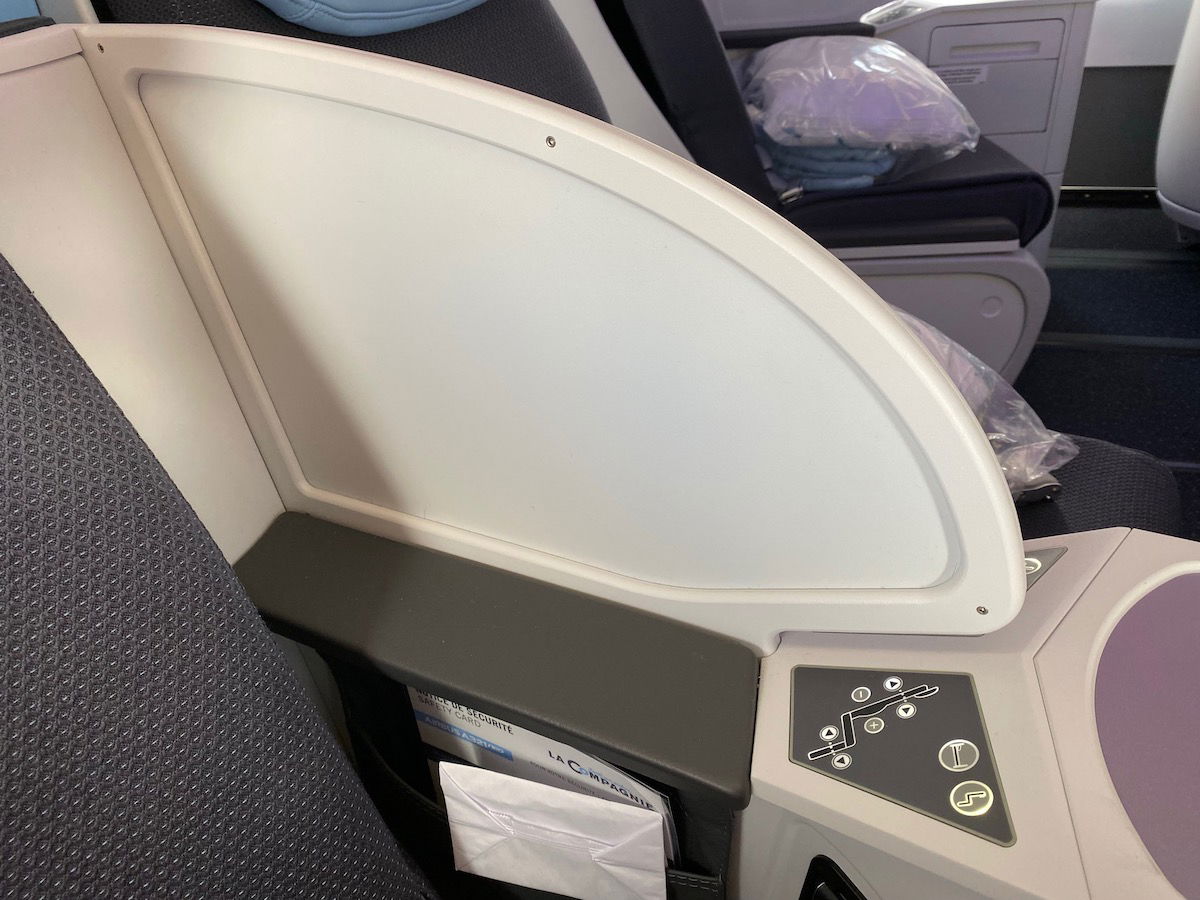 La Compagnie business class seat privacy partition
The seat controls were on the center panel, and were easy to use.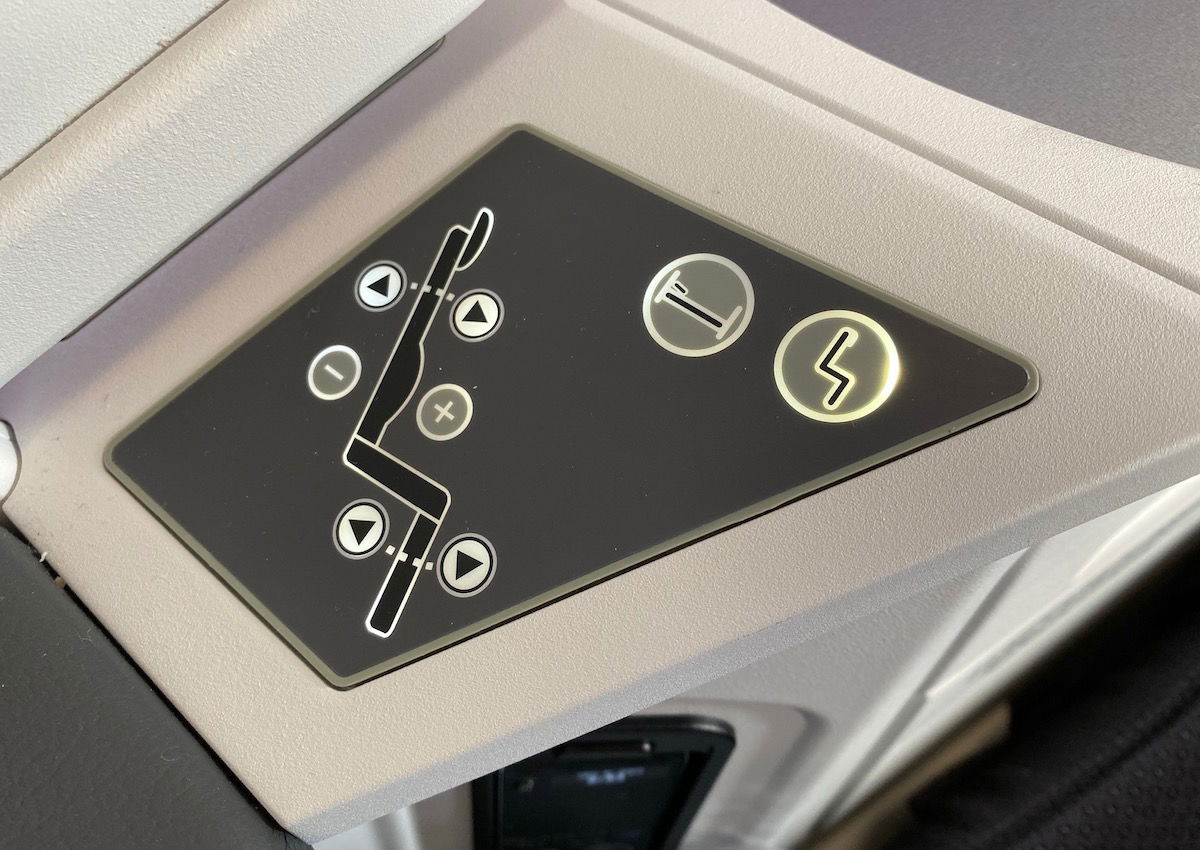 La Compagnie business class seat controls
The tray table also extended out from the center armrest, and could be folded in half.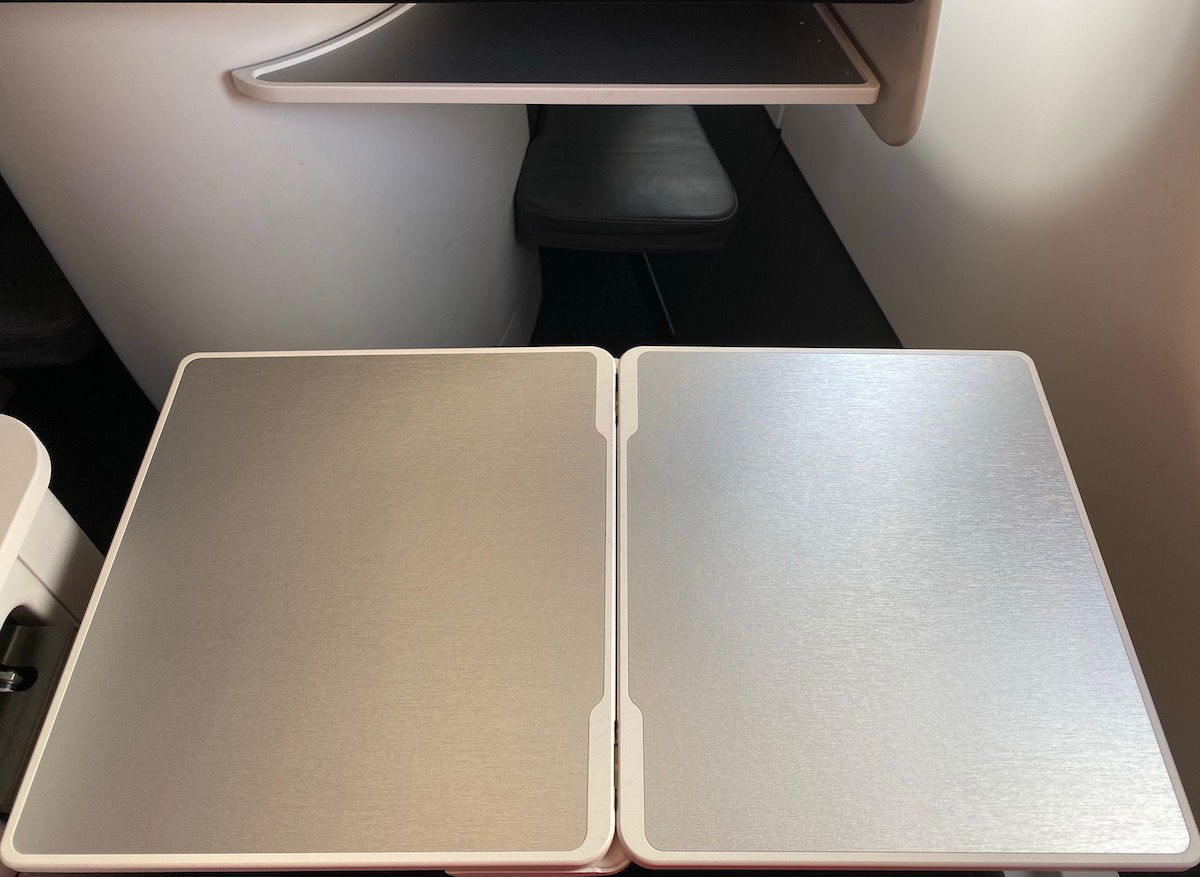 La Compagnie business class tray table
To the side of the center console was a literature pocket and the entertainment controller.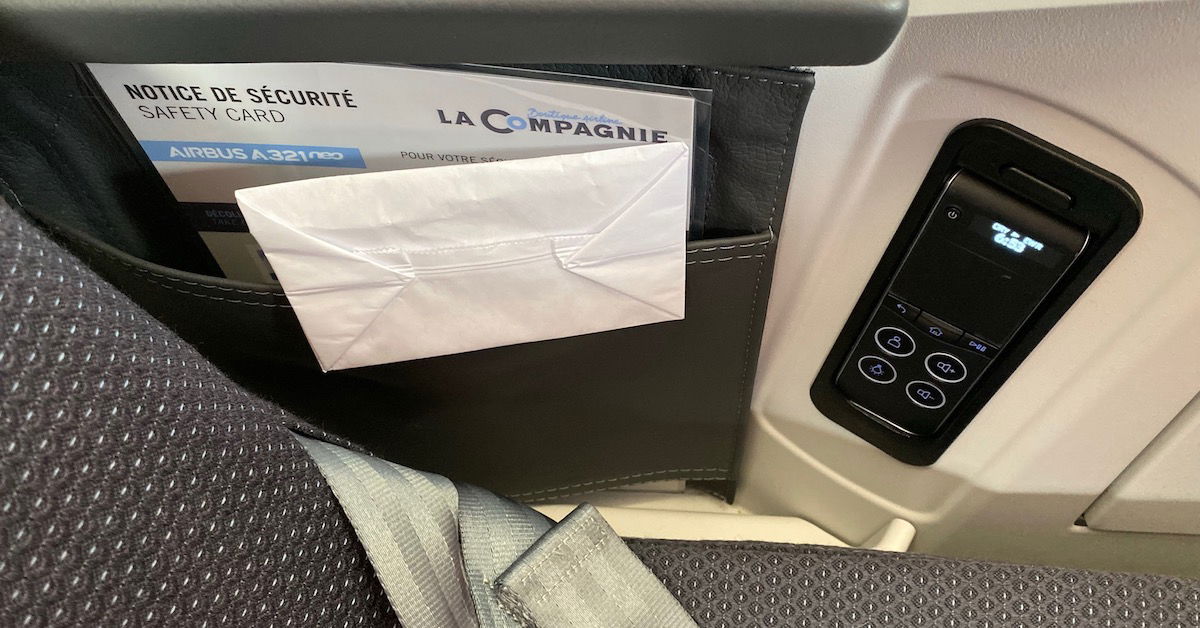 La Compagnie business class seat literature pocket & controller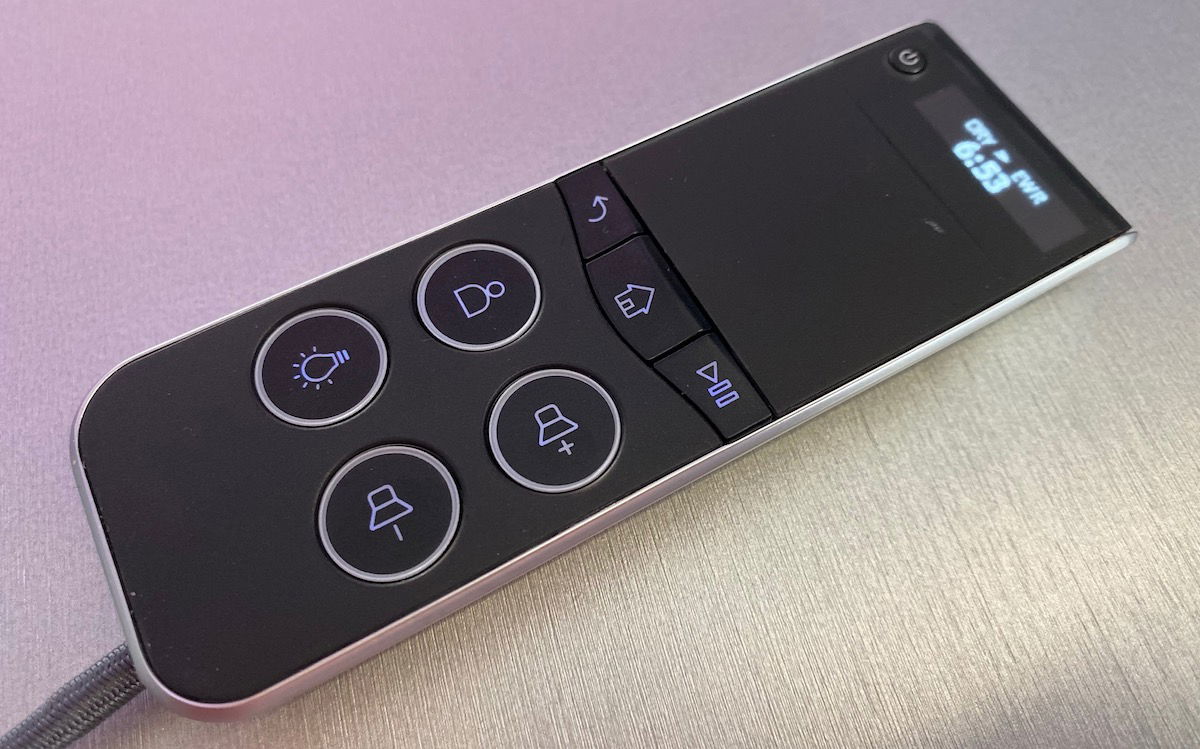 La Compagnie business class entertainment controller
Then there were two 110v outlets underneath the center console.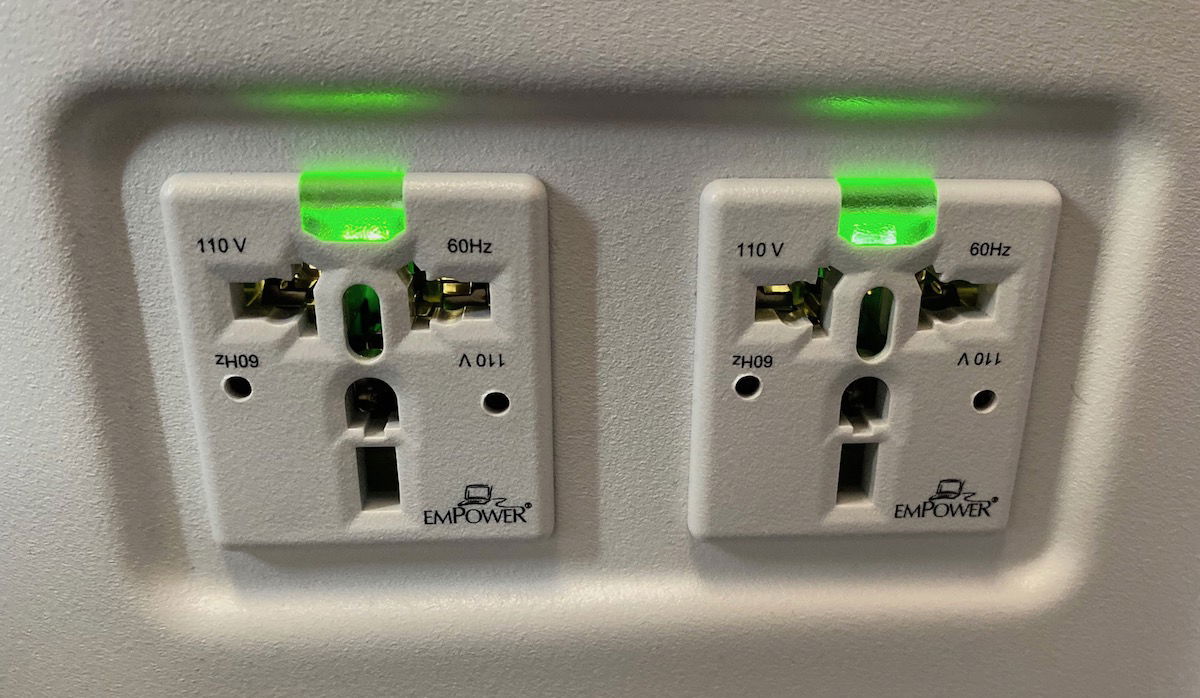 La Compagnie business class power outlets
Underneath the entertainment monitor was both a small shelf as well as the footwell. The footwell is on the small side, though I find the window seats are more spacious since you can bend your knees towards the fuselage.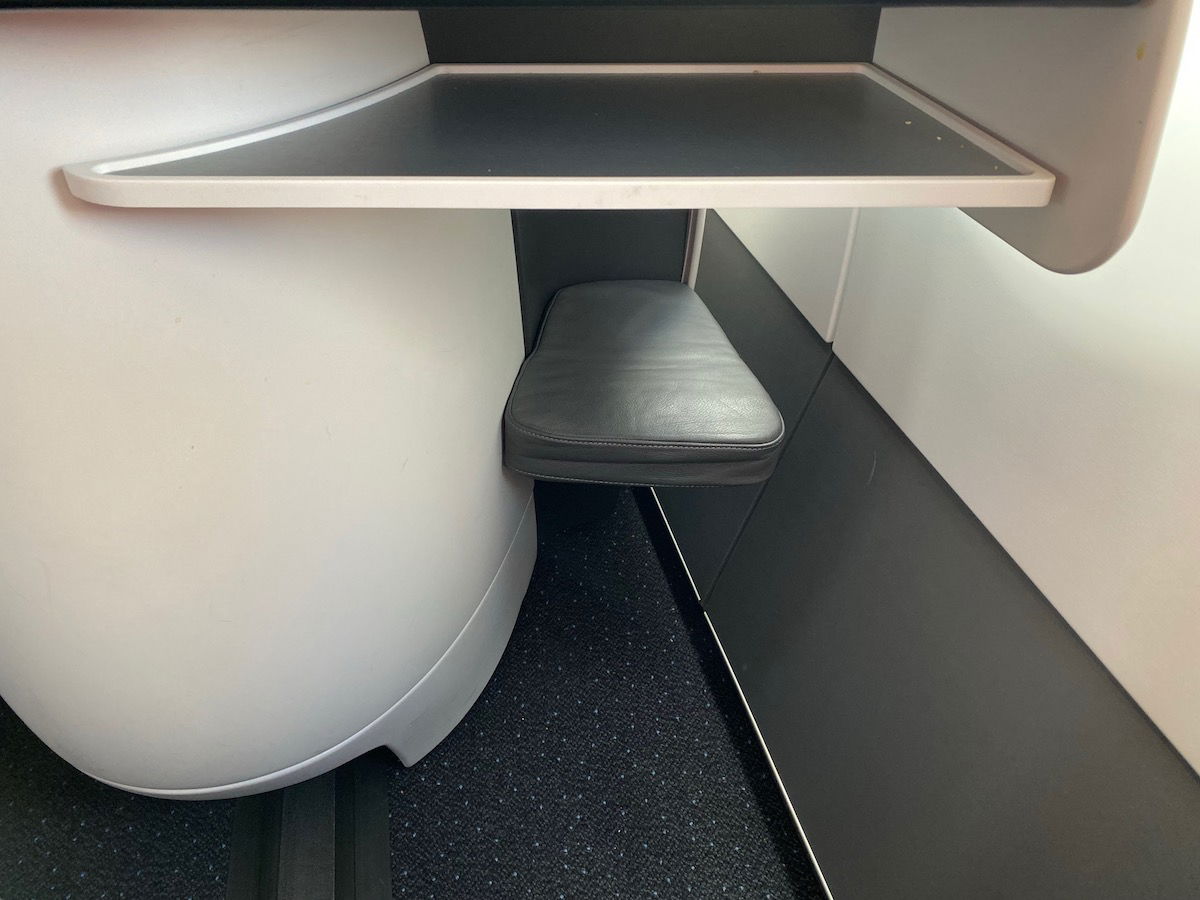 La Compagnie business class seat footwell
The La Compagnie A321neo has individual air nozzles at every seat — yay!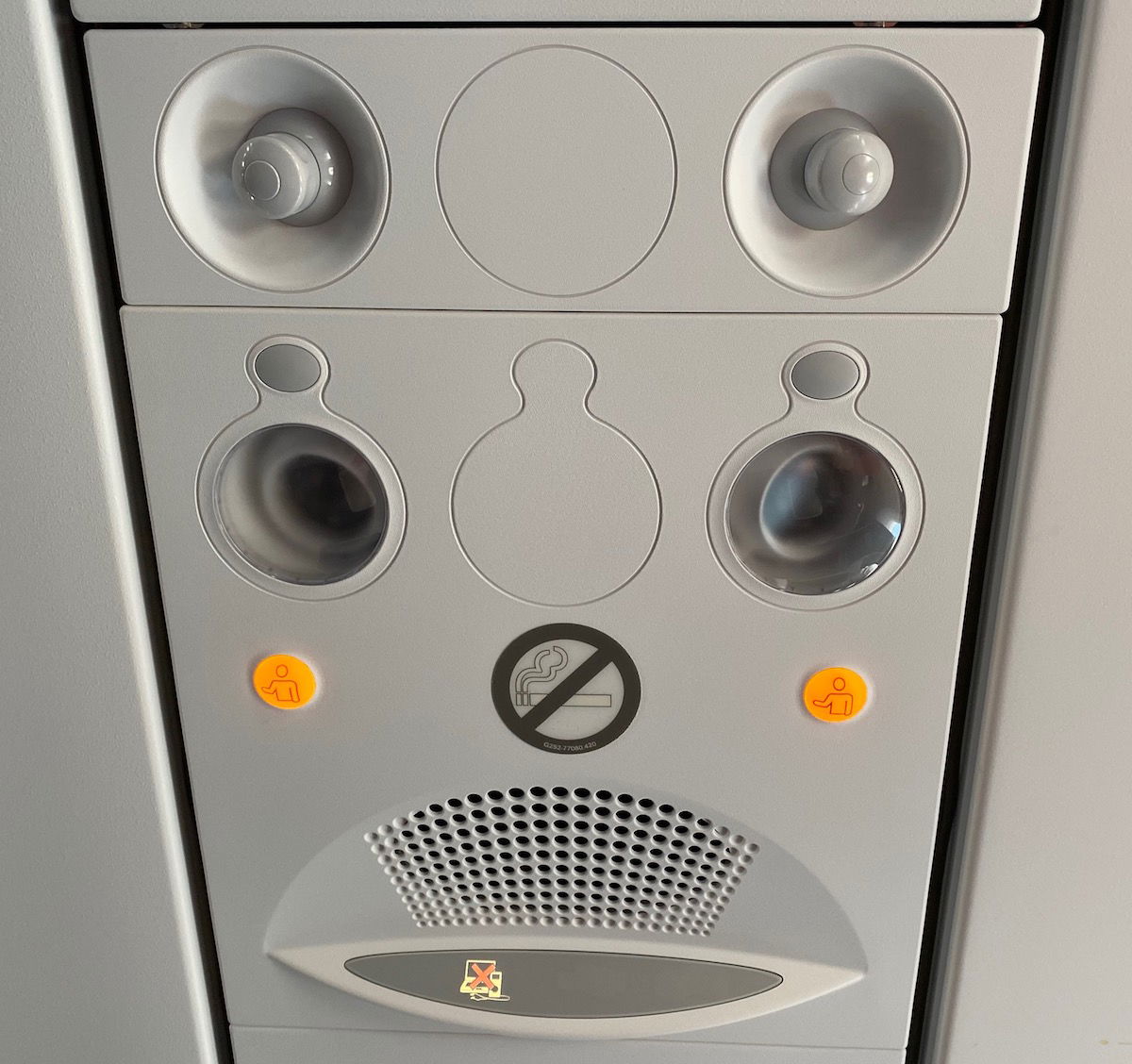 La Compagnie individual air nozzles
Already waiting at each seat upon boarding was a pillow and blanket. Not only were they both plush, but I also loved the design, which nicely complemented the cabin finishes.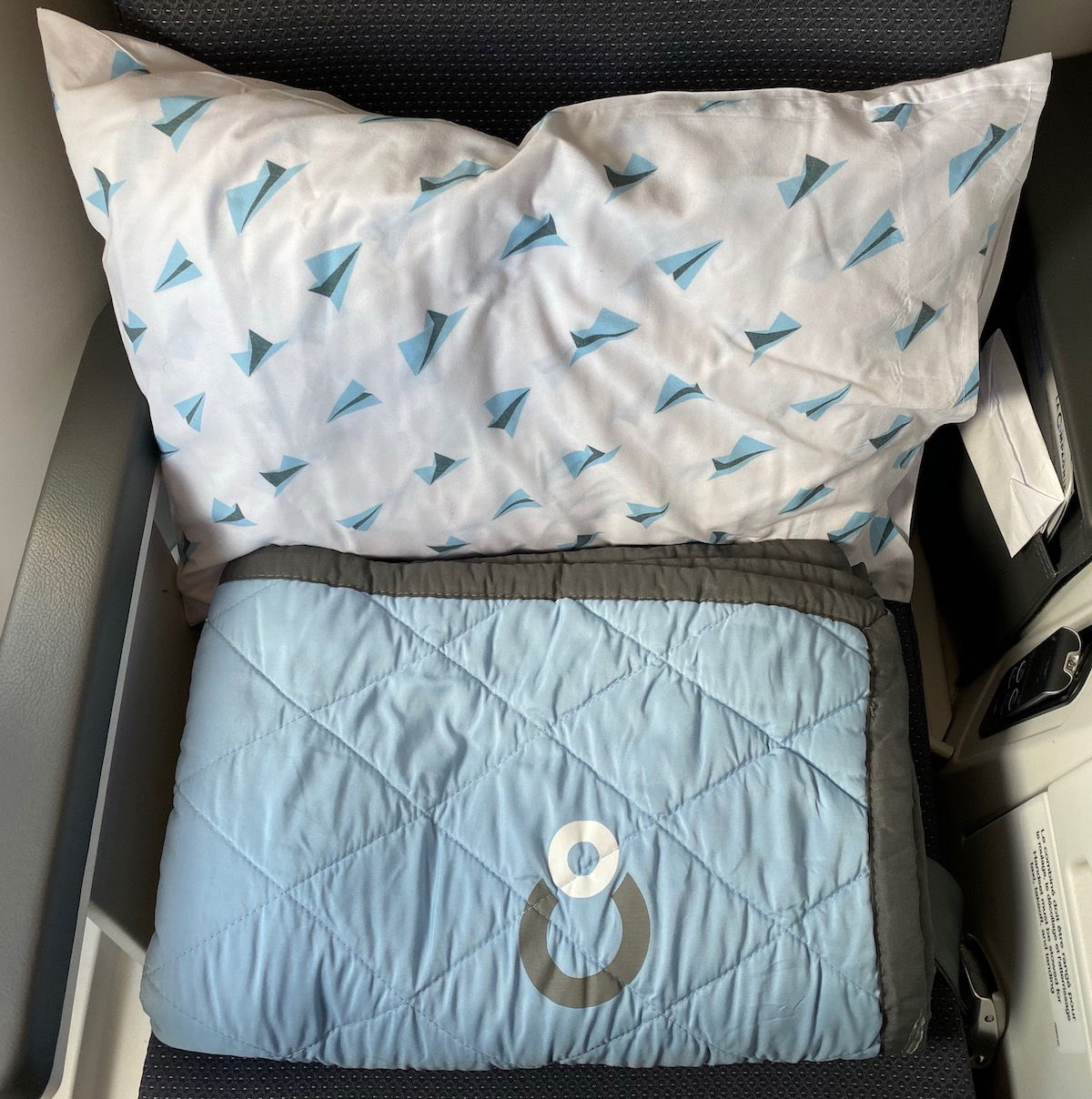 La Compagnie pillow & blanket
There were also headphones at each seat, which were just alright quality.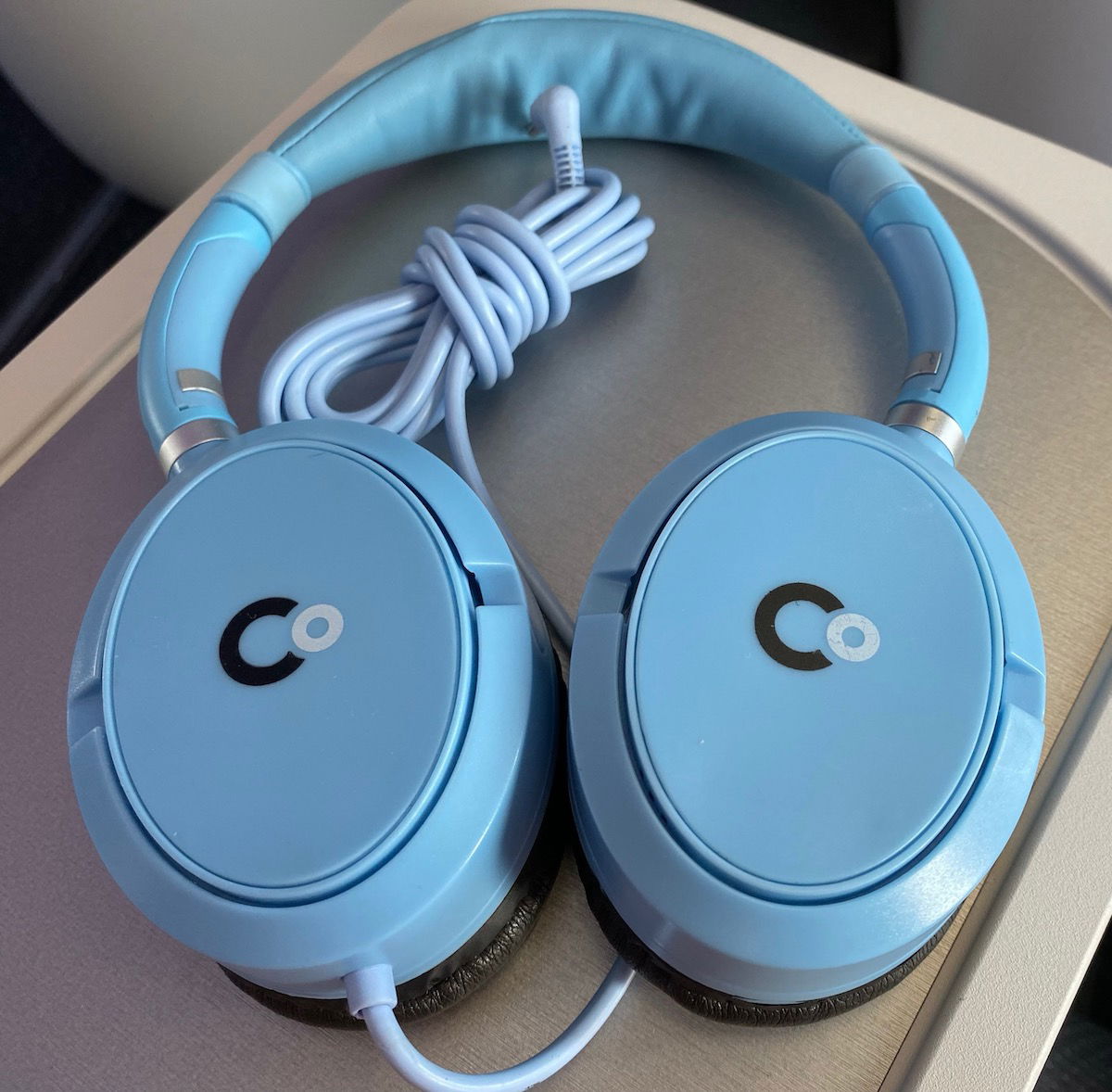 La Compagnie headphones
There was also an amenity kit waiting at each seat, which was well stocked. The kit could be opened from both sides, and had two separate pouches with contents. Inside the kit were socks, a shoe bag, eyeshades, earplugs, a pen, a toothbrush and toothpaste, lip balm, and some cream.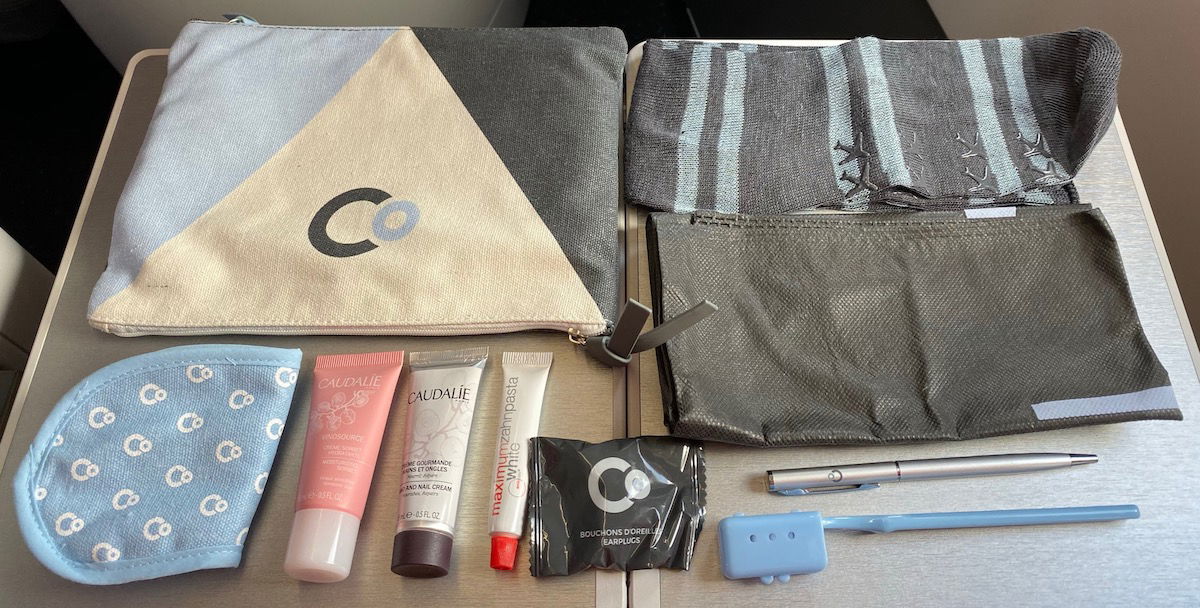 La Compagnie amenity kit
There was also a bottle of Evian water waiting at my seat.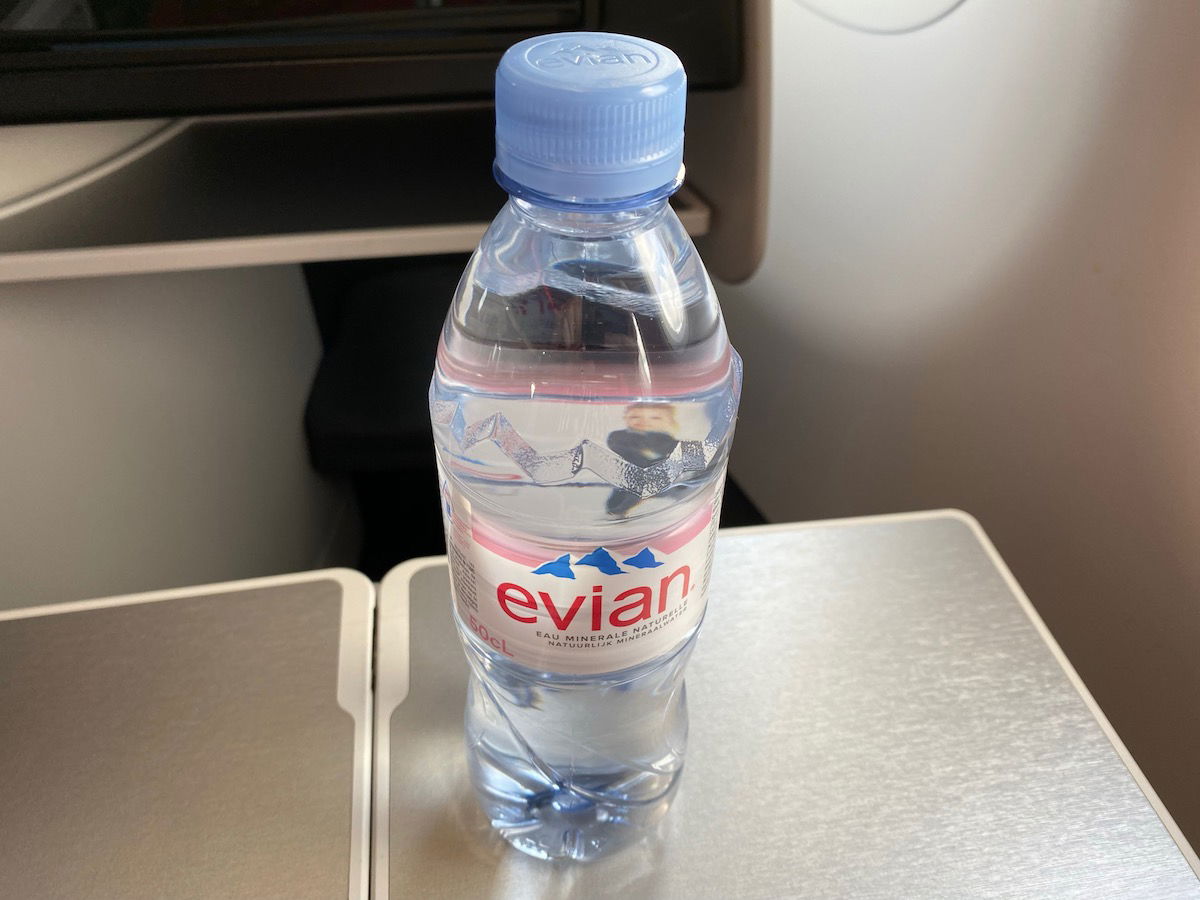 La Compagnie bottled water
At around 2:15PM the crew passed through the cabin with a tray of pre-departure drinks, with the choice between champagne and orange juice. I selected some champagne, which was a rather small pour, and was served in a plastic cup.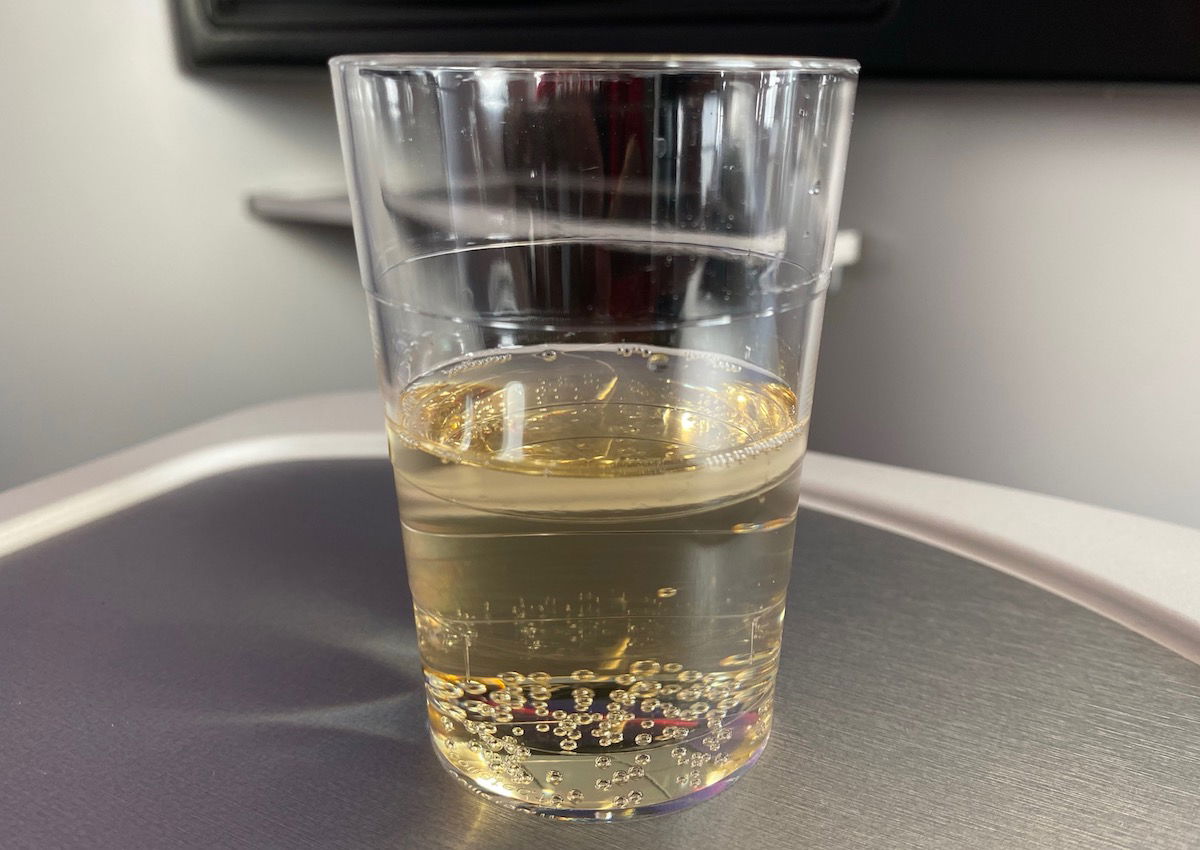 La Compagnie business class pre-departure champagne
At 2:20PM it was announced that boarding was complete, at which point the door closed. There were about 15 empty seats on the plane, and my strategy (of picking a seat towards the back) paid off, as I had an empty seat next to me. While the plane was ~80% full, in the last three rows there were just a total of four passengers. So if traveling alone I recommend picking a seat towards the back.
Did I mention how pretty the La Compagnie cabin is?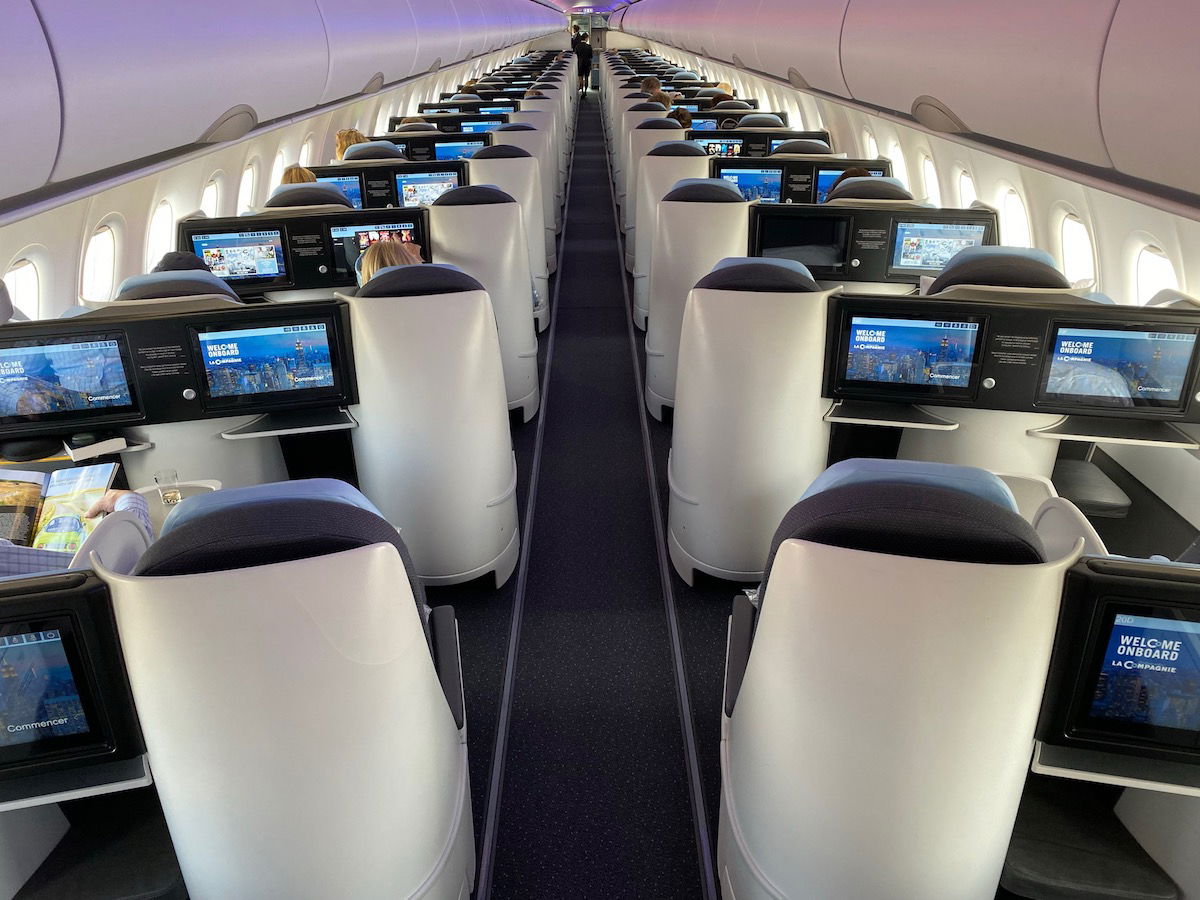 La Compagnie A321neo cabin
There's another reason I was so excited to sit towards the back. I'm lucky to mostly fly in first and business class, or otherwise in the extra legroom economy section, towards the front of plane. However, I also love a "behind the wing" view, so an all business class plane is the perfect opportunity to enjoy that.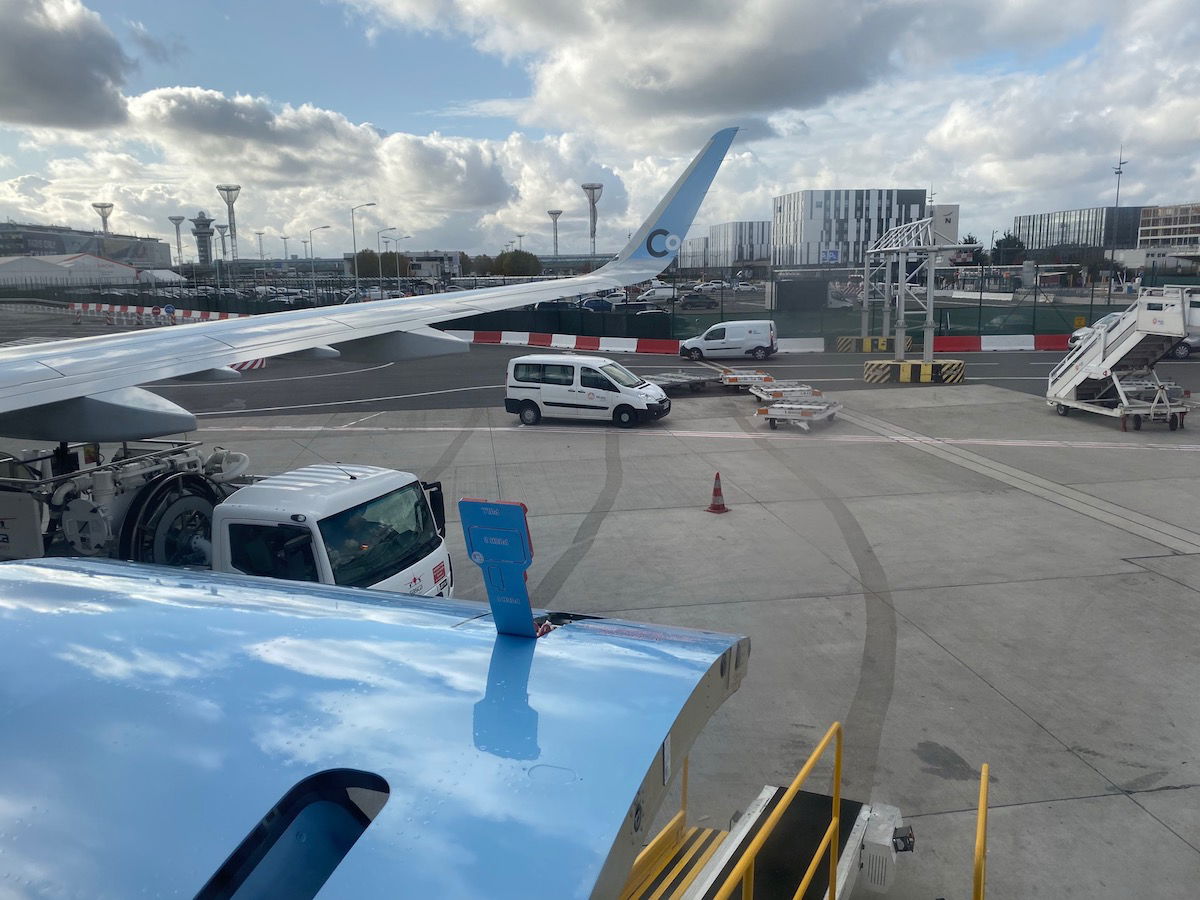 View from behind the wing on the La Compagnie A321neo
At around 2:25PM we began our pushback. Around that time the purser, Sara, made a welcome aboard announcement, on behalf of herself and the two other flight attendants. She informed us of our very long flight time of 8hr40min (which makes sense, since my eastbound flight across the Atlantic the previous evening was very quick).
At first I thought that must be pushing the range of the A321neo (this isn't even the A321LR), but I guess given their all business class configuration they have quite a bit of extra range.
At that point the safety video was screened. I'm surprised La Compagnie even has a safety video (rather than doing manual demos), and I quite liked it. They have a yoga themed safety video, which they call "the most relaxing safety video ever."
There was some interesting traffic on our taxi to the runway, including a French Bee A350.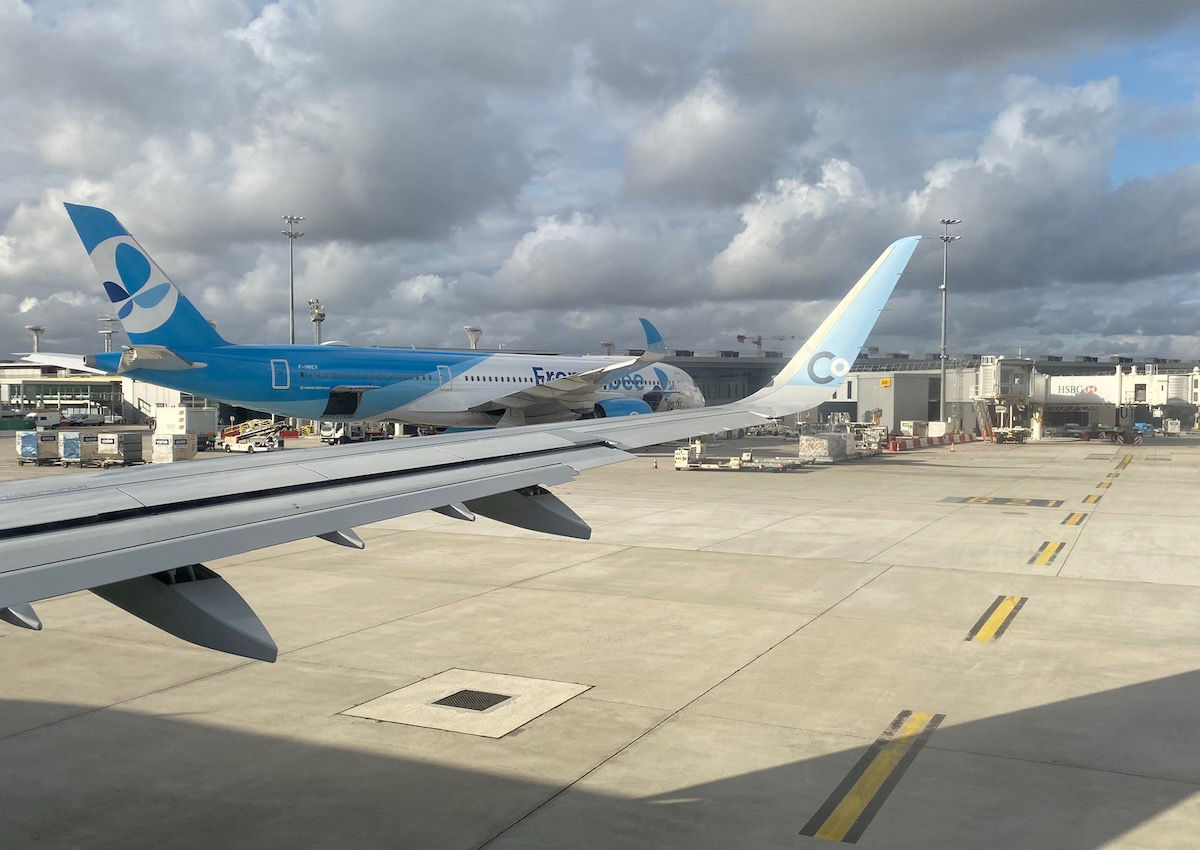 Taxiing Paris Orly Airport
At 2:35PM (while taxiing) the captain made his welcome aboard announcement, explaining that the flight would be very long due to strong headwinds, and also anticipating that it would be bumpy because of that.
At 2:40PM we were cleared for takeoff on runway 24.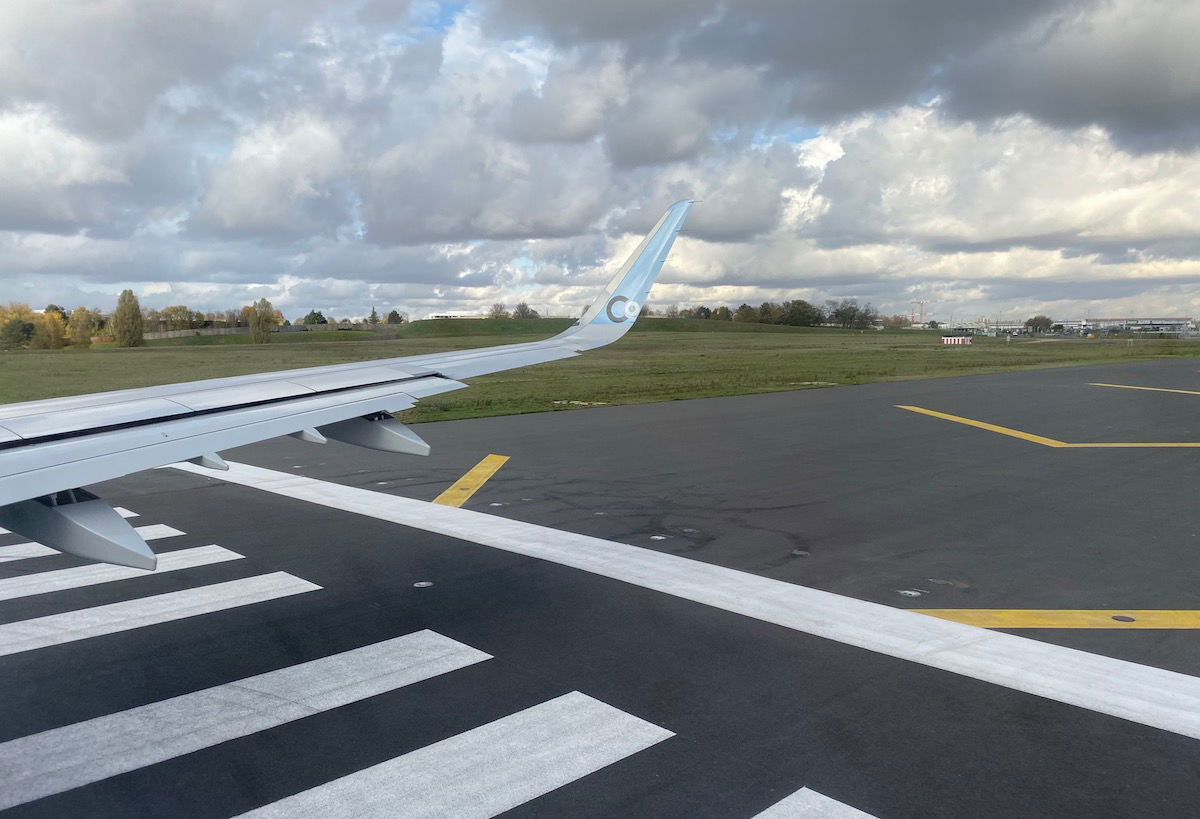 Taking off from Paris Orly
Okay, I have to say, sitting in the back of the plane was oddly exhilarating, and a completely different sensation than in front of the wing during takeoff and the climb out.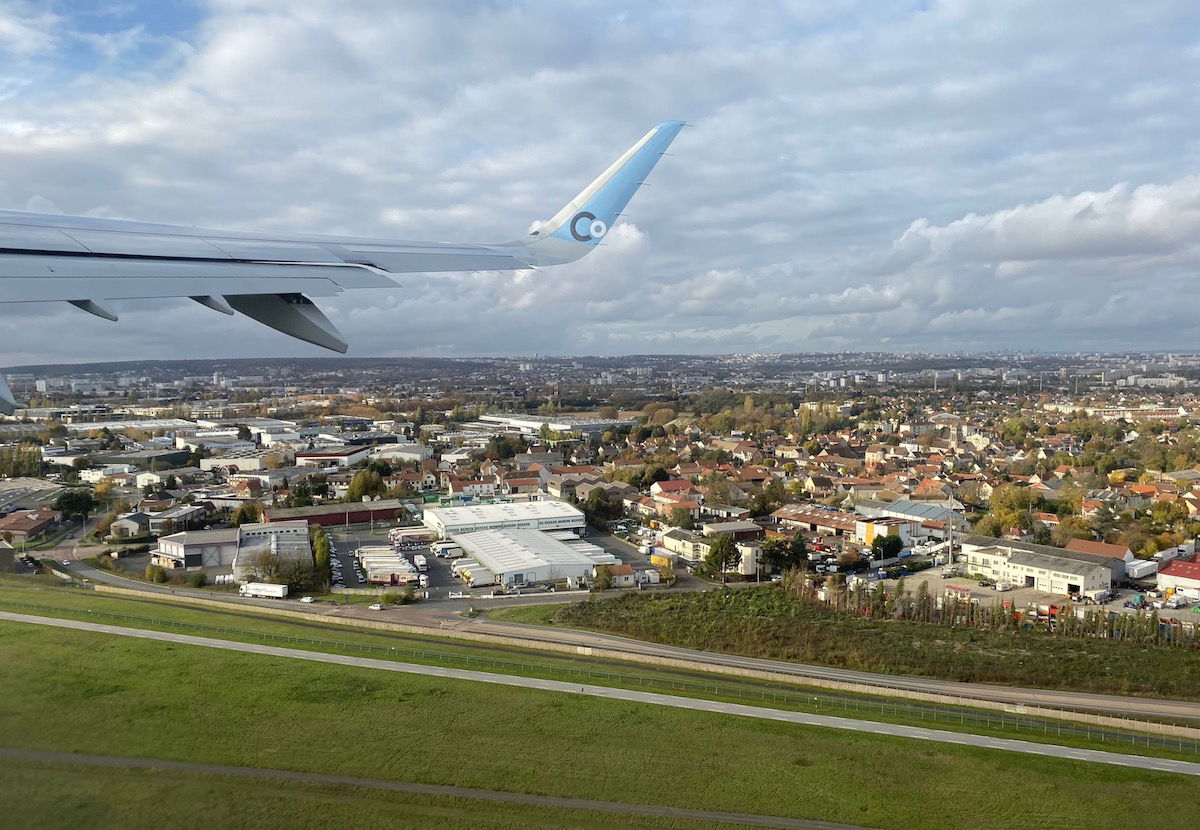 View after takeoff from Paris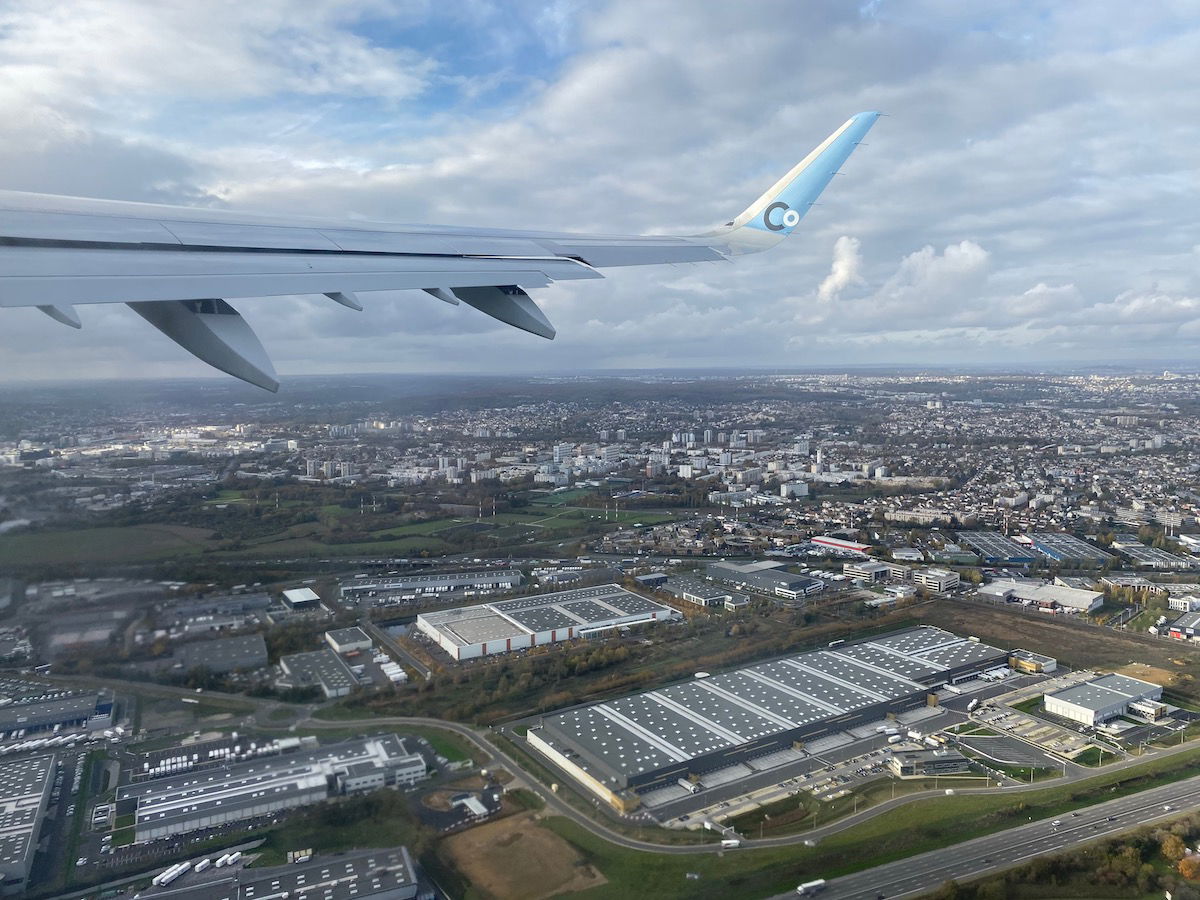 View after takeoff from Paris
During our climb out I browsed the entertainment selection. My first observation was that the screen has a lot of glare, so even with the windows closed and cabin lights down, I felt like I was largely just watching myself on the TV.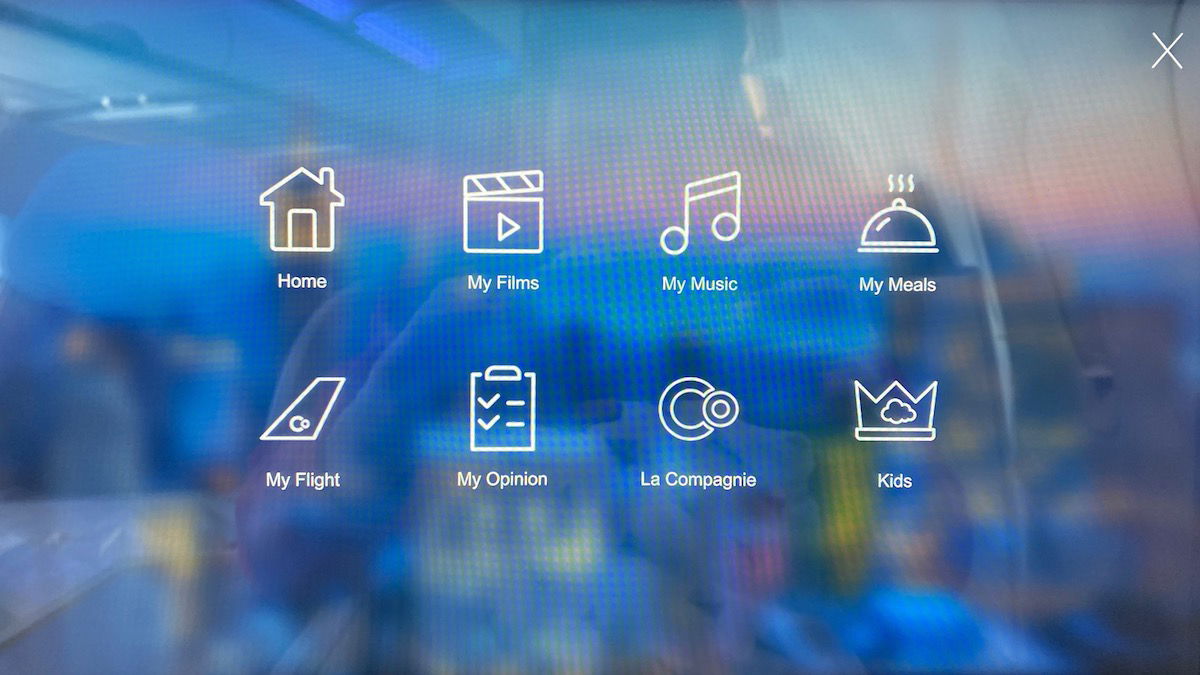 La Compagnie entertainment screen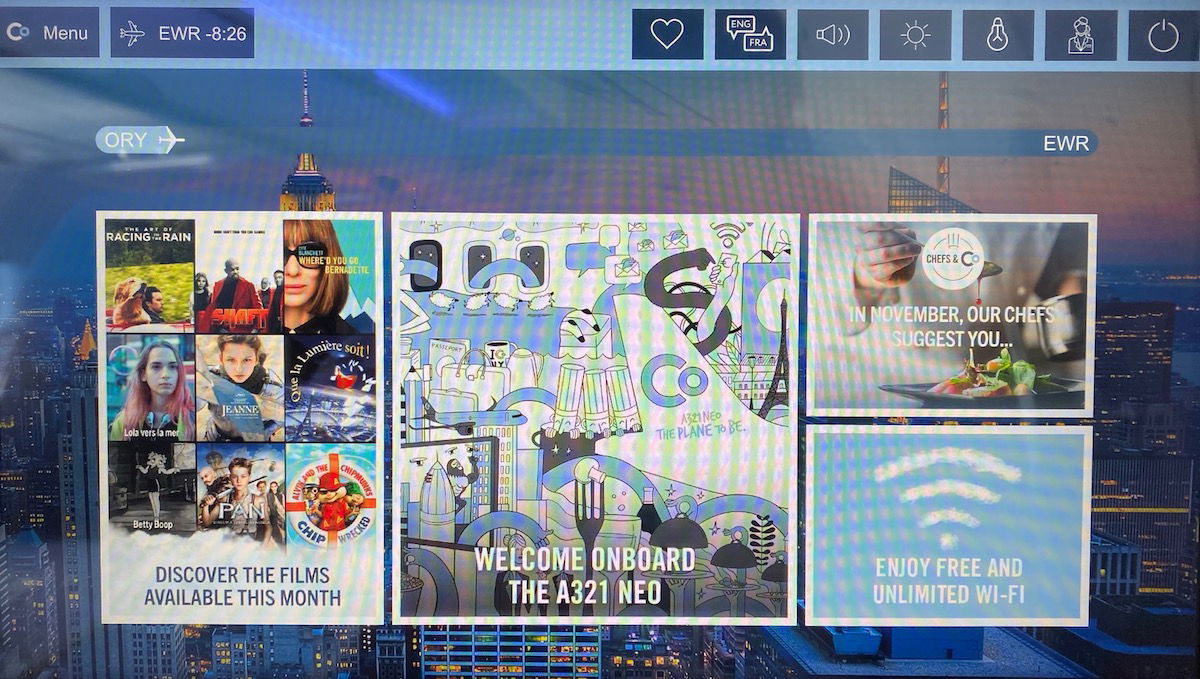 La Compagnie entertainment screen
La Compagnie has a total of 61 movies, but doesn't really have TV shows.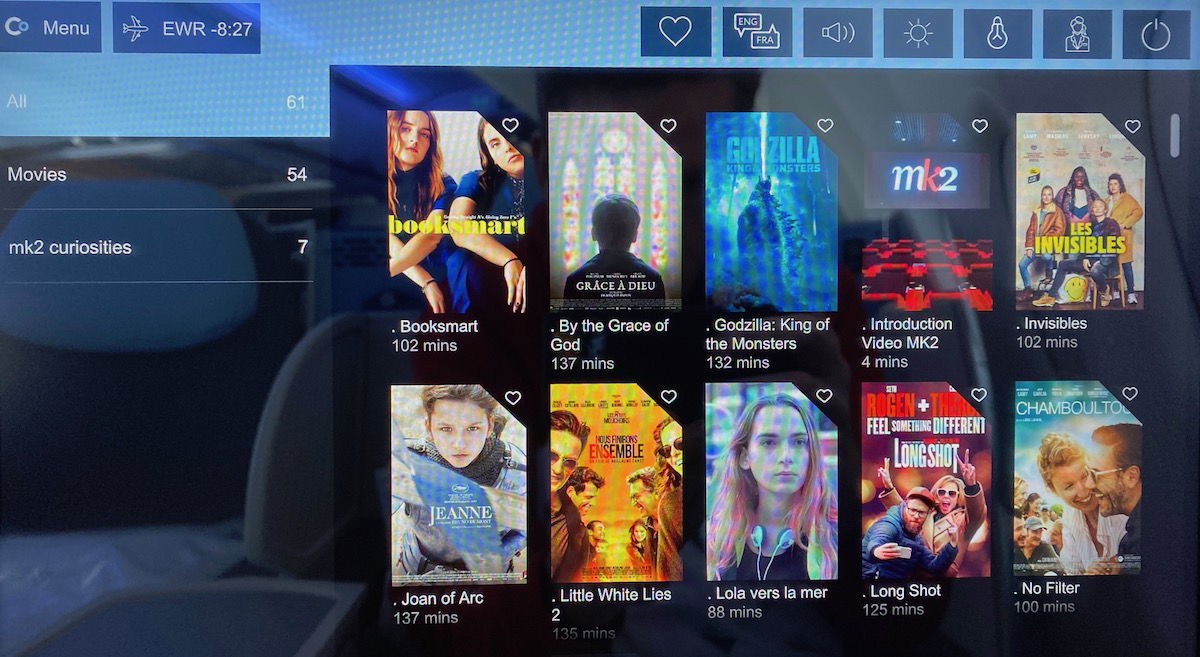 La Compagnie entertainment selection
I spent most of my flight just watching the map for our journey to Newark.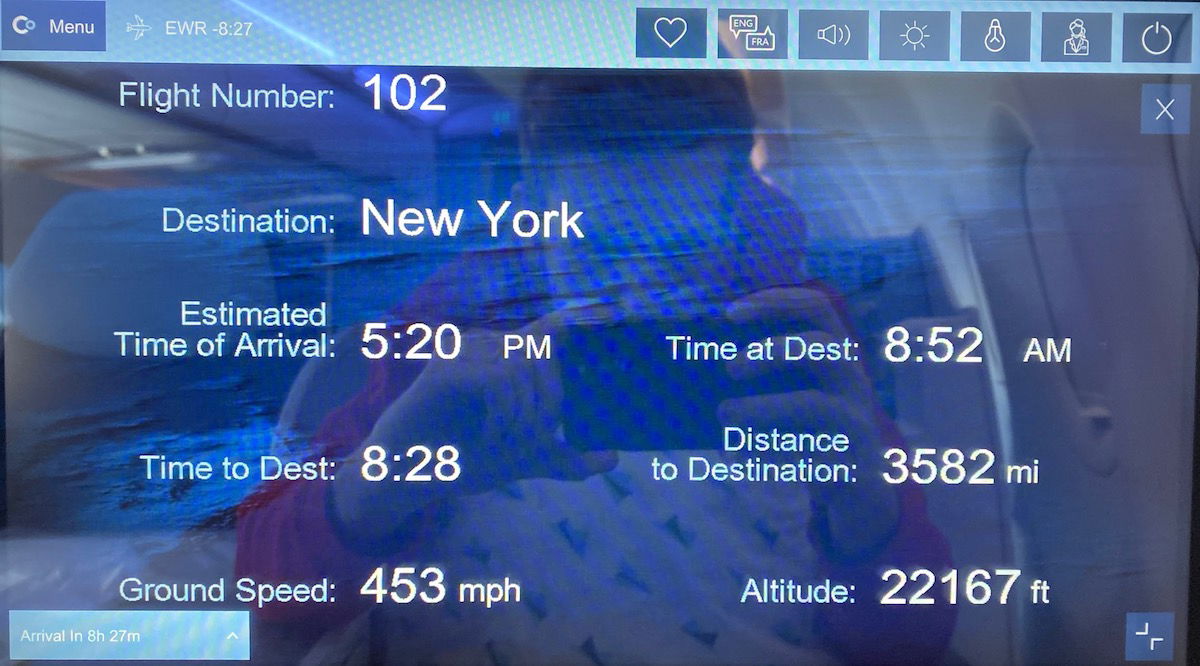 La Compagnie moving map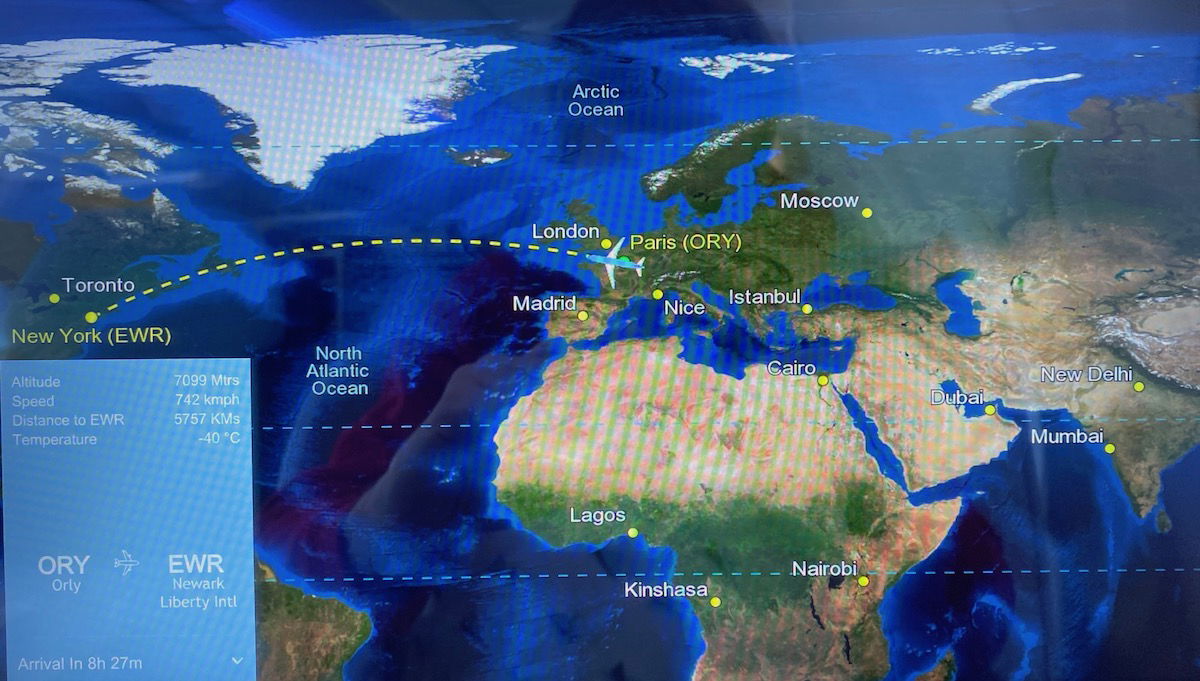 La Compagnie moving map
But who the heck really cares about the not-amazing entertainment, because La Compagnie has free unlimited high speed Wi-Fi. As I wrote about in a separate post, La Compagnie is my new favorite airline in the world for Wi-Fi.
You can connect from as many devices as you'd like with just two clicks (you just have to select your language and agree to the terms), and the Wi-Fi is legitimately high speed.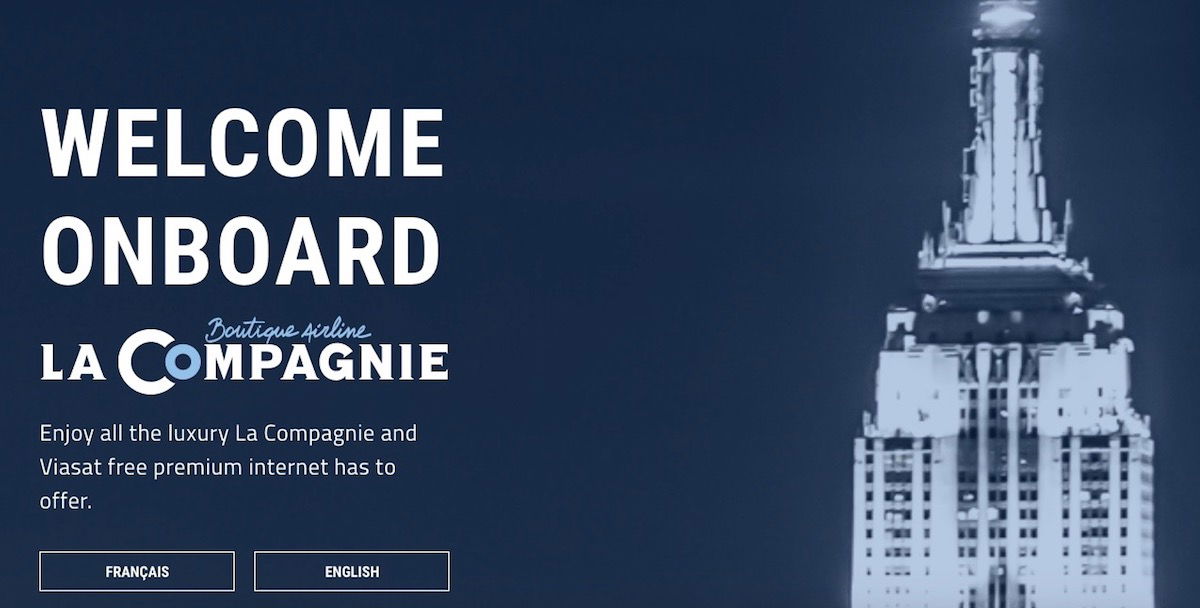 La Compagnie Wi-Fi
Coverage was excellent, and there were just a couple of very brief service gaps.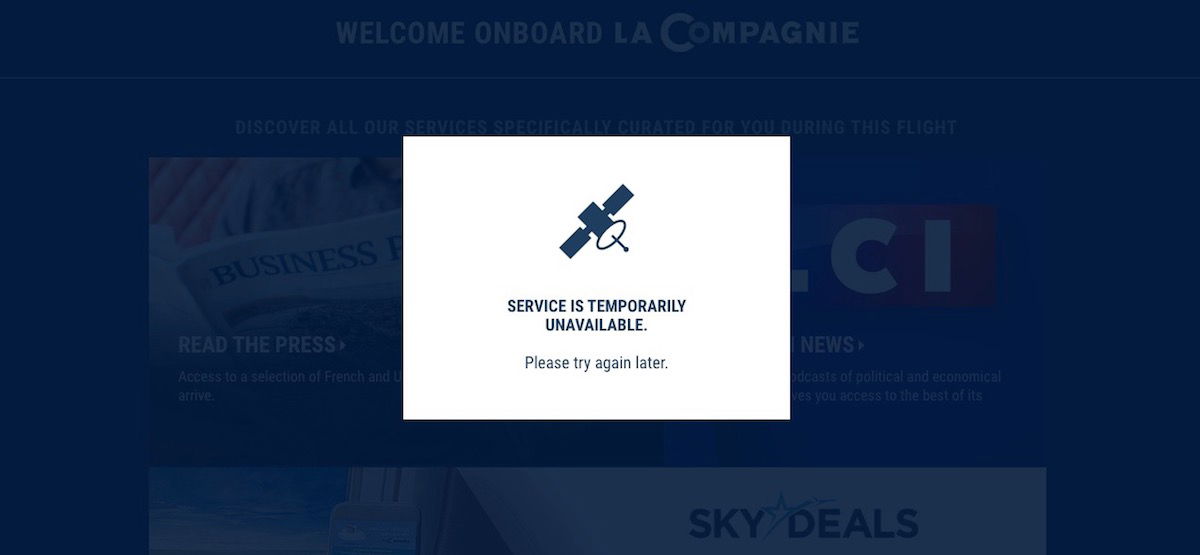 La Compagnie Wi-Fi
Soon enough after takeoff the meal service began. There were no printed menus or wine lists, but rather they were all available on the entertainment system.
The menu read as follows: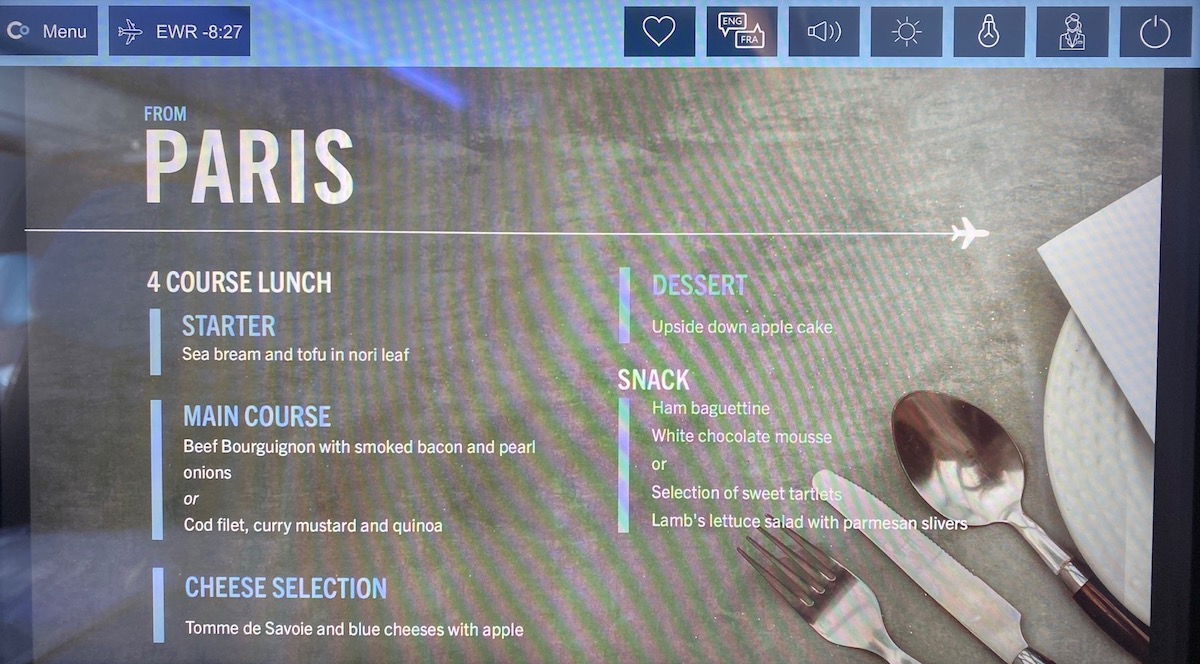 The drink list read as follows: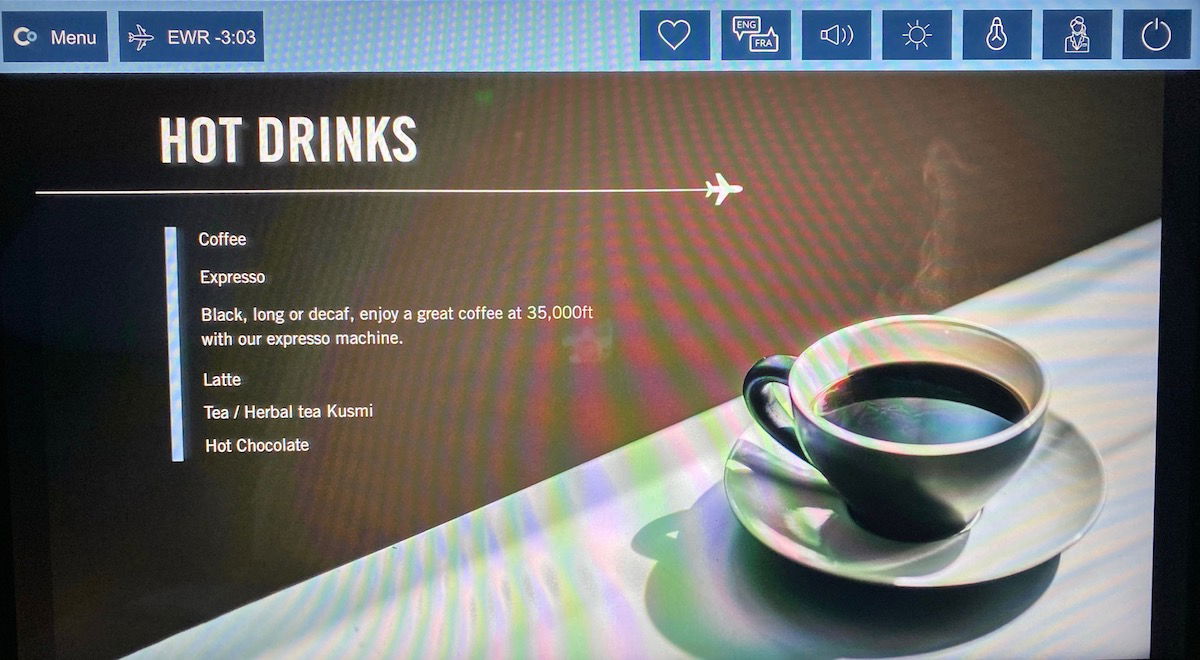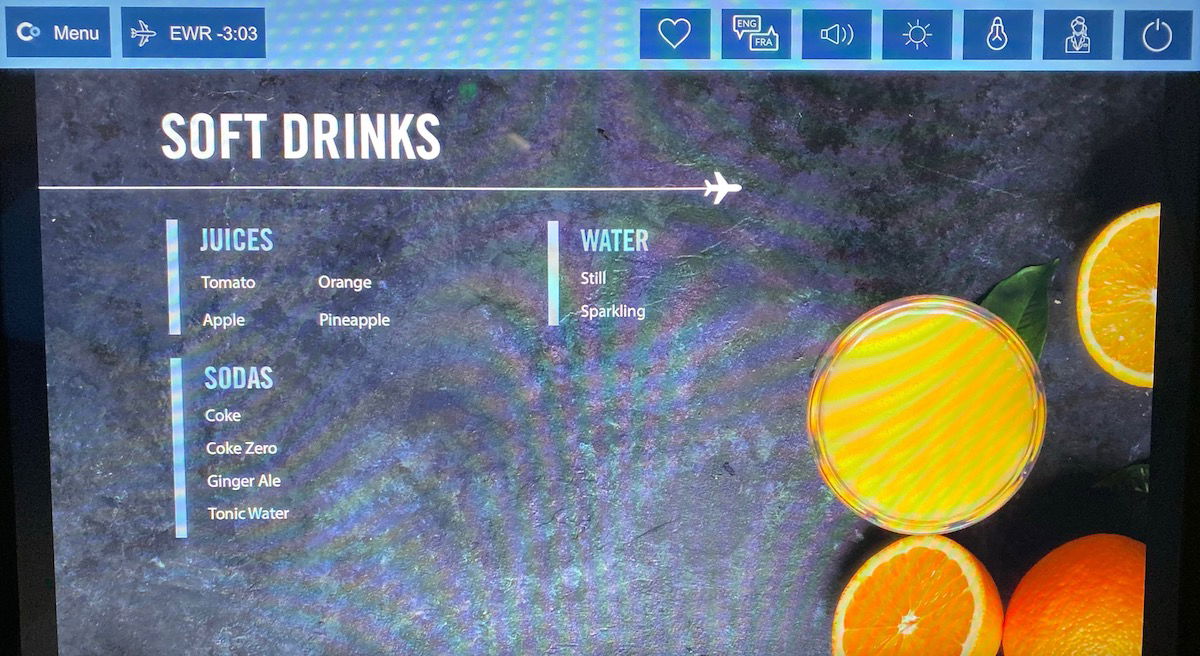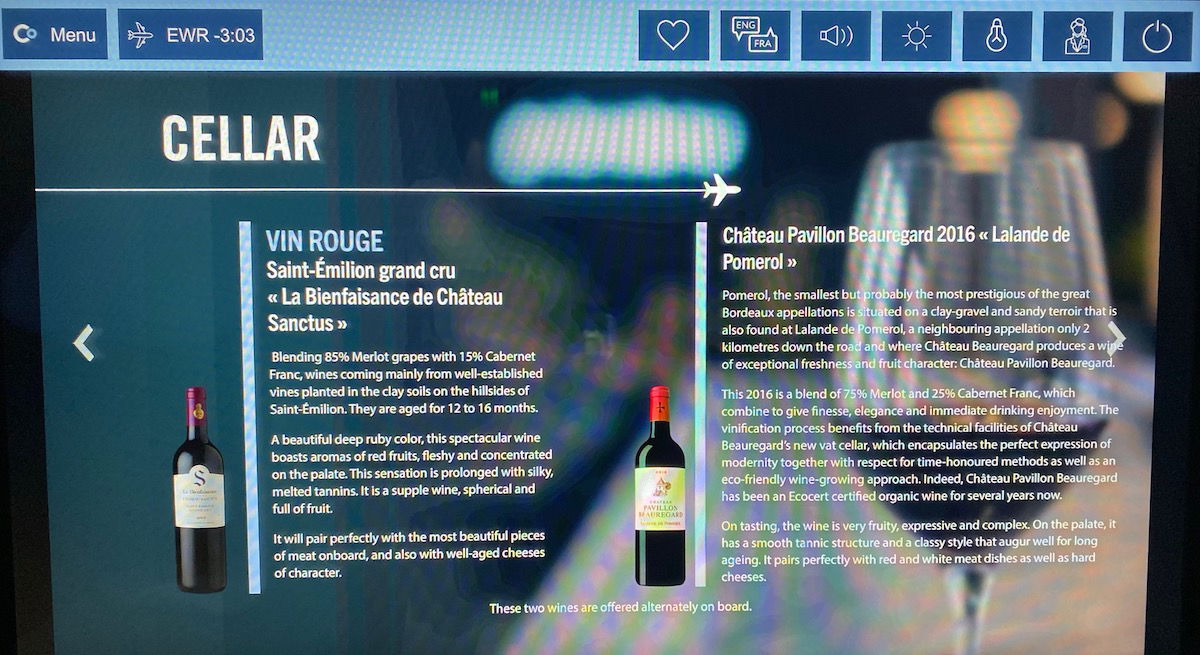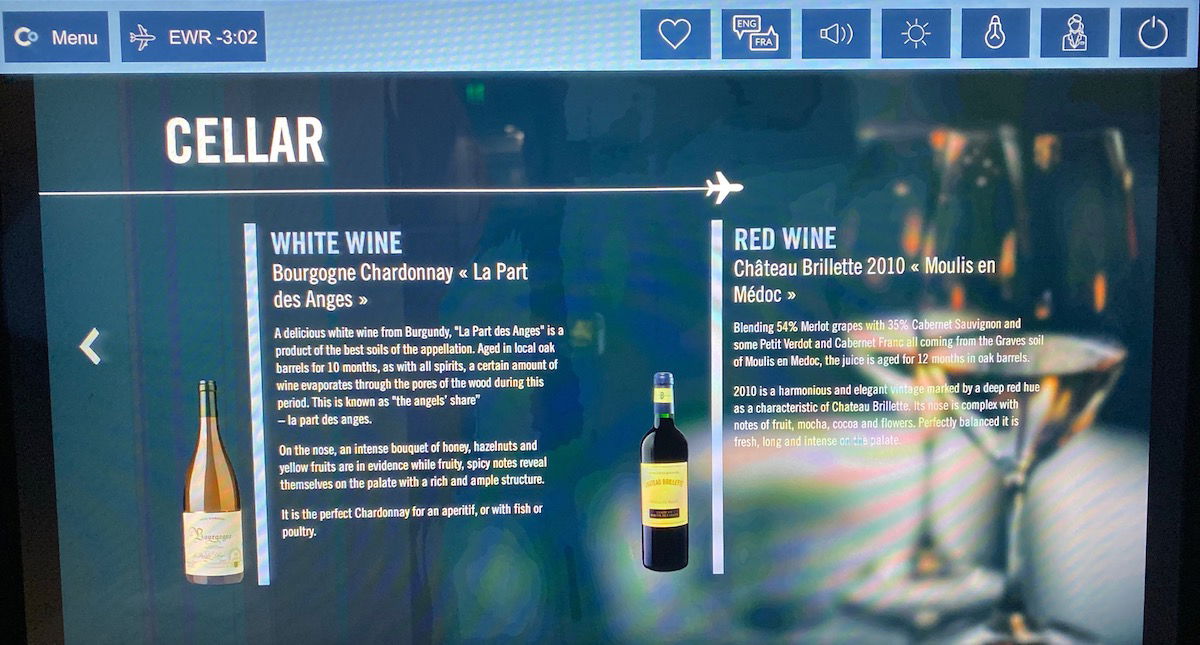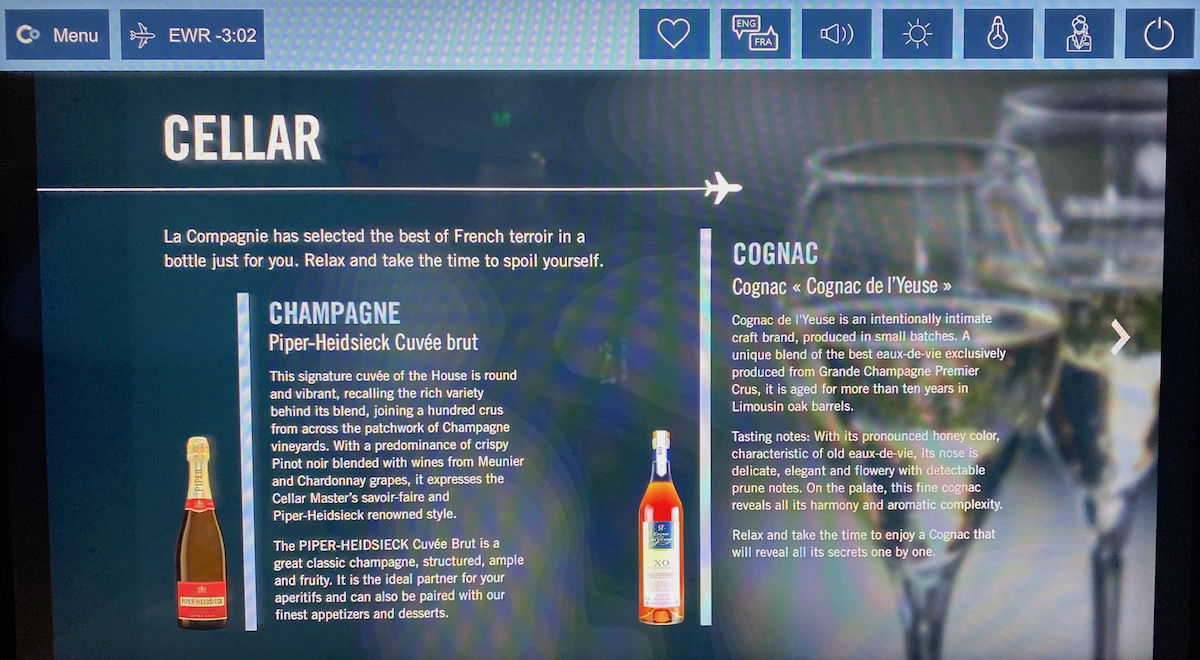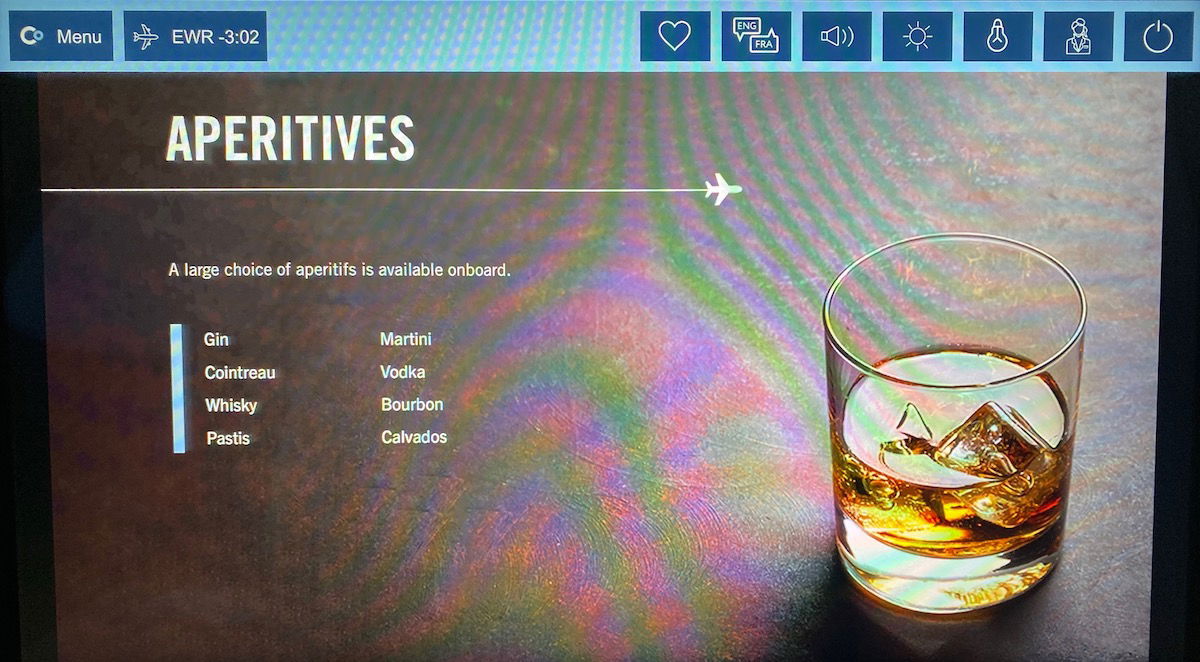 With the entire service there was one flight attendant starting at the front of the cabin, one starting in the middle of the cabin, and then one running around and working in the galley, which seemed like an efficient system.
Service began with warm towels being distributed about 30 minutes after takeoff.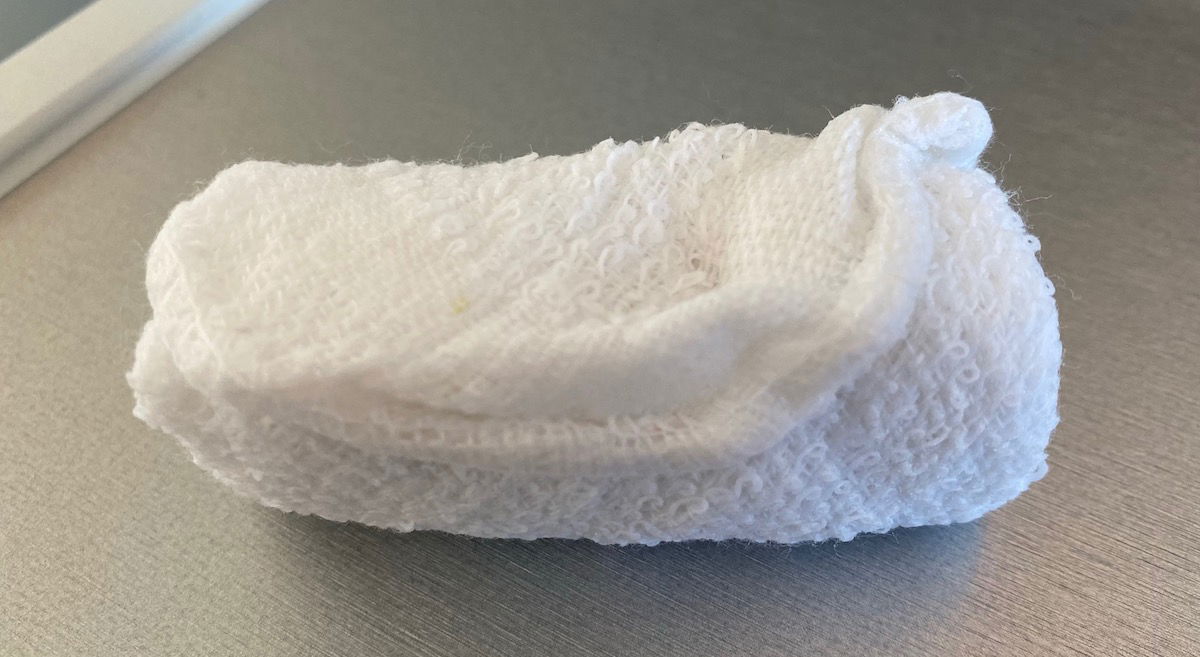 La Compagnie warm towel
About 50 minutes after takeoff I was served my first drink and the appetizer. I had a glass of Piper Heidsieck champagne to drink.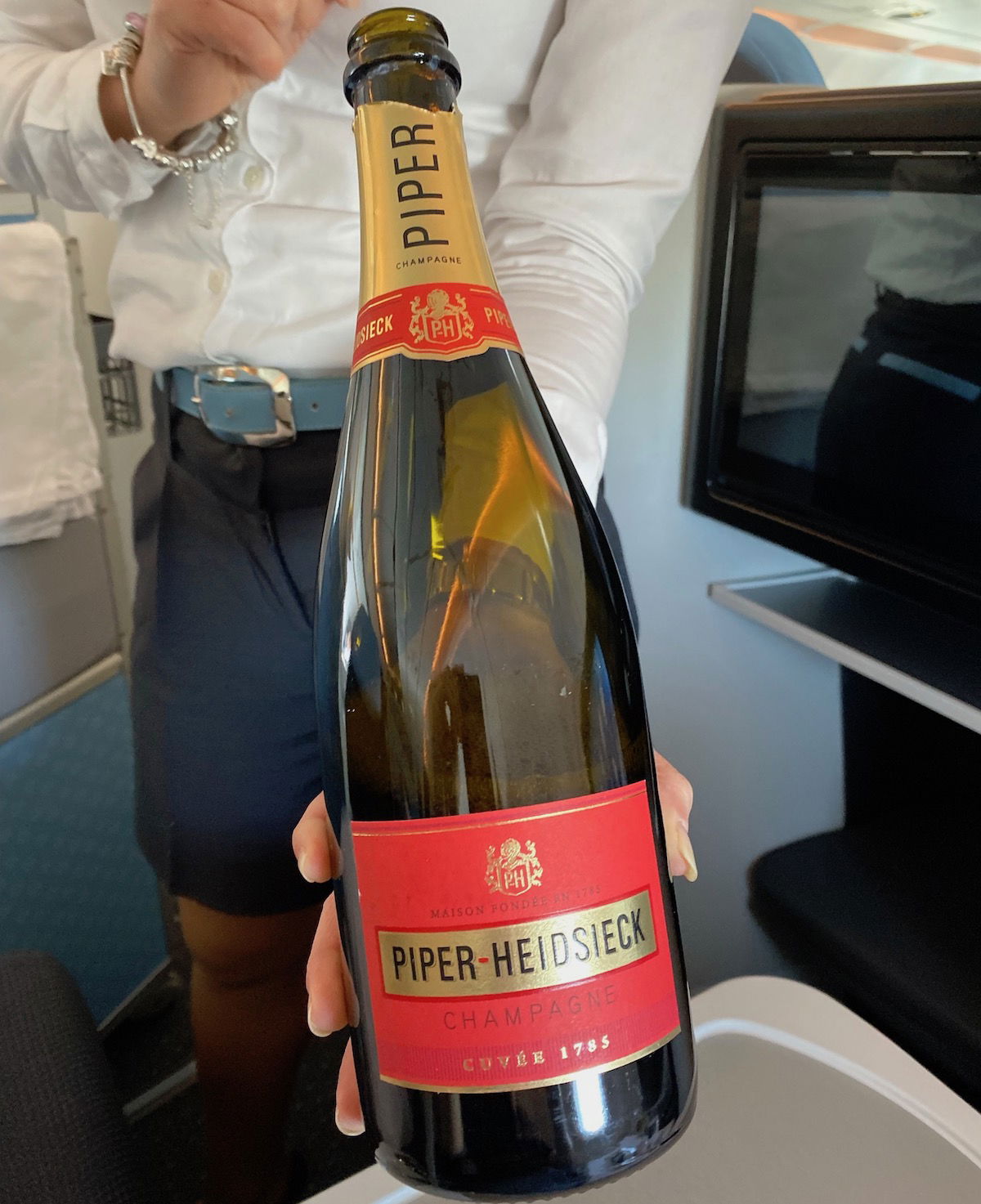 La Compagnie Piper Heidsieck champagne
That nicely complemented the sea bream and tofu in nori leaf appetizer, which was incredibly flavorful. The entire service was done from a cart, though it's a nice touch that they then place it directly on your tray table, rather than placing it on an additional tray.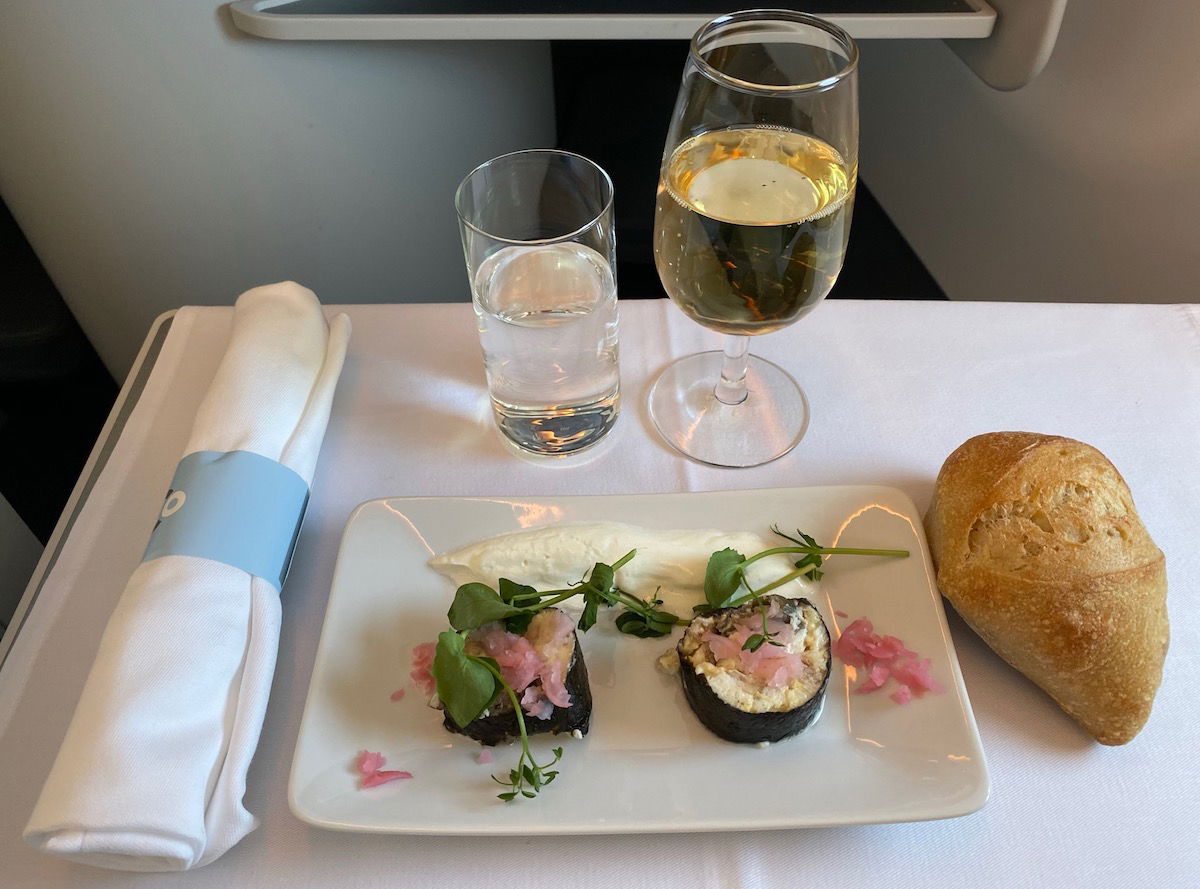 La Compagnie business class meal
About 30 minutes later I was brought the main, the cheese, and the dessert, and offered a drink refill. They had both of the main course choices on the cart, so there was no need to take orders in advance.
I selected the cod filet with curry mustard and quinoa, which was excellent, much to my surprise. The cheese and upside down apple cake were also quite good.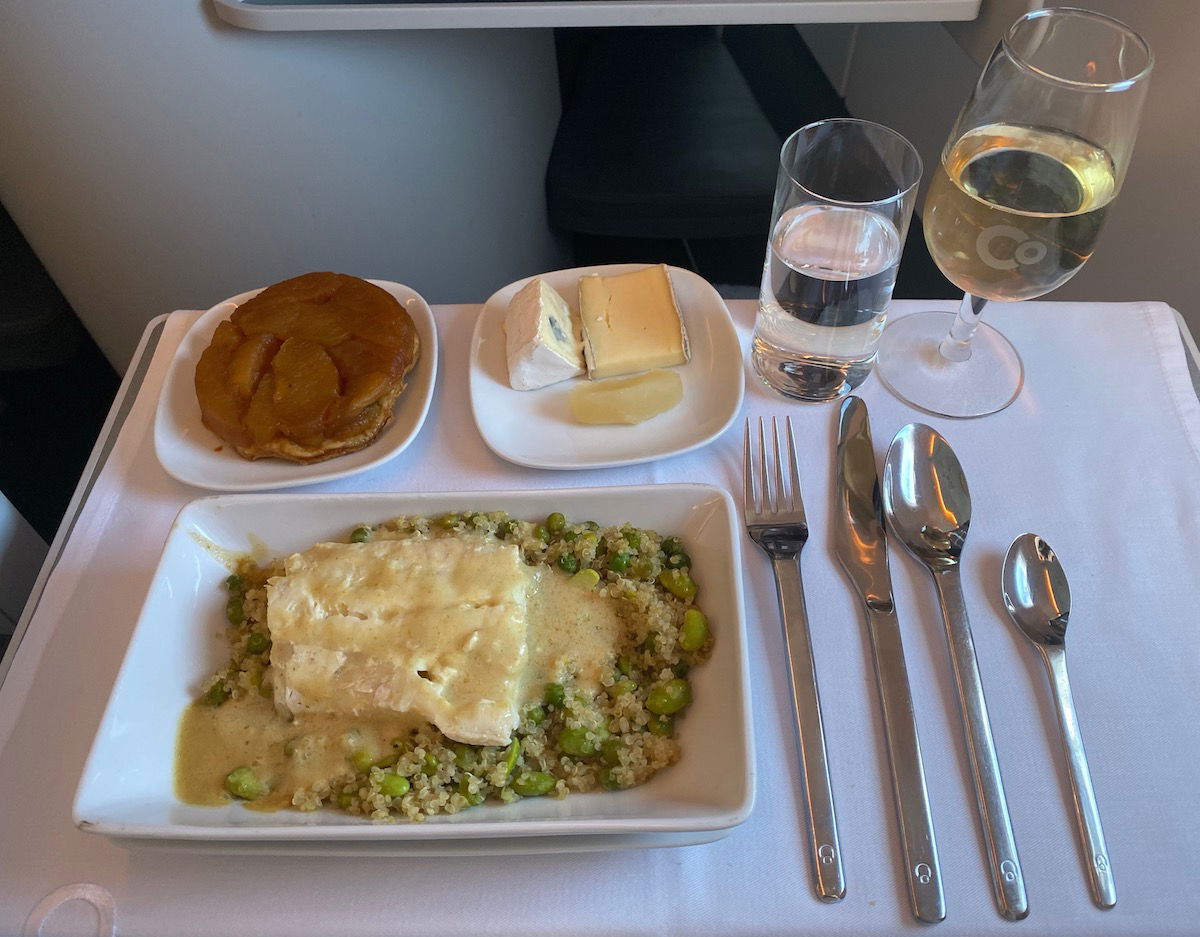 La Compagnie business class meal
About two hour after takeoff a tea and coffee cart was rolled down the aisle, and I had a (very small) cup of coffee.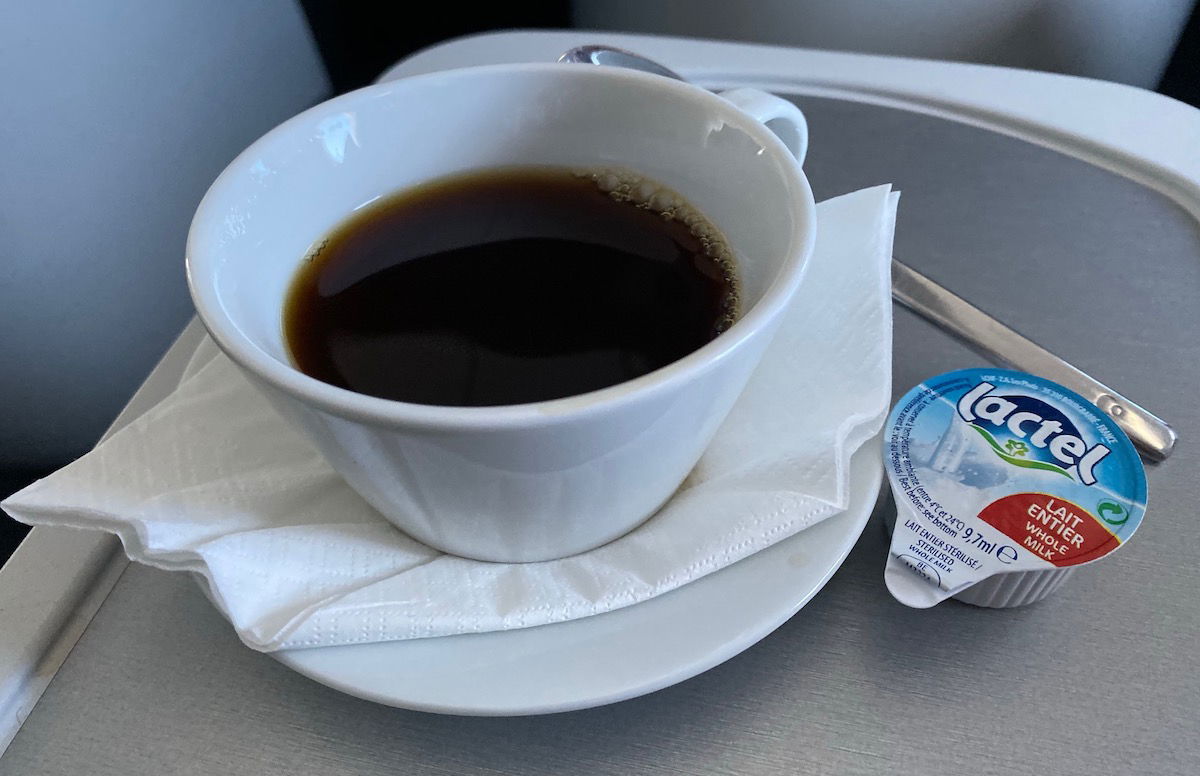 La Compagnie business class coffee
Service throughout the meal was quite good. I like that there's one flight attendant assigned to each section, so you have the same person taking care of you the whole flight.
Service wasn't especially personalized, which is to say that it wasn't proactive and I wasn't addressed by name. It did feel like an assembly line, which is to be expected when you have three flight attendants taking care of up to 76 business class passengers. However, the flight attendant was friendly, smiled, and took care of any requests.
The meal wasn't the most elaborate thing ever, but it tasted good.
By the time the meal was done we had just over 6hr30min remaining to Newark.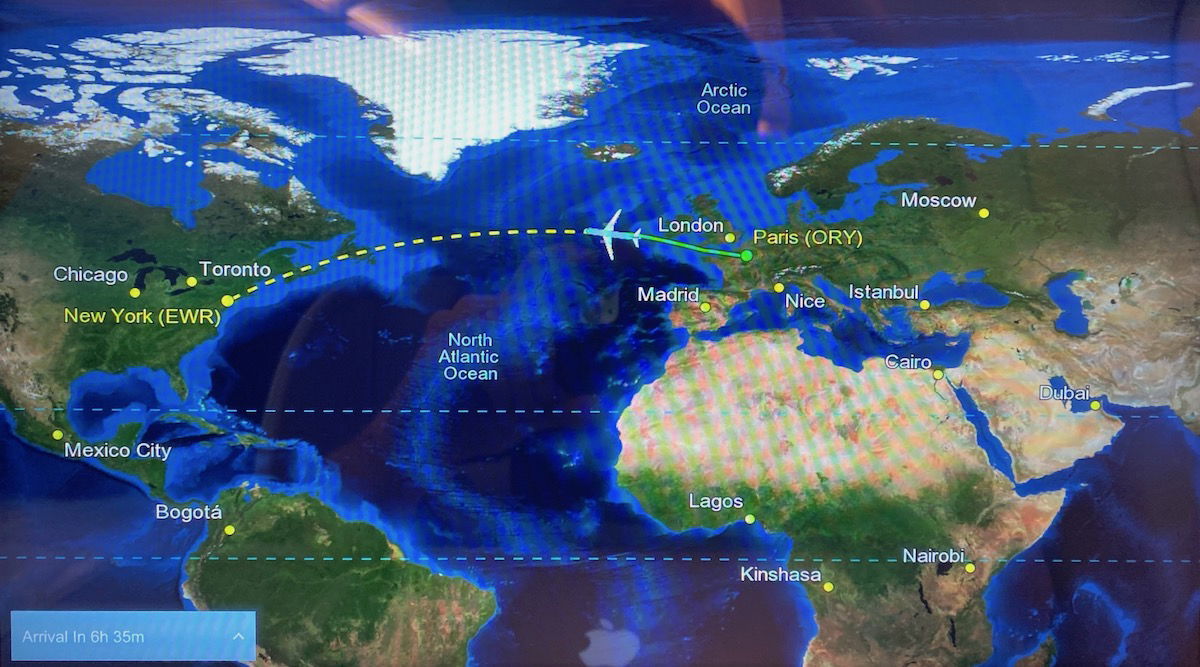 Map enroute to Newark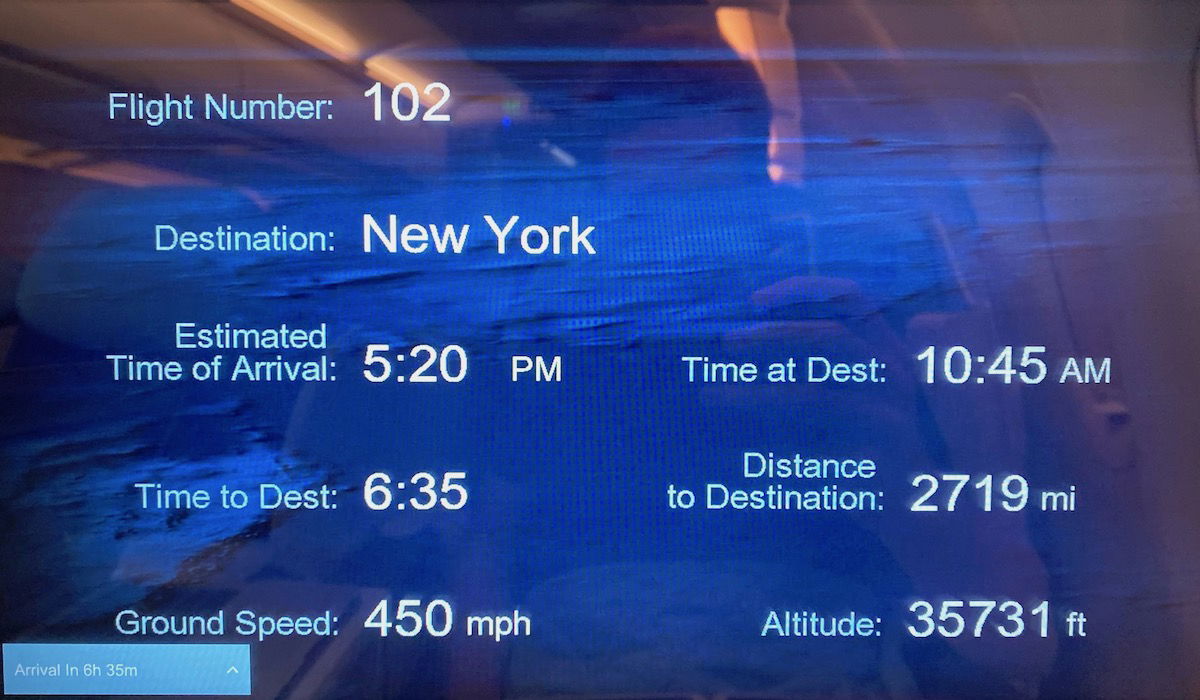 Flight information
I worked for a bit longer, and then tried to recline my seat to sleep. I ended up sleeping for about 30 minutes, but that was it. The bed was comfortable, particularly with an empty seat next to me.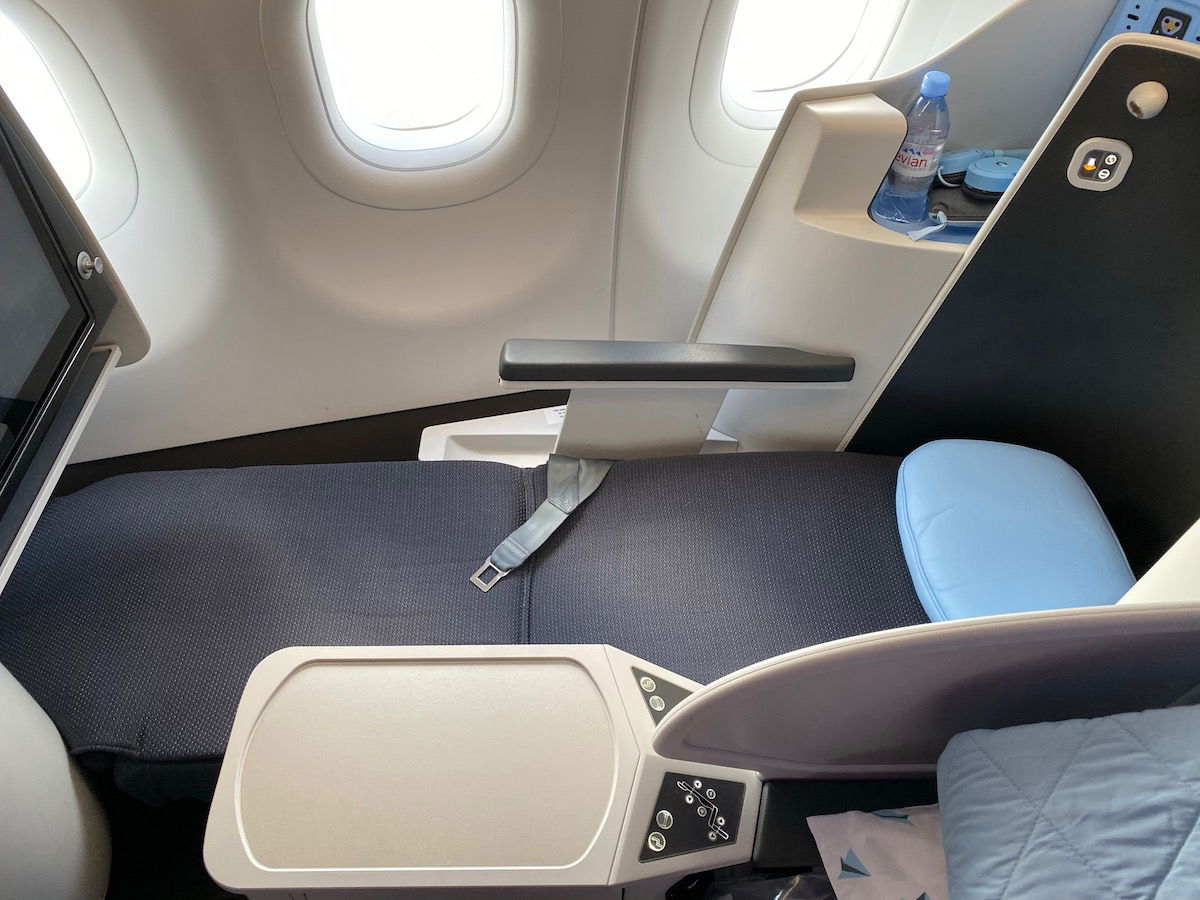 La Compagnie flat bed seats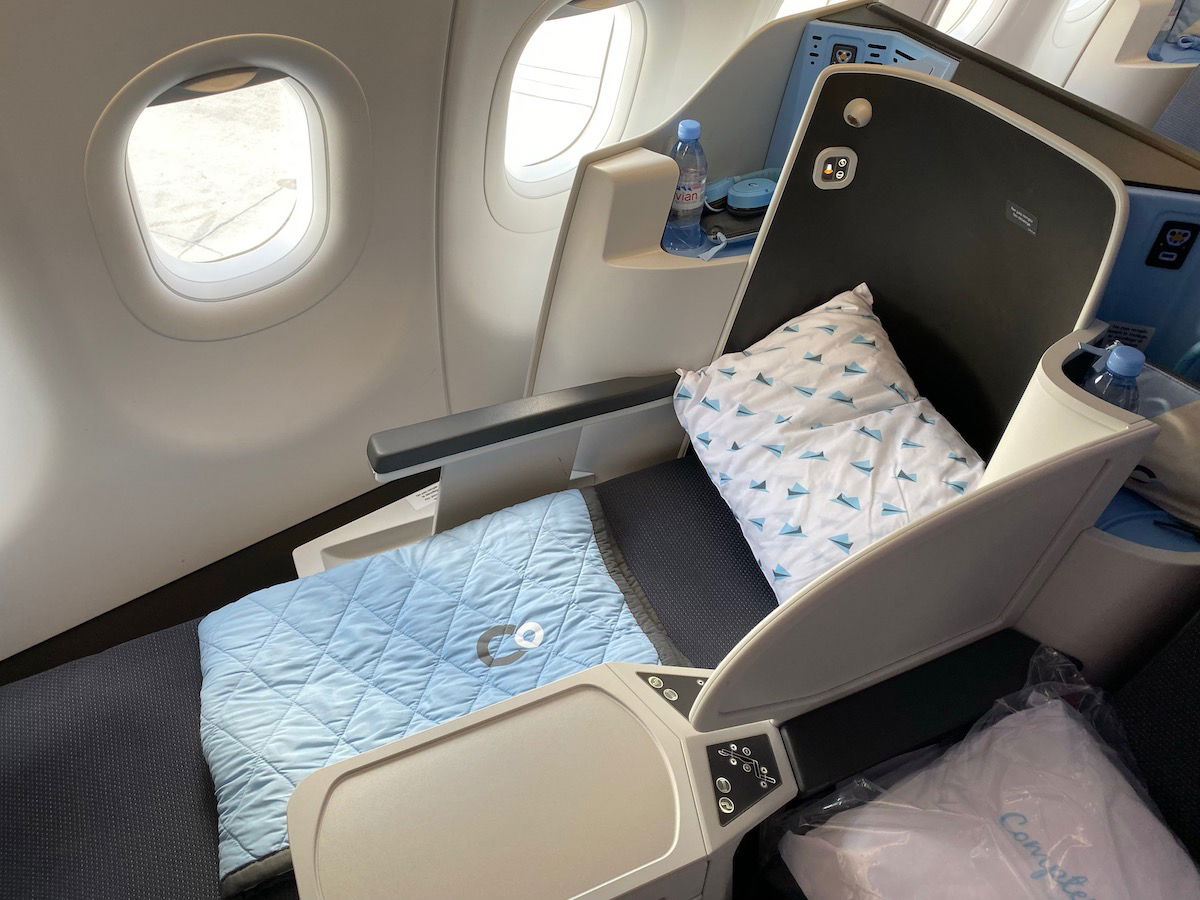 La Compagnie flat bed seats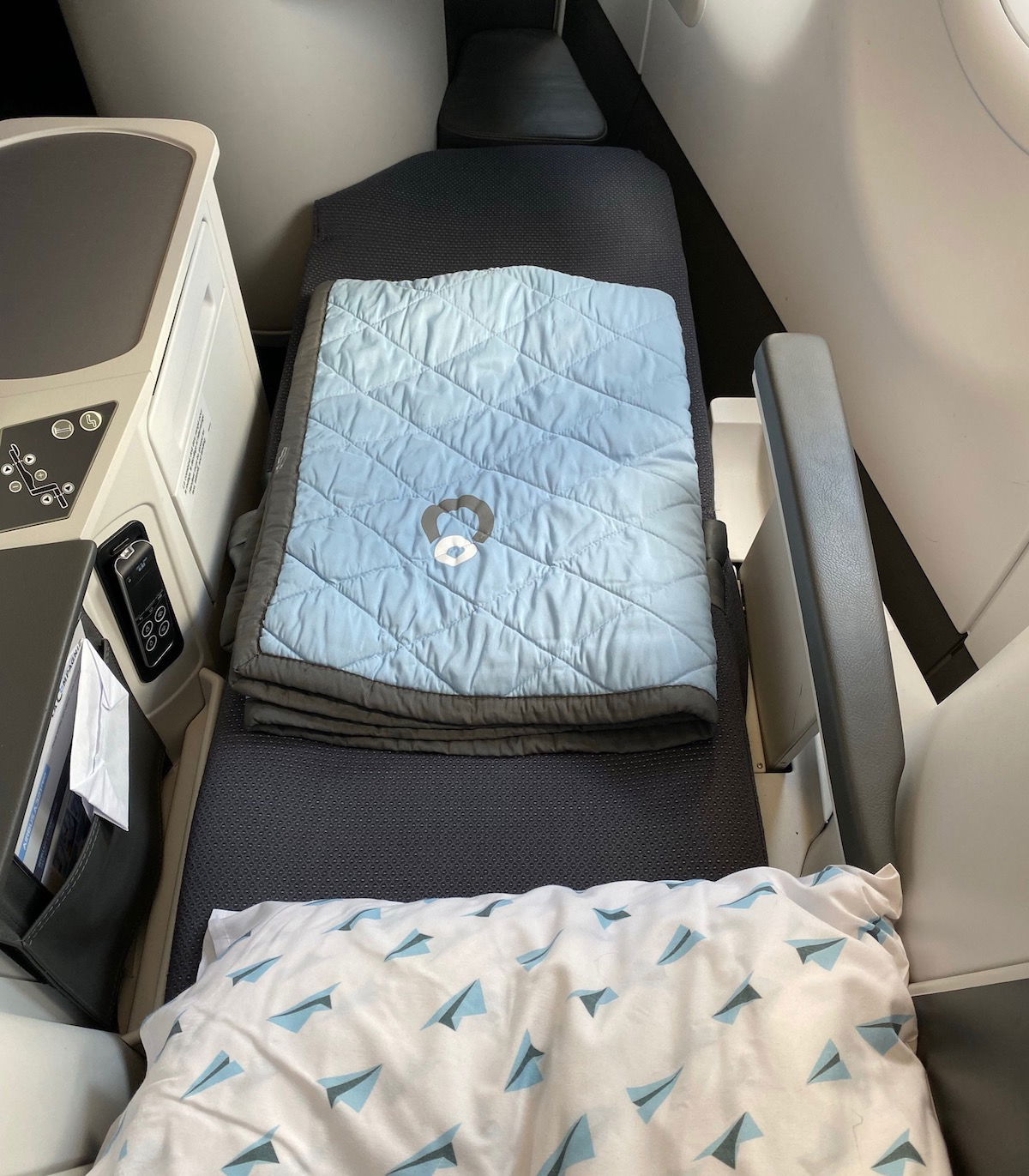 La Compagnie flat bed seats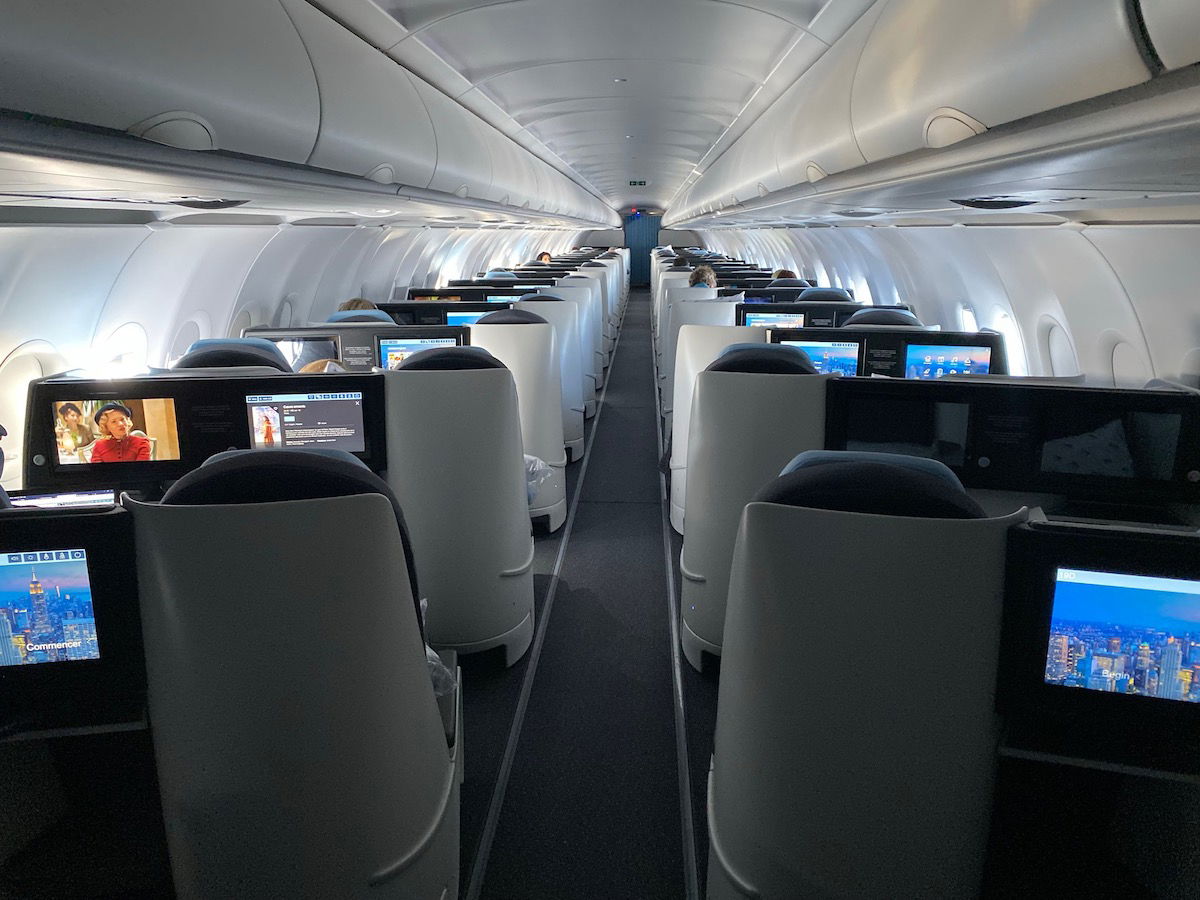 La Compagnie A321neo cabin
I then checked out the lavatories — there are two in the back and one in the front — and they were reasonably nice, though nothing special.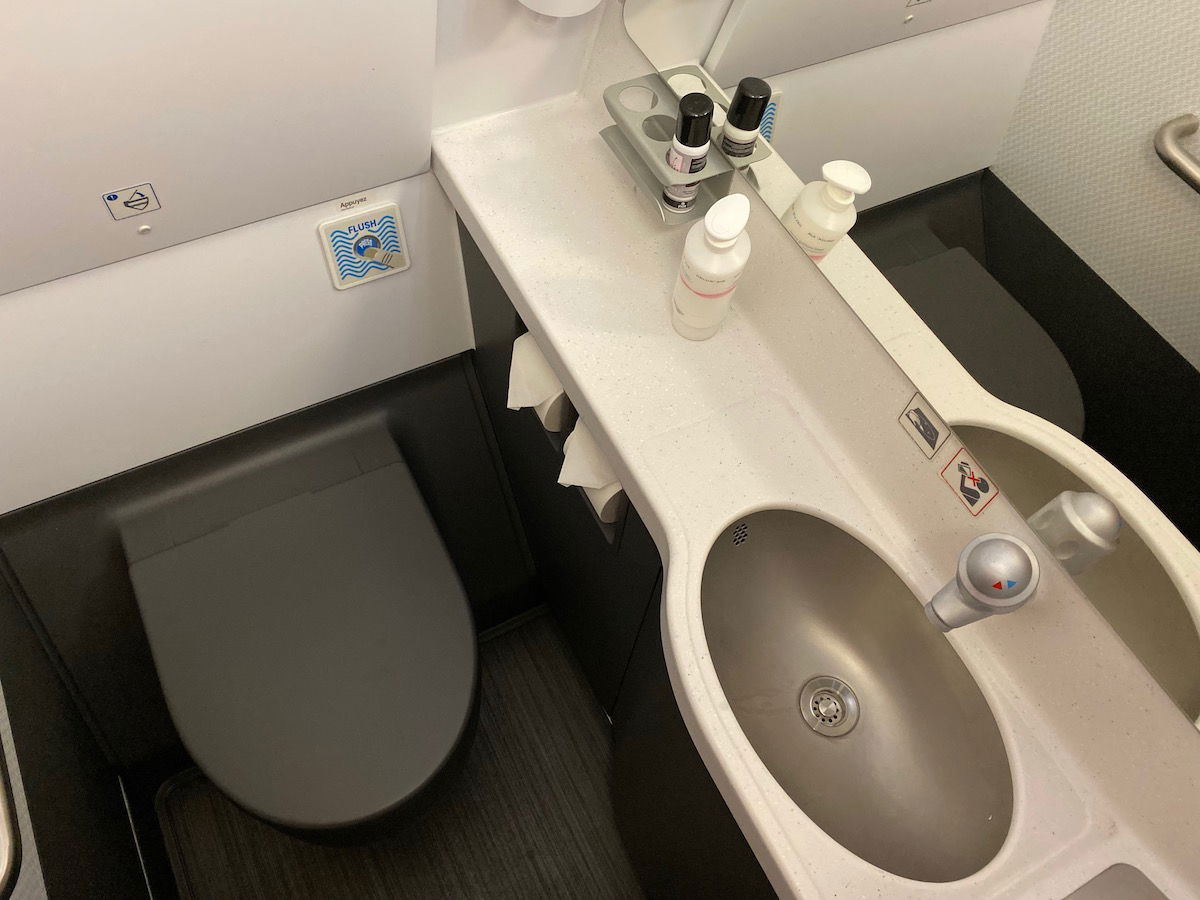 La Compagnie lavatory
There was a snack basket in the back galley with some sweet and savory treats.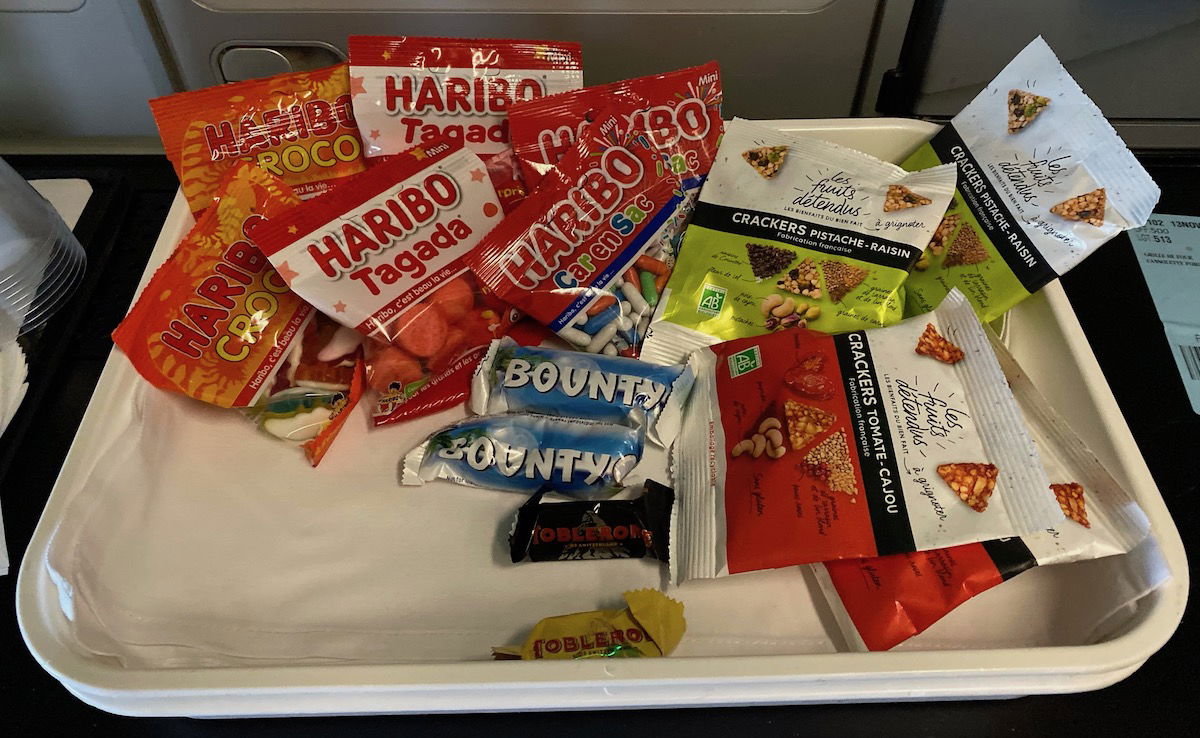 La Compagnie snack basket
At this point I ordered a latte. The drink list indicated they had this, though when I ordered one the flight attendant seemed confused, and said "a latte? Like you want a coffee with milk?" So I ended up just having that, and it was served in a cup with a lid.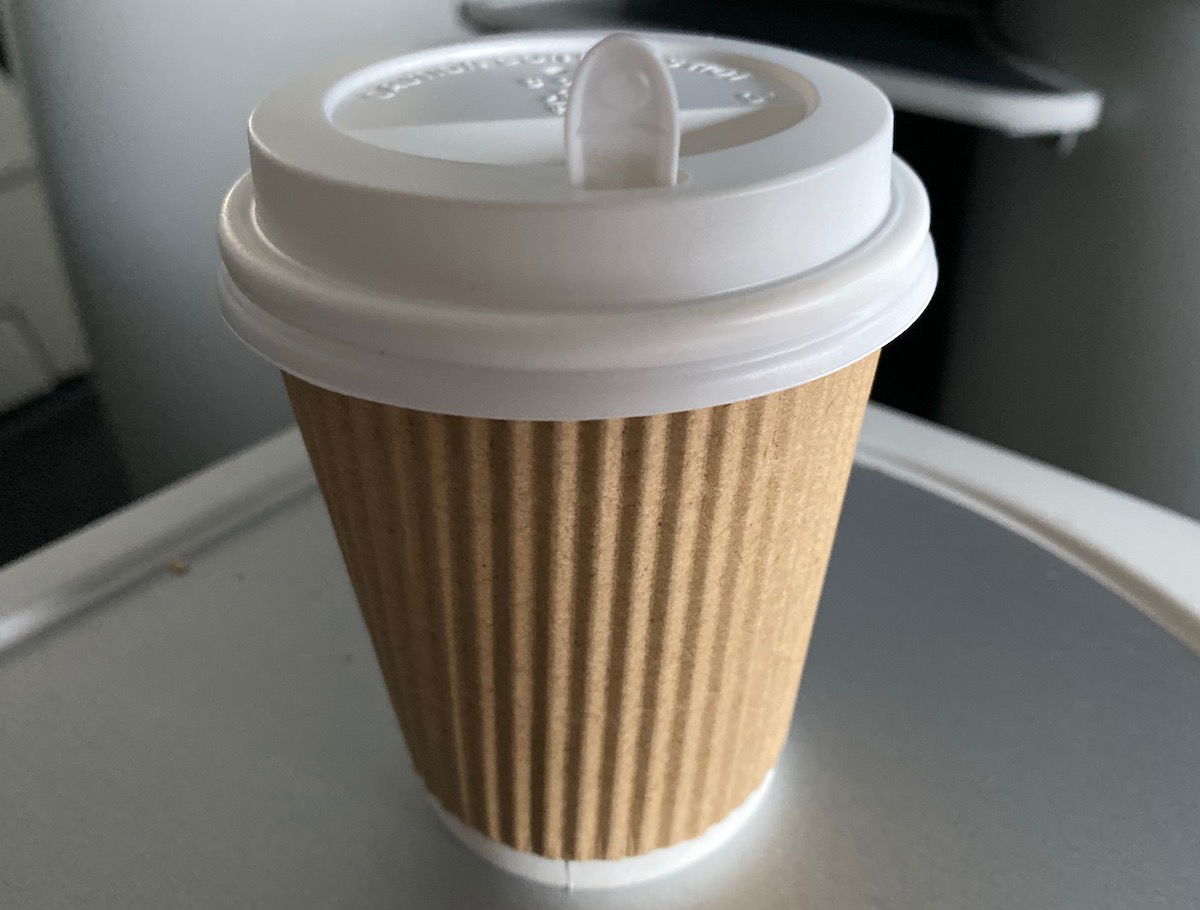 La Compagnie mid-flight coffee
I remember on my first La Compagnie flight over five years ago that they used disposable cups between meals, but in this case I didn't mind it, since it's practical to have a lid for coffee, especially when you're not looking to chug it.
I worked for most of the flight, and before I knew it we were flying along the coast of Canada.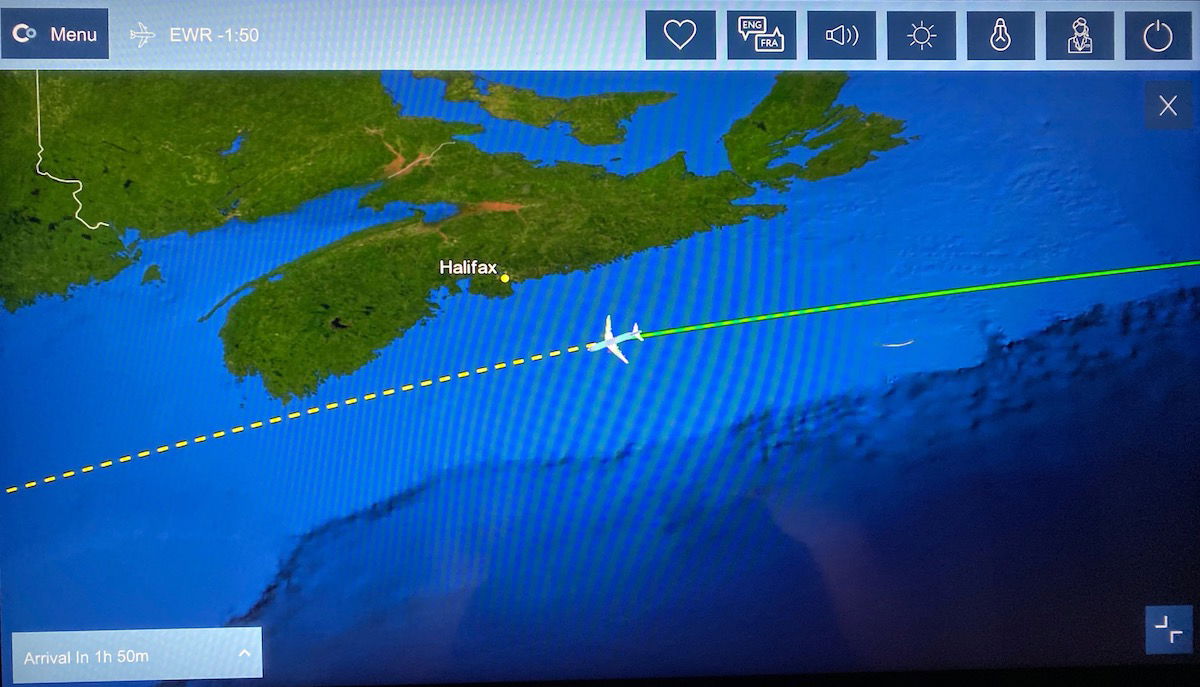 Map approaching Newark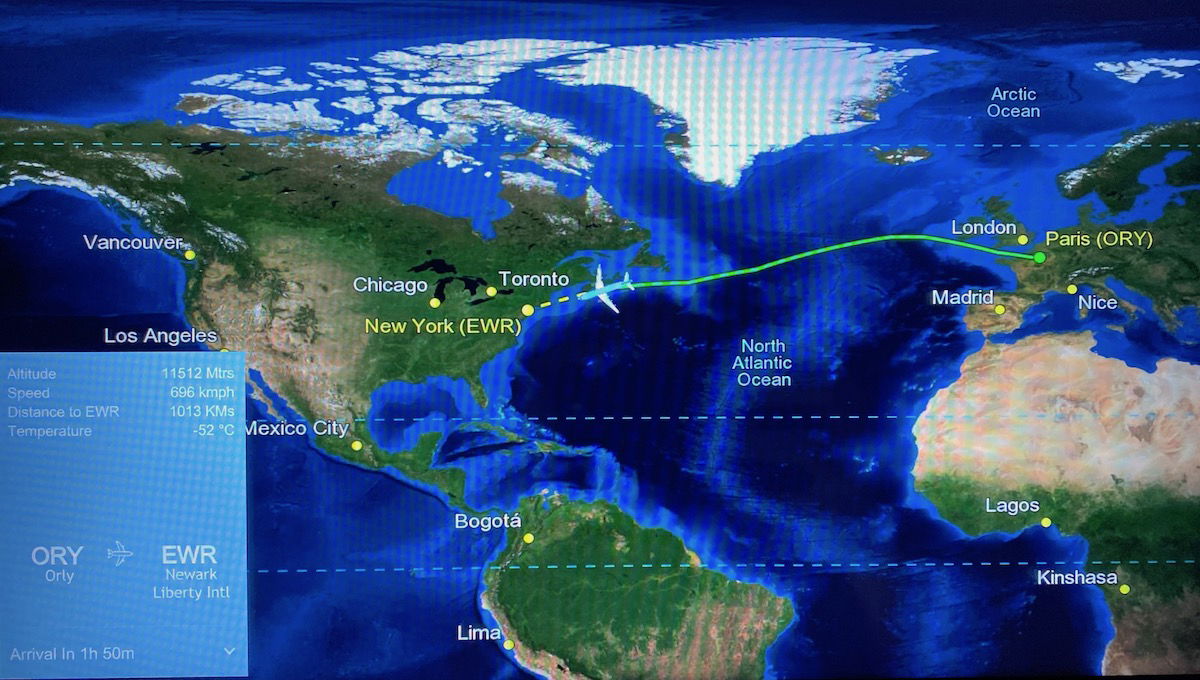 Map approaching Newark
The sun was slowly starting to set at this point.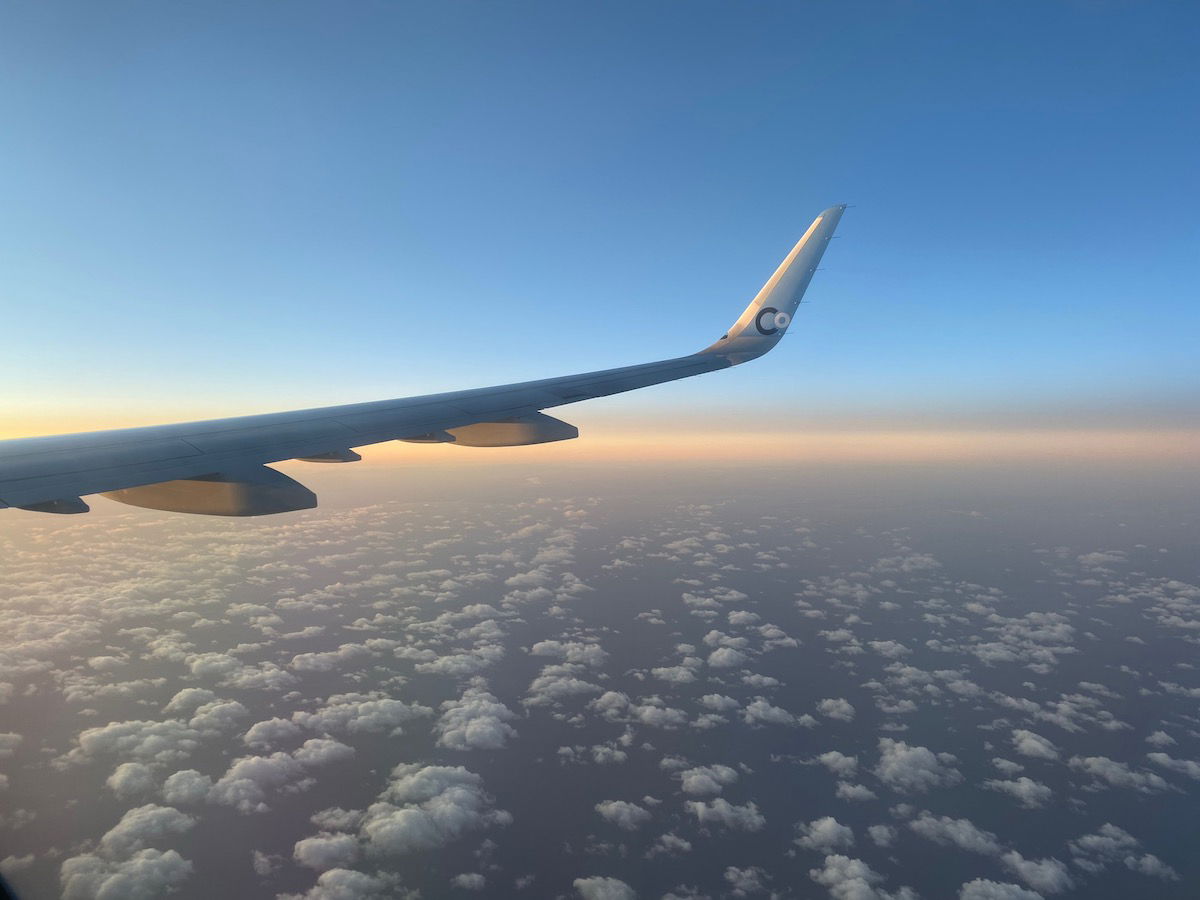 Sunset enroute to Newark
About 90 minutes before landing the cabin lights were turned up, and warm towels were distributed. About 15 minutes later they started serving the pre-landing snack, and they ended up getting to my seat around an hour before landing.
By the time they got to my seat they only had the ham baguette with white chocolate mousse left. I don't eat pork, but the white chocolate mousse was delicious. The other choice would have been a selection of sweet tartlets and a lamb's lettuce salad with parmesan slivers.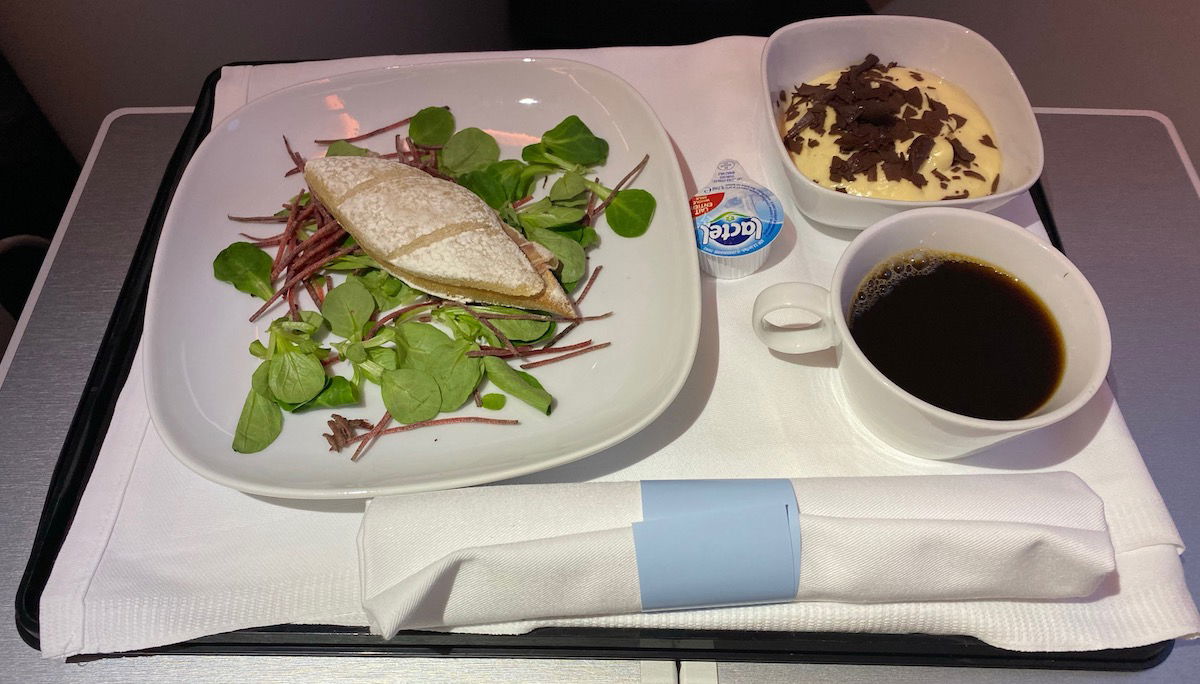 La Compagnie pre-landing snack
At the same time the snack was served the captain announced that we'd be landing in about an hour, at 5:20PM. Moments later we began our descent.
I was surprised by how early we descended. We were already down to 16,000 feet over 40 minutes before landing.
As we got close to Newark the sunset got even more beautiful.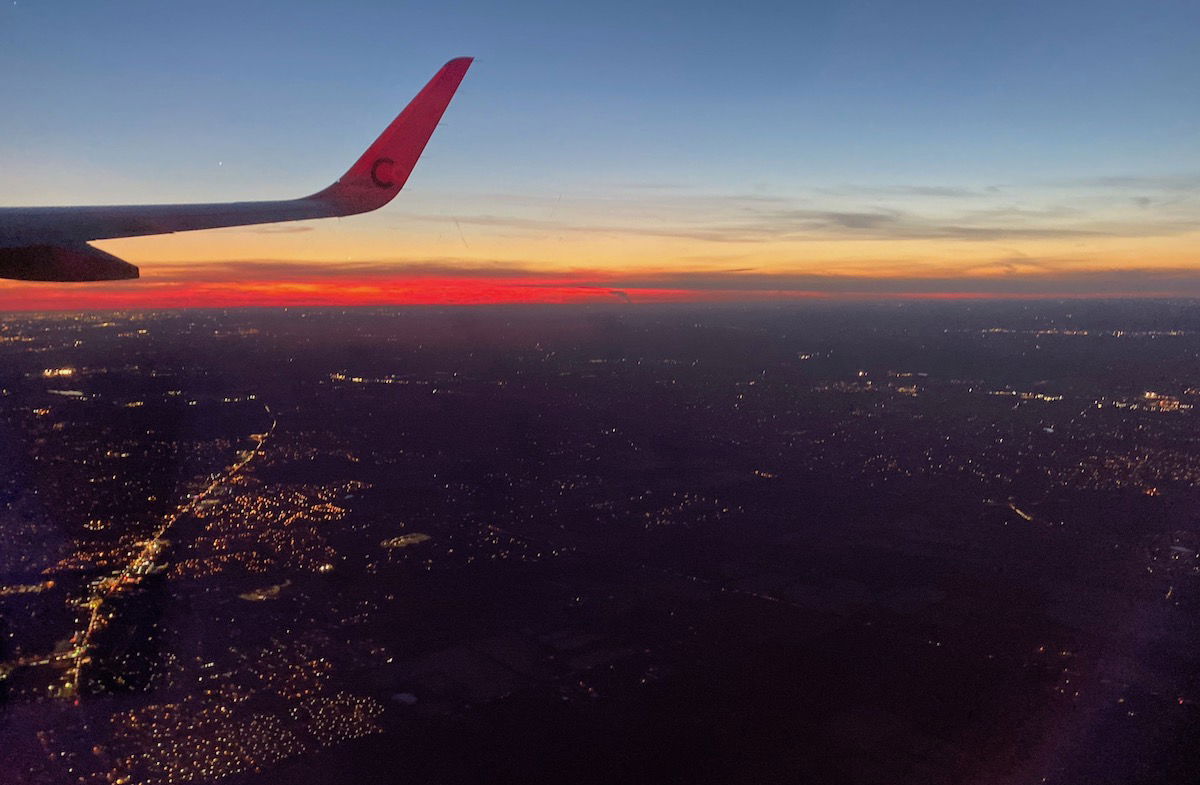 Sunset on approach to Newark
We ended up touching down at Newark at 5:20PM. Again, the sensation of sitting in the very back during landing is so different. After landing we had a 15 minute taxi to our gate, which included shutting off the engines just prior to arriving at the gate, and then being towed in.
Once off the plane I cleared immigration in no time thanks to Global Entry, and was ready for a good night of sleep before continuing my adventure the next morning.
La Compagnie Business Class Bottom Line
I'm so impressed by what La Compagnie has become. Now, I'm sure some people are reading the above and saying "well some of that doesn't look like what you'd expect in a top business class product."
Yes, there were some minor shortcomings — the meal service could be a bit more elaborate, the flight attendant could have known what a latte is, they could have had my first choice of snack, etc. But that's all not the point.
To me, La Compagnie is an airline that is essentially revolutionizing transatlantic business class travel (though admittedly in very limited markets). They're making business class in markets like New York to Paris affordable in a way that it never has been before.
They're offering unbelievable value. Paying under $700 for a one-way ticket and getting fast track, lounge access, a fully flat bed, unlimited high speed Wi-Fi, and most of the amenities of business class is simply unbeatable.
Furthermore, I thought the food quality was good, and the service was friendly. Their unlimited complimentary high speed Wi-Fi is also industry leading. Lastly, I loved flying on an all business class plane — the novelty of flying in a cabin like this isn't lost on me.
Obviously those of us who have miles & points can often get first and business class on some top airlines. But the fact that you can fly between New York and Paris with this good of a product for fares as low as $1,000 roundtrip (during a great promotion) is just spectacular.
The one warning I have to provide is regarding La Compagnie's reliability. My flight operated on-time, but when you're booking a smaller airline like this without partners, there are more risks in terms of getting to your destination on-time. I have heard of last minute cancelations and even aircraft swaps to leased planes, though hopefully the new A321neos help their reliability.
Regardless, on balance I'm so impressed by La Compagnie, I can't recommend them enough, and I'd fly them again in a heartbeat.
If you've flown La Compagnie's A321neo, what was your experience like? And if you haven't flown them, would you consider doing so?