JetBlue has just unveiled its much anticipated new Mint business class product, which will debut on the Airbus A321LR when the airline launches transatlantic flights (the airline has also revealed a new economy experience, which you can read about here). Not just that, but the airline is actually introducing two separate new Mint experiences here!
The new JetBlue Mint Suite
In 2014 JetBlue innovated narrow body business class with the introduction of Mint, featuring flat beds at all seats and doors at some seats. Now JetBlue is innovating narrow body business class again, with the introduction of the JetBlue Mint Suite, featuring direct aisle access and doors at every seat.
JetBlue's A321LRs used for transatlantic flights will feature a total of 24 herringbone business class suites. JetBlue has selected Thompson Aero's VantageSolo seat, which doesn't come as much of a surprise. JetBlue's current Mint product is also from Thompson Aero, so this is a natural evolution, and I think it's the product that many of us were expecting.
The new JetBlue Mint Suite will feature the following amenities:
A 17″ Thales AVANT seatback screen, in addition to fast & free Wi-Fi
Wireless charging capabilities
An integrated phone ledge for multitasking
Easy-to-reach in-seat power
Laptop, shoe, and handbag stowage
A Tuft & Needle proprietary foam and breathable cover "to create a cool and comfortable sleep experience unlike anything in the sky"
It's also noted that the product has some new residential-inspired design touches throughout the cabin, including:
Residential textures, such as flannel-covered privacy dividers, concrete lampshades, woodgrain table patterns, and vegan leather-covered seats and headrests
Custom-created suite gradient panels, and patterned door shrouds with the signature Mint leaf
Mood lighting and a blue floor arc that helps direct the customer boarding flow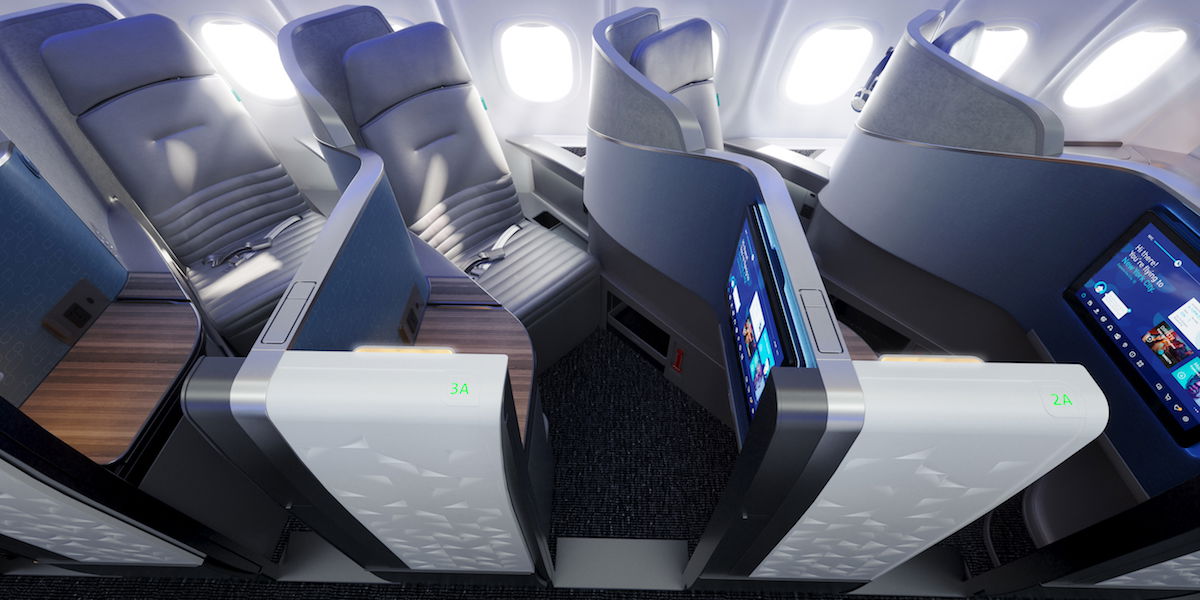 The new JetBlue Mint Suite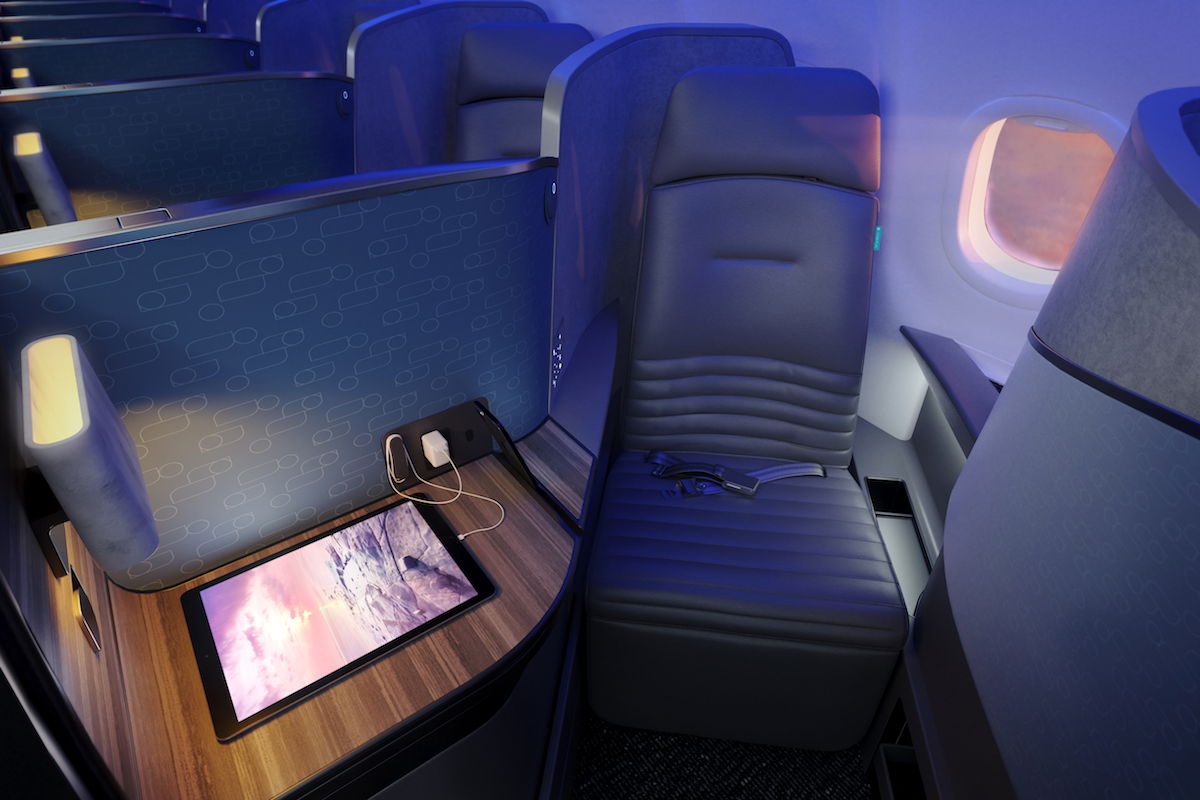 The new JetBlue Mint Suite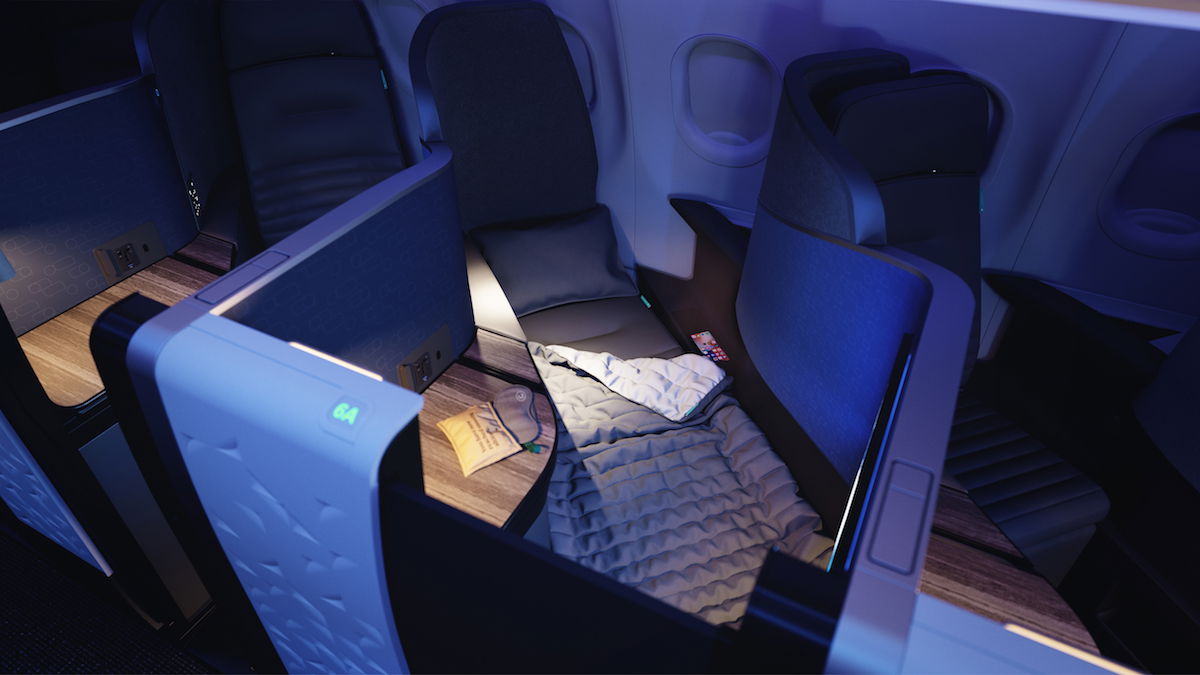 The new JetBlue Mint Suite
The new JetBlue Mint Studio
JetBlue isn't just introducing the new Mint Suite, but is also introducing the Mint Studio. Essentially the first row of the plane in this configuration has some extra space, so the airline will market this as a separate product.
Each plane will have two Mint Studios in the first row, providing some additional features, including:
A 22″ Thales AVANT seatback screen
An extra side table for added productivity
A guest seat that can accommodate an additional Mint customer during the flight at cruising altitude
JetBlue claims that the Mint Studio will:
Feature the most space in a premium experience from any US airline
The largest lie-flat bed of any US carrier
We know that JetBlue will charge a premium for the Mint Studio compared to the Mint Suite, though we don't yet know how much of a premium the airline will charge.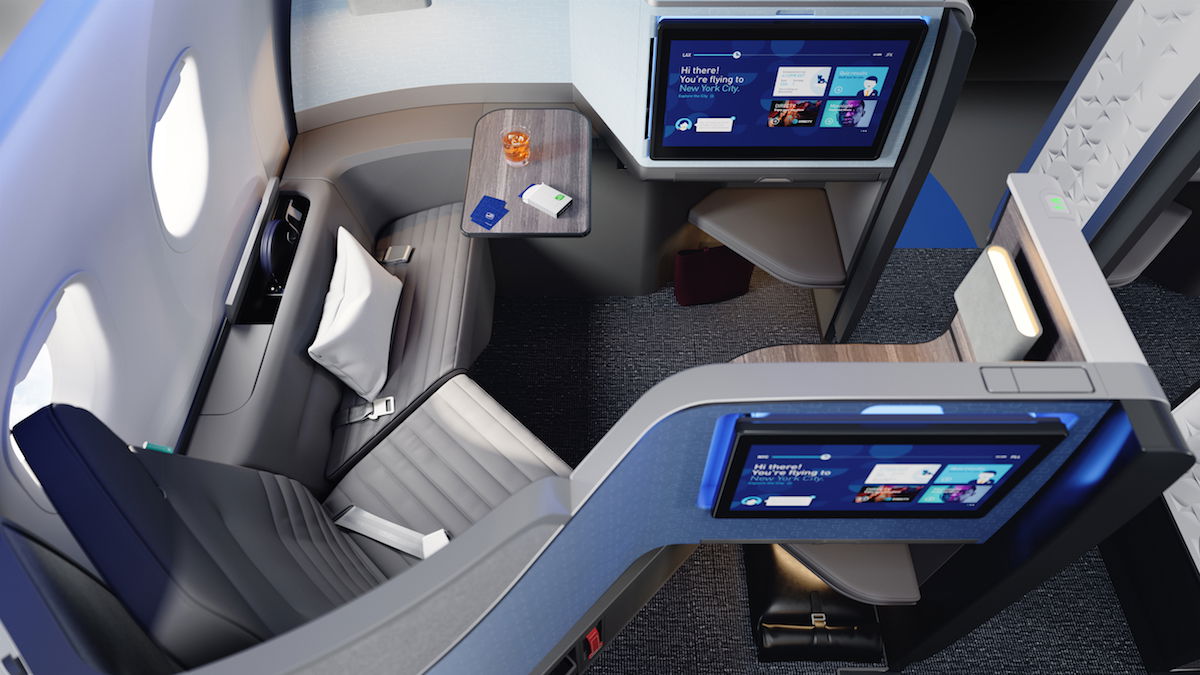 The new JetBlue Mint Studio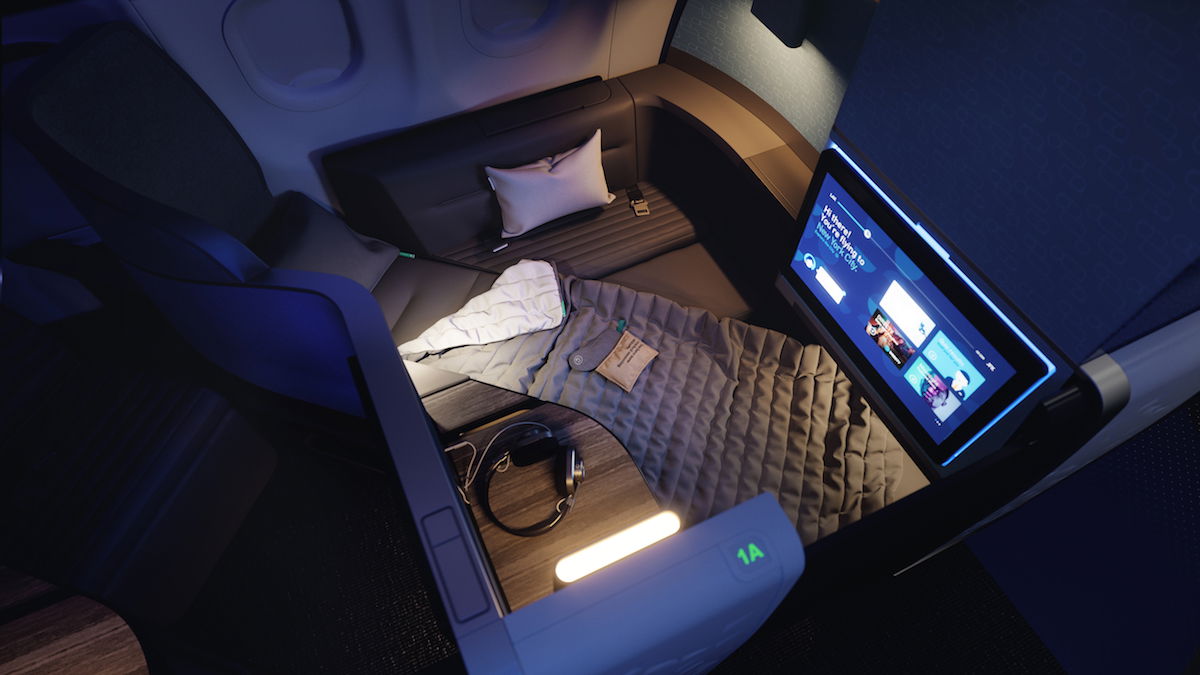 The new JetBlue Mint Studio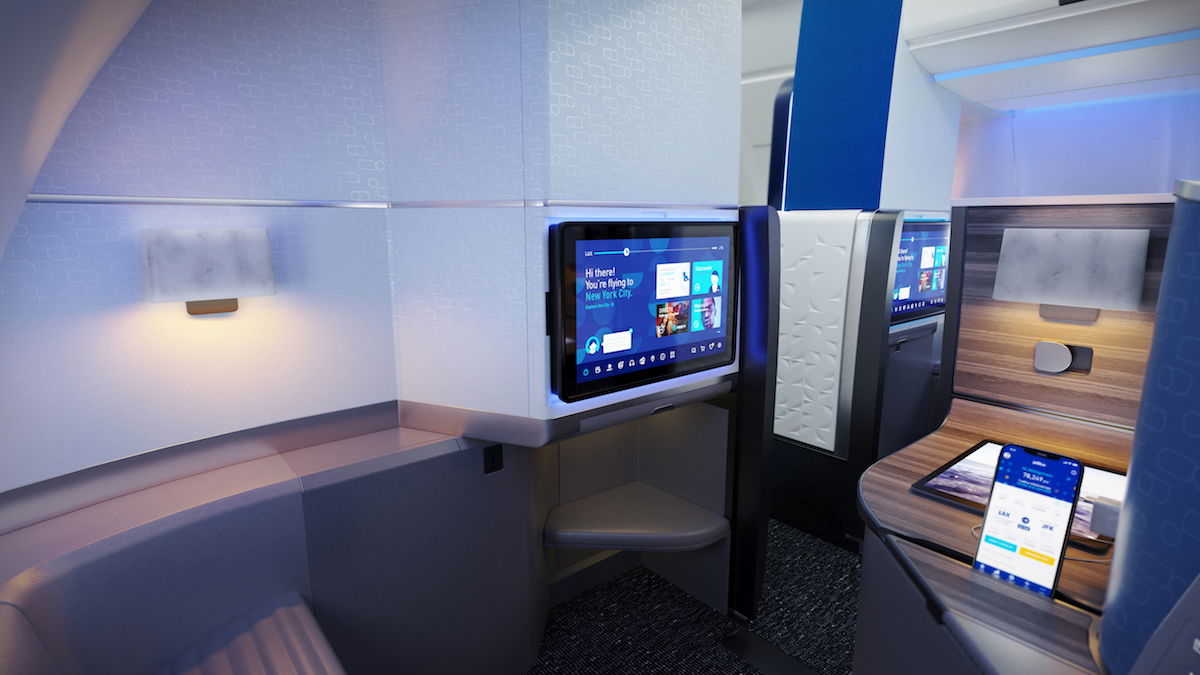 The new JetBlue Mint Studio
When will the new JetBlue Mint Suite & Studio be available?
There are a couple of interesting updates here:
The new JetBlue Mint experience will debut on A321LRs, on flights to London as of this summer; this is a worthwhile update because previously it was looking like JetBlue may only start transatlantic flights in late 2021
The new JetBlue Mint will also progressively be available on domestic flights with a special 16 seat layout, as some future delivery A321neos will feature the new Mint Suite and Mint Studio; this is a worthwhile update because we didn't previously know if this product would only be available on transatlantic flights or not
My take on JetBlue's new Mint experience
Generally speaking I'm ridiculously excited about JetBlue launching transatlantic flights. The airline disrupted the premium transcon market back in 2014, and I trust it will do the same thing on transatlantic flights, with reasonably priced premium fares and an industry-leading experience.
What do I make of the new JetBlue Mint Suite and Mint Studio as such? I've written about the VantageSolo seat in the past, and my feelings haven't changed. I'm torn:
For a narrow body this looks like a great product, having direct aisle access and doors
At the same time, objectively a herringbone seat where you're facing the aisle and away from the window is a step backwards when it comes to the evolution of premium cabin products
I do think JetBlue is doing a phenomenal job with the finishes and attention to detail of the product
It's innovative of JetBlue to introduce the Mint Studio, and to create a special experience around that
The new cabin (in the below video) looks ridiculously sleek, with so many premium seats on a narrow body plane
So yeah, even though I generally don't love herringbone seats, I'm really excited about the new JetBlue Mint, the airline will do great things on transatlantic flights, and the product looks in line with what I was expecting.
Bottom line
JetBlue is introducing a new Mint experience as of this year. The new Mint product will initially debut on London flights in the summer of 2021 with a 24 seat layout, and then will debut between New York and Los Angeles as of later in 2021.
Not only is there a new JetBlue Mint Suite, but JetBlue is also introducing the Mint Studio, which will offer extra space and amenities.
What do you make of the new JetBlue Mint Suite and Mint Studio?