---
I had a few hours at San Jose Airport — sorry, er, Norman Y. Mineta San José International Airport — before my return flight to Los Angeles.
Let's be honest. San Jose's airport is not the world's most exciting.
Still, Terminal A (where Delta and other non-Southwest carriers operate) is not unattractive. The airport has a single lounge, called "The Club at SJC." Luckily, the Club at SJC can be accessed for free with Priority Pass, so a credit card with lounge access will get you in. It can also be accessed by premium travelers on the two international flights departing San Jose (ANA's to Tokyo Narita, and Hainan's to Beijing) as well as anyone willing to cough up $35 as an entry fee.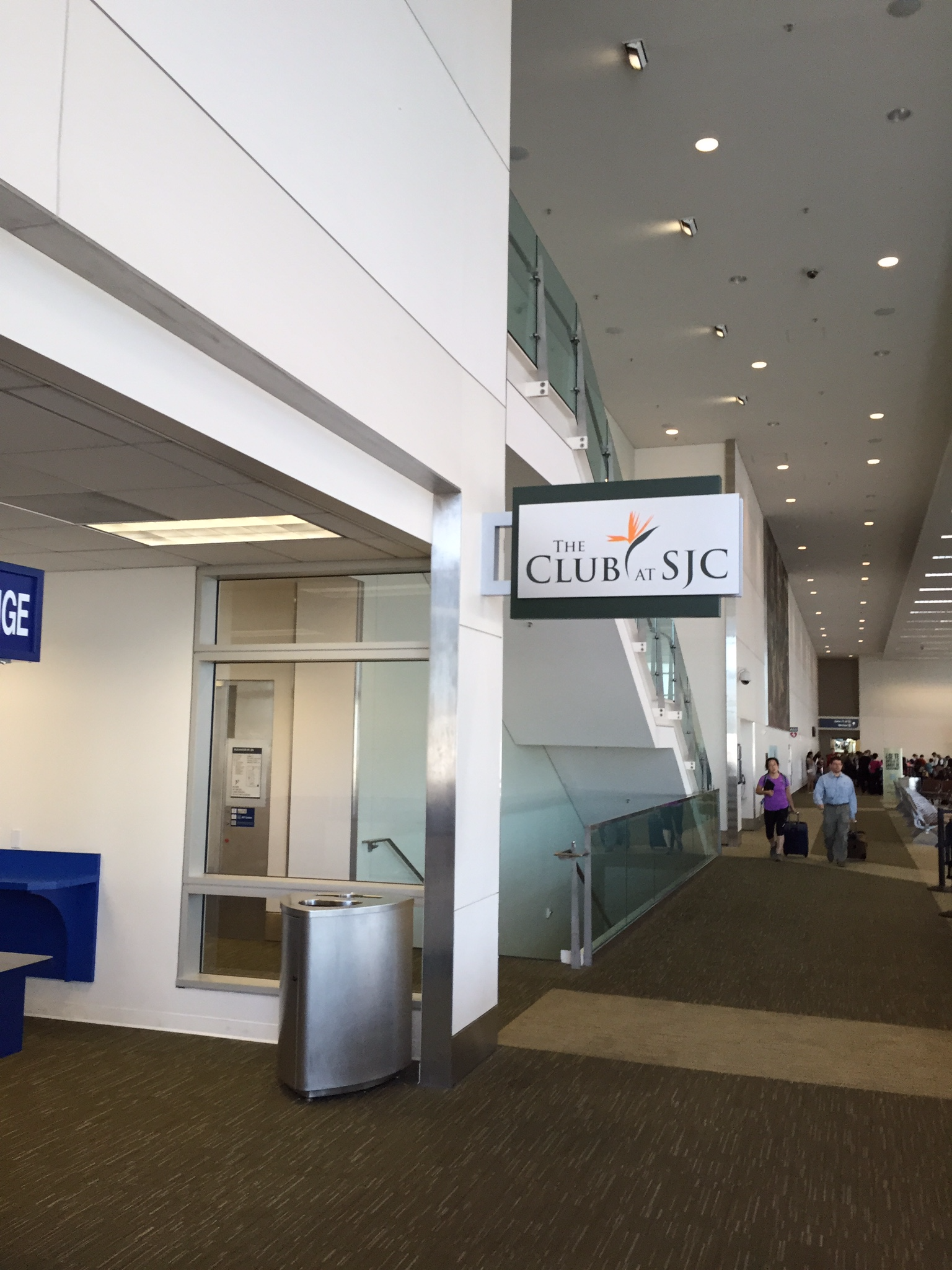 I walked into the Club at SJC around 9:30am, and it was deserted.
I think there was maybe one other customer in the lounge, but otherwise there was a bartender milling about, bored, and the sound of a TV.
Food and drinks at the lounge are complimentary for guests, although I didn't really feel like anything alcoholic so early in the morning, especially with a long day of travel ahead. I helped myself to some grapefruit juice and coffee.
As for food, the spread was dismal — limited to packaged foods and some miniature muffins. I passed.
Aside from there being a large seating area near the TV sets in front of the bar, there's also more of a work-oriented area across the hallway from the bar, with long counters, stools, and power outlets available.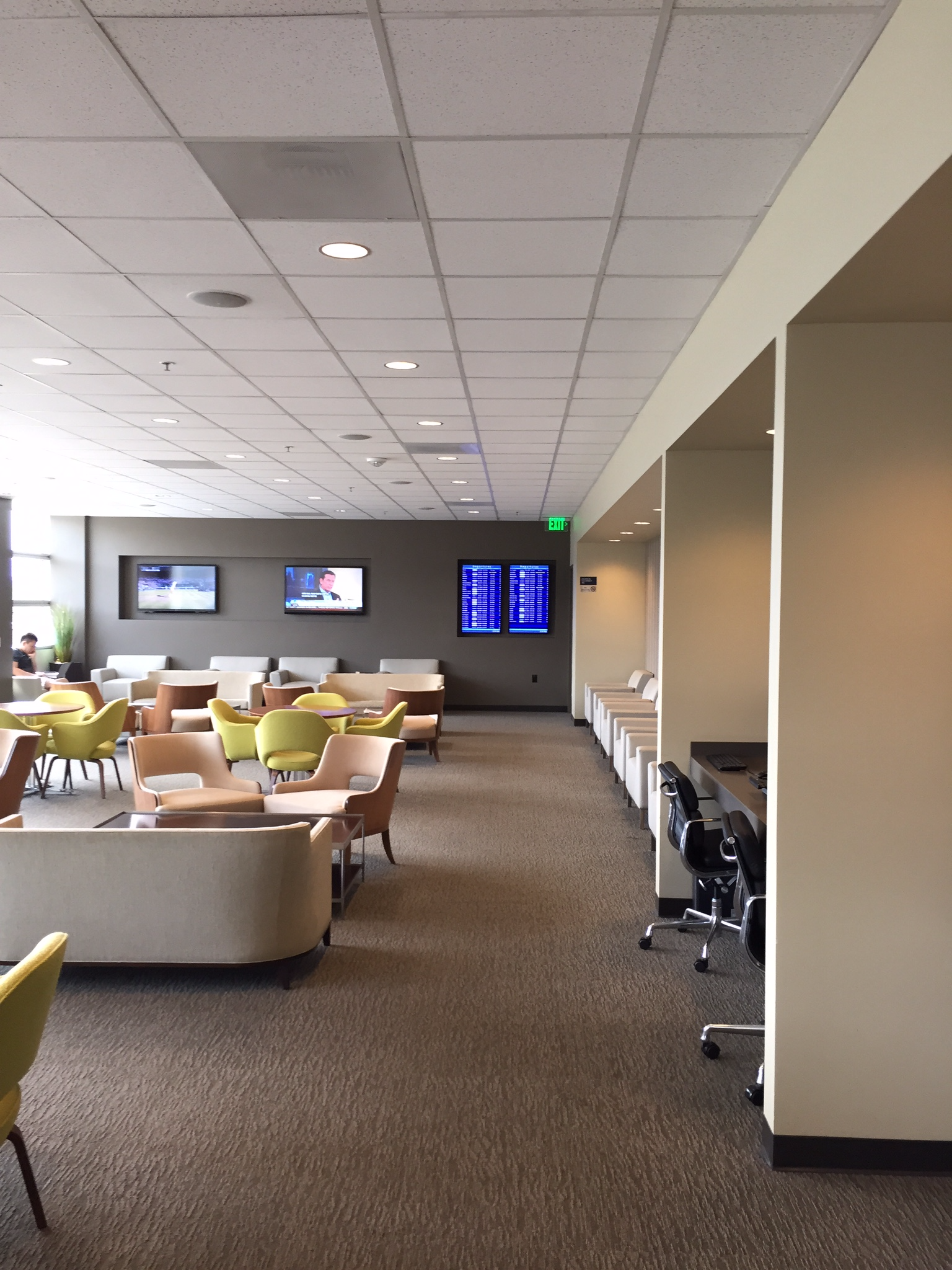 The lounge was decorated in a corporate but inoffensive way. It felt like the lobby of a nice Courtyard by Marriott, for example.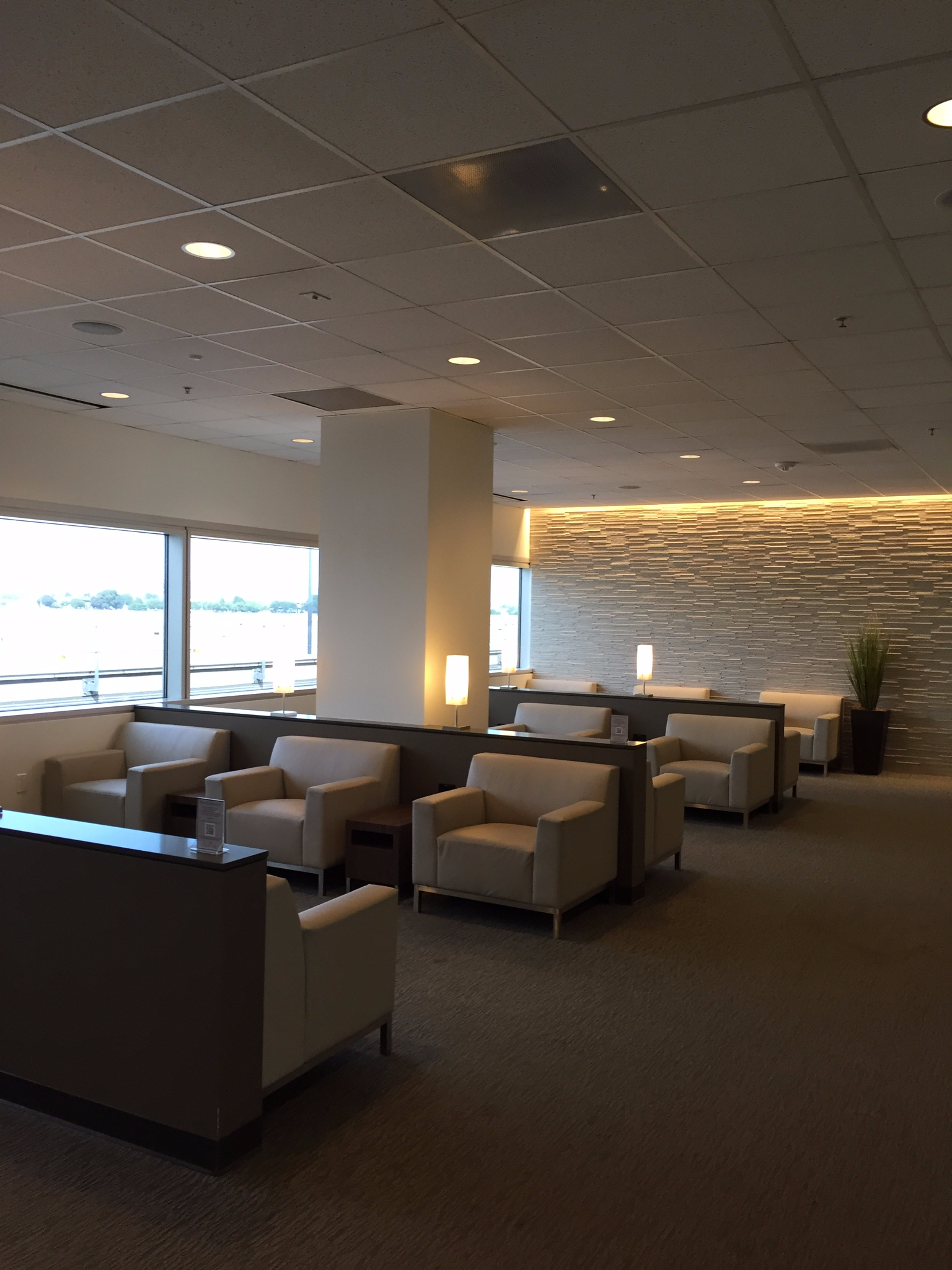 Curiously, there were plenty of reading materials available, but other than the San Jose Mercury News, almost everything was in Japanese. I asked an attendant whether anything else was available in English, and she found one copy of a Travel + Leisure for me and confessed that was all they had left.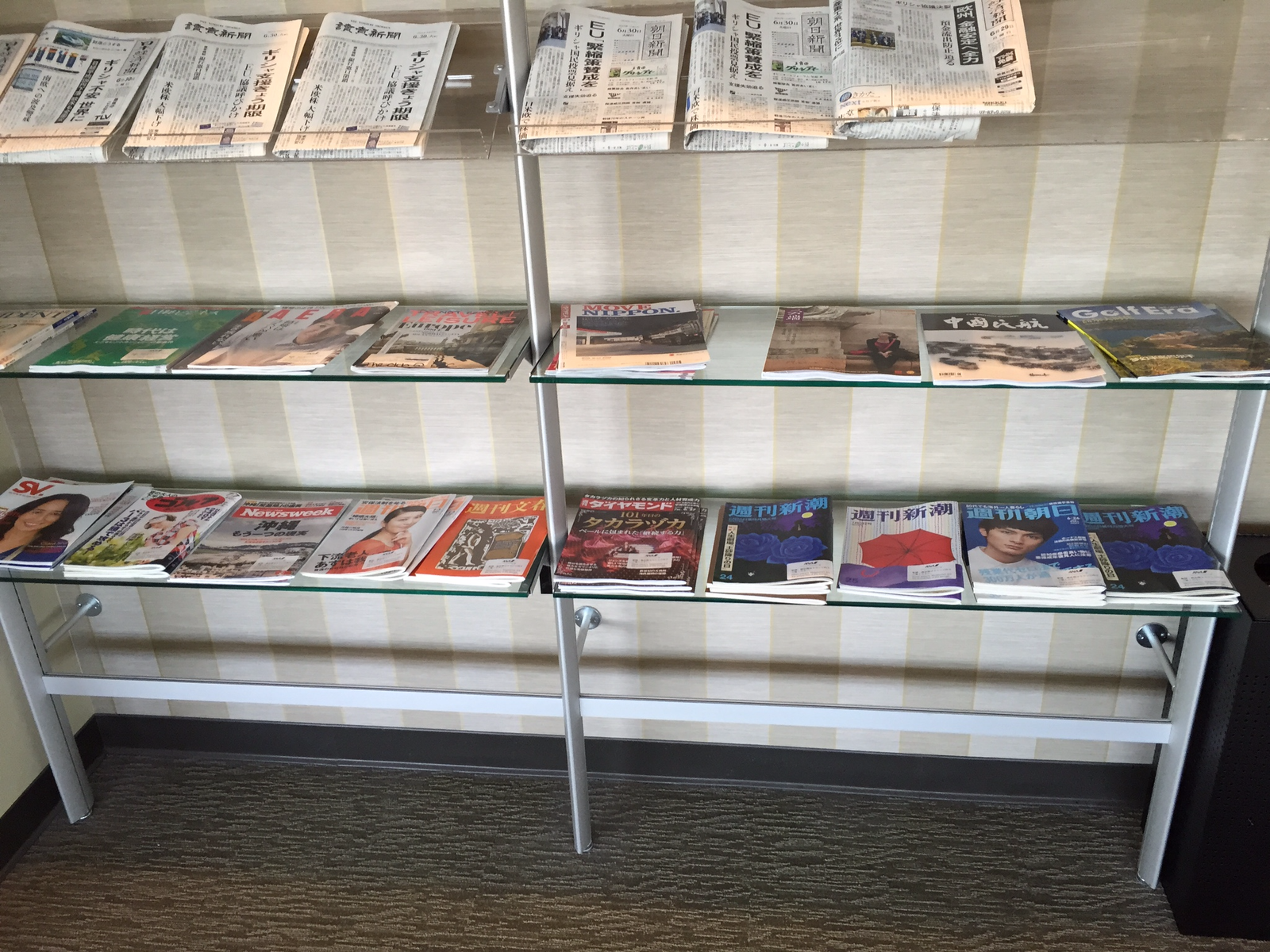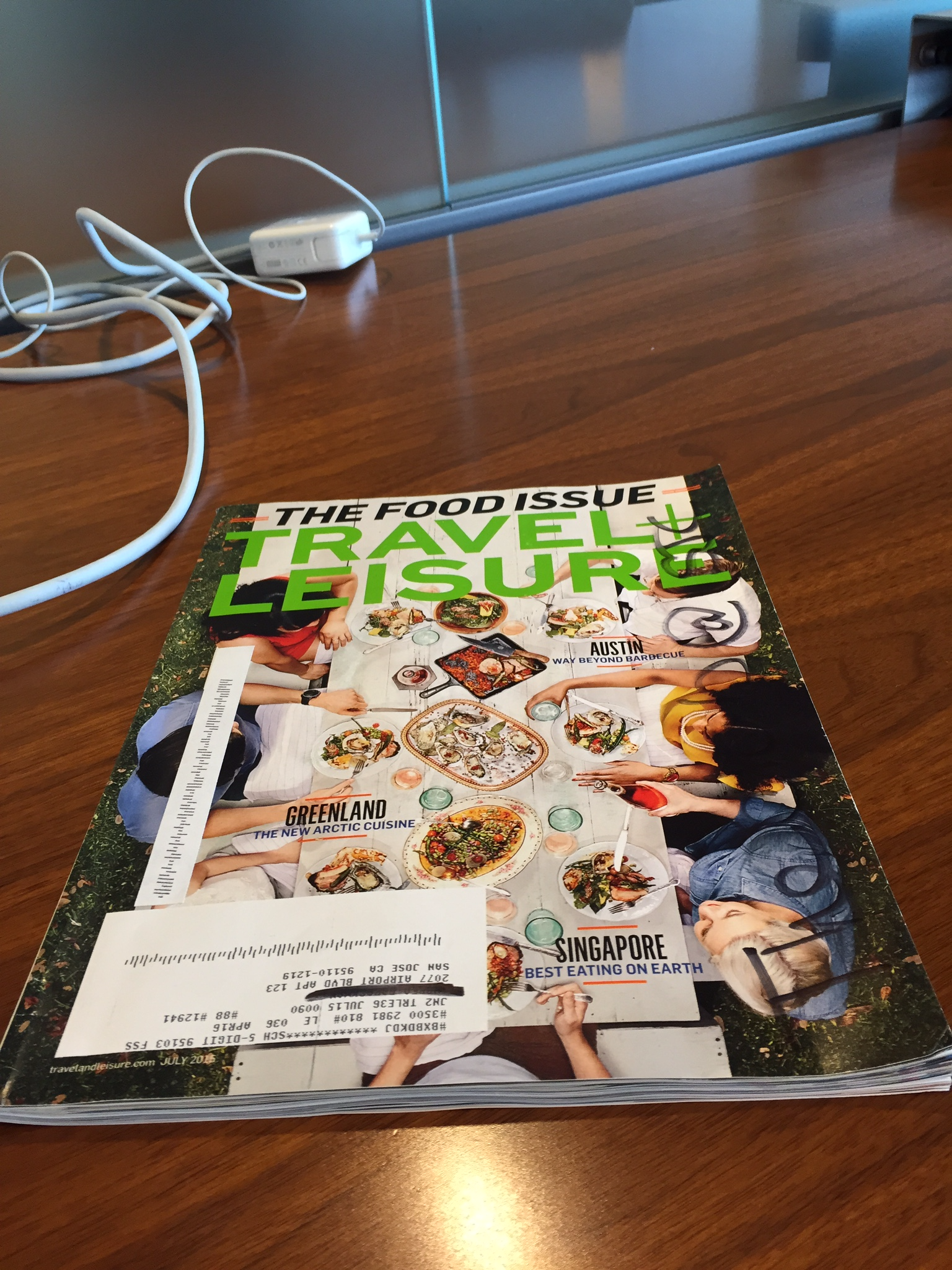 About a half hour after I arrived at the lounge, it started filling up slowly, mostly with Japanese businessmen.
By about 10:30am, the lounge was packed, and nearly everyone was Japanese — suddenly, the reading selections made a bit more sense. The ANA flight from San Jose leaves at 12:45pm, and the clientele on the flight, or at least the premium cabin clientele who chose to use the lounge, was almost entirely Japanese.
At around this time, I noticed that the club staff had swapped out the dismal food display for a much more generous breakfast and lunch spread.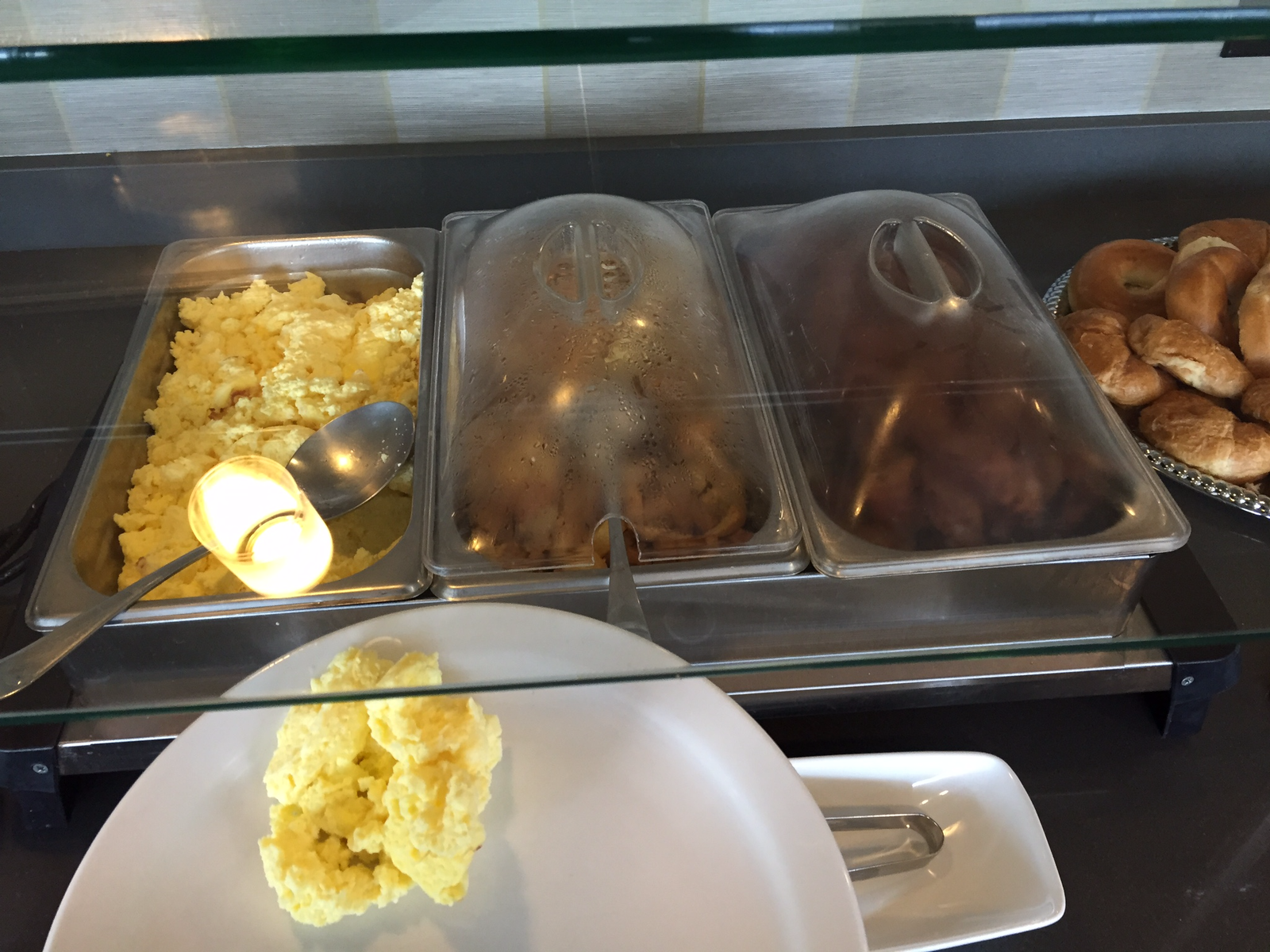 While the spread was more generous, it wasn't particularly appetizing. Nonetheless, I had some scrambled eggs and diced breakfast potatoes. The potatoes weren't half bad (mostly because they were crispy), but the eggs were incredibly dry.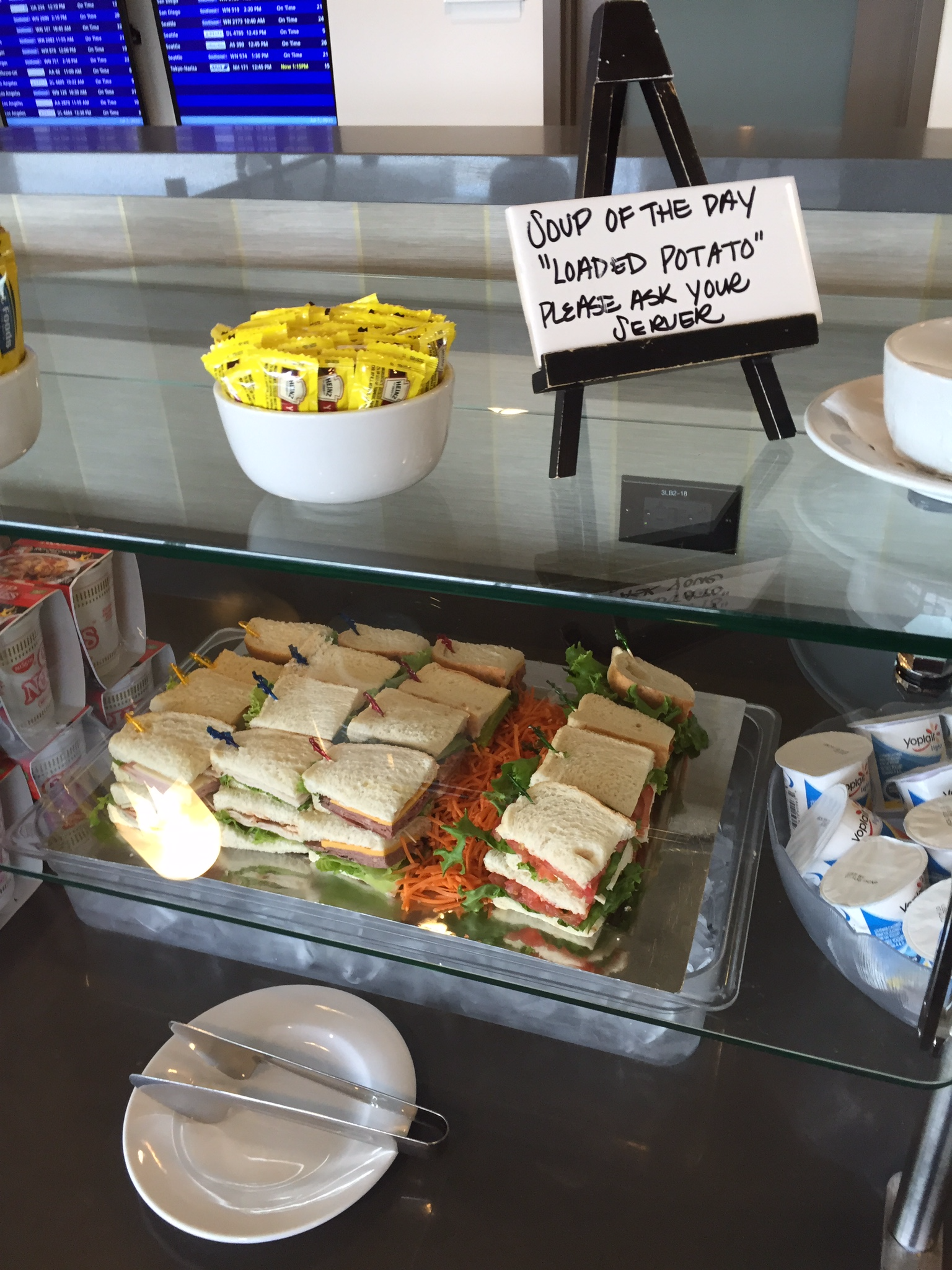 By the time I'd loaded my plate for breakfast, the lounge was packed. It's a large lounge, so it's worth noting that if you have a reason to use the Club at SJC in the morning, it's worth getting there before 10am.
At the risk of inviting Montblanc-gate all over again, I will just say that I soon noticed distinct cultural differences between American ways of eating and Japanese ways of eating. At least among my immediate neighbors in the work area, there didn't seem to be any hesitation in eating very loudly. Now don't get me wrong: a lot of Americans are outright slobs while eating and shoving Cheetos in their face, orange crumbs falling down their chins like a gazelle's blood on a ravenous lion. Americans eat like pigs, but relatively quietly.
And yes, I know in Japan you're supposed to slurp your ramen noodles. But between the slurping, the crunching, and the frequent sound of metal on metal bowl-scraping, the room sounded like a cacophonous mealtime orchestra. I decided headphones were my best bet at surviving the rest of my lounge stay without pulling out my hair.
A little after noon, I headed out of the lounge and walked toward my gate, where my regional jet to Los Angeles was already boarding.
The Club at SJC Bottom Line
The Club at SJC is the only lounge at San Jose International Airport, so it's not really a matter of choosing how to spend your time at the airport, but choosing whether to spend any free time at the airport at all. 🙂
Compared to most domestic lounges, the food spread was generous, at least during the hours the club also operated as an international lounge of sorts.
The seating was ample and pleasant, though the lounge appears to get quite crowded in advance of the ANA flight.
Given that the Club at SJC operates as a Priority Pass partner and is also available to any passenger for a $35 fee, I was surprised that the lounge didn't seem to make any concessions to non-international travelers. It seemed truly strange that no English language reading material was made available outside of the local newspaper.
Because SJC is not a connecting hub, I don't see much of a point in getting to the airport early just to visit the club, unless you're on an international flight and want to get there particularly early to be on the safe side. However, since the bar is complimentary and the liquor selection seemed to be not unimpressive, it may be worth a visit if you have Priority Pass, some time to kill at SJC, and want to grab a drink or two.
For a different perspective, I finally had a chance to visit this lounge myself in 2018. See the review here.