---
Virgin Atlantic 8
Los Angeles (LAX) to London Heathrow (LHR)
Wednesday, July 1
Depart: 5:55pm
Arrive: 12:20pm +1
Duration: 10h25min
Aircraft: Airbus 340-600
Seat: 8K
Having been excited to try Virgin's new 787 Dreamliner, English sparkling wine and all, I was a bit disappointed to board what appeared to be a quite aged Airbus 340-600.
Indeed, as I got to the seat it seemed to me that the hard product was a bit rough around the edges. Virgin's seats are herringbone-style and angled away from the windows, which is both private and a tad claustrophobic at the same time.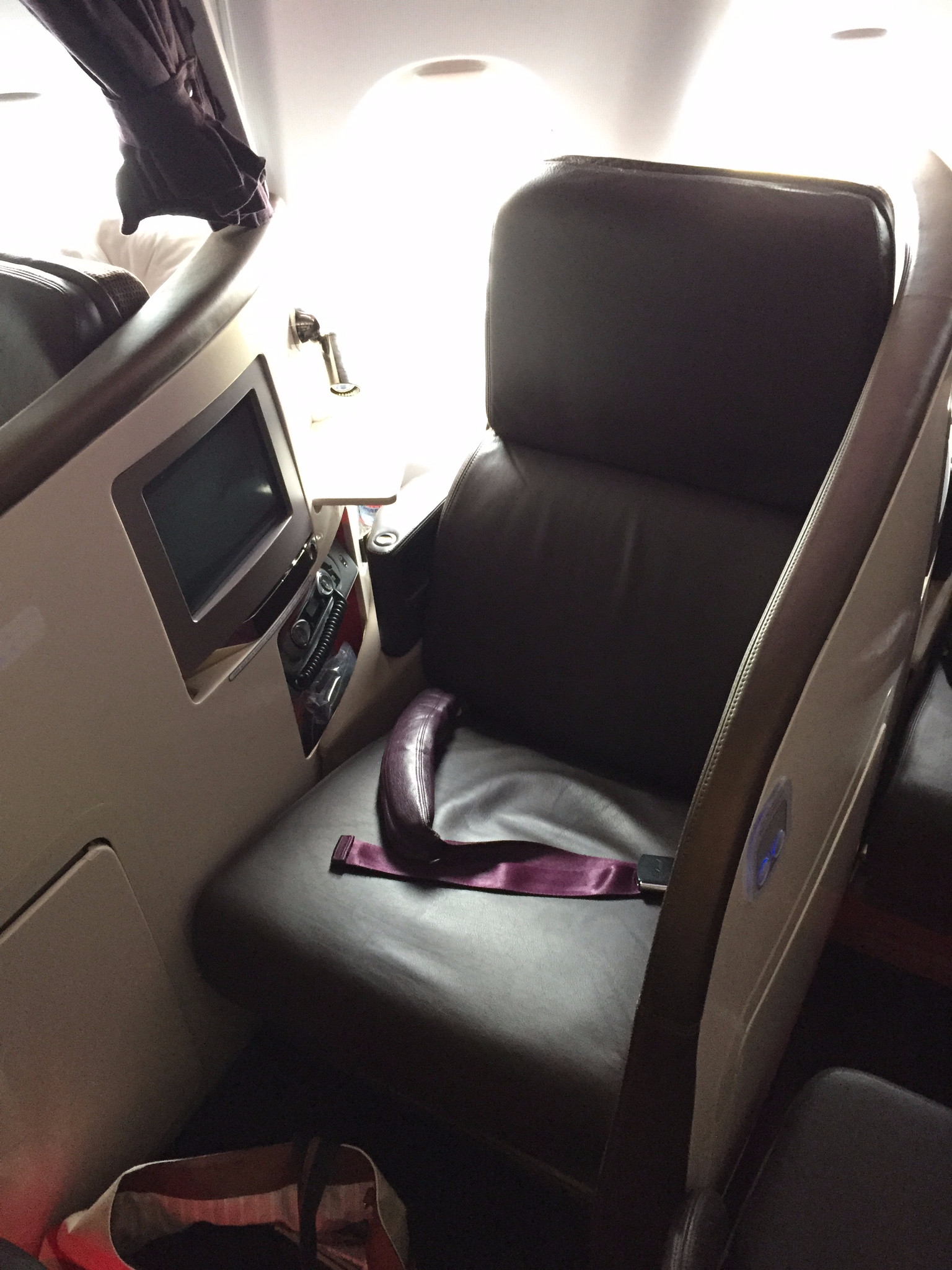 One of the benefits of the herringbone-style seats, however, is the generously sized ottoman that you can use at takeoff and landing, which I appreciate quite a bit as opposed to business class seats where the footwell is underneath the seat in front of you.
In fact, the ottoman was equipped with a seatbelt of its own, and was designed such that you could invite a traveling partner (or someone you just met on the plane, I suppose, if you're cheeky) to dine with you, as the tray table could be adjusted accordingly.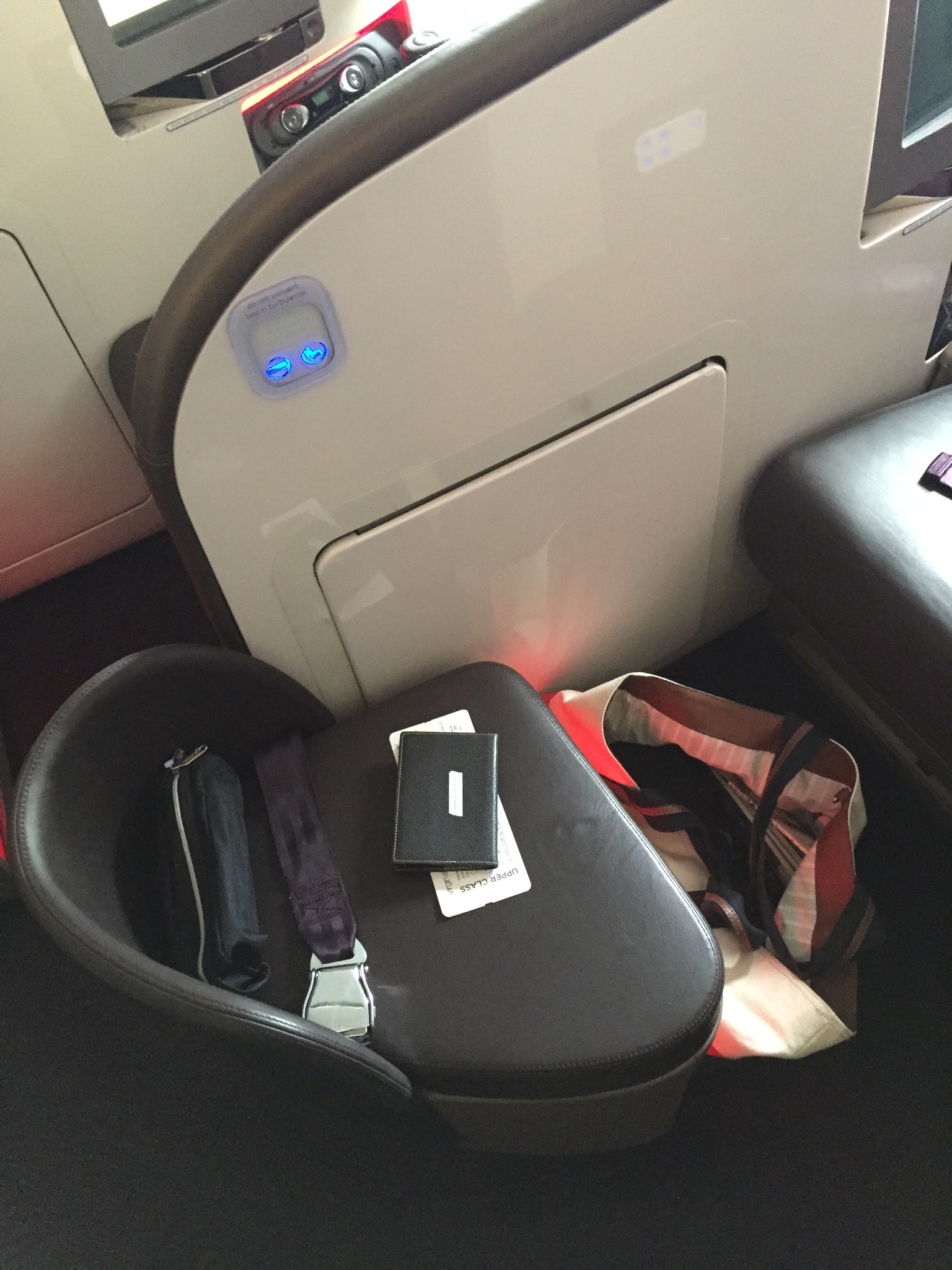 A frill-less amenity kit was placed on the ottoman containing the basics — socks, toothbrush, a little tube of toothpaste, a pen and some facial tissues. Nothing really exciting nor worth photographing for that matter.
The seat itself was comfortable, but the television was quite beat up and scratched, and the features of the seat seemed cramped and not especially well laid out.
For instance, the little pop-out tray that acts as a cocktail and snack holder is tucked up and just behind the headrest, which I found strange (and a little contortionist).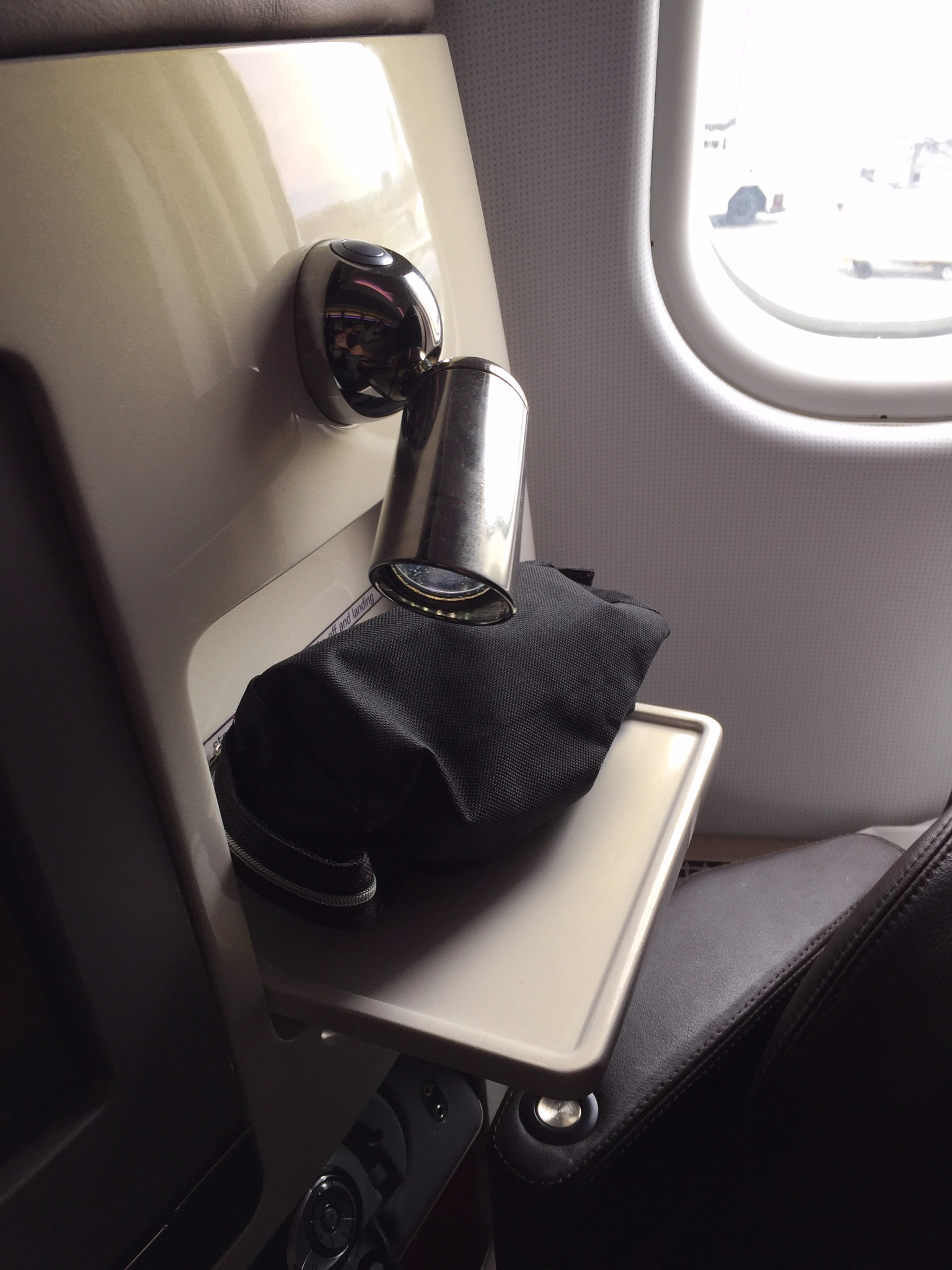 As I got settled, a flight attendant came by with a tray of Gardet champagne and water. I chose the champagne, which was unremarkable but certainly drinkable.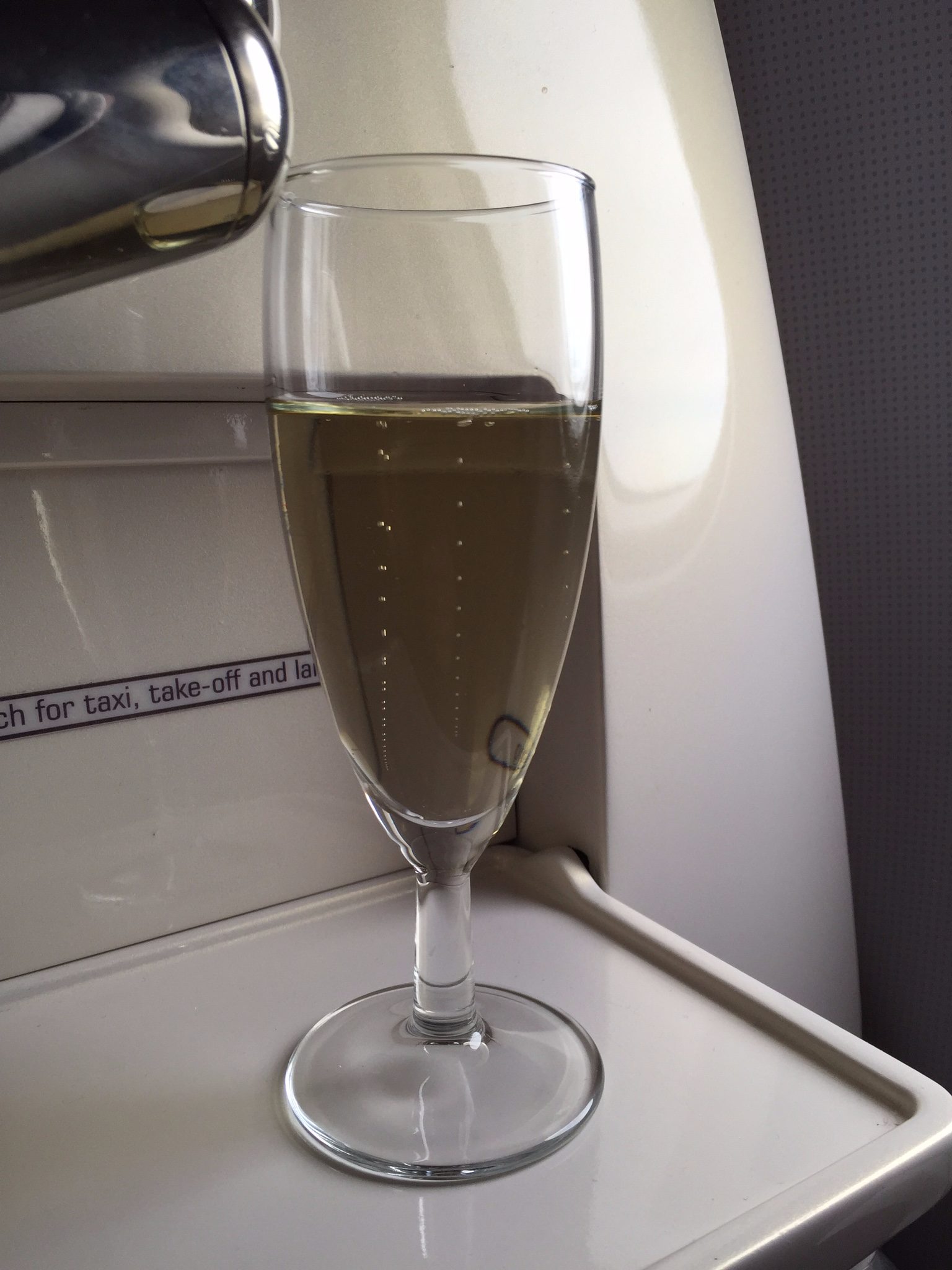 Since the cabin was a bit on the darker side, I searched for an overheard light, but discovered there were none, just a little side reading light. I didn't find the reading light terribly useful, and, in any event, it interfered with what little space there was on the cocktail tray for my glass of champagne, anyway.
I also searched in vain for a power outlet and asked a flight attendant for assistance. She explained the only outlets on the A340 were EmPower outlets (i.e., useless for just about anyone, using the best technology 1993 has to offer), but she fetched me an adapter.
On the plus side, however, there were two air vents above the seat that worked beautifully, and in fact the cabin was kept at a cool temperature as well.
A pair of headphones was stowed in a little compartment below the television and sealed in plastic.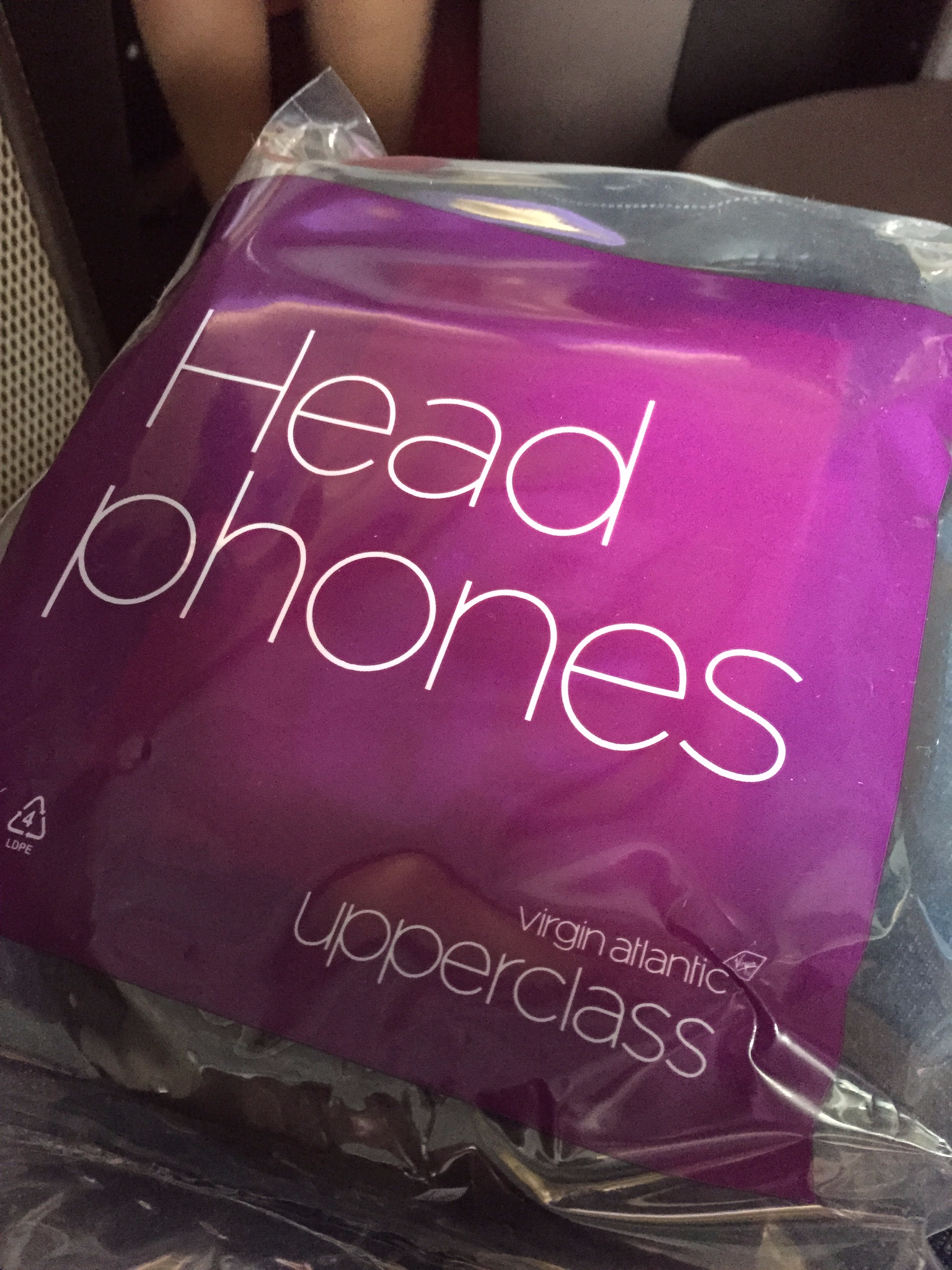 Needless to say, Wifi was not offered on the A340 (though it is apparently offered by Virgin Atlantic on the 787).
I know I may be in the minority for even caring, but I also found it strange that Virgin Atlantic didn't have an in flight magazine, or at least not on this particular flight.
The safety video was intended to be charming and clever, but was annoying instead. It was a cartoon involving characters speaking English with an American accent, but rather than hiring American voice actors (or someone English but talented), it seems they grabbed some people from a pub in Hackney and asked them to exaggerate an American accent as much as possible.
We took off relatively quickly, and the very British captain made a quick announcement and then, acknowledging the redeye nature of the flight, said in the Britishiest way possible, "I shan't talk to you again until we're much nearer to London, so have a good journey."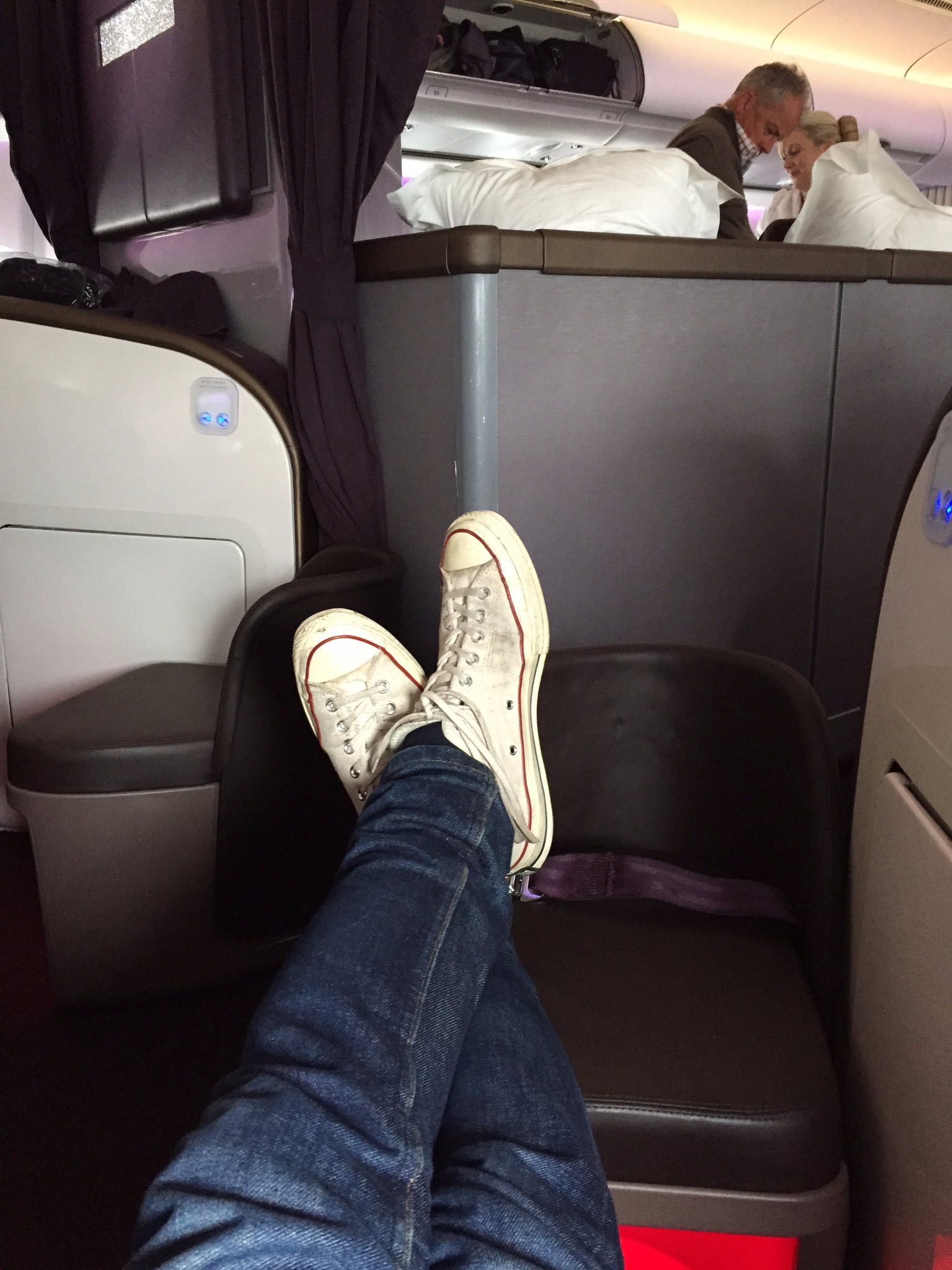 Shortly after takeoff, flight attendants came by again with bowls of spiced potato chips (or "crisps," delightfully) and a refill on the champagne.
About an hour and a half into the flight, the flight attendants distributed menus for in-flight service, which we were told were not ours to keep as there was a shortage and they needed to re-use them during flight, so we had to choose our order relatively quickly.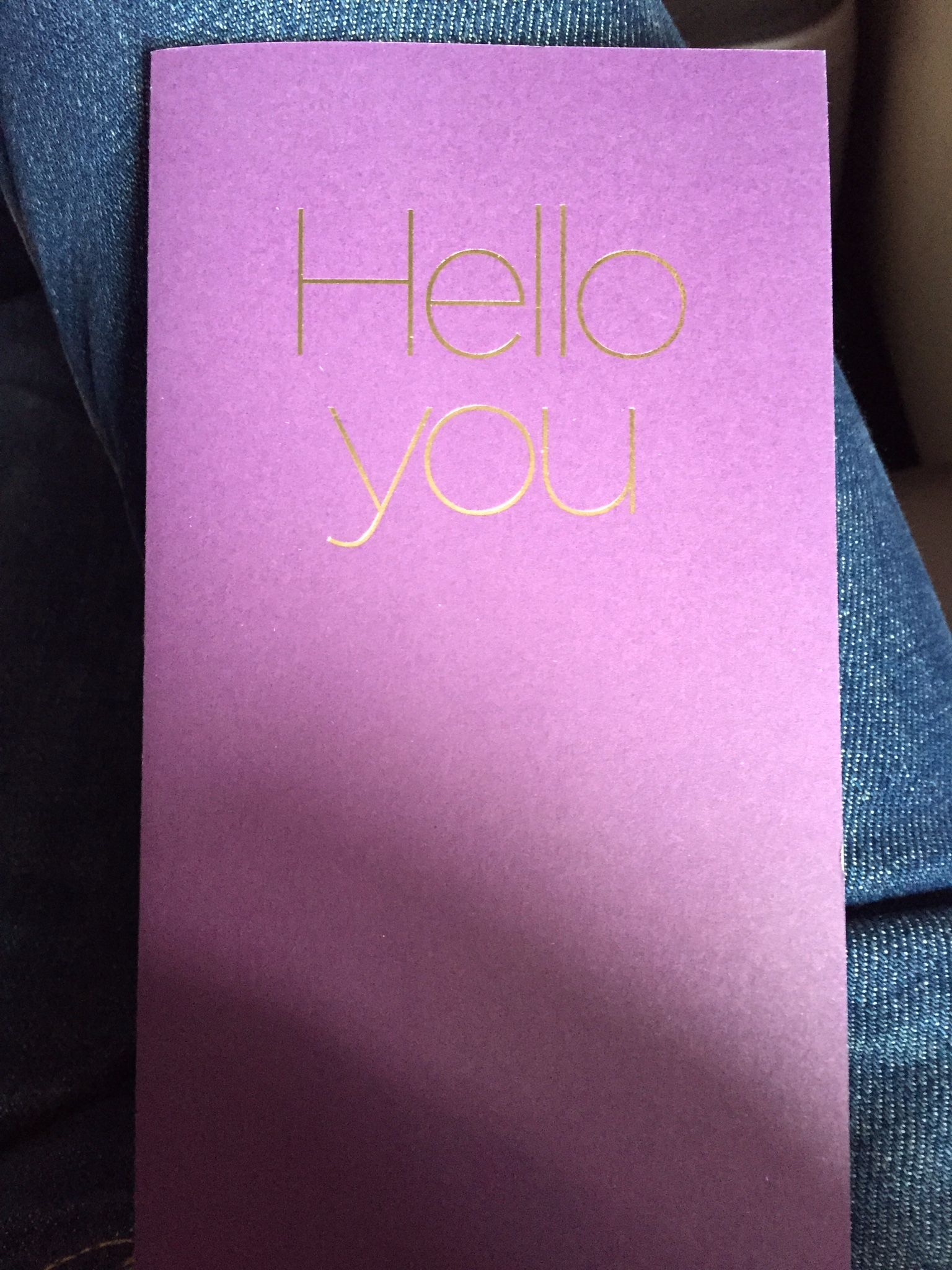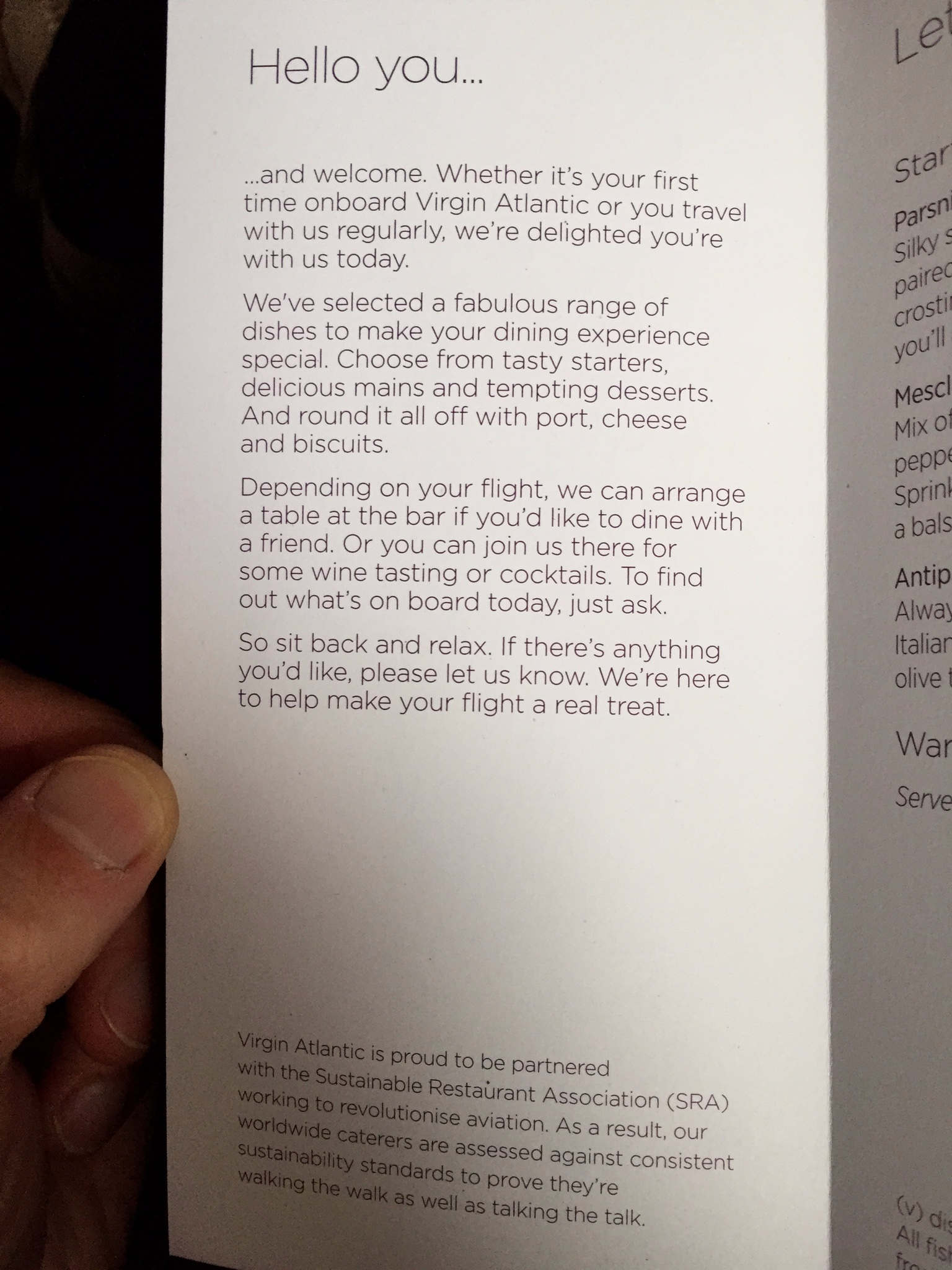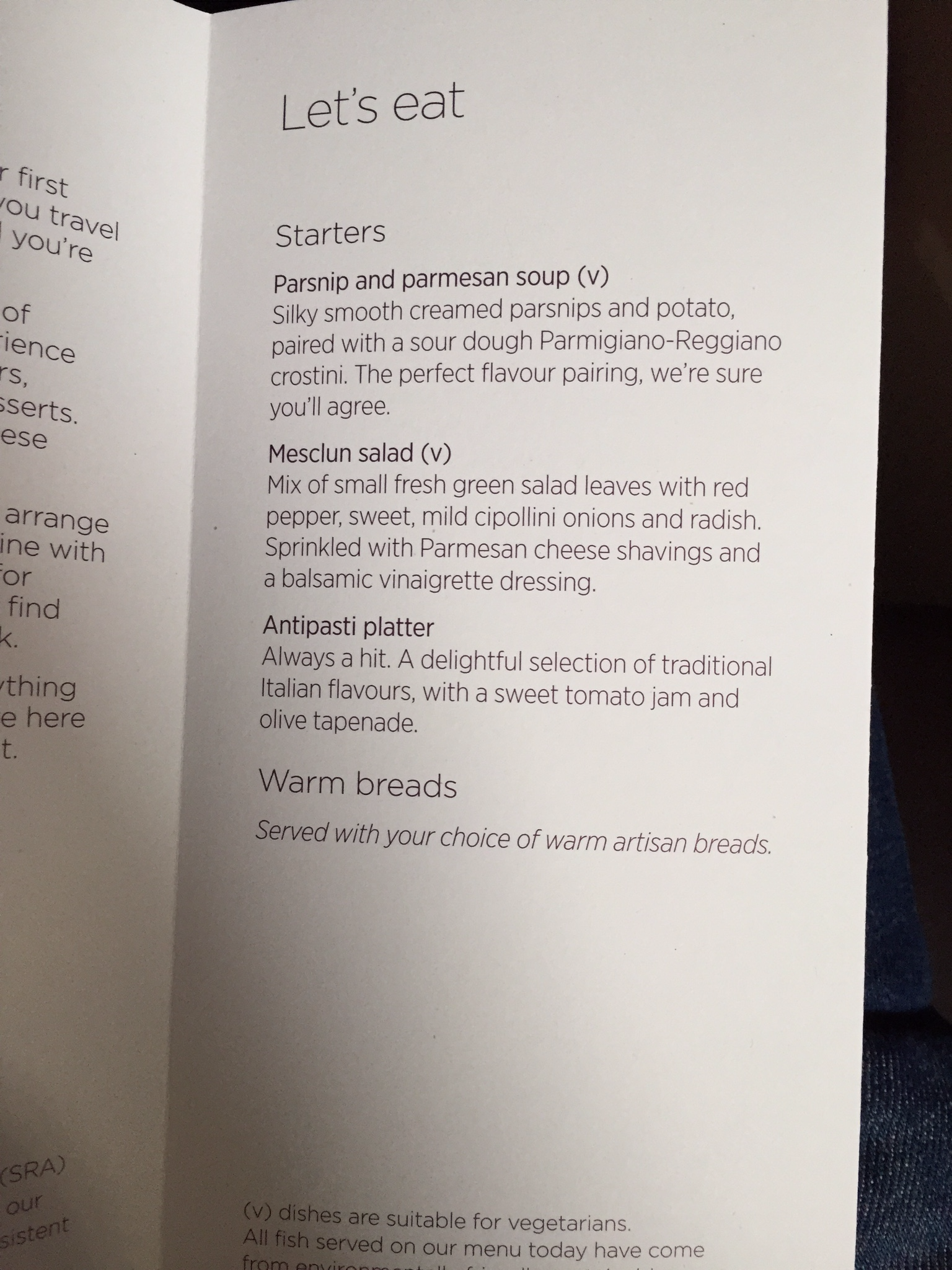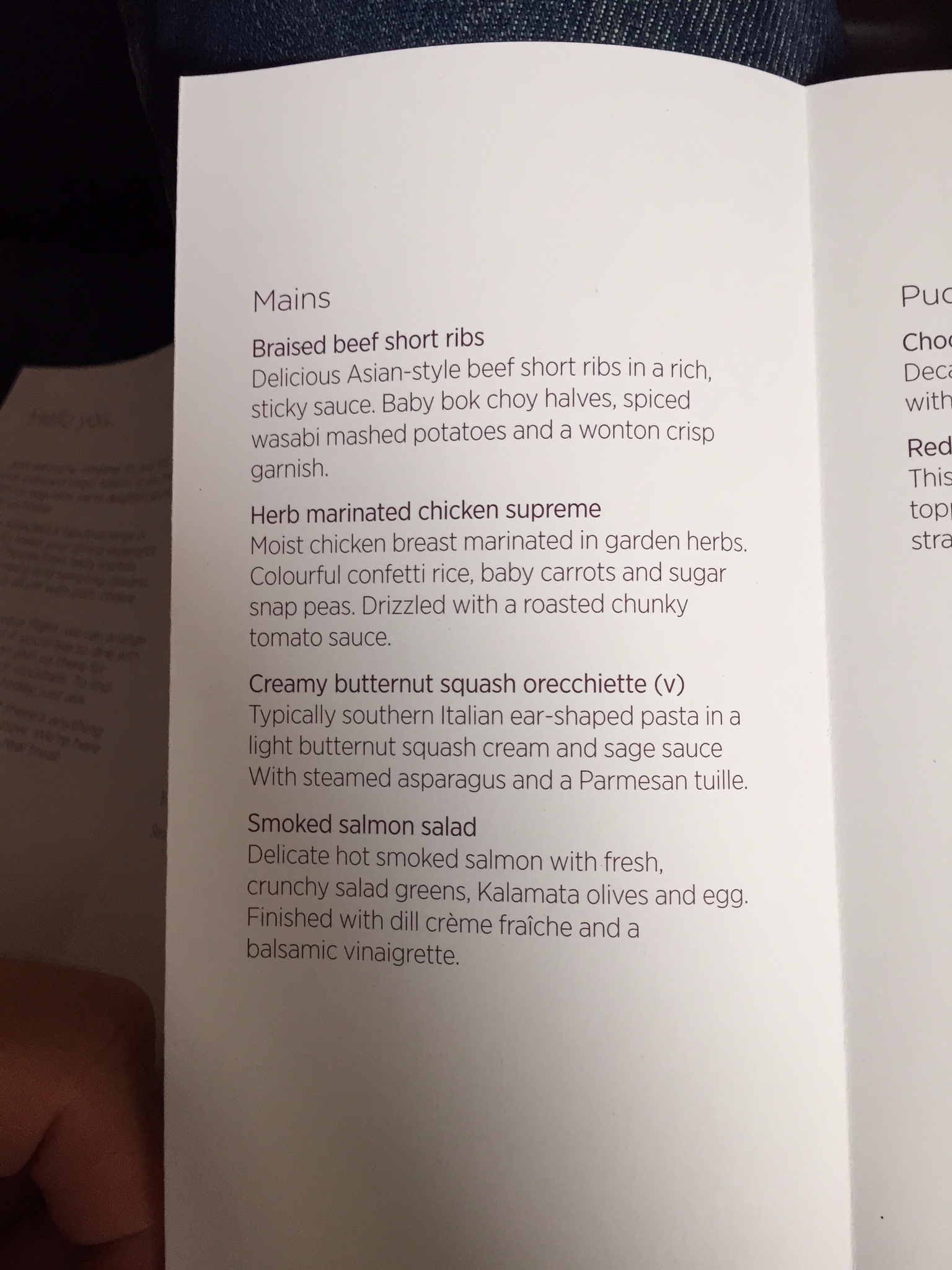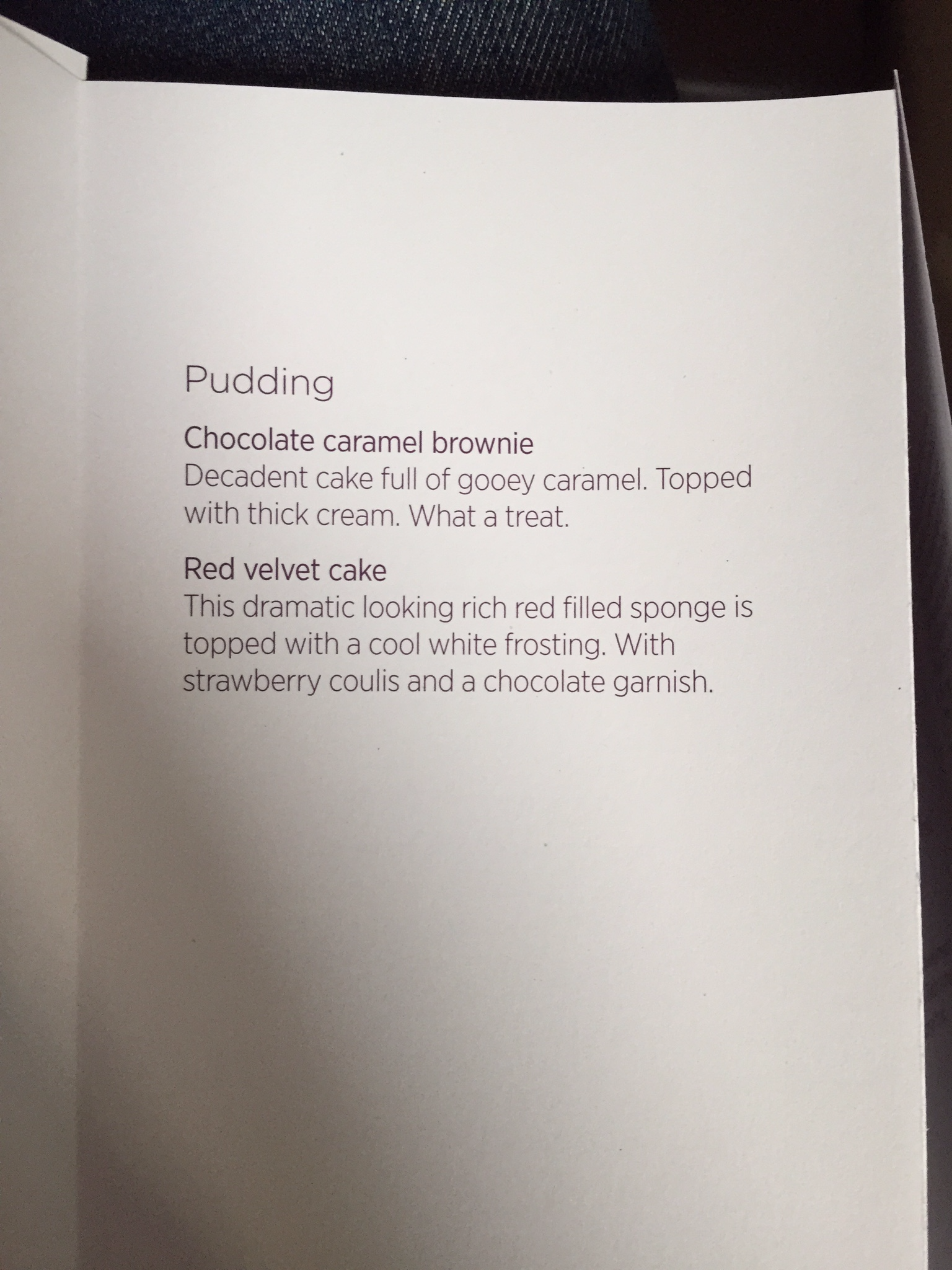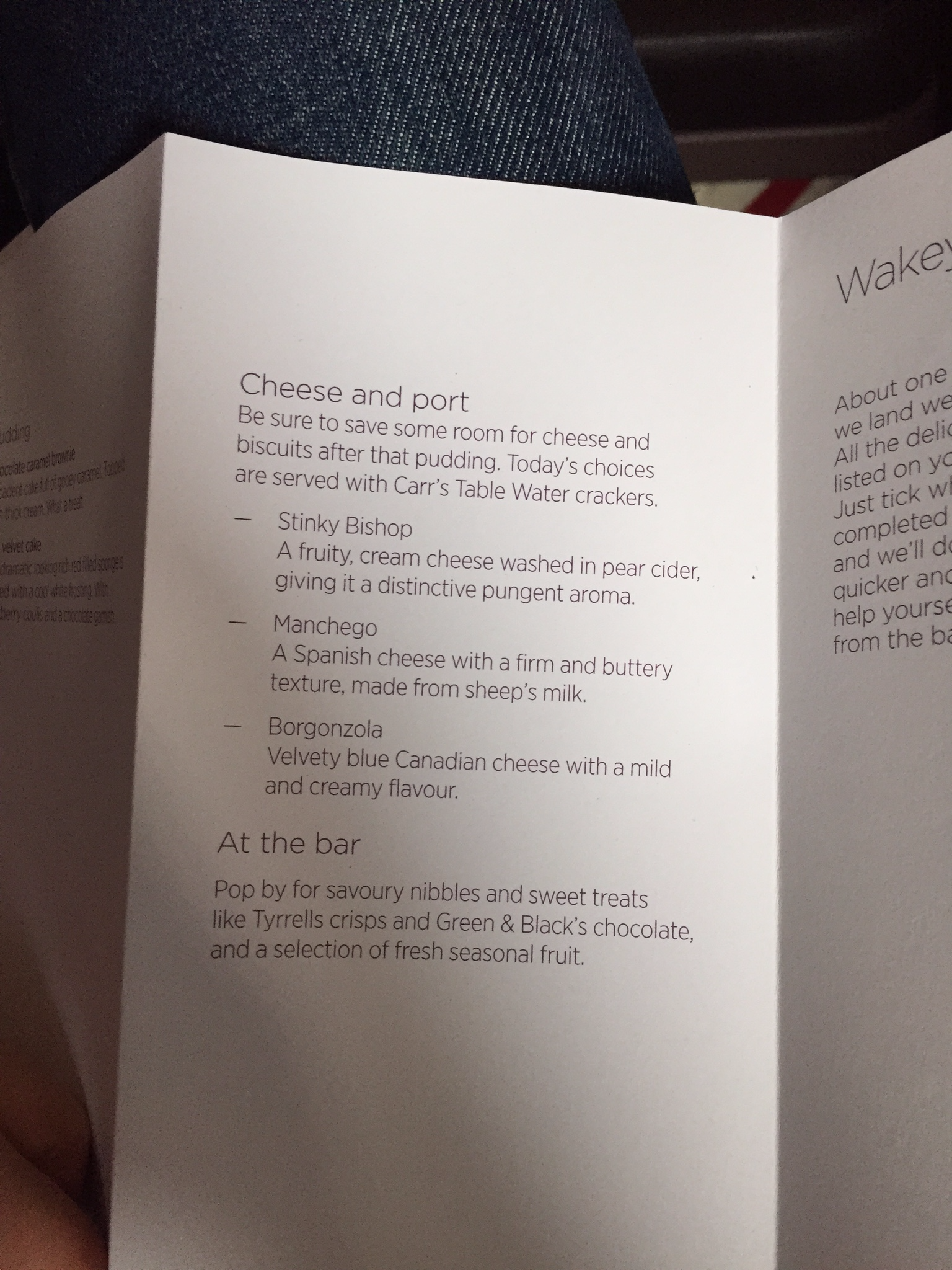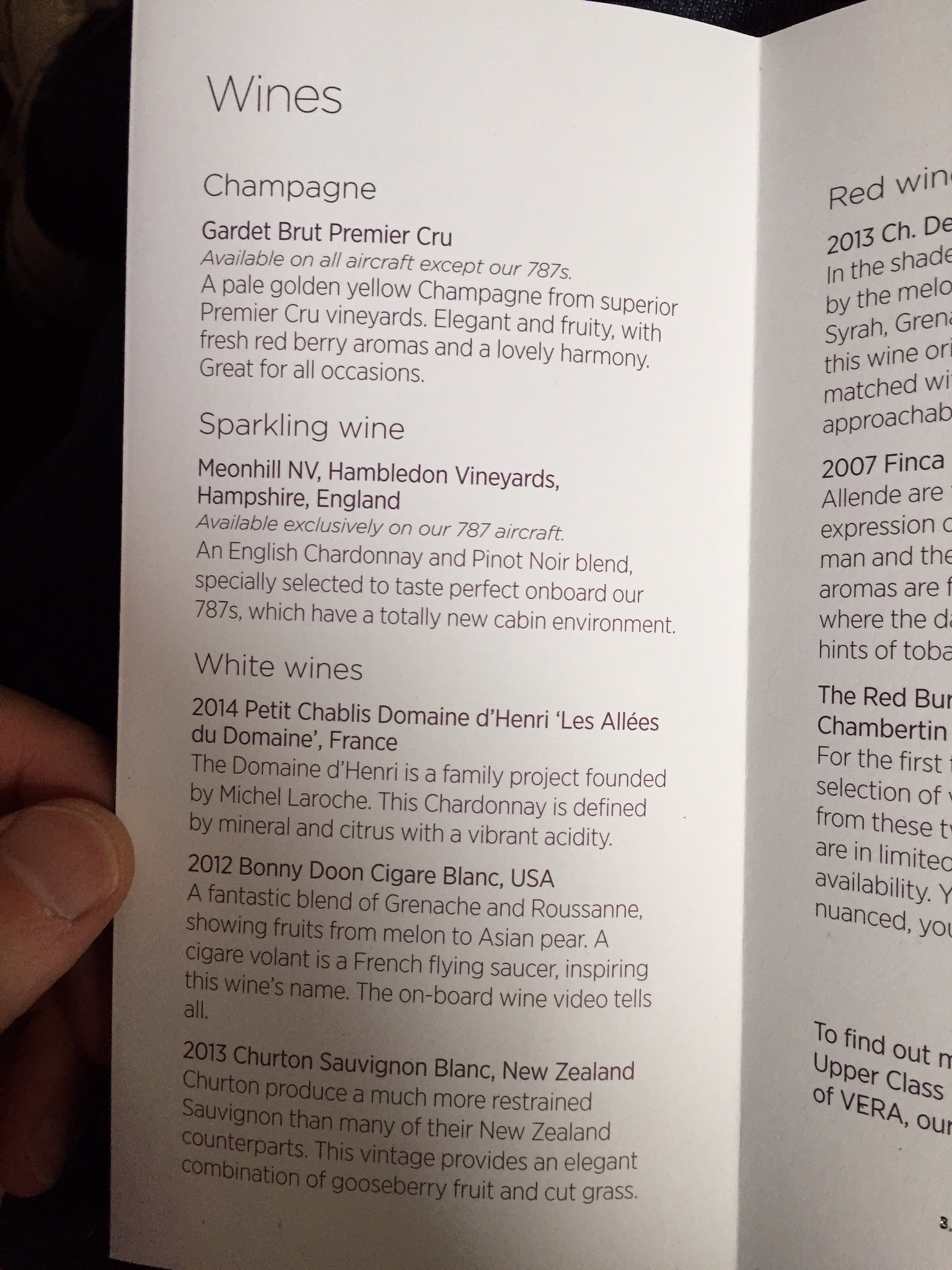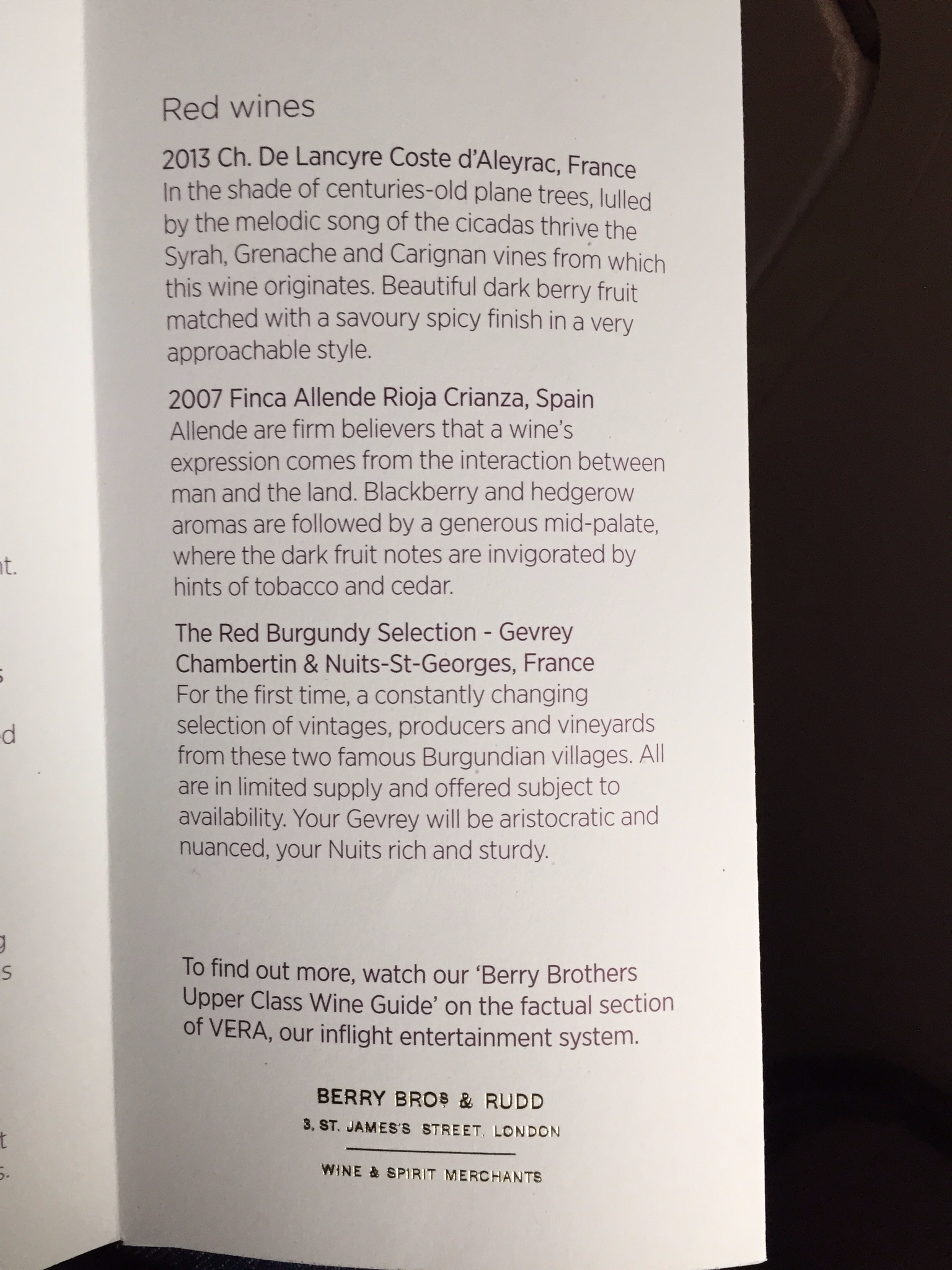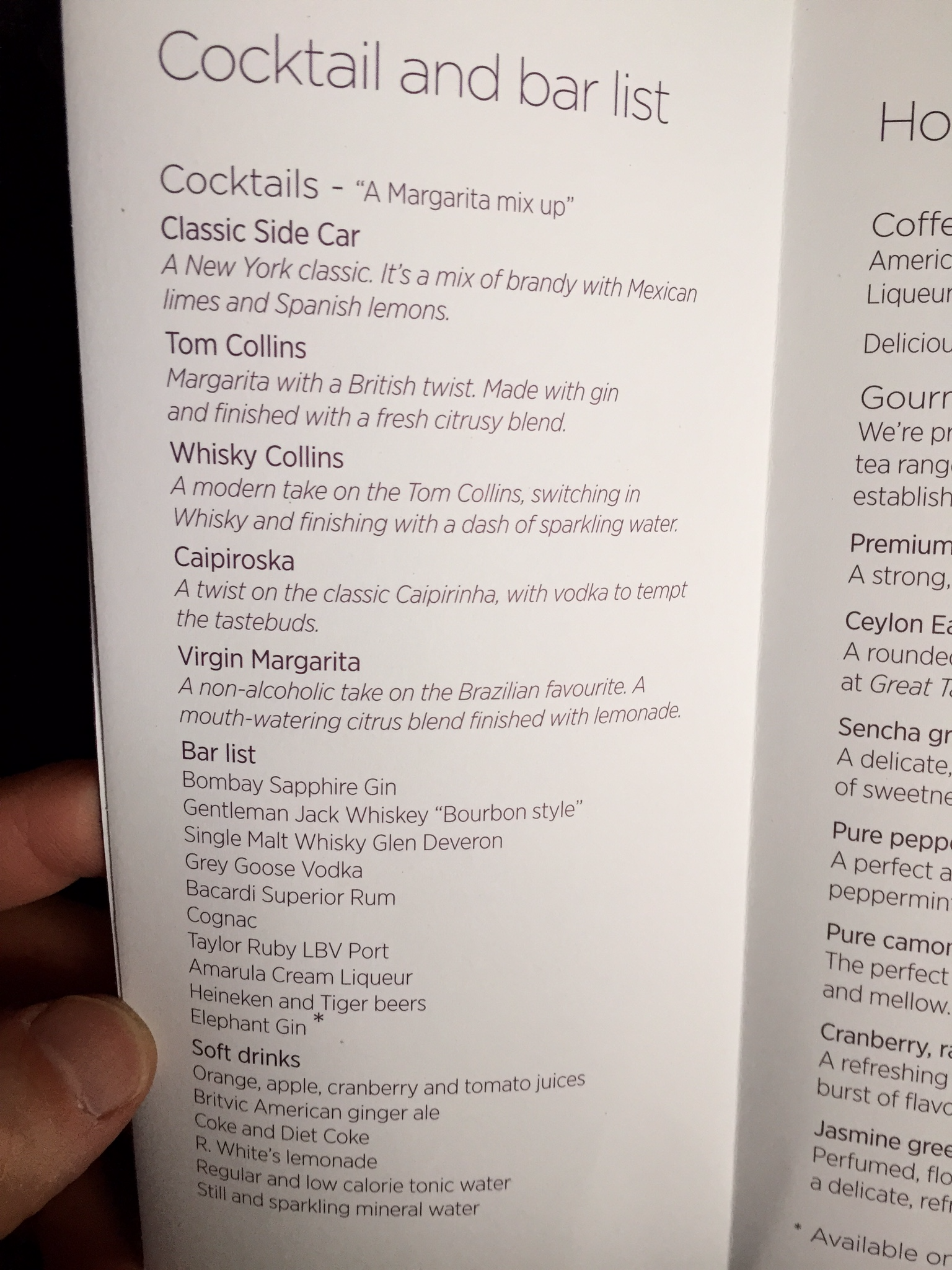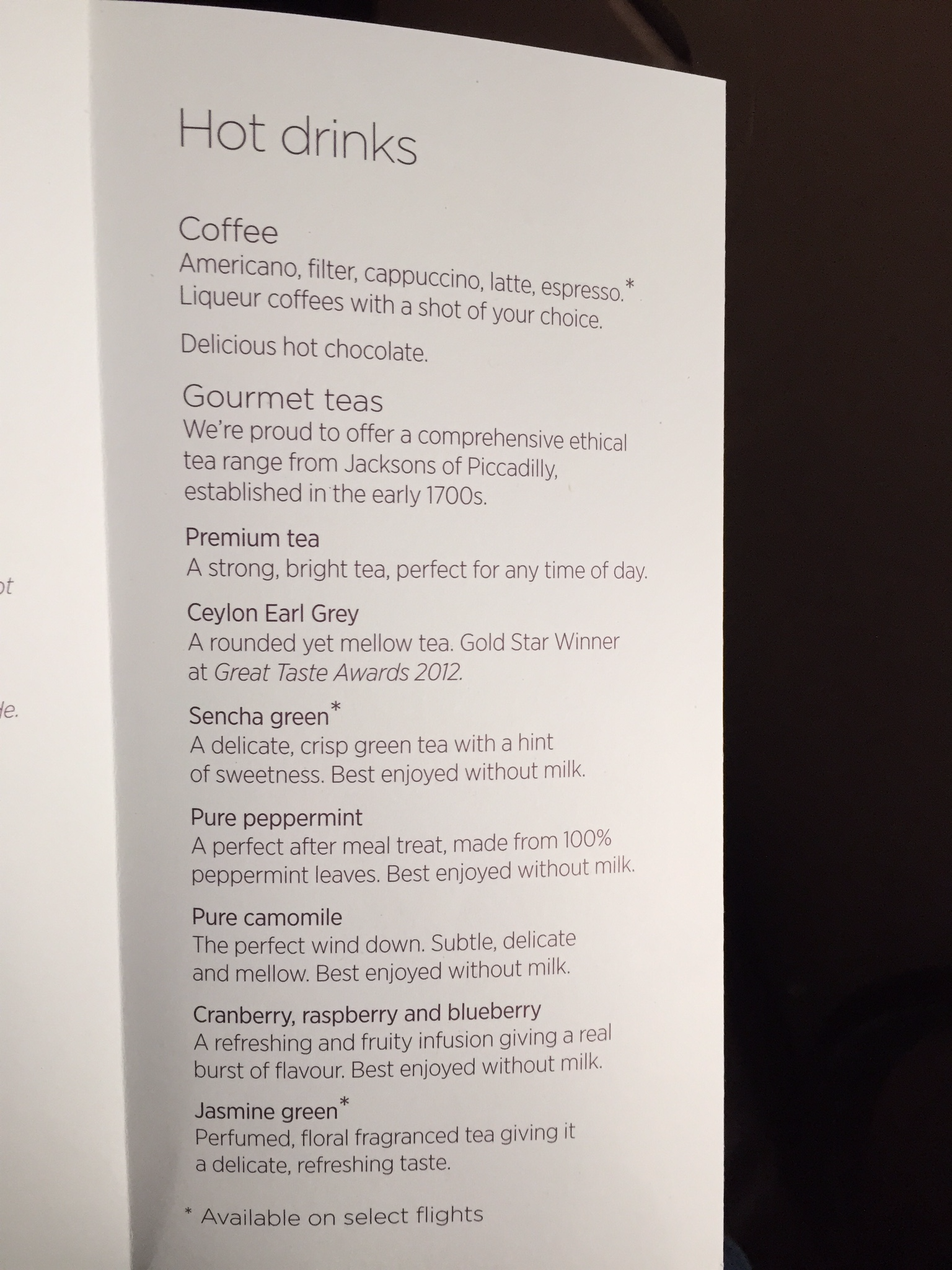 I chose the parsnip and parmesan soup to start, and the smoked salmon salad as my main course, since I'd already eaten quite a bit in the LAX Clubhouse.
I asked about the breakfast card, which is intended to allow you to select your breakfast before drifting off to bed so that you wake up with your selection already made for you. I was told no breakfast cards were available at all, and that the flight attendant would orally recite my options in the morning.
About two hours into the flight, the attendant came by to set up my tray table, which was unfortunately not cooperating. It took two people and about five minutes of in-flight mechanical work to get my tray table to properly pop out of the side of my seat.
The attendant asked which wine I'd like to drink with dinner, though I was a bit befuddled as I'd already returned my menu to her an hour earlier and had no idea of the selection. Slightly exasperated, she handed me another menu, and then we had a (really, honestly) delightful interaction where I said I'd like the Nuits Saint-Georges in my best French accent by way of America [to wit: Nwee Sahn Zhorzh], and she couldn't understand me until I pointed. "Oh, the New-Its Saint George," she clarified.
The Nuits St-Georges was actually a bit on the blander side despite the airline's claim it would be "rich and sturdy," so for my main course I took Andrew M.'s advice and switched to the Grenache-Syrah blend, which would be a bit spicier.
As for the soup, it was tasty, though rather rich and salty. I liked it.
Shortly thereafter, the flight attendant brought out the smoked salmon salad, which was essentially a take on a Niçoise salad but with salmon in lieu of tuna.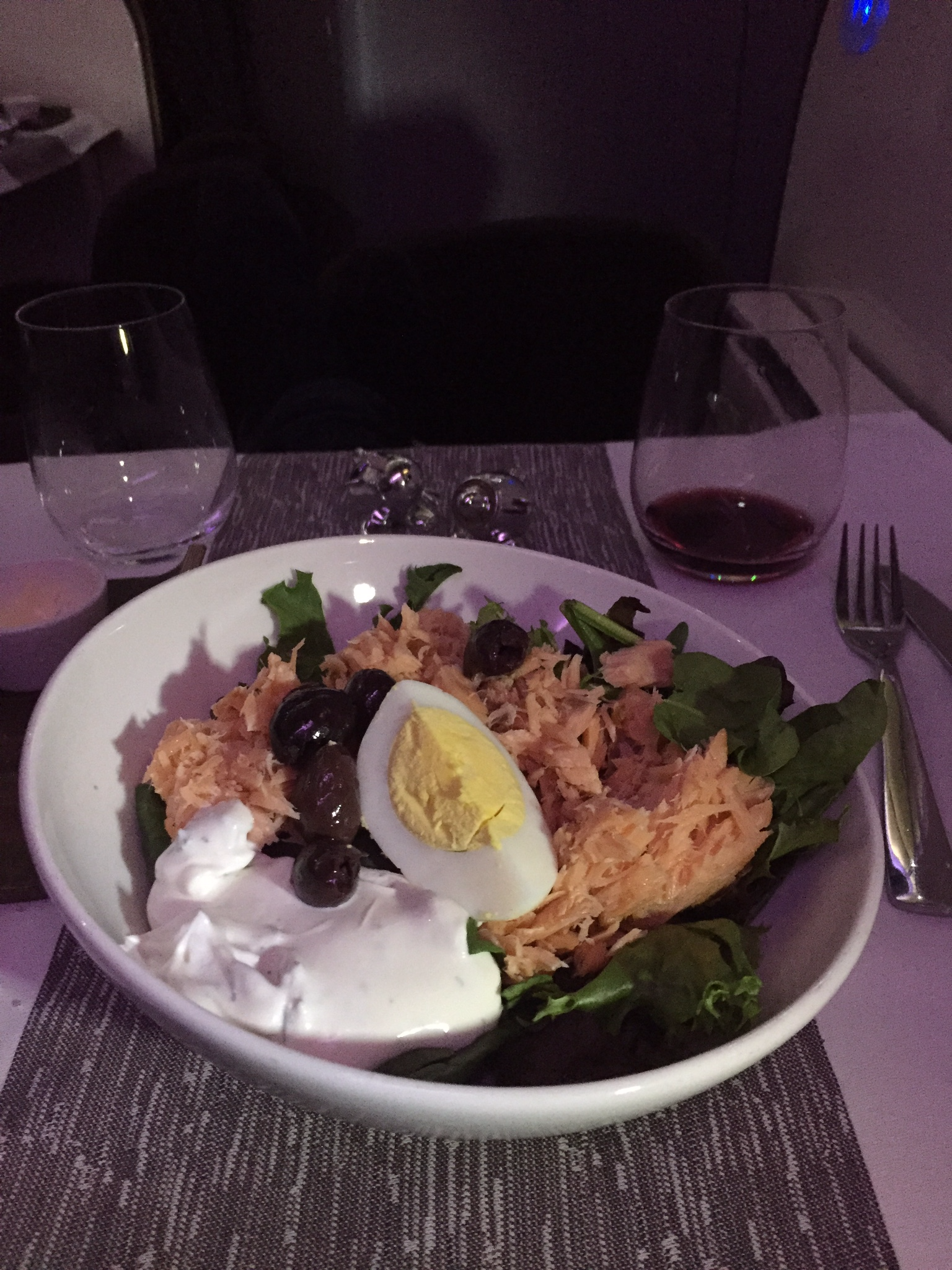 The salad was terrific, with some body to it but just light enough not to feel like a sodium-and-umami bomb as many airplane main courses can be.
At this point I'd been trying to watch a movie during dinner, but found some difficulty maneuvering the TV system (which swivels out from the side of the seat) with a full tray table.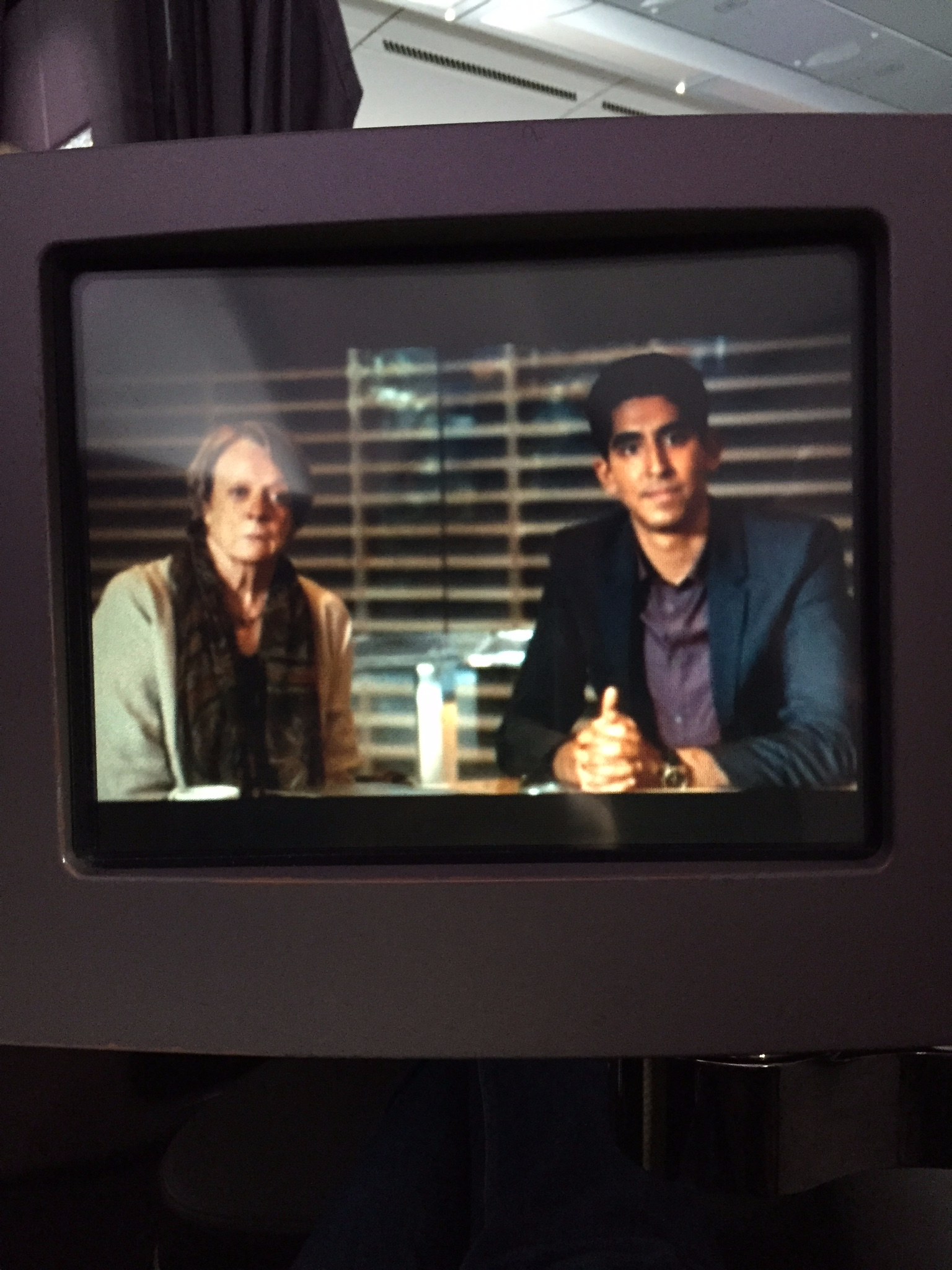 It was just as well, because my decision to watch The Second Best Exotic Marigold Hotel was a horrendous one. It's worth noting, by the way, that all entertainment on Virgin's proprietary entertainment system, "Vera," is preceded by an interminably long introduction from a faux-humble Richard Branson followed by commercial after commercial after commercial.
Anyway, I'd turned that off and switched to Focus by the time dessert — er, "pudding" — was brought around.
I preferred something "light" for dessert, so the flight attendant suggested the red velvet cake, and I happily agreed.
Now, let's have a little chat about menu descriptions.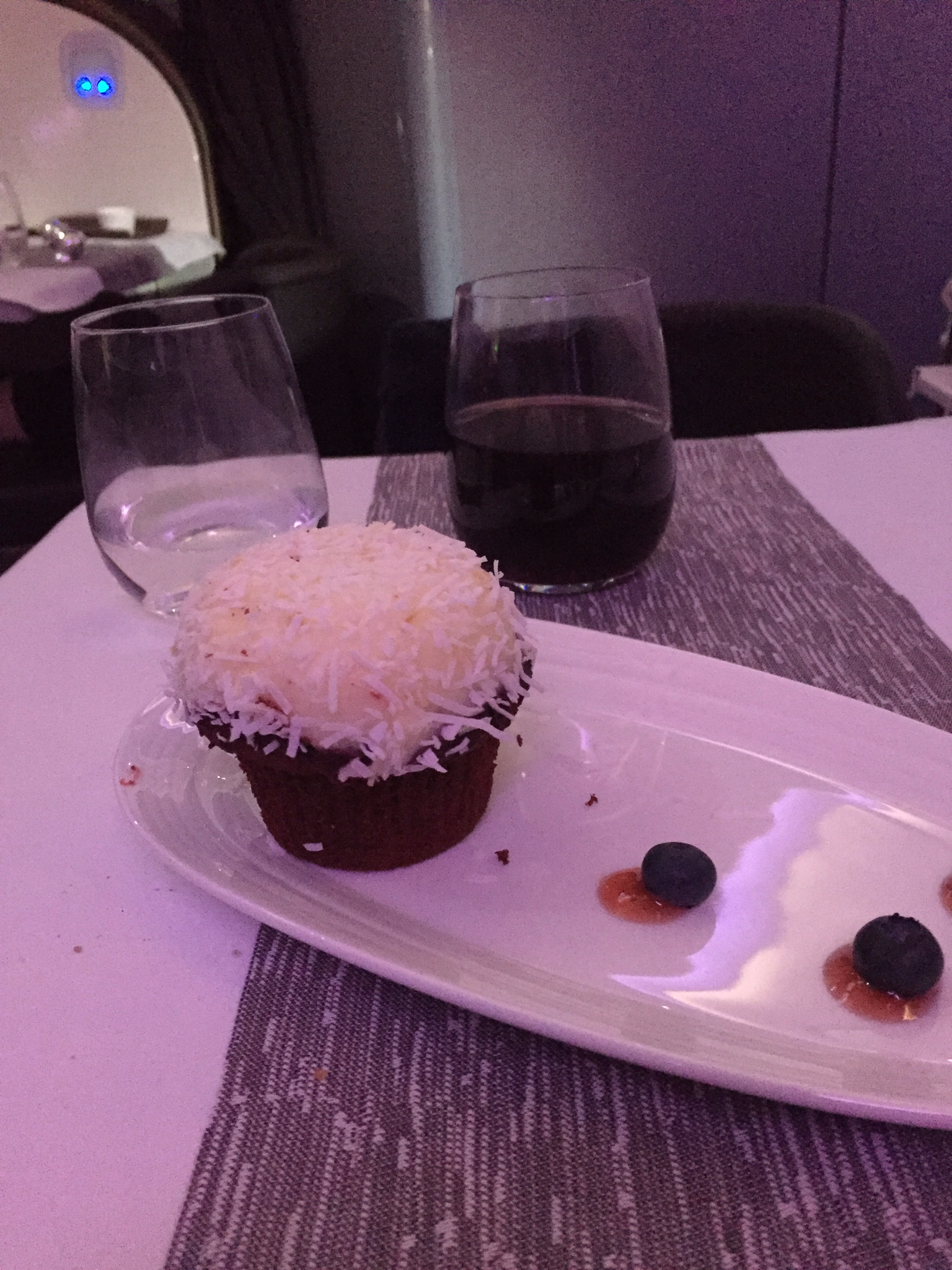 Dear Virgin Atlantic: we call this a cupcake.
It was a sensational cupcake, mind you. Absolutely delicious. Virgin Atlantic knows their sweets.
But it's not a "red velvet cake," and it also had coconut and white chocolate shavings on it, which were, again, delicious but off-menu a bit.
Anyway, after dessert the flight attendant came by to offer to make my bed, which is a rather classy and unique touch, especially in business class. Unlike most business class seats, the Virgin Atlantic seat is designed to be "flipped" in order to convert into a bed, as the seat itself only reclines about halfway in "seat mode."
The attendant warned me to remove any valuable objects out of the bed's way before conversion (and I'd learned my lesson on United earlier this year!) and I went to the bathroom to change into the pajamas provided by Virgin (again, a classy touch for business class) and get ready for bed.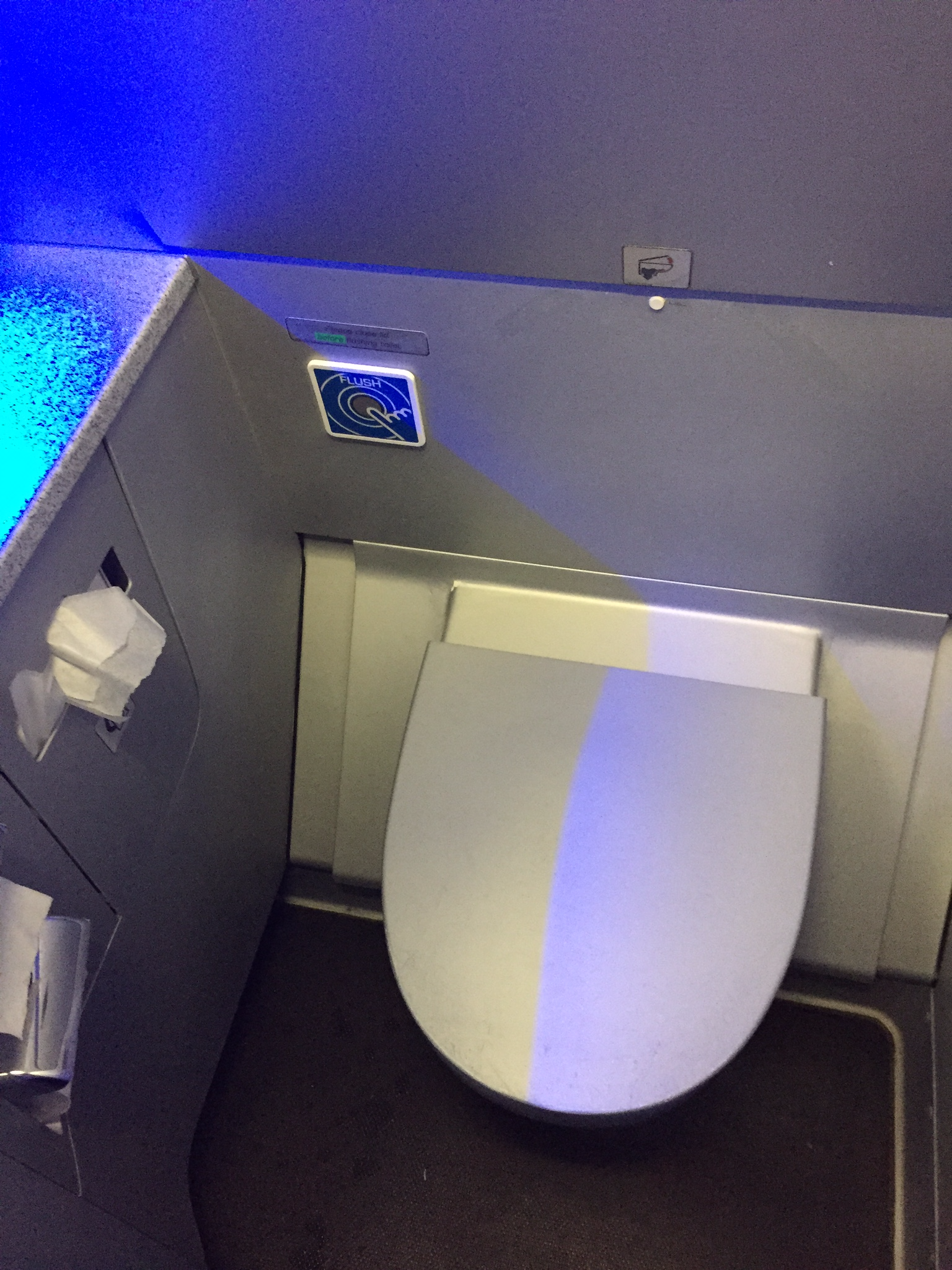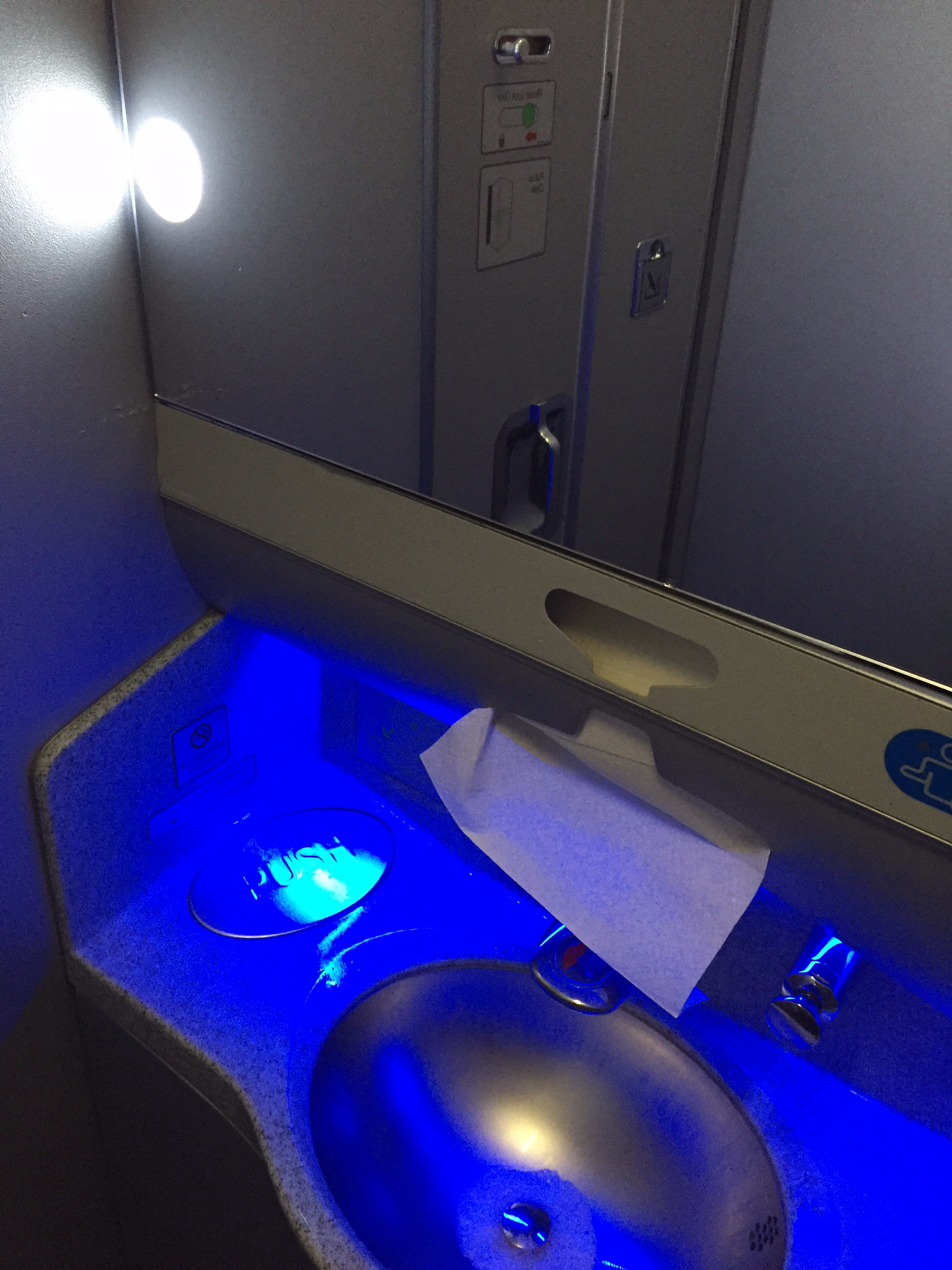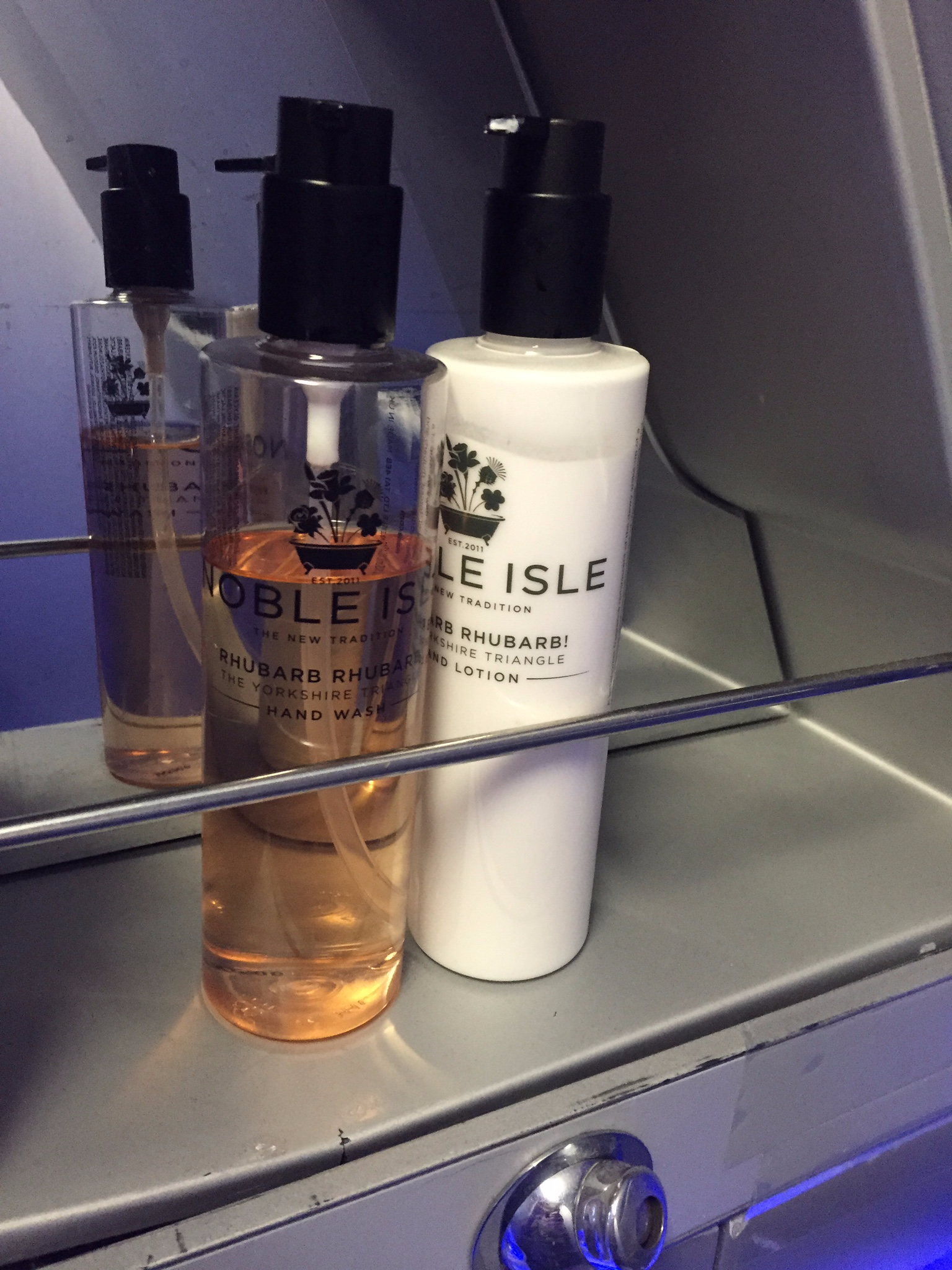 The toiletries in the lavatory are Noble Island-branded, and felt good quality.
I returned to a delightfully soft and well-made bed.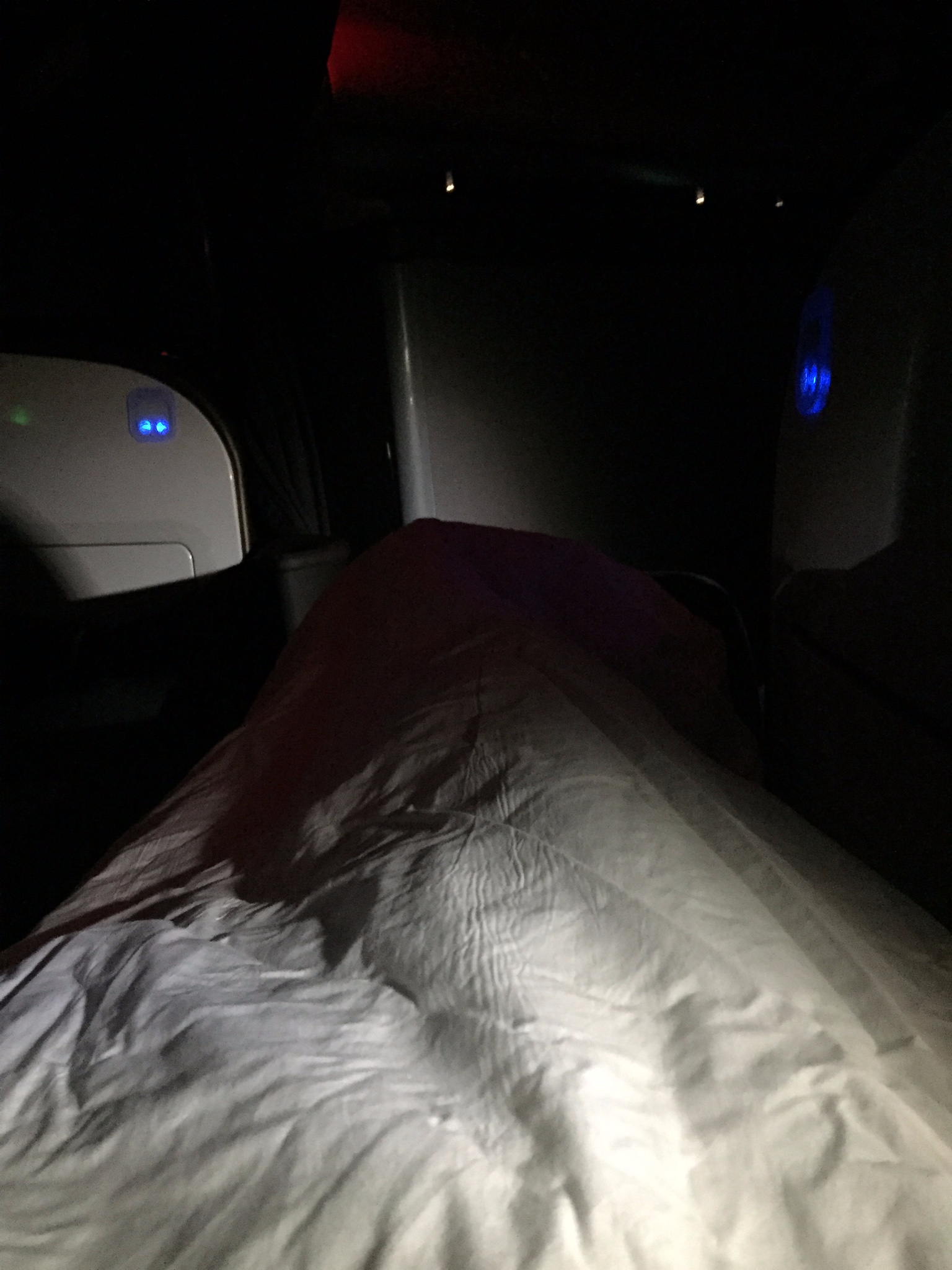 (I'd also come back to a crushed headset, which was a victim of the bed conversion as it had been just ever so slightly in the way, but the flight attendant quickly returned with a fresh pair.)
I popped a Xanax and an Advil PM, and asked for a spot of cheese while I watched Focus in bed. The cheese was delicious, though since I couldn't pop out my tray table anymore, I had to eat it on my lap, which felt a little odd.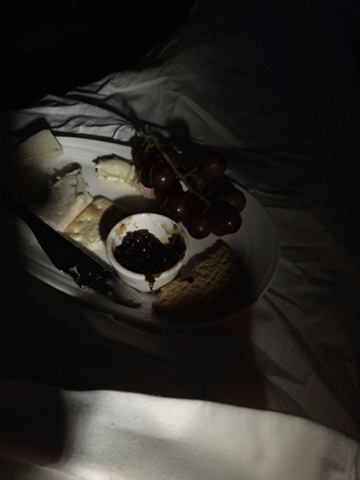 Anyway, I was losing focus on, well, Focus, and turned the TV off and drifted off to a wonderfully long sleep. I slept for about six hours.
About 90 minutes before landing, the flight attendant gently poked me to ask if I wanted breakfast, and I was not yet ready to get up. I asked her if I could get breakfast in a half hour or so, and she said that would be no problem and I could help myself to what's available.
Eventually, I did get up, and went to the galley to request a breakfast. I ordered a "full English breakfast" and a coffee, and changed back into my street clothes while another attendant turned my bed back into a seat.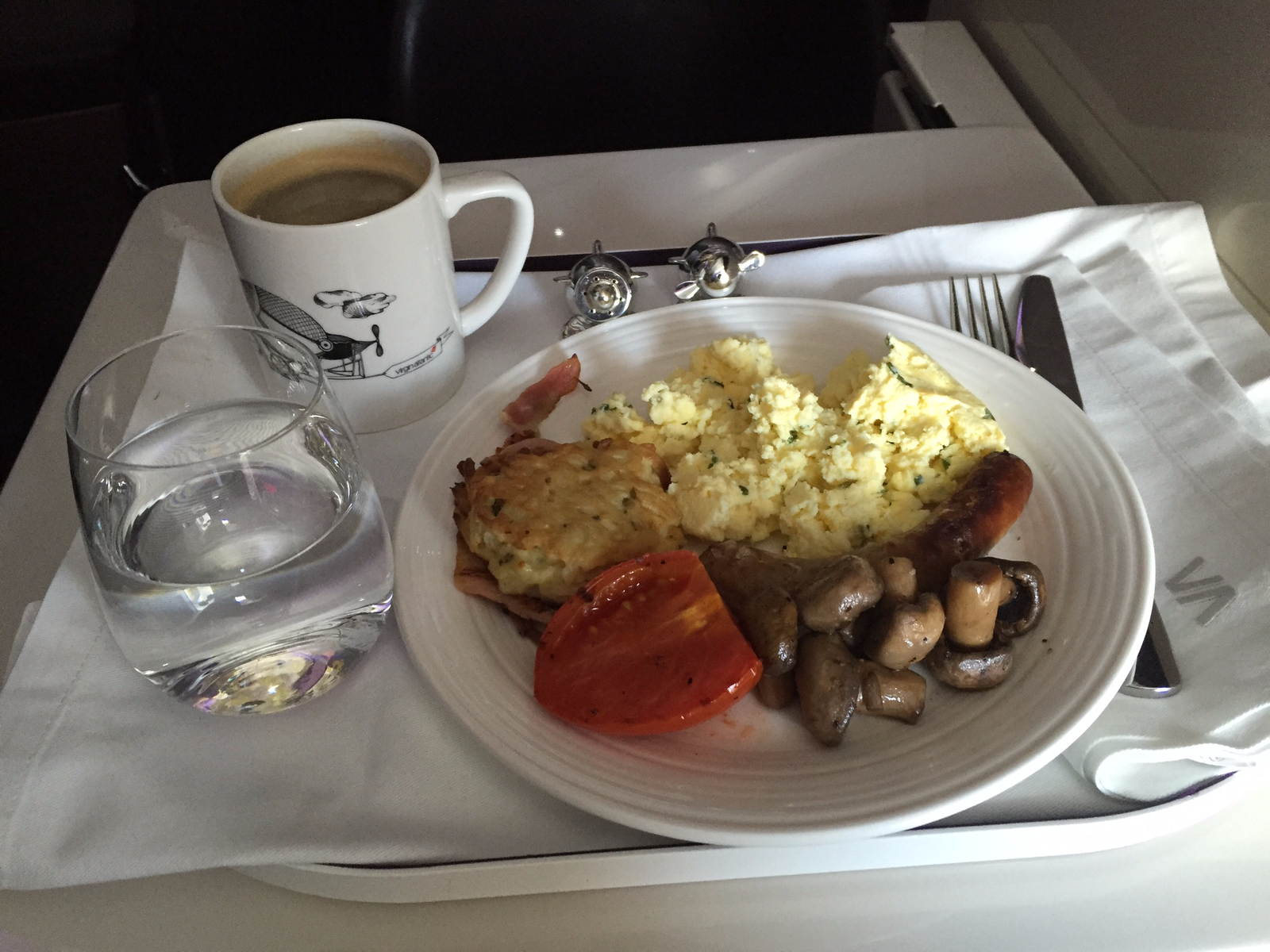 The breakfast certainly looked delicious, but looks can be deceiving. The eggs were dry and cold and needed quite a bit of seasoning and "brown sauce" (not a euphemism; get your mind out of the gutter), while the potato cake (I assume?) just tasted bad. The mushrooms were tasty enough, though.
Generally speaking, though, the breakfast was flavorless. Then again, England.
At this point I'd turned on a British television program that's now on Amazon streaming that I'd heard quite a bit about, "Catastrophe." It's a romantic comedy series of sorts, and it's really quite charming. That all being said, it was about the only choice available. Virgin's "Vera" system is heavily skewed toward UK shows and films, and doesn't have a very deep catalogue to begin with.
About 45 minutes before landing, we were told that while we could still watch "Vera," we had to stow the television sets back into the seat. I'm not quite sure I understand how that's all supposed to work, but unless you want to deliberately strain your neck, it's not much fun to turn your head 90 degrees to watch television.
On our descent into London, the views were phenomenal. Really something that made me feel like this is what traveling is all about.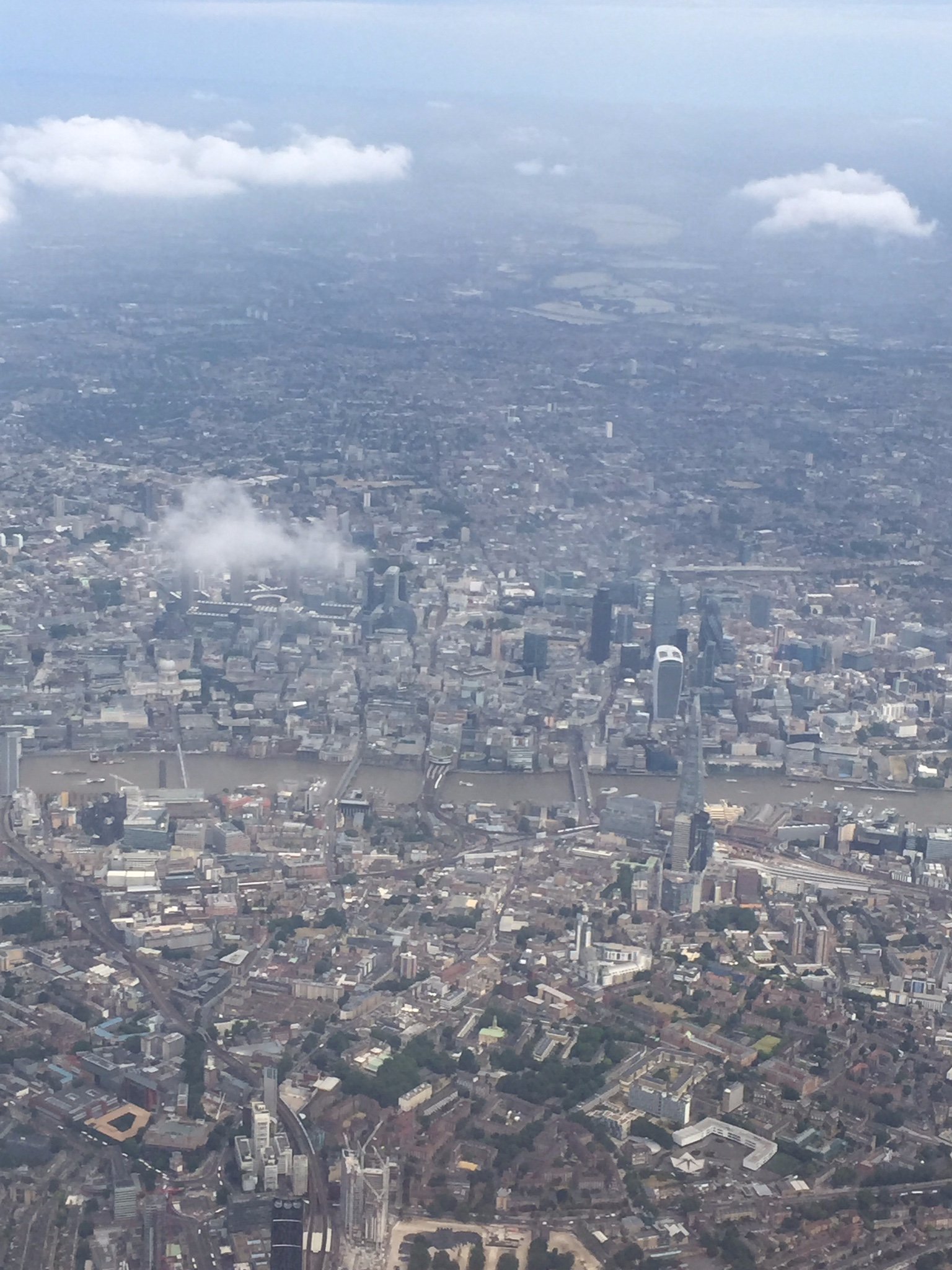 We landed at about 12:50pm, which was about a half hour behind schedule, mostly due to what the pilot said were unfortunate headwinds (though, I suspect, perhaps also due to the equipment swap and the speed differences between the 787 and A340 — though I'm no aviation expert!).
Prior to landing, I was handed a pink "fast track" card to speed me through immigration. As my next flight was at 2:50pm from a different terminal, I was a bit nervous at making my connection at what I've heard is an airport that rivals CDG in terms of inconvenience and queuing.
Virgin Atlantic Upper Class Bottom Line
I had a perfectly pleasant flight on Virgin Atlantic from Los Angeles to London, and perhaps most importantly of all, I slept a solid six hours without tossing or turning on what might be the most comfortable airplane bed I've experienced (Cathay's first class bed included).
While service was friendly, it didn't feel particularly polished on this leg, and I thought the food and wine was a bit hit-and-miss, with an enjoyable dinner but a positively dismal breakfast.
The menu shortage and lack of breakfast cards seemed a bit, well, janky, but I also realize that Virgin was operating three flights out of LAX that evening instead of the usual two, so it could be that they had to split the menus between two flights. I'll give Virgin the benefit of the doubt on that one.
While the bed hard product was worthy of an award, I was really disappointed in the hard product of the seat. I felt the seat was awkwardly laid out, not especially ergonomic, and it frankly felt quite dated.
I had had my hopes set on a Wifi-enabled Dreamliner flight, so it was terribly frustrating to be on a plane without standard power outlets by the seats. Add in the scratched television set and the barely operable tray table, and you might agree with me that Virgin's A340s need a bit of a refresh.
All in all, though, on a transatlantic redeye the best you can hope for is a solid, comfortable sleep and Virgin Atlantic delivered in spades. While the hard product does leave something to be desired, and the amenity kit is a bit on the sad side, it's nice that Virgin offers touches of first class (pajamas, turndown service, a fancy lounge) in what's otherwise very much a business class product.