---
I had plenty of time at San Jose Airport, given that I arrived at the airport at around 3PM off my connecting flight, and my flight to London was only shortly after 8PM.
I'm not sure I've ever been to San Jose Airport, though I was impressed by the terminal. It's airy and modern. The one downside is that all the gates are along a single corridor, so walking from one end of the terminal to the other (as I was doing) was quite a haul, and there were no moving sidewalks. Most people aren't making such connections in San Jose, since most people are connecting onto and off of the same airline, with gates near one another.

San Jose Airport terminal
San Jose Airport has just one lounge — The Club at SJC — and I knew that was located near gate 15, so that's where I headed. As I arrived at the lounge, the Lufthansa flight to Frankfurt was just in the final stages of boarding. Nick has reviewed The Club at SJC before, so I'll keep my review fairly short.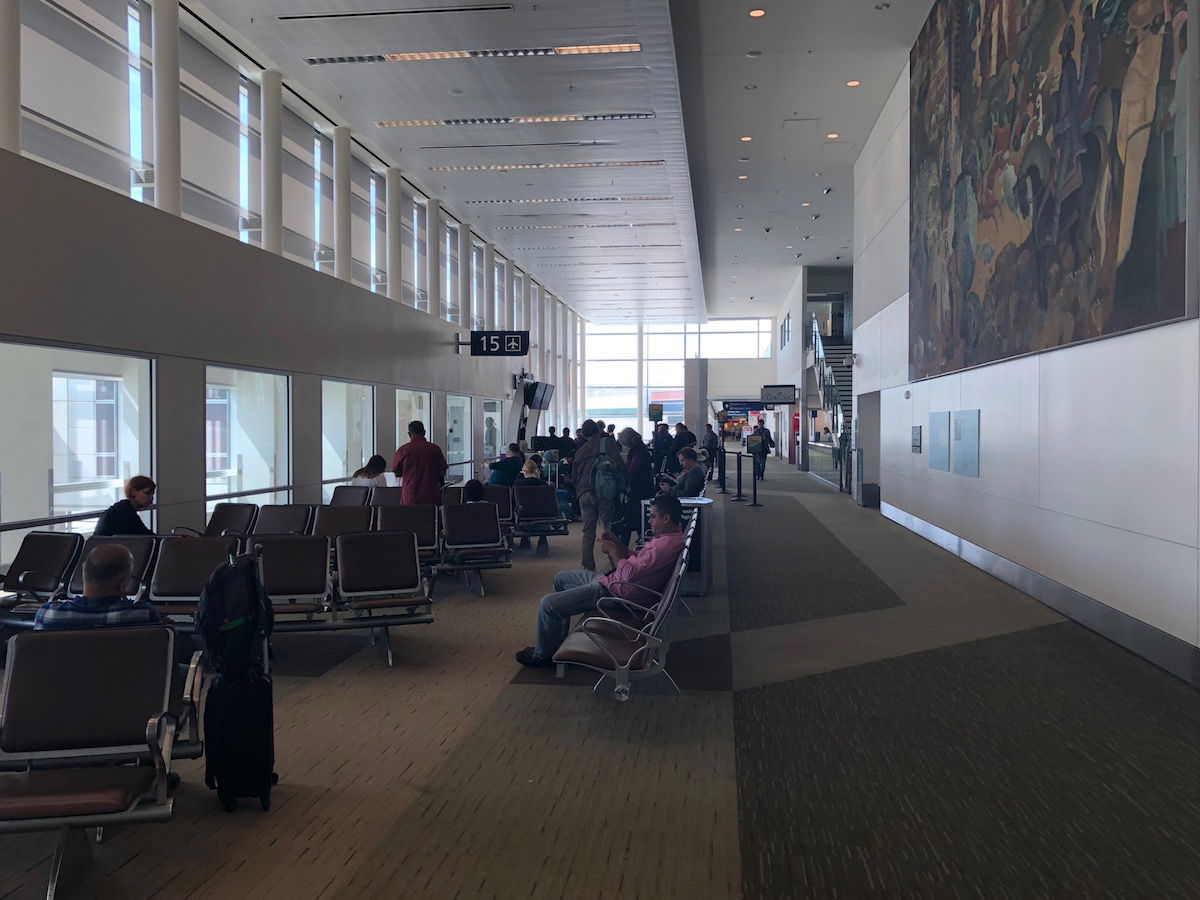 San Jose Airport terminal
The Club at SJC is located one level up from the main concourse, and you can access it either by stairs or elevator.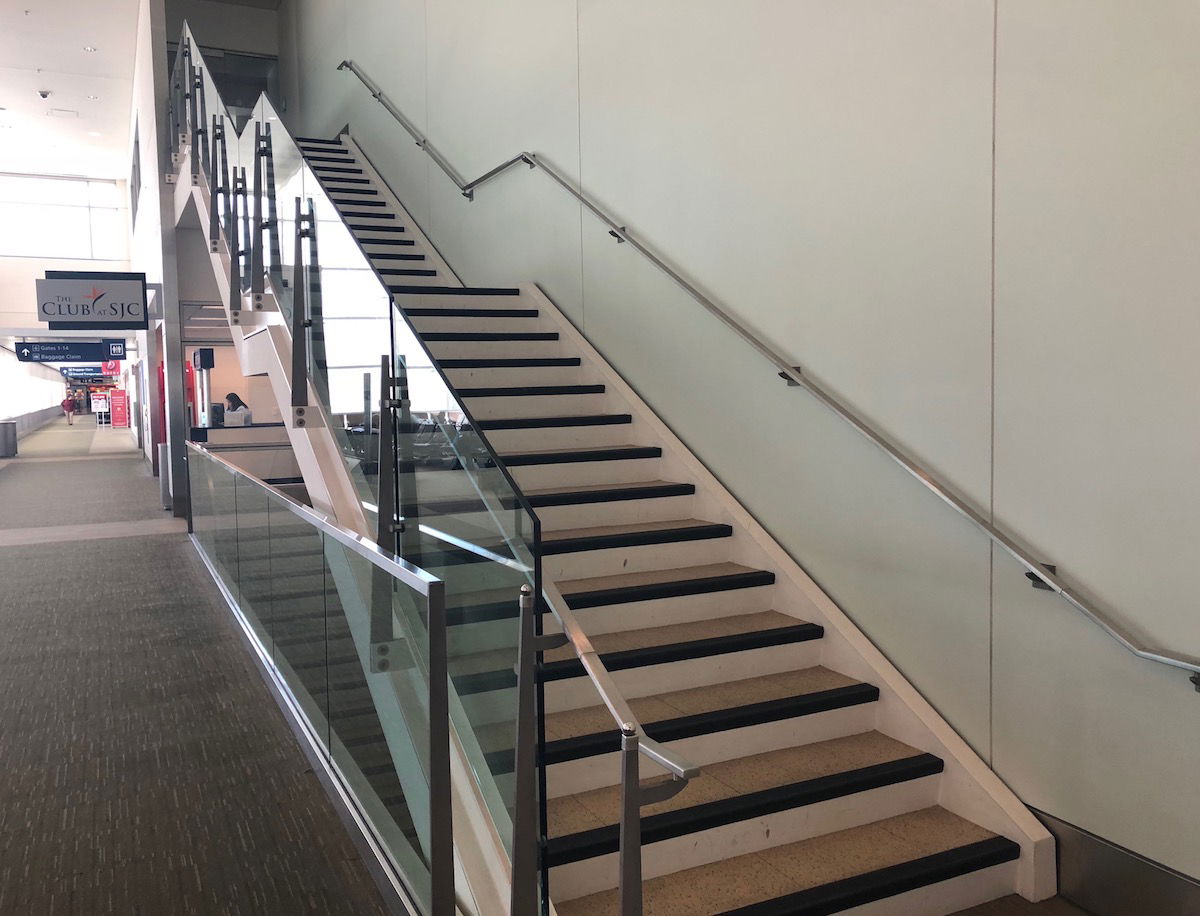 The Club at SJC exterior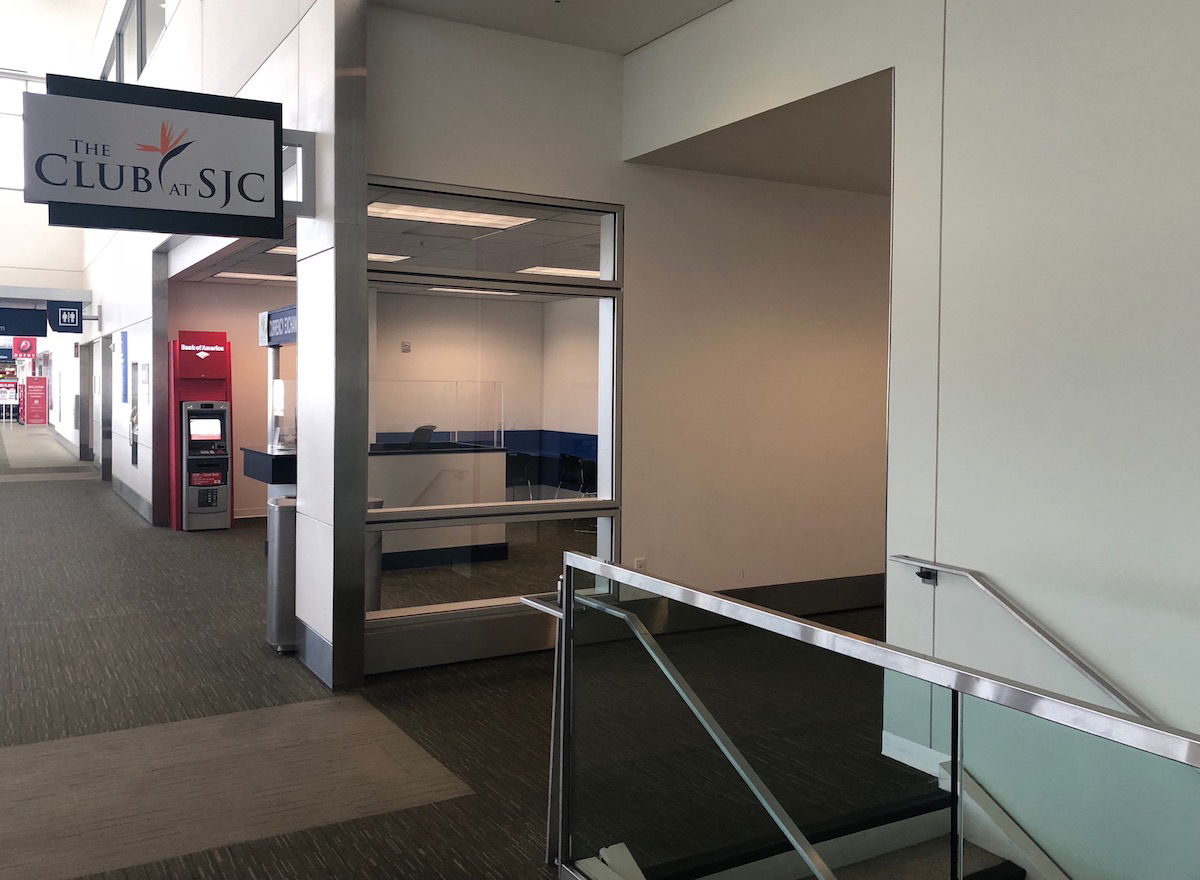 The Club at SJC entrance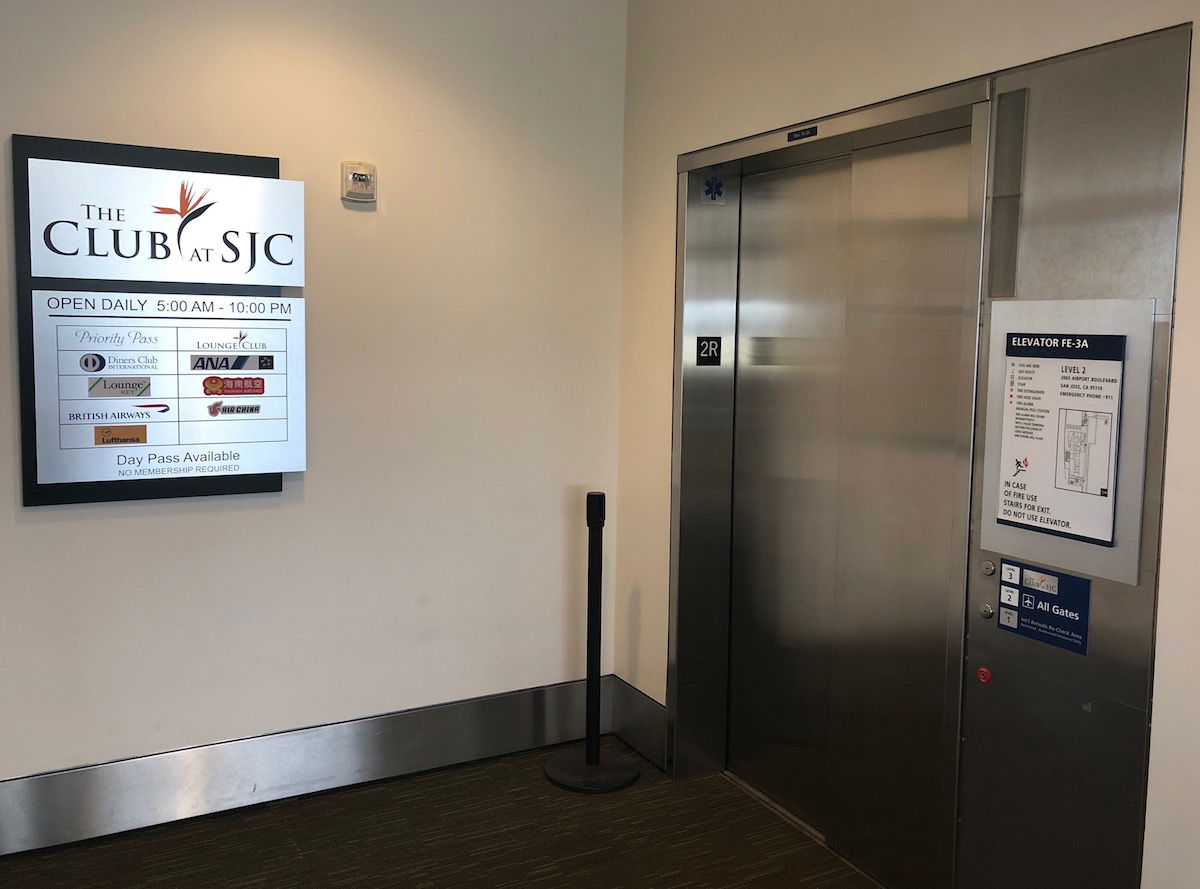 The Club at SJC elevator
The lounge is open daily from 5AM until 10PM. In addition to being a Priority Pass lounge, it also serves premium passengers on all the longhaul flights out of the airport, including on Air China, ANA, British Airways, Hainan, and Lufthansa.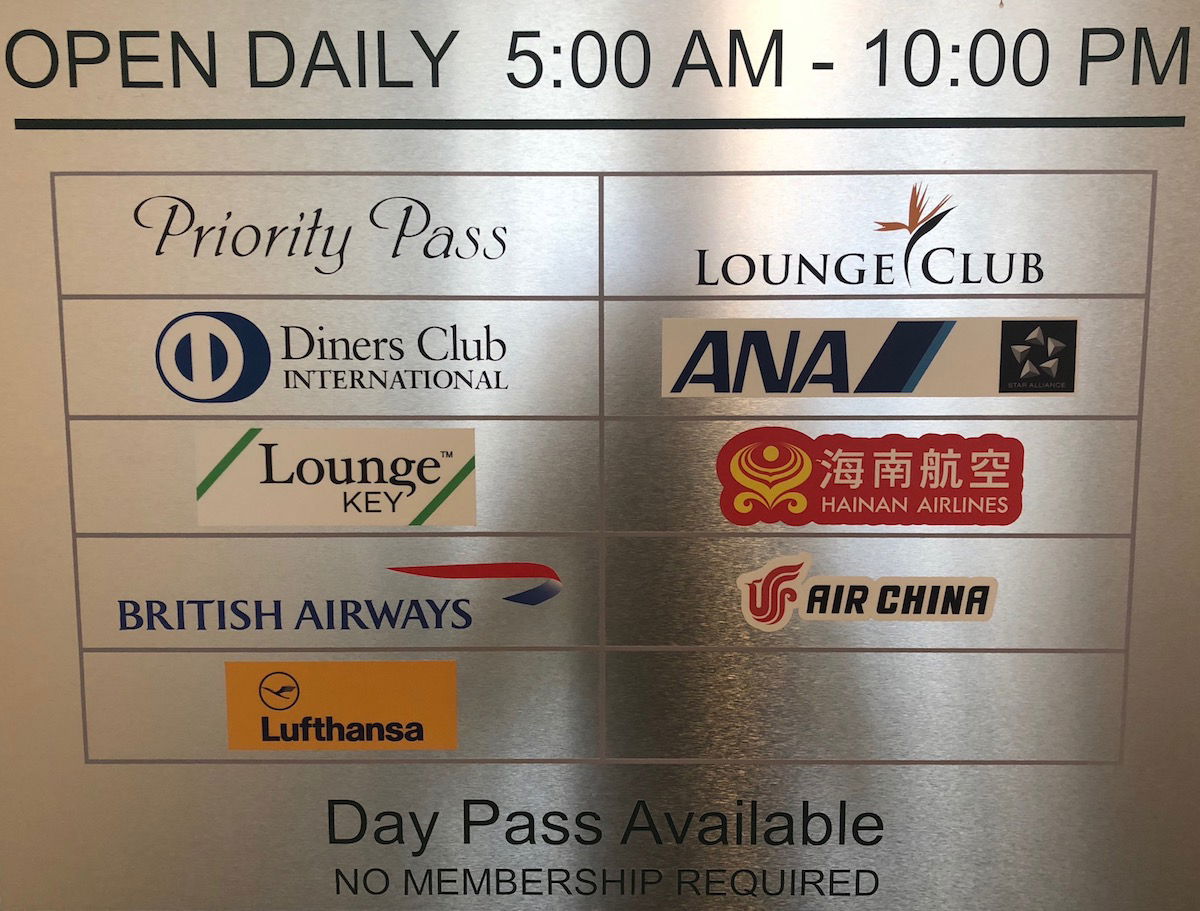 The Club at SJC signage
The following are some of the popular premium US credit cards that come with Priority Pass memberships (along with their respective guesting privileges):
At reception I was welcomed by a friendly representative who familiarized me with the lounge's facilities after I indicated it was my first visit.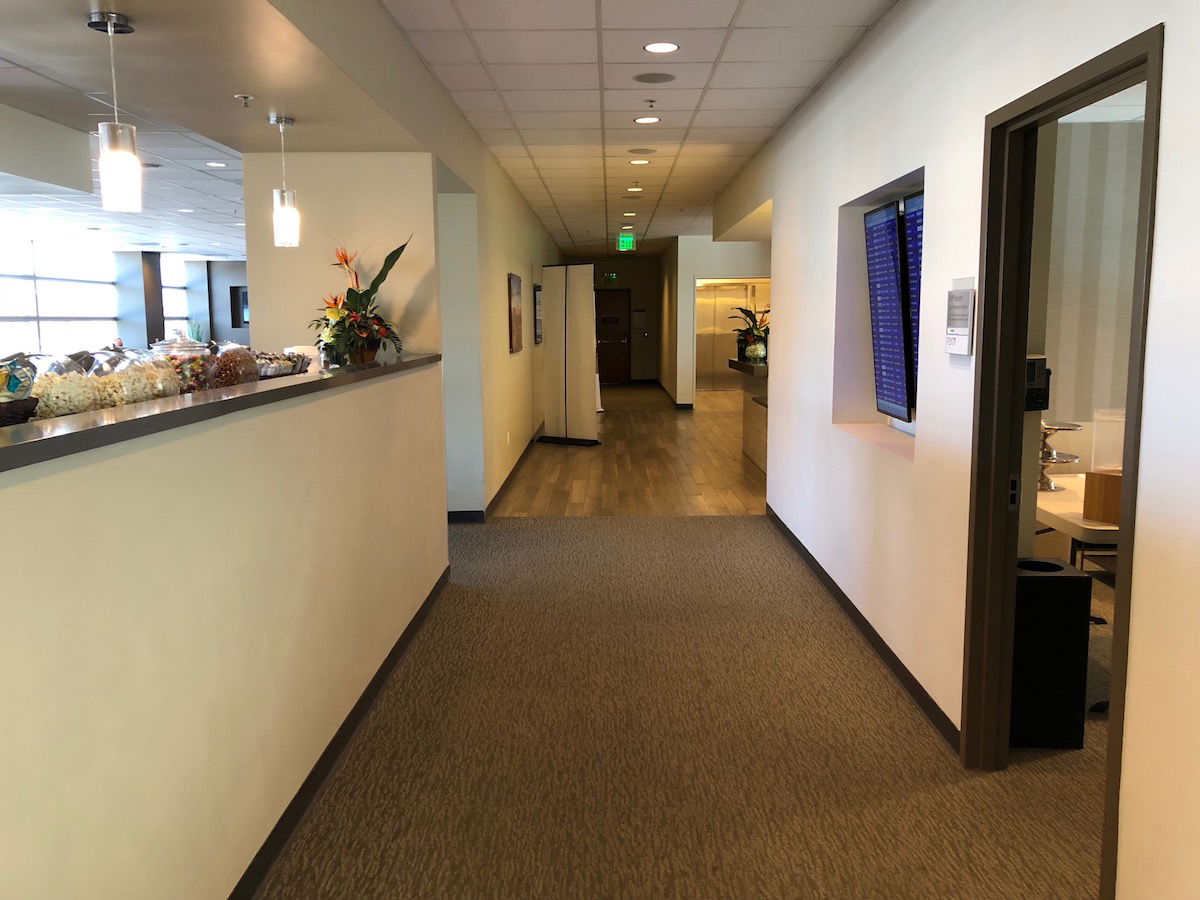 The Club at SJC entryway
"The Club" has a few locations at US airports, and in general they haven't impressed me much. This was by far the nicest one I've been to. I suspect that's because several international airlines use the lounge, which means that they probably require the lounge to offer better food and drinks for their passengers.
The lounge has two main seating areas. Inside the entrance and to the left is the smaller of two rooms, which has chairs arranged in rows facing one another, as well as a few dining tables, and then also a communal workstation.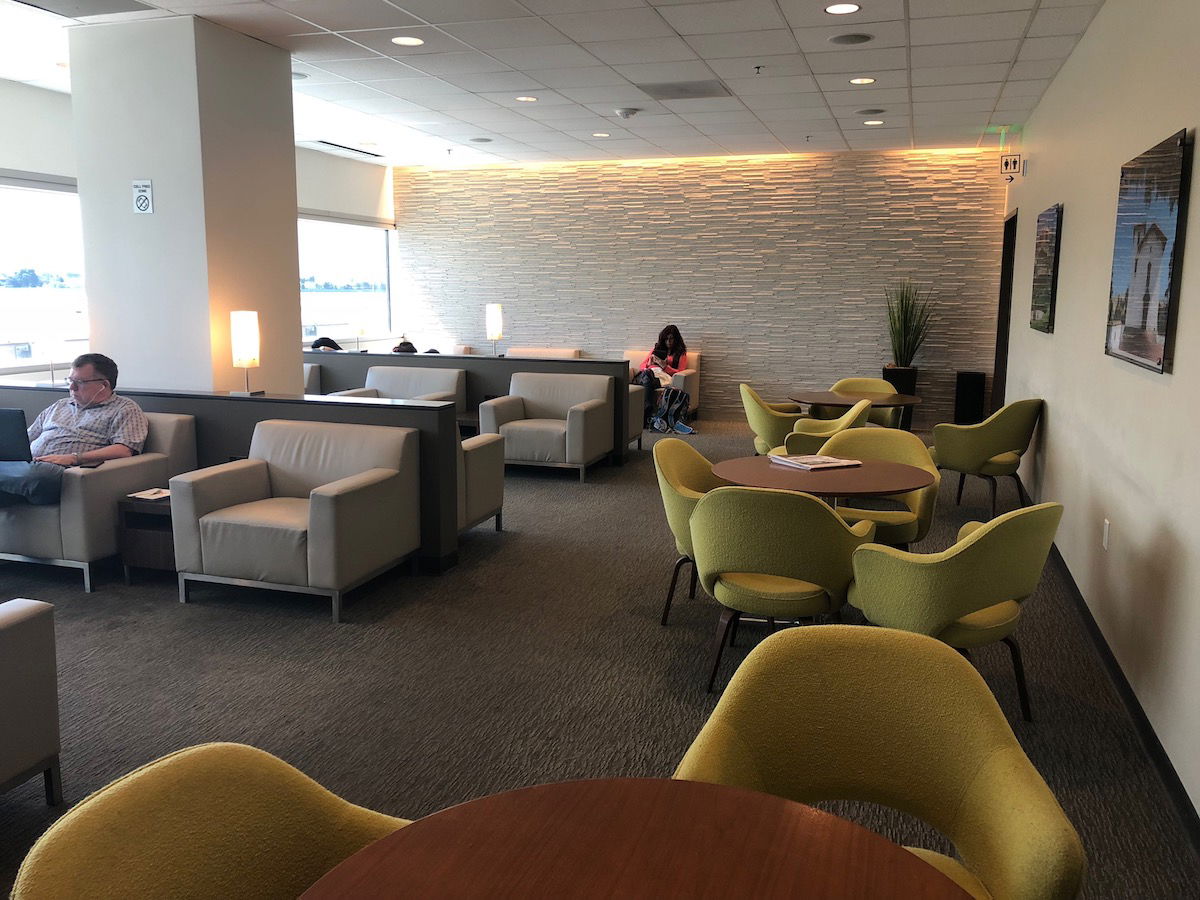 The Club at SJC seating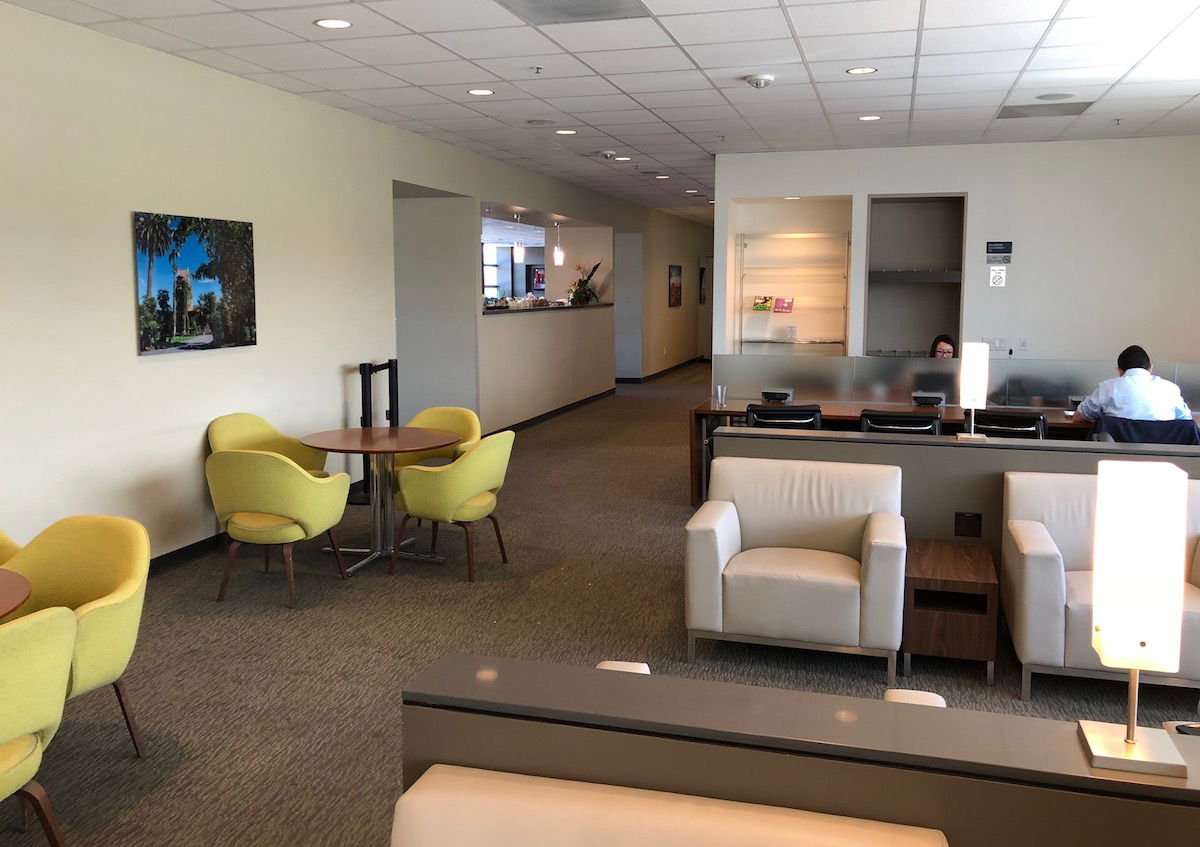 The Club at SJC seating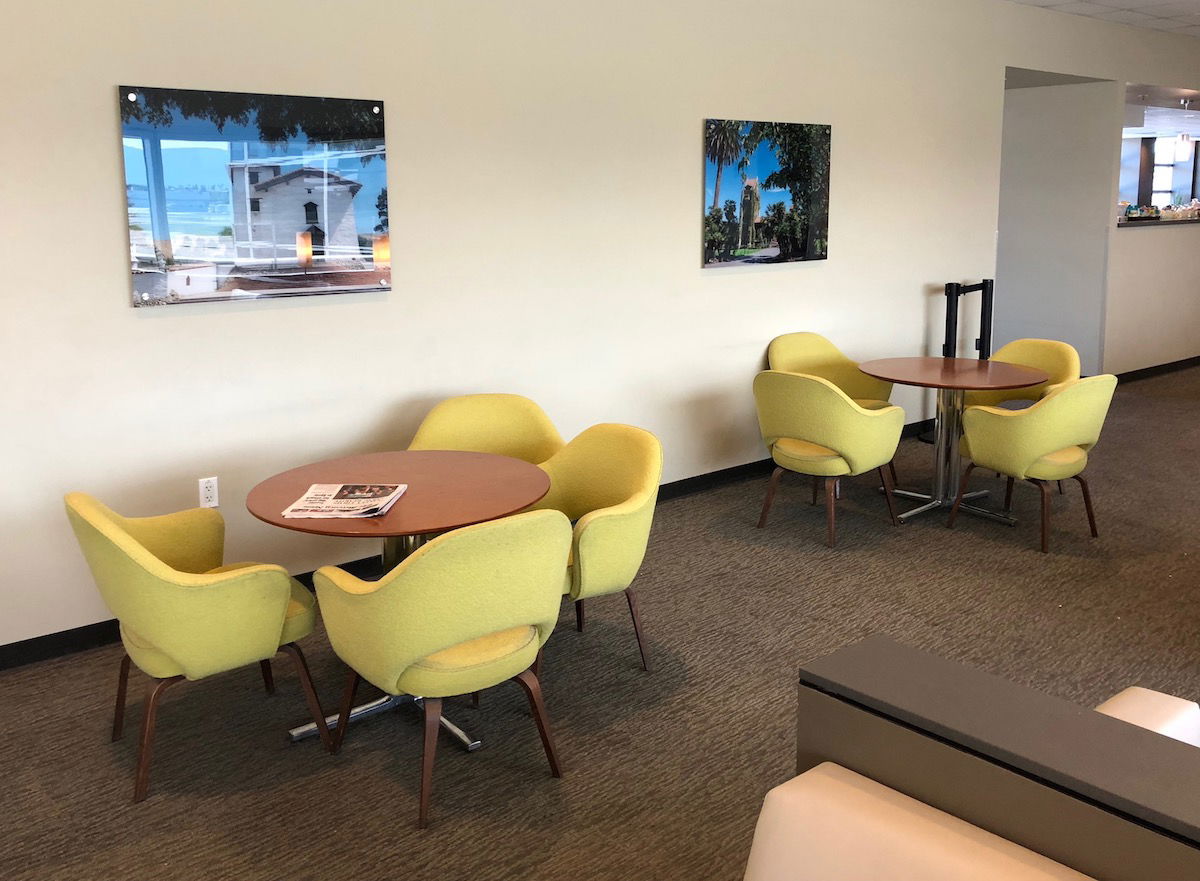 The Club at SJC seating
This area of the lounge has views in the direction of the gates and runway, though unfortunately you end up seeing more of the airport's roof than anything. Still, there was a good amount of natural light, and it was a sunny day.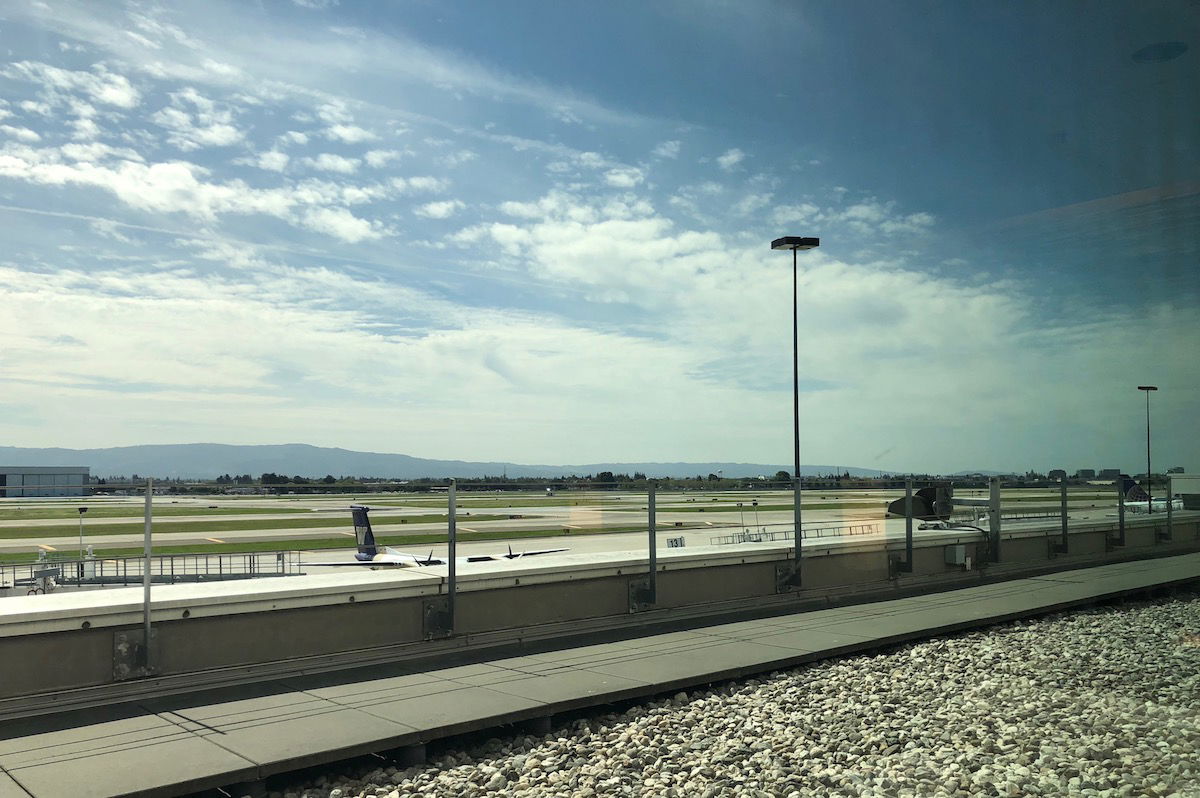 The Club at SJC view
Then the larger room of the lounge was inside the entrance and to the right. A majority of that consisted of a seating area with rows of chairs facing one another, with some TVs on the wall.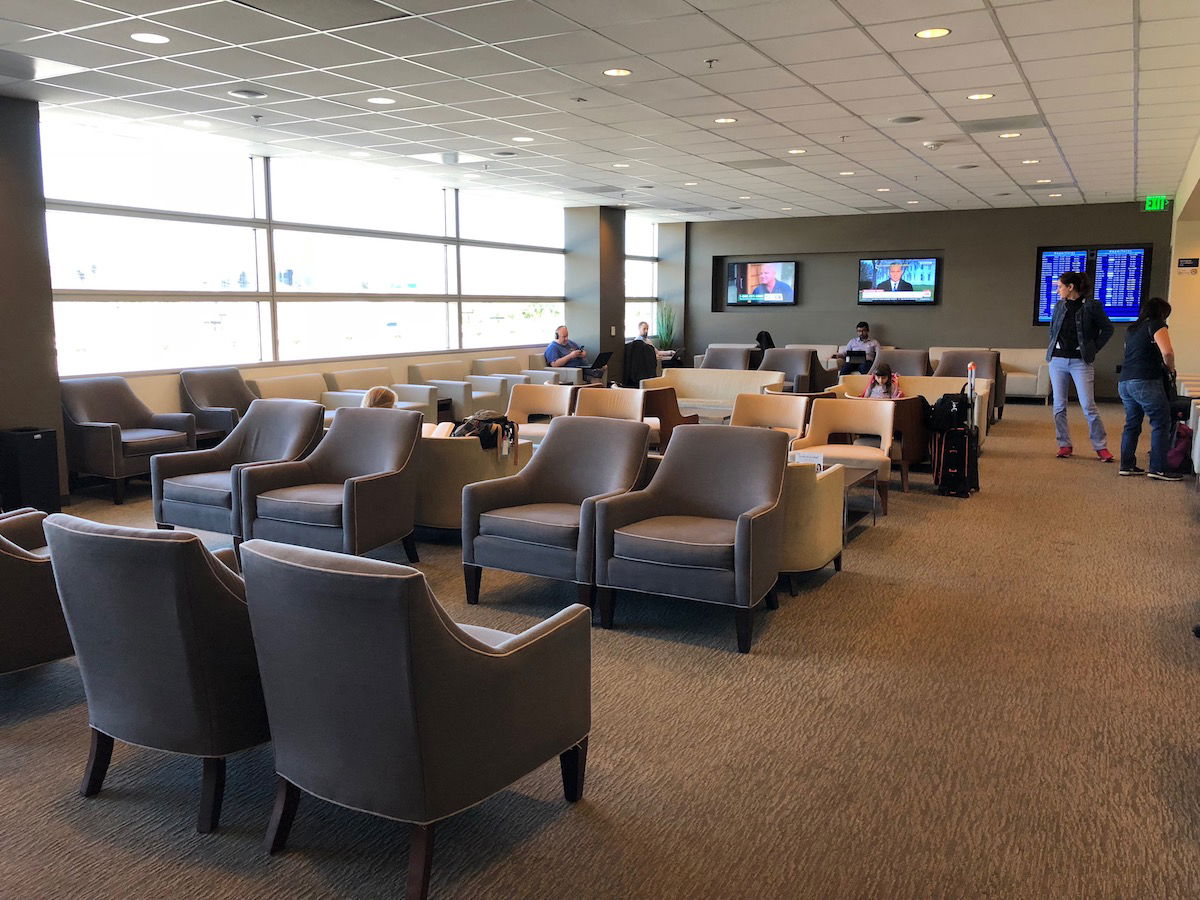 The Club at SJC seating
There was also a small business center with two PCs and a printer.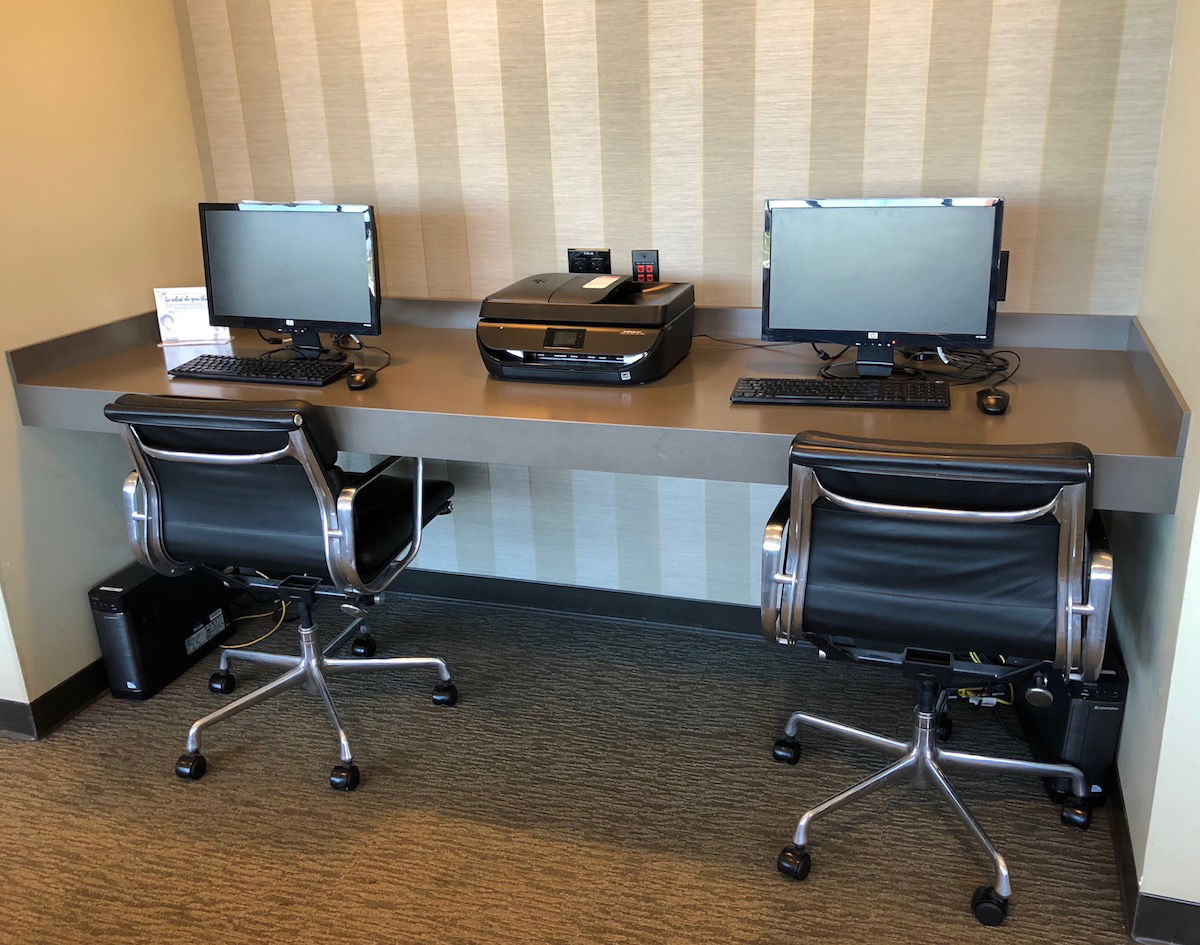 The Club at SJC business center
Then there was the buffet area, which had more tables as well as some high-top seating.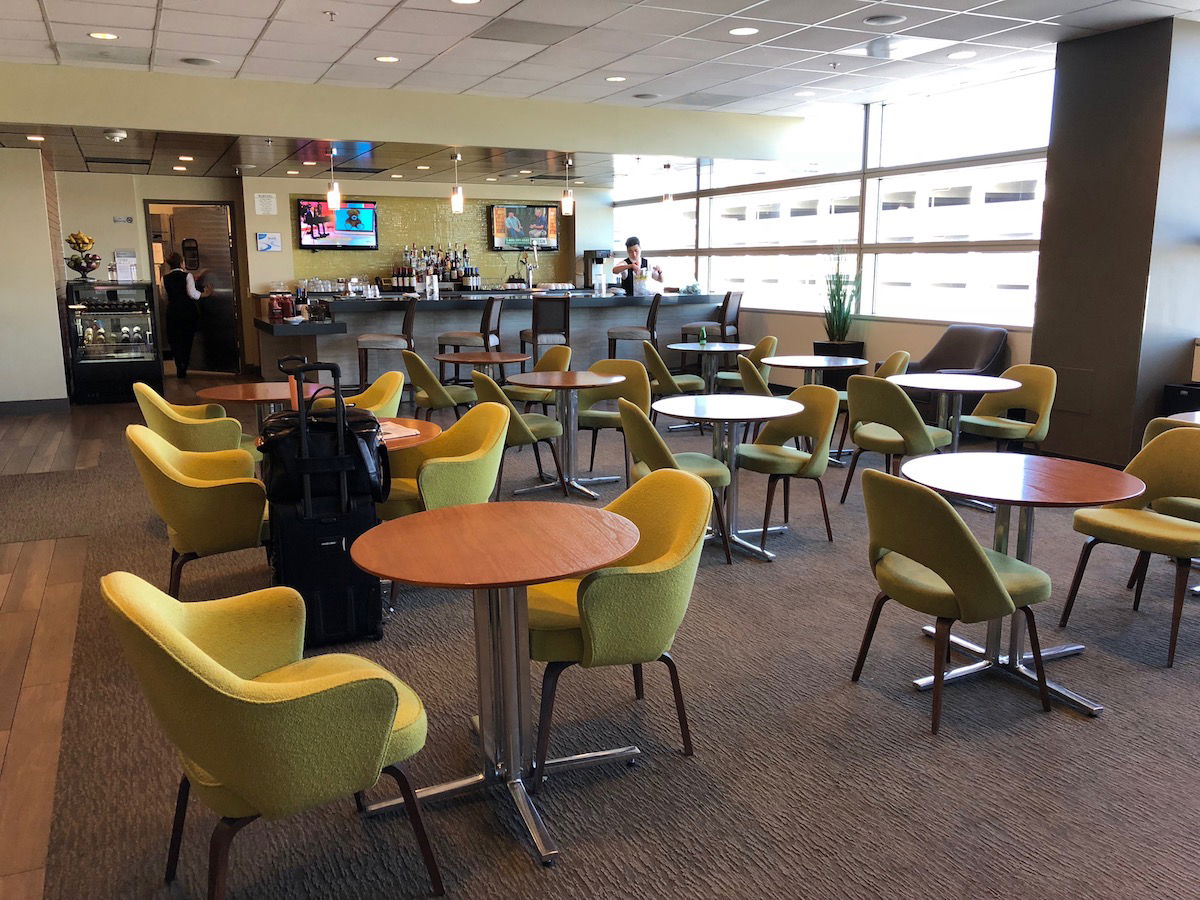 The Club at SJC bar area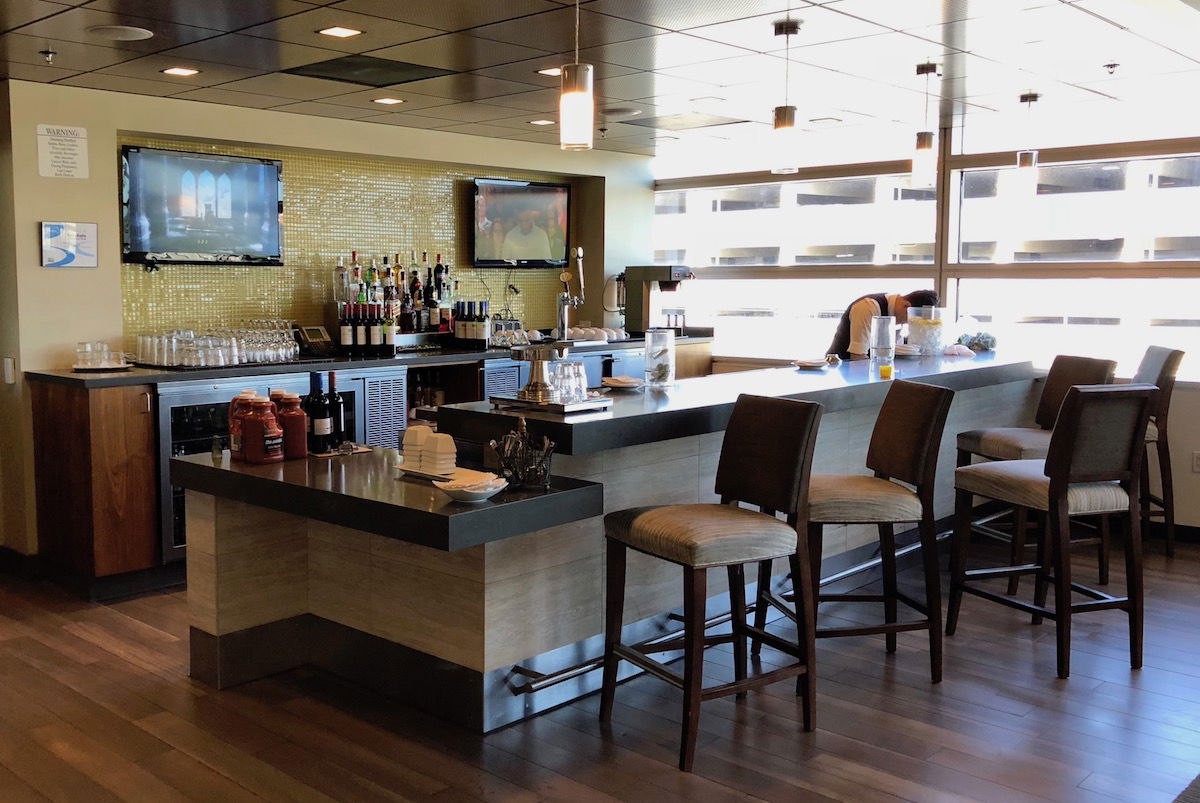 The Club at SJC bar area
There was a selection of beer and wine on display in the lounge, as well as bottled water.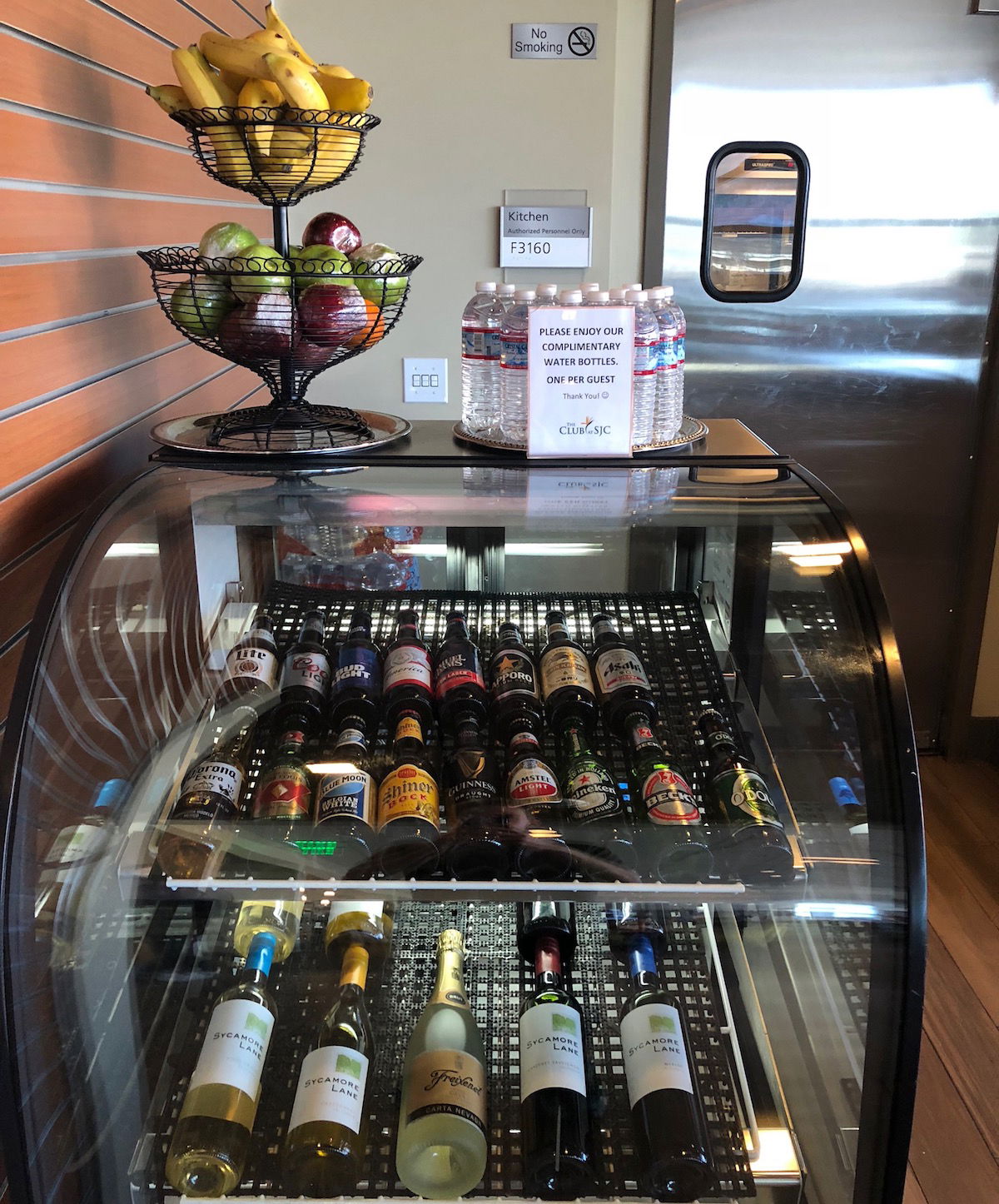 San Jose Airport Lounge wine & bottled water
There was a sign asking guests to take just one bottle of water. On one hand that seems really cheap, since these cost maybe 15 cents each. On the other hand, people are ridiculous, and I could totally see people pocketing a dozen of these. I guess I just appreciate that they have bottles of water at all, because most airline lounges don't.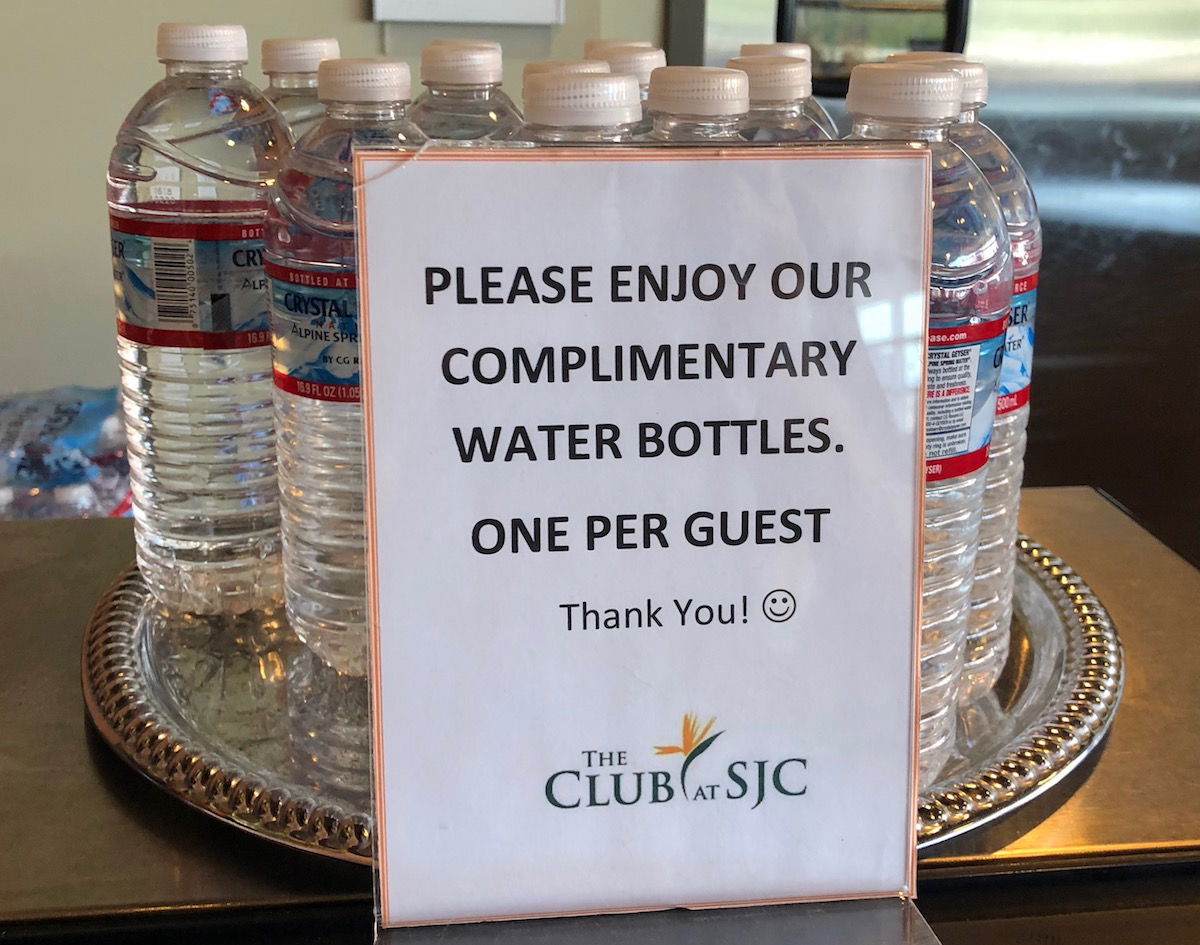 San Jose Airport Lounge bottled water
Next to the bar was a self serve drink area, which had a Coca-Cola soda fountain, and then one of those damn coffee machines that I'm not intelligent enough to operate.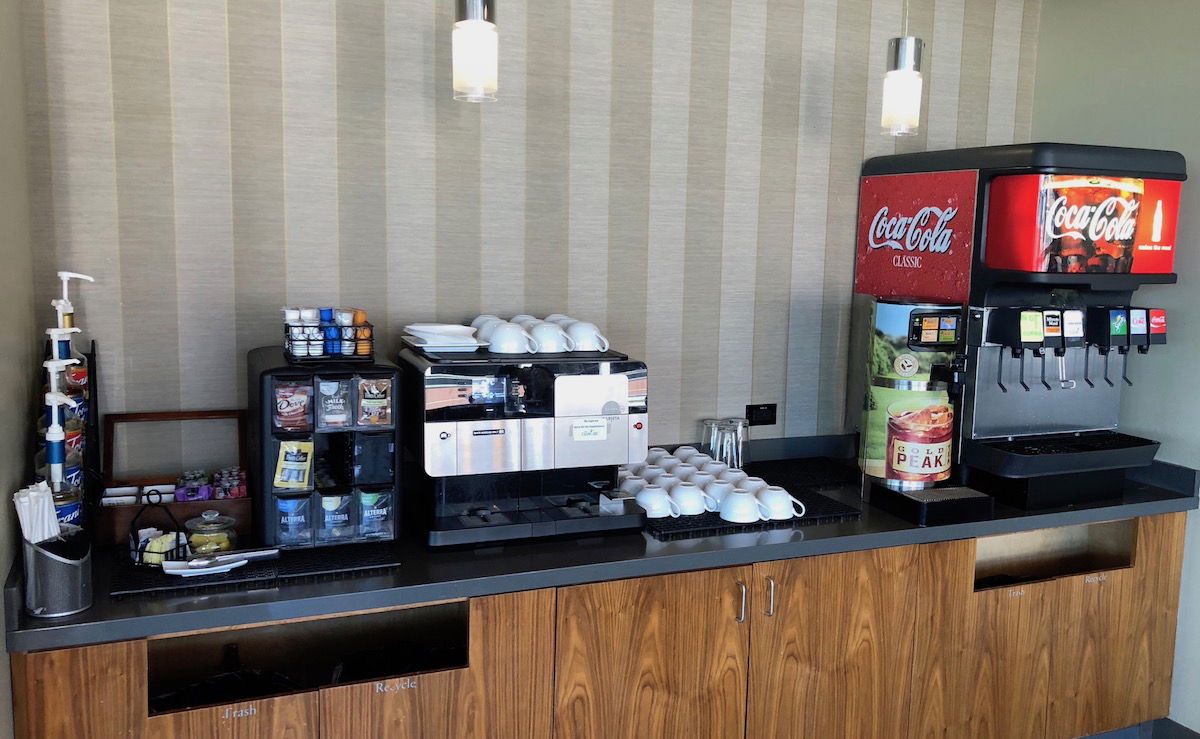 San Jose Airport Lounge drinks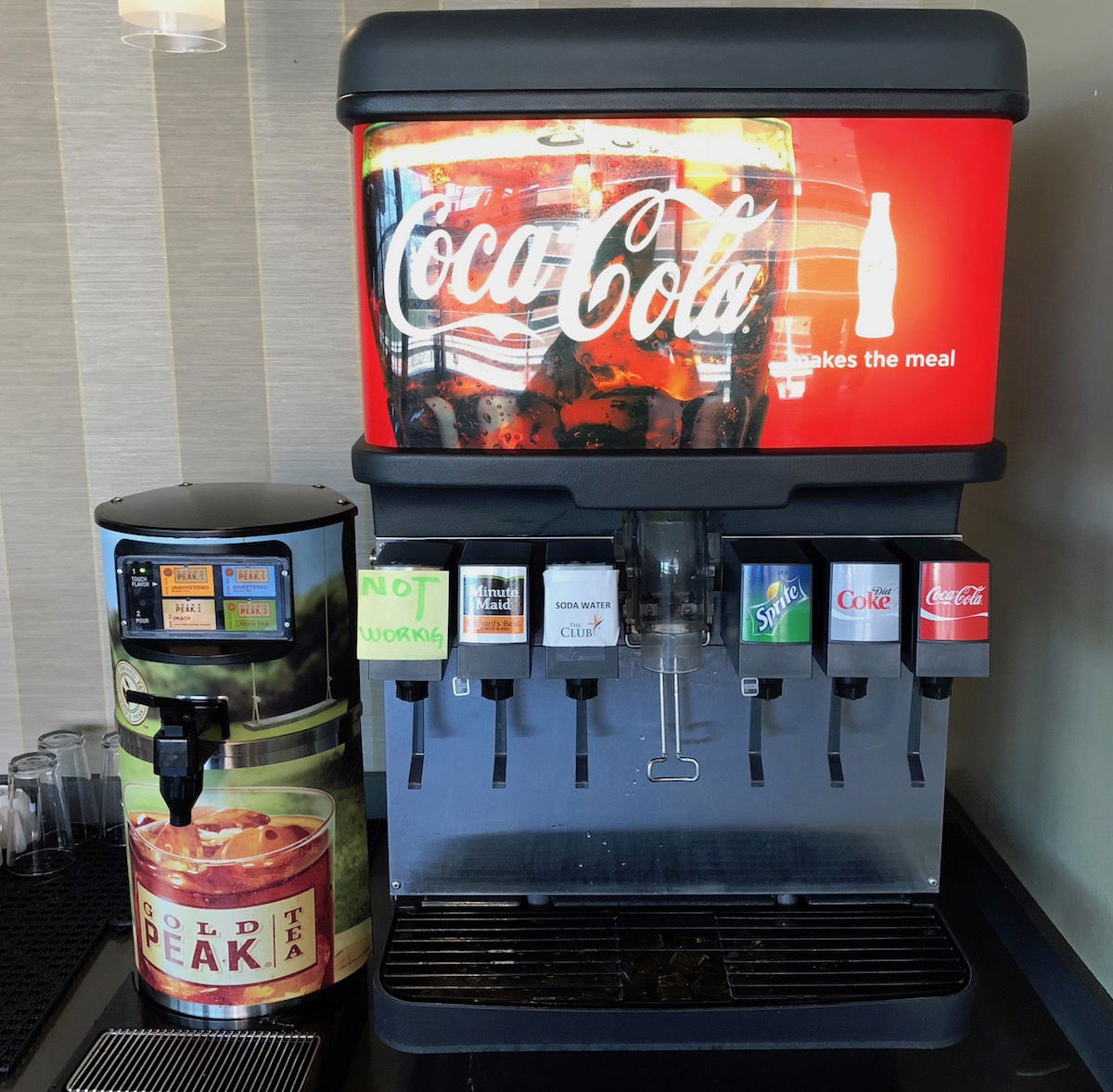 San Jose Airport Lounge soda fountain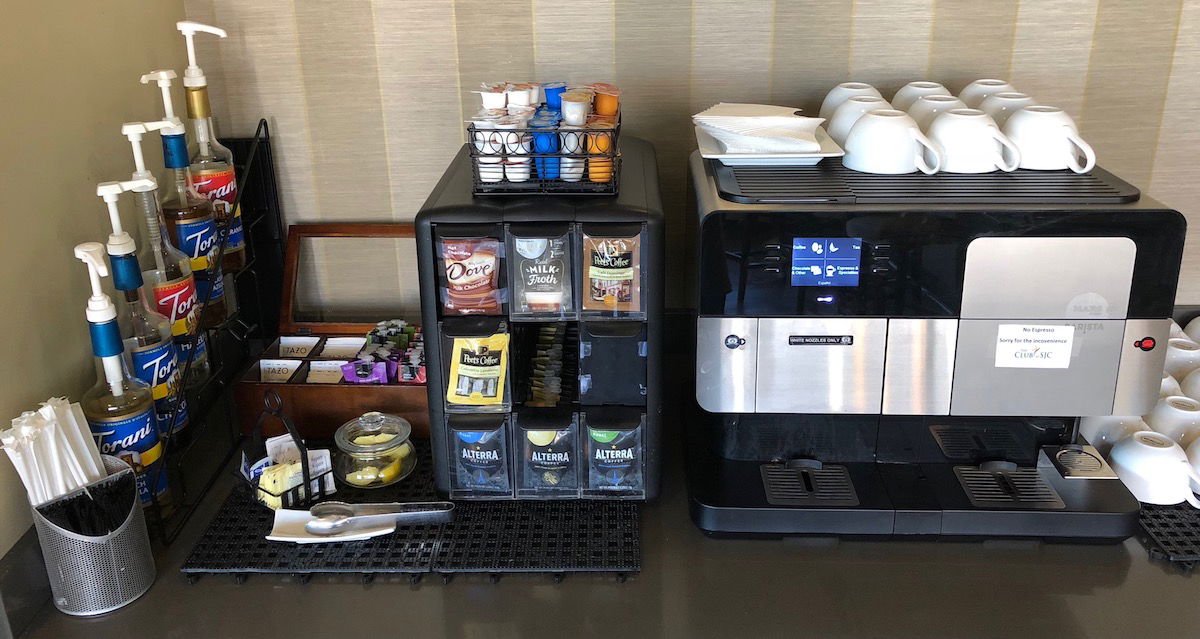 San Jose Airport Lounge coffee machine
To the side of that was the buffet area. While not an impressive food spread for an international premium cabin lounge, I thought the selection was impressive for a Priority Pass lounge, and even superior to what you'd find in most US airline lounges.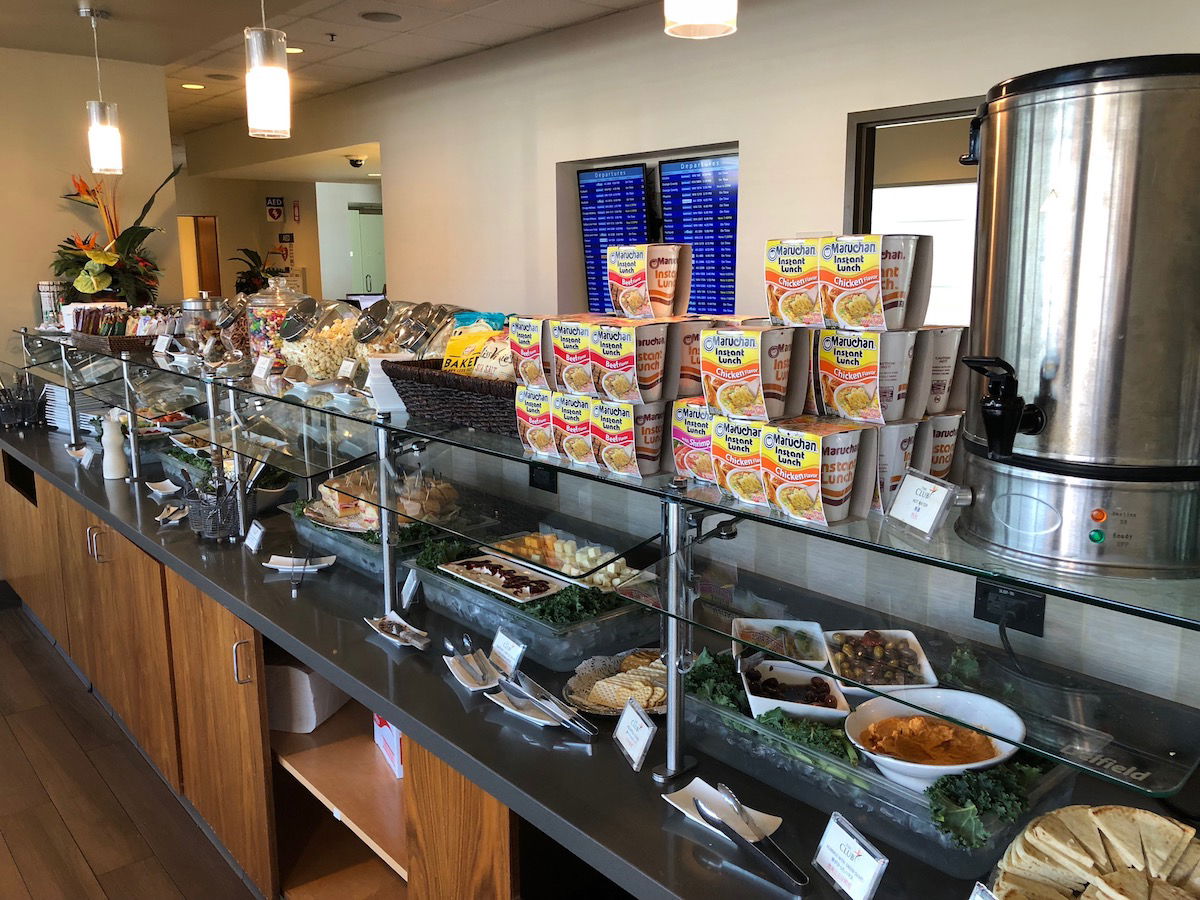 San Jose Airport Lounge buffet
There was a selection of veggies, two types of pasta salads, hummus, pita bread, olives, cheese and crackers, finger sandwiches, popcorn, trail mix, pretzels, and jelly beans.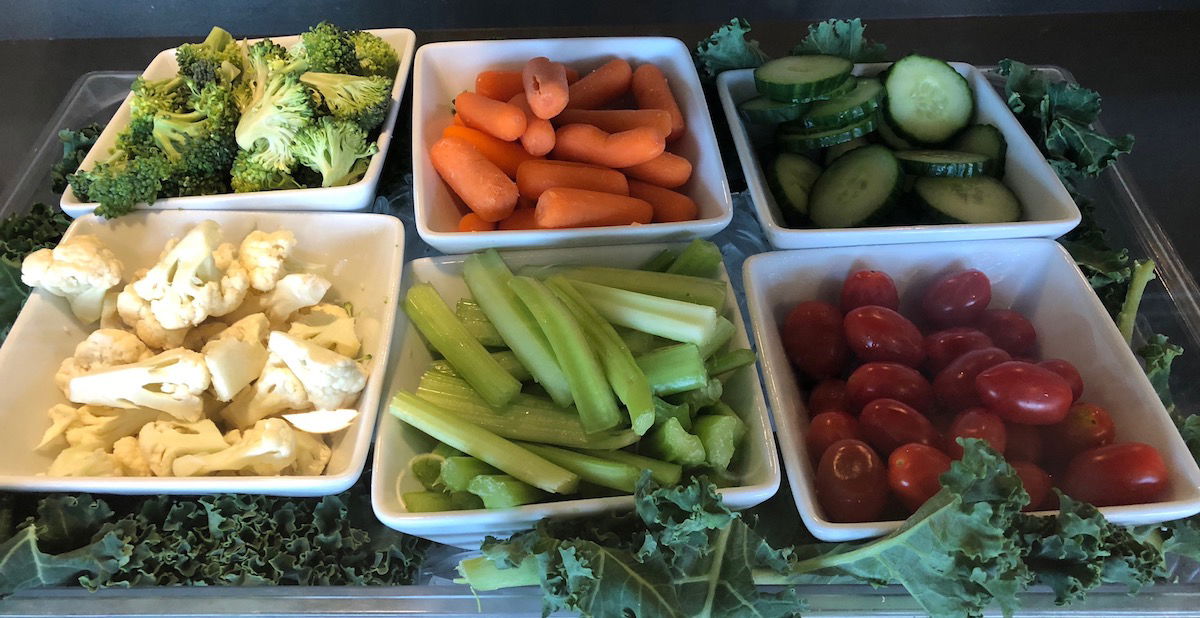 San Jose Airport Lounge buffet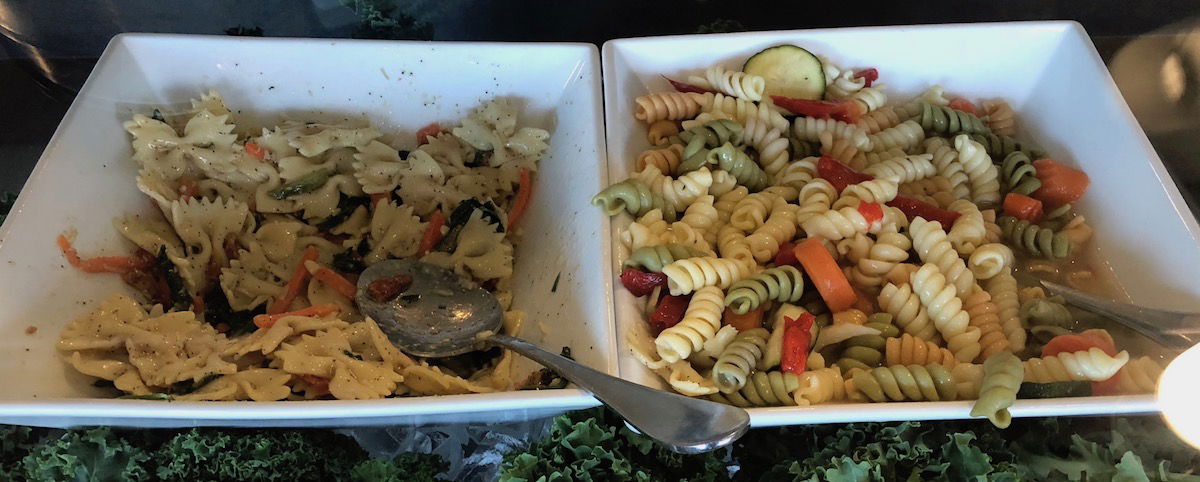 San Jose Airport Lounge buffet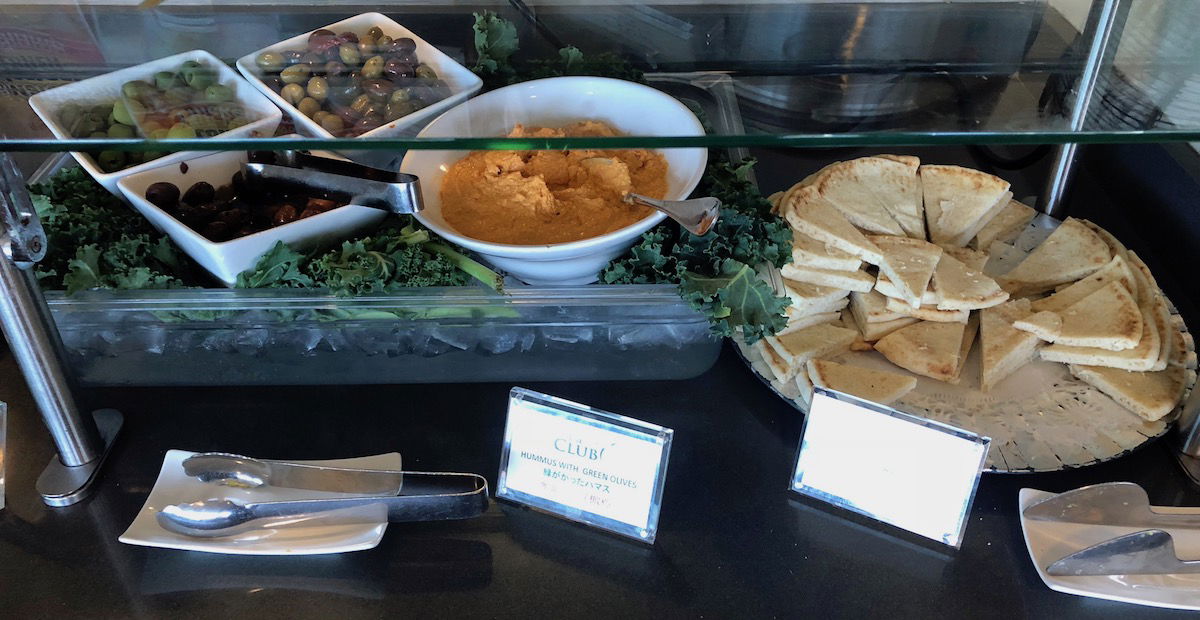 San Jose Airport Lounge buffet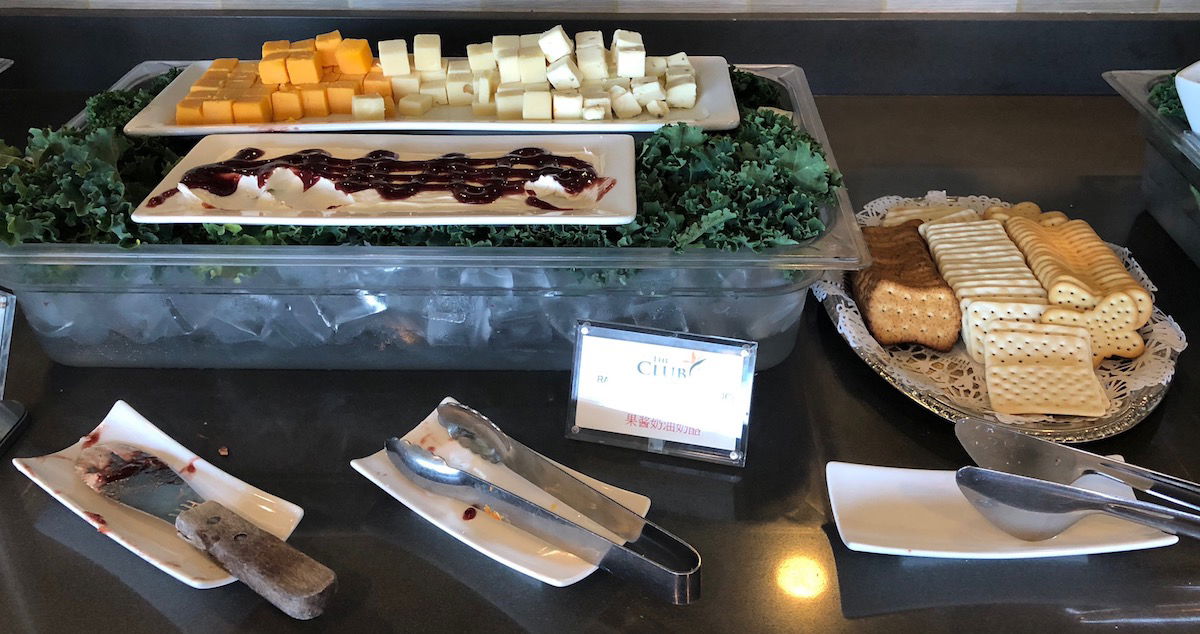 San Jose Airport Lounge buffet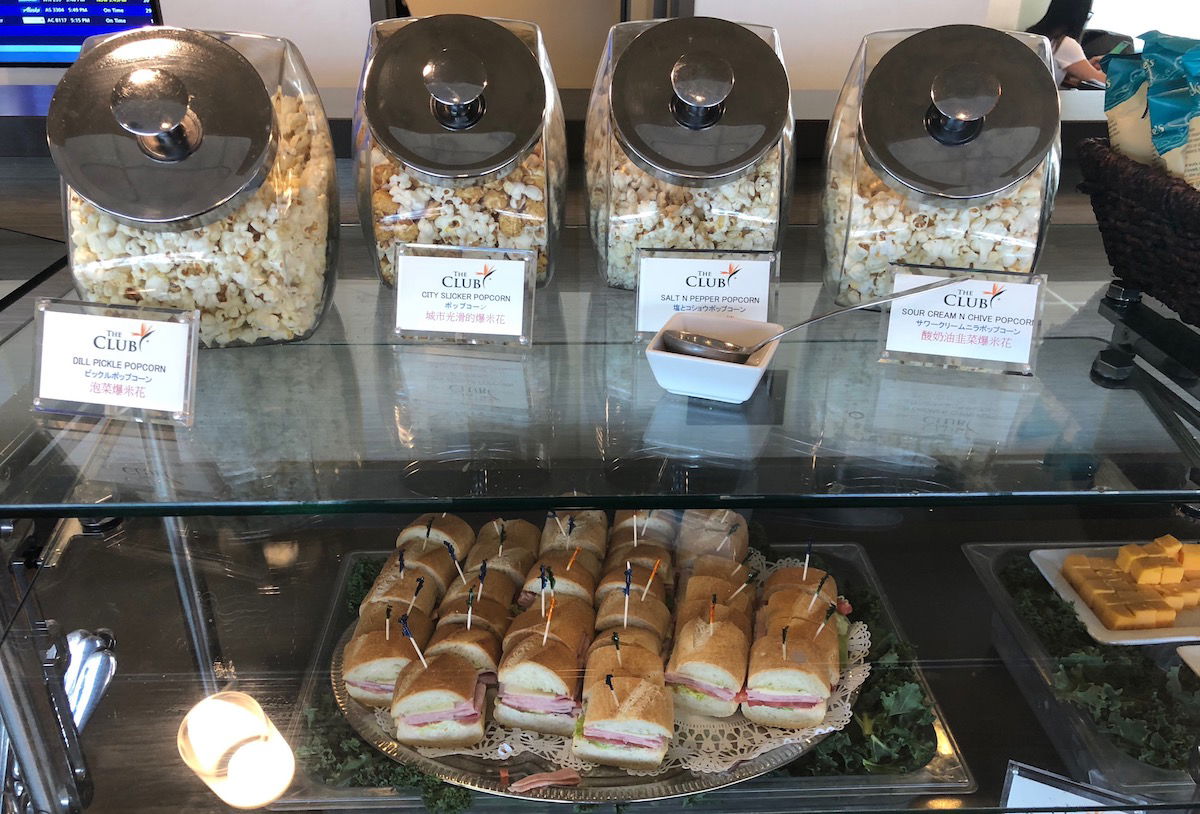 San Jose Airport Lounge buffet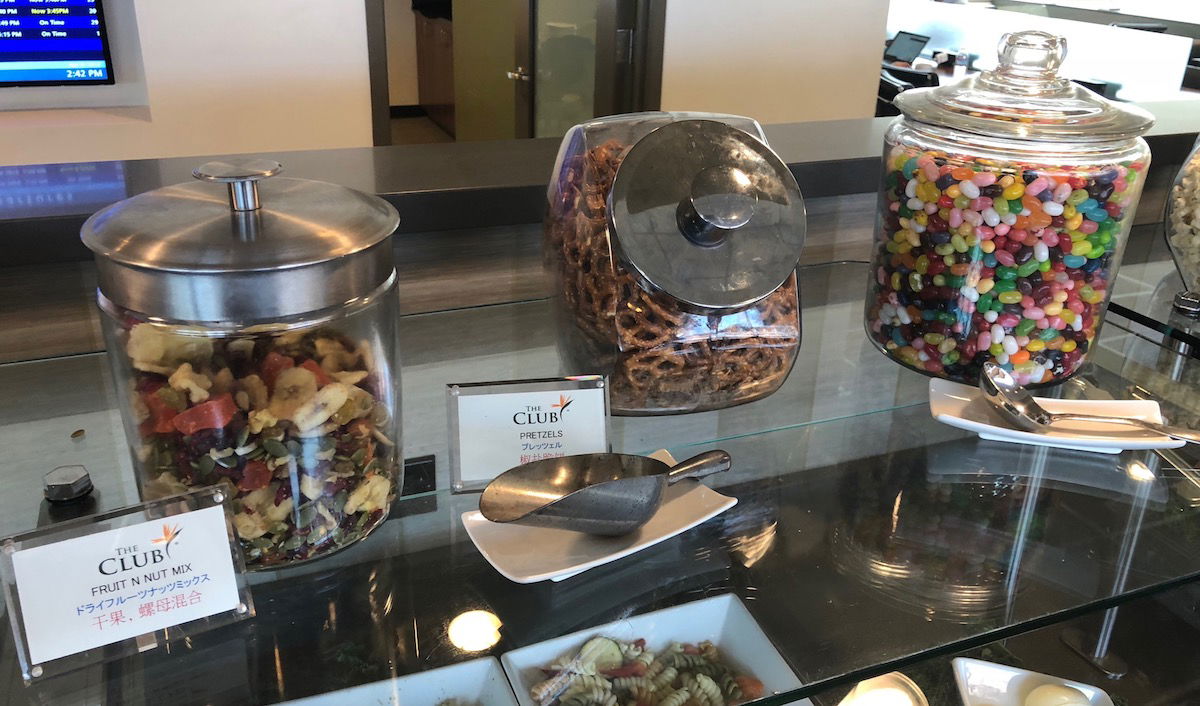 San Jose Airport Lounge buffet
Then there were a variety of packaged snacks, including granola bars, cookies, chips, and ramen noodles.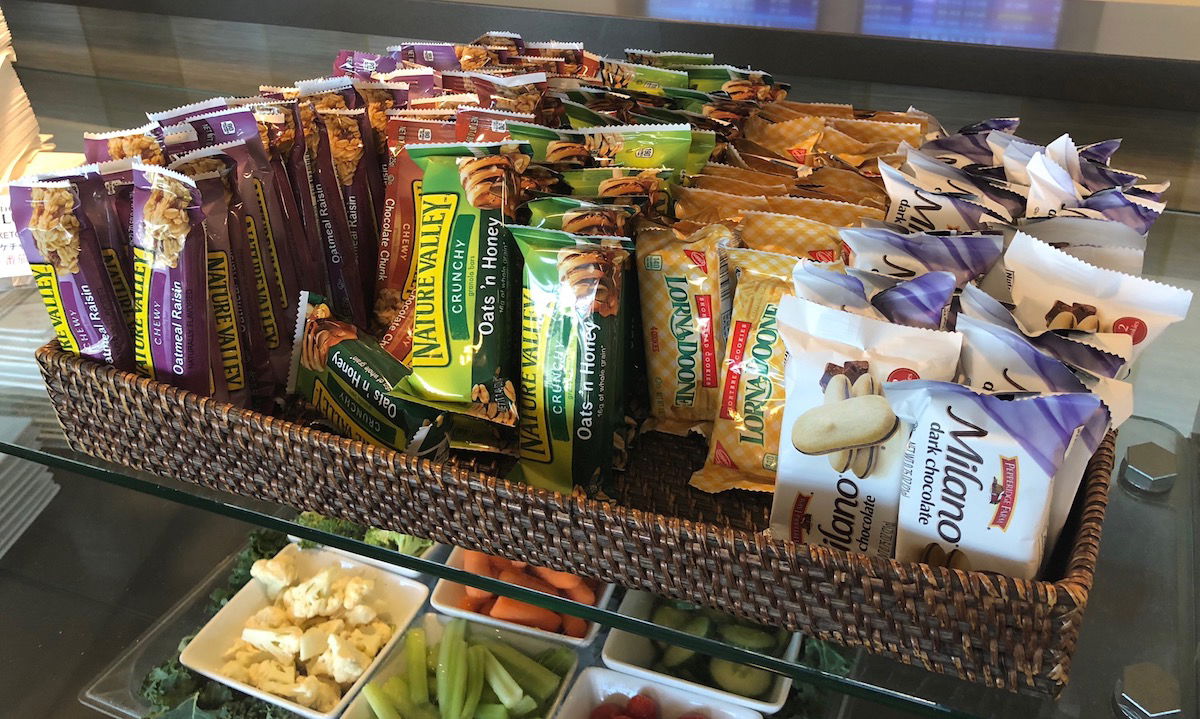 San Jose Airport Lounge buffet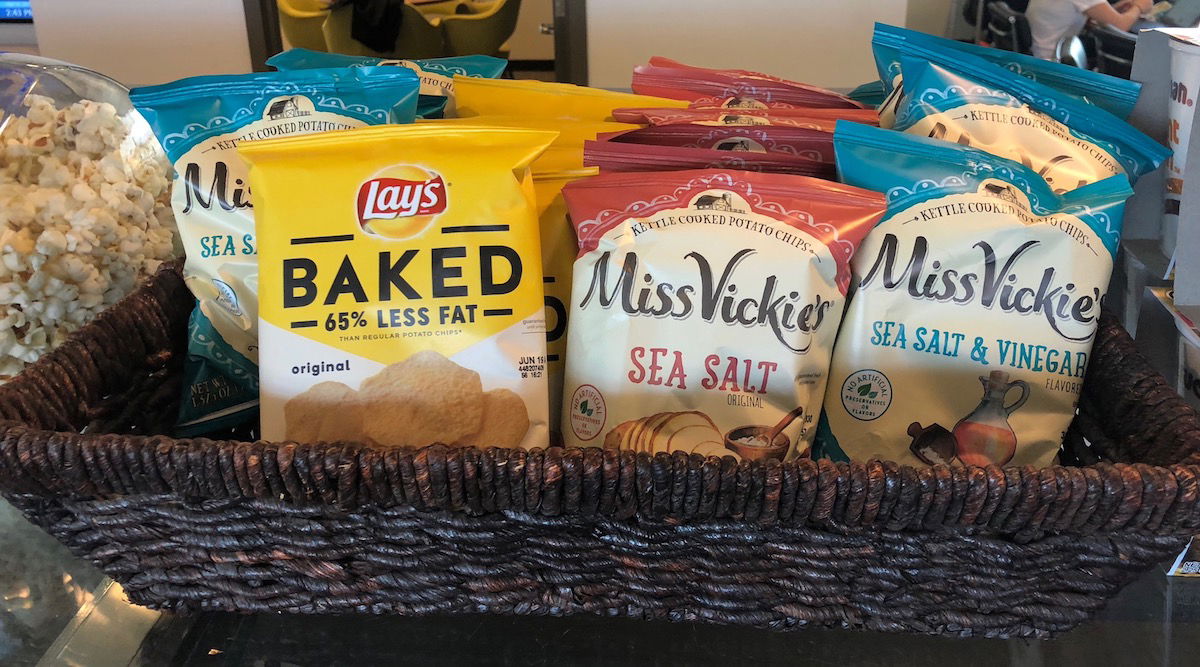 San Jose Airport Lounge buffet
I spent most of my layover connected to the (fast) Wi-Fi, and then ran into a friend, so that made the layover pass by quickly.
The one other thing I'd note about my stay in the lounge is that there was this ridiculously adorable older couple seated across from me. Sometimes observing other people makes me cringe, while in this case it put the biggest smile on my face. I've never seen anyone so thrilled with a contract lounge.
"Mort, this wine is so good. Have you tried this wine? You should try it."
"The cheese… this is incredible! I'm going to have to go back for a second plate."
"Mort, I got us some of each of the popcorns. You have to try all of them. Can you believe they have dill pepper flavored popcorn?"
"I need to find out what this merlot is, it's so good."
All the while Mort was using voice to text, and ended every text with "xx." Then the lady decided to download an audio book to her iPad. She started to listen to it, but then every 30 seconds it would stop. This puzzled her, so then Mort provided tech support to figure it out. He couldn't figure it out either. When you're eavesdropping I'm not sure what the correct protocol is about providing useful advice, so I didn't tell her that it probably just hadn't downloaded yet.
Mainly watching them was such a joy because they were just so kind to one another, talking to one another constantly, and seemed genuinely happen. I hope I can be half as cool as them in 50 years.
The lounge also had a couple of shower rooms, though I didn't have the chance to check them out. As boarding time approached the lounge filled up with British Airways passengers, as it was otherwise pretty quiet.
Boarding for my flight was scheduled for 7:25PM, so I headed to my departure gate (#18) at around 7PM.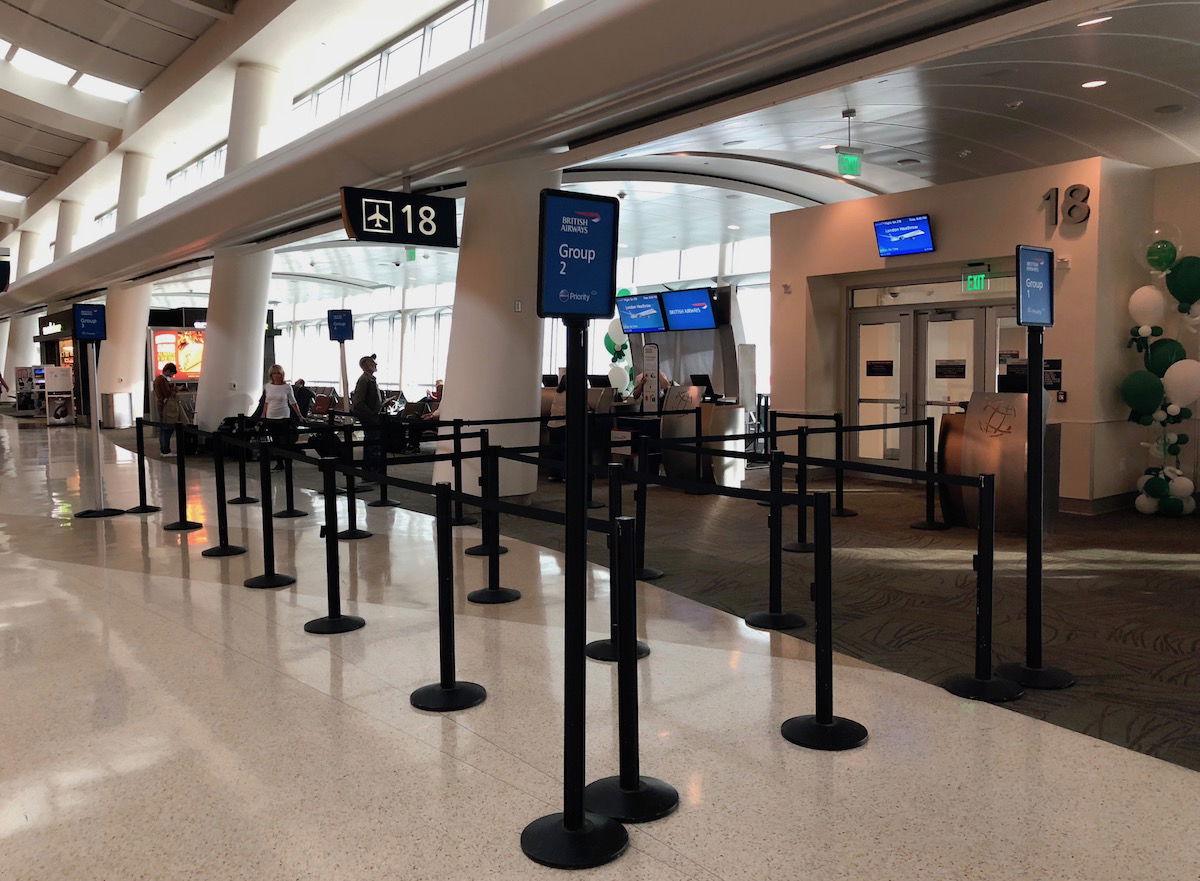 British Airways departure gate San Jose Airport
I didn't yet have a boarding pass, so I approached the agent and asked for one. I know gate agents have really hard jobs, but all too often I find they don't have great attitudes (which isn't surprising, because what kind of talent can you really retain with such a high pressure and low paying job?). Don't get me wrong, I think if I were a gate agent I'd probably get a bad attitude quickly as well, given the time pressure they're under, that they're asked the same questions over and over, etc.
The British Airways gate agent working this flight was the most delightfully bubbly gate agent I've ever seen. Not just to me, but also to all the other people, including those asking really dumb questions. She had a big smile on her face as she helped everyone, took her time to share complete info, and was just generally delightful. What an asset she is for British Airways.
With my boarding pass in hand, I spent a bit of time observing the beautiful 787 that would be taking me to London. The 787 looks gorgeous in British Airways' livery, in my opinion.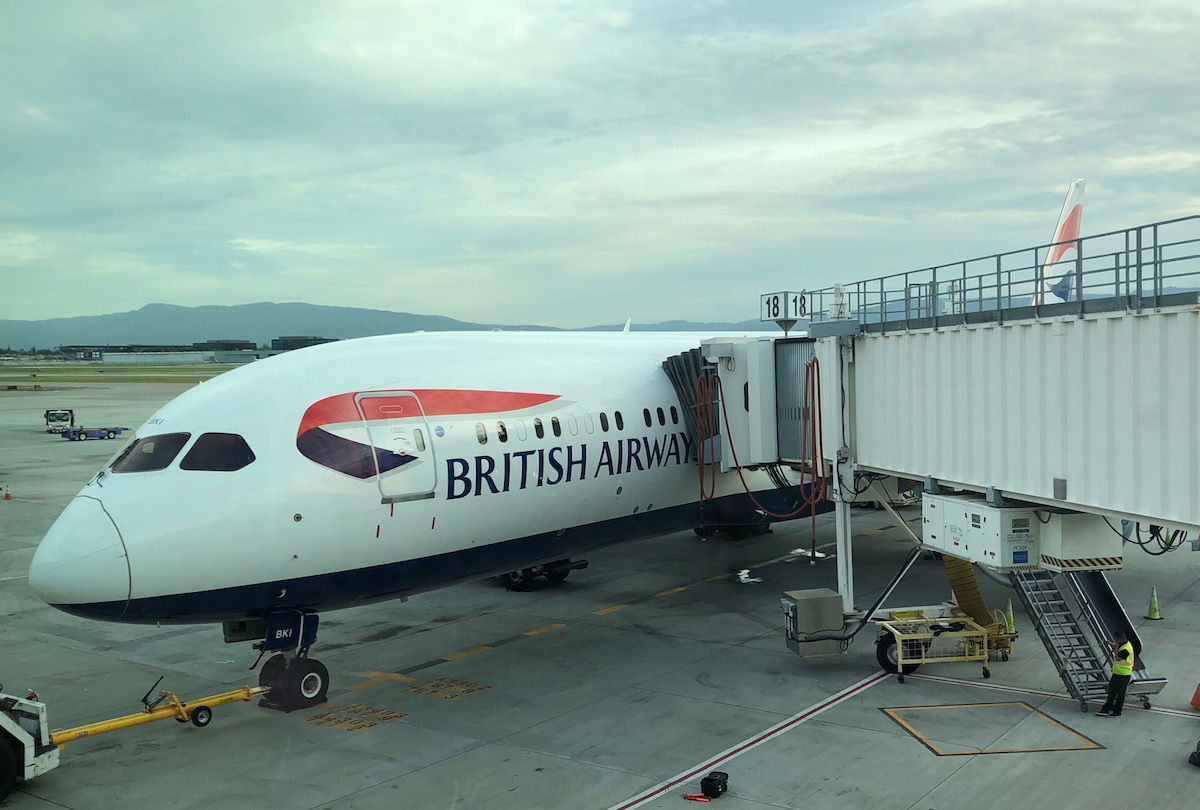 British Airways 787 San Jose Airport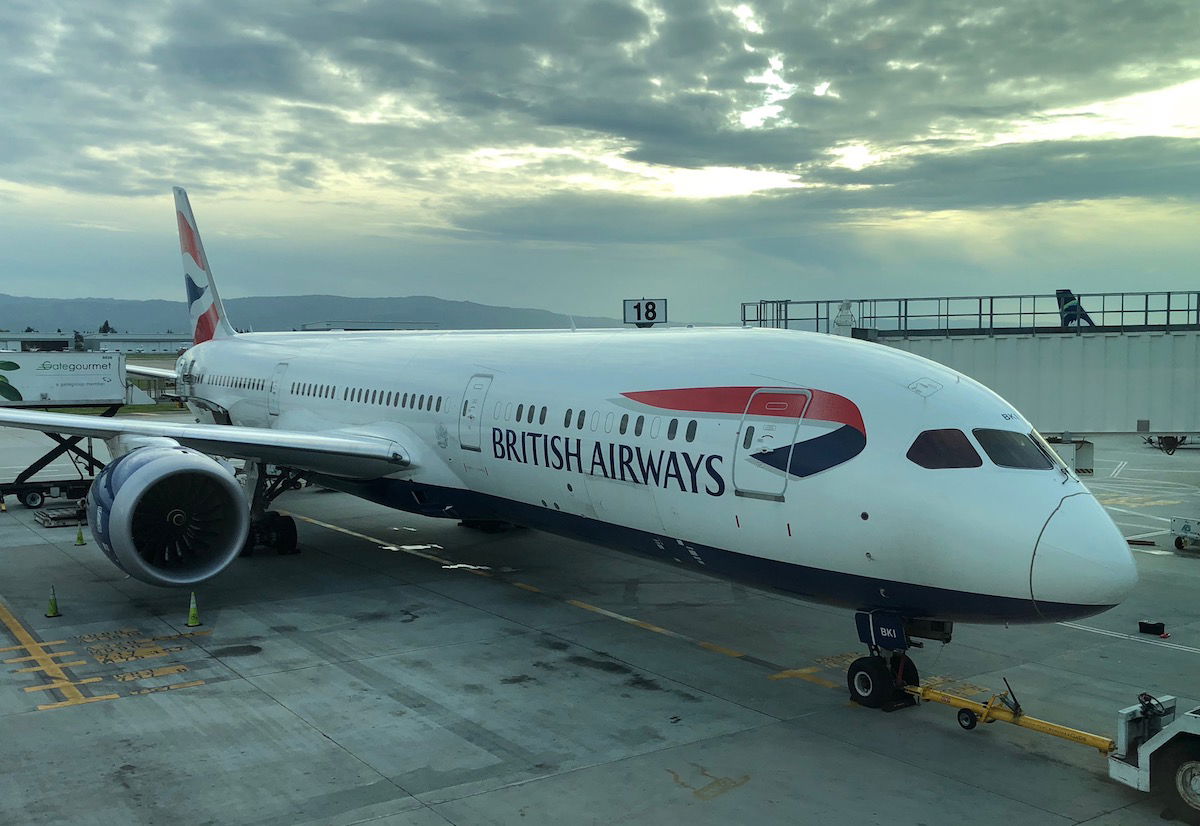 British Airways 787-9 San Jose Airport
Even though boarding was scheduled for 7:25PM, the crew only showed up at 7:35PM. It amazes me how often crews show up late. I know it's not their fault (it comes down to the scheduled pick-up time, traffic, etc.), but I've had three flights in the past few weeks that were late due to crews arriving late (and it wasn't because they were coming from another flight).
Based on what I observed, the captain had his young son along on the trip, and arrived to a surprise when he found out the flight was completely full. The flight was wide open before, but apparently the Oakland flight that day had canceled, and they transferred over nearly 100 passengers from that flight. So I'm not sure how it ended, though I suspect they found his son a seat somehow, or else we may have had a canceled flight as well. 😉
At 7:45PM boarding started. First pre-boards were allowed onboard (which there dozens of them), and then first class and oneworld Emerald passengers were invited to board.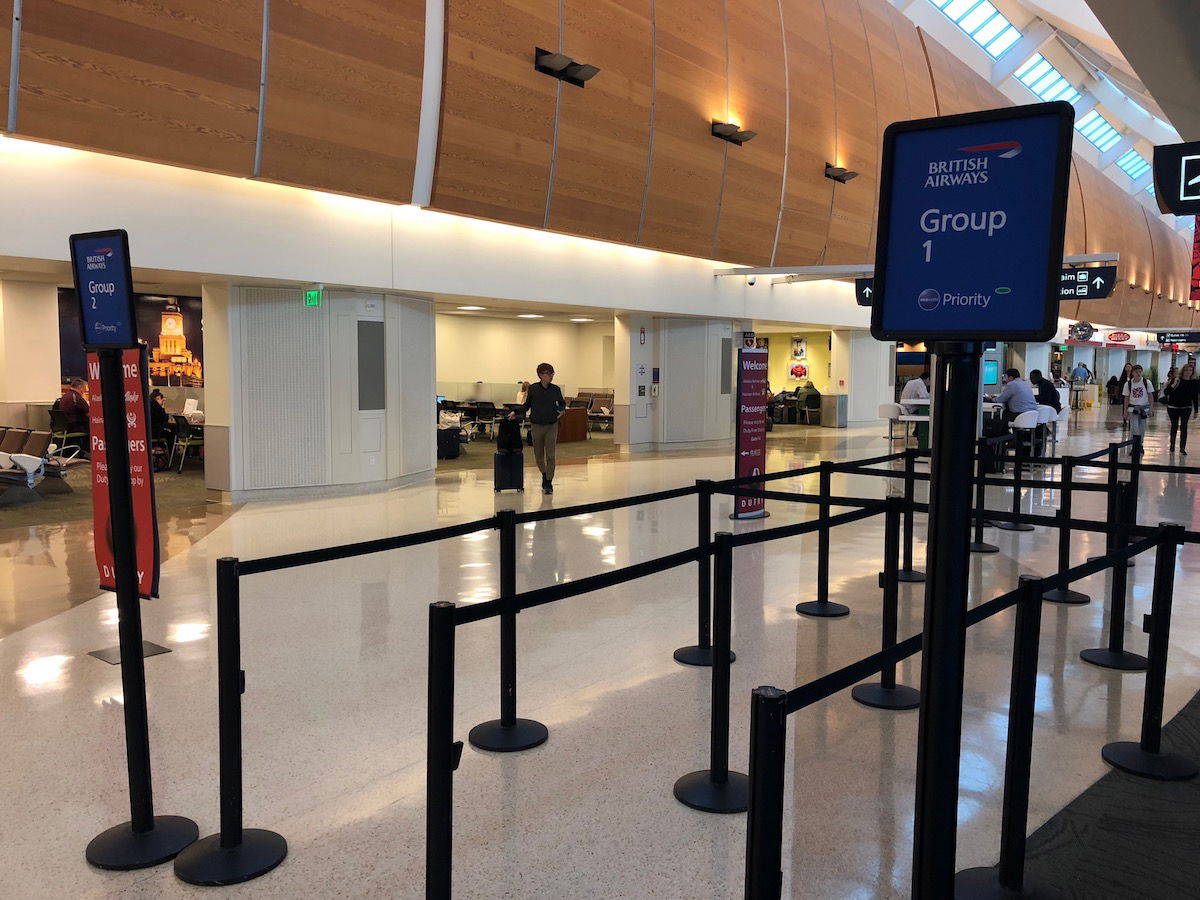 British Airways departure gate San Jose Airport
The Club at SJC bottom line
While not the world's greatest lounge, The Club at SJC exceeded my expectations, at least compared to the other "The Club" locations I've been to. The lounge was spacious and had plenty of natural light, and had a significantly better food selection than its sister lounges. Clearly that's due to the number of international airlines using the lounge for their premium cabin passengers. Priority Pass members benefit from that, since it's not like they restrict the food to only certain guests.
So while I wouldn't make a point of arriving early to spend time in the lounge, it's a nice place to pass time. I've heard The Club at SJC regarded as one of the best airport lounges in the US, and while I wouldn't give it perfect reviews, I can see why it's well-liked.
The following links will direct you to the rates and fees for mentioned American Express Cards. These include: The Business Platinum® Card from American Express (Rates & Fees), and The Platinum Card® from American Express (Rates & Fees).