---
KLM 602
Los Angeles (LAX) to Amsterdam (AMS)
Tuesday, April 7
Depart: 1:45PM
Arrive: 9:05AM (+1 day)
Duration: 10hr20min
Aircraft: Boeing 747 Combi
Seat: 1A (World Business Class)
Ben's flown in KLM's new business class from Amsterdam to Chicago before, but KLM's business class was a new product for me and one I was very excited to try. KLM World Business Class passengers flying from LAX have access to the Korean Air Lounge at the spectacular Tom Bradley International Terminal. Ben's reviewed the lounge before, and there's nothing really worth recapping, except to say that while it's rather beautifully designed and outfitted, the catering at the KAL Lounge (basic snacks, tiny finger sandwiches, poorly stocked self-serve bar, Woodbridge-branded wines and, to Ben's horror, no champagne) seems straight out of an Alaska Airlines Board Room in Spokane. I'd suggest if you get to LAX early, you explore the shops and restaurants in the terminal rather than waste your time at the middling lounge.
Boarding started about 25 minutes late for an unspecified reason, but once boarding began, we were directed into the nose of the 747. KLM's World Business Class occupies four rows on the lower deck, at the nose, and six additional rows comprising the entirety of the upper deck. However, the lower deck offers a few seats which are by themselves rather than two-by-two (1A, 4A, and 4E), which are the seats to select if you're able to choose them.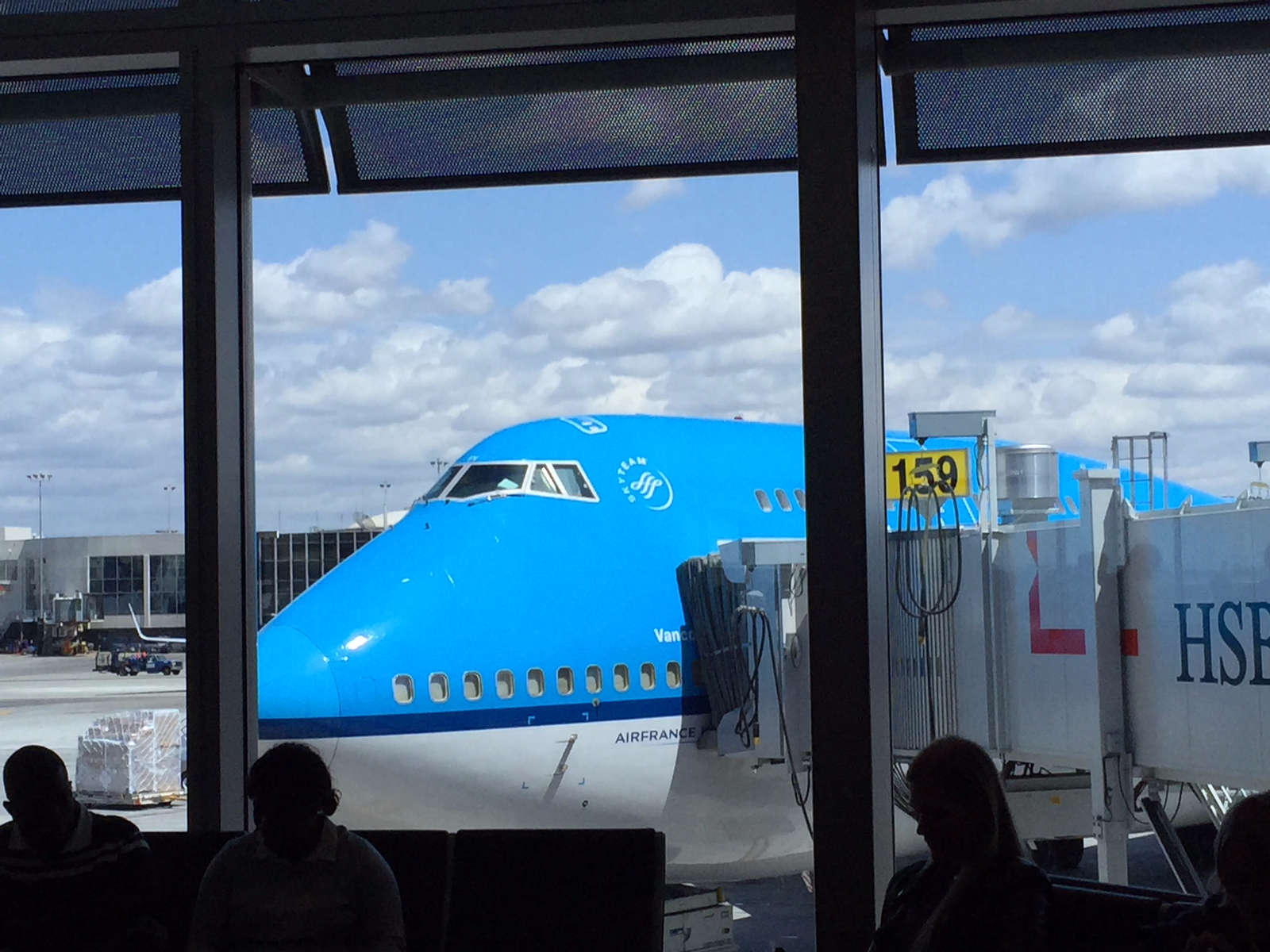 It's worth pointing out that the lower-deck business class has an incredibly spacious feel due to the staggering of the seats. There was ample space to get up and move around, and an almost lobby-sized area between the lavatories and the emergency exit that provided a pleasant place to stop, chat with flight attendants in the (again, very spacious) galley and look out the windows.
My seat, 1A, was a solo seat at the very nose of the plane, and offered a great deal of privacy and a convenient location next to the large coat closet at the front, where I could store bags, hang up clothes, etc., in addition to using my overhead and under-footwell storage space. This was especially useful since the overhead bin was a very tight squeeze.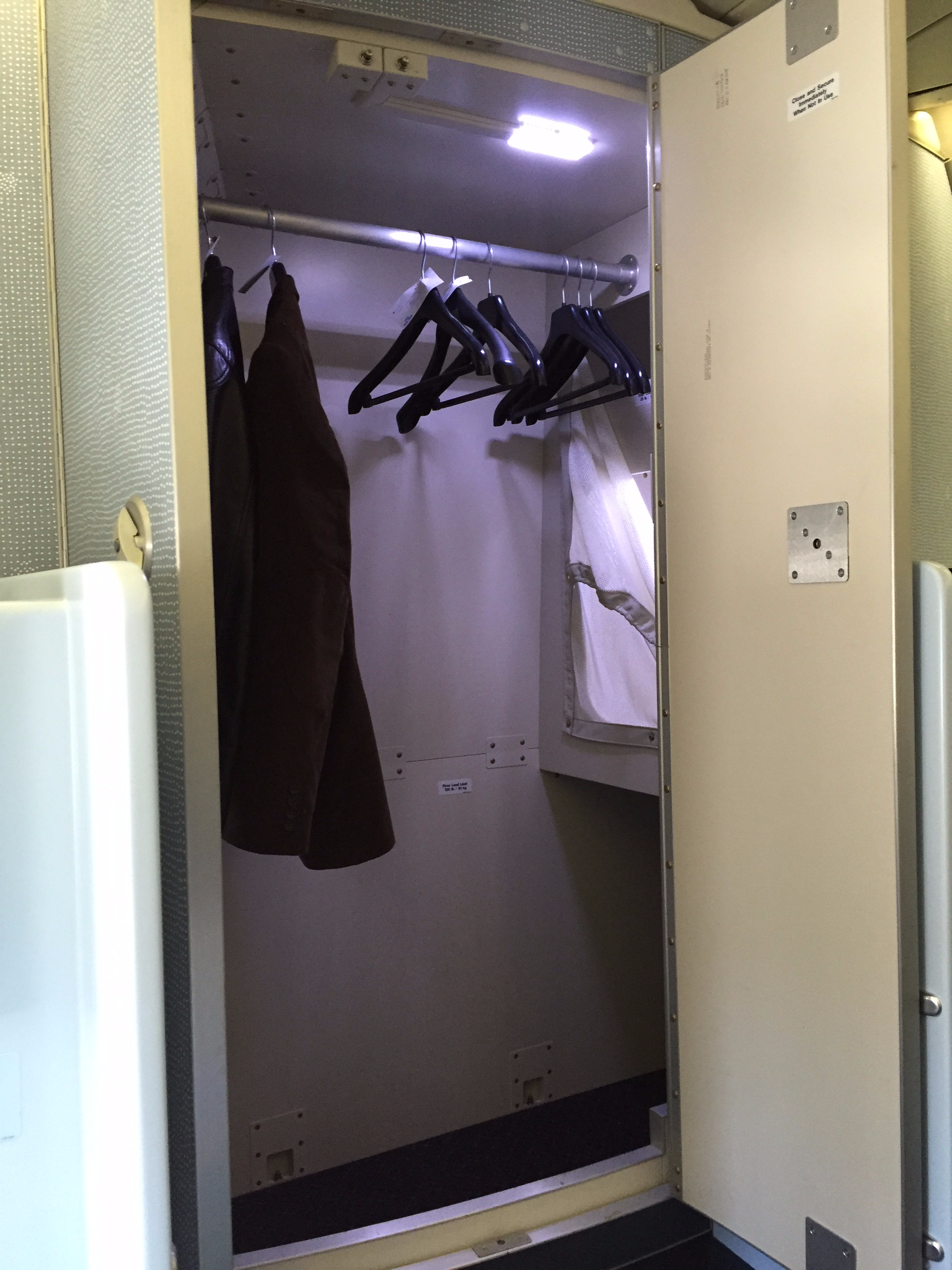 The seat offered space for electronics, drinks, passports, and other documents to the right and left of the headrest but didn't utilize the space between the seat itself and the window, which would have been ideal for additional storage or as a place to put books and magazines (which, oddly, the seat was lacking). Instead, that crevice ended up being a place where, if you looked, you could find trash from previous flights which no one had bothered to clean up. Though the seat was quite new, KLM did not offer any USB ports, which is strange (and inconvenient) in an updated business class product. I did appreciate that the headphone jack was directly behind your head, so that the headphone wires never got in the way of movement.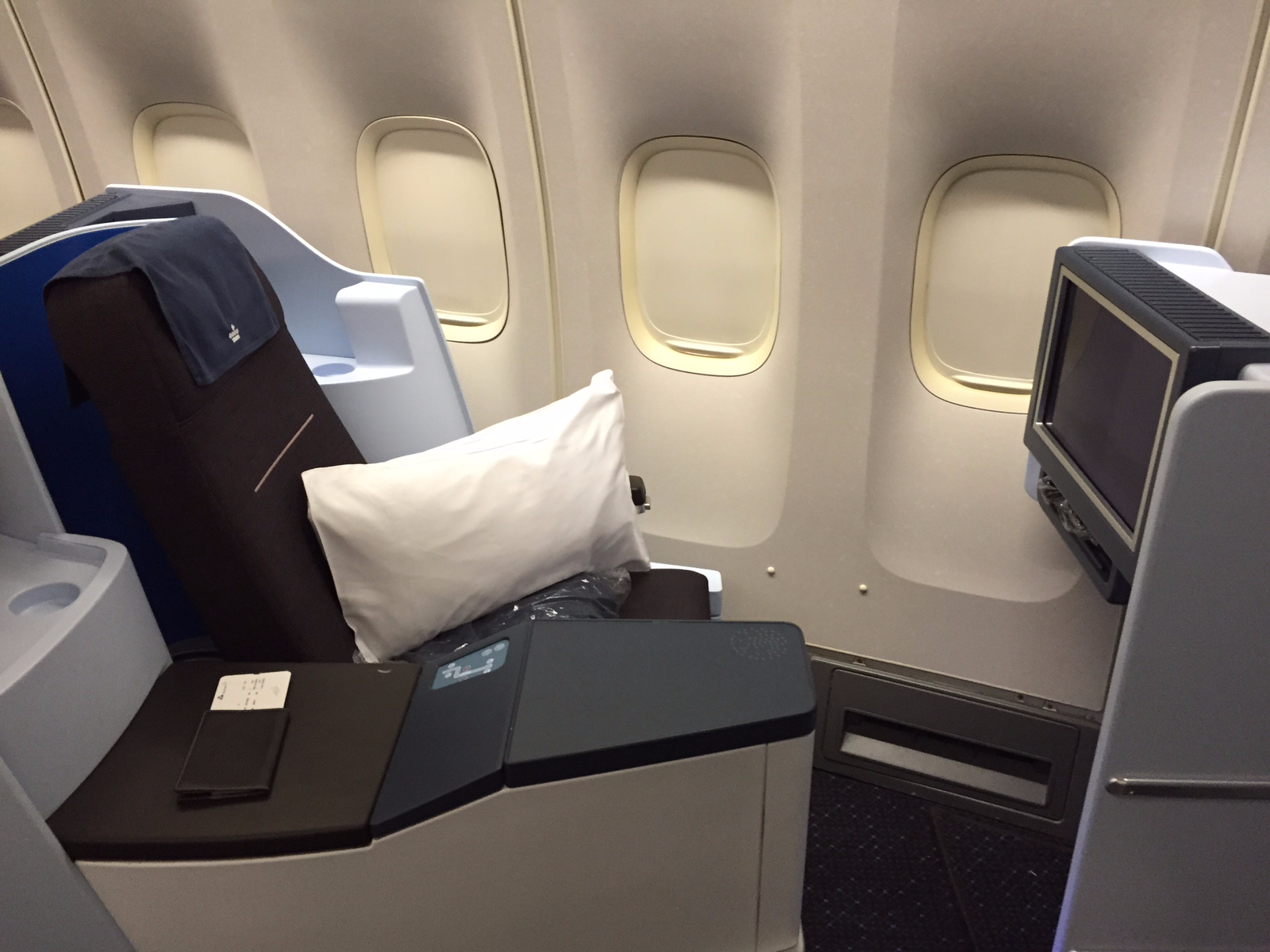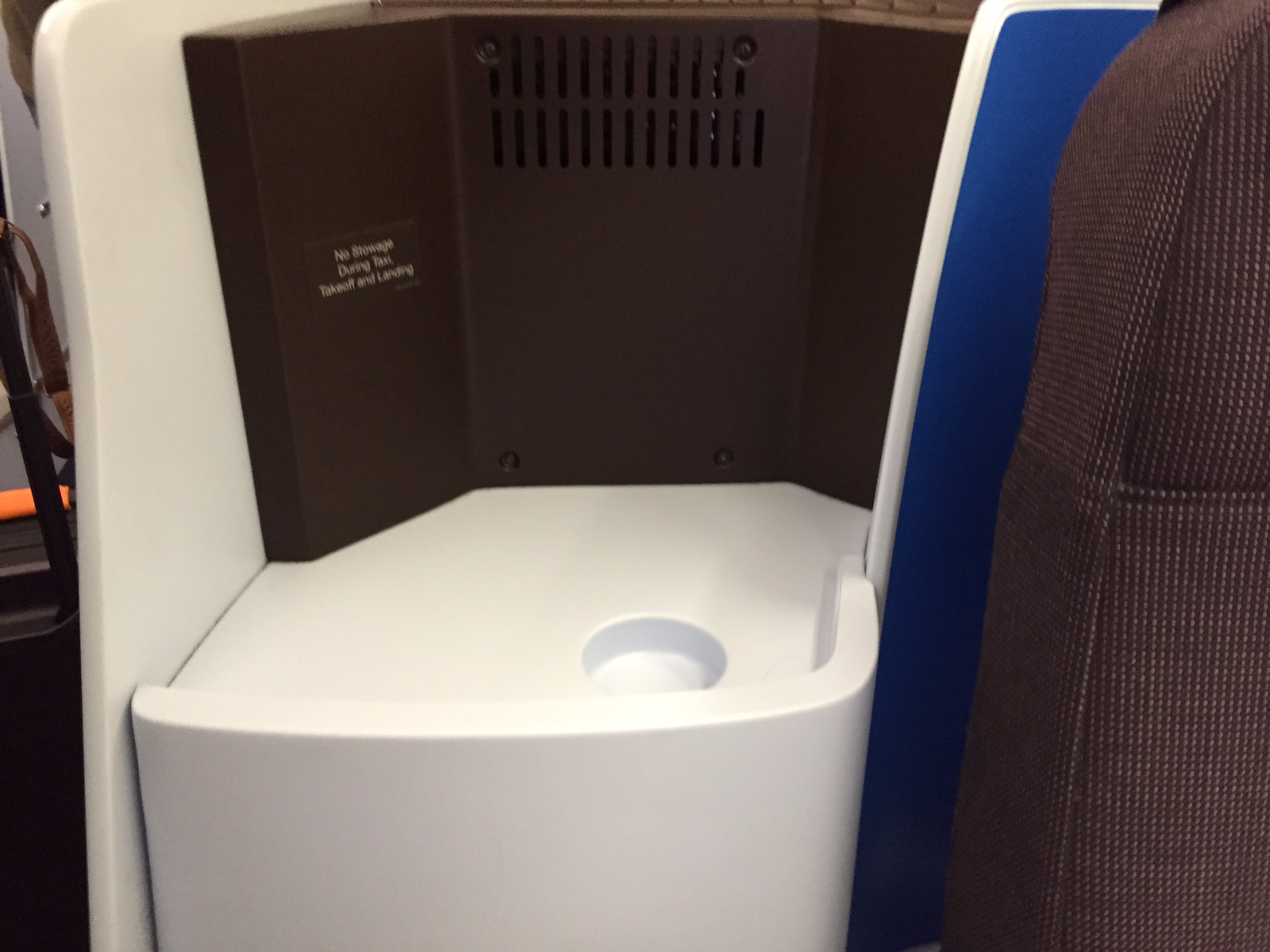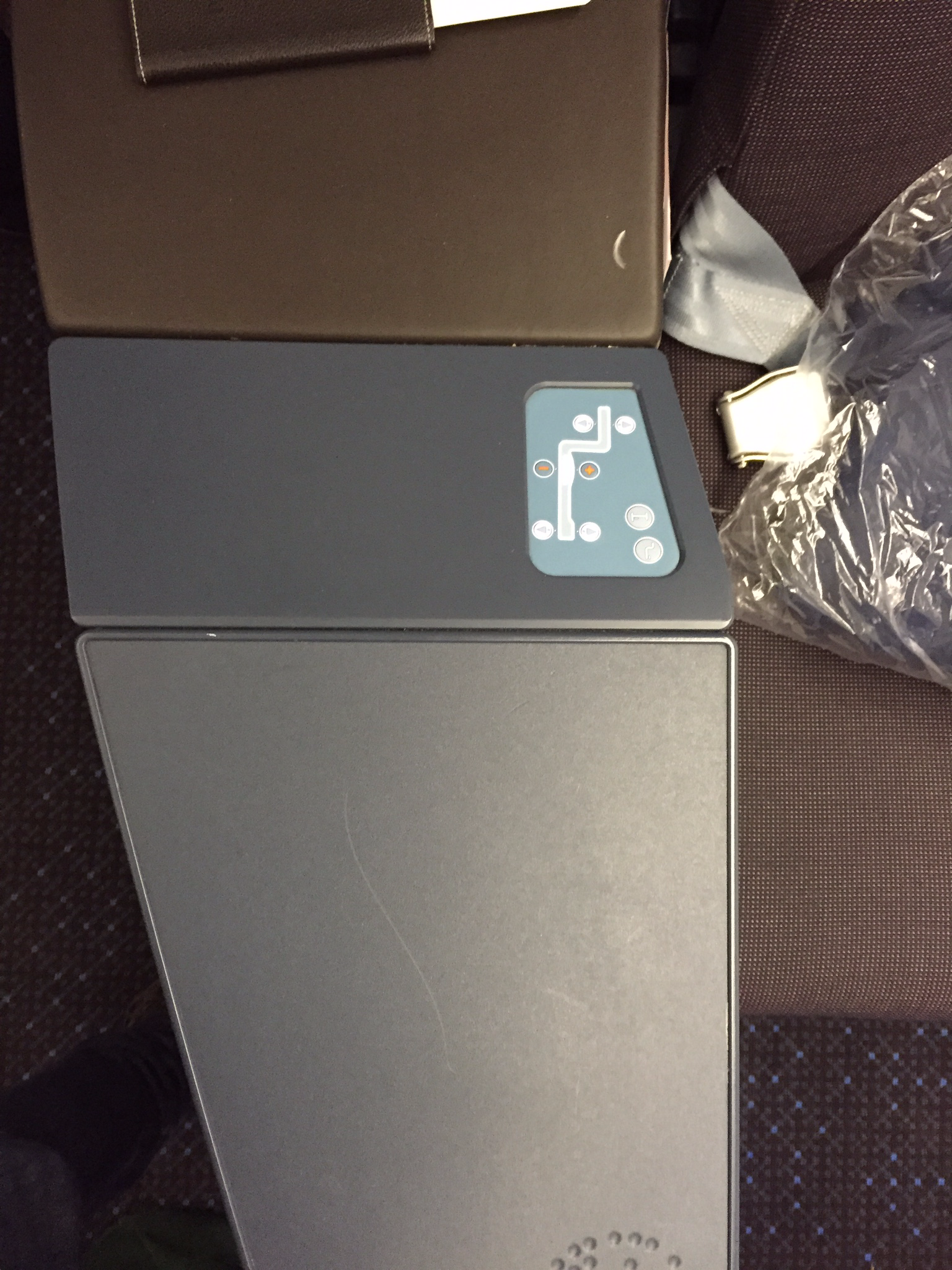 As I boarded and took my seat, there was a comfortable white pillow and dark blue cotton blanket on my seat. Soon enough, the flight attendant came by with a tray of water, champagne, and, in an adorably Dutch touch, mini-cans of Heineken beer. I chose a glass of champagne, which was Nicolas Feuillatte. Service was initially polite and efficient, but not especially warm. A few minutes later, while I was finishing up a phone call, the flight attendant returned and plopped a Viktor and Rolf amenity kit on my armrest in a relatively brusque manner.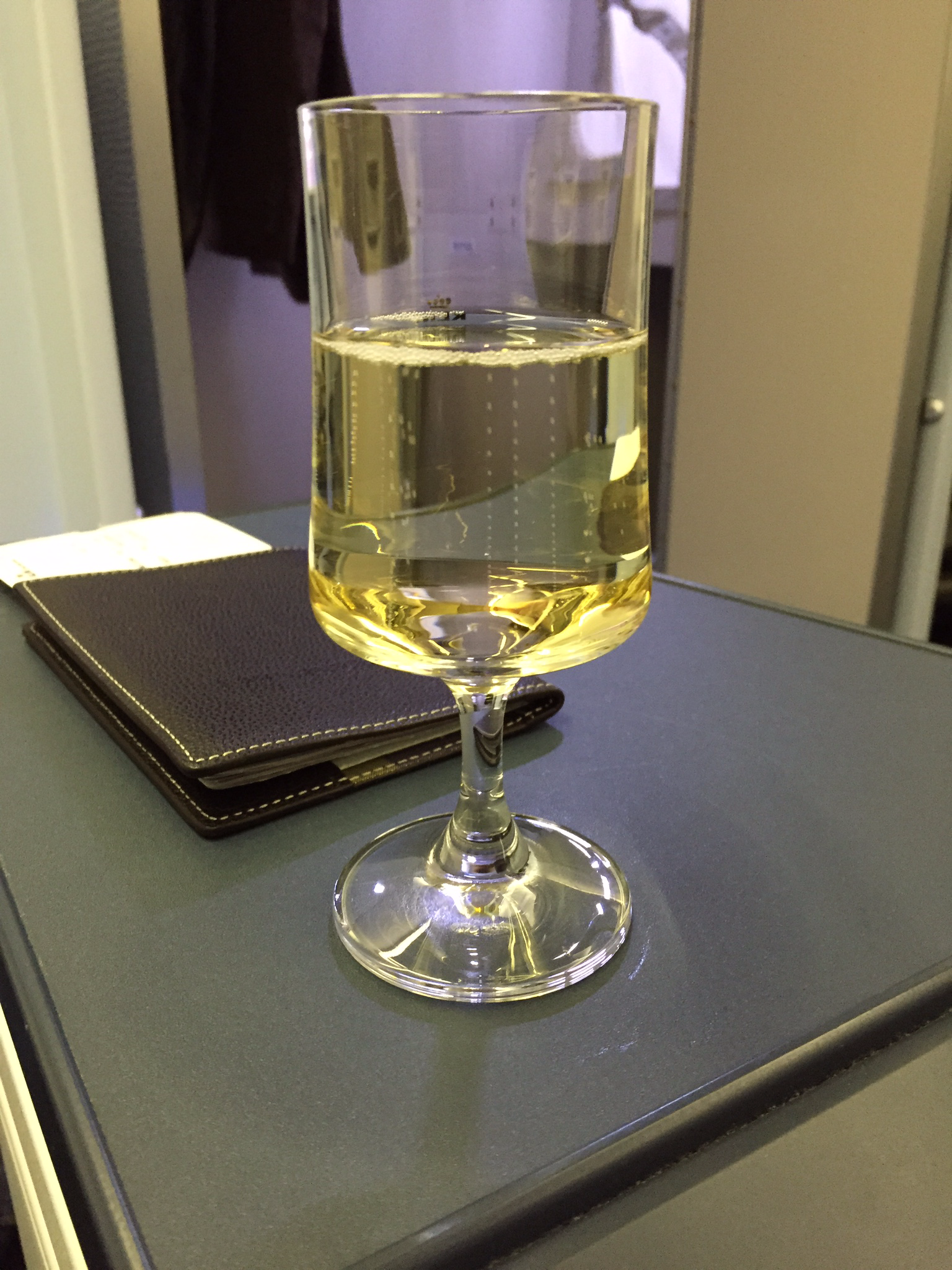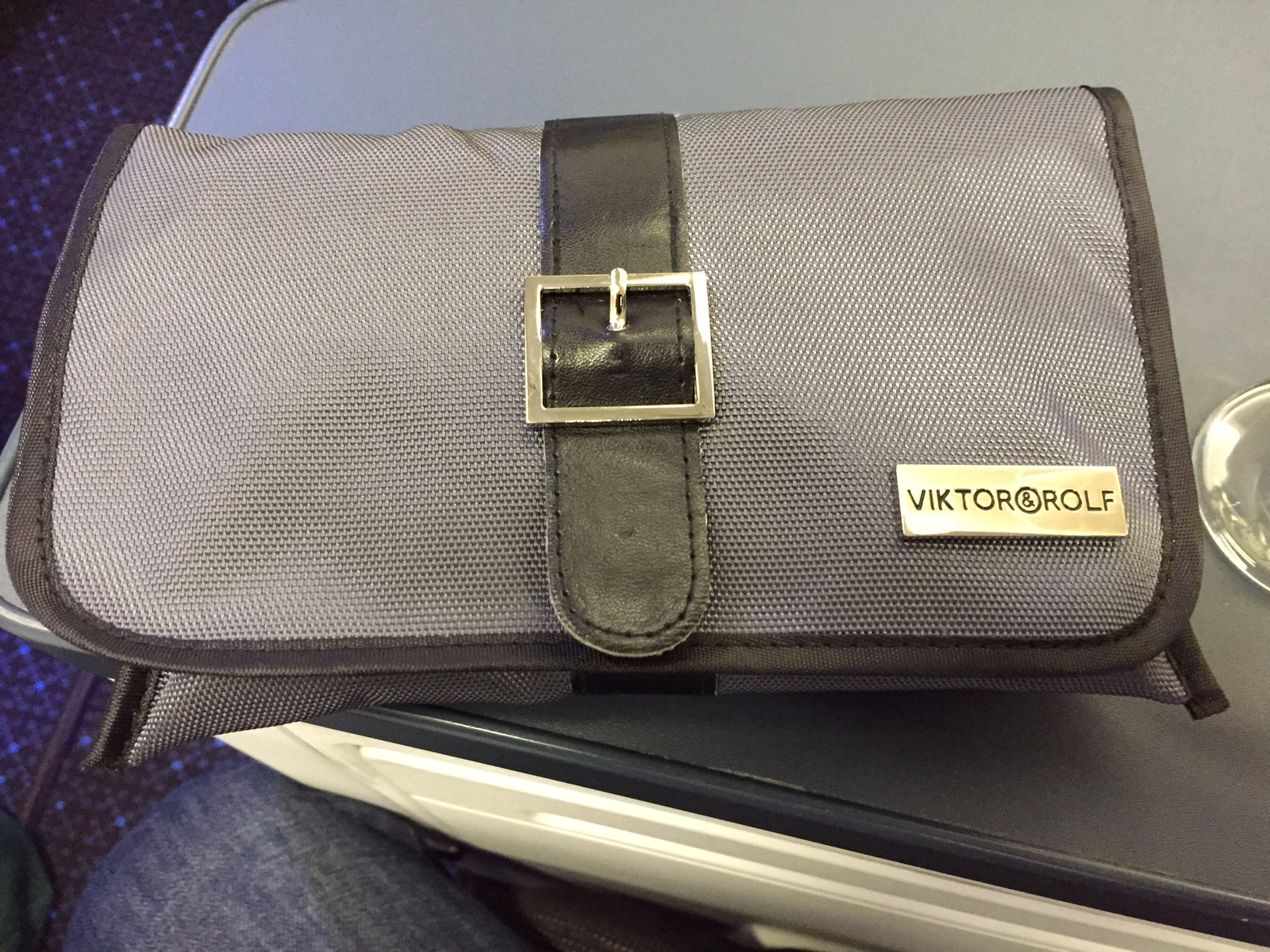 The amenity kit was nothing particularly special, though it contained a pen, which I always find useful on international flights (particularly traveling to a country where you're asked to fill out a declaration onboard). The kit contained socks, an eye mask, a toothbrush with a small unbranded toothpaste tube, a comb, lip balm, and ear plugs, but disappointingly, no hand cream. However, the lavatories had a nice selection of Zenology brand hand cream, soap, face wash, face lotion and, interestingly, hair product, which I thought was a rather ingenious addition to the usual roster and an especially helpful tool to combat "airplane hair."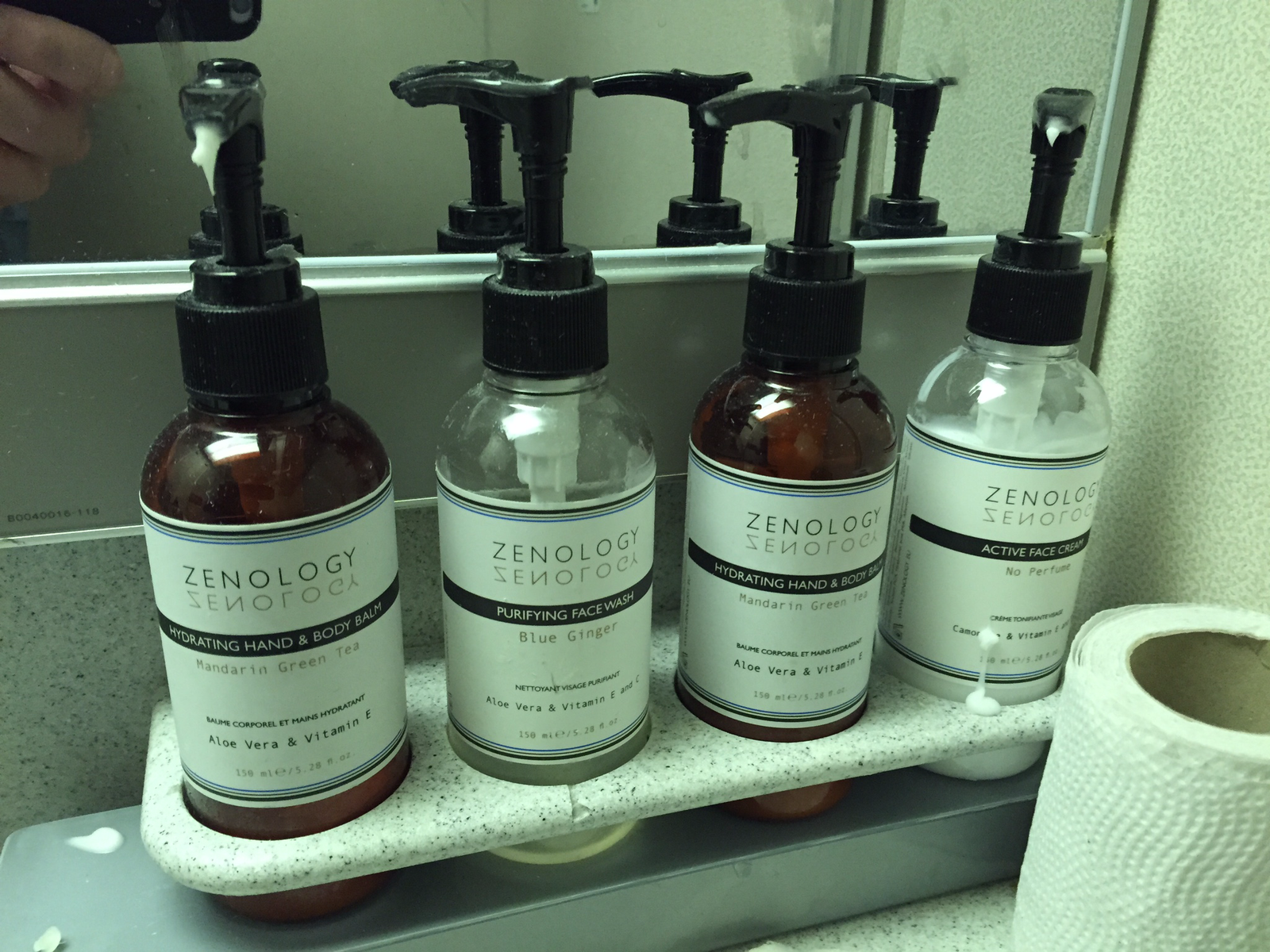 I soon enough felt comfortable with our flight attendant when I recognized her gruffness was really just her Dutchness. I adore Holland and do love the Dutch, and KLM embodies the Dutch mentality almost to a tee. And while the Dutch quite enjoy humor and relish cracking a smile, they are by and large a very practical nation. And that's sort of the feel of the service on KLM — efficient, practical, polite and occasionally charming, but not warm, and not over-the-top by any means. And you have to love a flight attendant who addresses you as "mister." As in, Mister, will you please stow this for takeoff thank you. (Note this was not a question but a polite and firm declaration.)
Anyway, the attendant came by shortly after takeoff with a menu and a duty-free brochure. KLM really pushed the duty-free items hard throughout the flight, at takeoff and at landing, in a way I'd never seen any other airline do before. I would say it felt a bit chintzy, but then again, the passenger in the row across from me ended up buying so much from the onboard duty-free shop that when she left she looked like Julia Roberts walking down Rodeo Drive in Pretty Woman (after the makeover, natch) — so KLM obviously knows what they're doing.
I was shocked at the menu, which was printed on a color copier on regular-stock printer paper and stapled together as if it were an elementary school newsletter. It felt incredibly cheap, and while I understand that KLM was advertising its printed material as "environmentally friendly," I should point out that they sure as heck printed their duty-free booklet on some expensive-looking glossy stock. How many trees died so that you could sell that Chinese woman a Montblanc pen, KLM?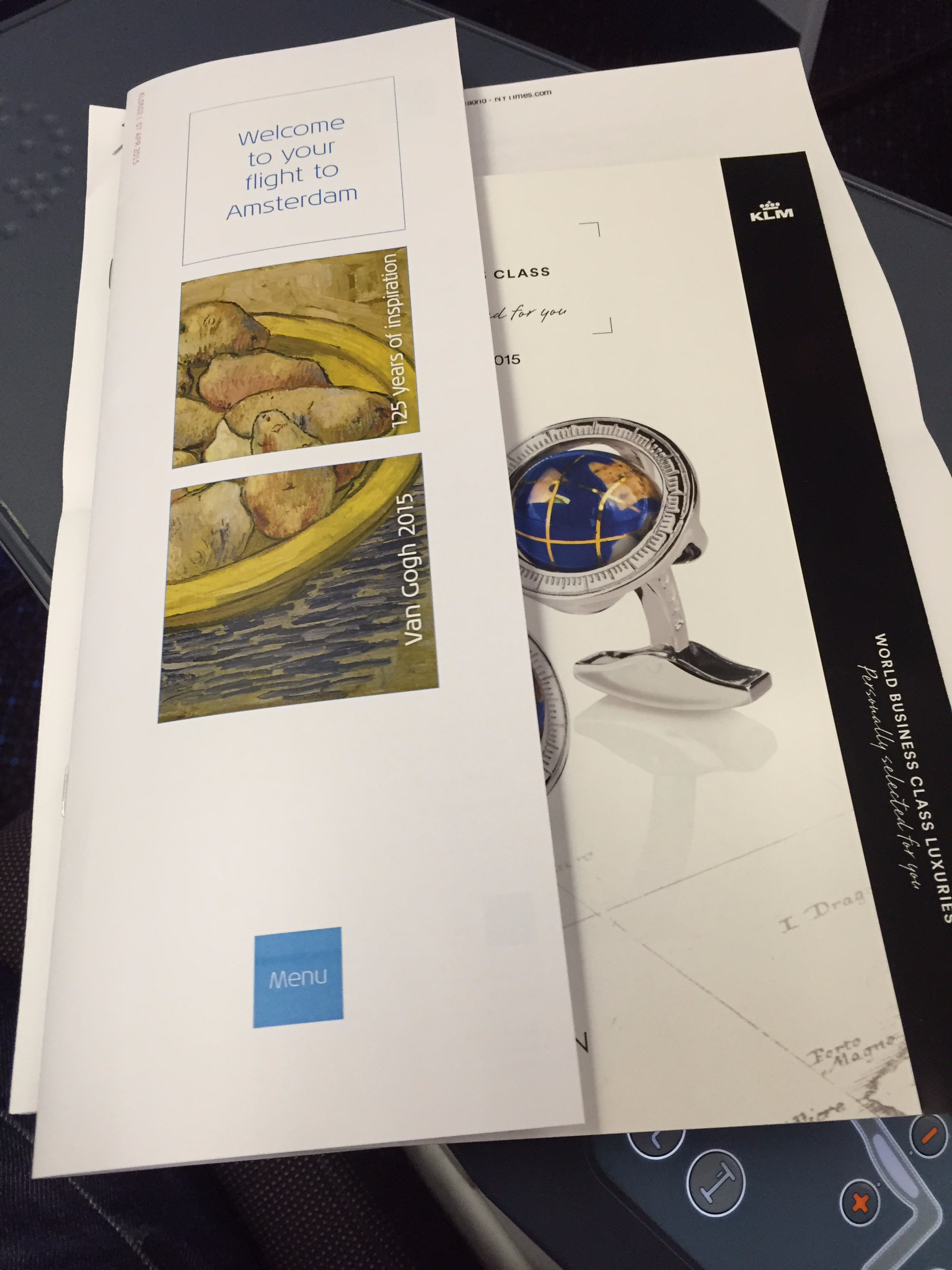 The content of the menu was a bit underwhelming, as well. As Ben's pointed out before, they do print a service timeline, which is sort of an interesting touch. However, none of the menu items sounded especially enticing at the outset (and I think for optics purposes they might want to consider calling cheese fagottini by a different name).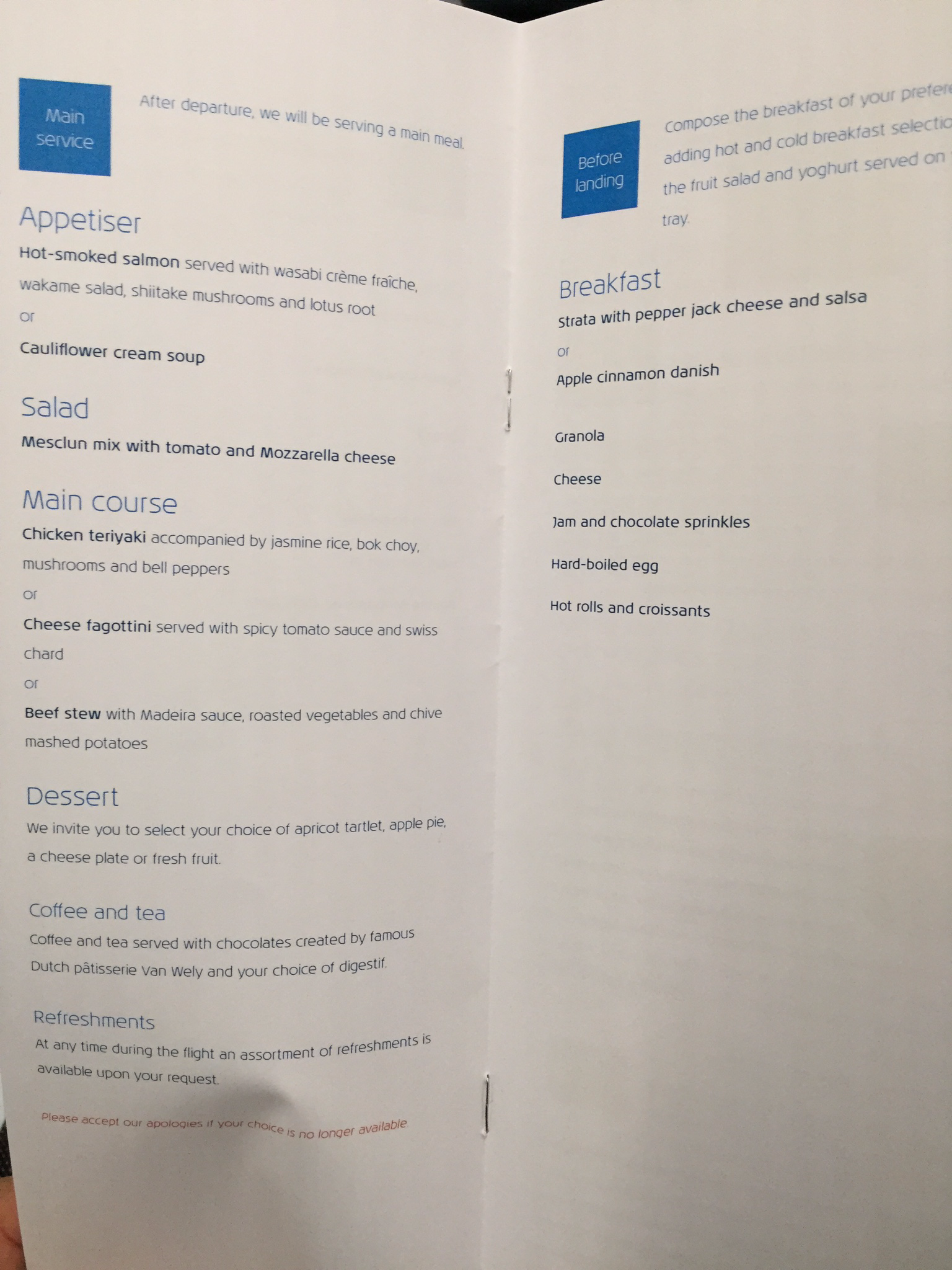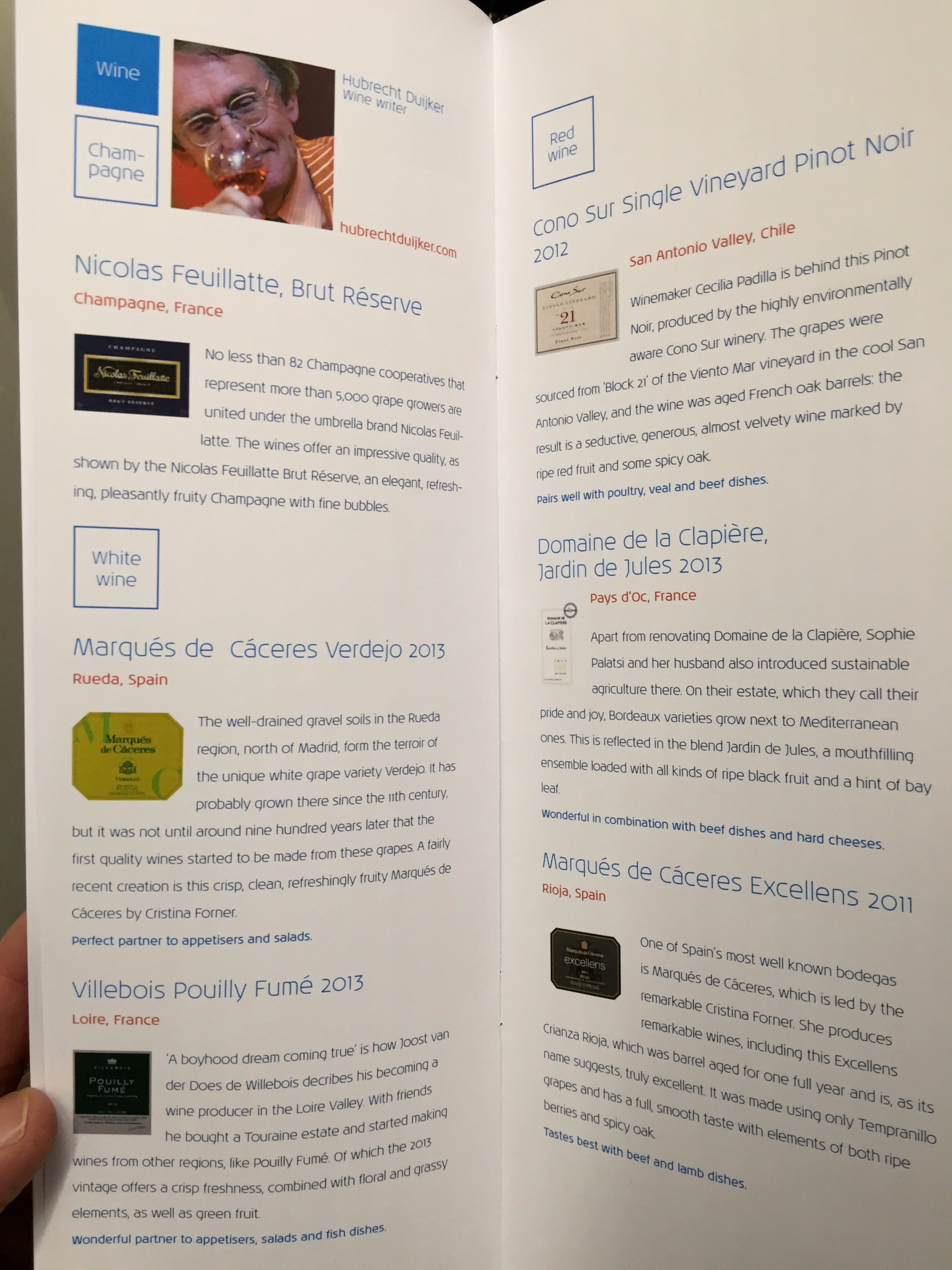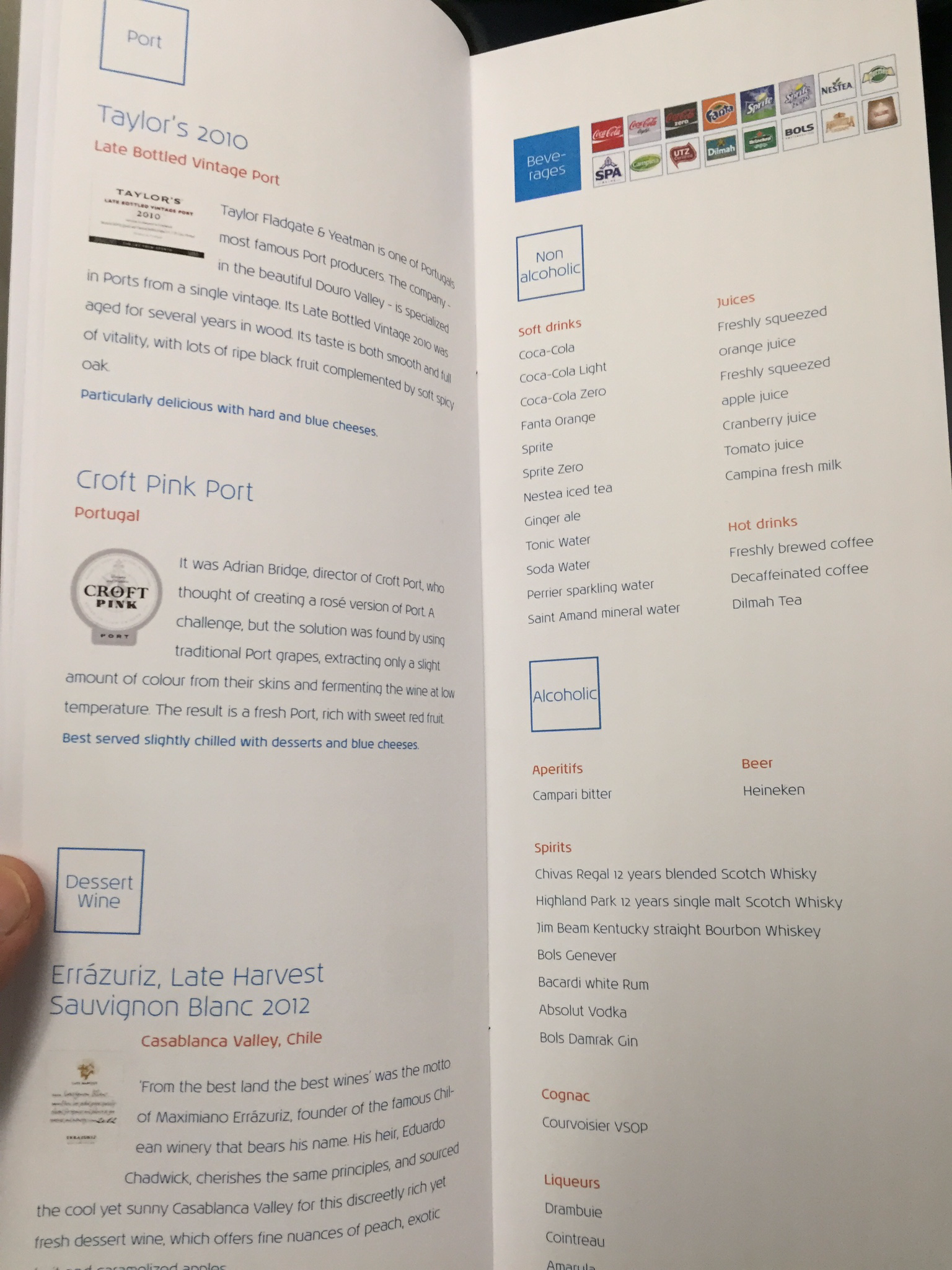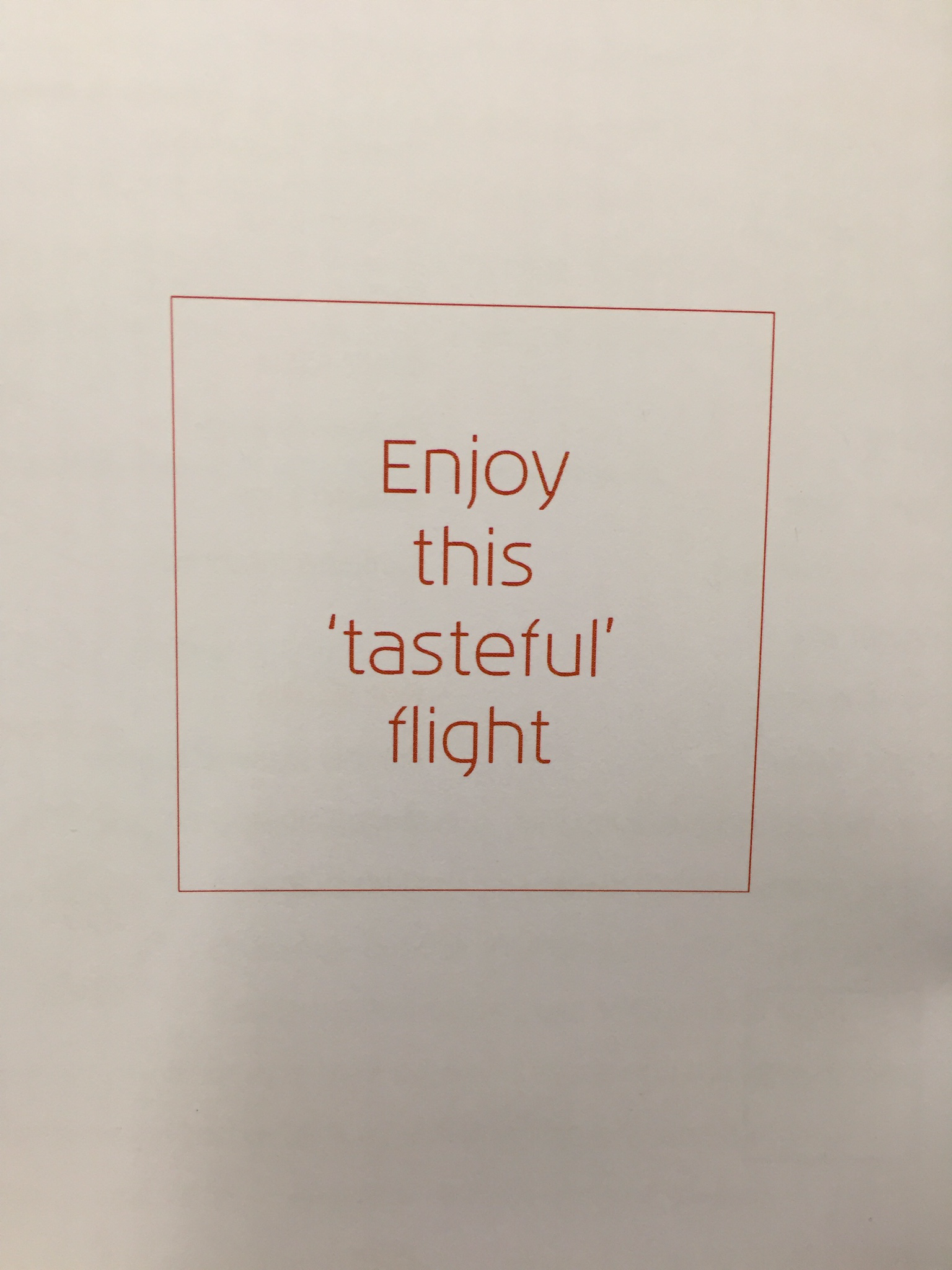 About twenty minutes after takeoff, the flight attendant came by with a hot towel service, and roughly 40 minutes after takeoff she swung by to offer a bowl of room-temperature mixed nuts and an aperitif. Though I'd had a glass on the ground, I'm not a particular fan of Nicolas Fueillatte, so I asked for a Campari and soda, and she gladly obliged.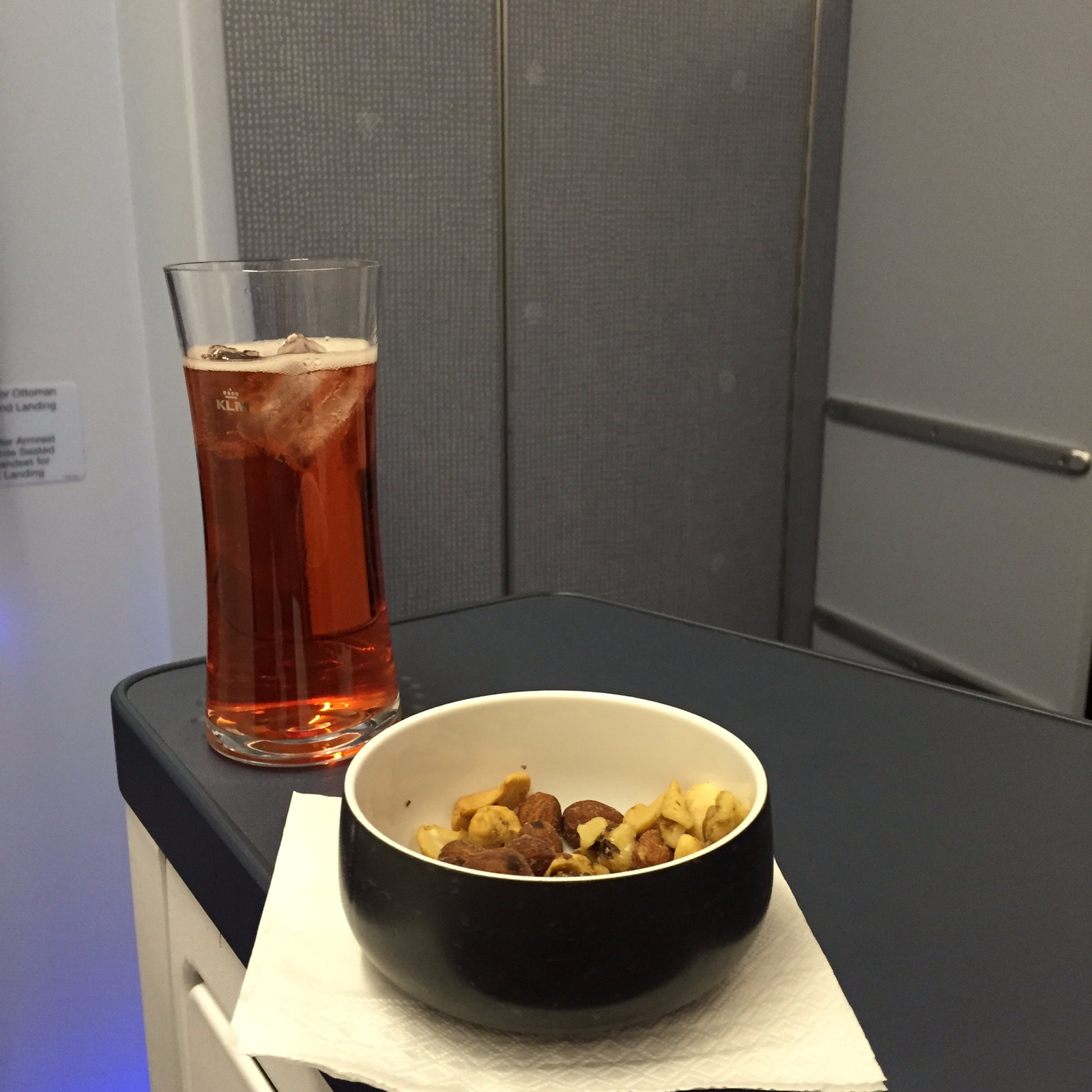 In the meantime, I was enjoying the benefits of the seat, which were fantastic. The footwell space is hugely spacious (at least in 1A) and never felt remotely restrictive, and the IFE screens are large (although the resolution is not particularly high). The IFE works from the outset, and KLM has a decent selection of films (though its selection of TV shows is poor) so I'd been trying to watch The Imitation Game, which I had really been looking forward to, but which instead just reminded me of a really weird time-traveling episode of The Big Bang Theory with Benedict Cumberbatch playing Sheldon Cooper and Keira Knightley as Penny.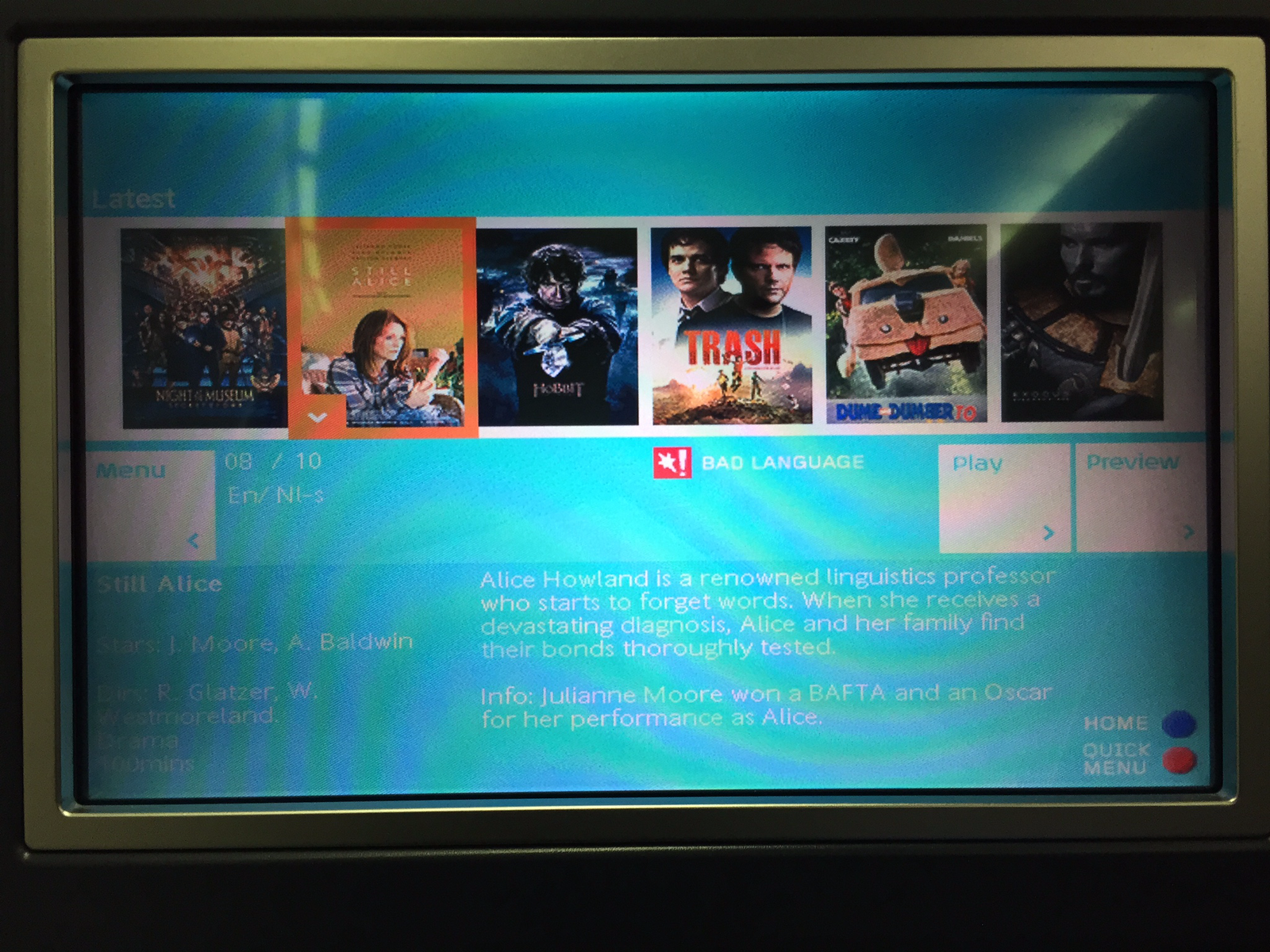 A short while later, the flight attendant team stopped by with an appetizer selection. I chose the hot smoked salmon with lotus root, which was presented with a roll of bread and olive oil and a little green salad. The bread was delicious. As for the hot salmon, while it wasn't especially appetizing to look at (and who serves hot smoked salmon?), it was fairly tasty, although incredibly salty.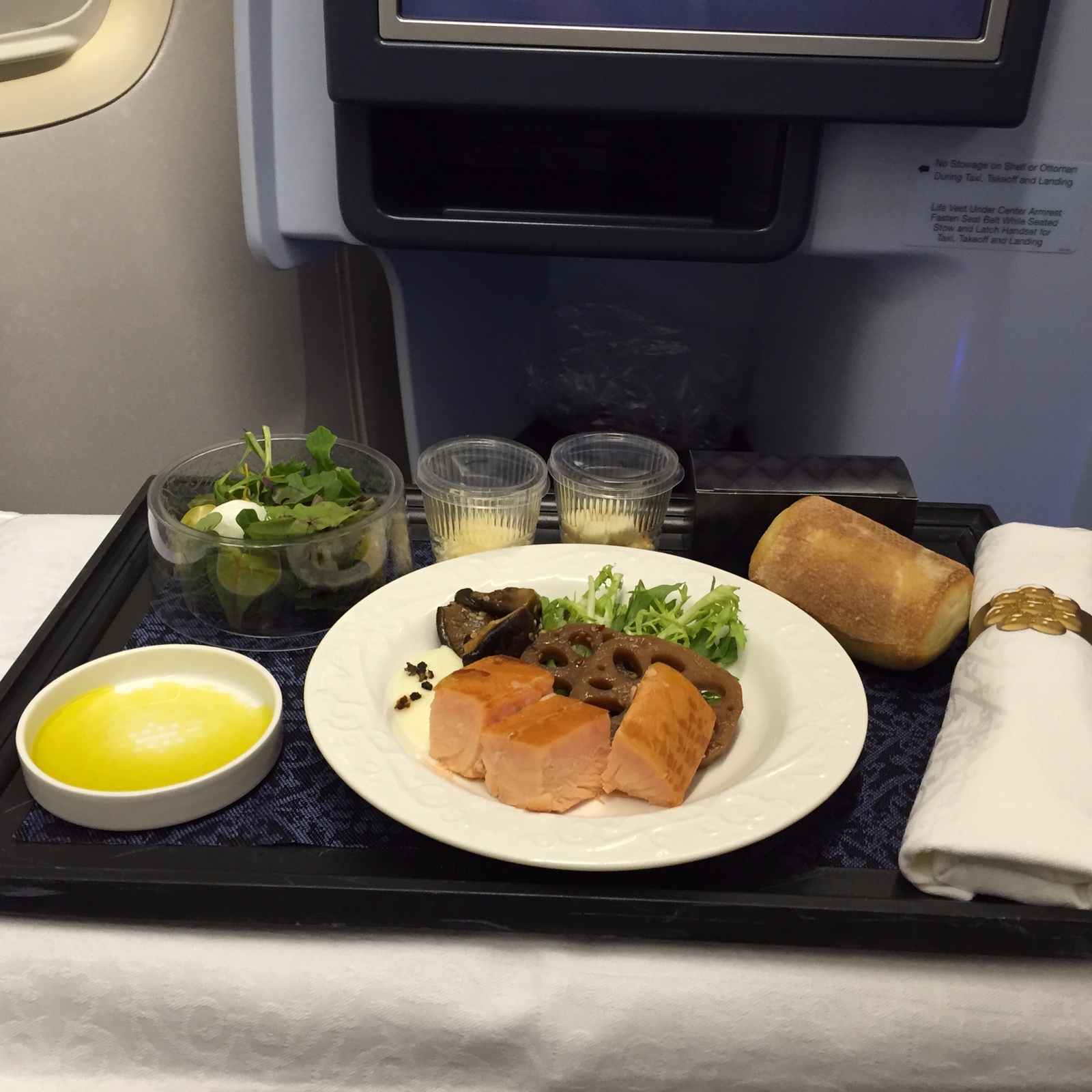 For my main course, I selected the beef stew, which seemed the far preferable option to the chicken teriyaki (not a dish the Dutch are especially known for). I know that Ben raved about his KLM beef stew, but I found mine just fine. Not bad, not even middling, but just decent airplane food. I wasn't wowed. I chose a glass of Pays d'Oc red wine to accompany the course after the flight attendant let me do a tasting of the two red offerings. (Apologies for the photo quality of the main course, which happened to coincide with a bout of turbulence and a shaky camera.)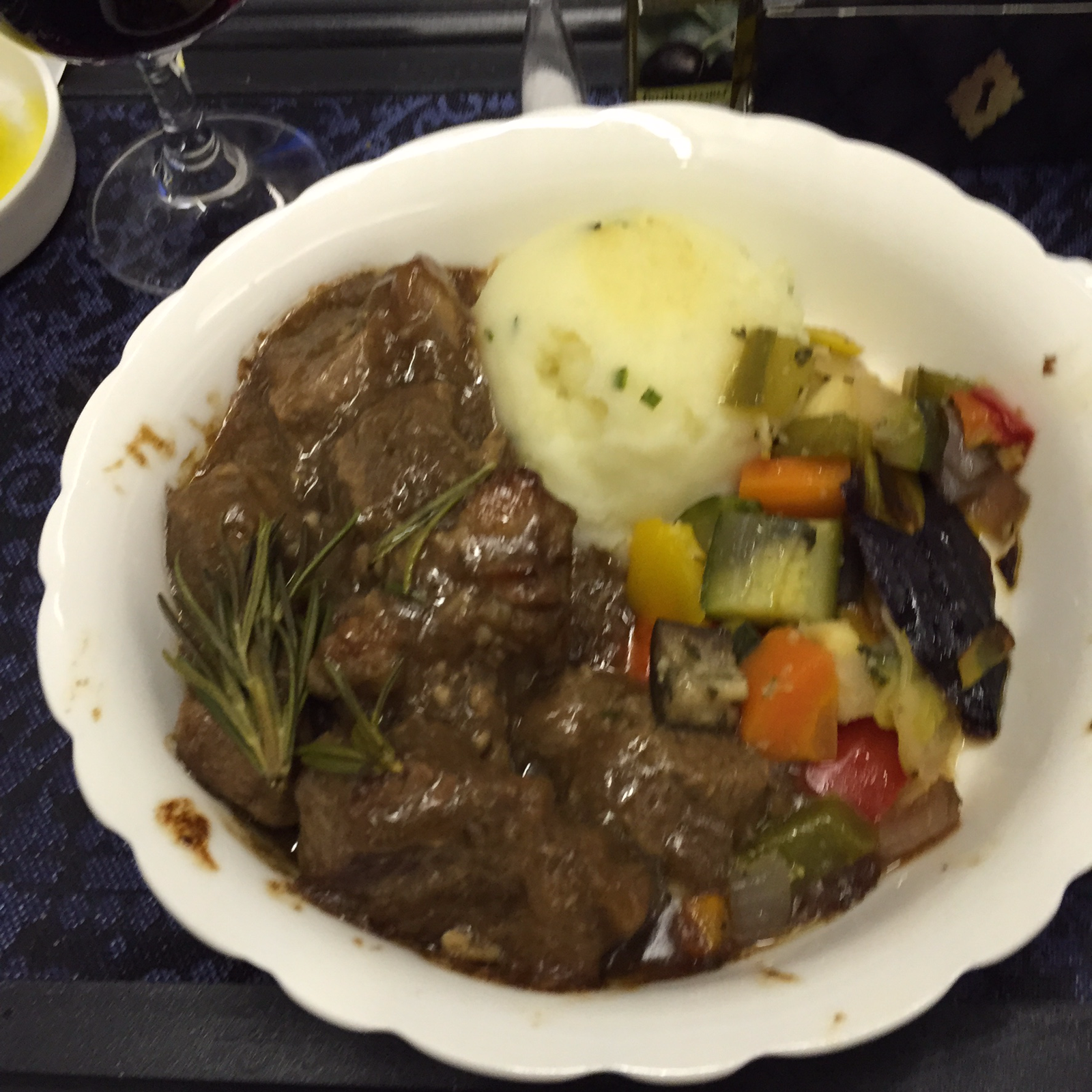 My friend had the chicken teriyaki and his assessment was more or less the same — good for airplane food, but nothing he'd rave about (or order) at a restaurant.
Following the main course, we were offered a selection of Dutch apple pie, apricot tartlet, fresh fruit or a cheese plate for dessert. I asked if I could have both the pie and the cheese plate, and the attendant obliged. However, while I thought the request might make me sound like a bit of a glutton, I'm glad I did ask because the "Dutch apple pie" was miniature. I had really been looking forward to the Dutch apple pie Ben was served with whipped cream on his trip, but apparently they've cut the size of the pie down, and dismissed the whipped cream entirely. What a disappointment!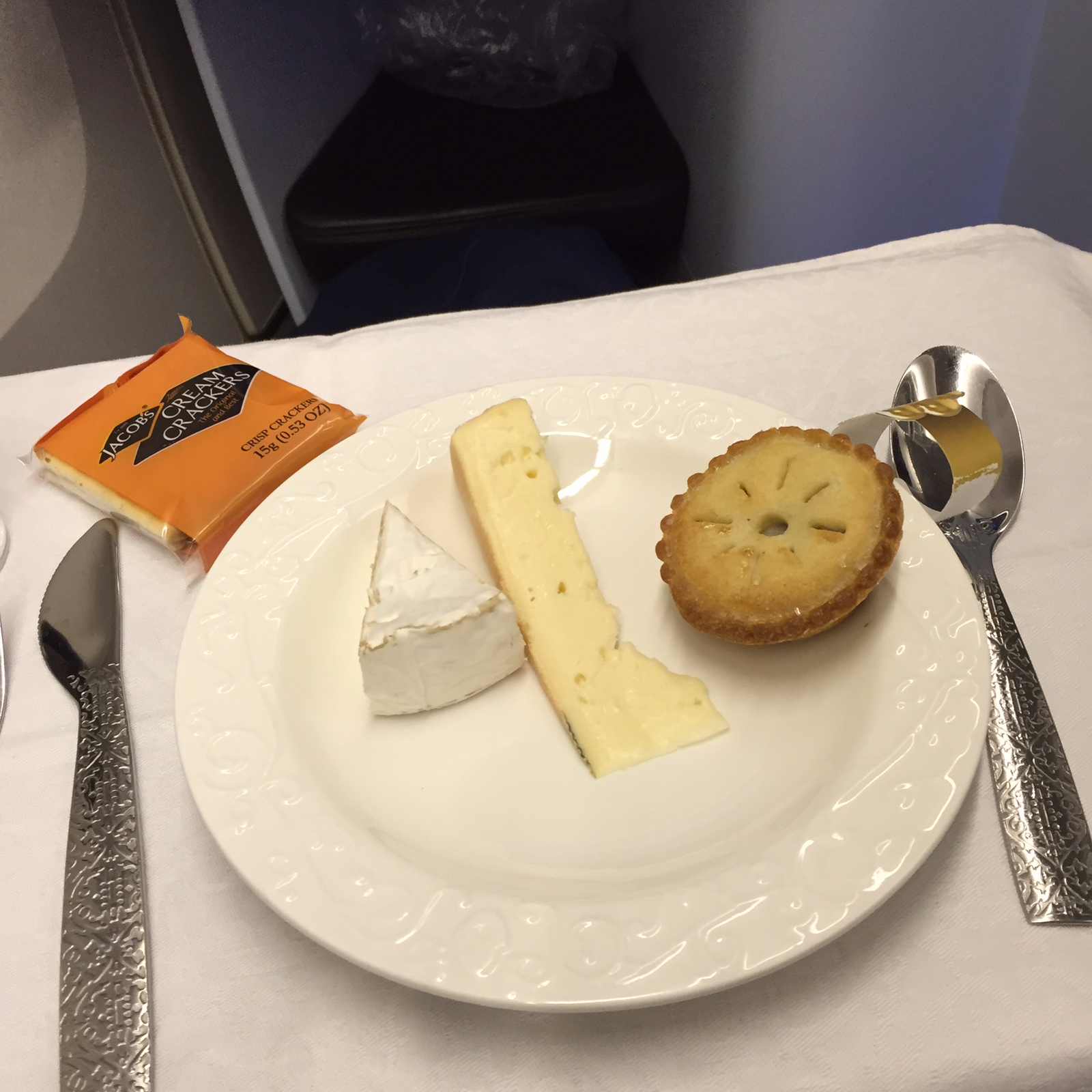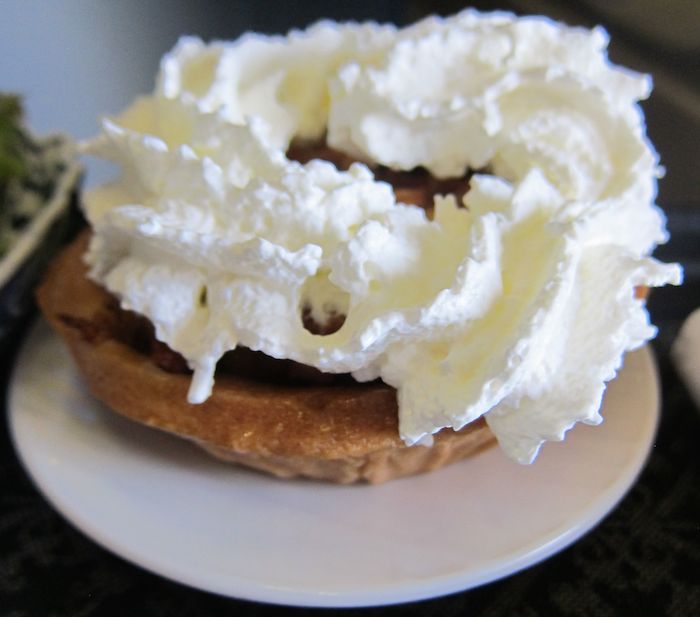 Immediately thereafter, she came by again with coffee and an assortment of chocolate truffles.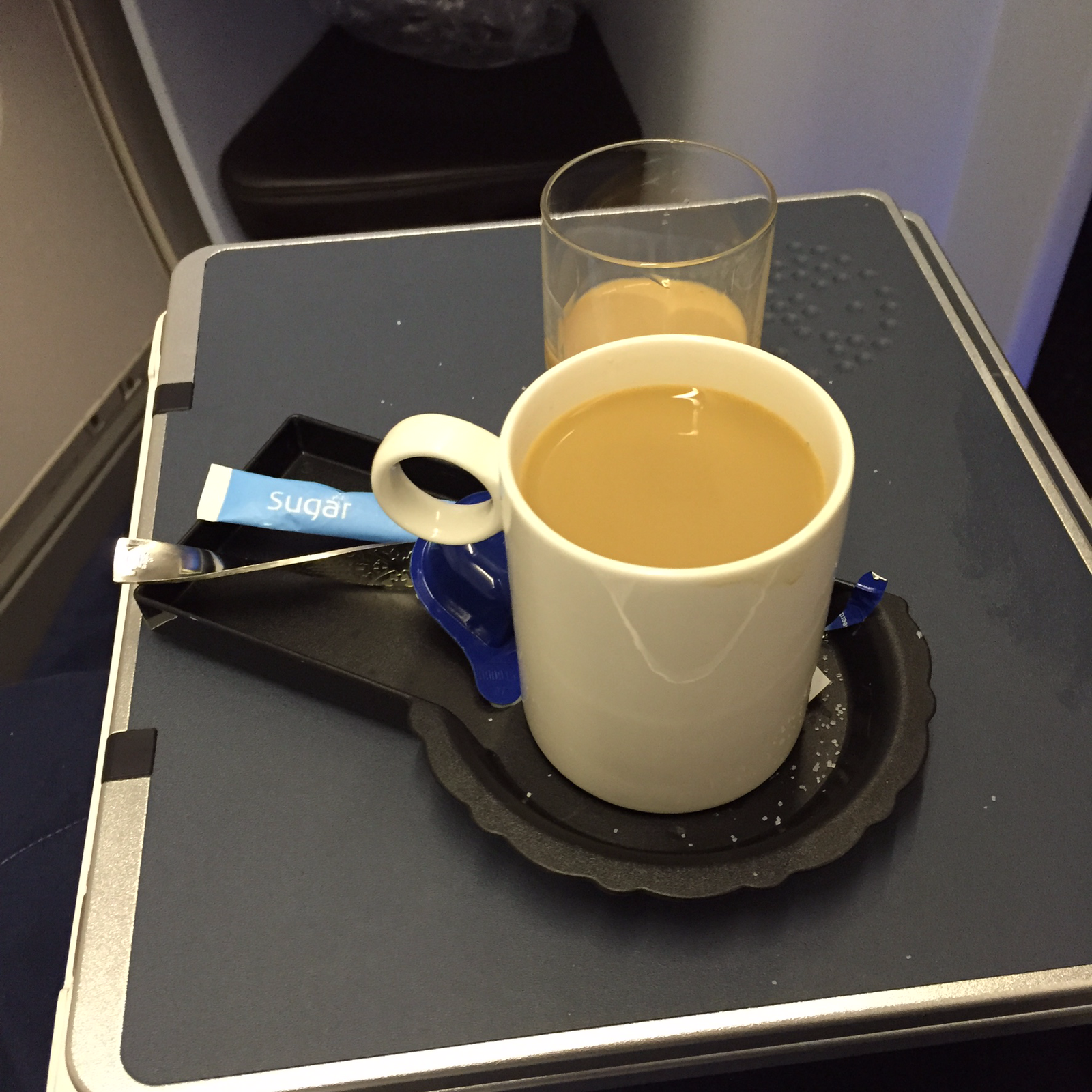 Shortly after dessert I made the decision to cut my losses on The Imitation Game, popped a Xani and Advil PM (my preferred airplane sleep combo), and slept like a baby.
I got about four and a half hours of sleep and was gently woken by the flight attendant to ask if I wanted to be served breakfast, about 90 minutes prior to arrival. I didn't have the option of eating breakfast at a later time, and I do wish more airlines on eastbound transatlantic flights offered the option of an "express breakfast" closer to landing. In any event, breakfast was a choice of "egg strata" or danish, along with a selection of any other breakfast items from the tray (which was almost presented tapas-style). I chose the egg strata, a hard boiled egg, fruit, cheese and yogurt, along with a cup of coffee. The breakfast was nothing to write home about.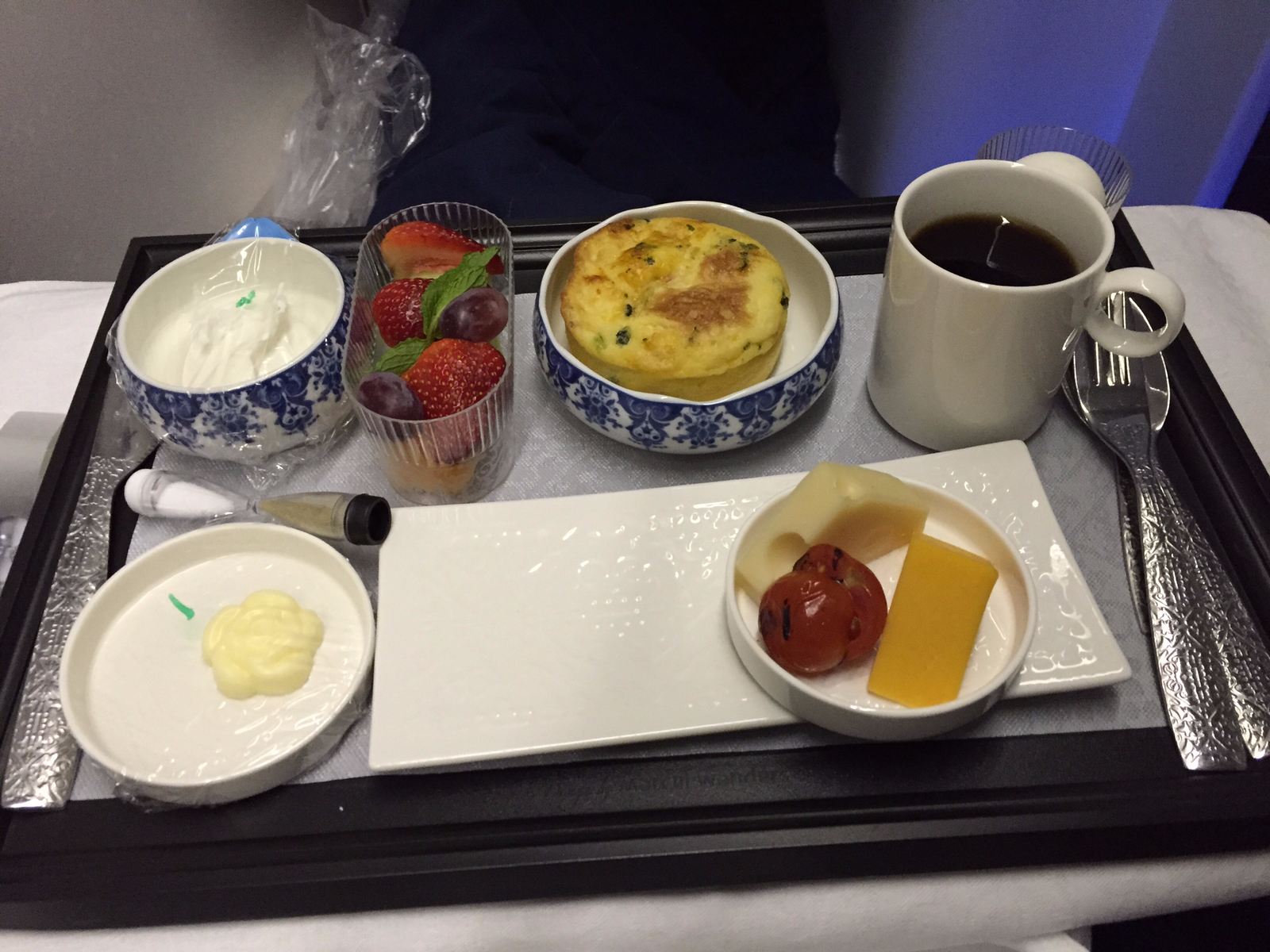 After breakfast, I changed clothes and freshened up in the lavatory and returned to my seat, bored by the rather limited selection of short-term IFE choices (they had maybe 10 episodes of television shows, in total). So instead I just watched the onboard map.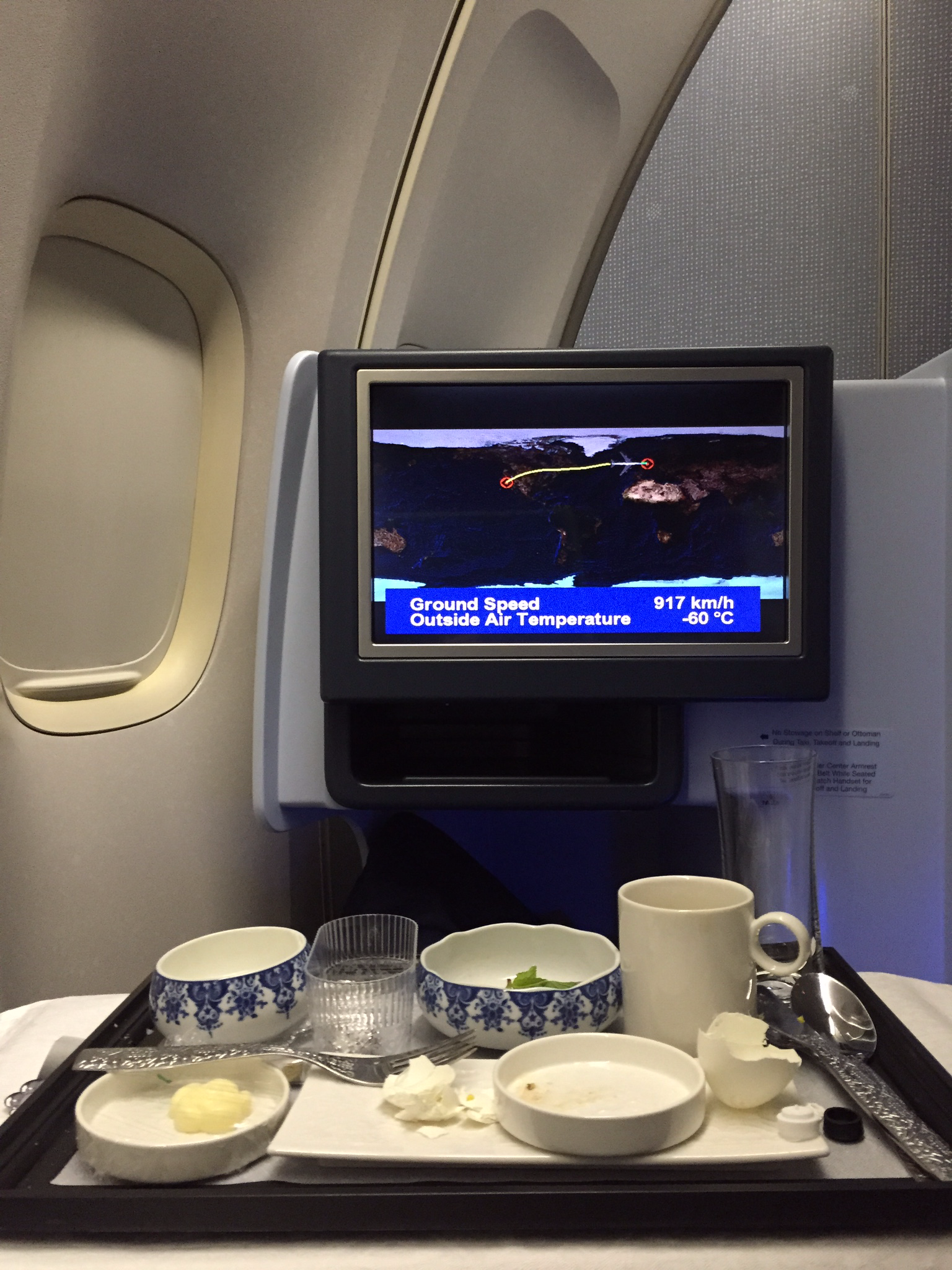 The flight attendant came by one more time with a tray of Dutch delft blue houses filled with gin. There were three types of houses on the tray, so, like an episode of House Hunters, I chose the one I thought was "Dutchiest" and she bagged it up for me in a duty-free bag I could carry on through my connecting flight, since there was liquid inside.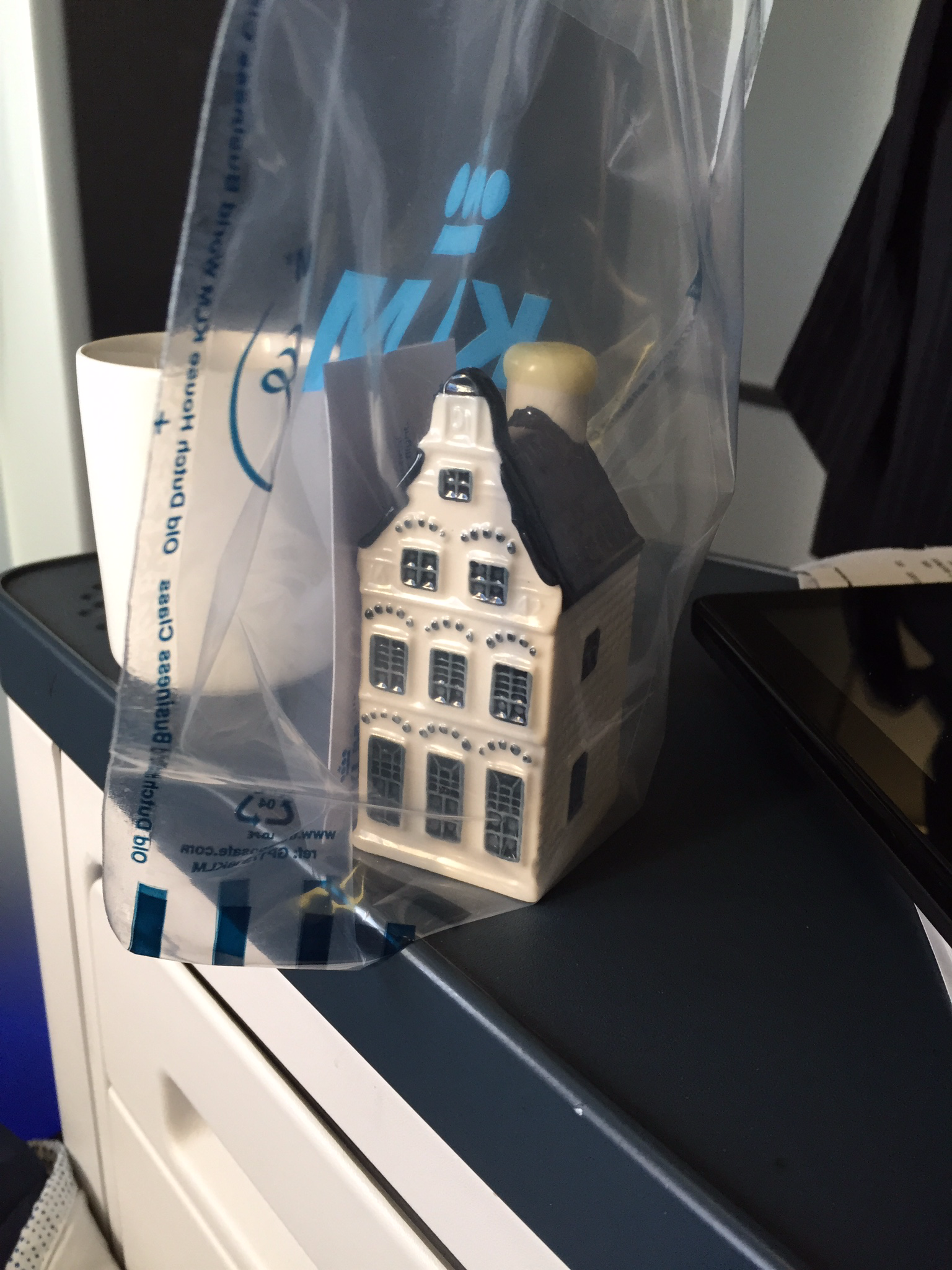 Even though we took off about a half hour late, we ended up arriving early at 8:49am. It felt like a quick flight and despite a small bout of turbulence during dinner service, was a smooth ride.
KLM Business Class Bottom Line
Overall, the whole flight experience did feel very Dutch. There was a certain design and style to every element of the flight, but it was infused with practicality and purpose instead of blinginess and excess you might find on Middle Eastern carriers. Service was never over-the-top and oftentimes reserved, but efficient and friendly: I'd call it pleasant, which is good enough.
What set this KLM flight apart to me was the seat, which was extremely comfortable and provided me with one of the best sleeps I've ever had on a plane (until it was truncated by breakfast service). When transformed to a fully flat bed, it was long and very wide. I appreciated that the cabin felt spacious and airy, and overall I'd say that with a few minor exceptions (middling IFE selection, lack of USB port) KLM's new World Business Class hard product is exceptional.
In my experience, the catering and service on KLM did not especially stand out and are probably best classified as functional, unmemorable and efficient — which is all you can really ask for on a transatlantic flight in business class.