---
Although I had a boarding pass for my Virgin Atlantic flight already printed on Delta stock, when I got to Terminal 2 I thought I'd check out the Virgin Atlantic check-in area to see what it looked like, and to reprint a pass on Virgin stock for the hell of it.
Weirdly, the Virgin Atlantic check-in area isn't located with the other ticket counters at Terminal 2, but instead requires you to walk out of the terminal, along the sidewalk and back inside an annex of the terminal. Strange.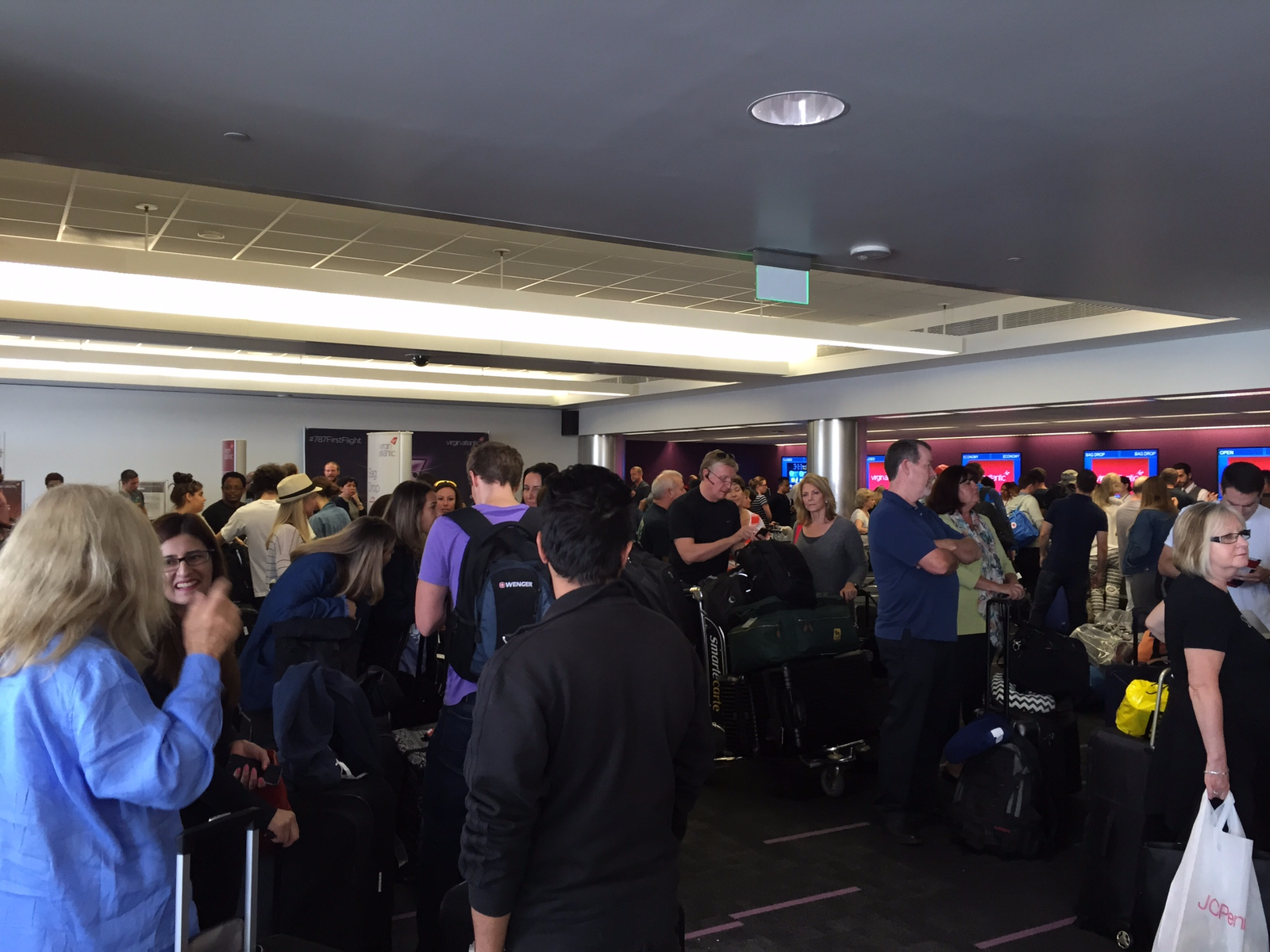 I opened the doors onto a zoo. There were literally hundreds of people crammed into the check in area, and even the Upper Class zone had lines ten to twelve people deep, all of whom looked miserable and exasperated. I hoped this didn't portend anything about my flight ahead, and backed out slowly, deciding a Delta boarding pass would get me through security just fine. 🙂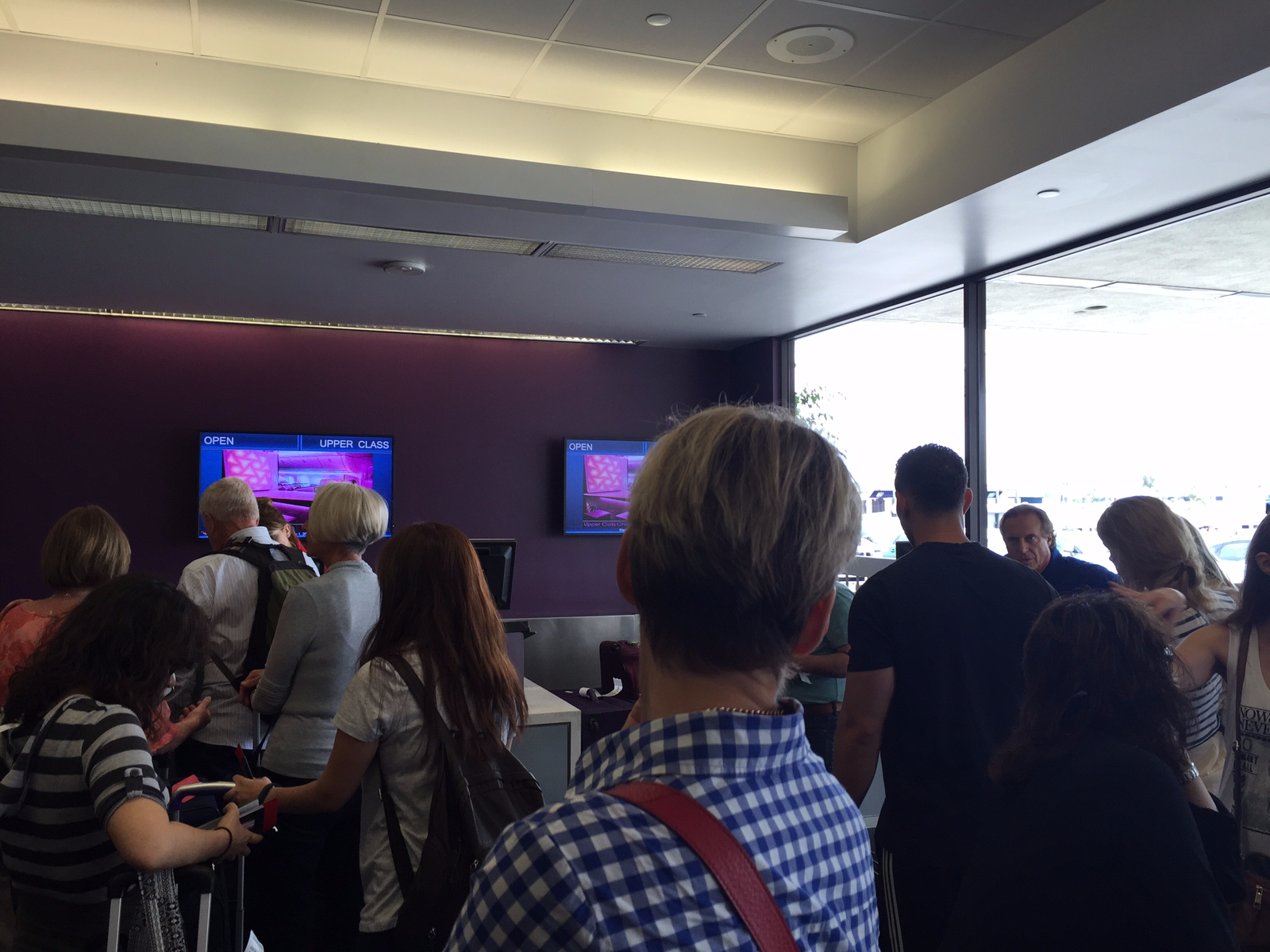 Terminal 2 is an interesting case study at LAX. There are mostly international flights leaving from the terminal, and the terminal is a bit of hodgepodge of airlines, housing Aeromexico, Air Canada, Avianca, Hawaiian, Sun Country, Virgin Atlantic, Volaris and WestJet.
Yet the terminal itself, despite receiving an appealing airside facelift, is depressing landside. The security area is a bit small, and while there was not much of a line, there was no dedicated TSA PreCheck line. Instead I was simply told I could keep my shoes on and show the agent my boarding pass.
Stupidly, but good for OMAAT readers to know, if you use your TSA PreCheck boarding pass through a regular lane when no dedicated lanes are available, you can leave your shoes on but you still have to take your laptop out of your bag. I didn't, and was lectured about this by the TSA agent as he took my bag out for special screening.
Come on.
But also, come on for Terminal 2 to not have a dedicated Precheck lane at 2:00 in the afternoon on a Wednesday. It seemed a bit poorly thought out.
Anyway, a quick walk through the terminal led me upstairs and into the new Virgin Atlantic Clubhouse at LAX, which was actually pretty empty (in fact, it opens at 2:00pm, so I was one of the first customers there).
When I asked about the chaos at the ticketing area, the agents at the Clubhouse check-in desk explained that the early evening flight the day before had mechanical issues and was cancelled, so the agents were trying to accommodate passengers on alternate flights. In fact, that day there would be three departures on Virgin from LAX to Heathrow, rather than the usual two.
Sadly, this also meant that the new 787 Dreamliner on which I was scheduled to fly to London was swapped out for an Airbus 340-600. In fact, as my Delta flight from San Jose was taxiing at LAX, I did notice a Virgin 787 being serviced at a remote hangar.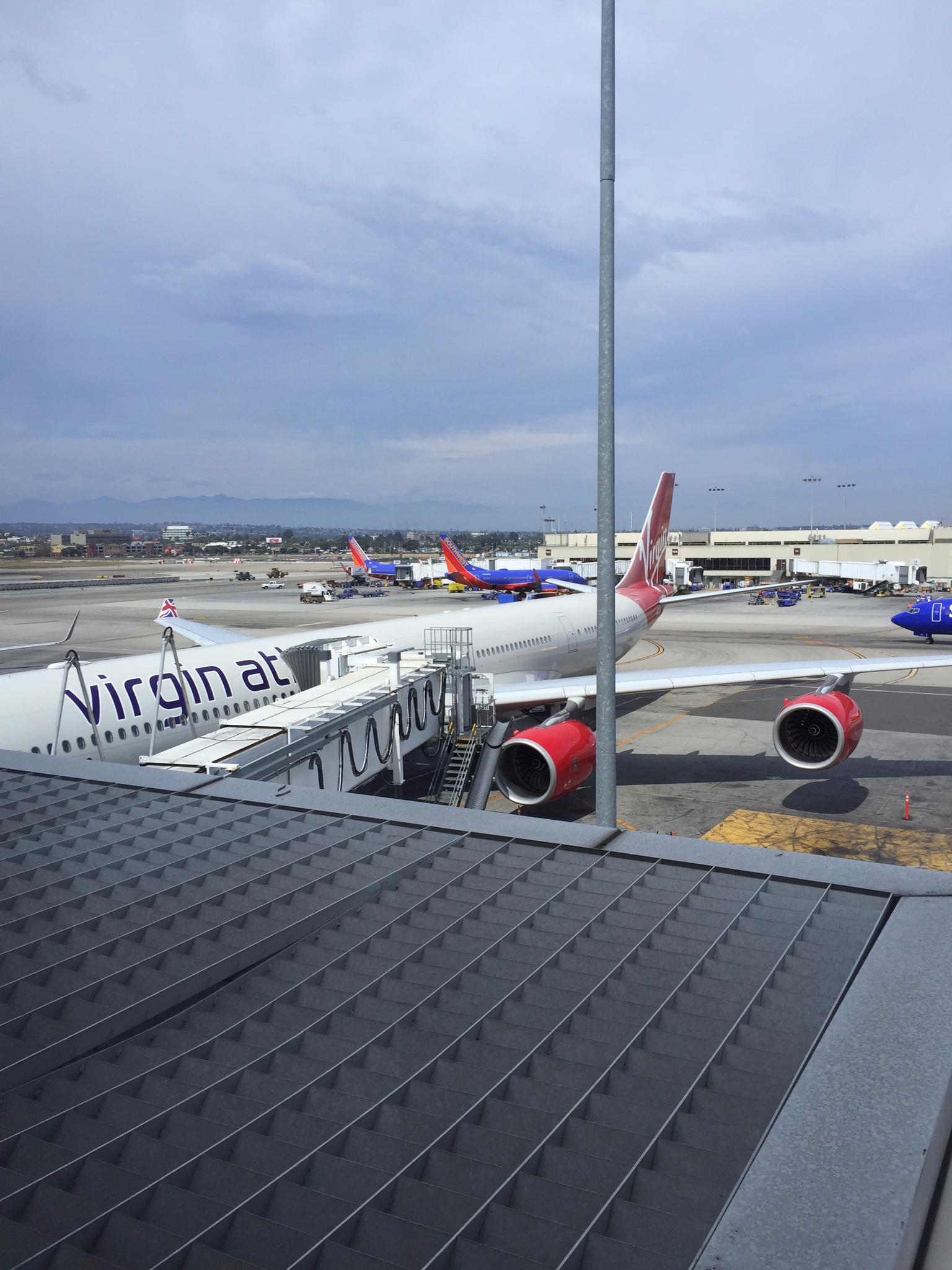 Apparently, passengers on the previous day's cancelled flight would be accommodated on the 787 when it was ready to go, and their scheduled departure was past 8pm at the earliest. Poor guys.
Anyway, I walked into the lounge and it was truly stunning. It's not a large lounge by any means, but it has a variety of seating areas, a small dining room toward the back, a bar (without stools – you're not meant to dine or drink at the bar but rather throughout the lounge), a counter running along the windows overlooking the tarmac, and another seating area directly in front of the bar.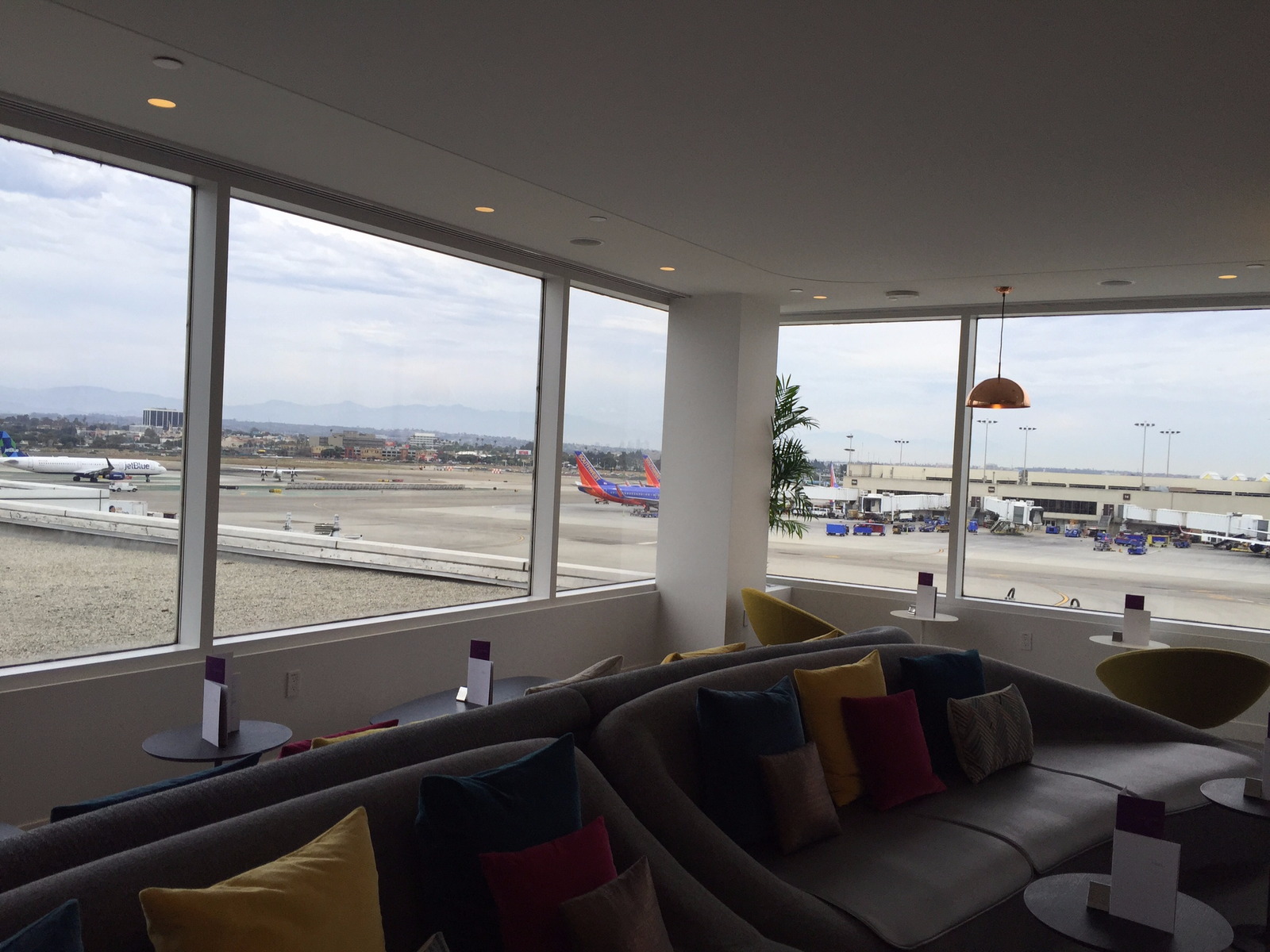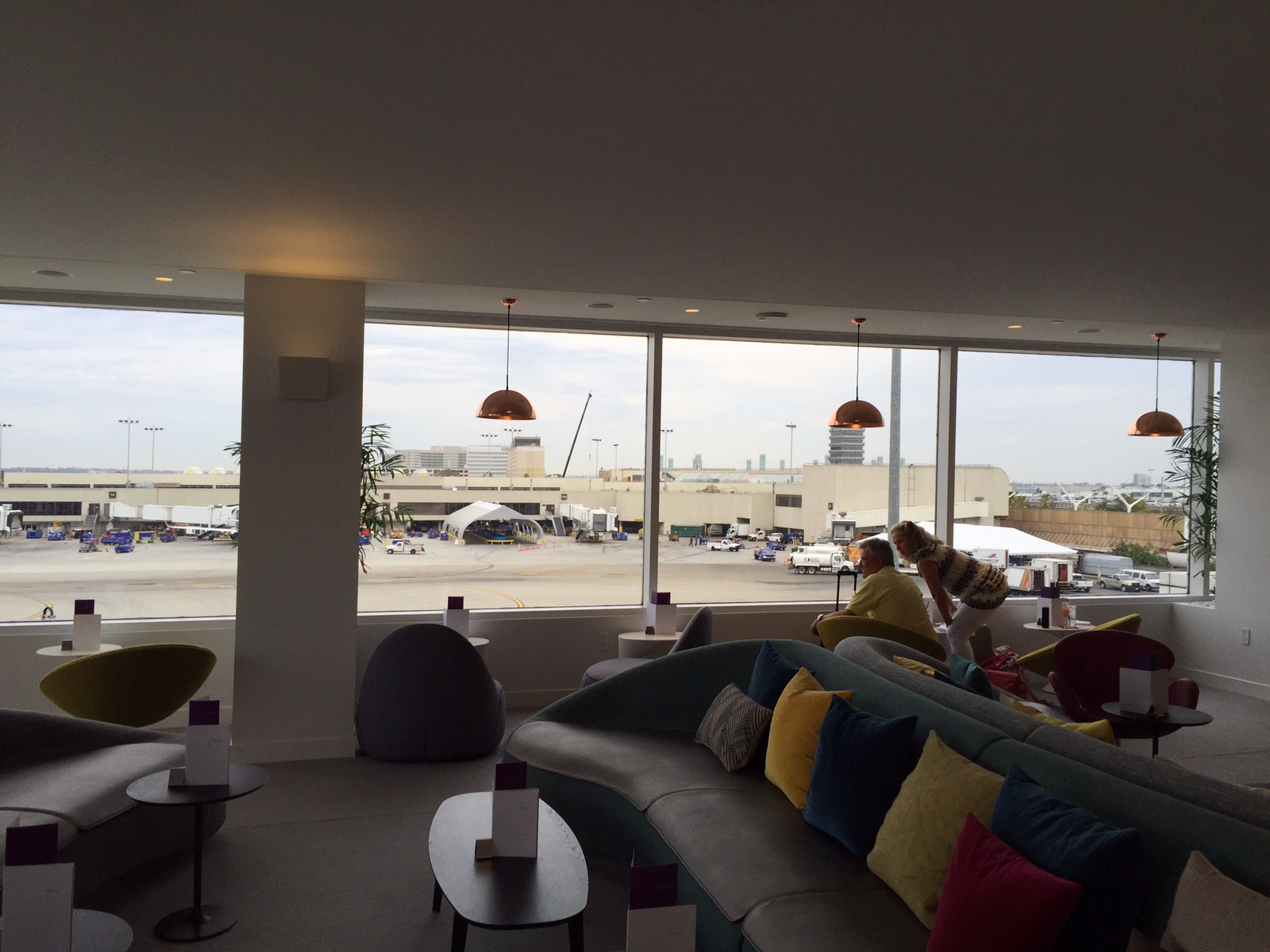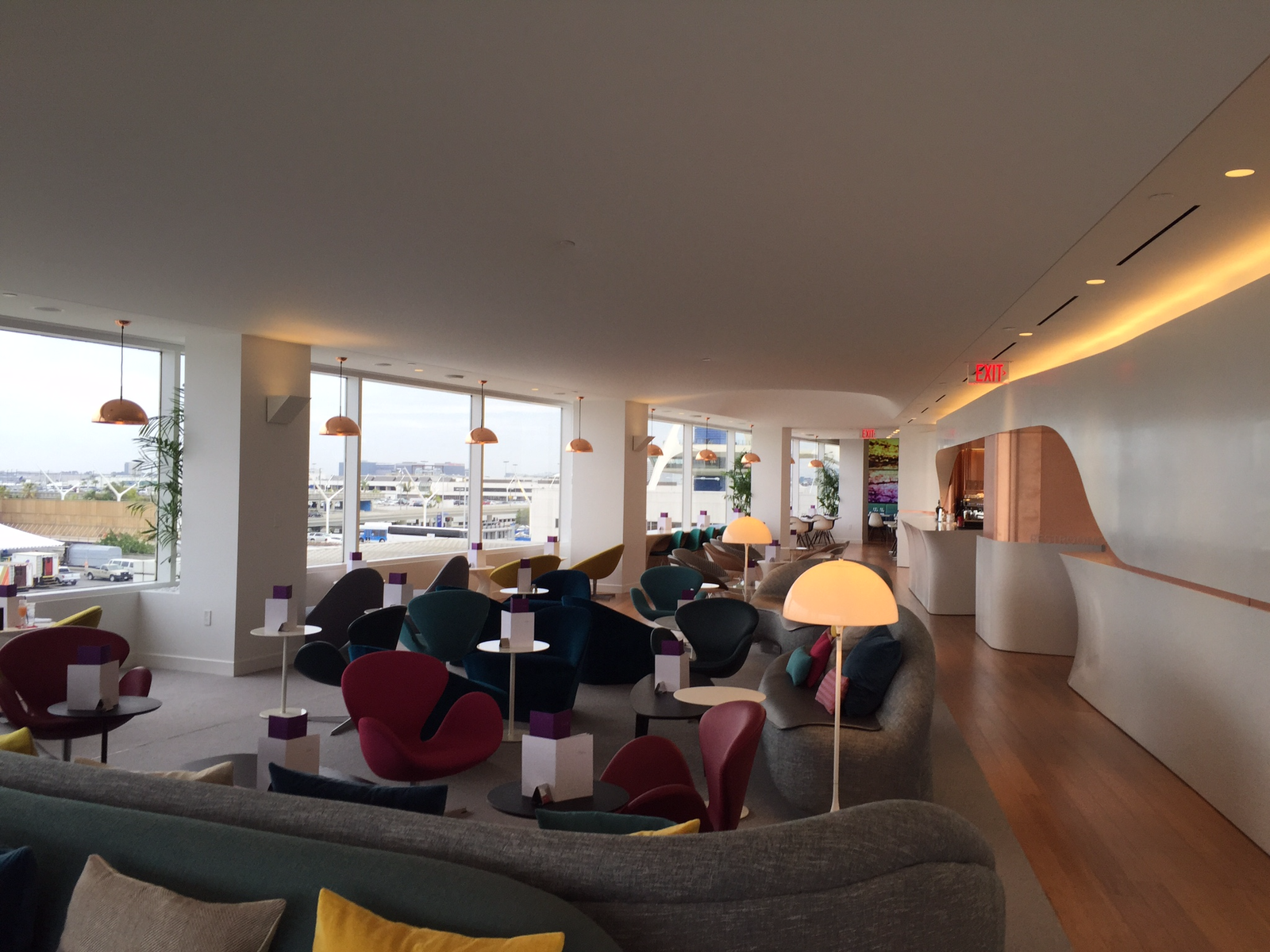 The design of the Clubhouse is intended to very "Modern LA," or what Virgin perceives of as being modern LA, which is to say edgy and infused with street art, tattoos and graffiti.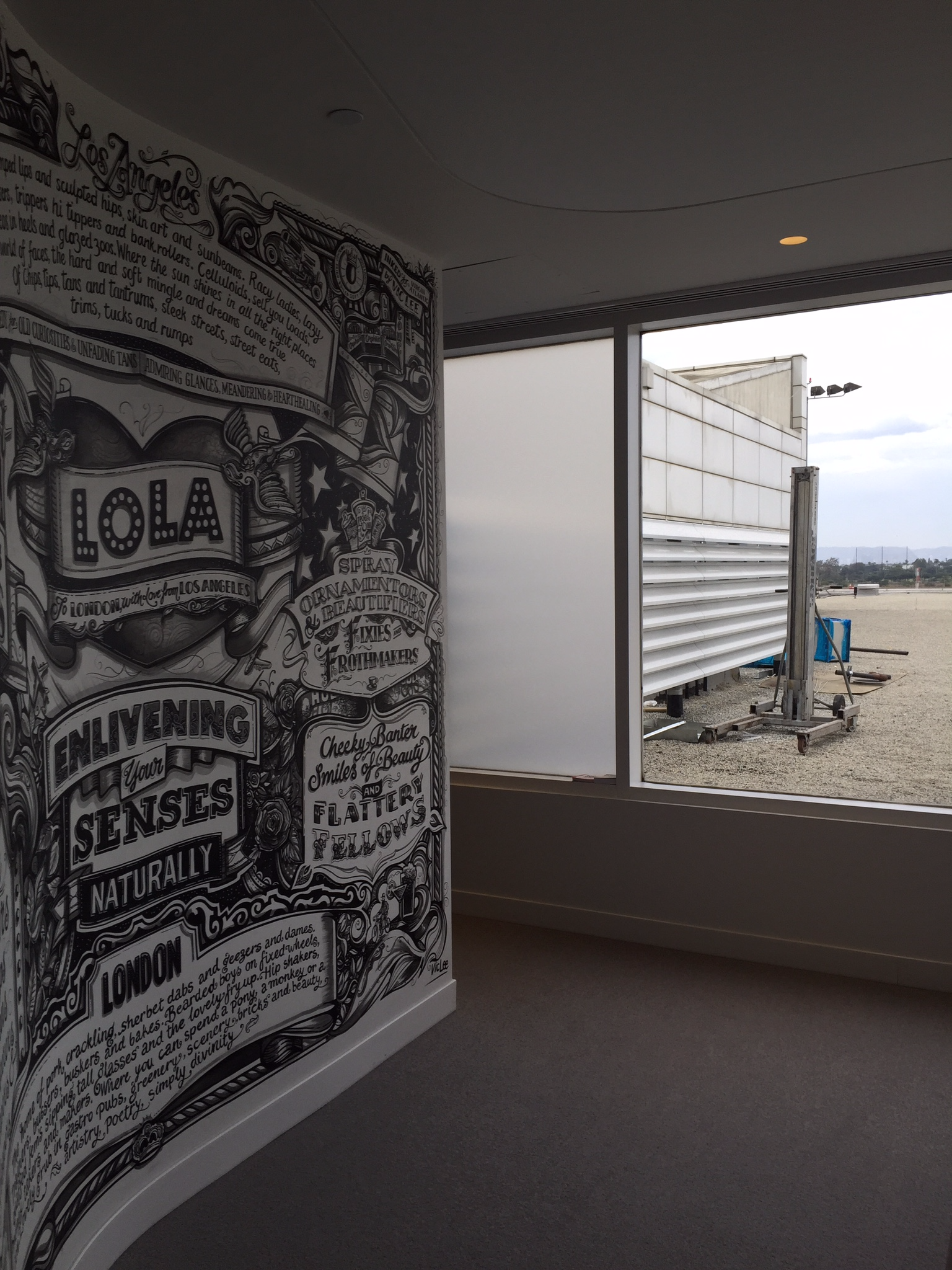 Sure, okay. The bathrooms also reflected this aesthetic.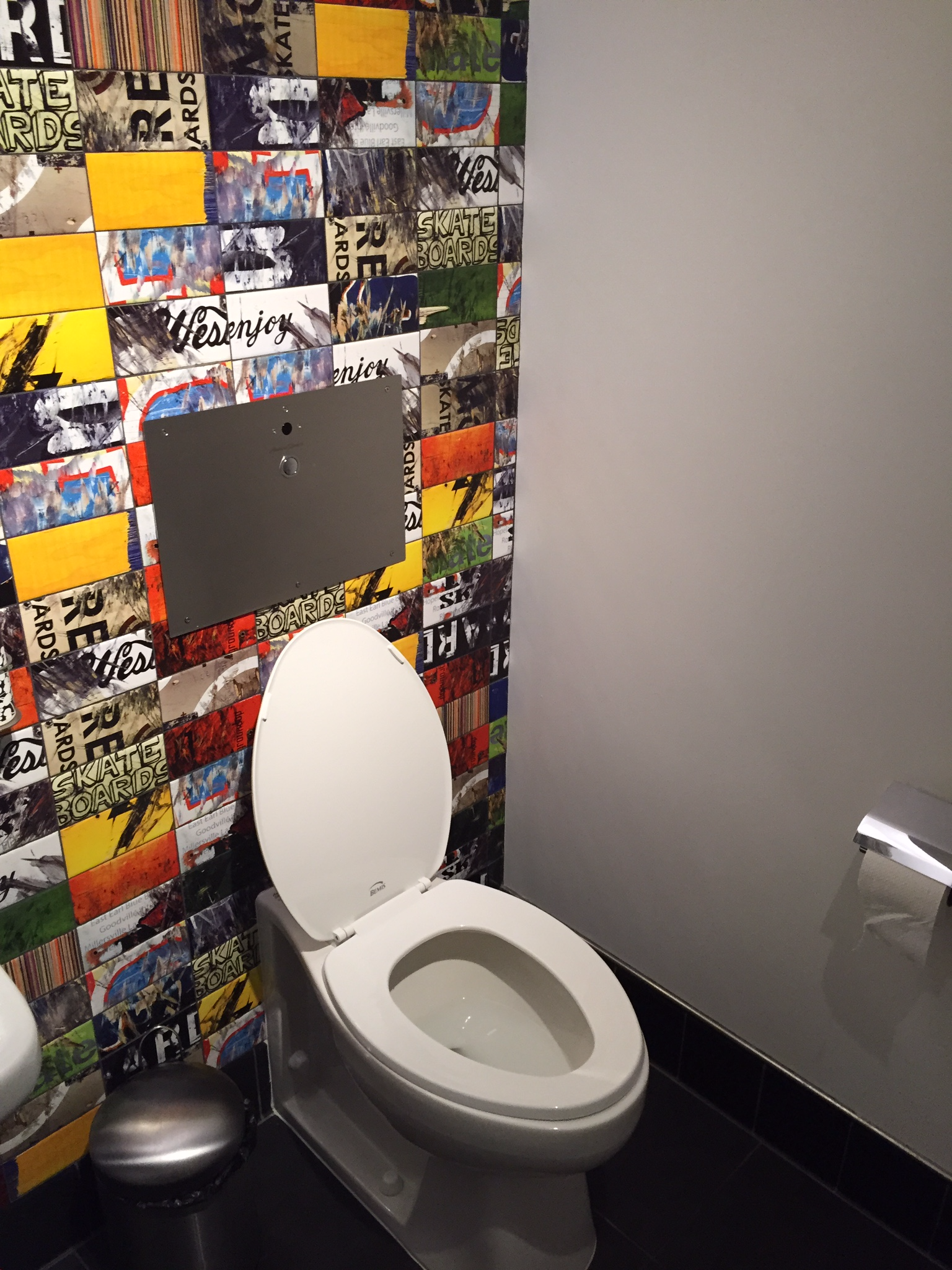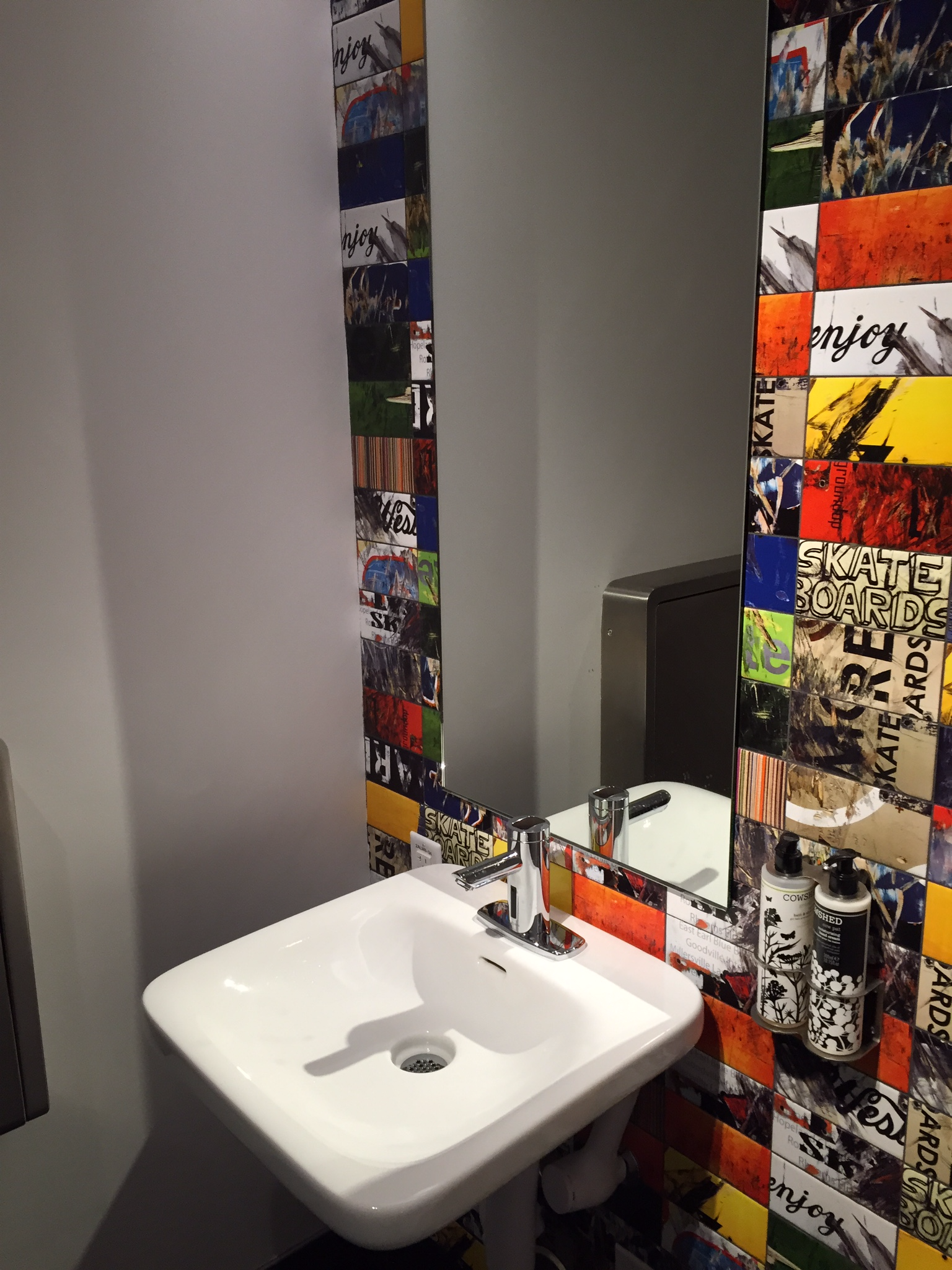 I set my computer and phone up on the counter near one of the few outlets (it's worth noting that there are very few power outlets in the Virgin Atlantic Clubhouse, which is utterly baffling, and annoying) and sat down in a comfy little midcentury modern chair adjacent to a low table.
A menu on the table listed the various food and beverage options and a delightful server popped by to take my order. I started with a glass of champagne (Pommery, for those wondering) while I looked at the menu to see what I wanted for lunch.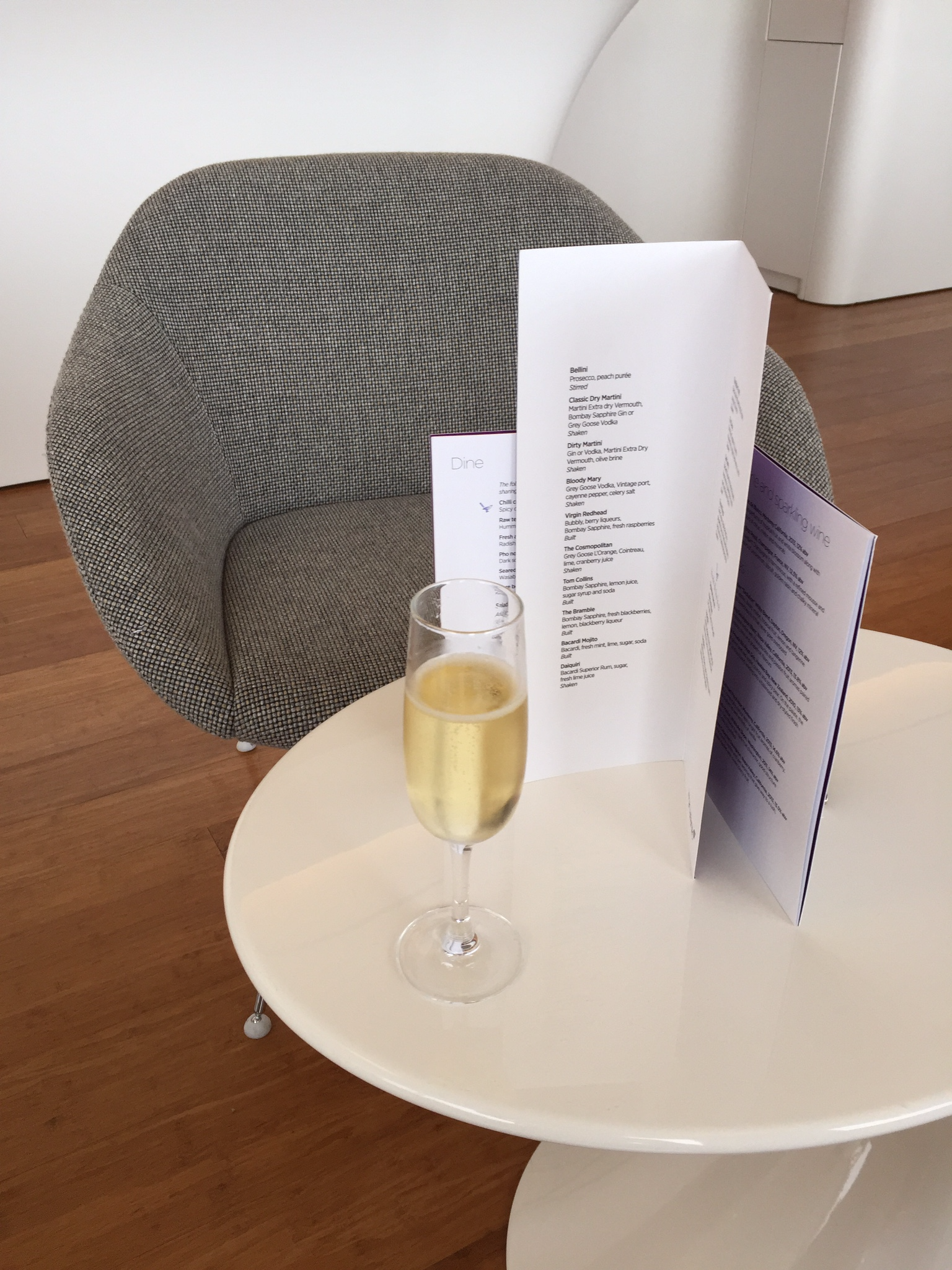 The food and specialty cocktails are in conjunction with the Los Angeles-based Hinoki & the Bird, which is a fantastic (and very swanky) restaurant in Century City. I was excited to try it. In keeping with the "Modern LA" theme, there was also a menu for (sigh) cold-pressed juices.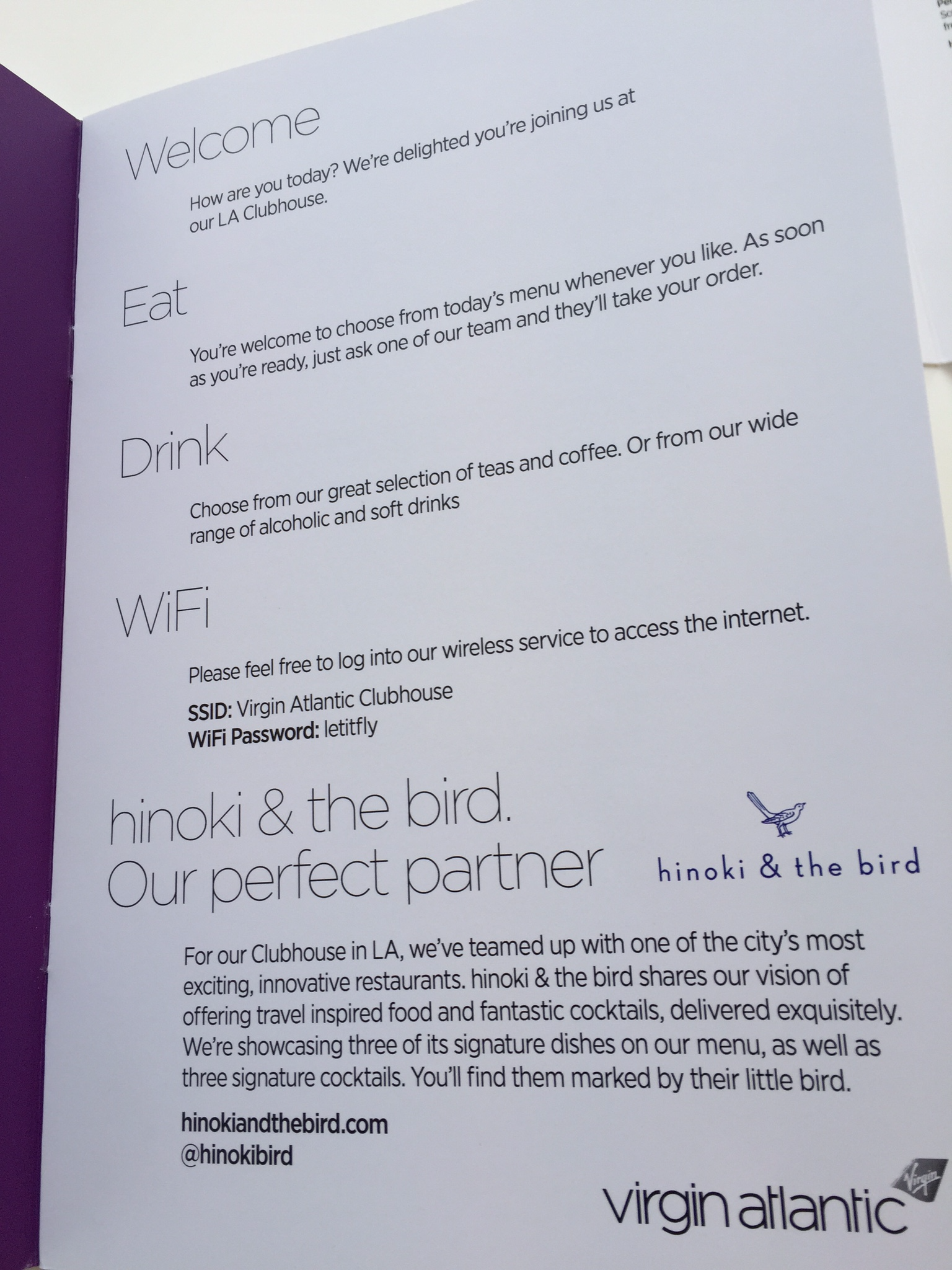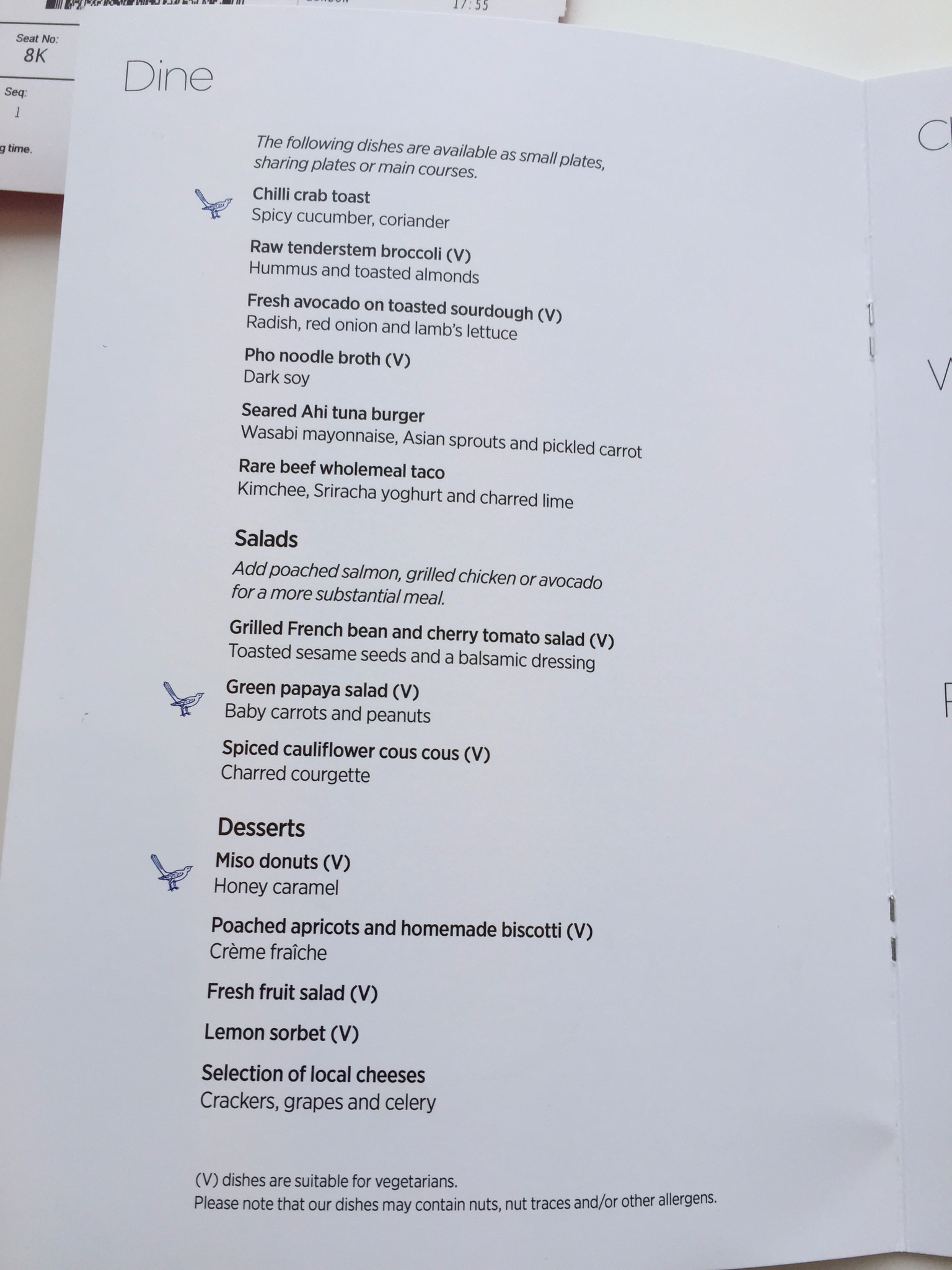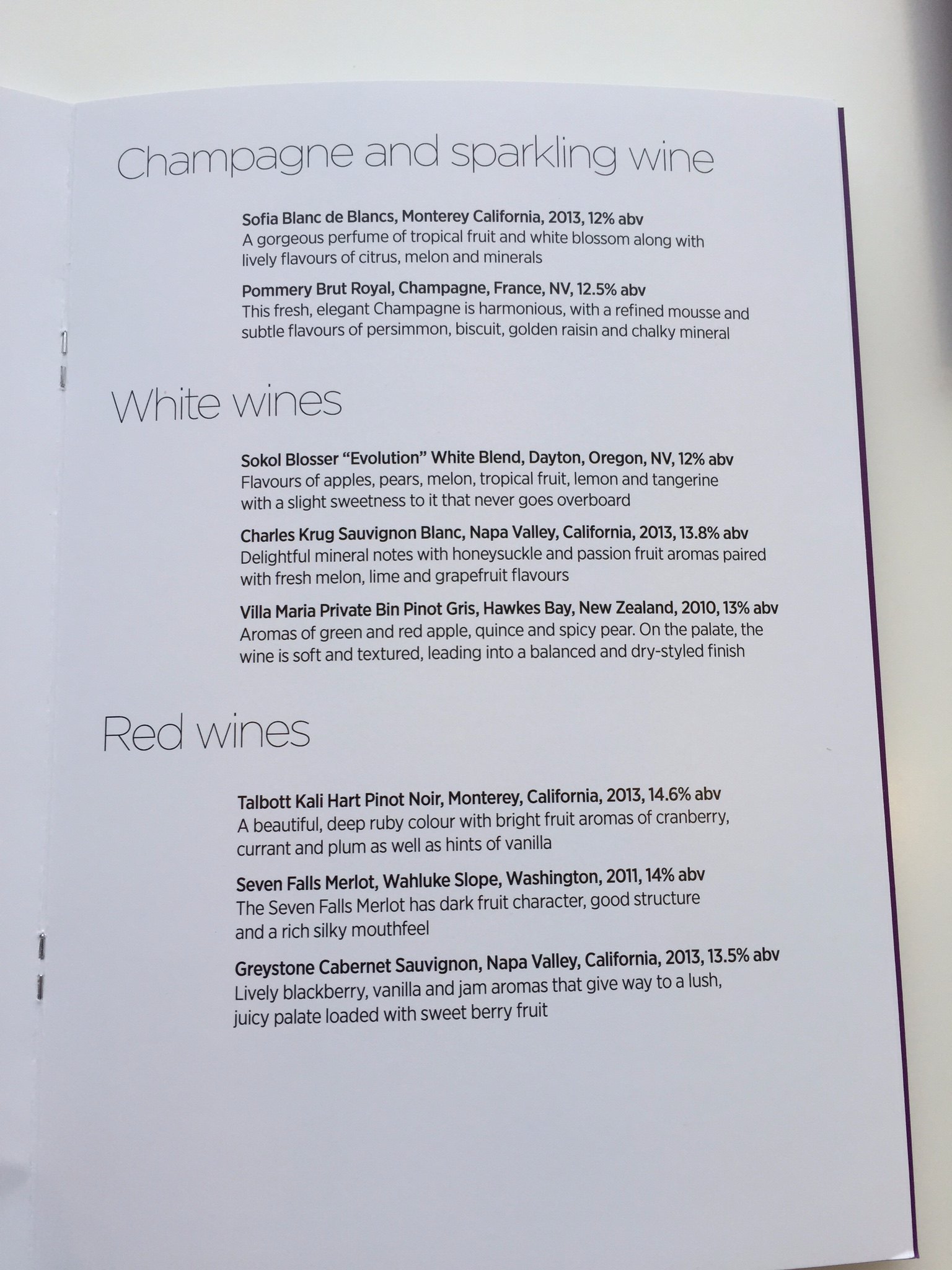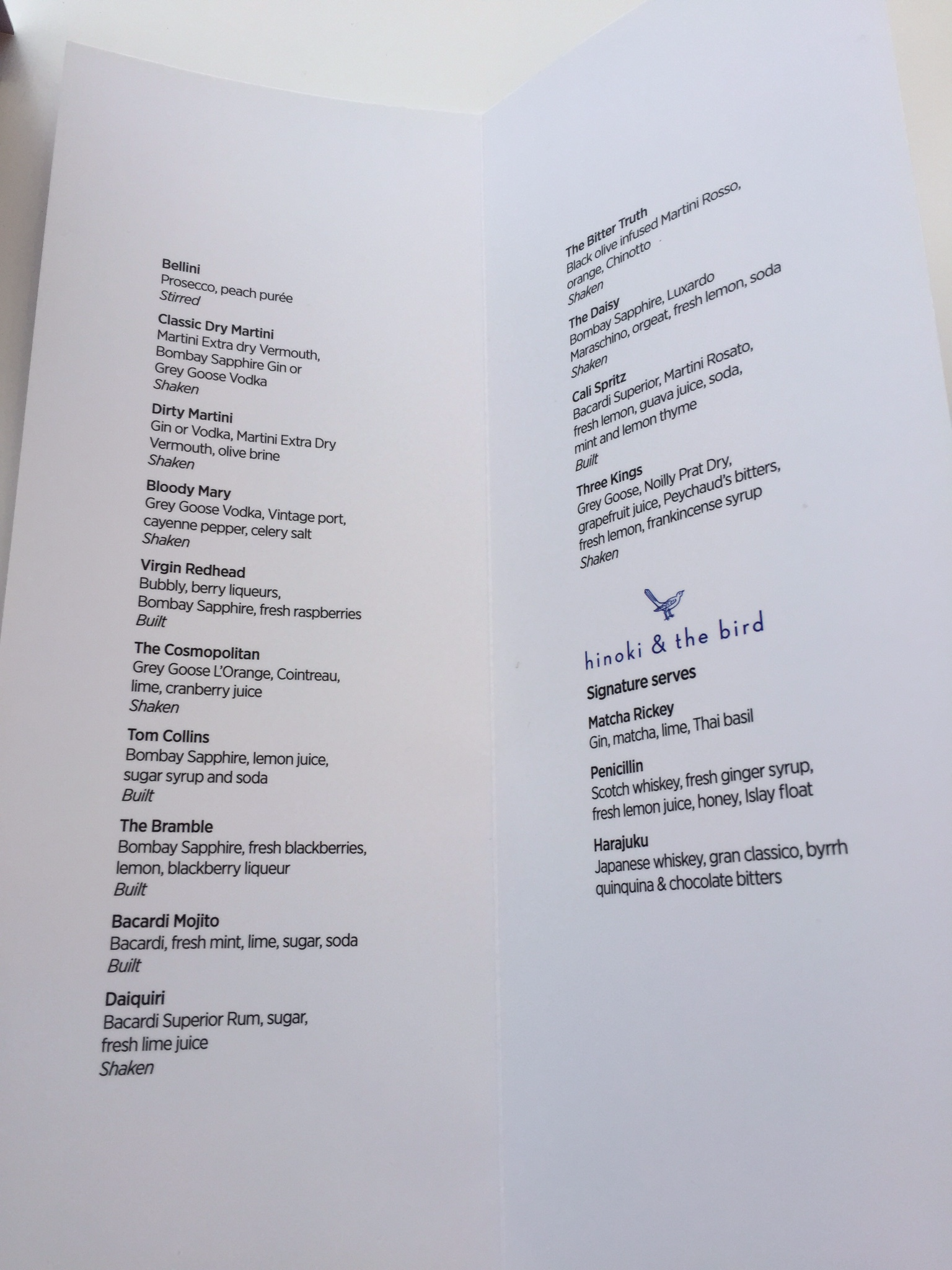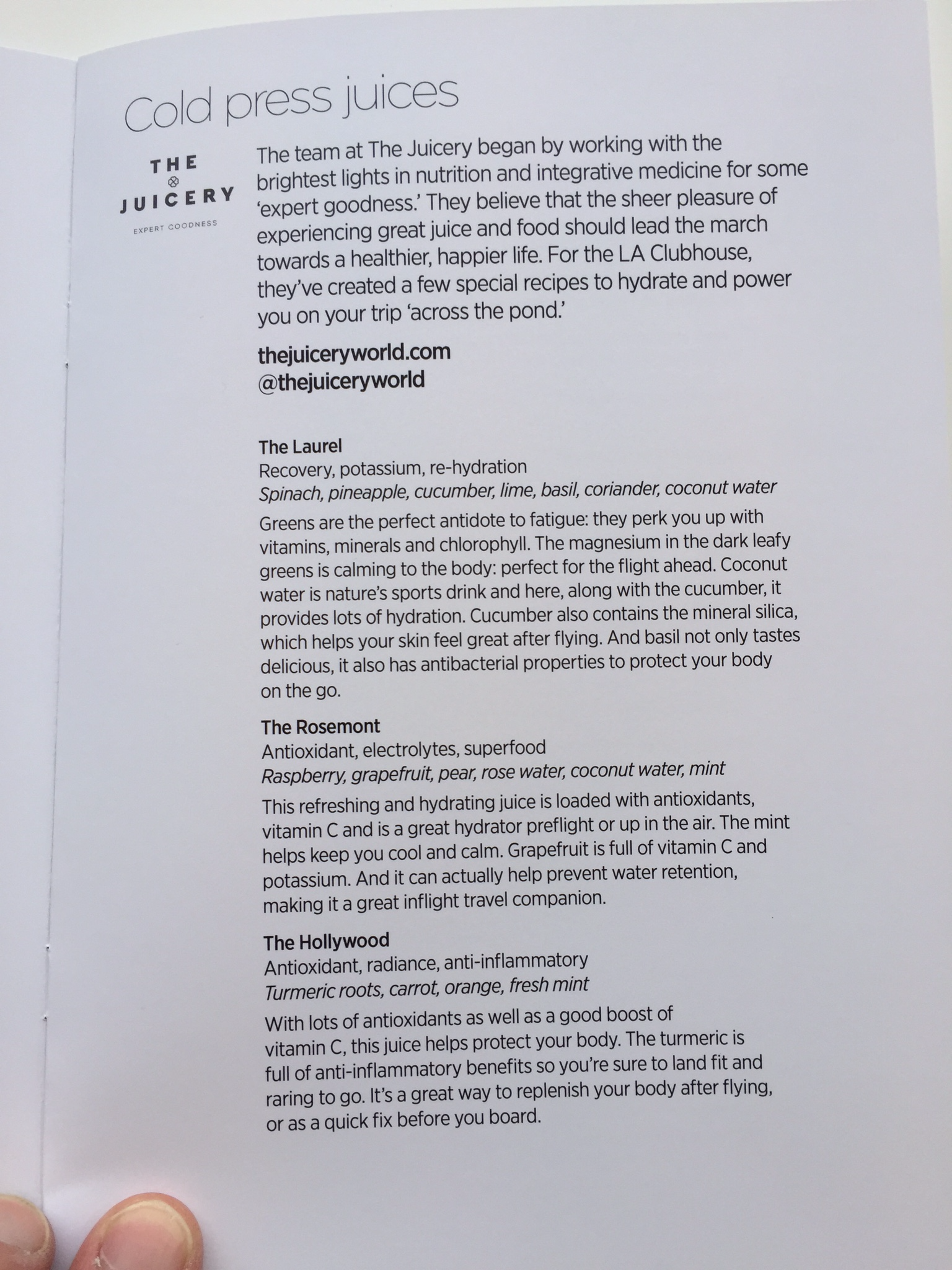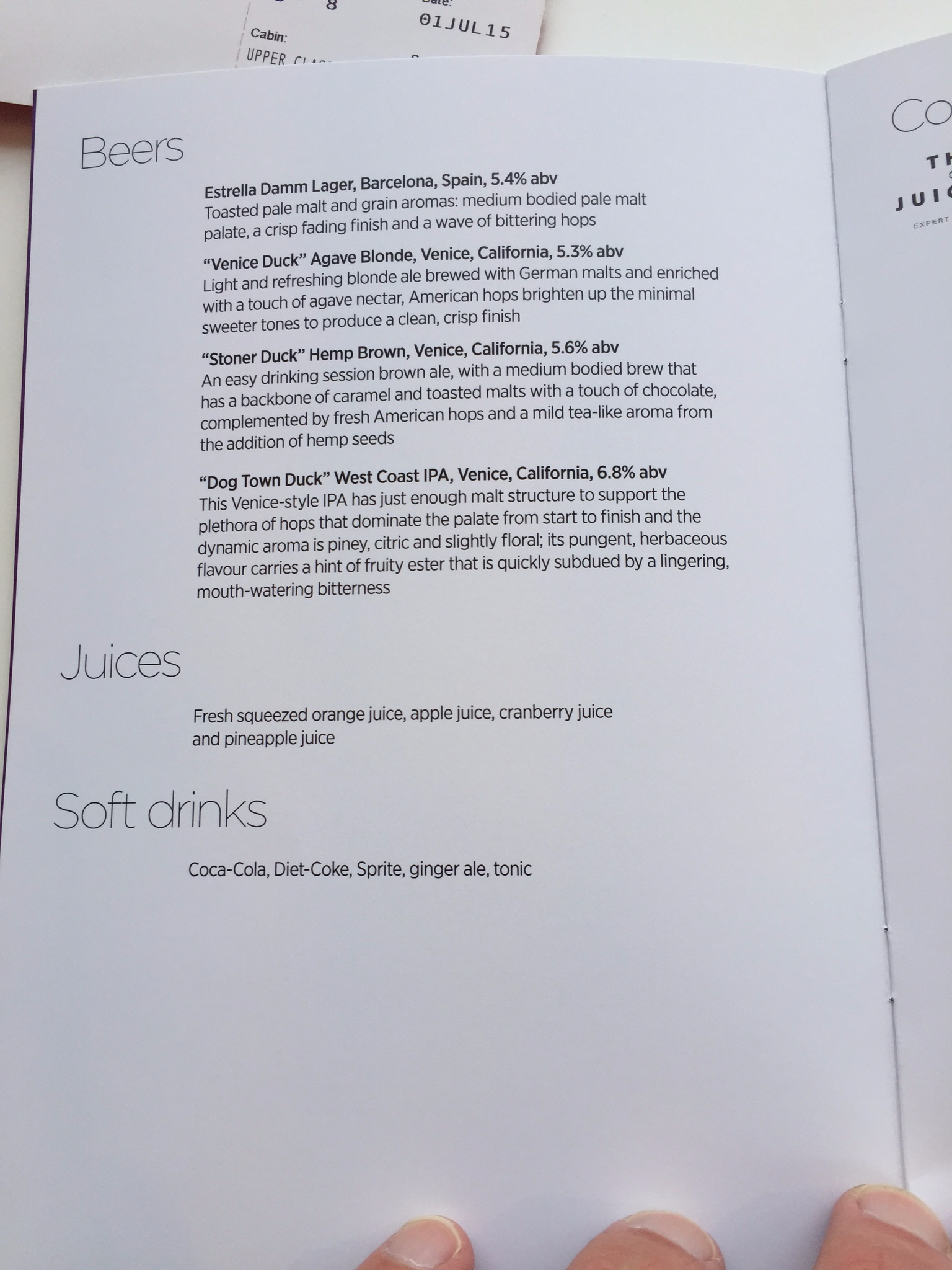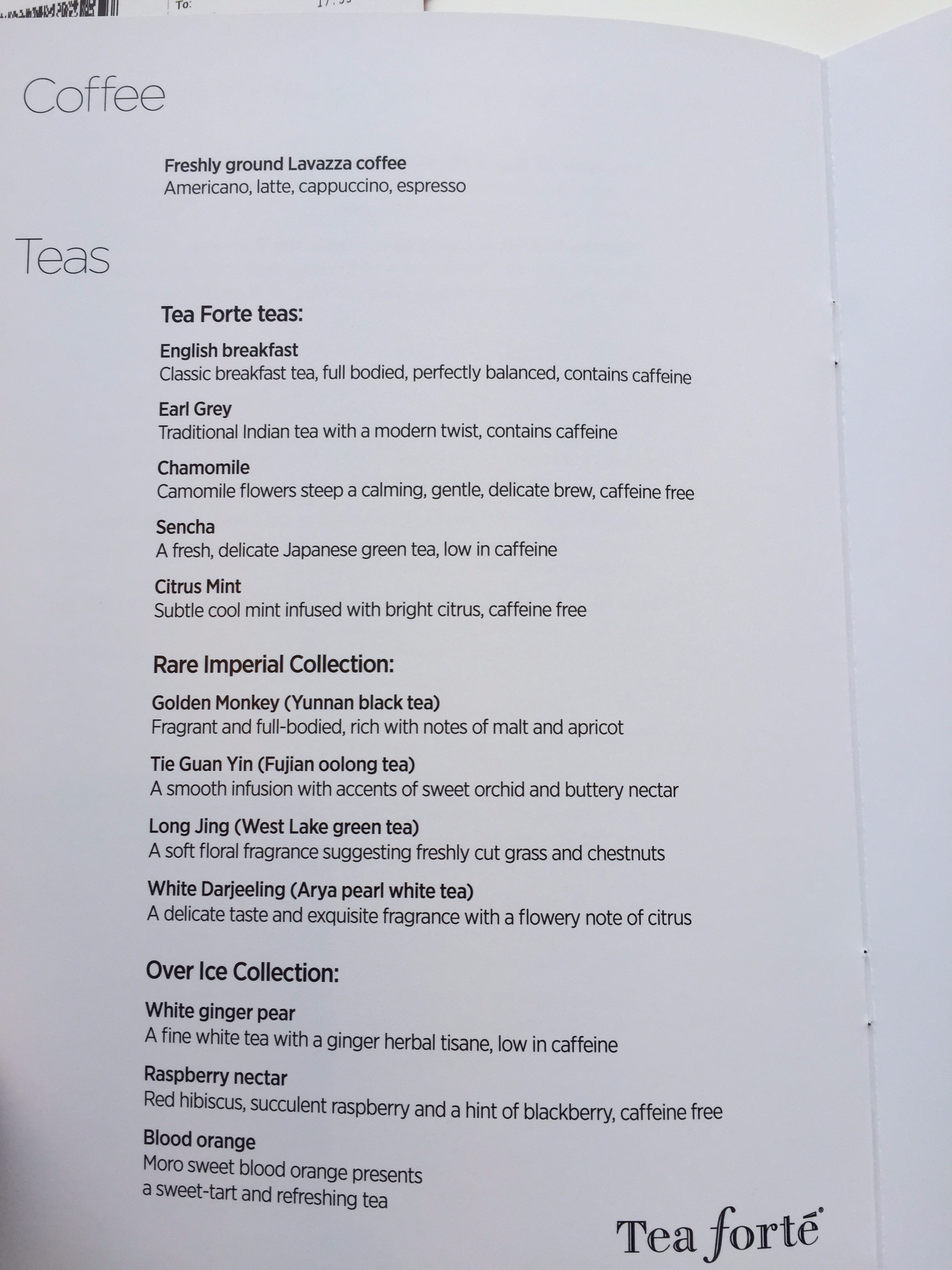 My ebullient and delightful server, Tanisha, came by to take my food order.
Apparently all of the dishes on the menu can be sized either as small plates or large plates, so I chose to start with the chili crab toast (which I've at Hinoki & the Bird before and loved) and avocado toast. I asked about the ahi tuna burgers, and were told they come as sliders, so I ordered one as well.
The chili crab toast came out first. It was flavorful, though a bit saucy. It was good, but distinctly not as good as at the actual Hinoki & the Bird, which is to be expected.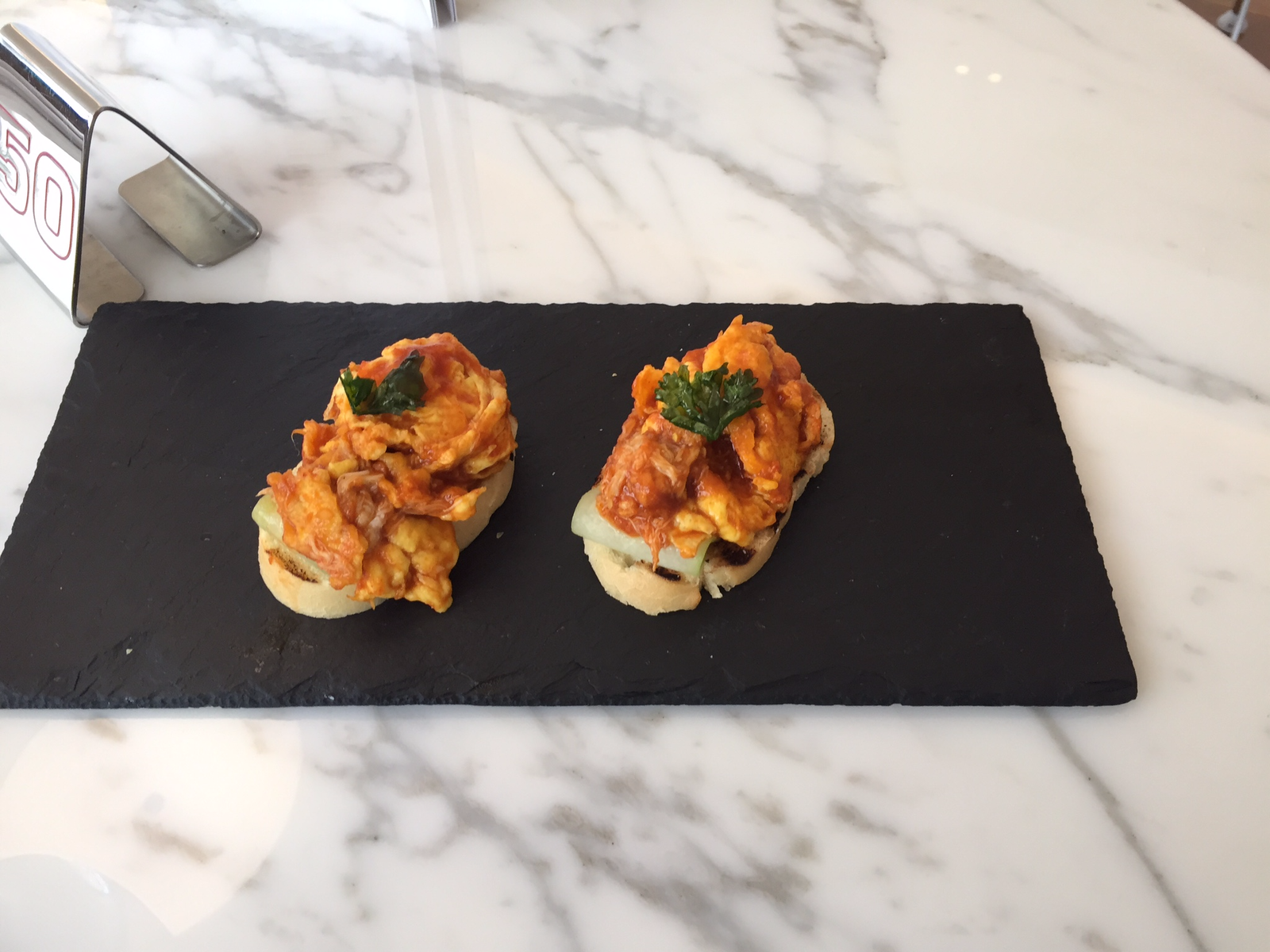 The avocado toast came out next, which was a bit disappointing. It was mostly (relatively stale) toast with some diced avocados, and not especially well seasoned. On the second piece of toast, however, I took a knife and spread the avocado, which helped a bit, but it wasn't anything to write home about.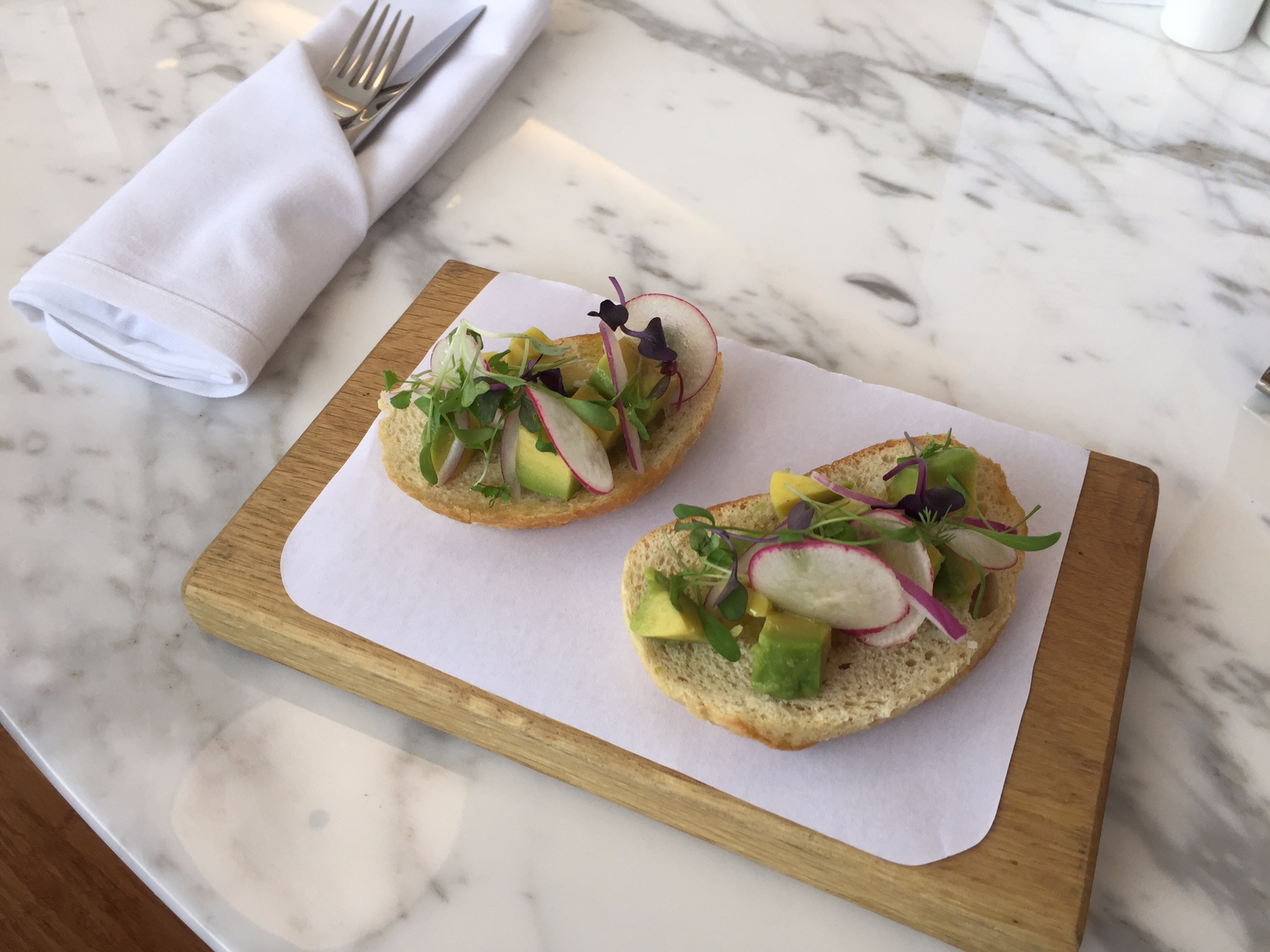 At this time I decided to try one of the specialty cocktails, so I ordered a Harajuku, which seemed the most interesting and exotic. Indeed it was, and it was quite delicious. The bartender came by to chat with me about the drink a little bit, and I told him it was exceptional.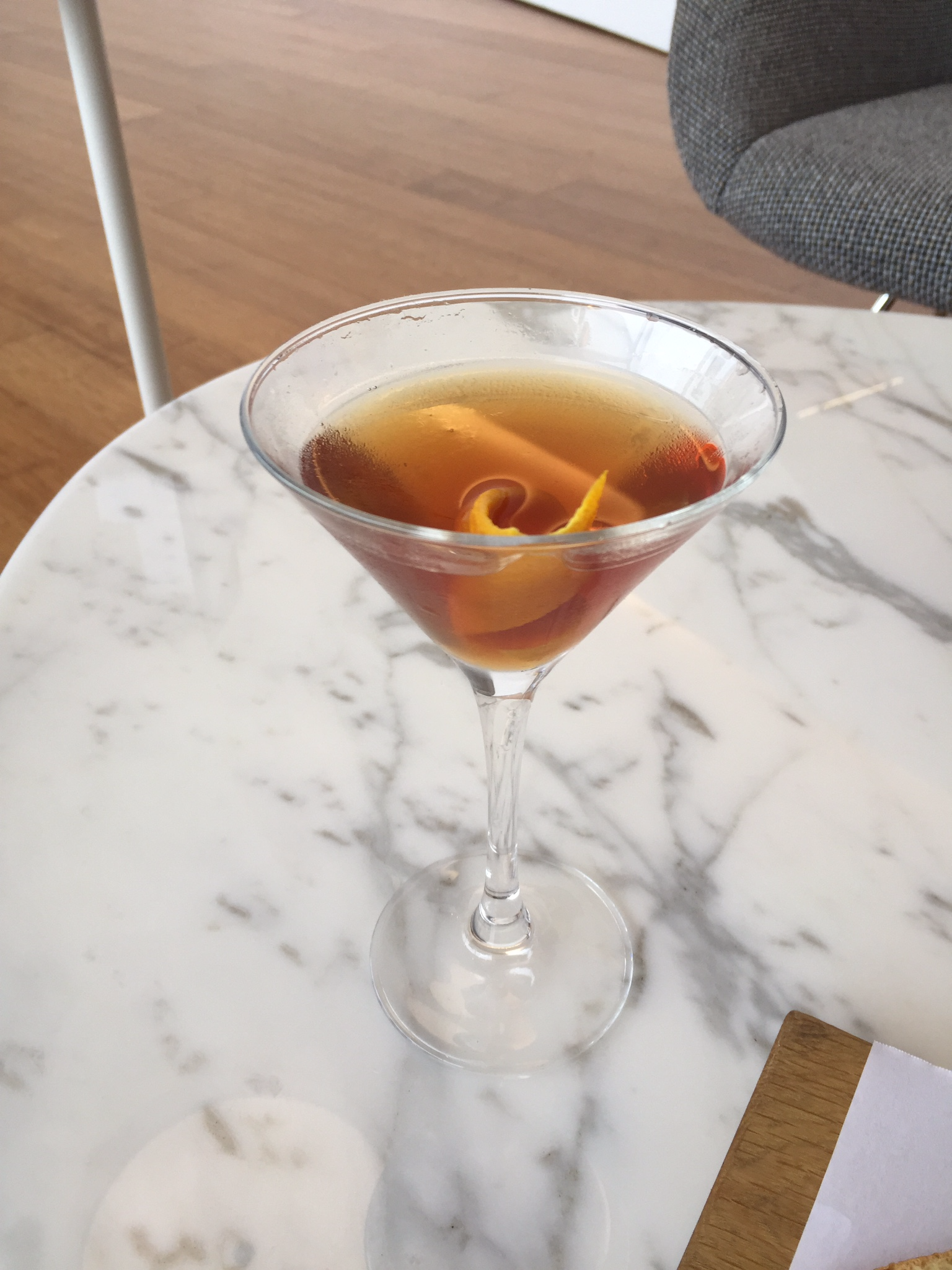 Next came the ahi tuna burger sliders, which were… not ahi tuna burgers. I'm aware that in Britain the term "burger" means anything between two pieces of bread (so that a chicken burger is just a chicken breast with cheese on a hamburger bun), whereas in the States a burger implies a ground-up patty, but…
It was actually just a little strip of seared ahi tuna on a dry little bun with wasabi mayo on the side. I was hoping for a juicy, delicious ahi tuna burger but got a sad little bit of fish on a piece of dry bread instead.
(Sadly, I thought I photographed that one, but even my iPhone must have felt ashamed to have a photo of that monstrosity on it.)
Anyway, I was still a bit hungry and in the mood for less stale bread, so I asked Tanisha for some food recommendations on the salad side. She highly recommended the Grilled French Bean and Cherry Tomato Salad, so I ordered it, with an addition of salmon.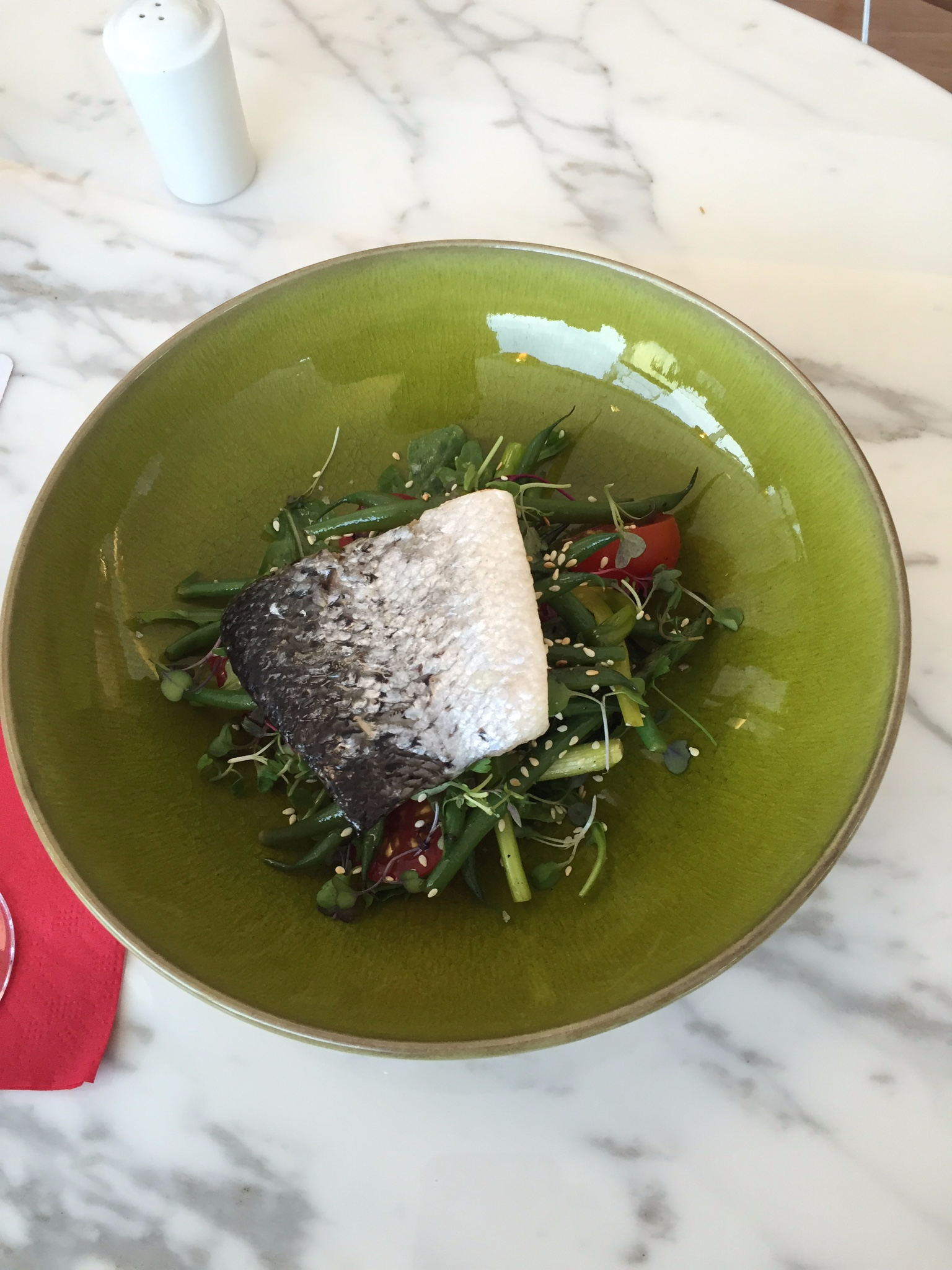 Tanisha was right. The salad was outstanding. Since the lounge was still relatively empty, she chatted with me for a while and was just delightful. She mentioned that the prior day had been a zoo in the lounge, not just because of the cancelled flight but also because the hot water had shut off in the lounge, making it impossible to serve food or drinks. Oy.
The experience was really just fabulous altogether. It felt like I was in a boutique hotel lobby, and the service was magnificent.
It also felt like a nice bridge between LA and England, as the reading material (unlike in the lounge at San Jose) was mostly fun trashy British tabloids and mags (in addition to the routine serious stuff, of course).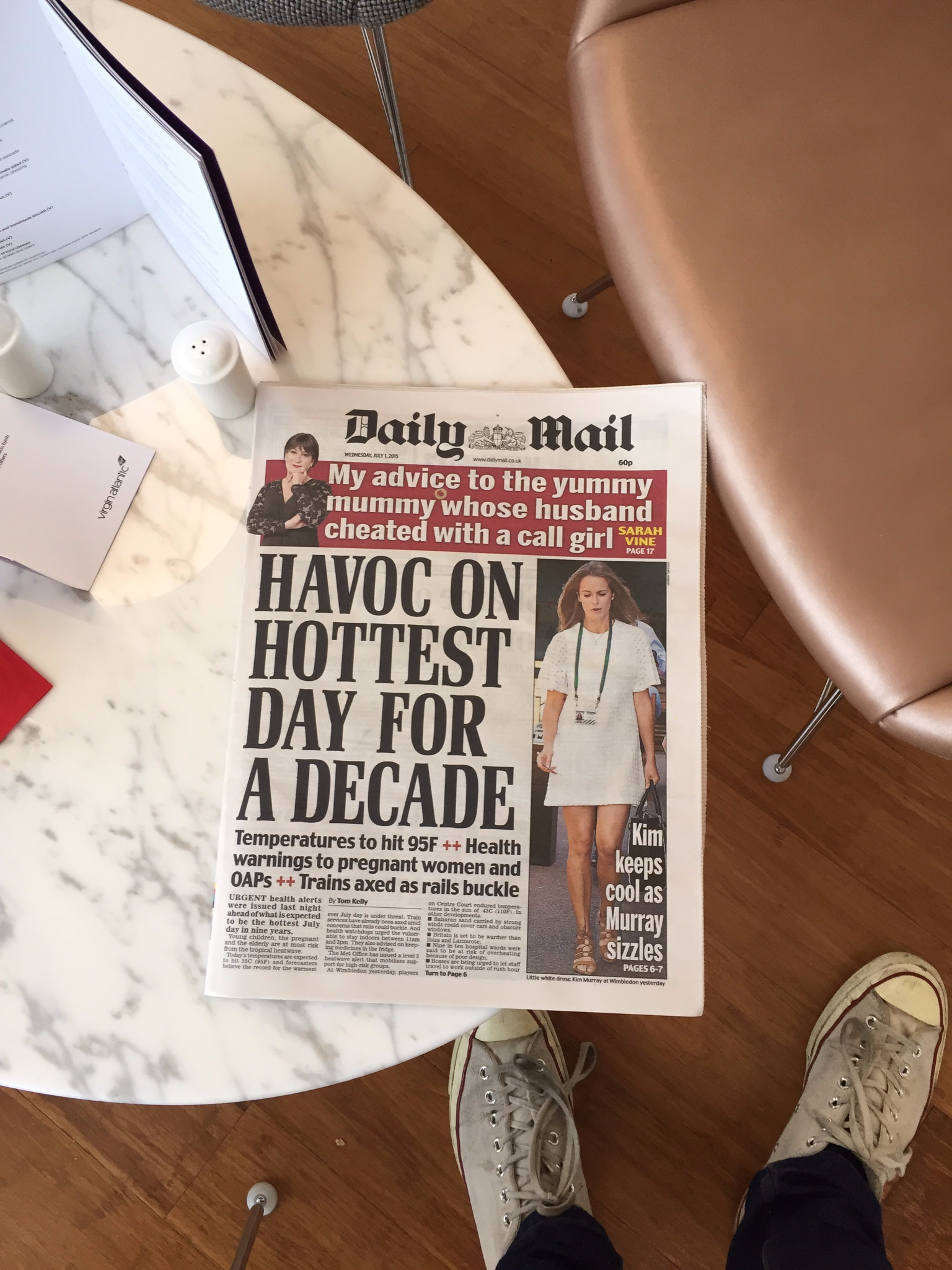 As the lounge started to fill up considerably around 4:00, I decided to order the miso donuts for dessert. I wasn't particularly hungry and knew I had a meal on my Virgin flight ahead, but the miso donuts are a standout at Hinoki & the Bird and I wanted to try just one.
The order took quite a bit of time, and at about 4:20 an announcement was made on the PA system that the hot water had shut off again and due to health regulations they were unable to serve any more food, though the bar would remain open until they ran out of clean glasses. In addition, the bathrooms would be shut down and passengers would have to use the main bathrooms in Terminal 2.
They offered vouchers for hungry patrons to use for complimentary food at restaurants in the main part of Terminal 2, in the meantime.
Just a few minutes later, Tanisha actually popped out with the miso donuts, which she said were the very last dish to be made before the hot water snafu.
Since I was already full, I felt bad about that, and I decided to just take one (which was delicious). I told Tanisha to shop the other two donuts around in case anyone was especially hungry.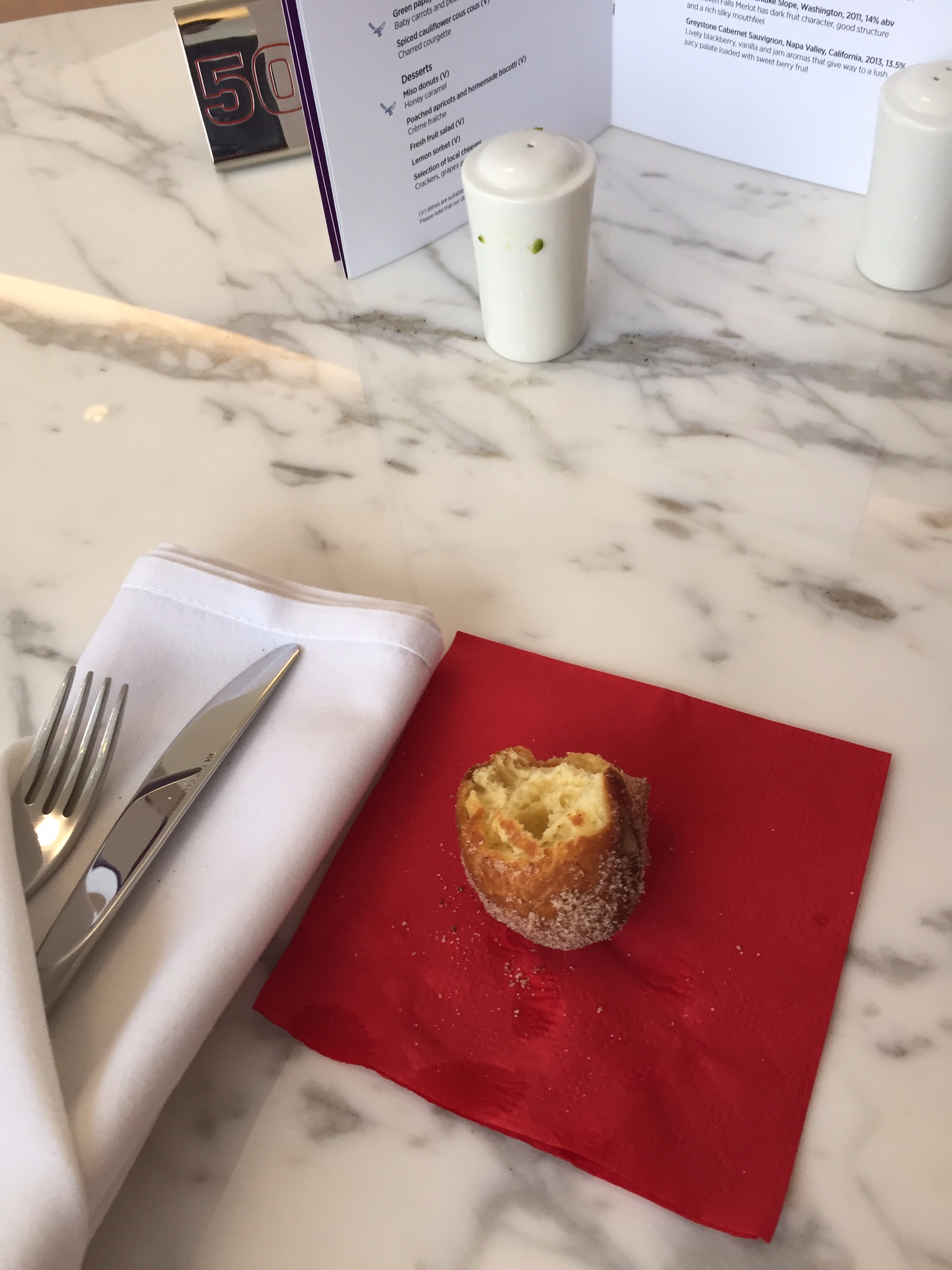 I felt bad that the lounge crew had to deal with a second day in a row of a hot water shutoff, especially as they were dealing with three flights that day instead of the usual two (thanks to the inoperative 787). Yet the staff remained professional and accommodating, and I am hugely grateful at how lovely and charming they remained throughout what was clearly an ordeal for them (not to mention the hungry passengers who got there past 4pm).
They made the call for boarding at around 5:15, and I happily trotted off to the plane, excited for the journey ahead.
Virgin Atlantic Clubhouse LAX Bottom Line
Is this the best airline lounge at LAX?
Yes.
I'm sure that Ben will try and defend the Emirates Lounge (which is only available to Emirates passengers) or the Star Alliance First Class Lounge in the Tom Bradley Terminal, but I simply don't see how this doesn't blow the competition out of the water.
For one thing, it's available for use not only for business class passengers on Virgin Atlantic, but for Delta Medallions at the Gold level and up traveling on Virgin regardless of class of service. The Clubhouse at Heathrow is available to Delta One passengers as well, so I'm not entirely clear as to whether Delta One passengers out of LAX are entitled entry into the Virgin Atlantic Clubhouse, though it's certainly worth a try if you have time to kill and don't mind the trek to Terminal 2.
For another thing, it's just amazing. The service is above and beyond, the food and drink menu is extensive, and there's just an overall sense of joy and spirit in the lounge instead of the dull businesslike malaise that plagues other airline lounges.
The drinks are great. The food — well, I was disappointed with some of the food, for sure, but I was glad I asked for a recommendation from my server. I'd suggest you do the same, as sometimes the items that sound the most interesting or delicious don't translate from a fancy restaurant to an airline lounge.
And while it's a small complaint, I wish they'd thought to install power outlets at every seat, rather than the very few scattered throughout the lounge, which can lead to a bit of a scramble during busy periods.
All in all — bravo, Virgin Atlantic, and I can't wait to visit your Clubhouse at LAX again! I don't have my own list of best airport lounges like Ben, but if I did, this would surely be near the top.