---
Garuda Indonesia 88
Amsterdam (AMS) to London Gatwick (LGW)
Sunday, July 5
Depart: 10:30am
Arrive: 10:35am
Duration: 1h5min
Aircraft: Boeing 777-300ER
Seat: 1A
This trip report for Garuda should actually begin by backing up to early June, when I purchased the ticket for a little under $340 one-way. By point of comparison, that was just fifty or so dollars more than economy tickets one-way on KLM or British Airways, so it was a bit of a no-brainer in that regard.
When you book the First Class ticket with Garuda, you're told about the First Class Call Center in Jakarta which handles any and all requests a first class passenger might have. As previous trip reports have mentioned, Garuda is incredibly accommodating. They want you to have an outstanding experience, so the First Class Call Center (which also has an email contact, which was much easier for me) acts as a sort of concierge service.
To test out the experience in advance, I emailed and asked whether a meal would be served on the short flight, and whether it was possible to receive an amenity kit. I was told the meal would be a "cold fish" dish, and they'd be happy to provide a kit for my use (as, from what I understand, the kits aren't ordinarily provided on the 45-minute leg). I emailed again to ask if it was possible to request a breakfast dish instead, but in the politest way possible was told they could only work to make the "cold fish" dish as breakfast-y as possible and didn't have much leeway in that aspect.
I checked in to the First Class counter for Garuda at Schiphol Airport and check-in went smoothly. I was given an invitation to use the Aspire Lounge, though the check-in agent told me I was also welcome to use the KLM Crown Lounge. I asked her which was better and she shrugged and told me the KLM Crown Lounge was a lot closer to my gate.
Even though I was able to use a fast track security lane, I faced a very long line at passport control, which held me back a bit. I hadn't really planned on using the lounge anyway, and boarding was scheduled to start at 9:30am, so I just headed to the gate.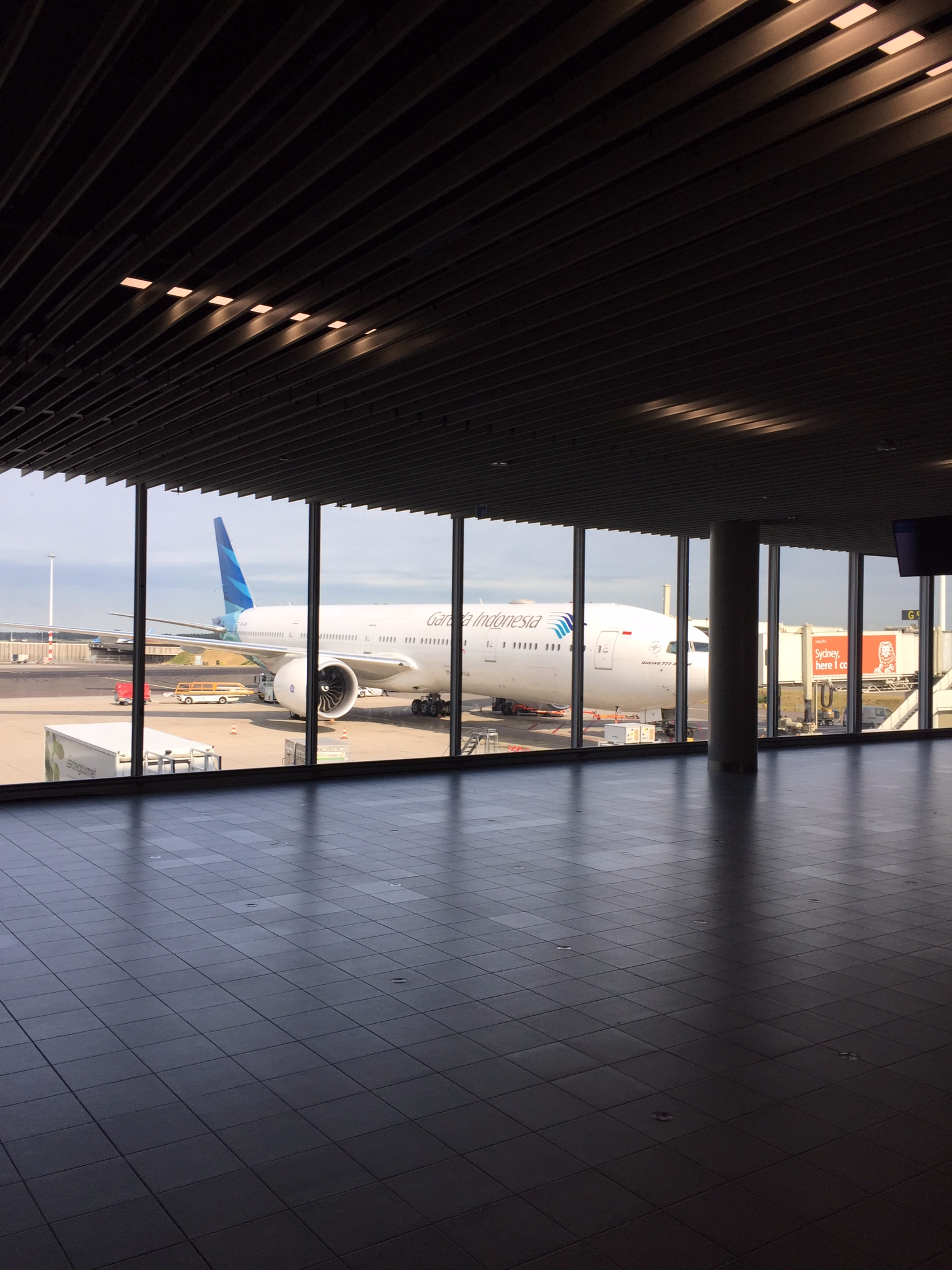 The gate area was interesting insofar as the boarding pass scanning took place as you entered the waiting area. When I showed the agent my boarding pass, she confirmed with me that I was in First Class and she called over another agent to announce that I had arrived. The second agent led me to a seat near the boarding area and told me we'd be boarding in about twenty minutes.
Frankly, I wished I'd gone to the Crown Lounge when I'd had the chance, since there was literally nothing to do at the gate, and Schiphol's air conditioning was working about as well as the Greek economy. Around 9:45, another agent came by to introduce himself and let me know we'd be boarding in just a minute.
Indeed, around 9:50 they opened up the gate and just before announcing priority boarding, an agent grabbed me and led me to the door first. As a rush of business class passengers and SkyTeam Elite Plus members followed me, the agent led me down the first jetway to the left, and swiftly closed off the jetway with a rope, instructing everyone else to use the other boarding door further down the jetbridge.
At this point, I was starting to get the idea that Garuda takes its First Class passengers very seriously.
As I got on the plane, I was greeted by three flight attendants, all of whom bowed and greeted me — by name, mind you — with clasped hands. The flight attendants were dressed in traditional Indonesian garb, and it immediately lent a feeling that this flight would not be your typical 45 minute hop across the Channel.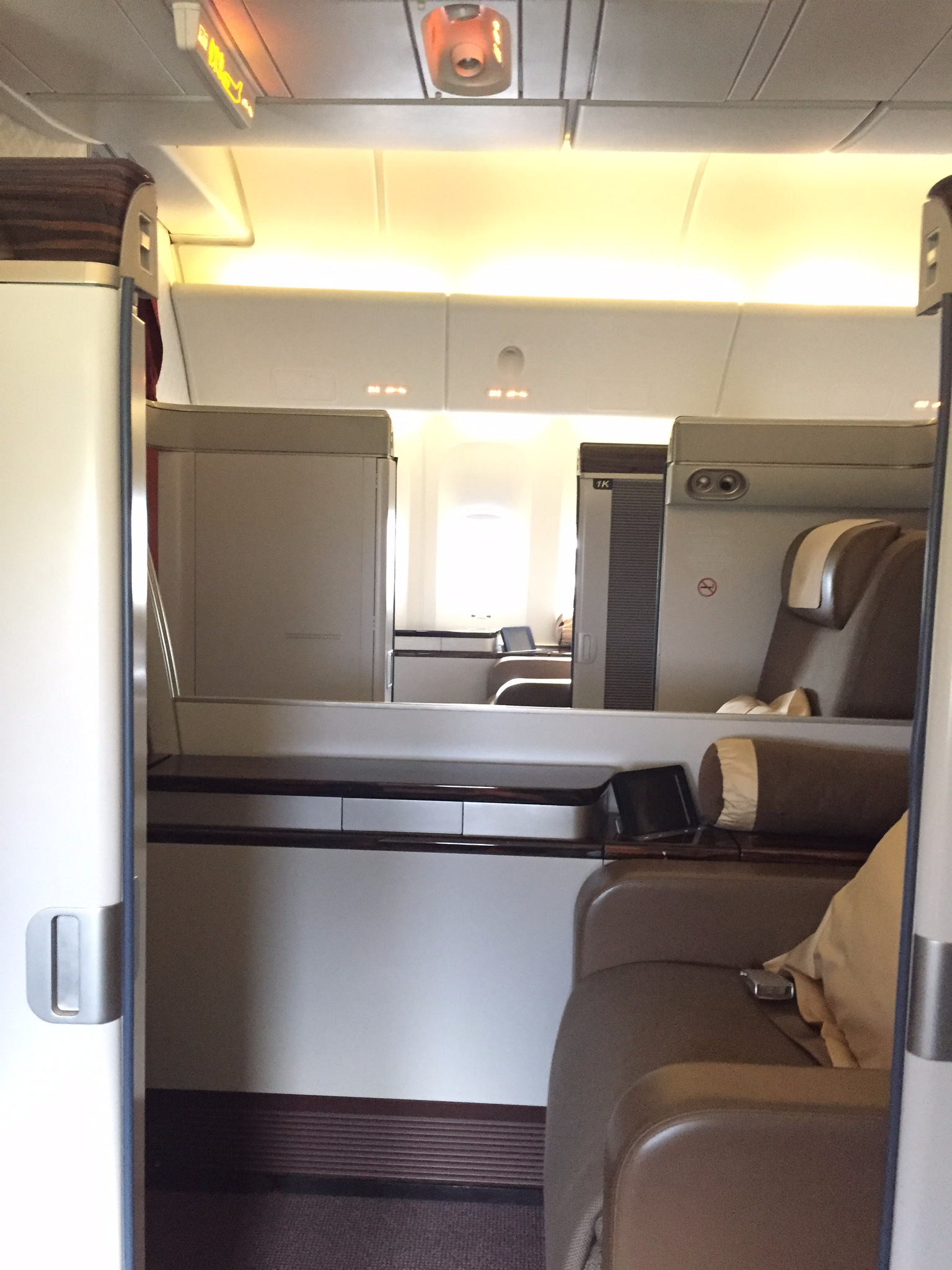 I was led to seat 1A and a male flight attendant instantly offered to take my carry-on duffel and stow it for me. Though I humbly protested that it was no problem at all to do it myself, he was having none of it, and gladly took my bag from me with a wide smile.
Just as soon as I settled into my seat and stowed my tote bag under the ottoman, I was asked if I wanted champagne.
What other answer is there to give but "sure! What have you got?"
Garuda serves two champagnes in First Class: Laurent-Perrier Rosé, and Billecart-Salmon "Cuvée Nicolas François Billecart" Brut 1999.
I opted to start with the rosé champagne, since I can never turn down pink bubbly (and I figured the Billecart might be better off on its own with the inflight meal). The champagne was also served with macadamia nuts.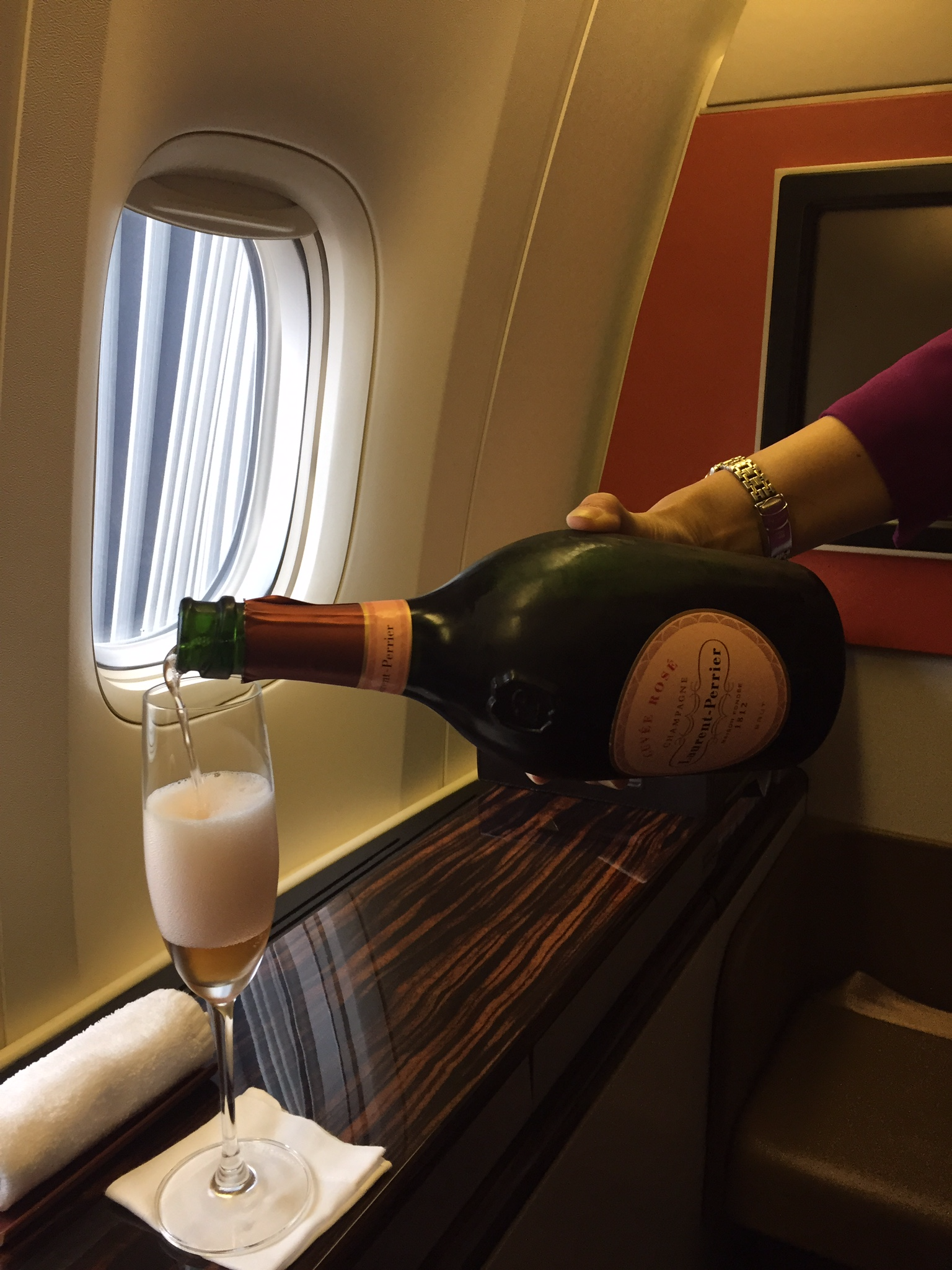 In the meantime, let's talk about the seat, which was absolutely spacious. It was a true suite, with a door, although I never used the door given that I was the only passenger in First and it seemed unnecessary on a short flight. 🙂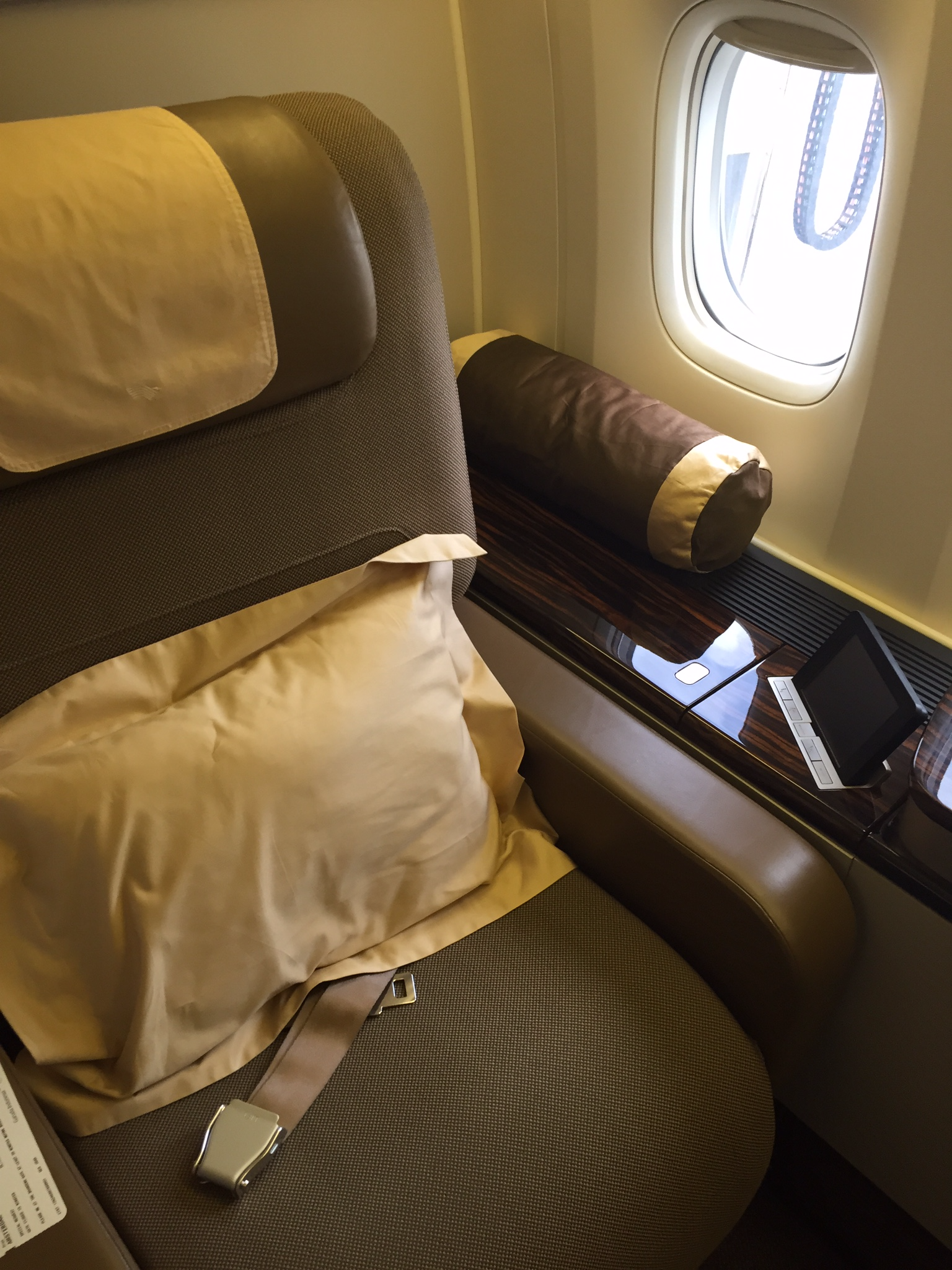 Seat controls functioned from a digital pop-out screen off to the left, which worked marvelously. The seats had any number of massage features, and I tried all of them. I don't know what to say other than that I've only seen massage functions on a few airline seats in my life, and this is the only one that truly felt like a $7,000 chair from Brookstone.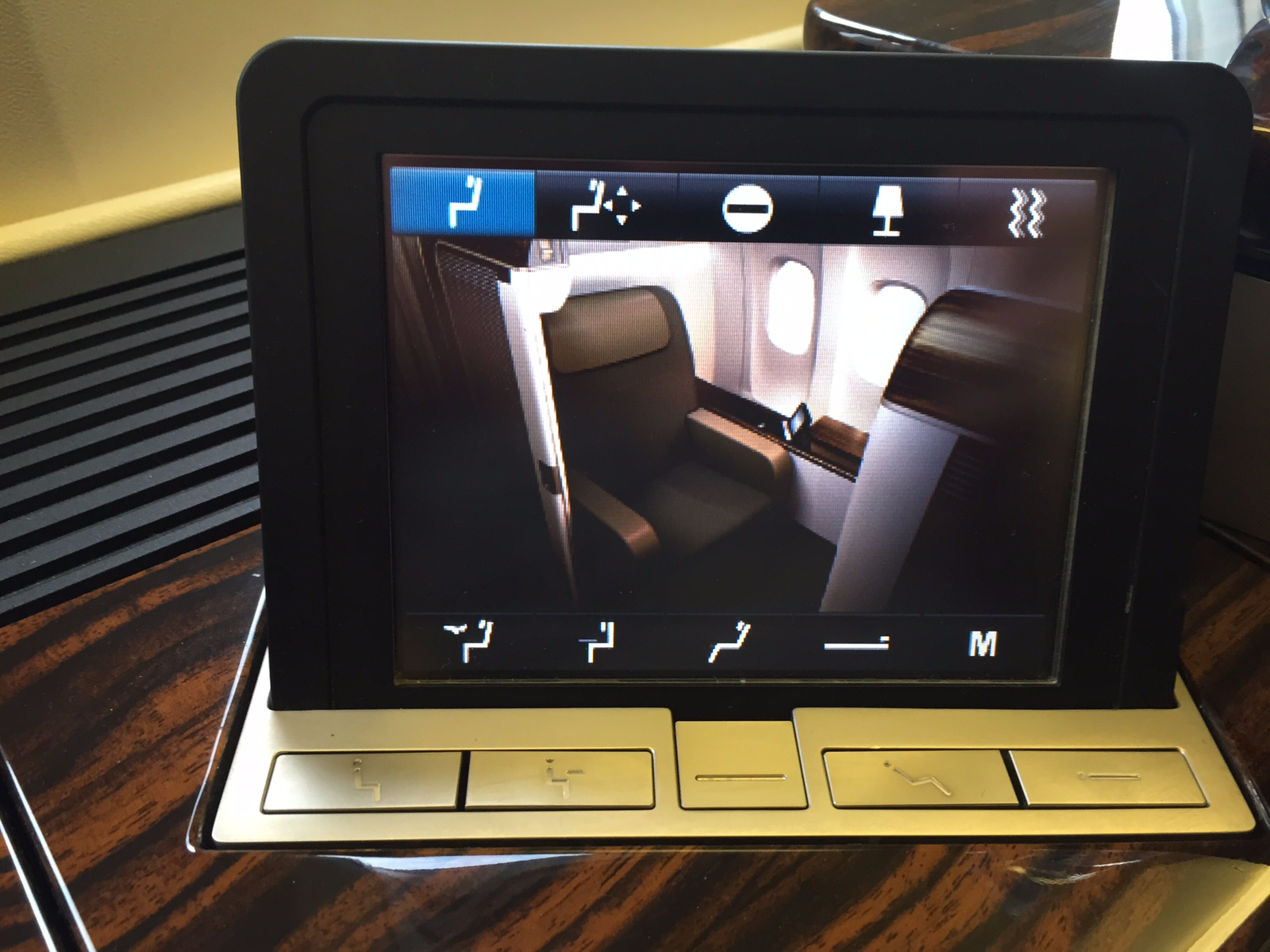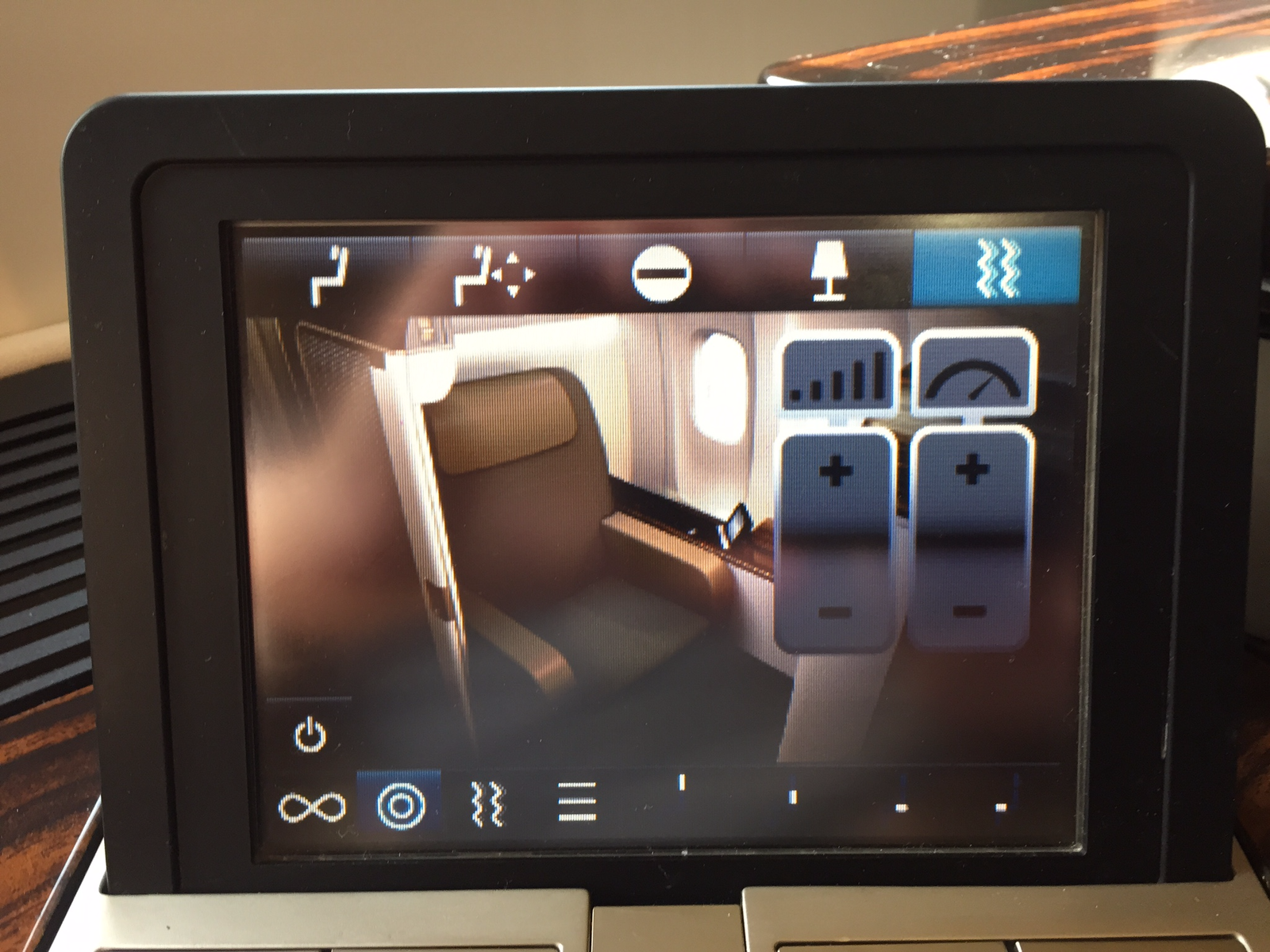 To the left of the chair was a very deep cubby containing noise-cancelling headphones, the television control, a bottle of Evian and plenty of storage space.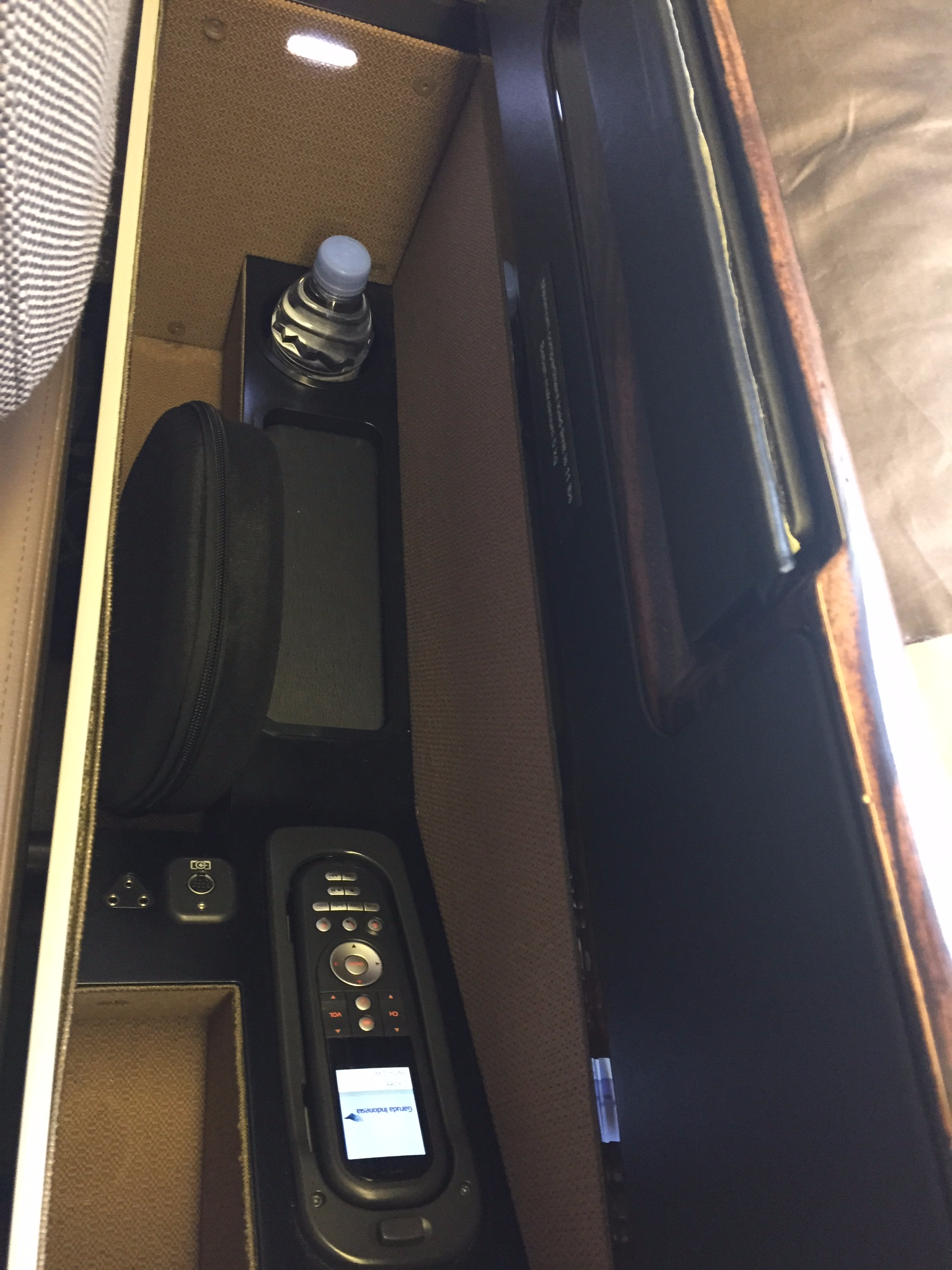 On the shelf space between the window and the seat was a beautiful box containing the amenity kit, as well as a leather tray filled with reading material (in English and Dutch).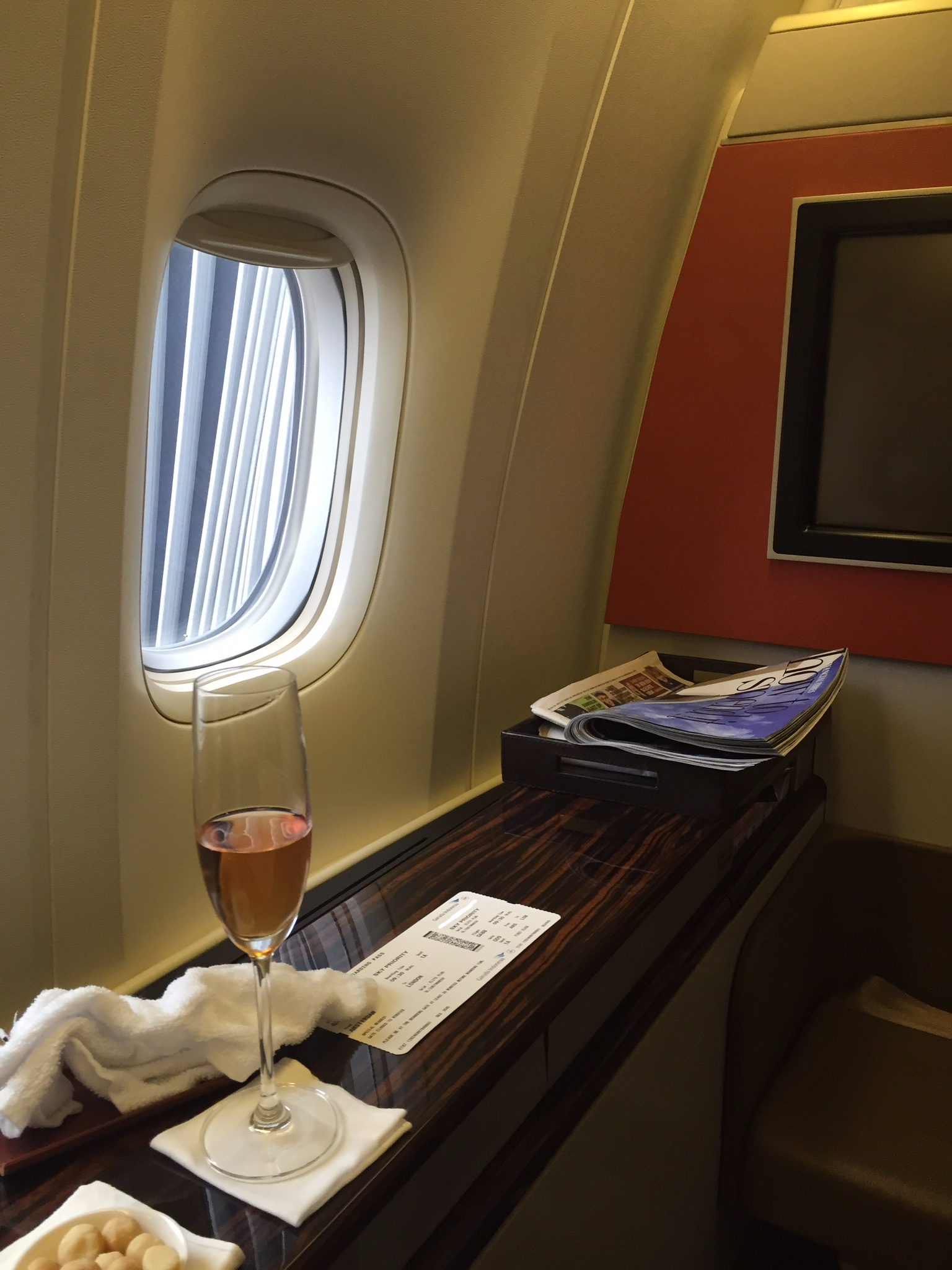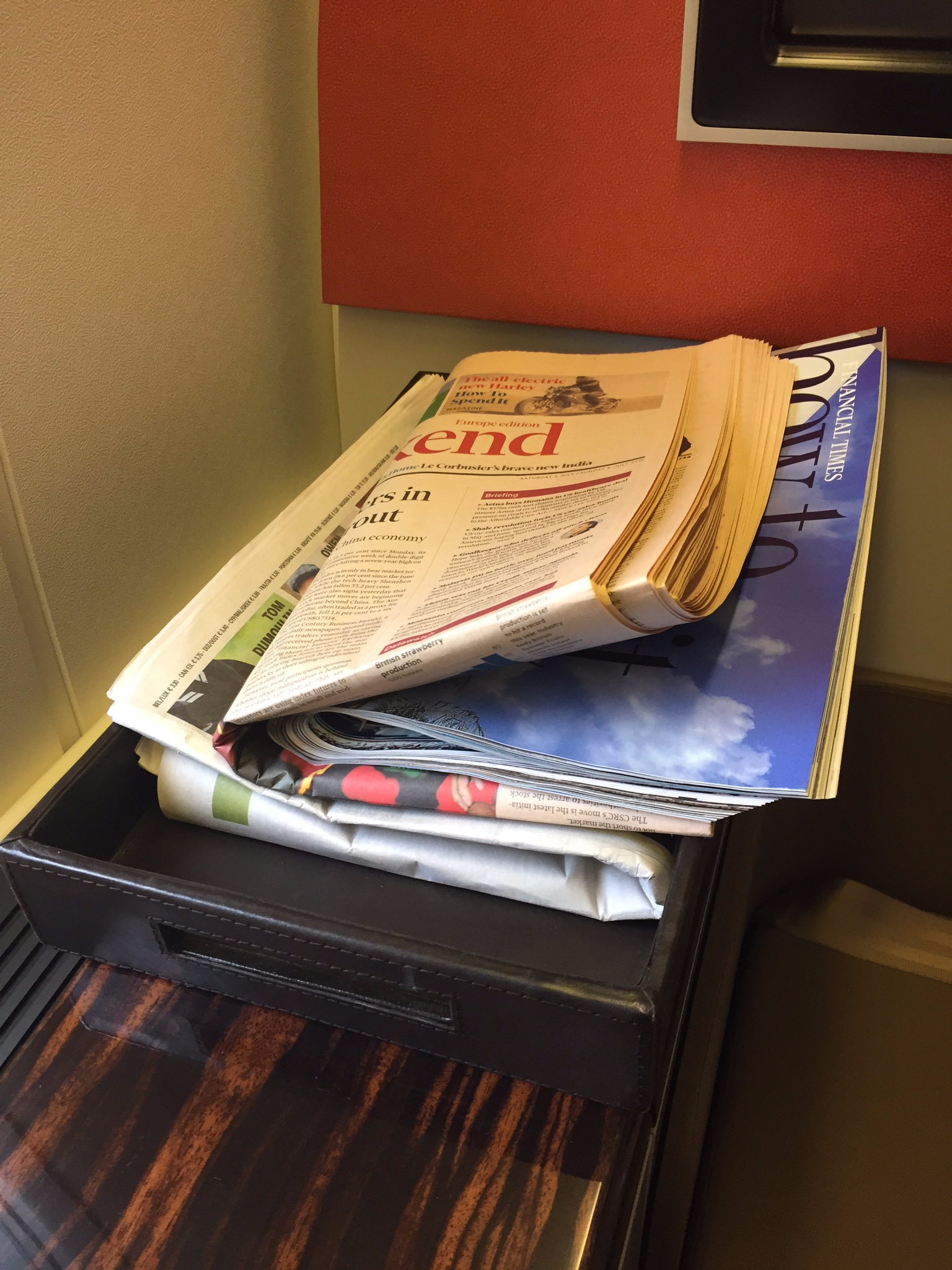 As for the amenity kit, it was Loewe-branded. Loewe is a luxury brand out of Madrid, and the helpful note inside the kit informs that it's actually pronounced "Low-ay-vay," instead of like the hotel or movie theater chain I had been saying in my head.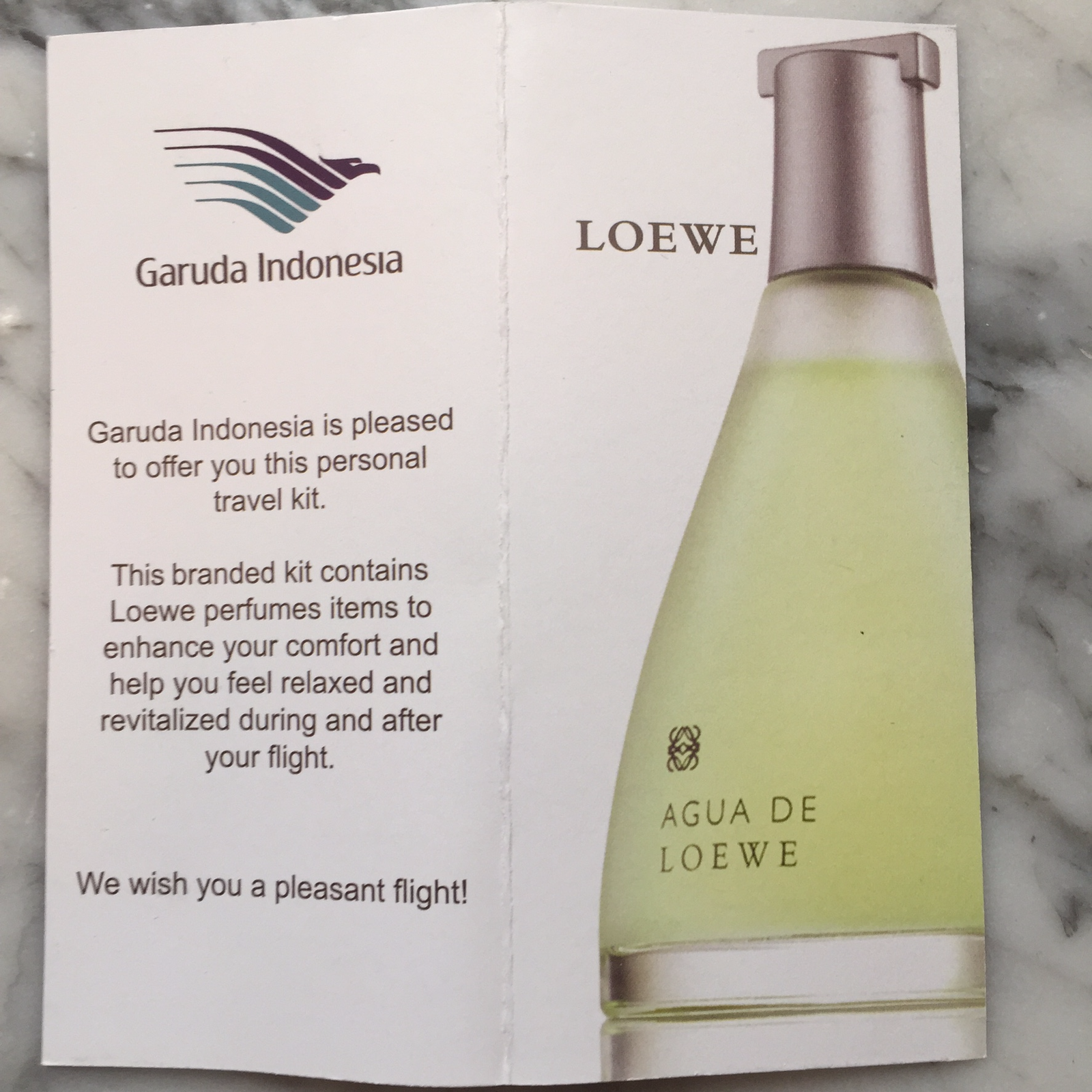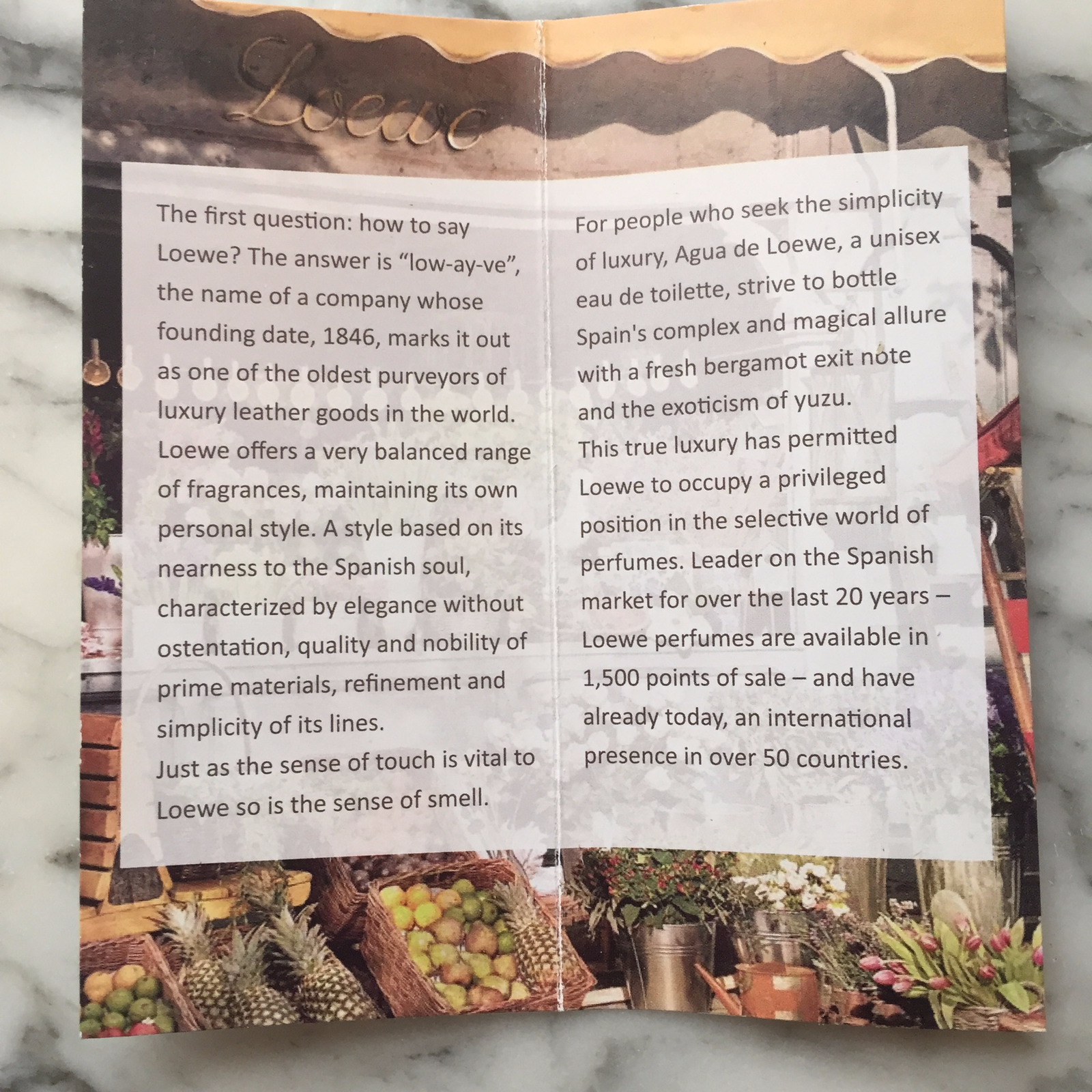 The kit included a small bottle of unisex eau de cologne, as well as generous tubes of hand cream and face moisturizer.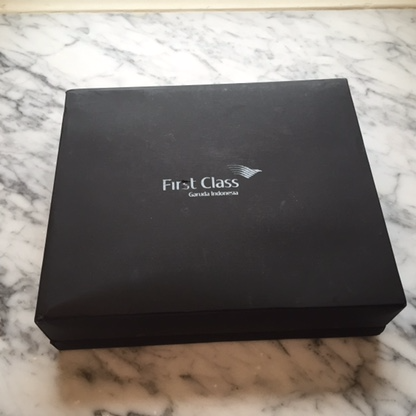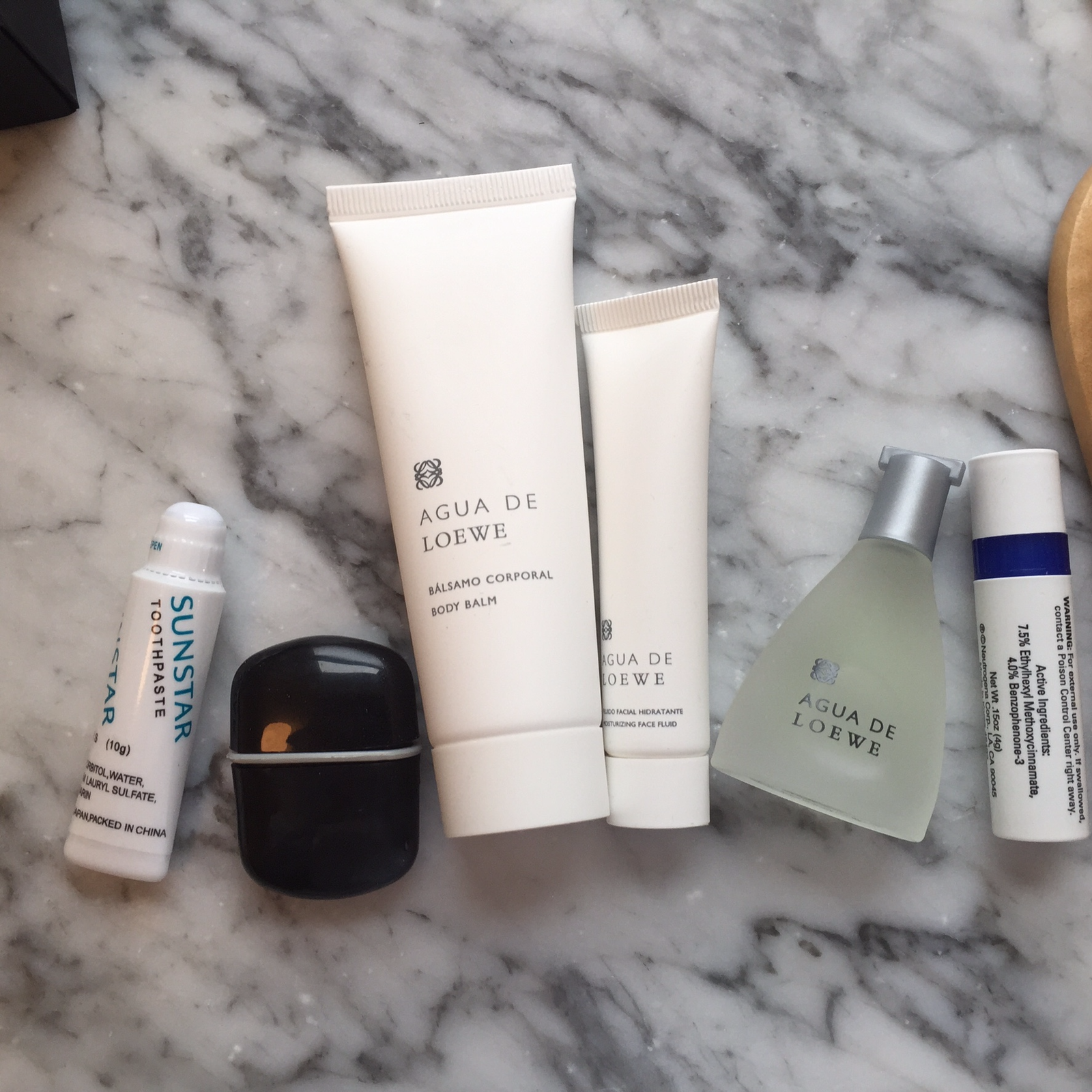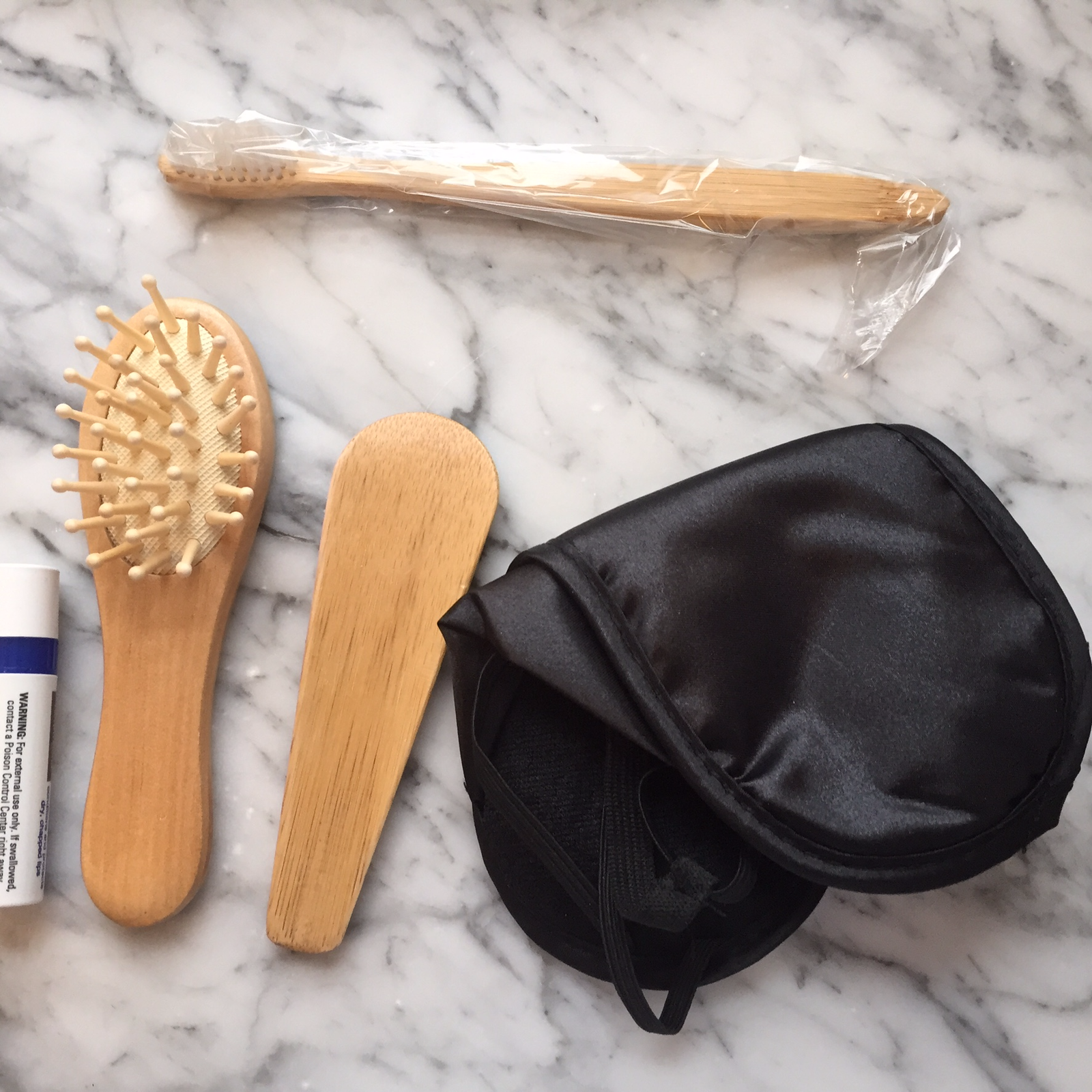 These were certainly ample amenities to take care of me on my forty-five minute journey. 😉
With time to go still before pushback, one of the flight attendants, who introduced herself as Wi Wi, came by again and asked, "more champagne?" Who am I to decline that offer?
I also asked for an espresso. She replaced my dish of macadamia nuts with another fresh one.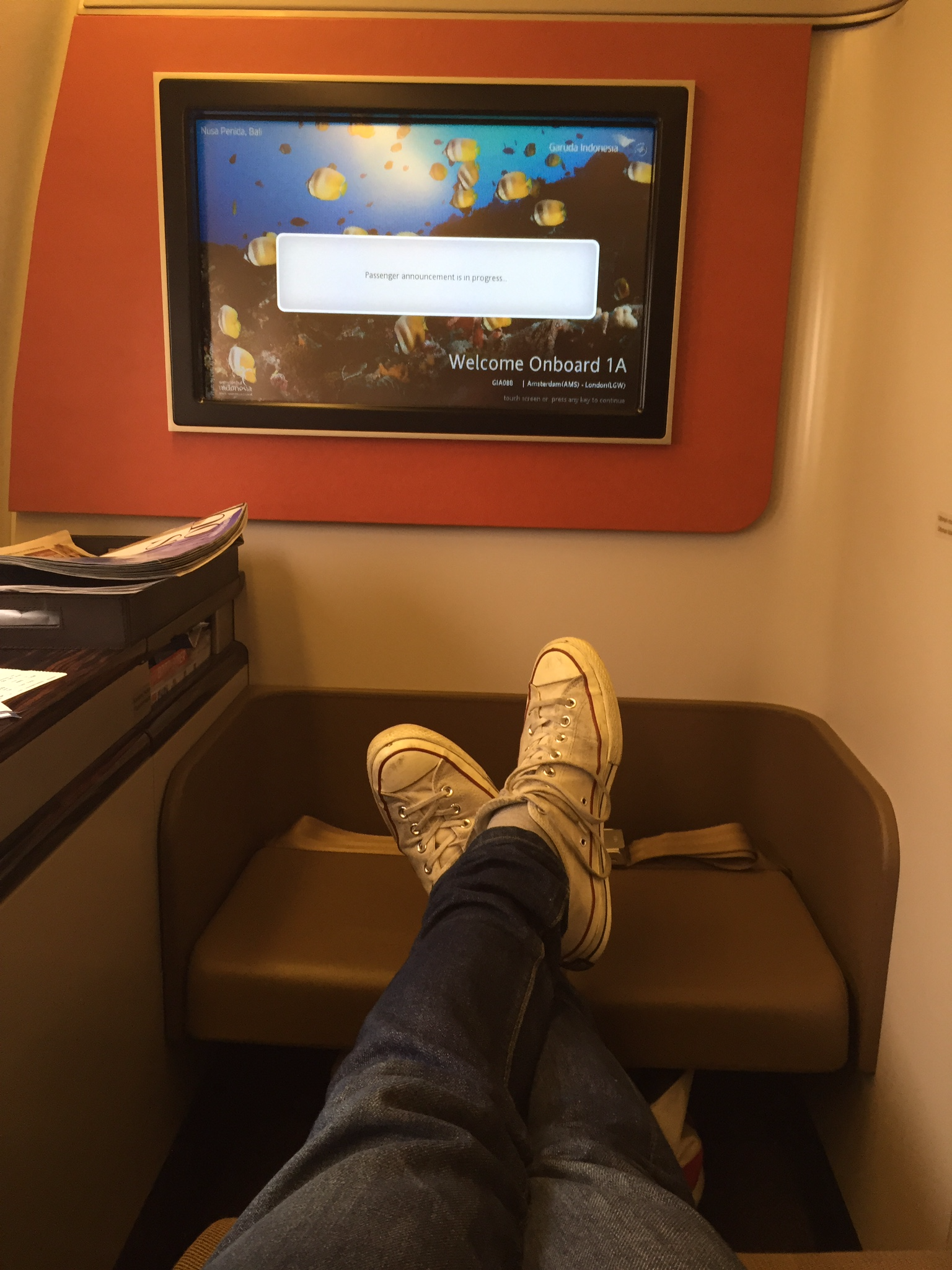 It's also worth mentioning the enormous high definition screen television, which was just stunning. The IFE works from on the ground, so I began right away perusing selections — I stuck to television shows, because of the short haul nature of the flight, but the selections were hugely extensive. I was impressed.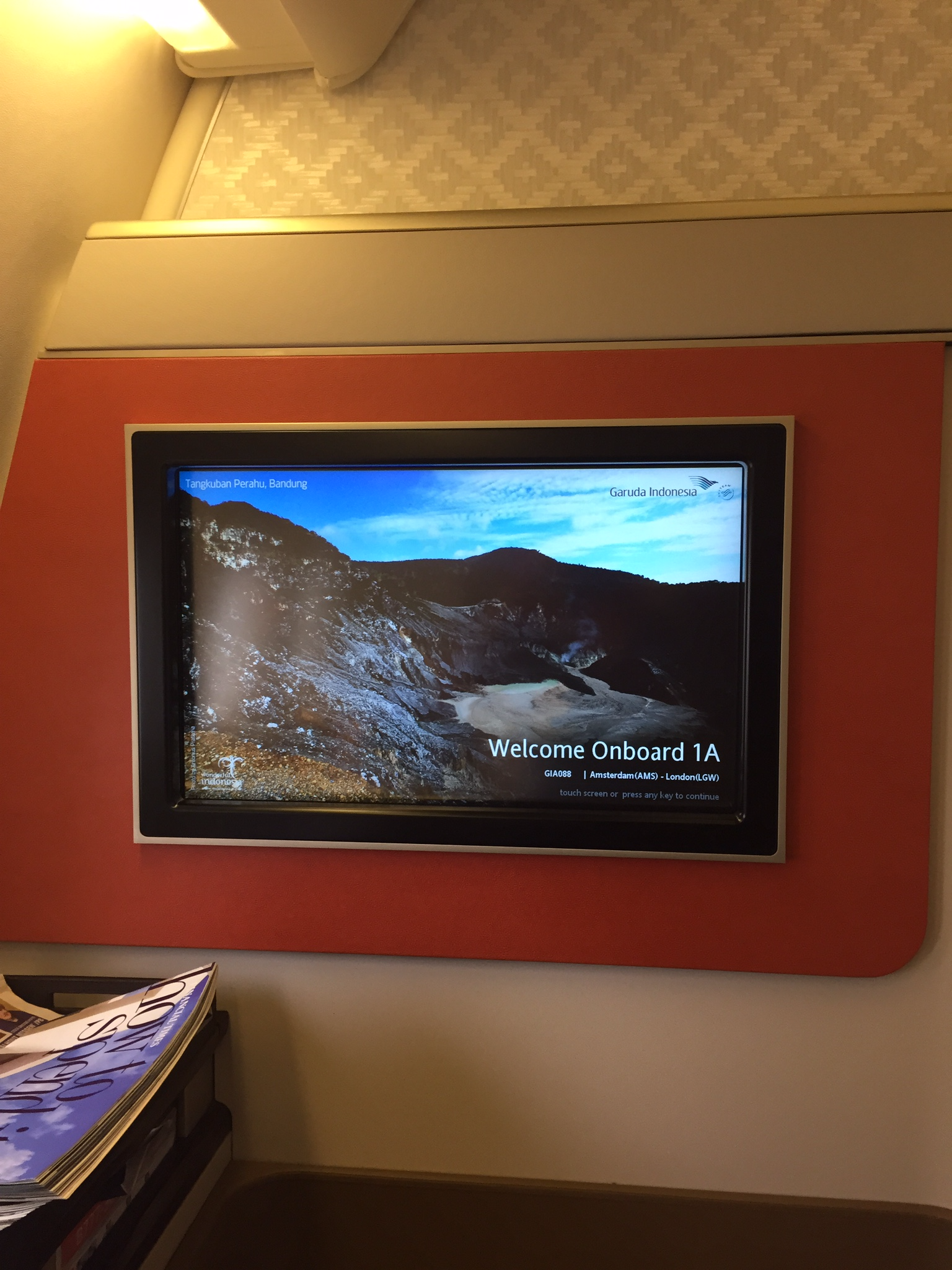 I decided to watch the show "Fresh Off The Boat," which I'd heard good things about. It was actually quite funny, and despite the 45 minutes in the air, I was able to watch three full episodes.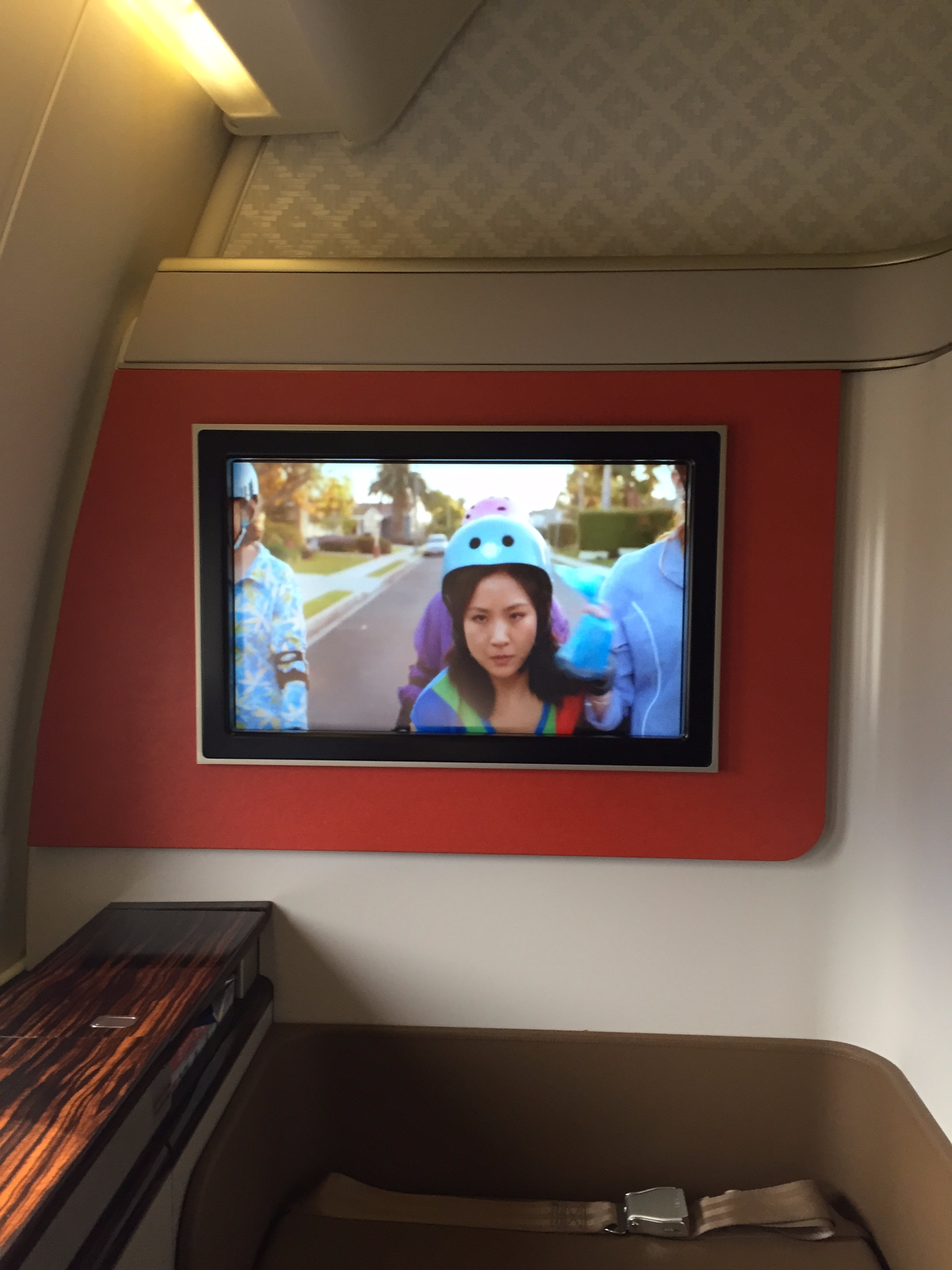 The IFE was briefly interrupted by the safety video. As the flight attendants in the video bowed and clasped at the end of the presentation, Wi Wi came to my seat and bowed and clasped simultaneously. It was almost surreal, and required ballet-like precision.
Once we took off, the male flight attendant (whose name I forget and didn't note, and I feel awful for not being able to call out his outstanding service by name as well) came by to offer me more champagne. I asked to try the Billecart, this time, and he gladly obliged.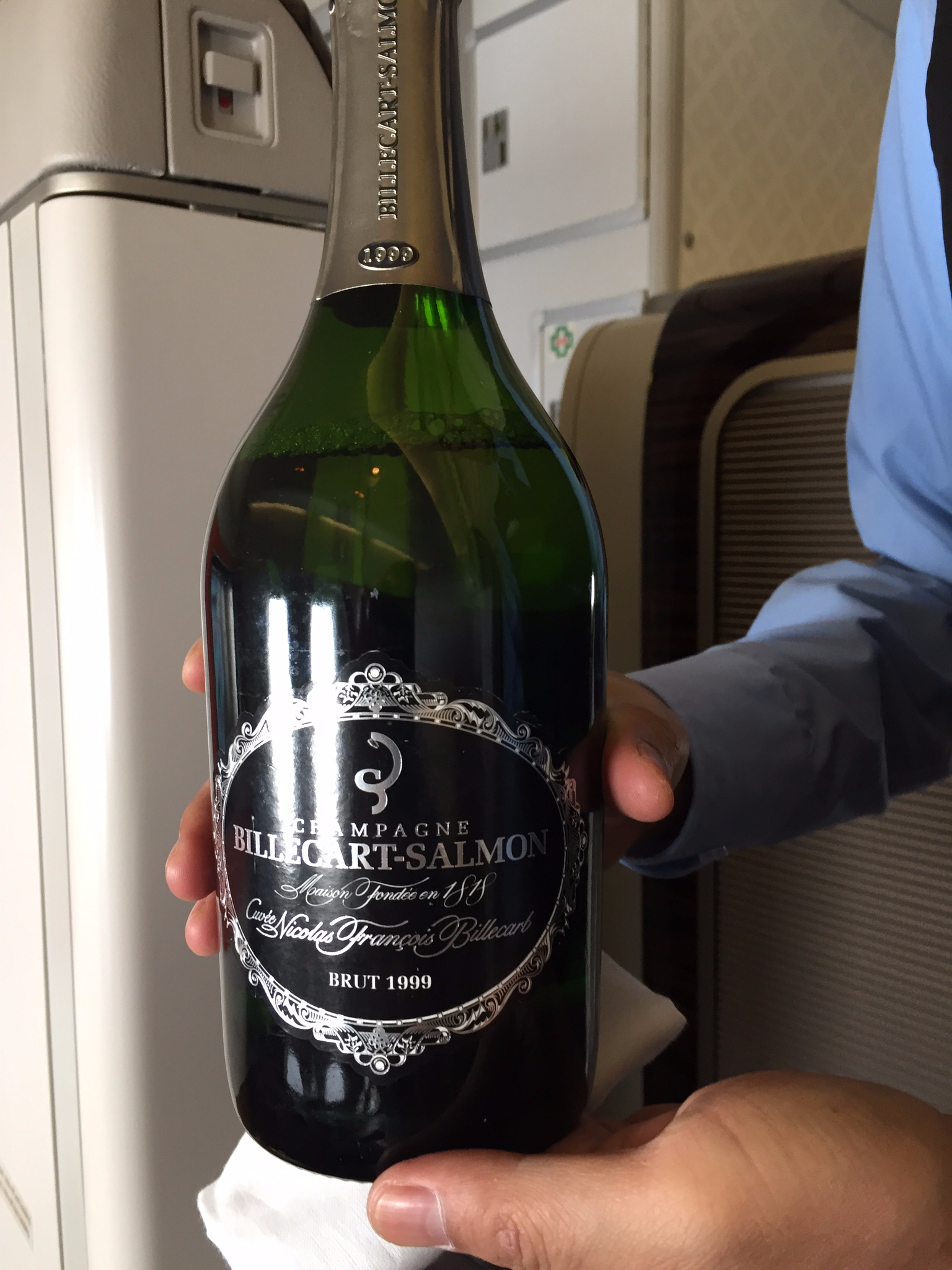 At this time, he also set my tray table up for meal service.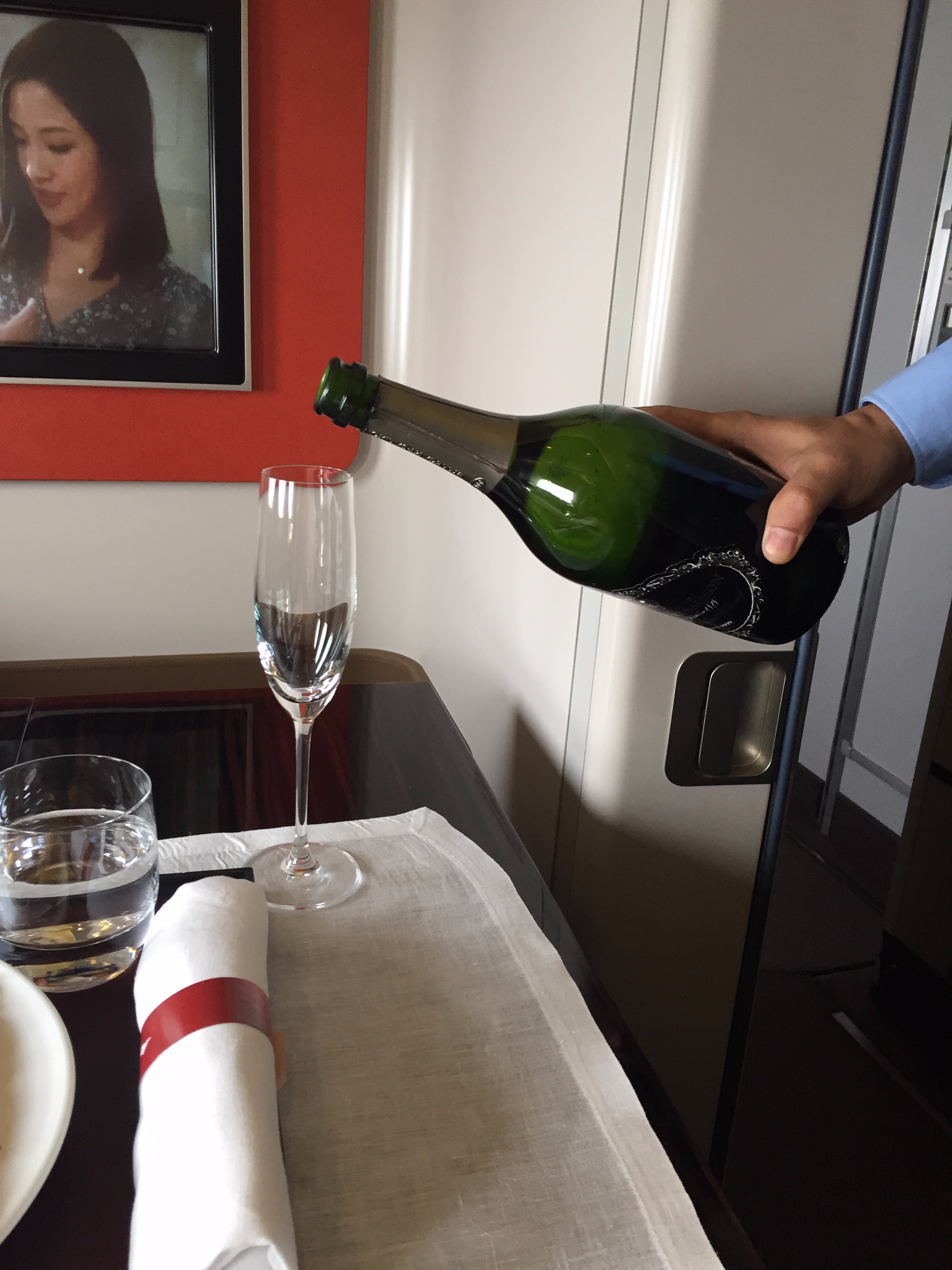 Shortly thereafter, he brought out a tray containing a beautifully presented plate of smoked salmon on a bed of potato salad with capers and hard boiled eggs, accompanied by a breadstick and a bowl of fresh fruit.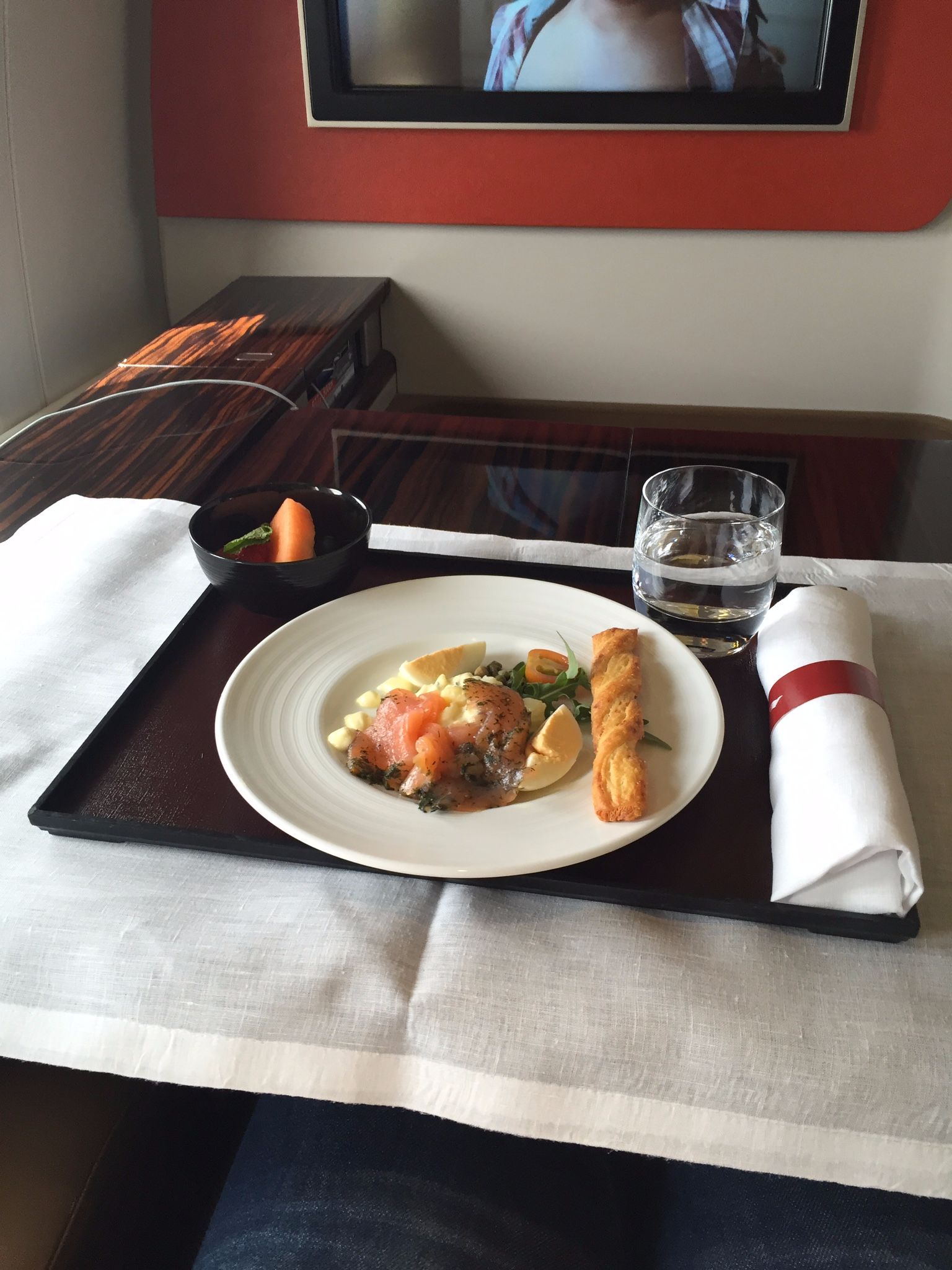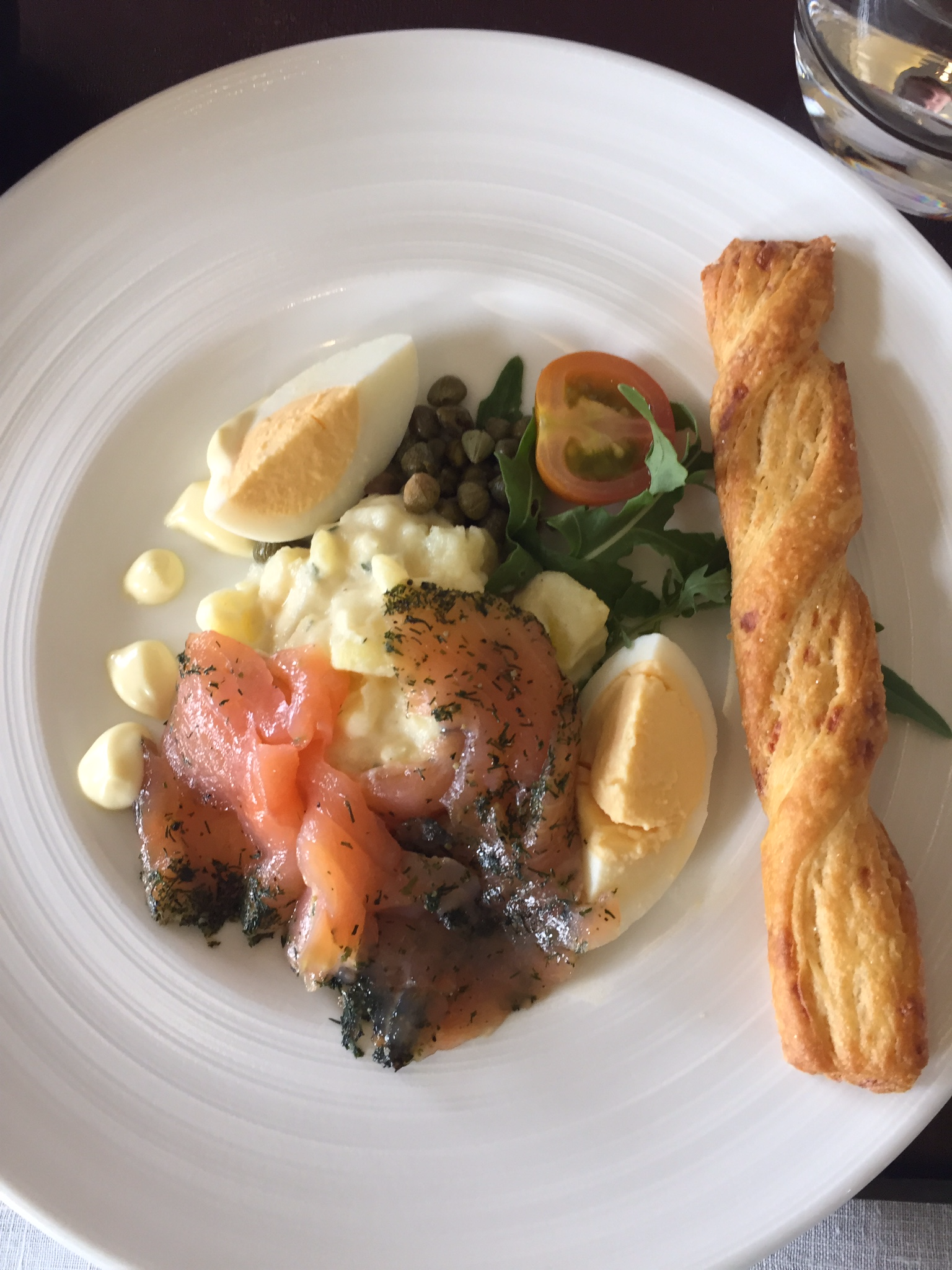 Around this time, too, a flight attendant came by with a scratch-off card containing instructions on how to access the plane's Wifi for free, which was a great touch.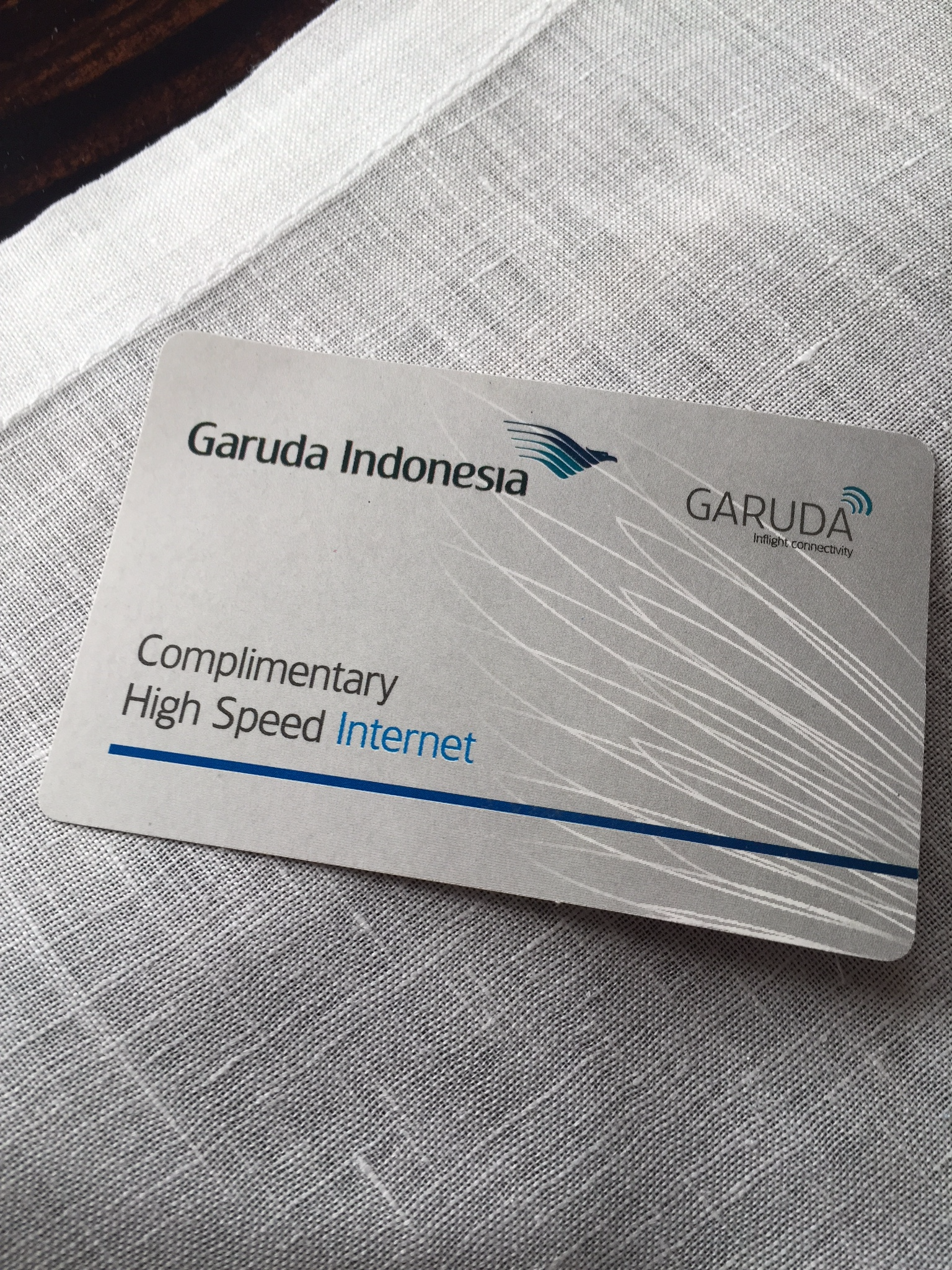 The meal was incredibly delicious. I appreciated that it was both a "cold fish dish," as promised, but was breakfast-y (since it was smoked salmon and had an egg). Anyway, it was certainly all the more impressive given the incredibly short nature of the flight.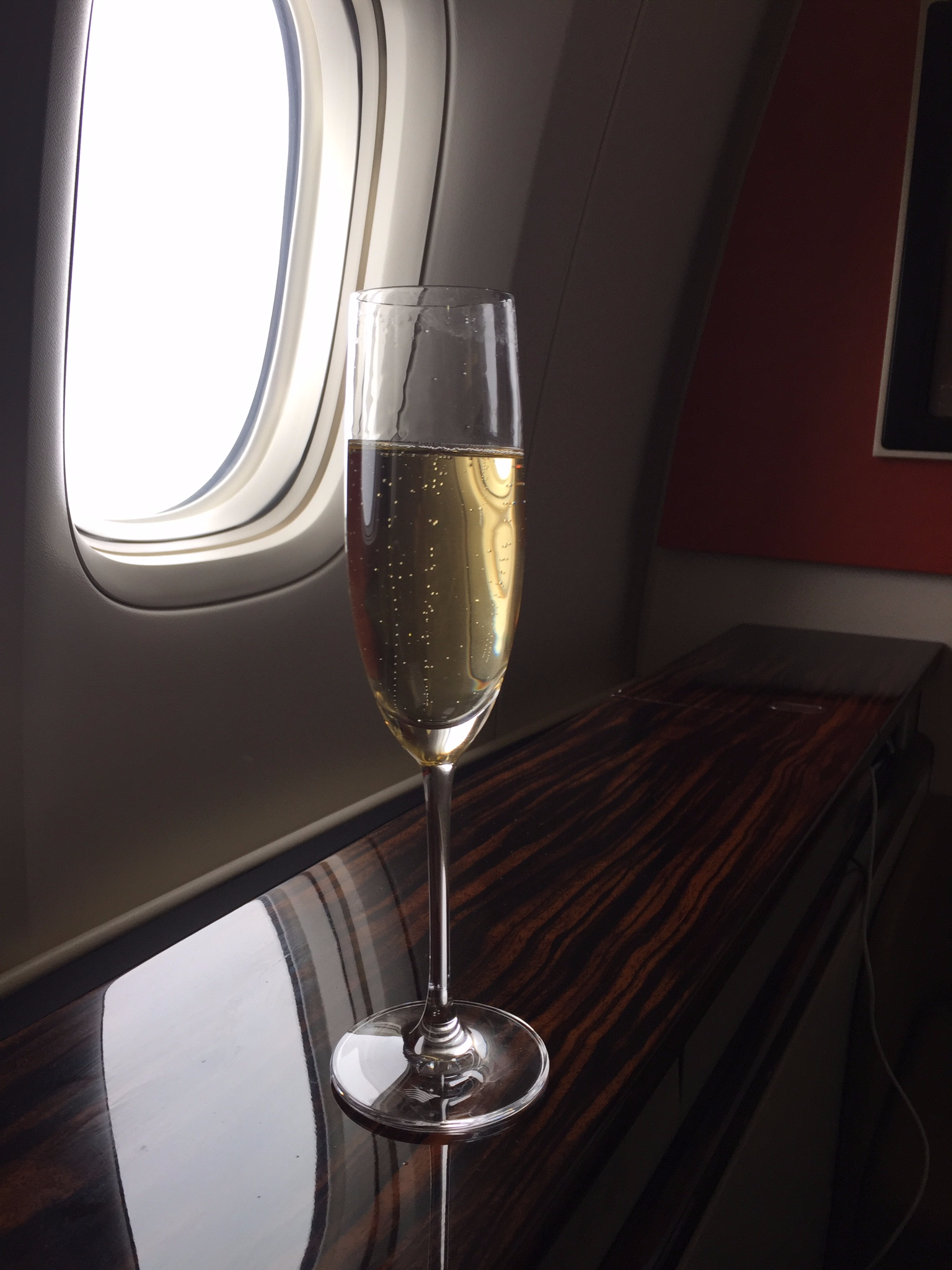 Wi Wi poured me more Billecart at this point — now, to be fair, I was not guzzling the champagne by any means. I'd say this was my third glass of champagne, total. 🙂
This particular bottle of Billecart was outstanding, and may have been the best I've had in-flight — certainly preferable, to me, than Krug. It's actually different than the "regular" Billecart-Salmon Brut that's served in, for instance, Cathay Pacific business class. This particular cuvée retails for around $100.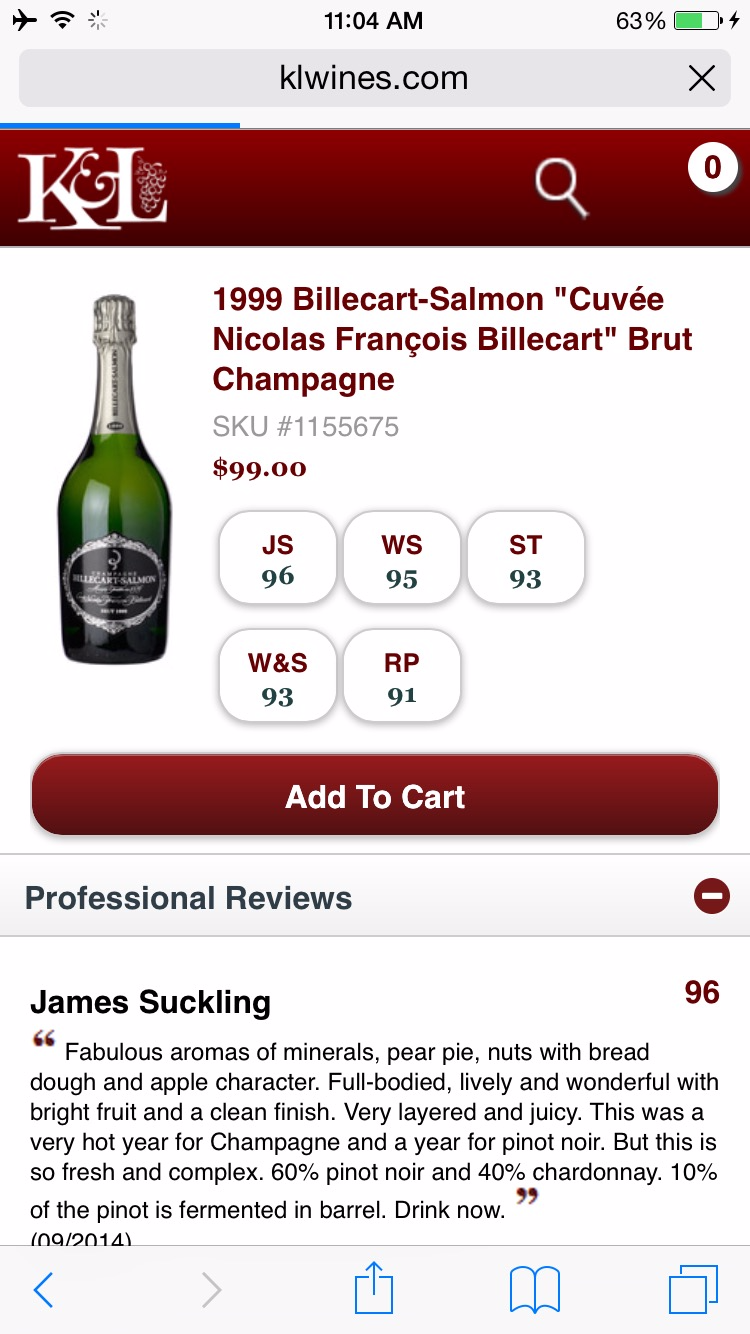 Though we were already beginning our final descent and the seat belt sign had just been turned on, I asked to use the restroom (mostly just to check it out) and was told, "of course!"
The restroom is stocked with full-size Loewe amenities, as well as Evian facial spray and mouthwash. It's fairly impressive.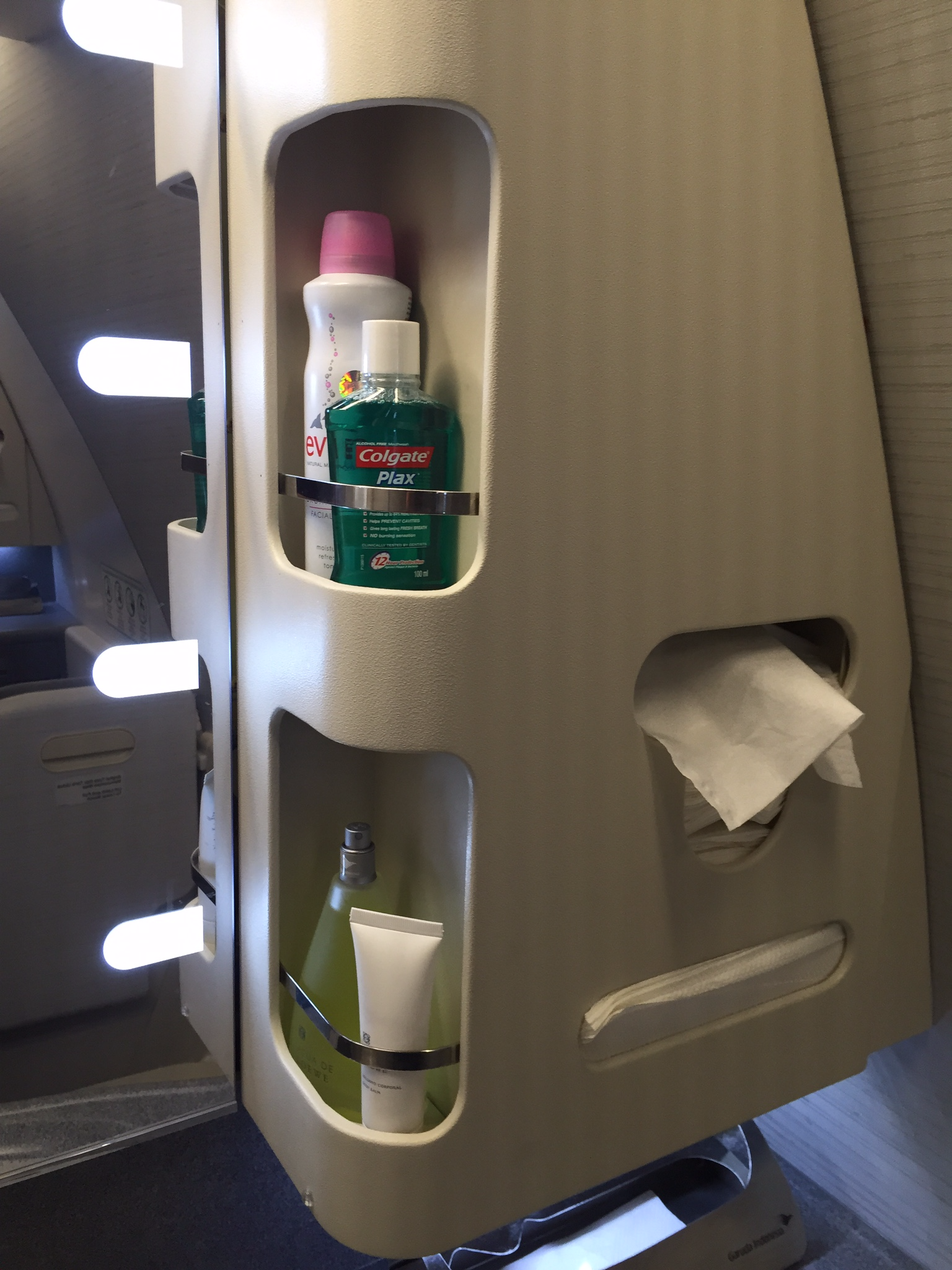 Garuda doesn't want you to squat on top of the toilet in the first class bathroom, which seems reasonable.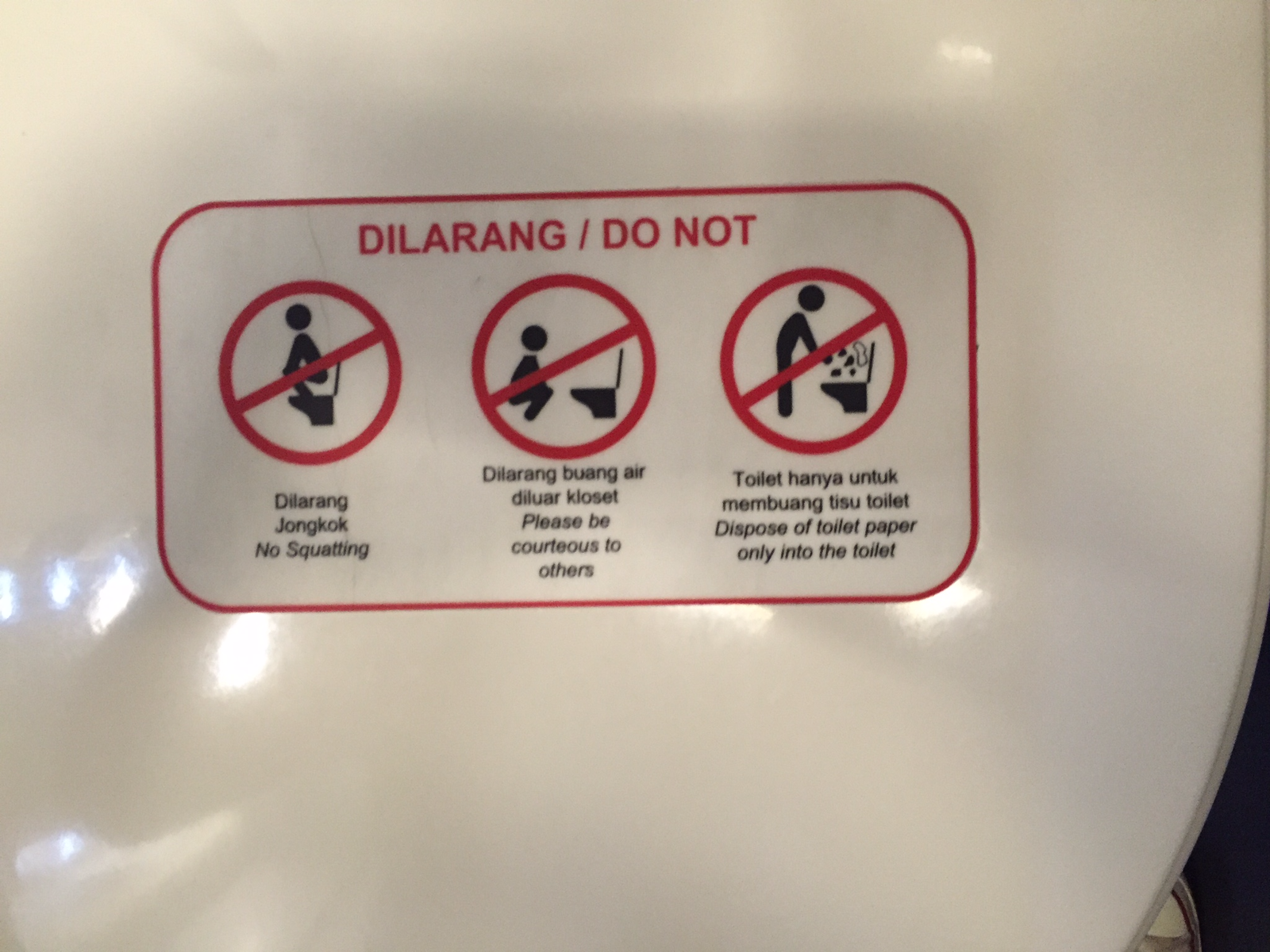 Very shortly thereafter, I returned to my seat to prepare for landing at Gatwick.
As soon as we taxied to the gate and parked, the male flight attendant handed me my carryon bags and led me directly to the boarding door and in front of the business class passengers, where an incredibly friendly British gentleman was waiting on the other side.
I got to see the business class cabin on the way out, which didn't look too shabby, either.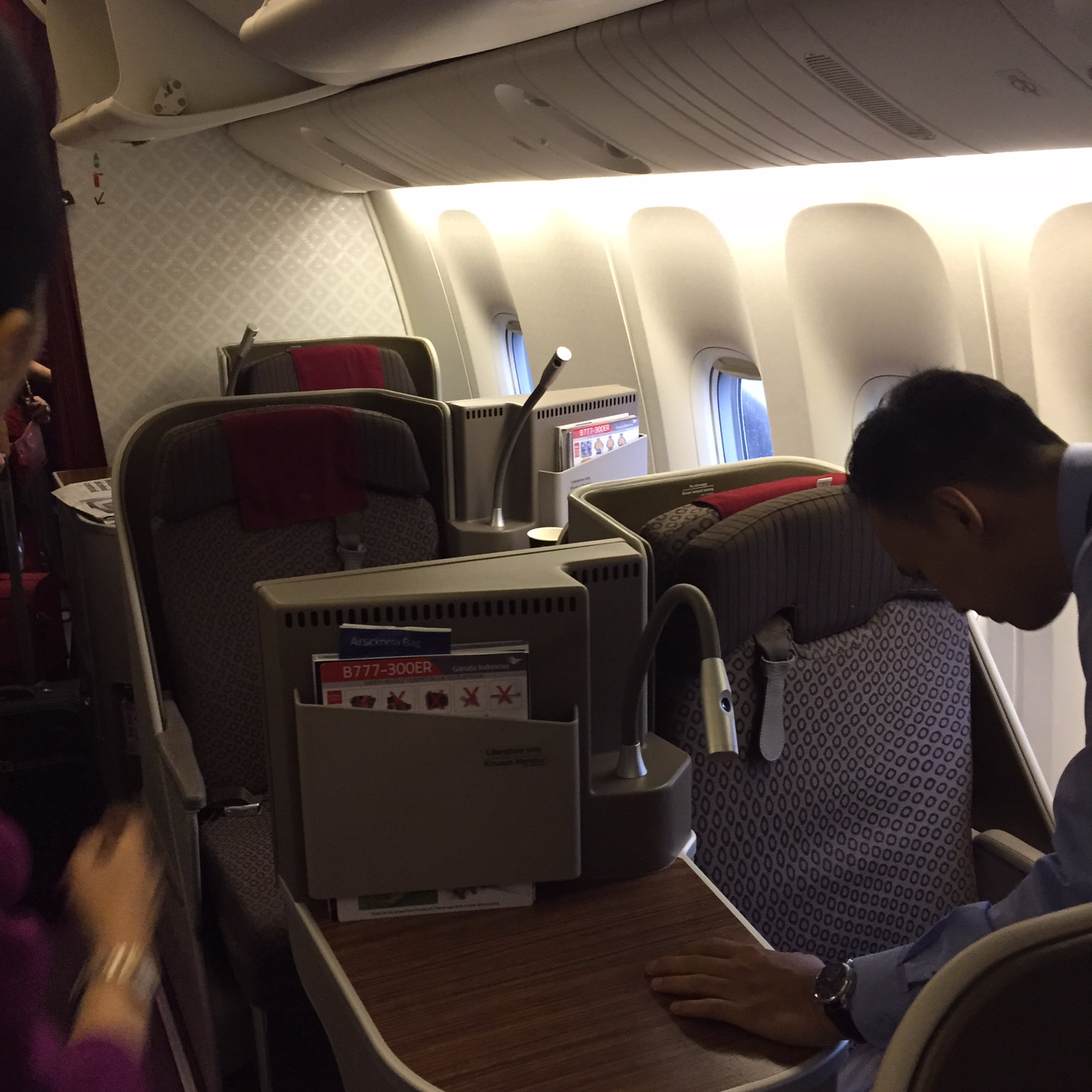 My escort was just amazing. He chatted me up about American TV shows as he led me through the maze that is Gatwick into the immigrations hall. The passport control area was chaos, and he led me directly to the front of the line, where he informed the attendant on duty that I was a "VIP passenger."
I felt awful, but also amazing, jumping the line and I apologized profusely to the woman who was otherwise at the front of the queue. The escort stayed with me at the passport control desk and handed my passport directly to the agent and I was on my way in under 10 seconds.
Wow. Just, wow.
Garuda Indonesia First Class Bottom Line
I'll repeat the subject line of the email I sent to Ben midflight:
Subject: BEST. FLIGHT. OF. MY. LIFE.
The personalized level of service was extraordinary. And this was on a 45-minute fifth freedom leg.
I've been lucky to fly Cathay Pacific First Class before, and while it was just lovely, I never felt nearly as cared for as the wonderful staff on Garuda cared for me. It just felt so incredibly genuine, and they just wanted me to have an incredible flight.
And boy, did I ever.
It's hard to judge an airline based on a 45-minute flight, and I'd love to fly them on a long haul someday. In the meantime, based on this little tiny Amsterdam-Gatwick one-way, I can tell you that:
The IFE system is the best I've used. The screen was magnificent. The selections were among the best I've seen. There weren't endless ads as you'd find on Cathay or Virgin Atlantic. You select a movie or TV show, and it comes on immediately.
The two champagnes offered were incredible. I didn't get the chance to try anything else, naturally, but the choice of two sparkling wines and the offering of a rosé was a really nice touch.
The seat was incredible, and I really appreciate the massage feature. I didn't get to to try the seat out as a bed or test any of the mattress pads or what have you, but I'm fairly confident that it would be a remarkably comfortable sleep.
The service was simply phenomenal. Above and beyond. Everyone wanted to make my day special. I felt like a VVIP. And surely they knew I "only" spent $340 on a ticket, yet they treated me like their highest-valued customer.
Frankly, this flight was the highlight of my year in aviation so far, and one of the highlights of my entire trip, period.
It's obviously the best way to get between Amsterdam and London.
It's not cheap, per se, given the short distance, but the price of the flight isn't overwhelmingly higher than the competition, and the time you save being whisked through immigration at Gatwick is possibly worth the price alone if you're in a hurry.
I wouldn't fly this route every week between Amsterdam and London unless I was a multimillionaire with a lot of time on my hands, but I will say this was a once-in-a-lifetime experience that is within a lot of people's reach.
Garuda Indonesia has won my heart.