---
Virgin Atlantic 7
London Heathrow (LHR) to Los Angeles (LAX)
Sunday, July 5
Depart: 11:15am
Arrive: 2:30pm
Duration: 11h15min
Aircraft: Airbus 340-600
Seat: 5K
My return flight to Los Angeles was scheduled to, again, be on Virgin Atlantic's new 787 Dreamliner. Given that I understood firsthand that Virgin's A340-600 fleet was showing its age, I was excited to try out the new product.
However, once again, as I approached the gate I saw that there had been an equipment swap and our flight would be on the A340 instead.
At least this time, since I'd flown the A340 before, I knew what to expect, which was somewhat key. My flight to Heathrow from Los Angeles disappointed me in part because the A340 was so much more aged than I'd thought, but at least on this leg I'd know going in the quirks of the Upper Class seat.
As soon as I boarded, I asked one of the flight attendants for an EmPower adapter, and he brought one to my seat just a minute or so later.
The Upper Class cabin was only about half full, at best, which I was told was partially due to the equipment swap (since the 787 has a smaller cabin). I gladly swapped seats from 4K to 5K to accommodate a married couple, and settled in as a flight attendant brought around trays of orange juice and champagne (I chose both, and made myself another mimosa).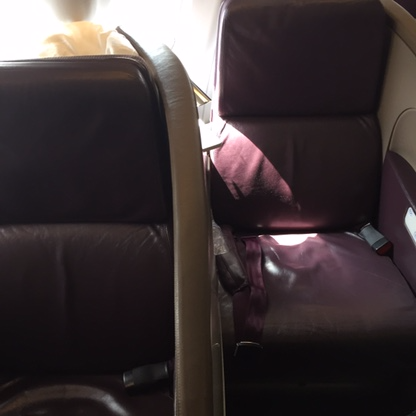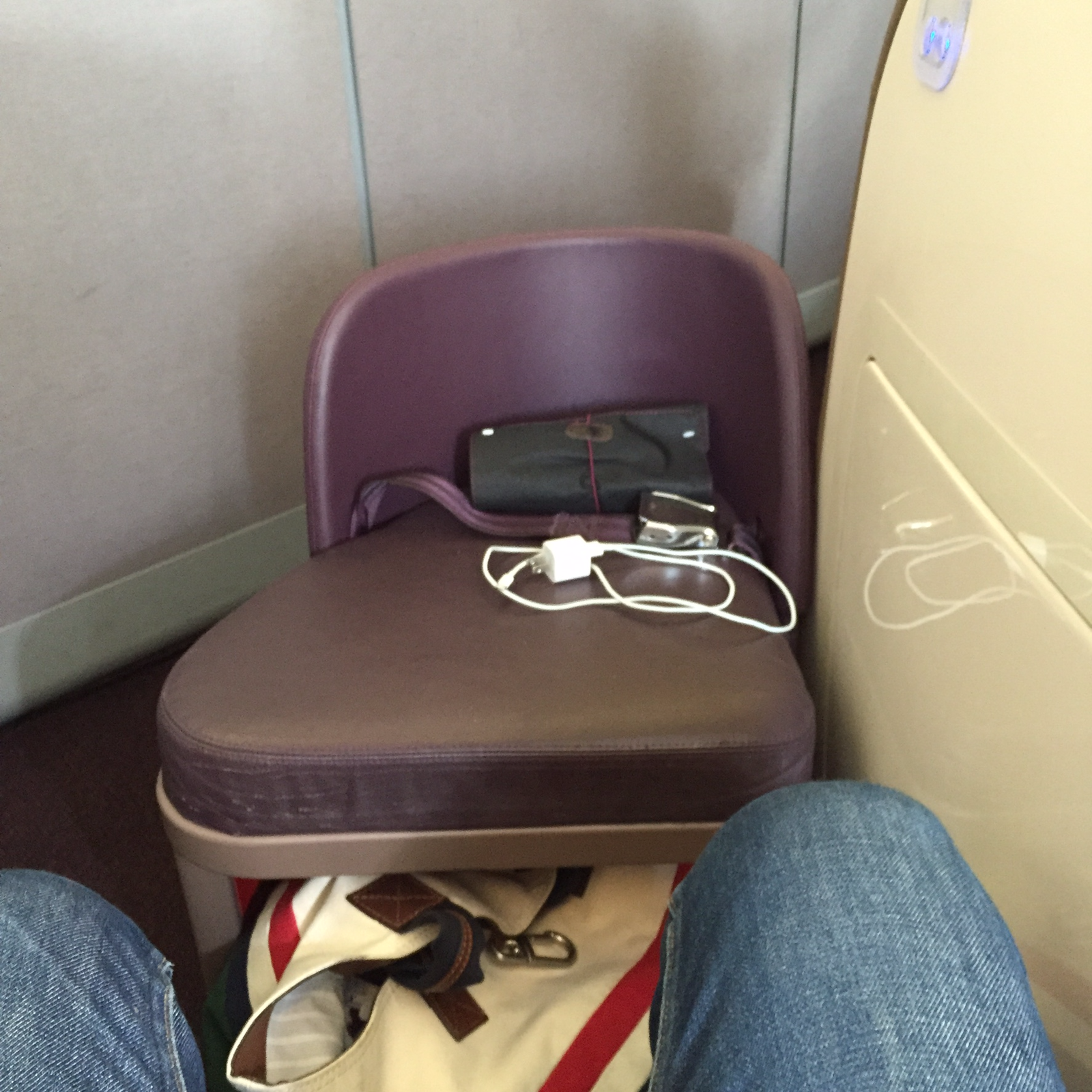 Interestingly, the amenity kit on this flight was set up a bit differently (more of a pouch, rather than a bag), though it contained the same relatively sparse selection of facial tissue, pen, toothbrush, toothpaste, etc.
We taxied not long after doors closed and took off for an on-time departure. The captain informed us that we'd actually have a quicker flight than usual, and would be landing a bit early.
Shortly after takeoff the main flight attendant on my aisle of Upper Class, Nick (an easy name for me to remember), took drink orders. I asked for a Bloody Mary, and he came back from the bar a couple minutes later with a very spicy Bloody as well as a bowl full of potato crisps, which was nothing but greasy goodness.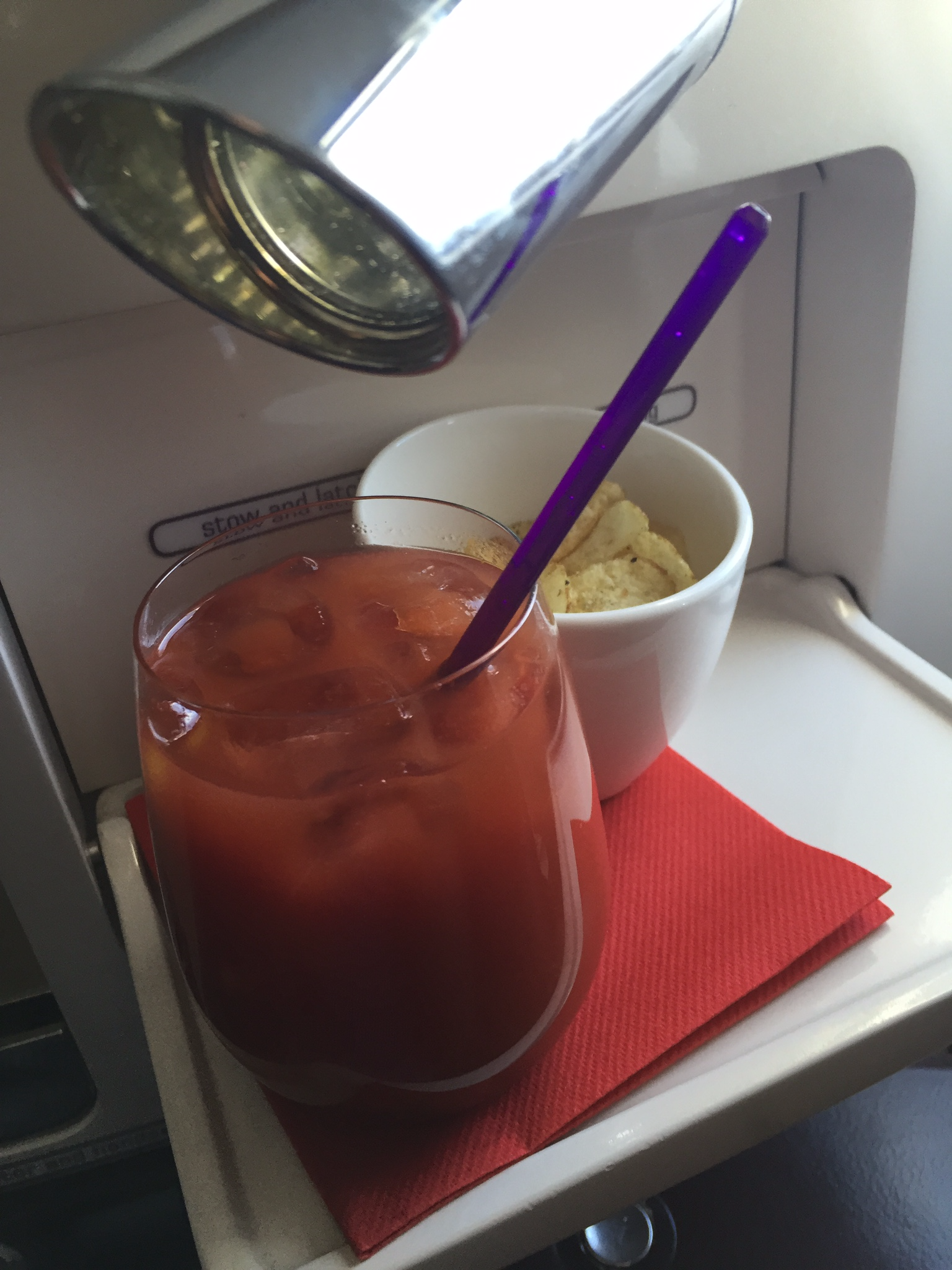 With drink service, Nick also distributed menus — this time, given the light load, they were ours to keep (as opposed to the LAX-LHR flight where they were snatched back from us after 5 minutes). 🙂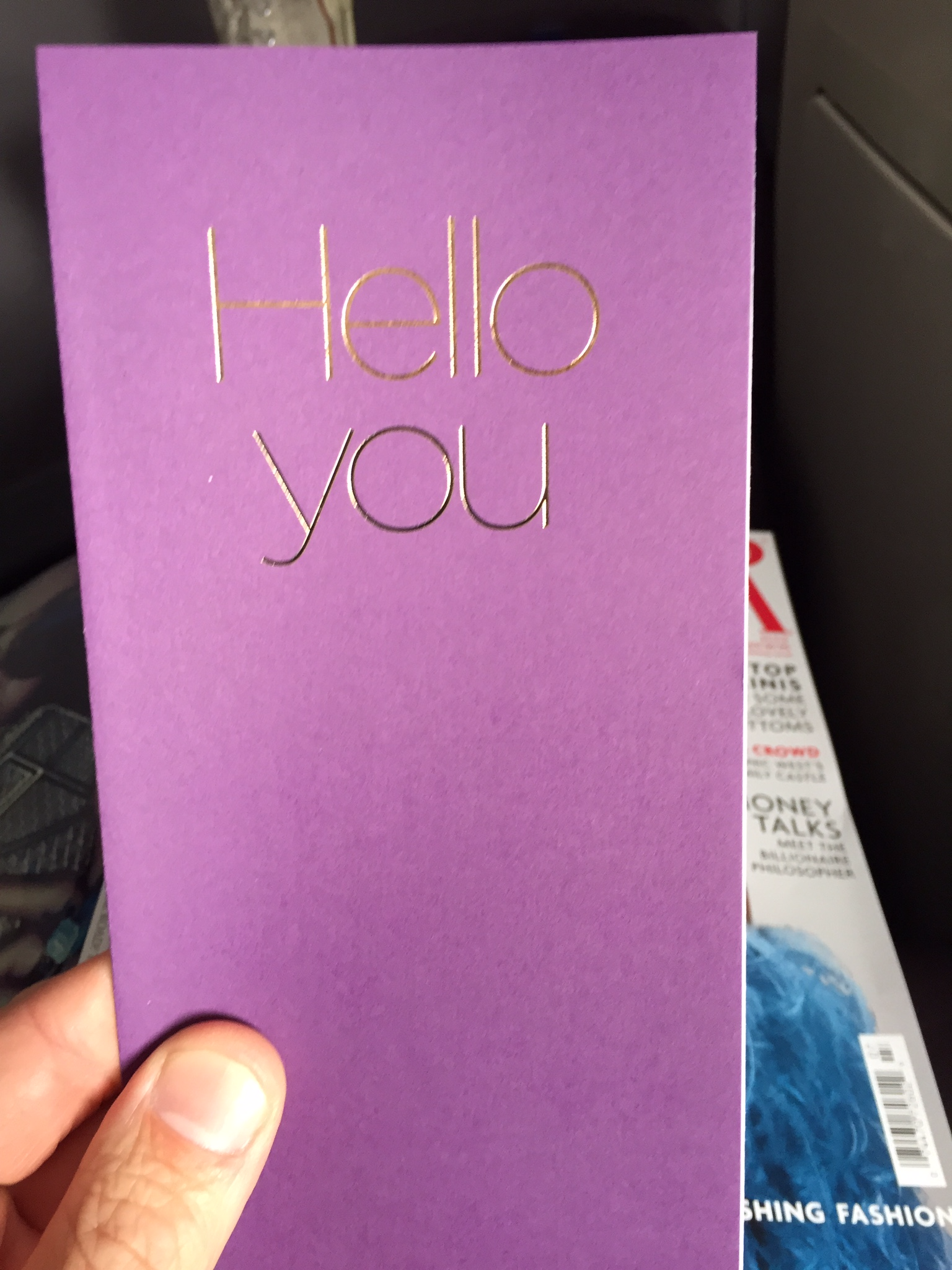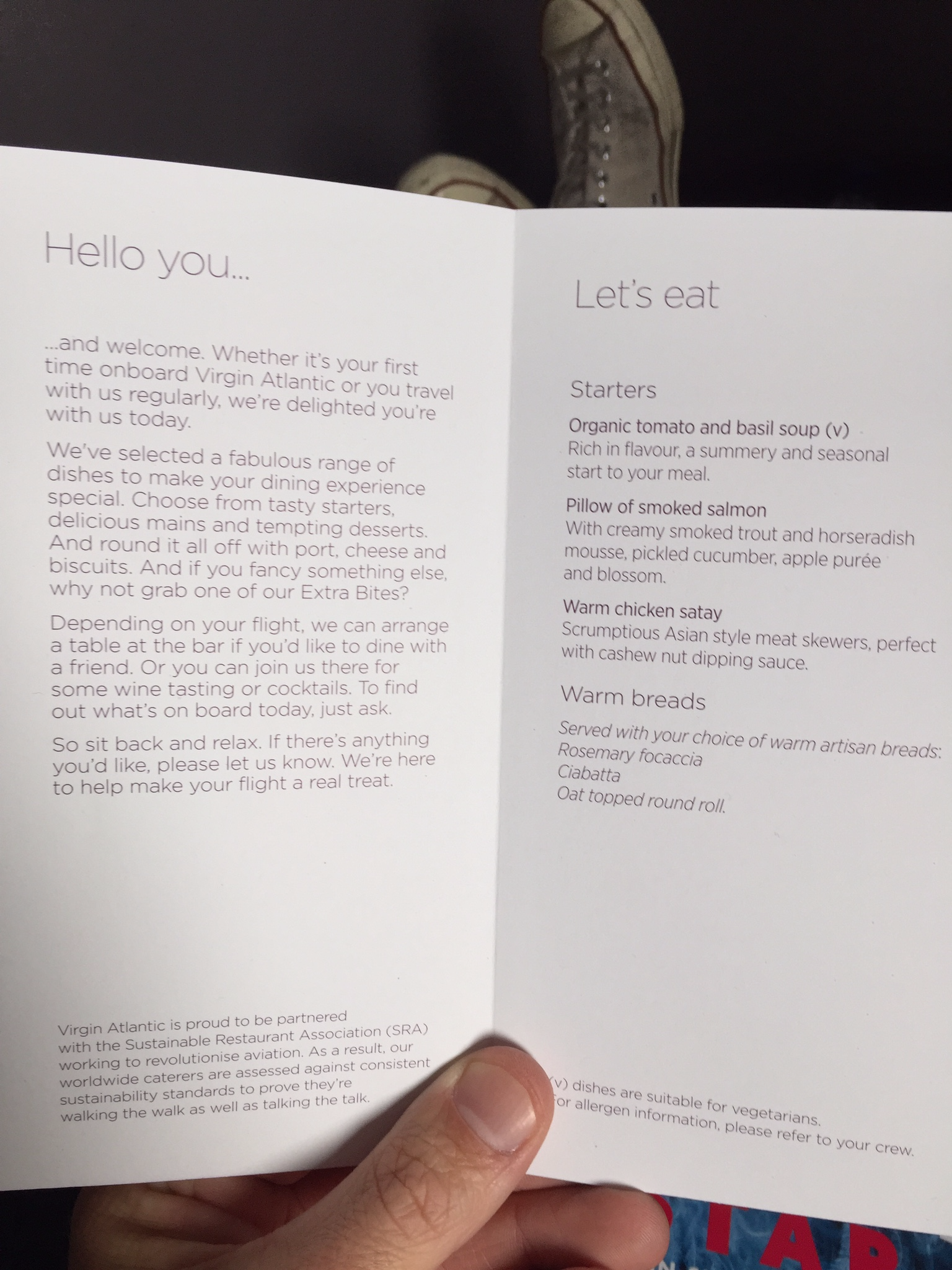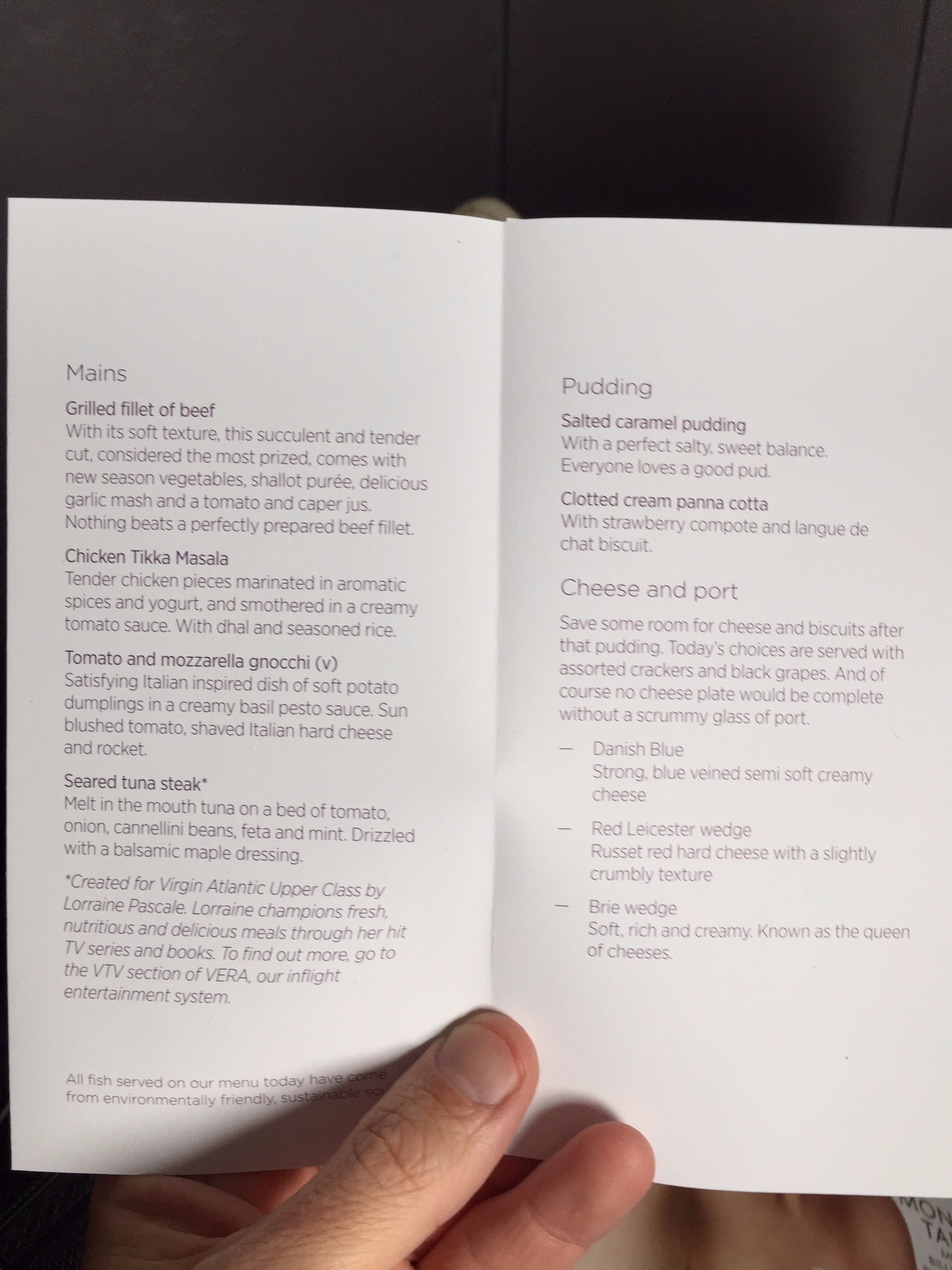 Now, I've gotten quite a bit of flak on OMAAT for poking fun of the Brits for calling all desserts "puddings," but perhaps we can all agree that the description "[e]veryone loves a good pud" means something very different to American ears.
I sure do love a good pud, though!
The menu also showed the "extra bites" that were available throughout the flight, as well as the afternoon tea that would be served before landing.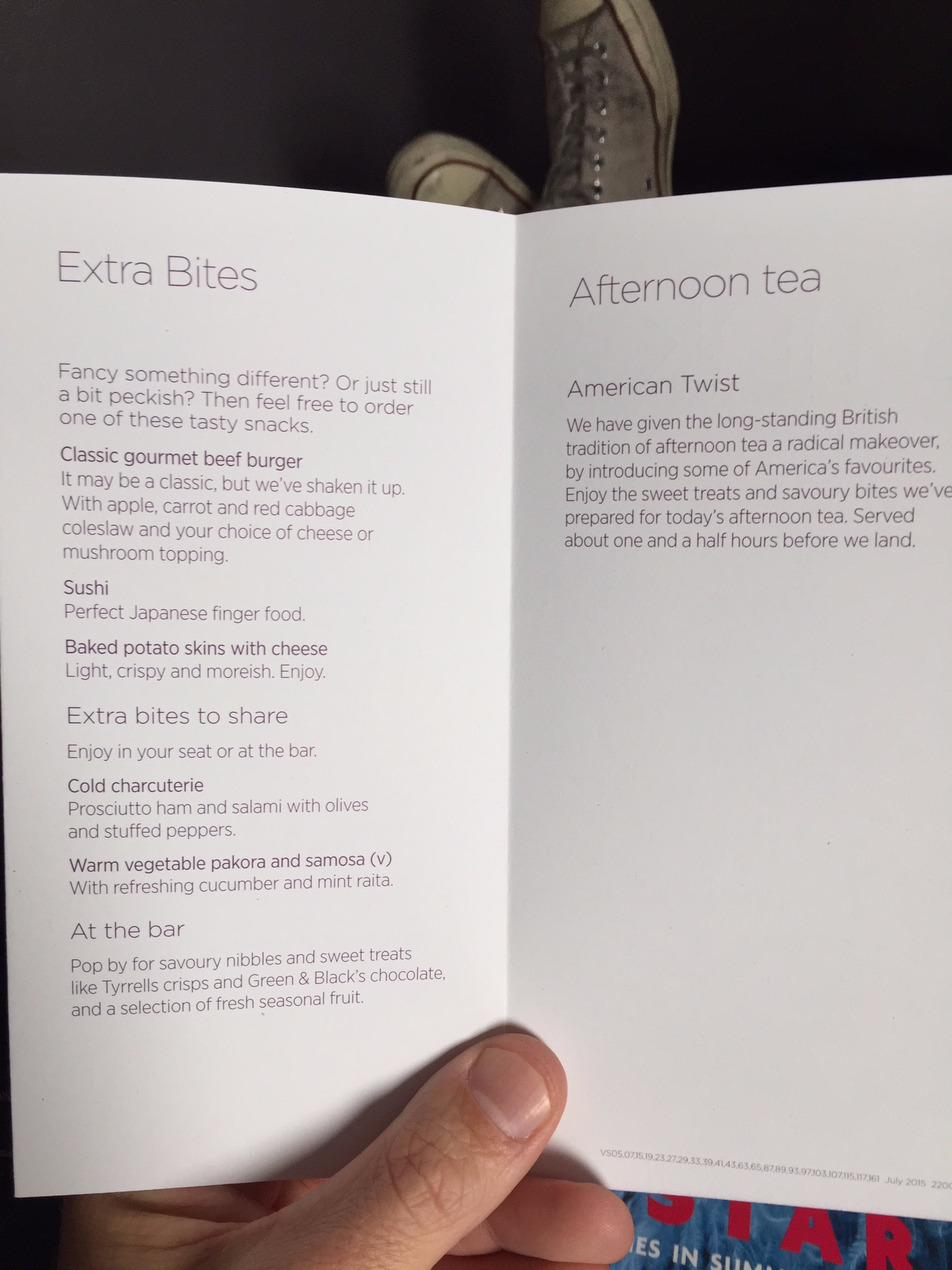 As for drinks, the wine list was identical to the flight over, with Gardet champagne being served.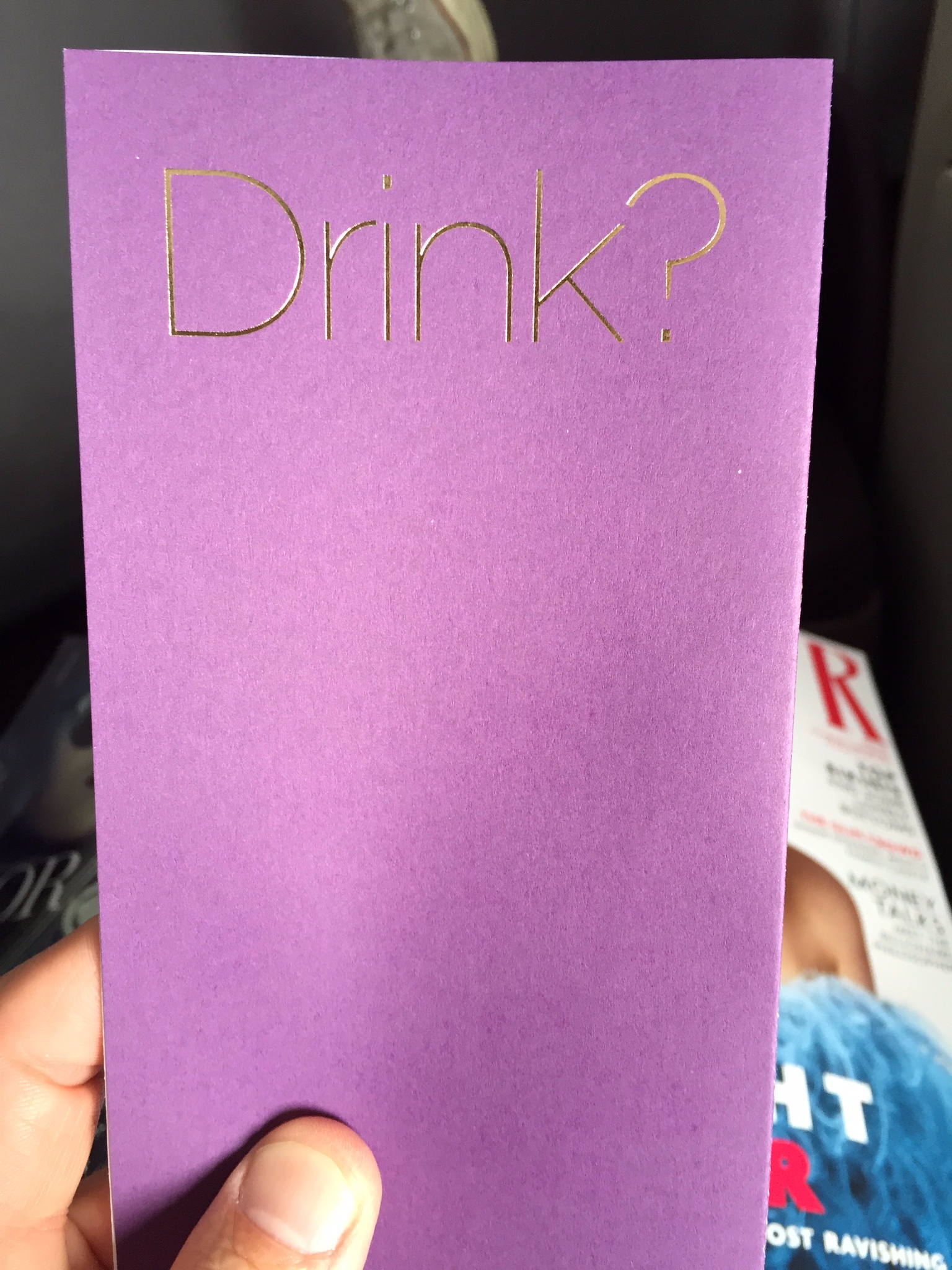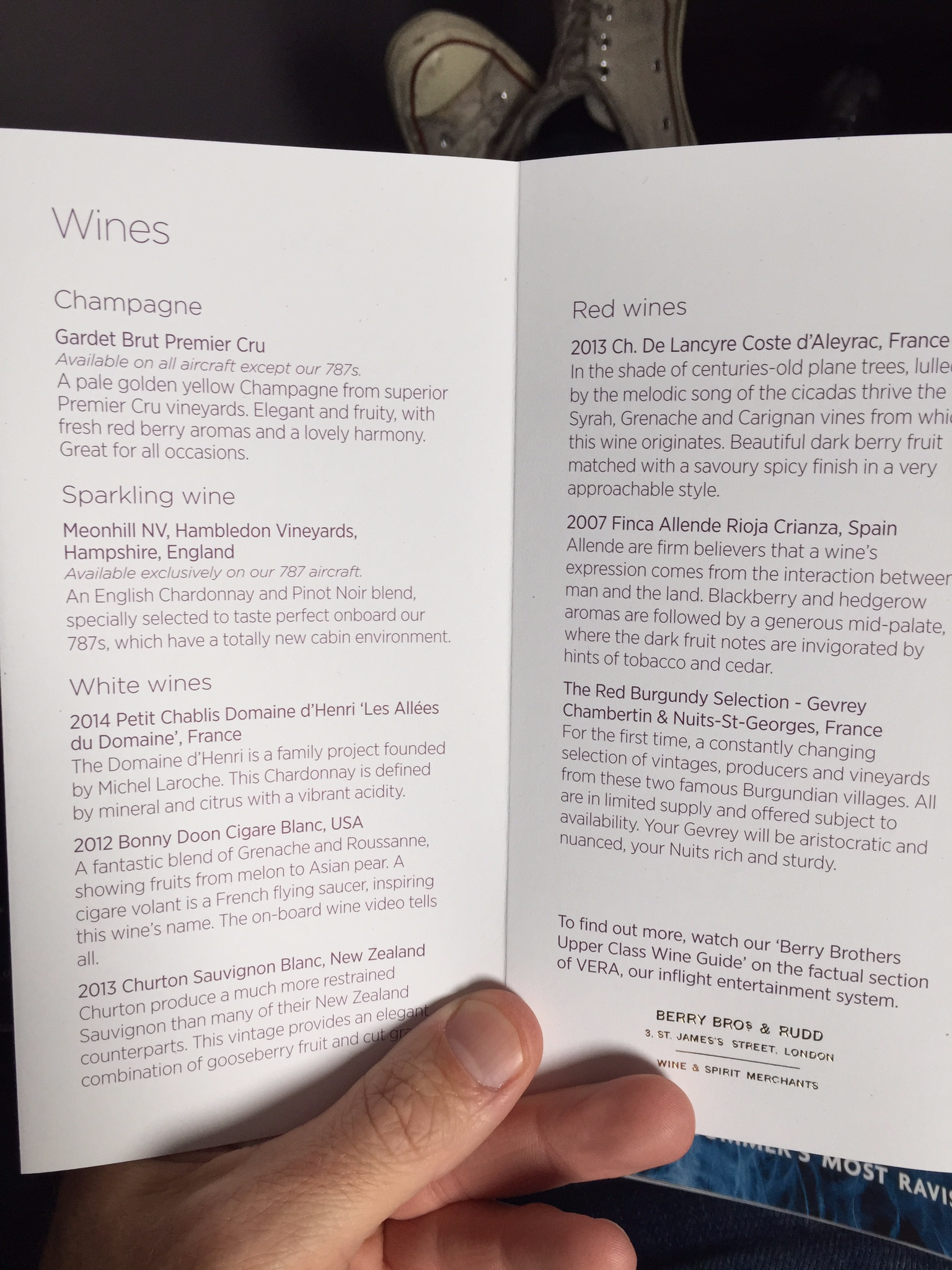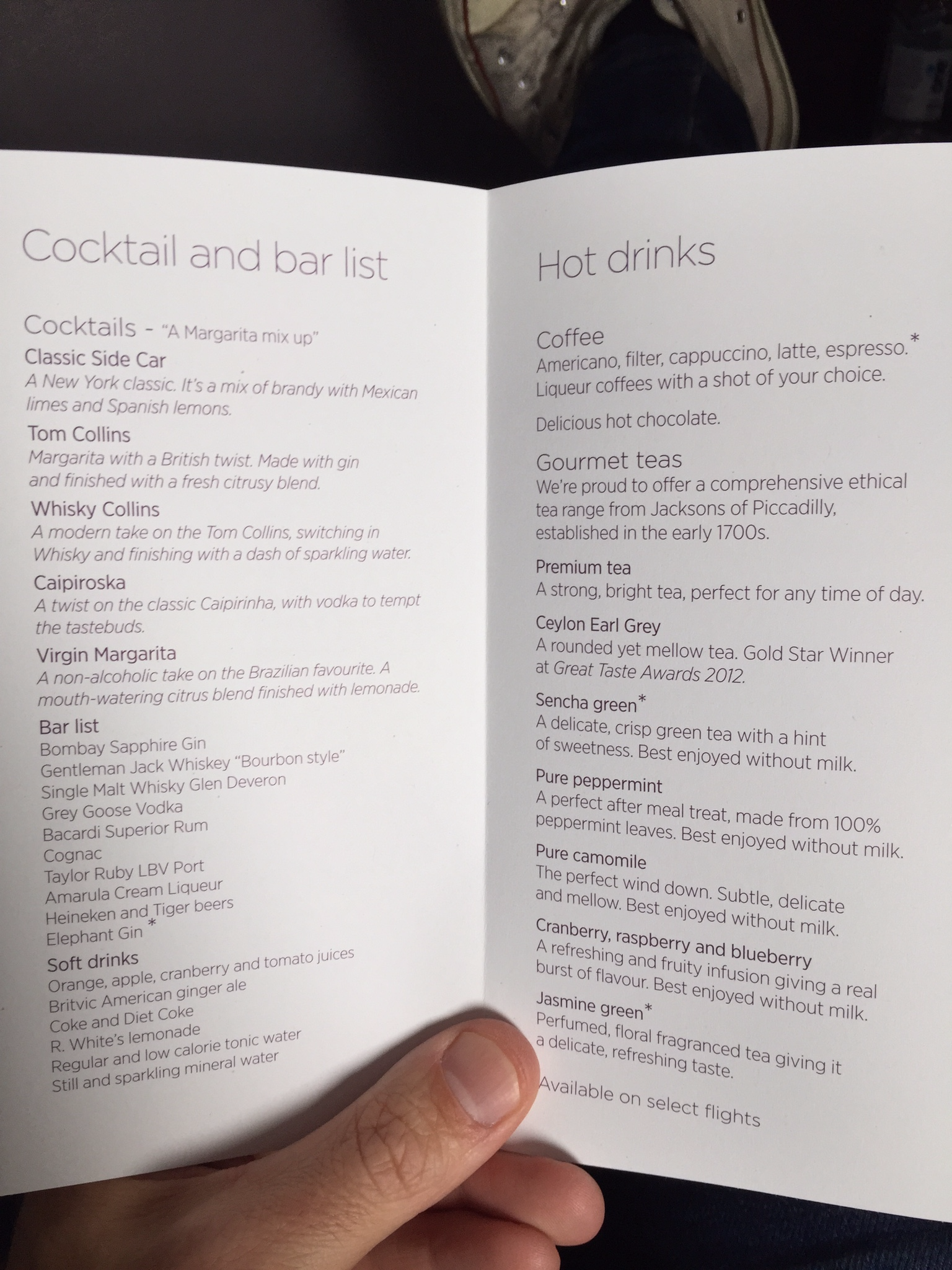 To start, I ordered the pillow of smoked salmon, which seemed like it would be light. To accompany, I ordered a glass of the Chablis.
This time around, I was able to crack the secret code of how to watch TV and have your tray table set up while flying on the A340, which is to first pop out the tray table, then swing out the television monitor all the way, and then have the tray table set up with linens and cutlery, etc.
I decided to watch Horrible Bosses 2 to start, which was hilarious in a completely sophomoric way. I loved it.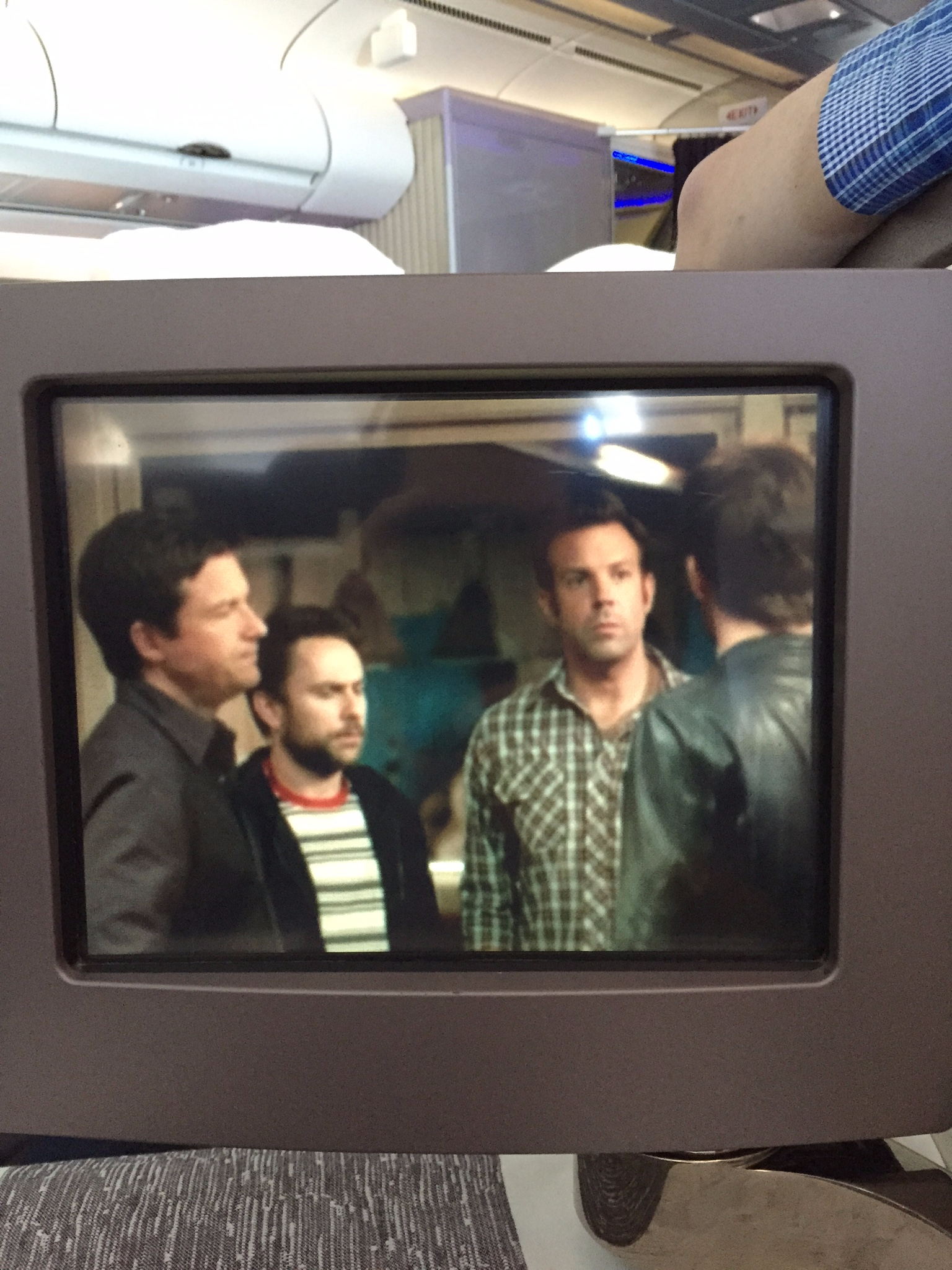 A few minutes later, Nick brought out my smoked salmon pillow and a glass of Chablis.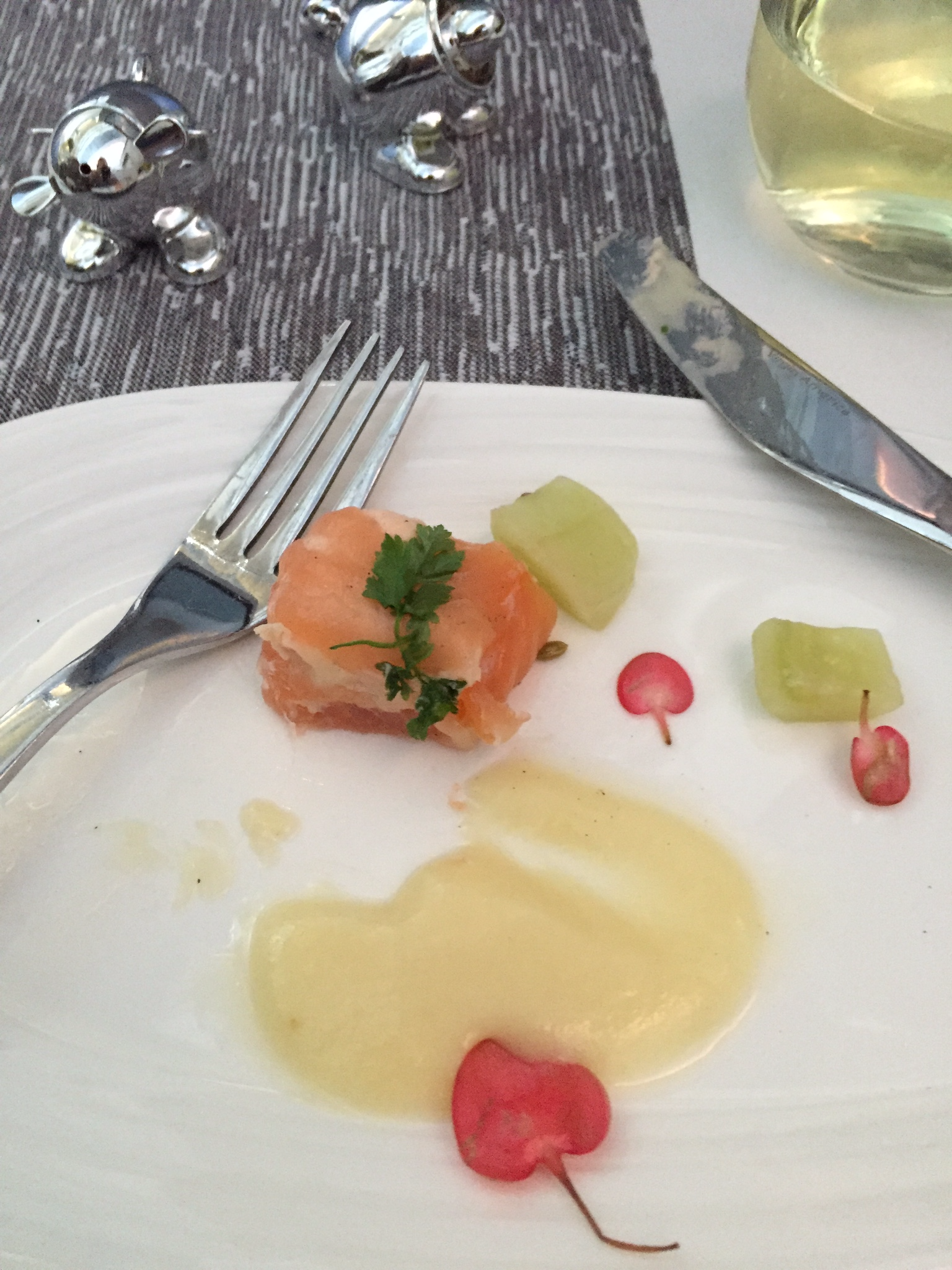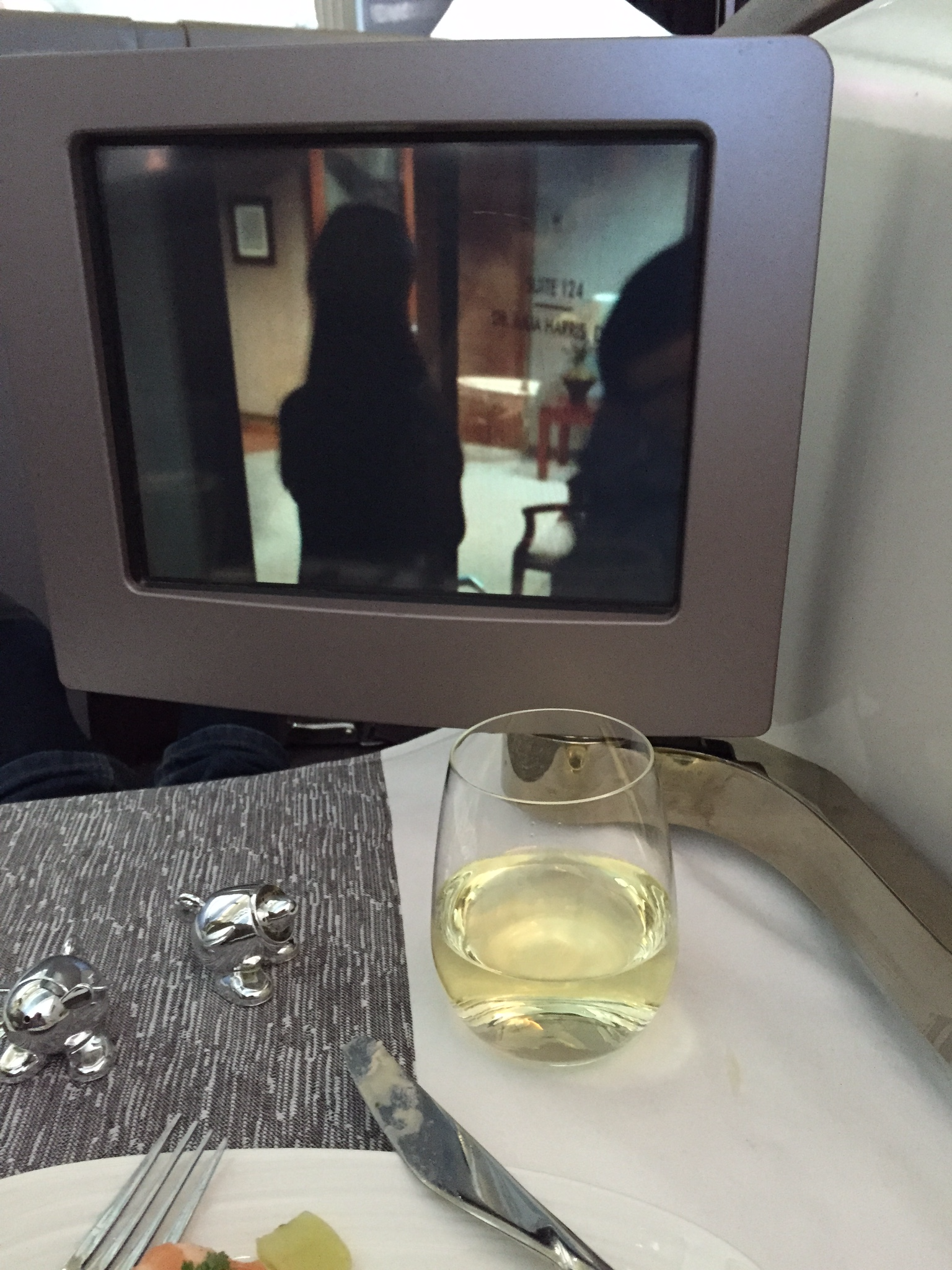 The salmon was quite tasty, with the creamed smoked trout and horseradish adding a bit of kick and smokiness to the affair. It was lovely.
The Chablis was fine. I decided to switch to champagne, actually, for the main course.
For my main, I ordered the seared tuna steak, which was Virgin's celebrity chef option for the flight. I figured I couldn't go wrong.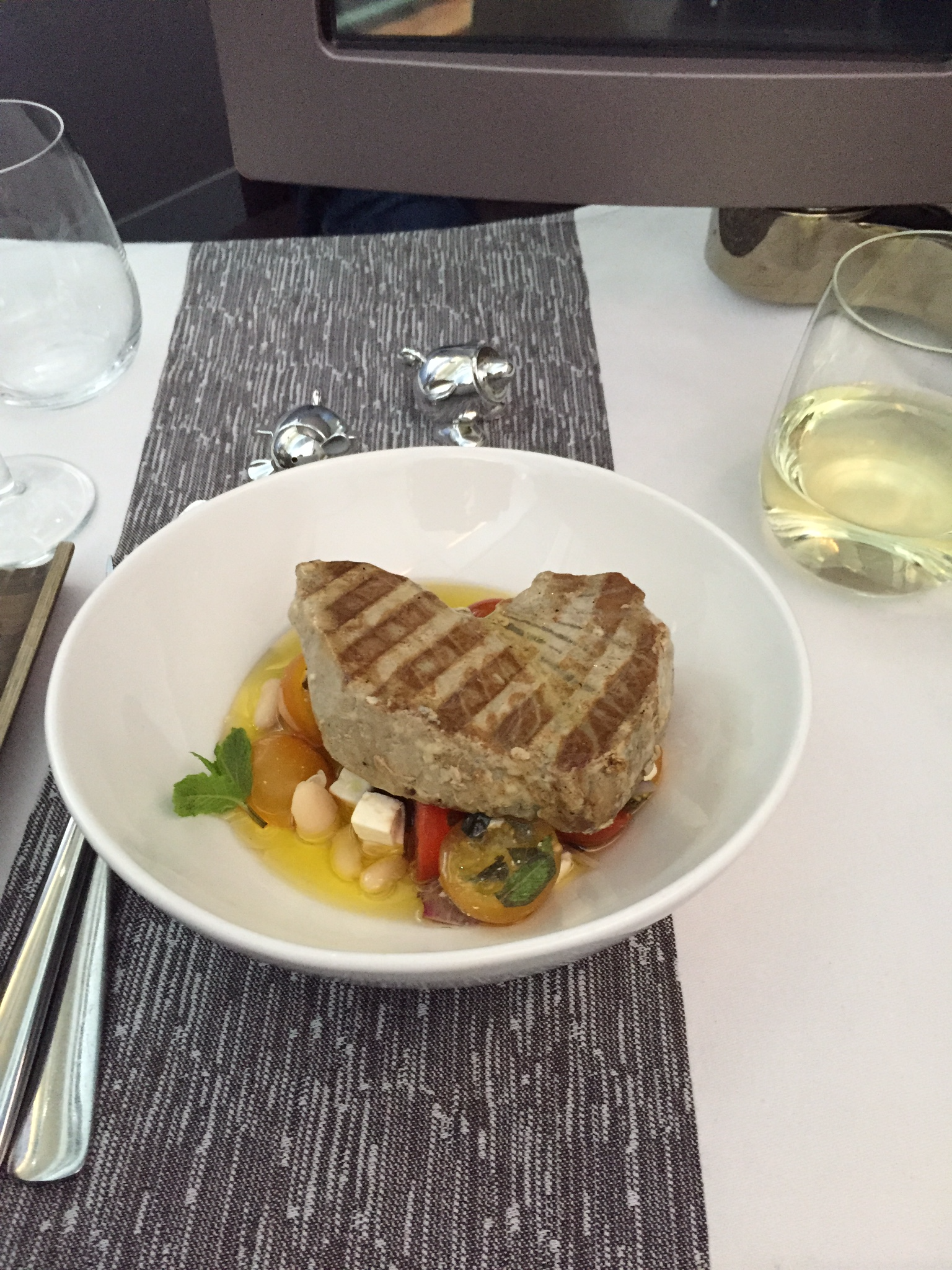 The tuna certainly looked beautiful, with the tomato-and-bean salad underneath a bit drowned in oil, but otherwise delicious-looking.
The salad was delicious, at least, if oily, but the tuna was incredibly overcooked. It was borderline inedible, and I only had a bite or two.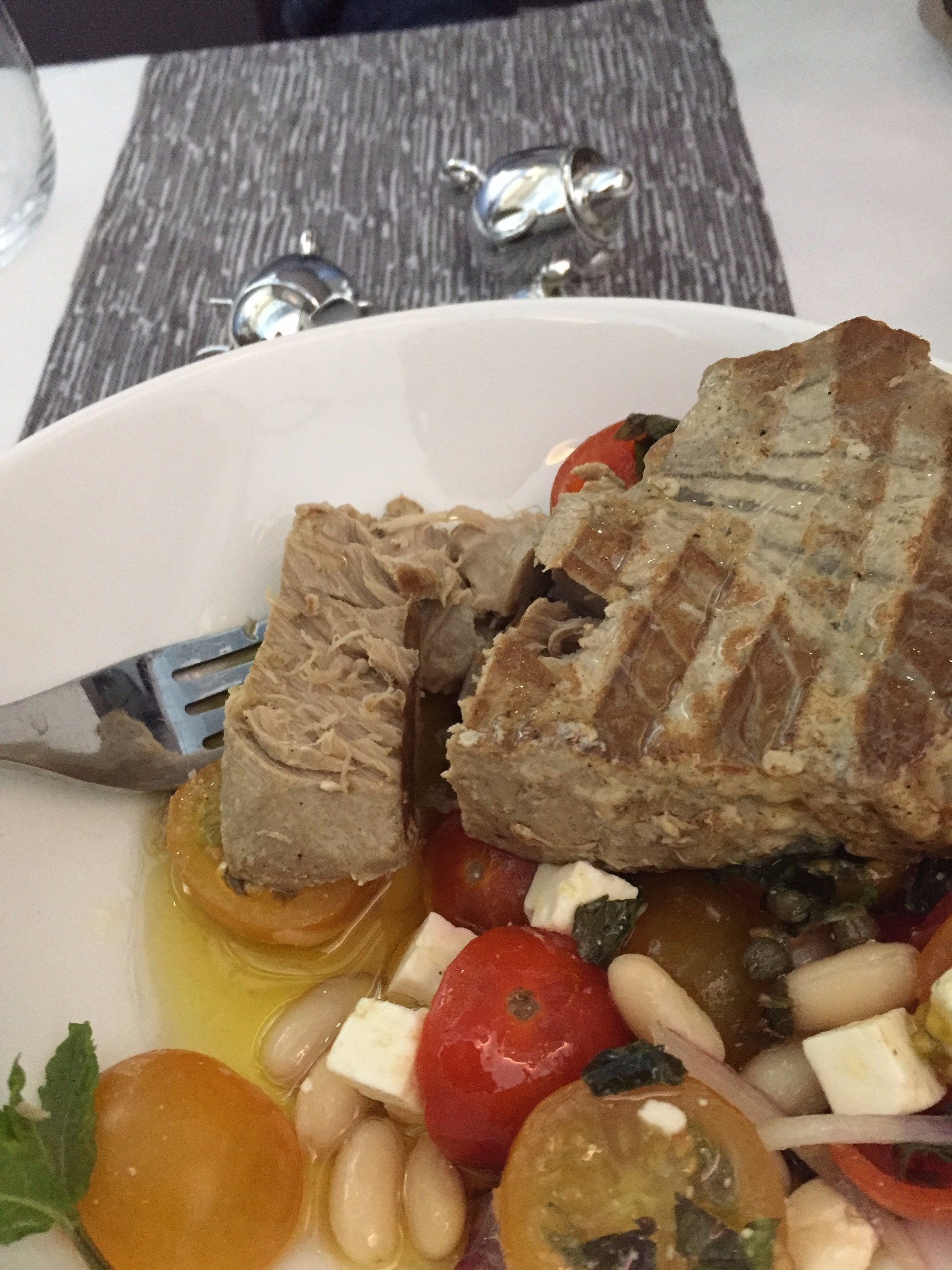 While the menu didn't specify that the tuna steak would be seared rare, there's definitely the thought process that when you're "searing" something, you're charring the exterior of it to get a good coat on it. This seemed to have been cooked in the oven to oblivion. It was tough, chewy, and dry, and altogether disgusting.
Nick seemed to have noticed that the main course was left mostly uneaten, and spied the overcooked fish with sympathy. He offered me the choice of another main course, but I didn't particularly want to stuff myself on an 11 hour flight.
For dessert — because who doesn't love a good pud?! — I selected the salted caramel pudding, which, to be fair, really was what folks on both side of the pond would agree is a pudding.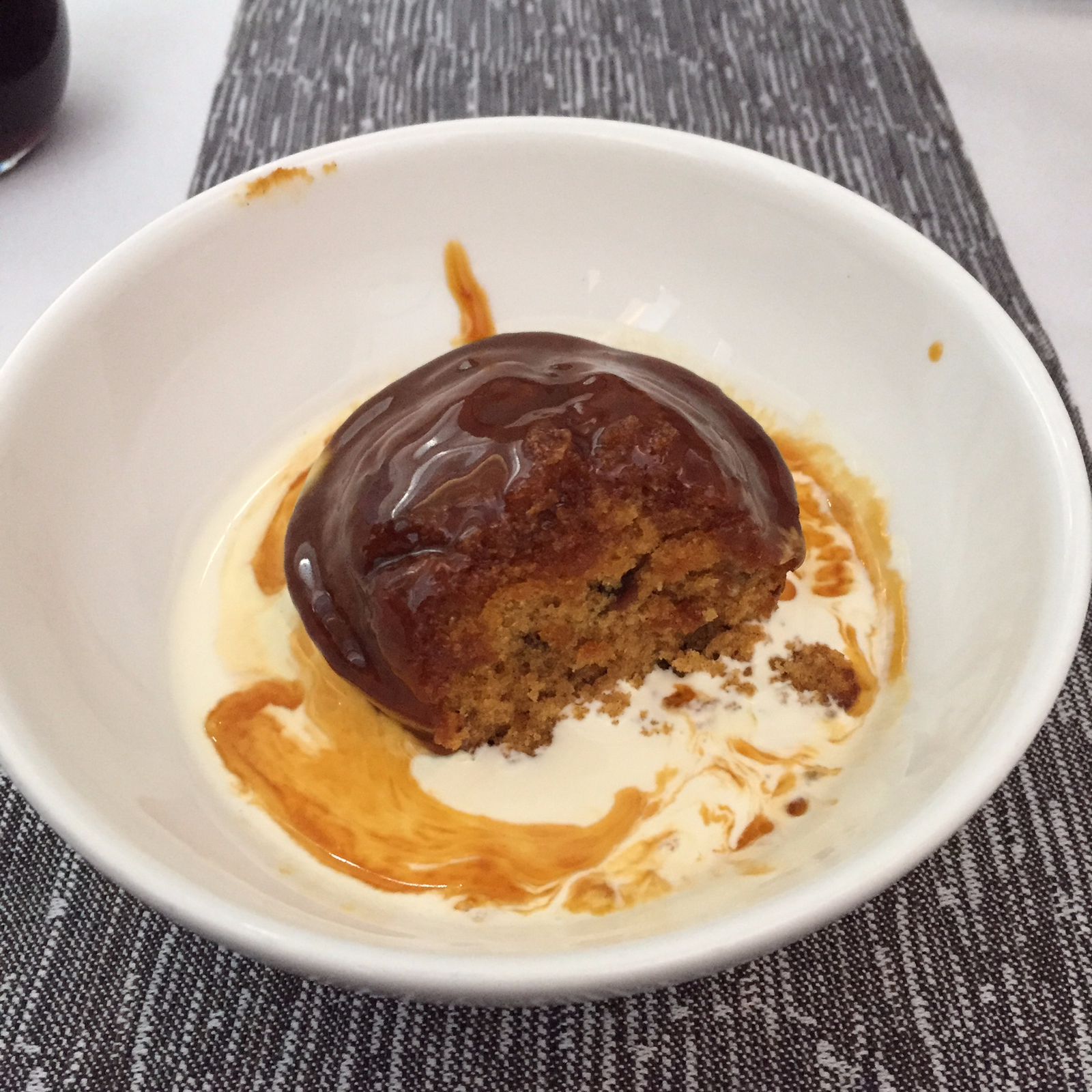 It wasn't too different from a sticky toffee pudding, and while it was delicious, it was unbelievably rich, particularly when paired with the cream sauce. It was difficult to finish.
After lunch service, I asked Nick whether it would be possible to have one of the empty seats turned into a bed so that I could nap without rearranging my phone, headset, TV, etc. He said of course, and insisted on making the bed for me while I finished Horrible Bosses 2.
I decided to have a nap. As I mentioned before, Virgin Atlantic's bed is extraordinarily comfortable.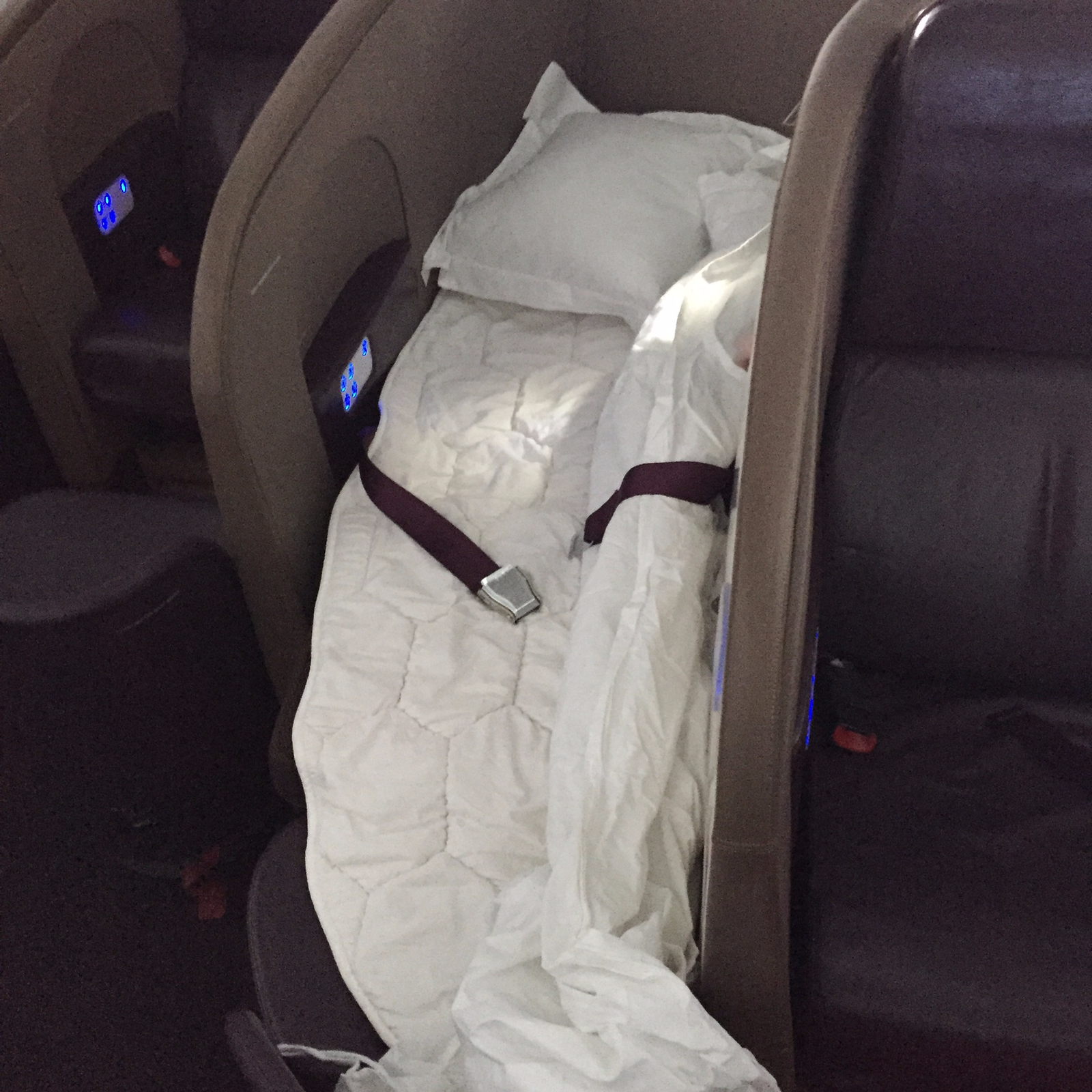 I dozed on and off for a couple of hours. Interestingly, while the window seats have rather strong air conditioning vents, it appeared that the middle seats had no vents at all. It wasn't really an issue on this flight, since the plane was kept bone-chillingly cold (to be fair — just the way I like it in midair).
I woke up to the sounds of raucous laughter coming from the onboard bar. I figured it was as good a time as any to check it out, and perhaps have a Diet Coke to revive myself a bit.
The bar was totally full, with people standing around it who couldn't get bar stools. Most of the crowd was part of one group of cheerful "lads," as I think the Brits would call them, off for holiday in Los Angeles and Las Vegas. They were, as you might expect from guys on a "lad do," totally hammered. My eyes almost popped out to watch how much they could drink and continue to stand up and function. However, they were nice as hell and made for a great way to break up an otherwise long and occasionally tedious flight, so I was delighted to chat with them for a while.
Through various chatter at the bar, I was able to discern that Virgin's 787s were essentially "broken," or at least in need of near-constant mechanical repair. Another flight attendant concurred that he much prefers to 747 and A340 to the 787, since the 787 was so glitch-prone.
I headed back toward my seat to watch another movie, so I decided to continue with dumb comedy sequels and watch Hot Tub Time Machine 2 instead, which was dreadfully unfunny. I'd get about a half hour in, and decide to go back to the bed to nap for a bit. I'd wake up, return to the movie for another 20 minutes, read a magazine, and then go back for a bit of a nap. It was too terrible of a movie to keep my attention span going, but unfortunately there wasn't a lot else on offer.
After a few more naps and visits to the bar (where I largely abstained from drinking but was entertained by the lads and helped them plan their trip to L.A.), I switched off Hot Tub and finished watching the Amazon/UK co-production, "Catastrophe" (an ingeniously charming rom-com sitcom of sorts), and flipped through some more magazines.
Around noon Los Angeles time (with about two hours to go in the flight), Nick popped by with an Afternoon Tea menu.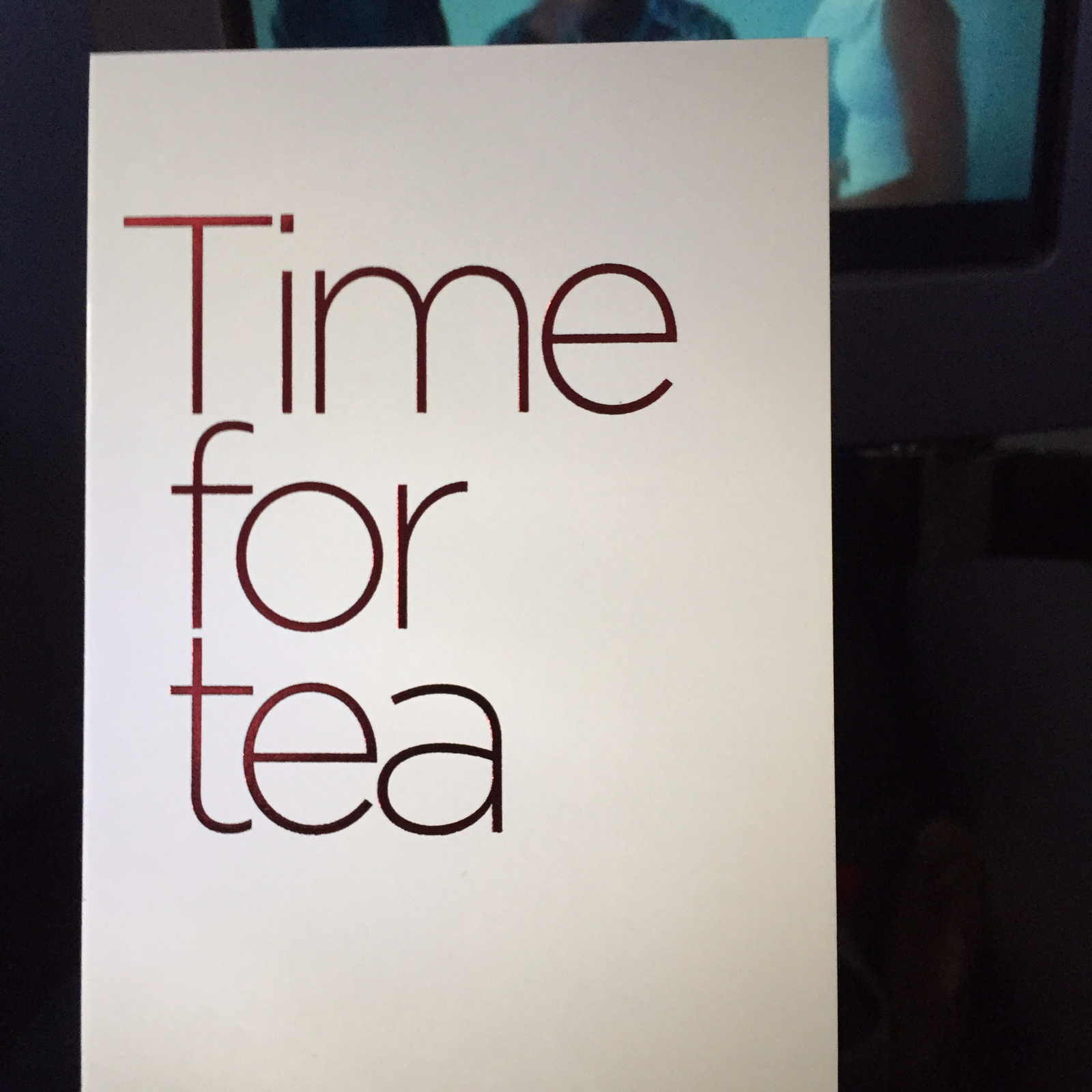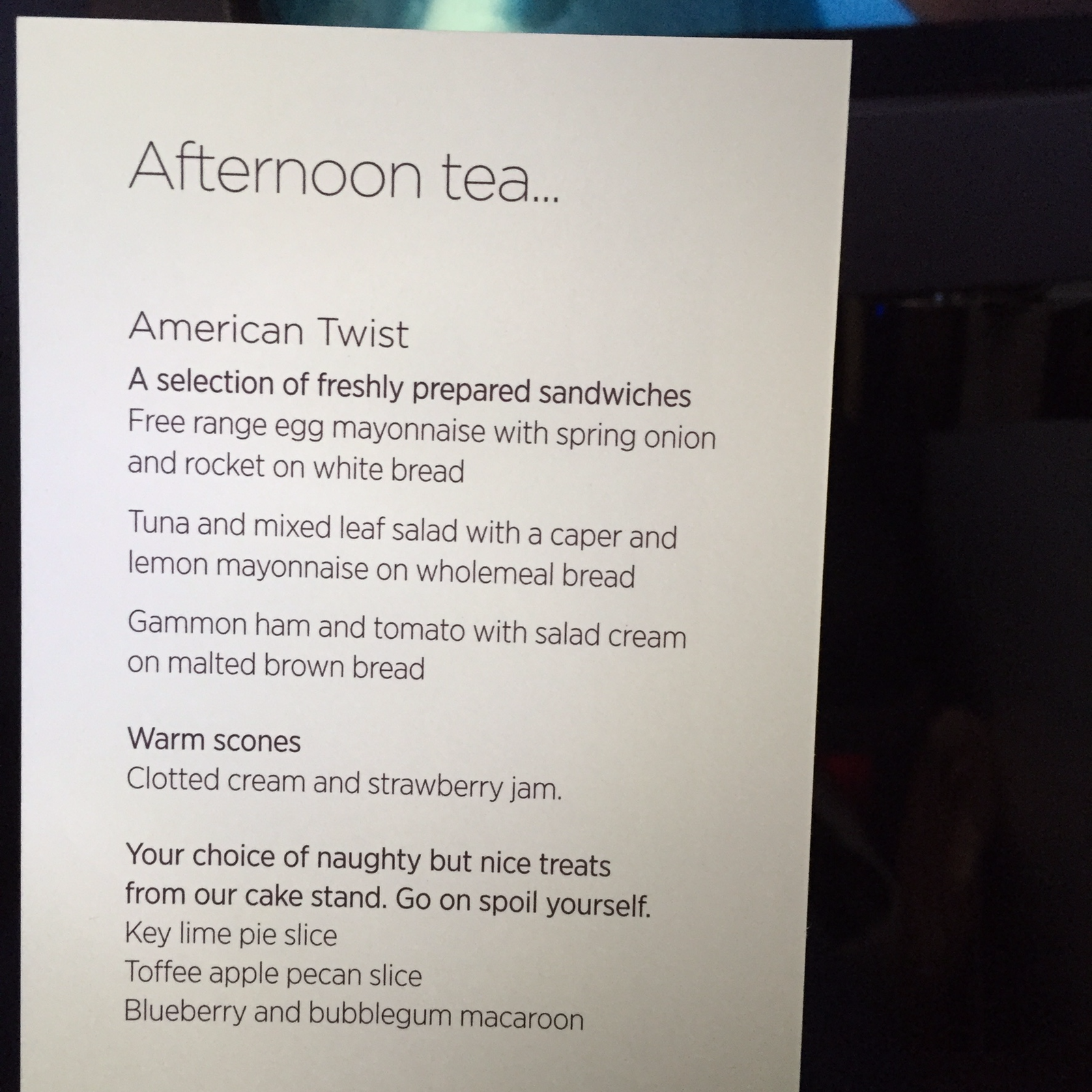 At this point, I was famished, so I was excited to eat something, and finger sandwiches and sweets seemed like they'd hit the spot. There was also nothing left to do but finish Hot Tub Time Machine 2, as painful as it is to write that. It's interesting to note a little message pops on the television screen informing you of tea service.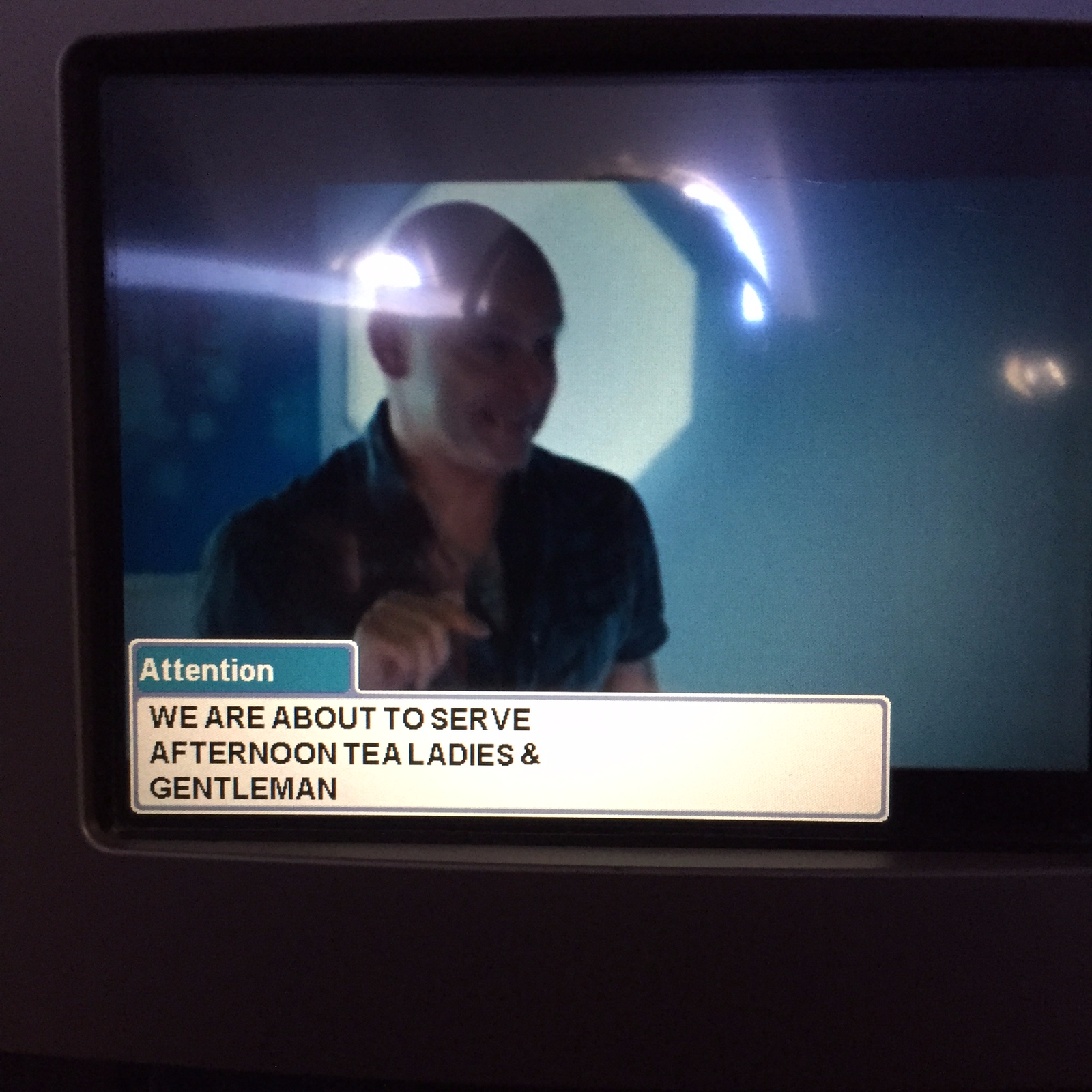 I got a tray with all three sandwiches, a scone, and two of the three treats (the flight attendant didn't give me a blueberry-and-bubblegum macaron, though I was able to try one later).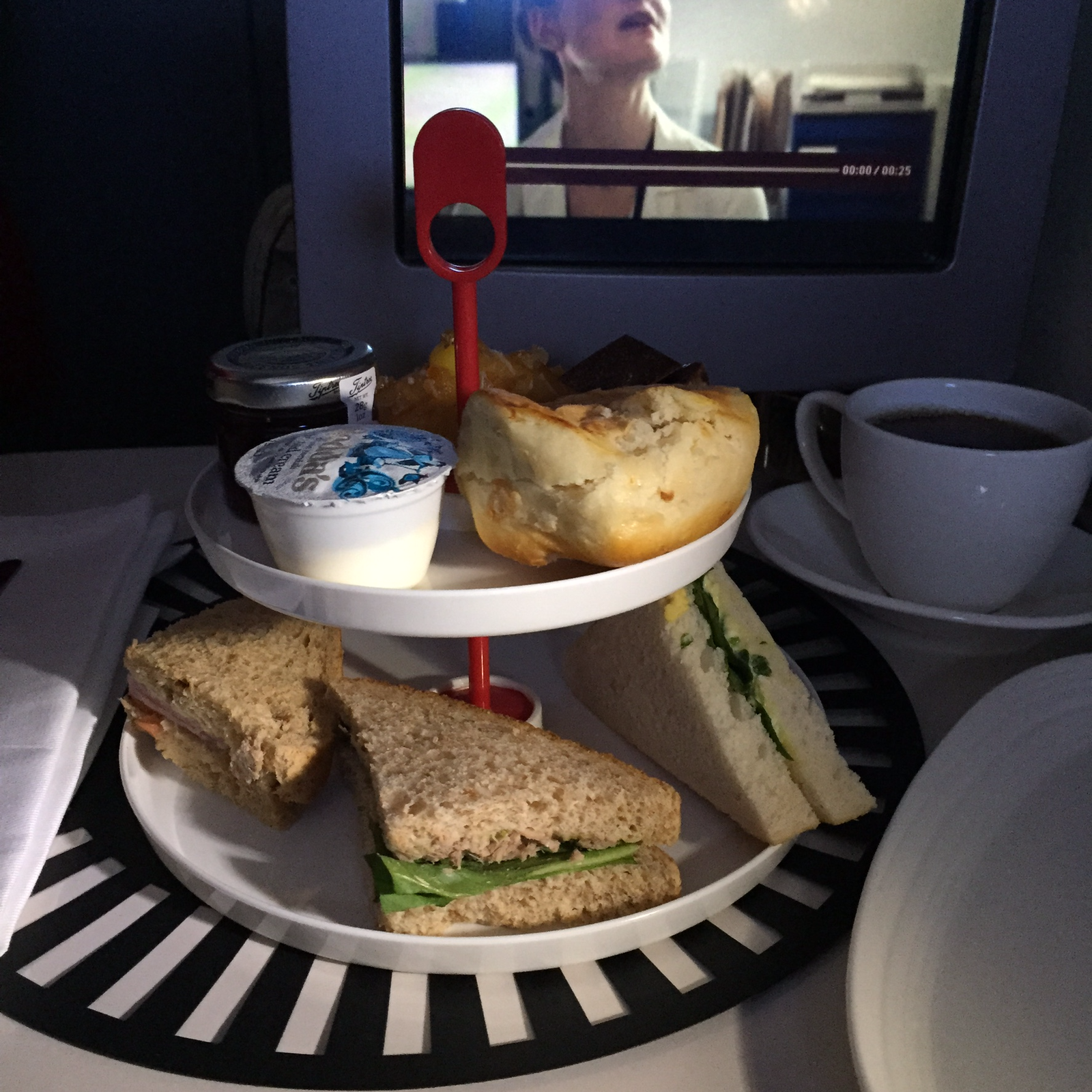 The tuna sandwich and the ham and tomato sandwich were dry and not particularly tasty, but I liked the egg mayo sandwich on white bread quite a bit.
The scone and the sweets were absolutely perfect. The Brits really do know their sugars.
Anyway, we soon were starting our descent over the Western United States, and were on the ground at LAX by 2:15pm.
Because Virgin Atlantic lands at LAX's Terminal 2, rather than the Tom Bradley International Terminal, immigration and customs were quiet and I was out rather quickly.
Virgin Atlantic Upper Class Bottom Line
Despite its quirks and despite a truly horrid main course for lunch, I really enjoyed my return flight to Los Angeles on Virgin Atlantic in Upper Class. Much more so, even, than on my flight over to Heathrow.
In part, I suspect, it's because part of what makes Virgin "fun" is the onboard bar, the socializing, the chatting with flight attendants and other passengers and laughing. It's a truly convivial atmosphere on a day flight which is either lacking on the redeye, or is not as important as getting a good night's sleep.
This particular flight was really made all the better by the warm and friendly and can-do attitude of my flight attendant, Nick, and the fact it was a fairly light load in Upper Class meant there was more individual attention to passengers. While my service LAX-LHR was fine, I was quite impressed with the service LHR-LAX.
Food continues to be a hit-or-miss aspect of flying Virgin Atlantic. I suspect if you stick with the basics you'll do all right. I probably should have gathered it would be difficult for Virgin to lightly sear an ahi tuna steak onboard, and the chicken tikka masala might have been a nice alternative. Virgin does seem to quite well with its sweets, so save room for dessert.
All in all, the A340 remains a tired plane in Virgin's fleet in need of refurbishment, but the quirkiness and character of the airline help me forgive flaws in the hard product.
I'm hopeful to try Virgin's 787 Dreamliner soon and to make new friends on my next Virgin flight. It really felt the epitome of British hospitality — cheerful, back-slapping, doesn't take itself too seriously, loves a good cocktail and a chatty pub. (Despite what commenters may think, I love Britain and the British and merely find our cultural differences amusing since they're so minor.)
Cheerio, and thanks for reading!