---
[Apologies in advance for the relative lack of high quality photos here. Since Ben has reviewed the Virgin Atlantic Clubhouse at LHR already, this is intended to be a bit supplemental, and also, it was early in the morning and I was a bit too groggy to snap photos until my coffee arrived, so please forgive me!]
The day before my return flight to Los Angeles, I got an email from Virgin Atlantic inviting me to use the Upper Class Wing at Heathrow Terminal 3.
I had actually planned on navigating my way to Paddington Station and taking the Heathrow Express, which I find incredibly convenient and quick. However, since the Andaz is a long haul from Paddington itself, I realized that an Uber might be the most efficient way of getting directly from the Andaz to Heathrow, and wouldn't require a transfer at Paddington with a set of carry-ons.
The Upper Class Wing is actually meant to be used for drop-offs by car, so I figured this was a great opportunity to test it out. Just before I hailed my Uber, I had the Andaz phone the Upper Class Wing to let them know I was on my way.
Taking an Uber to the airport was actually a terrific idea, even on a Monday morning during rush hour. I'd expected bedlam, but the ride was relatively quick and I was in the Heathrow area within 35-40 minutes.
In order to be dropped off at the Upper Class Wing, you actually have to take a special off-ramp just before Terminal 3. The on-ramp is blocked by a series of barriers. If Virgin Atlantic already has your car's information (basically, its license plate number), supposedly there's an optical reader which will scan and automatically admit your car.
Since I didn't know my Uber's license plate number beforehand, however, I had to "buzz in." It took a few seconds for the attendant to check my name against their list, but soon enough the Uber pulled into a canopied valet-type area that reminded me, weirdly, a bit of a Las Vegas hotel.
It's worth mentioning that the Upper Class Wing is, to me at least, a bit of a misleading concept. I'd been expecting something along the lines of Lufthansa's First Class Terminal, but in reality it's much more similar to the Delta ONE Lounge at LAX (though in actuality I must say I prefer Delta's premium check-in setup).
An attendant greets you at your vehicle, takes you to a check-in counter, processes your boarding pass and leads you to a kind of but not really dedicated security checkpoint. And that's it. It's a pretty, peaceful room with hardwood floors and a nice bathroom suite.
As for the security checkpoint, you essentially are funneled into a dedicated lane that empties out into the entire Terminal 3 security zone, where the feeling of privacy and VIP treatment immediately shatters. Indeed, you're told by the Upper Class Wing check-in agents that after security, you still need to go through Duty Free and make your way to the Clubhouse in order to use it.
Is any of that inconvenient? No, not particularly, not for business class, certainly. But (perhaps unreasonably) in my head I'd expected that the Upper Class Wing was a dedicated check-in area leading to private security lanes which emptied directly into the Virgin Atlantic Clubhouse. It's not the case, so if you happen to be arriving via Heathrow Express or some other means, don't feel like you're missing out by not using the Upper Class Wing.
Anyway, after a bit of a hold-up at security (the British take their liquids very very seriously) I walked through what seemed like an endless duty free zone and followed the signs for the Virgin Clubhouse, which was up a set of beautifully backlit glass stairs.
The Clubhouse was quite, quite packed. Ben has previously described it as "Disneyland for adults," and it certainly seemed to have the crowd control aspects of Disneyland nailed down pat, since there was still (some small amount of) seating to be found.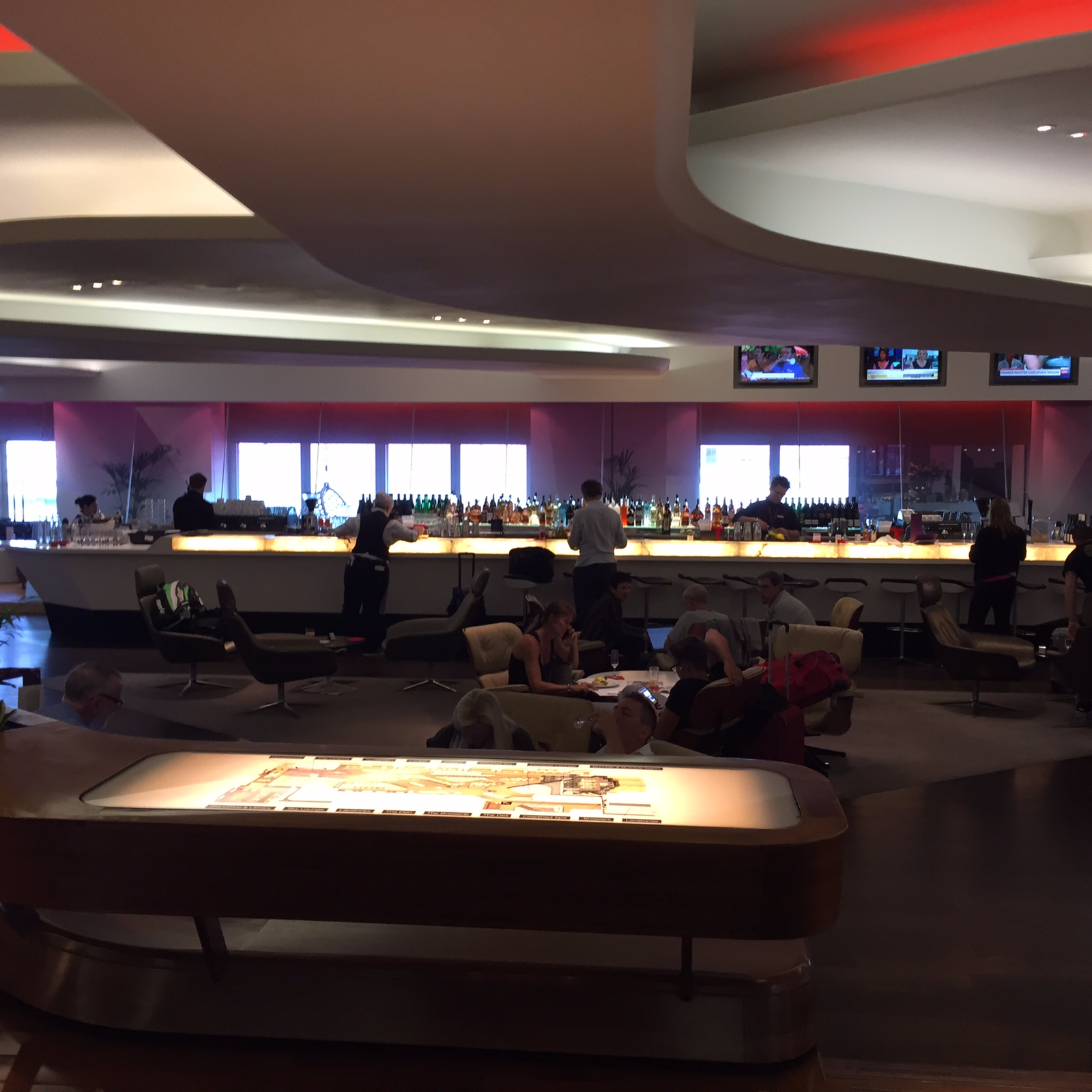 I headed straight for the spa area to see about getting an appointment. It was a bit after 9:15am at this point, and it was predicted that the boarding call would be around 10:30am. I was able to snag an "Express Hand Treatment" (which would only take 15 minutes, giving me time to enjoy the lounge) for 10:15am.
I walked around the lounge a bit, which I noticed very quickly suffered from the same problem as the Clubhouse at LAX: a distinct lack of power outlets near seats and tables. Ultimately, I was hungry for breakfast, and though I knew I could eat it anywhere I decided to have a proper seat in the "Brasserie," the Clubhouse's "sit down restaurant."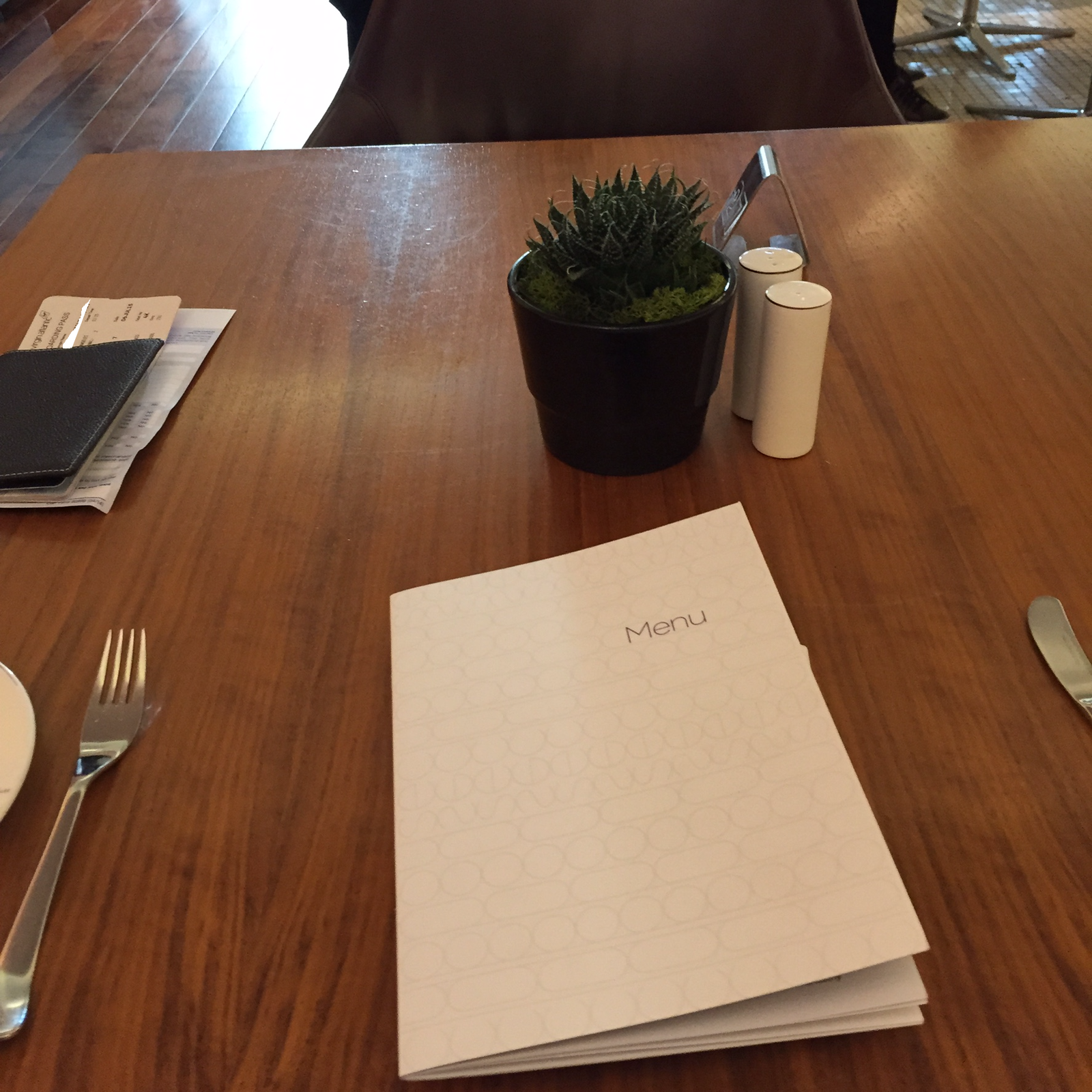 The menu itself was fairly expansive, although the options available were limited to the breakfast menu and select items from the "deli."
At the risk of inviting more English people to accuse me of being an uncultured rube, I think it's worth mentioning that what Americans think of as "deli" and what Brits think of as "deli" is quite different. The delicatessen adjacent to the Brasserie is actually a gorgeous buffet (though it's not self-serve) of yogurts, juices, cereals, breads, cheeses and smoked fish.
The Deli is pretty fabulous looking, and easily (in my opinion) the most gourmet thing I've ever seen associated with Virgin. But if you were hoping to get some pastrami and a side of a bagel and cream cheese, it might not be the spot. 😉 Katz's, it's not.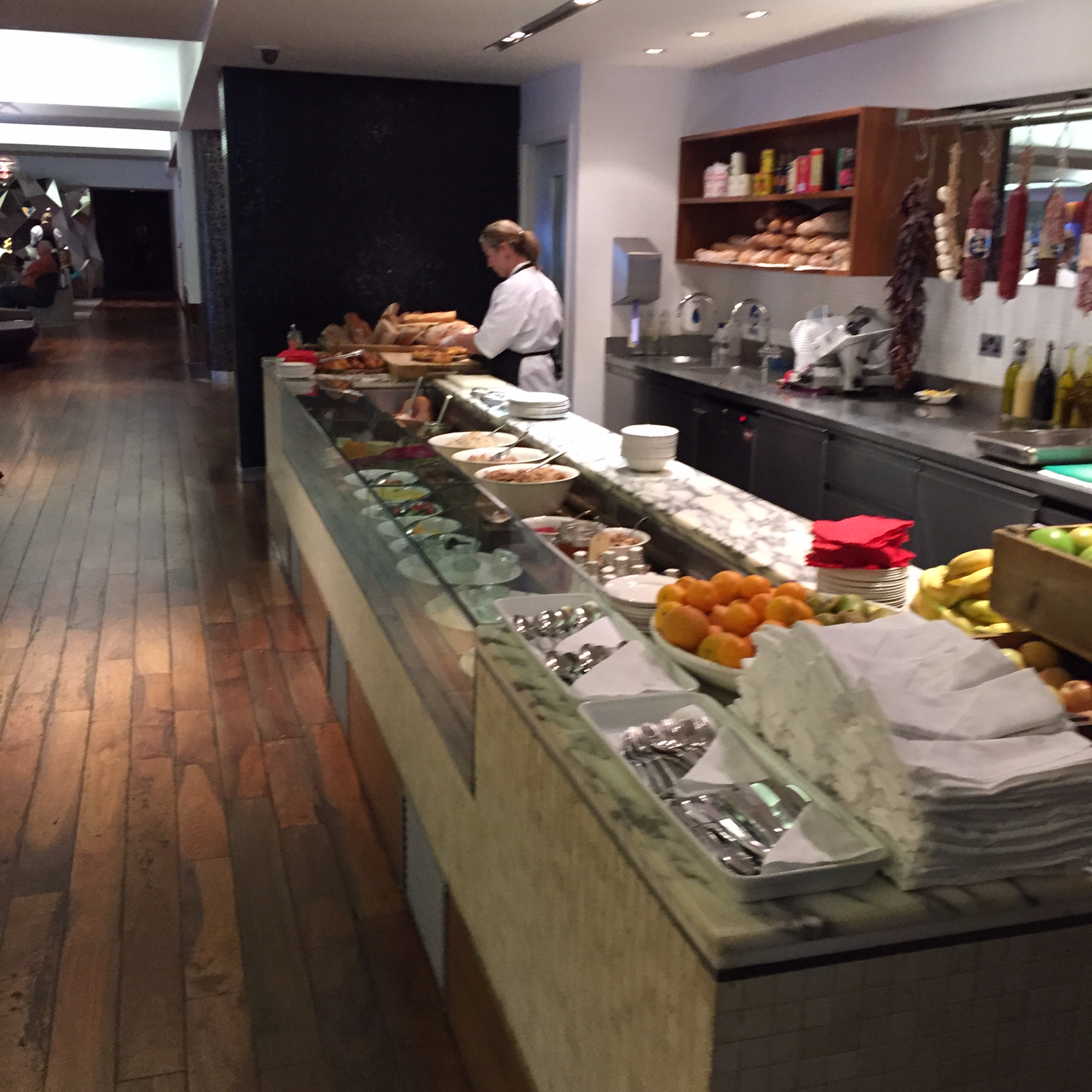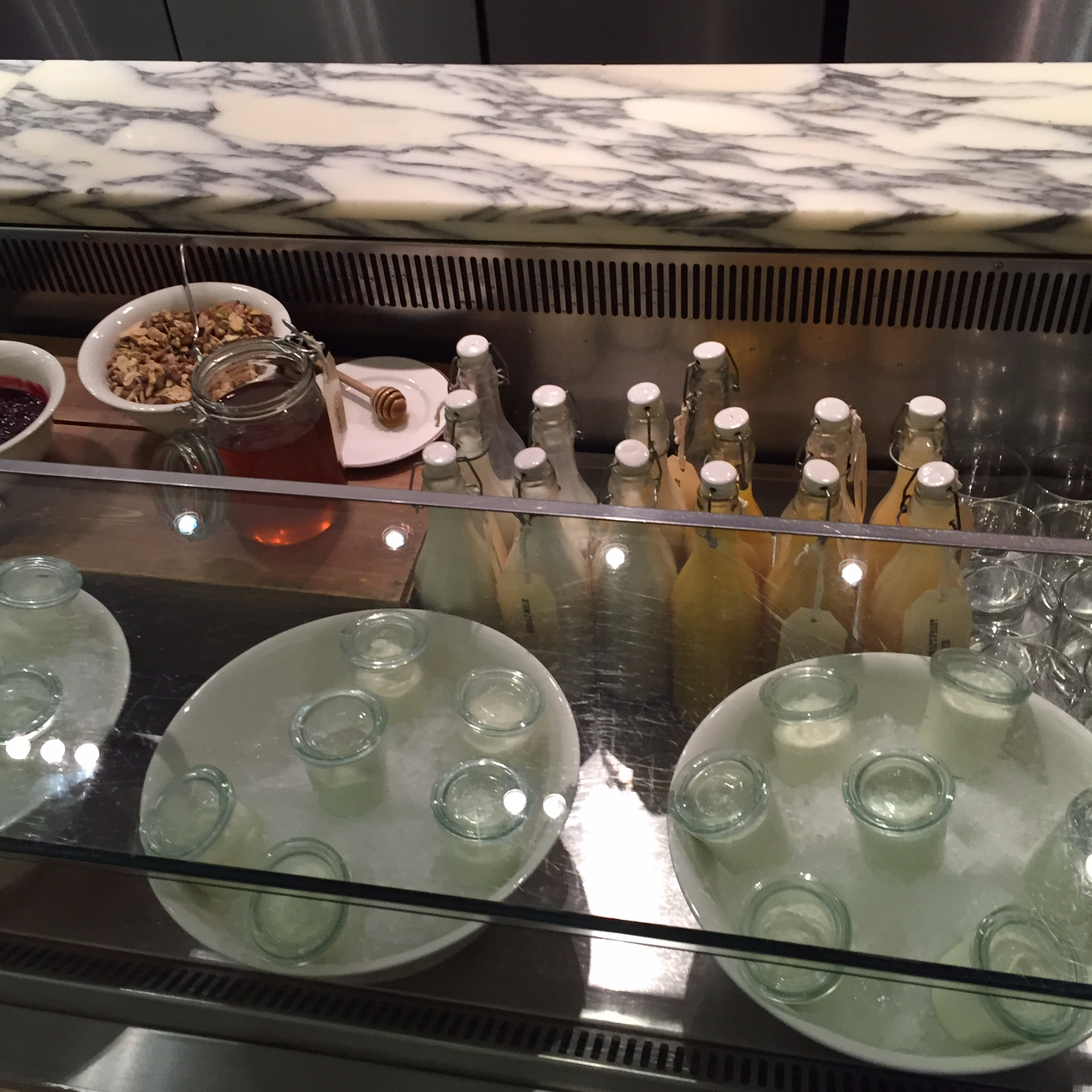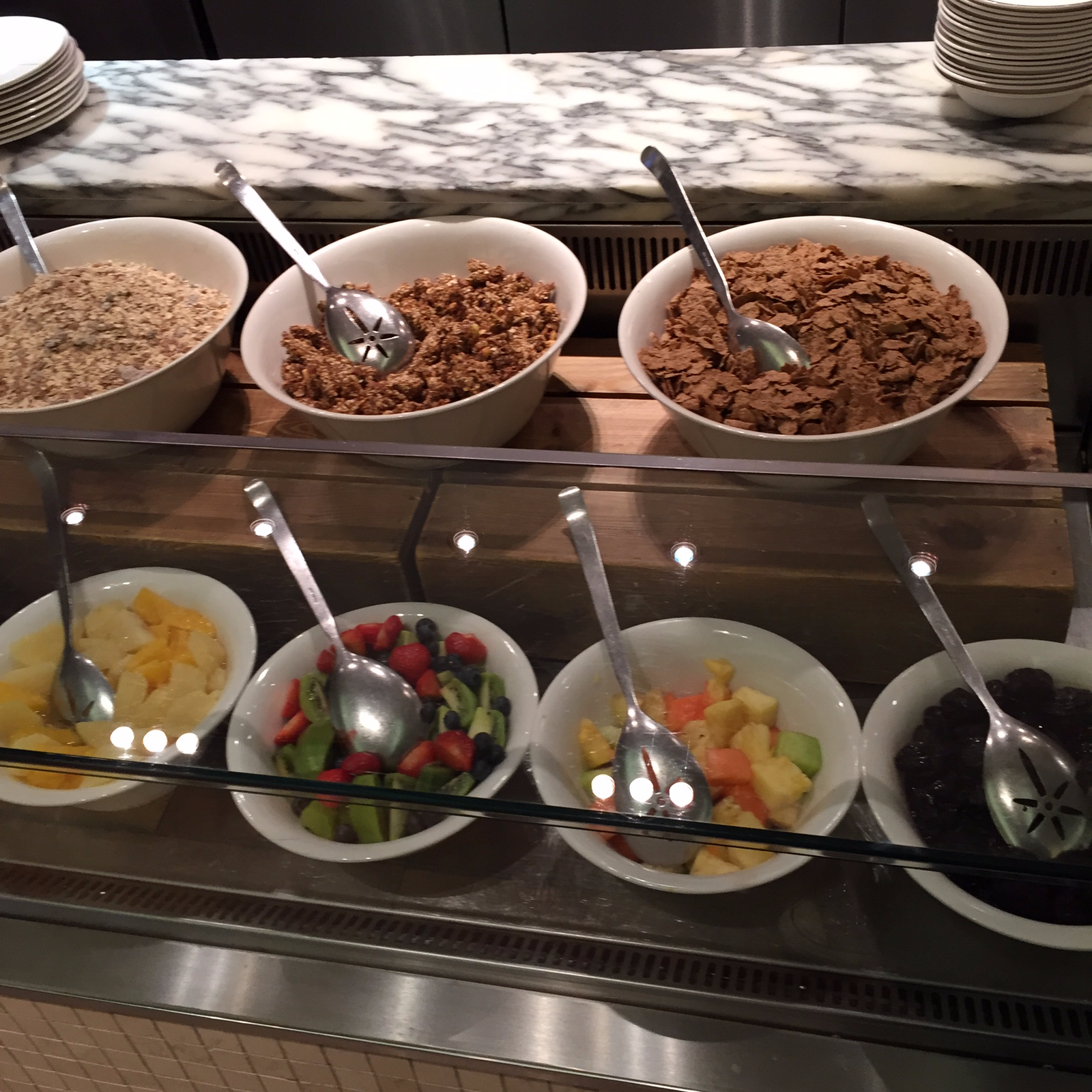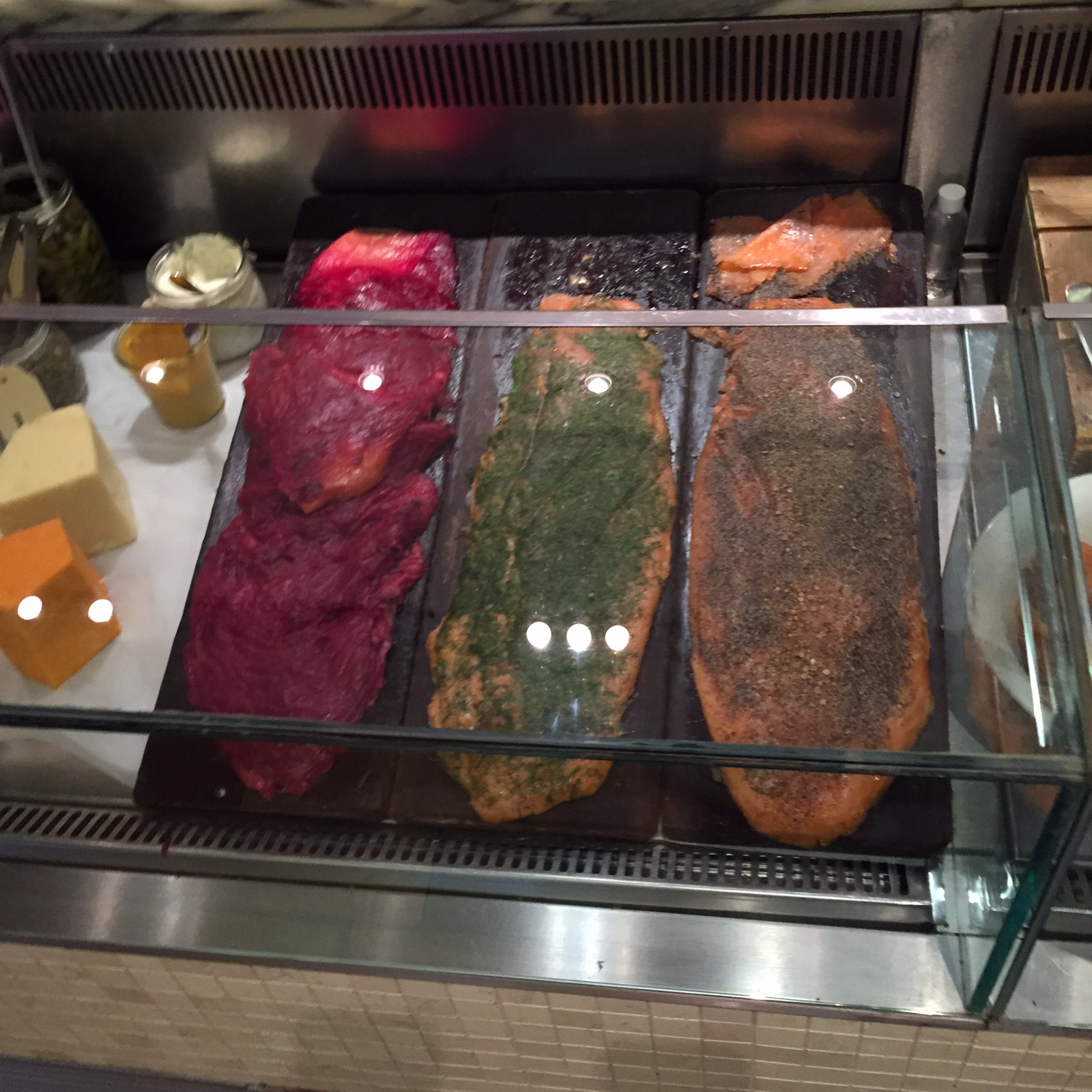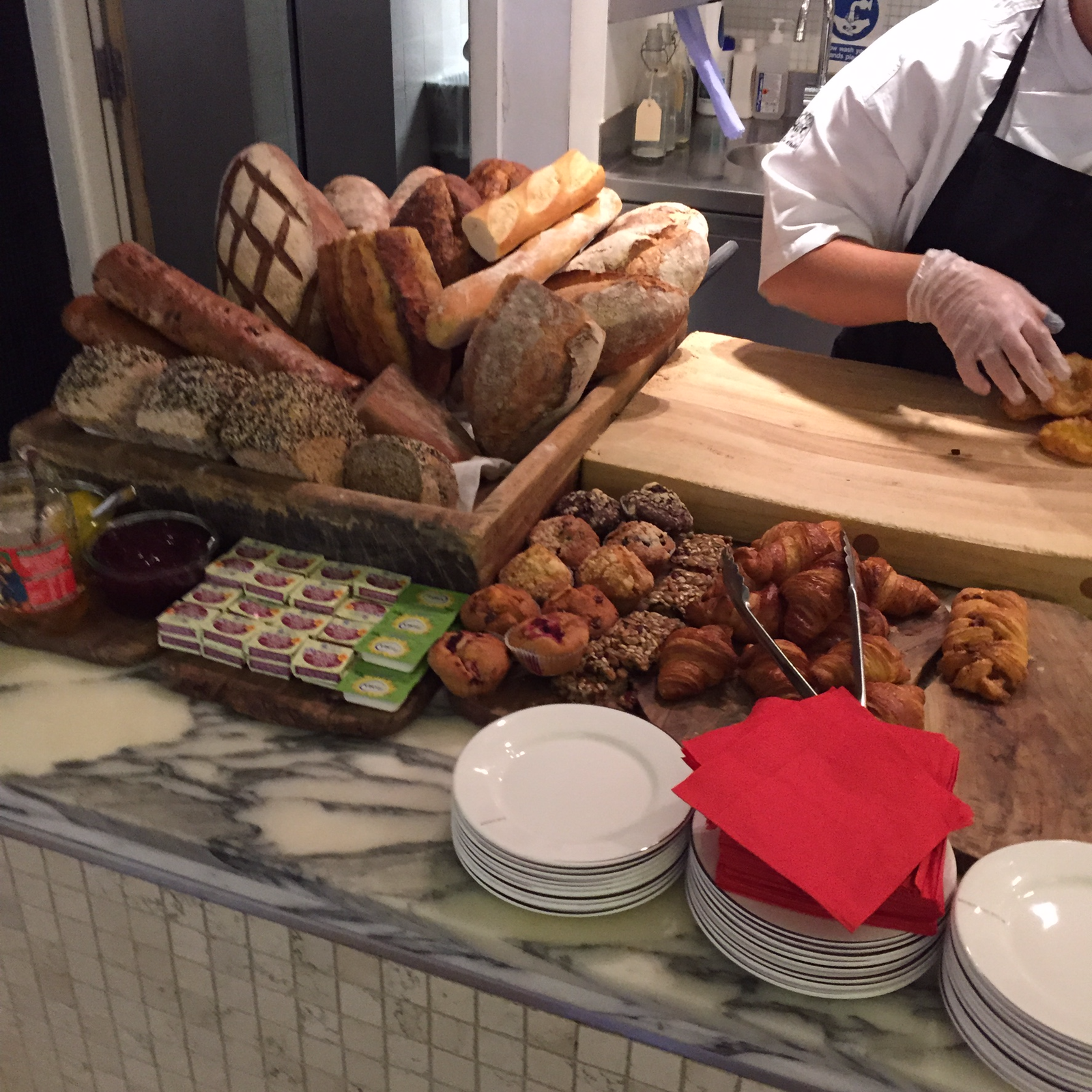 I took a croissant from the Deli and brought it back to my table at the Brasserie while I waited for service, where I studied the menu.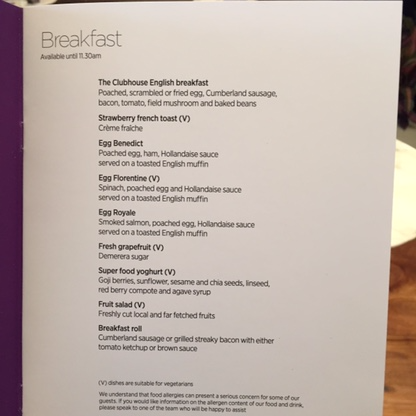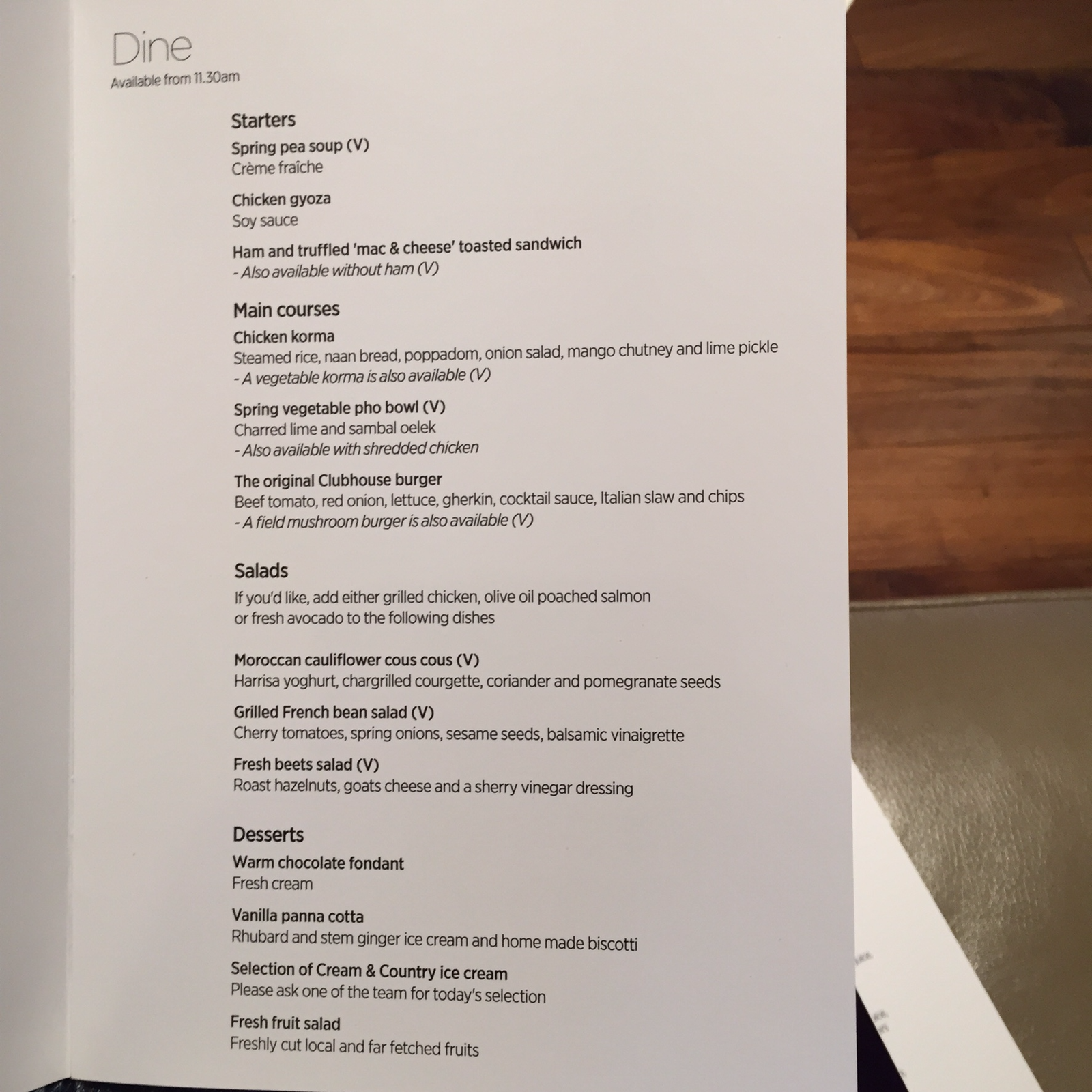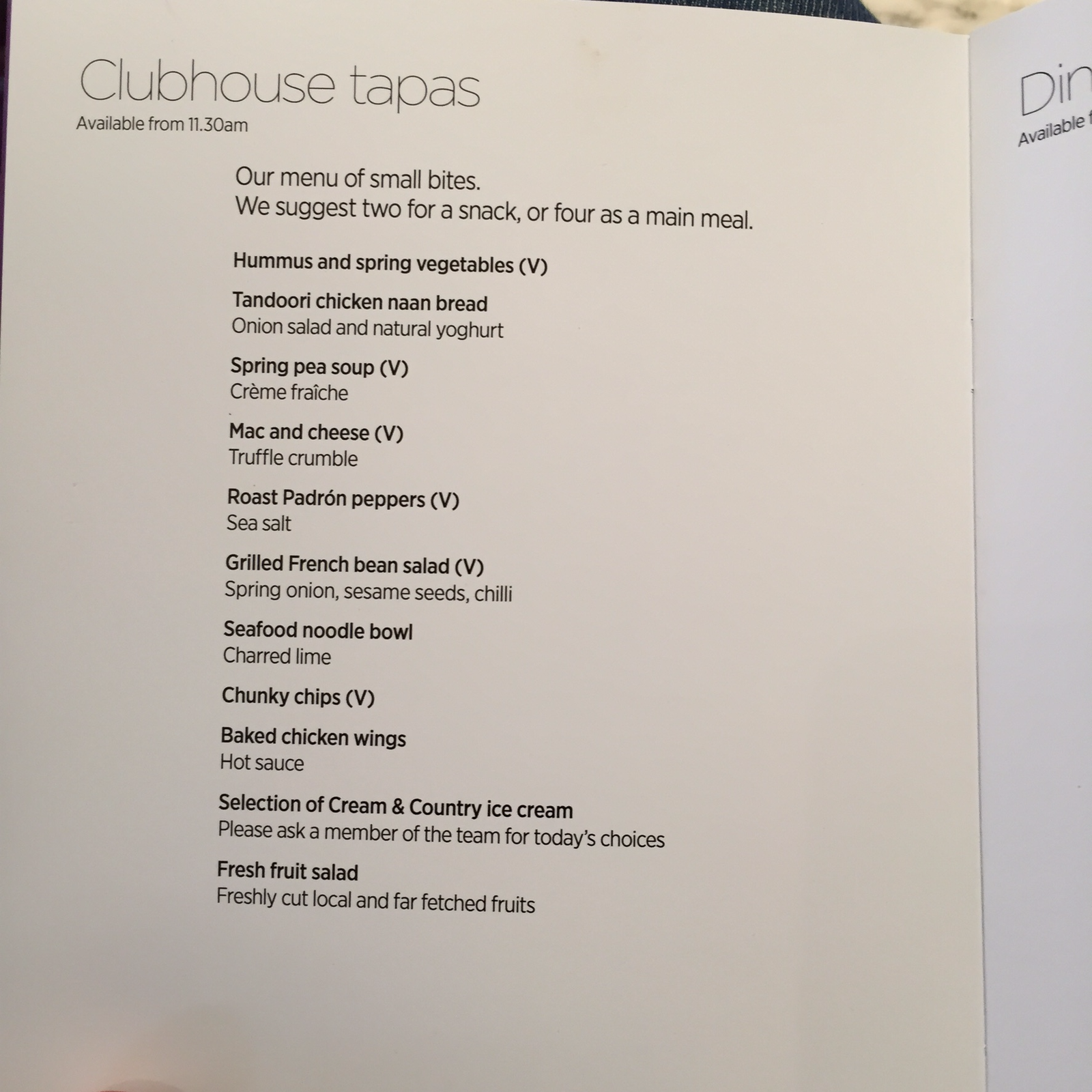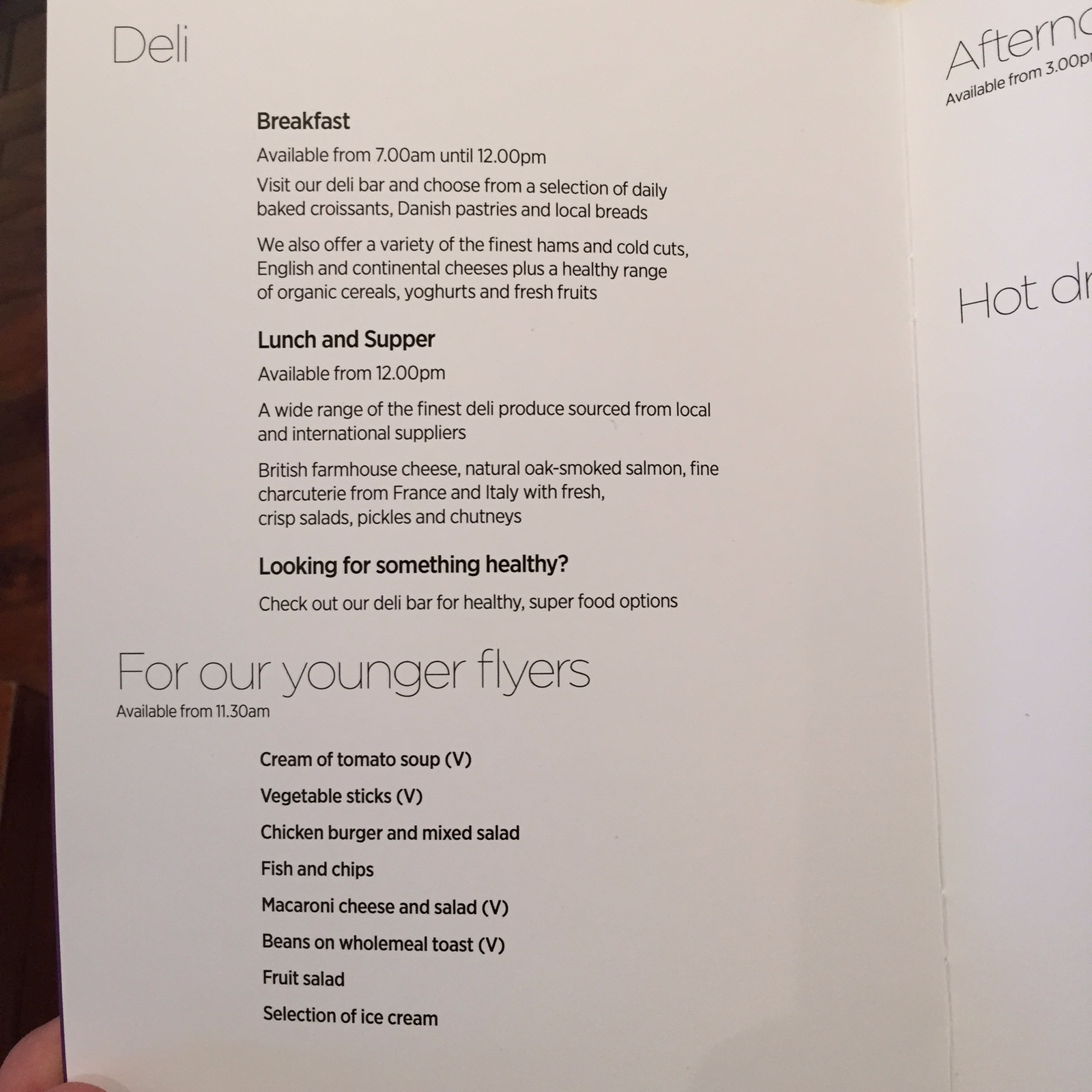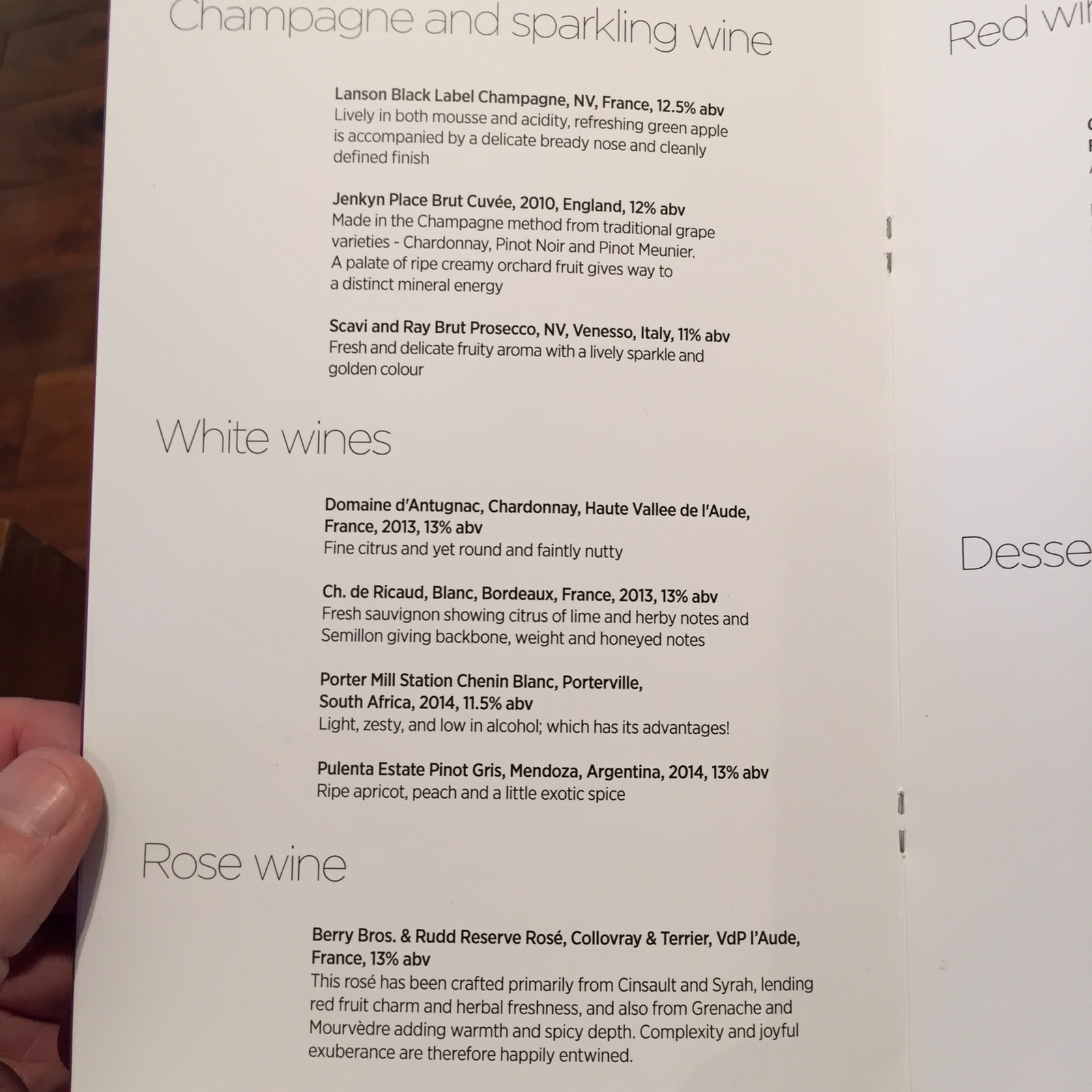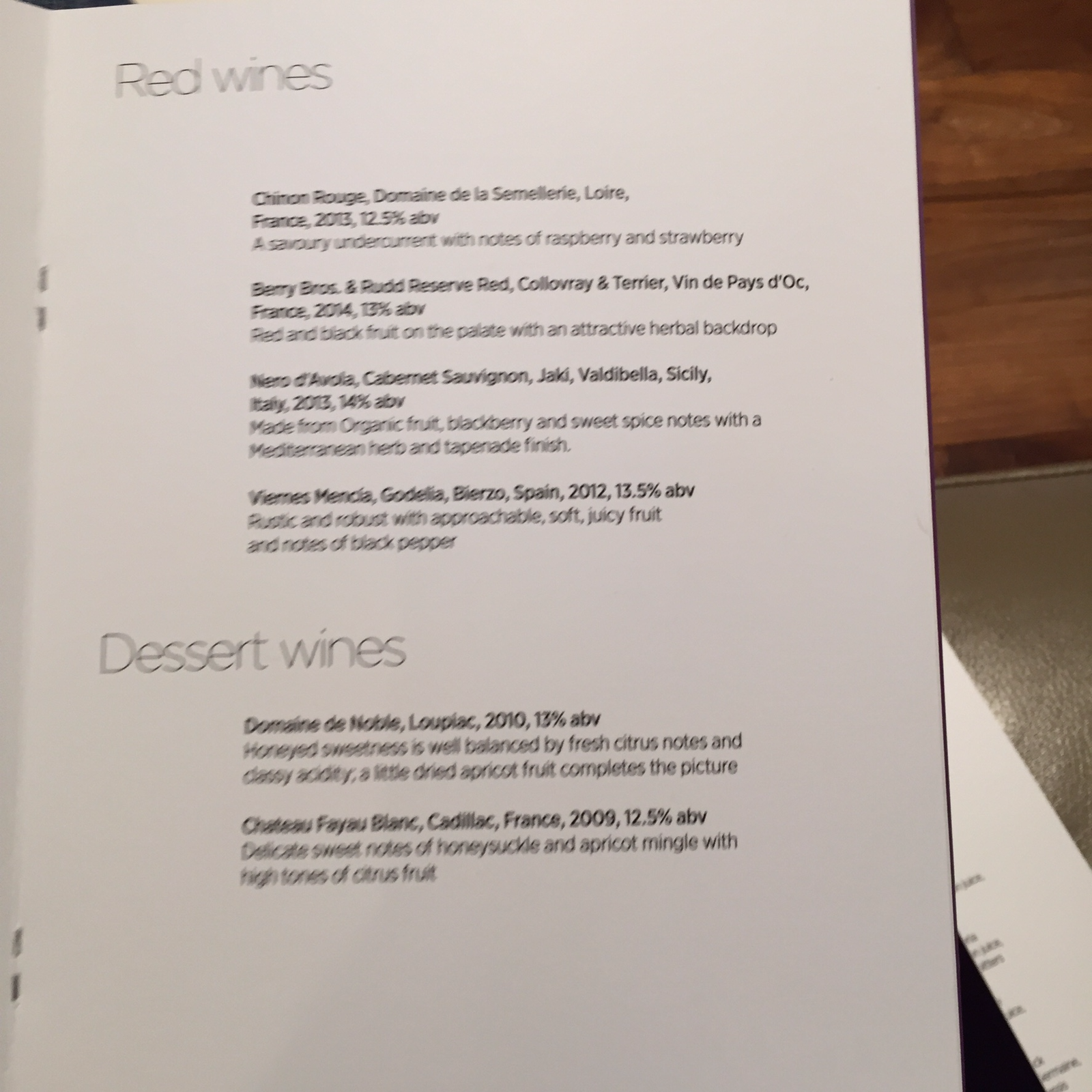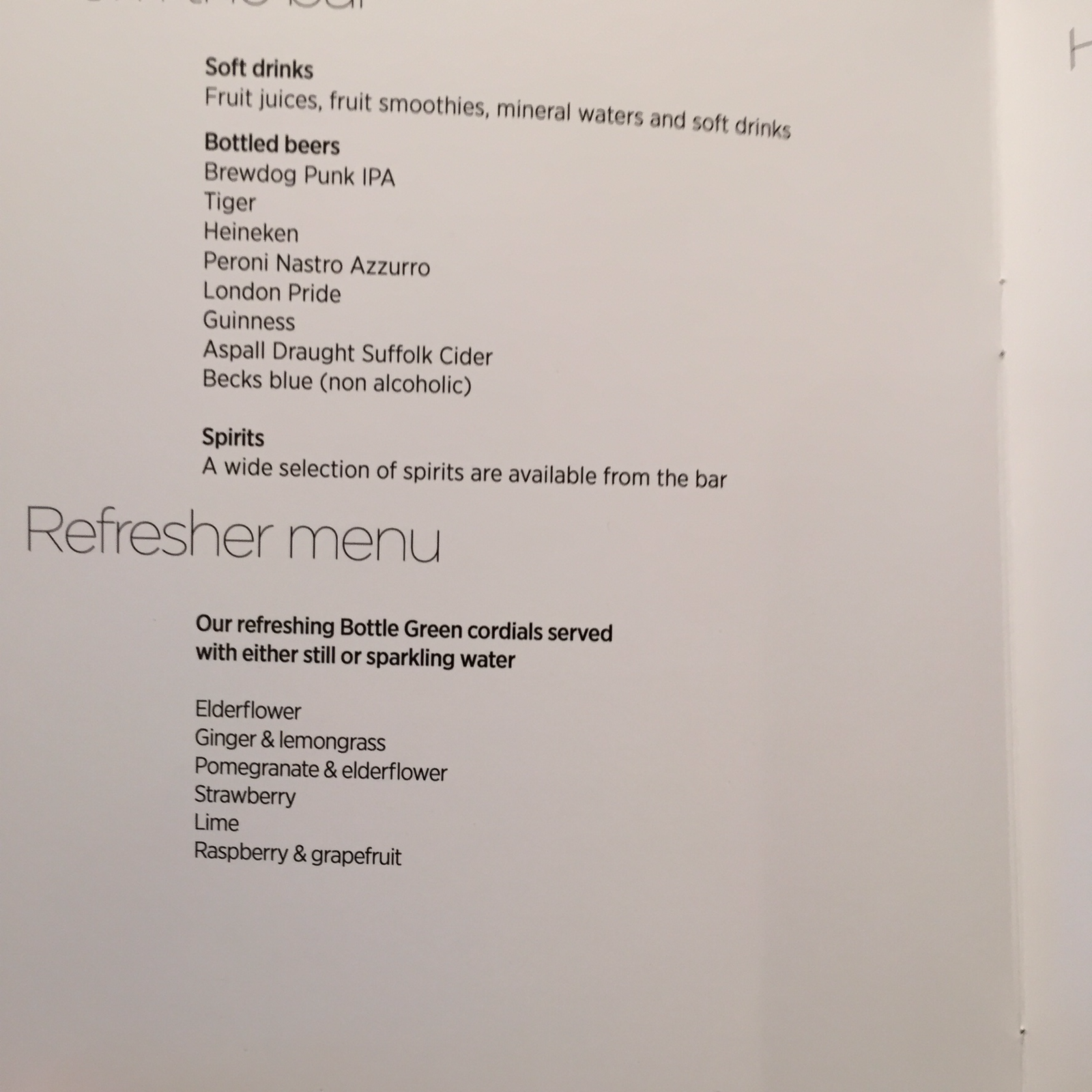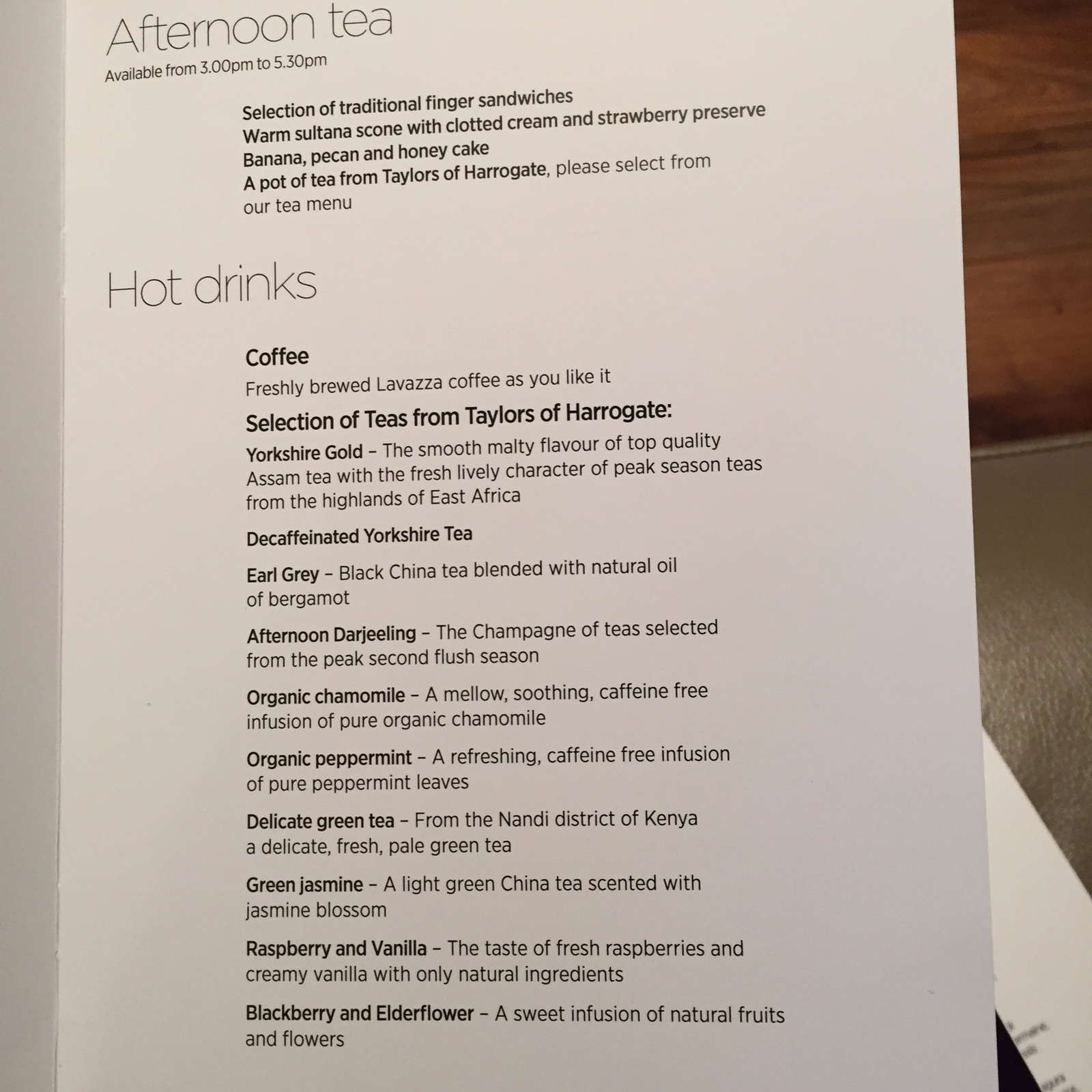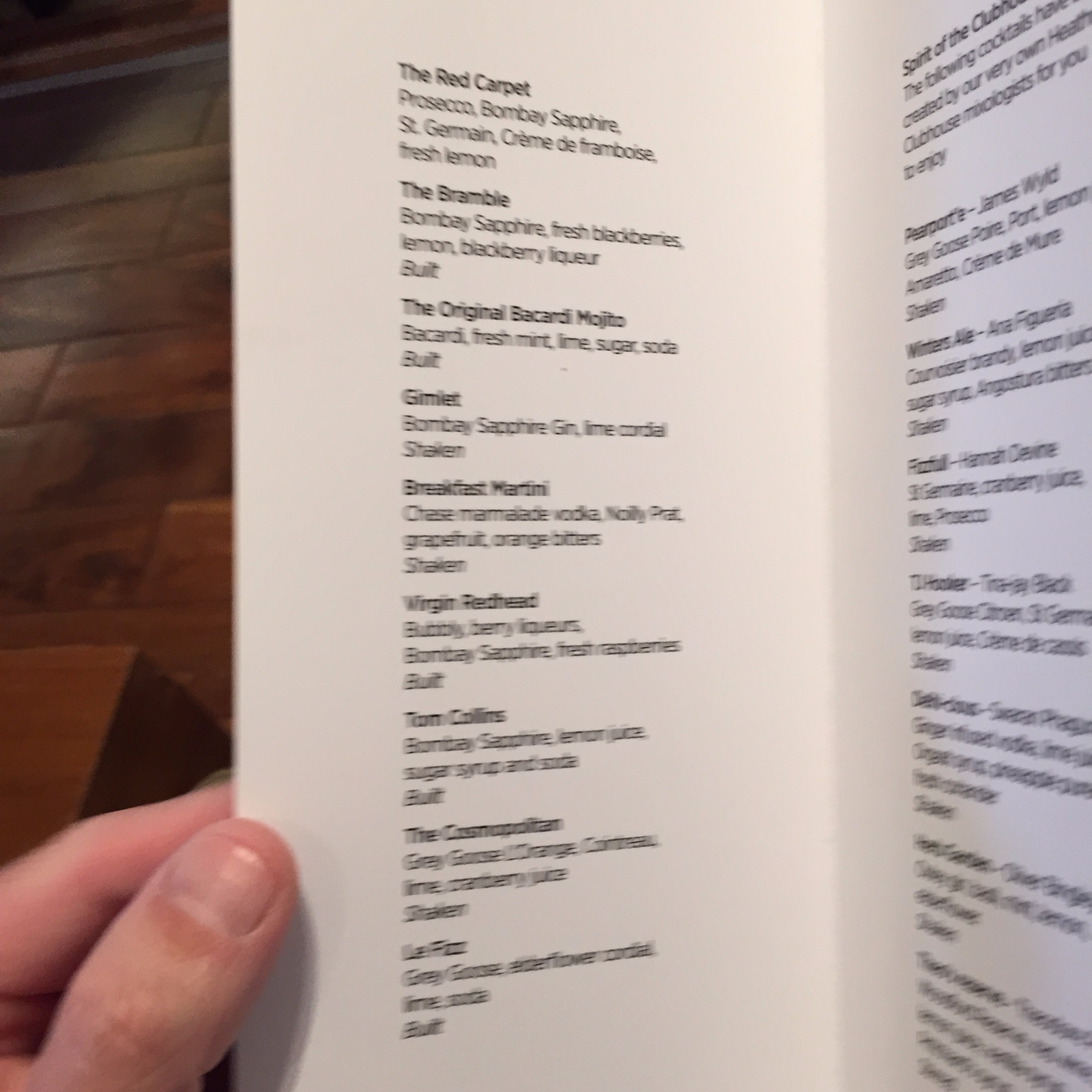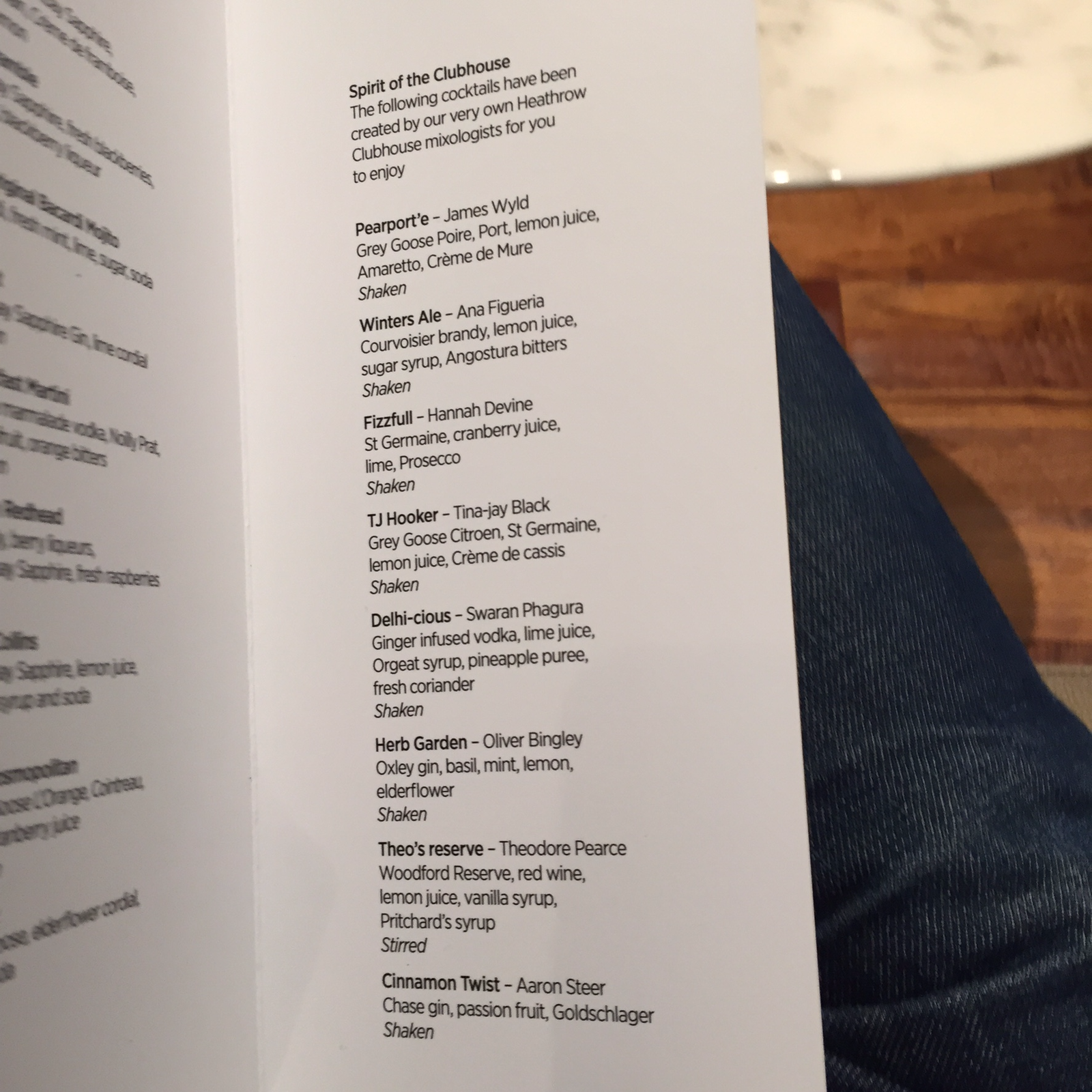 My server came by shortly thereafter and took my order. I ordered a cup of coffee, a glass of water, and some Lanson champagne to start.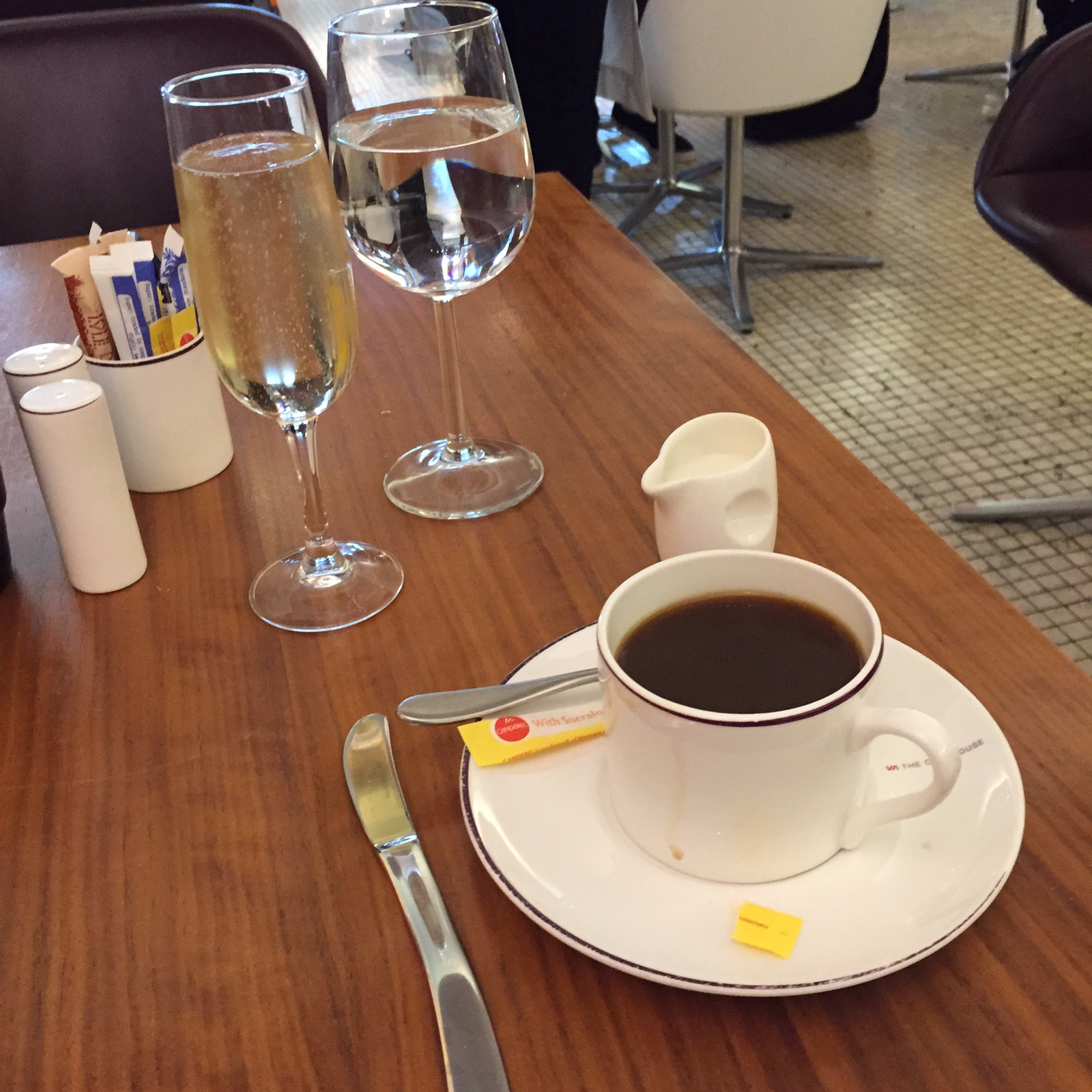 After a few sips of the Lanson, I decided it wasn't too sacred to spoil with some orange juice and make a mimosa, so I also asked for some OJ.
For my breakfast course, I ordered the Egg Royale, which is a smoked salmon benedict, more or less. I asked for the Hollandaise on the side.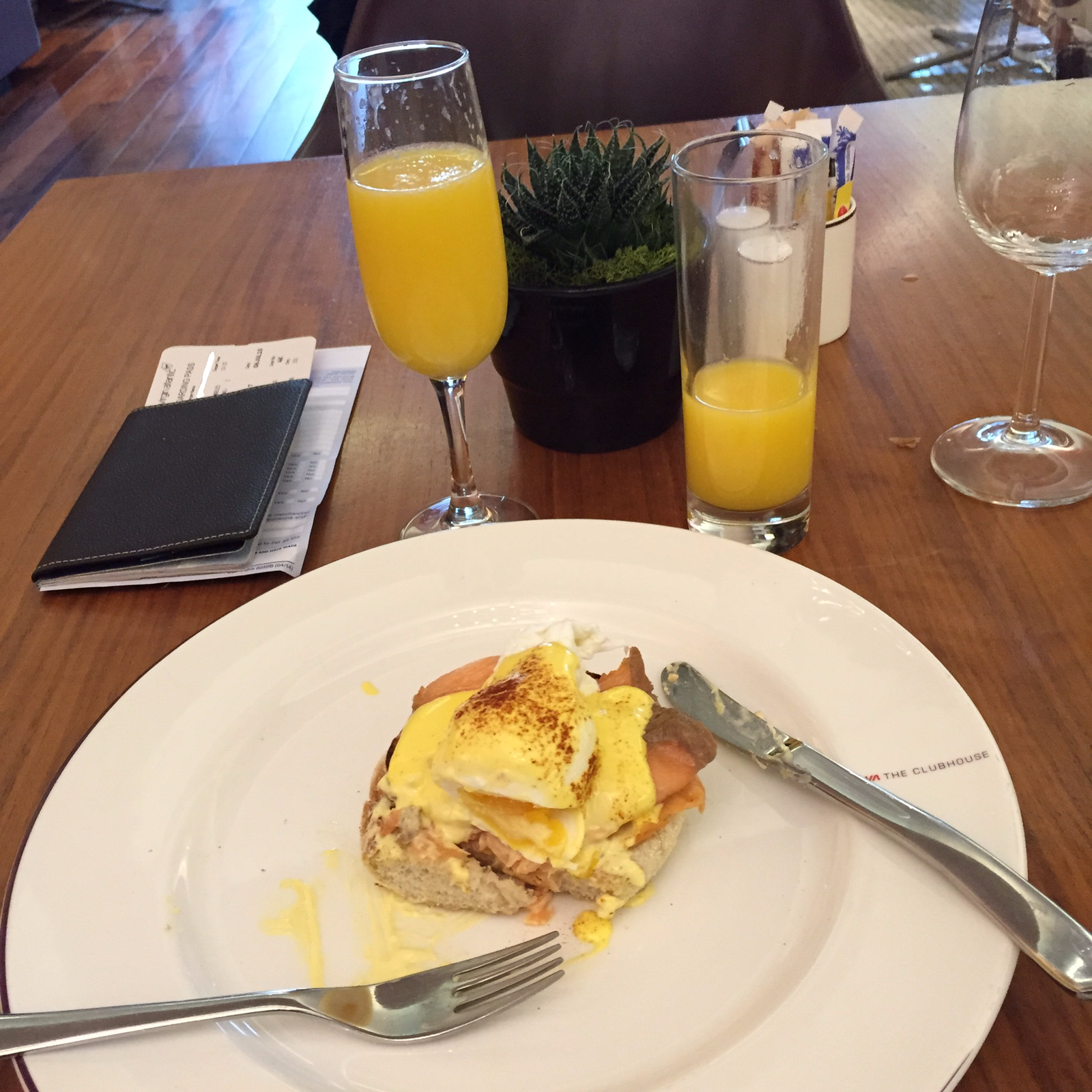 The Egg Royale was delicious. It sort of astonishes me how hit-and-miss Virgin's catering on the ground and in the air can be, but this was certainly one of the hits.
Following breakfast I had a few minutes to wander around the Clubhouse before my spa appointment.
The Clubhouse is huge. So huge, indeed, that while I thought I had explored it all, the "you are here" map at the front of the lounge made clear I hadn't.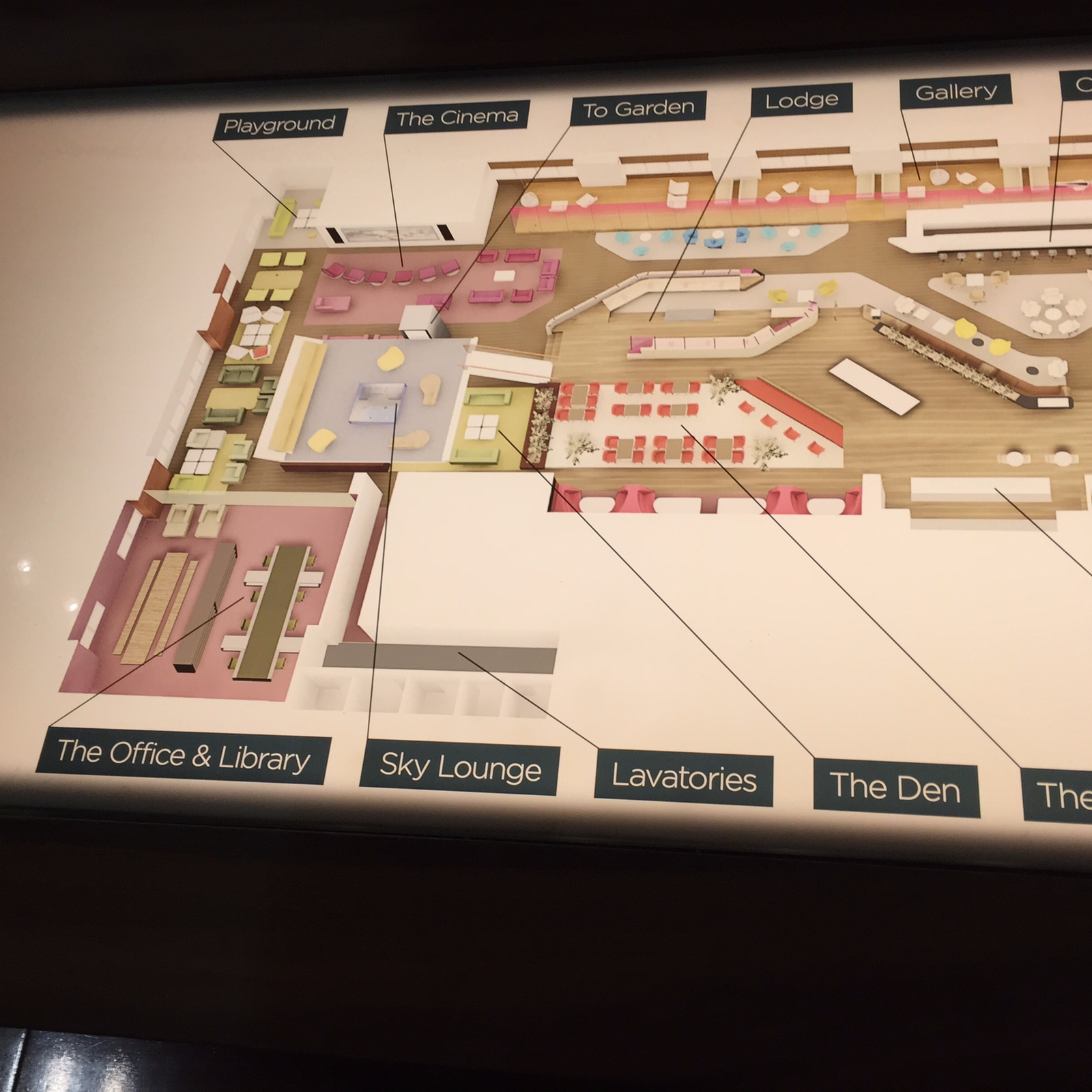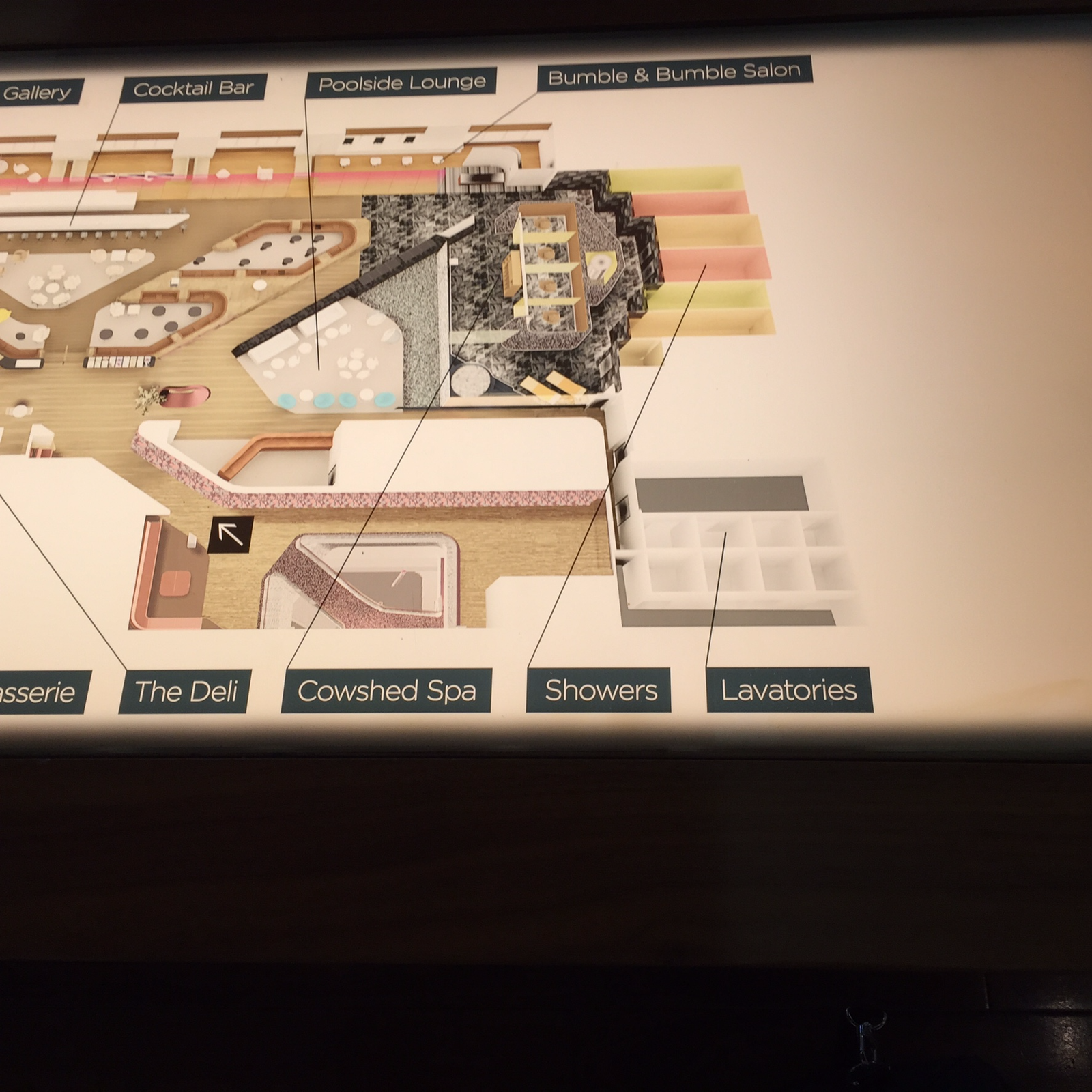 For instance, I hadn't (but wished I had) seen the Den, and I just assumed that beyond the Spa and Hair Salon were treatment rooms. I certainly wished I'd poked my head into the "Poolside Lounge."
The "Cinema" had actually been turned into a tennis-themed Wimbledon viewing area, which was kind of fun to see.
I made my way over to the Spa around 10:15am, where there was just a minute wait or so for the previous hand treatment to finish up. My attendant (aesthetician? manicurist?) Sarah administered the "Express Hand Treatment," which was basically just some cuticle work, hand lotion and a gentle massage. It was pleasant, though I can't imagine paying for that particular treatment, since it was something I could do at home quite easily with 5 minutes to spare.
Following the treatment, I checked in with the departures board and boarding for the flight to Los Angeles (though not the flight itself) was delayed by a few minutes, so I walked over to the bar and ordered a glass of Lanson, which I took into the area Virgin calls "The Gallery." The Gallery really just felt like an old cigarette smoking lounge that had been converted into a very narrow, enclosed hallway facing windows overlooking the tarmac. It was just a place to sit, for me, since the other rooms were at this point all full.
As they called boarding for "the VS 7" to Los Angeles, I used the lavatories (which were individual and very spacious stalls with sitting areas), and grabbed some reading material from the display near the front of the Clubhouse.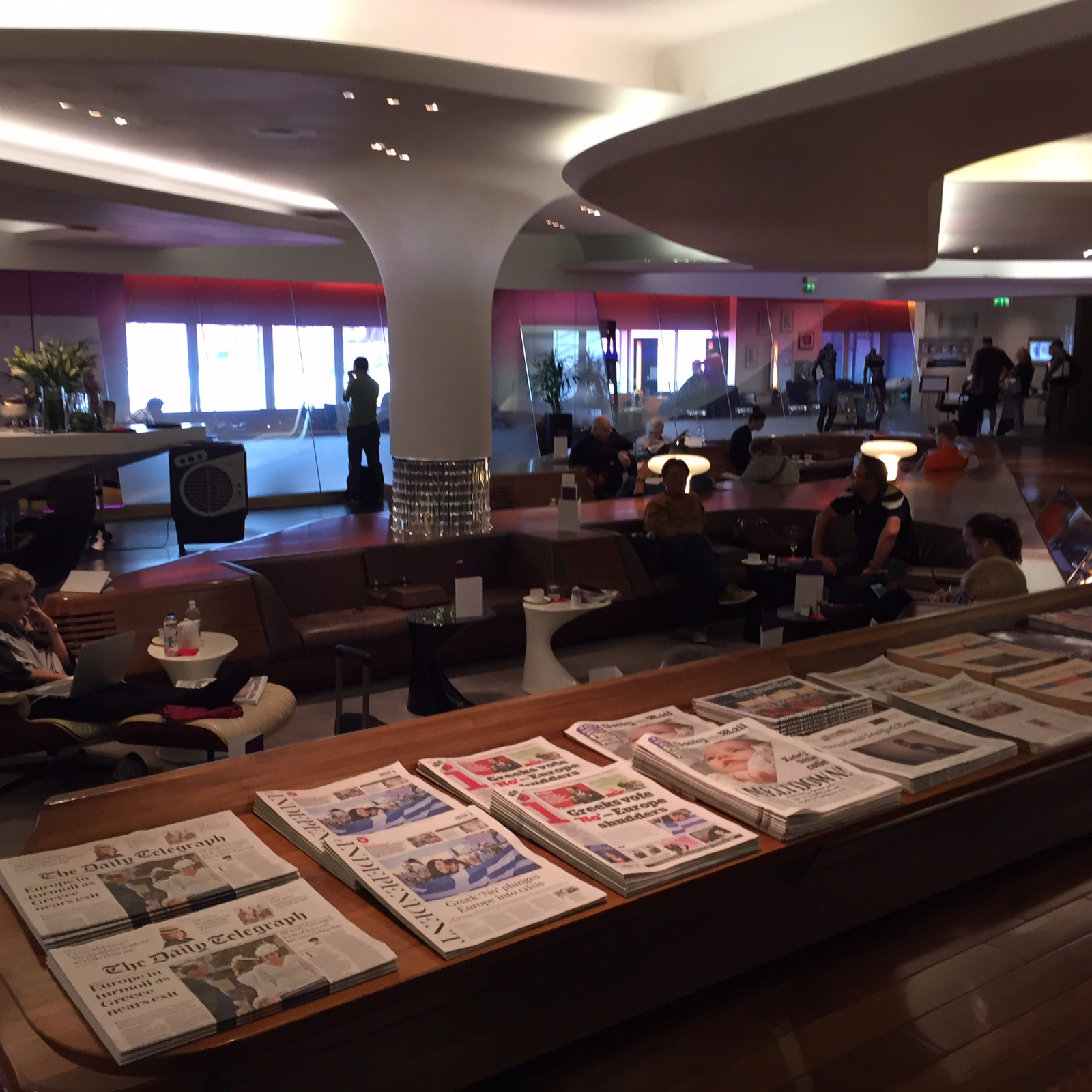 Some of the reading material was a bit… alarming to see before boarding a transatlantic flight.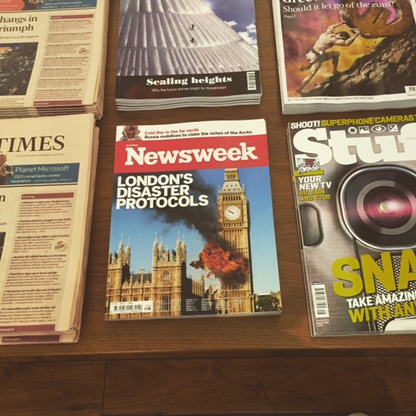 I was told it was about a 10 minute walk to the gate, so I headed on out. Indeed, the walk to the gate was a bit of a haul, frankly, so I'm glad I gave myself the extra time.
As I approached the boarding area, I saw the plane parked at the gate… which was an A340, again. Another last minute equipment swap!
Bottom Line
The Virgin Clubhouse at Heathrow is a phenomenal business class lounge, it goes without saying. It's certainly got its share of hype and effusive reviews, and of course it's a wonderful experience — I wished I'd had another hour to spend there.
That all being said, it's important to keep in mind this is not a "First Class Terminal" sort of experience. The Upper Class Wing is more a gimmick than anything of real value, as you still have to go through the general security area, the never-ending duty free zone and the bleak hallways of Terminal 3 before you reach the oasis that is the Clubhouse.
Moreover, it's crowded. The Clubhouse is well-designed so that it can manage the crowds efficiently and so that everyone has room to grab a seat, but if you're traveling at a peak time you're not going to have a whole lot of choice in where you end up sitting. I found service to be a bit hit and miss, too. The front desk and connections staff were phenomenal; some of the food and beverage servers were a bit slow and/or forgetful.
The food is very good, and the drinks are lovely. The space is beautiful overall. The amenities are exciting, even if in practice (as with my "manicure") they can be slightly underwhelming.
I mean, I don't think I need to say the obvious, but if you have access to the Virgin Clubhouse at Heathrow's Terminal 3, by all means go!